Far from what many people may think, small kitchens can be much more beneficial than large ones. In large kitchens there is too much space and it is very difficult to make them look cozy, however in small kitchens this is much easier.
We will give you some suggestions that we know will be well used so that your small kitchen is very well decorated, comfortable and functional and, most importantly, that it looks modern and beautiful.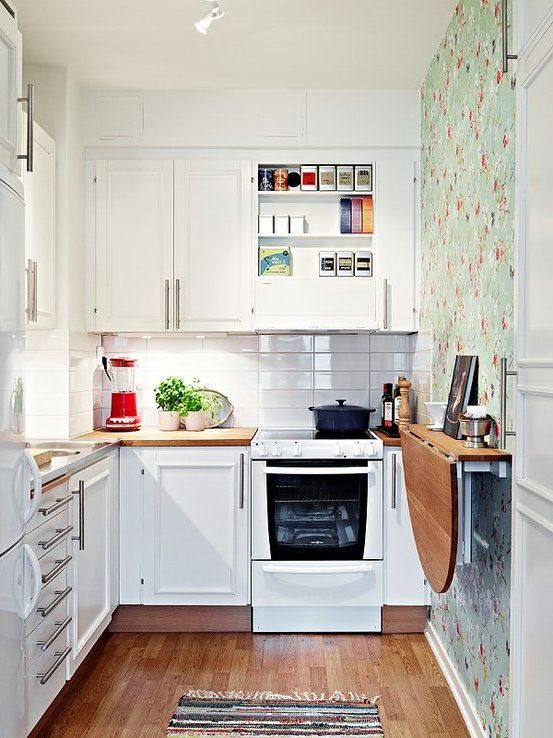 Design and decoration of modern small kitchens
Scale furniture
The furniture must be dimensioned to the size of the kitchen, that is, you do not have to give up anything, you just have to have the furniture that by size adapts to the space of your kitchen and does not give the feeling that "it is coming on top of you" .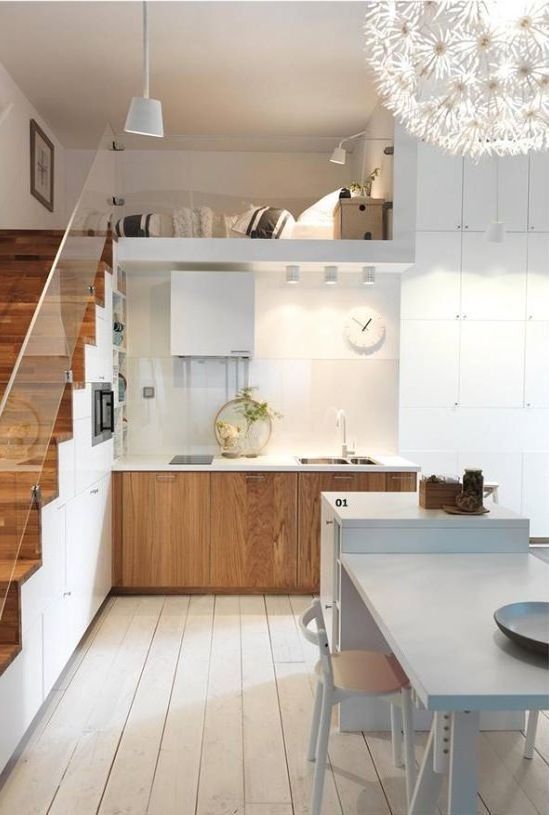 Cabinets with transparent doors
Cabinets with glass doors or translucent or transparent materials will also help to enlarge the space.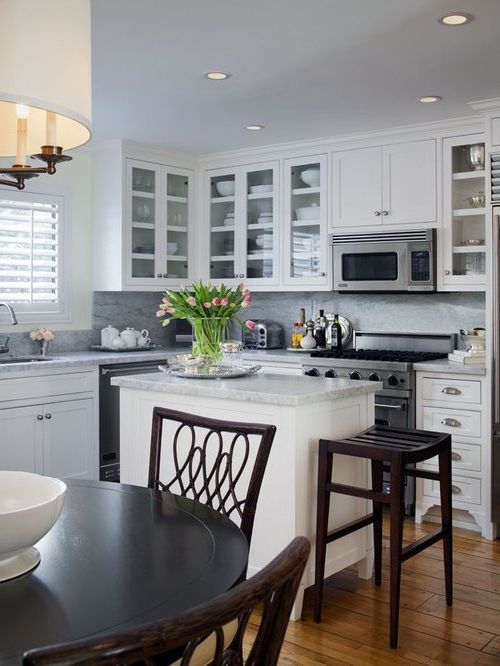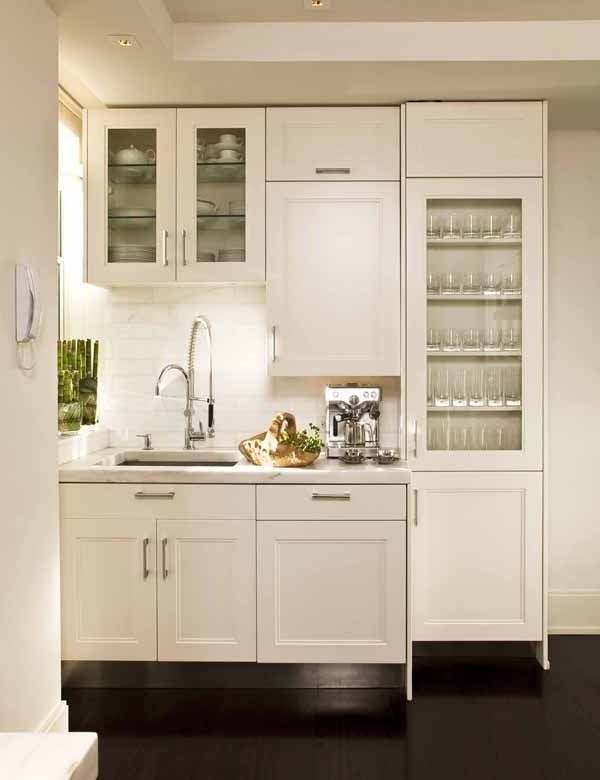 Floating shelves
You take advantage of the surface of the walls to place shelves, so that all the condiments, dishes and kitchen utensils are organized, in their place, and that they do not take up space on the counter or table.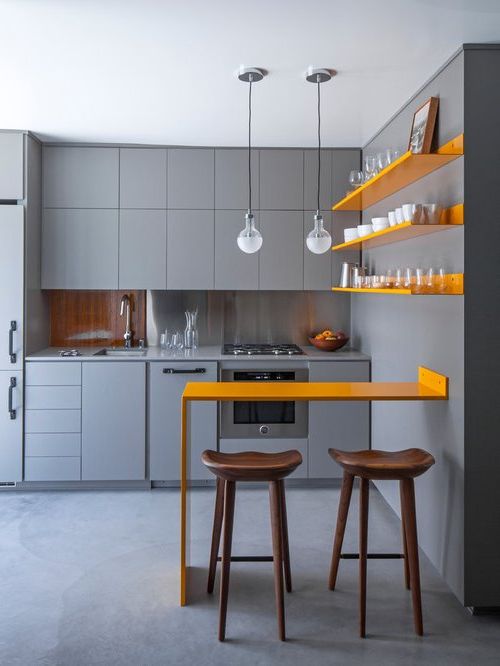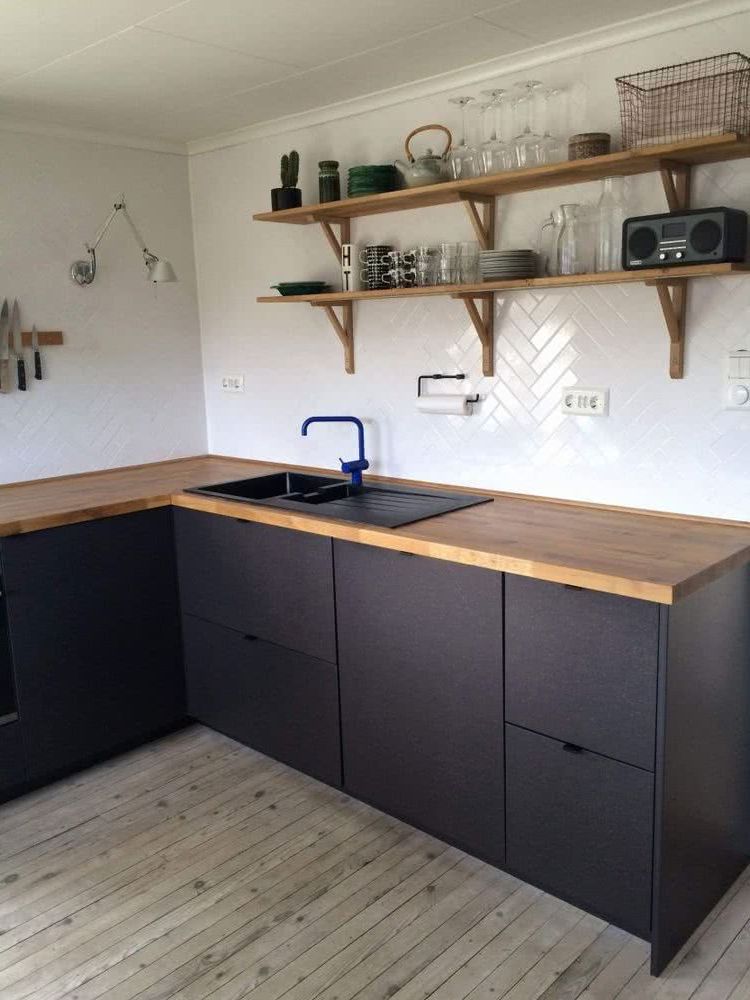 Open shelves
This is another concept that you should not forget. Use every inch of the walls to place shelves or small cabinets without doors (that do not give the feeling of taking up space) where you will have all the elements that are used the most, organized, visible and easy to access.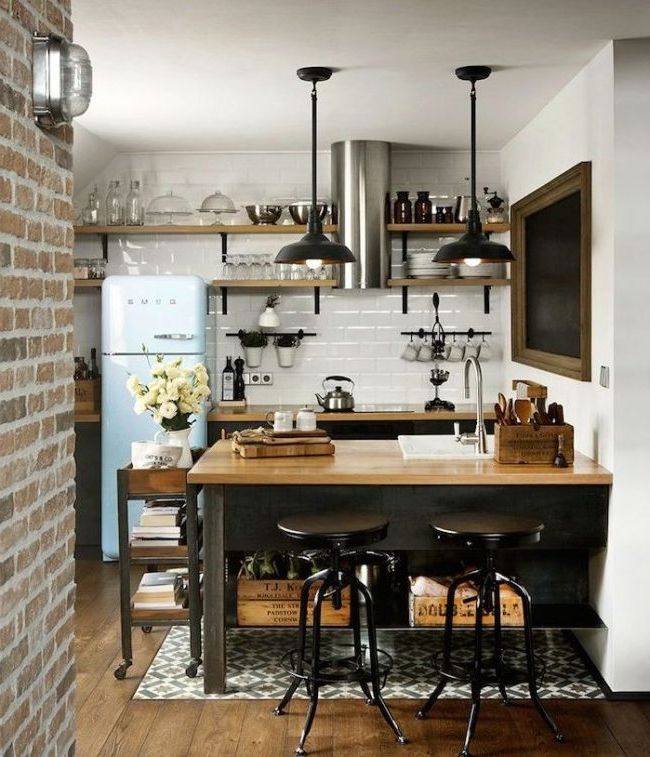 Everything must be well organized, not only for practicality, but because this will give a feeling of more space. Remember that order is the main key for a small kitchen to look larger than it is.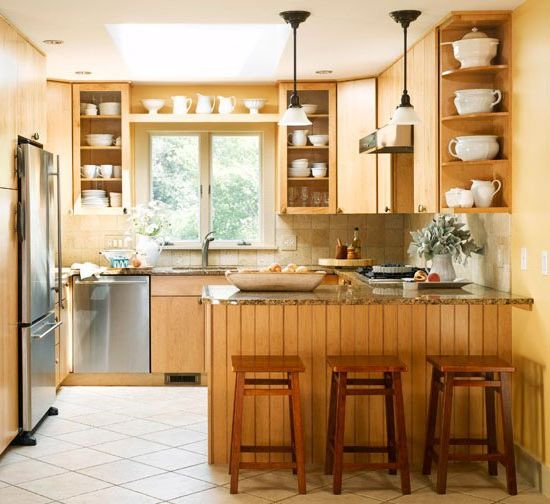 The downside of this type of kitchen is that it can become too messy if two or three things are out of place. In order to maintain order, you must have cabinets and shelves on the walls, where everything has its place. You must keep the horizontal surfaces as free as possible, that is, the countertop, kitchen island or table without any objects.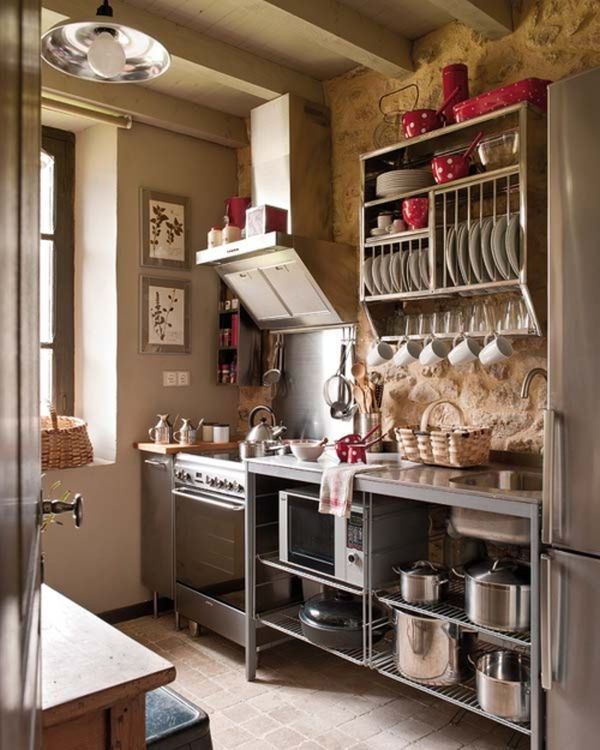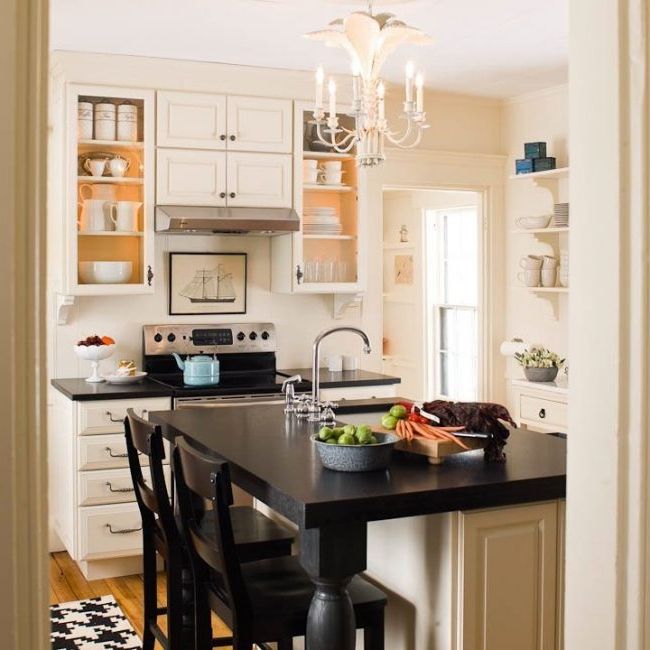 Island folding table
The use of the walls for the installation of "built-in" style furniture is vital. For example, using a wall-mounted folding table that acts as a kitchen island and dining table, a narrow countertop and upper cabinets, even if you don't have a lot of mobility space, it is cozy and practical.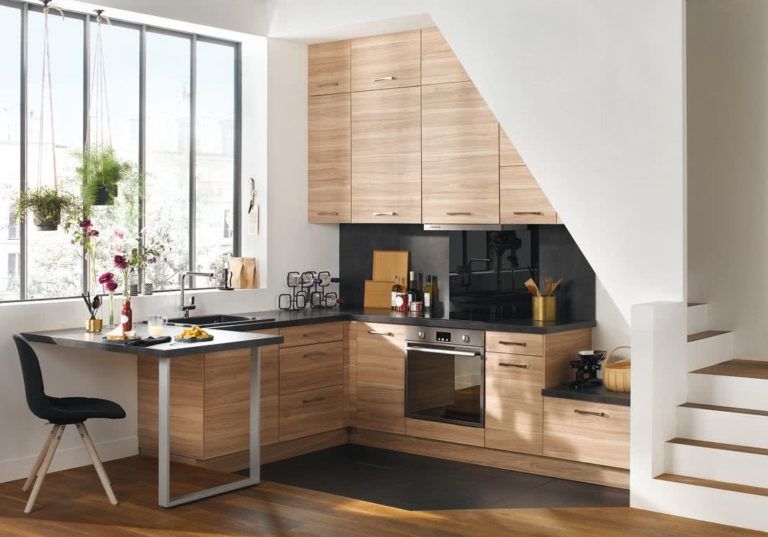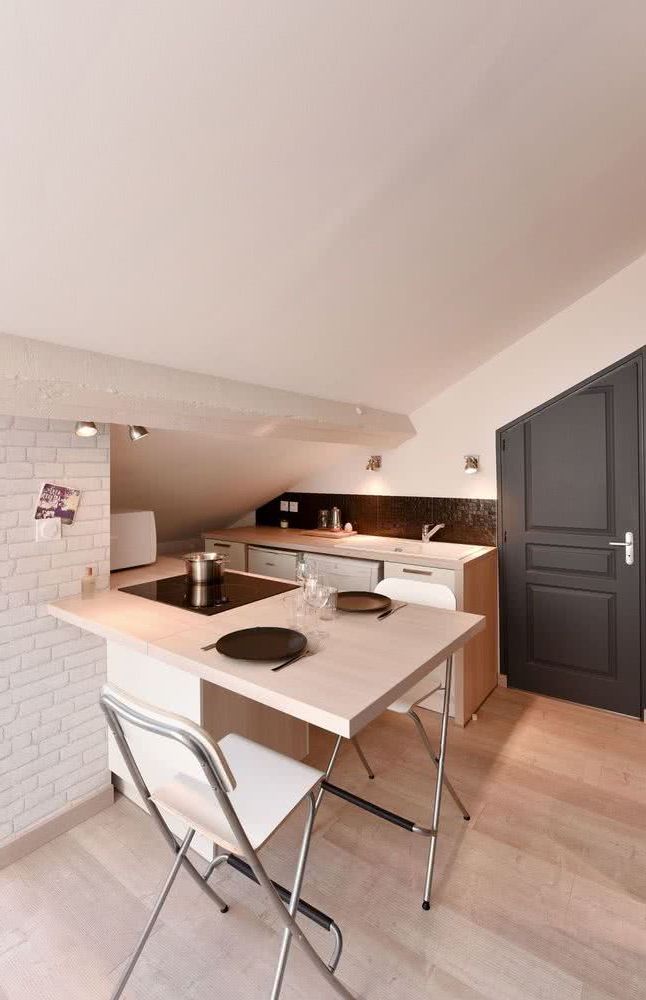 Wall hangers
In this type of kitchen, wall hangers are very useful because they help us to have metal spoons and cloths in order and at hand.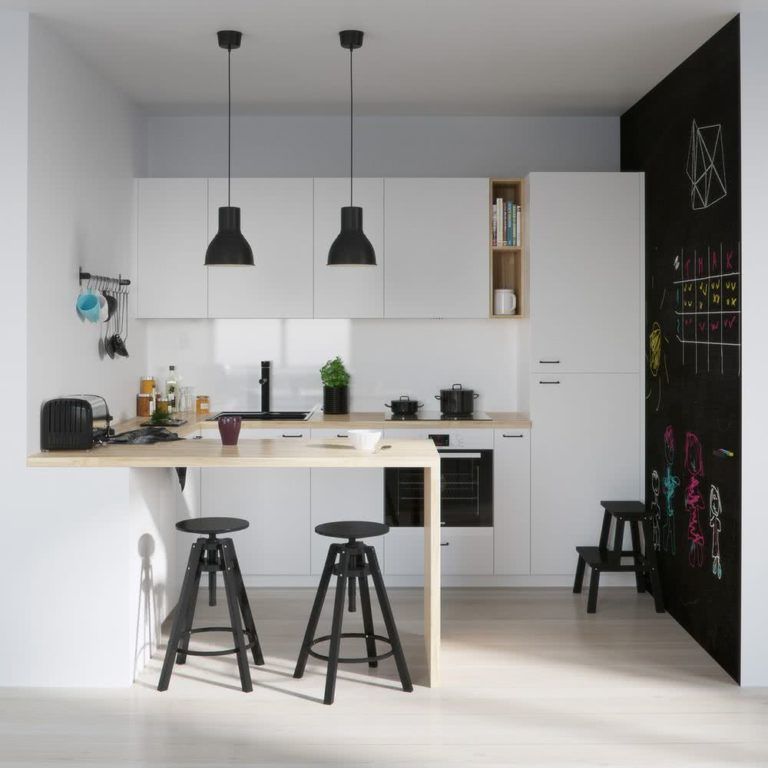 With the garbage can we must also be careful. If we have free space inside the furniture, we can place the garbage can inside one, and thus it will not take up space, but the truth is that it may seem unhygienic. Those that are small wall hangers where you only have to lock the bag are better.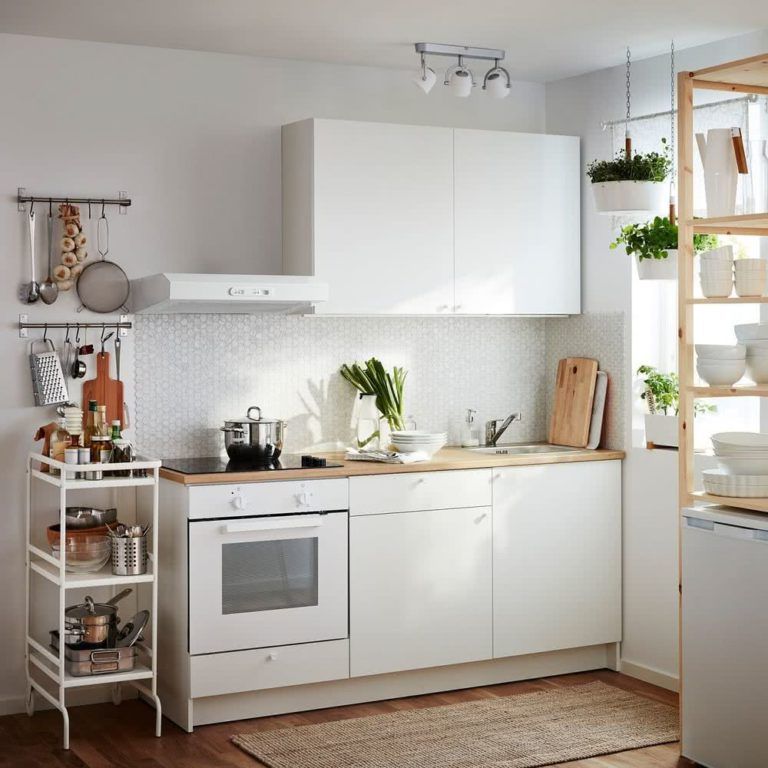 Also, you should keep in mind that you must have two garbage cans: one organic and one inorganic. Since the kitchen is very small and you will most likely not fit, then opt to buy two bag hangers.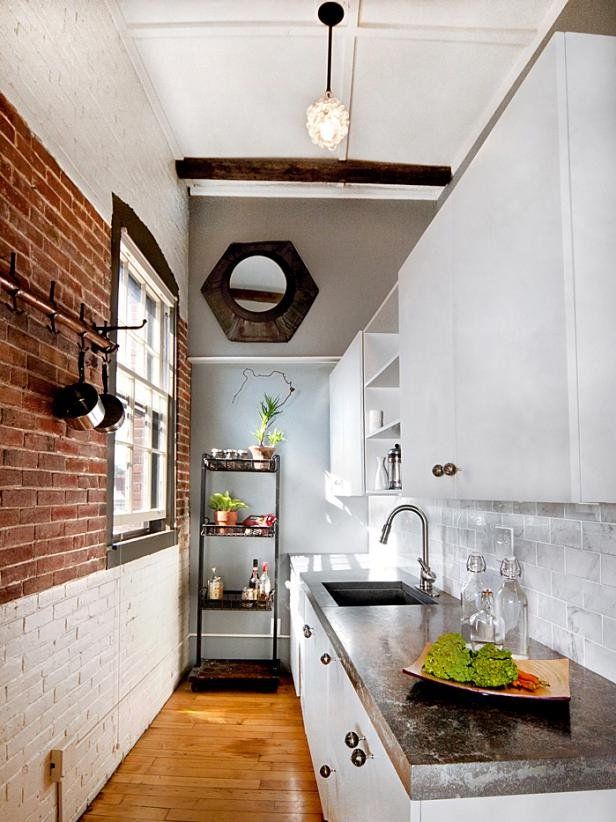 Decorating small kitchens
requires a little more art than decorating those in which we have plenty of space. It is not something difficult or impossible, and with a few tricks we can achieve an appearance that, at the same time as allowing us to have everything we need, make us an attractive and modern kitchen.
Lightning
To make the most of the lighting, keep in mind that the windows and clear light, as well as the walls painted white, contribute to giving a visual appearance of more space. As we see in the image above, a large window gives a great feeling of spaciousness.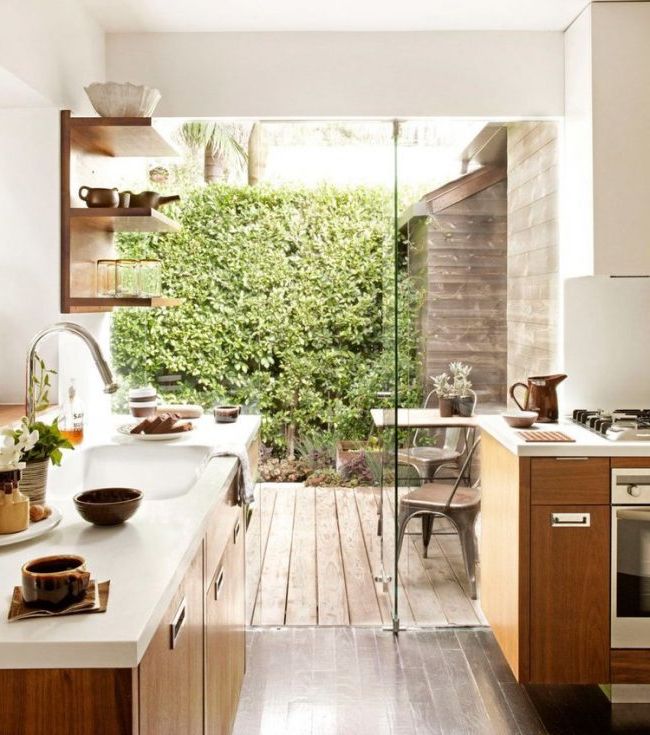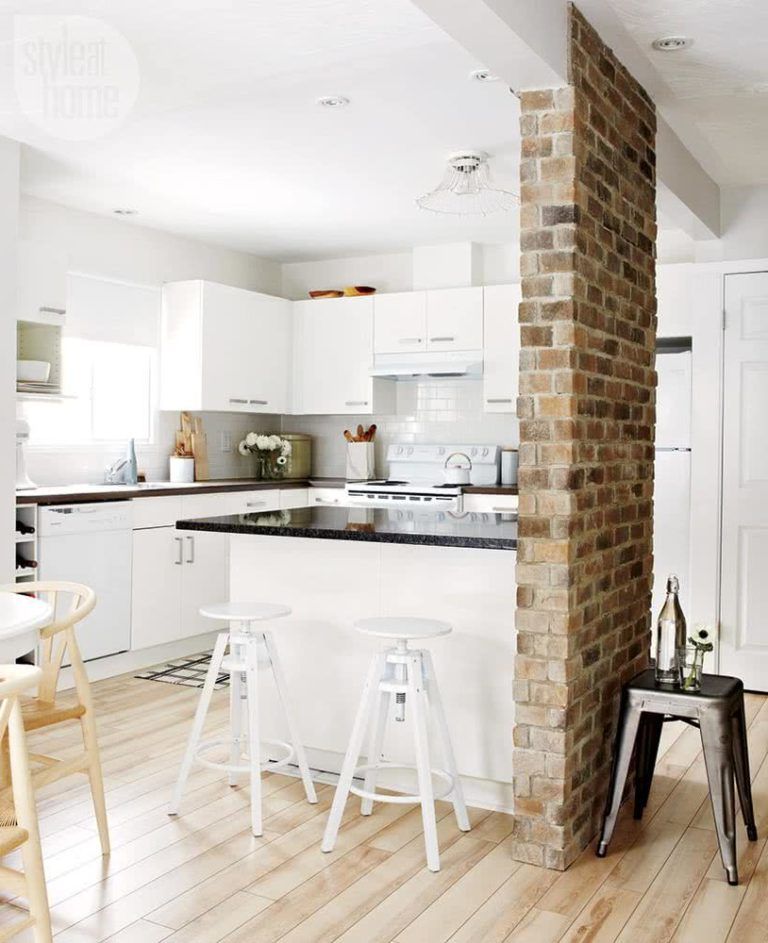 Bright finishes
Many of the latest finishes are available in high luminosity, which are a good option for small spaces as they will help bounce light around the room and enhance the feeling of space. However, the glossy finish is a magnet for fingerprints, so regular cleaning will be necessary, especially if you have small children.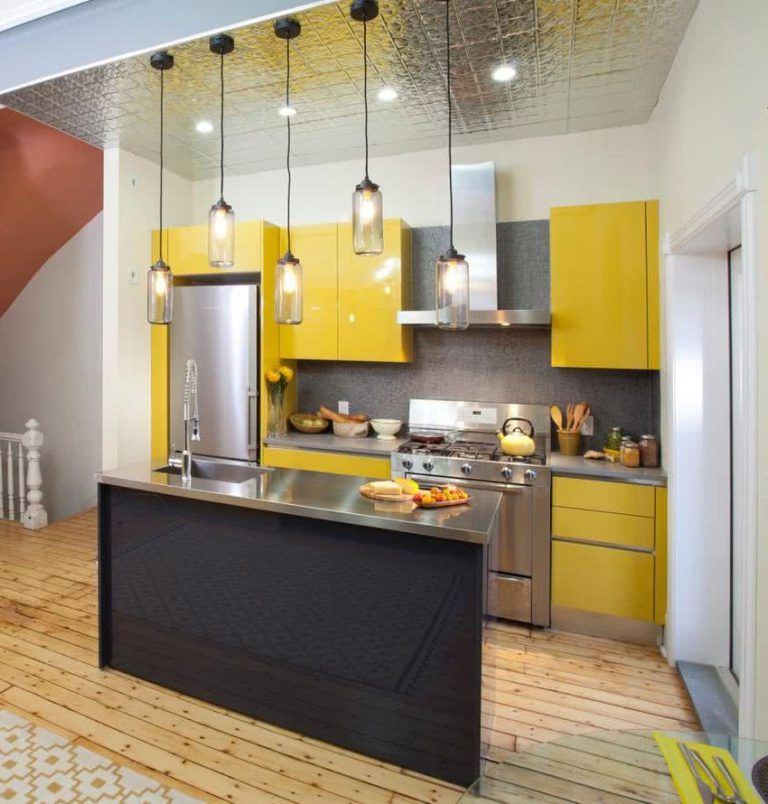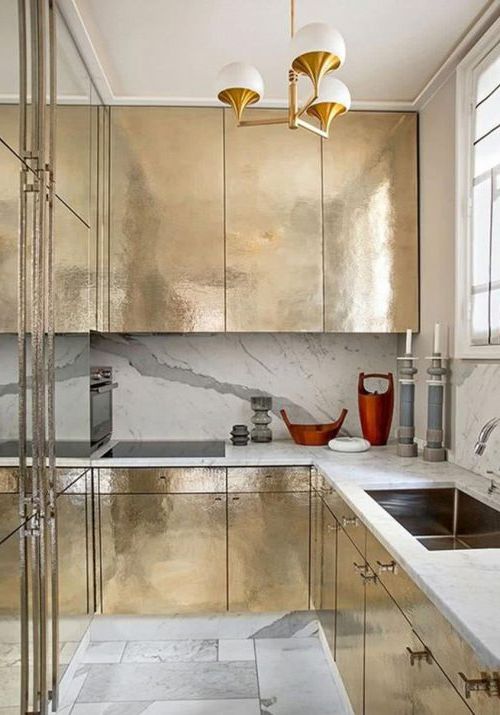 Light woods
Wood kitchens have long been the choice for families who want a material that will stand up to the rigors of busy modern life. Recently, paler woods such as beech or walnut have gained ground. The classic oak remains, however today lighter finishes are used that show the depth and beauty of its grain. These light woods help to give a feeling of space in small kitchens.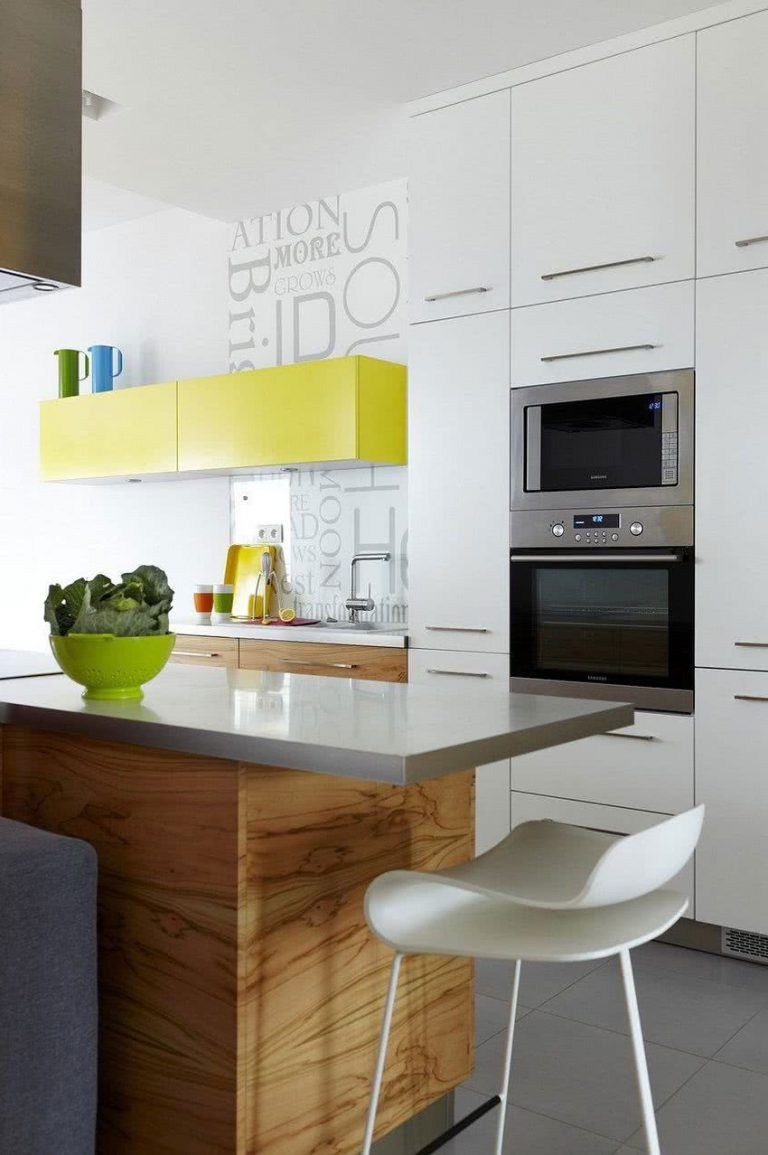 The metallic details help to highlight the beauty of the wood. Wood shelving and glass cabinets work well in a classic kitchen.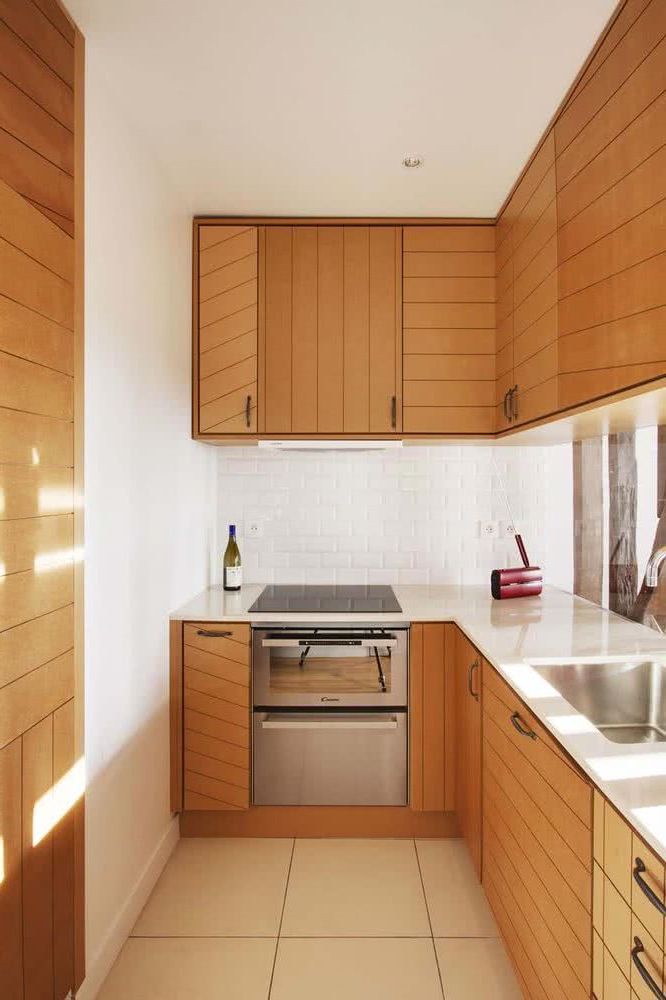 Separate zones
We can say that if there is something really uncomfortable in small kitchens, it is the little space you have to cook. They tend to look very messy with very little that is out of place, because having a small space everything looks too "bulky" and gives the feeling that it is falling on us, creating an unpleasant feeling of being overwhelmed. Therefore, it is essential that you use ingenuity so that everything in the kitchen has an assigned space, and as far as possible, it looks modern.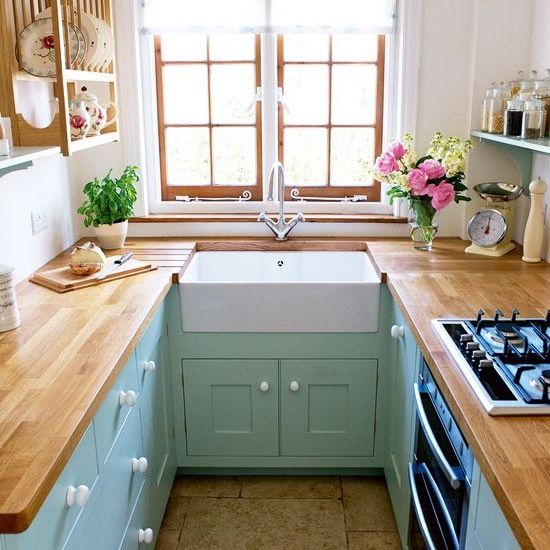 This means that everything must have its place and must be well thought out, to be practical, taking advantage of every inch of the walls and floor.
The first and most important thing to do if you have a small house is to separate the kitchen into three spaces:
Water area – It consists of the sink and a space to wash the vegetables, place the plates, glasses and pots that you wash.
Fire zone – It is where we will place the stoves and the dishes as we take them out of the fire.
Food preparation area, which may well be a small island.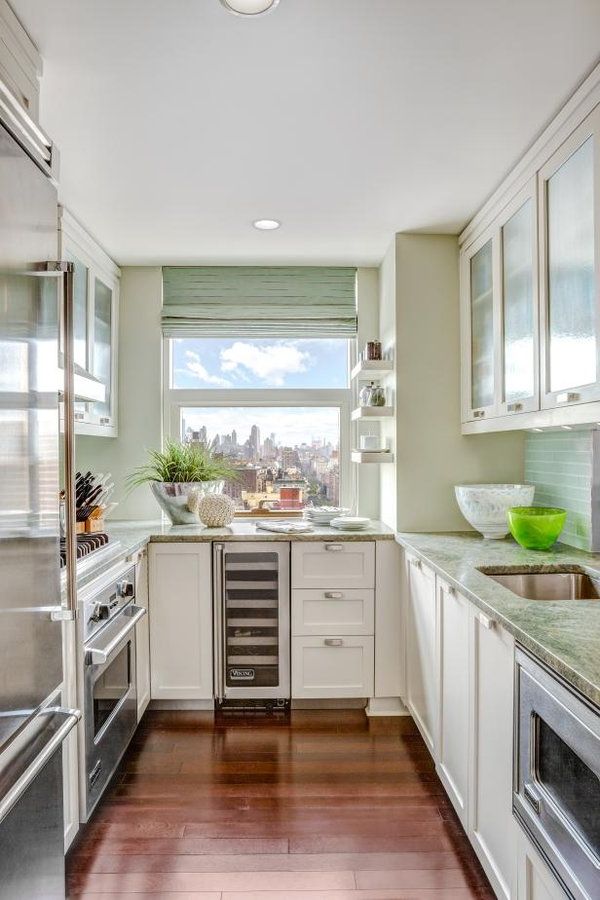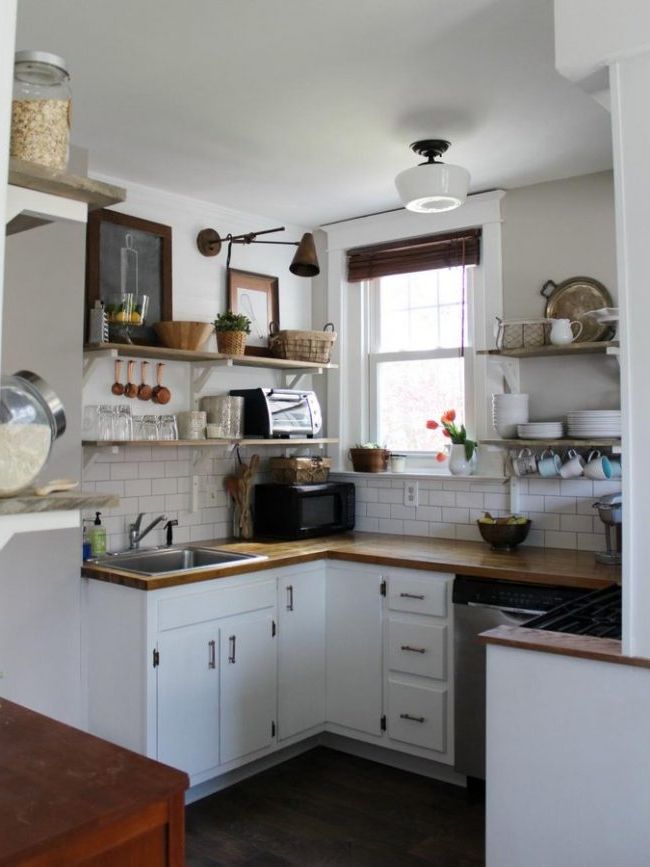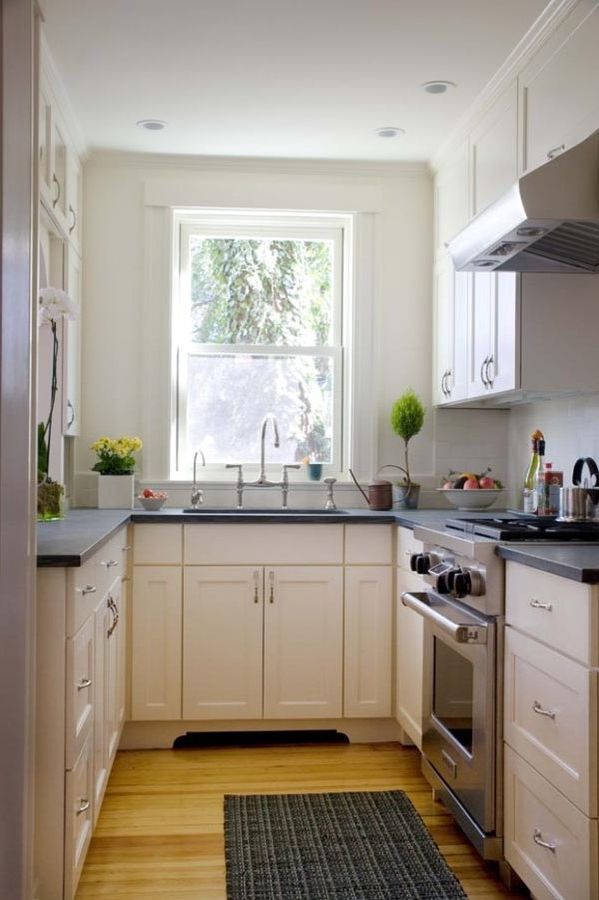 Small kitchens with island
If space allows, an island in a small kitchen can be a great solution to enhance your comfort. The island, in addition to giving us an additional surface to cook, can also provide us with extra storage space, as well as it can also work very well as a dining table. High stools can be very comfortable, and they don't take up too much space.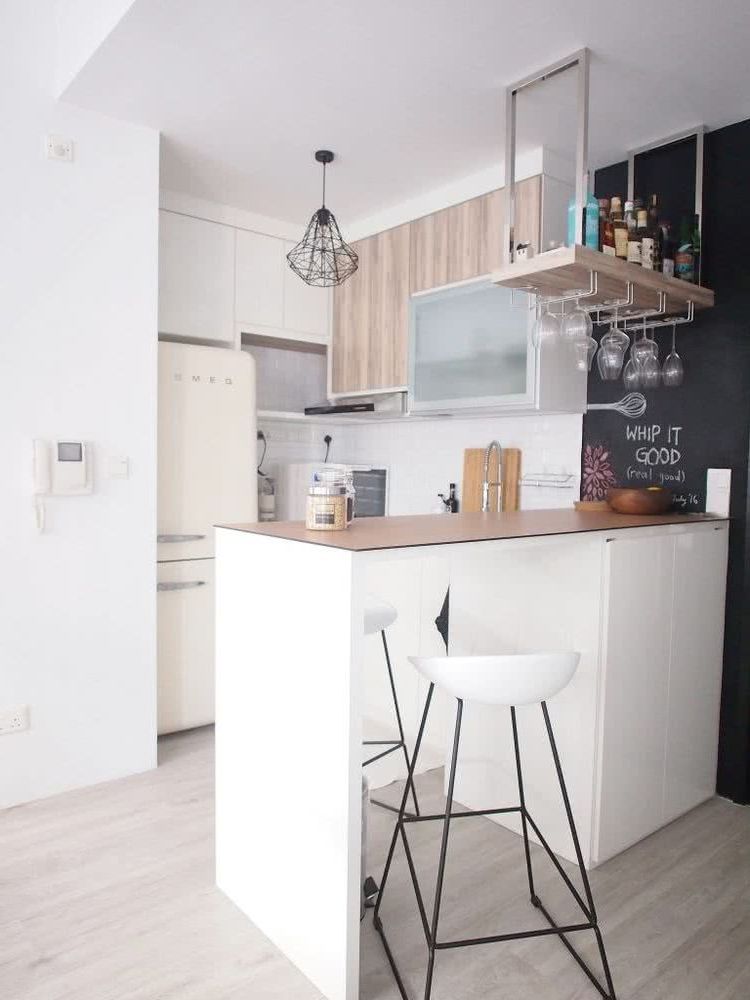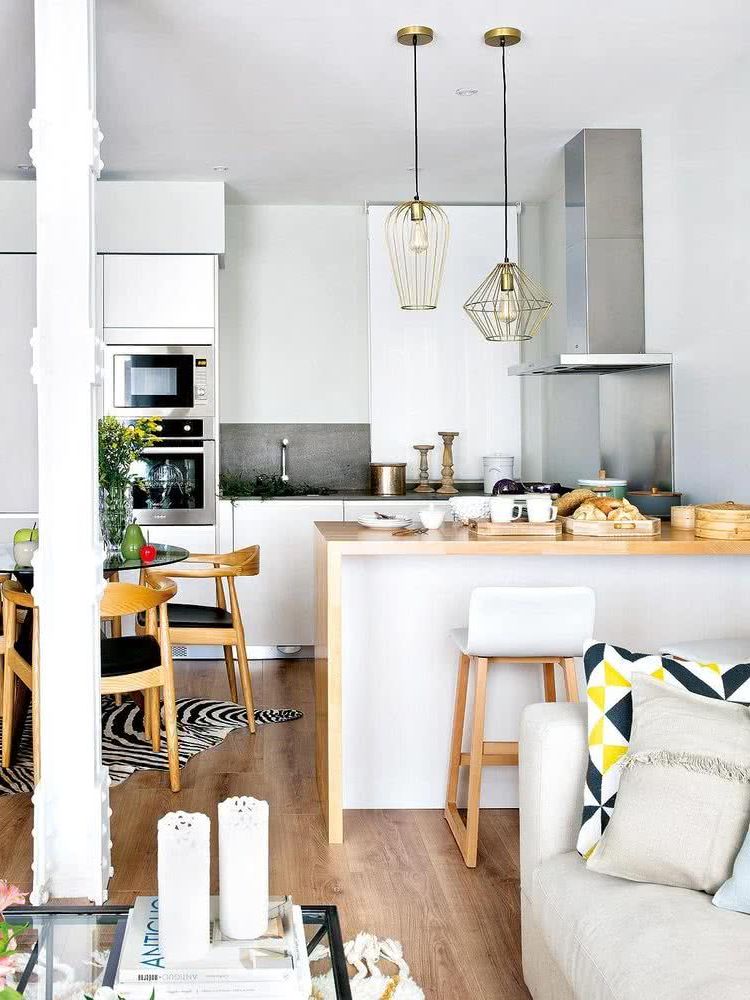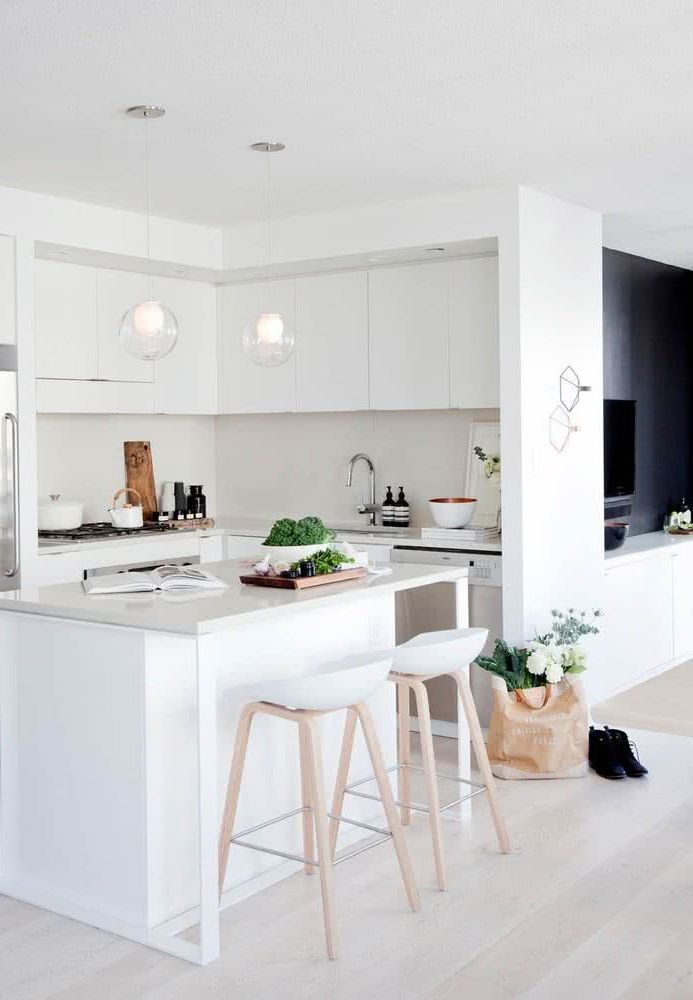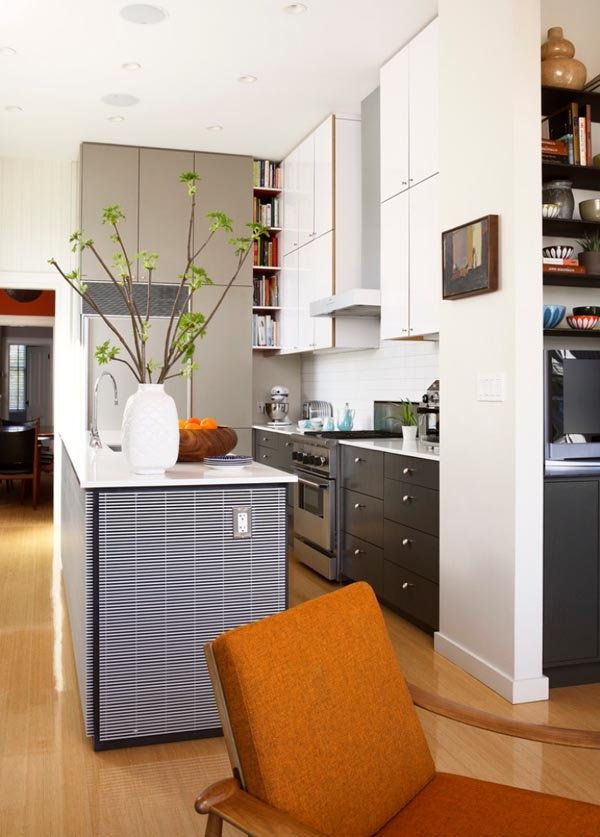 Small kitchens in L
This is one of the most common kitchen designs, especially in small apartments. In these photos you can find inspiration to decorate your kitchen.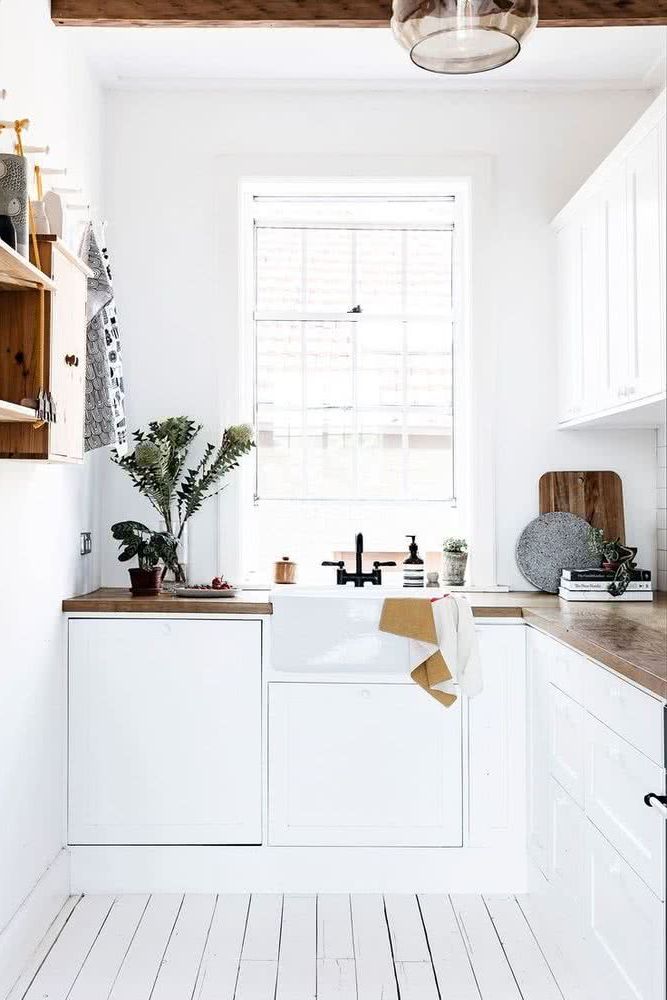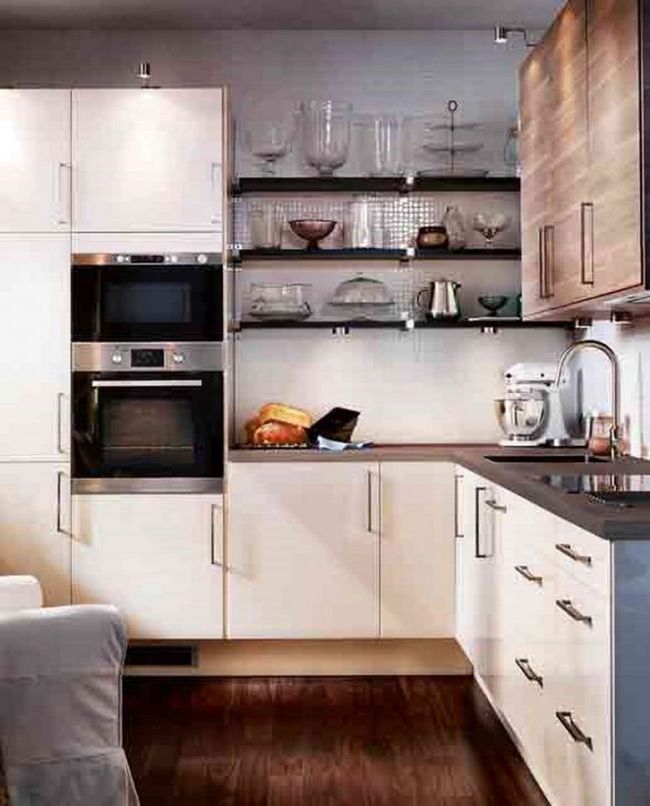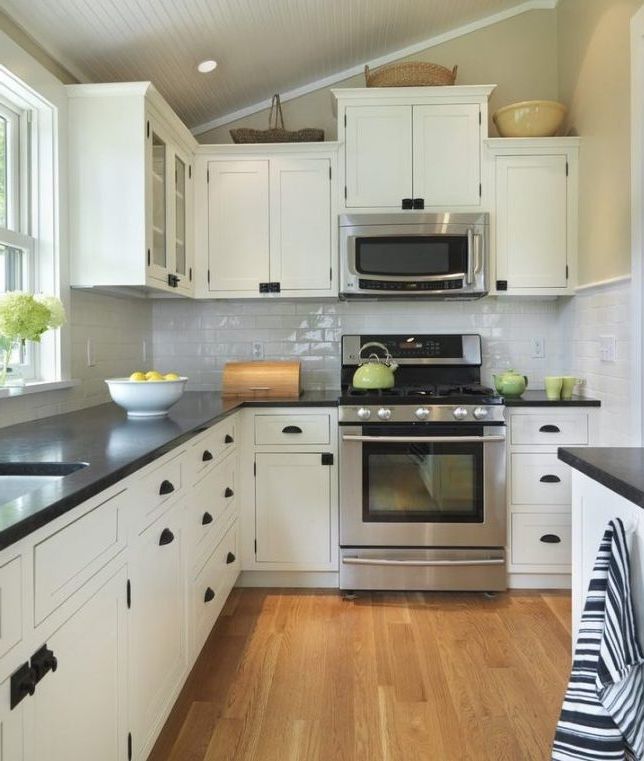 Small elongated kitchens
This is another type of small kitchen that is very common in urban apartments. They are usually elongated rooms. In these photos you can see how a kitchen can be designed in a space with these characteristics, and achieve great functionality and comfort.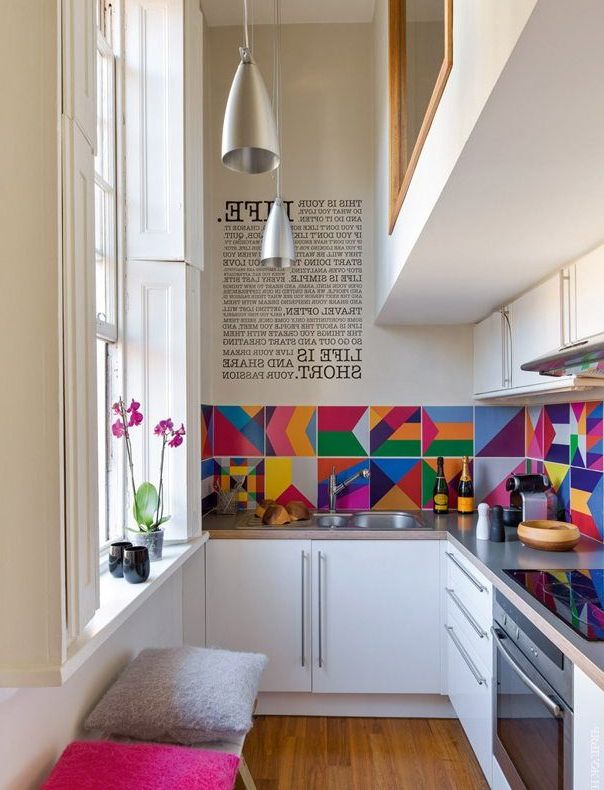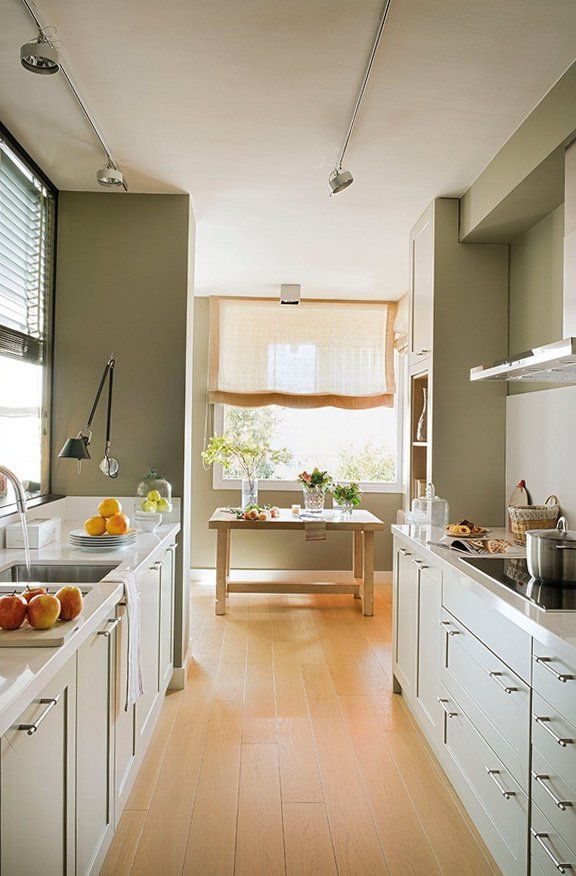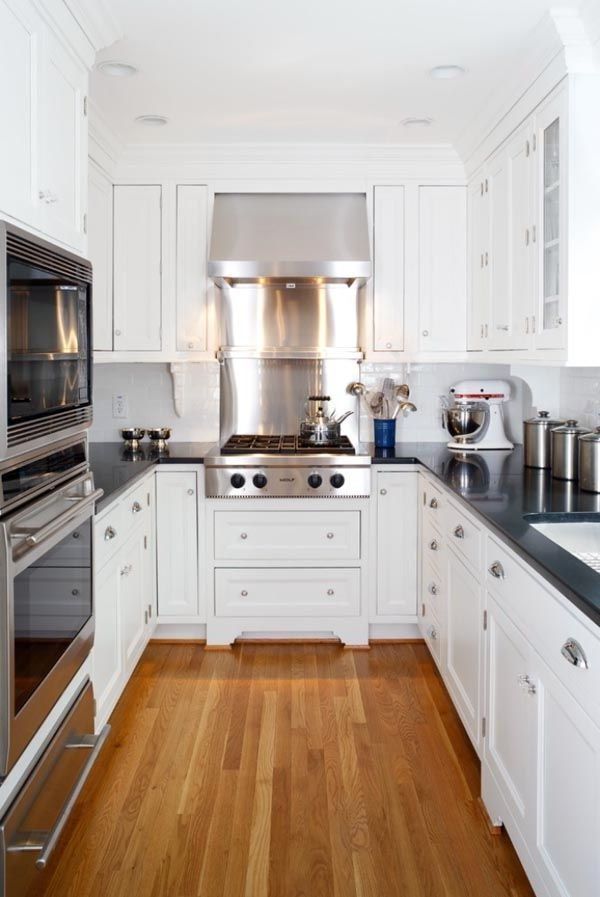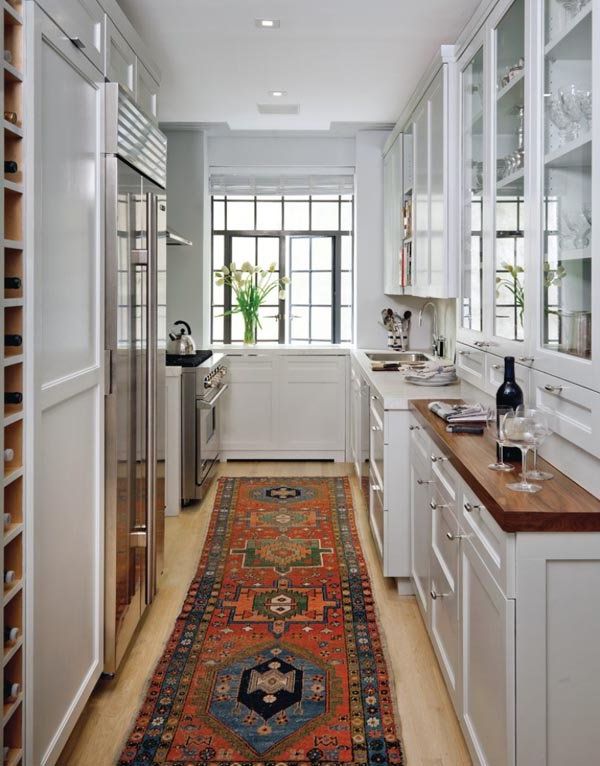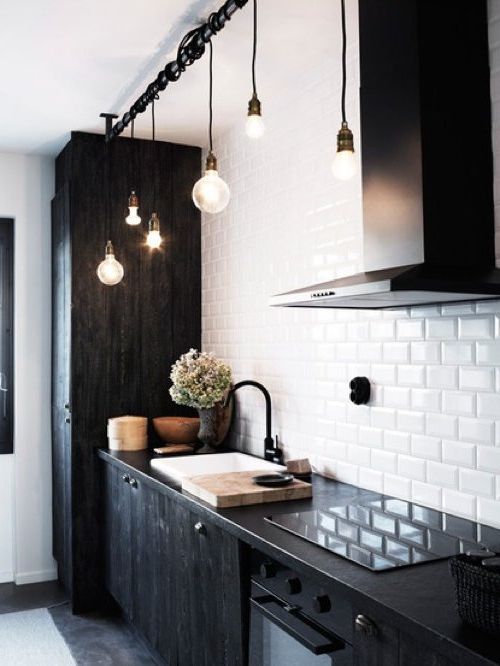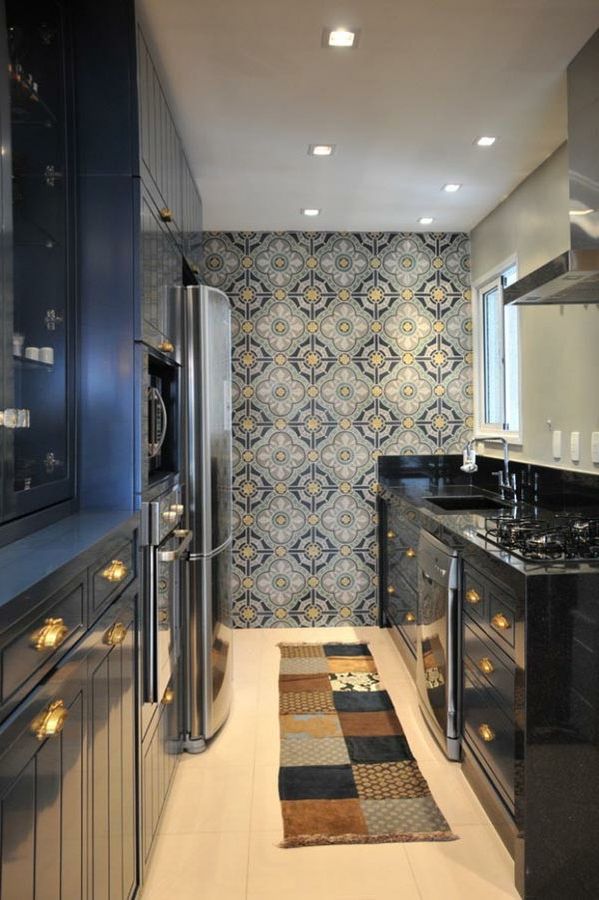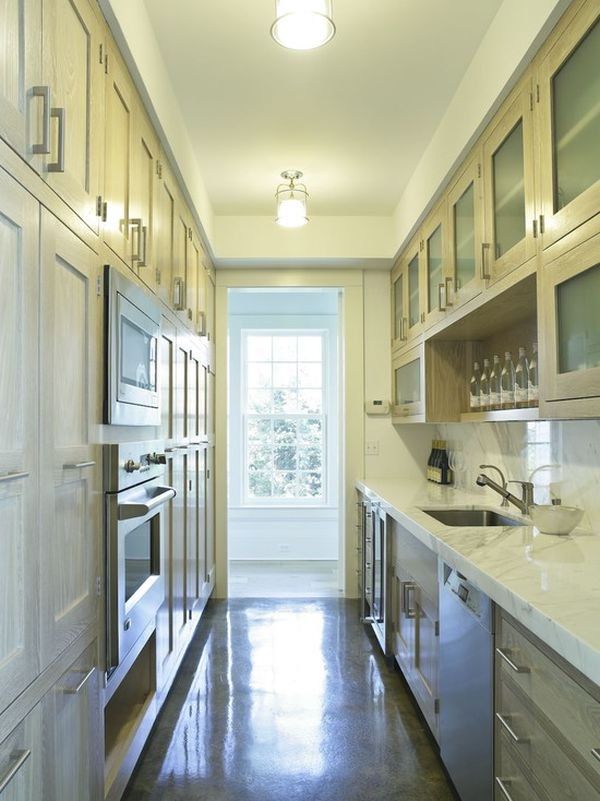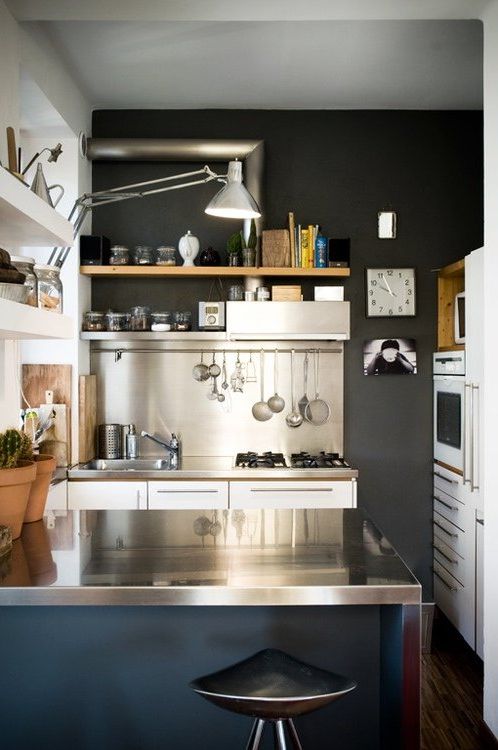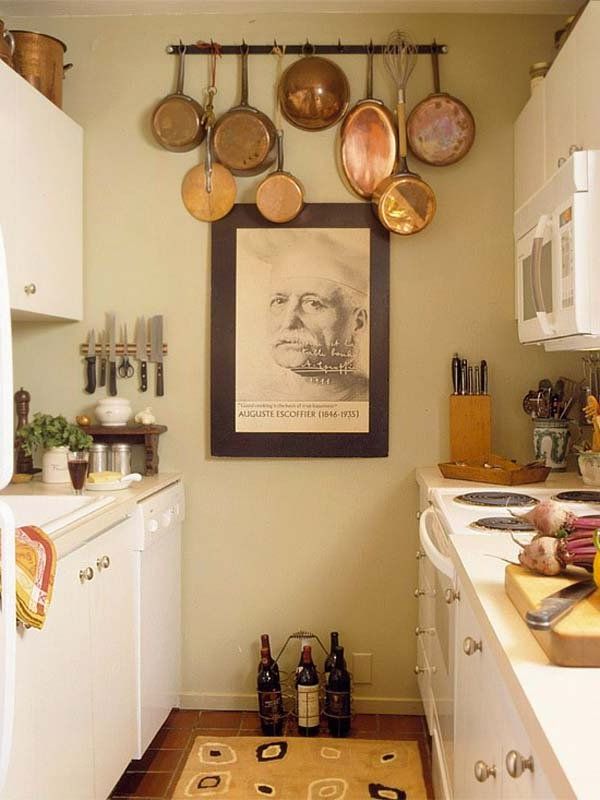 Small industrial style kitchens
The industrial style is inspired by urban lofts. Its key elements include exposed architectural elements such as steel beams, brick walls, and reclaimed lamps.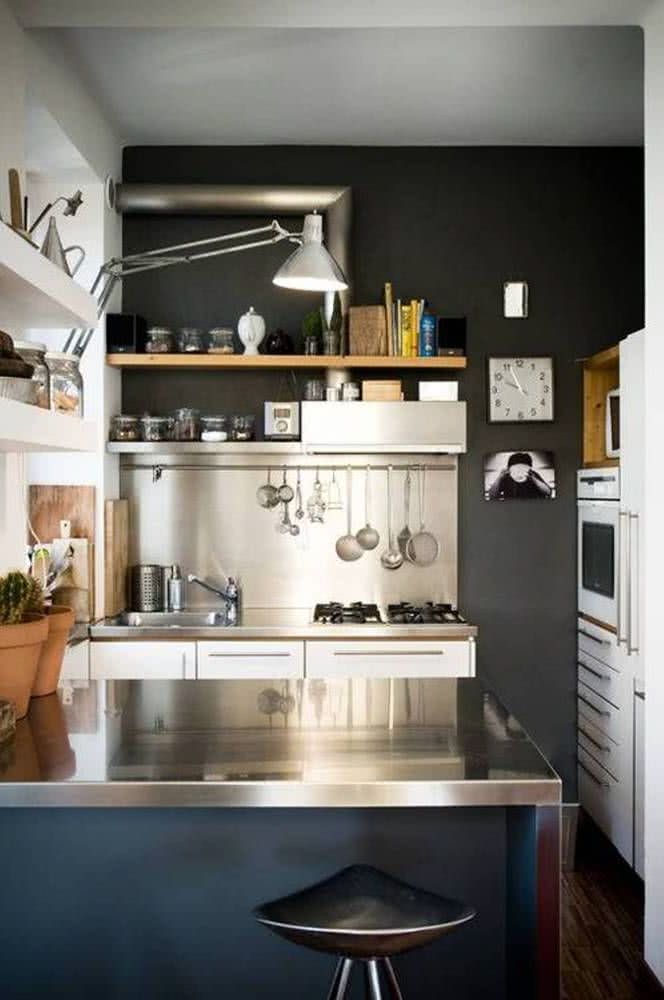 You can take inspiration from materials found on old railways or factories, for example bare brick, rough concrete or subway tiles.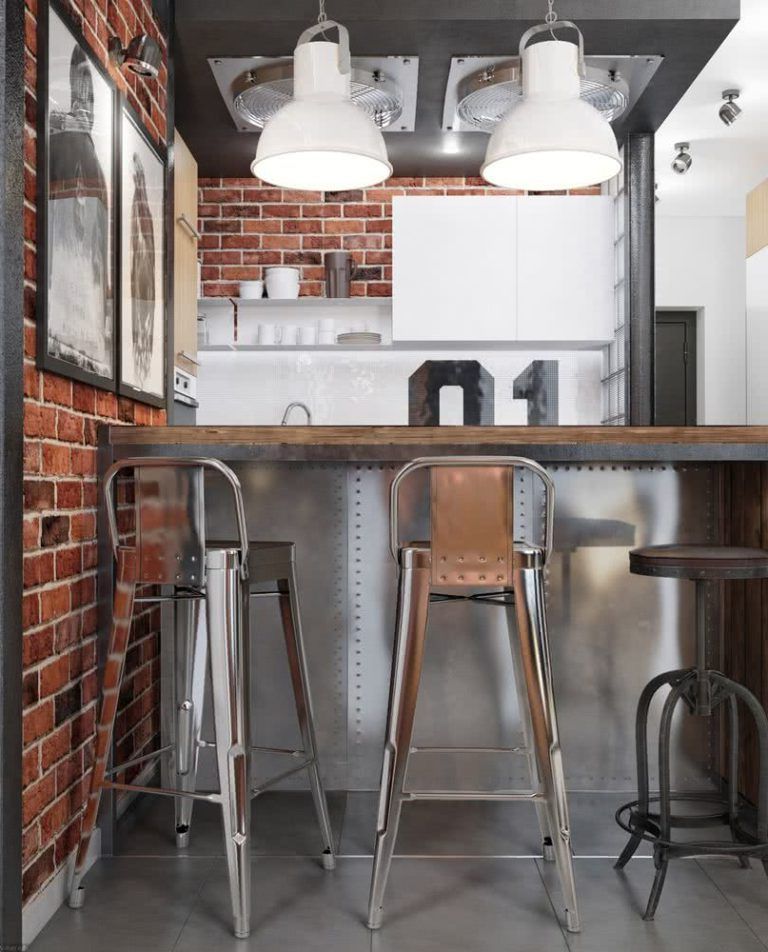 Texture should be created by mixing natural materials that have a patina and texture, such as wood and marble, with smoother, brighter ones. Discreet cabinets in neutral tones will highlight aged wood, concrete surfaces and stone. Exposed copper plumbing and faucets will help achieve an industrial look.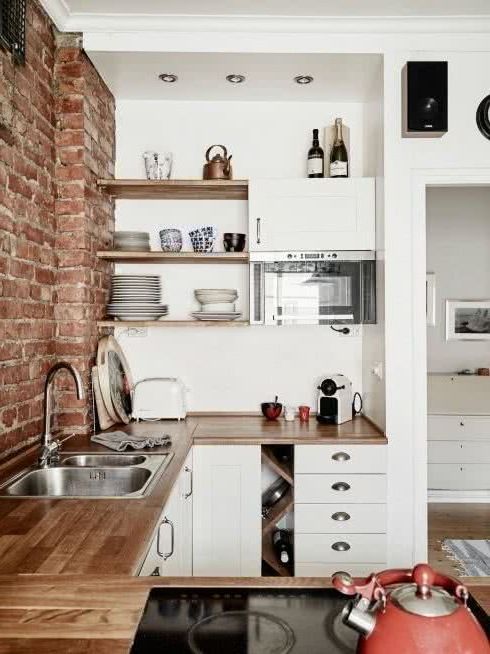 Metal is a key material choice for these types of kitchens. Its long association with construction makes it the perfect partner for a contemporary industrial style. Steel countertops are durable and easy to clean. Add metallic touches with stainless steel appliances or metal seating.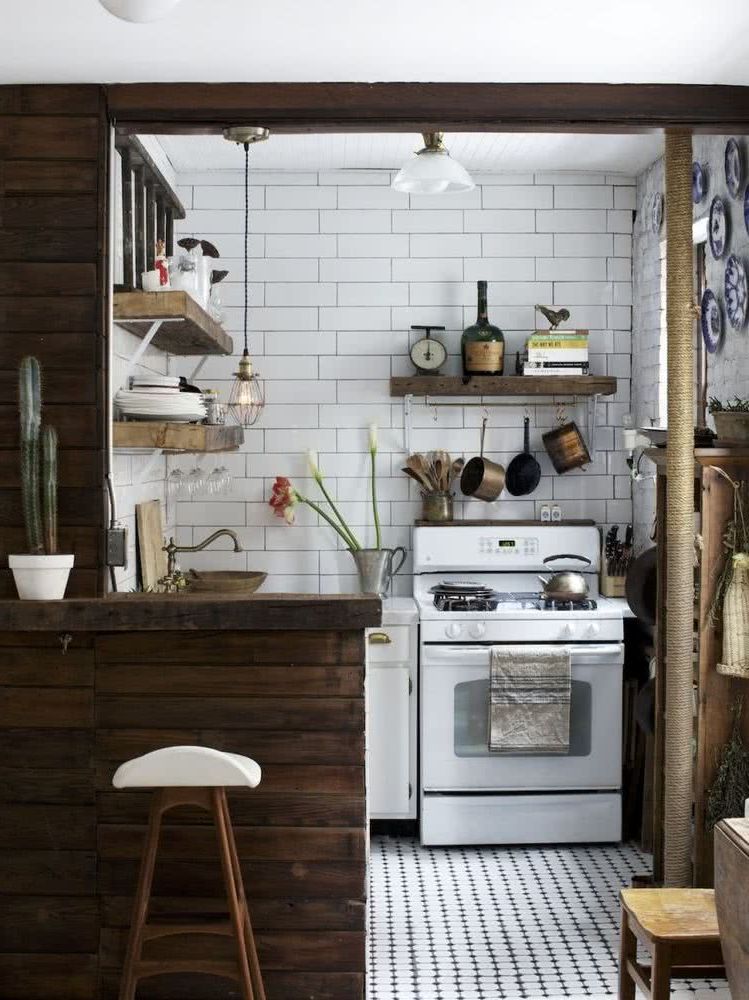 Reclaimed lamps, often made of metal or glass in opaque tones, are a fairly simple way to add a chic touch to a kitchen. Whether salvaged from an old factory or reproductions, industrial-style lights are often an inexpensive option. If you plan to use original lamps, then take advantage of their old paint or beaten surfaces. Simply hang them over an island or dining table to bring in light and style.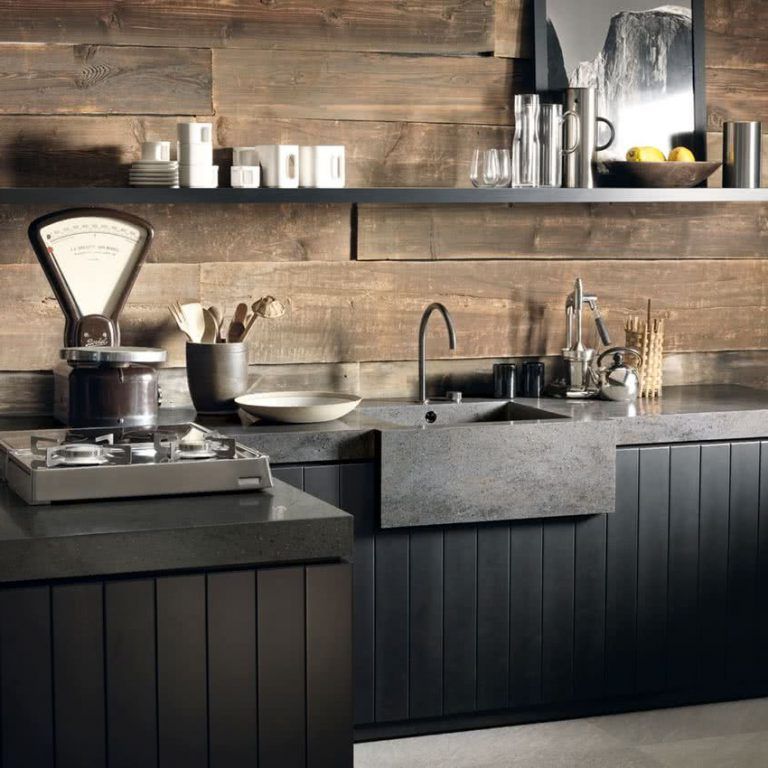 Classic modern style
Classic kitchens have a timeless look that never seems out of style. Traditionally associated with bespoke joinery, their popularity is due to the fact that they are now available for all budgets.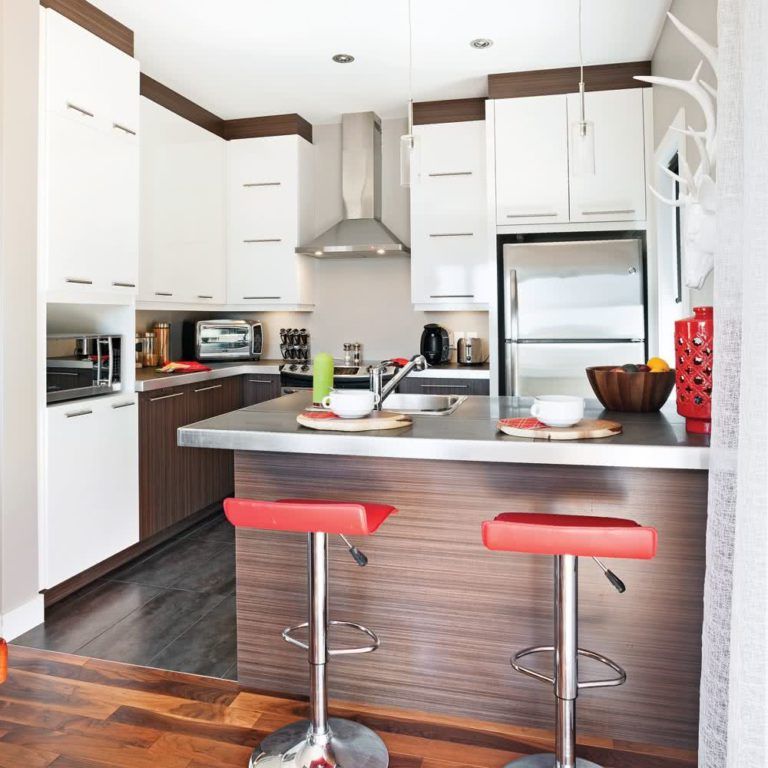 Plain woods and pale tones are the most effective way to give kitchen cabinets a contemporary look. Think calming color palette of soft blues or stone tones. Remember that colors can change significantly with changing light, so it's a good idea to choose shades that seem cool during the day and cozy and warm at night.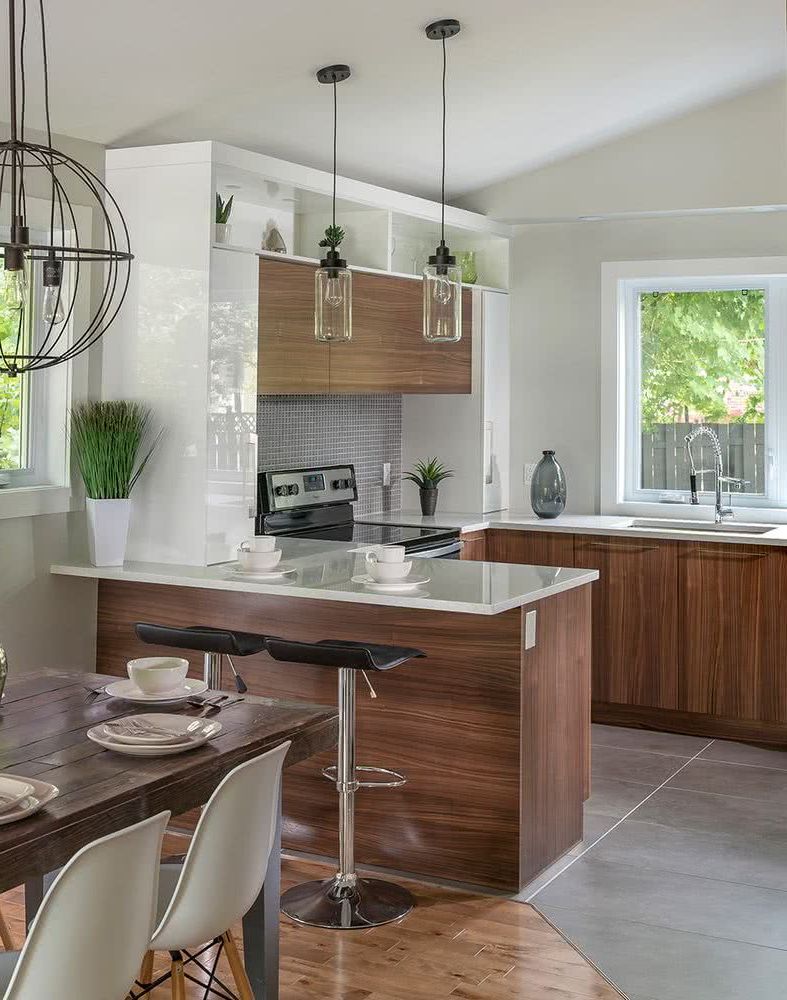 Range kitchens create a focal point and add warmth to a scheme. Choose one in a primary color to contrast with white or gray cabinets. Keep the rest of your appliances out of sight by investing in built-in models that are hidden with cabinets.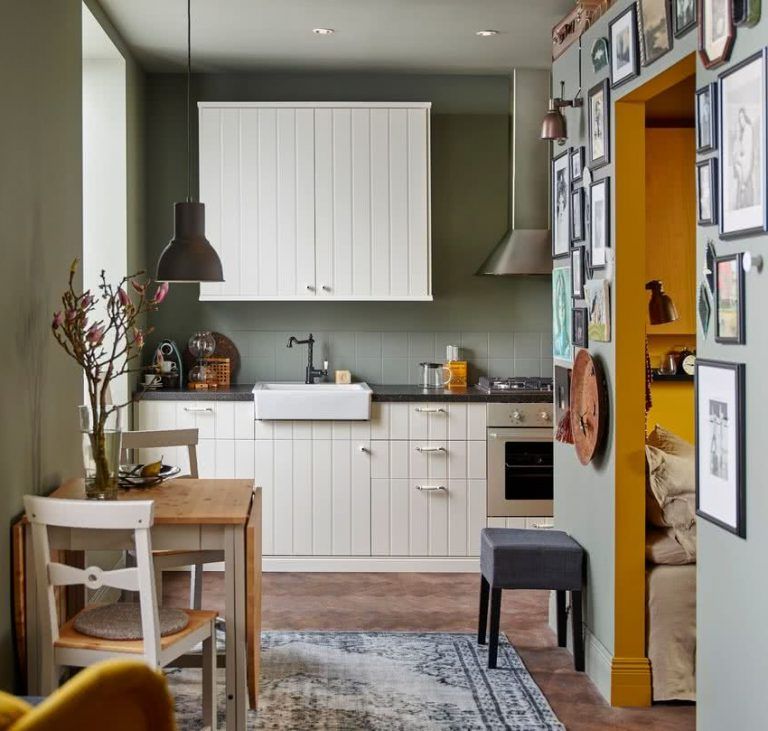 Use the rich wood details to add warmth and add a natural element.
Colors for modern small kitchens
Neutral or bright colors
A point to keep in mind that is essential is that the kitchen go white or, failing that, with neutral or pale colors such as gray or cream as the predominant color. If we decorate them with dark colors, the kitchen will look smaller.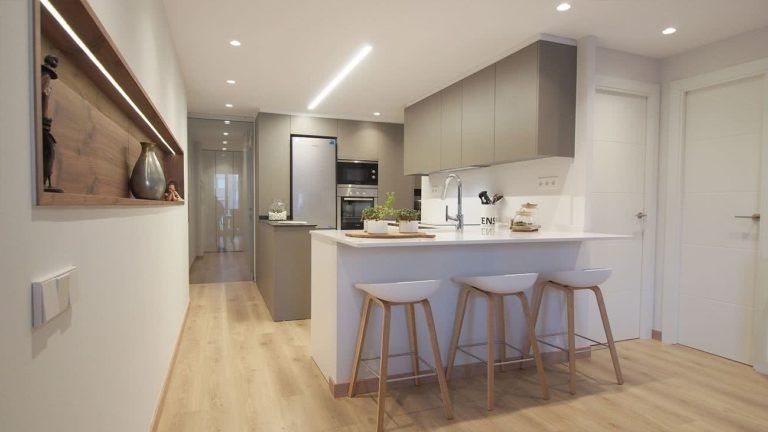 In addition, we can place a full-length mirror on the wall or on the door of a closet, and with this we will gain a few centimeters of amplitude, optically speaking. The mirror, by reflecting, eliminates limits and gives a feeling of spaciousness. This is especially recommended in kitchens that do not have windows to the outside. If we do not have mirrors, stainless steel appliances, countertops and polished surfaces or glass can also help to give a feeling of greater space.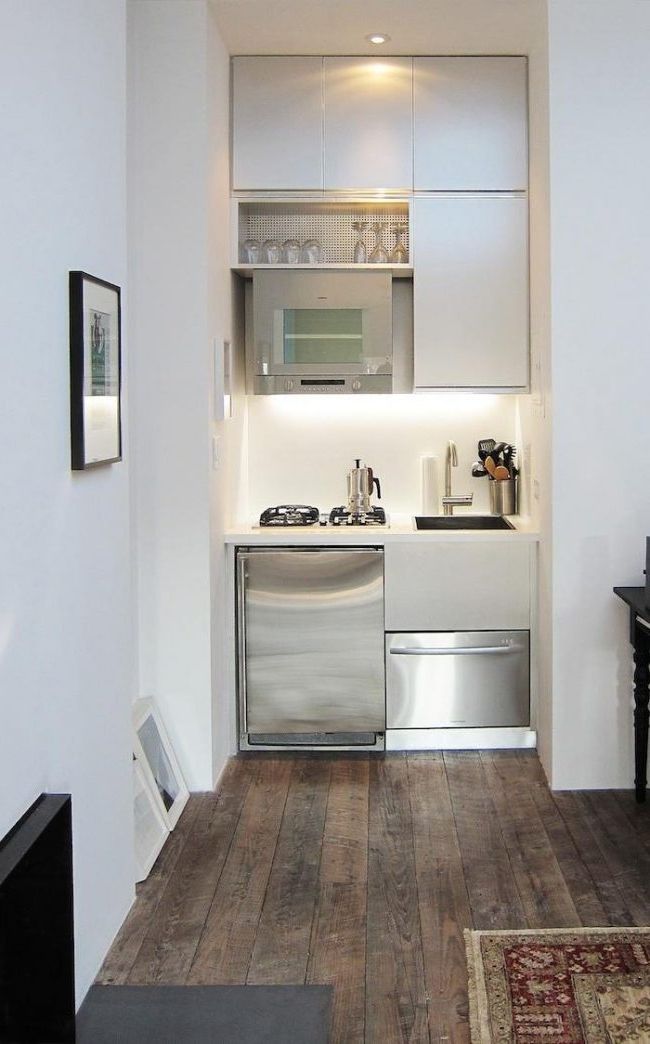 Touches of vibrant colors can be added, but on small surfaces.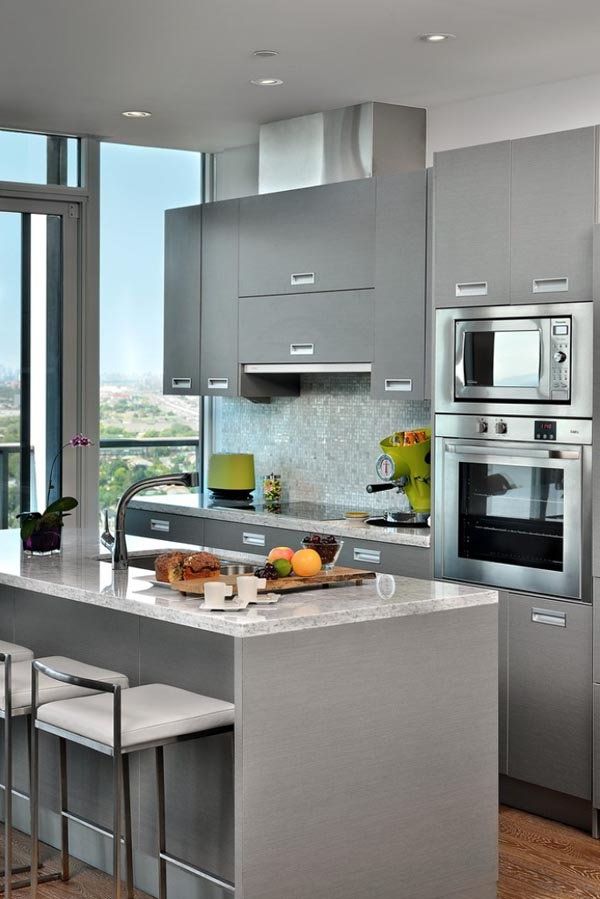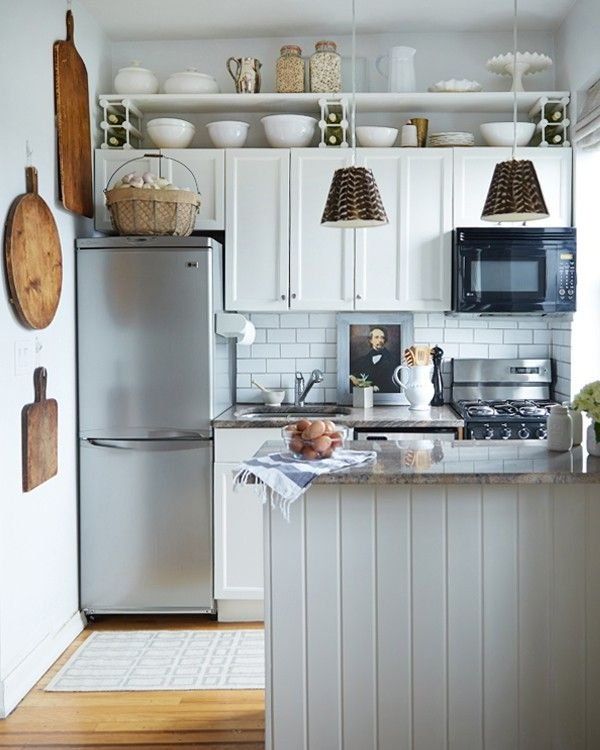 Small white kitchens
Without a doubt, white is the most recommended color to use as the predominant tone. It helps to give a feeling of greater space and light.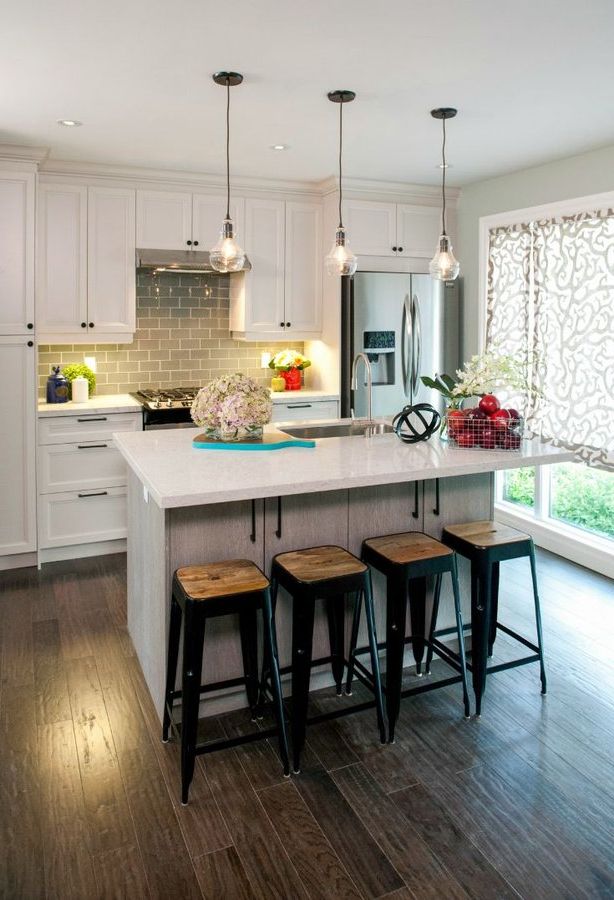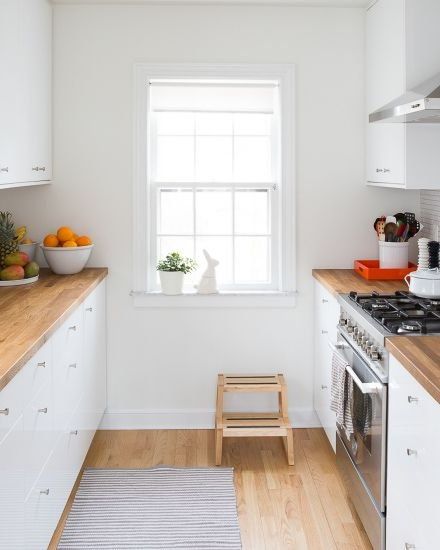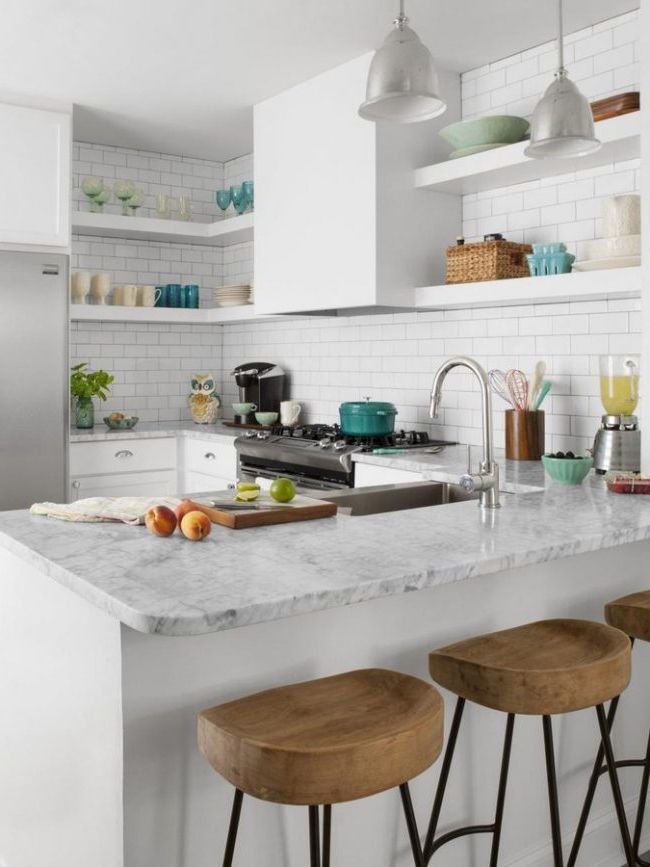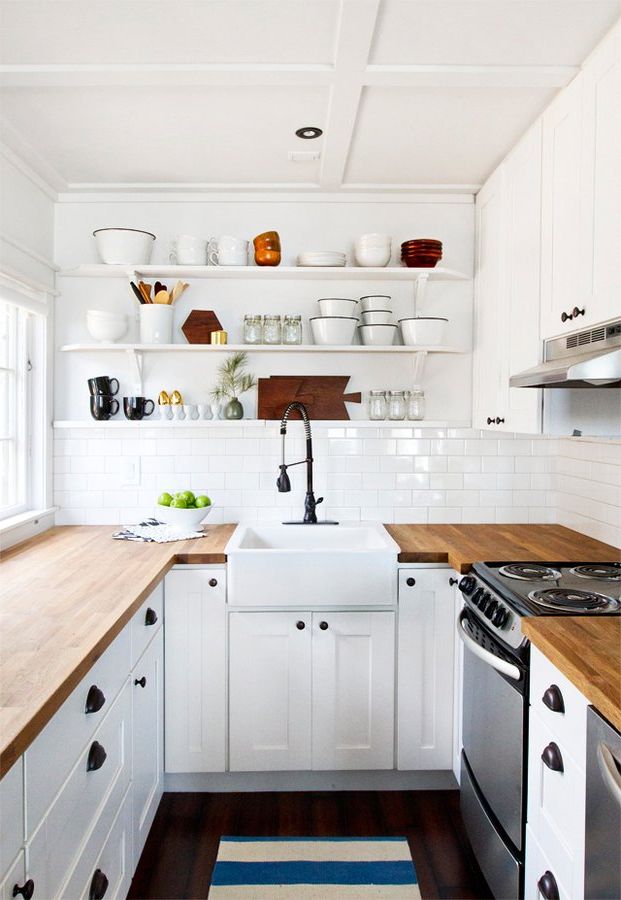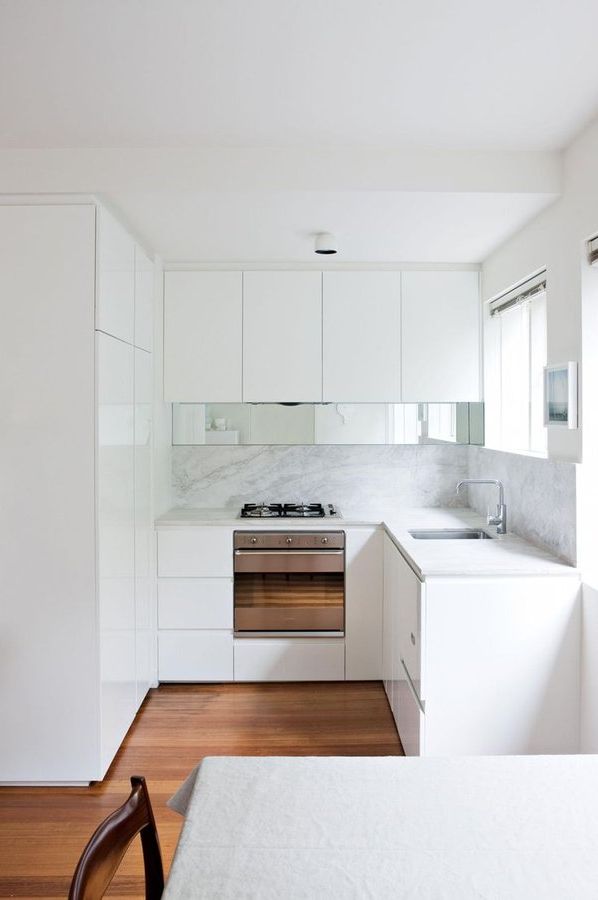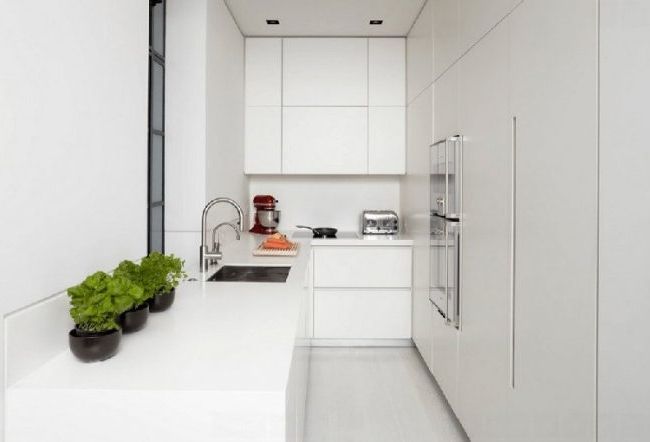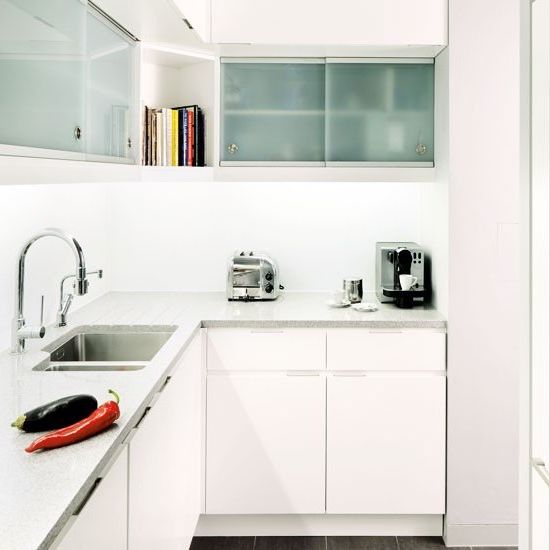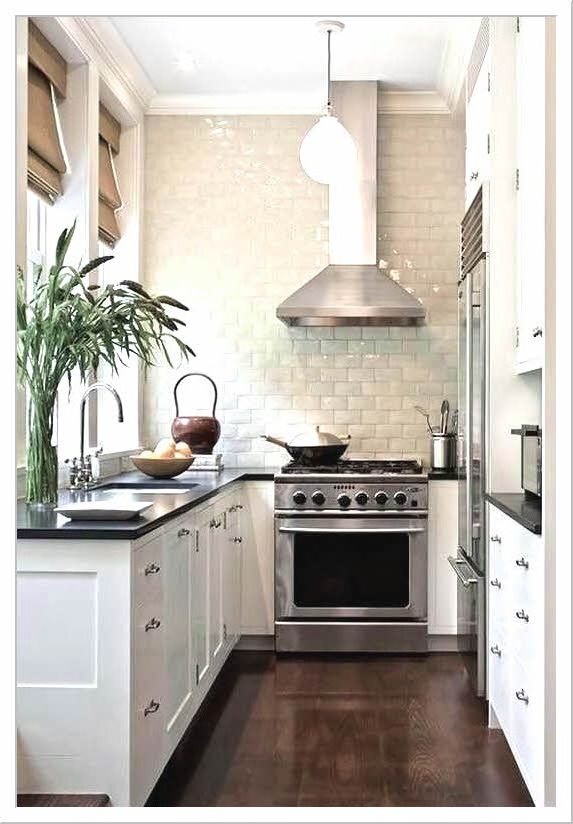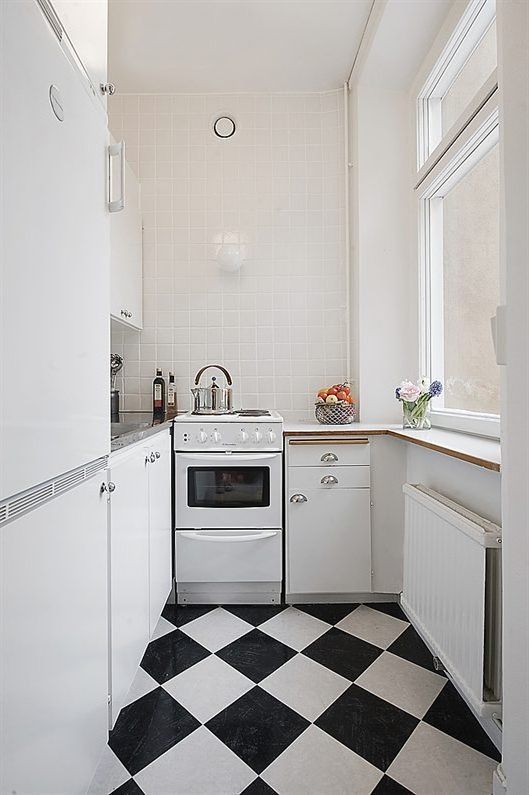 Today, kitchen cabinets can be found in a wide variety of shades, textures, and patterns. Blues and grays are still very much in fashion, especially navy blue and graphite grey. If your style is more discreet, then shades like olive green, aubergine and graphite are a good option.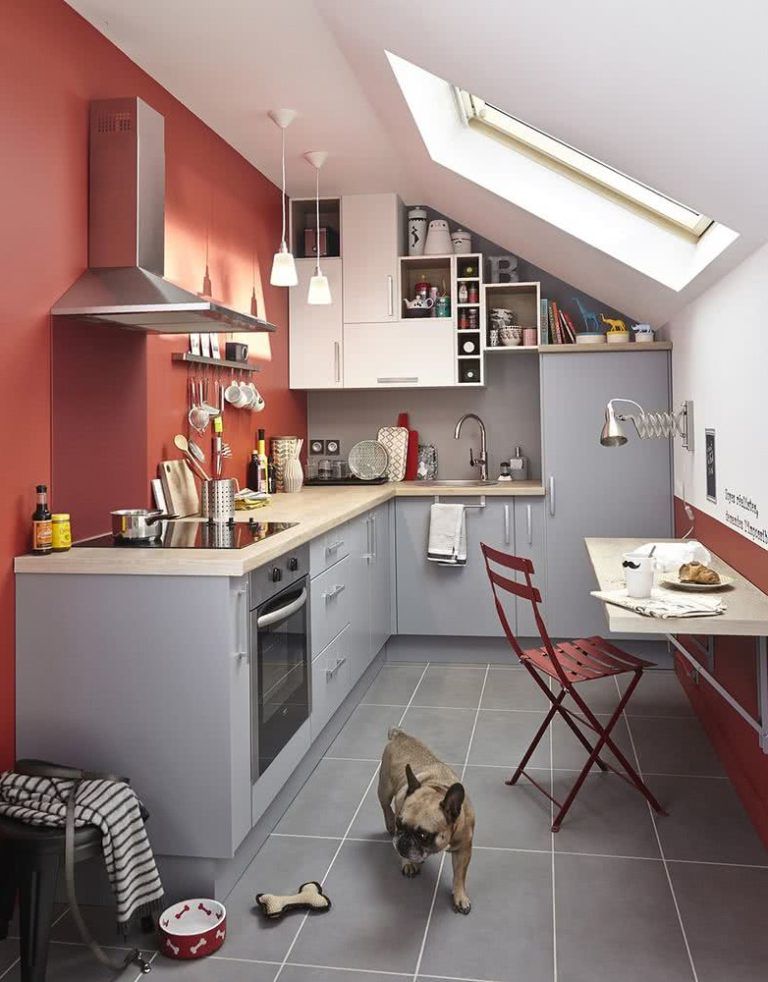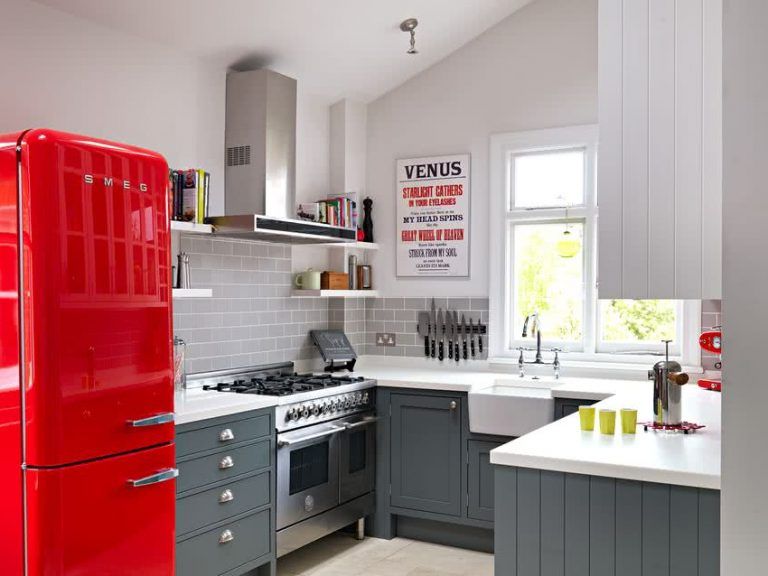 You can also add color through tiles, putting together striking geometric patterns in Moroccan tones. You can also create a sense of harmony by choosing a favorite shade and then using it to highlight and connect multiple individual elements.
Video how to design a kitchen
And of course, expert advice will always come in handy, here we have a video tutorial on how to design a kitchen, from Martin Bonari's YouTube channel, you will learn a lot. We recommend it because you can get a few very practical ideas.