To integrate a kitchen open to the living room and dining room and have a single room that is well designed and used, we must pay attention to 3 very important points.
The first of them is the way of opening the kitchen to the living room, on the other hand the design of an open kitchen that can be seen from any corner and, of course, the integration through the decoration and furniture of the three spaces.
That said, we start right now with the first point.
Ways to open the kitchen to the dining room
There are many ways to open a kitchen to the living room, depending on the floor plan and architecture of your home, as well as, of course, your needs and tastes. Let's see them.
Completely open and integrated with the living room and dining room .
The most effective option to make everything look larger and the option that entails the most radical change is to tear down the wall or walls that separate the kitchen from the dining room and leave it completely open and integrated into the dining room, without limits. visual or physical.
Completely open, but separated and defined by an enclosure .
This option allows the two spaces to be completely connected, but clearly defining each zone.
Normally, metal and glass enclosures with panels are installed in cases where clients want to make their kitchen, living room and dining room more spacious and bright, but do not want cooking smells to spread throughout the house.
We can also partially open the kitchen .
It is about making a hole in the partition, or raising a partition with a hole where we want to keep the spaces together but with a little more privacy for each one.
In this case we also have the option of leaving the hole completely open, without any dividing element, or installing a window or sliding enclosure to open it only when we want.
Separated by a wall .
Design and project by Estudio Sincro
In this case the idea is to separate the kitchen from the living room and dining room by means of a low wall.
Both areas, kitchen and living room, become brighter and visually larger, they share the same space, but each area also maintains greater privacy.
In addition to the fact that this option offers us more storage space, since we can install low furniture on the wall by the kitchen side.
In addition, we can also use some enclosure at the top of the low wall, fixed or sliding, to achieve greater privacy and prevent less odors, smoke and others from coming out when we are cooking.
Open an opening in the wall .
This option to integrate the kitchen into the living room and dining room is also very good since it makes the areas have greater light and the visual space is enlarged, but everything maintains a certain intimacy, in addition to allowing us to very easily create a bar always practical, and on the kitchen side, the wall also allows us to install more kitchen base units.
As you can see, there are many ways to integrate the kitchen into the living room and dining room, it all depends on your needs and the characteristics of the space.
Therefore, before getting involved in knocking down walls, examine all the options well, or ask a professional to study your home, because some work better than others in certain cases.
Now that we know how we are going to open our kitchen to the living room and dining room, let's see how to integrate the three spaces so that everything is harmonious.
Integrate the kitchen in the living room and dining room
Continuous floors .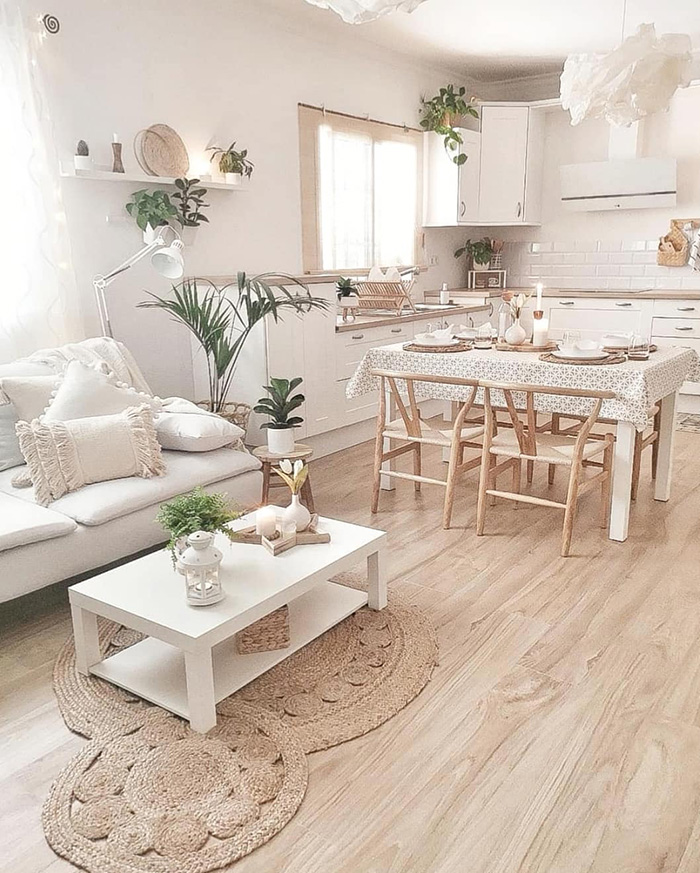 Continuous floors are a fantastic solution since they visually make the spaces larger than if the kitchen floors were different, and unite all the areas, since all of them, kitchen, dining room and living room, are based on the same base.
In addition, we can not only use porcelain floors or ceramic tiles, but also platforms, since today we have special water-repellent and fire-retardant platforms for kitchen or bathroom floors.
Continuous materials and finishes .
Not only the floors guarantee us a well-integrated kitchen, in reality we can do it with any material or finish.
In fact, there is nothing more effective to integrate different areas than the continuity of materials and finishes, making the three areas, kitchen, dining room and living room, have the same decorative line. This is a guaranteed success.
Paint the walls the same color as the kitchen .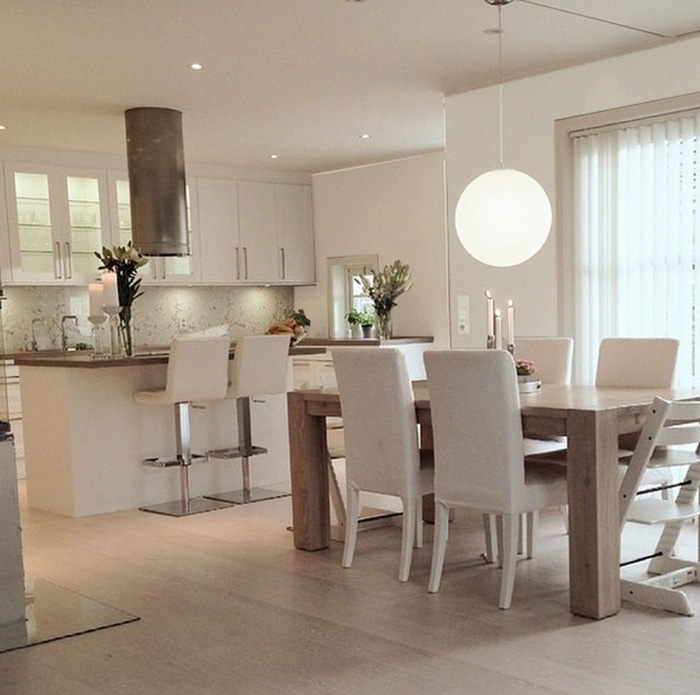 Painting the walls the same color as the kitchen ensures that the kitchen looks much more integrated with the dining room and living room, and this is something easy and inexpensive to do.
If you do not notice harmony in your home and you have the walls painted a different color than the kitchen furniture, you can start here to achieve harmony as it is a very simple and economical step.
Paint all the walls the same color as the kitchen and you will see how everything integrates. Or at least it will be much more integrated.
Use color accents .
With a few simple color accents, we can integrate or make everything feel more integrated.
The idea is very simple, it is about adding a color accent that stands out in the 3 areas.
The color you want, but that stands out subtly or strongly. And that's it, this will be enough to integrate the living room, dining room and kitchen.
And you can use whatever you want, you can use cushions, paintings, vases, flowers, sofa covers, bar stools, chair covers, ceiling lamps, small appliances of the chosen color.
It is one of the easiest and most effective ways to create harmony in all three zones.
Choose a color palette and stick to it .
We have already seen this solution in other articles such as this one that deals with how to make your house more beautiful easily, and this solution works always and in any house and space.
We saw it in this house above these lines the other day: choose a color palette of three colors, put the main one in large doses. Whites and bright neutral tones work best.
Then put a second color in a smaller dose, and to finish off, add accents of a third color, the ones you want.
And this guarantees a chromatic unity in all areas, which will make the kitchen, dining room and living room look perfectly united and integrated.
Use similar decorative elements in all three zones .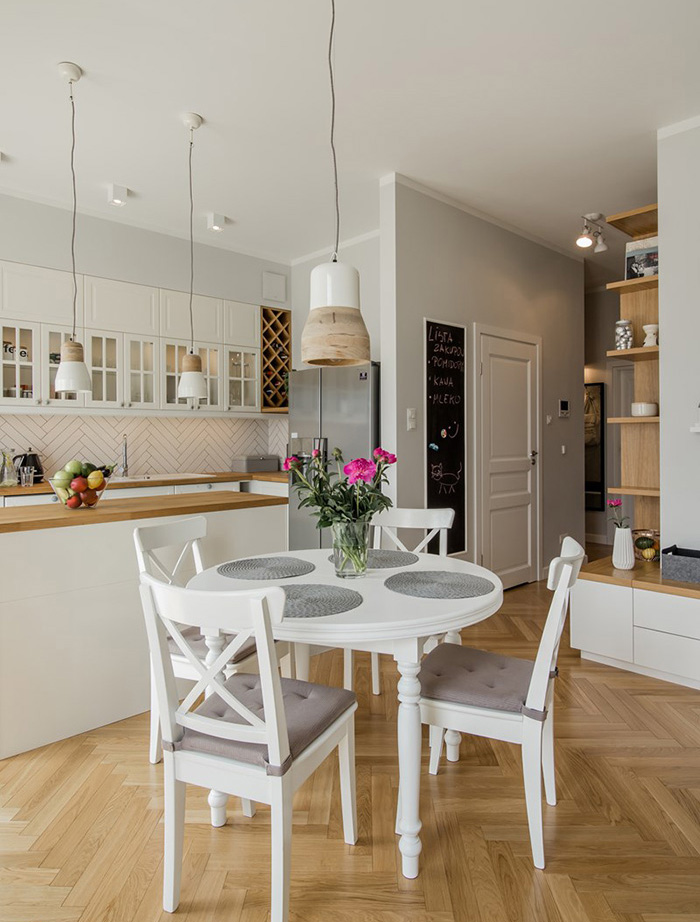 In addition to color, we can also integrate the kitchen, living room and dining room, adding small, or large, similar decorative elements in the three areas.
In this sense, something that works very well is the lamps, especially if you also have hanging lamps in the kitchen area.
I'm not telling you that you have to wear them exactly the same, but I do say that they share a style or colours.
Another element that you can use are the seats: dining chairs, stools and armchairs, among other seats, can become the link between the three areas.
If you don't want to buy new chairs or a new sofa or armchair, you can always use slipcovers.
Choose a dining table in the same color as the kitchen cabinets .
After the kitchen, the dining table, especially if it is generous in size, is one of the largest packages there is.
Thus, if you choose it in the same tones as the kitchen, the dining area will be perfectly integrated into the kitchen, almost as if it belonged to it.
I do not want to say far from it that you cannot put the table that you really want, no matter how different it is from the kitchen, you can put the table that you want, but the more the table resembles the kitchen in colors and finishes, the more will be integrated.
If you later want to add a different style or color, you always have the chairs.
And not only can you do it with the color of the furniture, you can put the table in the same finish or color as the countertop, it will also integrate it.
You can also see these 20 kitchens in two colors to inspire you to design yours.
With these tips you will be able to integrate the kitchen into the dining room without a doubt. But not only should the 3 zones be well integrated, in addition, the ideal is to give each one its space, so that the whole house has order. Let's go, as they say, together but not scrambled.
Let's see some solutions to achieve it.
Use enclosures .
We have seen it before, the enclosures divide, define, give some privacy and can prevent kitchen odors from going to other areas of the house.
The options in this case are unlimited and all personalized for your kitchen.
To carry it out, contact a professional to help you design the enclosure, which you will then have to order from a metal carpenter or a traditional wood carpenter, depending on how you have chosen your enclosure.
Islands, bars and office .
Photography Thousand Ideas
We have also seen it before, islands, bars or offices are perhaps the best elements to divide and define each space.
As in this recent project where a large kitchen bar was installed that, in addition to separating the kitchen from the living room and dining room, provides a work space for the kitchen and a great bar to eat or whatever we want.
Furniture (rear sofa) .
Something simpler is this option. If the floor plan of your home allows you this option, using the sofa or, rather, the back of the sofa to separate the kitchen from the rest so that everything is open but not jumbled, is a great idea.
Different floors .
Although continuous floors make the space look larger, open and clear, they are not mandatory, far from it.
In fact, different floors in the kitchen area can give a magnificent design plus and a most attractive visual accent to the entire house, as well as defining and delimiting areas.
The dining table itself .
This option is the easiest and also one of the most logical and natural, since the ideal is for the dining table to always be as close to the kitchen as possible because it will be more comfortable for us.
If your space allows it, with this distribution you will divide all the areas in an easy and practical way.
Now that we have seen some ideas to integrate the three areas, we move on to the third important point when we want to open the kitchen to the dining room, which is the design of the kitchen itself.
Let's look at some tips and solutions for designing a kitchen in an open concept space.
Design of a kitchen open to the living room
Distribution of a rectangular space .
If your dining room is rectangular and relatively small, installing a kitchen in line is one of the best solutions since it allows a distribution where the walls are perfectly used, condensing the kitchen into a single wall and leaving it as integrated and discreet as possible, leaving space available to add a dining table, island or bar near the kitchen.
It's a smart layout.
White furniture .
Photography Thousand Ideas
Although it is possible to design and install a kitchen in the color and finishes that we want, in small spaces, white is the color that works best, since it is the most discreet, the one that best integrates and the one that will make everything appear larger and brighter.
In addition, a white kitchen does not go out of style for many years to pass.
In addition to a white kitchen, if you want, an alternative that works very well, especially for small spaces, is to install a kitchen without handles, that is, with a "push" type opening system, since in this way we create a relatively smooth surface, practically without interruptions, making the kitchen integrate better into the living room and dining room without taking up so much space, visually speaking.
Hidden appliances .
To the extent that space allows, install the appliances in a front that is not exposed or as little exposed as possible, since it is the appliances that are the most out of place in an open concept environment.
Come on, if you are sitting or sitting on your sofa and do not see the appliances, everything is better.
Integrated appliances .
If the space does not allow you to "hide" the appliances, a fantastic idea is to integrate them with paneled doors just like the kitchen cabinets, and although space does allow you to put the appliances relatively hidden, integrating the appliances with paneled doors is still a great idea. great solution, since everything is more integrated and discreet and the kitchen more beautiful, with less contrast generating greater continuity and continuous visual cleanliness, which makes it more visually spacious.
Put a good extractor hood .
This is vital. Opening a kitchen to the living room and dining room, at first, are all advantages for anyone who likes this option, but integrating the kitchen into the living room always has an inherent disadvantage, and that is that odours, steam, smoke and others spread throughout all areas.
To solve this there is nothing better than a good extractor hood.
Invest in a good extractor hood and you will appreciate it.
Let the kitchen designer, manufacturer or assembler advise you and ask for a highly efficient smoke and odor extraction system.
And not only does it have to be highly efficient, the cooker hood should also be as inconspicuous as possible, for obvious reasons.
Frecan surface extractor hood
There are many solutions to integrate an extractor hood, such as embedding it in a beautiful and neat structure, or installing extractor hoods that have a design created to be seen, or installing a surface-mounted hood, which are installed on the countertop or come already in the cooktop itself.
Choose furniture with good finishes .
The whole set of IKEA
Within your tastes and style, choose furniture that has the best finish, since, well, these will always be visible.
The better and more beautiful the kitchen finishes, the more they will add.
And they do not have to be very expensive, since we have melamine furniture that simulates oak or other very elegant woods, or lacquered furniture at a very good price, among other precious finishes and that do not go up much in price.
Install a kitchen island .
If space allows it, the kitchen island is one of the best solutions to integrate a kitchen into the living room, since it offers us several advantages.
To begin with, it offers us more work space and storage in the kitchen,
It also offers us a space where we can eat, breakfast, dinner, etc.
It divides and defines the kitchen from the rest, but keeping everything open.
Of course, you have to take into account that the minimum space to be able to install a kitchen island is that around it there is a free perimeter of about 80 cm of passage, to be able to open doors and drawers comfortably if you carry them, to transit to your around without any problem, or simply to be able to sit on some comfortable stools to eat.
If your space does not allow you to leave those 80 cm of perimeter free, then, instead of a kitchen island, you can think of a bar, a peninsula or an office, which take up less land but also add advantages.
If you are left wanting more, you can see this article with 10 solutions to open the kitchen to the living room or this other one to decorate studio apartments.