The design of the dining room is just as important as the design of the living room. We show you some photos of some wonderful designs so that you can be inspired by many modern dining room ideas and the latest trends and why not, redesign your own. Like the kitchen, the dining room is the heart of the home.
It's where meals and quality family time are enjoyed, so it's only right that you want a space that's clutter-free and full of style. Whether your dining room needs a complete makeover or just some basic design upgrades like a fresh coat of paint, the possibilities are endless.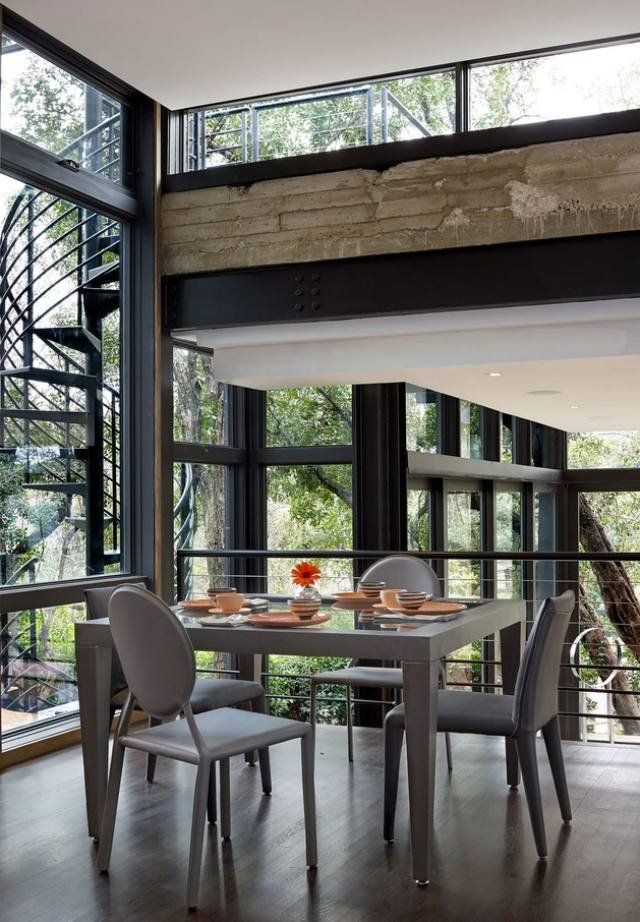 There are plenty of inexpensive design projects you can tackle over a weekend or in a matter of minutes to take your dining area to the next level.
Colors
The eclecticism of modern dining rooms allows you to harmoniously unite all your favorite styles, with unexpected combinations of colors and materials.
White and wood
All shades of wood will be used, as rustic and Nordic trends are still on the rise. Scandinavian-style whitewashed wooden walls and furniture are also one of the trends to watch out for. The white color is also accompanied by shades of gray or black.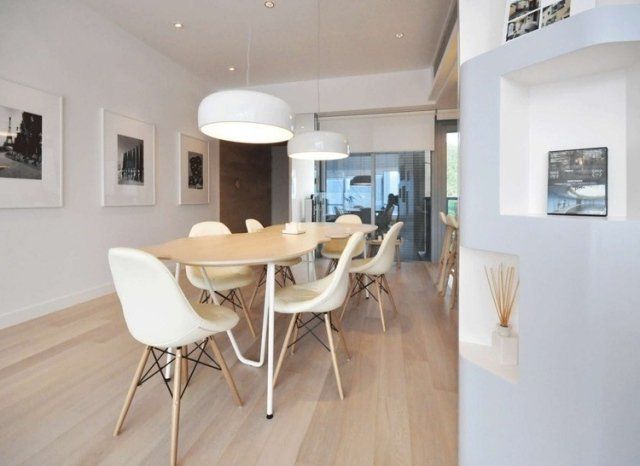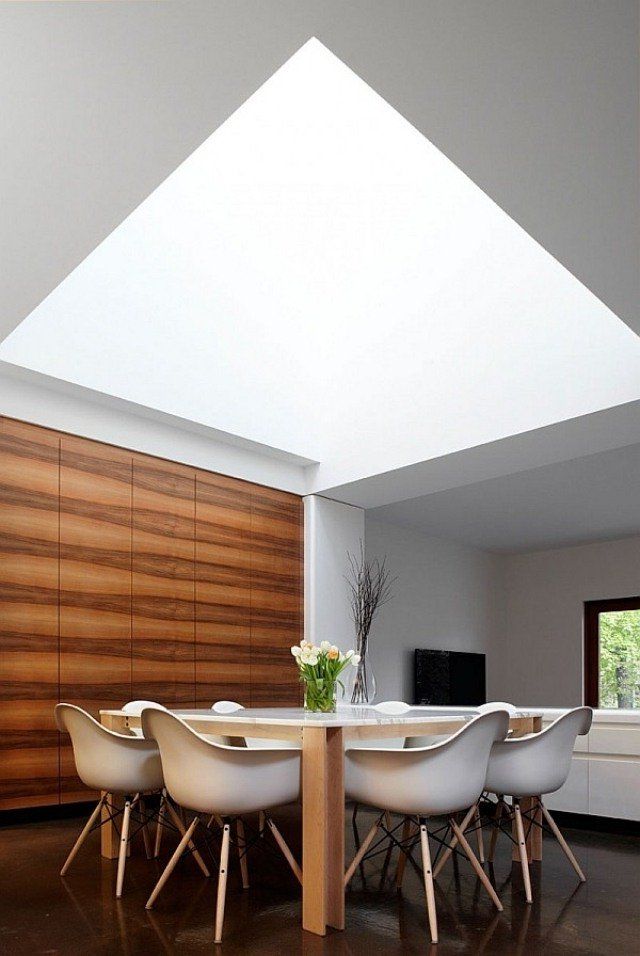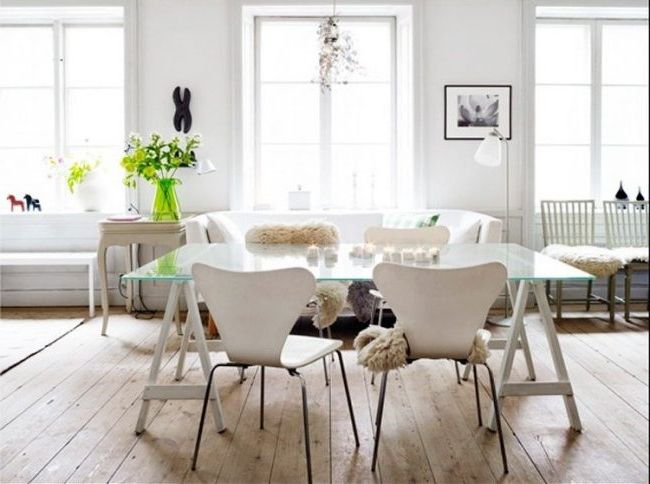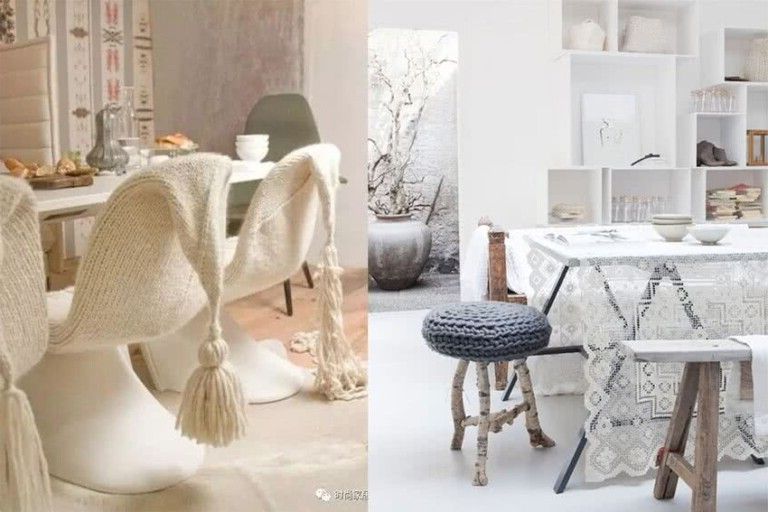 White with colored details
For those looking for a modern and informal look, nothing better than the following proposal, where seats-beds lost in the dining room stand out. And the elegant white furniture offers a fresh and summery atmosphere in the environment.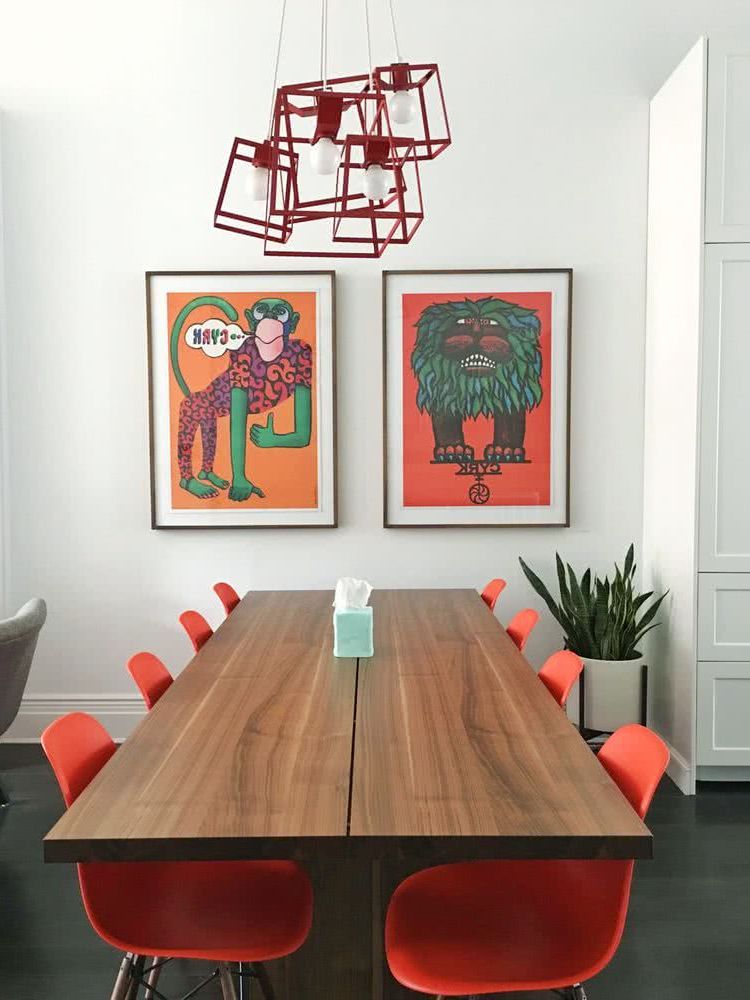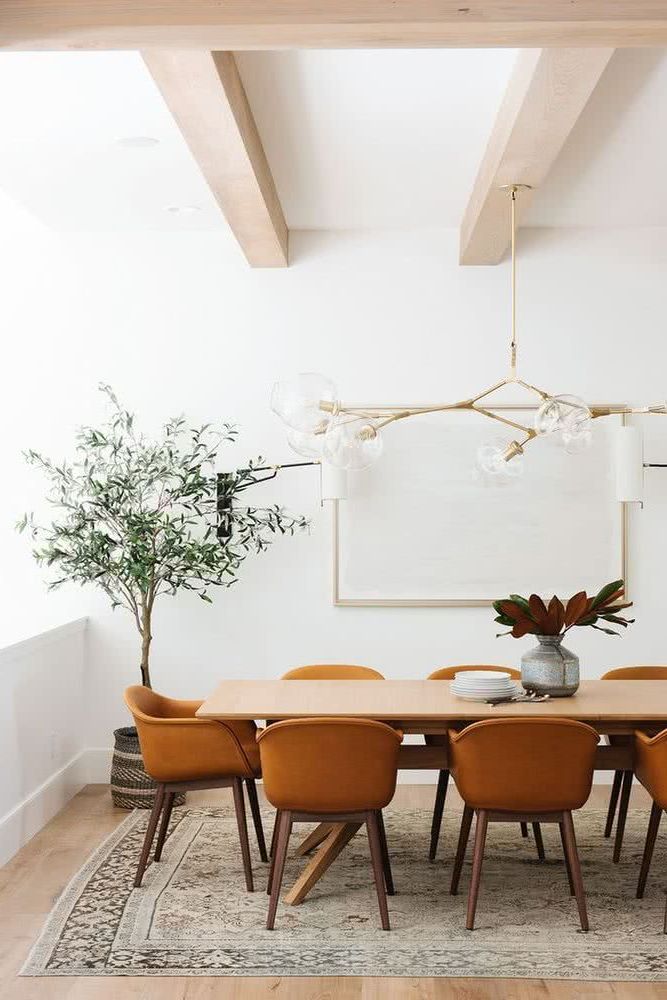 Black and white
Simple dining room with wooden floor, simple and cheap furniture, with a fresh look and daily use.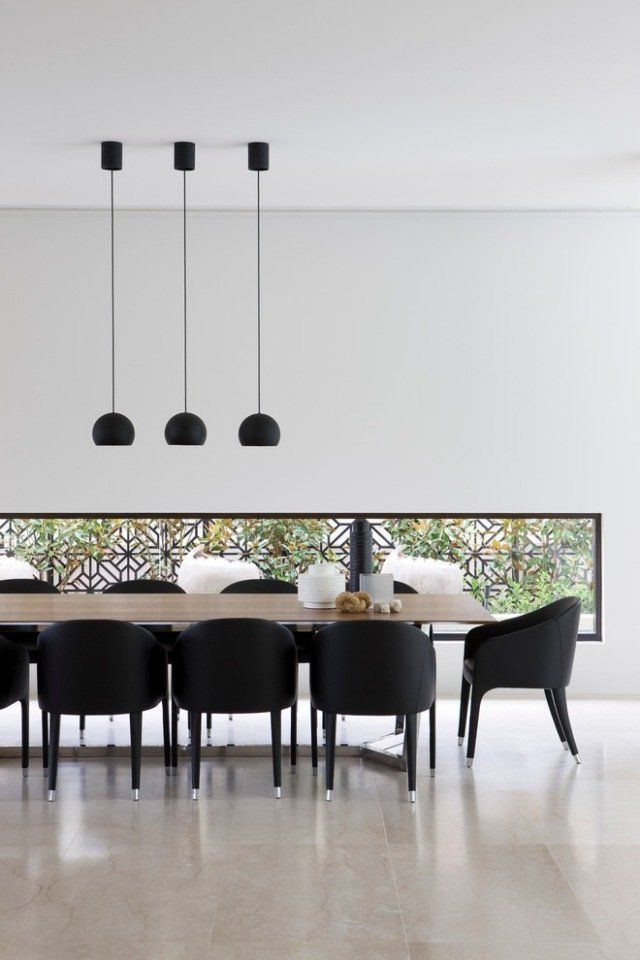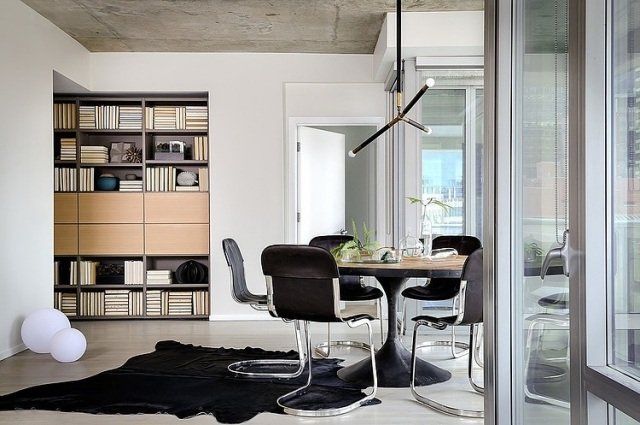 More dining rooms in this color: White dining rooms 40 photos and combinations with other modern colors
Gray
Soft yellow colors dominate the chairs, giving this dining room a playful air.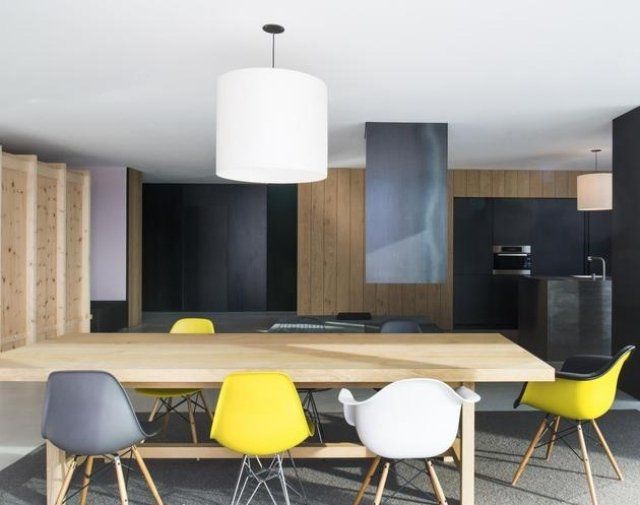 When the spaces are not enough, or if you like to eat a little more comfortably, achieving a table-armchair model can be a very good option.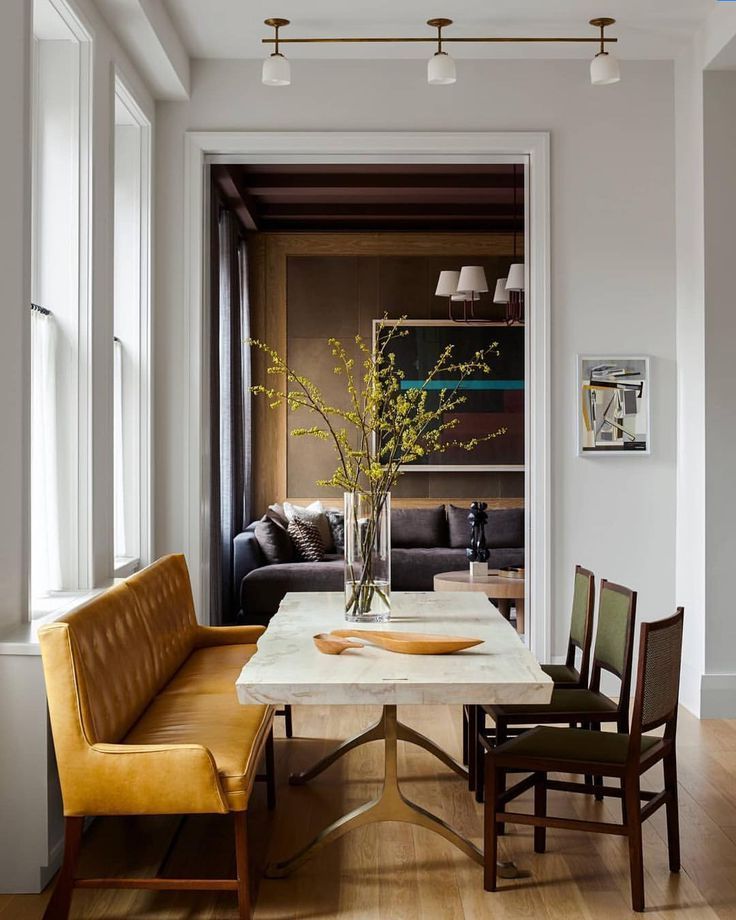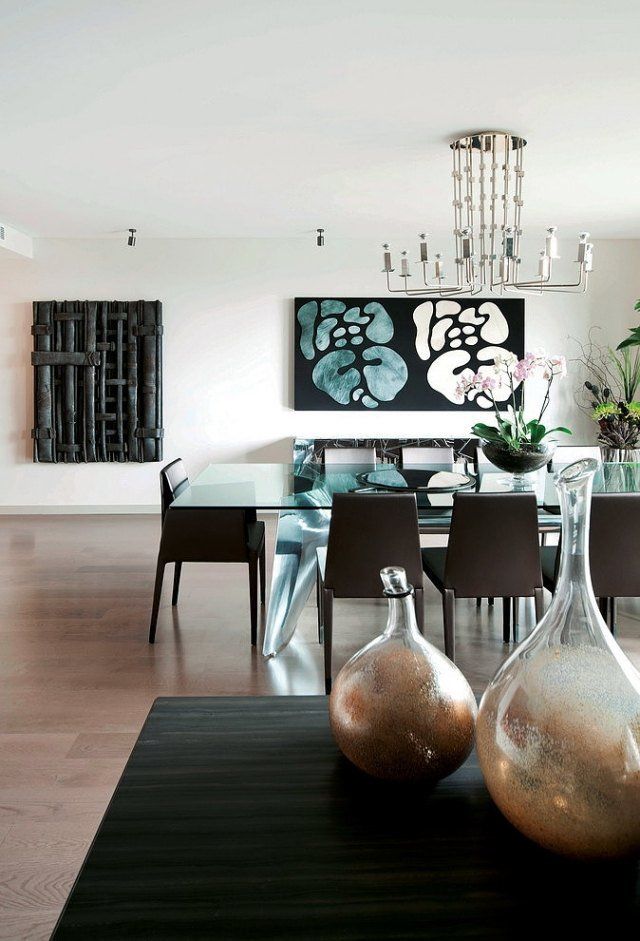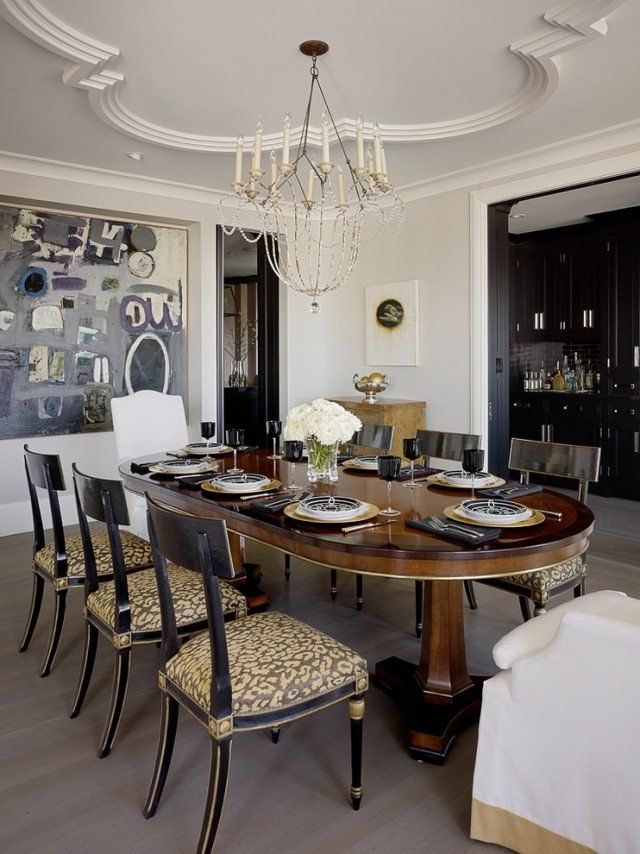 Typical dining room, neither very elegant nor in bad taste, simple but delicate, fresh and bright.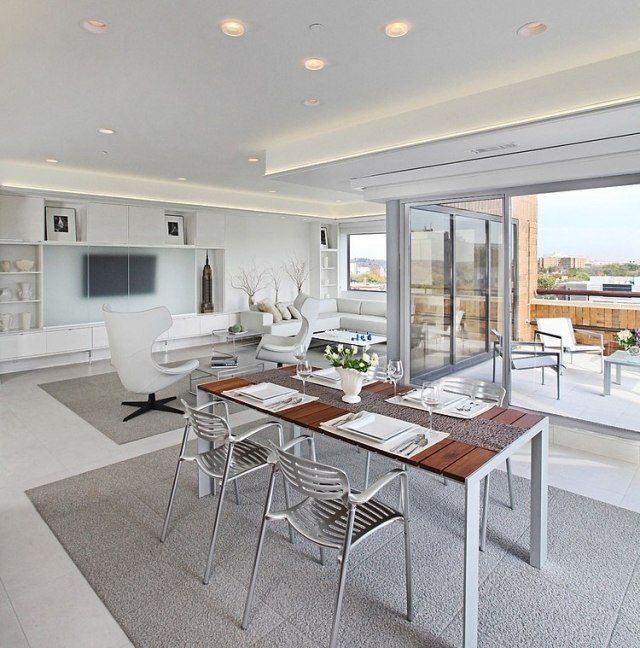 The French oak table dominates this elegant and calm dining room. The stove, mirror and chandeliers further fuel this elegance.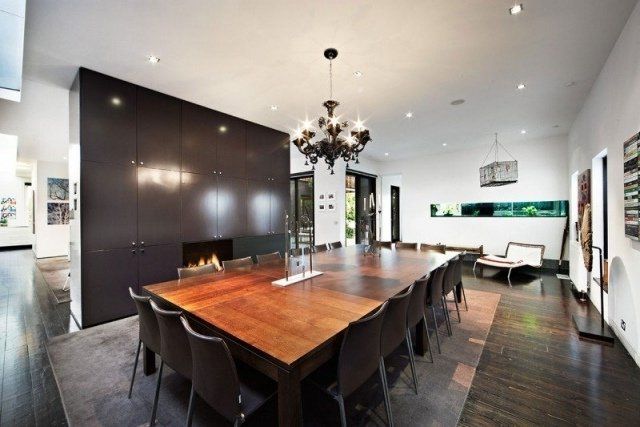 The idea that we see below, responds to a modern idea, of ergonomic designs, much use of gray and a clear trend towards minimalism.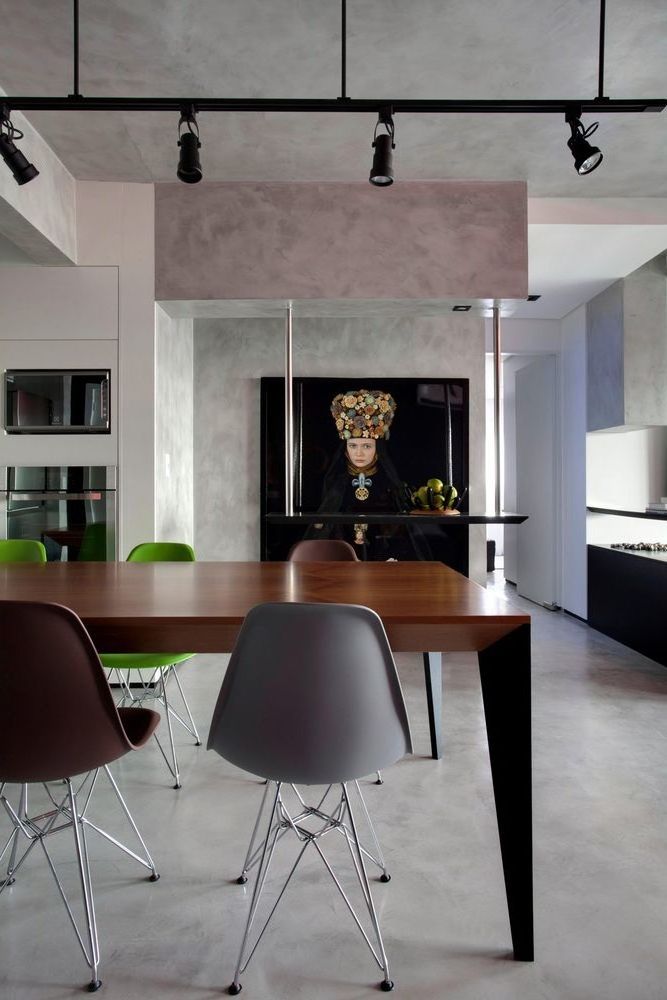 Beige
Dining room attached to the living room, which is separated by the tones of the carpets.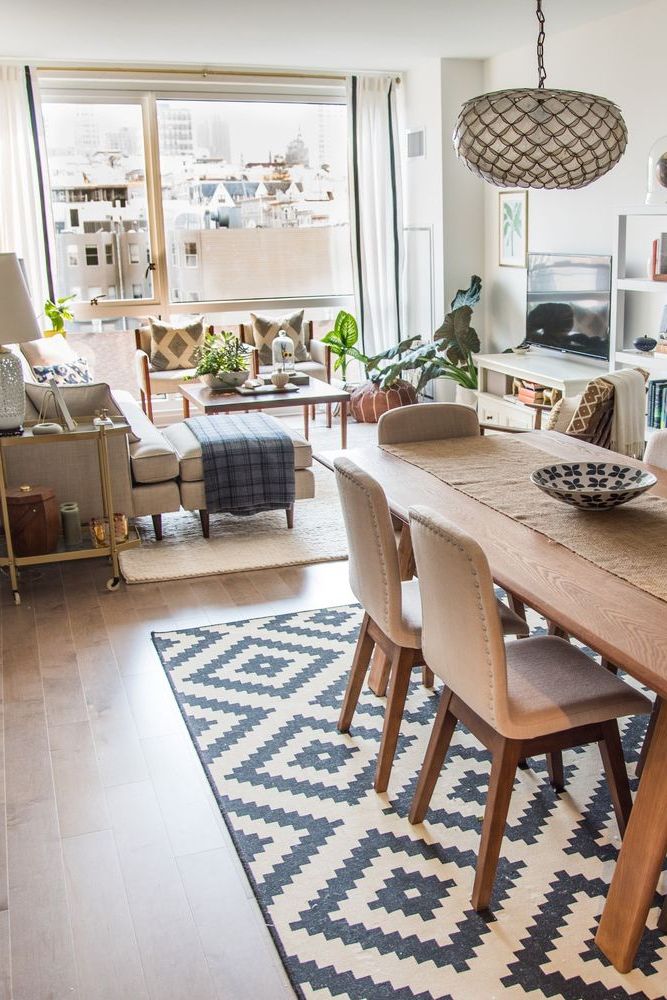 Large curtains, a very chic tablecloth, rugs, flower arrangements and large windows that provide great light and a splendid view.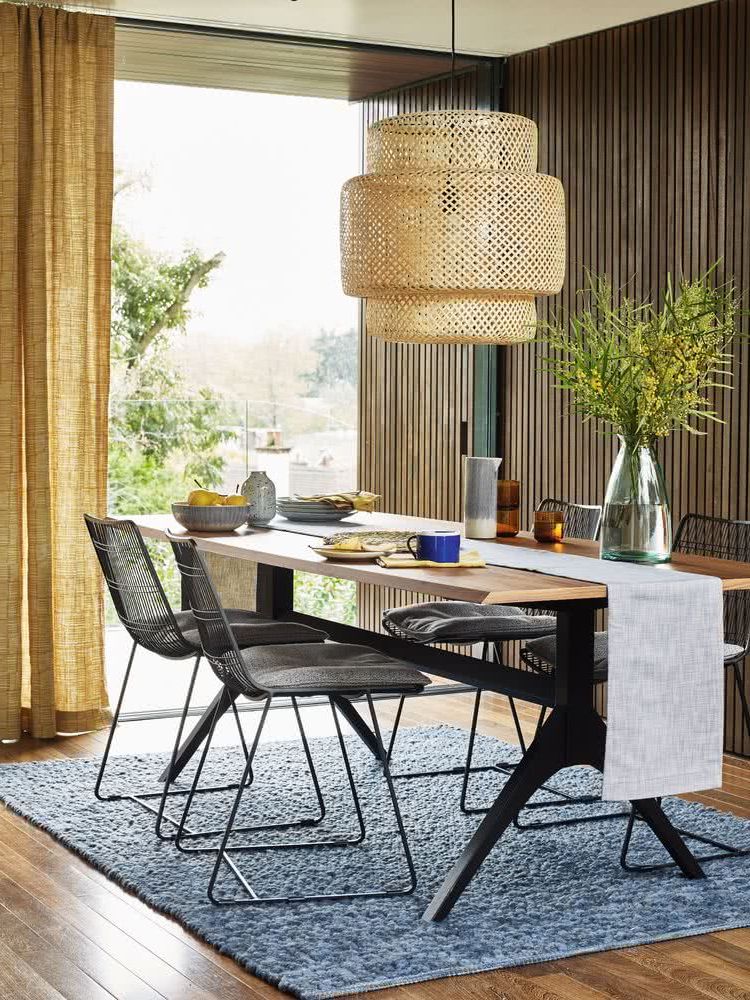 Mix of designs. Classic style with flashes of modern. Play of colors between white and red.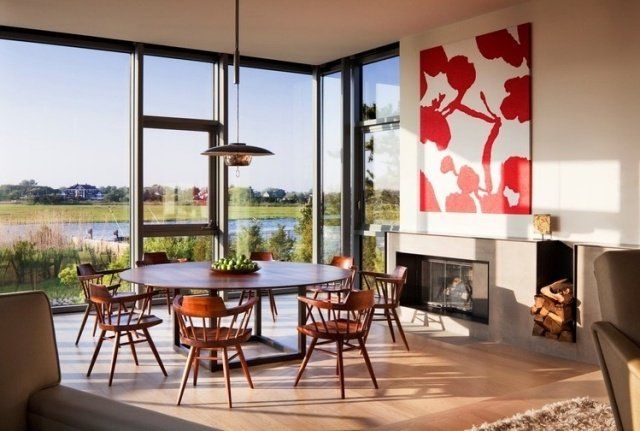 The cozy dining room revolves around the central vase, with a good wood-burning stove. In a predominantly white room, the painting is another important point of attention.
Green
The design of the dining room is adapted to the eco-fashion, therefore green, flower and wood tones are also welcome.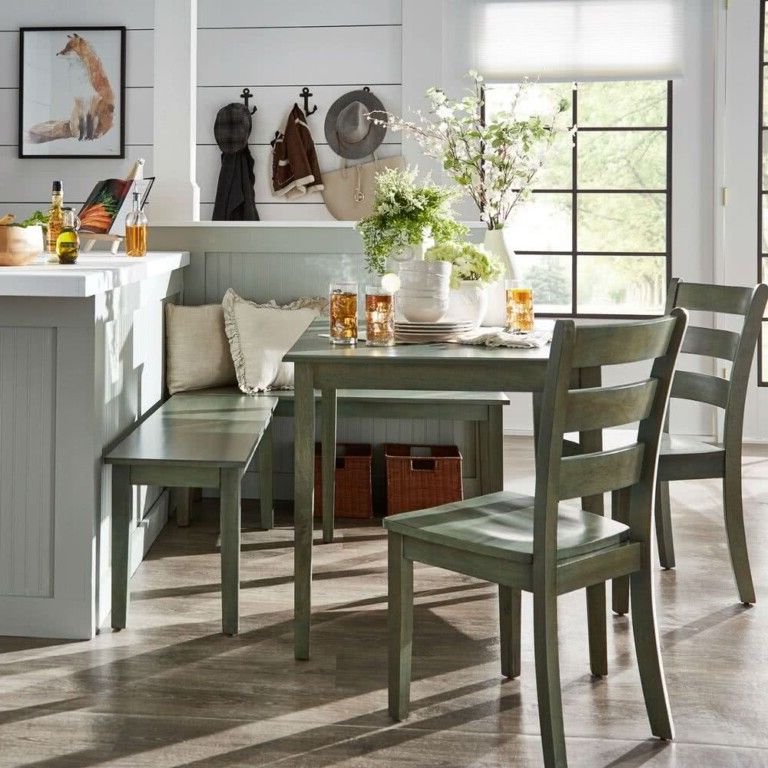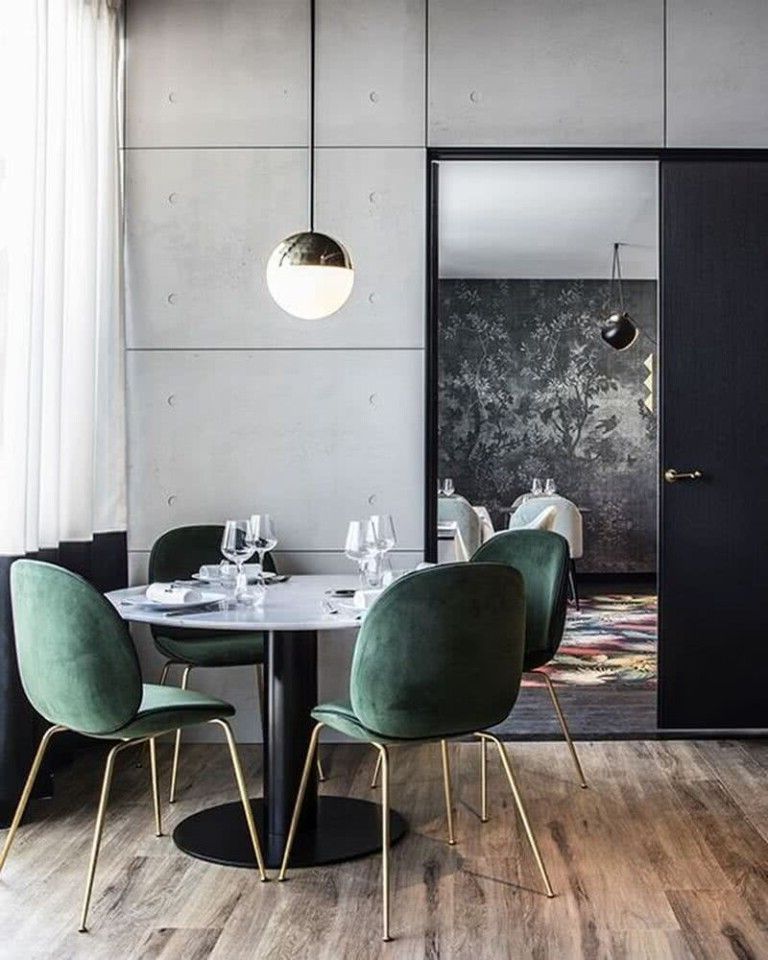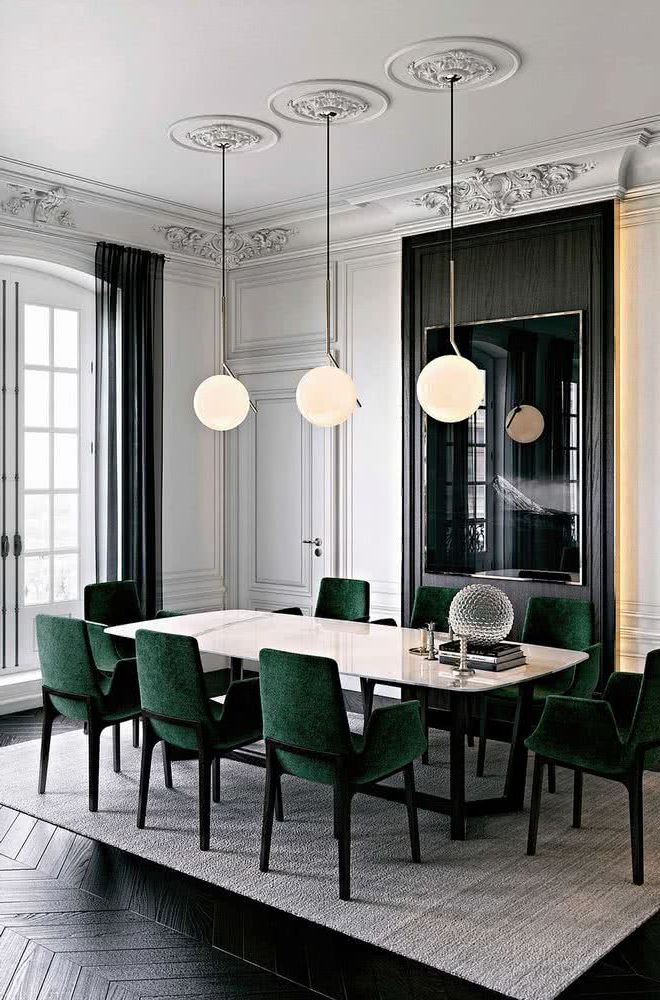 Apple green is a striking color that creates a stunning focal point in this dining room. And the implementation of large screens and warm light, placed low on the table, ensure that all eyes are drawn to them.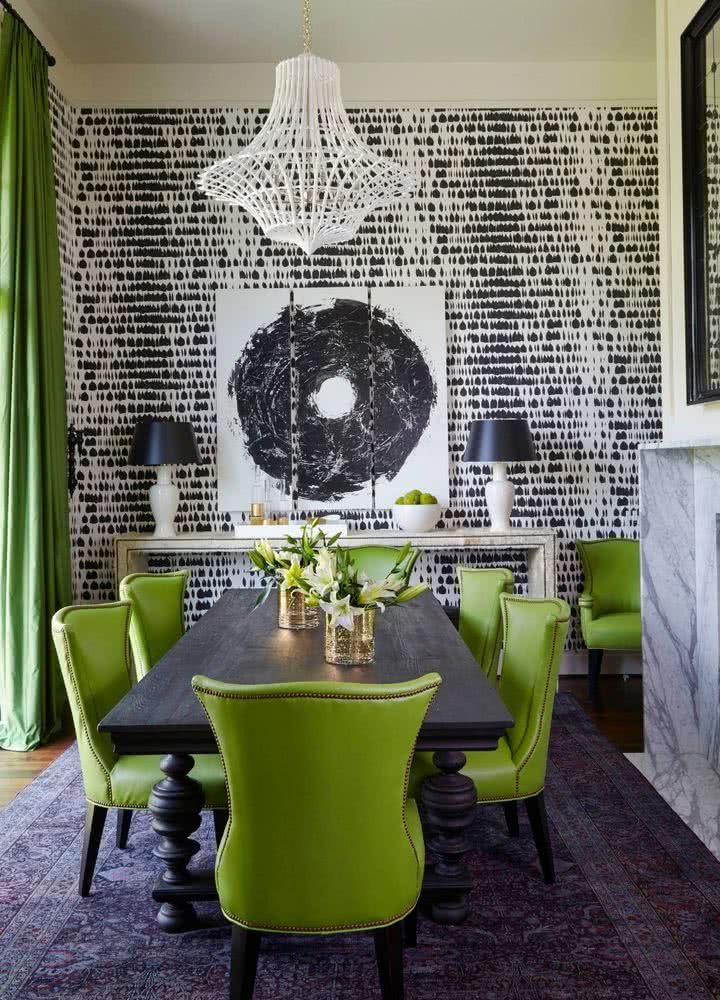 Rosa
Pictures create a whimsical and colorful feel in this modern dining room. The pink color, as you can see, combines perfectly with black and white to create a very peaceful environment.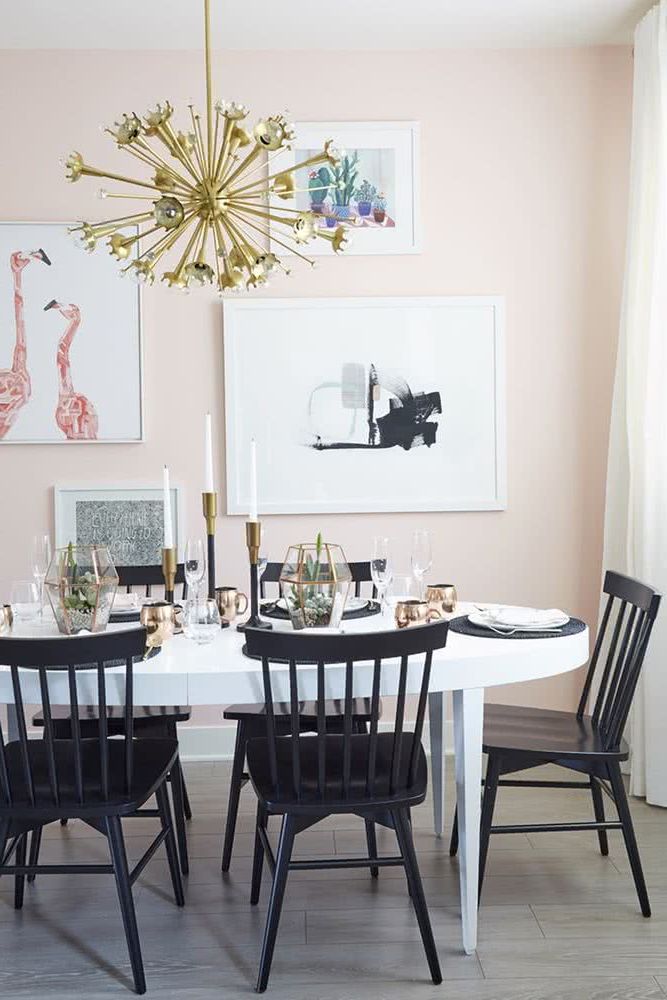 This rug is perfect for creating a relaxed '70s vibe, while the chandelier, colorful accessories and alternative artwork bring the vibe up to date.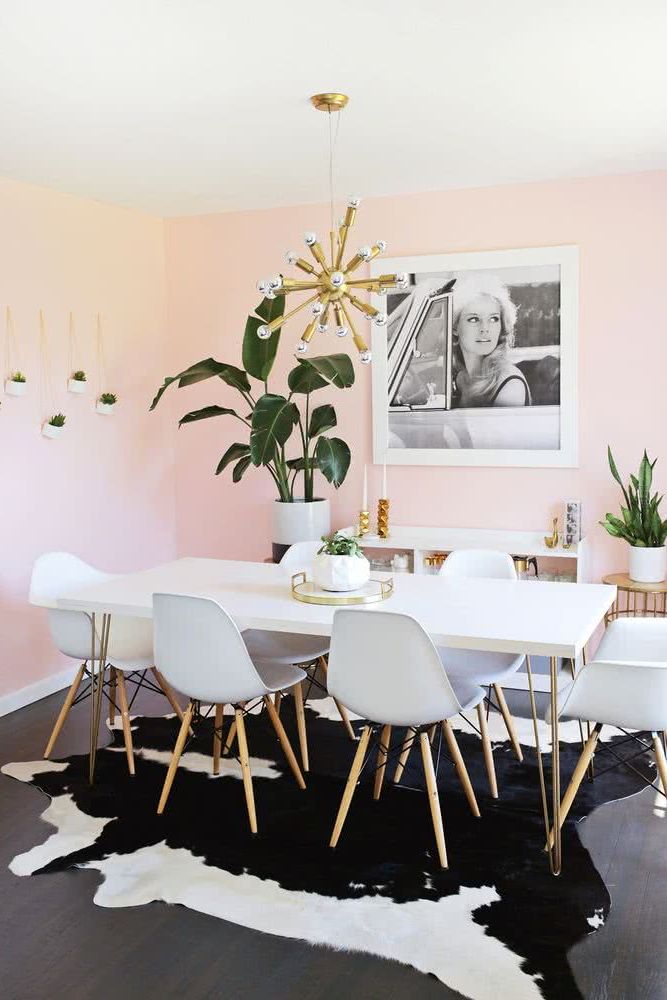 A very warm and modern space in pink, it can also adapt very well to your decoration, if you are looking for more fun and modern proposals. In this example, pink tones, wood and gray tones are combined to give the visitor a very warm atmosphere. Flowers meanwhile also enhance the feeling of warmth in the room.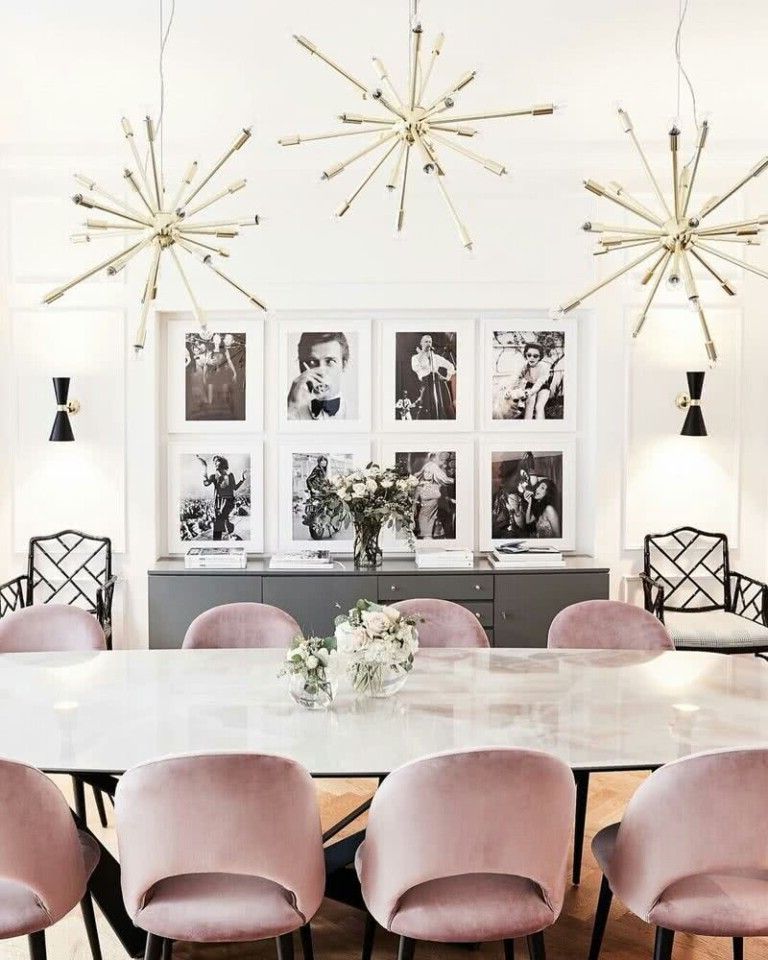 Bright colors
Loud "technological" colors entered the trends: snow white, cyan, neon blue, black and red.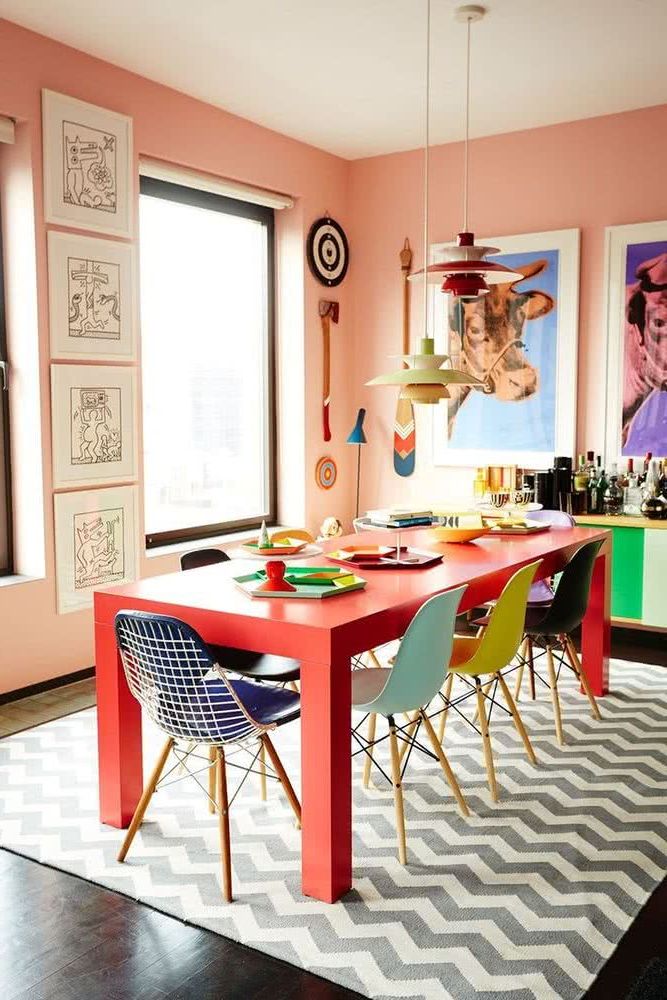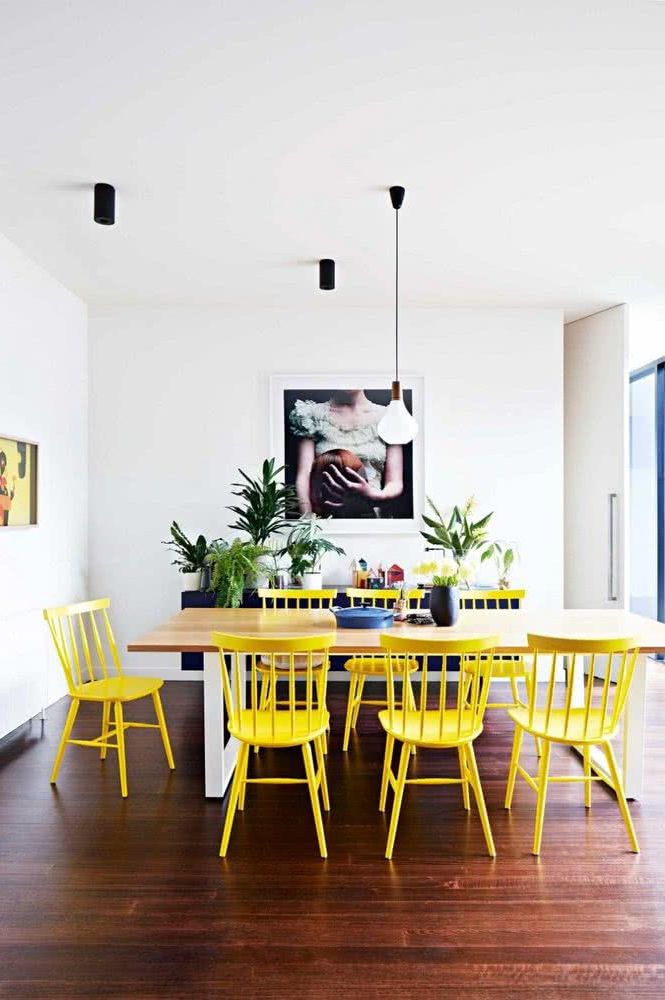 Bright playful colors emphasize pop and street art.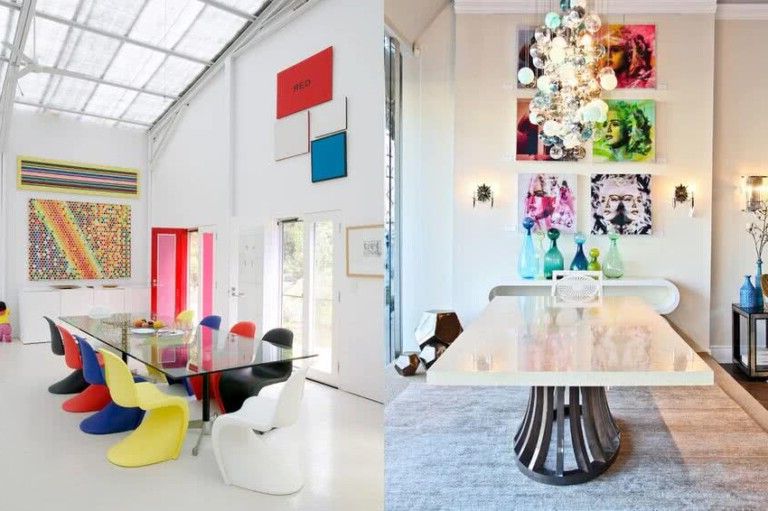 Blue
For those who believe that only the classic can stand out. Here a spectacular modern dining room.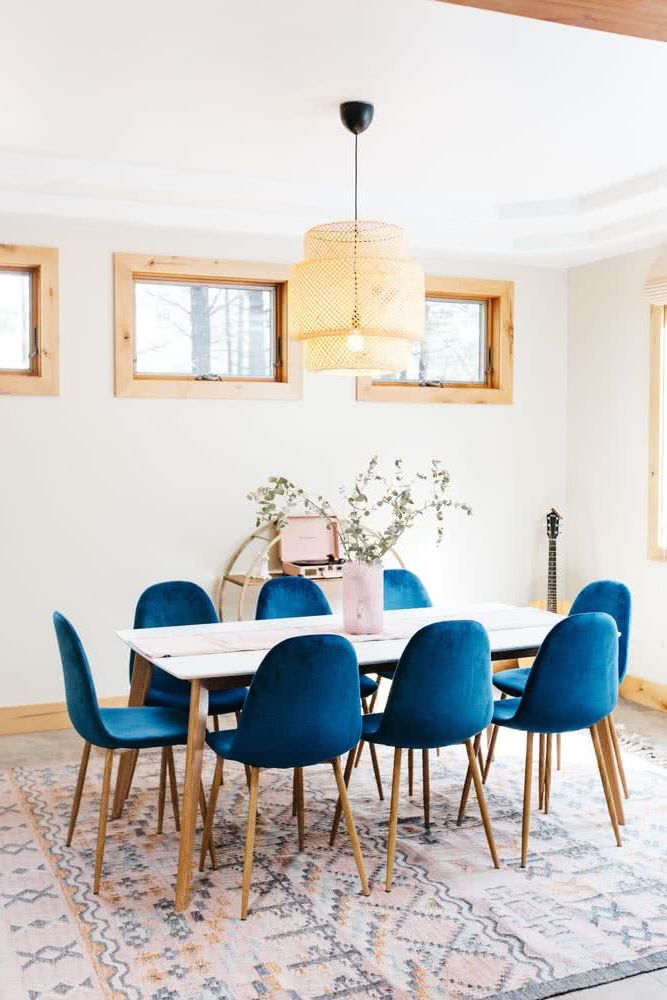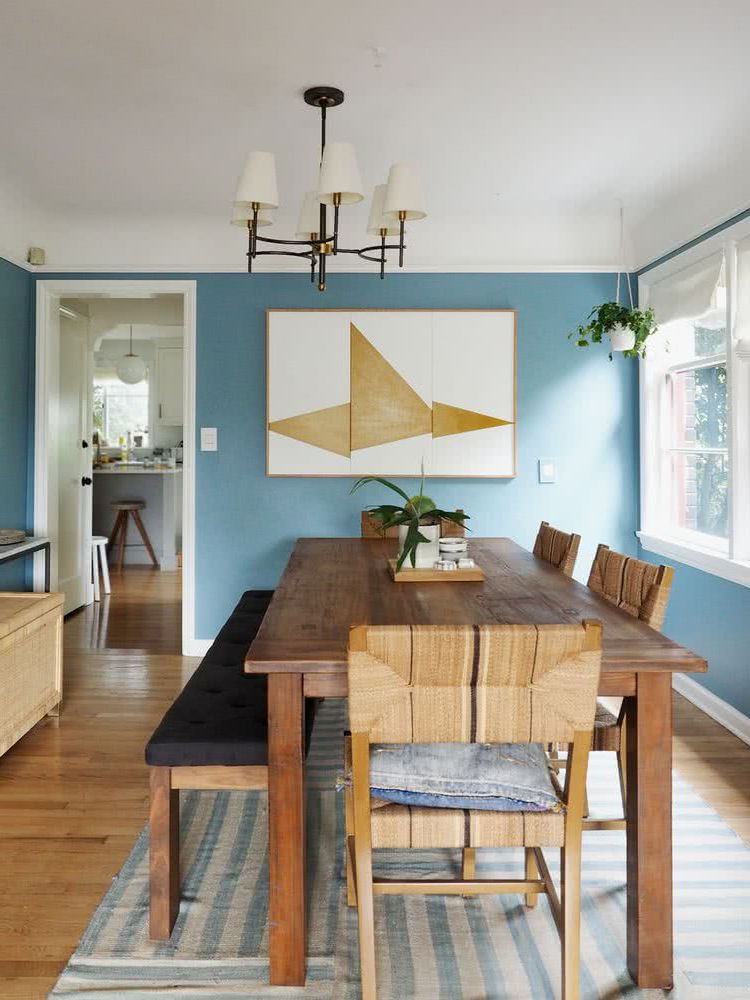 ​
Orange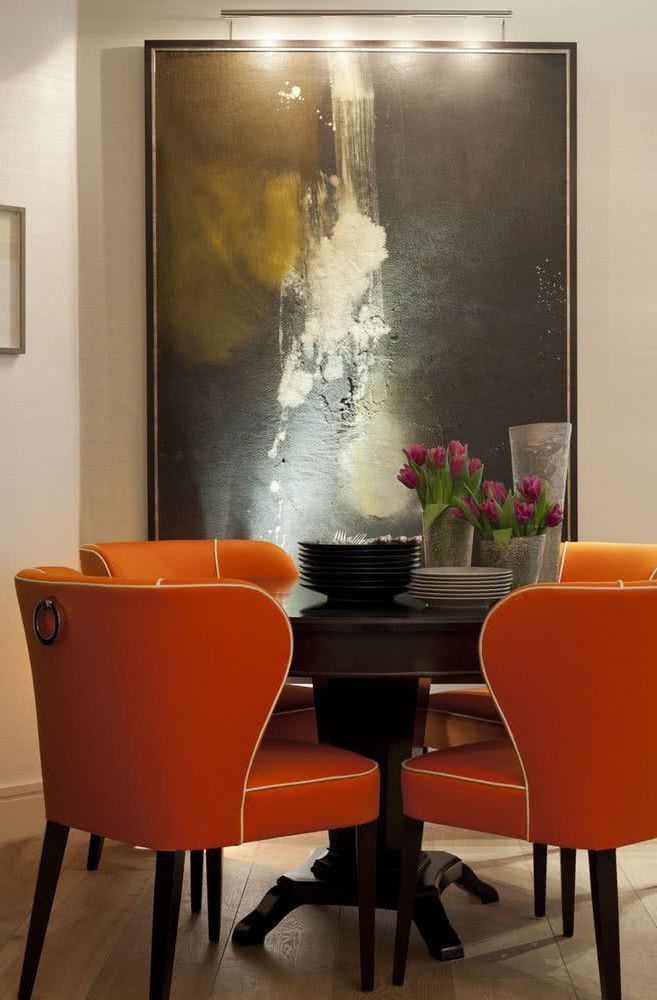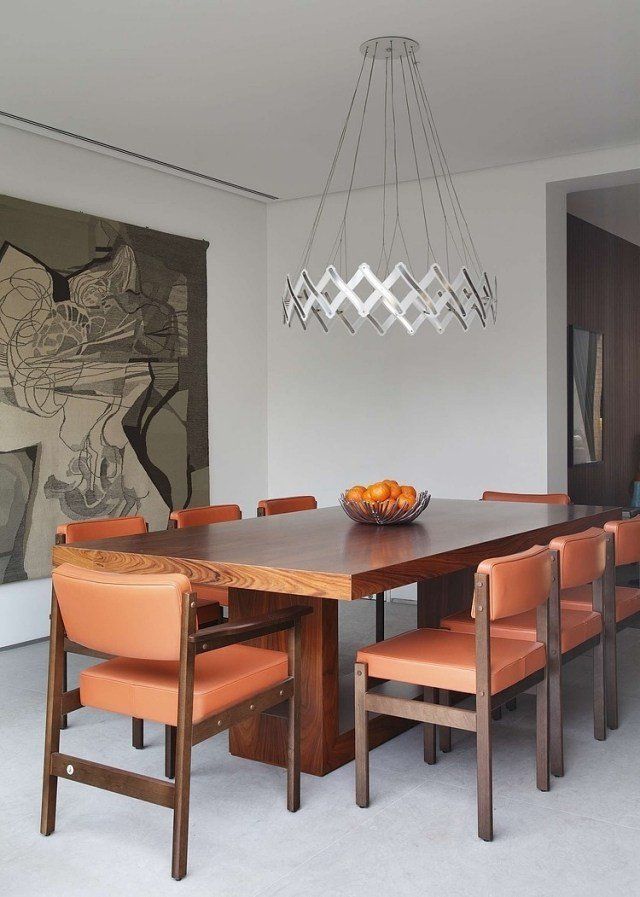 This dining room, as you can see in the photo below, combines a modern style with vintage, through retro chairs in a vibrant orange color.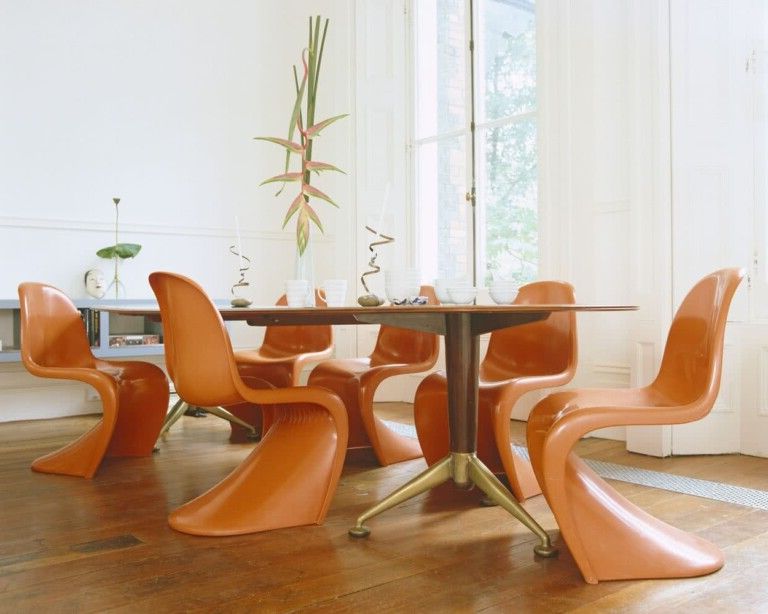 Gold and brass
Gold and brass become elegant details even for high-tech interiors, but they will not be used as basic shades, but as a complement.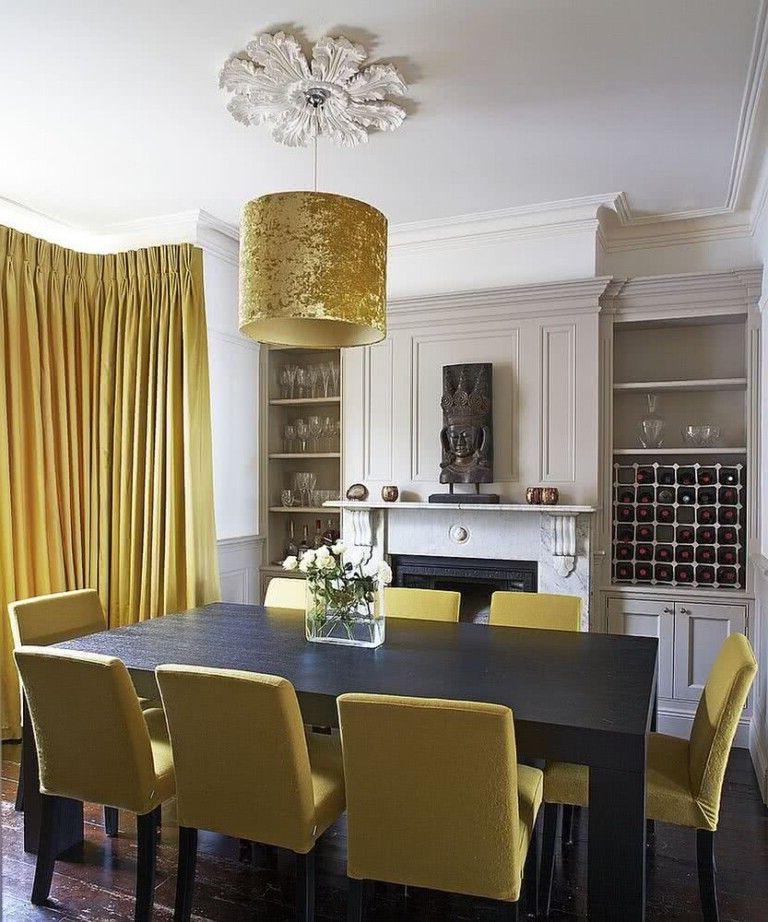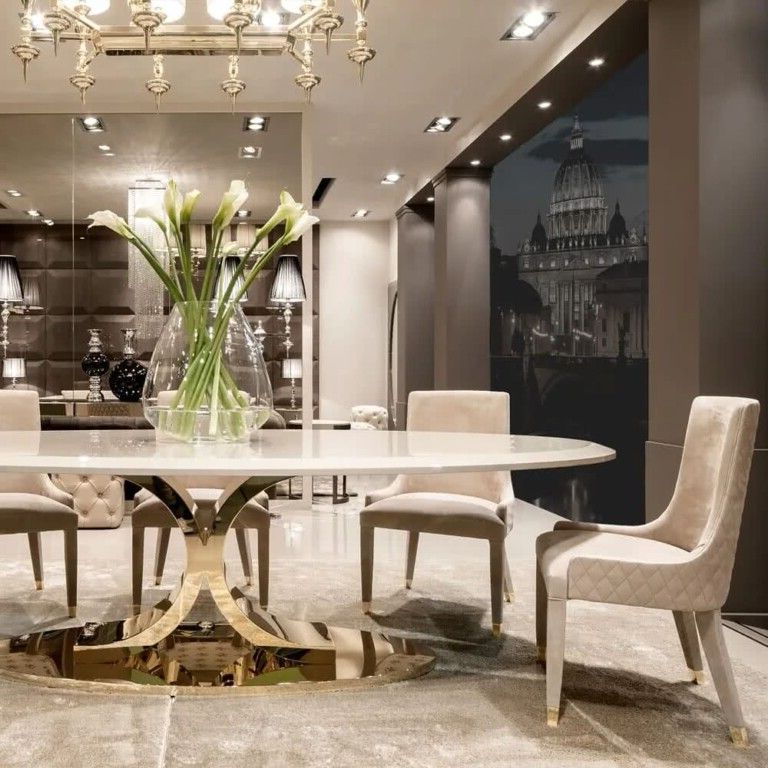 Walls
The dining room design can include your favorite paintings or your own works.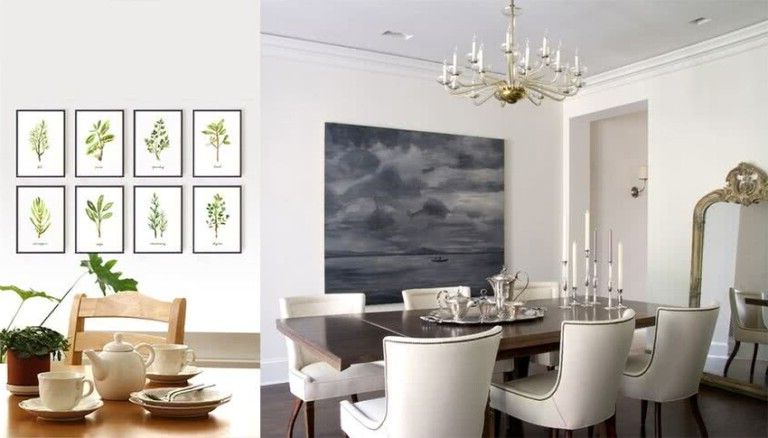 Another cool trend: the modern illusion of a cafe. Brightly painted walls with graffiti.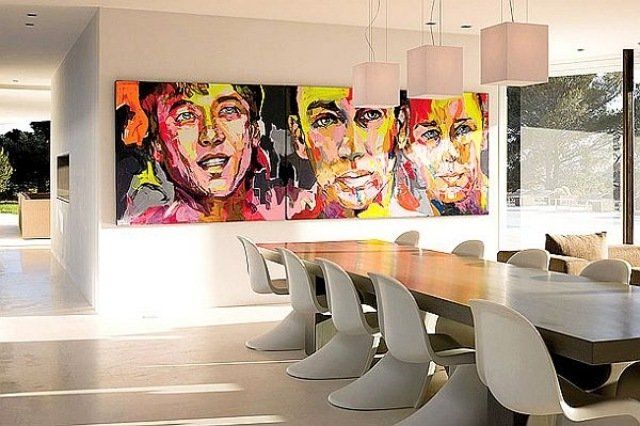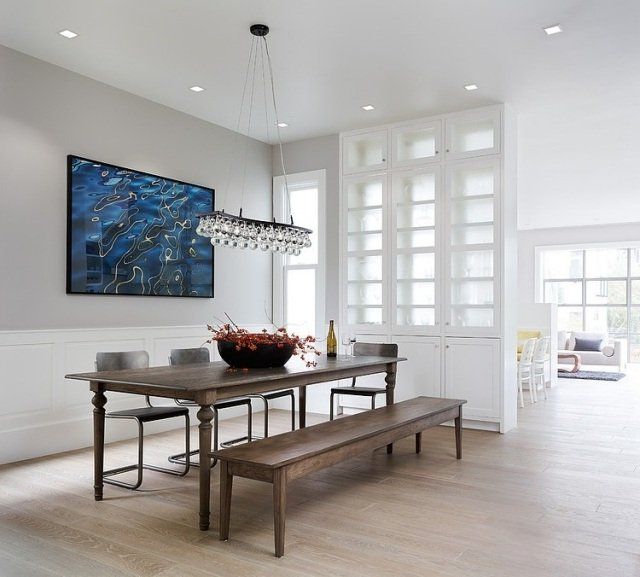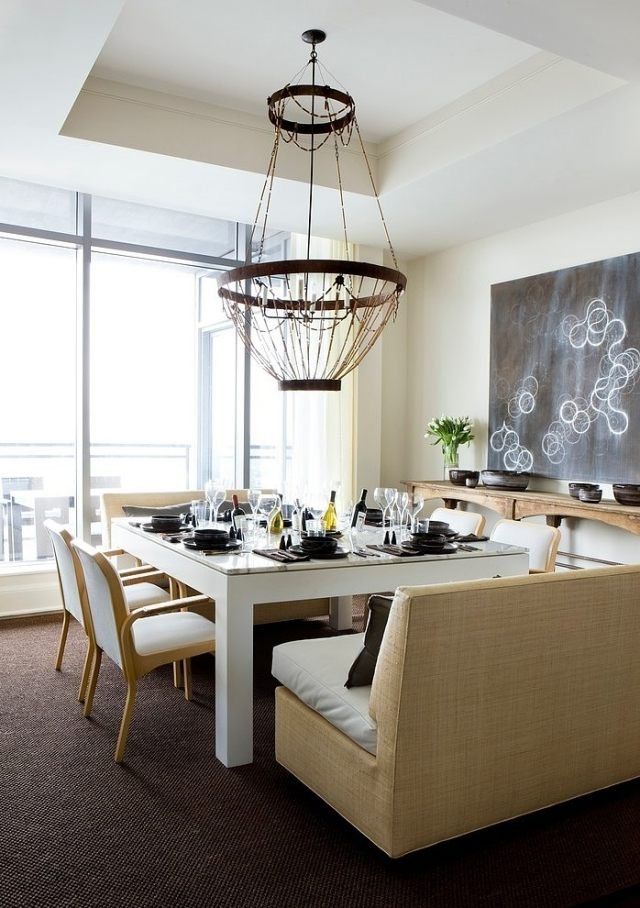 Tables and chairs
Tables can have unusually shaped legs or bases, and can combine wood, metal, or acrylics.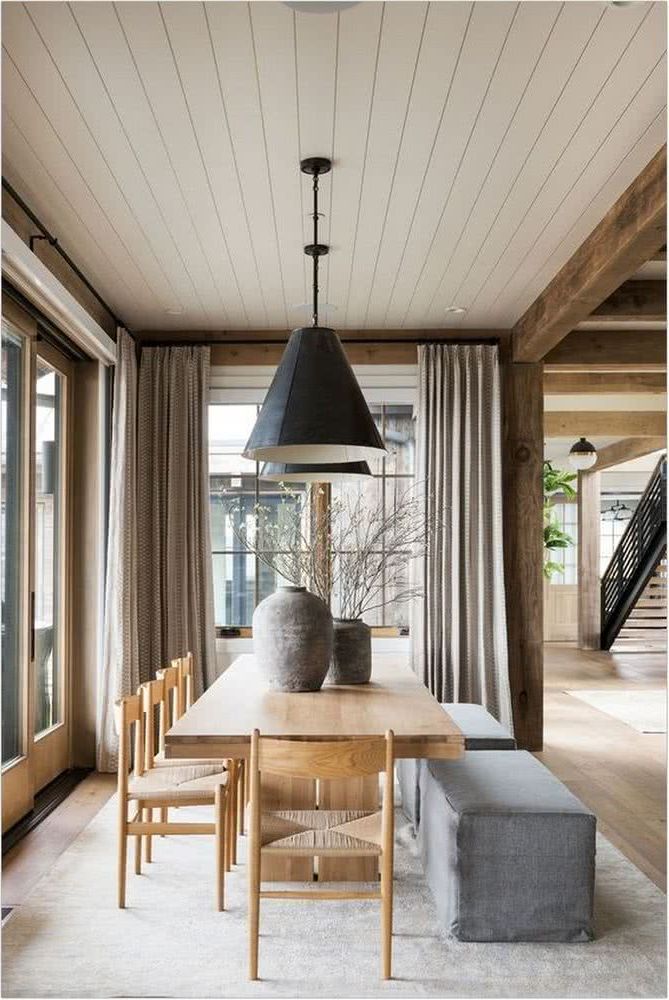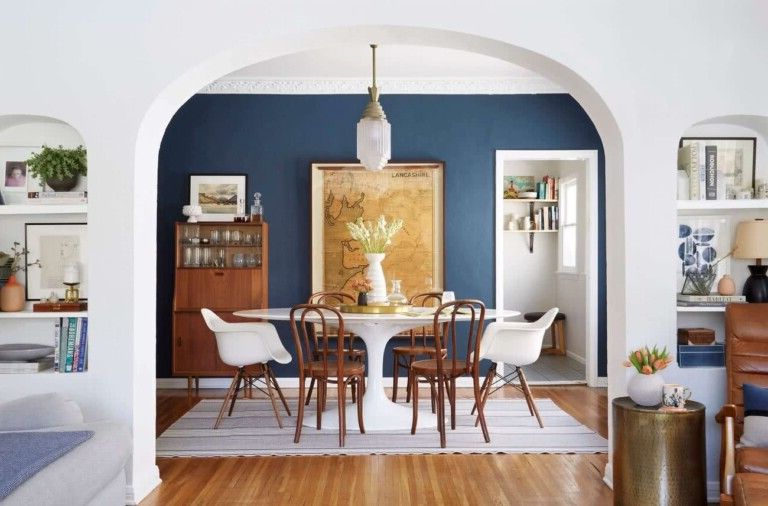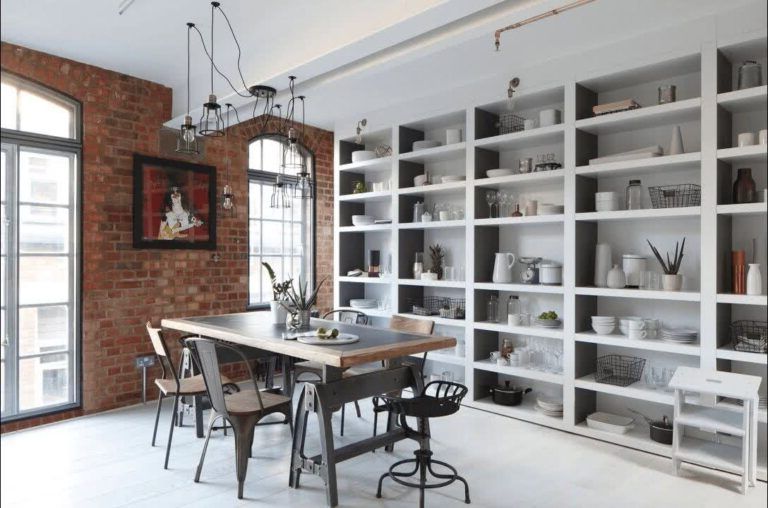 A monochromatic and very modern room like the one in the photo finds additional interest in the materials that cover the chairs.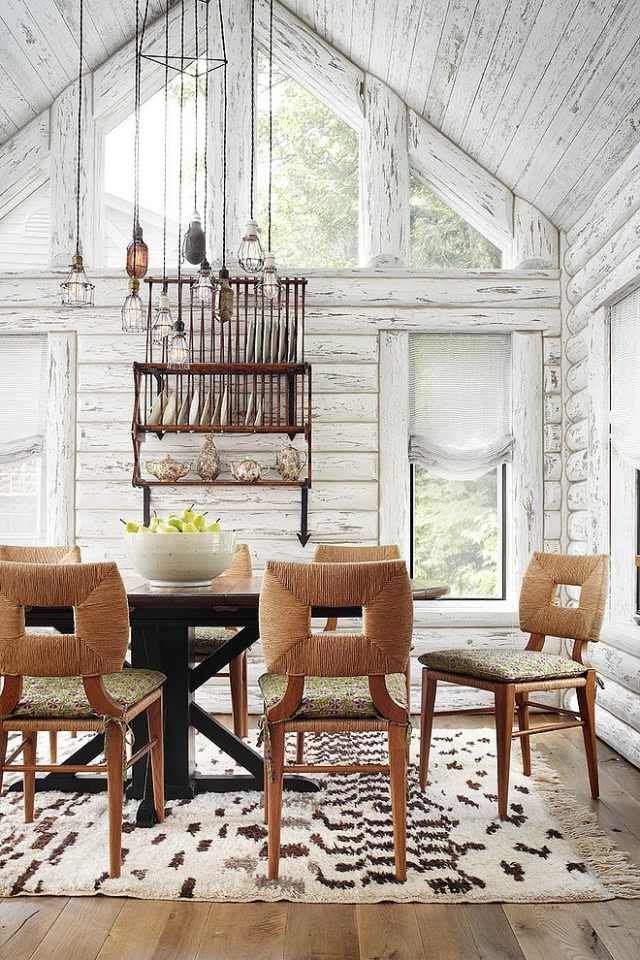 Here we find something very particular, since on the one hand the mirror on the wall stands out, on the other the velvet chairs and of course, as a central object, the wooden table.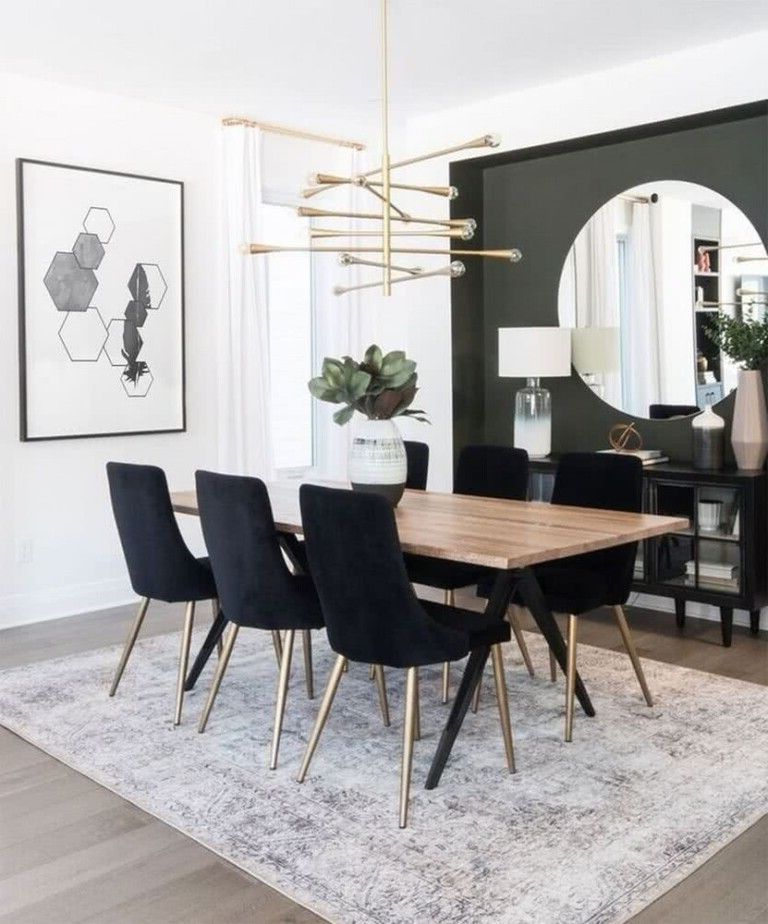 This is a very modern design, with very elegant shiny plastic chairs.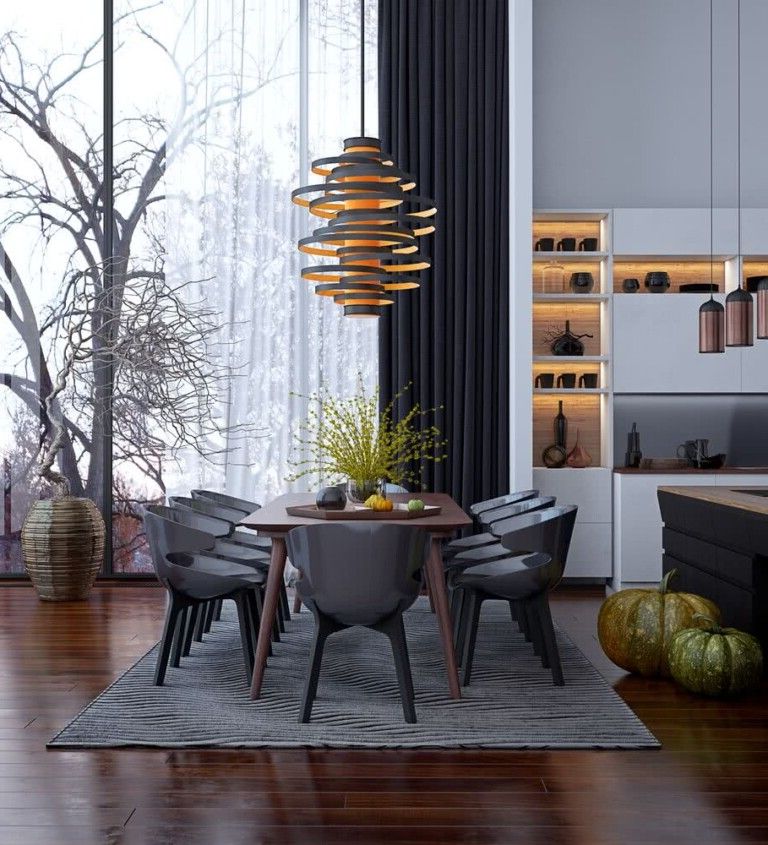 Vintage-style chairs are one of the most used options today.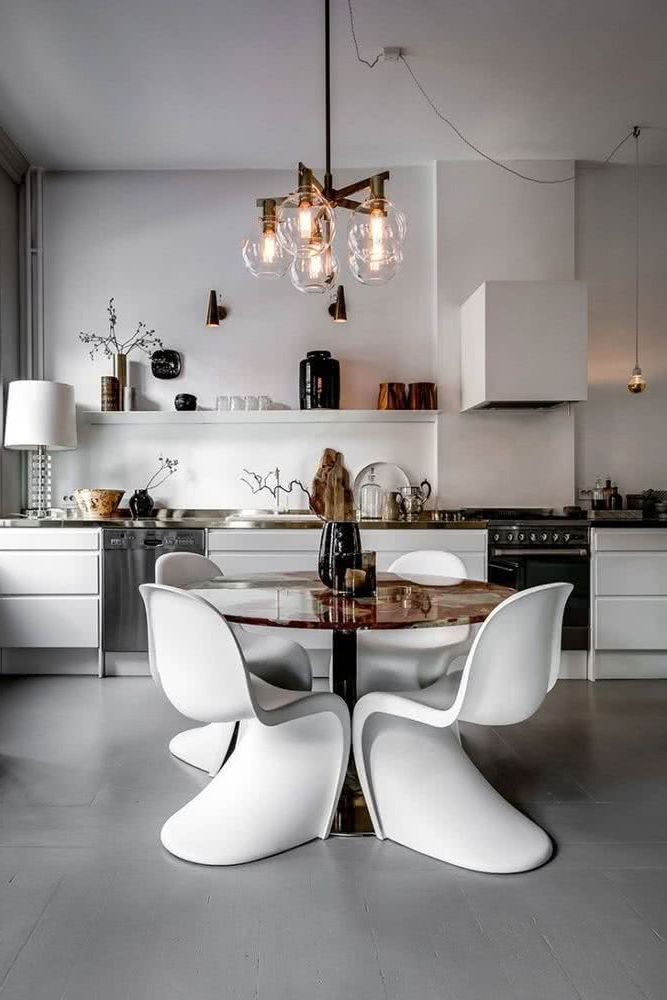 Lightning
Large lamps are one of the trends in lighting. Hanging lamps are used very low, especially round in shape.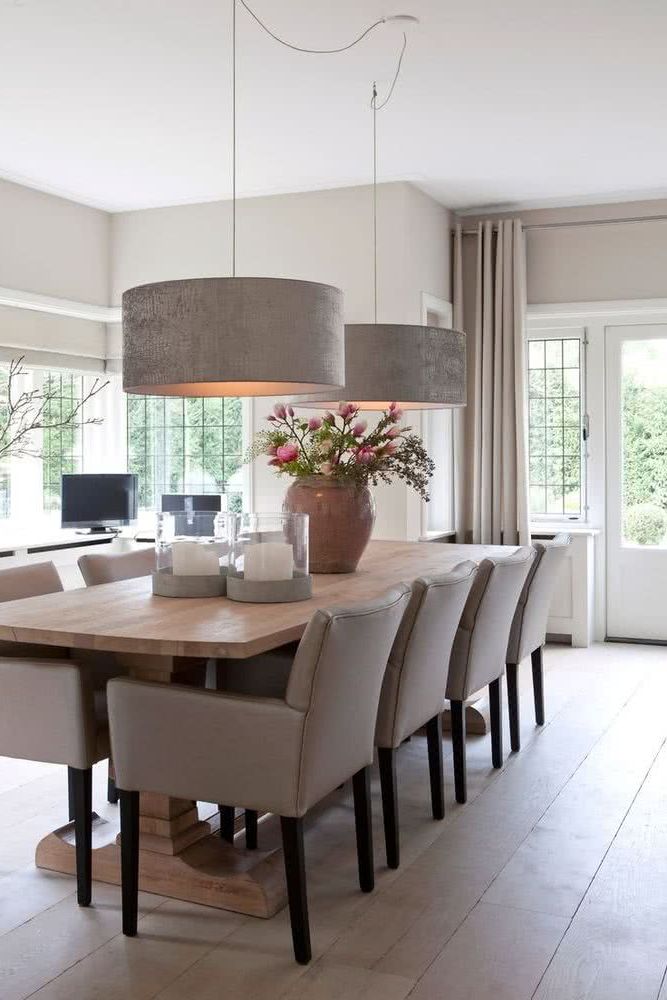 If you have a space with height and good windows, you will only have to worry about the night light, which can be a hanging lamp.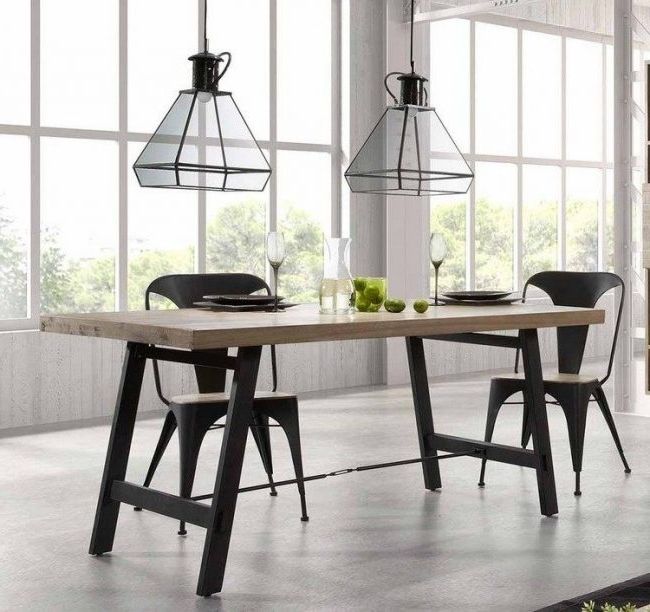 This is a typical dining room for special occasions, it is generally used for parties, the rest of the year there is a secondary dining room.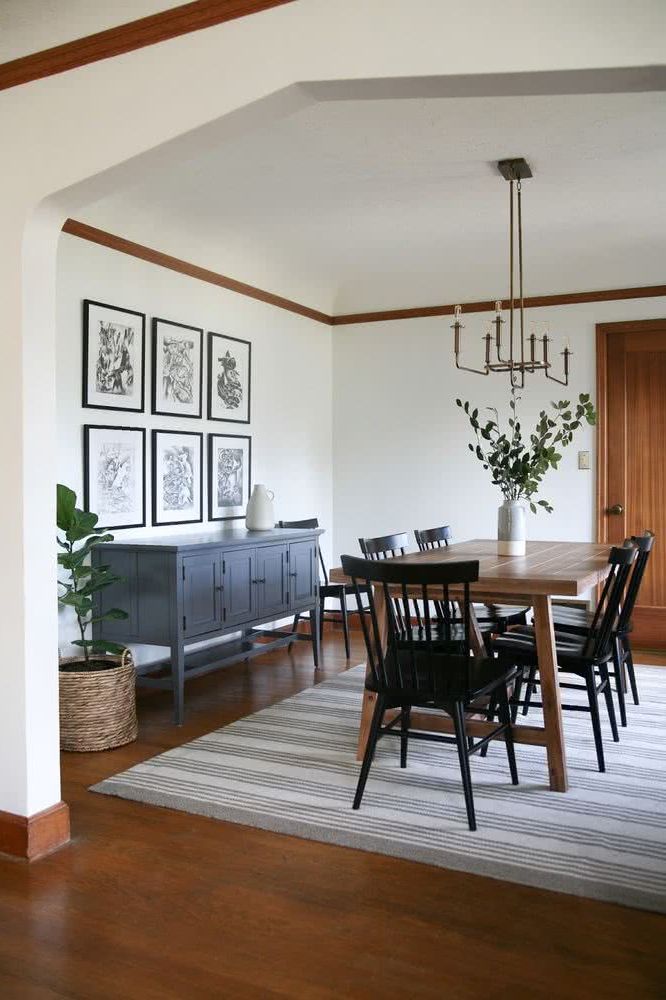 Warm and welcoming. Those are the words to describe the dining room in the photo. There are places that seem created for that dream romantic dinner, this is one of those.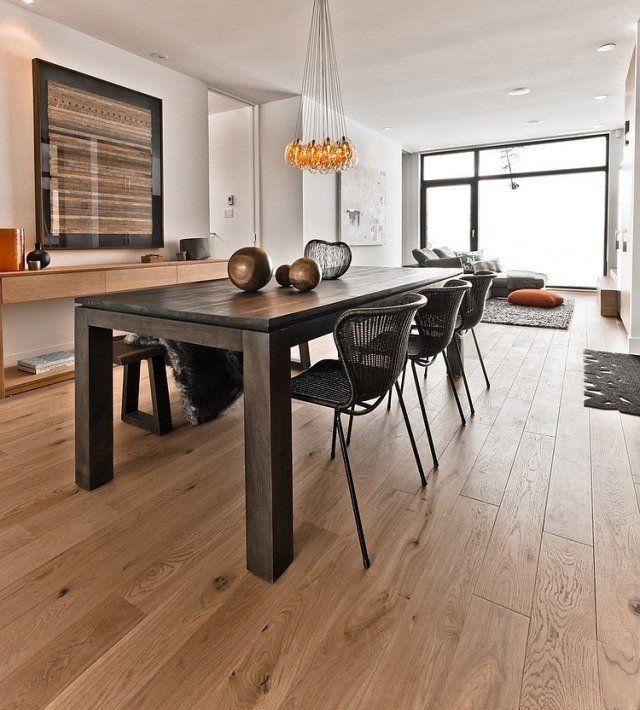 Nice, simple, country. It is a fresh dining room that blends with the living room to give it more use.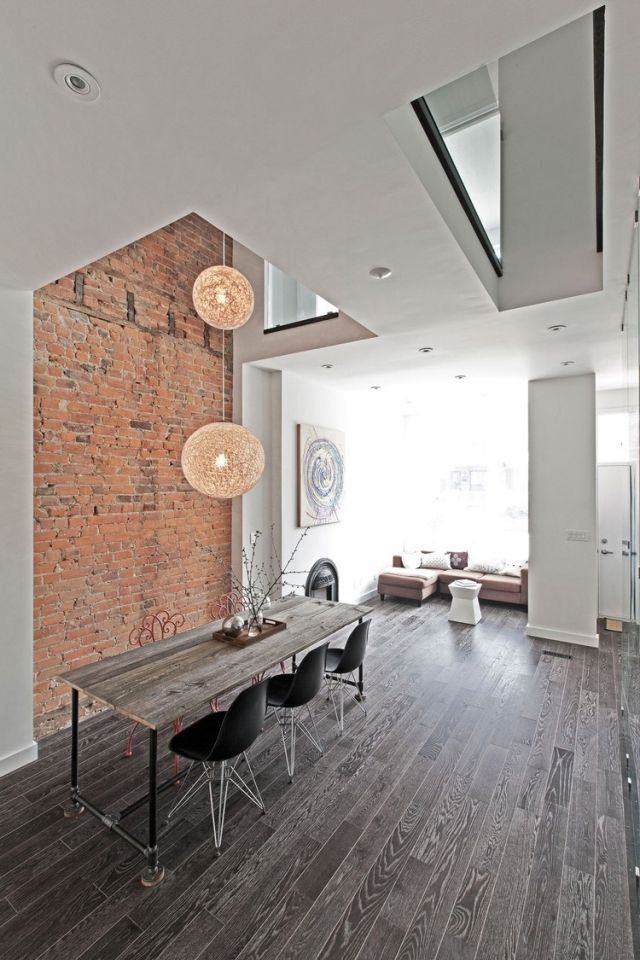 Comfort
Natural light is a very important plus for any room, whether it is a dining room or any other part of the house.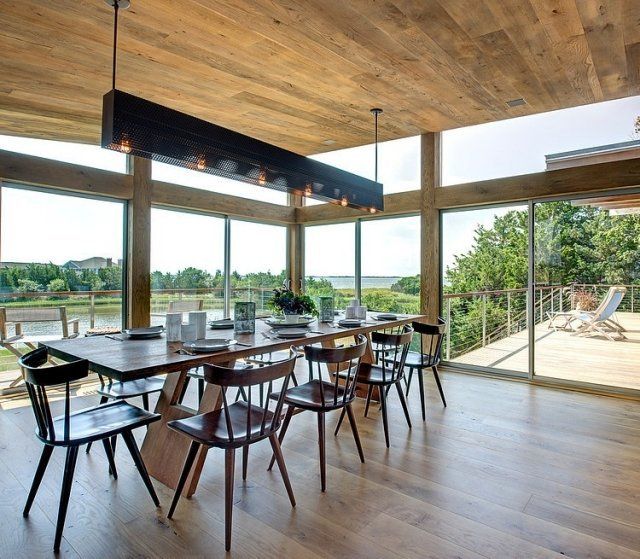 A slightly darker dining room, with a modern look, with very original lighting.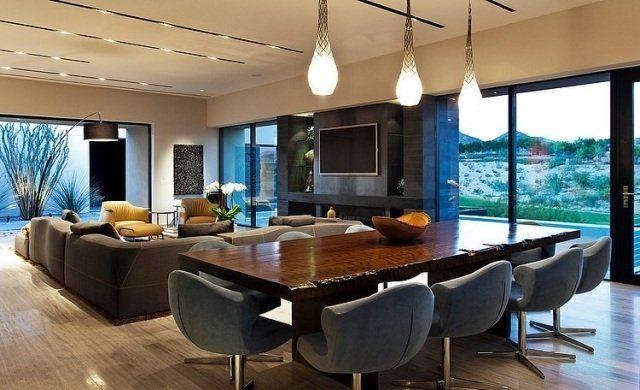 Styles
Modern rustic dining rooms
The mountain and rustic style usually uses a lot of wood, especially that which is carved for decorations. Woods are usually incorporated as a way to provide warmth in the cold winter months.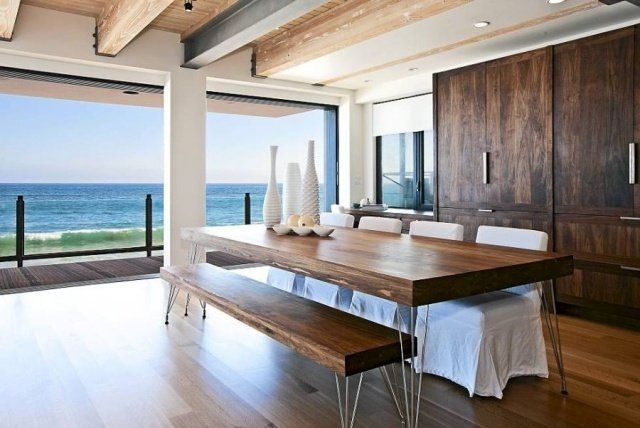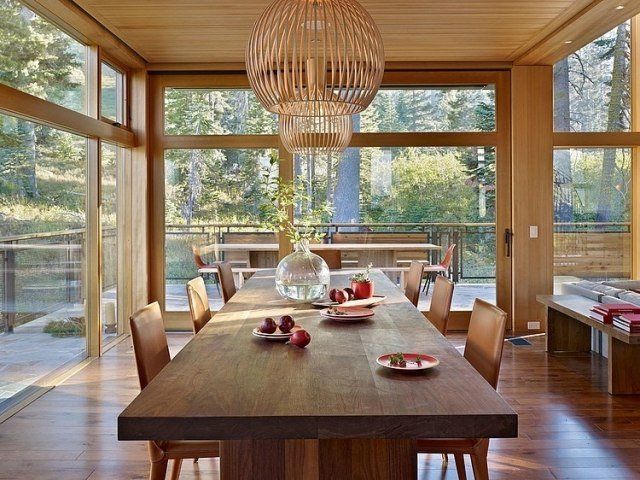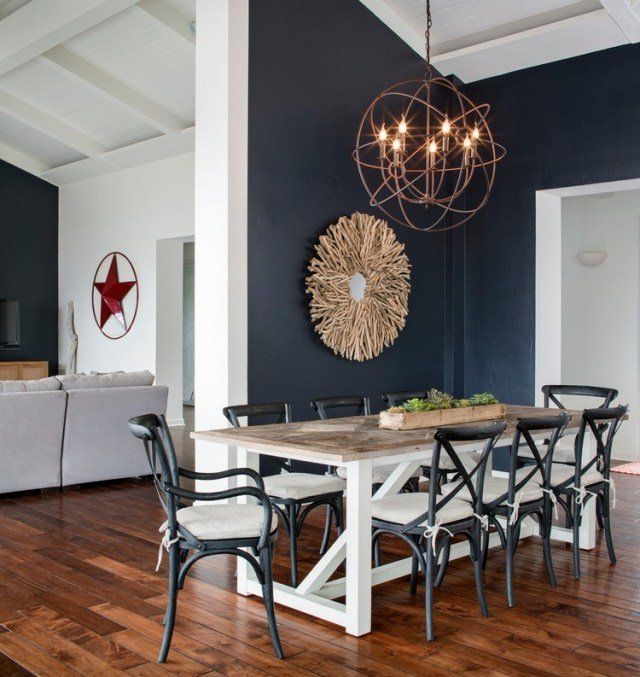 Minimalist modern dining rooms
It is a style that with few elements recreates a sophisticated and elegant space, as we see in the image below, having as details the luxurious set of table and chairs in black, a chair with a greater presence in red as a color note in the room and a wonderful lamp that takes the focus out of the table a bit and adds a lot of style.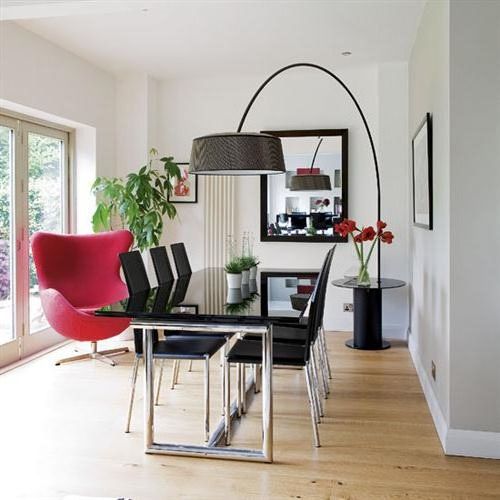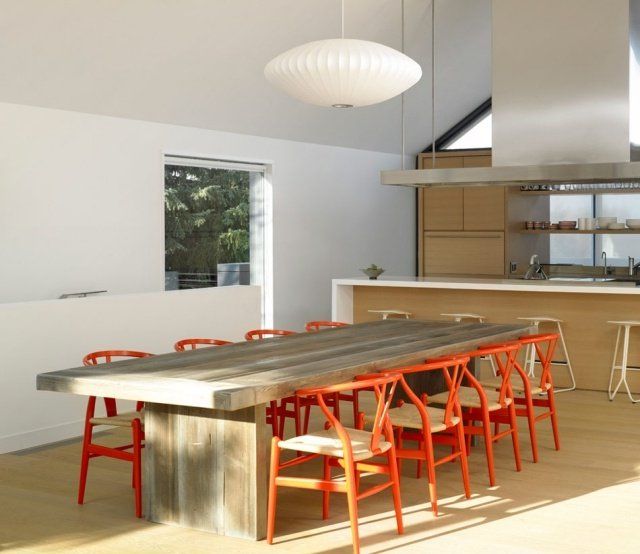 Modern design, with a minimalist touch, typical for a young couple's apartment.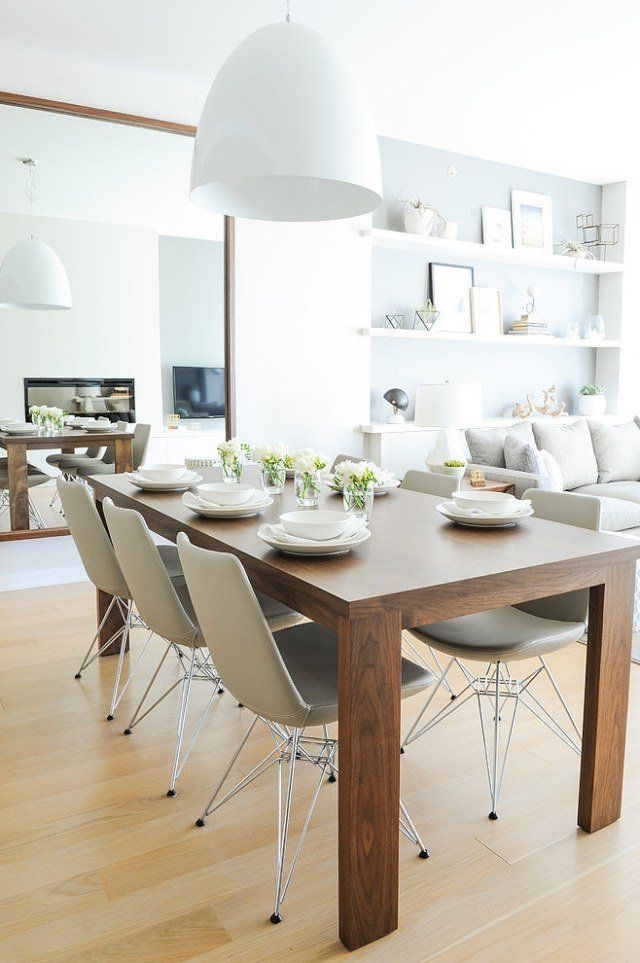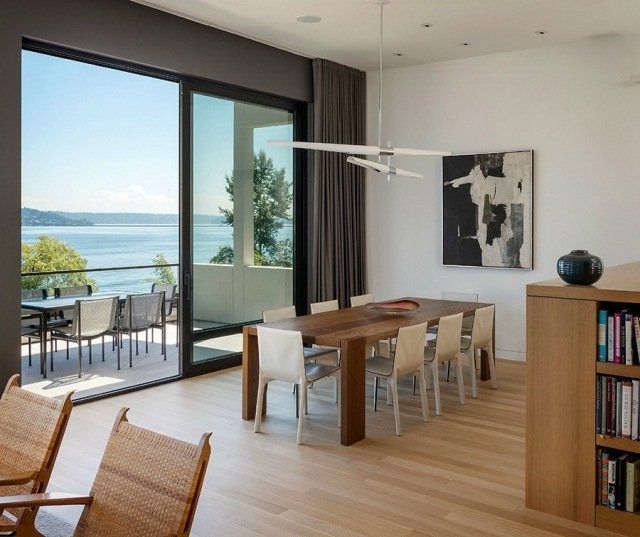 This other proposal shows us a glass table as an accessory in contemporary dining rooms. Modern chair designs impose style, and the figurines meanwhile add elegance to the room.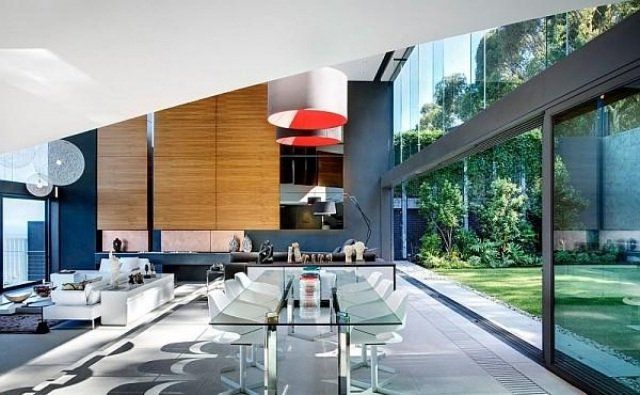 Industrial modern dining rooms
The Industrial Chic style is a segment of decoration that every day attracts more followers around the world, who find in it a model that adapts to every home, but that also fits perfectly for internal business environments. little. Let's look at some dining room ideas in style.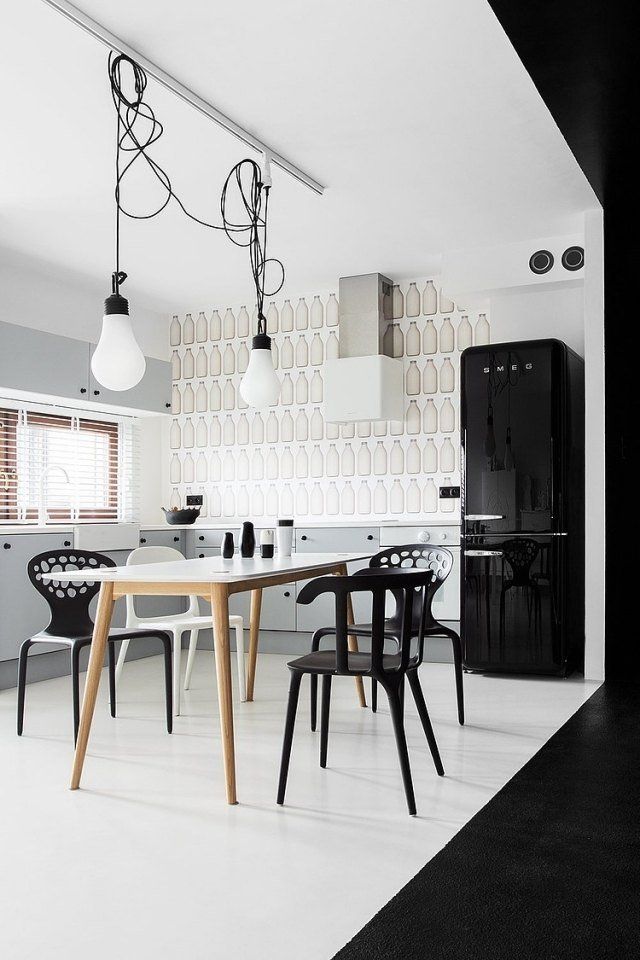 A sculptural lamp looks great against the dark smoky walls and gives this room an industrial feel. Smooth metal chairs paired with an oak table add a softer touch to the space.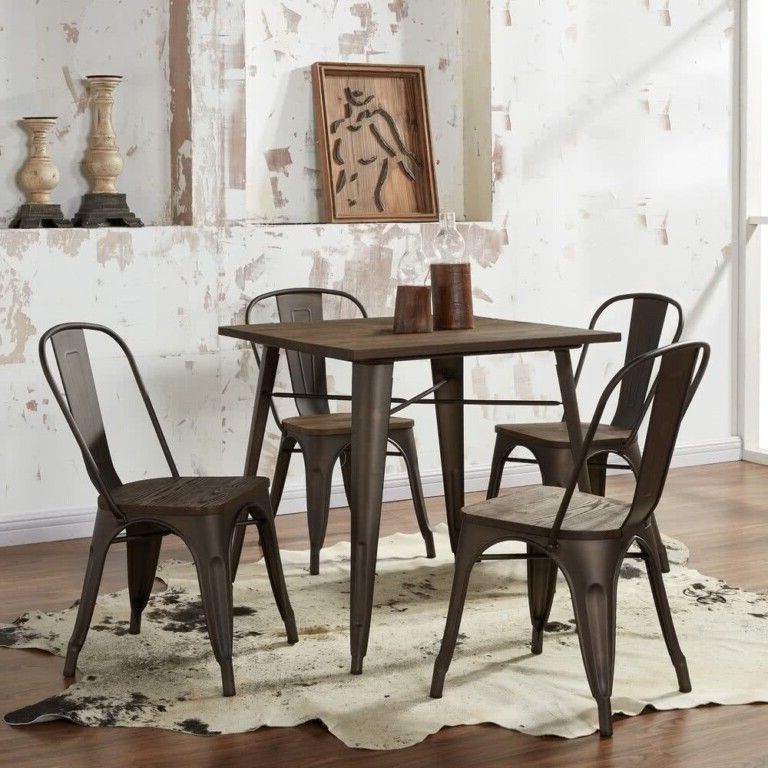 It is very common that the main piece of furniture in the dining room, which is the table, is the one that marks the line the most. This means in other words, that the ideal would be to find an old, industrial model, in a second-hand market, or in auctions of factories that close, since that is where you can find the best tables in hard wood and wrought iron. , or the models most associated with industrial kitchen tables, in stainless steel.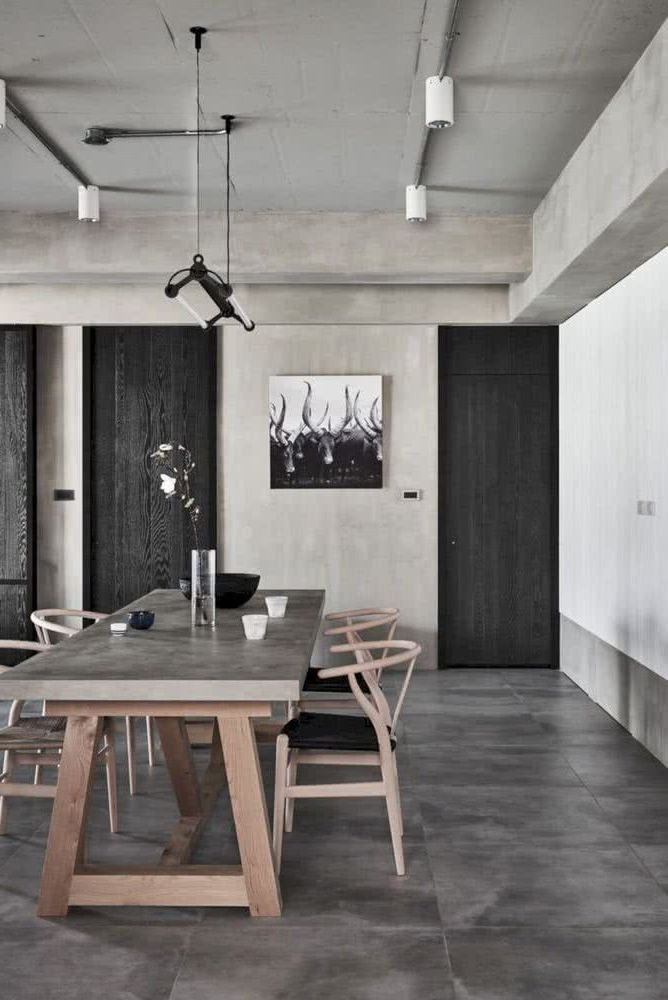 The trend in wood and wrought iron is transferred to chairs, benches, stools, cabinets and side shelves, including clocks and lamps. Clocks with Roman numerals are the ideal complement to the wall and nowadays they are very easy to get, since they are very fashionable.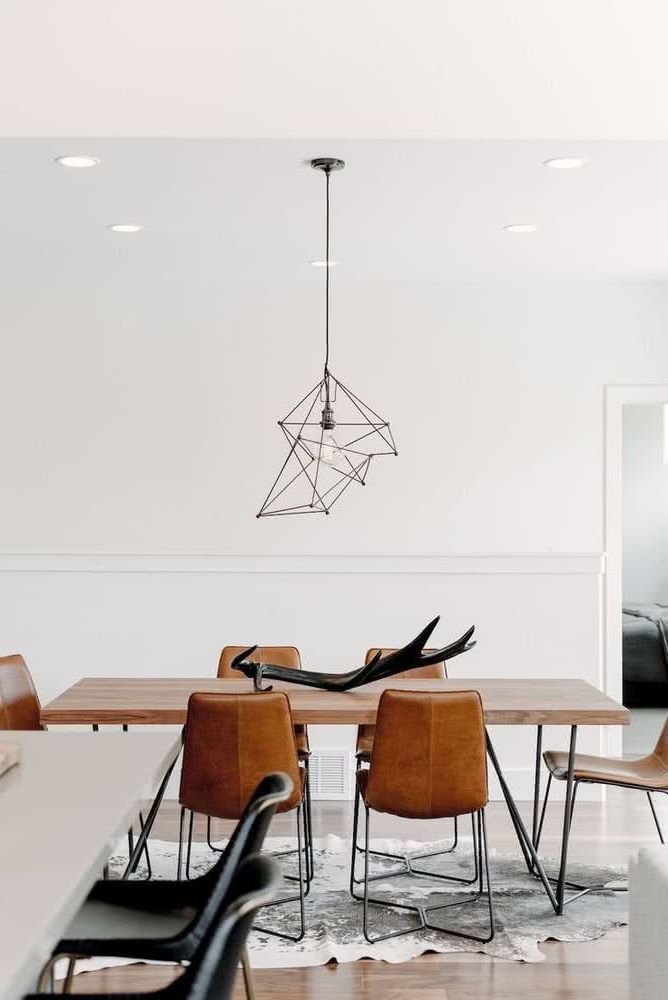 Of course, the industrial style should not necessarily be associated with the old, since it can be modern industrial, where stainless steel tables are more classic, smooth wood floors and chairs made of plastic or other materials, with strange shapes.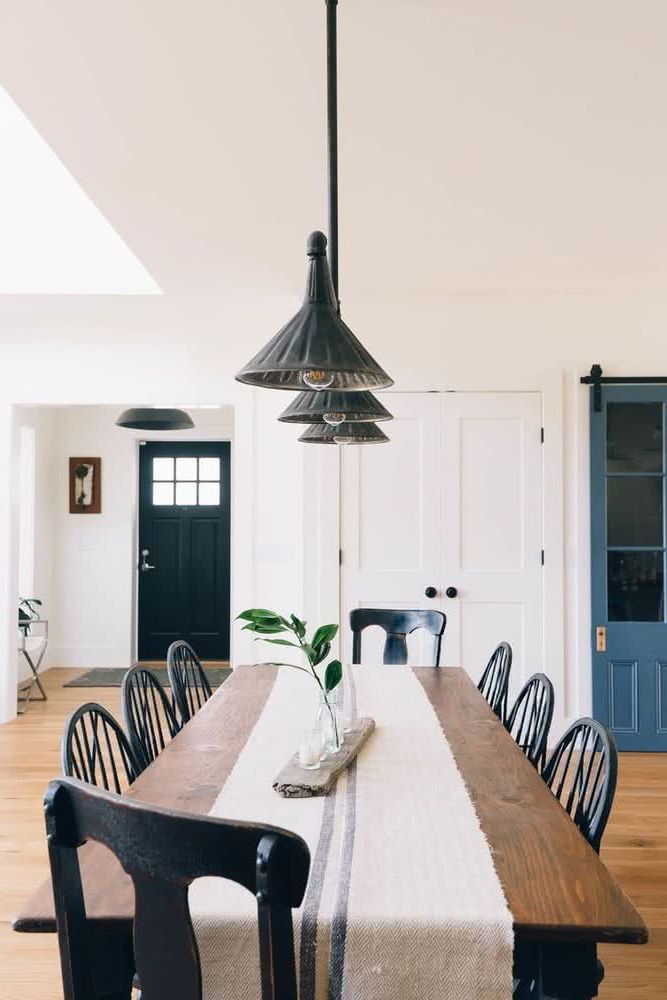 Modern nordic dining rooms
The white color is a color that reigns in the Nordic style, but this does not mean that it cannot be combined with others to generate a contrast. Another original way of contrasting is wood. This style is without a doubt one of our favourites. When we talk about the Nordic style, we are talking about a style full of elegance and also functional.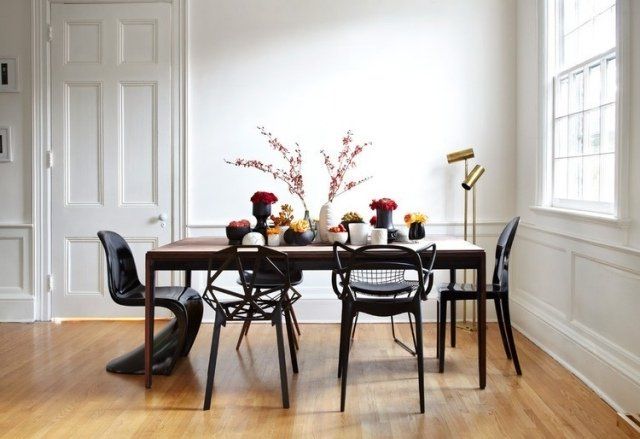 Another thing you should keep in mind when decorating is light. As you can see in the photos, the light must be natural, so it is advisable to put semi-transparent curtains.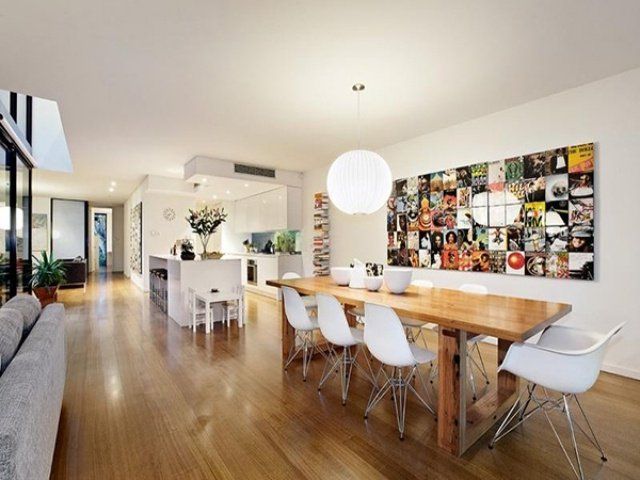 If your house is not well lit by natural light, then you can put artificial lighting but make sure it is enough to reach all points of the house.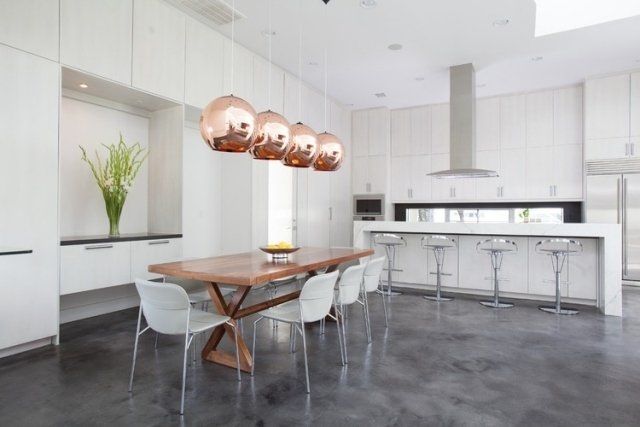 The contrast should be put on the rugs, curtains and cushions. All furniture must have its function since in this style only the furniture that is needed should be used.