If the meters are scarce, it is better to avoid chairs with arms, since most cannot be fitted under the table. It is interesting to change the mentality and also study if a good place for the dining room can be in front of the bookshelf. Why not? The dining rooms are compatible with shelves full of ordered books, and if that bookcase is next to a window, it will benefit from its luminosity.
THE FUSION OF STYLES IS A TREND
Contrary to the tradition that dictates that the basic furniture —table, chair and sideboard— must be of the same material and aesthetic, a heterogeneous dining room is set up, with a mix of chairs from different eras and colors, or with contrasts between rustic, vintage and urban, with Nordic, industrial, country, shabby chic design chairs, and also garden chairs…
DECORATOR TRICKS
To achieve a more exclusive environment, take risks with lamps with a sculptural or chic design, sometimes with a maxi lampshade, which should never dazzle or produce shadows. Also, create a sophisticated image around the sideboard with an impeccable decorative composition, and give more prominence to at least one of the walls.
Dining room next to the bookstore
Next to the bookstore. Locating the dining room in front of the bookshelf was an option that was hardly considered years ago, but today it is common. To get it right: a balanced design that enhances the whole, like this one by Vuong Interiorismo. Table, by Sancal, at DomésticoShop. CH24 chairs, by Carl Hansen & Son.
White table and light wood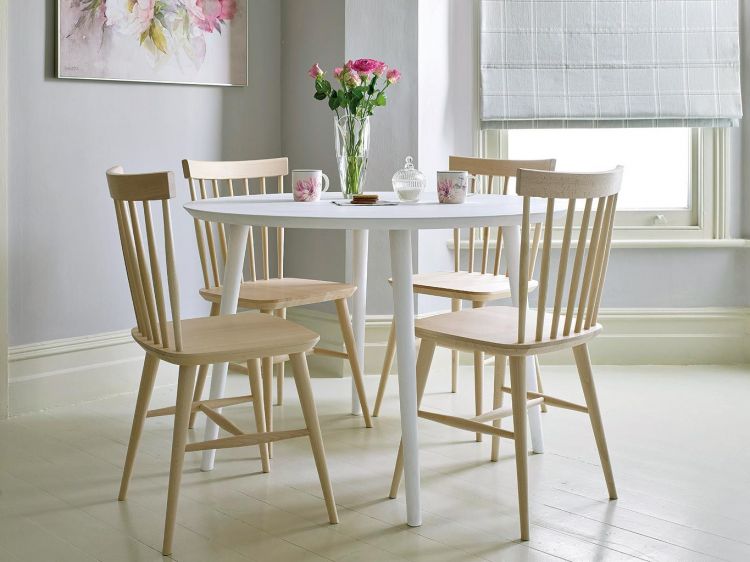 The combination of white and light wood
It is a trend in dining rooms. In this case,
It consists of a table with a total white look, which spreads natural light, and four chairs.
Tapiovaara style in solid beech. A practical combination because with a circular table circulation becomes more fluid and, furthermore, with the diners already seated, this design facilitates conversation. Table, in beech wood; in 1.10 x 0.74 m (€470) and Elgin chairs (€385/two); everything, by Laura Ashley.
White chairs in harmony with the lamp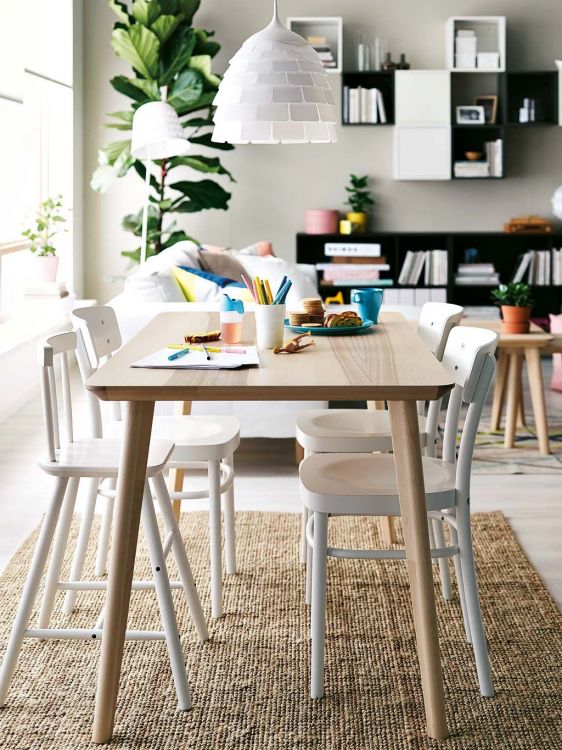 Around the ash table, white chairs in harmony with the hanging lamp. A fiber rug completes the decoration, which combines well with the environment, adding texture and warmth. Furniture, from Ikea: Lisabo table, in 0.78 x 1.40 x 0.74 m (€129); Idolf chairs (€59.99 each); Kvartär lamp (€14.99) and Lohals rug; in 1.60 x 2.30 m (€89).
Sturdy table and chairs with a vintage look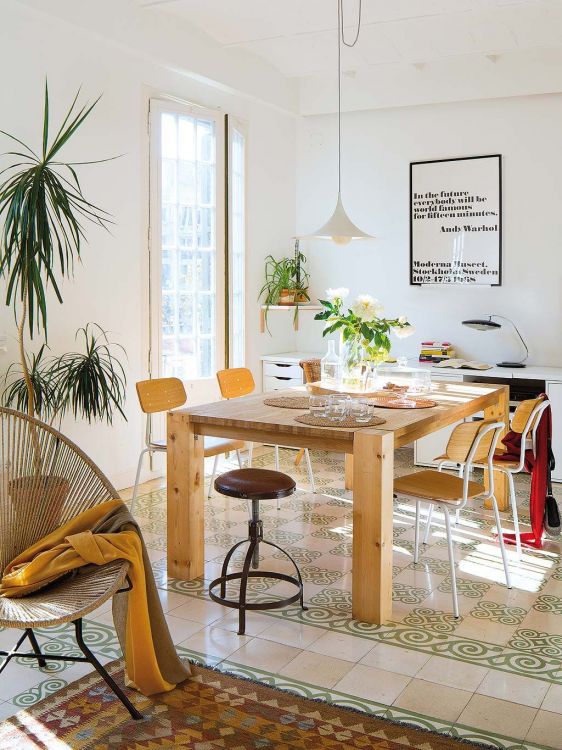 In this very personal dining room, the table, robust and with a factory look, and the chairs, with a vintage aesthetic, form a tandem that exudes naturalness. The set gains interest with an old hydraulic floor, laid out like a carpet to delimit this environment. The seventies design elements stand out, such as the ceiling lamp and the flexo.
The new rustic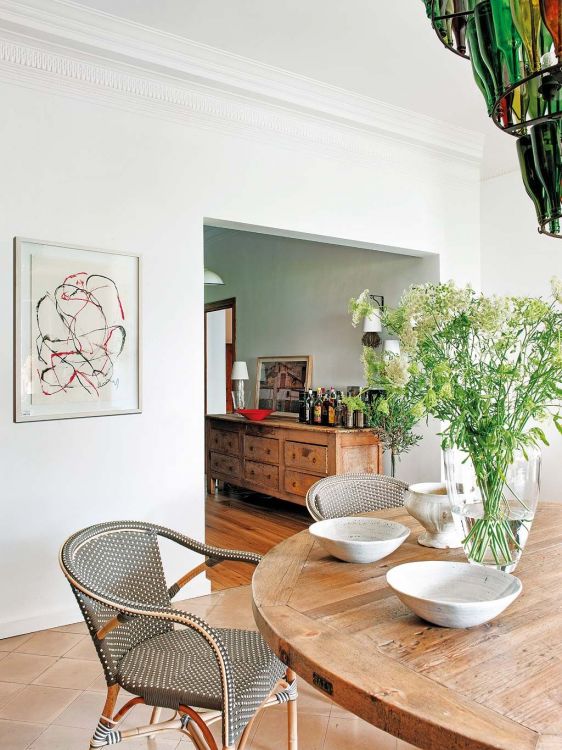 The handcrafted furniture gives this dining room a warm look, in which the chairs with sinuous backs and arms are the perfect partner for a circular table. To be highlighted in this tandem of wood and fiber: the naturalness imprinted by the imperfections of the recovered wood and the elegance of the black on the chair, pure sophistication in this neo- rustic style dining room.
The table of Chinese origin, made with old elm beams, and the braided chair, by Sika Design, are by Luzio.
Retro style chair in yellow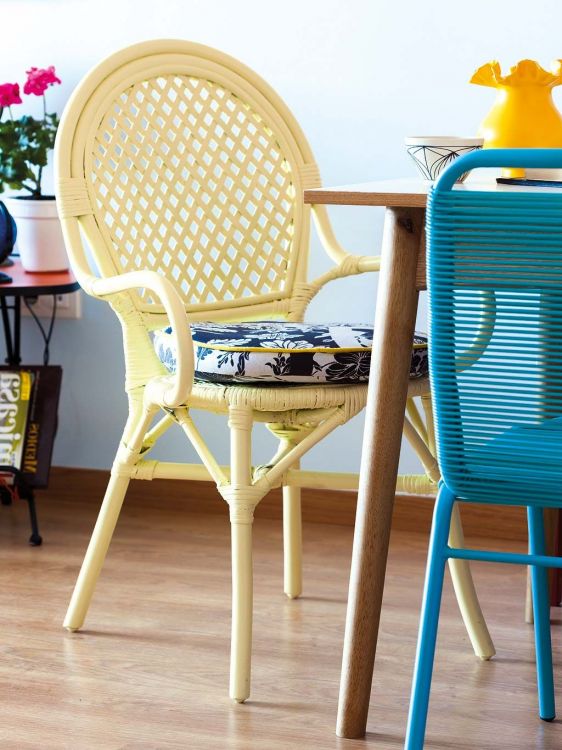 There are dining room furniture in such light and subtle tones that they can go unnoticed. The one on this retro-style chair is, but with two stylist tricks, it's more lively. The first is
the making of a cushion for the seat in a patterned fabric in highly contrasting shades of navy, white and blue, which is also finished off with a bright yellow that is much more intense than that of the chair. The second trick: the blue wall in a very light tone acts as a backdrop, which provides enough contrast to appreciate the pastel tone. Chairs: with lattice on the back, from Ikea, and blue,
metal with resin straps model Scoubi, from Maisons du Monde (€39.99). Decorator, Pili Molina, from the Masfotogena studio.
White dining room to highlight natural light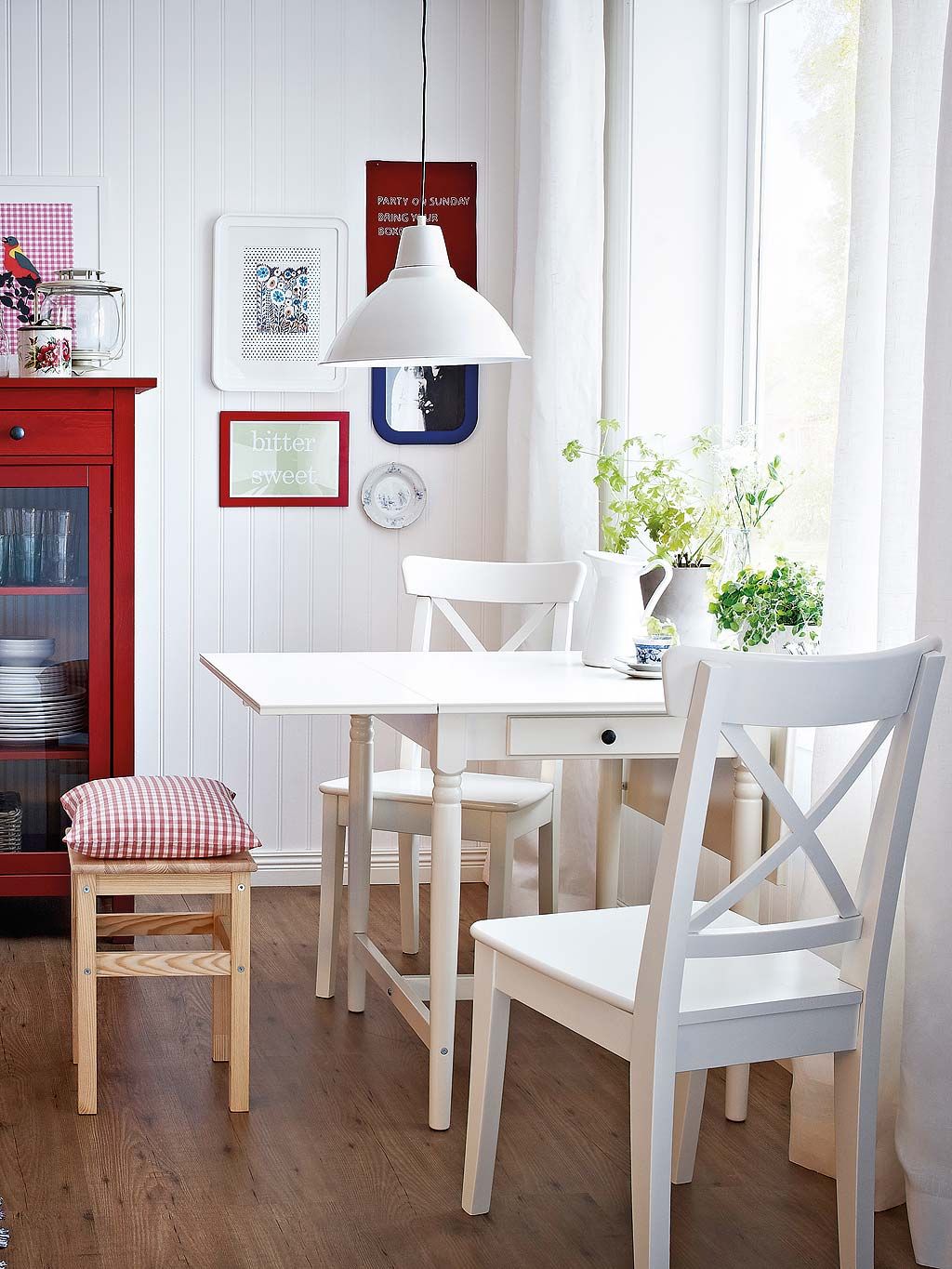 Radiant White It is the star color when you want to spread natural light in the dining room and also the one that lightens the visual weight of the furniture; two qualities that make it a solution when space is limited, but that also works in large spaces, where its clarity shines. The only drawback of this shade – it can turn out monotonous and cold. Something that is easy to fix
just introduce brushstrokes of color in decorative and textile details. If you want to go one step further, choose a piece of furniture with an intense color that breaks the chromatic homogeneity and arouses maximum visual interest. Dining room, from Ikea, with Ingatorp table, with folding wings (€149); Ingolf chairs (€59.99 each) and Foto lamp (€12.99).
Garden chairs in different colors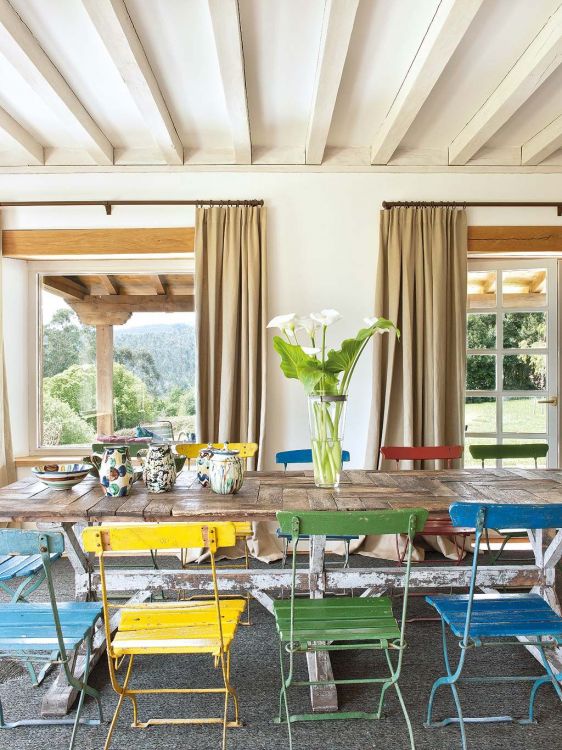 Combining chairs with different finishes and disparate styles is in fashion. In its favor: freshness
that transmit, so far from the formal dining rooms. Garden chairs, by Carina Casanovas.
Table, by María Lladó. Black mat, from Comercial de Moquetas y Parquets.
Oak paneled dining room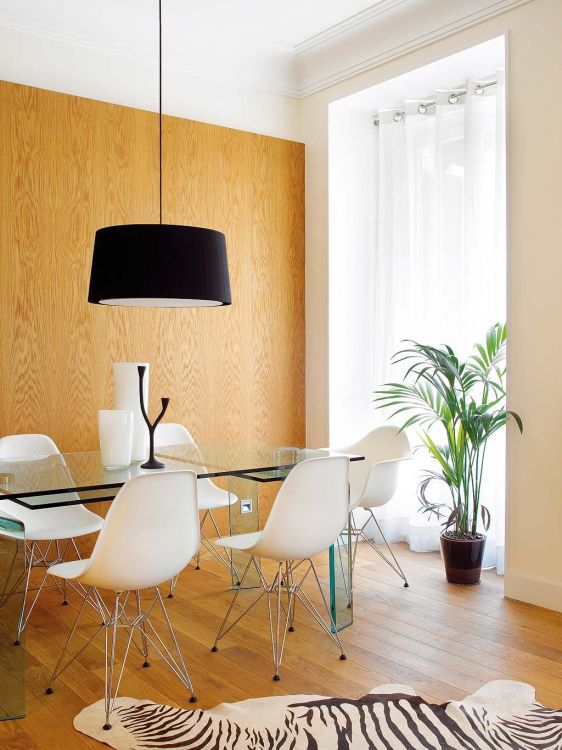 The seldom-seen decorative resources attract attention like a metal magnet. An example: the prominence achieved by this dining room, paneled
in oak, whose grain creates subtle contrasts. Chairs, by Vitra. GT8 lamp, by Santa & Cole. Architect, Vanesa García Calvo Rosell.
LagoStore shelf as a focal point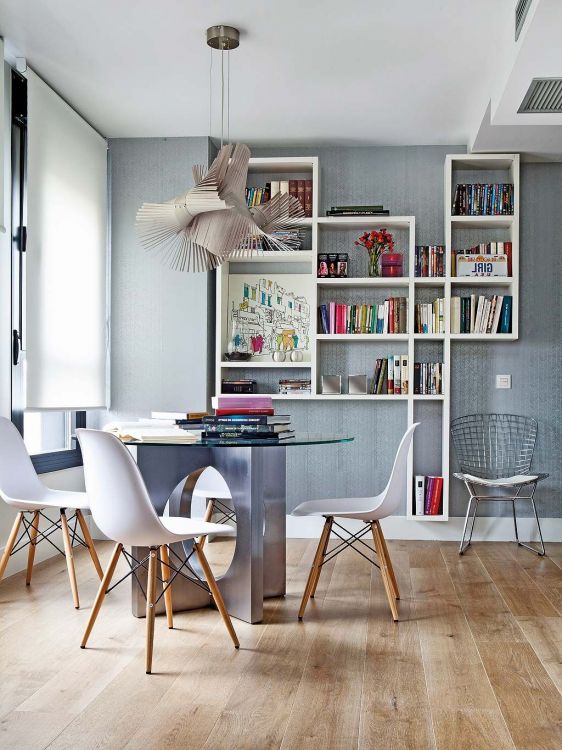 The wall of this dining room is more interesting with the shelf, by LagoStore, which becomes a focal point due to its asymmetrical design and its contrast with the paper, by Pepe Peñalver. Table designed by the interior designer Belén Ferrándiz, made by F. Domarco, in glass and sanded and varnished iron. Chairs, from SuperStudio. Mini Mikado ceiling lamp, by LZF.
Clover Collection Paper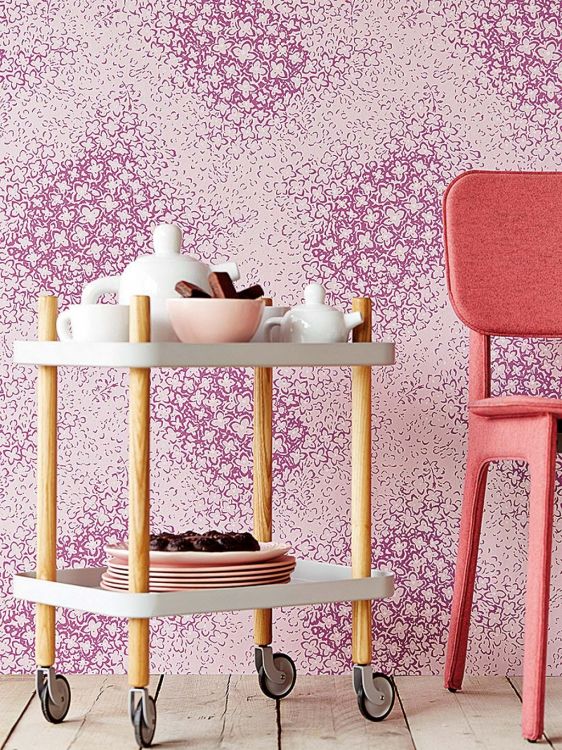 Floral, country, urban, exotic, geometric, abstract, metallic, revival… Choose design, choose wall and transform the look of the dining room without changing
the furniture. Paper from the Clover collection, by Coordonné (€98/roll).