The bunk beds reinterpret the space of the children's and youth bedroom. We have the practical tricks to decorate the room and make the most of the space.
Bunk beds are an excellent solution for children's and youth bedrooms, which are usually shared. The brothers spend their first years together in a very special atmosphere, where the brothers share laughter and nightly confidences. In fact, it seems proven that children strengthen their communication skills and the sibling bond. The main objective of the bunk beds is to adapt the distribution to the space of the room, these ideas are practical to gain meters in the smallest children's bedrooms.
How to put bunk beds
Vertical beds give space to other furniture, although you have to measure the proportions to calculate the additional meters to create a study or storage space. The measurements of a bunk bed have a standard of 90 x x190 cm, although you will find children's mattresses in 60 x 130 cm and 80 x 190 cm. The mattresses for this type of bed are usually thinner, since they support the weight of a child, much less than that of adults, so they usually have a height between 4 and 21 cm. We cannot imagine the children's bedrooms of a large family without the bunk beds, you just have to see this bedroom with a play area for four siblings.
The traditional layout of the bunks is two beds of equal dimensions, one on top of the other, supported by a wooden or metal structure and joined by a ladder. If the bunks are in an L shape, the meters are also used and the beds arranged in two directions create extra space. Another option is to place the beds in train and create more solid structures, with space for extra storage, which usually include cabinets. When you choose the loft type structure, with a cantilevered bed, the lower part is distributed with a desk or a sofa. It is about finding a piece of furniture with ingenuity suitable for your home.
How to dress a bunk bed
Children's bedrooms have to be fun, so bet on color, but you always have to take into account the taste of children. Start painting the structure of the bunk beds with vibrant tones, such as red or fluorescent tones. You can also try chalk paint, put these ideas into practice to paint furniture with this technique
We are not going to deny that making the top bed is somewhat cumbersome. If you have help, much better, because between two people it won't take long to dress it. If you do it yourself, start with the top bunk and try to reduce the layers, so with a bottom sheet, a top and the comforter you can have it ready, in a second. A small stool will make this task easier for you. Pillows and cushions should be aired and adjusted so that they are well fluffy
The decoration of the room with bunk beds must be adjusted to the measurements of the structure that supports the beds. On the wall, use fabrics or wallpaper with different patterns to liven up the atmosphere. Self-adhesive vinyls are an excellent option, because they are easy to apply and remove, and the variety of patterns is almost endless. Ask the little ones what their favorite characters are or look for funny reasons and, when they get tired or grow up, you can remove them in the blink of an eye. Here you have many ideas to choose upholstery, wallpaper and vinyl for children's and youth bedrooms.
Details matter, and a lot, in the room. Choose textiles with original prints for the duvet covers and decorate the bed with many cushions, in different shapes and sizes. Another good tip is to hang very easy DIY garlands made with fabric.
1 bunk convertible into two beds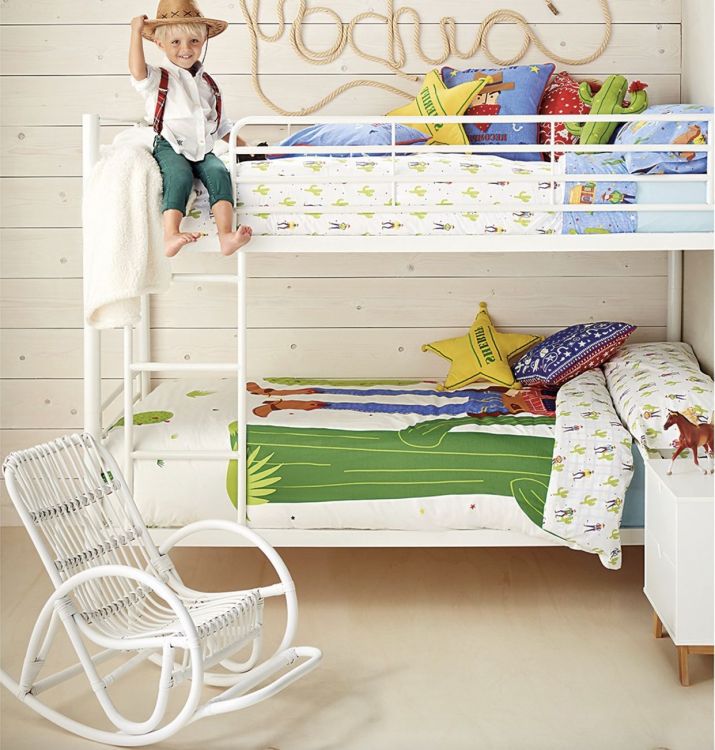 The Mini Home collection from El Corte Inglés is designed to provide practical solutions tailored to the little ones in the house. This bedroom with this double-height metal structure, which transforms into two single beds. A practical piece of furniture to encourage savings. Measurements: 100 x 156 x 203 cm.
2 for 3 brothers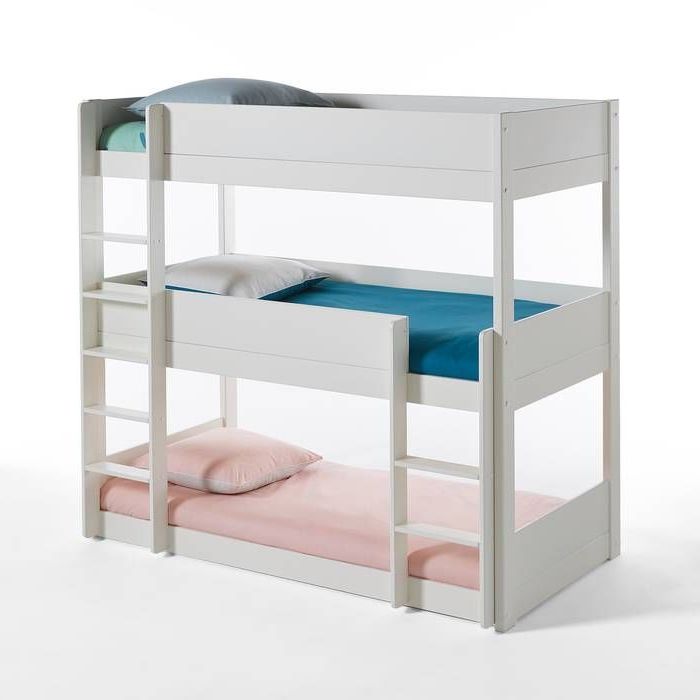 It is a brilliant solution for very large families and also to receive friends at home. The pajama party will be a complete success with this white lacquered bunk bed.
3 With table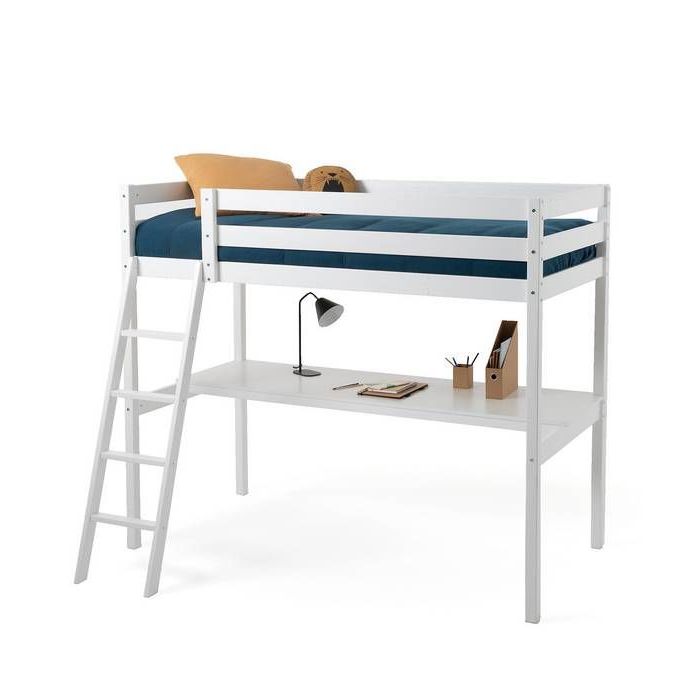 The maximum optimization of space is this ingenious design of the Meeting model. The study area is very spacious and is completely separated from the bed, even if you decide to install a computer or your child studies with a tablet.
4 youth bunk bed with sofa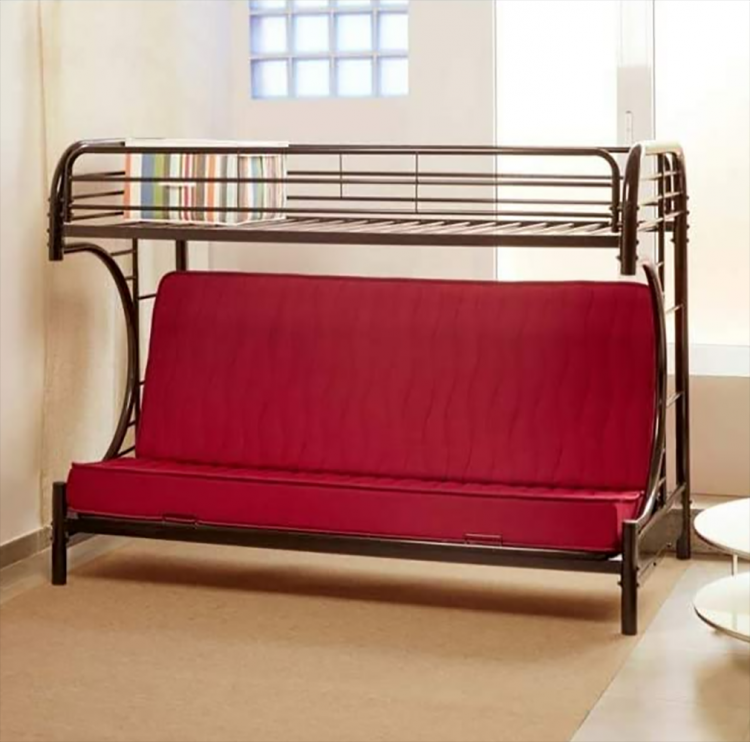 If your child is crying out for some independence, they will love this proposal from ManoMano. It has it all: bed and sofa, which turns into a bed if a friend comes over. The Fantasy model is very light due to its metal structure, 90 x 190 cm, and a reversible ladder to place it on both sides.
5 Wooden house with two beds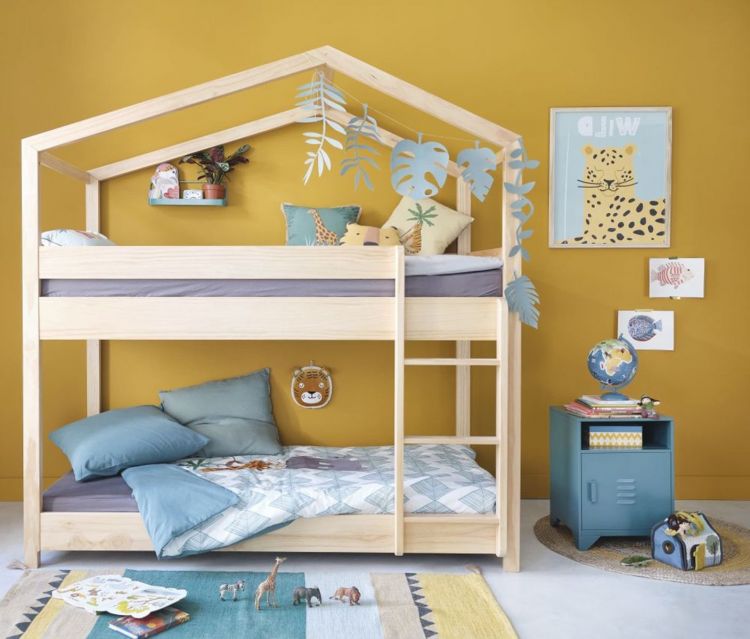 The Maisons du Monde firm creates a unique atmosphere with this structure, in natural pine wood, with a house-shaped finish. Your children will create a very special world in this little shelter with two bunk beds, 90 x 190 cm.
6 Three beds in one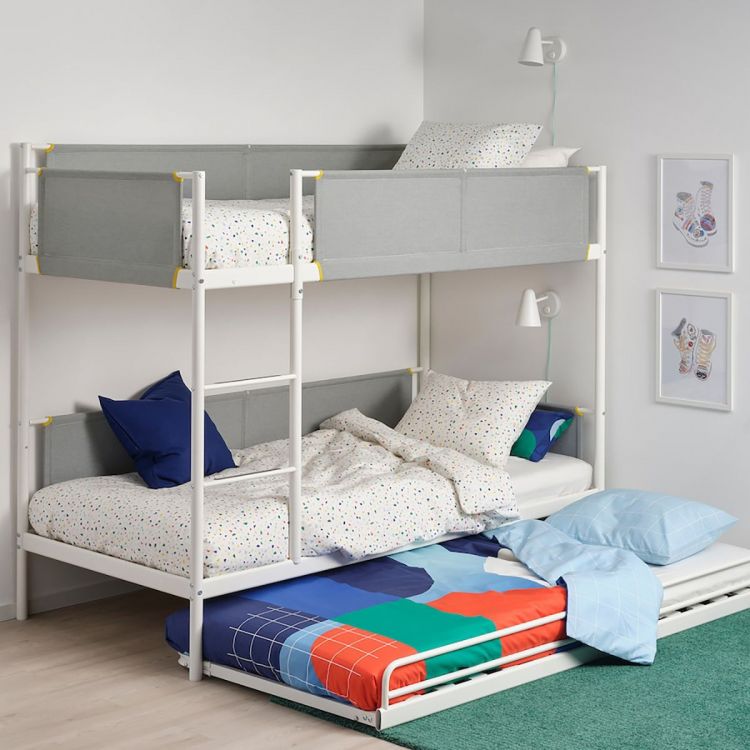 Ikea is always ahead of our needs with great ideas, like the Vitval structure. It is a bunk bed in two heights, which hides a third bed in case you have guests. This unique structure, as practical as it is original, measures 90 x 200 cm.
7 train-shaped beds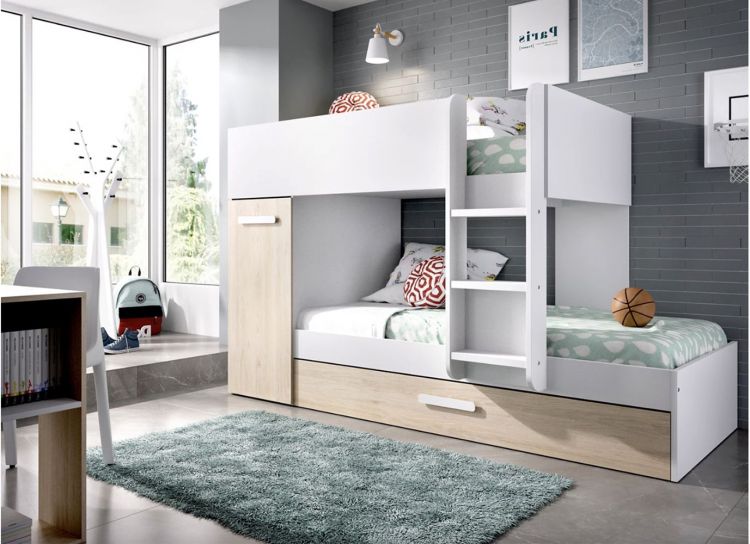 This Leroy Merlin proposal has a large storage space, with a large lower drawer and a vertical cabinet. The Tana design, in oak and white, is in the shape of a train to make the most of the space in a small room. The beds are for mattresses of 90 x 190 cm, although they are not included.
8 Bunk bed in Nordic style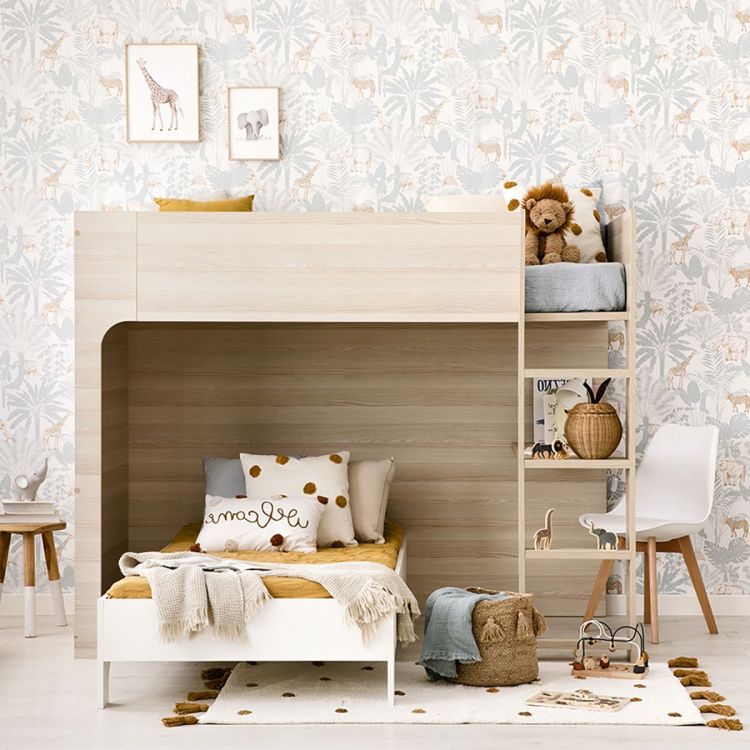 The Obie design, by Kenay Home, adapts to the meters of the bedroom. The wooden structure is fixed, but the lower bed can be moved to create different sets of volumes, it is even possible to put a small desk or bedside table on one side.
9 A bright bedroom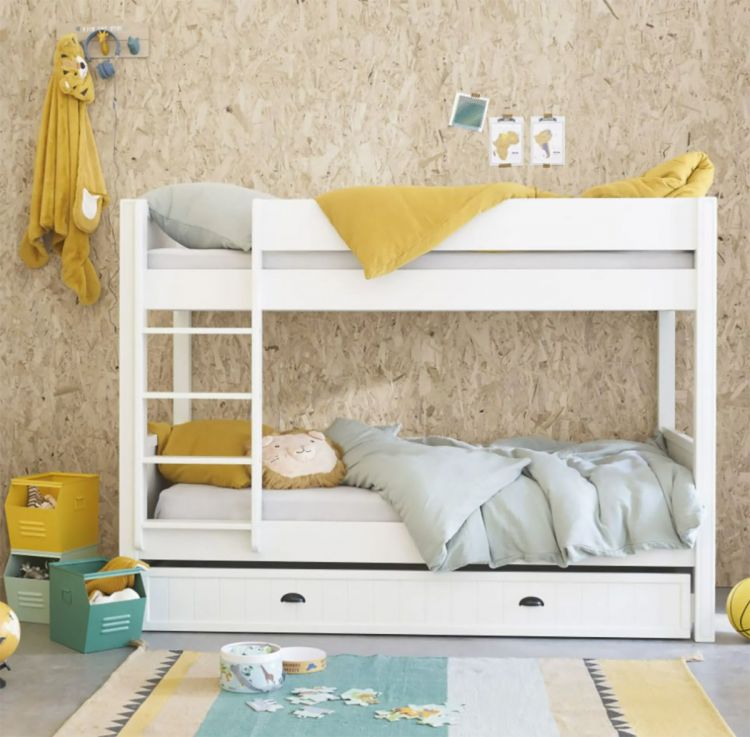 The Newport collection adapts to the needs of the children's bedroom. The soft lacquer of this double bunk bed is perfect for a room with a maritime atmosphere. With lower drawer for toys, in 152 x 102 x 206 cm.
10 Castle Bunk Bed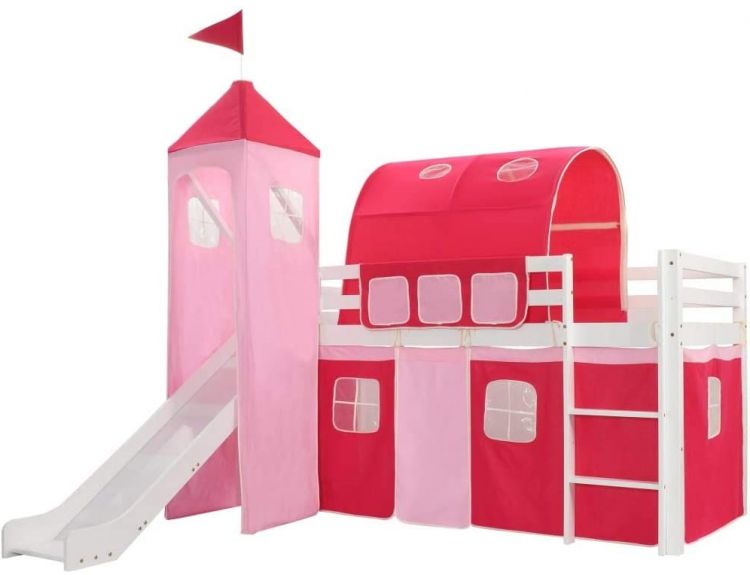 The Camba model, by Vidal XL, is very resistant and safe. The dimensions with the slide are:: 208 x 230 x 185 cm. Do you prefer a palace for princesses or a castle for warriors?
11 In the form of a London bus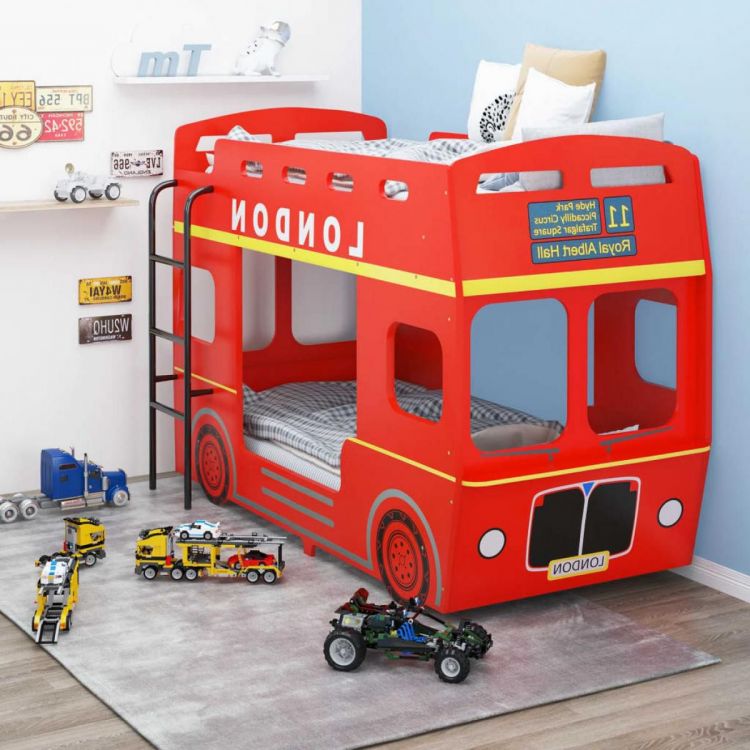 It is a very special piece, striking and lively. The London bunk bed, for sale at Mano Mano, is suitable for adults, but it will drive children crazy. Every night going to bed will be an adventure riding on this nice bus, where your dreams will come true.
12 For the whole family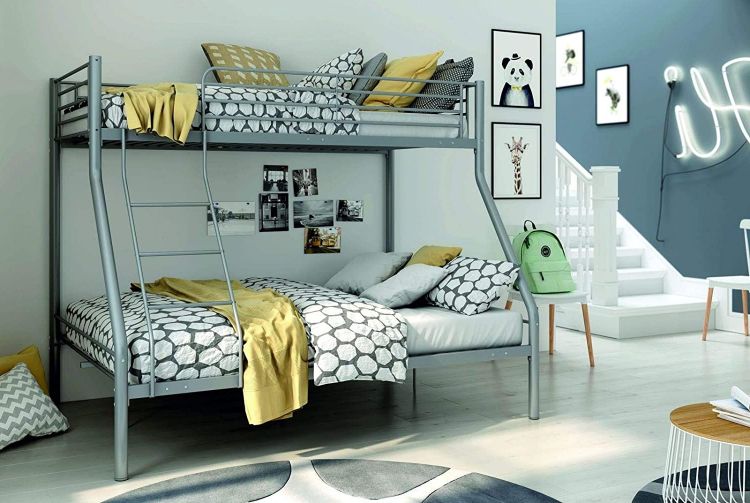 It is an original and very special metallic structure, because it has space to sleep a child and a couple. This triple bunk bed has beds with beds whose measurements are: 90 x 190 cm and 135 x 190 cm. The ladder and railing are anti-fall design.
13 With folding beds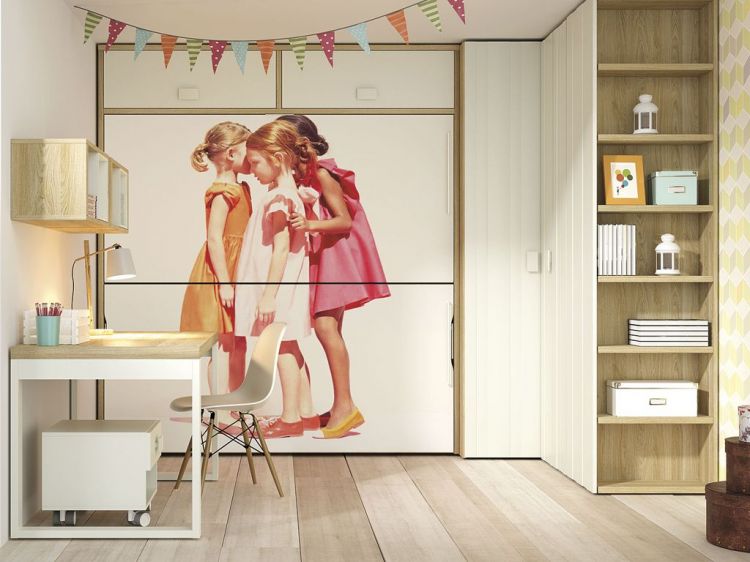 If it is preferred or necessary to leave the space of the room clear during the day, the folding bunks are the solution. In this bedroom, the closed bunk bed does not take up space and is integrated with the front of the cabinets. But in addition, it is super decorative with digital printing. It belongs to the Life Box youth program, from the firm Lagrama, at Abatibles.es, and includes the viscoelastic mattress, 20 cm thick
14 U-shaped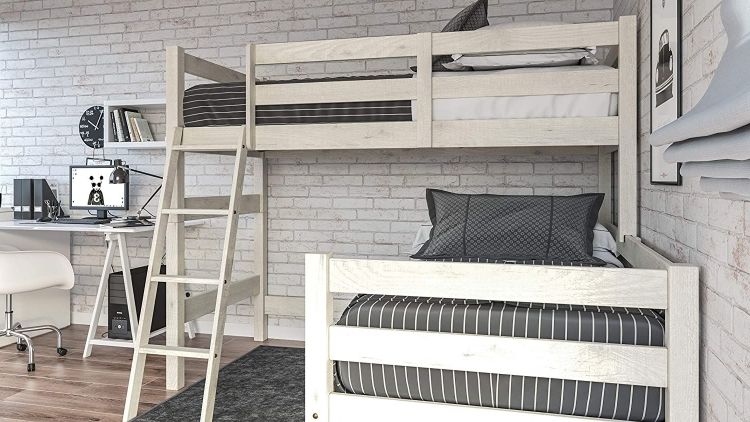 A solution when there is little space and a separate place is needed in the bedroom for each sibling to study and do their homework. In this room, the bunks form an L and there are two study areas; one under the high bed, and the second at the foot of the low bed. A composition in solid wood, from Amazon.
15 With study area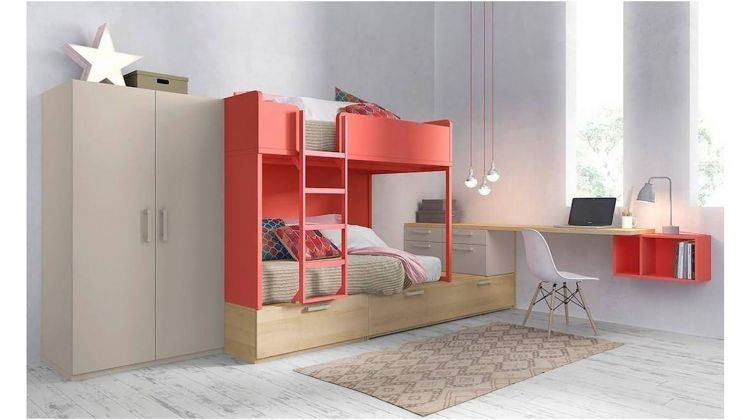 The composition of the Flow bedroom, by Kibuc, tries to give independence to the brothers. It is distributed in an L-shape, with a large desk, with drawers to store school supplies and maxi drawers to facilitate order and store bedding or between-season clothes.
16 very cheap bunk beds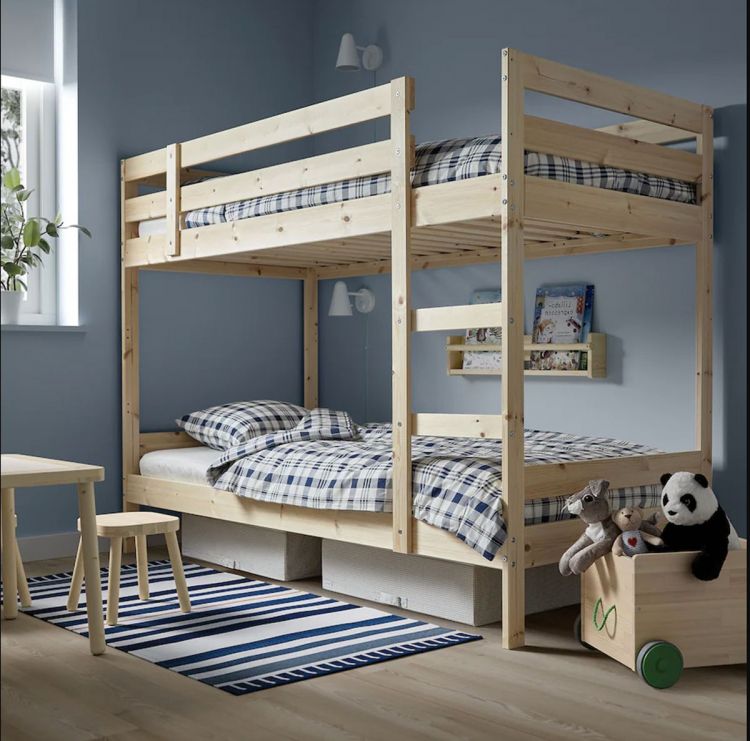 Ikea changes the look of your home at very competitive prices, even more so when it comes to the children's bedroom. In pine wood, the Mydal bunk bed, from Ikea, exudes naturalness. Perfect for an eco-inspired and handmade bedroom. Its color, grain and knots harmonize with any color and white. In this room it acquires a very tender sweet air with the pink brushstrokes. Mydal bunk bed from Ikea.
17 full of drawers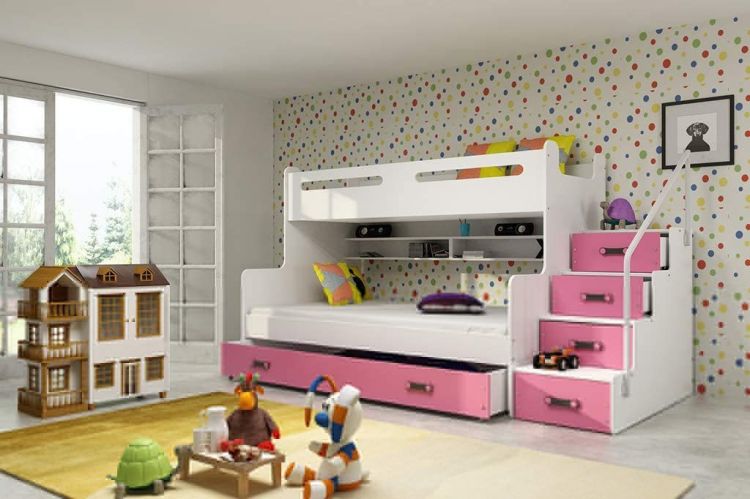 Storage space and order will not be a problem with its practical design. It has two bunk beds, with their respective mattresses included, a large lower chest of drawers and a ladder with steps, which house drawers.
18 loft bed with desk and sofa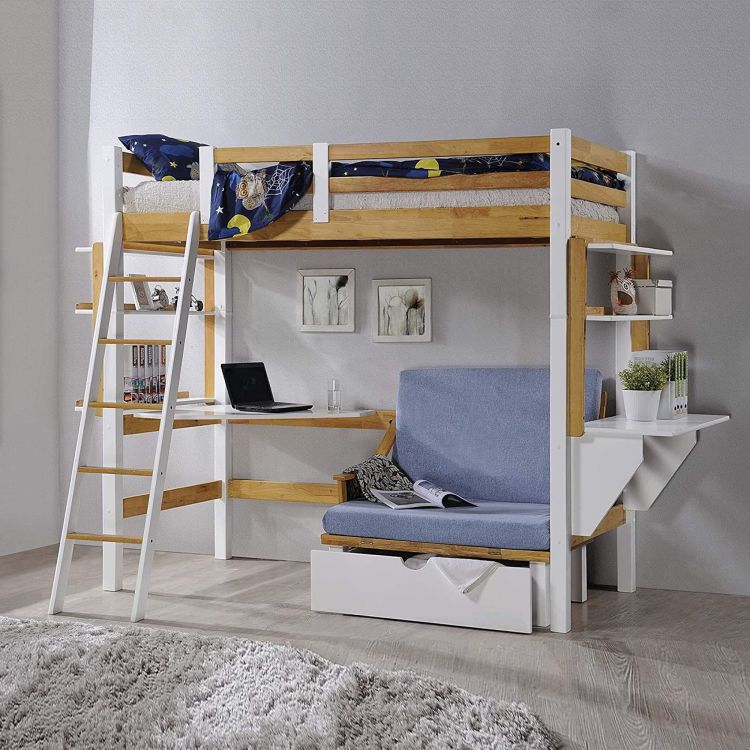 Bunk beds are not always made up of two beds… In this bedroom, the bunk has a single loft bed, a desk and a sofa for reading. A very complete Deco In Paris design, for sale on Amazon. It is also perfect for a mini studio-type home.
19 natural style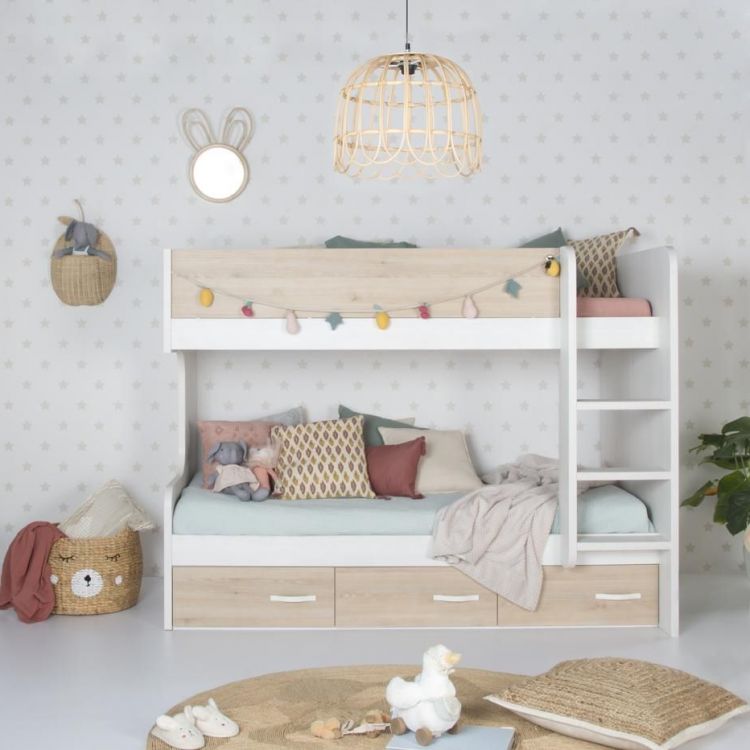 The upper bed rail is perfect for this bunk bed with two beds, in natural wood and white lacquer. The structure is completed with three practical lower drawers. Measurements: 202 x 113.8 x 153.7 cm
20 Simple wood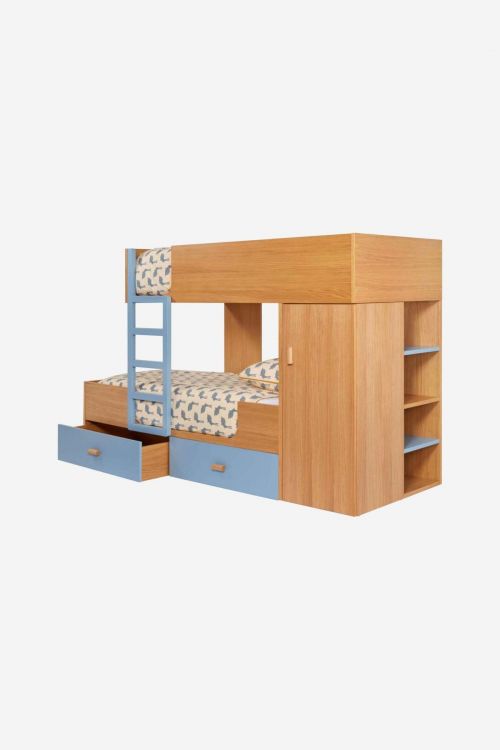 Milk is a compact design with two lower drawers, in blue-grey, like the ladder. It is very functional, thanks to a side shelf and a vertical cabinet. The upper bed has a railing and easy access with three steps.