Within these rooms of the house, the living area is the protagonist. Nothing like enjoying its warmth and comfort on cold winter days.
Get inspired by these proposals to make your living space comfortable and welcoming. These wonderful lounges combine comfort, functionality, and design.
Cauldron, pink, metal and fibers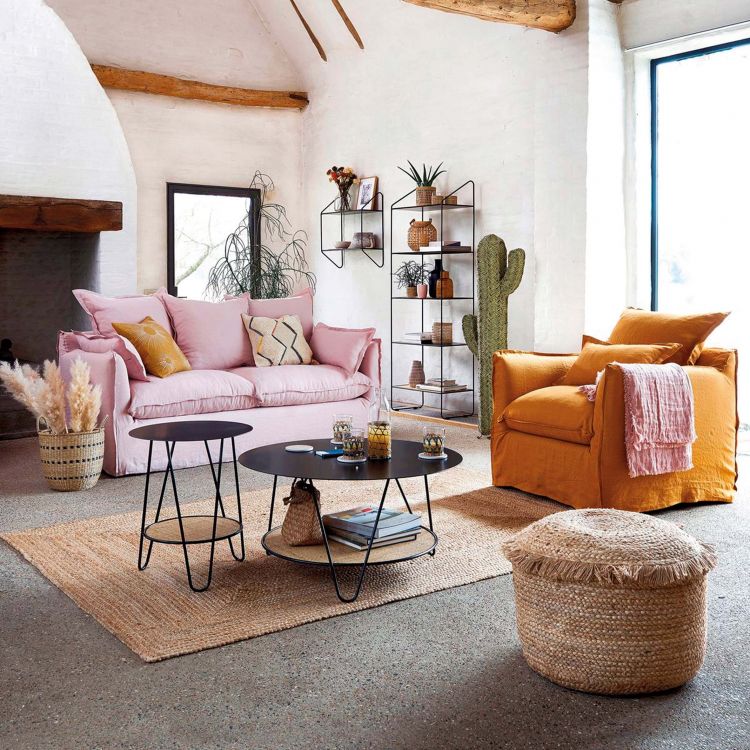 The two warmest and most romantic colors -on the sofa and the armchair- "pair" wonderfully with natural fiber accessories and black metal furniture. A modern-rustic look conceived by La Redoute.
Bohemian and intimate
Under the attic window, a corner has been installed that invites rest, siesta and privacy. The keys? The use of neutral and timeless colors, such as wood, but especially black and grey.
Ultra-light metal furniture, with an industrial air, and very trendy decorative and lighting accessories, such as the cactus-type floor lamp, or the metal leaf painting. There is no lack of small pots and a long-haired carpet. It is signed by Maisons du Monde.
Plants and vibrant sparks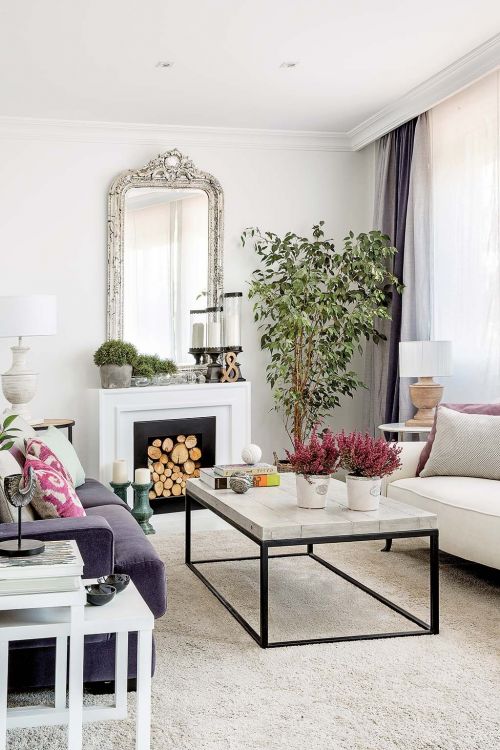 This living room decorated by Paula Balboa Interiorismo could not be more elegant, but also more comforting and vivid.
The game of textures and materials with which it has been furnished and the use of color have a lot to do with the result: the white base is seasoned with energetic sparkles, such as the purple of the sofa or the fuchsia of the cushions and the heather.
Plants – on the table, above the fireplace or next to it – help to create a very natural and fresh air.
casual and comfortable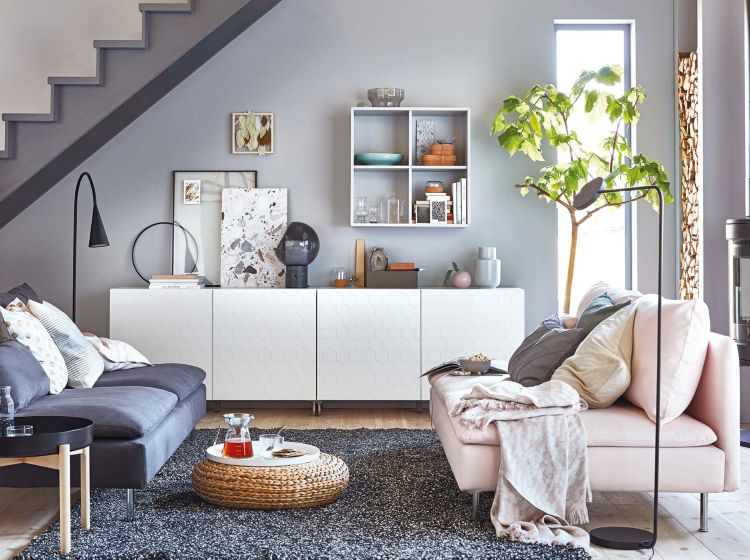 Casual and relaxing, this is how a winter living room should be. Like this one, furnished by Ikea. Two sofas covered with pillows and plaids, and in the center, a round pouf as a table. Reading lamps and carpet frame the whole.
Seats for all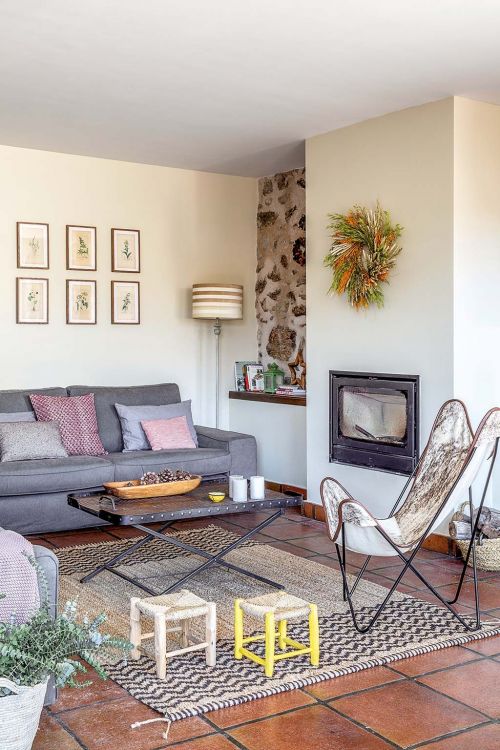 Sharing a lively chat by the fire, what an evocative image!
In this room, from Casa Tomasa, a rural accommodation that can be rented, the seats make up a daring composition.
Each one is of a different style -sofas, catwalk stools and Butterfly armchair-. Therein lies all its grace.
Floor and wall rugs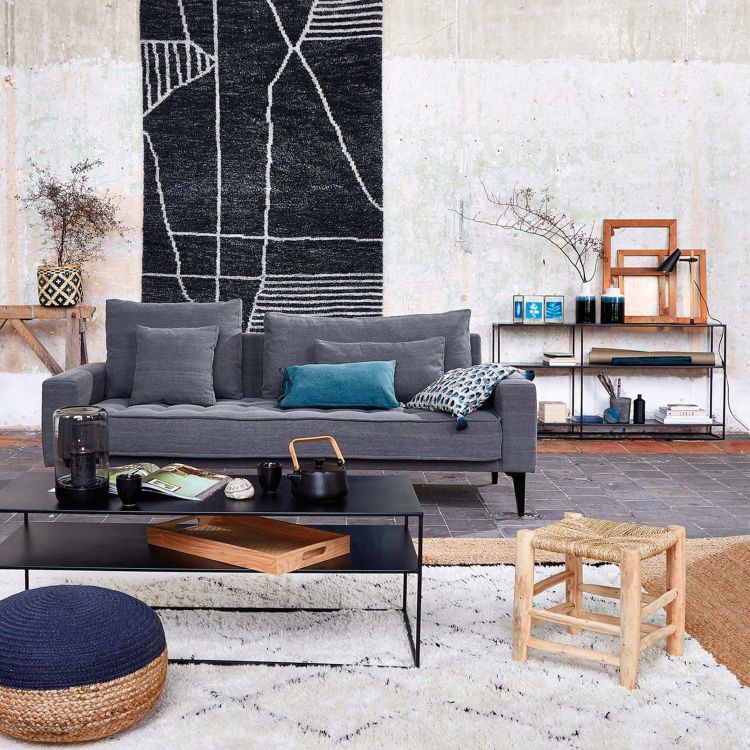 The best to heat a space. Do not limit yourself to placing only one rug on the floor, several superimposed rugs of different materials, for example, wool and sisal, are carried. And they also look luxurious hanging on the walls like a tapestry: they decorate and isolate, as in this setting at La Redoute.
Center tables: put more than one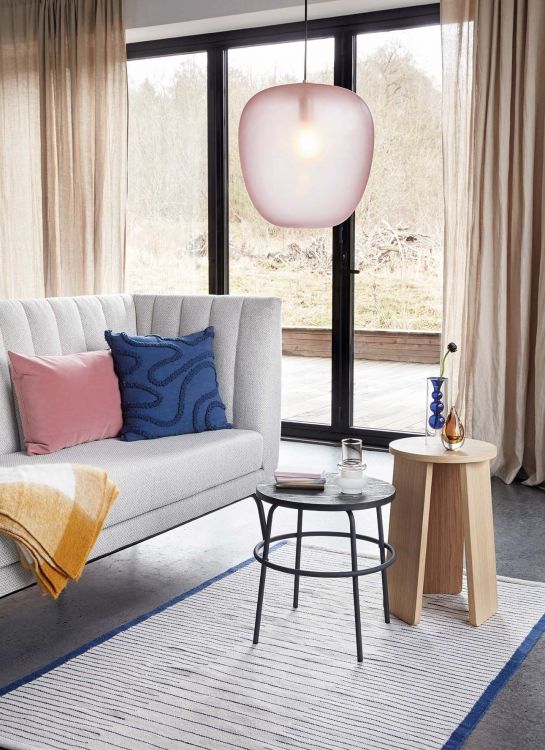 It takes to place several coffee tables in living rooms, as in this environment proposed by Hubcsh.
Choose two or three models -the same- or why not?, different in terms of manufacturing material, height, etc. You will see how beautiful they are.
Country comfort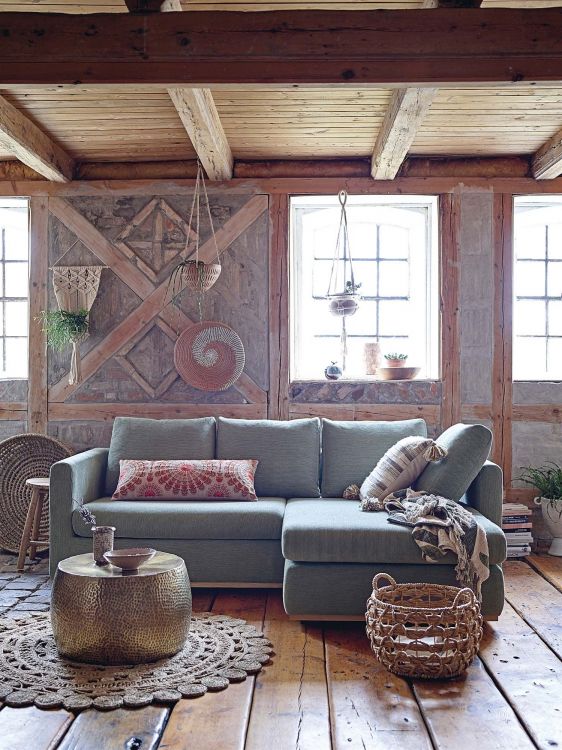 Wood, vegetable fibers -carpet, basket…- and ethnic accessories -Moroccan metal table, cushion with kilim print…- are infallible ingredients to create enveloping, comfortable and very well-warmed environments, like this one from Bloomingville..
A divan… and little else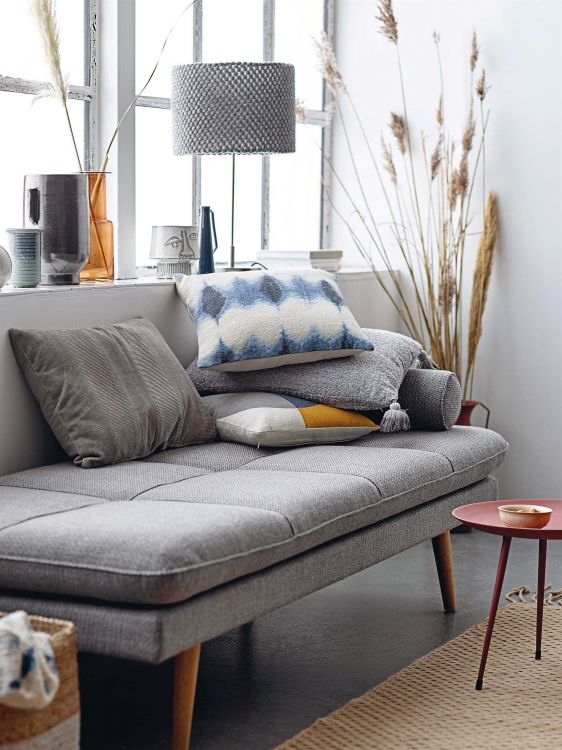 Many times less is more. This is what happens in this basic and welcoming living room.
A divan, which acts as a bed when needed, and a small table-tray have sufficed to fill this pleasant corner with relaxation.
The printed and plain cushions and the vegetal decoration do the rest. of Bloomingville.
Sofas that clothe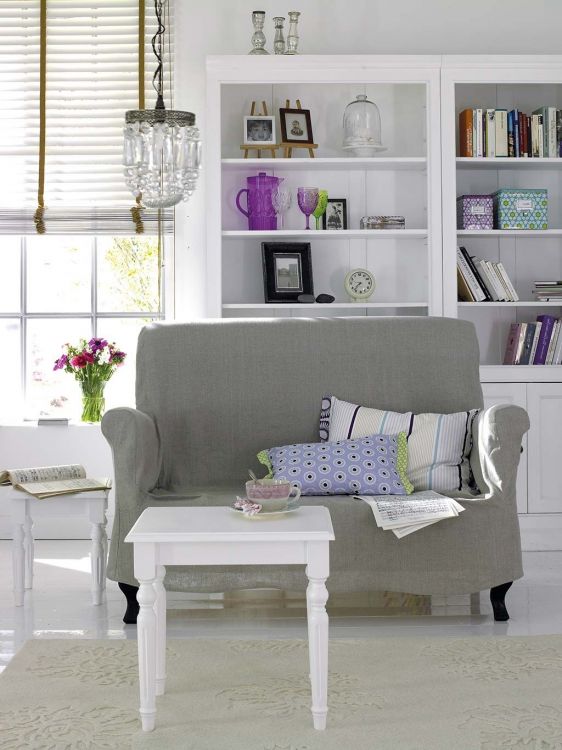 Sofas are the quintessential furniture in the living room: sometimes just one is enough, but comfortable enough not to want to get up from it.
This model, from Car Möbel, has these characteristics: a high backrest that cradles the back well and wide, rounded armrests.
Oriental touches for calm atmospheres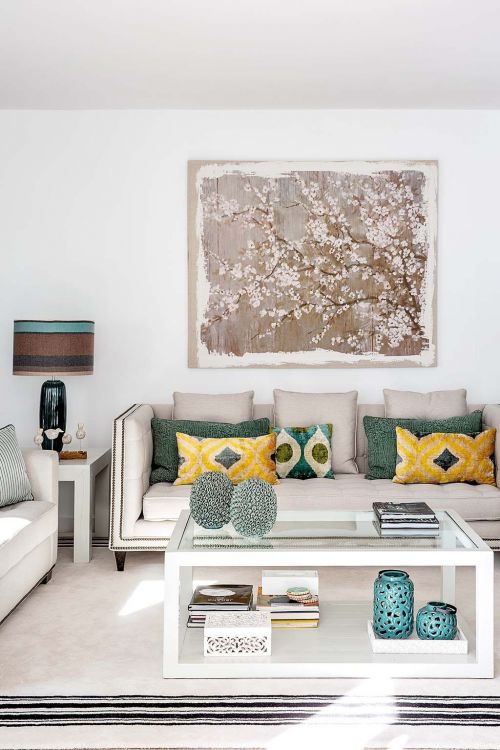 A calm, harmonious and orderly decoration is the best formula to create a comfortable atmosphere in your living room, especially in the living area. To achieve this, in this room light colors have been used in furniture, which also has very refined straight lines.
To counteract a possible excess of coldness, a range of greens and yellows -colors linked to nature- have been chosen in textiles and accessories. Oriental-inspired items like vases or ornaments add soft, curving shapes.
Gray & burgundy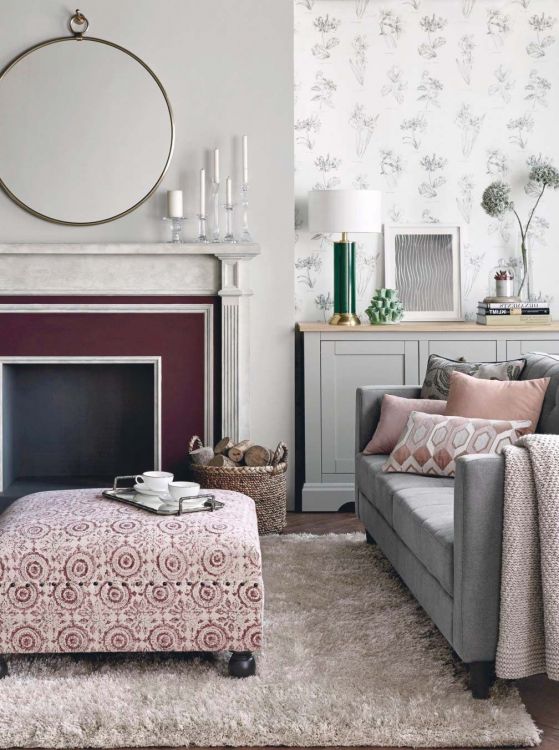 A chromatic duo that has always worked well when it comes to heating environments. If upholstered furniture is added to this combination, such as the pouf-table in the center of this room, and cushions in the same color range, the result is as elegant and serene as this one proposed by El Corte Inglés.
Cushions and plaids… don't miss them!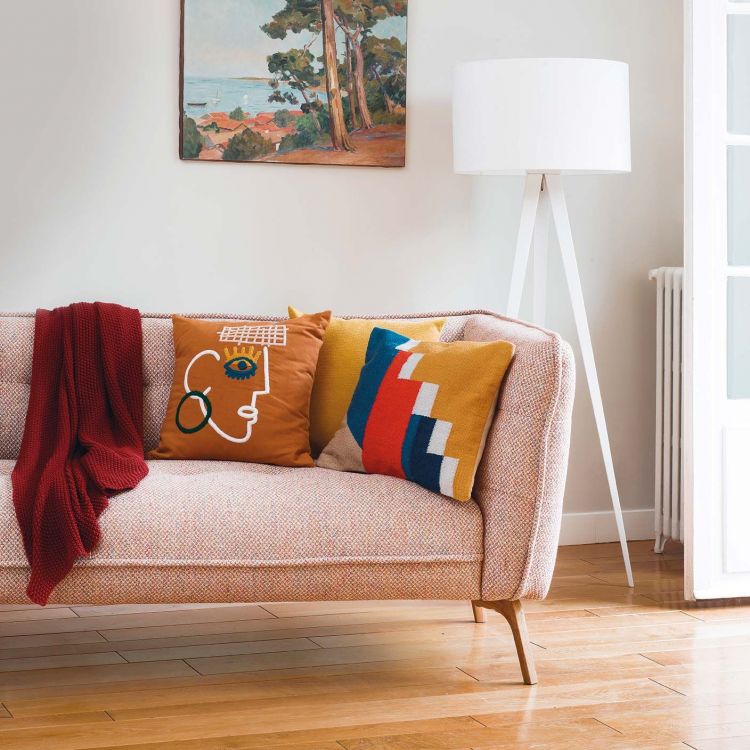 Essential accessories in the house, and more in relaxation rooms. No matter how simple a space is, like this one from Habitat, the cushions -many, plain, patterned and in any texture- enrich it. And plaids, in winter, are the best invention!
"U" arrangement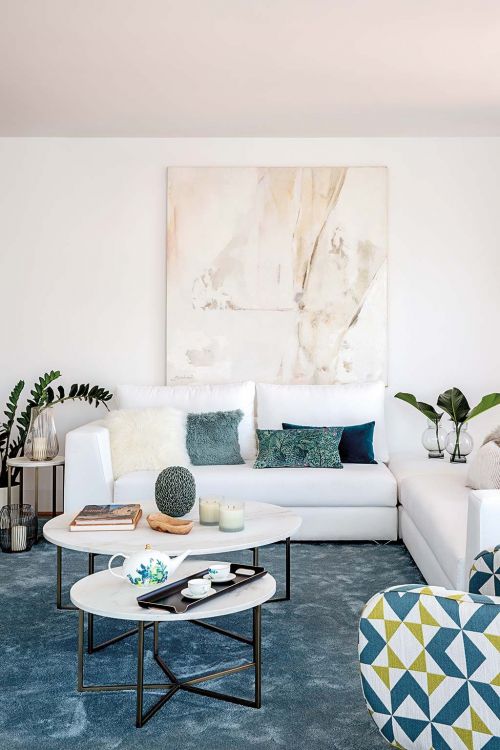 This way of placing the seats, with two sofas in an "L" shape and an armchair closing an imaginary "U", is the most welcoming in a living room. Not only does it make the rest area independent from the rest, it also provides much more privacy.