It may seem to some that a white space can lack personality. However, this is not the case in any of the modern white dining rooms that we show you. Beautiful accessories are used in them to make each decoration scheme very beautiful and completely different from the other.
Modern furniture materials and paint finishes are easily washable, so the clean look is easy to maintain.
In black and white
If you're looking to add an accent color to a white dining room but don't want to use a color spectrum, black is the shade to go for. It's understated enough not to upset the minimalist nature of a white color scheme. You can incorporate some plants.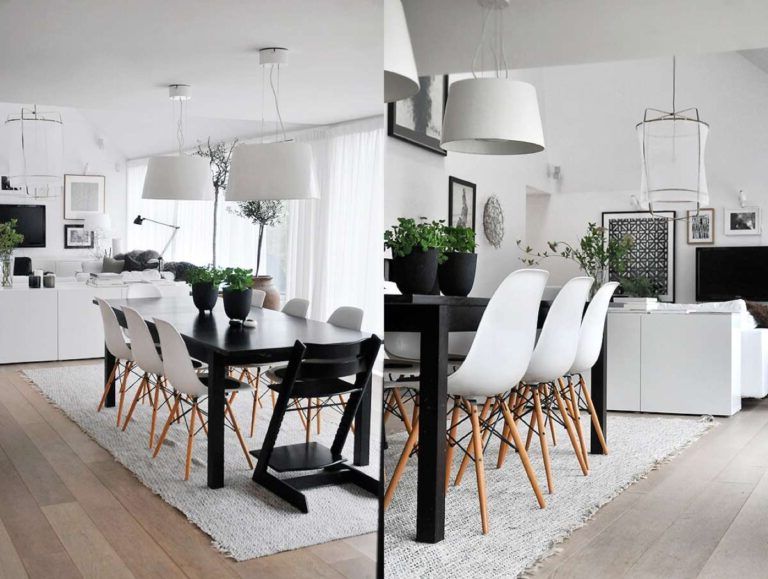 A modern chandelier hangs like a halo over this black and white dining room. The black color of the furniture, paintings and lamps give life to this blank canvas.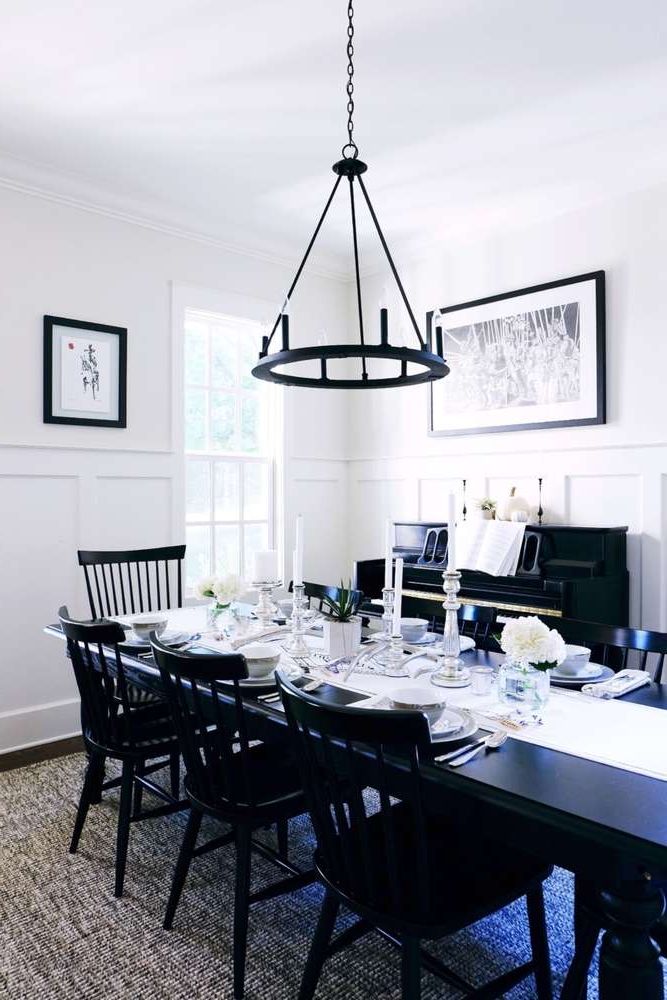 You can keep a plain white wall from looking flat and lifeless by using a textured surface. Wood paneling is a great way to add interest to a wall without having to opt for color.
With metallic details
You can add a sophisticated look with metallic embellishments. The subtle glow provided by a gold pendant lamp or the gold legs of elegant chairs. Don't go overboard with gold though, as it can look tacky.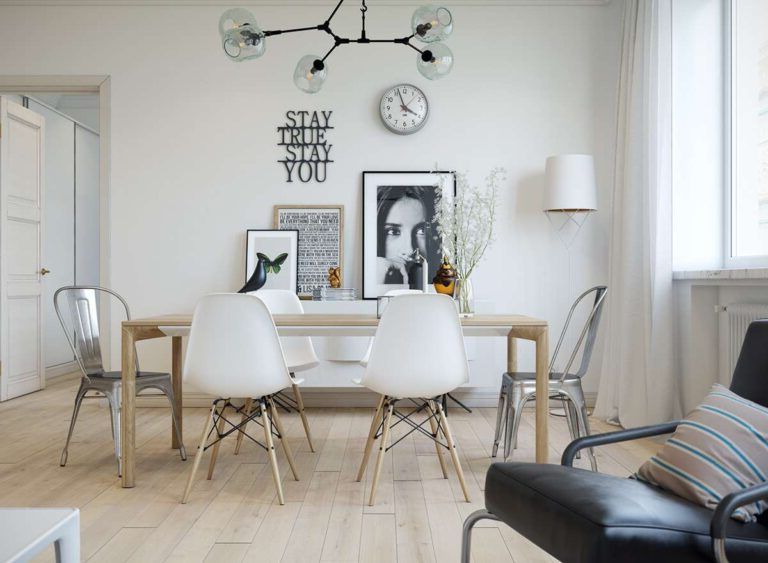 In the image above, we see that two silver chairs have been used, which give the dining room the right dose of sophistication.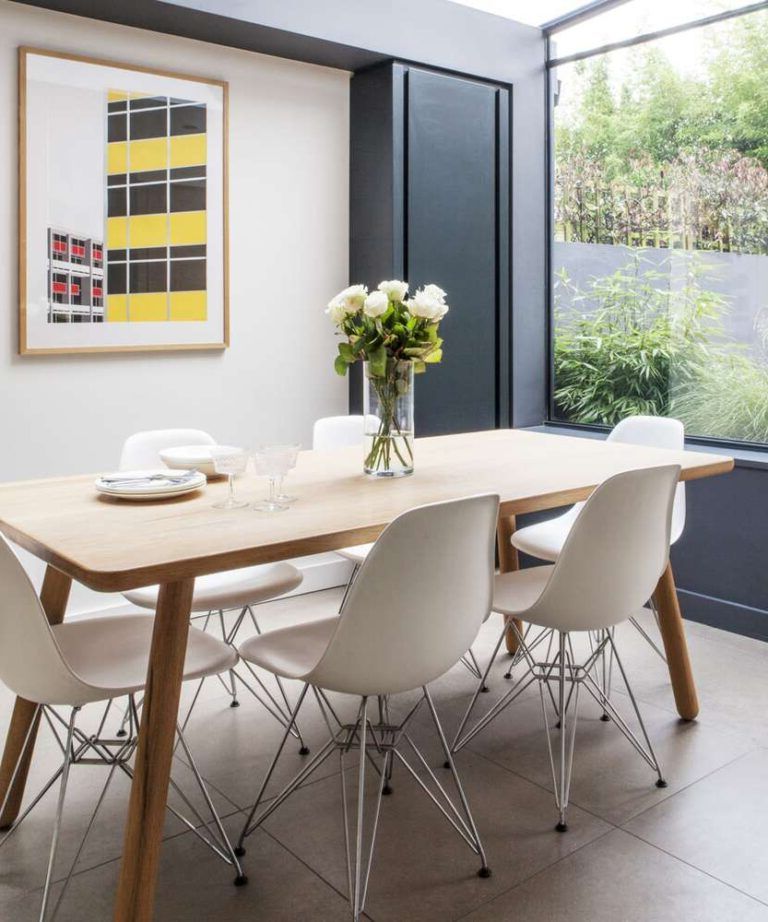 If you want your dining room to look like a modern art gallery, choosing the right furniture is key. You should keep the space clutter-free, and the furnishings should be minimal and inviting. Mesh metal chairs around this oval dining table add all the right elements of contemporary style.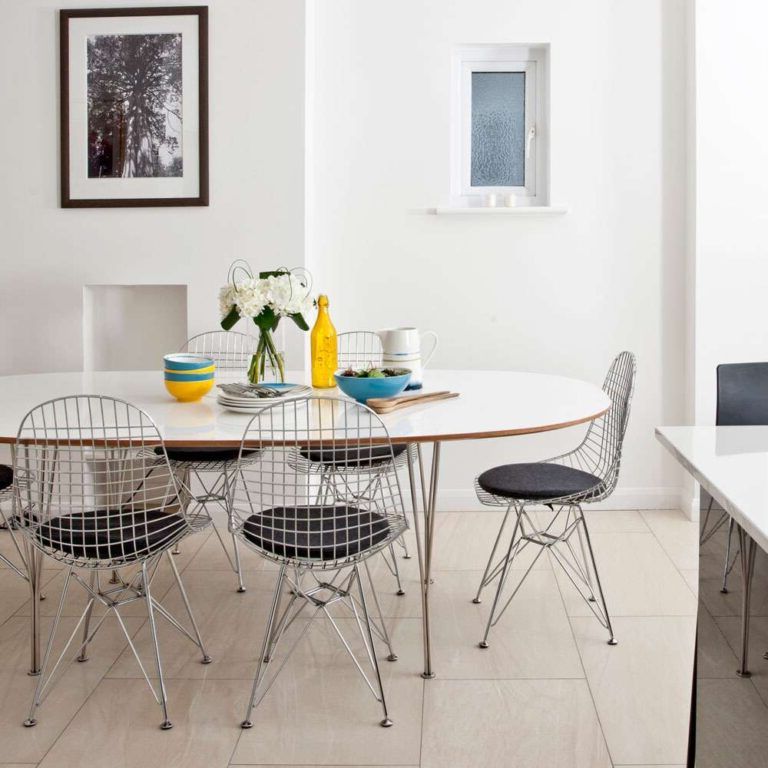 Сolored chairs
Contrasting colored accessories make a big impact. Two orange chairs add great interest to this white space.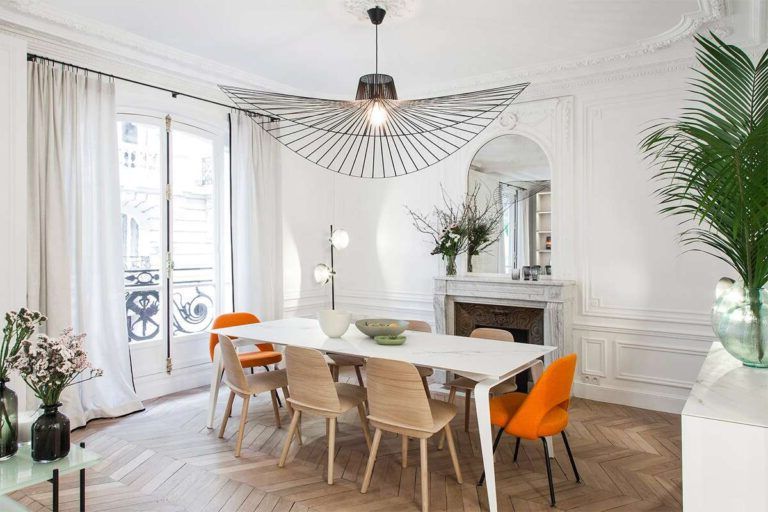 Bright white can help bold pigments pop, especially primary colors. Red chairs and a matching chevron print fabric curtain add a lot of vibrancy to the decor.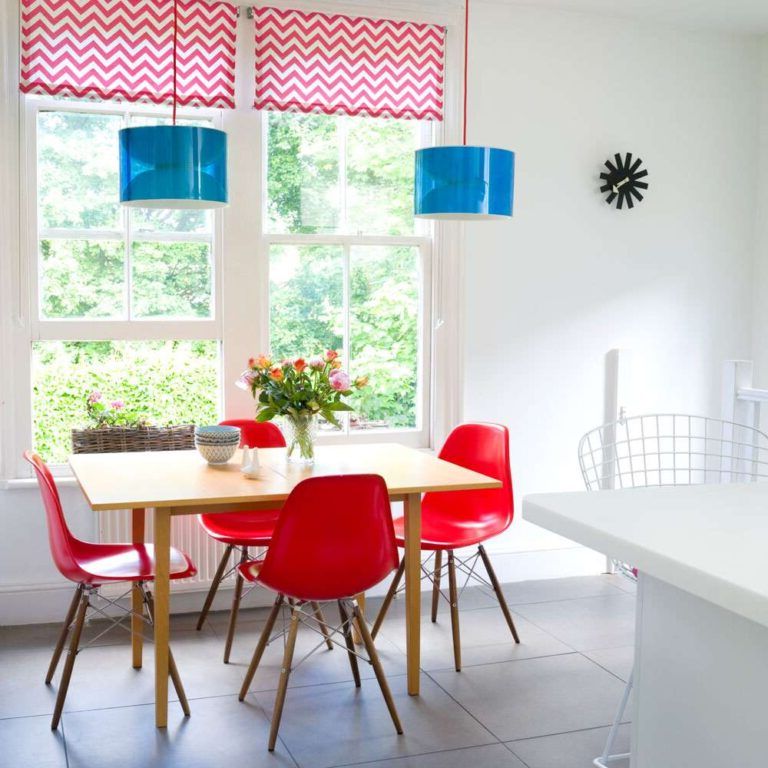 A blue-based art canvas provides a great contrast to the tangerine chairs. Blue and orange accessories stand out against the mostly white decor of the room.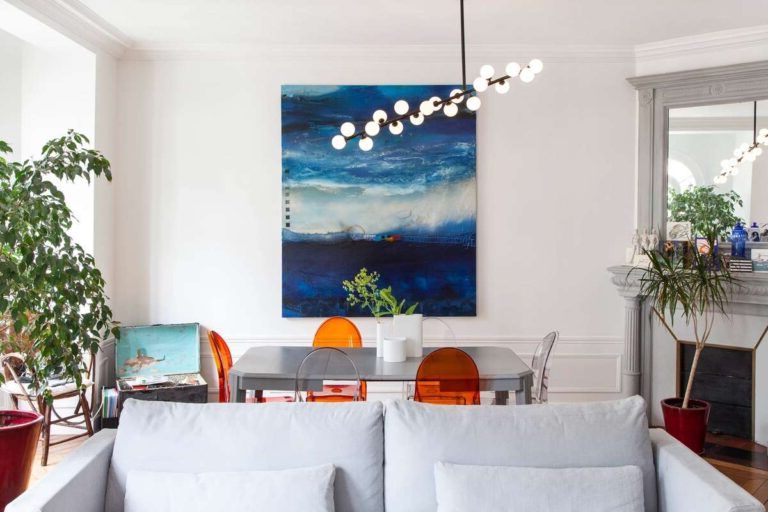 Colored rugs
Enter a colorful rug. Just because the walls are painted white doesn't mean you can't sit in a colorful dining room. This striped red carpet design is paired with dominant red artwork.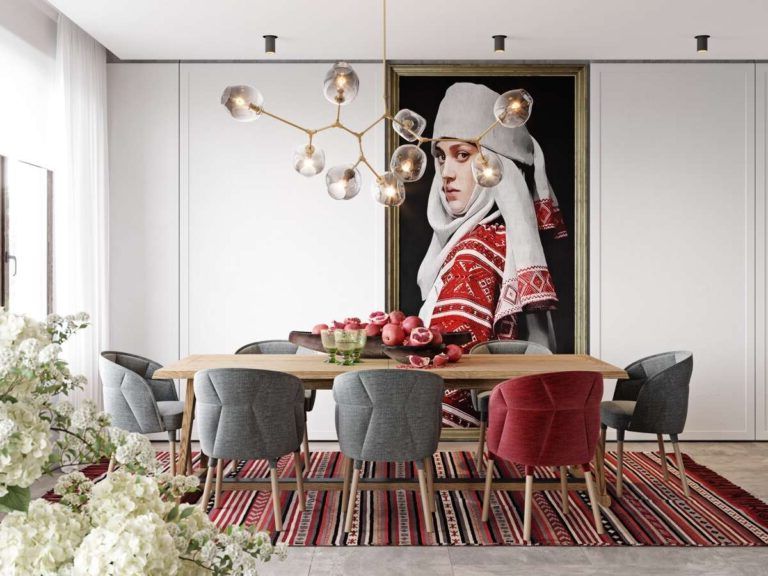 A single red accent chair is quirkily positioned to one side of the extendable wooden table, rather than being placed at the more obvious head of the table.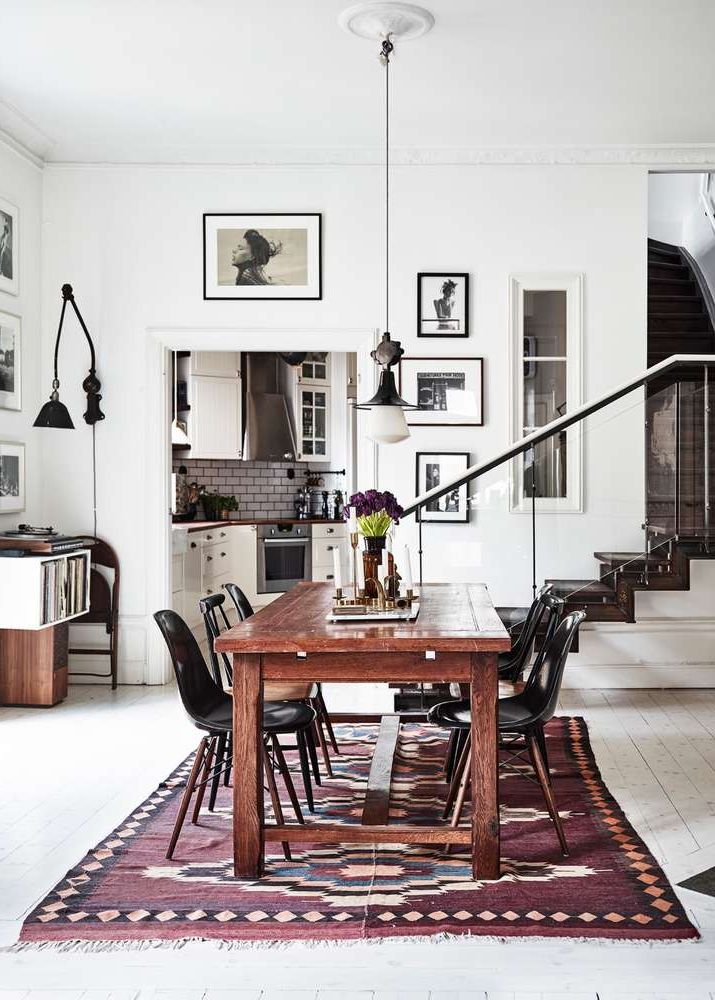 Artworks
White does not have to mean lacking in personality. After all, white walls are a staple in art galleries, to provide the best backdrop for displaying works.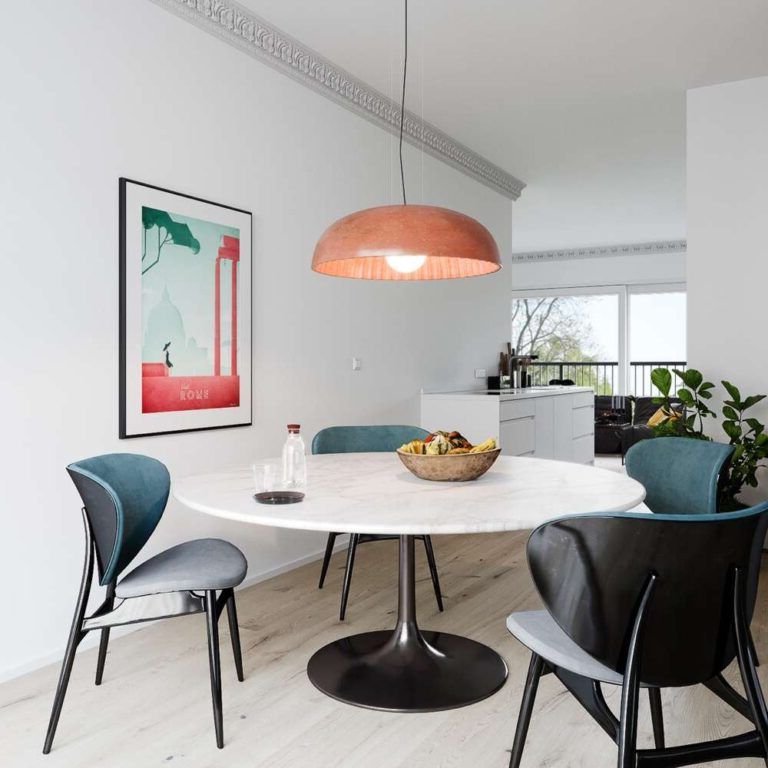 With this in mind, why not add character to your dining room by hanging framed pictures?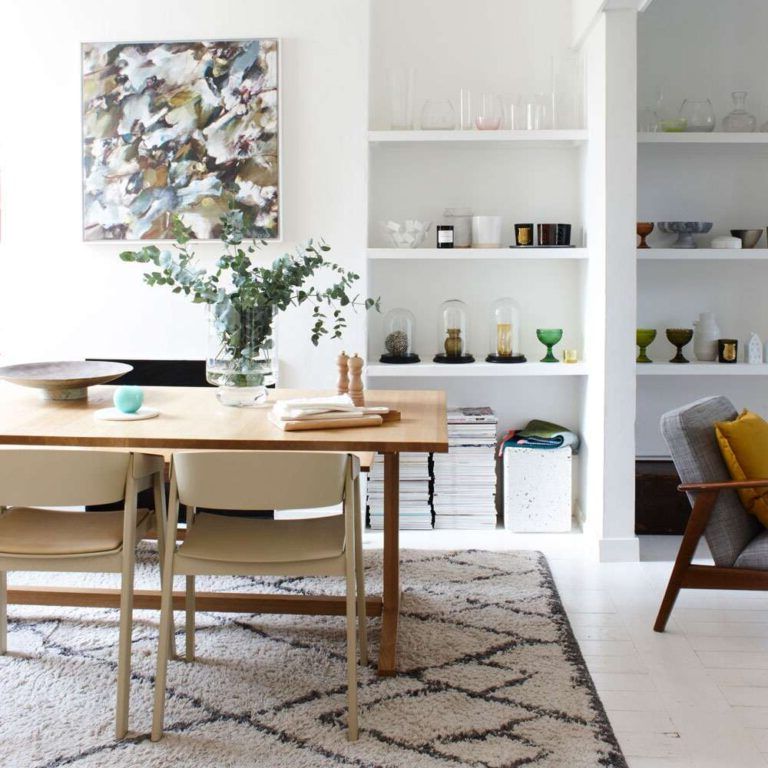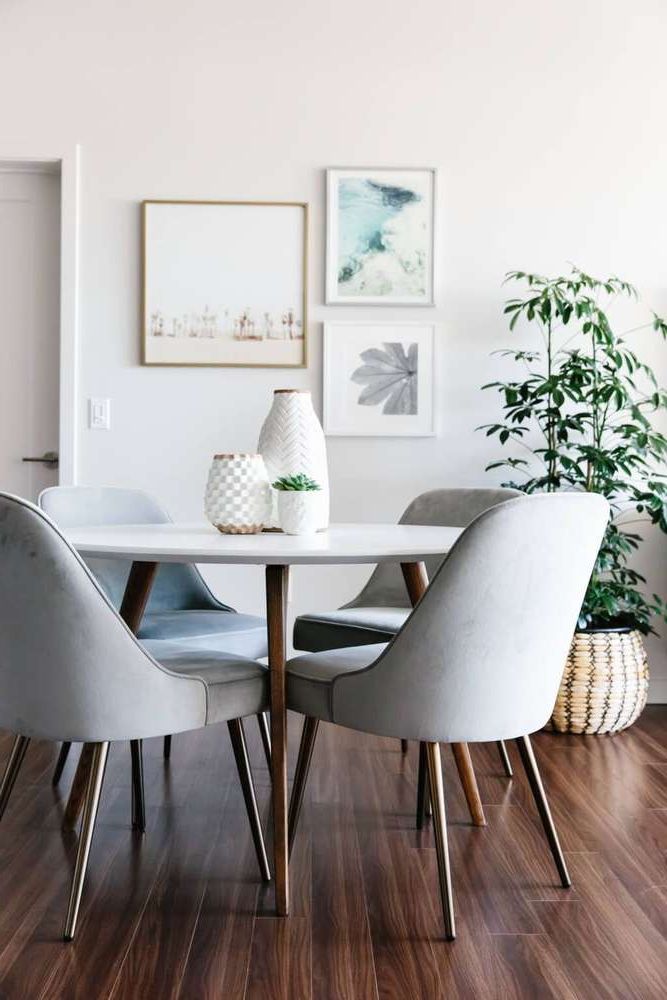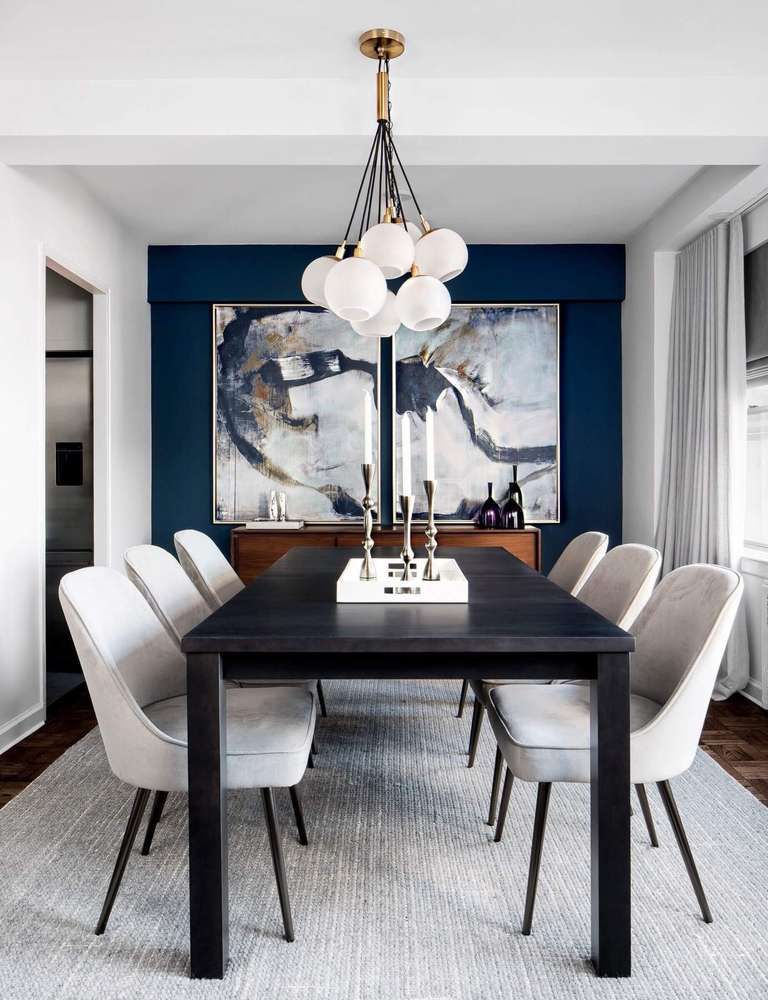 As seen above, an art wall is a great way to make the dining room feel more intimate and get the conversation flowing.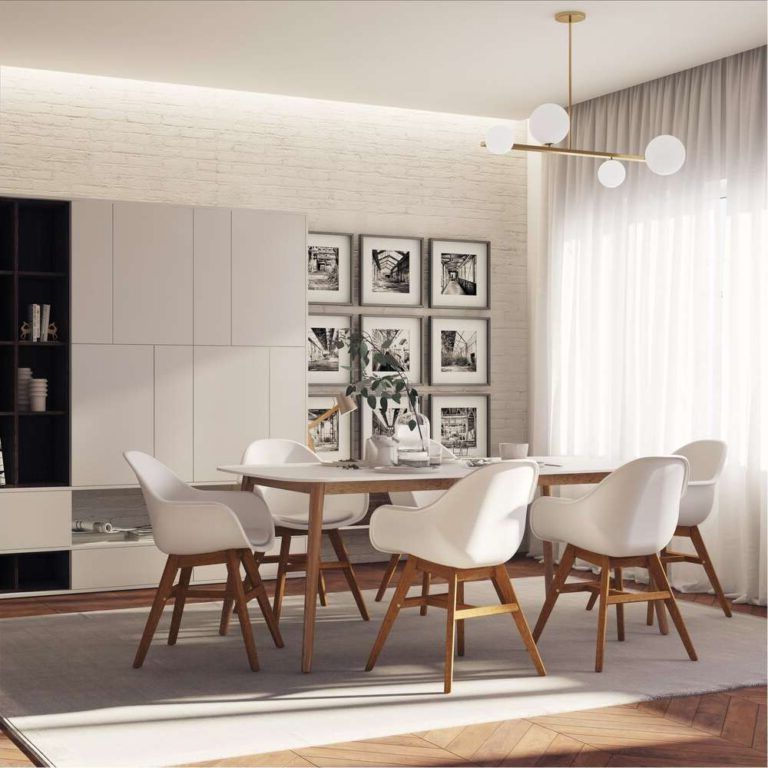 Use white from floor to ceiling: paint trim, woodwork, walls to create a perfect scheme that enhances the space. Interesting props and works of art will turn into mini masterpieces against the all-white backdrop.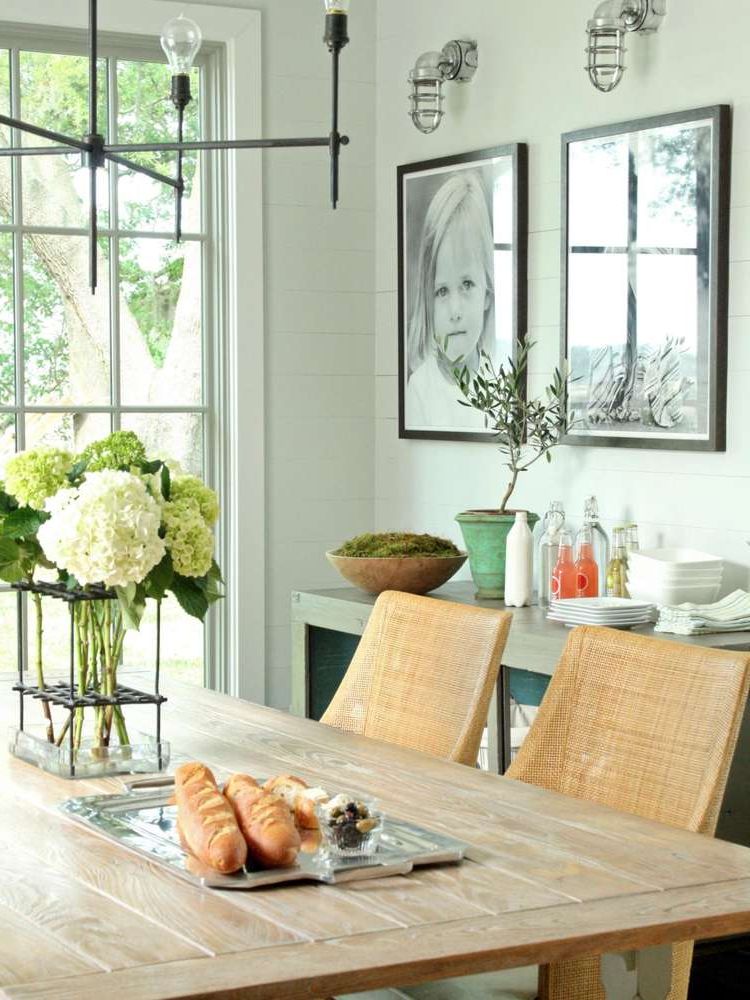 White and wood
Wood combined with white are always a successful duo in decoration. A wooden dining set is a perfect complement to give warmth to a cold white color. It is an excellent combination to highlight the beautiful structural shape of the chairs.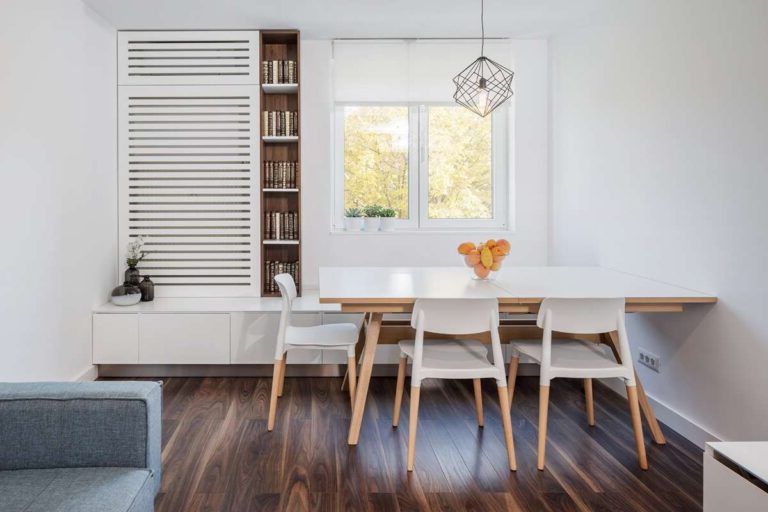 A wooden dining set in front of a wall with some paintings, a centerpiece with a ceramic vase of green leaves to finish the look.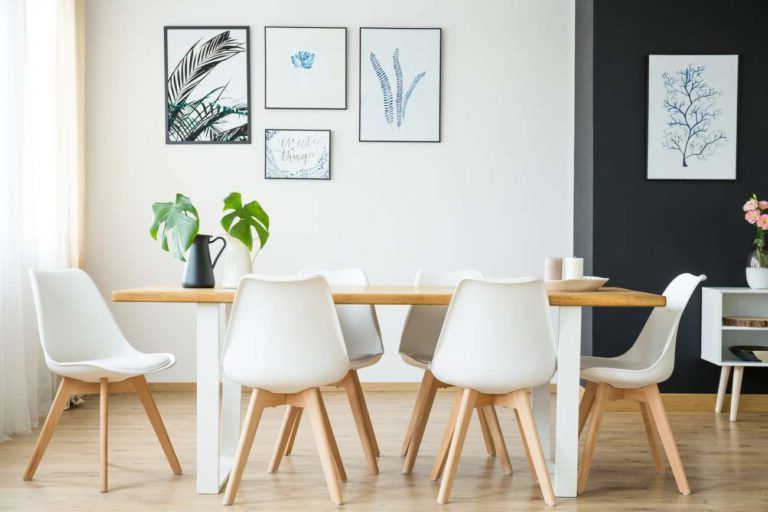 A rustic wooden table can be enhanced with metal chairs.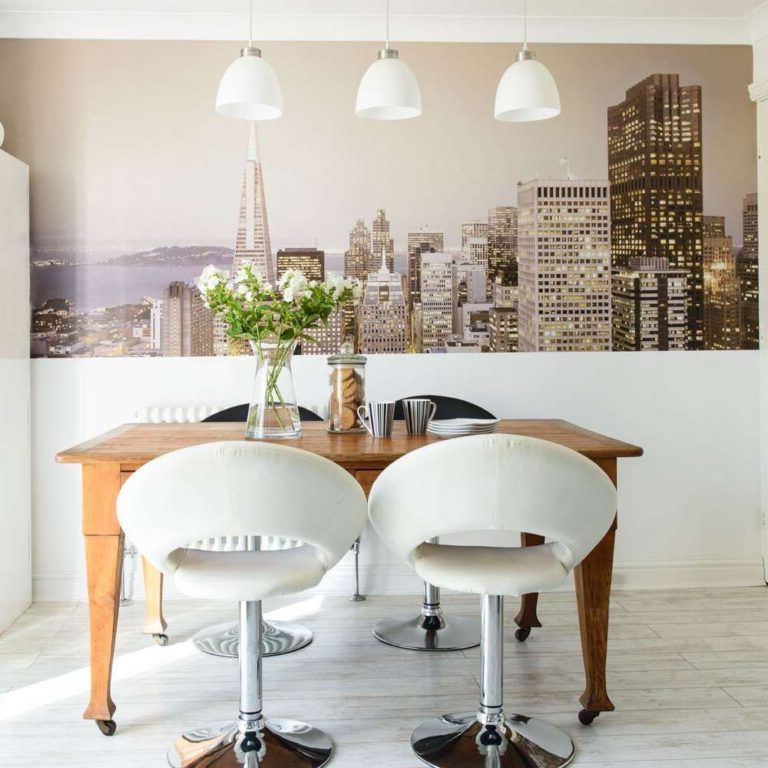 Lamps
Lighting is key to creating atmosphere in any space. Hang lamps above the dining table to create an intimate feel. A swing arm floor lamp is a novel way to add lighting above a dining table. Metal adds shine to this Nordic dining room.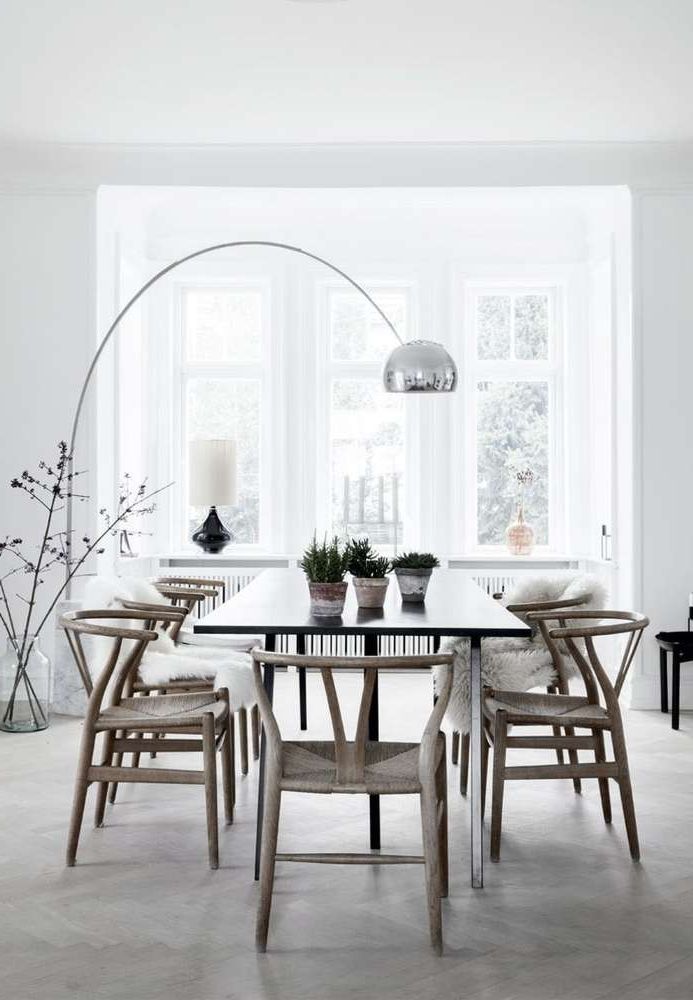 Three striking vintage-style pendant lamps, arranged in a linear fashion above the table, are enhanced by the white wall.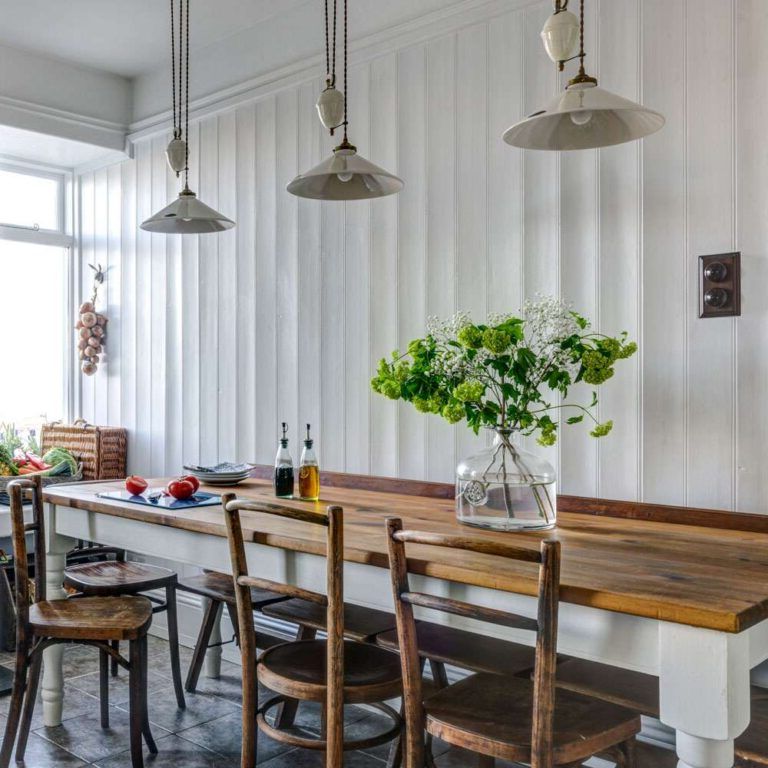 Carefully placed ceiling lamps help fill the space with plenty of warmth.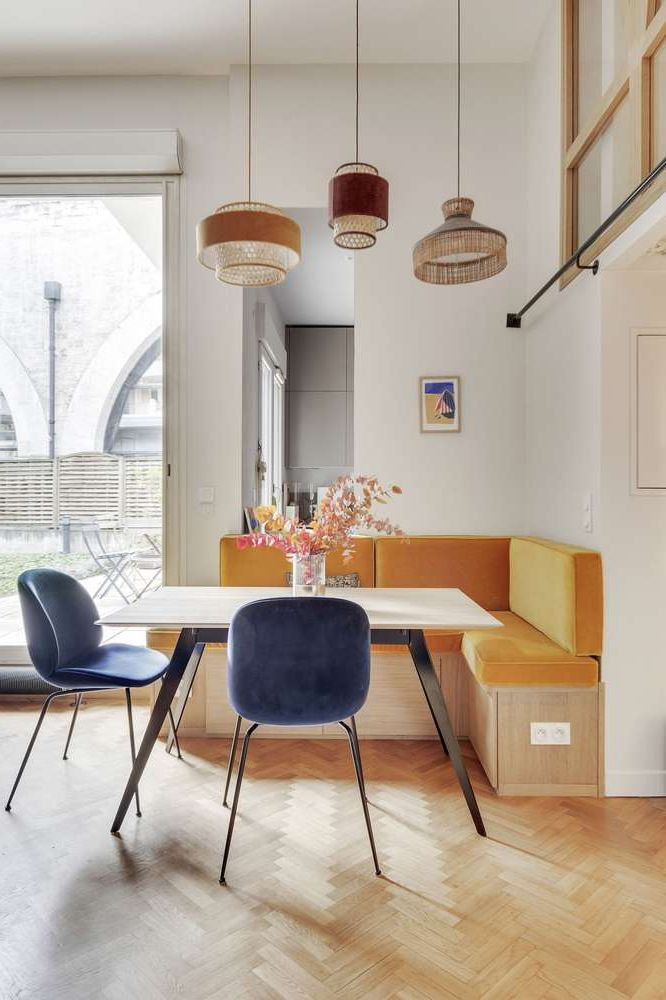 Take into account the possibility of incorporating built-in seats. In this example, the table is placed against a corner seat by the window to save space. It also saves spending money on dining chairs.
White with neutral tones
White color can be applied to furniture and surrounding surfaces. If you're a fan of modern aesthetics like exposed brick and metal-framed windows, using a neutral color like dark gray can be a great way to pull the scheme together.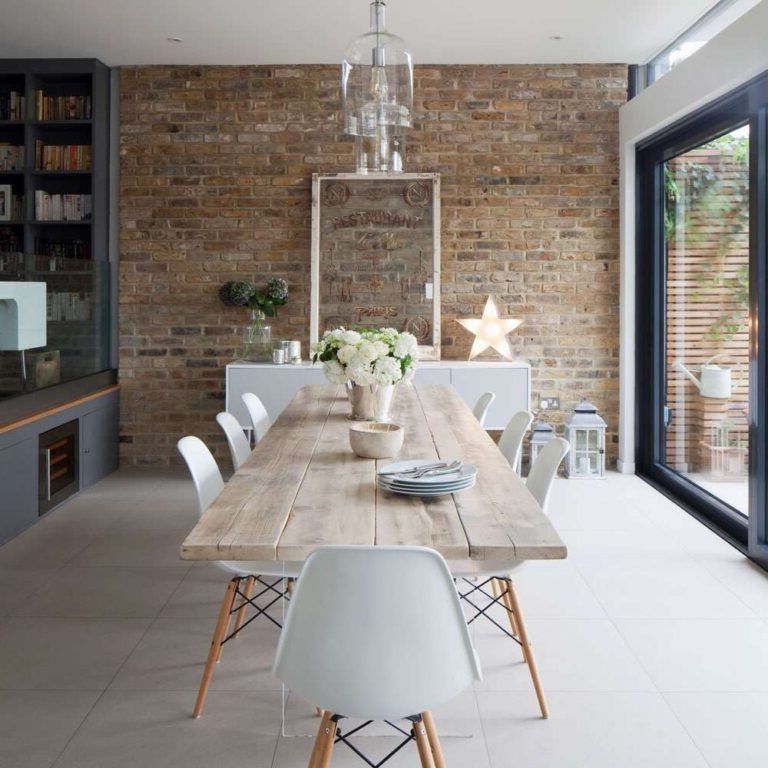 Neutral tones can be used for all sorts of different looks – it looks good in both a minimalist decor and a country style scheme.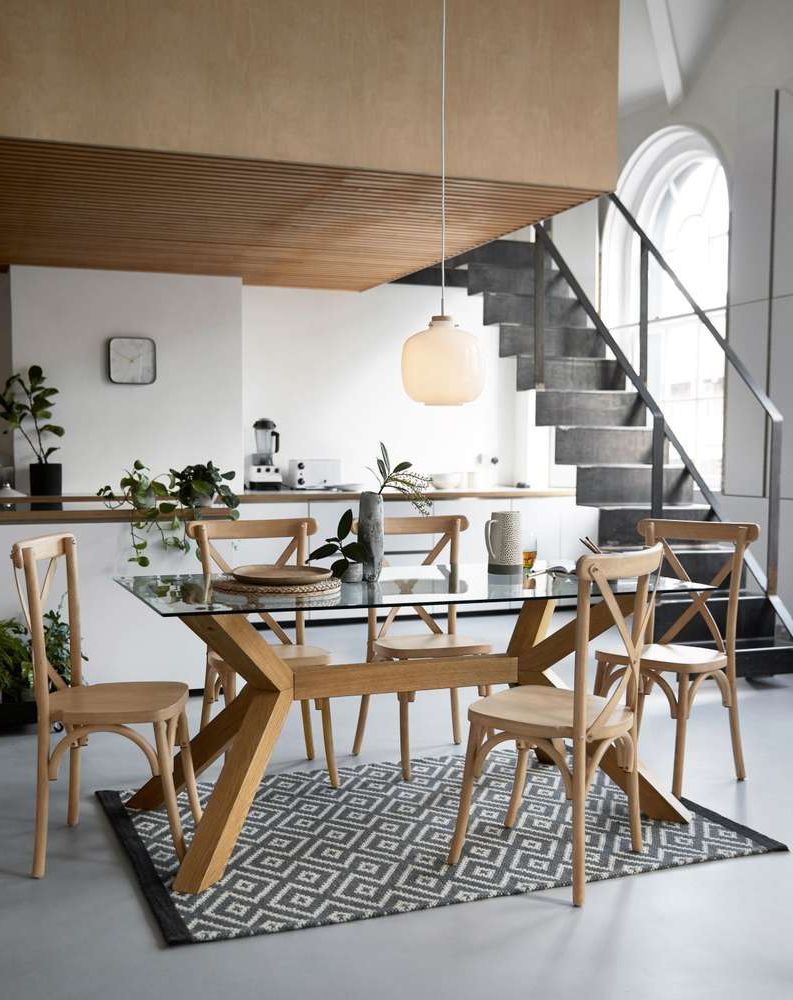 Earth tones add depth and warmth. Add textures to soften the appearance of the white color. You can do this with tablecloths or upholstered seats and cushions, for example using Scandinavian-style faux sheepskin.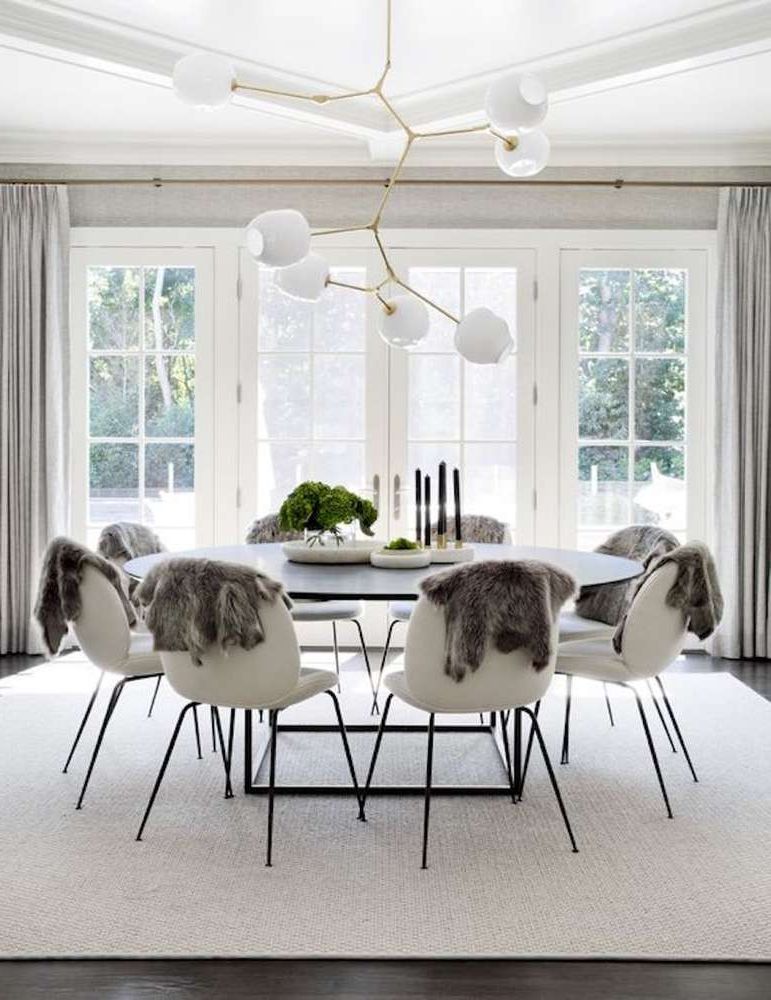 With plants
Don't underestimate the power of plants. Houseplants are an easy way to add flashes of color and life to a plain-looking room.