Well-designed islands can be transformed into an integral part of kitchens. They are usually placed in the center of the room and provide extra space for cooking as well as eating. They can also become the focal point of the kitchen. Here we will show you some very functional and modern kitchen island ideas and designs.
Kitchen islands not only add more space for dining, cooking, and entertaining, but they also make a big statement as a centerpiece design piece.
Island kitchen design
Measure the available floor space and make a sketch on paper. Play with different sizes of islands in the center of the space, or forming an L or U with the countertop. You want to make sure you have enough room to comfortably move around it.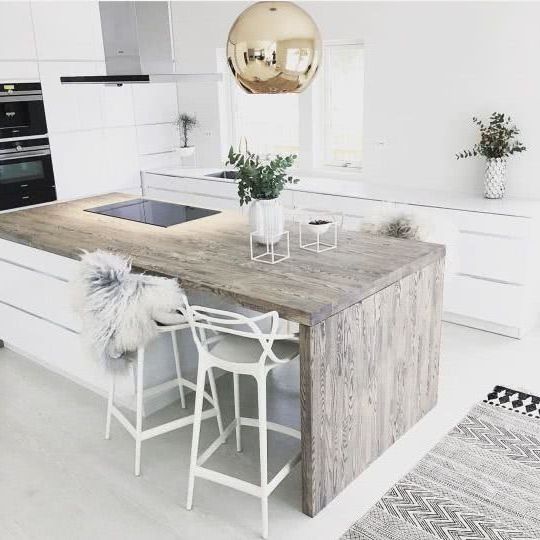 It is also important that the island does not block the entrance or exit of the kitchen, so this is another important point to consider.
Central Island
If you have enough space, the island can be located in the center of the kitchen, that is, parallel to the worktop.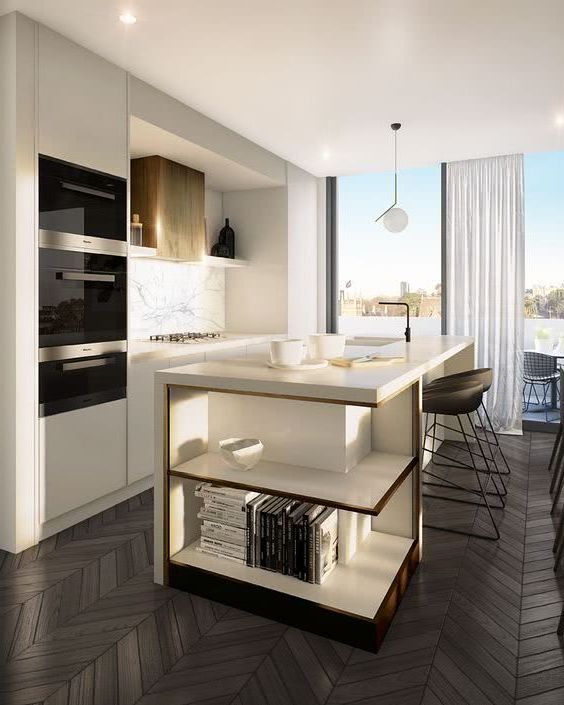 This kitchen has a central island with a breakfast bar, one of the most practical options.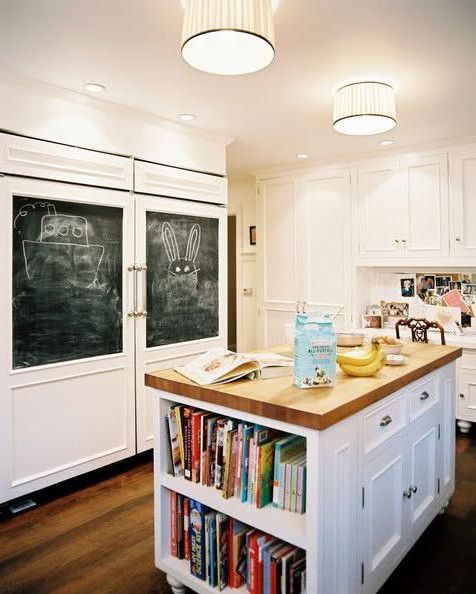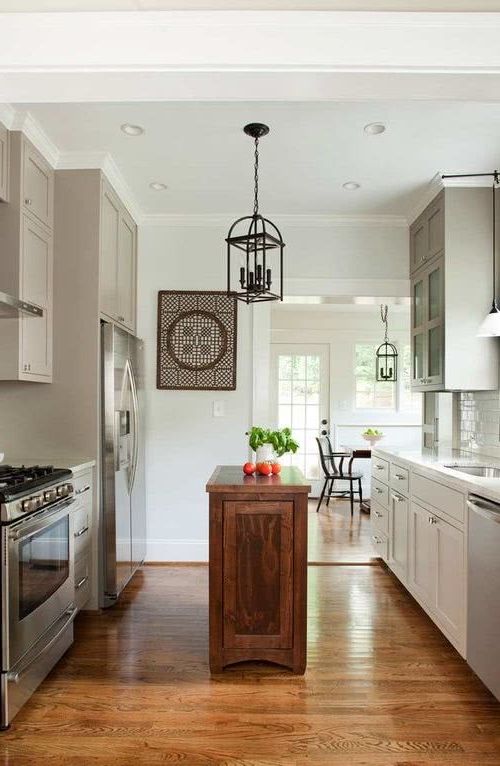 U-shaped design
You can form a U with your existing countertop, creating a great place to gather and entertain. The design provides plenty of surface area to prepare food, eat or do other tasks. It is ideal for large families, or for people who really enjoy culinary art.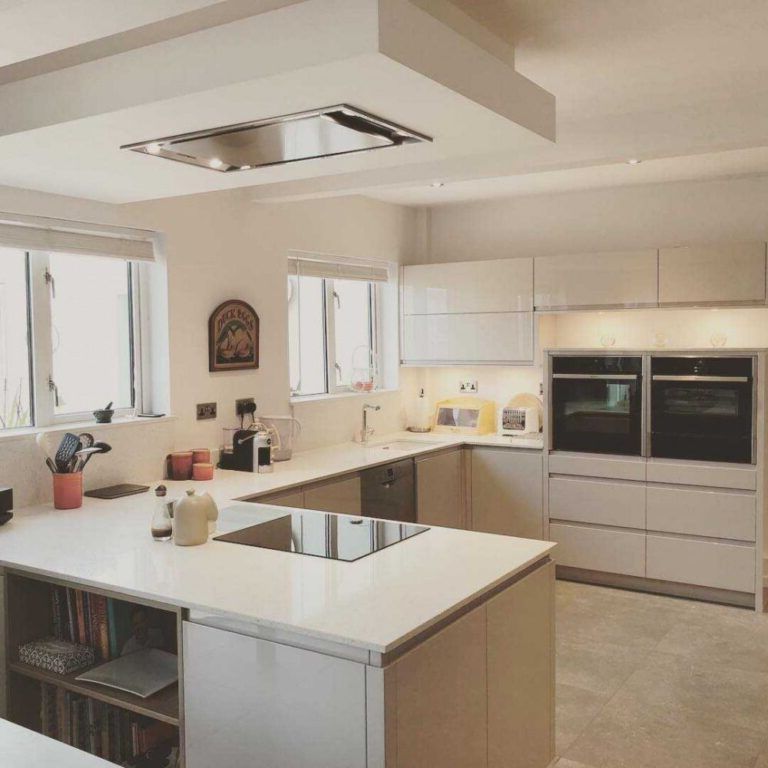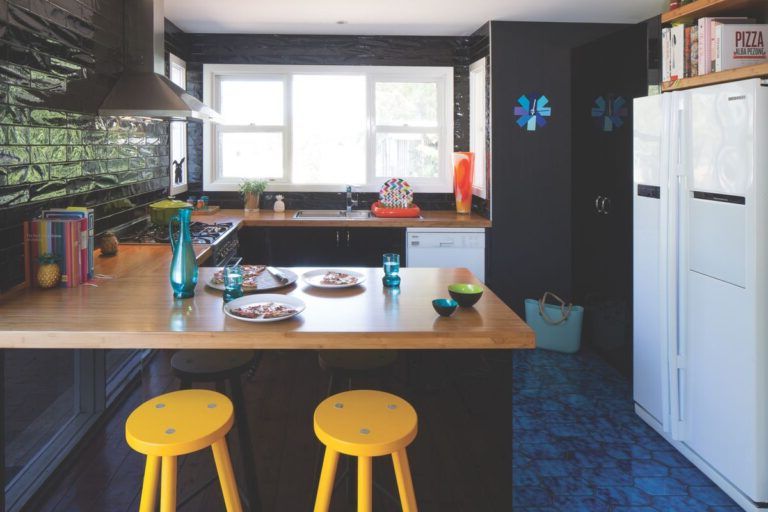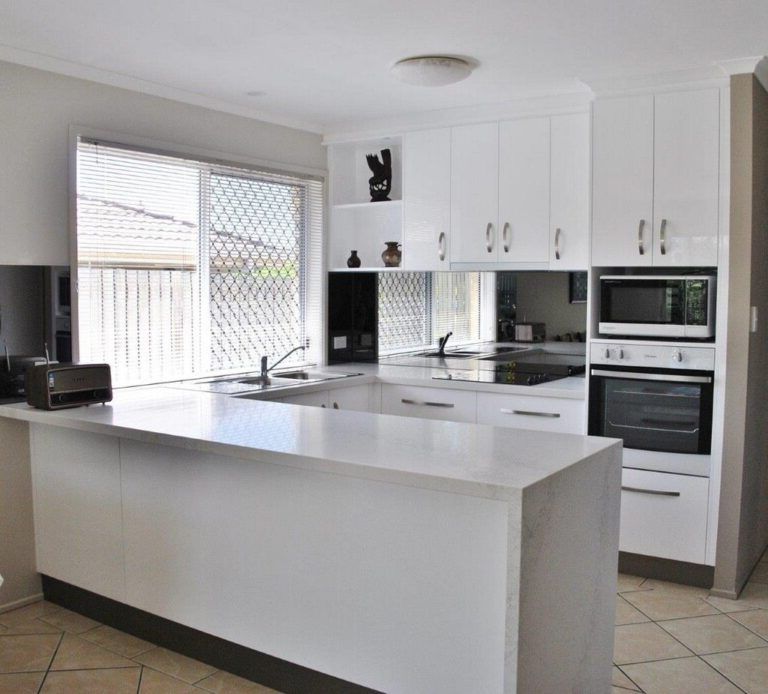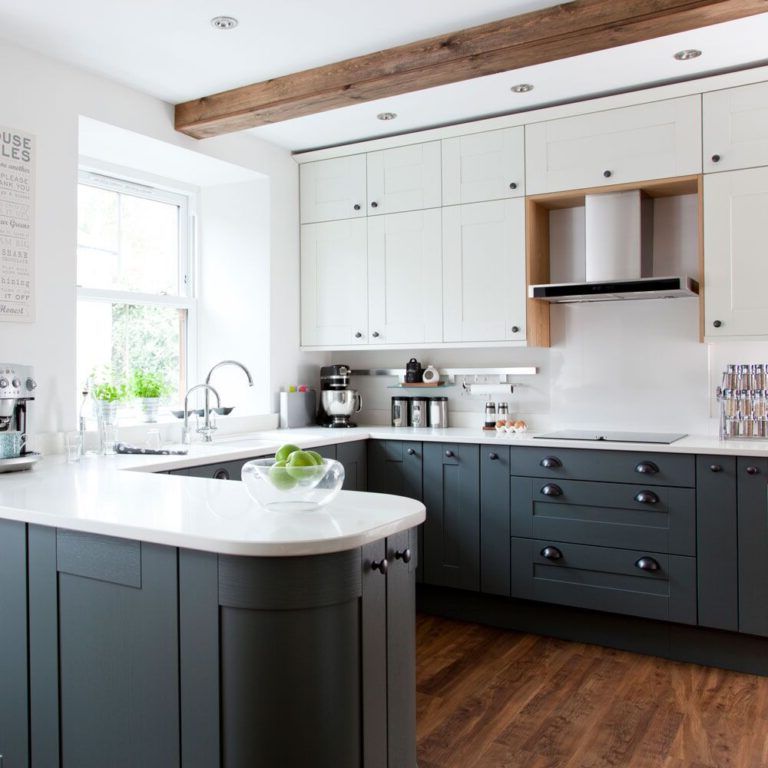 L-shaped
It can also be located forming an L with the countertop. This design is more appropriate for smaller kitchens.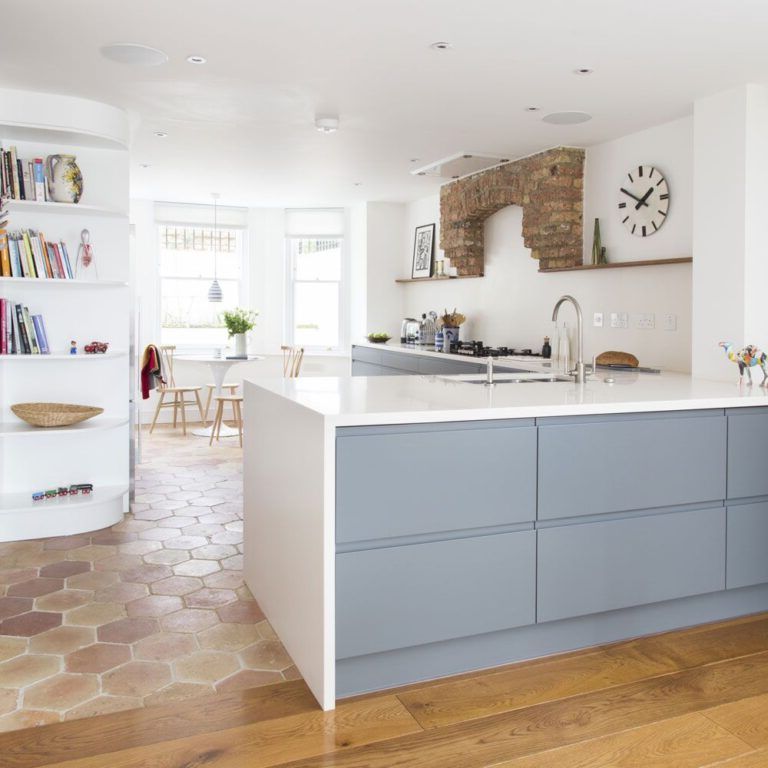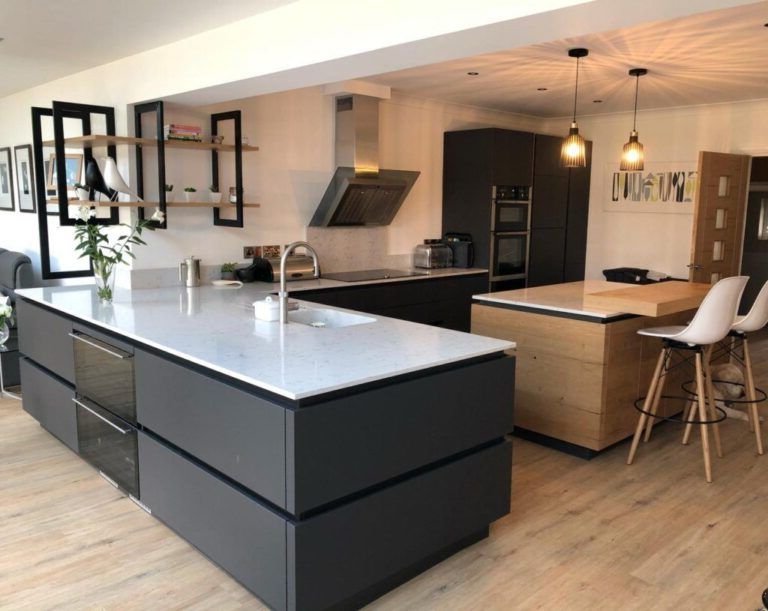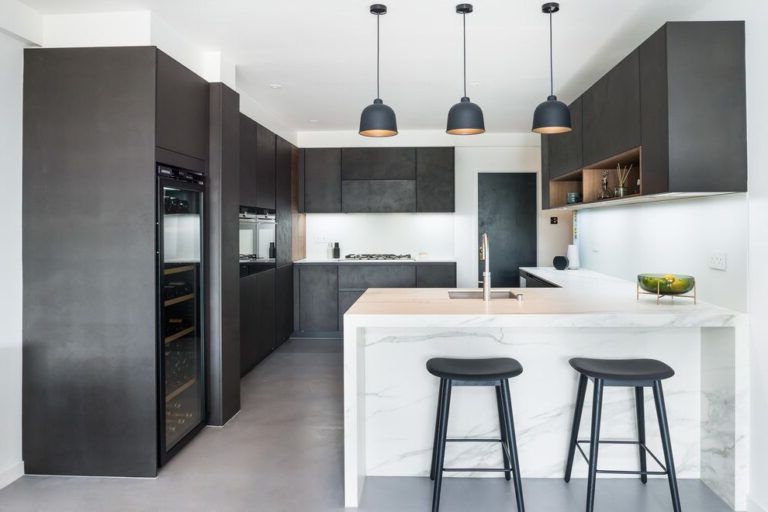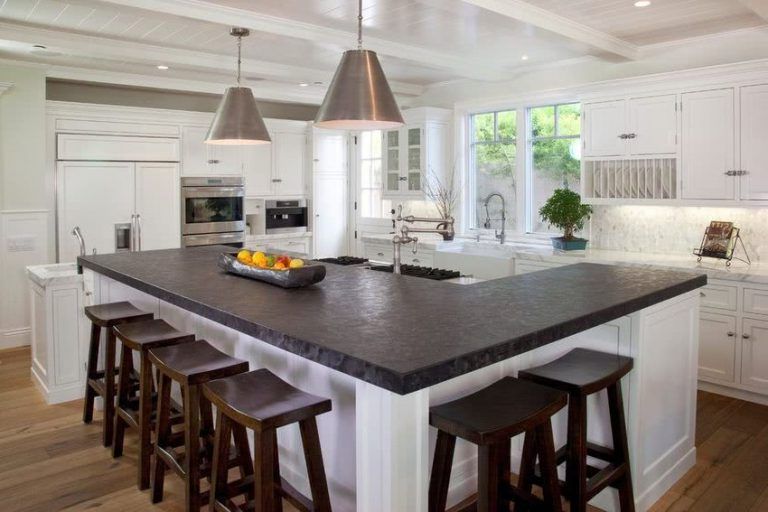 Islands with wheels
The islands do not have to be fixed to the ground, they can have wheels on the legs. This is an ingenious idea that provides a lot of flexibility and helps with space maximization.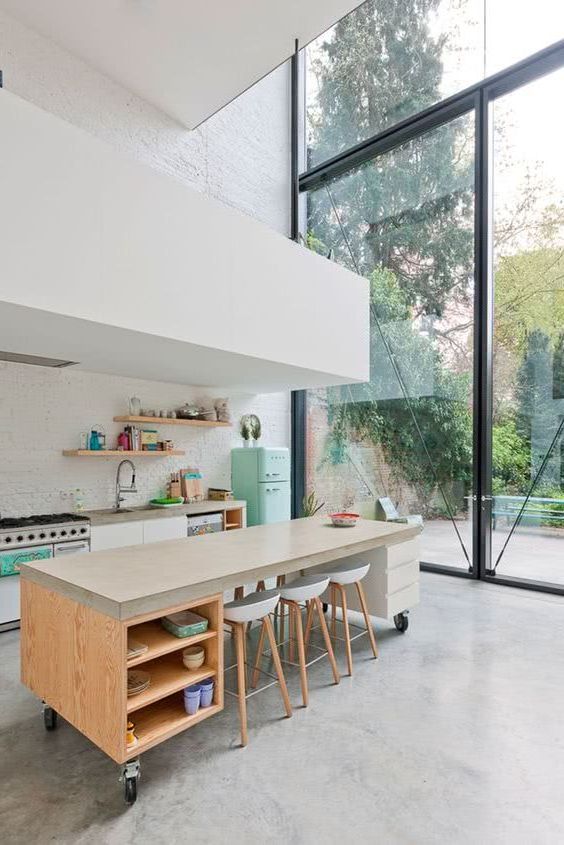 The island can be moved and used to prepare food or as a place to eat. Or, like the portable island shown here, it can be tucked under the counter when not in use.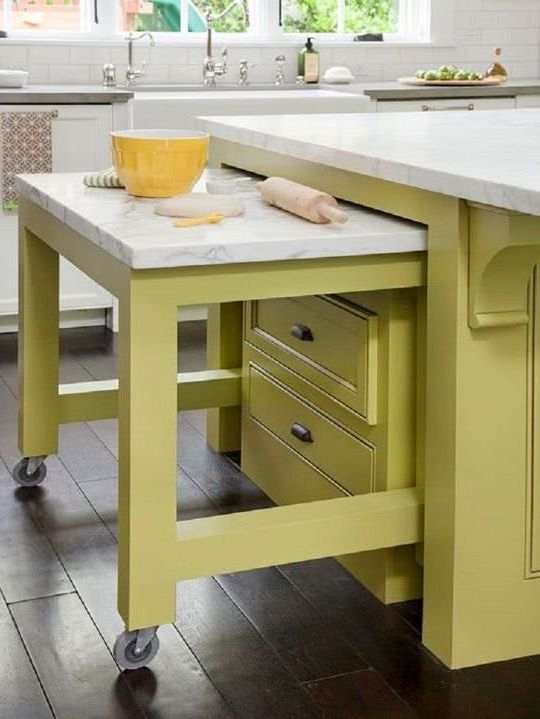 A steel-legged table with lockable casters is a great option for industrial-style kitchens.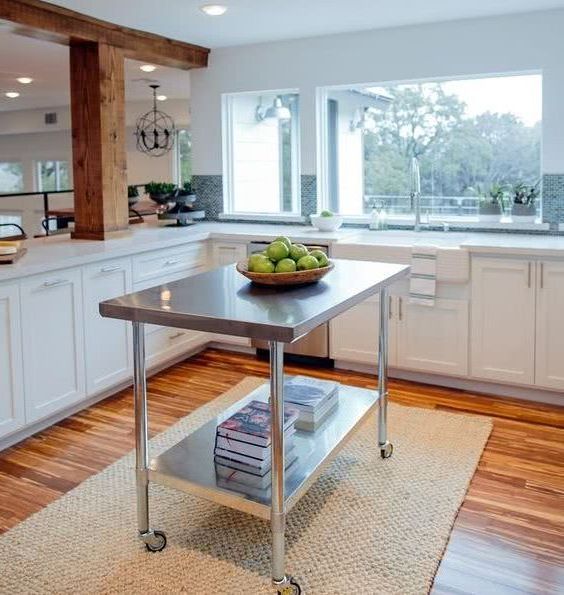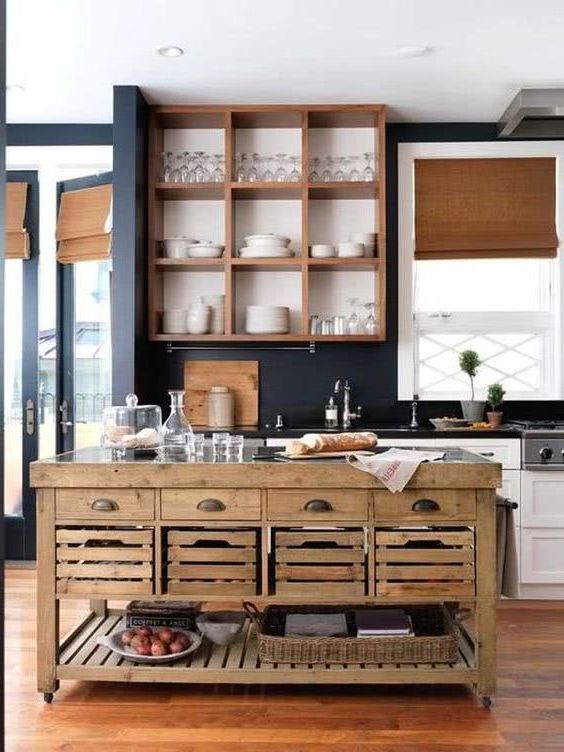 With breakfast bar and stools
You can also incorporate a breakfast bar on the island. This idea works very well in apartments with little space. You don't need a dining room if you can eat in the kitchen.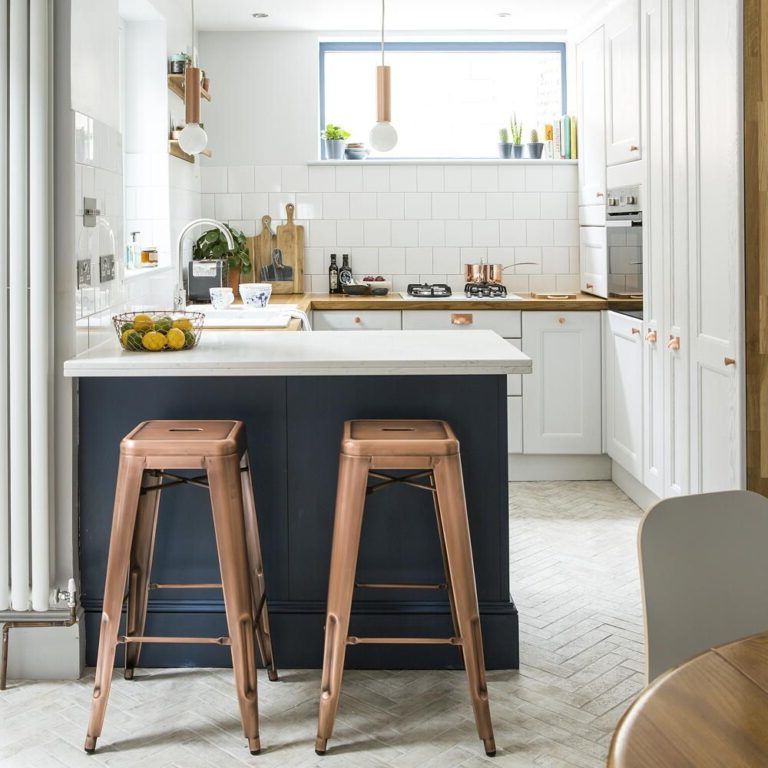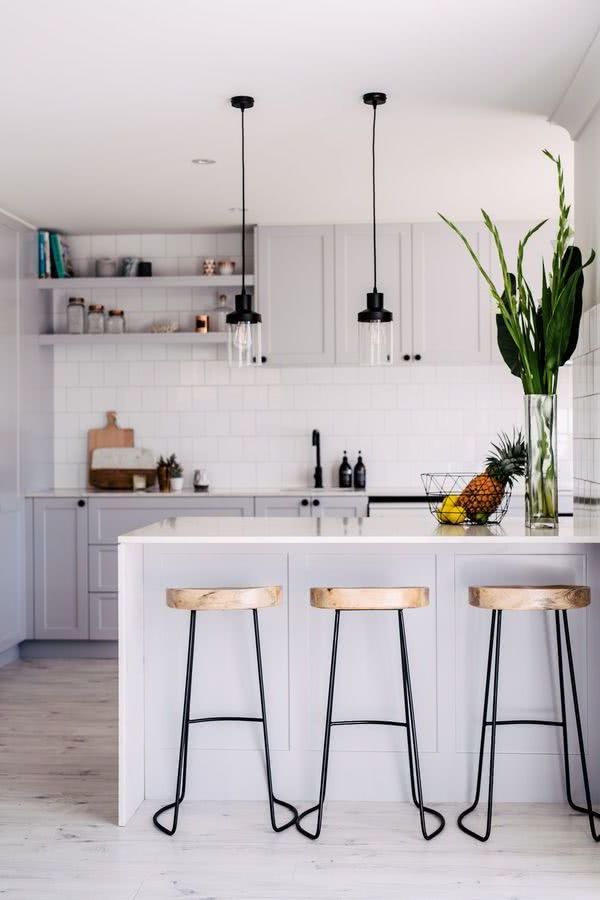 This creative pull-out seat idea provides a tidy kitchen island and a seat when needed. And of course, it also saves a lot of space.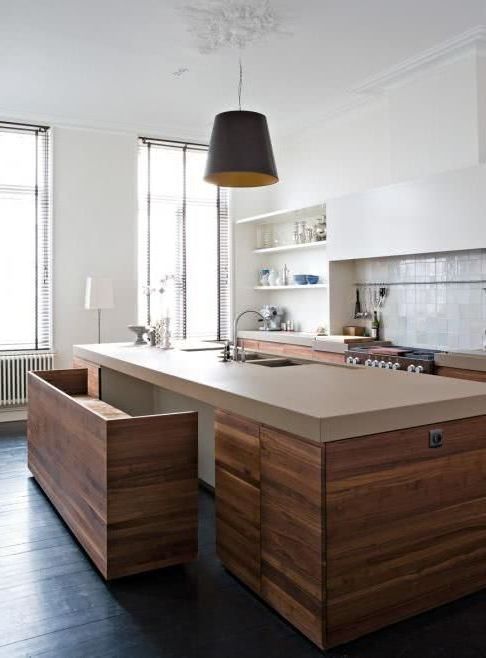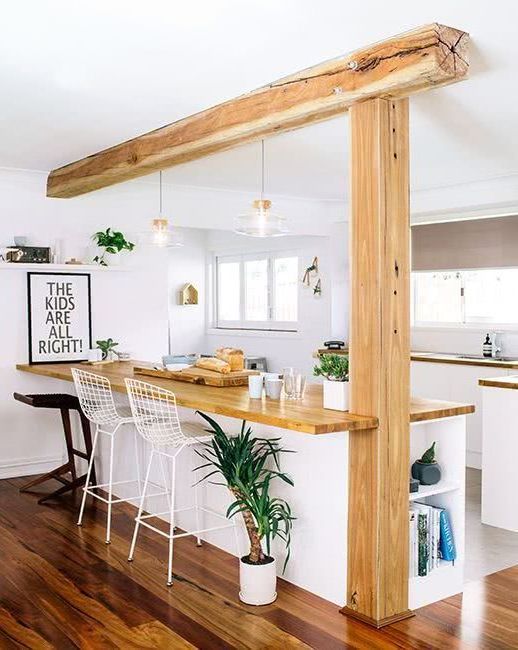 With storage
The kitchen island is perfect to use as storage and organizer. For those who want to have a place for everything and hate rummaging through cluttered, messy drawers, using the ample space under the island as a cutlery organizer can be a great idea.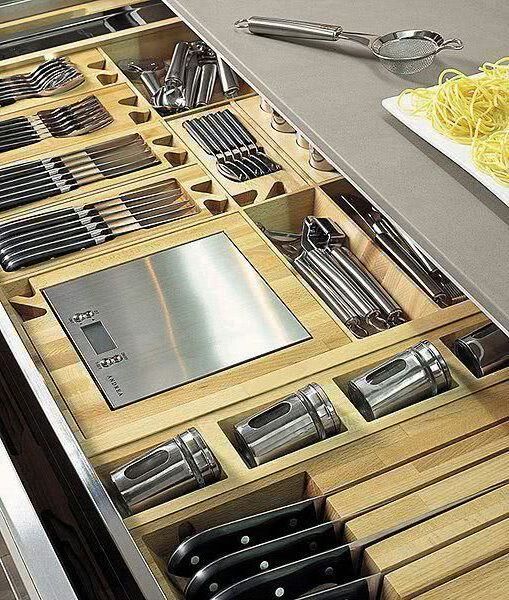 It can also be used to neatly store wines and other beverages, or heavy and delicate tableware. It is safer to store and retrieve heavy items from lower shelves or drawers than from an upper cabinet.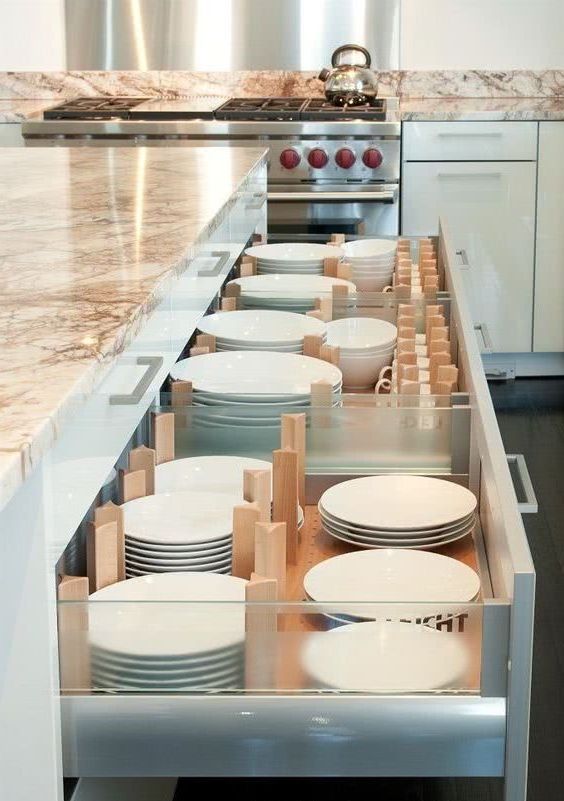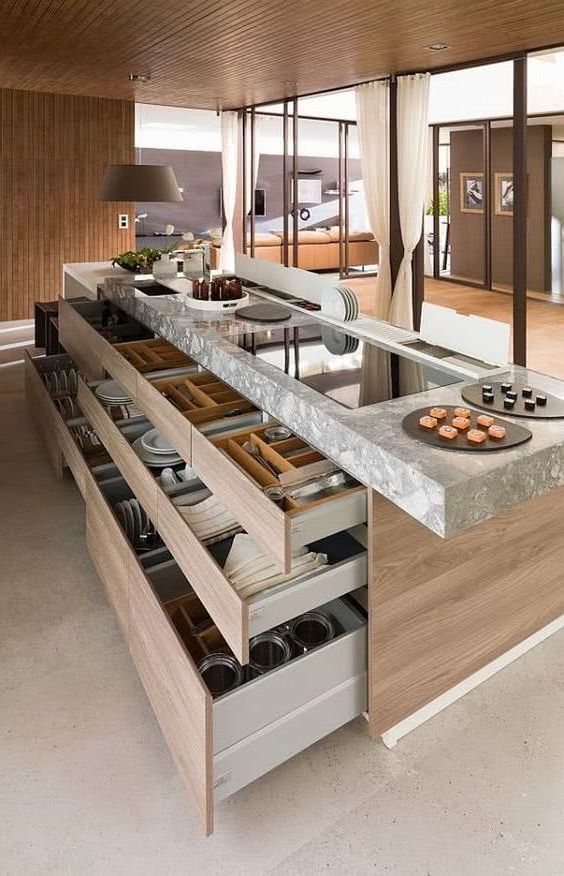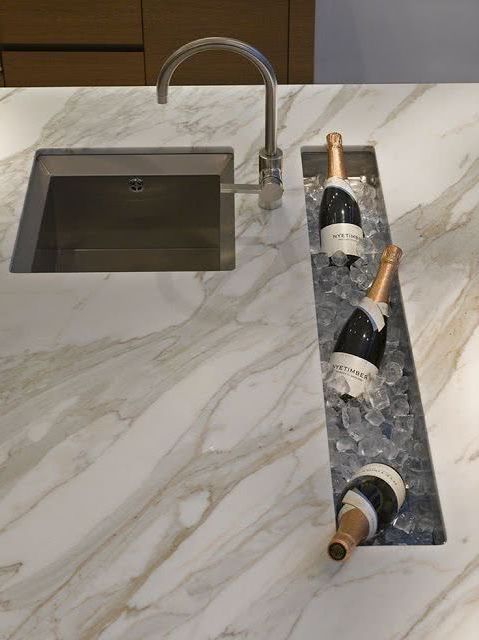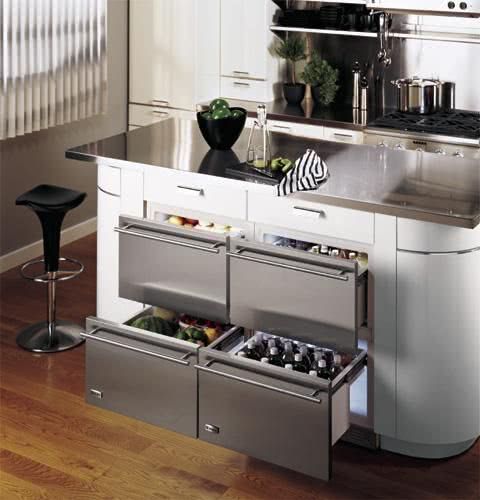 Small appliances can also be stored under the countertop. This swinging dumpster is well placed, hidden and accessible.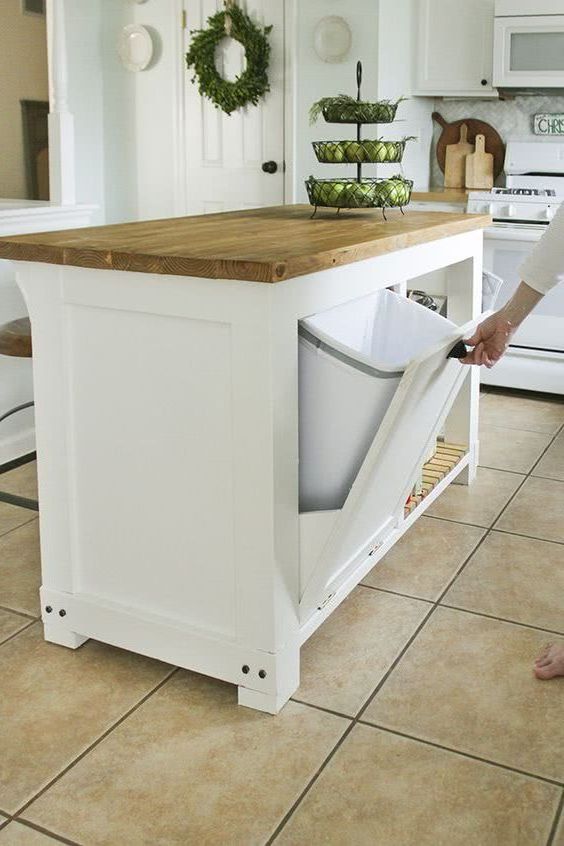 It can also be ideal for hanging food and kitchen towels.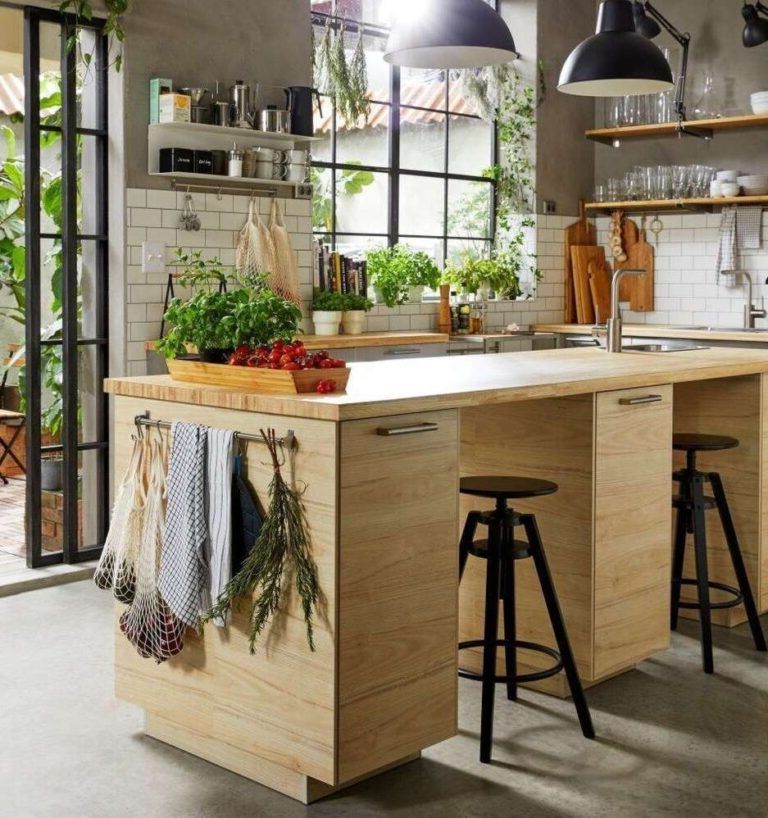 We spend a lot of time in the kitchen, not only cooking or eating, but also doing other things like talking, studying, working or planning a meal. Therefore, some book shelves can be very useful.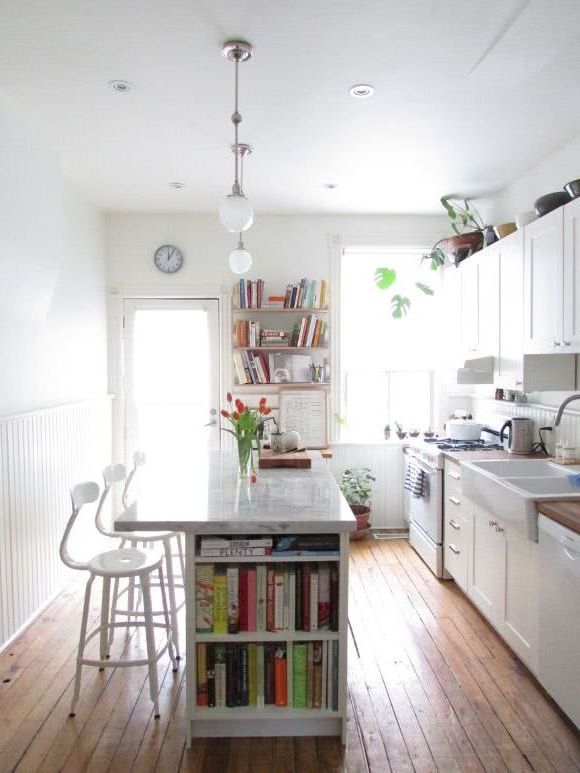 You can store spices neatly near the cooking area and or dining room. The kitchen island is perfect for a removable spice organizer, a very comfortable and easily accessible place.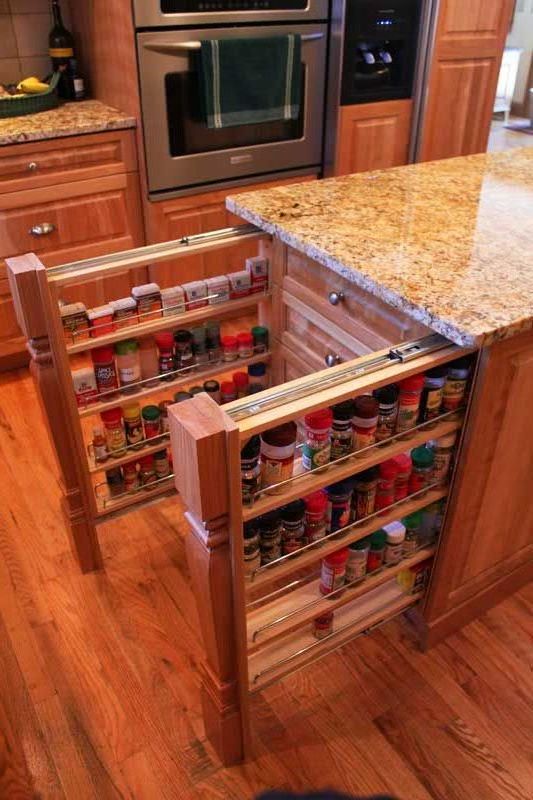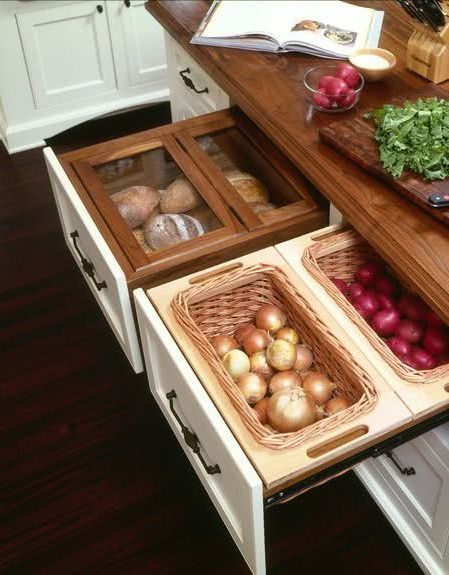 Kitchen islands
More storage, more work surface and an extra place to sit and have a coffee are just some of the benefits that they can offer us.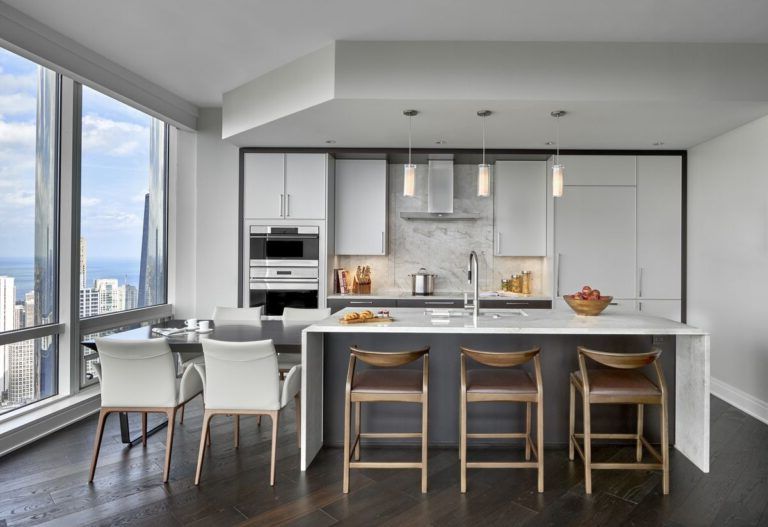 The key to choosing the perfect island for your kitchen is to understand what your needs are and then find a piece that satisfies several at once. If you want a square island, it is recommended that it be no less than 1 meter per side. If you want an elongated island, one that is 60 centimeters wide and 1.5 meters long will suffice for you to have enough work surface.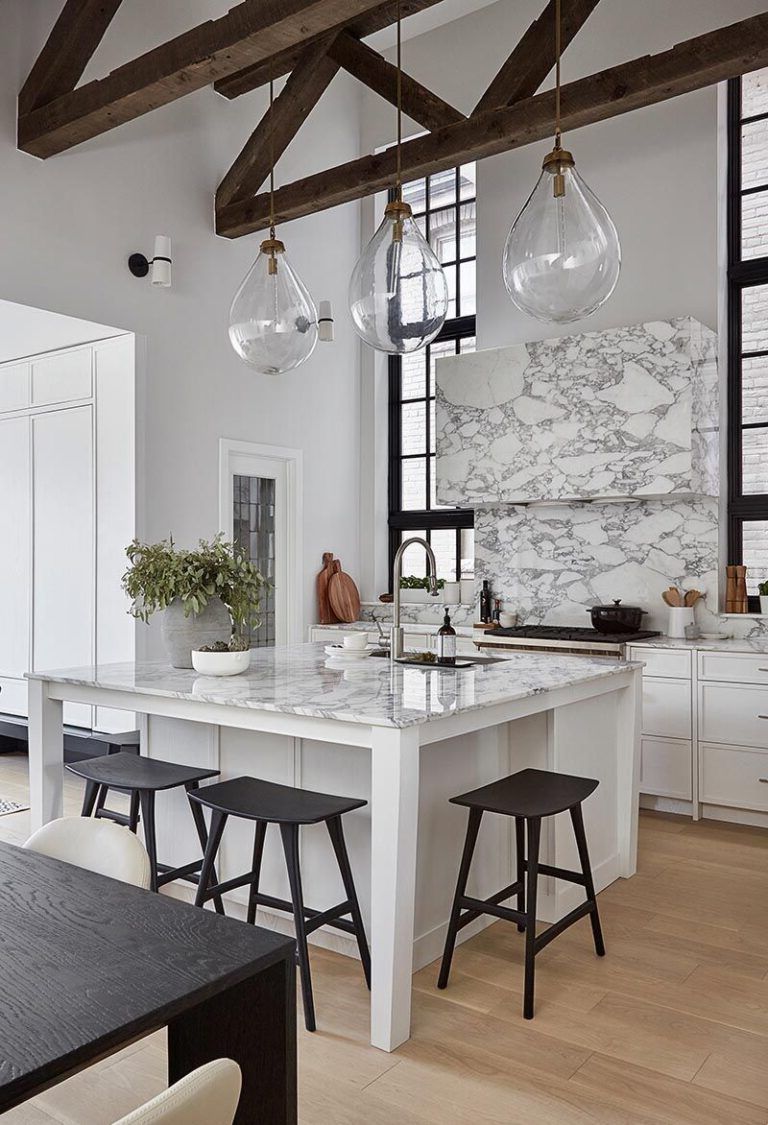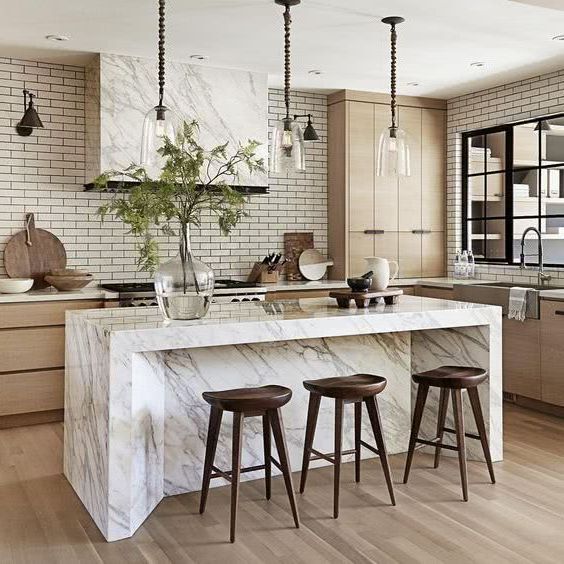 This island, for example, adds significant surface area to prepare food and provides a place for an extra person to help you with the food.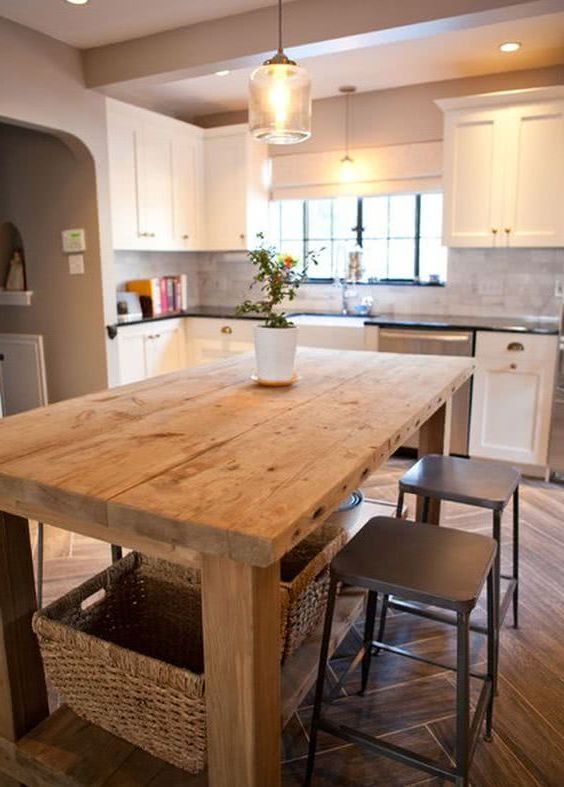 The general design rule is to leave a space of approximately 1 meter between the fixed island and the other surfaces for greater comfort, safety and ease of use. But in the case of movable islands, this is not so important, since you can adjust the space as needed.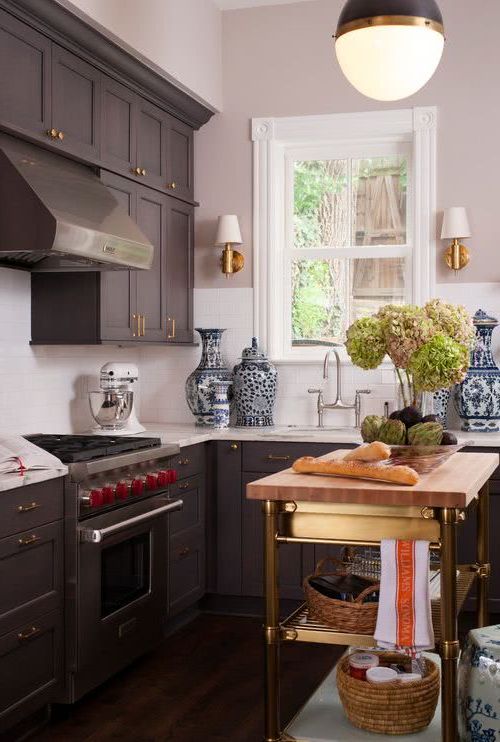 Even in the smallest of spaces an island on wheels can be accommodated. While it's not a traditional island, it works the same way, adding valuable work surface and extra storage space. When not in use, it can be pushed up to a window or wall and adorned with a vase of flowers.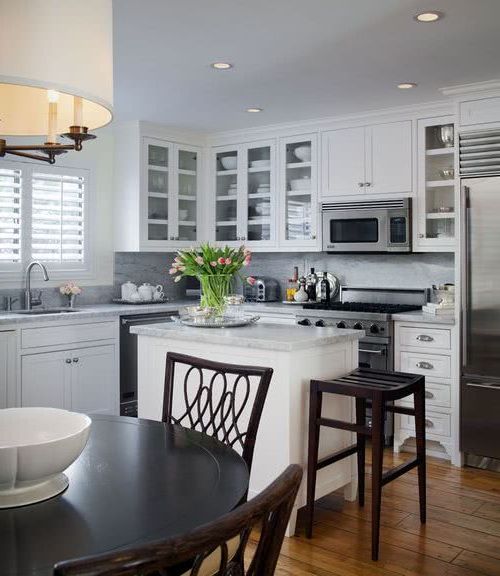 The golden rule for kitchen design is to respect the work triangle, between the sink, the refrigerator and the cooking zone, but this does not mean that you cannot add a small stop between the end points. This little island creates a large work surface in the middle of all the action. It's a great place to store dishes and pots, cookware, aluminum foil, dish towels, and oven mitts.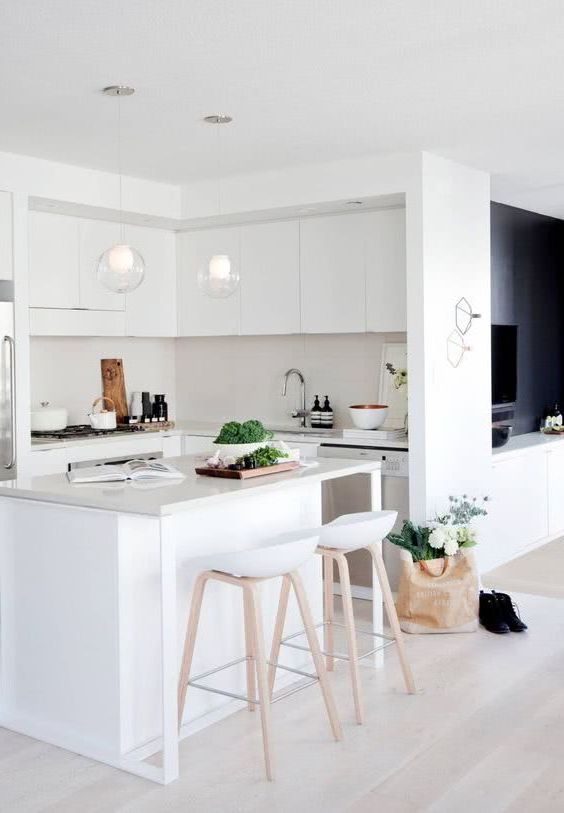 Small kitchens with island
Adding an island may seem counterintuitive in a small kitchen because it will take up space, but in many cases, the positives outweigh the negatives.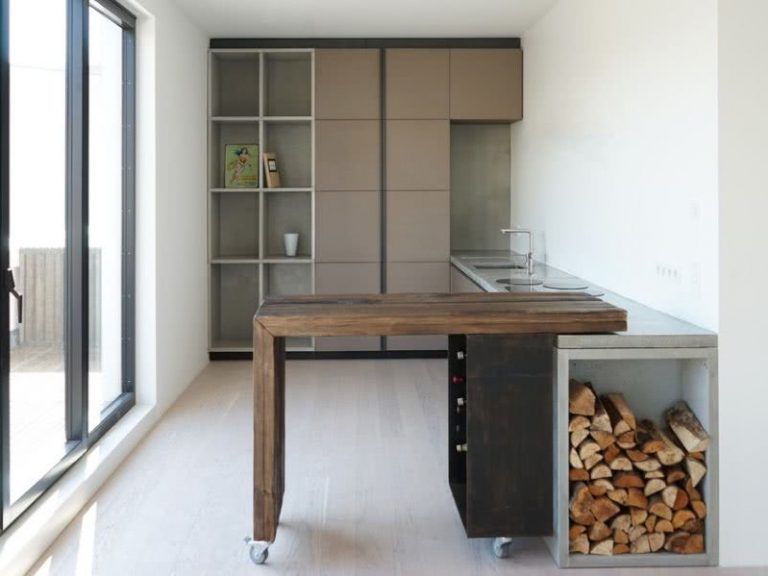 Do you want an island but your kitchen is too small? One of the solutions is a narrow and long island.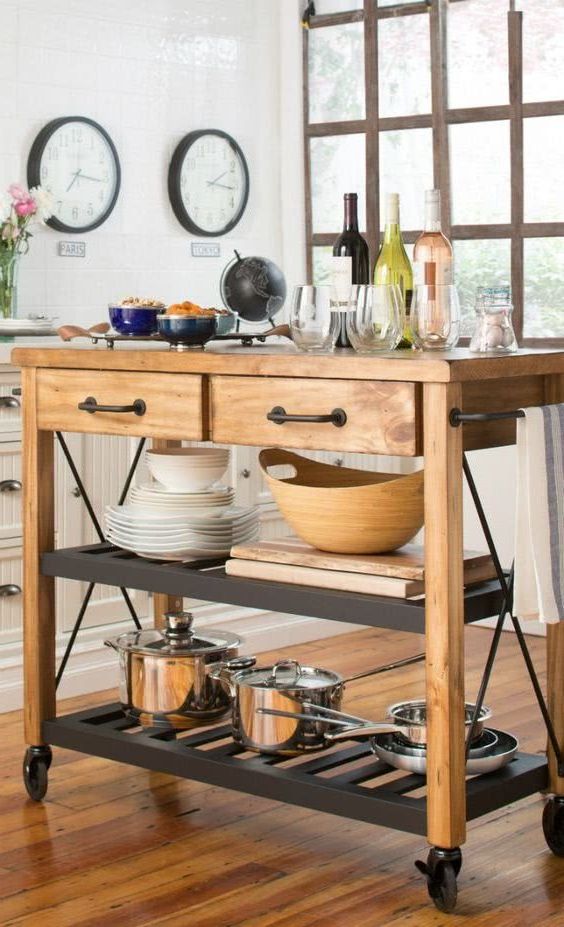 But there are other options for those with small kitchens. We put together some images to help you make the most of the space.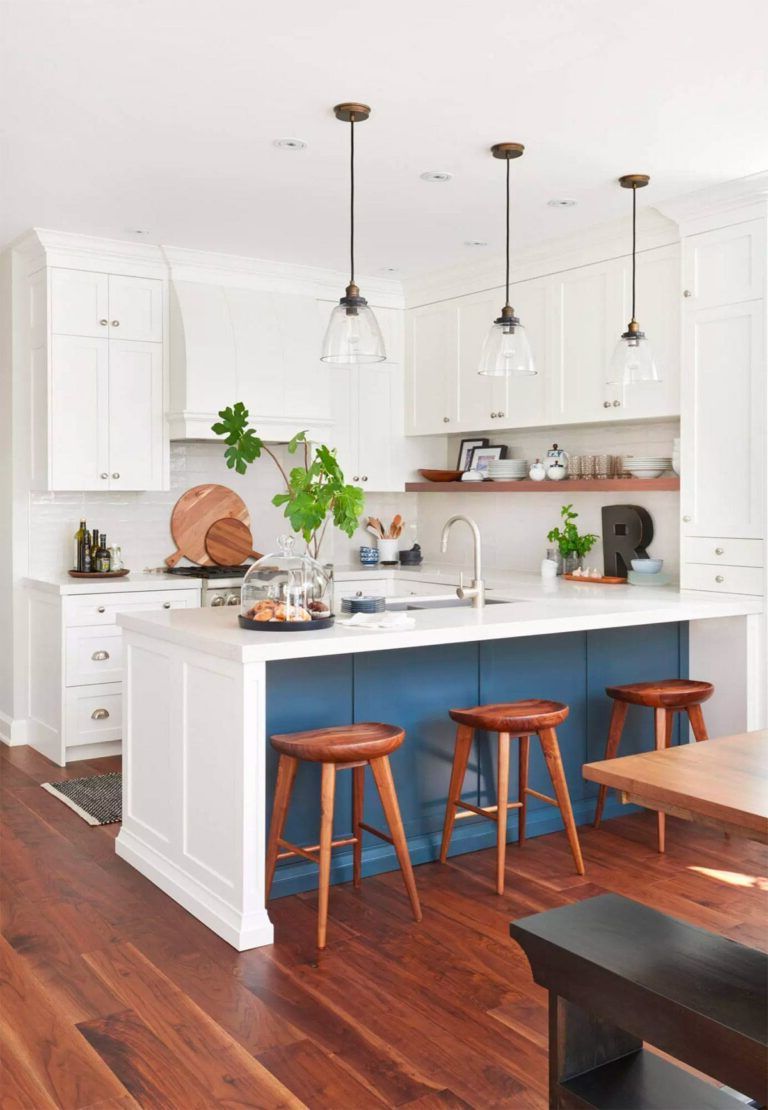 When space is at a premium, a pull-out work table will provide additional work area only when needed. Simply store it under the counter when not in use.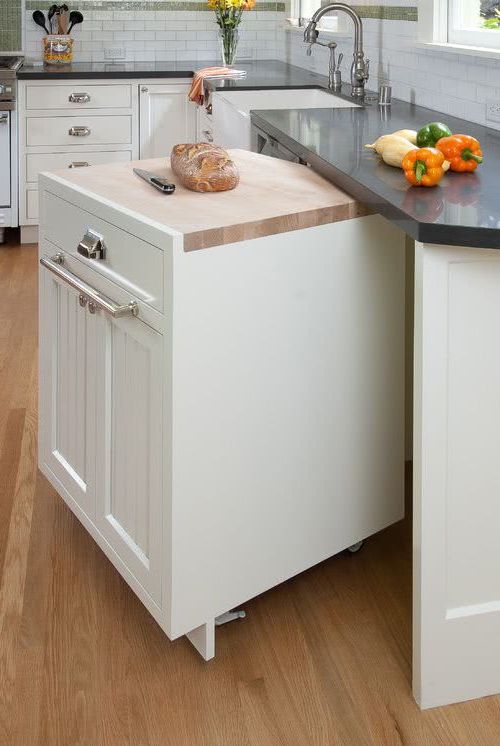 This small kitchen island on wheels is perfect when you want flexibility in your space.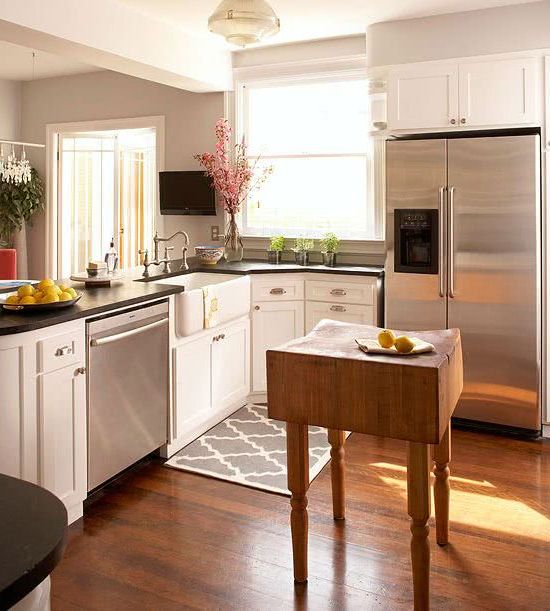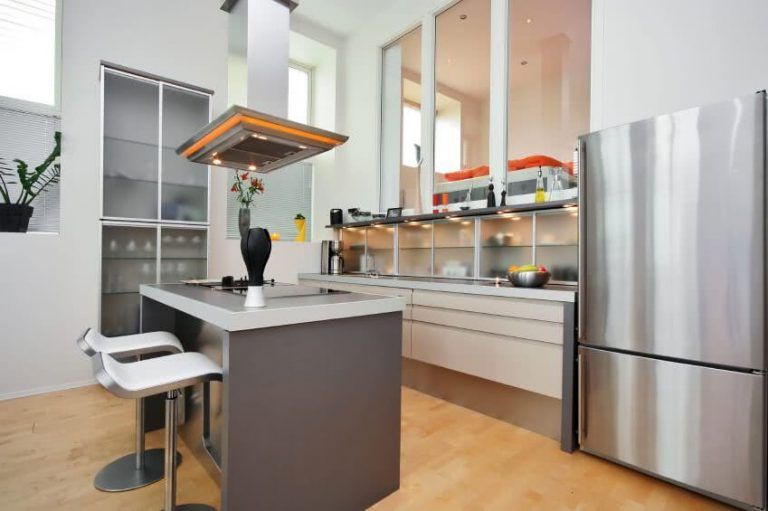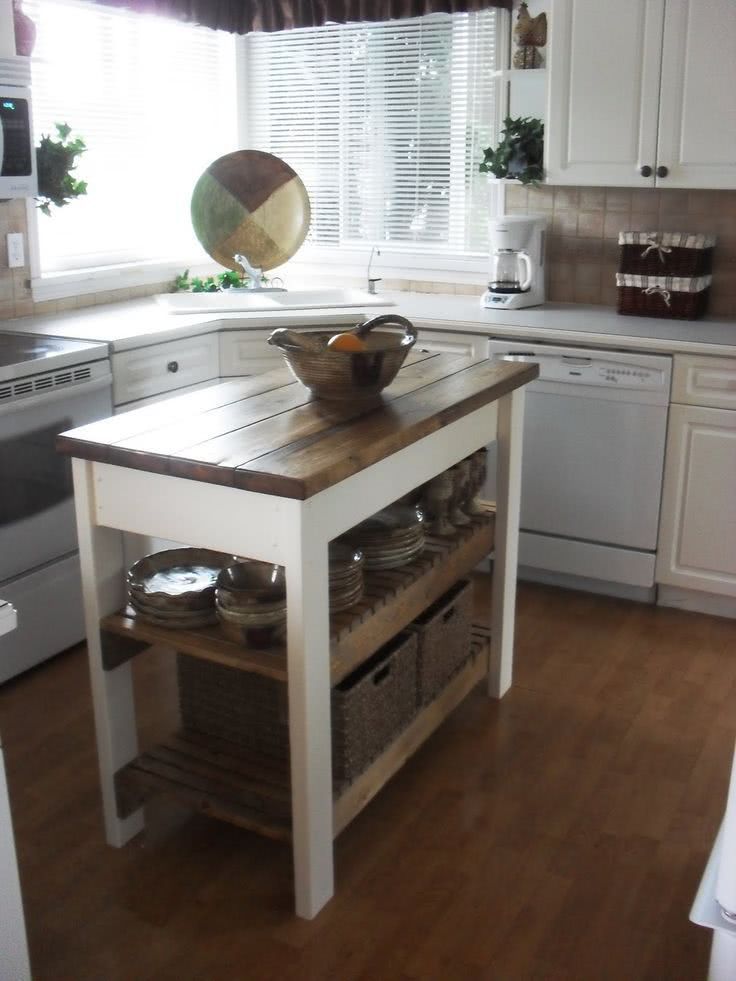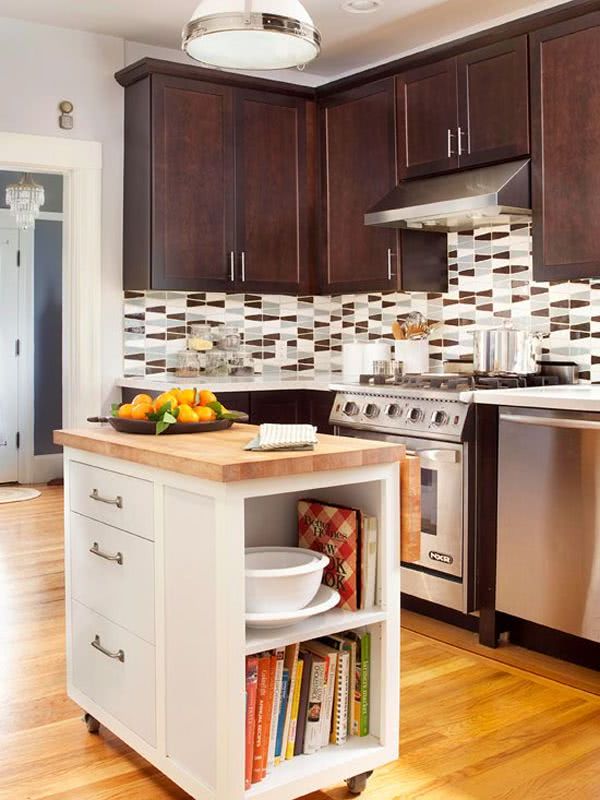 Minimalism is one of the current trends in interior design. It is a very functional, efficient and very beautiful style. This Zen kitchen has almost no frills, but it offers a lot of functionality and efficiency.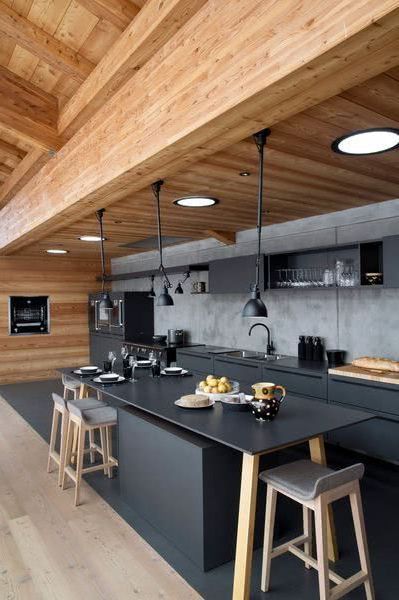 This piece is an island on one side and a dining table on the other. The limitless design offers flexibility of use.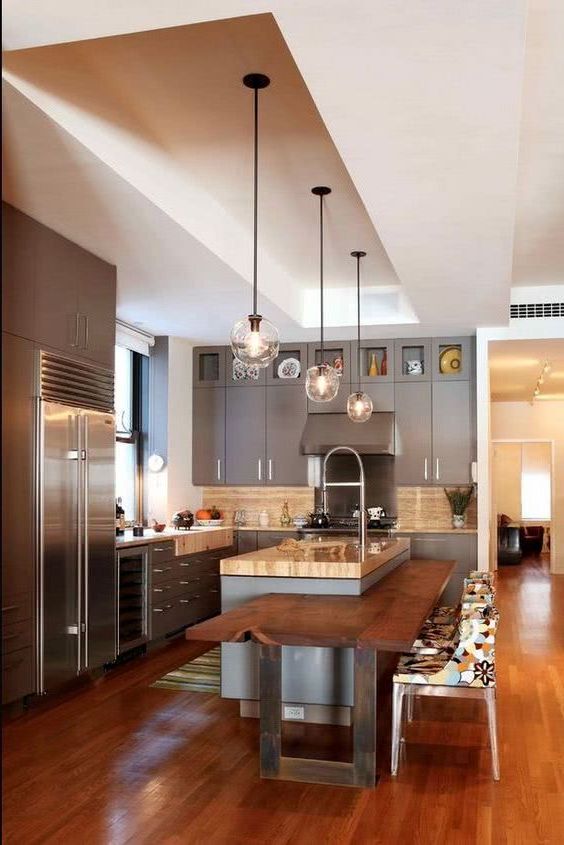 Among the best ideas is this bright white modern island look. A simple, modern and striking design.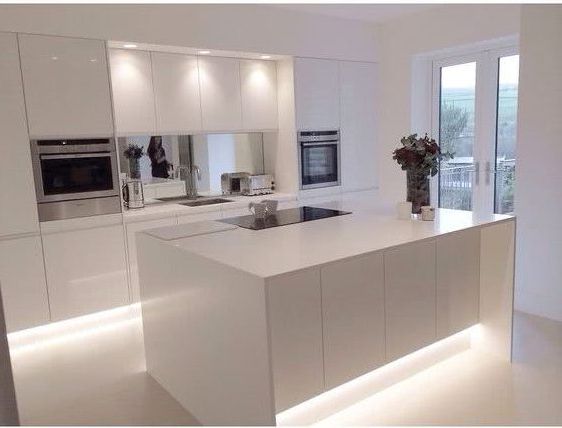 Another very modern idea is the curved islands. Keep the rest simple for a balance in design and décor.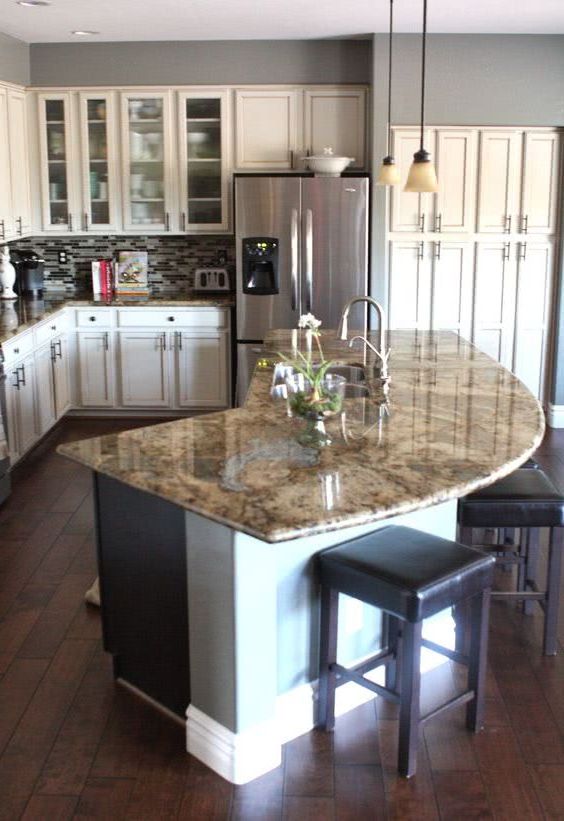 Give your kitchen some character with reclaimed wood planks. Let the natural grain of the boards add a rustic and warm touch to the modern room.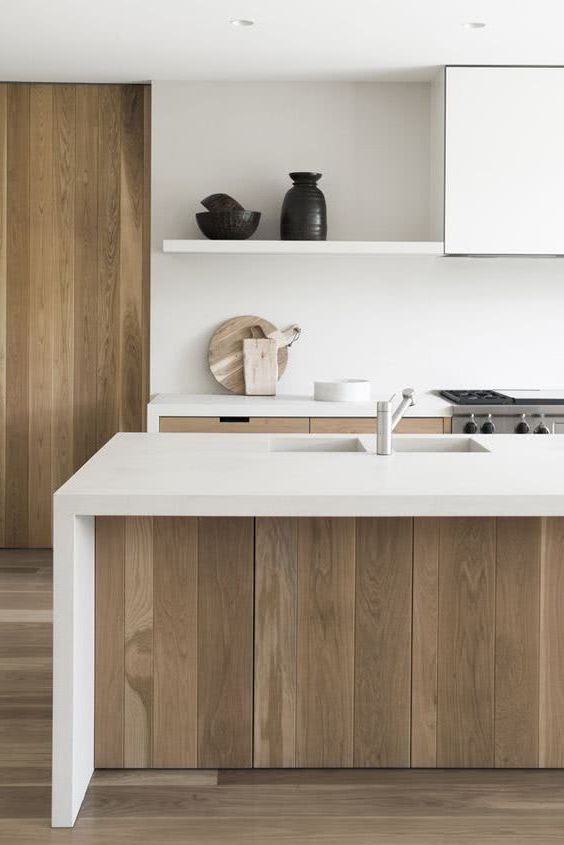 The rough, bare wood, with its warm tones, contrasts with the cool white, black, and gray of the room.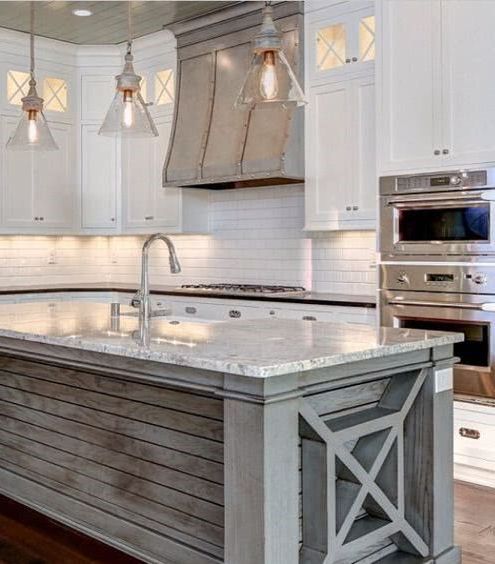 You can also use pallets. The space in between is ideal for additional storage and kitchen organization.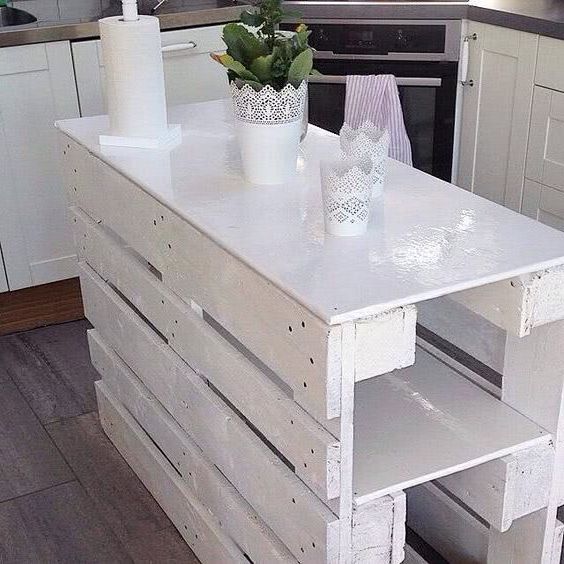 This design is unique and very beautiful. Weathered wood patterns match the chic and elegant rug.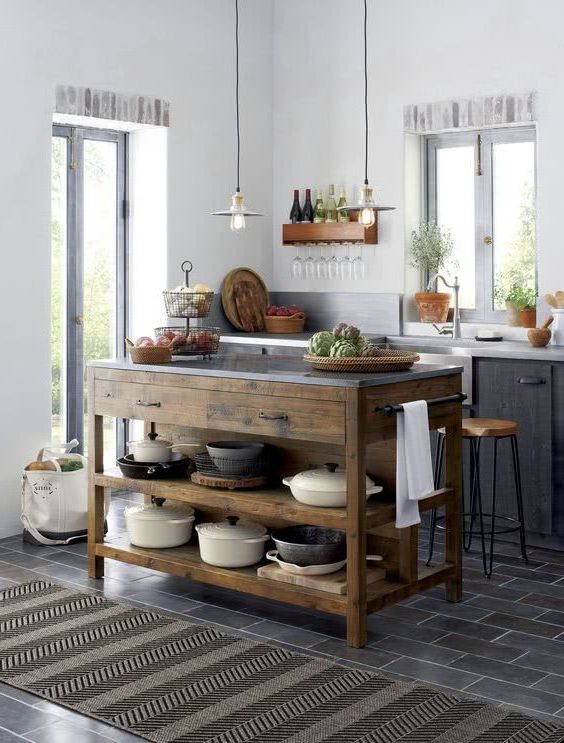 The Scandinavian country style is also on the rise. The island is outfitted with a solid wood countertop and eclectic boho-style seating.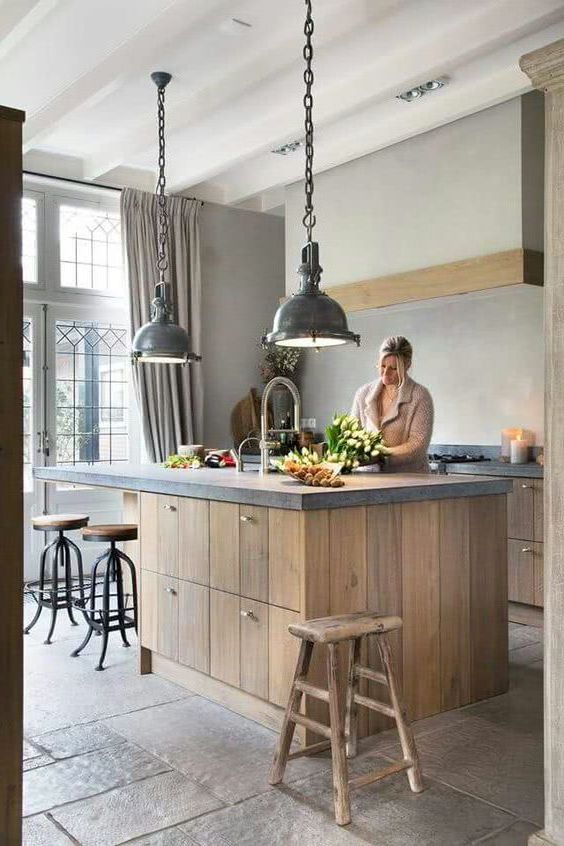 Modern and simple. This gray and wood kitchen design is one of today's favorites.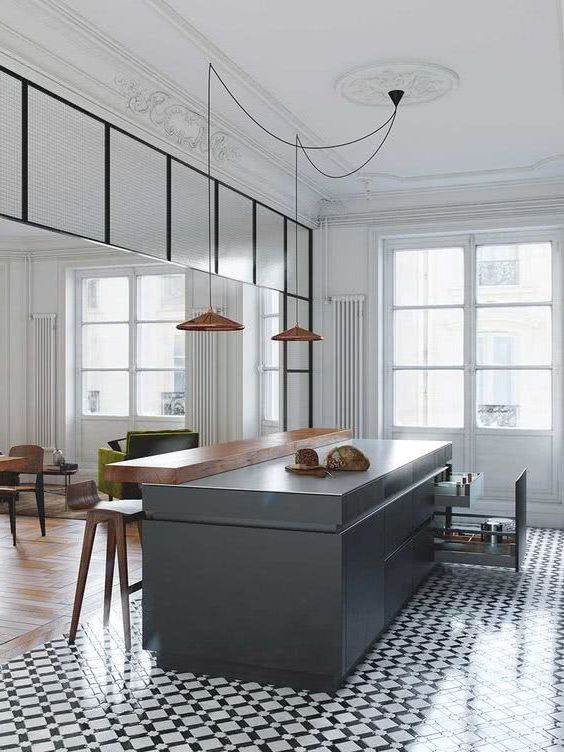 Not much space in the upstairs closet? No problem, you have the kitchen island. Use a portion of the space under the counter to install some open shelving.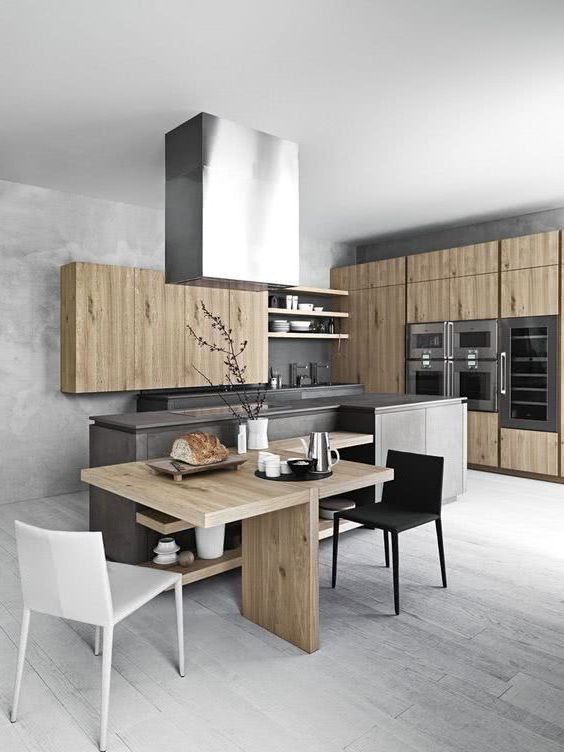 You should also pay attention to lighting. This kitchen clearly wants to highlight its island through lighting. Its simple construction highlights sophistication and refined style.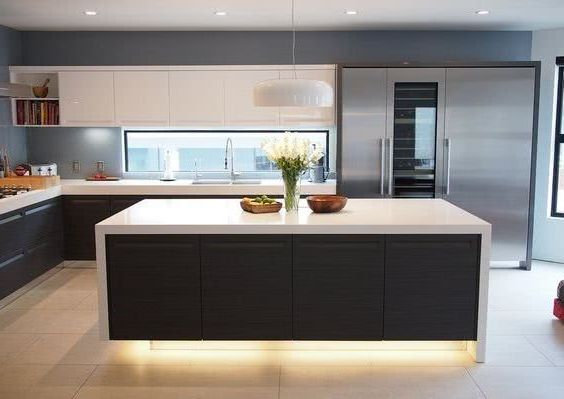 The vintage style is also in fashion. A vintage sideboard converted into a kitchen island can be an excellent idea.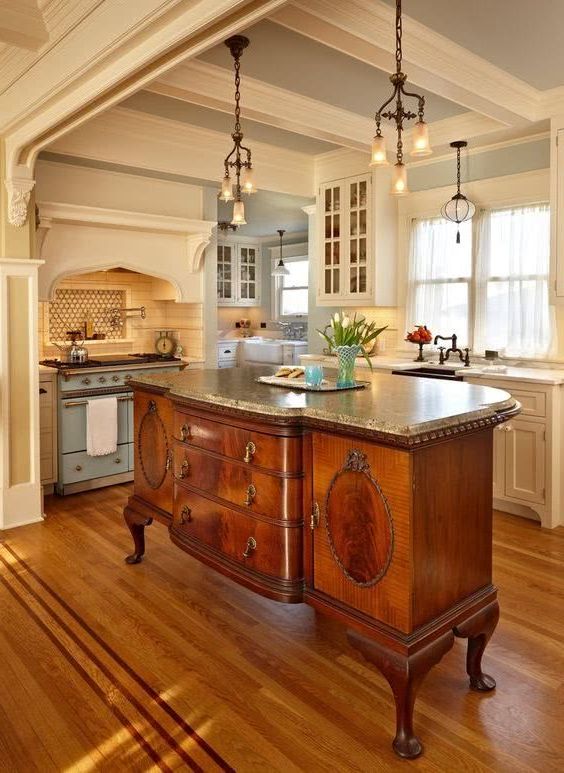 Give your kitchen a dash of Moroccan flair. The patterned Moroccan tiles on the island work well with the subway tile walls and the simplicity of the kitchen design.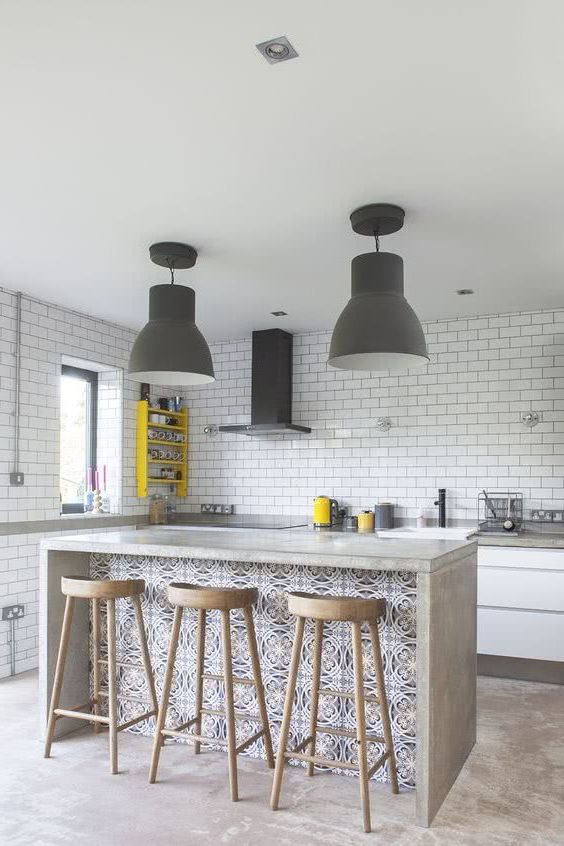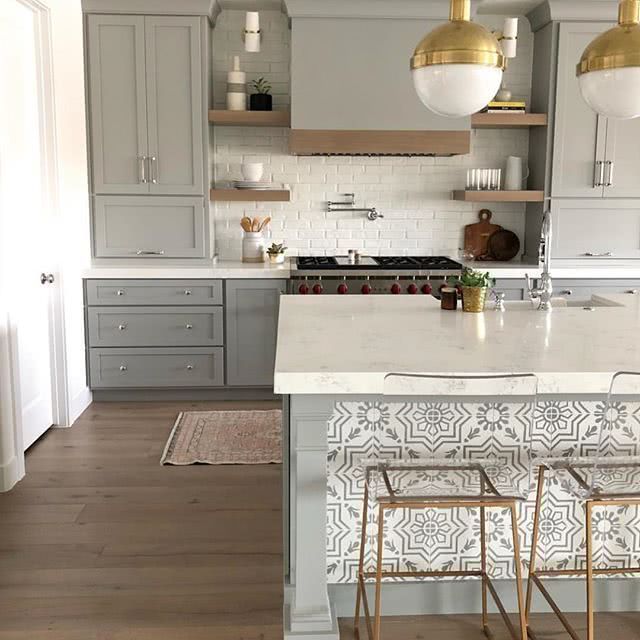 This no-frills contemporary kitchen design features basic colors, minimalism, and an intriguing dose of country style. The black kitchen island with simple shapes is complemented by the stools in lighter tones.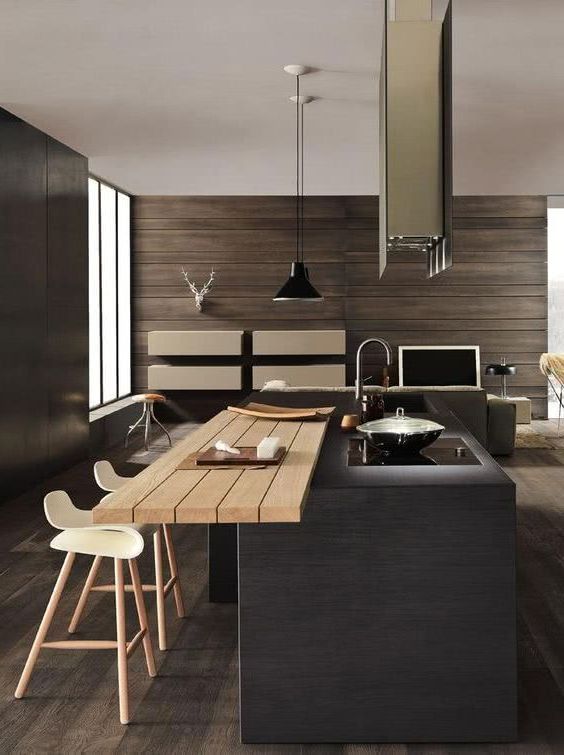 You can add a lot of metallic embellishments. Wear shimmering hues like gold, chrome, copper, and silver as much as you dare.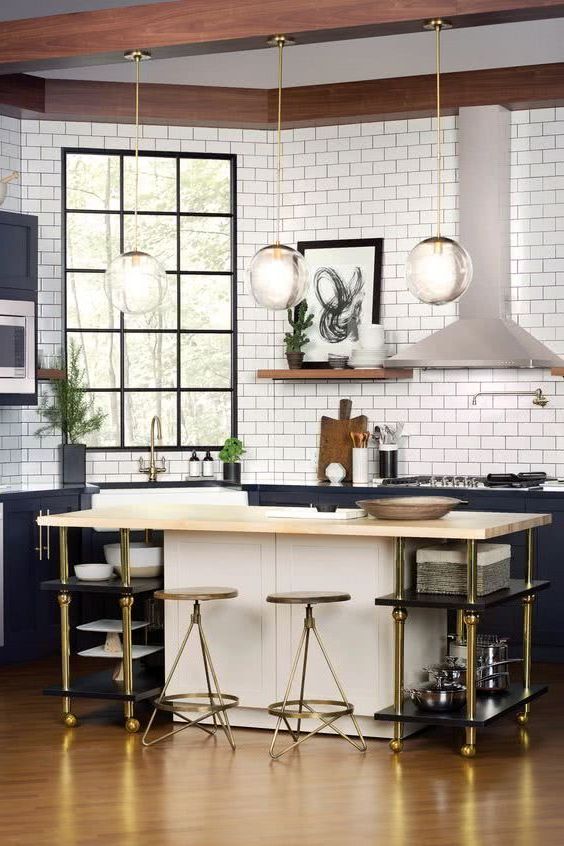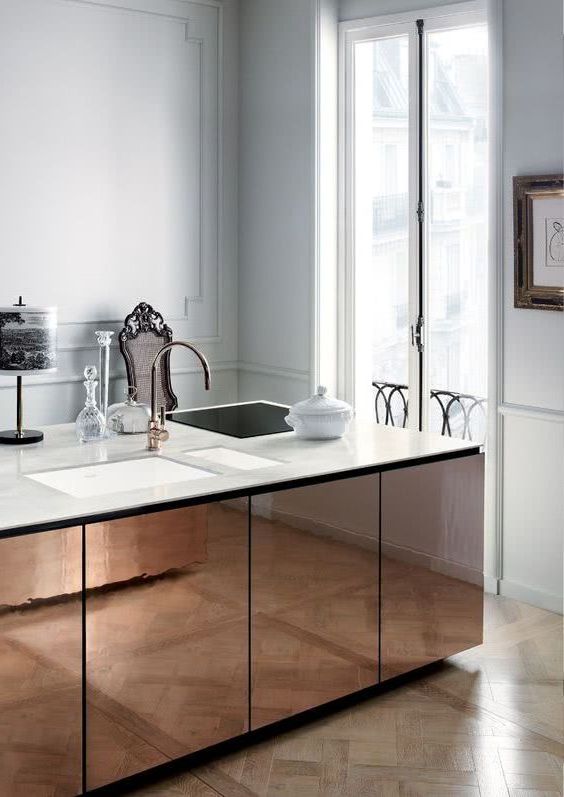 This unique kitchen island features floating shelves at the front and a dining area at one end.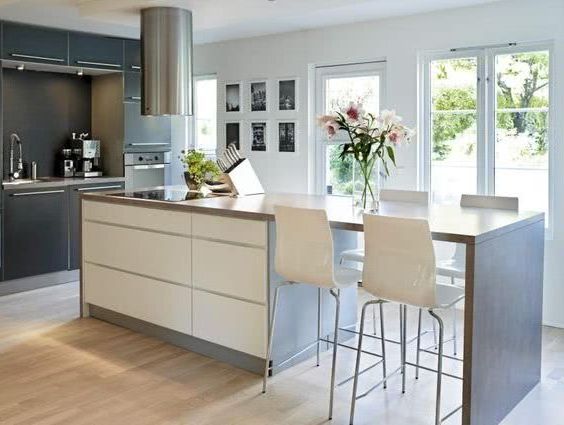 Kitchen island table
Stainless steel tables can be found at restaurant supply stores, and can be a great island option for small kitchens. Work tables can also be outfitted with a wooden top for a less industrial look.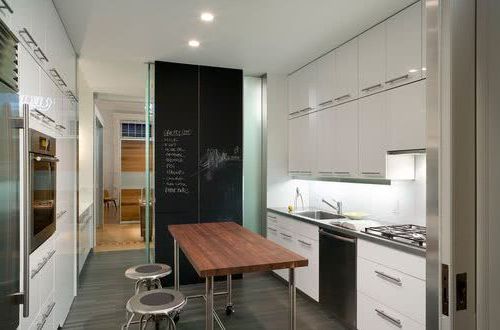 Wood tables are ideal for avid chefs who are constantly chopping and chopping. You can find them in different sizes, including compact square versions that can fit into tight spaces.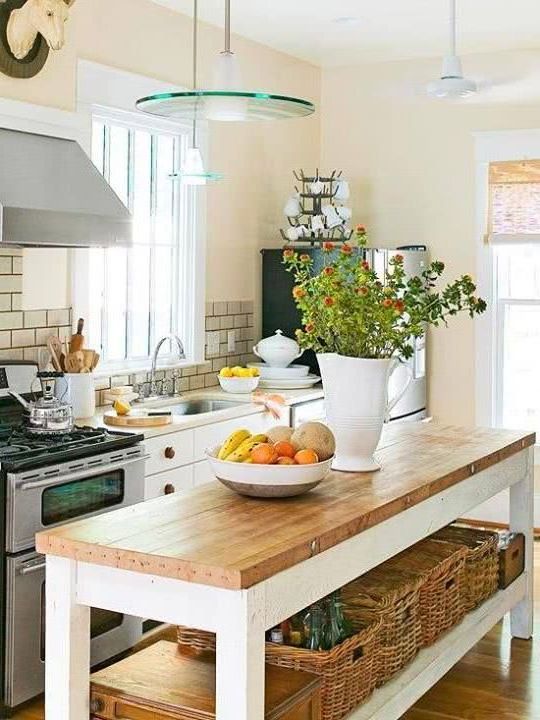 Make the most of the island by choosing a table with shelves, cabinets or drawers at the base.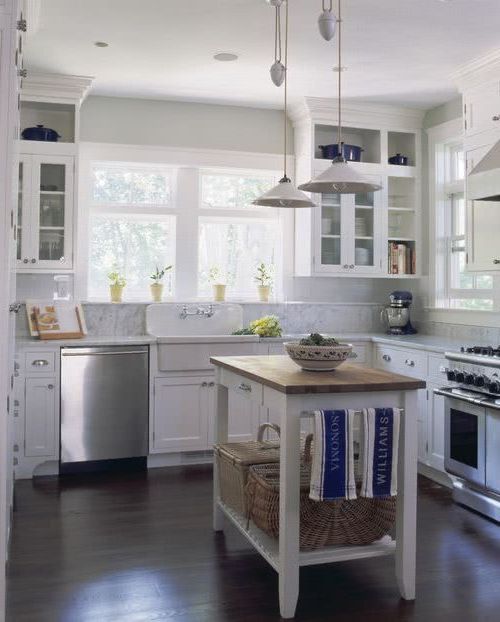 If you don't have room for an island in the center of the kitchen, place it perpendicular to the counter or a wall. This will create an extension that can have bar seating and provide extra cooking space.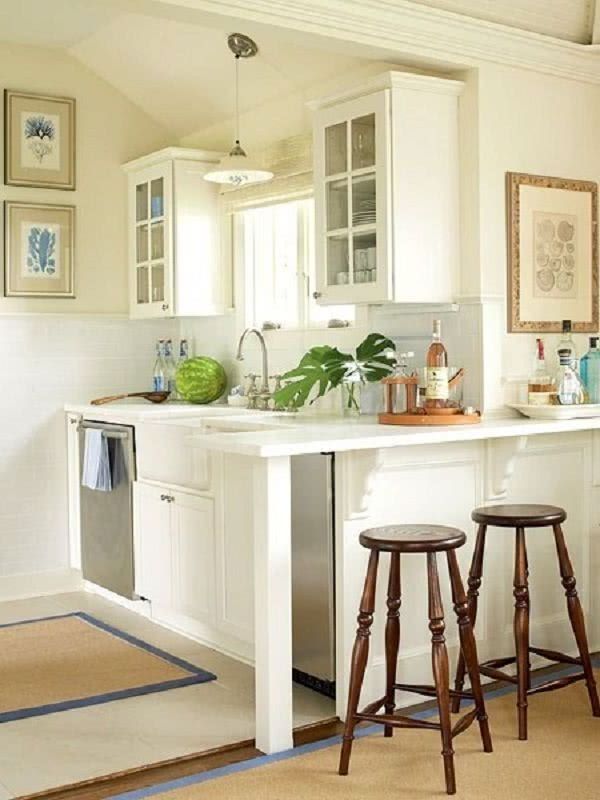 For narrow kitchens, a long narrow table can work perfectly. Whether you choose a modern Parsons-style table or a more traditional version with a marble top, the piece will add style and an extra surface for meal prep.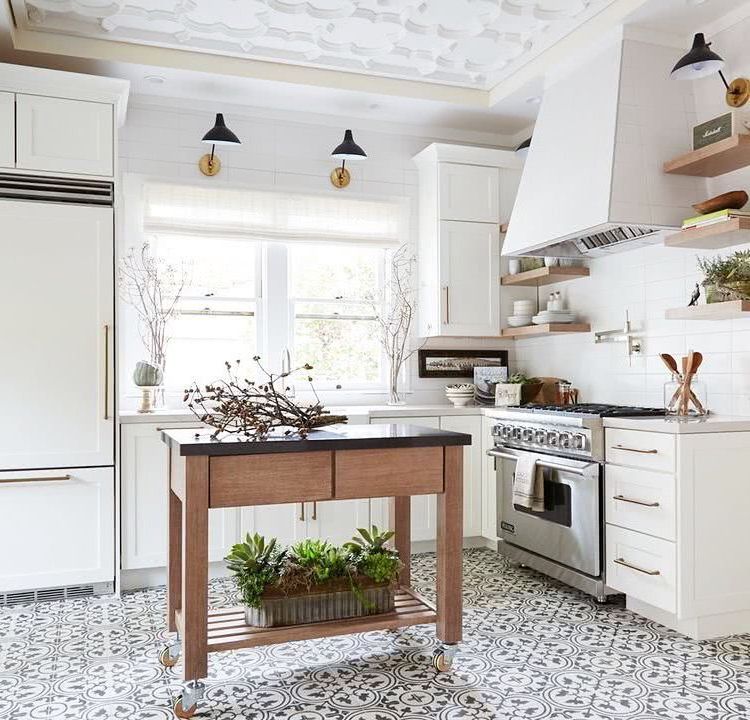 A kitchen island can be useful when you're cooking, but it also takes up space the rest of the time. Look for a version with wheels, so you can place it in a corner and keep the kitchen uncluttered when not in use.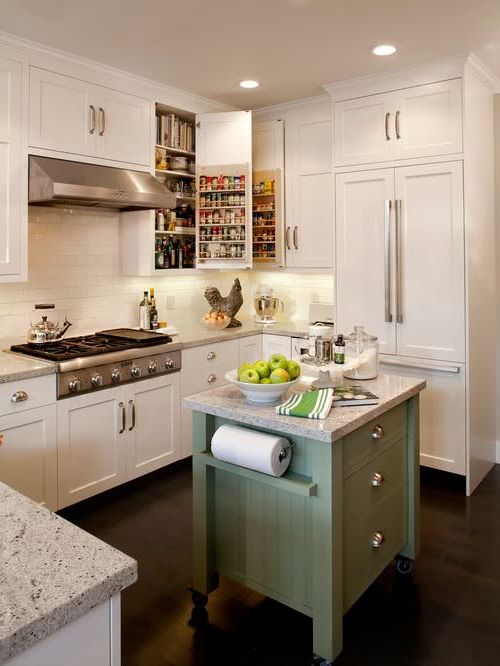 If you only have room for a dining table or kitchen island, why not add a piece that can serve as both? A table with drop leaves can be a perfect solution as the sides can be lowered when not in use.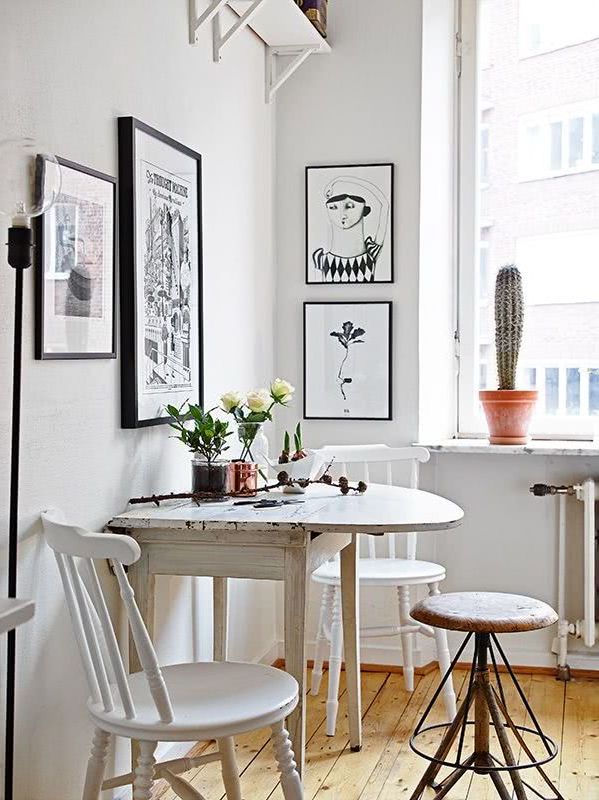 Just because the island is small doesn't mean it can't be the centerpiece. Hang an eye-catching pendant light above it to illuminate the surface and add flair.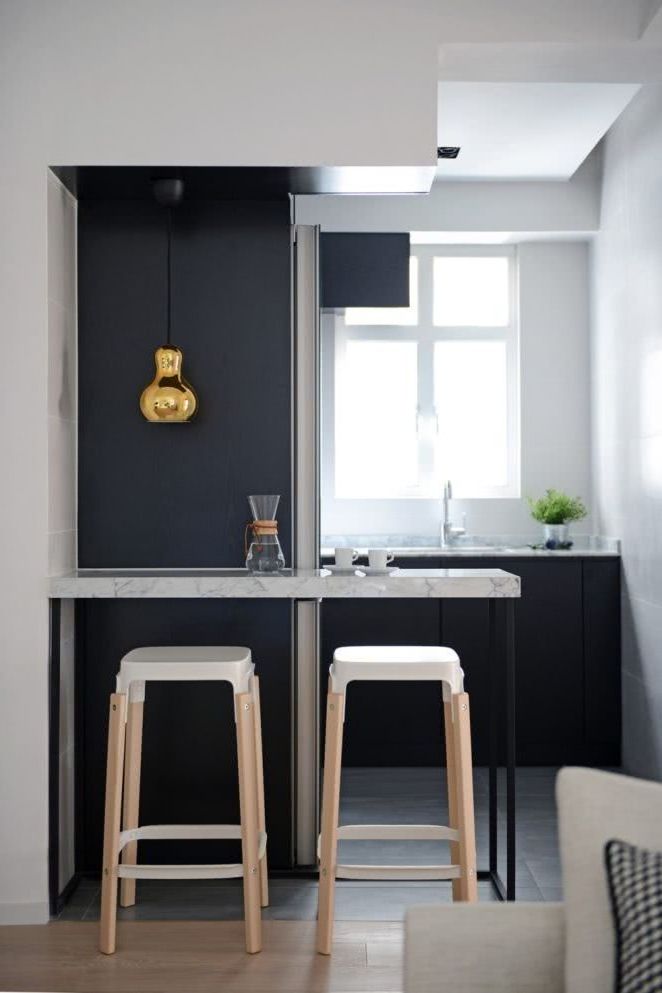 IKEA kitchen island
Islands do not need to be custom made. At Ikea there is an incredible variety of options available for all shapes and sizes of kitchens and for all budgets.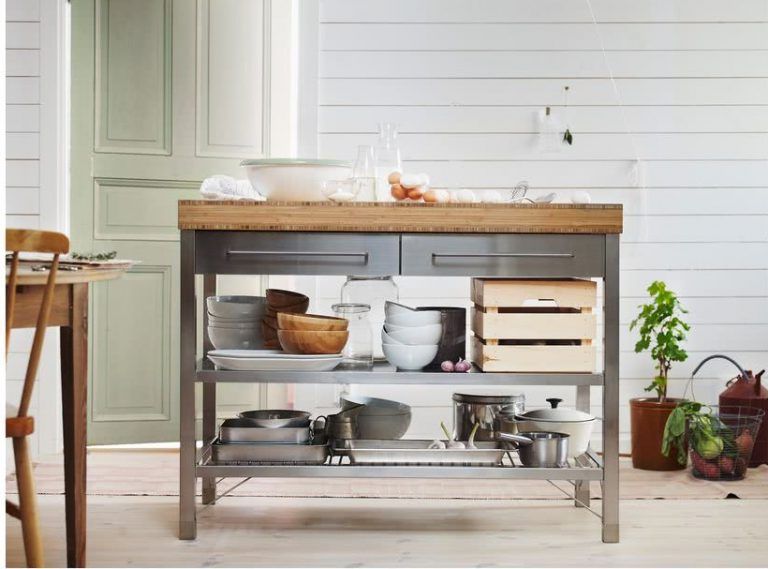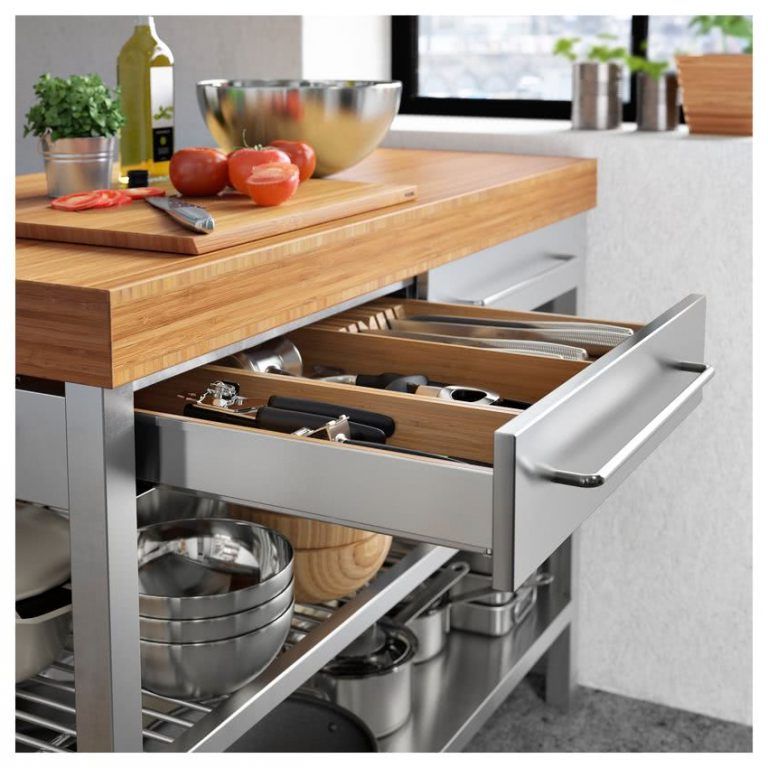 If your main concern is having more counter space, you can find a relatively inexpensive table and have a carpenter make you a quality countertop in any size, shape, or design. You'll get an affordable custom piece that adds interest to your space.