An open kitchen-dining space, into which the living room can also be integrated, offers great versatility for the way we live today. An open-plan kitchen suits today's casual lifestyles, providing a home gathering center and greater sociability during meal preparation.
But it takes great skill to design a space that integrates all needs, especially in apartments and small houses.
Smart zoning, sound control and a consistent decorating approach are all key factors. Clever decorating and styling ideas will make each area look separate yet in perfect harmony with the adjacent space. We've compiled some great tips for making the most of an open plan kitchen and dining area.
L-shaped
An open L-shaped space has been created here. The design has filled the space with light thanks to a huge window. It offers much more storage and counter space thanks to an island and an additional cabinet, all made with the same design and materials. The two spaces are united and integrated thanks to the fact that the floor has the same tiles and the same colors have been used to decorate them. The same shade of gray has been used, and even the same lighting fixtures.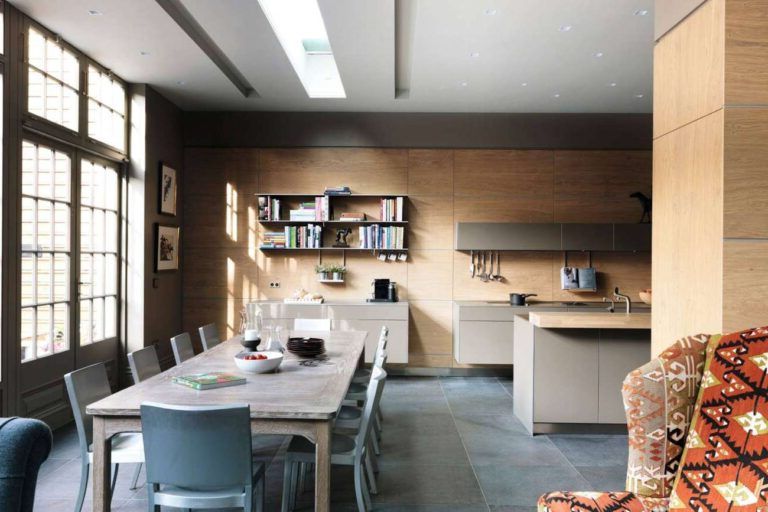 Define each space with different floors
The flooring that is most functional in the kitchen may not be the most suitable for the dining space. Here, the floors in the two areas have been kept distinct by opting for easy-to-clean vinyl in the kitchen and a rustic wood floor under the dining table. But you should try to make the two materials and patterns of the floor complement each other, the vinyl with pale patterns contrasts very well with the neutral wood floor.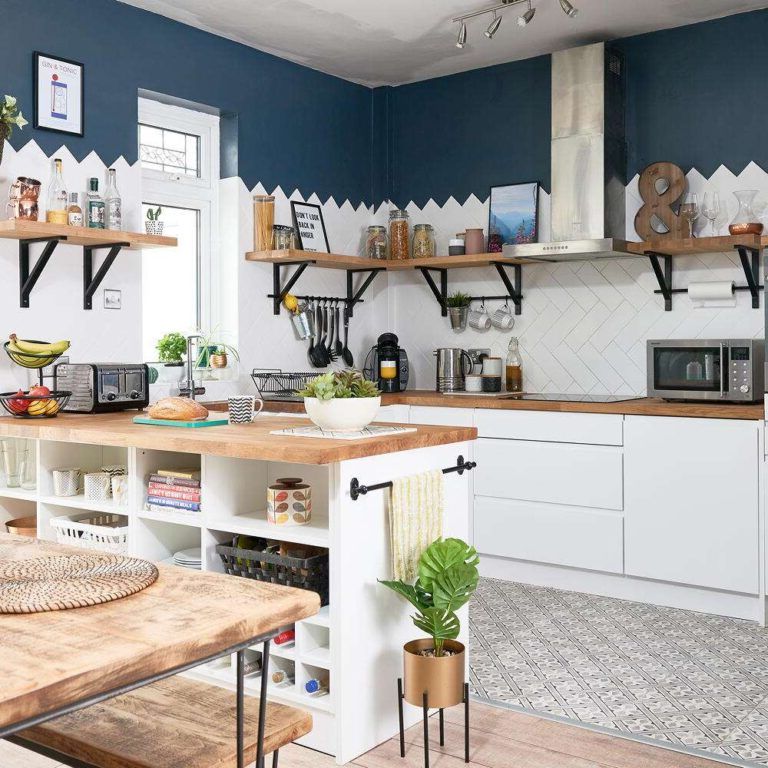 Table as an extension of the island
There are many advantages to having a dining table adjacent to the kitchen island. The most obvious is that you will be able to socialize more easily with family and friends while you cook. It also allows you to attend to the children while they do their homework.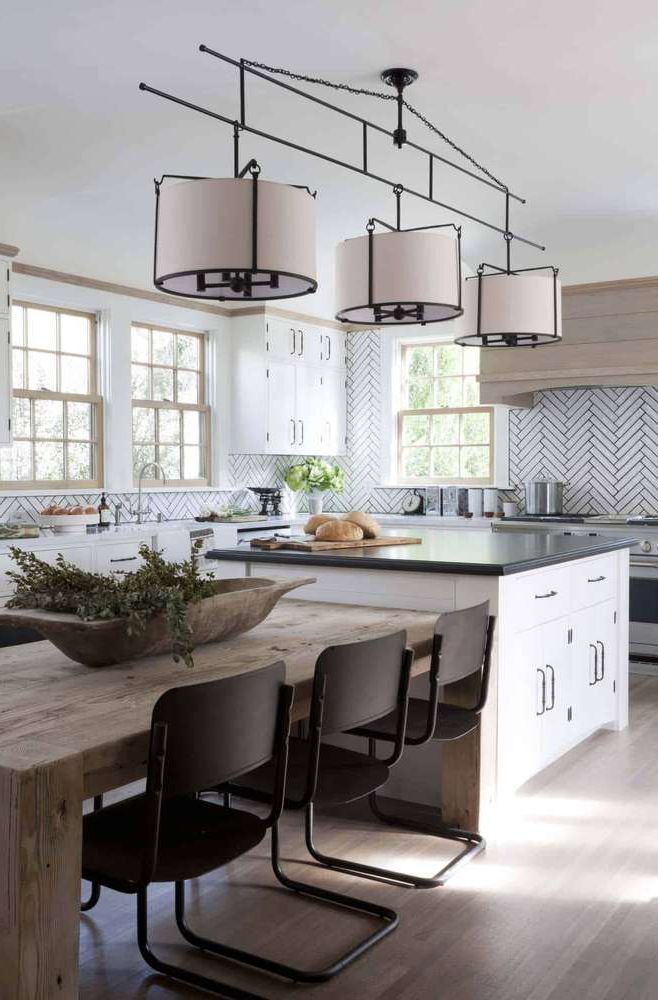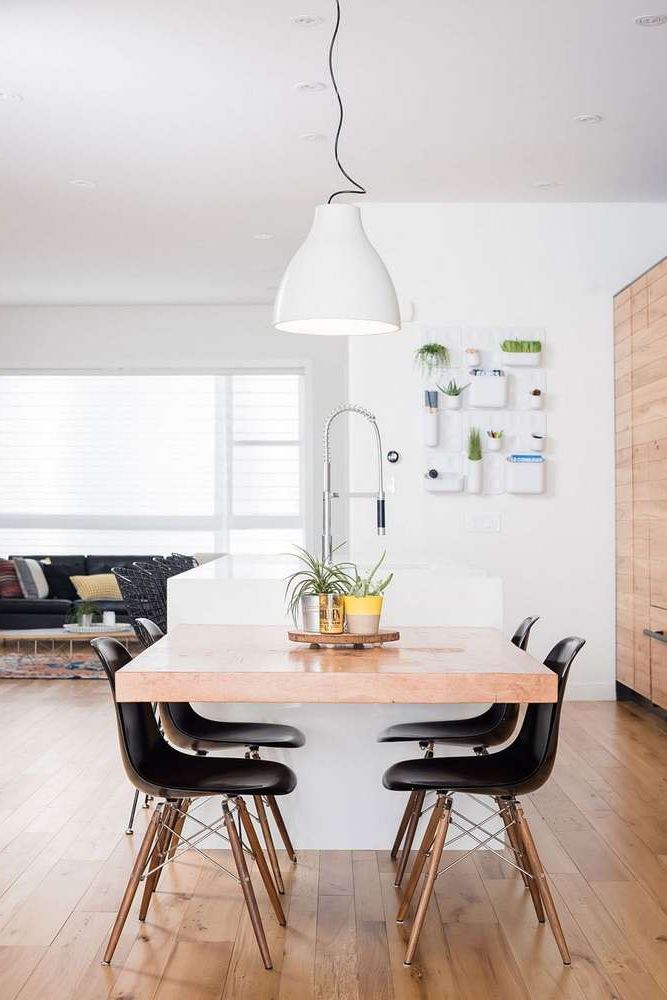 Open plan living has become a part of our daily lives. From a home office within a living room to a kitchen-dining room, these spaces must be well designed and able to use the best of the room to be functional, comfortable and beautiful.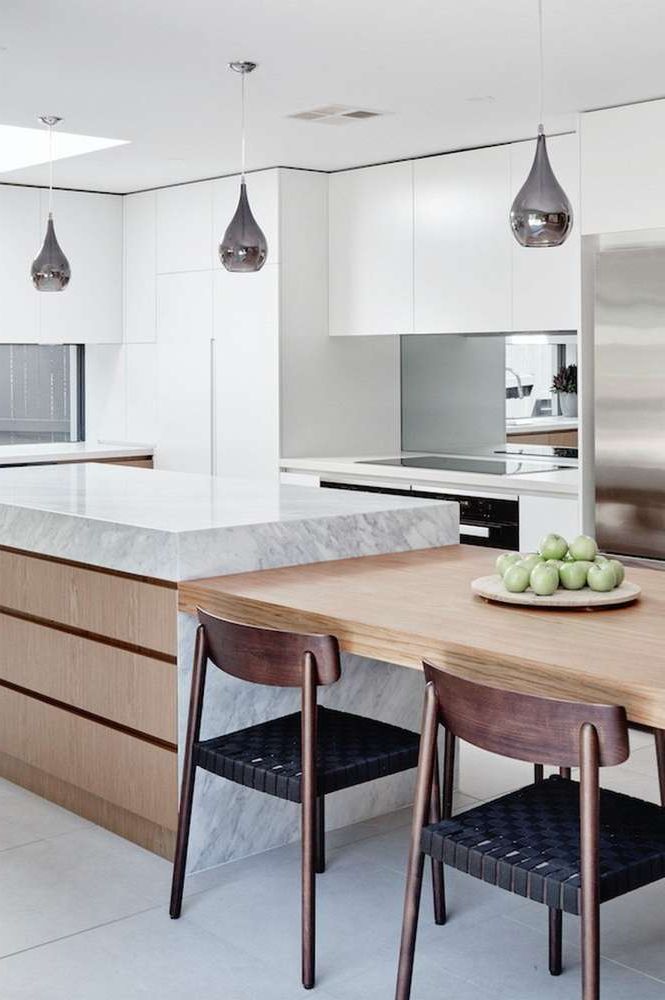 Glass room divider
Knocking down walls for a larger open plan space is an ideal way to transform a dark and cramped room. You can gain a lot of light and space. But you can use glass dividers or sliding doors to separate the kitchen area from the dining room, to isolate the noise and odors from the kitchen, without losing the feeling of spaciousness. As with any structural change to the home, consult an architect before tearing down a wall, as the wall may be part of the structural support.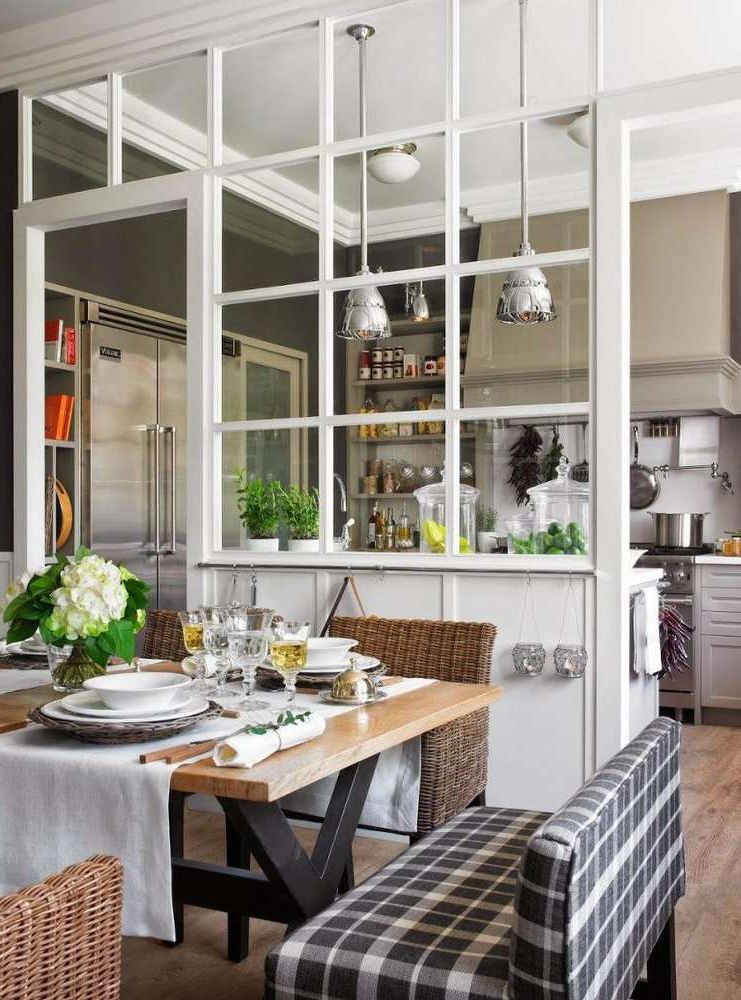 The cooking space can have sliding doors to provide separation from the rest of the house when needed. Task lighting is a must in any kitchen. Here, decorative pendant lights act as focal points and add a huge dose of style.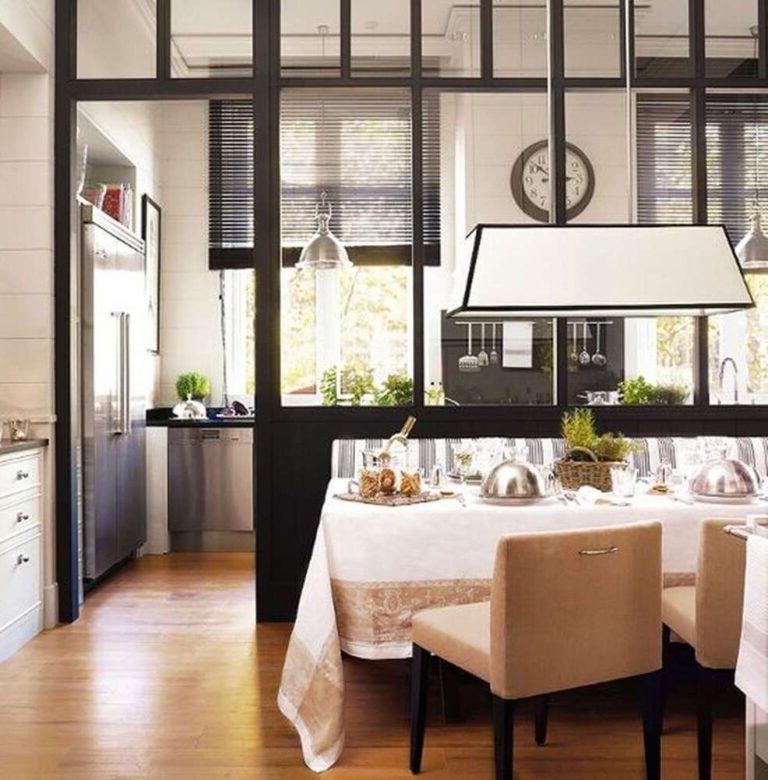 Tear down a wall
With no walls to obstruct light and movement, spaces often have a great sense of flow. If the structure of your home allows it, you can create a space without divisions or create a small breakfast bar between the kitchen and the dining room.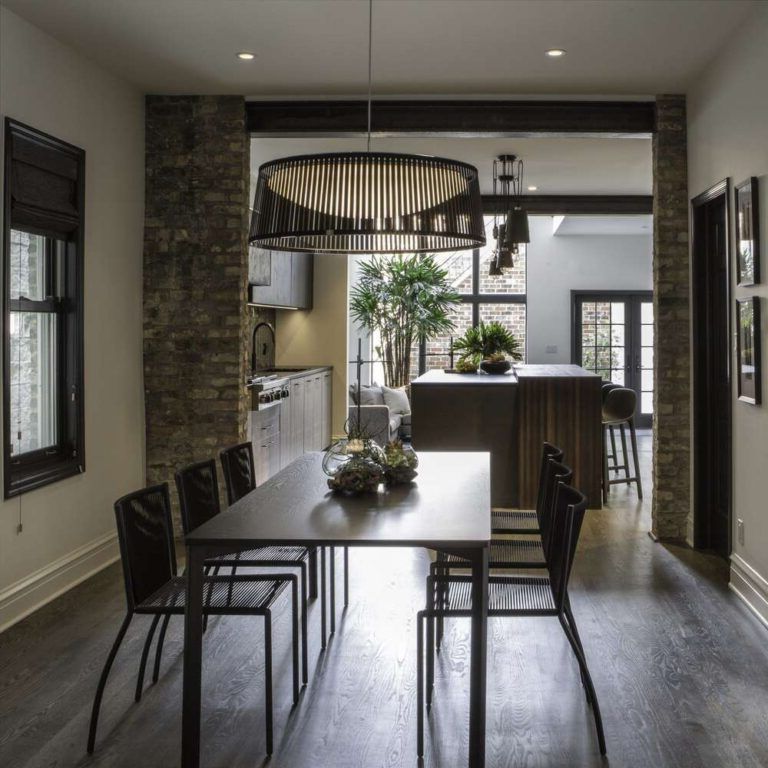 Loft apartments are ideal candidates for an open kitchen. You can use exposed brick walls or large windows, choosing a large island in proportion to the space. Materials like stainless steel can be softened with muted colors and touches of wood to create a welcoming design.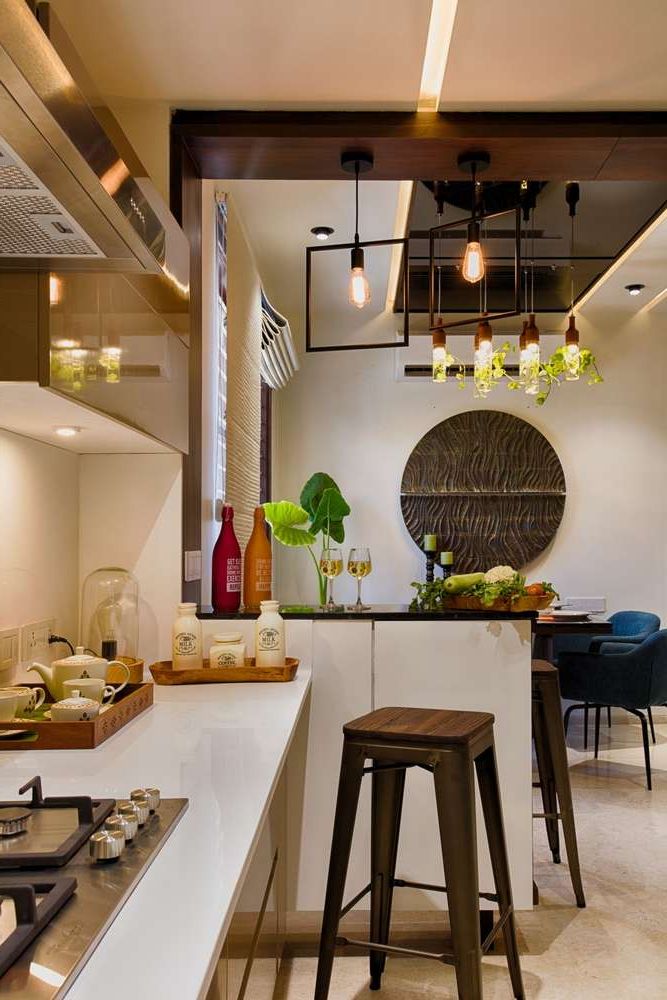 Circular table
Curves are great for avoiding sharp corners that can be dangerous, especially for children. The circulation is much more fluid and without danger. Another advantage of circular design tables is that by having legs in the center, diners can sit anywhere on their perimeter without being disturbed by any of the legs.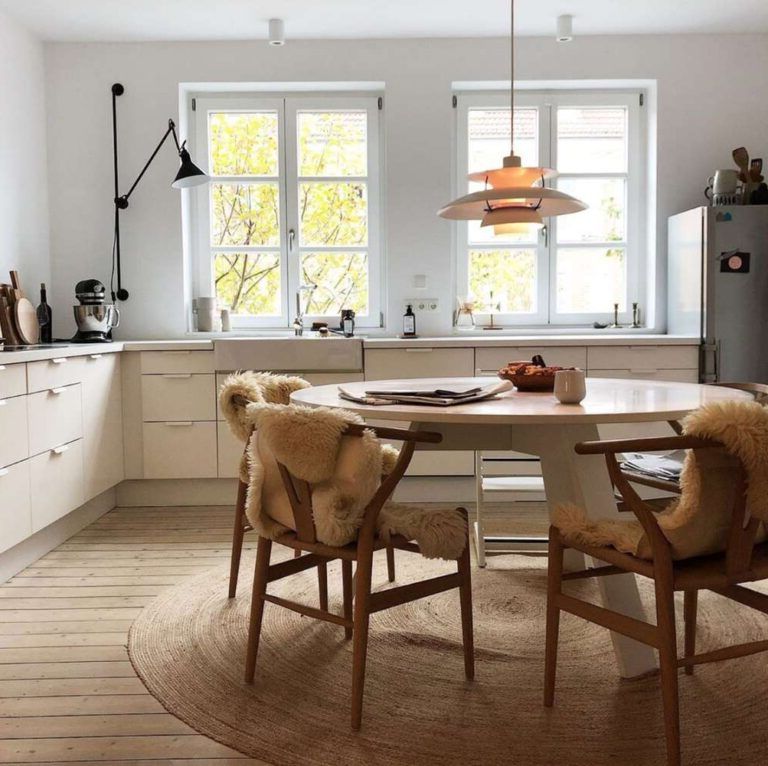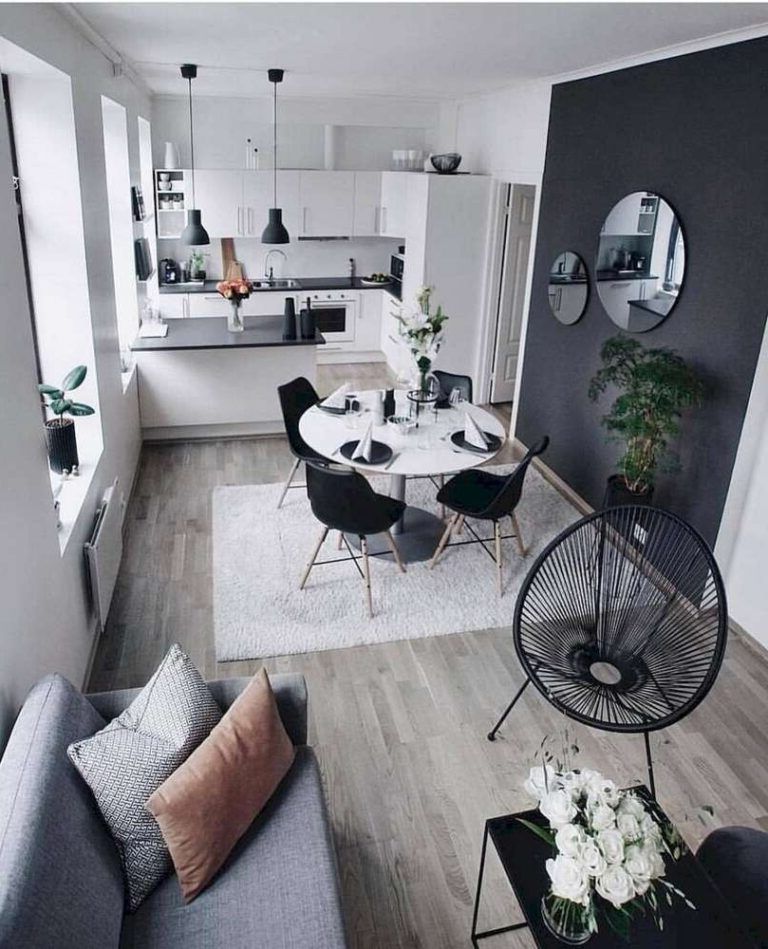 Floor to ceiling storage is another stylish idea worth considering. They will help keep your space clean and tidy.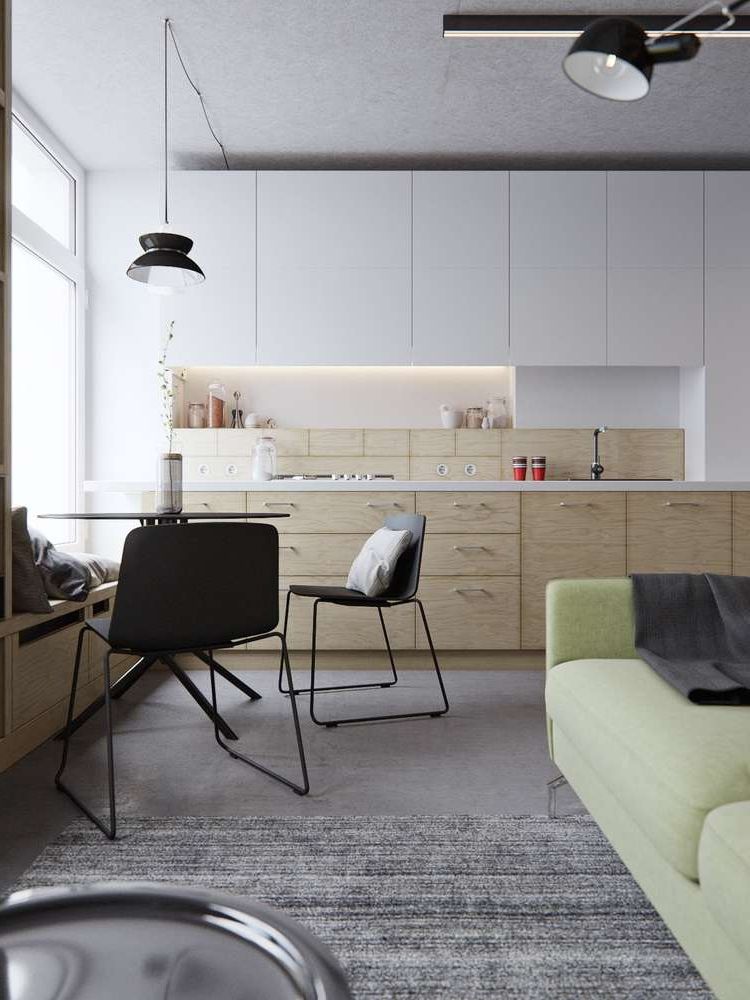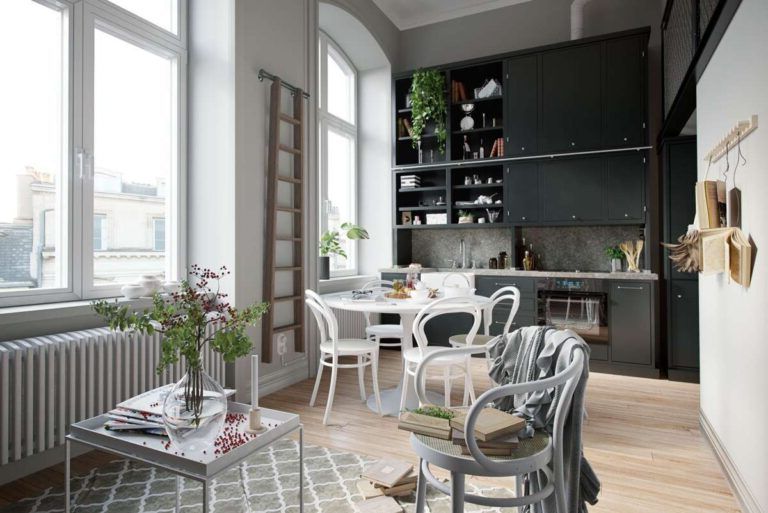 Rectangular table for elongated spaces
If you have a long space, a rectangular table may be the best solution to get the most out of the dining room.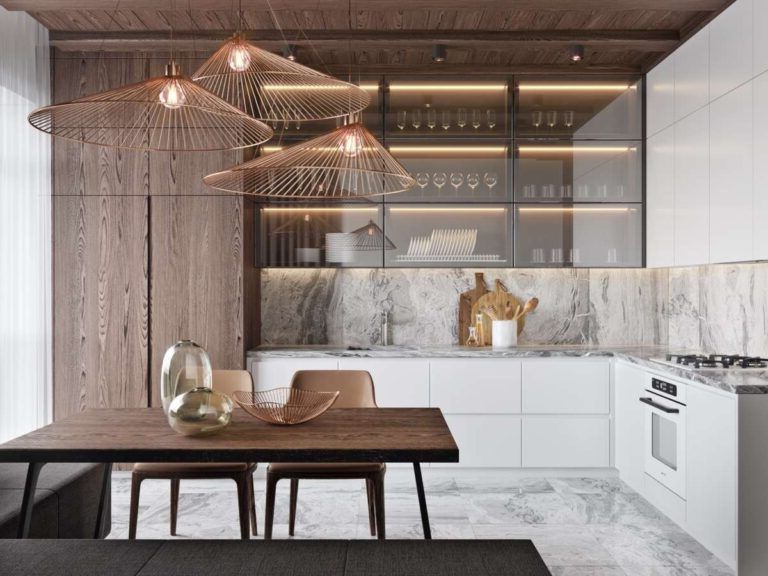 When kitchens are open to other areas of the house, it's important to integrate styles so rooms don't feel disjointed. The bronze-colored details of this kitchen integrate perfectly with the chandeliers and the centerpiece in the same material.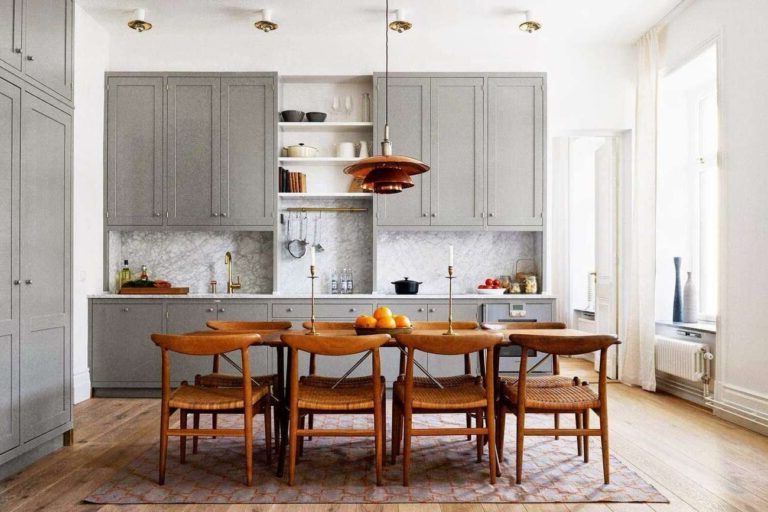 The advantage of rectangular tables is that they can be placed against a wall, thus saving a lot of space without losing functionality.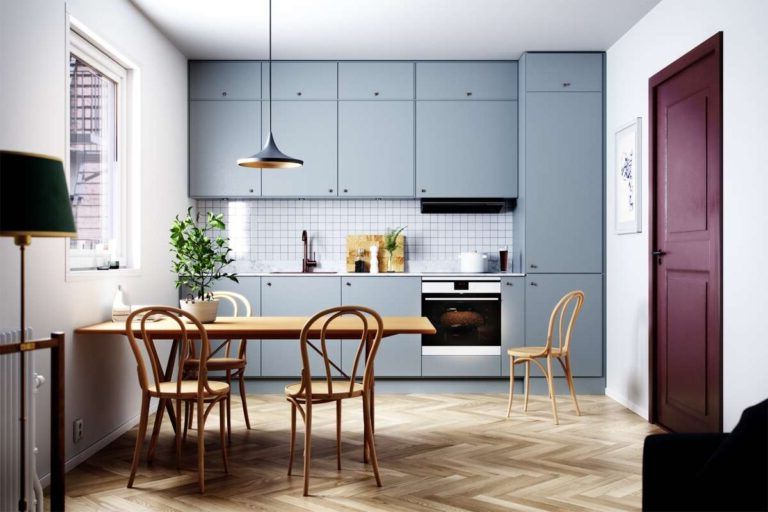 A single wall of floor-to-ceiling cabinets and appliances is perfect for an eat-in kitchen.
Islands or American bar
One of these elements can help provide more capacity for diners and more storage capacity. It is also an easy way to unite the kitchen with the dining room.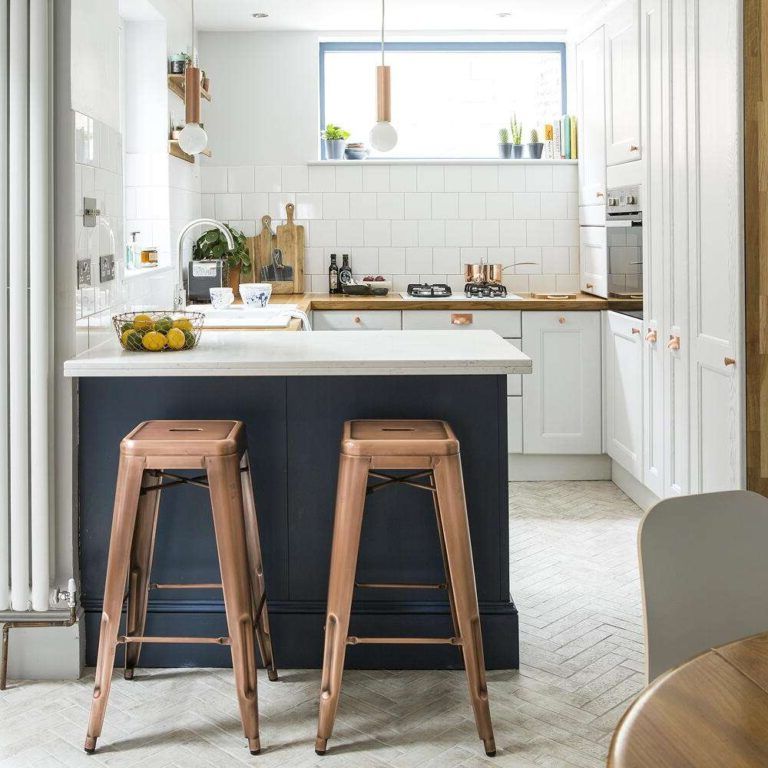 Think about where guests will sit while you cook and where you would like to eat. Seating for islands or breakfast bars should be located away from the work area so no one gets in the way, but close enough for conversation to flow easily.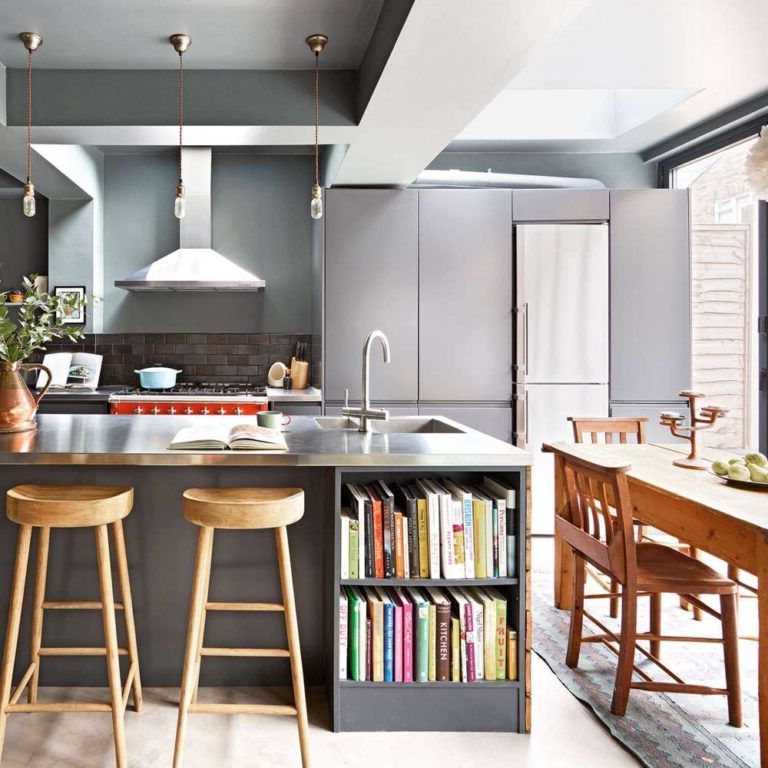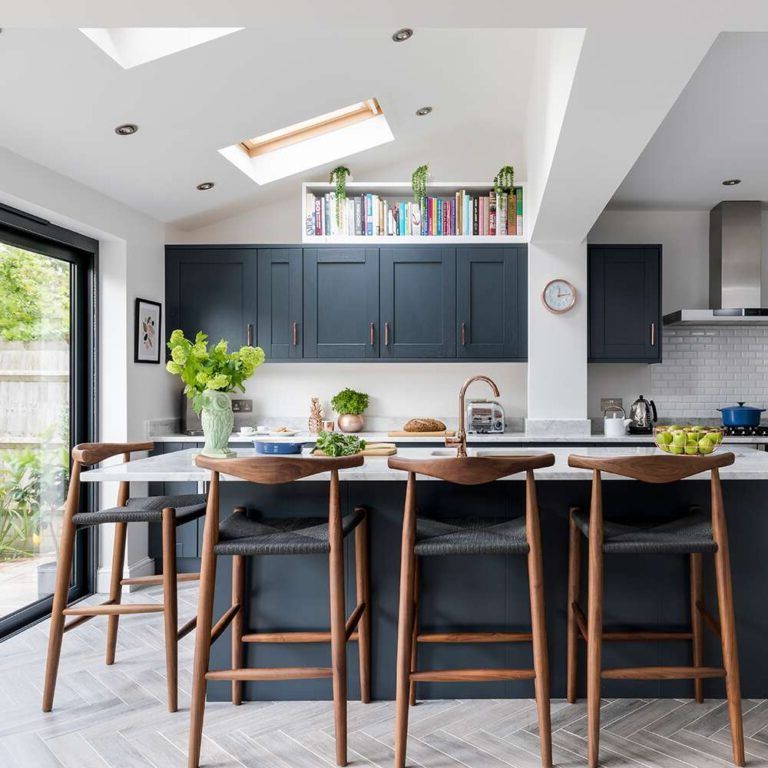 Colors to match
Accent colors are used to define individual zones and tie the scheme together.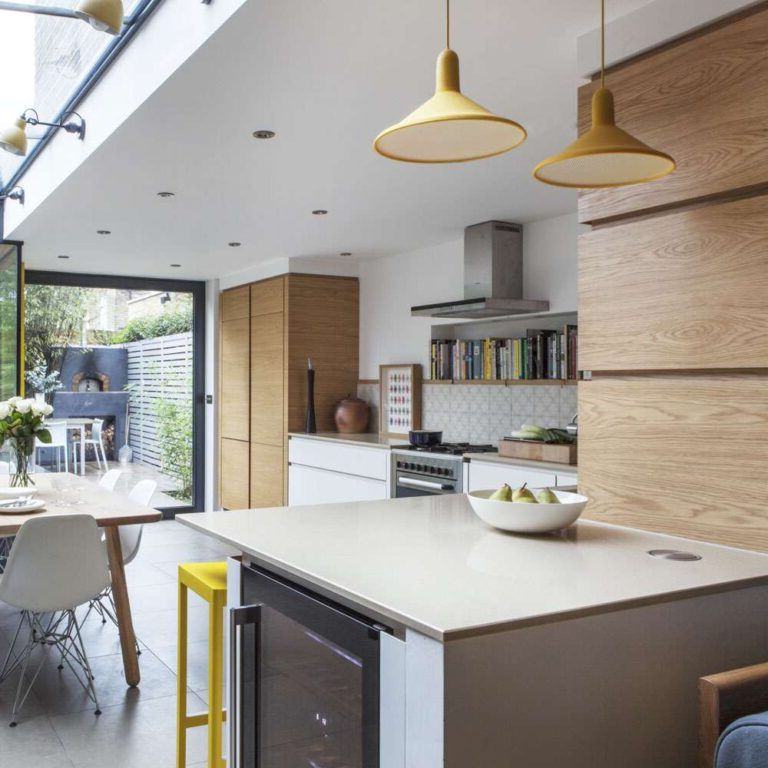 Cabinets in a dark hue are a sophisticated choice, especially when paired with a beautiful hardwood floor. The parquet flooring that stretches across the floor gives this room a Nordic feel and shows how minimalist can be beautiful.