Lately, we have seen how marble has been introduced in modern kitchens, practically eclipsing other more traditional materials such as tile, although we must never forget its versatility to cover walls, floors, and countertops.
And it is that for everyone who is in love with ceramics and wants to tile the countertop with tiles, I have prepared 15 very inspiring photos, where ceramic tiles cover the kitchen countertops.
A very hard and fire-resistant material, in addition to being easy to clean.
Do you want to tile the kitchen countertop? Take a look at these ideas for inspiration.
Fotografía The College House Wife Instagram College Housewife
In this kitchen, the kitchen countertop has been tiled with the same small, square tile as the sill, creating a sense of continuity. All blank. Let's see another model of kitchen countertop tiled with tiles.
DTile tiles
Kitchen worktop tiled with gray stoneware. Another idea is to extend the design and tiling of the kitchen front to the countertop with the same tile.
To tile without cutting, we can make use of DTile tiles, which are curved and available in a thousand ways to avoid having to cut the tile, such as the kitchen trim that we see above these lines, from DTile.
DTile tiles
This countertop that we see in this large kitchen is completely tiled with traditional white tiles, but also from the firm DTile. If you like continuous surfaces without cuts, this tile may interest you.
Kitchen of Falegnameria Conca
Kitchen countertop tiled with gray tiles and earth tones. Another nice way to tile the kitchen countertop is as we see in the image above: Extending the tiles to the wall and adding a ceramic border.
Tile & Kitchen by Elite Tile Co
If we like the rustic style we can opt for Mediterranean-type tiles. Traditional and authentic.
Of course there are many other tiles to cover the countertop of a rustic kitchen.
The contrast of colors between the tiles and the furniture is a characteristic point of this rural style.
Let's continue with more rustic kitchens.
Seen on Pinterest
Here we see another beautiful rustic kitchen with a beautiful mosaic of multi-tone tiles covering the countertop.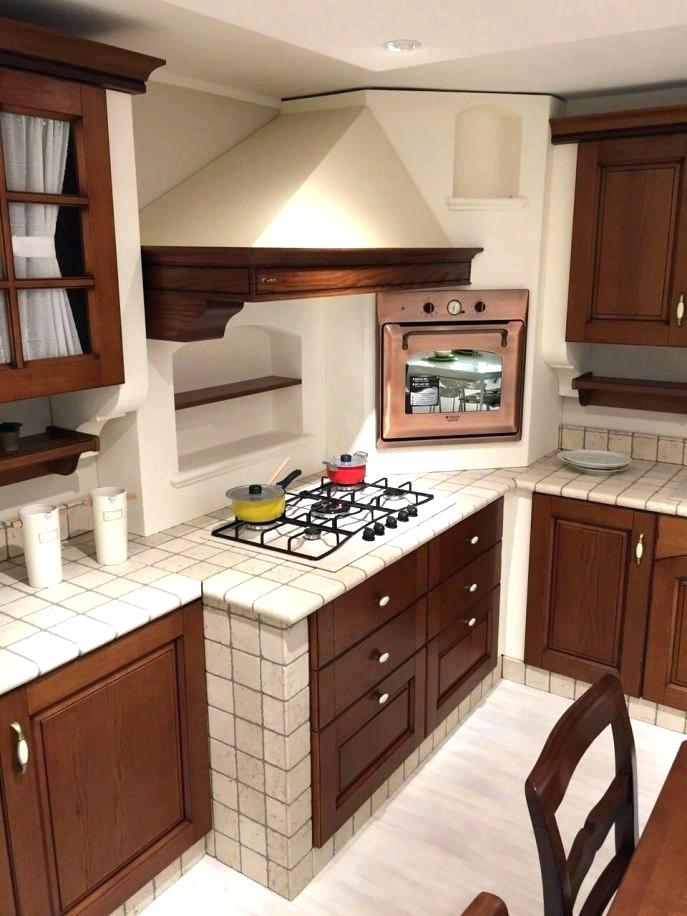 Seen on Pinterest
Another tile that is very characteristic of the rustic style, this one that we see in the image above these lines, with which this other countertop has been tiled.
Seen on Pinterest
A kitchen, traditional in style, with classic accents, and with a tiled countertop with tiles in a very nice dark greenish tone when combined with the wood of the furniture.
Seen on Pinterest
Let's continue with the rustic cut countertops. These blue tiles are another good option to cover the countertop, as we see above these lines, on white furniture, with a border that extends on the wall, with the same tile.
Seen on Pinterest
A combination of tiles in various shades that cover the countertop and the sill of this other tiled countertop.
Photography Jenny Steffens
Although if our kitchen has a more contemporary style, there is no problem. We can also cover the countertop with tiles. Just above we see some simple, traditional square tiles covering both the wall and the countertop, of a kitchen with a current design.
Design and Photography Our Vintage Home Love Instagram Vintage Home Love
Another example of a beautiful kitchen with a tiled countertop and a modern cut, since the smooth and glossy tiles, more in a larger format than the mosaic ones, create this look.
Not only are there traditional tiles, we can also
resort to the famous mosaic
. Those small tile pieces that were originally glued one by one and now, thanks to a mesh,
are glued almost like a larger tile
, making their placement much easier.
Simply Vintageus Photography
Or use classic tiles in a larger format, smooth and shiny, for a more current countertop or with a more modern touch and not so rustic, as we have been seeing throughout the article.
DTile tiles
The bar, the island, the peninsula or the kitchen office is another surface that can be tiled with a very attractive result.
In addition, we can add more decoration with the tile, if we add colored grout with mortar to color the joints and create an interesting pattern.
What do you think of tiled countertops? The only "but" they have is that depending on the tile, if you drop a glass or any other item with a certain weight on it, the tile may shatter. Even so, the wide range of finishes, colors and textures offered by the tile, few materials have it.
And now don't stop there and check out this article with 50 white kitchens that take your breath away, or, if you like black, then check out this other one with 25 modern black kitchens full of style.