Get ready to discover the geekiest and funniest proposals!
We love Christmas. Brightness, color, illusion and magic are combined in fascinating ideas, almost always hanging from a fir tree that is redesigned over and over again every year. Do you know how you are going to put yours? If you are looking for new shapes, here are 55 to inspire you.
Don't know what tree to put this Christmas? How to decorate it? If you have tired of so much tradition and want to give your Christmas decoration a new look, you are going to love these trees. We have collected 50 beautiful Christmas trees with different colors and styles. Trees for small or large spaces. From the most traditional proposals to the rarest and most original trees that you can think of. (Don't miss out on the pet-proof Christmas tree!). Another trend that we really like is to decorate the Christmas tree in one color or only with metallic ornaments.
Make your own Christmas tree! In this link you have a very eco-friendly idea, based on fabric and a natural trunk, you can support it directly on the floor or hang it on the wall, on the skirting board.
How to choose the best Christmas tree
We fill it with decorations and lights and place it in a conspicuous place at home during Christmas. The tree is the protagonist, but the first step is to choose the model that best suits and convinces us. We review. Take a few minutes to read these tips to choose the Christmas tree and you will have guaranteed success.
Children love to assemble and decorate the tree; do not deprive them of that illusion. To avoid accidents, opt for an artificial model, which does not require maintenance, and choose resistant motifs that you can make yourself at home. For example, some felt reindeer, or wool pom poms instead of balls.
How to build a Christmas tree from scratch
As there is no Christmas without a tree, in this video tutorial we tell you the ABC's so that yours is perfect. You will discover how to place the decorations, what to put first, the balls or the lights… The most popular decorations are balls and garlands, but there are many more proposals to decorate your tree and fill it with light and colour.
Scroll down the screen and get inspired by these 55 Christmas trees.
1 METALLIC TREE
If you want to create a romantic atmosphere, cover the tree with subtle gold, mother-of-pearl glosses, silver figures and copper objects that make it clear that the Metal Age has settled in your home. Wrap the branches in delicate sparkly garlands for an elegant result. Ornaments for the tree from the Copper collection, from the firm Maisons du Monde.
2 CHRISTMAS TREE WITH TWIGS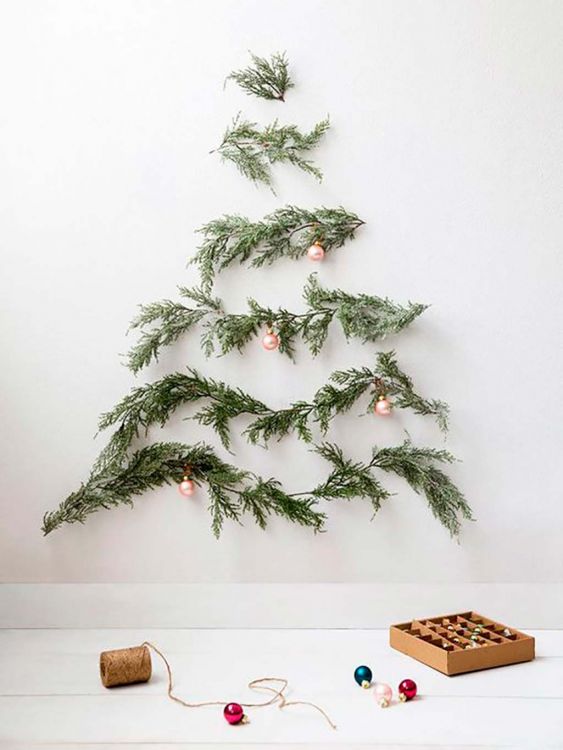 Minimalist, natural and… Beautiful!
3 A CHRISTMAS TREE THAT GROWS
As it is, in four hours you will have a tree of 16 centimeters. Do you want to know how? Very easy, you just have to place the red garland on it and water it with the water included in the package. In this video you can see it step by step… And if you like it, buy it on AMAZON (€10.99).
4 THE TREE IS THE PROTAGONIST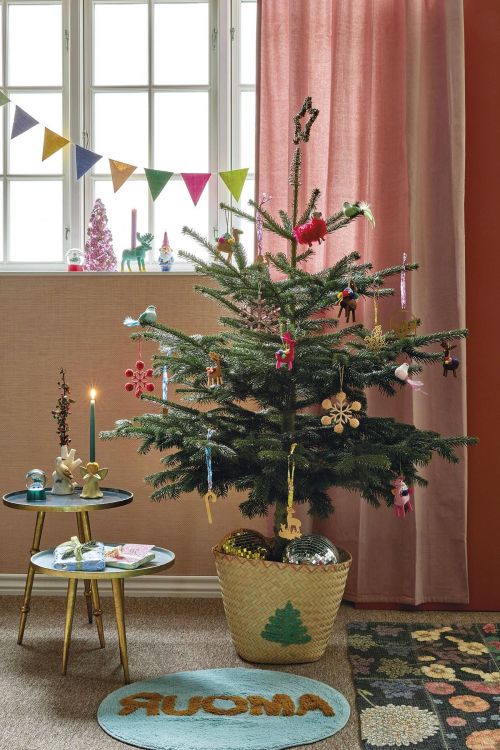 If what you really like is that the fir tree is part of your indoor "plants" during these dates, adorn it with grace, but without excesses, like this one. A few decorations and a pretty pot holder are enough. FromRice.
5 Decorate your fir trees for Christmas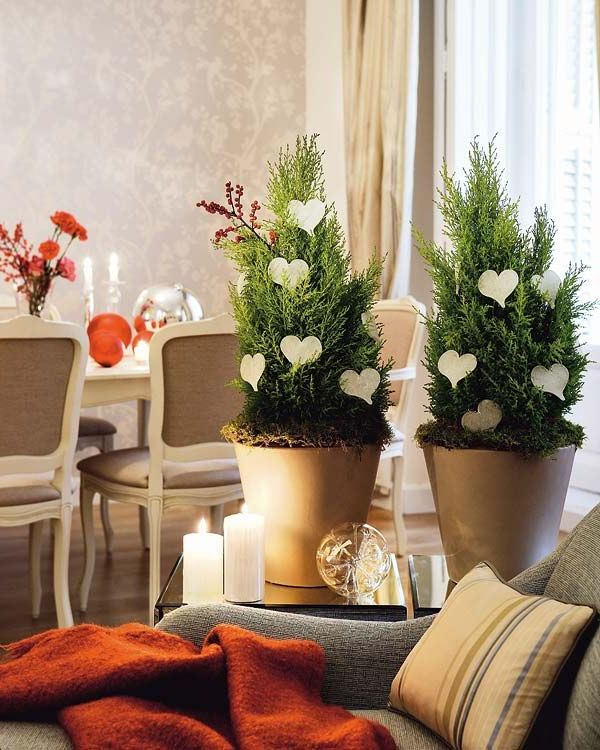 Turn the little plants you have around the house into makeshift fir trees and decorate them with motifs that don't weigh much, so they don't get damaged; so when Christmas is over, you can relocate them in their usual space. Here some that were on the terrace were used and decorated with small felt hearts. Cypresses, from Los Peñotes. Hearts, for sale in Canterano.
6 A Christmas tree for small spaces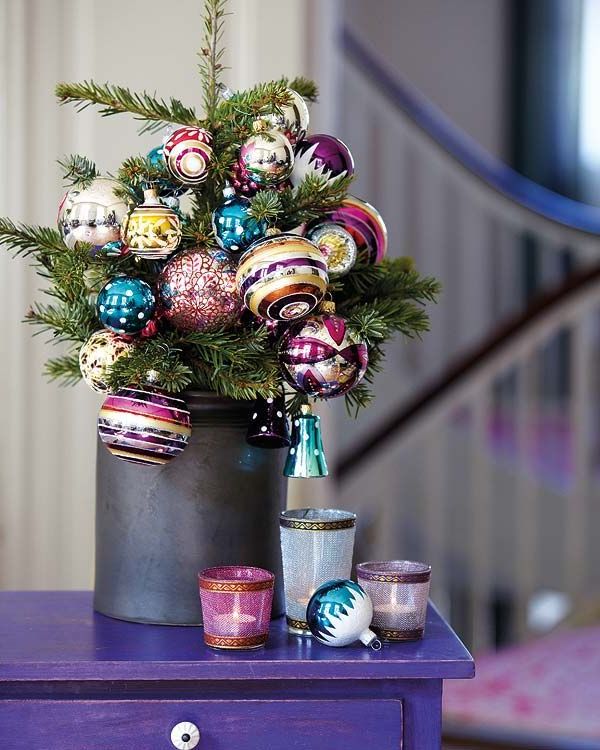 Do you have so little space that you do not know where to place the tree? Don't worry, here's the solution: choose a mini Christmas tree and put it on a side table as if it were a vase or a small lamp. Decorate it with balls of profuse colors and you will see how, despite its diminutive size, it is the center of attention. Balls, by House Doctor (from €2.51).
7 CHRISTMAS TREE MADE WITH ROSES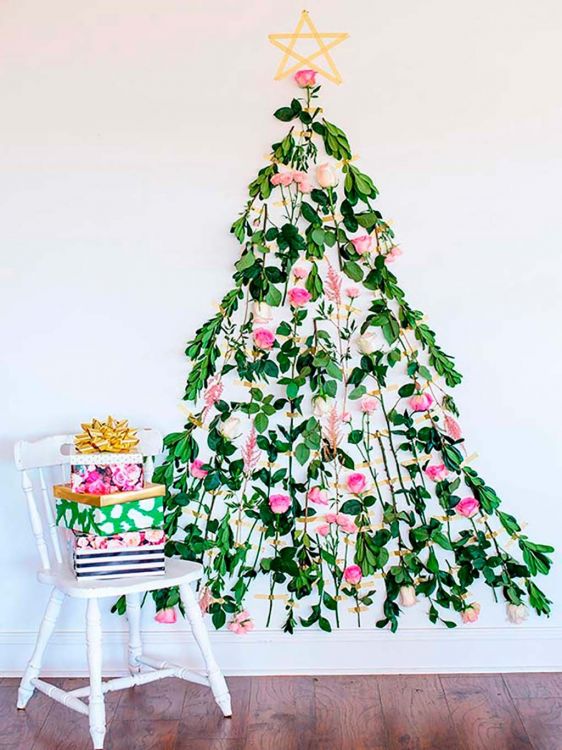 How romantic! It seems painted on the wall, but they are flowers placed with great care.
8 NATURAL SPRUCE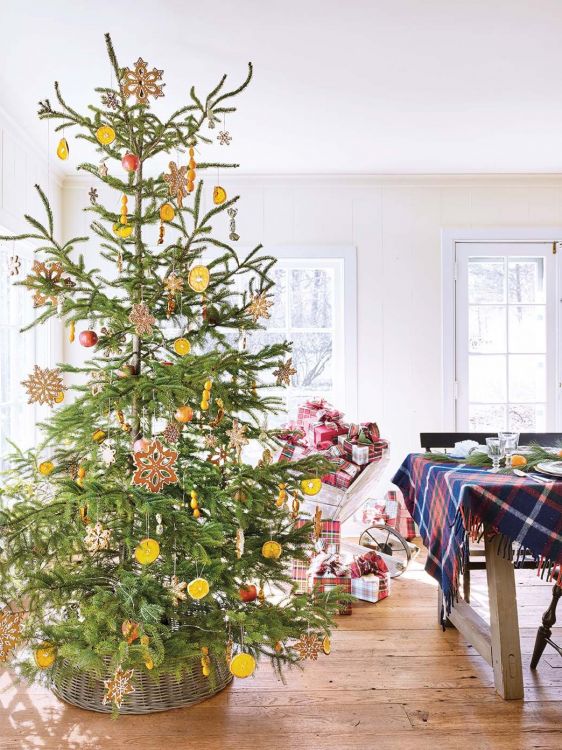 Decided! This year you have decided to get a real fir tree and thus contribute to the sustainability of the environment. It does not pollute in its manufacture and disposal, something that does happen with plastic ones, and it reduces the greenhouse effect by consuming CO2. After the holidays, take it to a clean point. If it can be recovered, it will be planted again and if not, it will go to the composting plant. Where can you buy it? At the School of Forestry Engineering of the Polytechnic University of Madrid, on the website www.miarboldenavidad.com or at Abetos Solidarios of the UPM.
9 TREE WITH PINEAPPLE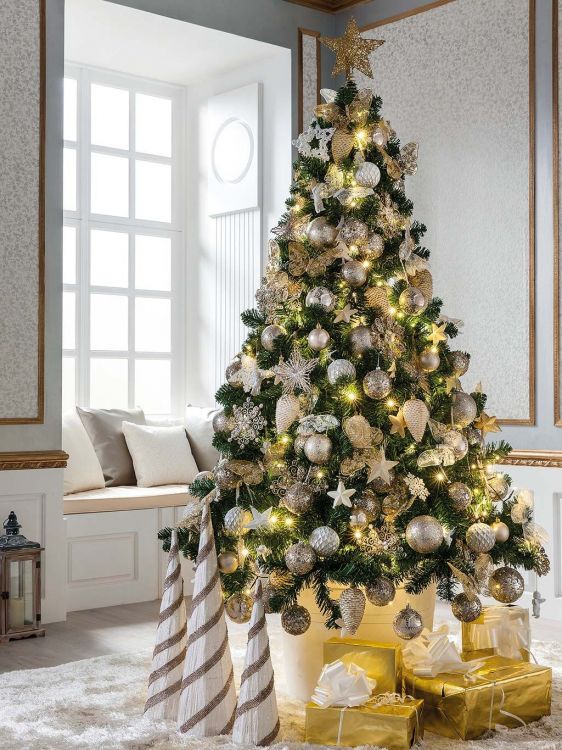 If the base of your tree is unattractive, change it for a prettier one or camouflage it by placing decorations and cardboard boxes lined with colorful paper around it, as gifts.
10 TRANSFORMING A LADDER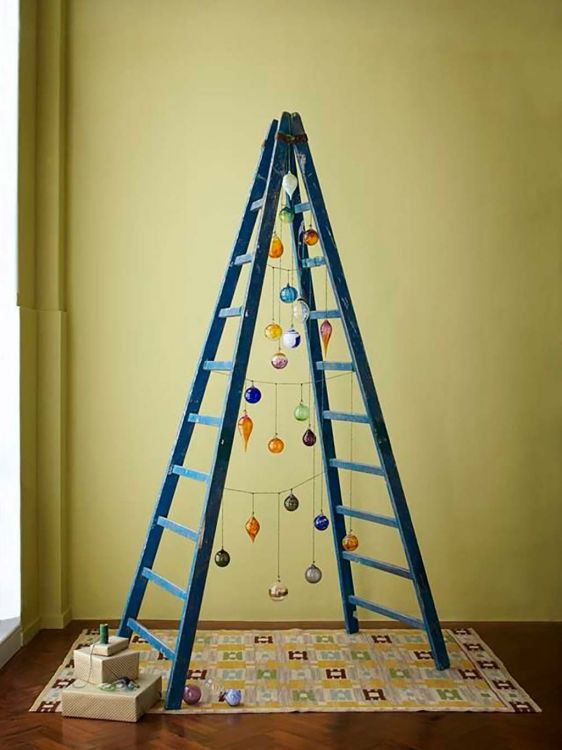 Why hadn't you thought about it, huh? So wing, go painting the stairs in a nice color, and add your favorite decorations!
11 A Wild Christmas Tree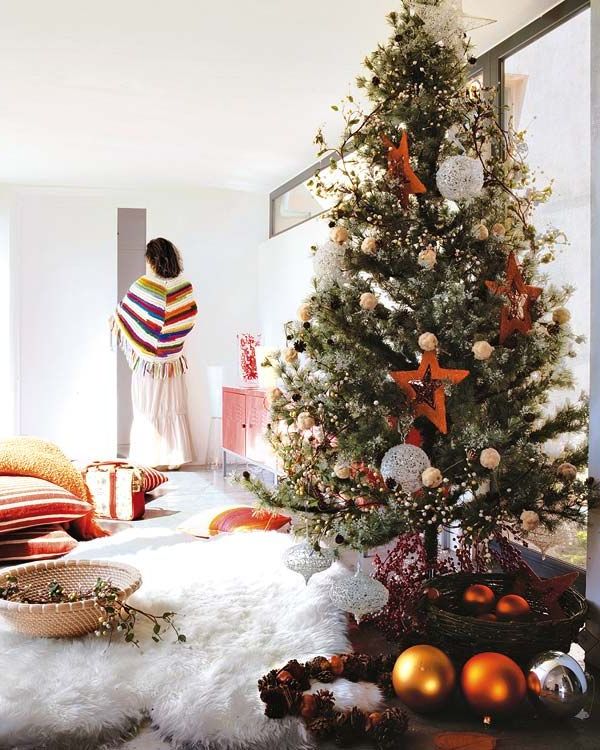 If you like to walk through the countryside, take the opportunity to collect pinecones and berries with which you can later decorate the Christmas tree. Complete with frosted details and it'll look like it's still in the bush. Fir, from Proflor. Garland, stars and balls of glitter, Jardiland.
12 A Nordic-style Christmas tree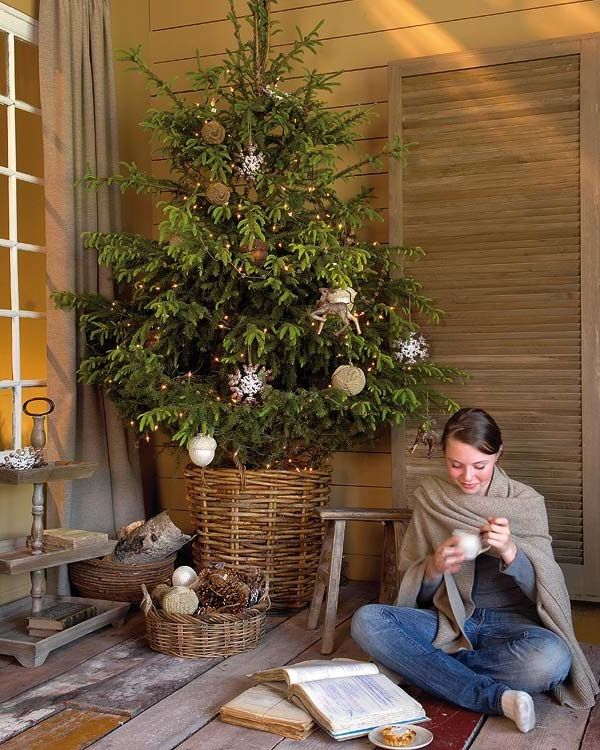 If something characterizes this style, it is its simplicity and naturalness. It is essential that the Christmas tree is real (later you can plant it) and the decoration is simple. Typical reasons? Reindeers, stars, sleds… Of course, in light tones and natural finishes; like the pineapples that you can see in the image or the balls lined with rope or wool. Ornaments and tree (€265) by Flamant. If you bet on a natural fir, place it near the window, so that it receives light during the day and you can ventilate it.
13 A FOREST FOR CHILDREN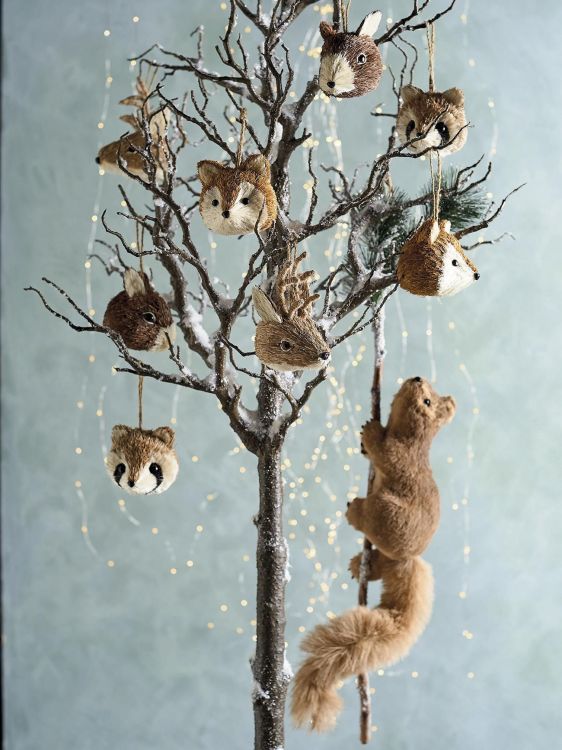 Surely this idea will drive your little ones crazy. The traditional fir tree has been replaced by a tree full of funny forest animals, from squirrels that climb the trunk to deer, beavers, sloths… Parlane's Christmas tree.
14 A CHRISTMAS TREE FULL OF DEW AND BIRDS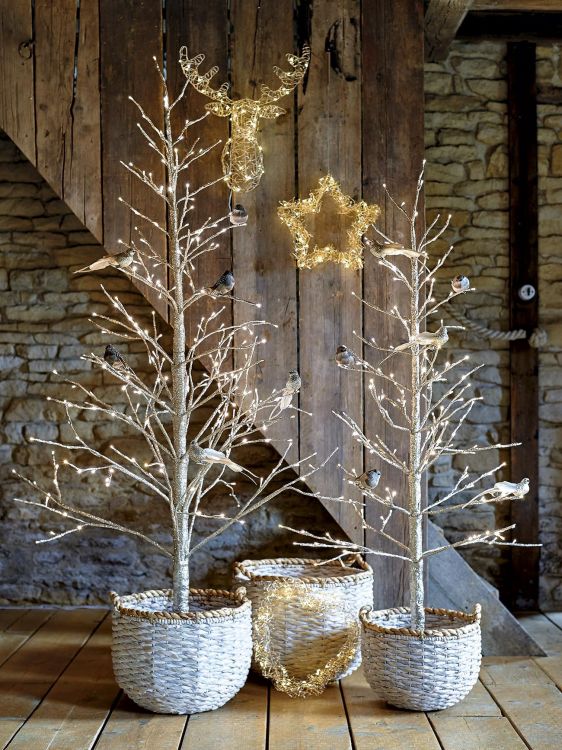 That is what the little lights that illuminate these bare trees seem to be, but brimming with life, with dew droplets. A very naturalistic proposal, because instead of balls, there are little birds on the branches. The baskets enhance the set. Parlane's Christmas Tree.
15 A MINIMAL CHRISTMAS TREE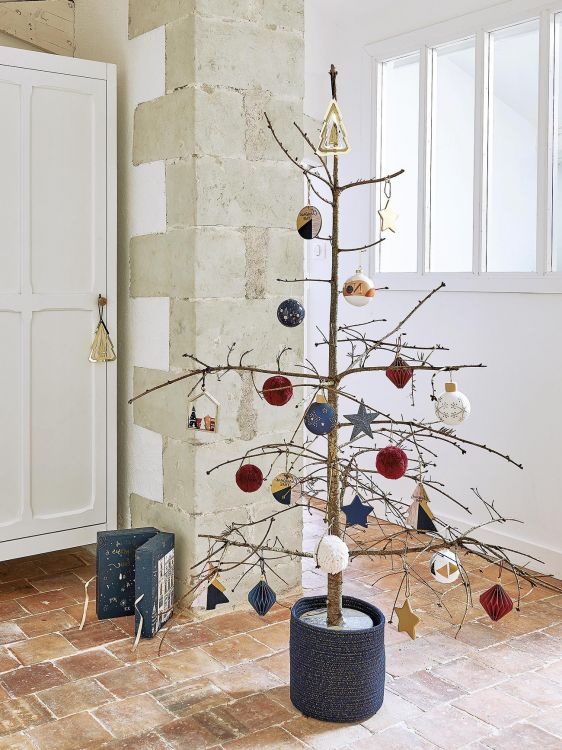 This tree without leaves has the charm of simplicity. A minimalist, light and fun Christmas tree, perfect for small houses. It does not occupy and shines. Maisons du Monde Christmas tree.
16 A SUPER ELEGANT, GOLDEN, BAROQUE CHRISTMAS TREE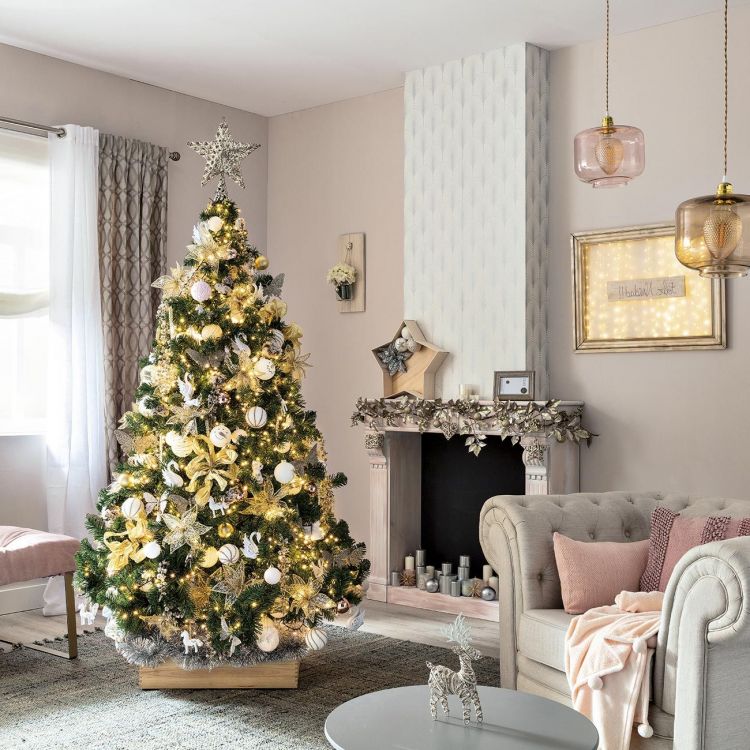 Super ornate (key 1) and with decorations only in two or three shades of the same range -gold, silver and white- (key 2), this fir is very spectacular. Leroy Merlin Christmas tree.
17 COLORFUL AND FUN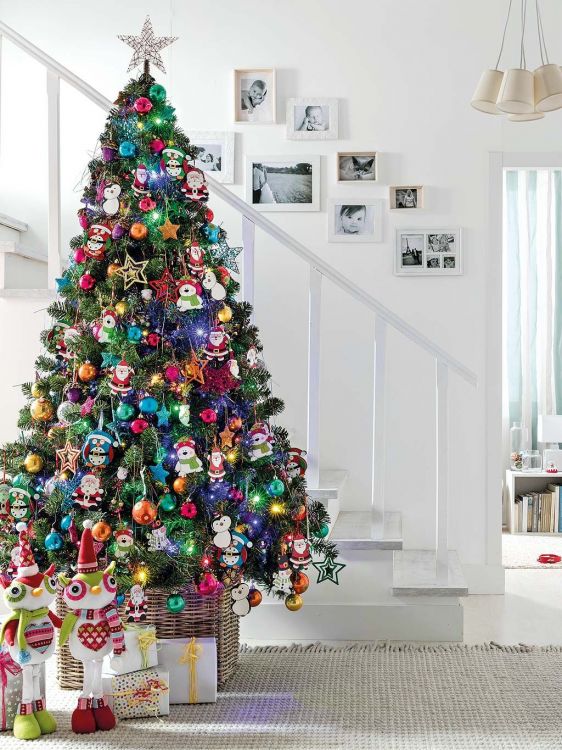 If you have children at home, opt for an alternative tree, in which the usual decorations give way to more informal ones. Hang dolls, animals, sweets and garlands in bright colors: fuchsias, greens, purples and blues will fill it with joy. Montgomery de Luxe spruce, by Leroy Merlin (from €64.99).
18 DESKTOP CHRISTMAS TREE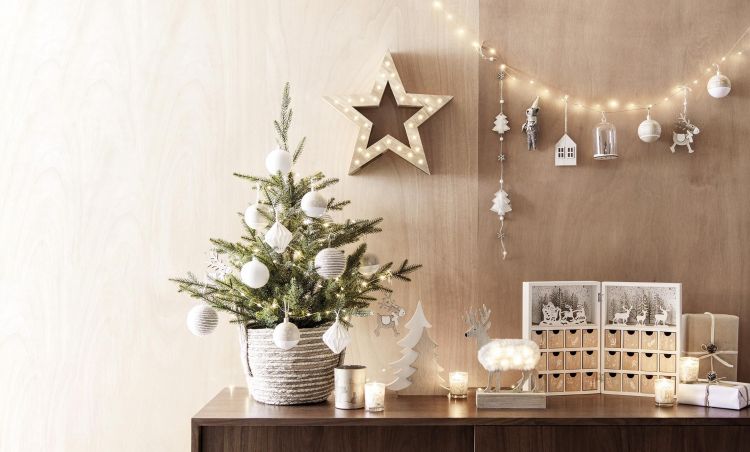 If you don't want to complicate your life, or steal space from your living room, opt for a reduced format design. It looks as nice as if it were big. Look at this one decorated only in white… Great! Maisons du Monde Christmas tree.
19 Rustic Christmas Tree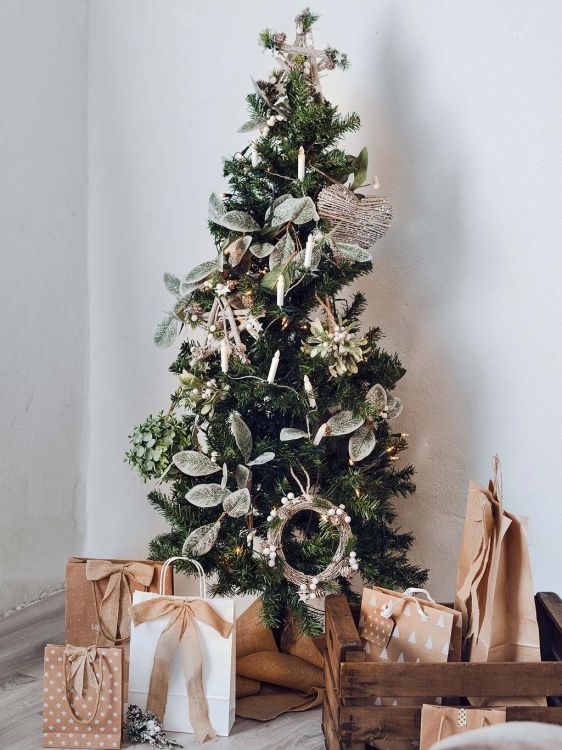 Bring the Arctic to your living room with this elegant proposal where whites, blues and silvers will be the protagonists. Pick a snowy tree and hang snowflakes, stars, reindeer, feathers, tears, and frost-dusted figures on it. Artificial trees (from €19.99) and decorations (from €3.99), from Muy Mucho.
20 WITH LED LIGHTS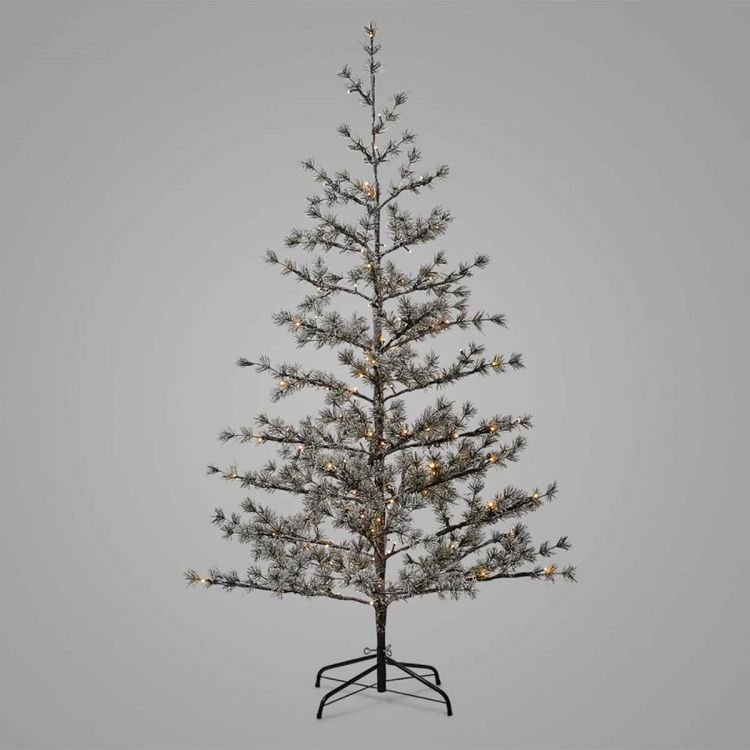 If the fir tree already has lights, you save money and complications with the garlands of lights. It is from El Corte Ingles (€109) and has 150 lights.
21 IN SILVER AND GOLD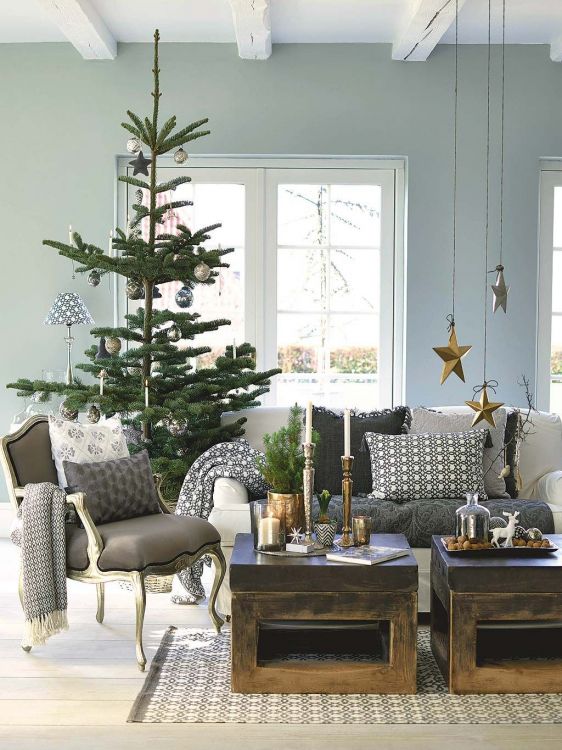 Place the tree near the window but without reducing the light in the room. Hang ornaments according to the style of the house from its branches; like these classics, in tune with the metal objects on the low tables. Candlesticks (from €42) and candle holders (€13), from the Greengate firm.
22 CHRISTMAS TREES FOR BOTANY LOVERS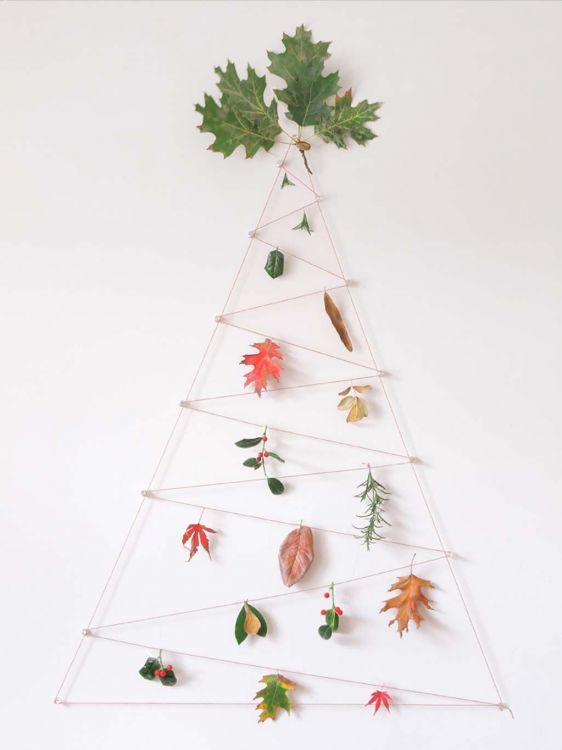 You just need a string and several leaves from your favorite trees.
23 KARL LAGERFELD'S CHRISTMAS TREE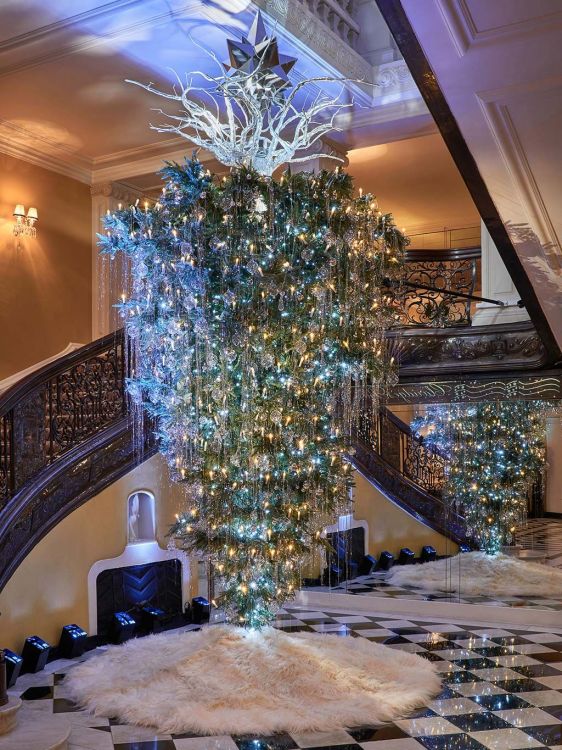 Yes, the famous fashion designer created his own Christmas tree… backwards! If you want to see it, you'll have to travel to the Claridge Hotel in London.
24 CHRISTMAS TREE WITH LITTLE STARS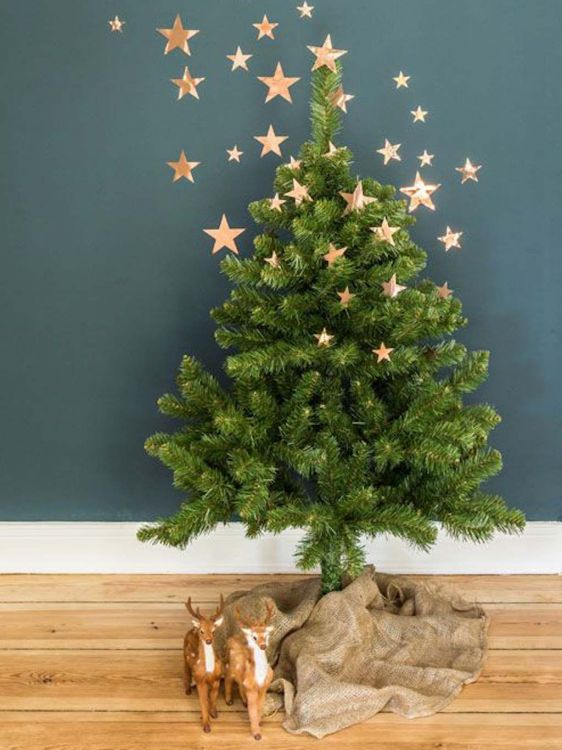 It's amazing what a few stars can do on a mini tree like this…wonderful!
25 A CANDY TREE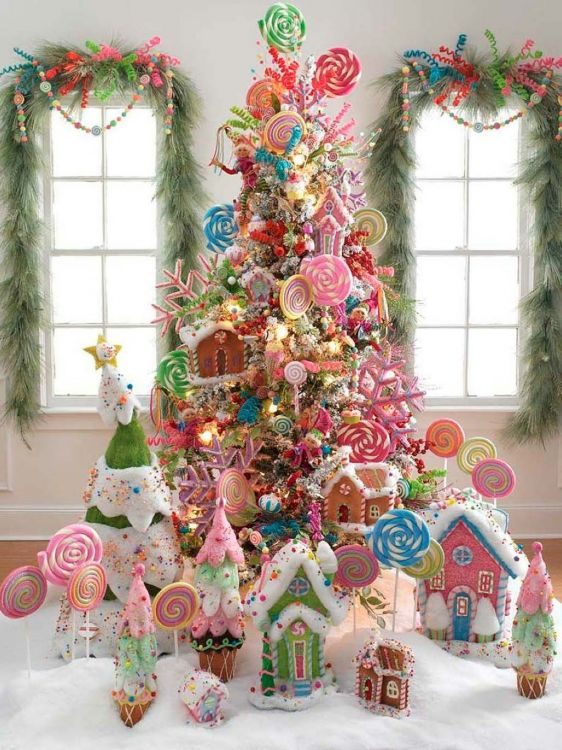 Those with a sweet tooth should be careful with this tree, because it is literally to be eaten!
26 HIGHLY BRIGHT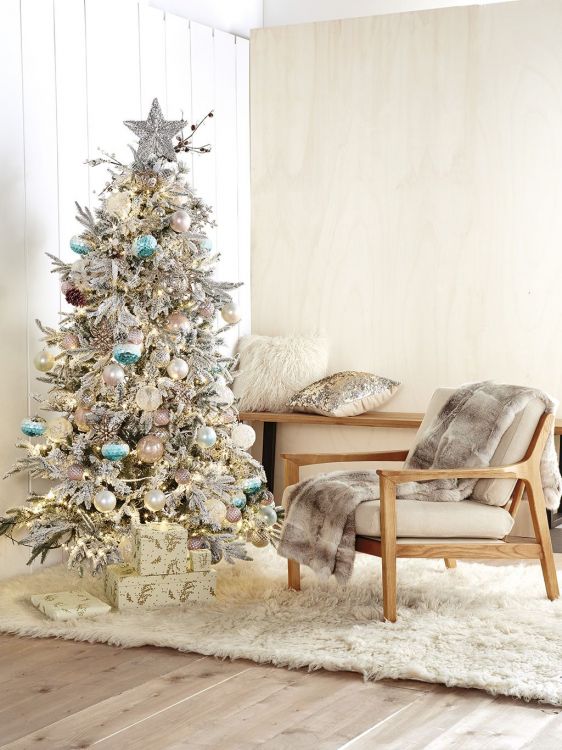 Yes, we agree: Christmas shines with its own light. And, in addition, we like to have part of that brightness at home. That is why we put lights, candles and decorative elements with a shiny finish. If you like that style, you can dare with a tree starring him. To do this, you need balls and figurines with that finish and light, lots of light.
27 CHRISTMAS TREE WITH SHEET MUSIC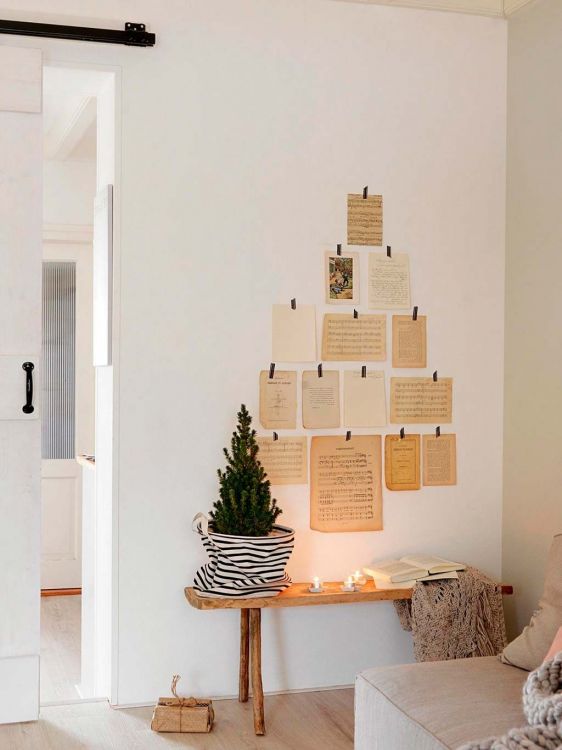 If your passion is music… A tree made with sheet music is what you need.
28 THE MOST BOHO CHRISTMAS TREE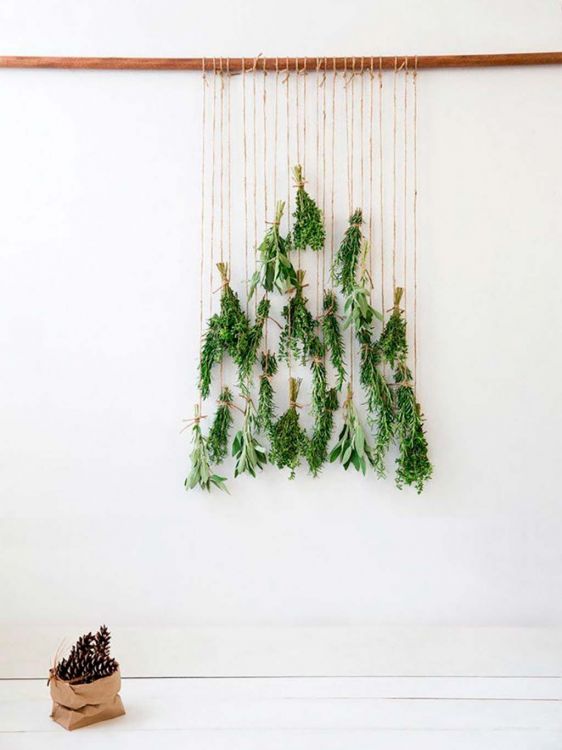 The boho style is also aimed at Christmas decoration. What do you think of this tree?
29 A LITERARY TREE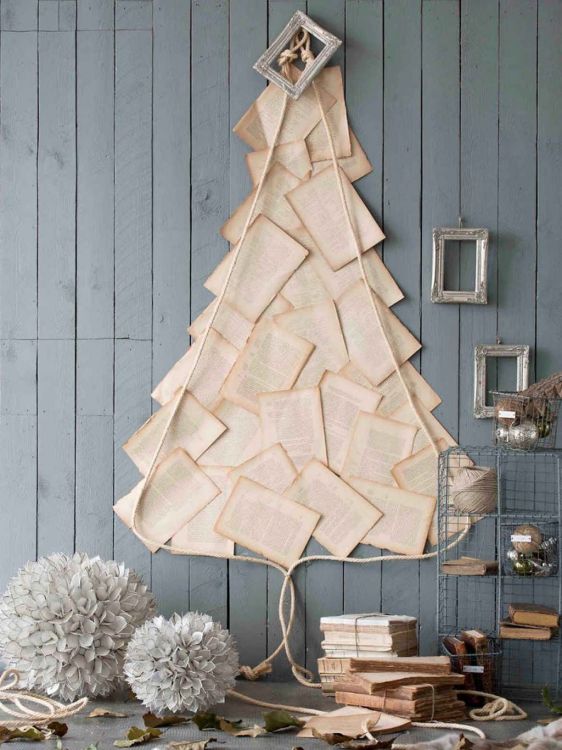 And if instead of music, your thing is to devour books, look what an idea!
30 A CARDBOARD TREE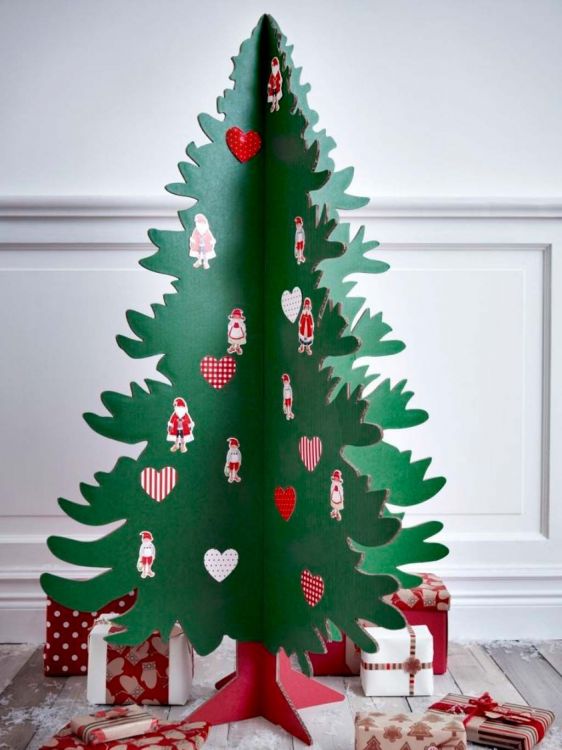 A collapsible tree is ideal if you want something quick to assemble.
31 A TREE INSPIRED BY THE FOREST
We love this proposal and it is not for less, it comes from the hand of an interior designer.
32 CHIC AND ELEGANT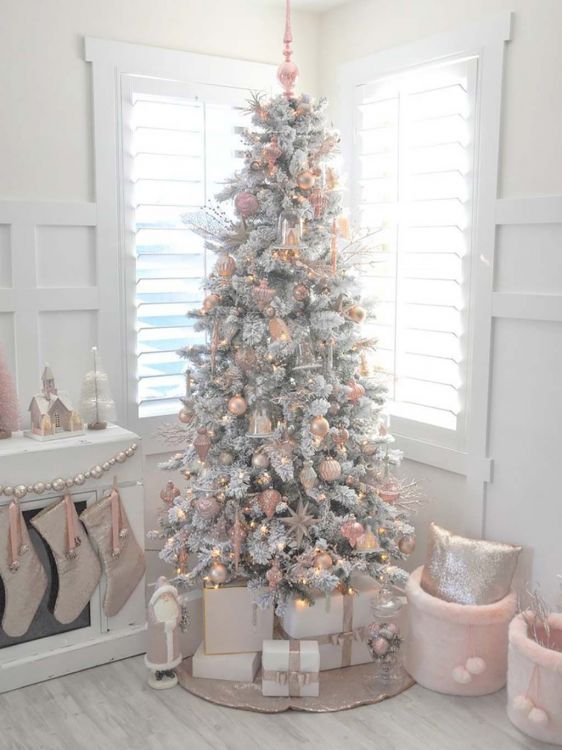 It is clear that dusty pink and gold get along great! Sweet and chic.
More ideas: THIS CHRISTMAS… WEAR PINK!
33 CHRISTMAS TREE AND SNOWMAN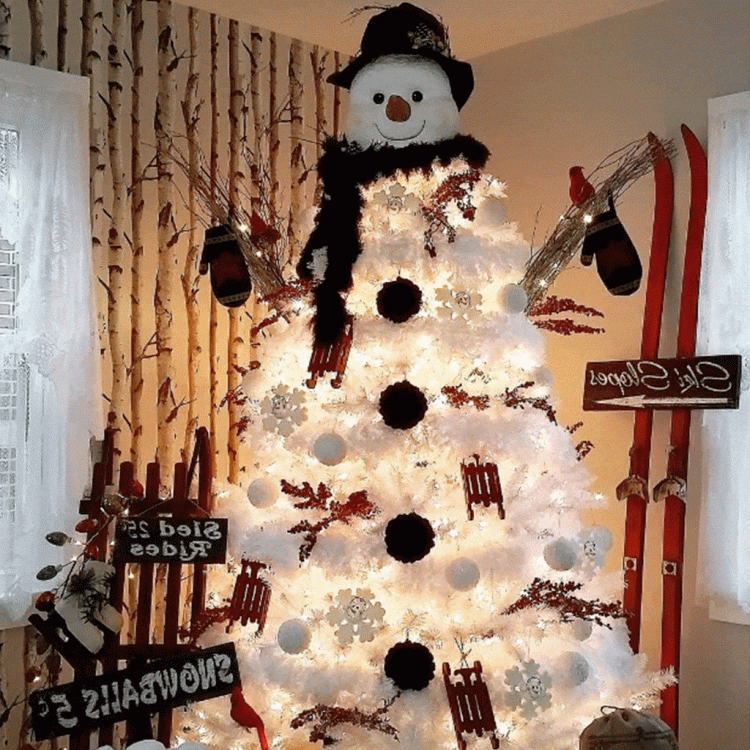 A perfect two in one for this Christmas.
THE SNOWMAN-TREES DESTROY ON INSTAGRAM.
34 BLACK CHRISTMAS TREE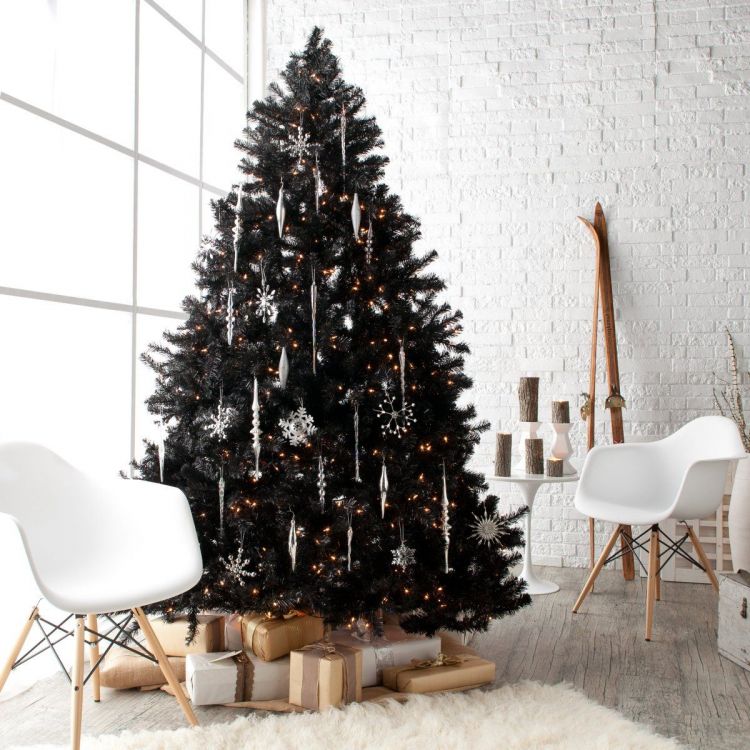 Do not be scared, it is actually more elegant and beautiful than you might think.
CHRISTMAS TREES… IN BLACK! Would you put one in your house?
35 PET-PROOF TREE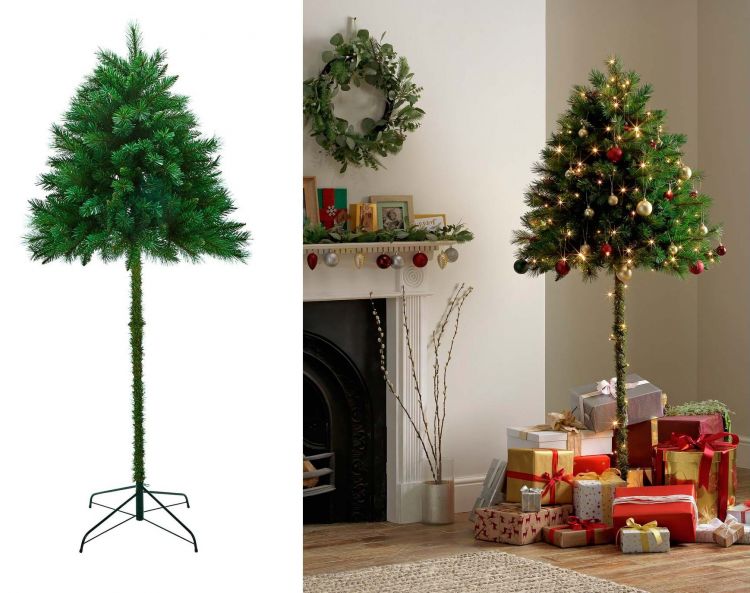 If every year you have to spend Christmas collecting balls from the tree that your sweet puppy pulls with his tail or scolding your cute kitty not to climb the tree, take a look at this selection of pet-proof Christmas trees.
36 WITH ITS JUTE BAG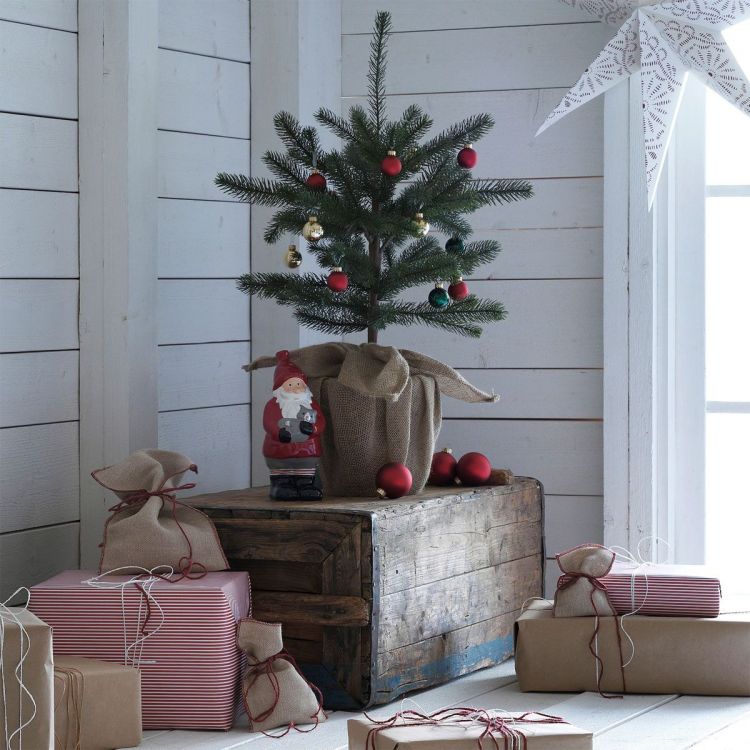 With a smaller format you can choose more freely where to place the tree. This Christmas tree is from IKEA (€27).
37 MONOCHROME TREES
How to make a monochrome DIY Christmas tree.
38 TREES ARE BALLS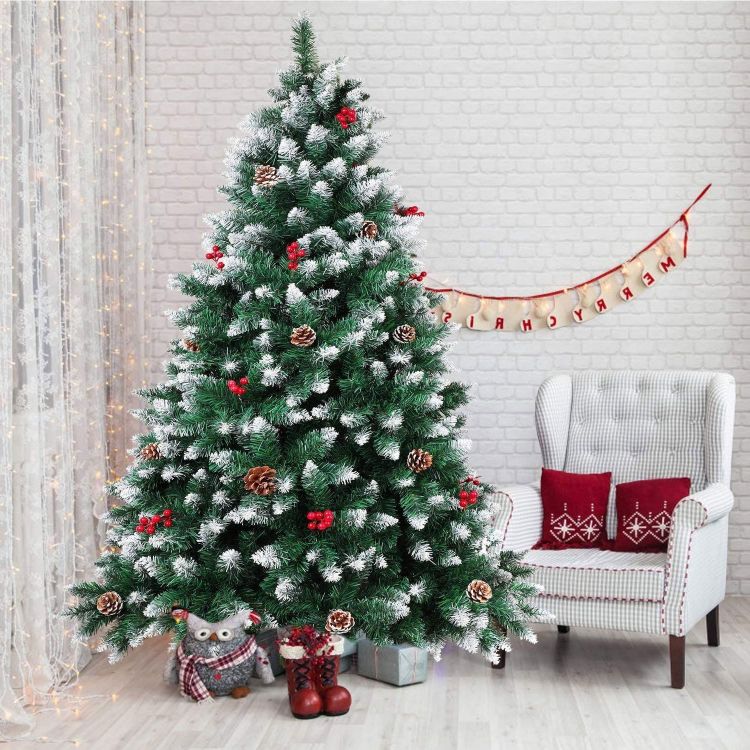 With this tree you save on buying balls and garlands, it already comes with pineapples and red details so you don't have to add anything else. A very natural look. Buy this artificial snowy pine tree with berries on Amazon (€89.99).
39 FOR SMALL SPACES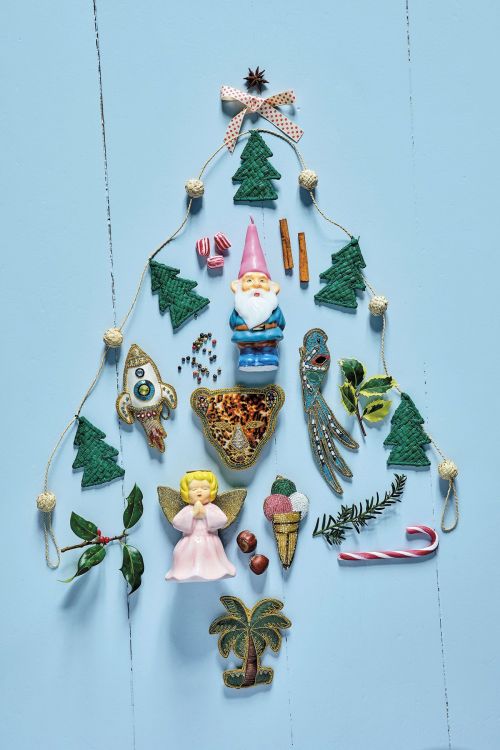 When there is no space at home, decide on this fun solution that he proposes for lovers of the most basic DIY. Supports super flashy decorations… from ice cream to rockets! FromRice.
40 A MINIMALISTIC SNOWY TREE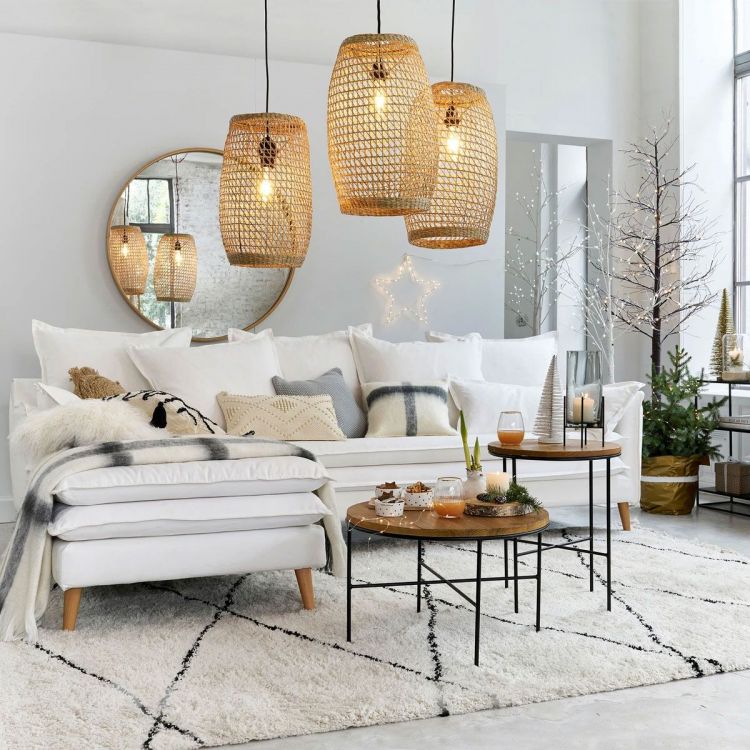 That is the effect with a white decoration, a winter stamp where they exist. From La Redoute.
41 TO PAIRS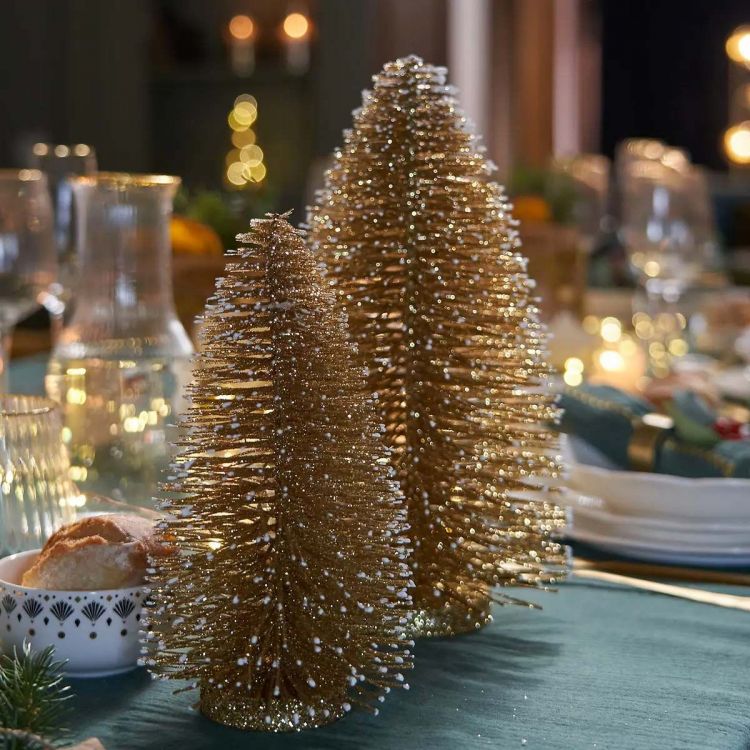 Even if you put the big tree in a corner of the room, why not put more small trees, for example, to decorate the table. These are from La Redoute (€20.99).
42 WITH METAL STRUCTURE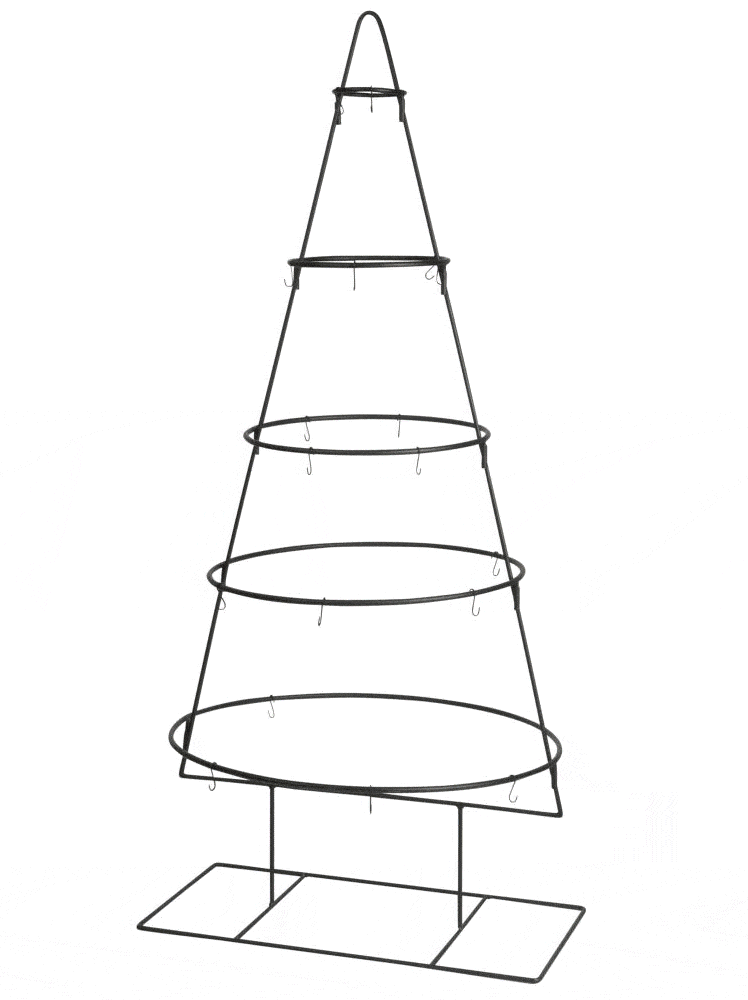 A black metal structure in the shape of a fir tree, is the simple and original idea of Maisons du Monde (€49.99). Fine hooks are the key to decorating this tree to your liking.
43 WITH ITS LIGHTS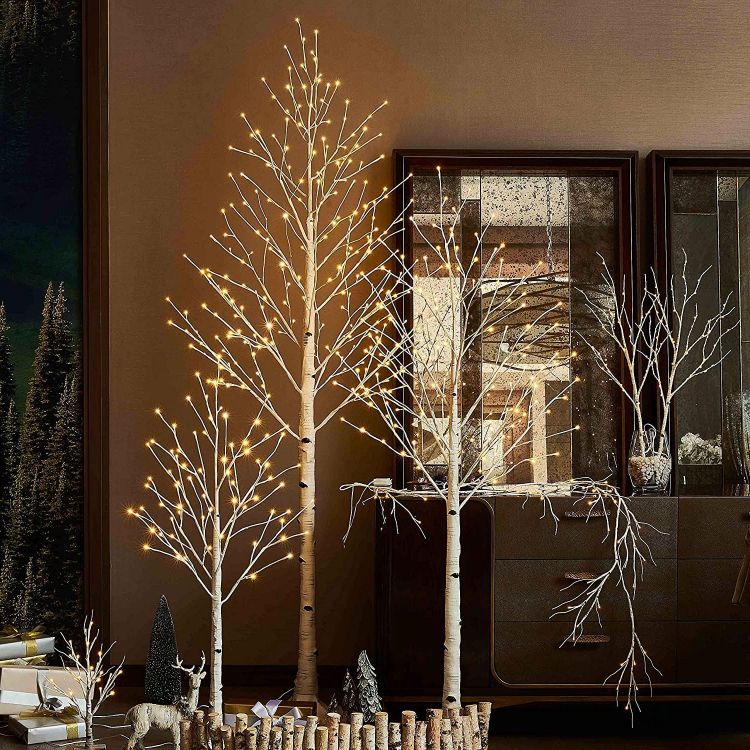 Tired of the classic Christmas tree? Opt for the Scandinavian style to decorate your living room: a bare tree with small LED lights on its branches. Simplicity and design united in a peculiar proposal. You can buy it on Amazon (€59.99).
44 TRADITIONAL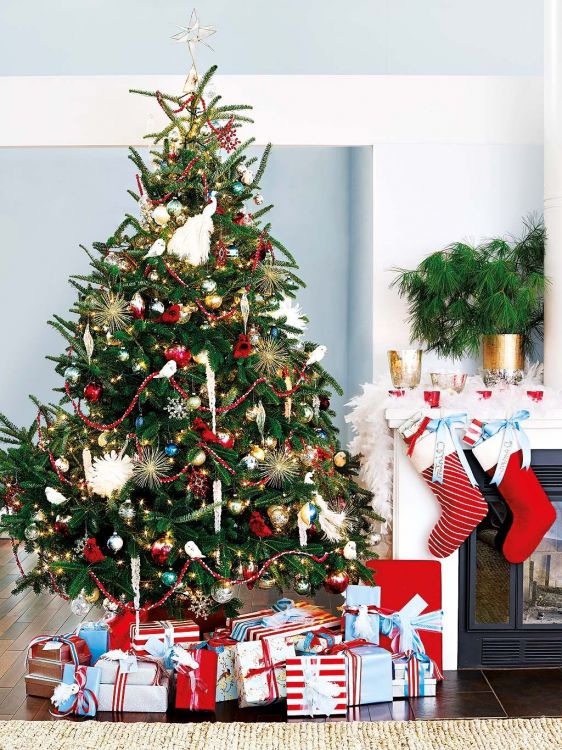 Do you miss the tree of your childhood? Relive it now with balls, snowmen and socks in the usual colors: red, green and gold. Garland it with garlands and crown it with a magical star. Choose from a variety of materials to upgrade it to wood, glass, metal, and fabric. And don't forget the lights! They will give you a touch of magic.
45 WHITE AND RED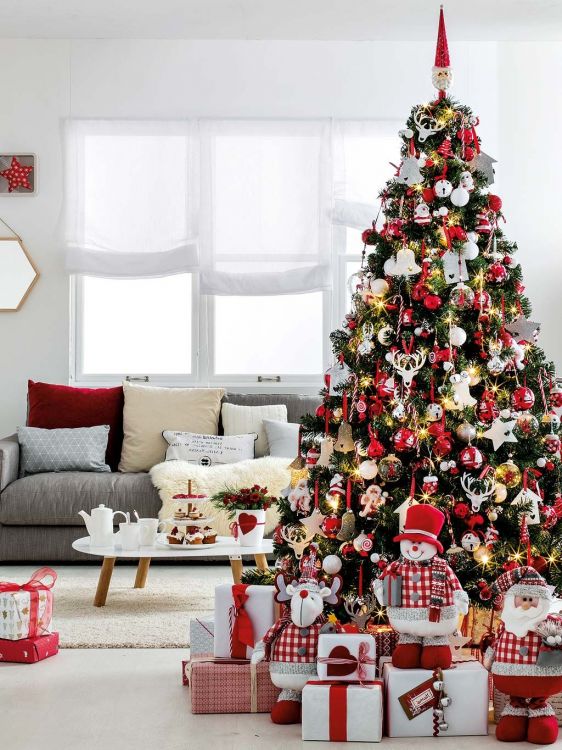 They are the colors that best reflect the spirit of Christmas. Those that remind us of Santa Claus, glitter balls and candy canes. A classic style renewed with more current shapes and patterns and reinforced with the typical Scottish pictures and large gift packages. Aspen Mix Fir, 2 m, by Leroy Merlin (€129).
46 FELT TREES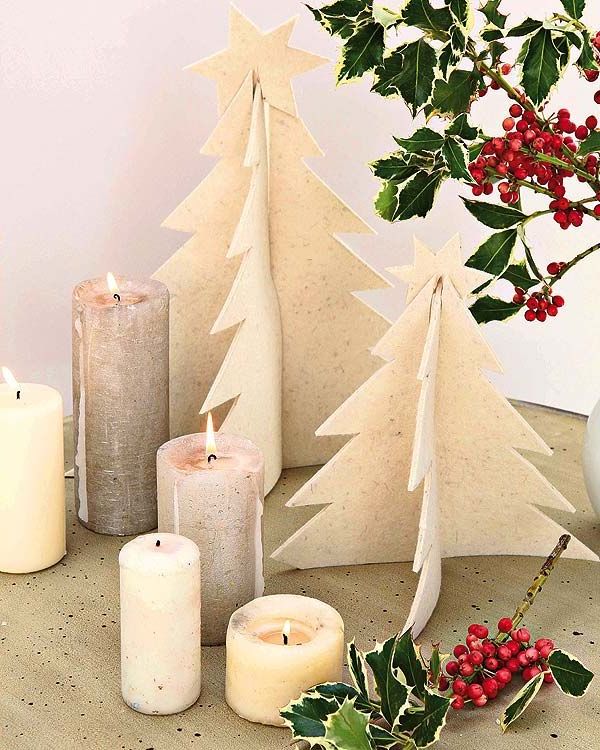 Create a center rich in textures with these Christmas trees, some candles and some pinecones on a mirrored base.
See how it's done here.
47 CHILDPROOF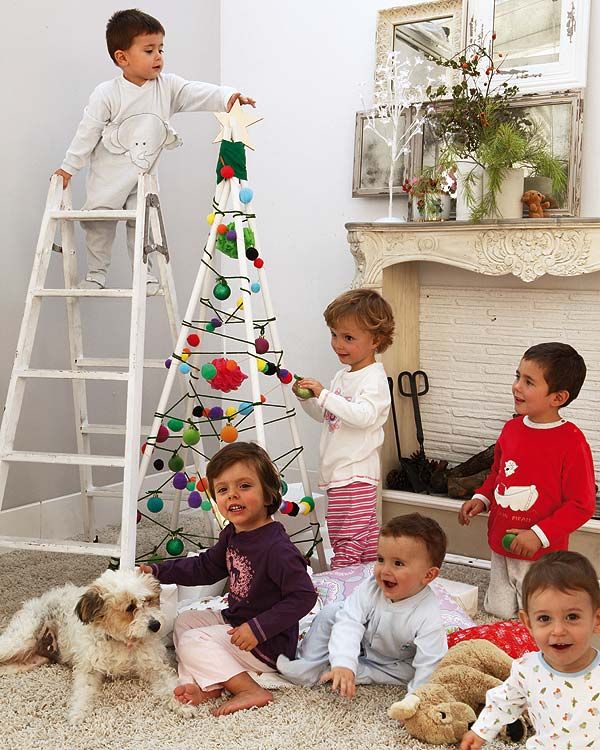 With children at home it is essential that the tree is very resistant. Tie four wooden curtain rods at one end with wool, giving them a pyramid shape. Wrap the yarn around the fir tree to the base, as in the image, and decorate with colored pom-poms. Bars, by Leroy Merlin. Set of mirrors, by Canterano. Cushions, from the firms KA International and Filocolore.
48 WITH FRAMES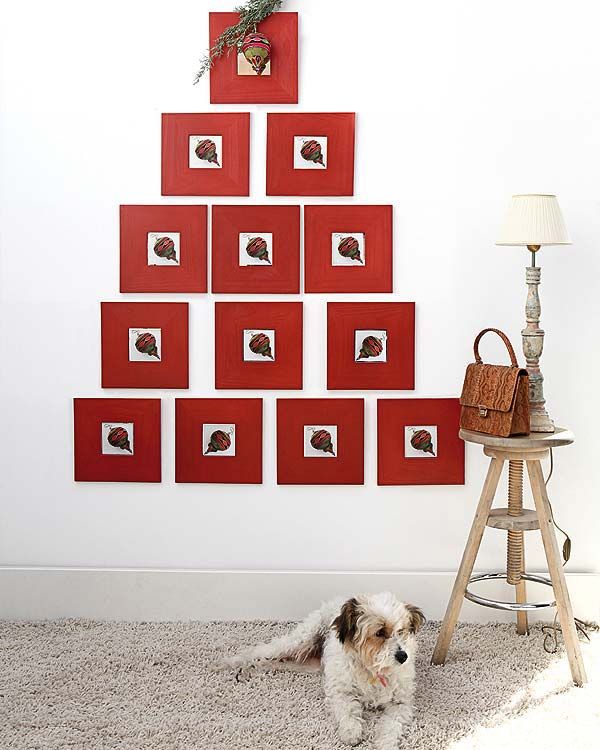 An elegant composition that will dress any wall in the house. Use frames of varied colors and sizes or repeat the same model, as in this option. Inside each one we have placed the photo of the ball that crowns the fir tree. Marcos Malma, from Ikea. Ball, for sale in Baden-Baden. Lamp, from Better and Best.
49 TREES WITH ECO DESIGN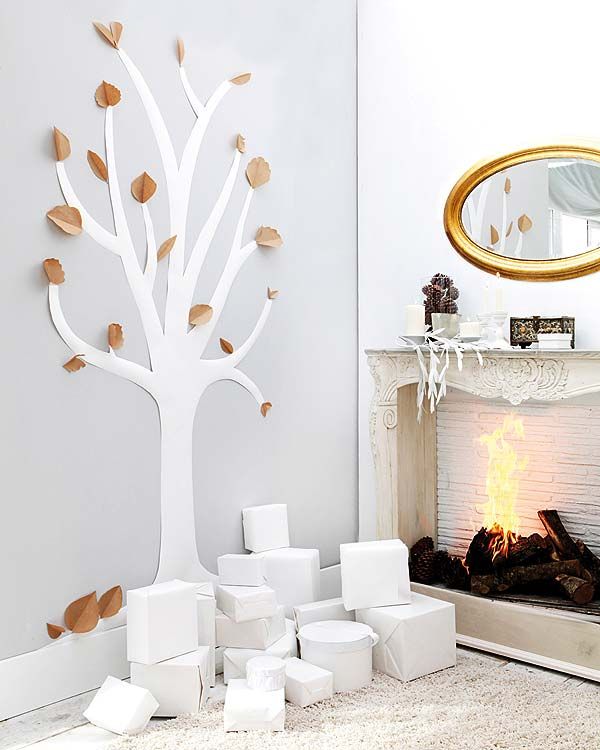 Paper and white. Make the silhouette of a tree with bare branches on packing paper, cut it out and fix it to the wall with double-sided tape. Use another tone for the leaves. Fireplace, from Yesterday's Trades. Mirror and rug from Ikea.
50 DISNEY PRINCESSES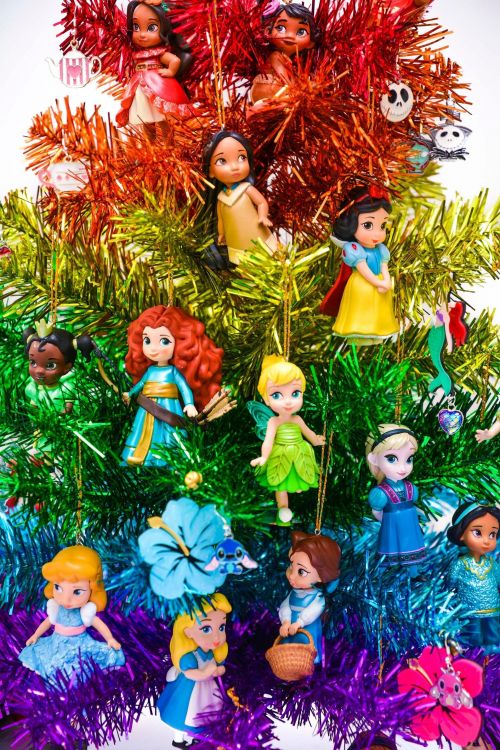 This is what it is to be a fan of Disney! Seriously, we NEED a Christmas tree with these dolls… 365 days a year!
We have seen it on Etsy.
51 IN MY HOUSE DOES NOT FIT A FIR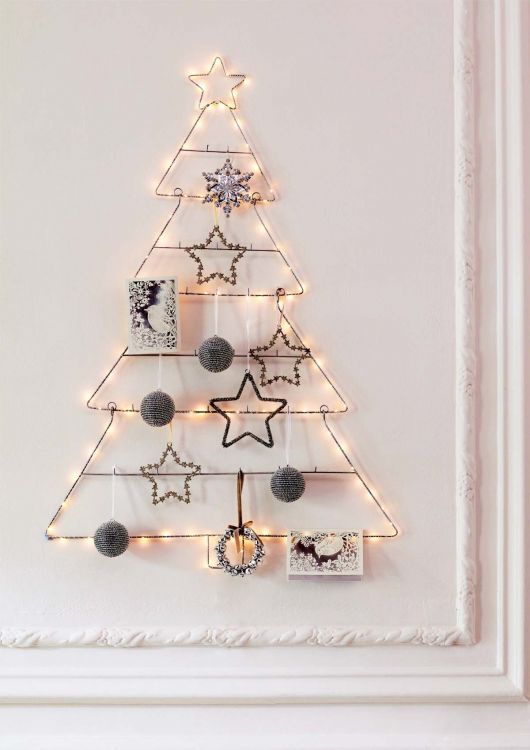 Okay: an XL size model is very spectacular when the living room is large, but if it is not, do not give up on having yours. Manage other equally ideal options. For example, place a decorative vinyl with a fun tree on the wall — take a look at those on the Tenvinilo website — or fix the flat figure of a wooden or wire fir tree on it, like this one. Decorate it with stars, balls and mini crowns, and with a battery-powered LED garland. You won't even need a plug! Luminous tree (€63) and decorations (€12 each), by Laura Ashley.
52 A DIY TREE WITH CONSERVE CANS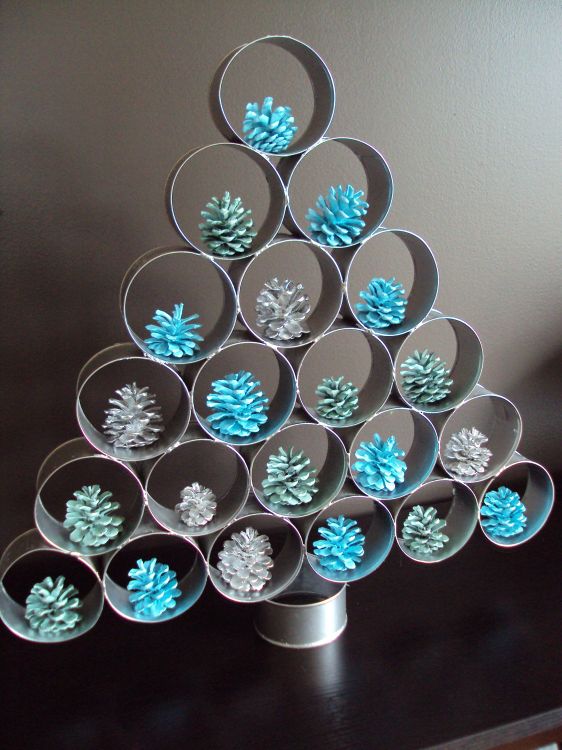 If crafts (and savings) are your thing, make yourself an original and cheap Christmas tree.
53 Avant-Garde Christmas Trees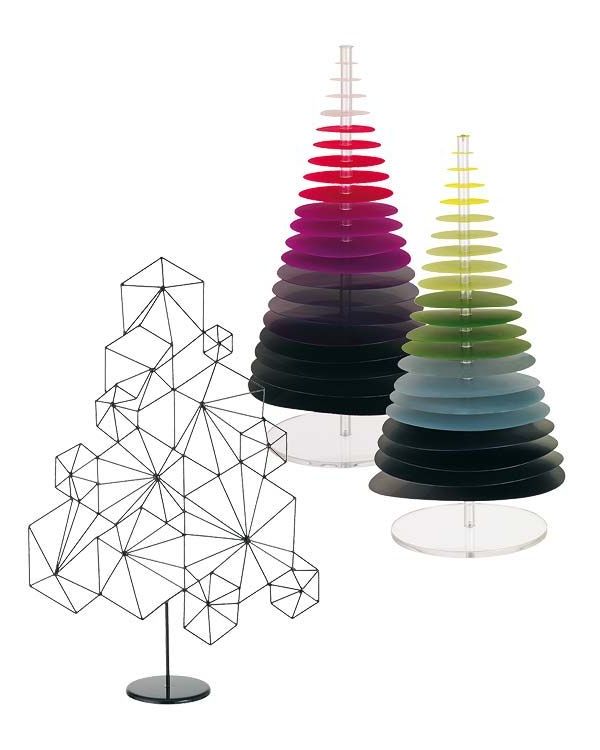 Also the most modern can have a Christmas tree according to their style. There are many options: geometric, minimalist, etc… The ones in the photo are from Habitat (from €35).
54 FABRIC CHRISTMAS TREE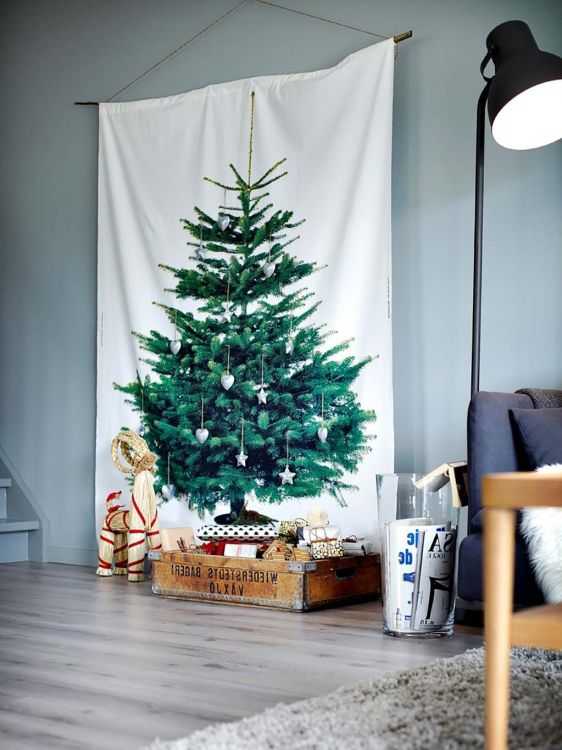 That there is no time to put the tree? Well, this cloth hangs.
55 NORDIC HYGGE STYLE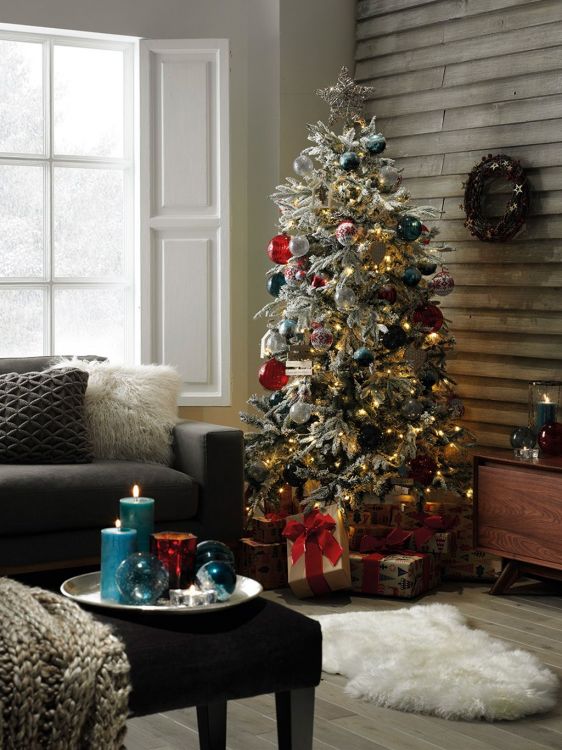 The "hygge" fever has settled in our homes and its influence also reaches Christmas decorations. His maxim: a relaxing, calm style, where craftsmanship, reds, blues and whites predominate. And yes, your Christmas tree can be adapted to this style.