We show you solutions to make the most of the meters, even in difficult spaces, and decorate your entire house with a new air.
1 Delimited environments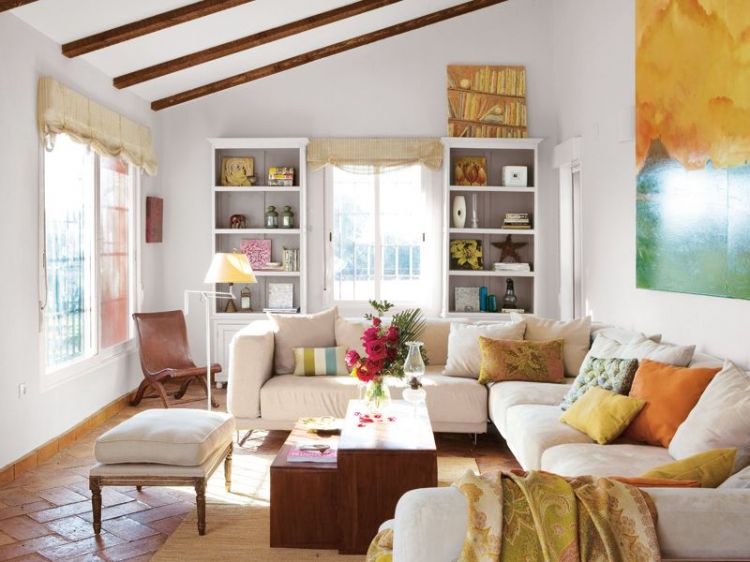 Thanks to the "U" placement of the sofa, in Ikea, two areas have been created: the living room and a reading area with two bookcases, in Oficios de Ayer, located on both sides of the window.
2 Storing the food cans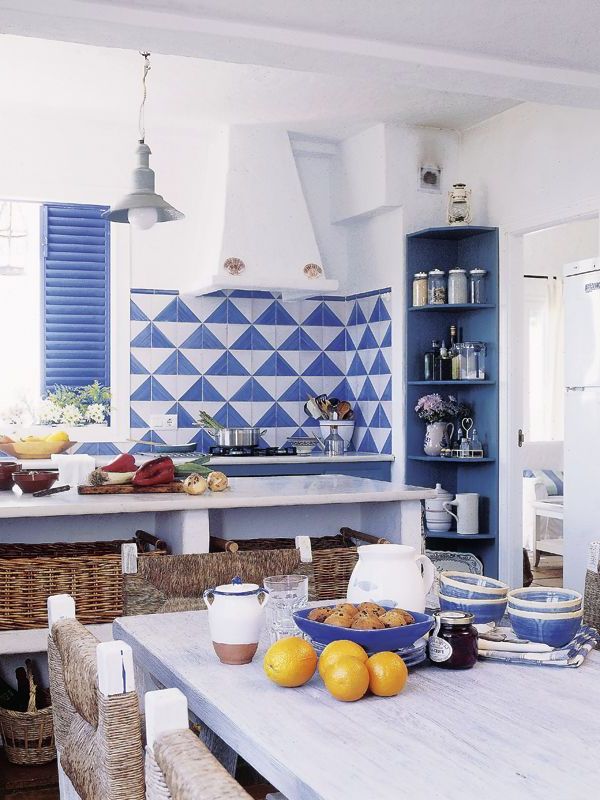 In this small corner a shelf has been attached to store the boats.
3 Two sinks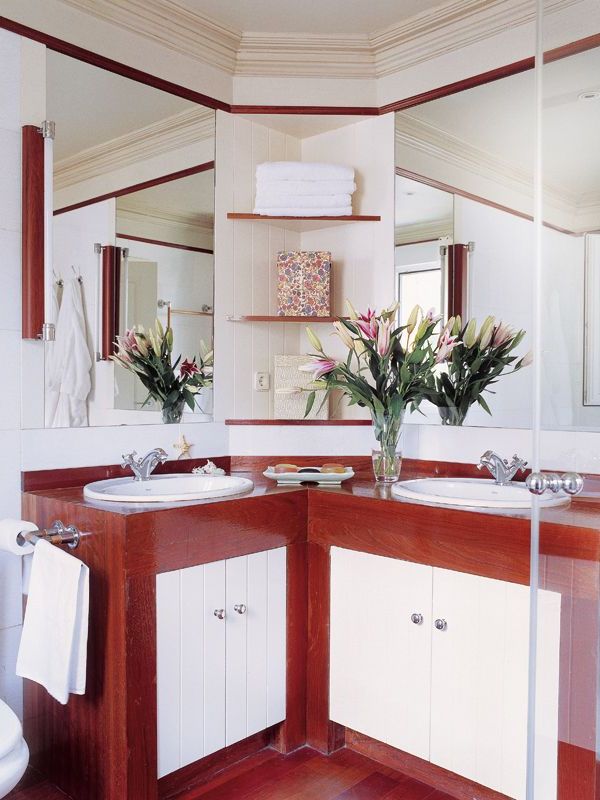 The organization in the corner has allowed to put two sinks. In the middle, the triangular shelves centralize the storage.
KEYS TO RIGHT WITH THE BATHROOM
Corner shelves. In the shower, in the sink area… Any place is suitable to locate them. Its great advantage? They take up little and allow you to store a lot. Perfect, right?
Custom furniture. Whether it is an under-basin cabinet or a simple countertop, this ensures that the meters are used to the maximum.
Illuminated mirror. Having good light helps to achieve the desired effect. If it is embedded, it will lighten the space even more.
4 corner dining room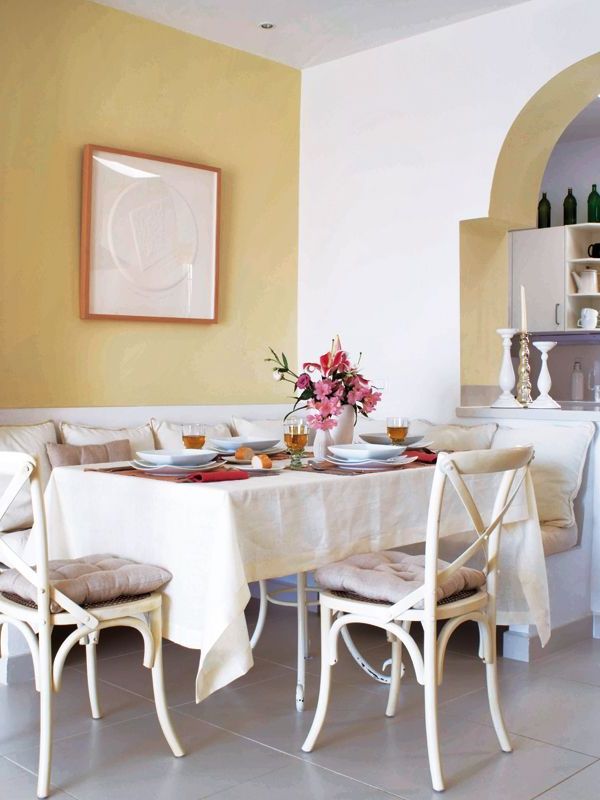 To leave the passage free, this dining room has been located in the corner with a work bench.
KEYS TO SUCCESS WITH THE KITCHEN
1 Tall cabinets, with reservations. Avoid them in the work area and you will enhance the feeling of spaciousness or, in any case, replace them with much lighter showcases.
2 extendable tables. There are many models to choose from, but all are equally versatile: book-type folding, with one or two wings…
3For fast food, nothing better than a bar. It barely takes up space and can be adjusted to any corner of the house, no matter how small.
5 Furniture designed to the millimeter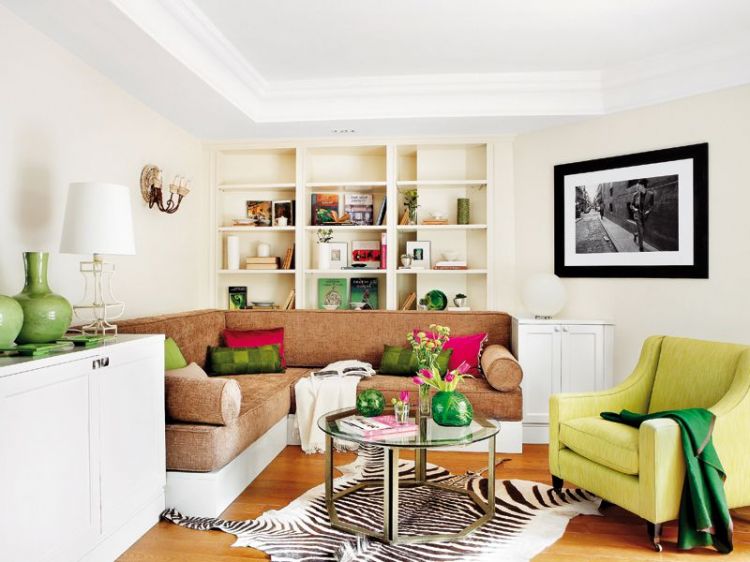 The CYC Construcciones studio resolved the irregularity of the floor plan with a corner sofa with seats by Gancedo, whose base is a chest that serves as storage.
Next to it was a triangular cupboard adapted to the shape of the wall and, in the background, a Pladur bookcase.
6 corner cabinets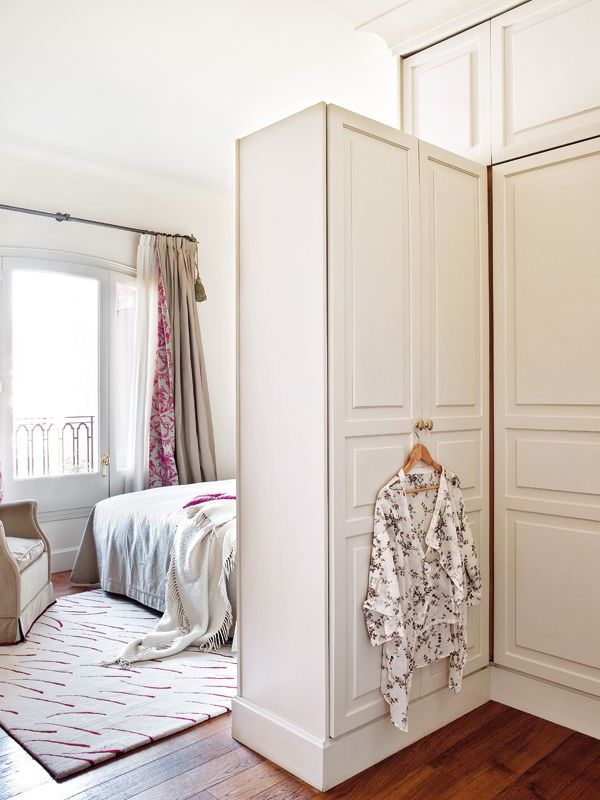 The placement of the cabinets in an "L" shape, by My Dear Furniture, creates a small distributor that gives intimacy to the rest area.
7 A closet with a shutter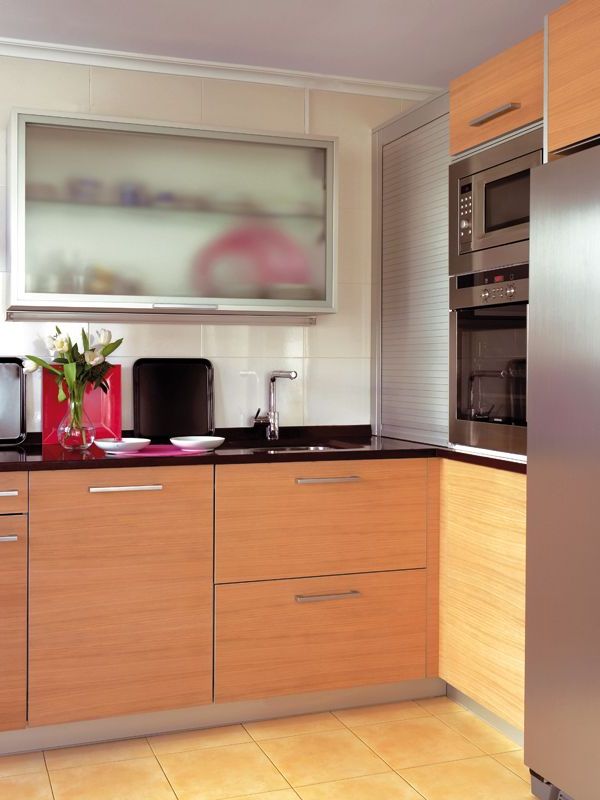 This is a good option if what you are looking for is not to overwhelm the space. Instead of a corner cabinet, this one was placed, which also offers a large storage space and, in addition, matches the oven column and contrasts with the rest of the furniture.
8 Custom worktop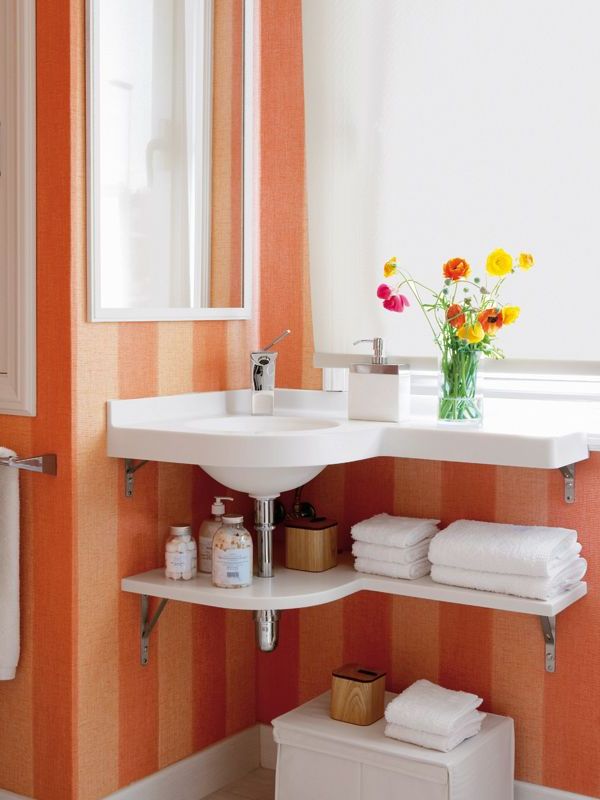 A countertop has been designed with curved shapes that fits into the corner.
9 Get more amplitude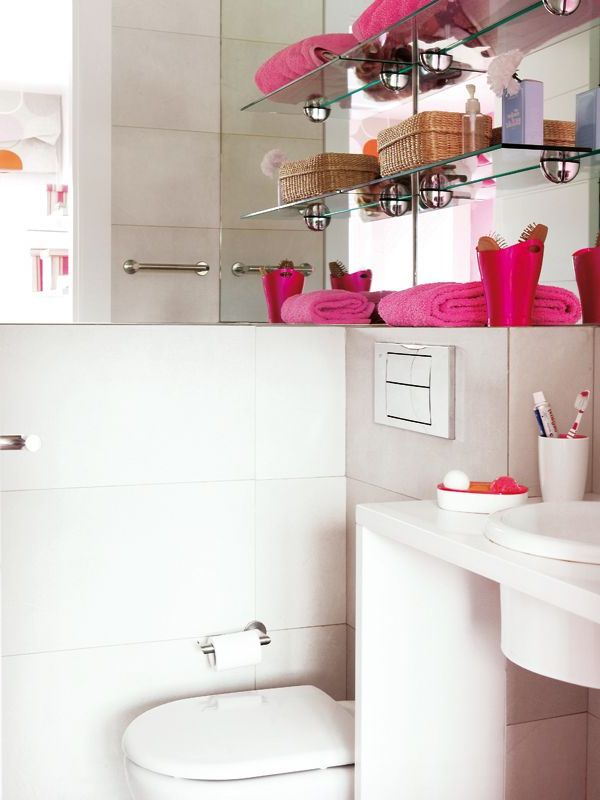 When the meters are numbered, as was the case in this bathroom, mirrors are very useful. Here, by placing it on both sides, the feeling of spaciousness is multiplied. To make better use of the space, the shelves have been placed on top.
10 A closet with a shutter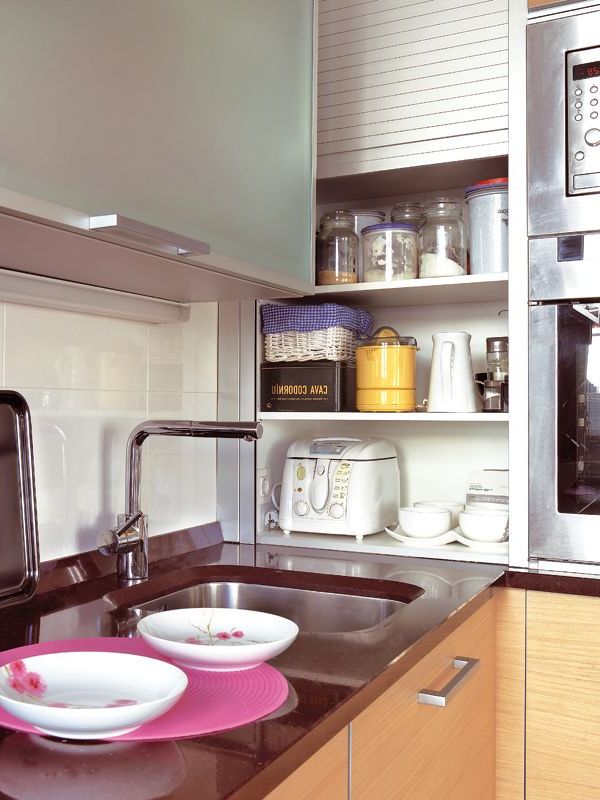 With this system, the opening is not interfered with by adjoining furniture.
11 Camouflaged Column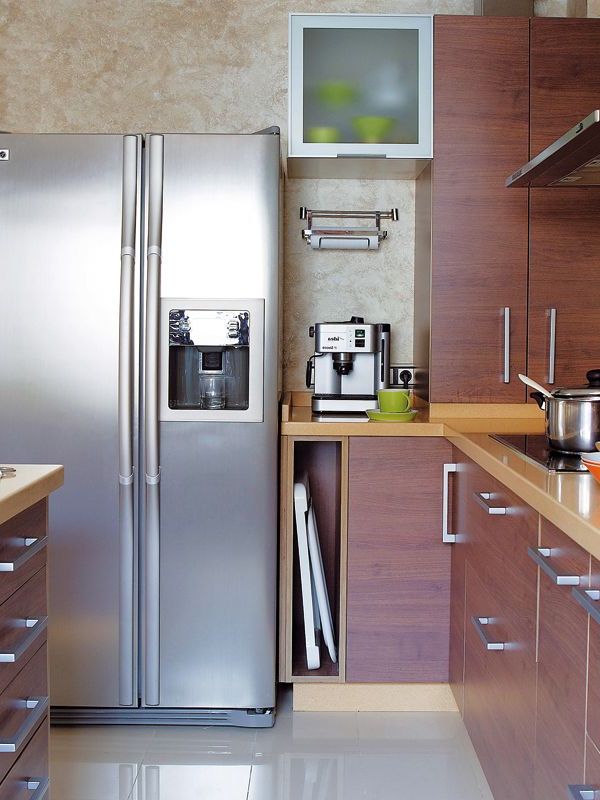 In this kitchen there was a load-bearing pillar in one of the corners that could not be removed. To solve the problem, it was covered with a cupboard front, followed by a base unit with a worktop and a glass cabinet on top.
12 About the radiator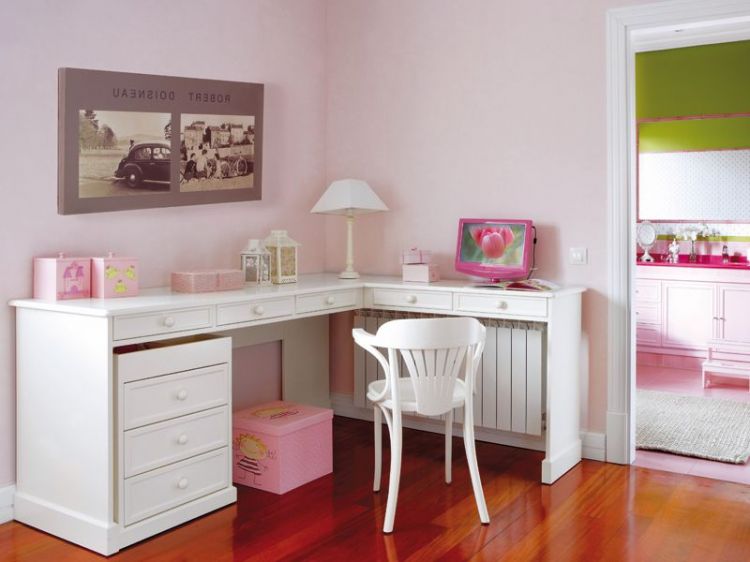 This table, made to measure in the passage area, gives more space to the room and takes advantage of the radiator space.
13 Successful L-shaped layout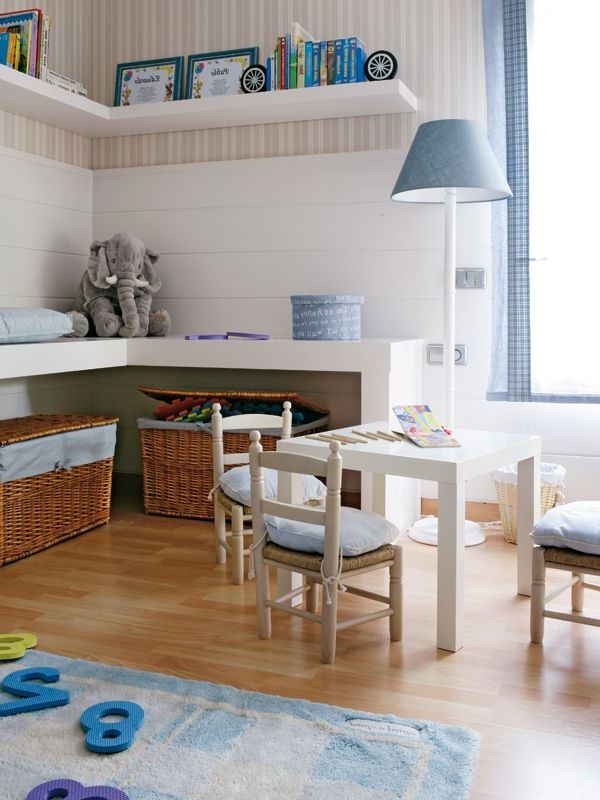 When the walls are long enough, placing the beds at an angle is an ideal solution for a shared bedroom. That is what Pia Capdevila did here, who designed these models in white lacquered MDF and arranged them in this way to have a large play area and another study area.
14 Protected wall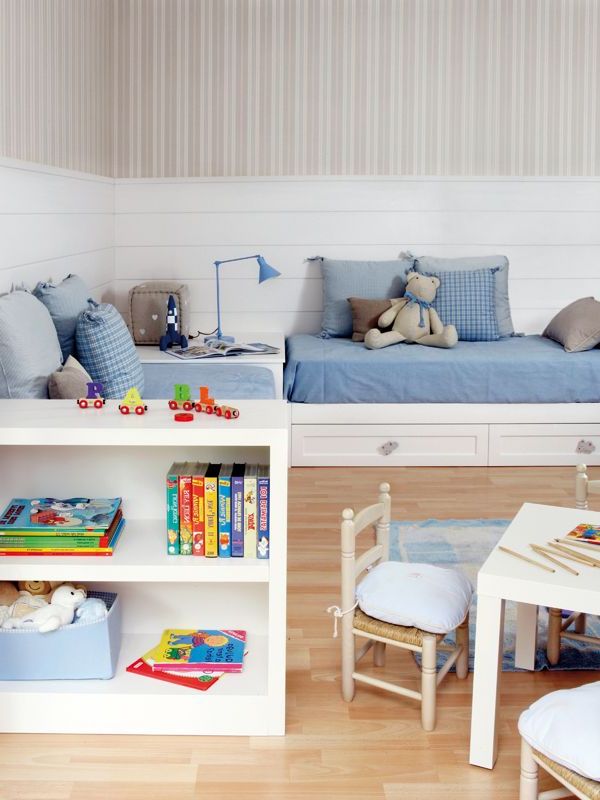 The lower area of the wall has been protected with a MDF plinth, and the upper area with striped paper to give a feeling of height.
15 Storage chest, which serves as a bedside table.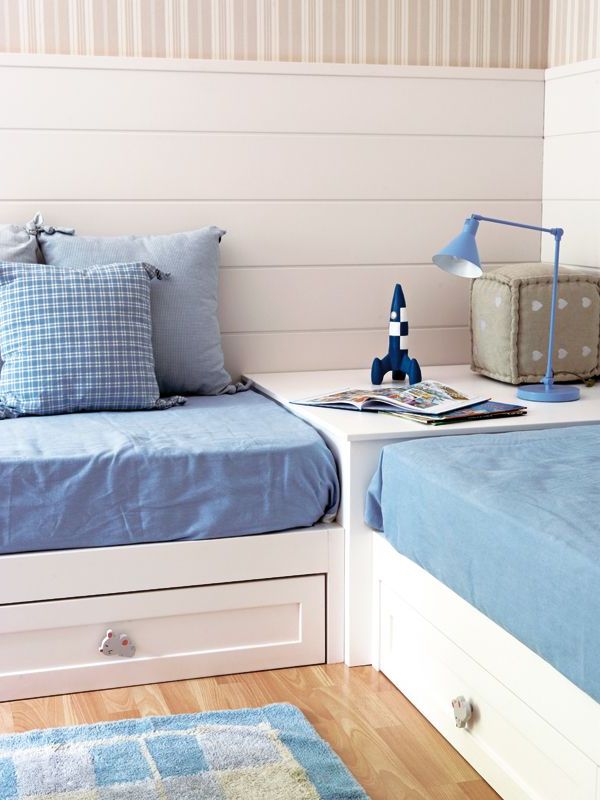 KEYS TO RIGHT WITH THE CHILDREN'S BEDROOM
1 Facing the wall. It is not a punishment, but the optimal way to place the study table, to take up as little space as possible. Keep that in mind.
2 Furniture with chest. They are very useful because they can be used to store toys and also as seats (with some cushions) or as a table or side table.
3 Hanging shelves. They allow the lower half of the wall to be left free to put other things: the bed, a desk, a small table with several chairs…
16 pull-out drawer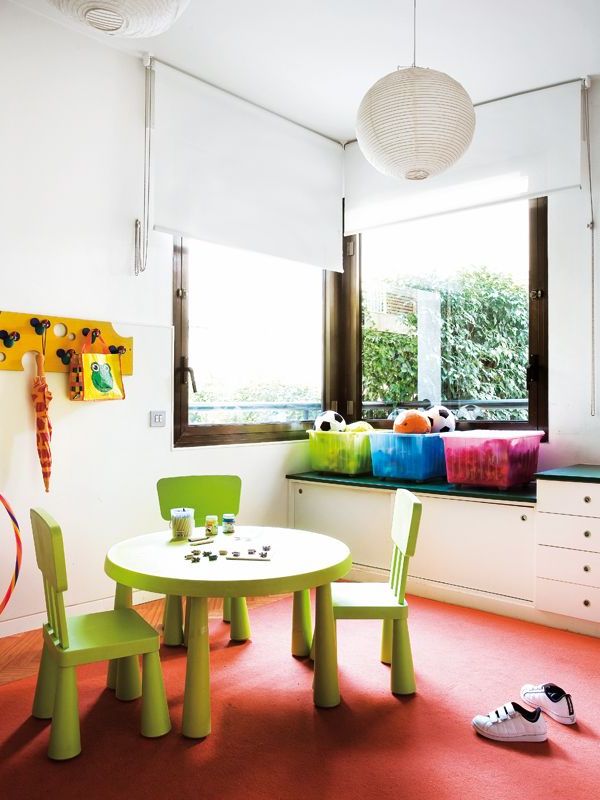 Attached to the wall, this piece of furniture with a large drawer leaves room to play.
17 Central cooking zone
In this case, the corner was the ideal place to place a large plate, since it had more depth. It was accompanied by a decorative bell whose shape adapts very well to the space. Most ingenious.
18 sliding door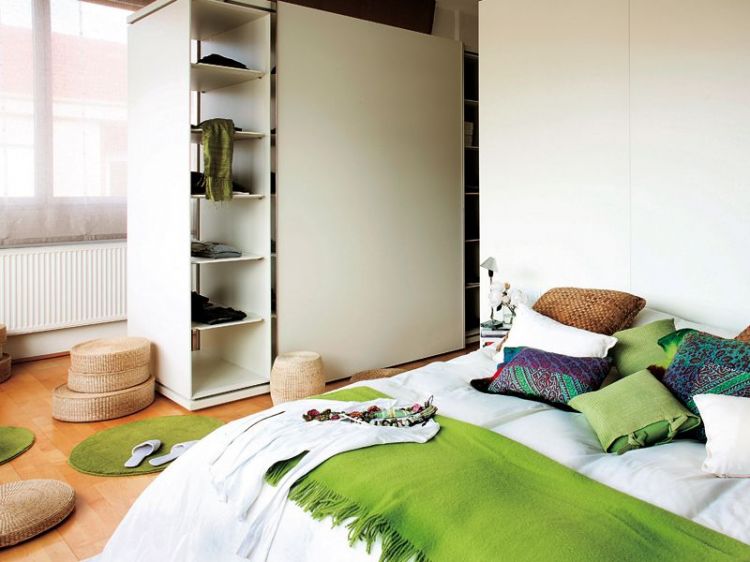 The cabinets, with sliding doors, have not been attached to the wall to be accessible from the front and back.
KEYS TO RIGHT WITH THE BEDROOM
1 Built-in wardrobes. They are a sure asset because they produce an amplitude effect. Sliding doors also help save space.
2 Auxiliary furniture. Always avoid them, as they make it difficult to pass. If the wall has a setback, take advantage of it to make a masonry headboard that will serve as a bedside table.
3 beds with storage. You can choose between models with drawers, canapés with chest opening… You'll see what fits!
19 Take advantage of the corner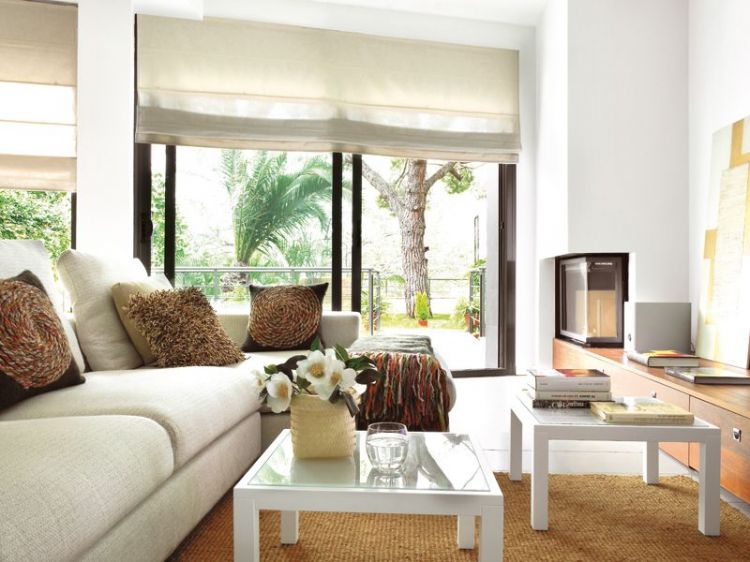 The fireplace has been installed in a corner to see the fire from different angles.
20 A mini dressing room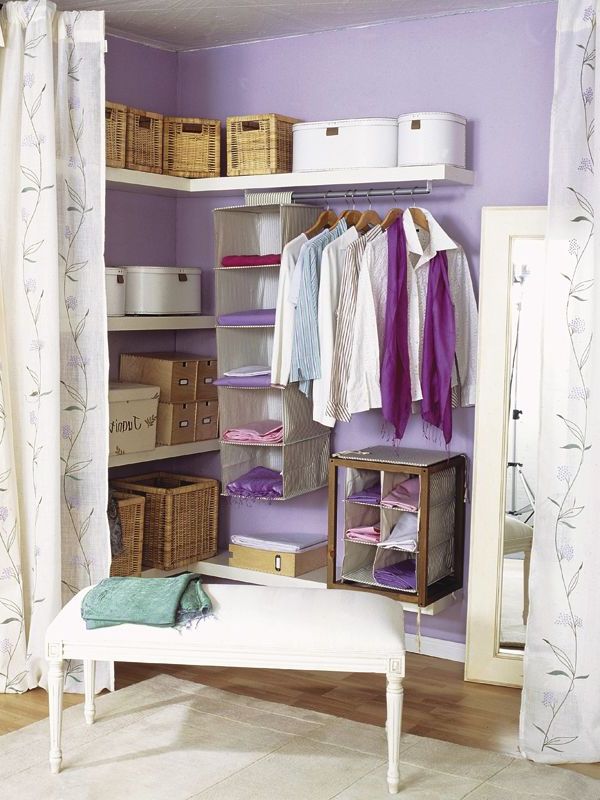 If you don't have much space to put cabinets, take advantage of any corner of the room to set up a small dressing room. Install several shelves and attach a hanging bar, as well as baskets to store clothes. Everything at Ikea.
21 in the corner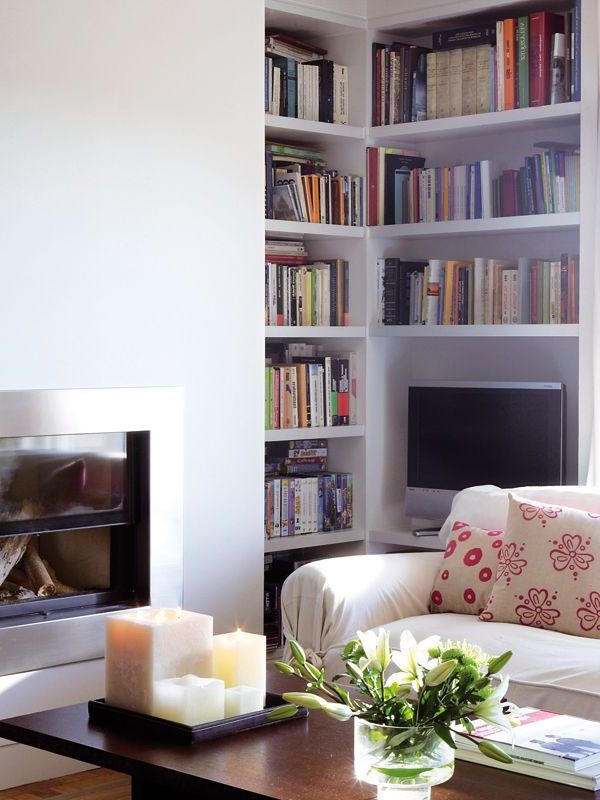 A floor-to-ceiling shelving allows you to take full advantage of the corner.
22 Study Corner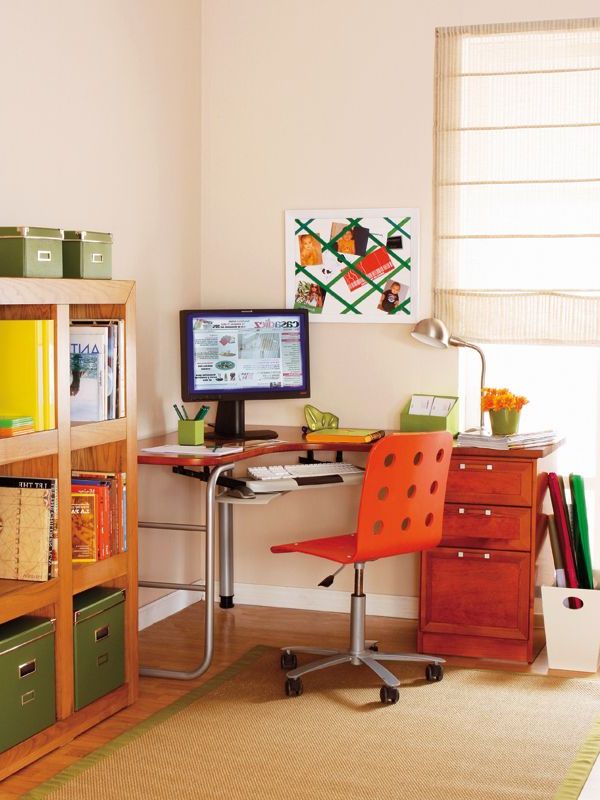 Located next to the window to enjoy natural light, it has been mounted facing the wall to avoid reflections, with a practical corner table, a drawer unit on wheels and, on the other side, a shelf. The lift chair is from Ikea.
23 Furniture that separates environments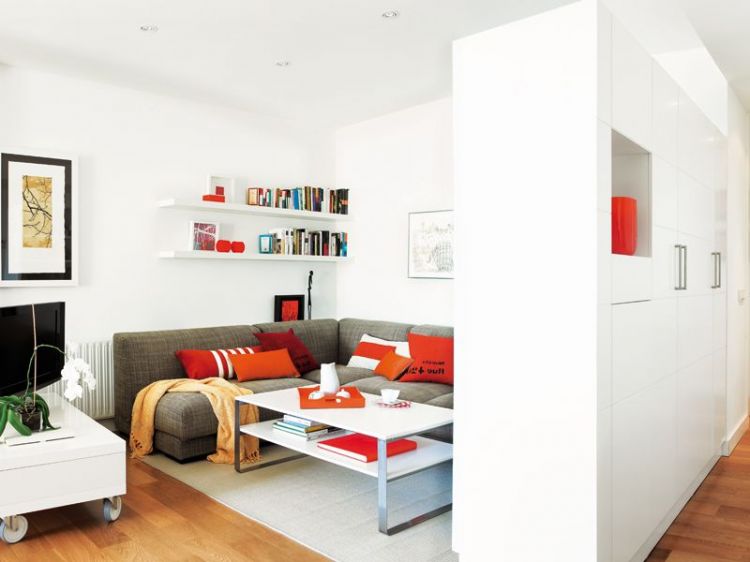 KEYS TO SUCCESS
1 With little background. If you choose furniture with a maximum depth of 30 cm and half height, you can place them at the back of the sofa, to be able to separate environments.
2 Space between pillars. You can use it to make a workbench or a bookcase for CD's.
3 Crystals instead of partitions. Without a doubt, it is an ideal alternative to separate environments without losing space and, most importantly, without losing any light. Take note. This piece of furniture, with shelves and cupboards, makes the living room independent and is used for storage.