In them you leave the cup of coffee on holidays and the glasses when you stay at home.
Coffee tables are a meeting point in your life, and here we tell you how to make them beautiful.
1 More wood!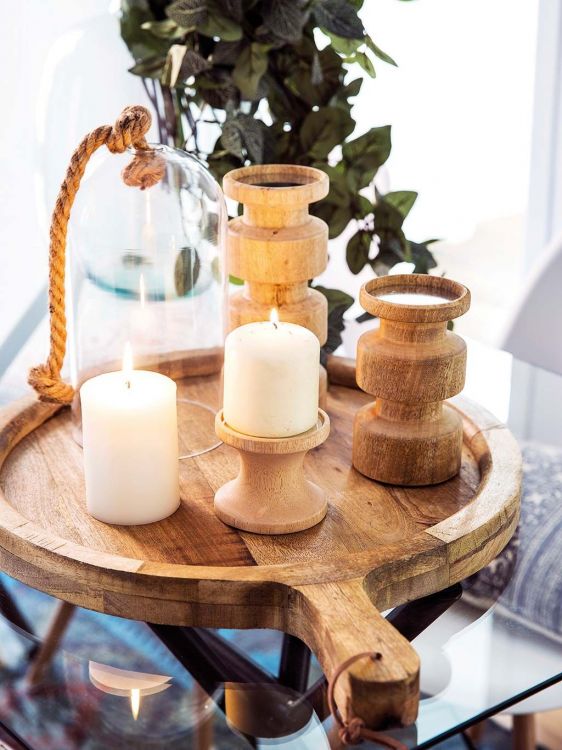 The warmth of the wood gives the environment that cozy touch that makes you not want to be anywhere else.
To achieve this, it is not necessary to resort to a table made of this material. A composition based on pieces of natural wood will suffice: candle holders, candlesticks, boxes…
Here, in addition, a glass lantern was added whose rope harmonizes with the whole, displayed on a tray reminiscent of kitchen cutting boards.
It is an idea of the home staging company HS Decor. The table with a glass top is from Vical Home.
2 Vases in duplicate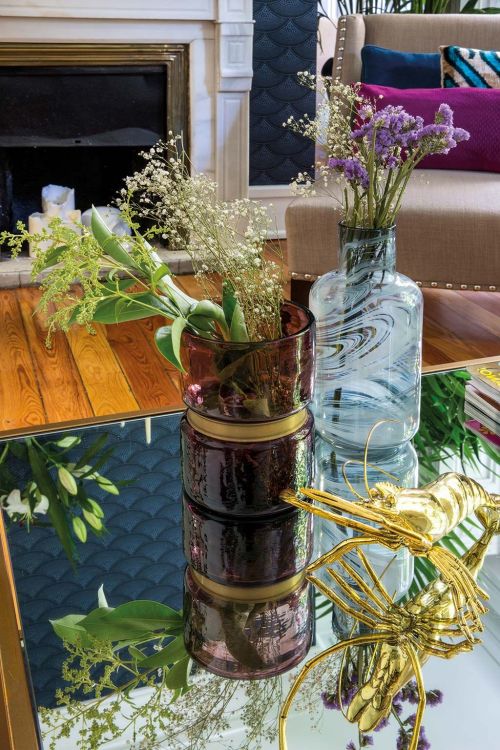 Mirrored coffee tables have the gift of reflecting light and duplicating the items you place on them.
The interior designer Víctor Zorita, from the Backsteen studio, decorated this table with a few pieces so as not to overload it and chose ethereal materials, such as this pair of glass vases with flowers. Next to them appears a very current character, the golden lobster, and its lower part is reflected in the glass so you can see it in 360º.
You will find similar animals at PortobelloStreet.es. Table, by Borgia Conti.
3 What a good tone!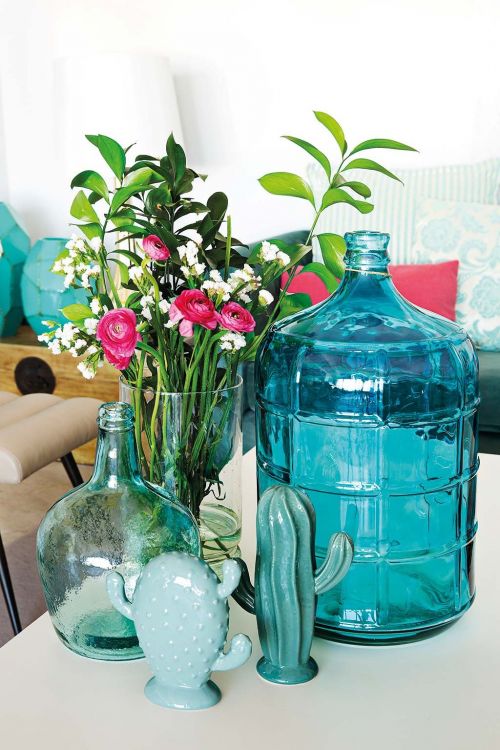 Decorate the coffee table with different elements and a single color as the protagonist. Yes, that one is your favorite.
Look at this image and how the accessories —in different materials and with smooth or rough textures— manage to give dynamism to a composition based on the color blue. Play with the color spectrum of the range and alternate light blues, indigos, cobalts… Nobody like them to give a feeling of freshness to the environment.
Coffee table with white top made to measure by a blacksmith. Glass vases, from Guáimaro. Ceramic cactus, from Kenay Home.
4 On a soft base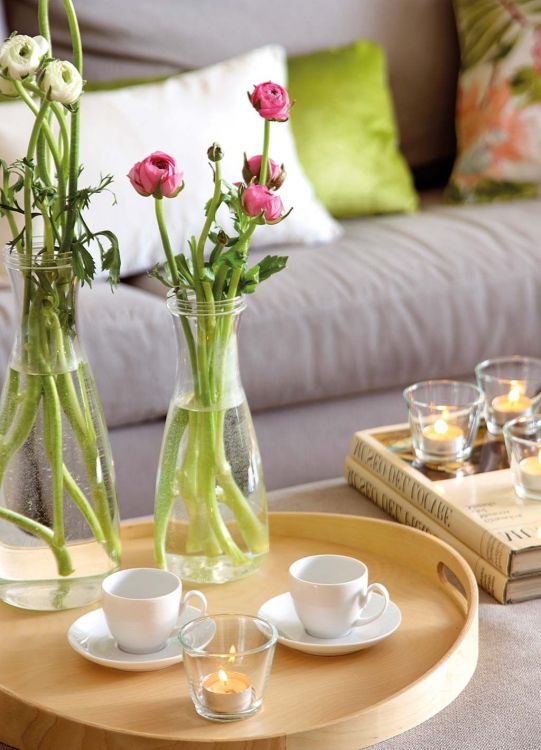 That pouf you stretch your legs on can be turned into a coffee table.
The interior designer Jordi Vayreda chose this model, gray and wide, which allows a wooden tray to be placed on the surface —either round, rectangular or square— which, in turn, is decorated. And with what? With the accessories you prefer. A safe bet are those that convey the feeling that we are in a living room, such as coffee cups, candle holders or vases that expose the stems of their flowers.
Poof, from BD. Wooden tray, from Compagnie Française de l`Orient et de la Chine.
5 Industrial style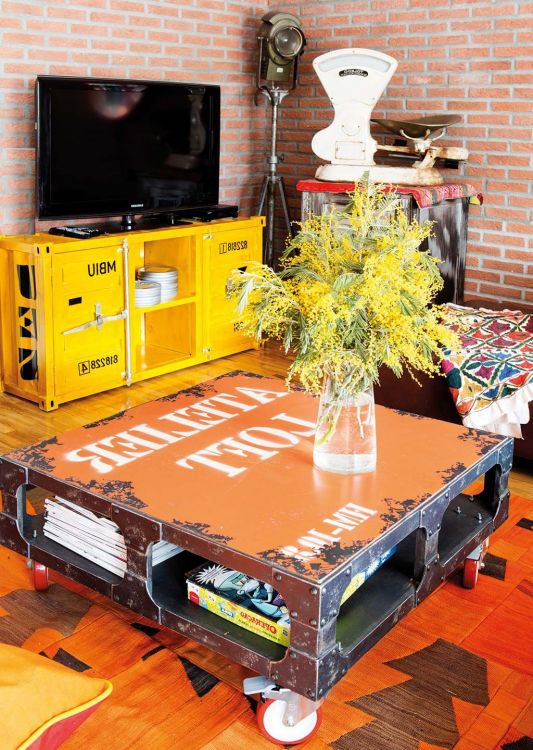 And what to do if the table top is already decorated? Keep it clear so no one can stop looking at it. As in this case, in which the recycled sheet metal table makes the room more fun with its powerful color, in the same range as the brick wall.
Decorate it with light pieces, such as the transparent glass vase that does not impede the view of the surface. A useful tip to copy is that the yellow flowers match the TV cabinet in the background.
You'll find a similar loft-style table at Maisons du Monde.
6 Sustainable philosophy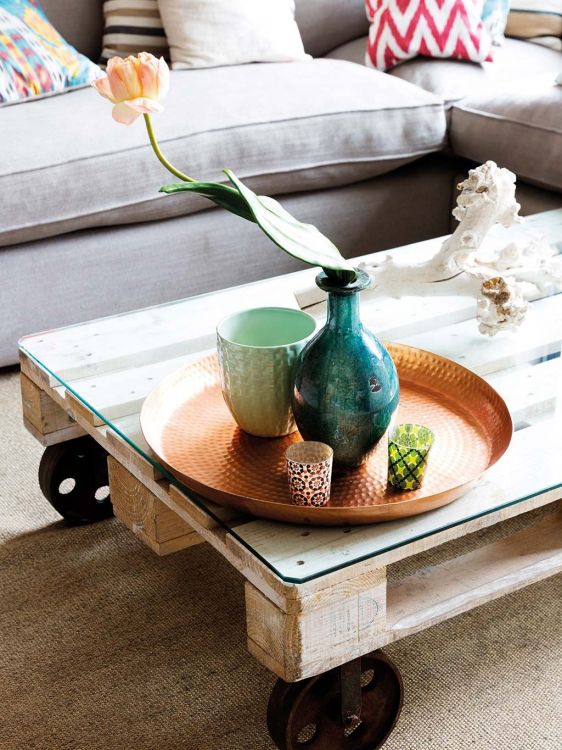 The tables made with wooden pallets carry an implicit message: recycle to save the planet.
This model, designed by the interior architect Lucía del Barrio Pérez del Molino, has been completed with a glass top and wheels.
Its style, a fusion of industrial and rustic, will harmonize with a decoration like this one, a whitewashed wood branch and an ethnic design tray in a copper finish, from Los Peñotes.
7 Play contrast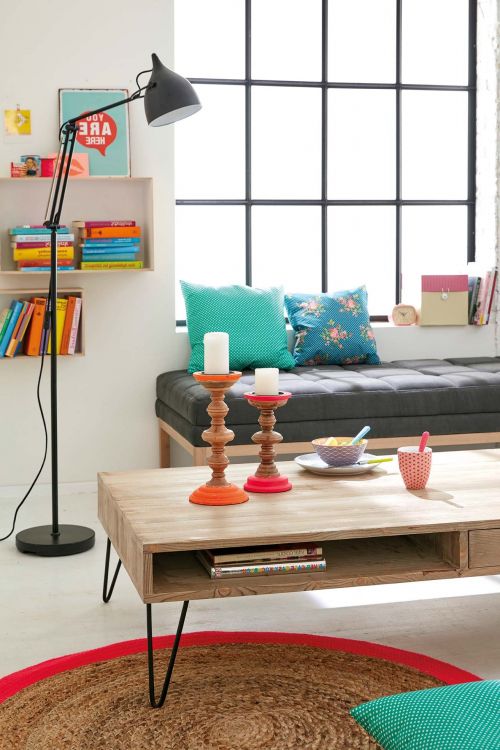 Success in the relationship between a coffee table and its decoration can be based on enhancing differences, whether in shape or color.
Here, for example, the straight lines of the table are softened by sinuous candle holders with rounded shapes. Although the material in them is common, wood, the red and orange lacquered candlesticks add color and brighten your day.
The plus of style? The chromatic nod to the books on the shelf, in the same tones.
Coffee table with drawers and compartment, by Car Möbel (€249.90).
8 Your collection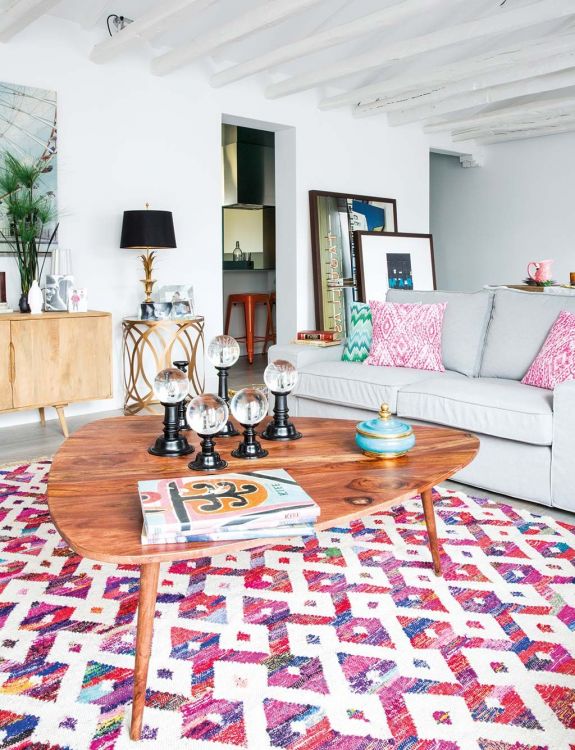 Little boxes, vases, glass figures… Bring out those decorative details that you are passionate about with a monothematic composition.
Studio BMK did it in this triangular table, from Maisons du Monde, with glass spheres. By placing them in candle holders of different heights, each one of them is better appreciated.
They are from Anmoder, like the little blue ceramic box.
9 More than one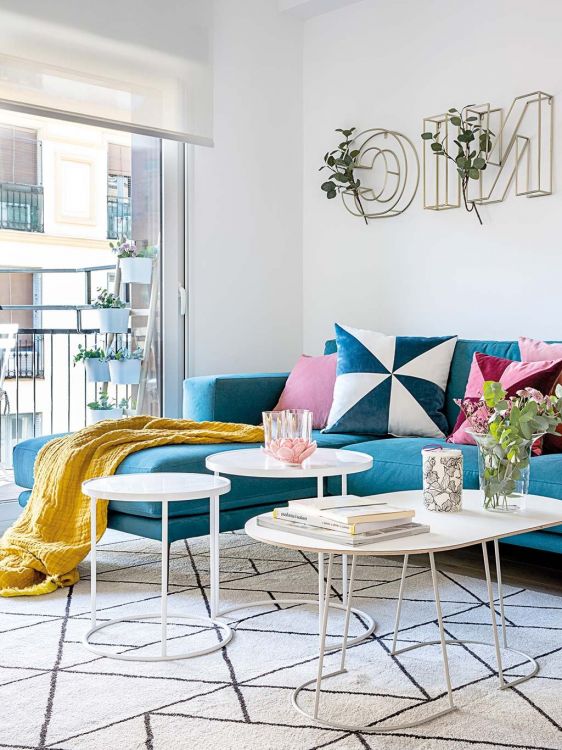 Having several coffee tables raises the question: should they all be decorated, some or none?
Any of the options is valid, as long as there is a link between them or with the rest of the room.
The Deleite Design studio here only decorated two of them with glass vases and flowers, both real and in the form of motifs.
Tables, by Muuto and Zara Home.
10 Reclaim the curves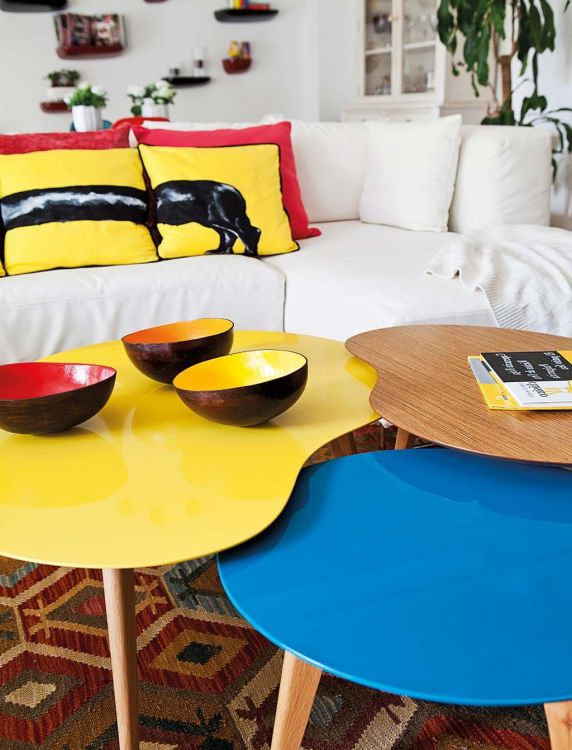 The nesting tables fit one under the other, but in this case, their peculiar sinuous design seems to assemble them, like a puzzle, as if the three pieces were one.
The color of two of its envelopes, in blue and yellow, is very striking. The interior designer Ángela Sanz, from MA+Uno, decorated them with only three bowls whose enamelled interior harmonizes… with the sofa cushions!
Similar tables, in DomésticoShop.
11 With a common link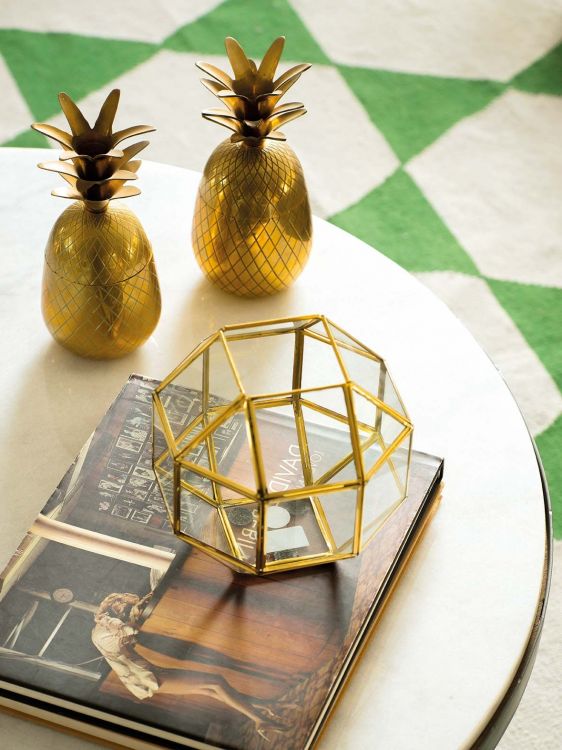 The material, the shape or the color can be that common thread that unifies the decorative elements of a table.
Here we opted for the gold finish in three pieces that form a triangle with each other: a pair of pineapples and a candle holder with a geometric design in metal and glass, from Bconnected; a luxury trio that is on trend and updates the decoration of the living room.
Interior design, by Natalie Philips, from the NP Interiors studio.