The soft Nordic style leaves aside the black and white characteristic of the Nordic style and dyes it in pastel tones without losing the essence of the Scandinavian countries, with furniture with simple lines and lots of wood.
The August 2015 edition of Formex Stockholm, a world event on Scandinavian design decoration, trends and accessories, held in Stockholm, focused on what they have called nordic essence, a look at the Nordic style, inspired by nature.
Hence, greens and reds appear in our house, combined with the eternal neutrals such as beige and different shades of grey. But there was also a place for pastel tones, which invade Nordic living rooms with their calm and sweetness. Sometimes they are combined with black (basic in this style) and sometimes only between them. It is the soft nordic style.
The shapes are inspired by Nordic nature and wood is still present. Get inspired by these living rooms, painted in soft tones.
In gray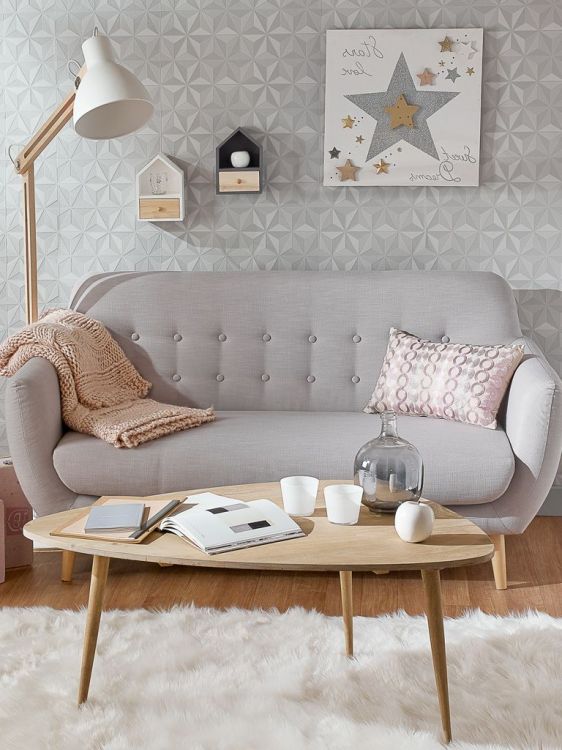 Grays soften. The different shades of gray fit into this trend of pastel shades. The Nordic style of this room is recognizable. To achieve this environment, look at the use of almost natural wood pieces.
Incorporate a table with conical and high legs and you will give it that Scandinavian air.
All for sale at Maisons du Monde.
Pastel tone and black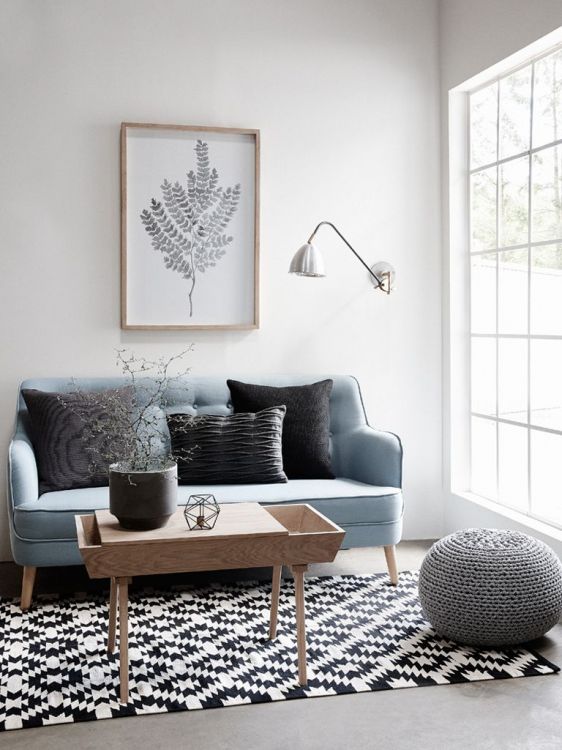 The soft tones are combined with the eternal black, so present and characteristic in the Nordic style.
Here its presence is maintained but its weight is reduced with white walls and a pastel blue sofa.
Photo, by Car Möbel.
Geometric prints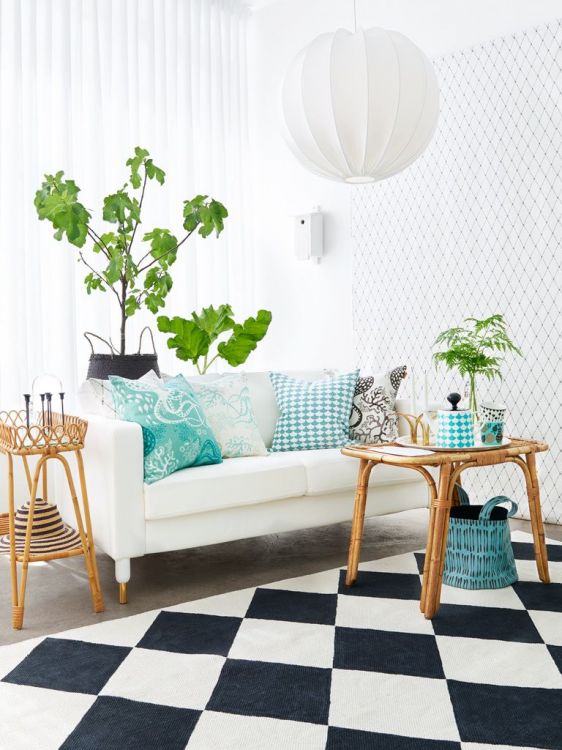 Geometric shapes guide the Nordic style. Do not do without them! Cushions, rugs, curtains, wallpaper…
Photo, by Littlephant.
Mix pastel shades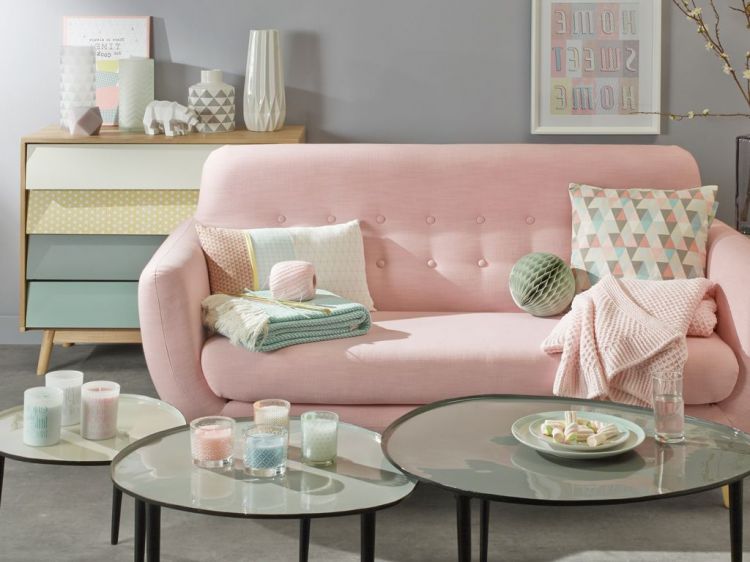 In the soft nordic style the pastel tones are combined with each other. They have in common the intensity of the range and from there pinks, greens, blues, greys, yellows are mixed… and the result is very successful.
Take a look at this living room with a pink sofa, grey-green tables, gray wall and a multi-tone sideboard with drawers. Everything from Maisons du Monde.
Not only in wood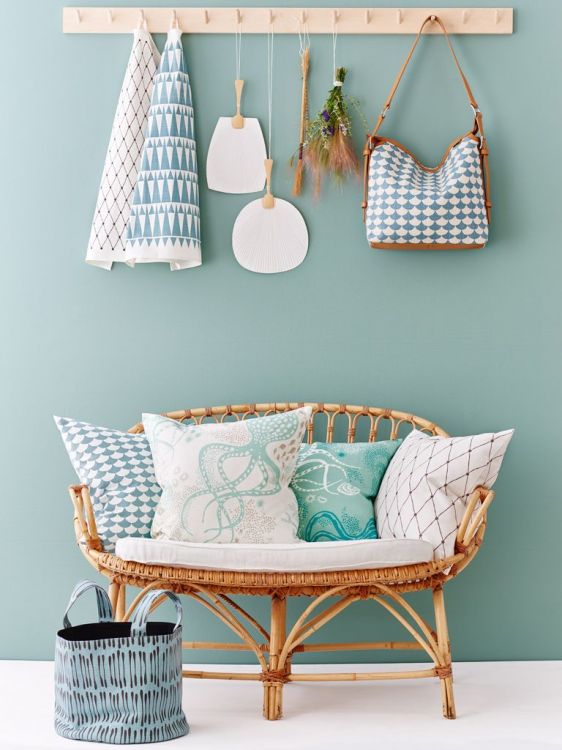 The cork reappears with force and the vegetable fibers claim their place inside the house at any time of the year. It is a nod to nature.
Incorporate a piece of wicker or vegetable fiber and surround it with pastel tones.
Everything from Littlephant.
In the showcase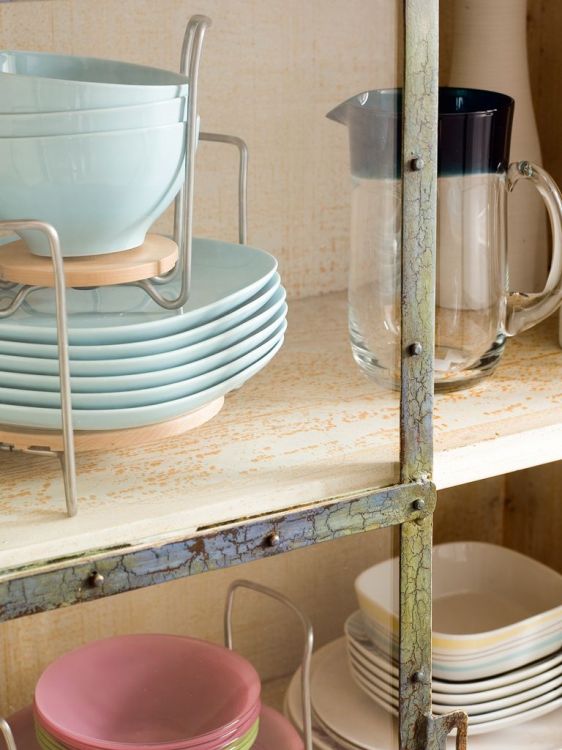 Or cupboard, on a sideboard on a tray… the kitchenware is also dyed in pastel tones. Put it on display!
Remember that vases and accessories help to personalize and change the look of the room. If you want this room to turn towards soft tones, change cushions, curtains, rugs, vases… You can even hide a dark upholstered sofa with a blanket or a piece of fabric placed on top.
Who said fear…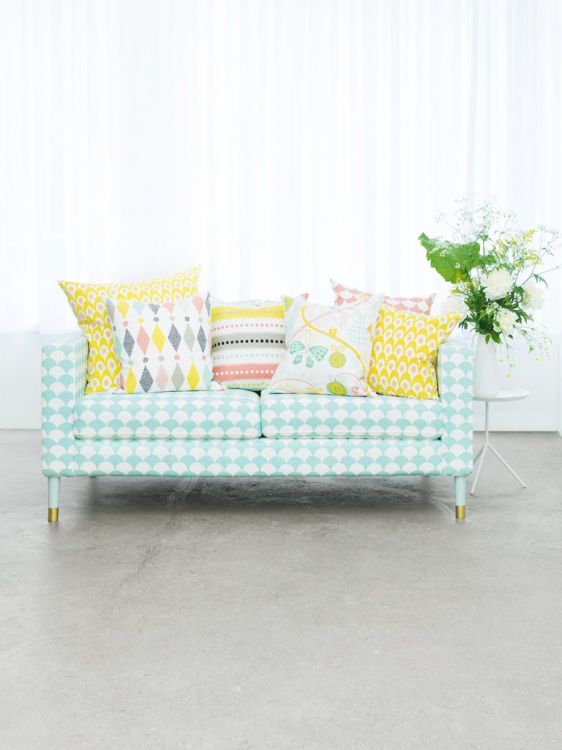 …to prints and geometrics? Combined in their most risky version, they are gimmicky and very cheerful.
The mixture of patterns and geometrics is possible here thanks to the softness of the chosen pastel tones.
Photo, by Littlephant.
In the dining room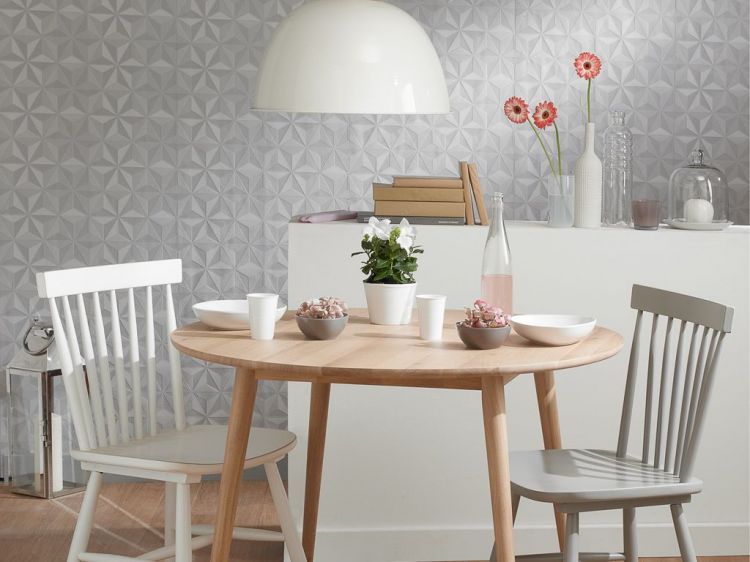 A neutral base in wood, white and gray (soft) is perfect for the dining room. In the soft nordic style trend, gray is softened. Look at this environment. Incorporate pastel tones in details.
All for sale at Maisons du Monde.
In the table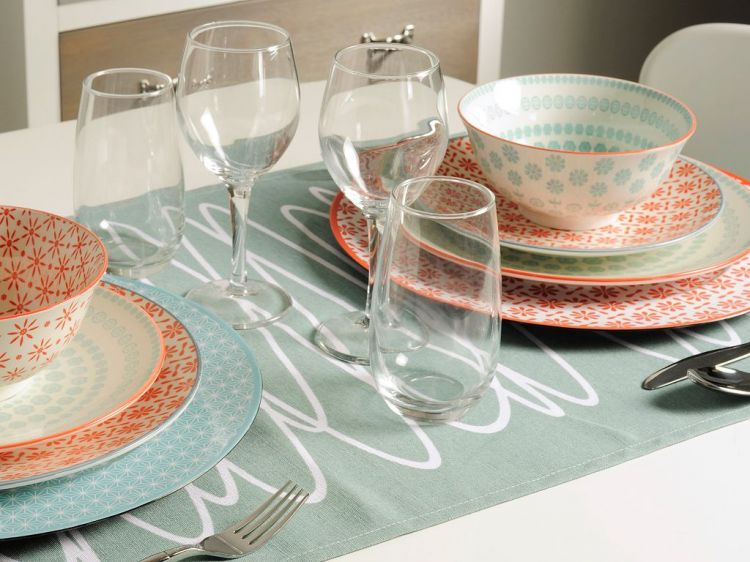 The touch of pastel color in a neutral environment is provided by details such as deco accessories, textiles or kitchenware in the dining corner. It is an infallible formula to redecorate the house.
Kitchenware, for sale at home.
Nordic chair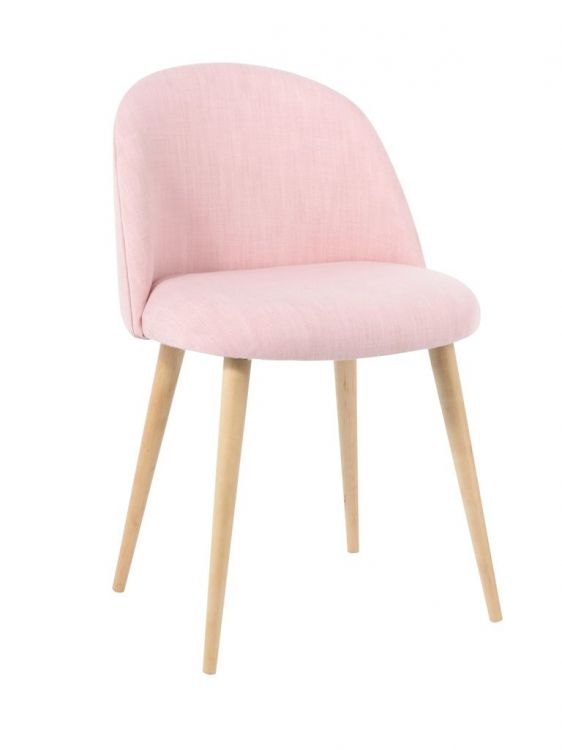 Conical and wood legs and upholstered seat and backrest in pastel pink tones. You will find it at Maisons du Monde.
Cushion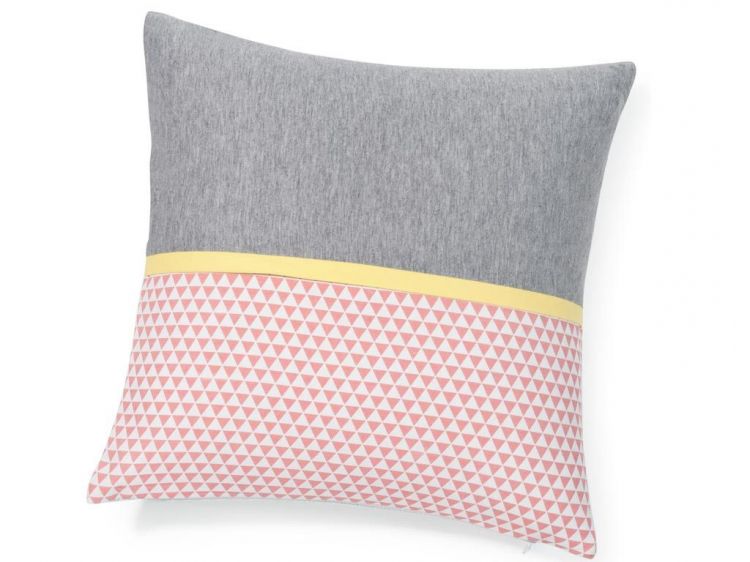 Give your living room a new look and turn it into an example of the Nordic trend in pastel colors with ad hoc cushions. The one in the picture is from Maisons du Monde.
Decorative tableware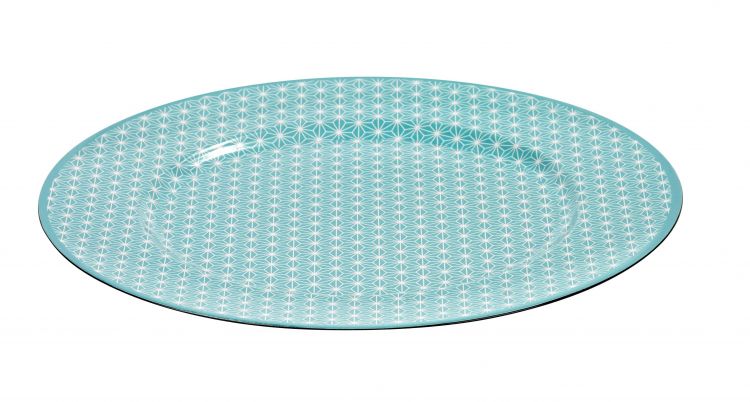 A plate or low plate can be converted into a tray on which to group candles. Dish, for sale at Home.
Tray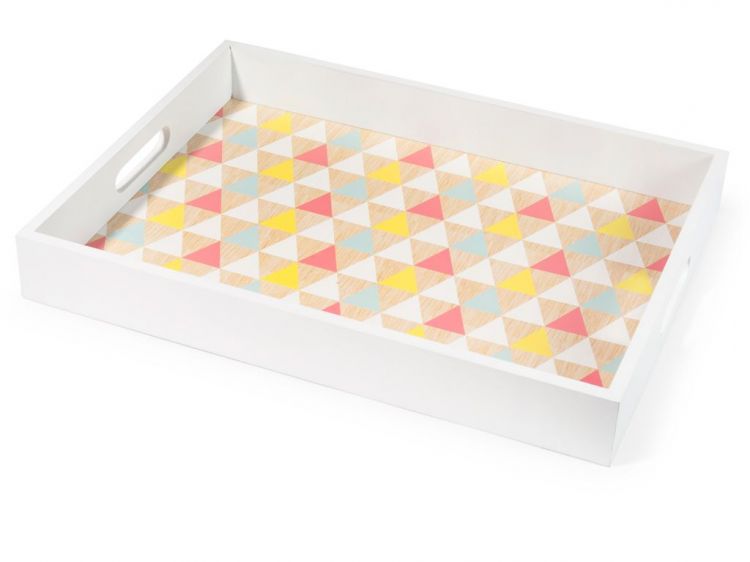 On a whim, in white with a base decorated with triangles in wood, white, pink, blue and soft yellow. Tray, for sale at Maisons du Monde.