Trends in modern kitchen decoration are always evolving. Before this space was only intended for cooking and eating, however today it has become a place much more integrated into daily life.
It is not uncommon to find people watching television, using the computer or studying, in addition to the activities for which kitchens have been designed. For this reason, since the kitchen has become a multifunctional room, decoration plays an increasingly important role and today at Decor24Online we will present some of the main trends for kitchens 2022 and many inspiring photos.
If you're thinking of updating or renovating your kitchen, now is the perfect time to start your research, as each year brings new product and design trends. A successful kitchen design should focus on functionality, employ good ergonomics, durable finishes, and incorporate good quality products.
Materials
Marble
Marble and its beautiful veins have their place again, both on the countertop and on the walls.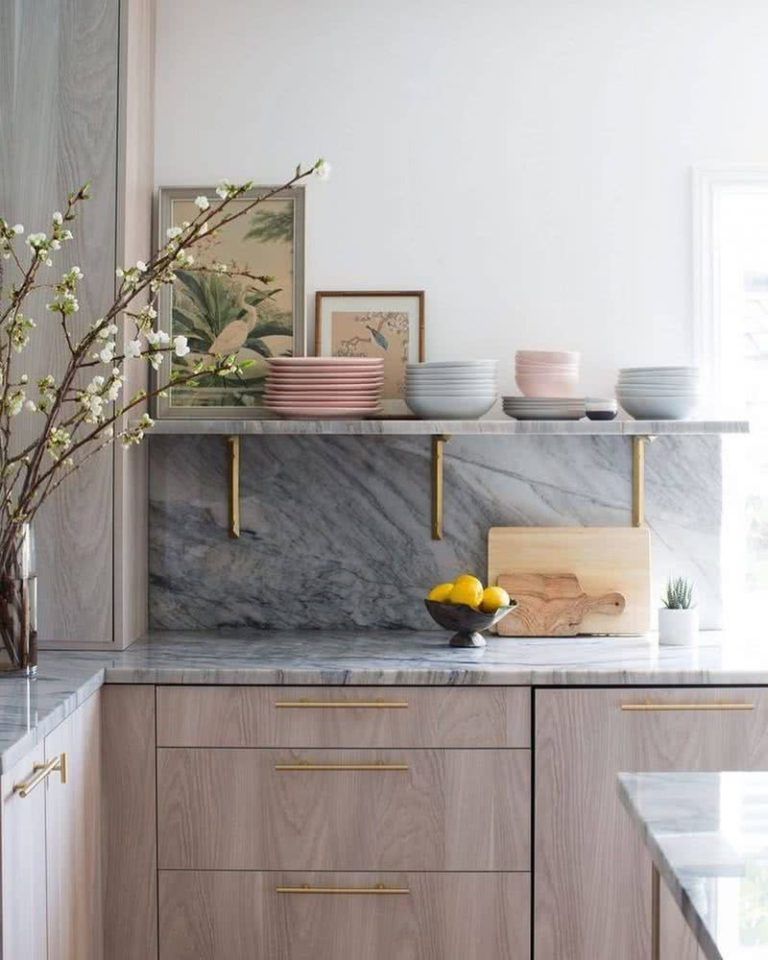 Subway tiles
Rectangular, small and elongated "metro" type tiles are being used more and more.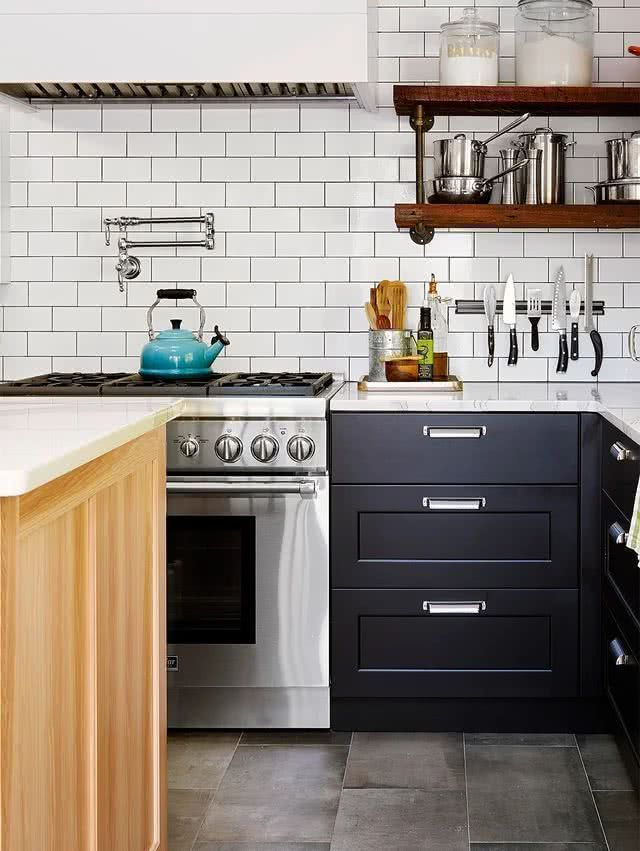 Square tiles
The square tile, which was no longer used, is making a comeback as a trend in kitchens.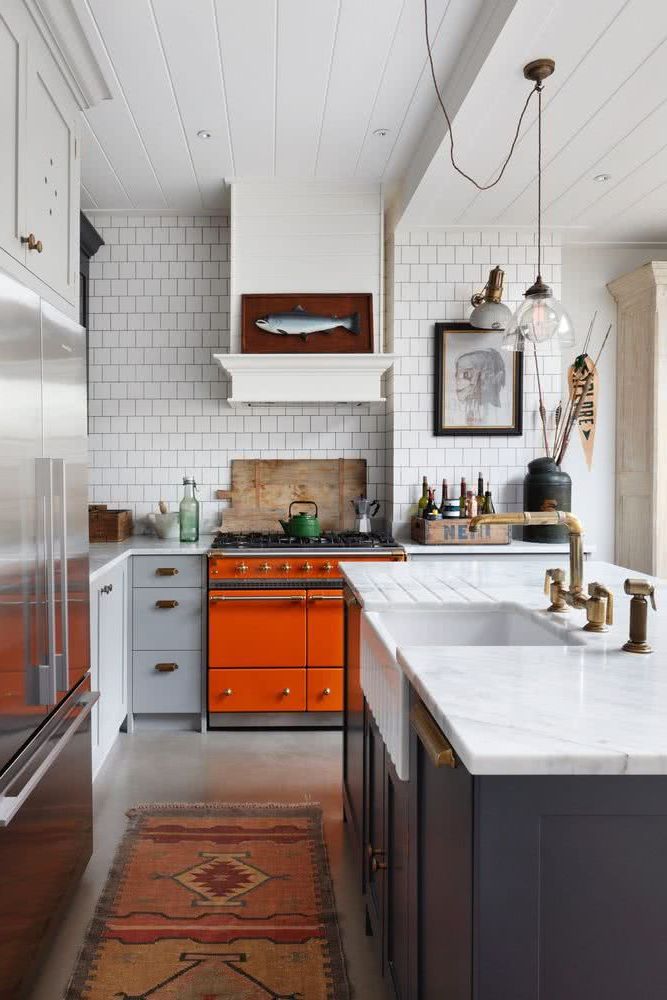 Wood and stone
Marble, quartz and wood combined have gained ground in recent years, as a coating for walls, floors and even countertops.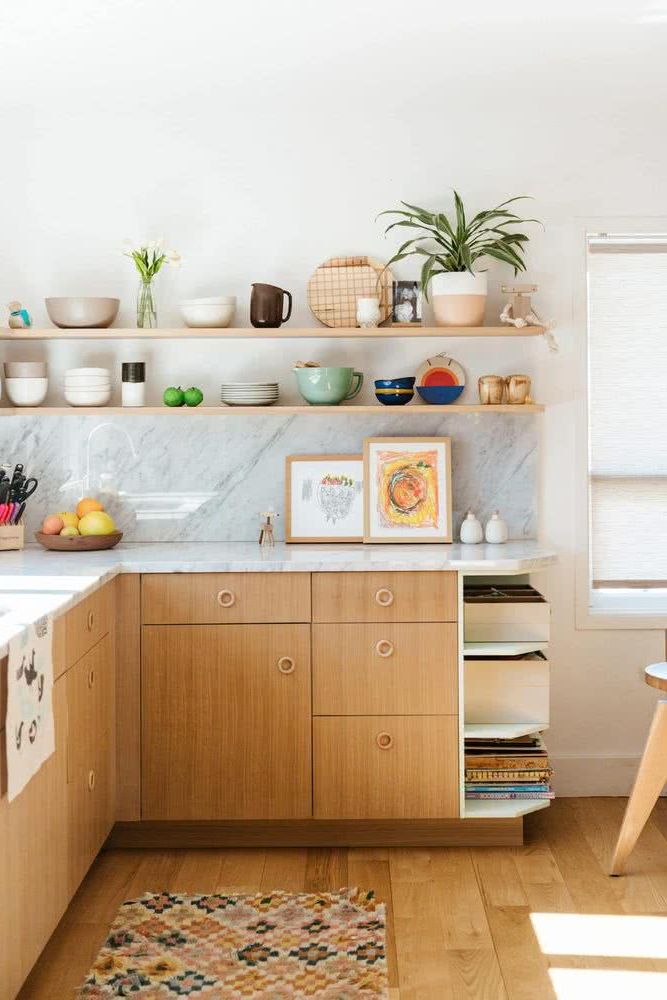 A few years ago, dark wood flooring was widely used. But with a light wood you can hide scratches and indelible stains much more. White oak is the most popular of the woods, because it is like a clear canvas that can be any color.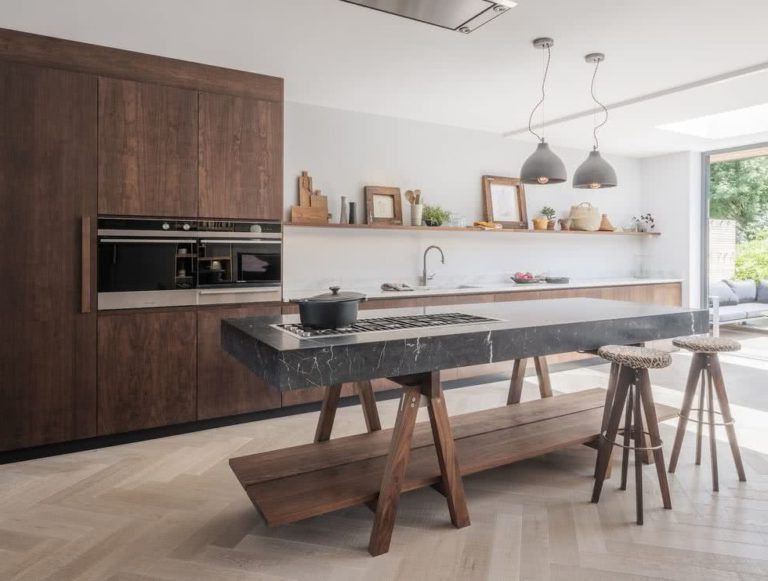 Concrete floors or countertop
You can also opt for concrete, it gives a very modern and industrial look to the kitchen.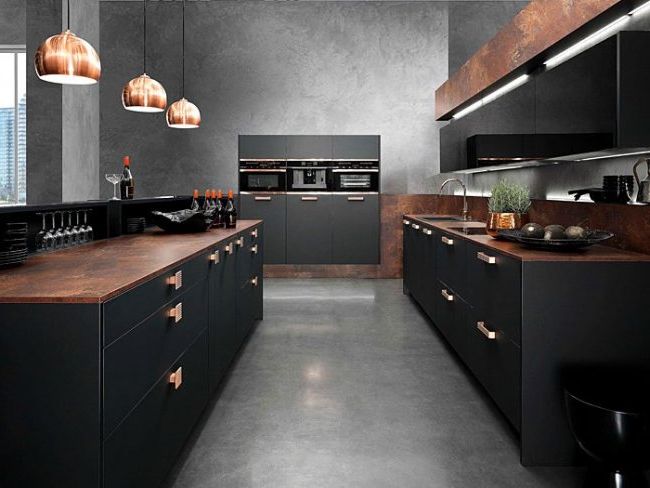 The floor in gray or charcoal colors will remain a trend.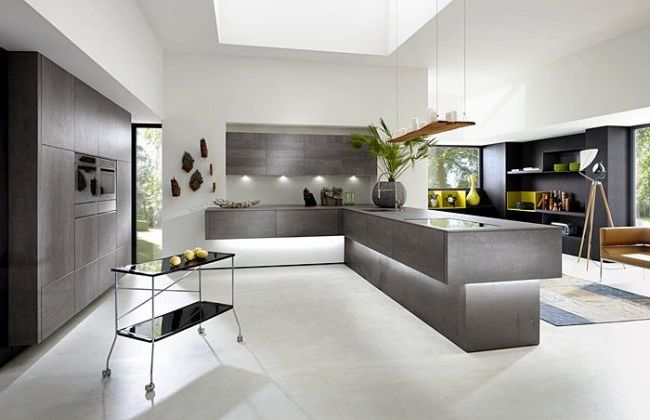 Concrete and wood combined, generate very sophisticated and ultra modern spaces.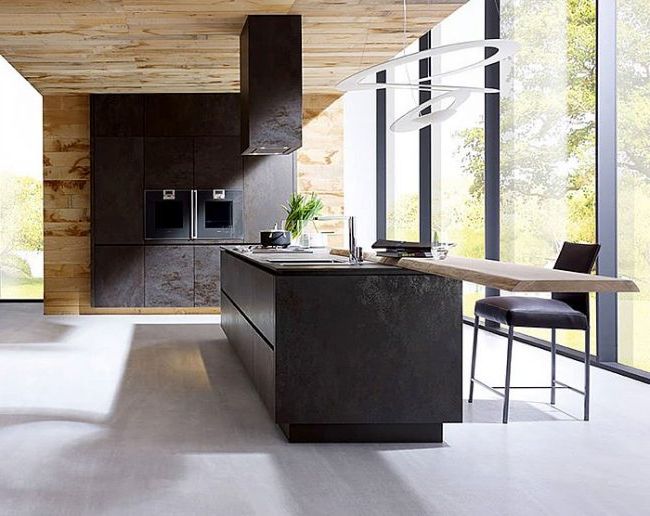 Contrasting textures
The new designs use contrasting texture finishes. For example, dark porcelain or slate with wood, or super matte black cabinets paired with warm bronze metal sinks. These elegant finishes are balanced by natural organic elements, such as wood accents for the island or wide plank flooring.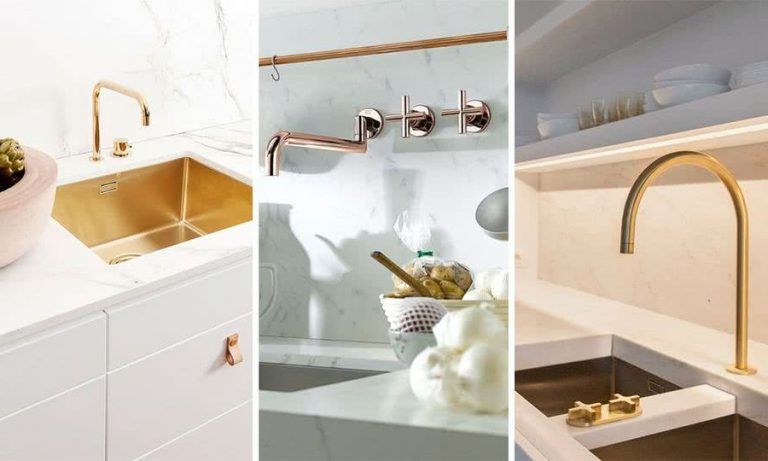 The most popular finishes for cabinet handles are matte black, satin nickel, pewter, and antique brass. What is common to all of these finishes is that they are matte, not high gloss finishes and therefore do not show finger marks.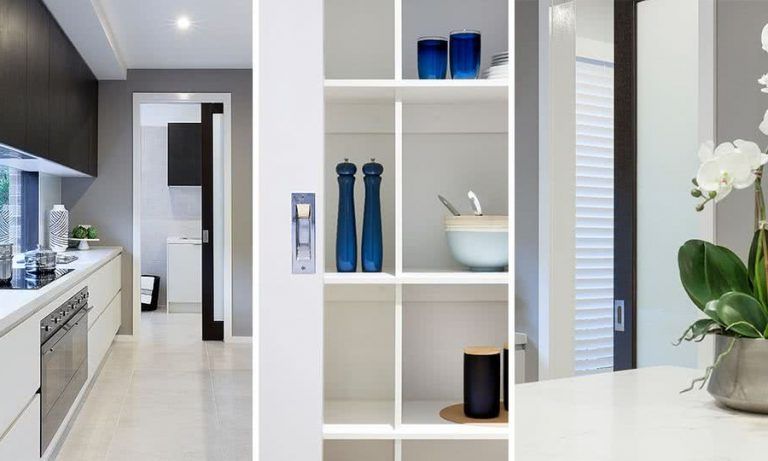 But there are more possibilities. As you can see in the photos that we show you, the materials used are very diverse. And more and more they mix with each other, that is the case of wood, glass, plastic, ceramic, stone and metal, which merge in more original combinations and which can already be seen setting trends in kitchens for next year.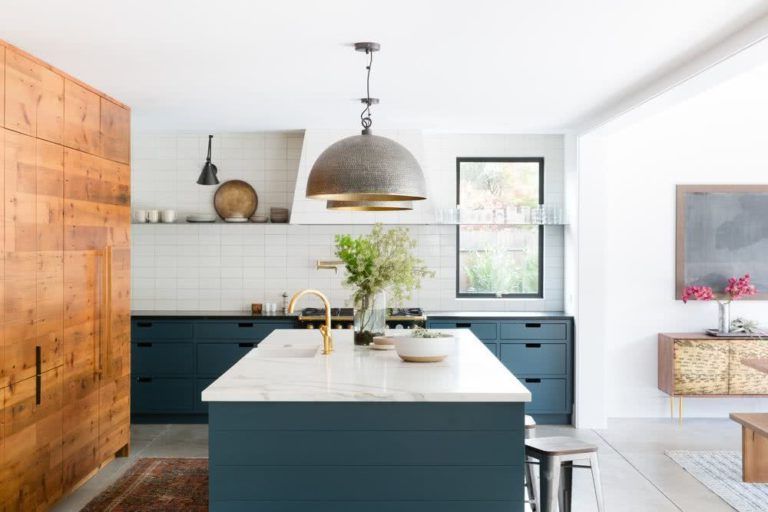 Homeowners are turning to synthetic materials, which are cheap, durable and look good. Some of the most popular brands for countertops come in many colors and various thickness and shape options.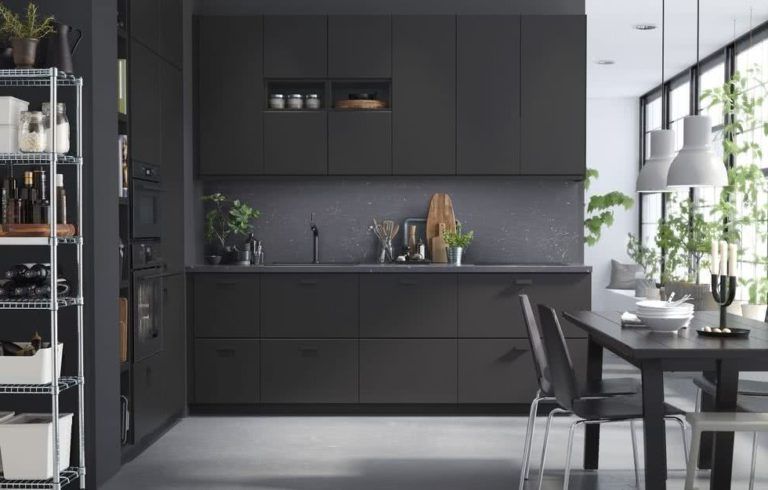 Sinks
A trend in the market that is in high demand is granite sinks. Black and white sinks will be the color choices for 2022. Another more luxurious option is brass or copper metal sinks.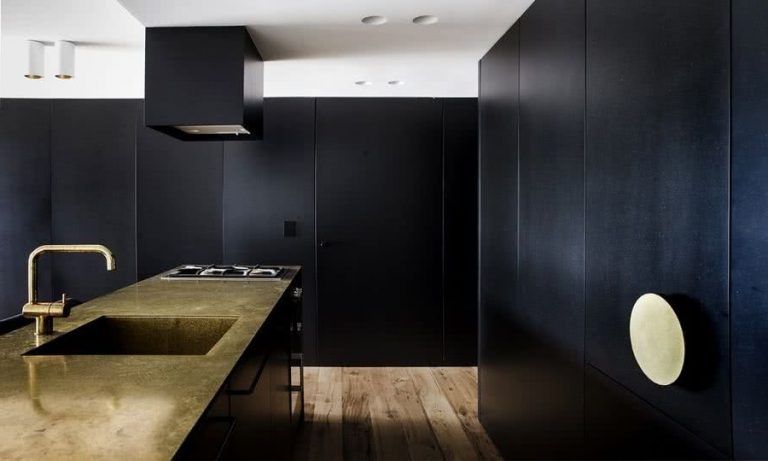 But of course, stainless steel will not lose its place, as it is durable and inexpensive.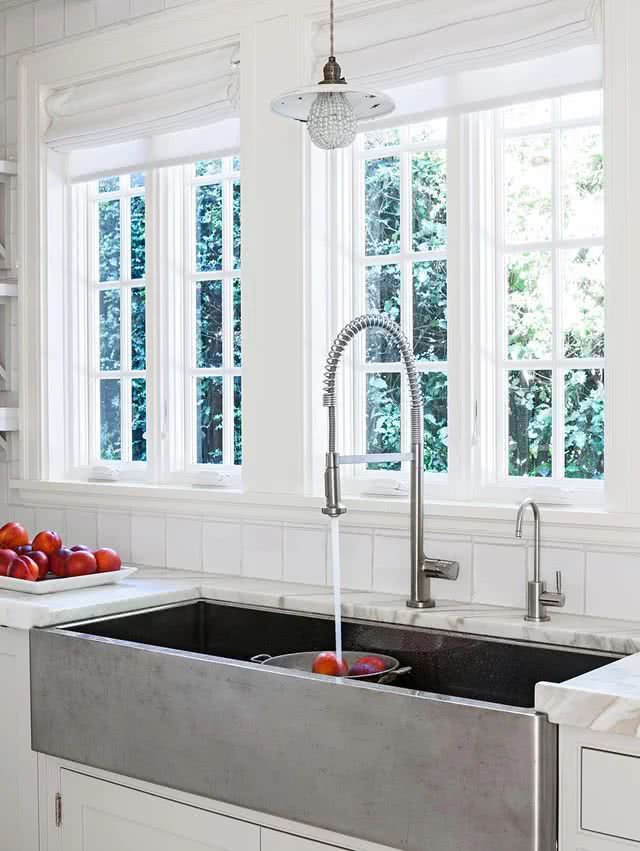 Connection to the outside
In modern architecture, the kitchen is gaining more and more notoriety every day, due to the fact that it is a functional space, for work, but for many of enjoyment and relaxation. It is used to practice the hobby of cooking, or cocktails, have a chat with friends on the island, or have breakfast in the morning. Given this, a way has been sought to give this space more vitality, through large windows that connect with the outside.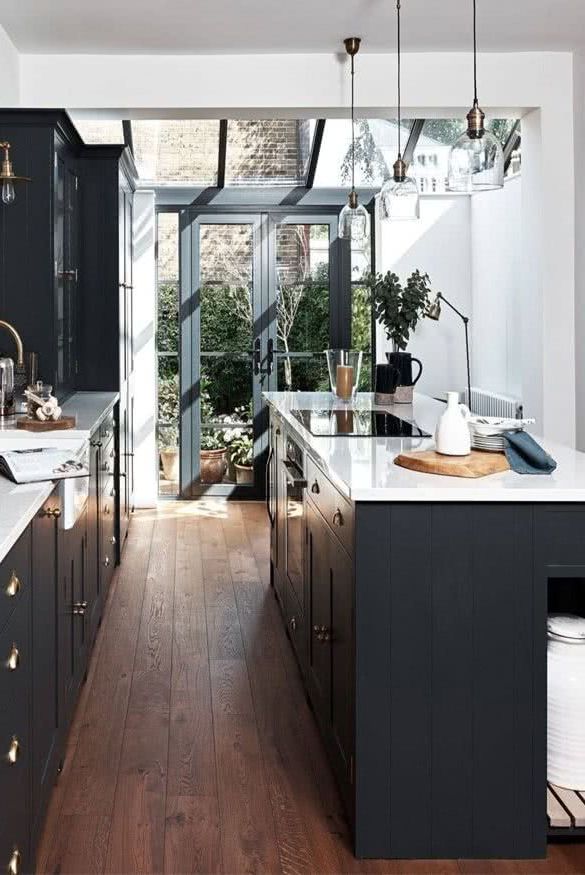 The idea is to place the kitchens adjacent to the garden, so that the window creates the feeling of being in both places at the same time, since, while cooking, you can enjoy the beautiful day outside, without feeling that you are losing.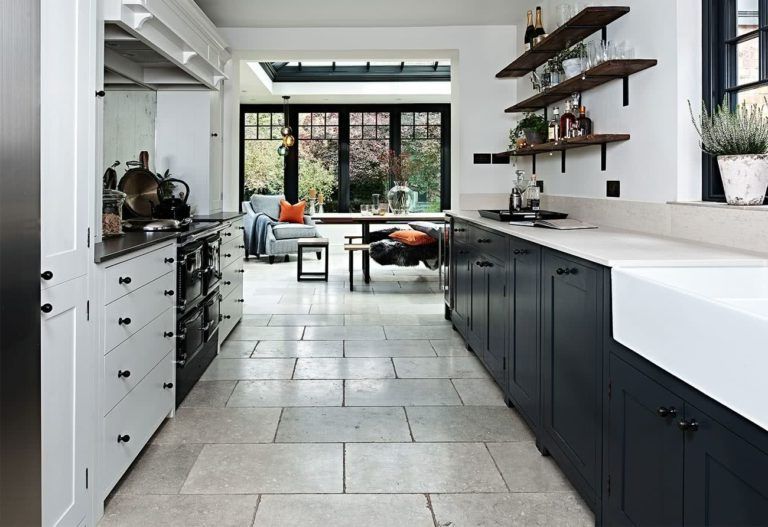 In the same way, if meals are made with friends, the windows can be opened, connecting the kitchen with the patio, without the need for the person who has to cook to miss half the meeting because they are not in the same space.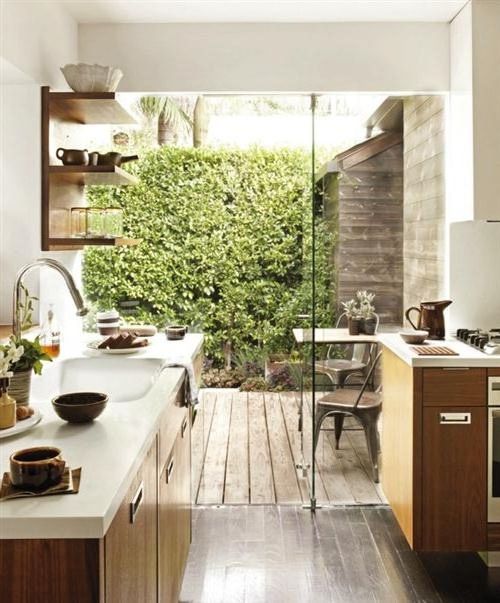 You can also build a terrace connected to the kitchen, to have a few drinks and eat pizzas enjoying the view and a larger space.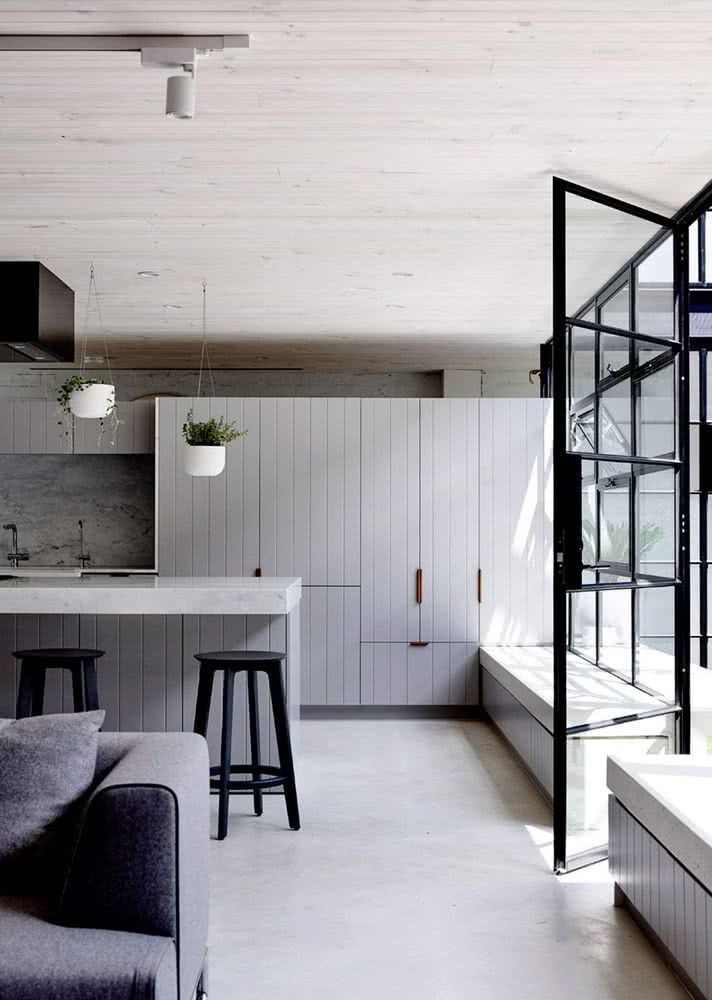 In addition to all this, letting in more natural light generates more light and therefore a better vibe.
Home appliances
Stainless steel continues to be the preferred material in both large and small appliances.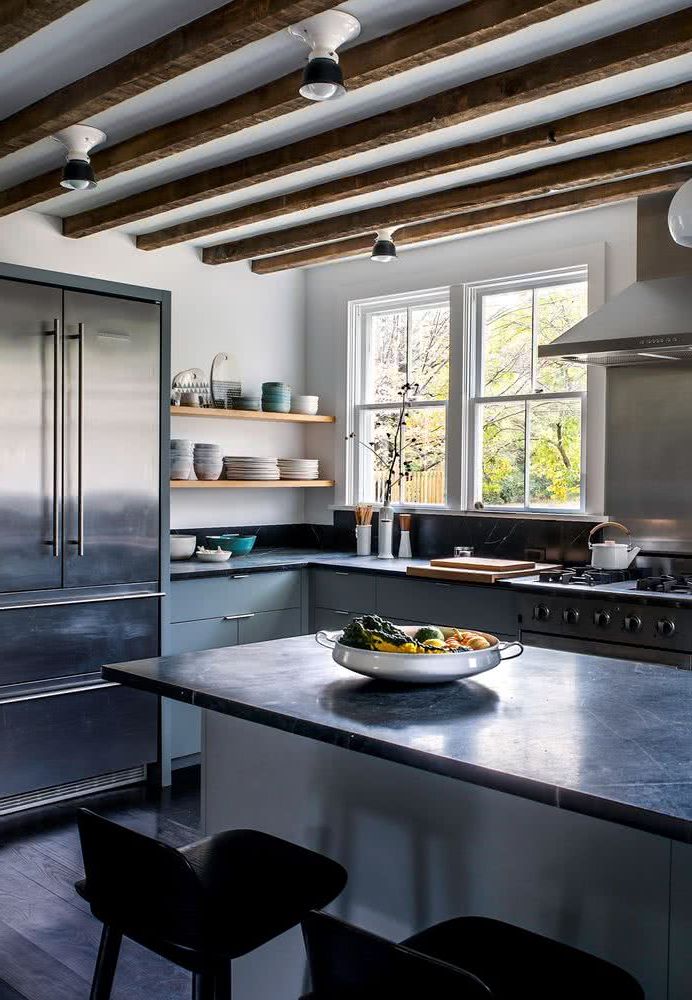 French door refrigerators are going to be one of the preferred options, along with self-cleaning ovens that come with built-in steam.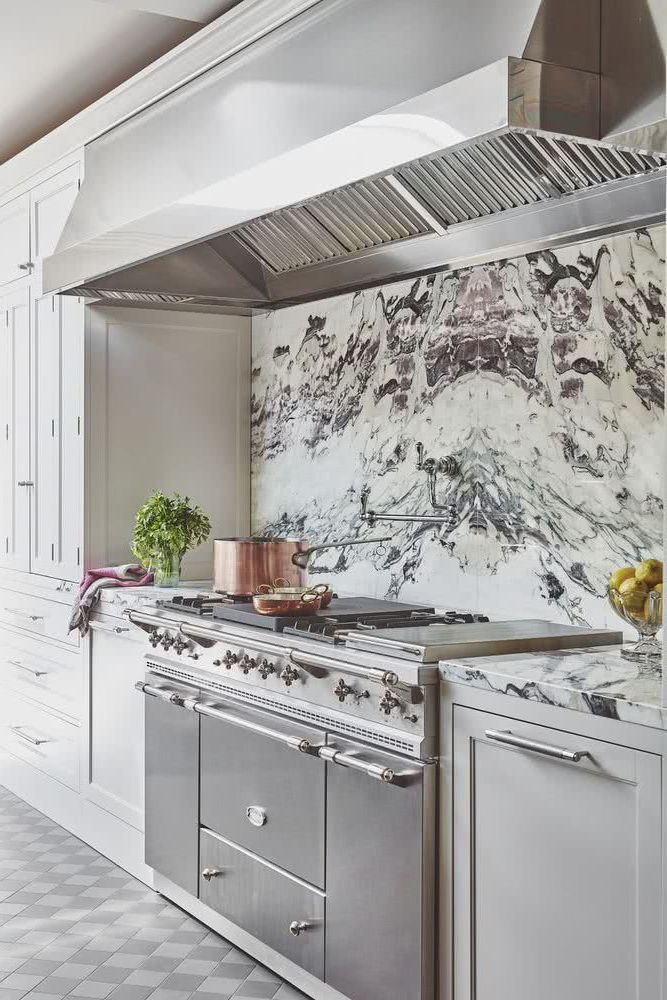 Kitchen designs are becoming more minimalist and clean. When it comes to small appliances, many people are choosing to integrate these into the cabinets and hide them, however, for those who prefer to leave them visible, they can be integrated into the rest of the furniture.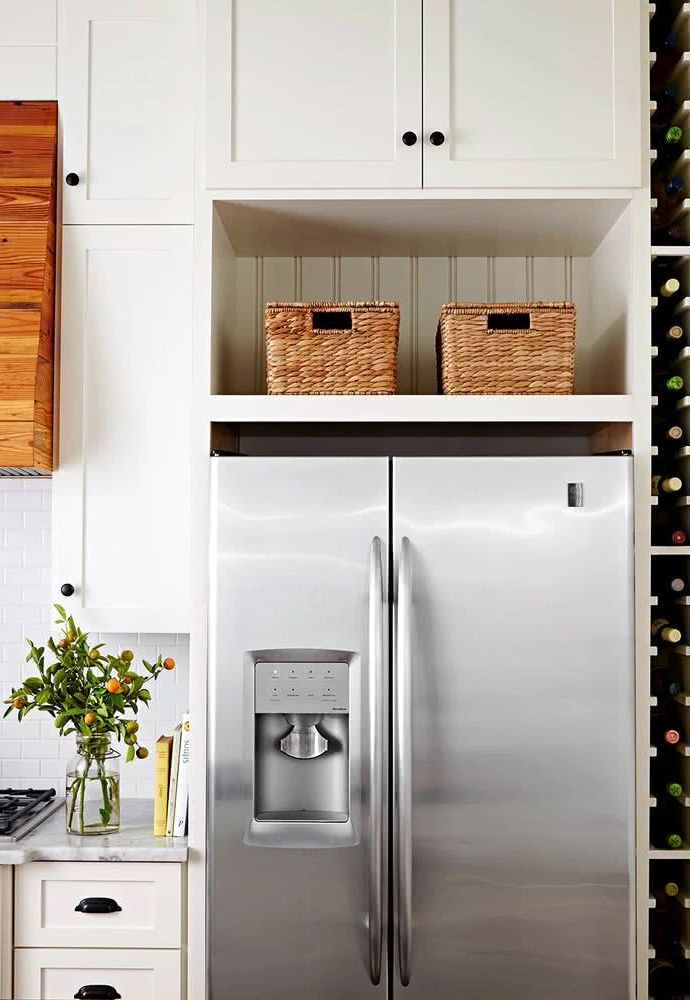 Modern kitchen furniture
Built-in wall cabinets
As for the furniture that will be in the kitchen, shelves and storage furniture that are fully integrated into the wall will predominate, seeming to be part of it.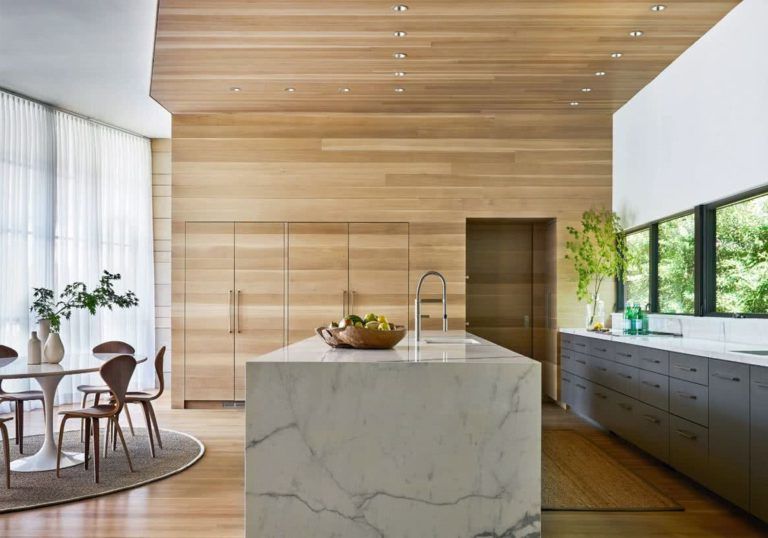 Wall cabinets reach to the ceiling to maximize storage space and minimize dust buildup.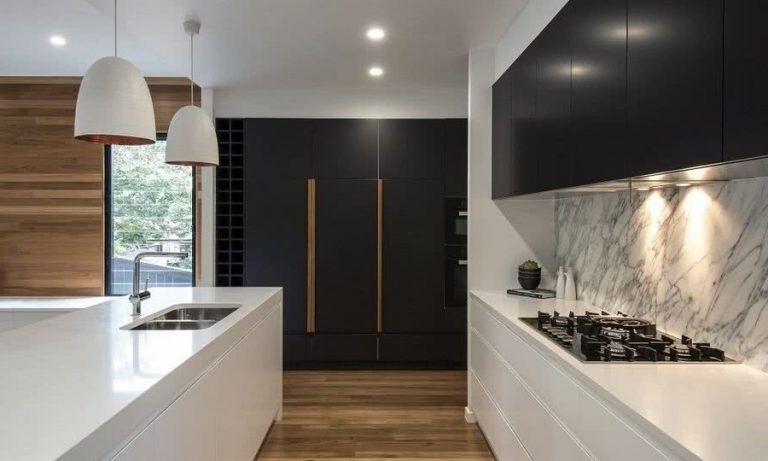 Closed and upper cupboards are also being pushed aside, giving way to glass doors and open shelves.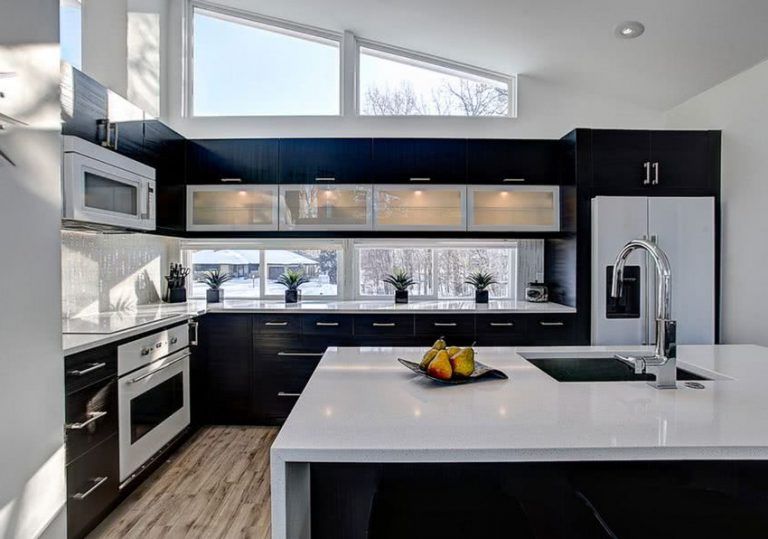 Metal, wood and glass are the most trend-setting modern materials for kitchen shelves and shelving, giving spaces a larger, brighter look.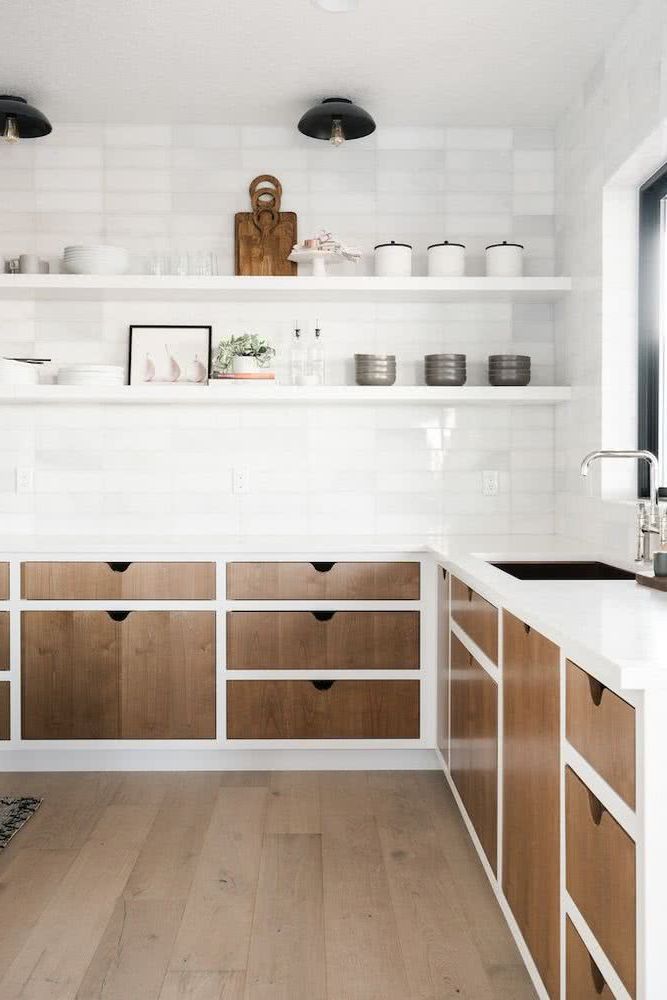 The open and well-organized spaces, free of obstacles and well ventilated, also stand out.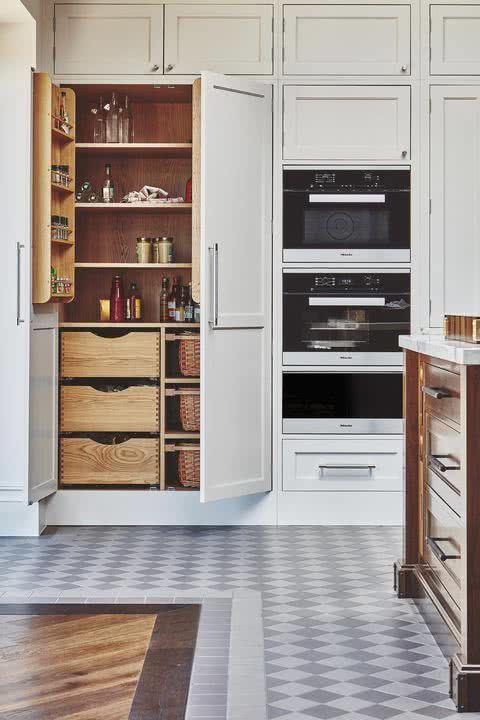 Incorporating smart storage solutions and using every inch of space efficiently are key points.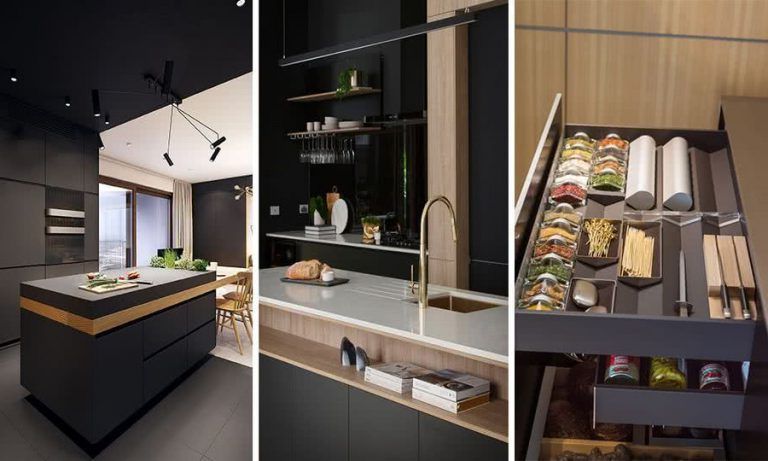 The cabinets feature deep drawers that allow items to be more easily accessible, and come with self-closing mechanisms.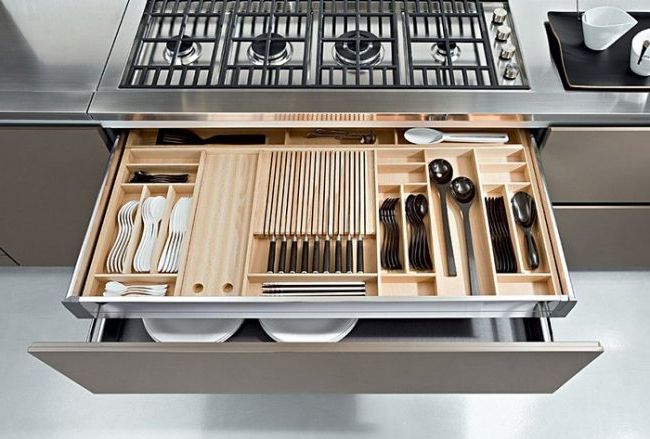 Open shelves
Not all things in decoration follow a rule, and shelves are no exception, since not necessarily to be good and in accordance with the space, they must be closed. The open shelving format is increasingly used and gives the impression that they were floating, thus inserting a new storage model in the house, modern and that can be a plus both for decoration and to generate a feeling of space.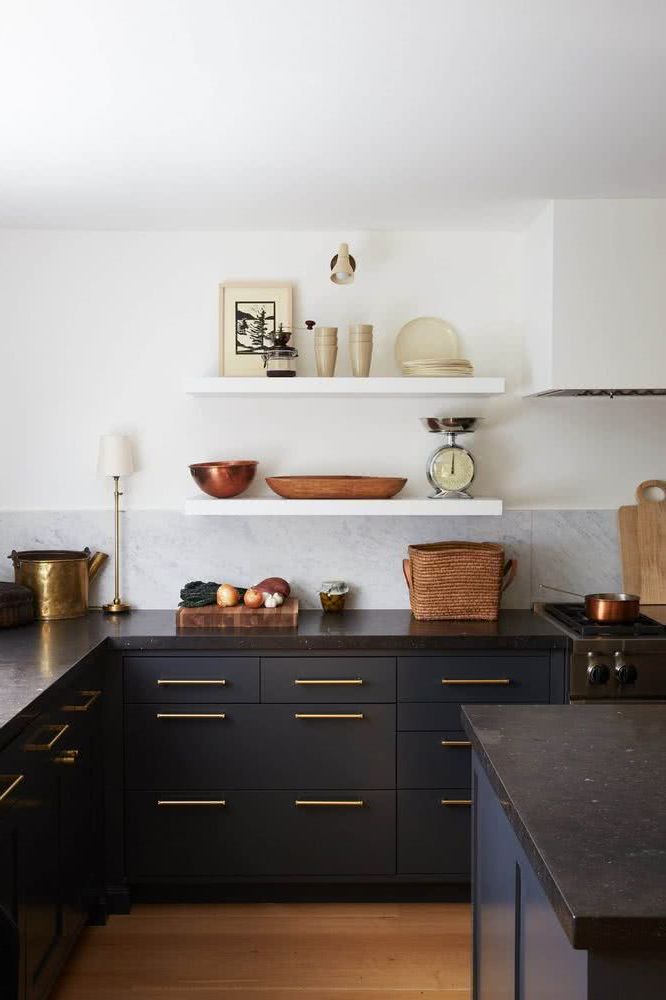 Open shelving offers a place to display items that reflect personality and create interest. They work best in a contrasting finish with the cabinets, as this helps to break the hegemony and create a good mix of materials.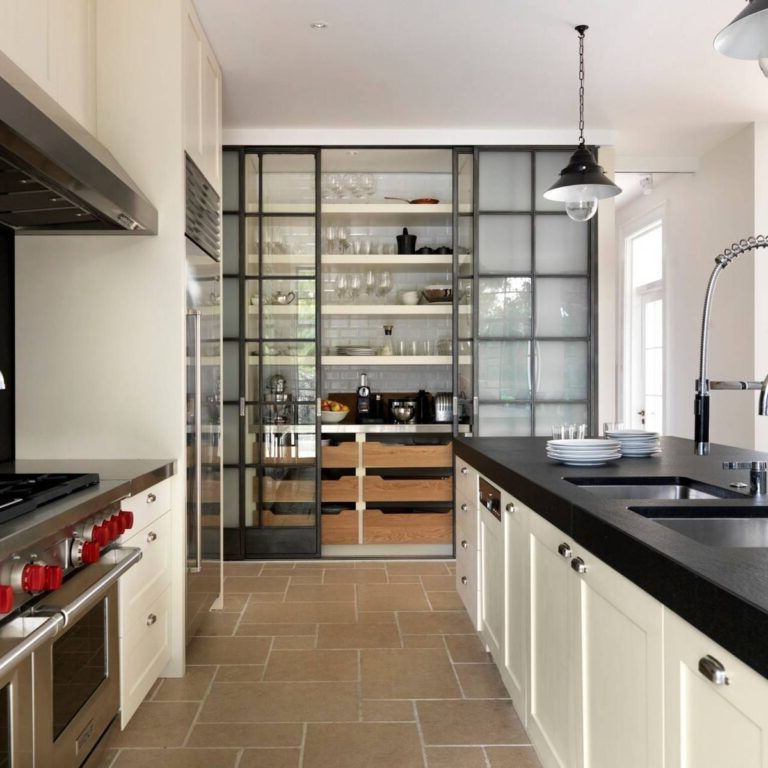 When you don't want to paint the entire wall, you can paint a few shelves a contrasting color to match the cabinets under the counter.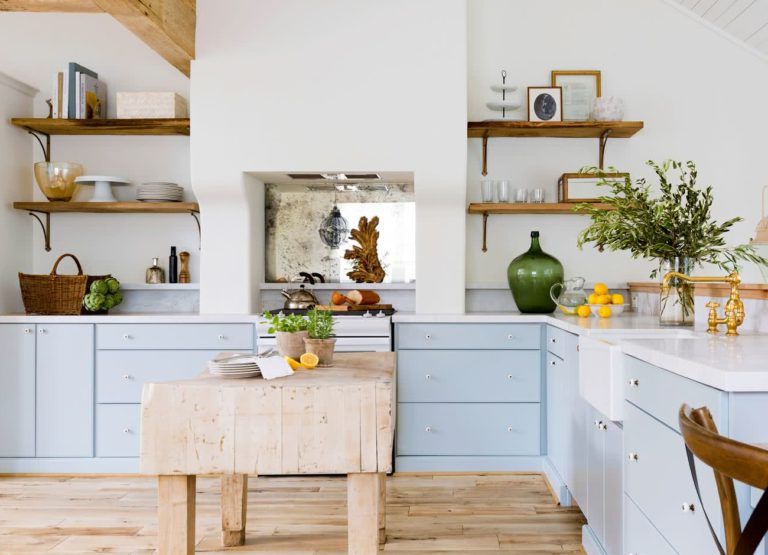 If you prefer transparent shelves, such as glass, you can opt for lighting to highlight what is on the shelves.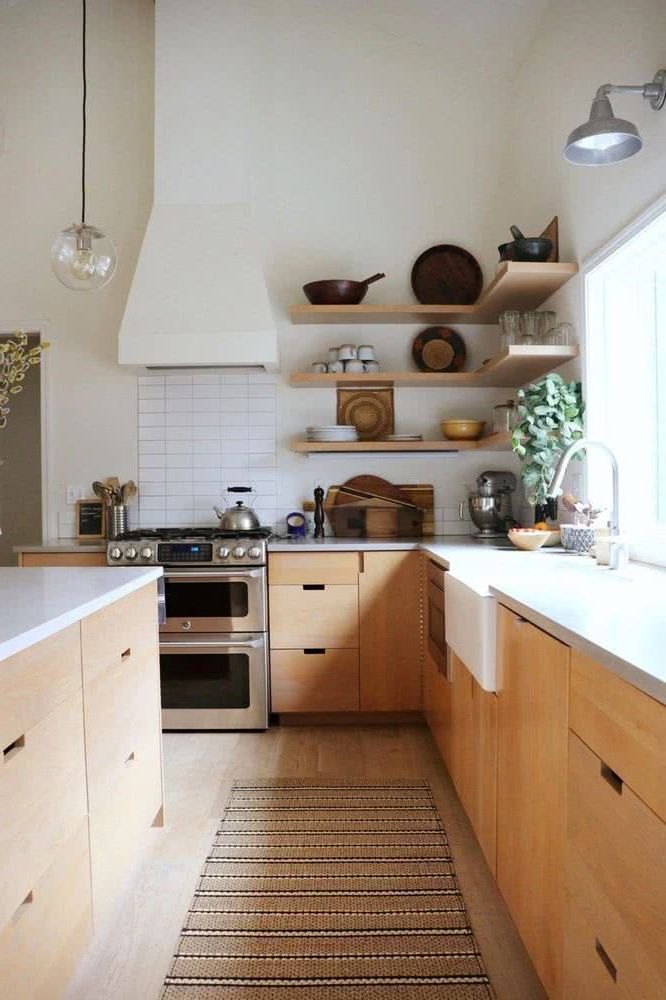 Those that incorporate sliding doors are an interesting possibility. These can serve to cover specific areas of the shelf, but at the same time they can be moved, as well as serve as protection for when one is working on the counter.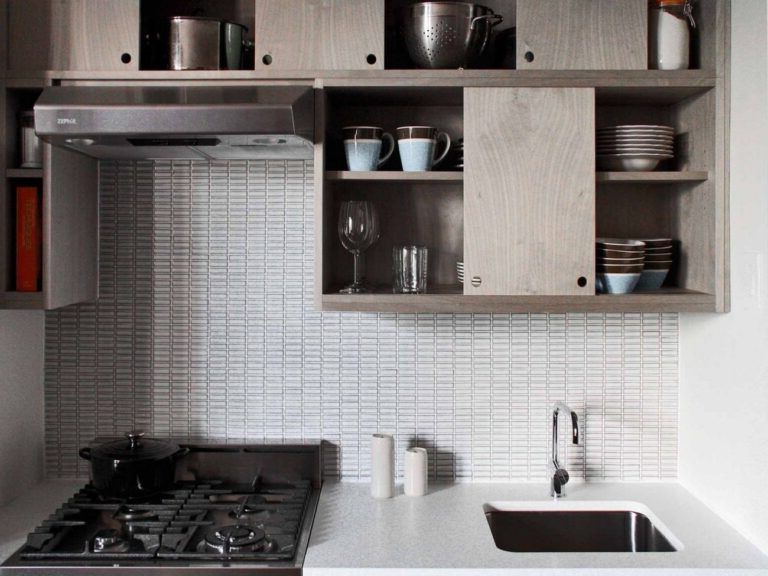 Lighting in modern kitchens
Another of the keys to modern decoration is the implementation of decorative techniques that increase the feeling of space, such as good lighting and a limited incorporation of furniture.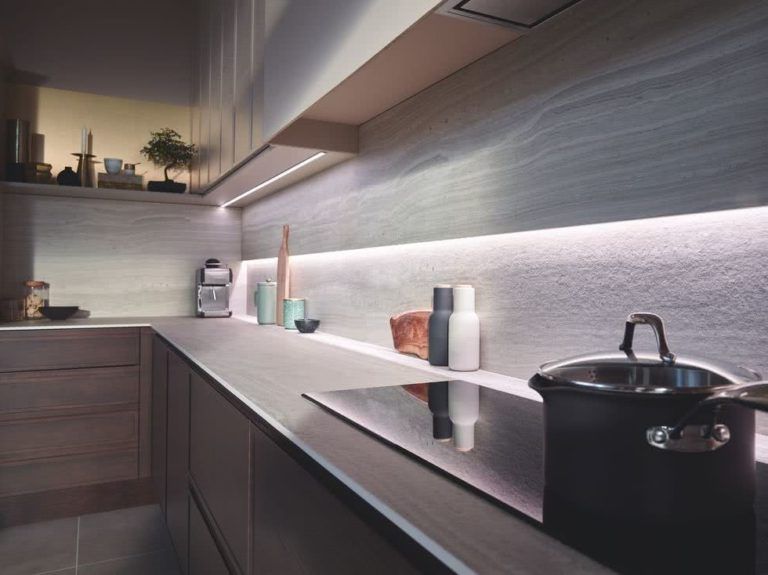 The lights can be hidden inside the furniture or ceiling.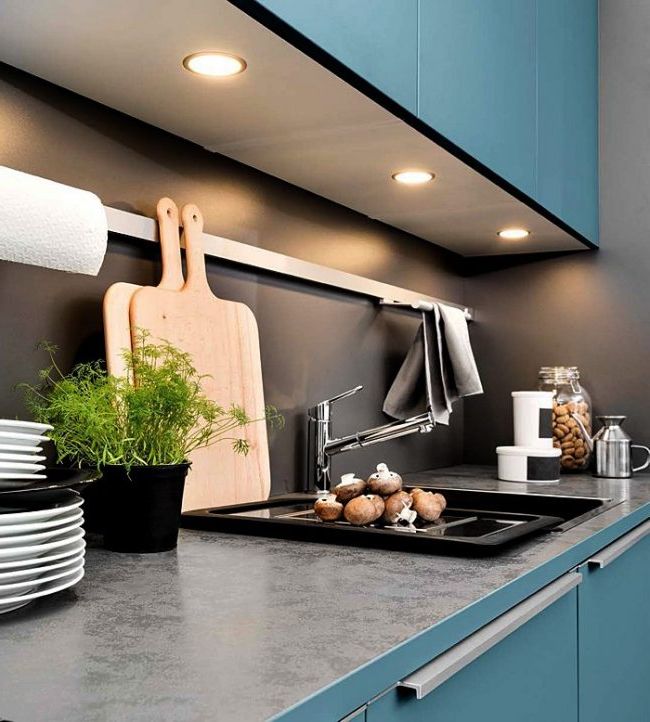 But you can also use decorative and elegant pendant lamps.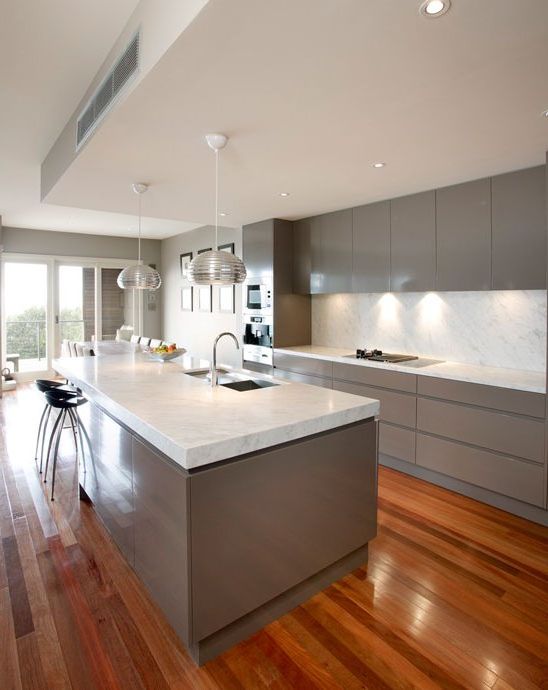 If you plan to reform, keep in mind that the windows in the kitchen are also an important point, not only for lighting, but also for more effective ventilation and to give a feeling of spaciousness.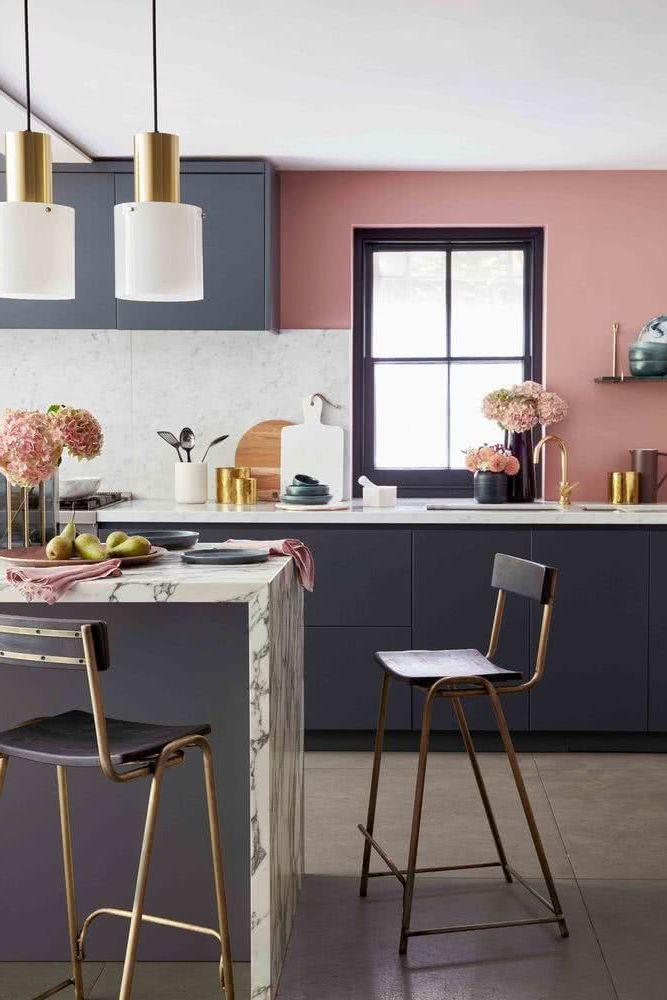 Colors in modern kitchens
Black and dark gray
Many interior designers have been using darker color palettes for the kitchen, experimenting with dark gray and black. Black and white will also be used a lot. The overall look is one of elegance and refinement, yet it has an air of natural simplicity and earthy lushness.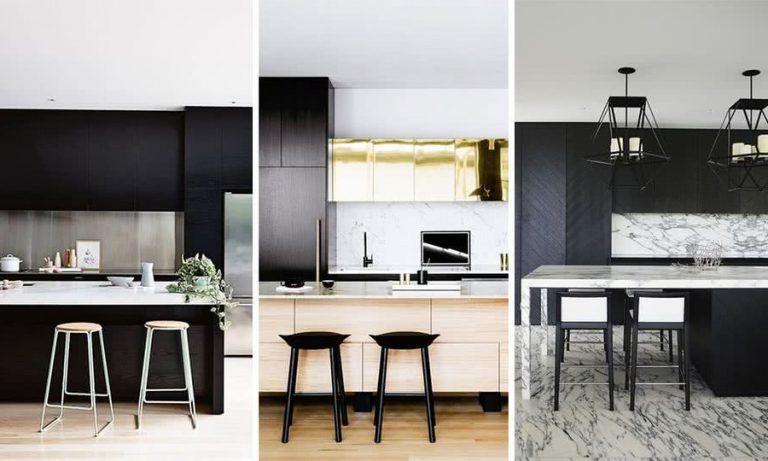 Dark gray and black combine with woods and metals, creating a highly contemporary and luxurious look.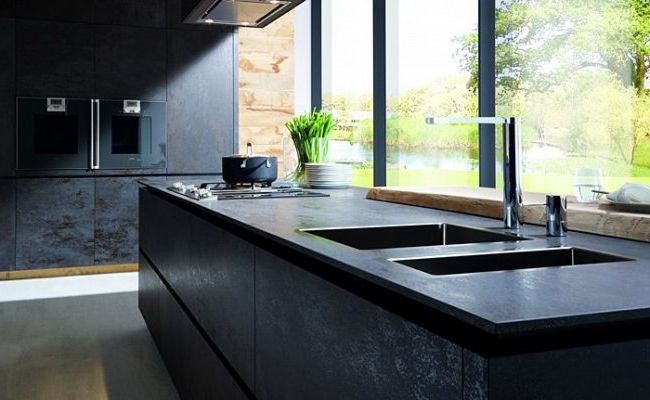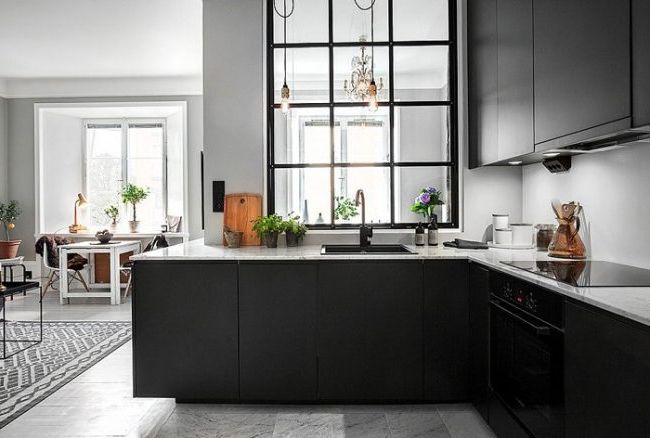 Blue
Wall cabinets in a color that contrasts with the lower cabinets are a winning combo that we will continue to see throughout the year. For example, the combination of muted navy blue with gray, white or black. Another popular combination is blue and wood.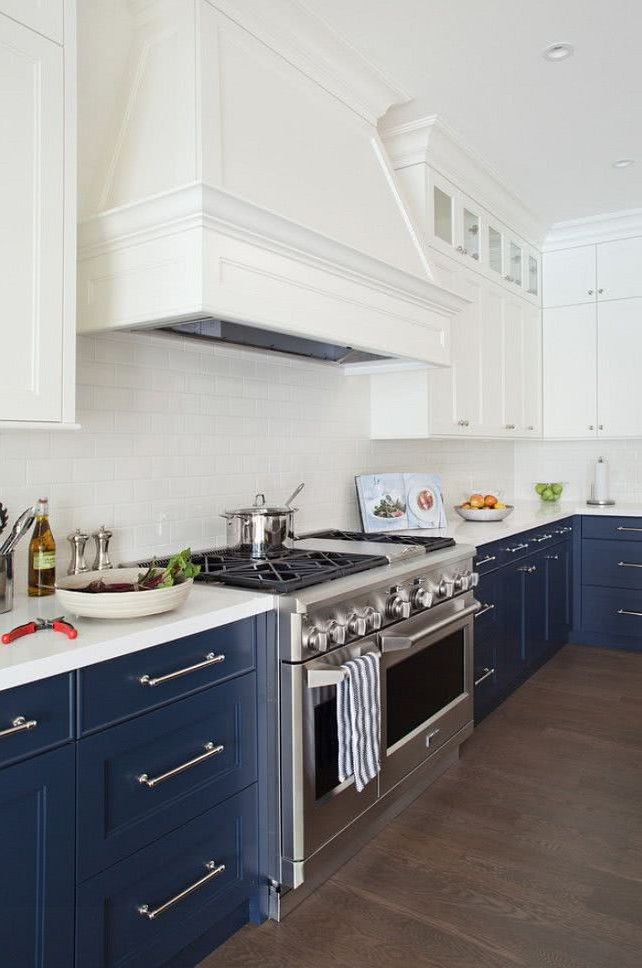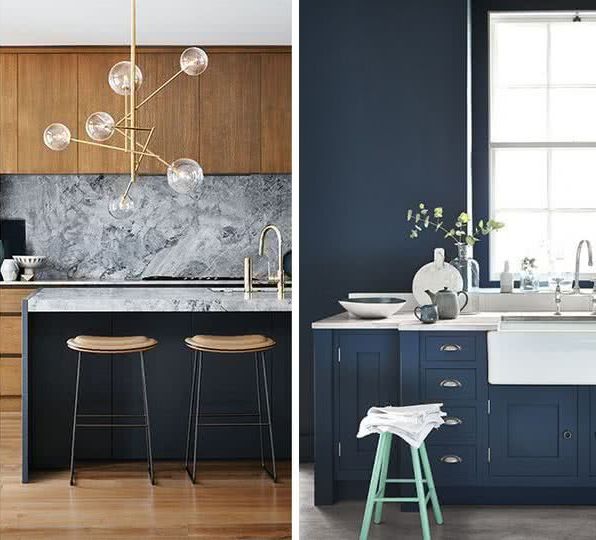 Navy blue will be one of the most used colors in the kitchen. Works well with brass fittings.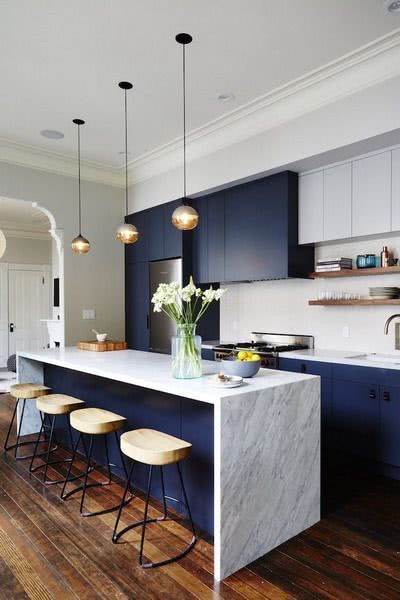 Green
This is another of the colors that is gaining more ground in kitchens. The most used shades are forest green, bluish green or celery green.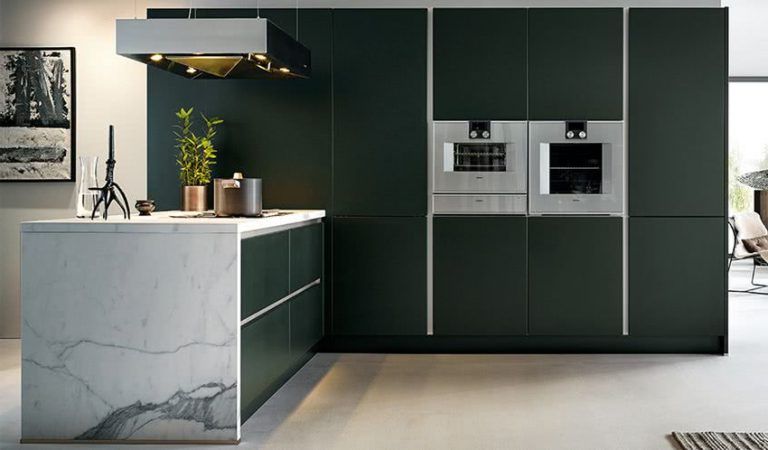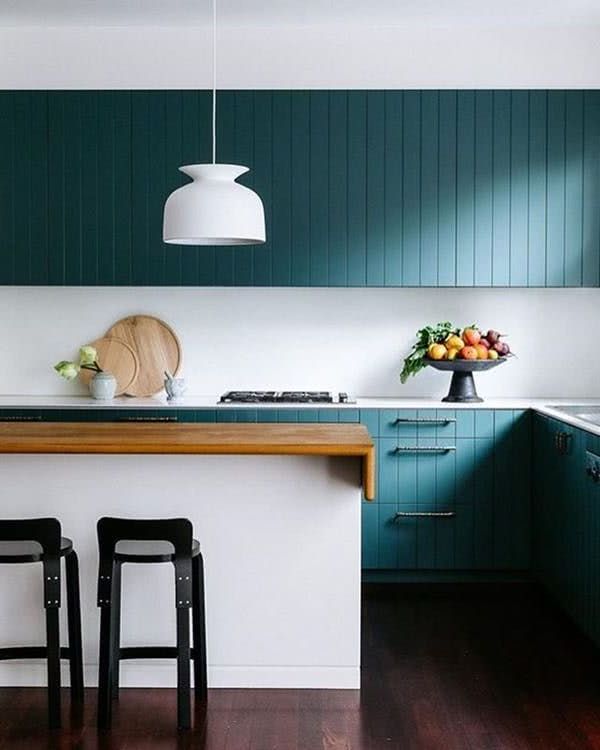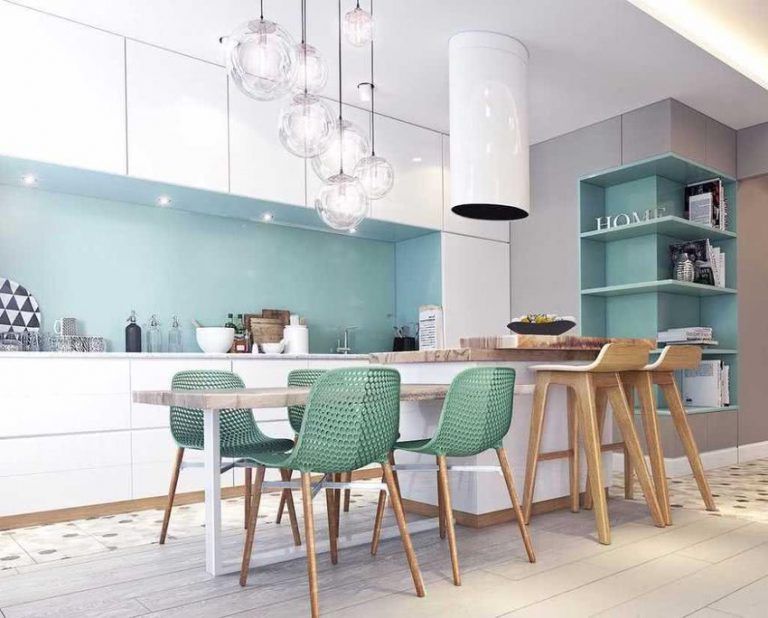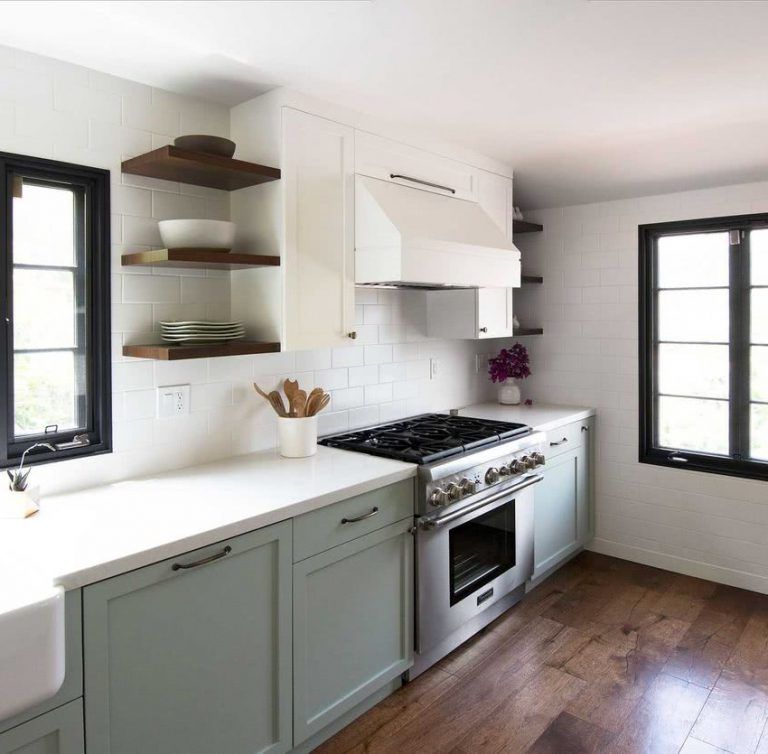 Pink
Another color that is being seen more and more in kitchens: old pink.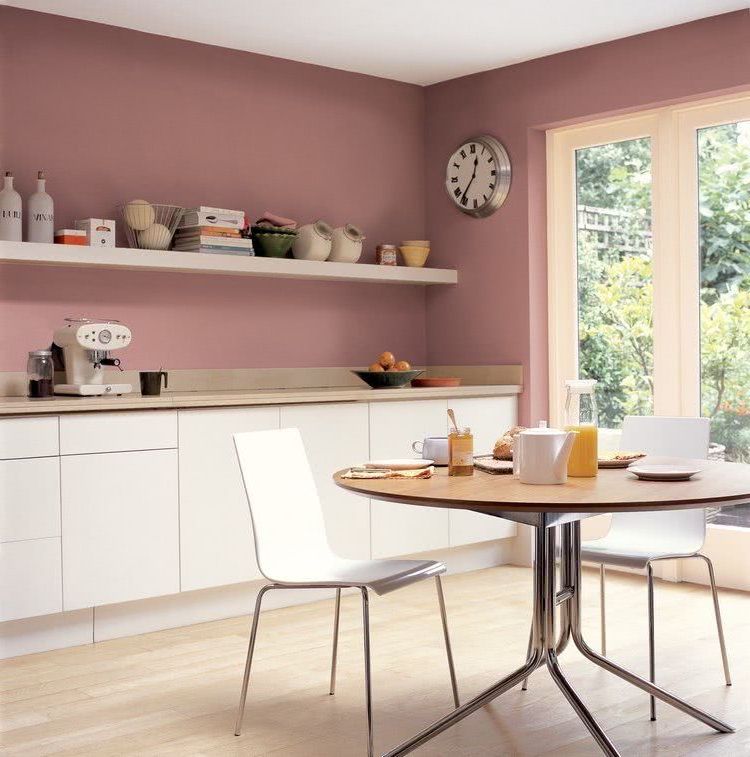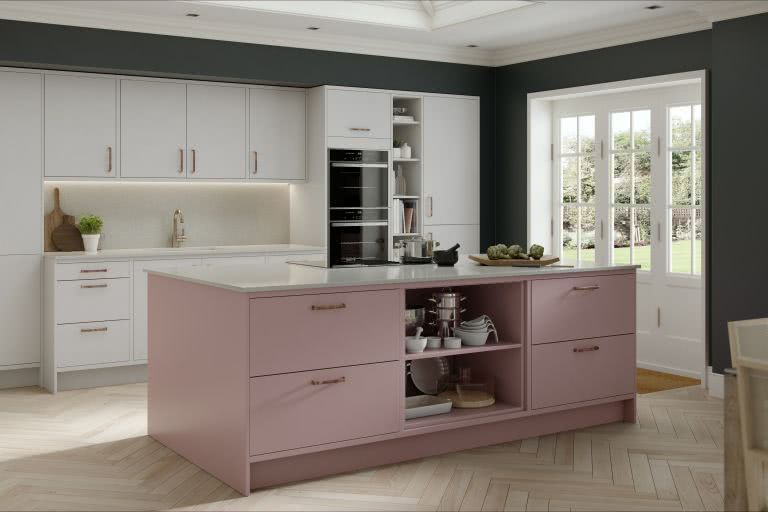 White modern kitchens
One of the classic colors for kitchens is white. This color provides a lot of luminosity and also gives an impeccable hygiene appearance.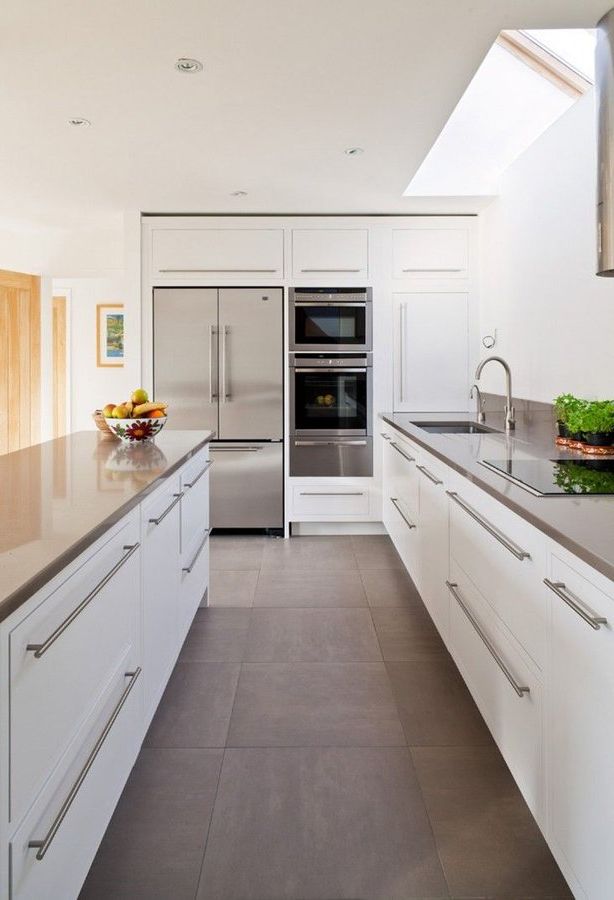 The white color can be combined with natural colored wood, granite or concrete.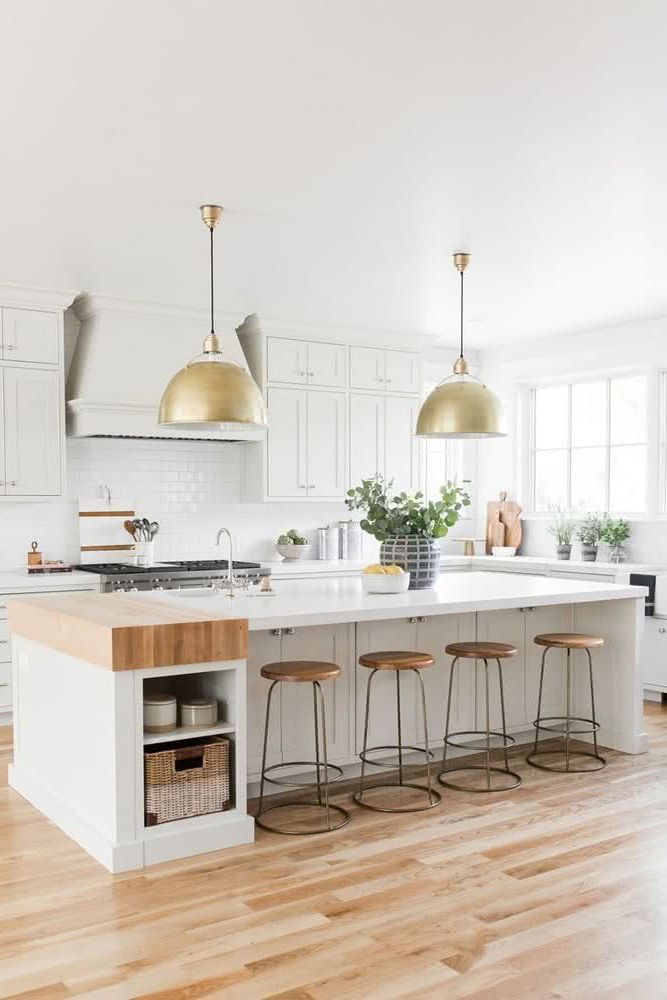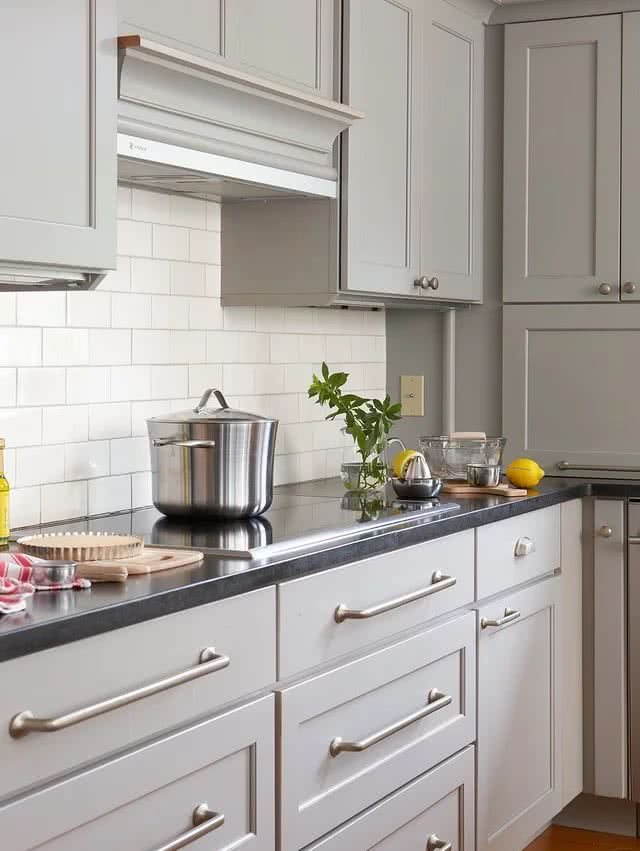 With small touches of black, white kitchens can also look fabulous.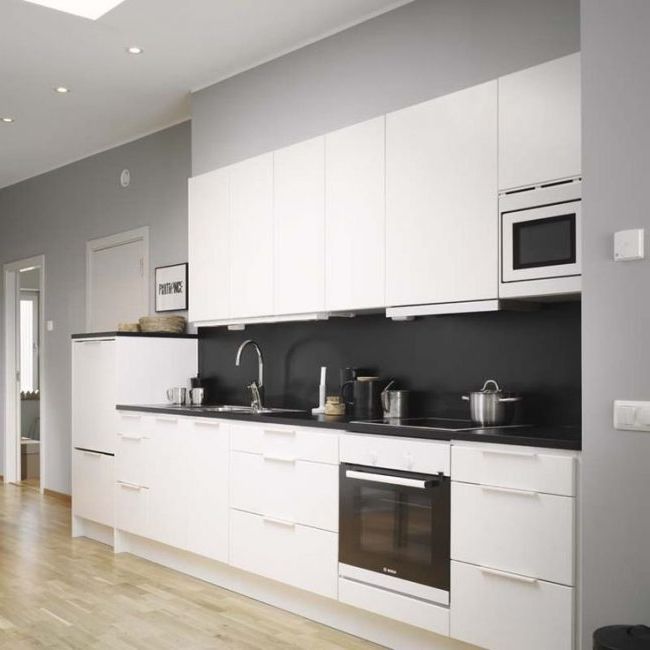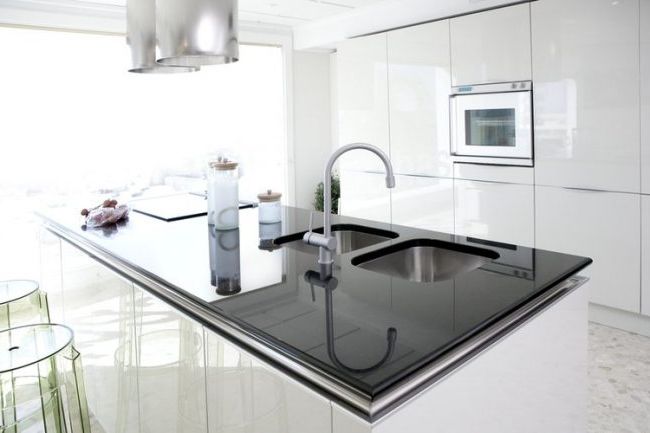 Gray and beige
Neutral colors are also gaining ground, more and more kitchens are seen in colors such as white, gray and beige.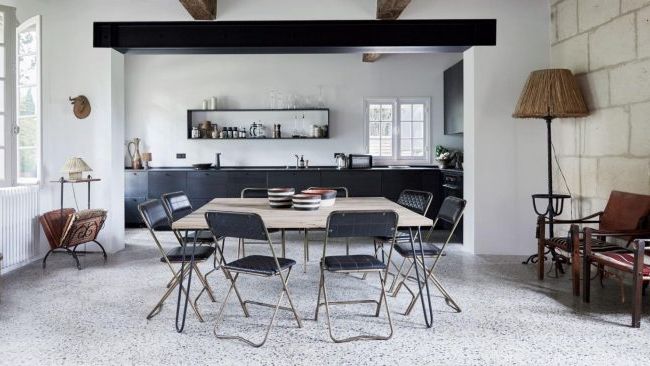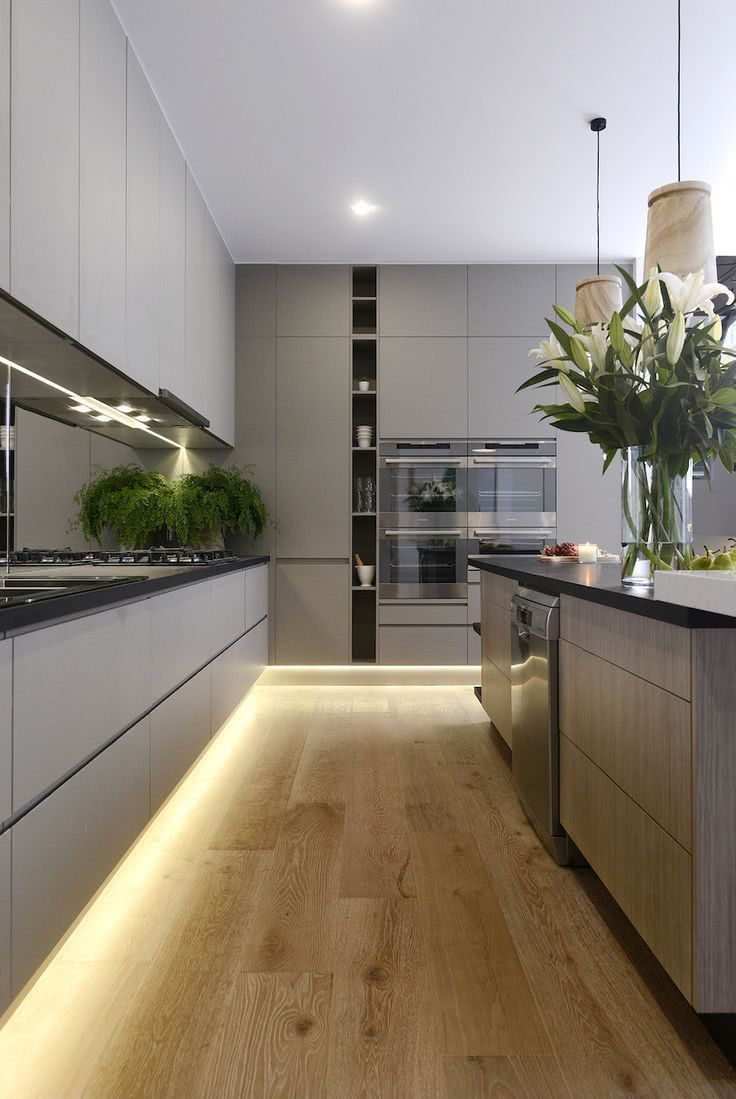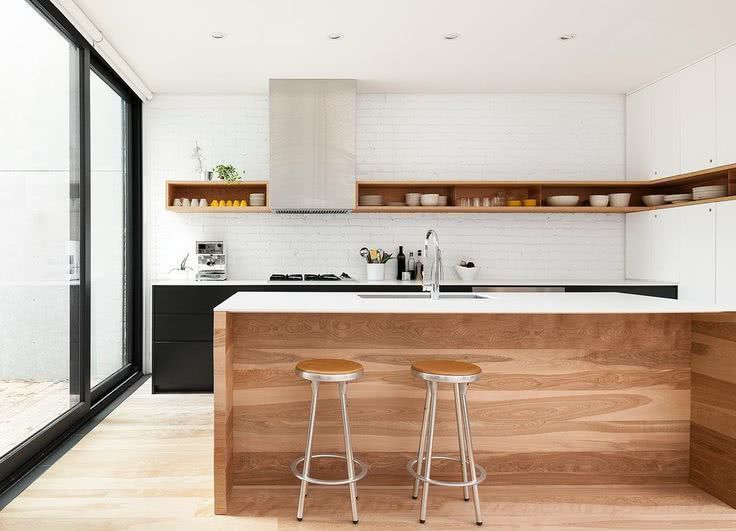 Hints of intense color
As you will see, through the photos presented, we can also choose between multiple decoration styles, many of which emphasize the incorporation of strong colors through tiles, furniture or different decorative accessories.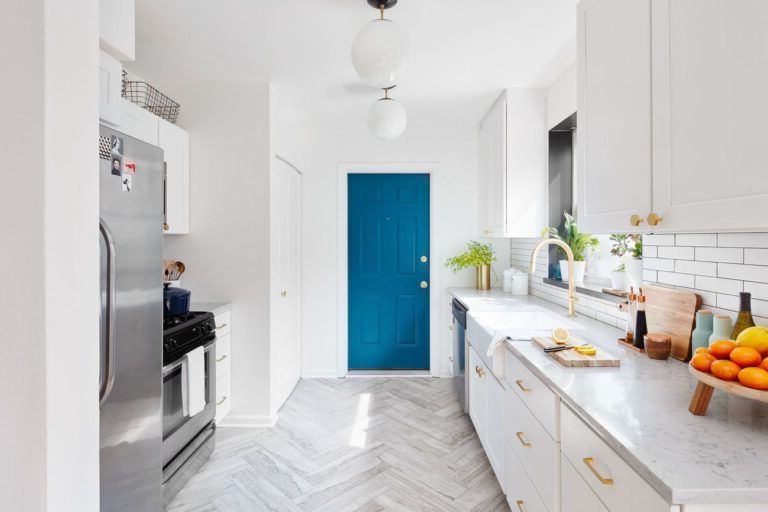 Strong and vibrant colors also impose style in modern kitchens, with green and orange being some of the most used tones, which are even more favored when combined with good lighting.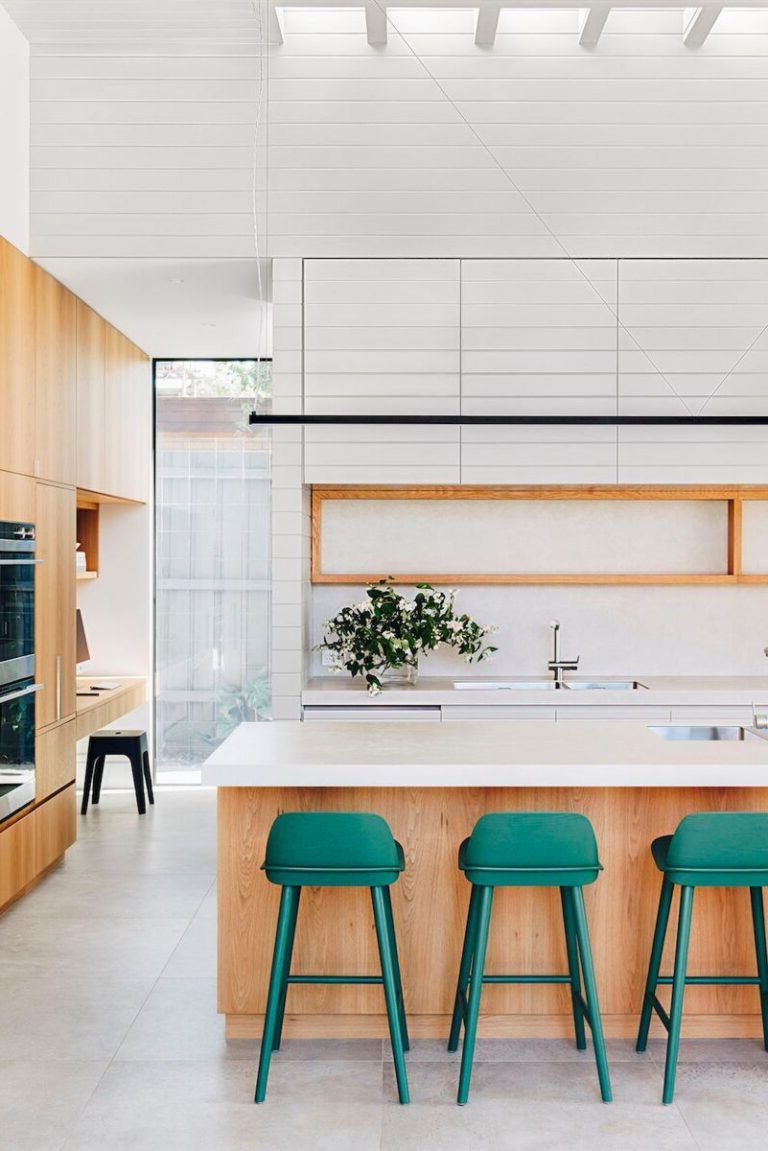 Modern kitchen designs
Integrated kitchens
Today's kitchens are becoming shared family spaces that also allow eating, working, or lounging within the same area. Kitchens are being designed to allow spaces to be shared and offer more design versatility and flexibility.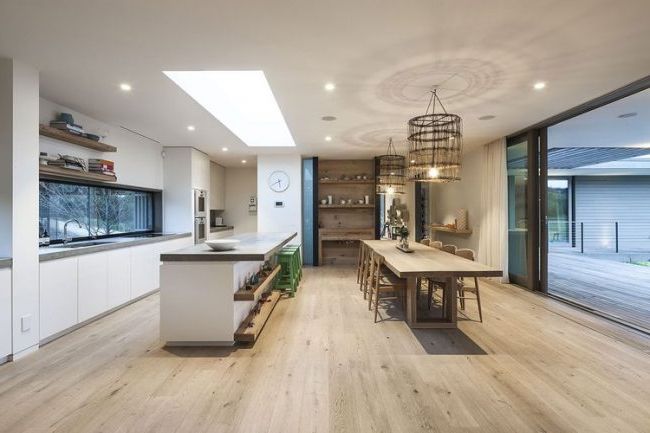 Many new kitchens incorporate a dining table that is also used as a work table. This helps encourage interaction within the home and create a social environment.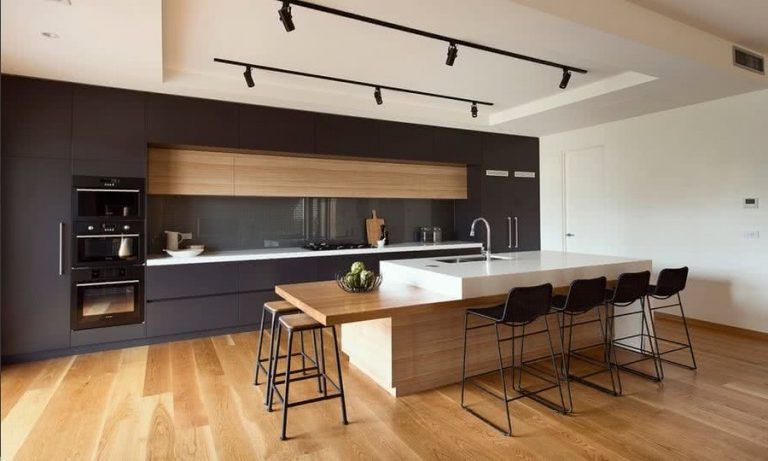 Kitchen islands are also incorporated that usually have several purposes, such as preparing food while interacting with other people around it. They can contain a small sink.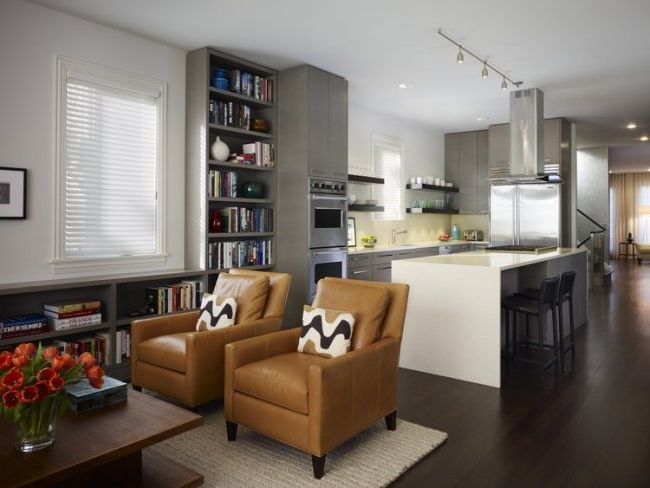 Kitchens open to the living room or dining room
Perhaps your kitchen feels disconnected from the rest of the home. If you want it to look more modern, consider the possibility of knocking down a wall, to integrate it with the dining room or living room.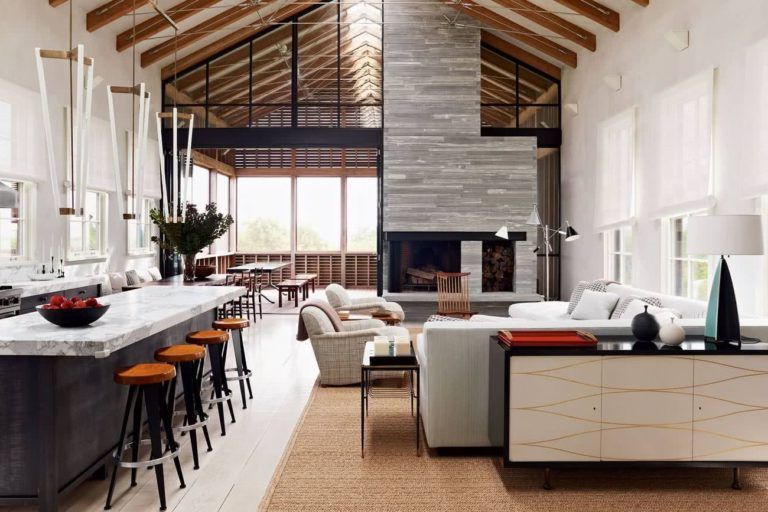 Modern kitchens converge with the main living space of the house. Little by little, they are becoming a space where daily life takes place.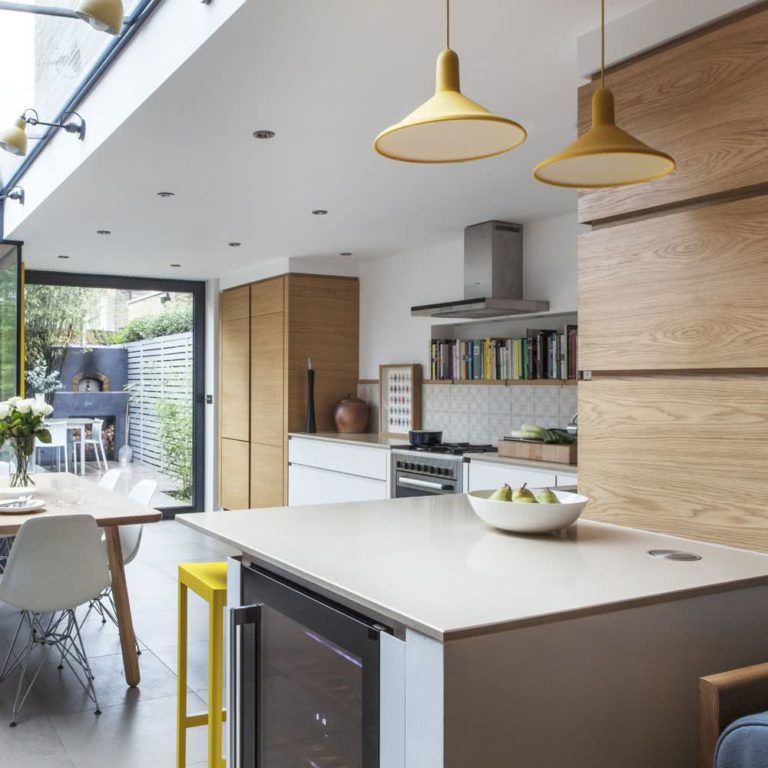 This inclusion can be done in a very harmonic way using kitchen islands, for example. In these photos, we see that the kitchen is integrated into the dining room or living room, turning these spaces into a large, comfortable and functional environment.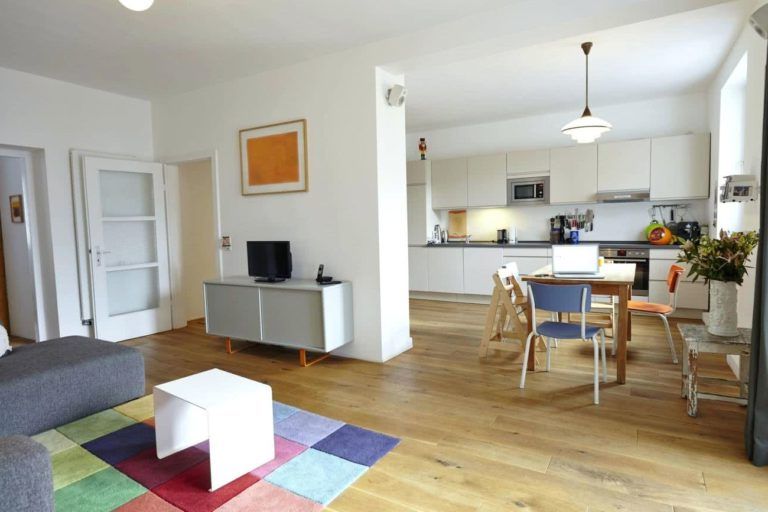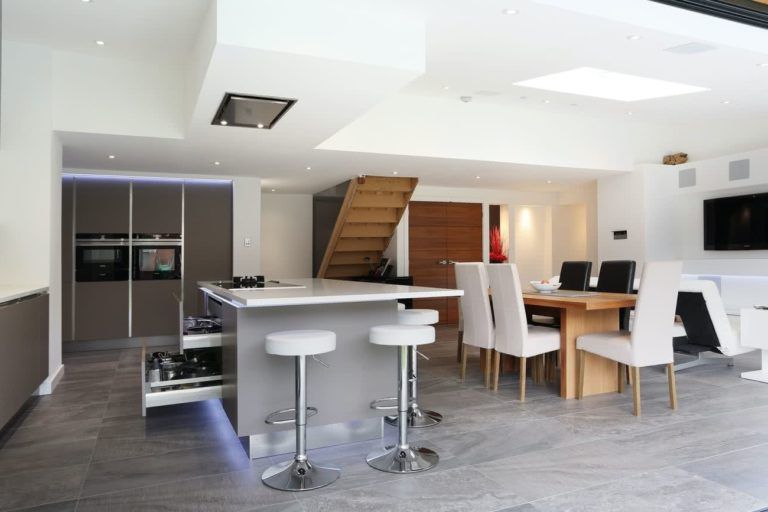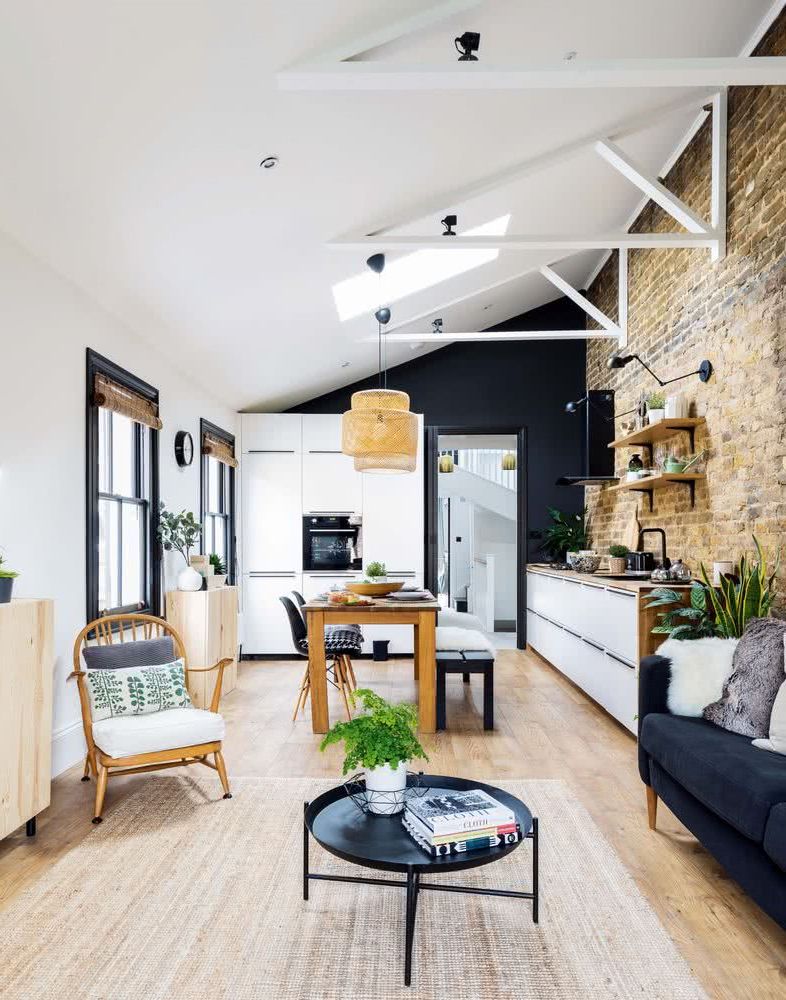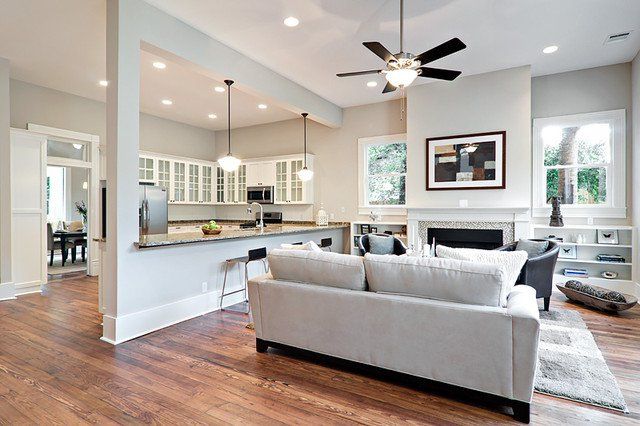 Modern kitchens with island
Kitchen islands serve several purposes. As well as being a focal point in the space, they also help increase the functionality and efficiency of the room.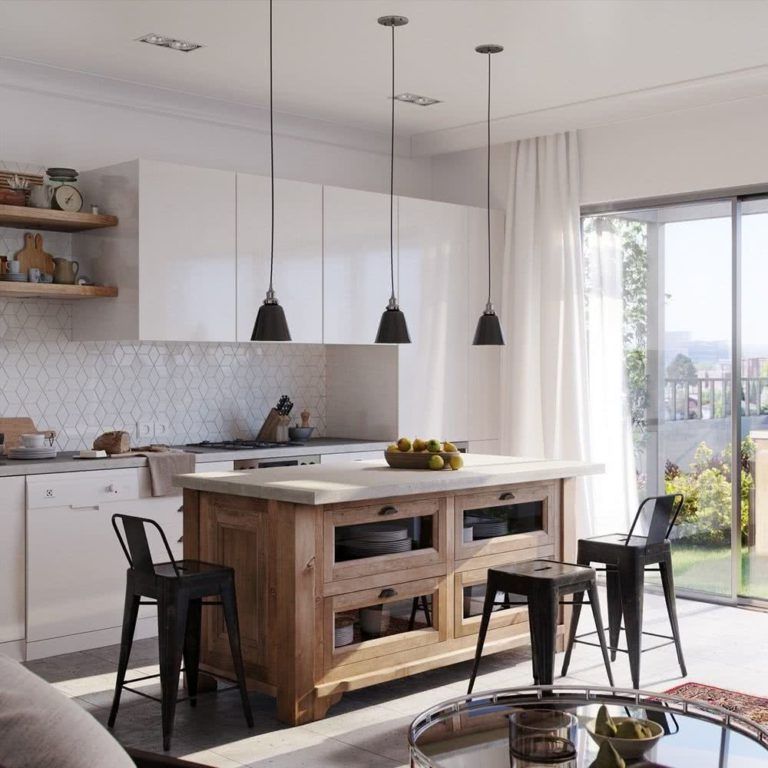 According to some surveys, more than 70% of buyers want an island in their kitchen, and of these, 50% consider it essential. Since it is clear that adding an island is a good investment, you should consider this possibility if you are planning to reform your home.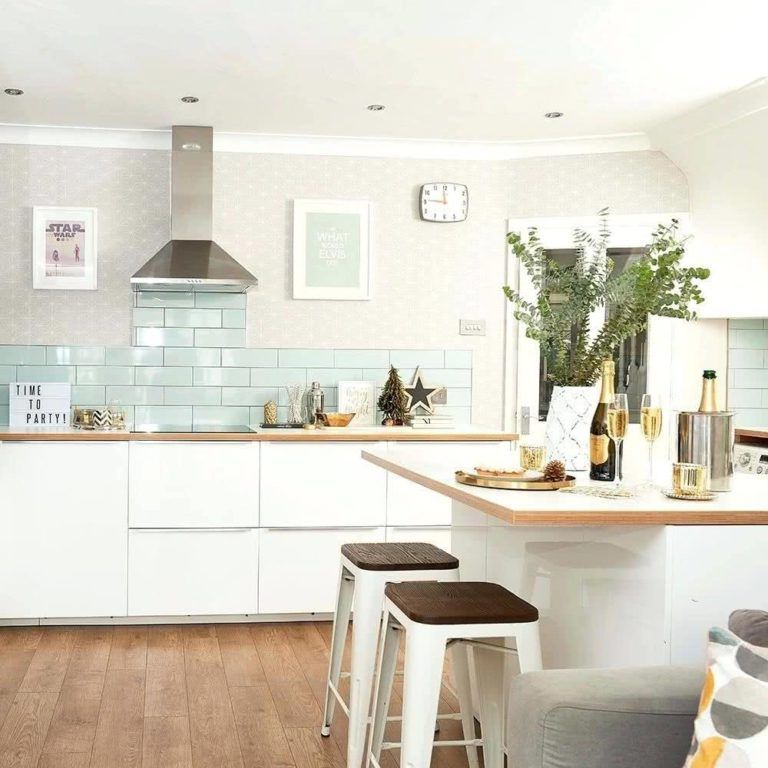 Think about what kind of design (either custom or pre-made) is going to provide you with the most utility. If your kitchen has few cabinets, you'll want storage. If you don't have a dining space, some extra seating might be a priority.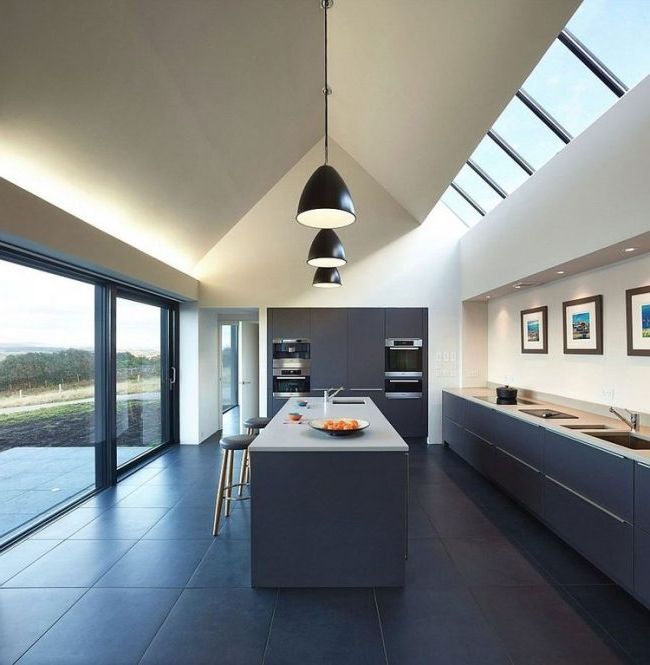 You should also take into account the available space you have. A good rule of thumb is to place it in the center of the room. That way it is equally accessible from all sides and won't be a hindrance.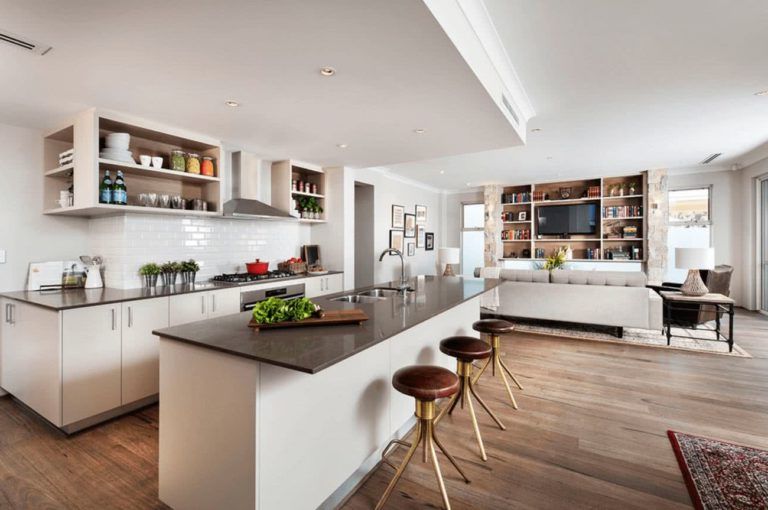 However, a perimeter island, for example, might work better in a large open space. The size and shape are also determined by the layout of the room.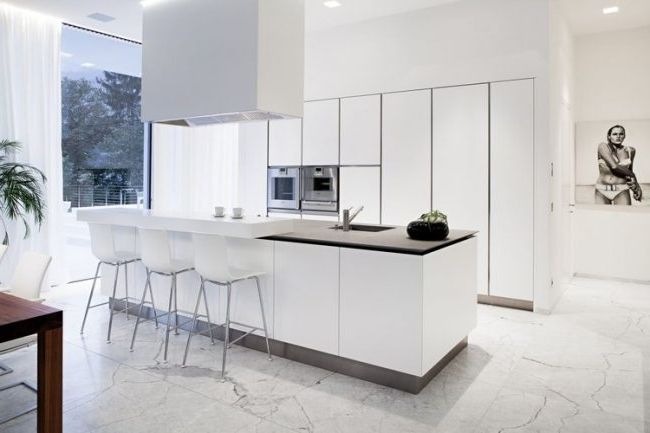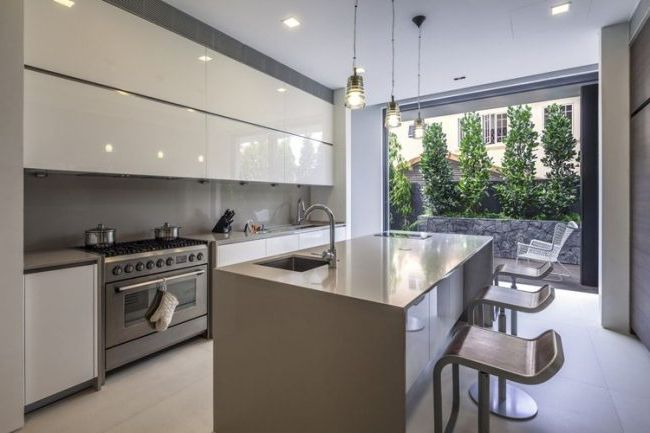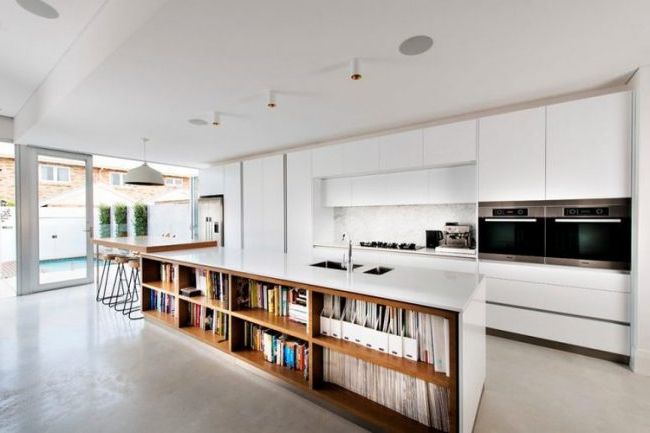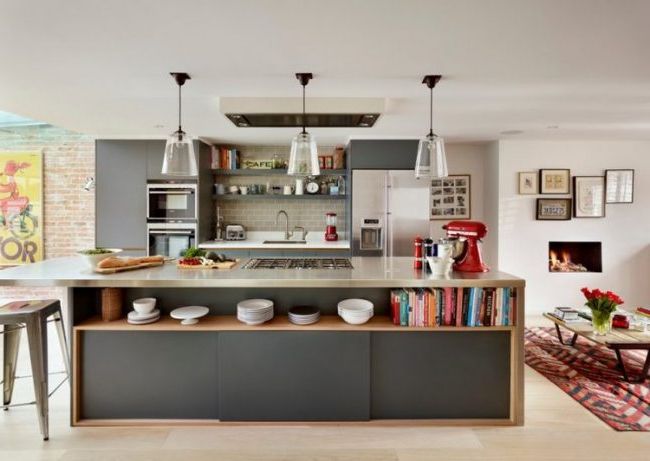 Modular modern kitchens
The modular kitchen system is a modern trend that looks a lot like a prefabricated house. They are designed to be sold by modules, and in this way they are fully customizable. The advantage of choosing this kitchen system is that, depending on the space available, the most convenient modules can be used, at cheaper prices.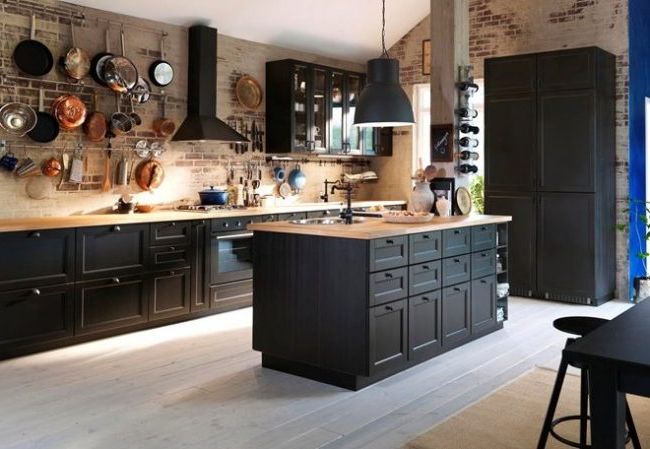 This is another of the trends that we have seen grow in recent years and will surely continue to grow in 2022.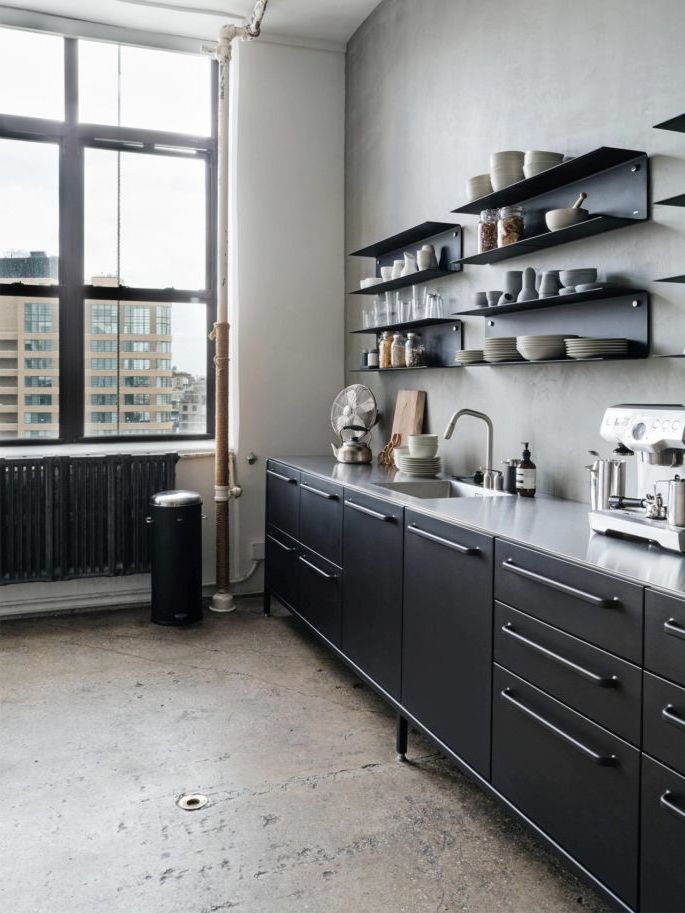 Another advantage is that there is a huge variety of styles, materials and colors available on the market. These modular kitchens that we see here are from Ikea.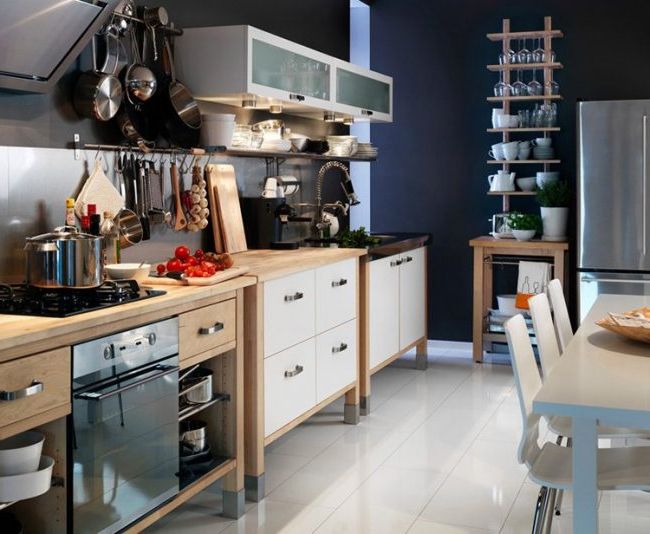 Small modern kitchens
For most people, the kitchen is the hub of family life. It is the place where everyone gathers in the morning when they are starting their day and the place where they gather at night while dinner is cooking. However, not all families have a great kitchen to enjoy.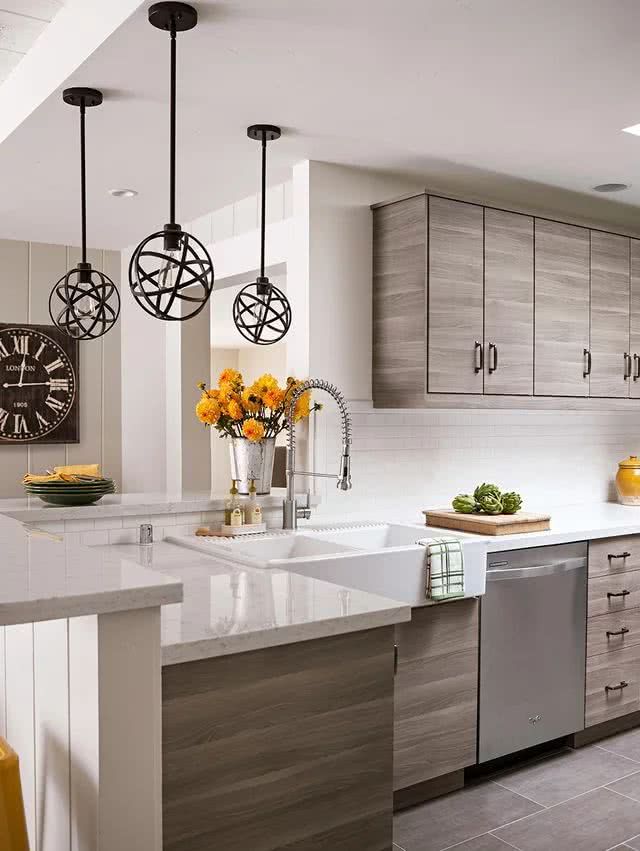 Just because you don't have a lot of space to work doesn't mean you can't have a lovely kitchen. With the right design tips and tricks, you can turn a small kitchen into a fun and functional space. From creative uses of space to bright colors that give the illusion of a larger area, there are plenty of clever ways to give a small kitchen lots of comfort and character.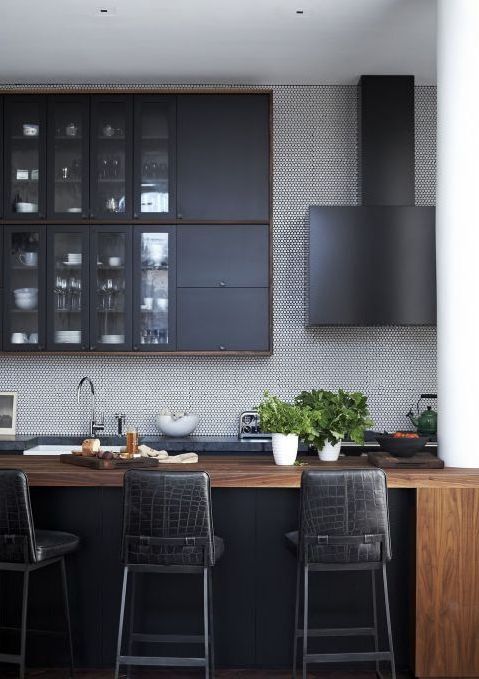 When you need shelves, but you don't have space, you can resort to putting them over the sink, so that you can store what you need, and at the same time, drain glasses and dishes.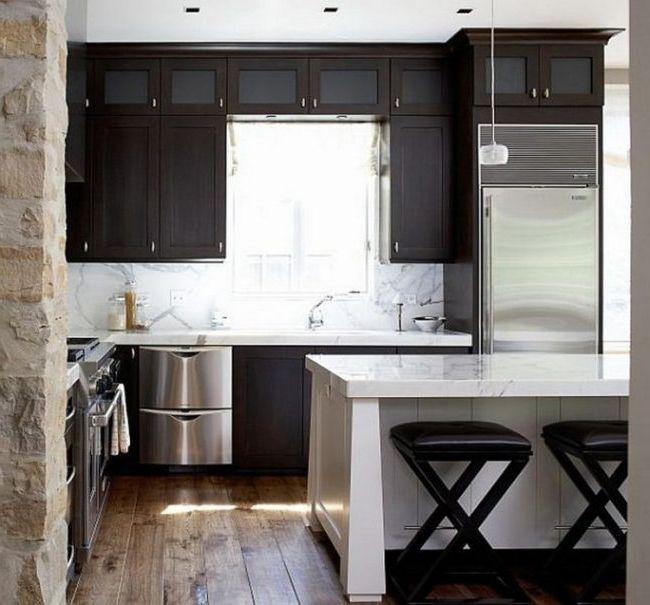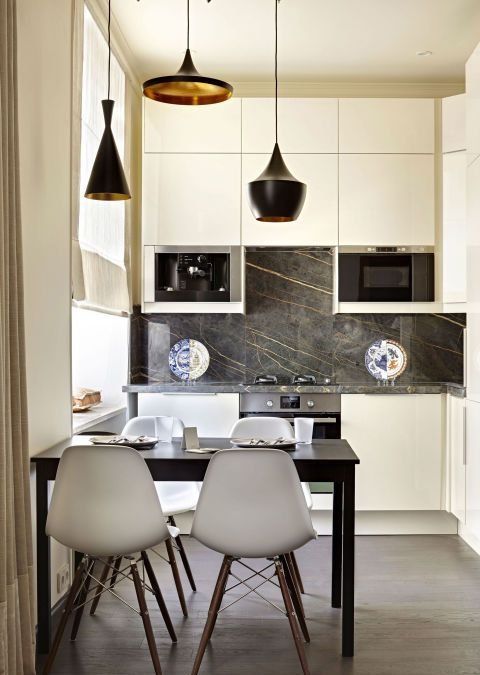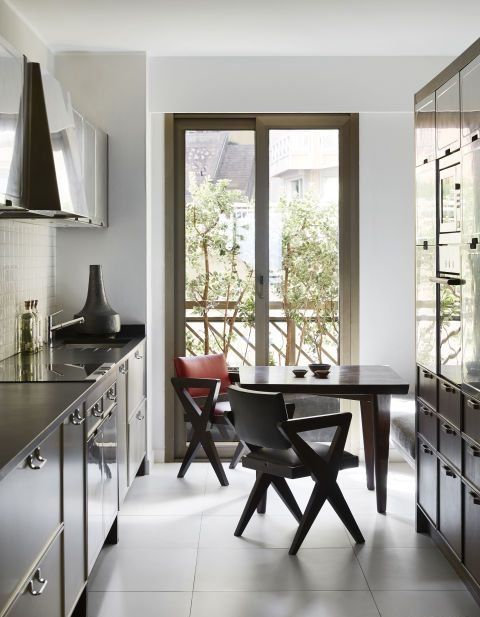 Italian modern kitchens
Modern Italian kitchens are synonymous with elegance and efficiency, regardless of their design. It is common to associate everything Italian with luxury and the desire to enjoy "La Dolce Vita". These photos demonstrate all that is great about Italian kitchen design.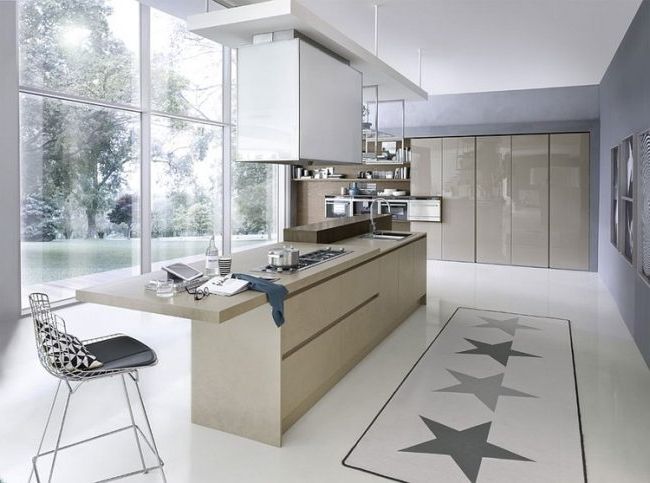 A predilection for clean forms is shared in each of these designs. Smooth uncluttered surfaces, shapes and colors combine to create a great work and play environment in this home space.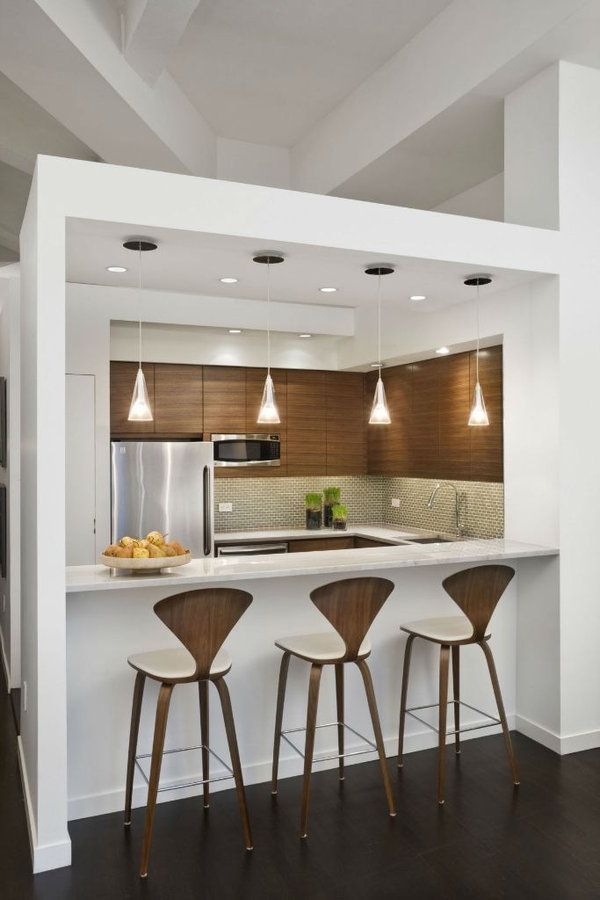 Italians love to cook, eat and entertain. This is reflected in these distinctive and sumptuous settings, illustrating how Italy has evolved to become a major global pioneer in kitchen design.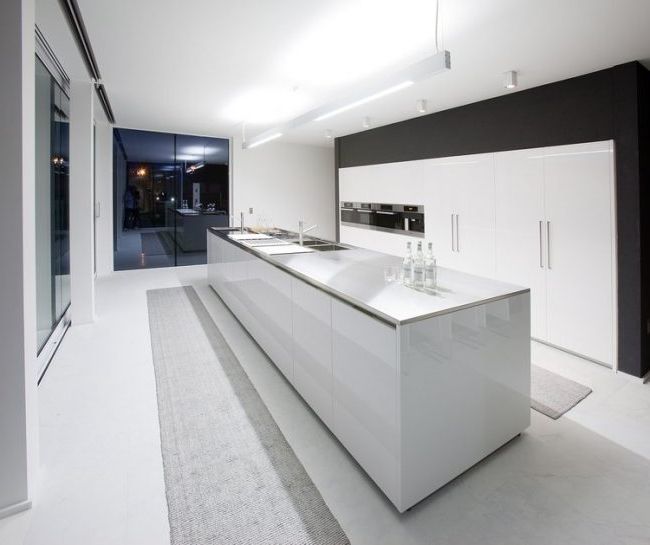 Delicate organic shapes can be introduced in furniture, lighting and clean geometry. Textures are used decoratively to add tactile and visual excitement to the composition. Carved natural materials, wood and stone are used in innovative ways to contrast with polished steel.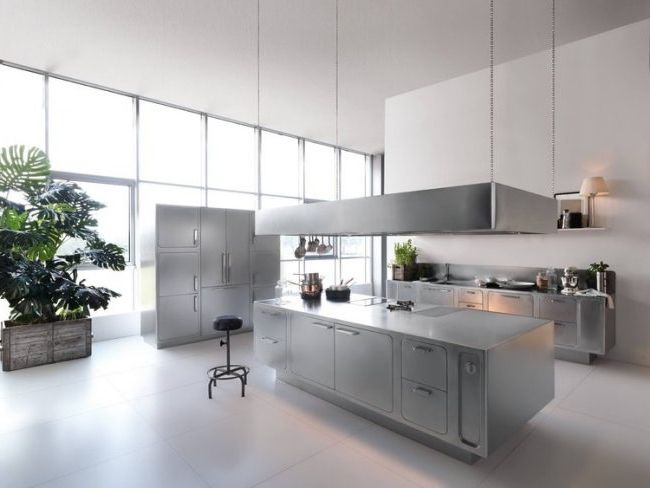 Monochrome color schemes are sophisticated and tasteful, sometimes lifted by isolated splashes of saturated colors. These are kitchens that reflect refinement and good taste.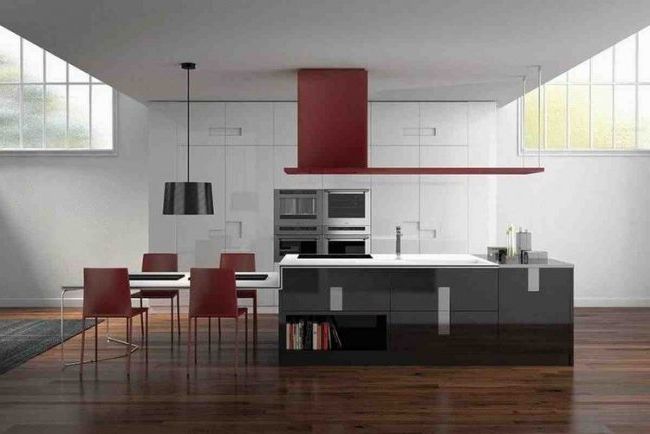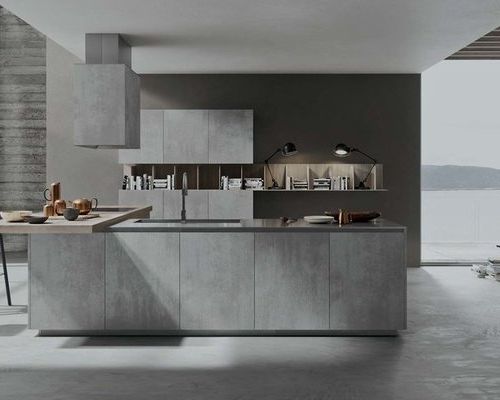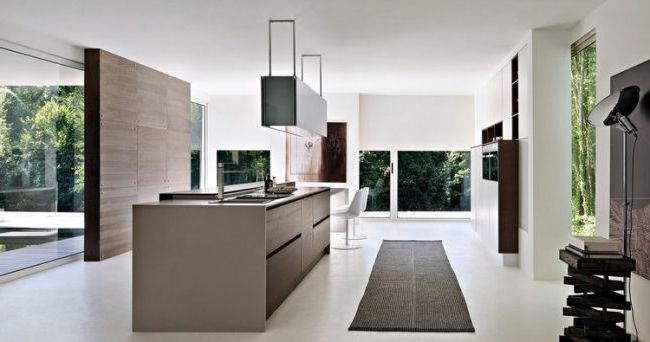 Minimalist modern kitchens
As you will see more and more, these spaces benefit from the aesthetics and neatness provided by the minimalist style. It is committed to minimal furniture and decorative elements, neutral or cheerful colors but added discreetly.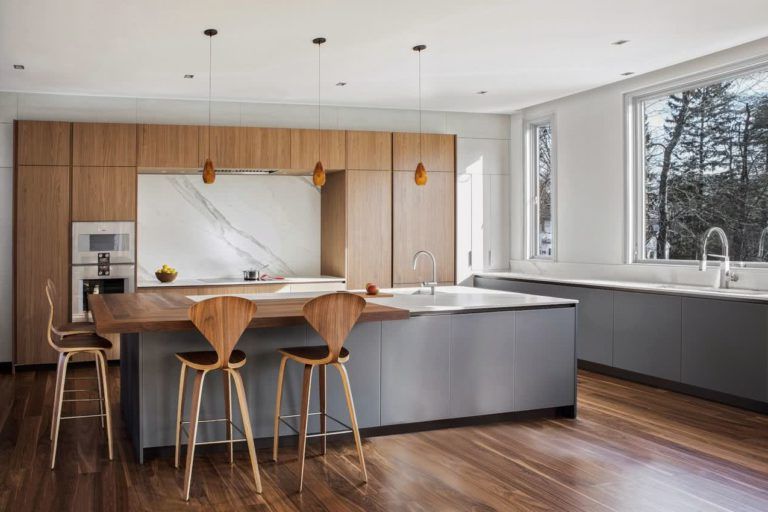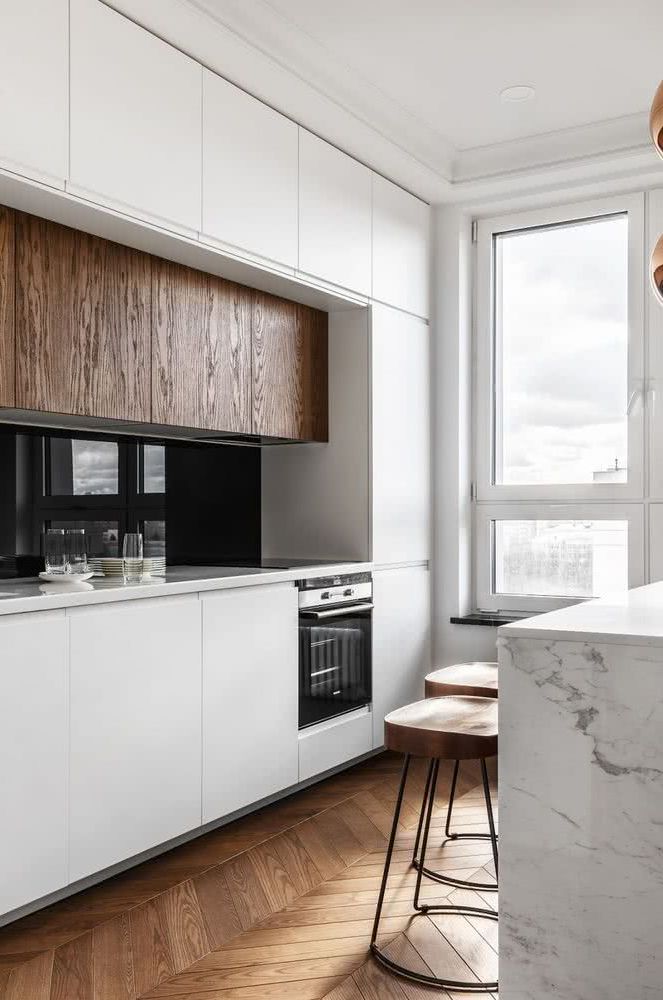 There is also a commitment to replacing tables with bars or countertops, which can be made of various materials, although granite, steel or concrete clearly dominate them.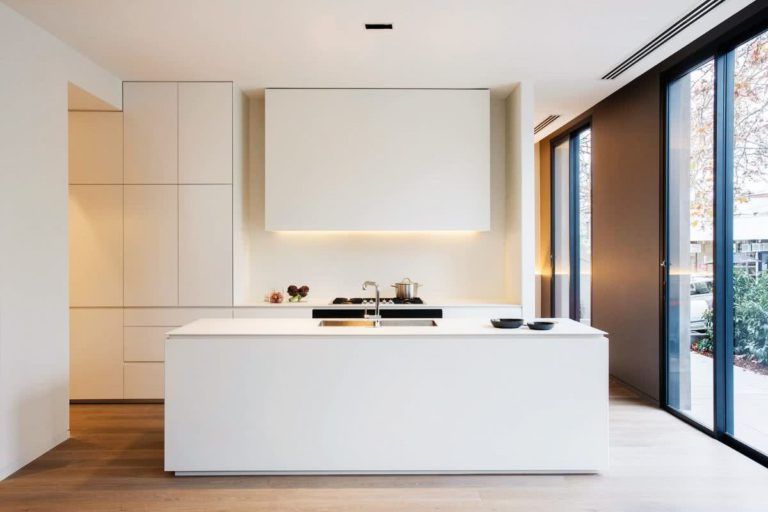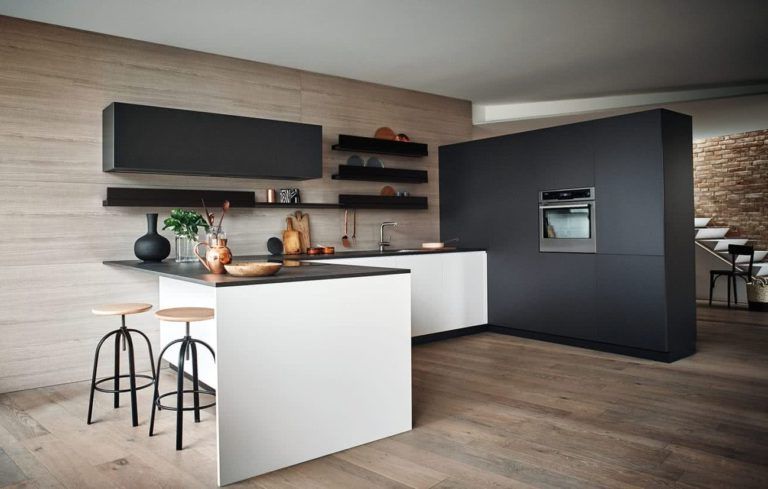 On the other hand, modern appliances in silver, black, white or metallic copper come to give spaces a very elegant style.