Because the space where you cook deserves to be just as beautiful as the rest of the house!
One, two or ten. You can have the plants you want, but the important thing is that you use them. Why? Because in addition to being beautiful, they will give life to one of the areas where you and your family spend more time. Jot down ideas!
If plants are your thing and you already have the terrace, the living room and even the bedroom, don't forget the kitchen. Plants in the kitchen add an ideal freshness. Of course you can start with the aromatic herbs that you will also use to season your best recipes and dishes, but you can also place plants for the pure decorative value.
If you do not want to lose work space on the kitchen counter, it is best to put hanging plants. You can also place a pot on top of the fridge or on a shelf. You will see how your kitchen is filled with life. Plants will take advantage of the higher degree of humidity that usually exists in kitchens.
If your kitchen does not have many windows and is not very bright (we are talking about natural light, of course) you should take this into account and choose plants that resist low light. But if, on the other hand, you have a good window and that is where you are going to put the plants in your kitchen, then you should choose plants that resist direct sunlight.
In this link we have selected 10 plants to decorate the kitchen: beautiful and original.
Having plants at home has many benefits for our health and the quality of the air in the house. So why not take advantage of all the good things they have in the kitchen too? We spend many hours in the kitchen, we share many moments, especially now that open kitchens have become fashionable. The kitchens today are part of the living room and in the kitchen we meet, we have snacks, the children do their homework while we prepare dinner or even telework. It is essential that we have a beautiful and serene space, and we have already learned that plants also help combat daily stress, are good companions to avoid anxiety and purify the air like no other device

Get inspired by these kitchens that have made us fall in love with their style, their design and the plants that decorate them.
1 Many plants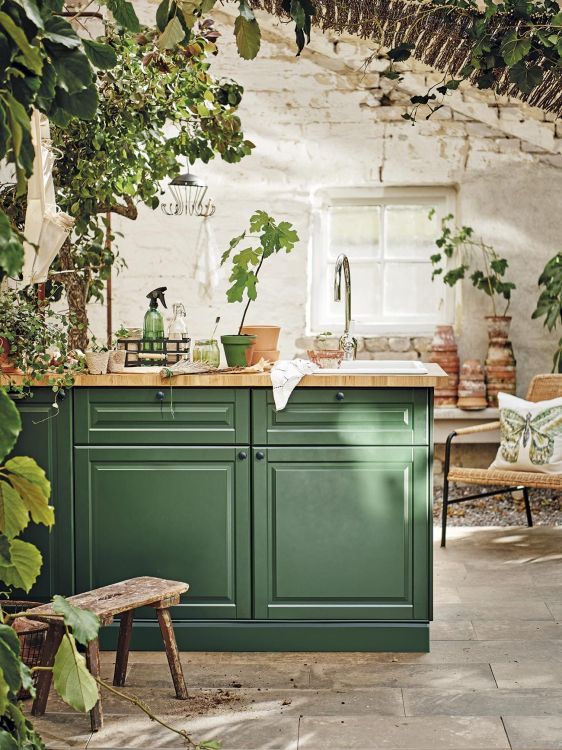 If you like nature, plants cannot be missing from your house. In addition to decorating, they purify the air, help reduce stress and static electricity. In the kitchen, place those that you can use to season the food.
2 Solutions for all spaces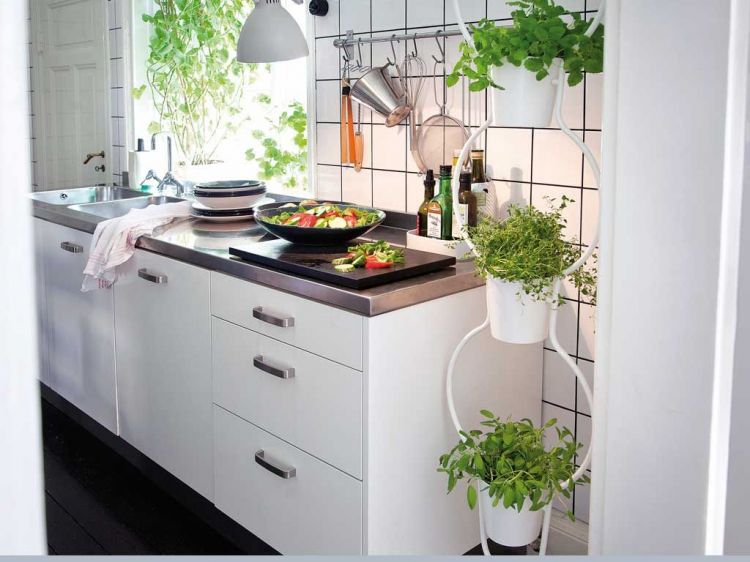 In this kitchen where countertop space is limited, a column of pots has been chosen to decorate the corner. It's like having a living spice rack…
3 In a small kitchen? Yes!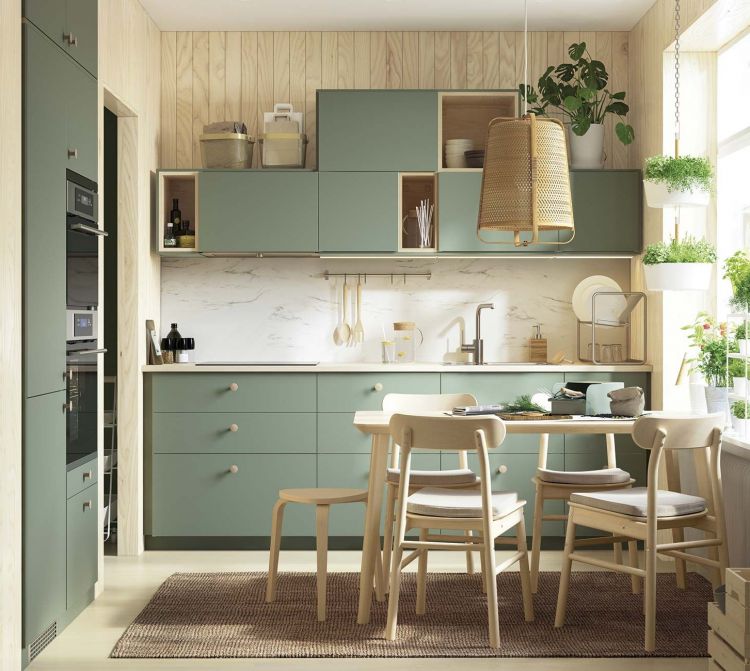 And to show this proposal from IKEA in which, in addition to the hanging pots, the high spaces and the window frame have been used to fill it with plants.
4 jungle look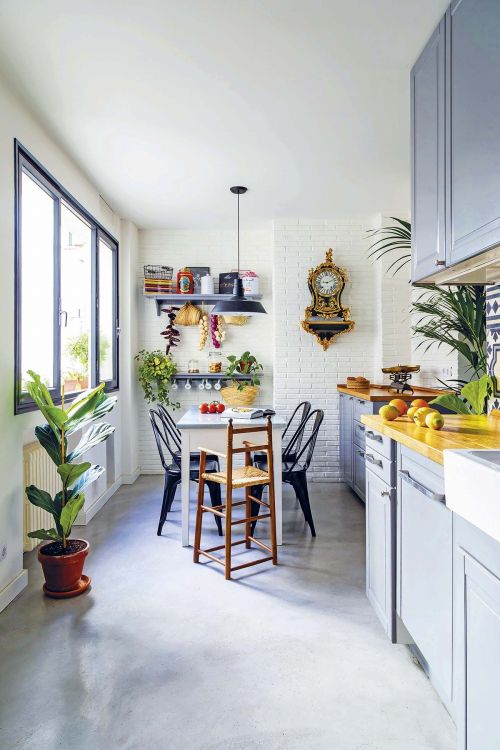 In this elongated kitchen with dining area, large plants on the floor mark out the different areas. The pots with hanging plants add a very deco fresh touch. From Hypa&Cie.
5 to lamp mode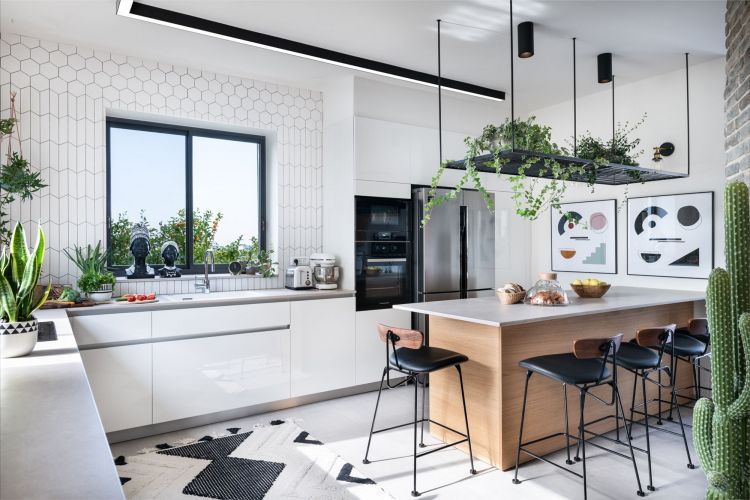 In this beautiful spacious kitchen with a modern Scandinavian style, they have been placed on the island with a structure that hangs from the ceiling.
6 Take advantage of the shelves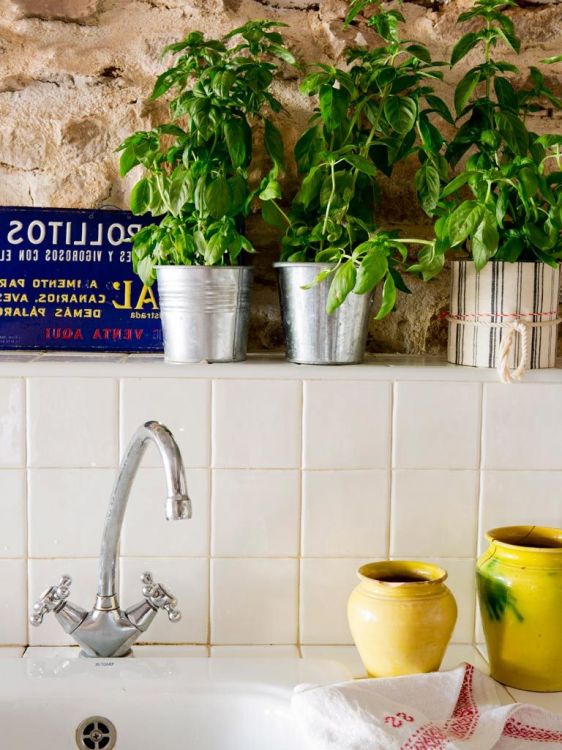 Any kitchen shelf becomes a shelf. Here, next to the sink, several potted plants have been placed. Have aromatic herbs on hand for your stews and drinks. They put on such a fresh and natural green color that you don't need to add anything else. And its aroma… it smells like the countryside!
7 On a peg board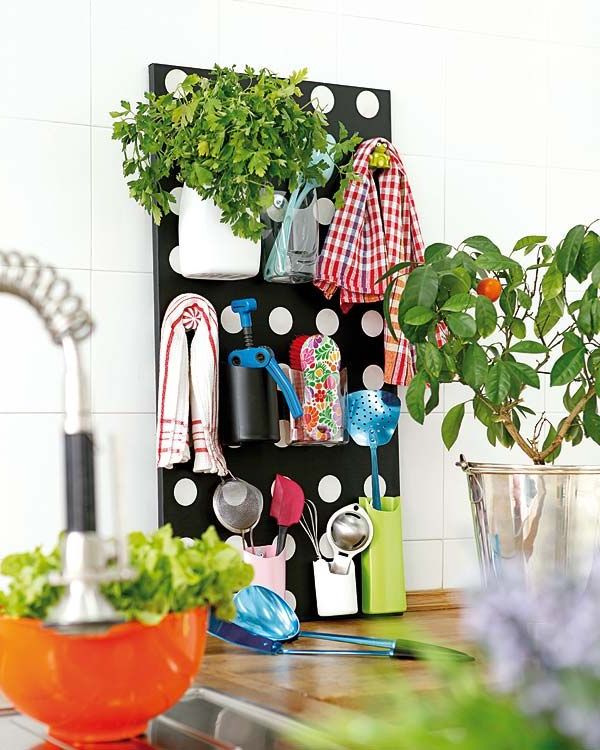 Here we have chosen to hang a pot on an organizer panel, between the kitchen utensils. A great option when you don't have a lot of space.
8 In an open kitchen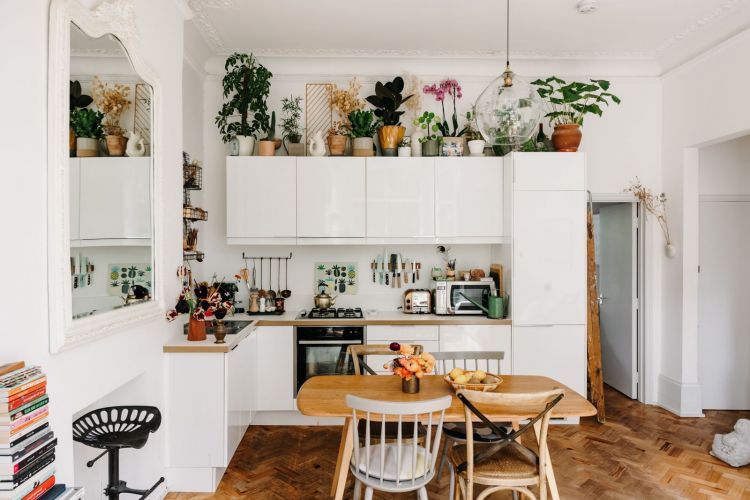 The kitchen of this Victorian-style house, although small, being open to the living room is a bright space, so much so that it is the perfect space to have a small garden. It houses many indoor plants that give the space a cool urban jungle look.
9 natural exposure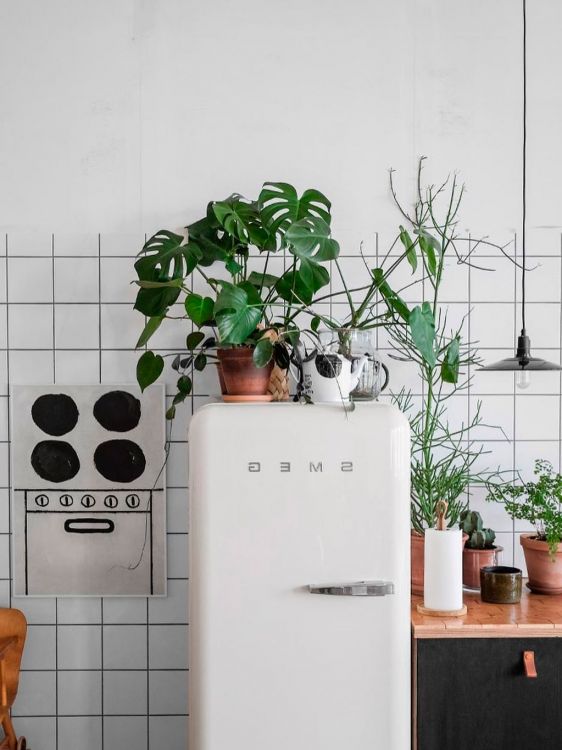 Reserve a little corner of the kitchen to create your own botanical garden. It will be beautiful!
10 Garland of plants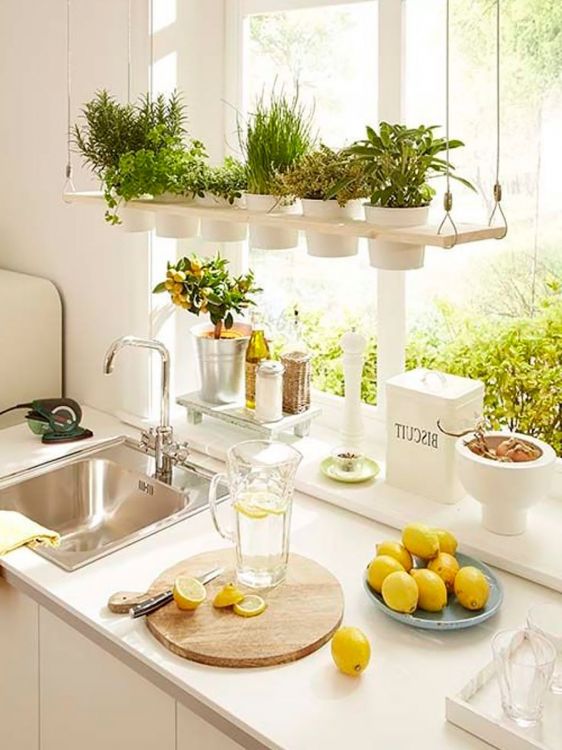 A way that is as simple as it is beautiful to decorate with plants is to place several pots on a hanging shelf. Plus, you'll save counter space!
11 industry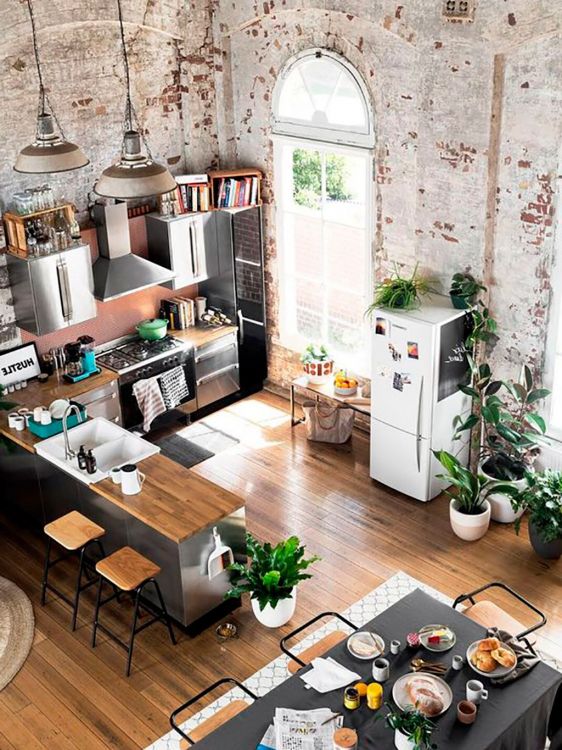 An open kitchen with such space and ceiling height is perfect for accommodating lots of plants. Do not cut yourself!
Don't miss the rest of the house here.
12 On the shelves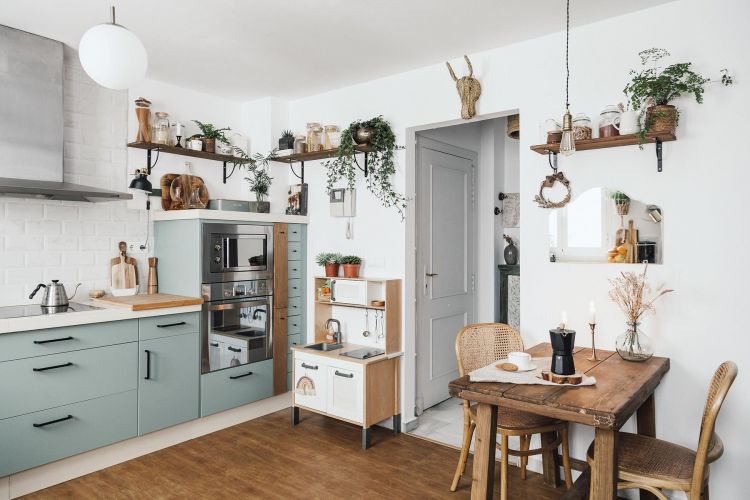 In this renovated kitchen, the upper shelves have been used to place decorative and hanging plants.
13 White, yellow… and green!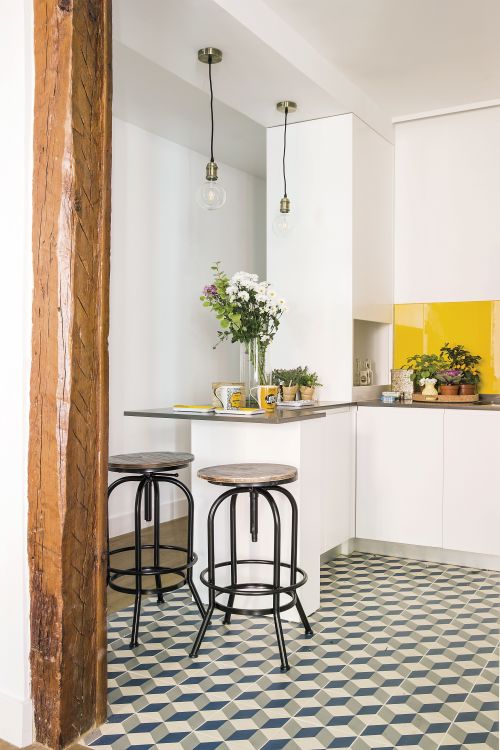 In this very modern and white kitchen, two groups of pots on trays add an ideal color note. The yellow lacquered front is from Cass MaBelle Maison.
14 Rustic Charm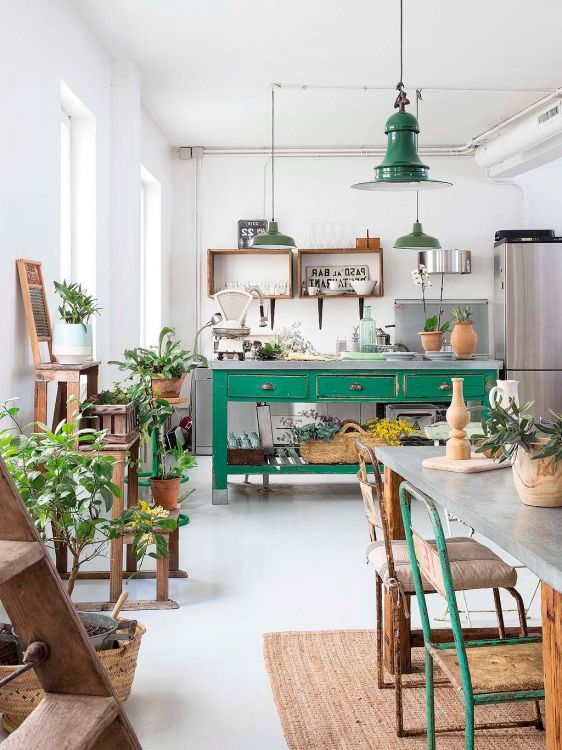 The green color extends to a furniture that plays with the old and the new in a totally rustic environment. Pure harmony!
See the rest of the house here, a 'factory style' loft with character.
15 Subtle Detail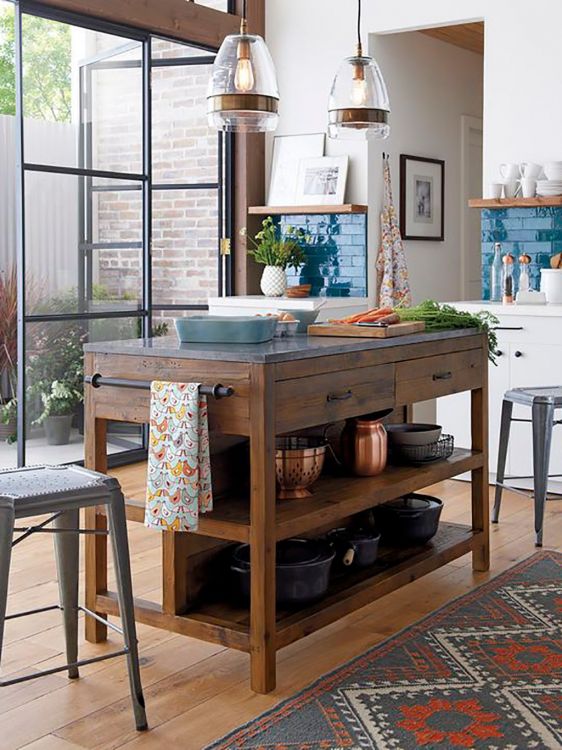 Sometimes a single touch is enough to achieve the desired effect. Here, the kitchen vase links to a plant-filled porch.
16 large plants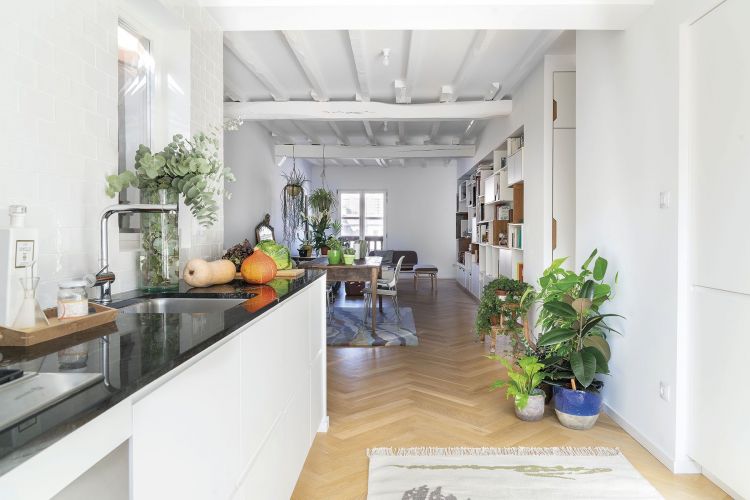 In the kitchen of this renovated apartment, as it is open to the living room, pots grouped with large plants were placed to mark the passage from the kitchen to the dining room.
17 In a cart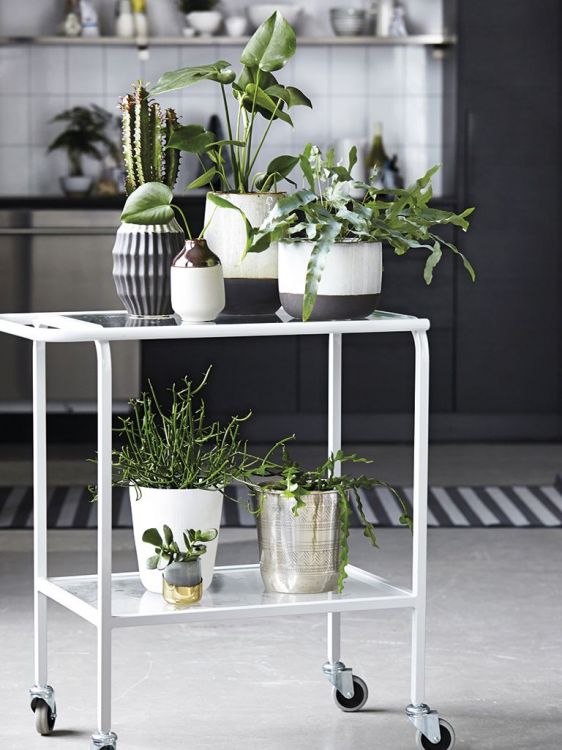 This idea seems very practical. Place plants in a kitchen cart, so you can move it to areas where they will not bother you as you go to use the kitchen.
18 in a row…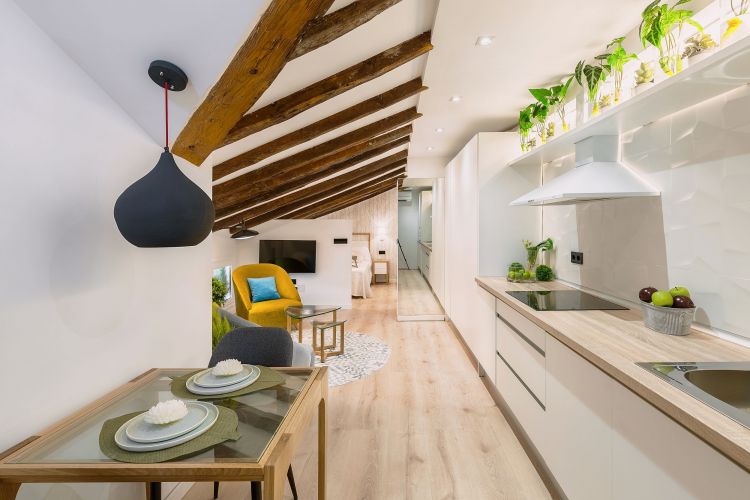 In this small attic with sloping ceilings, the upper shelf of the kitchen was used to place good lighting and a row of plants. Plants from the Los Peñotes Nursery
19 palm trees too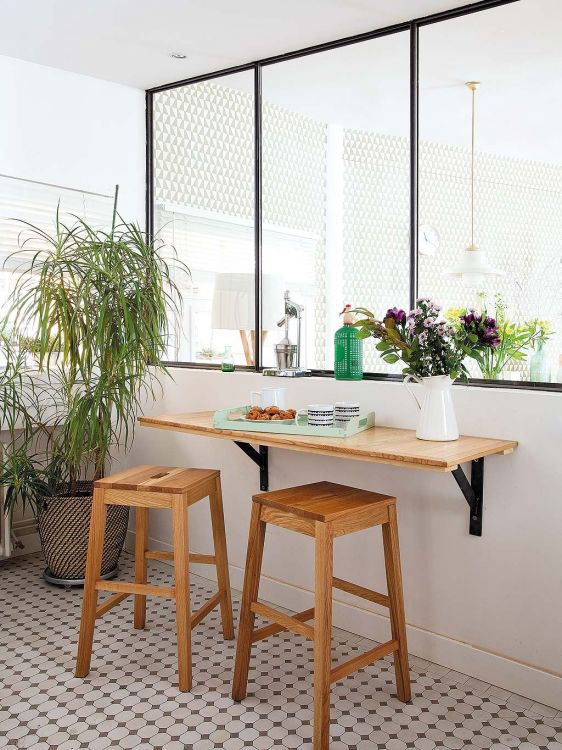 In this kitchen, light was gained by opening a large window to the living room. Thus, a large plant could be placed in one of the corners, to give warmth to the white environment. Reform carried out by Suspension Point.
20 Rustic-chic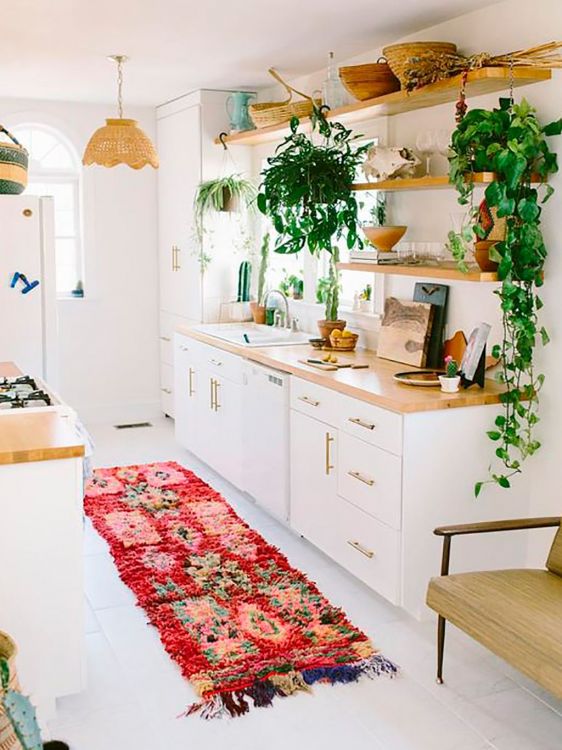 The best complement for a rustic-chic style kitchen? The plants, did you doubt it?
21 Dual Feature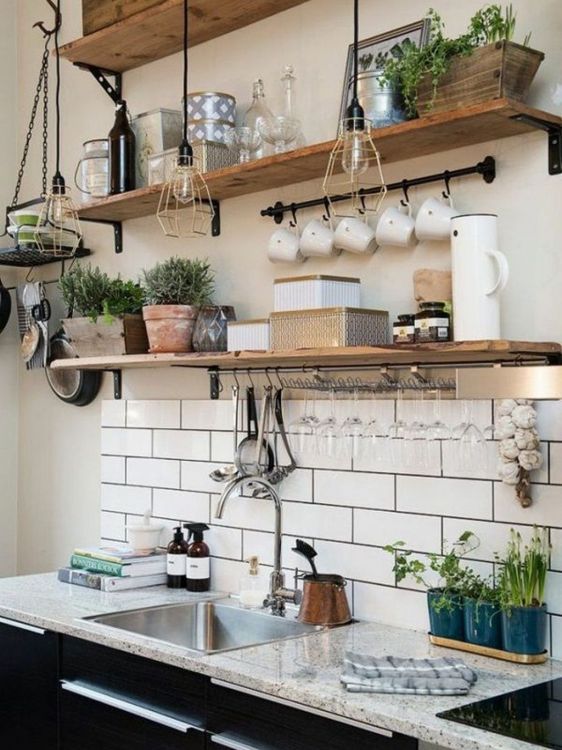 If you have open shelves in the kitchen, combine the crockery with little plants and you'll see how cool it is.
22 Between Tiles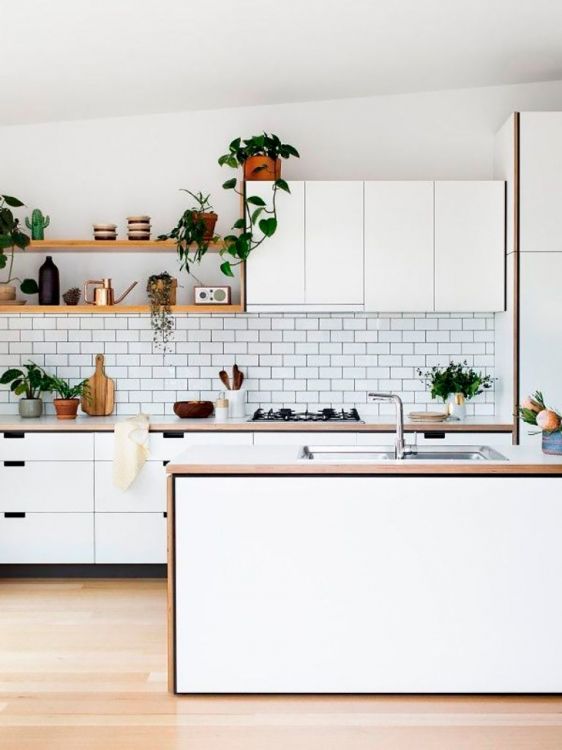 A wood and white kitchen urgently needs to be filled with plants. Doesn't it look great?
23 A good contrast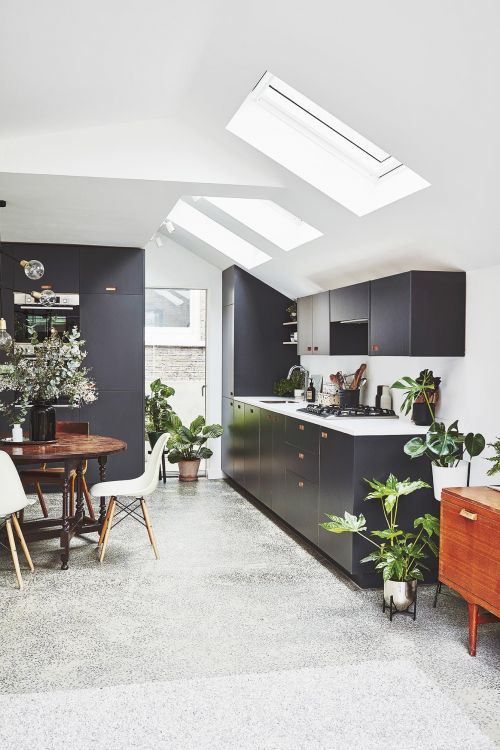 In this modern white kitchen with black furniture, the green of the plants add a fresh touch and harmonize the entire environment.
24 vintage airs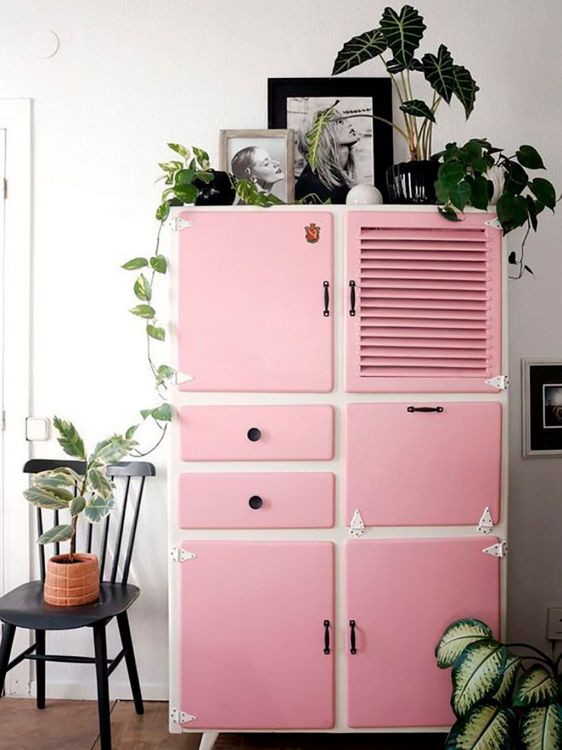 Such a sweet and vintage wardrobe has to be surrounded yes or yes by little plants.
The kitchen belongs to the house of Dr. Livinghome blogger, María Vázquez.
25 Plants with presence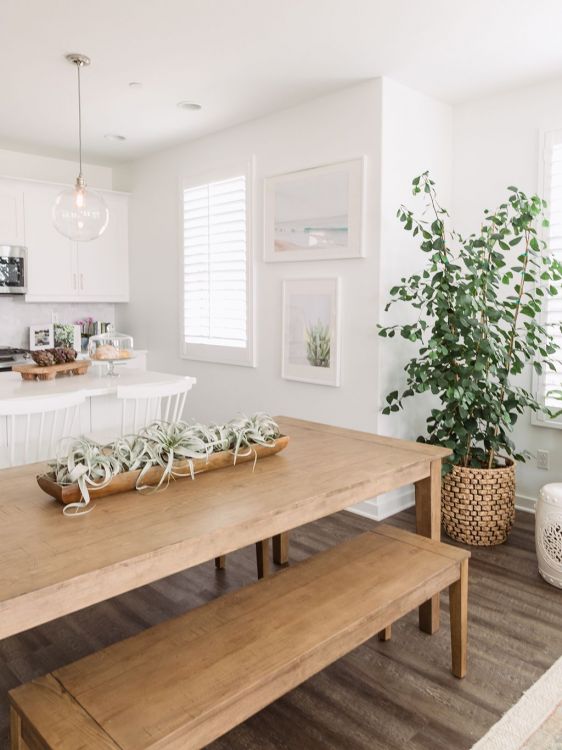 It's beautiful, but this kitchen with an integrated dining room wouldn't be the same without the beauty that plants bring to it, don't you think?