We present a wide range of ideas to renew the image of the living room and provide a more welcoming environment. Shall we start?
The living room is the most important room in the house. Why is this? It can be considered as the public space where we usually spend more time and where we receive guests. For this reason, we want to show you some tricks and ideas to create warm and welcoming living rooms.
The living room is our favorite space, basically because it is a spacious and comfortable place. In fact, it is the fundamental epicenter of home decoration, since it is here where we demonstrate the authentic style that dominates the house and offer a personalized image, that is, our tastes and customs represented through colors, designs, shapes and furniture.
A warm and welcoming room
How to decorate a living room? We can do it in multiple ways. Of course, our goal is that there is a harmony with the style of the home. For this, it is convenient to point out that the decoration is governed by our tastes and, for this reason, we feel that deep pleasure of being in a place that transmits us satisfaction.
It does not matter if we want to decorate a small or large room, everything we have must be to our liking; therefore, the use of warm colors and the use of quality materials can help us obtain a comfortable, dynamic and elegant space. All parts are relevant, from the walls to the floor, passing through the furniture and ornamental objects.
In turn, there may be something that attracts more attention: a rug, a lamp, a vinyl on the wall, paintings, etc. It is here where we have the opportunity to work on a defined aesthetic and according to our personality, the same as if we want to decorate a room with armchairs or poufs.
An inexpensive decoration
Probably, on more than one occasion the following question has arisen: how can we decorate the living room without spending a lot of money? It is true that there are different tricks to avoid spending too much and get a decoration according to our tastes.

Modern living rooms are the ones that are gaining more and more success in today's homes, as well as minimalist, mid-century and boho chic styles. You don't need too many resources or use big brands that involve a high investment. In a practical and simple way we can build our speech.
A cozy and warm room

The vintage style is one of the trends for living rooms that provides originality while we wink at the past. Today, the union of modern and vintage styles has come a long way, which is why dialogue between all resources is important. In this way, when we are sitting and looking around us, we feel enthusiasm and fullness of being in a cozy and warm space.
Well, to get the decoration right, we show you below some ideas to renovate the living room and find the aesthetic line that you like the most. The best thing is that you study well what your house needs and, from there, apply the convenient tricks that allow you not to spend a lot of money and find the right decorative products.
1 Bet on textiles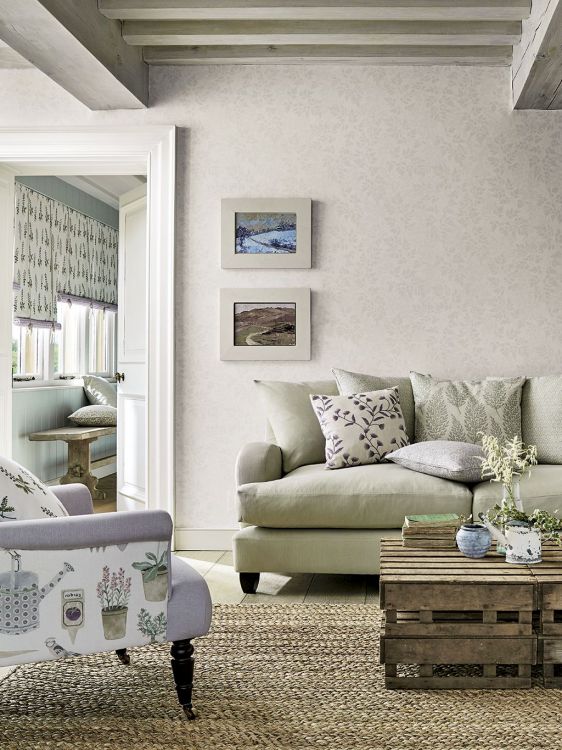 The upholstery of the sofa, the curtains and the cushions are the main elements that dress the room. If they share the same color range, as in this suggestion by Sanderson available at Gancedo . Decorate the living room with patterned fabrics and add a neutral touch so as not to overload the environment ; In addition, you can incorporate splashes of color on a neutral base.
2 Storage solutions to suit you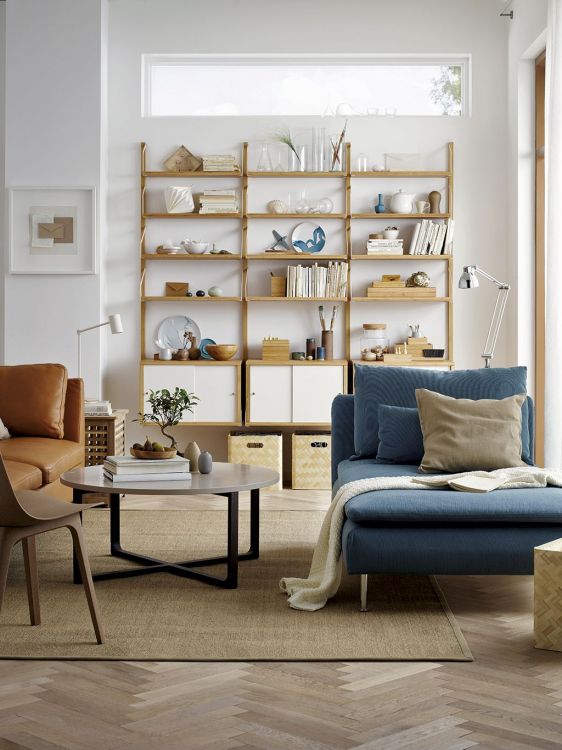 Organization is paramount in this space. For this, it is necessary to have furniture to organize everything, as we can see in this simple shelf for the living room. Specifically, the Ikea Svalnäs model is an ideal option that adapts to your needs.
3 A rug for each environment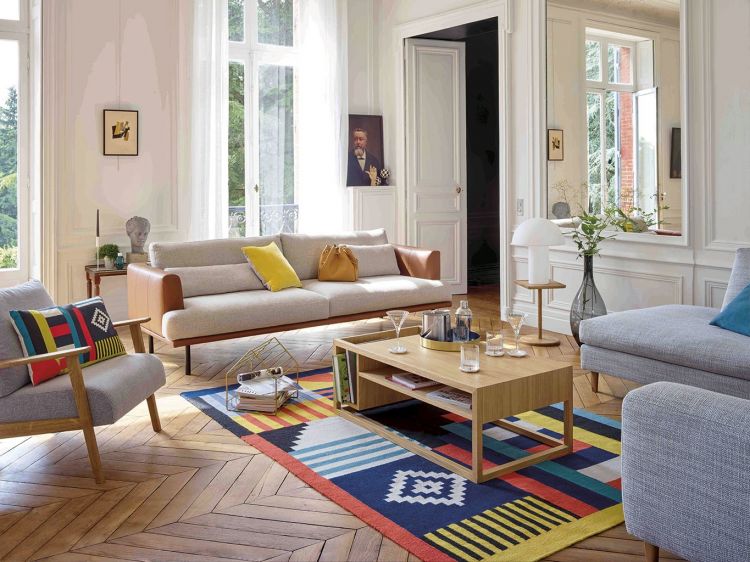 To visually differentiate the parts of the room, try placing a rug. It is a simple and economical alternative that, in addition, will bring warmth to the composition. In this proposal, from Habitat, around the mod. Infinite Stairway with geometric shapes, seats and accessories were organized.
4 Find a focal point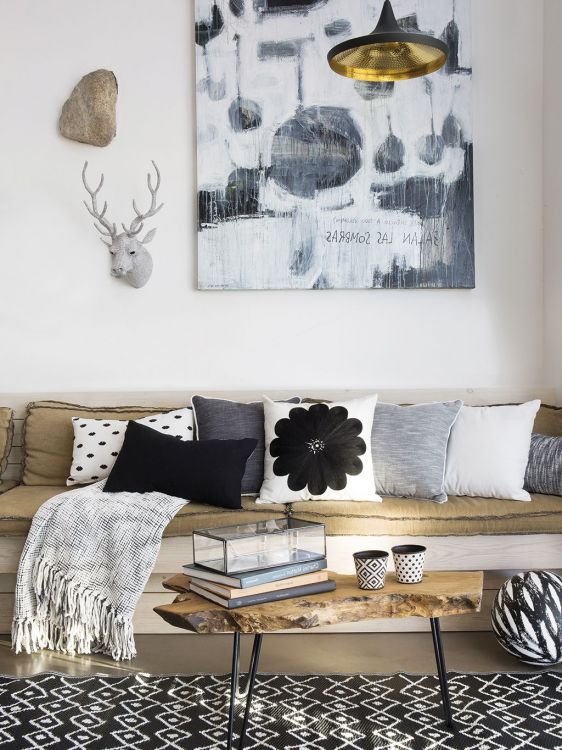 A single painting, like this large canvas, can become the focal point of the wall in this room. You can also add other more current decorative elements. In addition, the whole will win with the right textiles, as in this proposal by Textura, which manages to animate a somewhat bland sofa.
5 Minimum distances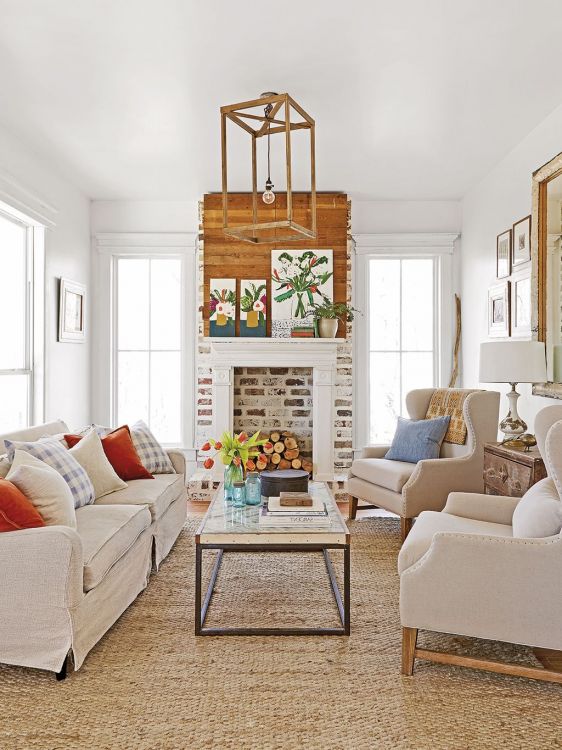 When furnishing the living room, you must respect some basic measures. The passageways must be 80 cm and if there are cabinets or drawers, 100. If you are going to place a coffee table, between it and the sofas or armchairs there must be between 40 and 50 cm. If you are going to put a television, keep in mind that, for every 10 inches, you should leave about 50 cm of separation.
6 The vinyls, upward trend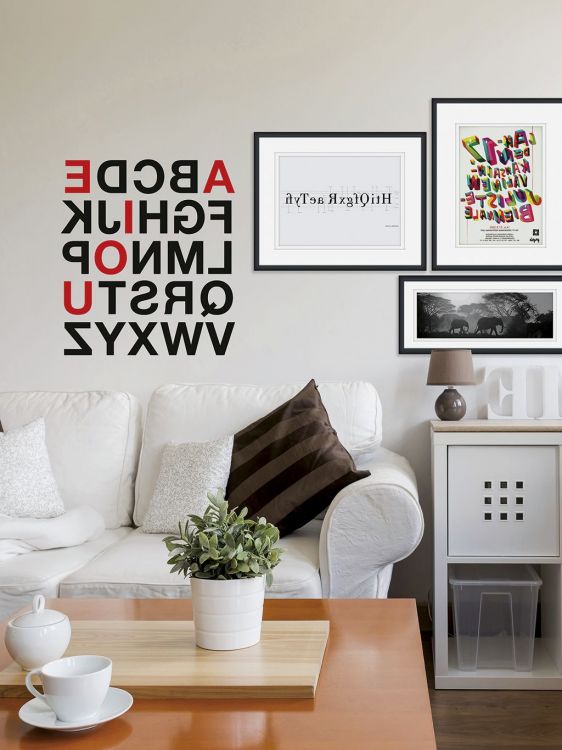 If you want to update your living area but you have a very small budget, choose to decorate furniture and walls with decorative vinyl. They are easy to install, you can customize their designs and they also look good in almost any corner. Vinyl Alphabet, from Tenvinilo.com
7 Well placed sofas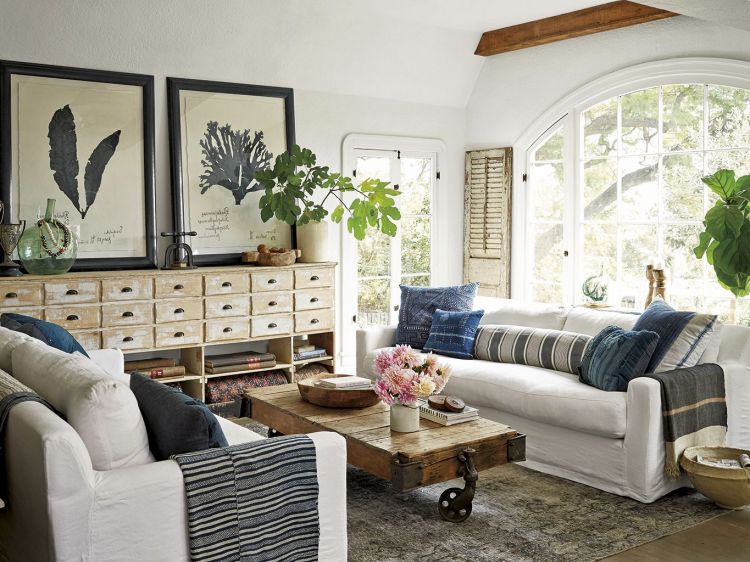 When organizing the seating area, keep in mind that they must be arranged in a way that favors conversation and allows mobility between them. If the living room offers enough width, place two sofas facing each other. They can be the same or different, but if they have the same squares, it will be better aesthetically. The distance between the two must be at least 150 cm.
8 Customize the wall above the sofa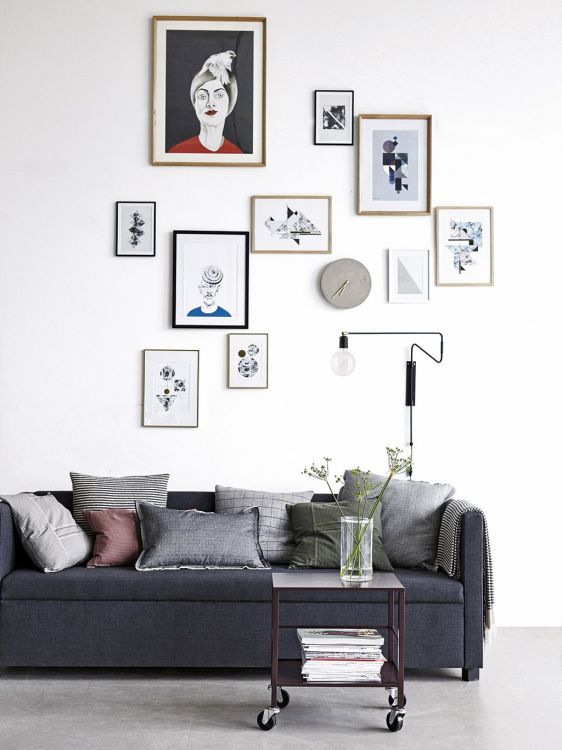 The most common resources to decorate the walls are paintings, photographs and prints. A house with paintings is synonymous with a space full of life, as in this idea from House Doctor. Before doing so, define how you are going to make the distribution, its color range, the size of the pictures, their colors and tones… You can also choose plants, shelves or letters with light.
9 Use of spaces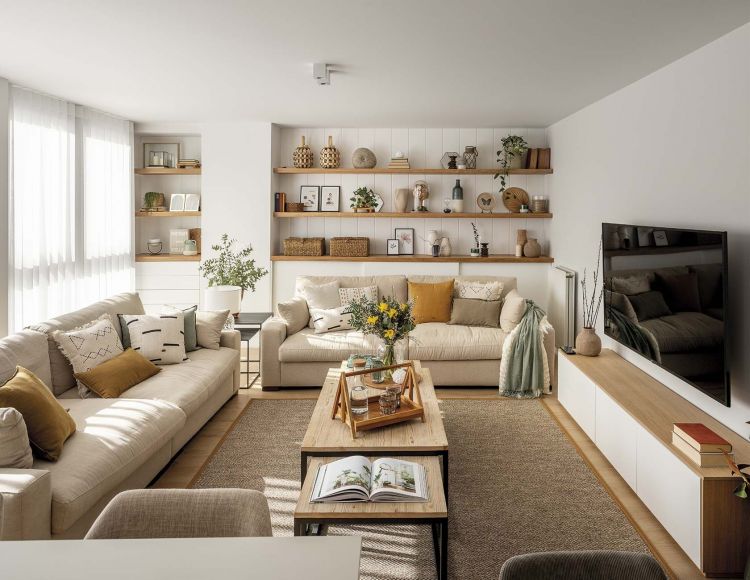 The halls are usually large and diaphanous. If we don't want to leave any unalloyed corner, we can cover all the parts with large sofas, side tables and nesting tables for the center. In the same way we can talk about the wall shelves, which remain as a backdrop and are completed with some objects that many of them may have been acquired in second-hand markets.
10 A simple design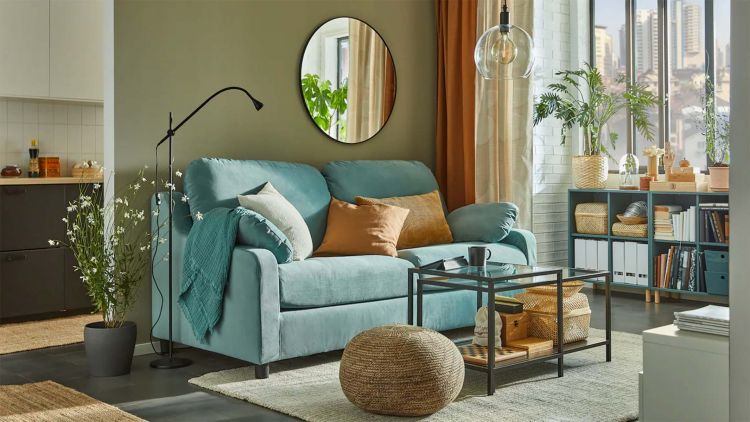 To decorate you do not have to complicate your life. With some simple and basic resources we can achieve a peaceful, stylish and orderly environment. In this example, cold and warm tones contrast, while we have other elements such as a pouf, a wall mirror and a transparent ceiling lamp. In this way, we combine modernity, rustic character and contemporary sense. In short, another way to decorate cozy rooms.