The arrival of good weather is the perfect excuse to renew the decoration of our houses, fill them with light and infect them with the joy and vitality that is breathed outside.
GOOD BASE: With a white sofa you will be able to multiply the clarity in the living room. This color, in addition to fitting in with any style, is perfect for the whole year, not just for the summer season. Another of its advantages is that you can change its look thanks to textile accessories, such as cushions and plaids. Of course, dirt and friction are its main drawbacks. For this reason, it is advisable to choose a sofa with removable covers or resistant and textured quality fabrics.
SPACE WITH PERSONALITY: Play with the color of the walls to break the chromatic monotony and bring dynamism and character to the decoration. A good idea is to paint at least one front in one of the colors that are repeated in the environment. This was done in this room, by Sanderson, in which white alternated with gray.
PLUS OF WARMTH: Contrast white with wooden furniture to achieve an elegant and bright environment.
ESSENTIAL BASICS: Any room can be transformed into a fresh space, even if it is dominated by a dark sofa. It is enough to choose auxiliary furniture with little visual weight – a pouf or an armchair with rounded shapes – and add accessories that fill the living room with vitality.
GREEN DECO: Plants are the best allies when it comes to refreshing the living room. A very decorative idea, which is gaining more followers every day, is to fix them to the ceiling in planters made of rope or made of macramé. If you join this trend, try to place them at a height that allows the plants to grow and, in the case that they are hanging varieties, that show their fall. Create a composition with three green dots, concentrated in a bright corner.
THE EXOTIC POINT: Are you looking to give your living room a special look? Add details of ethnic style, which provide a light and attractive summer touch. With a hand-woven wool and cotton tapestry and a rug with the characteristic geometric pattern of African cultures. Great idea!
YES, TO THE MIX! Combine blue with different colors, patterns and fabrics, and you will gain visual richness.
CHANGE THE CARPET! Substitute wool models for colorful and cheerful cotton or linen designs.
HIGHLIGHTING BACKGROUND: Flowers are the perfect print to add a spring touch to the decoration of the room. So why reserve them just for fabrics? Also take it to the walls with wallpaper that is in tune with the aesthetics and colors of the environment. As for the size of the prints, keep in mind that large motifs will help make the room seem more intimate and welcoming. If you fear that it may tire you out, reserve it to highlight the wall of the sofa.
Bet on wallpaper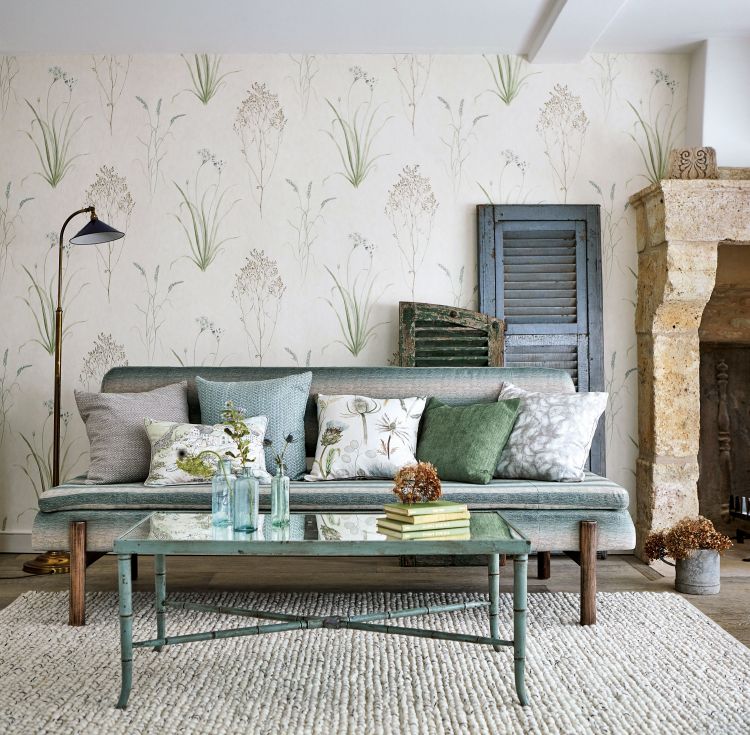 SHABBY CHIC CHARM: Recreate a romantic and original style in your living room with aged furniture, worn-effect upholstery and nature-inspired prints. Remember that you do not have to limit yourself to the range of whites and pastels. In this room, from the firm Sanderson, they played with different shades of green and blue.
ALTERNATE PATTERNS: Large, on wallpaper, curtains or rugs, and small, on cushions.
Green I want you green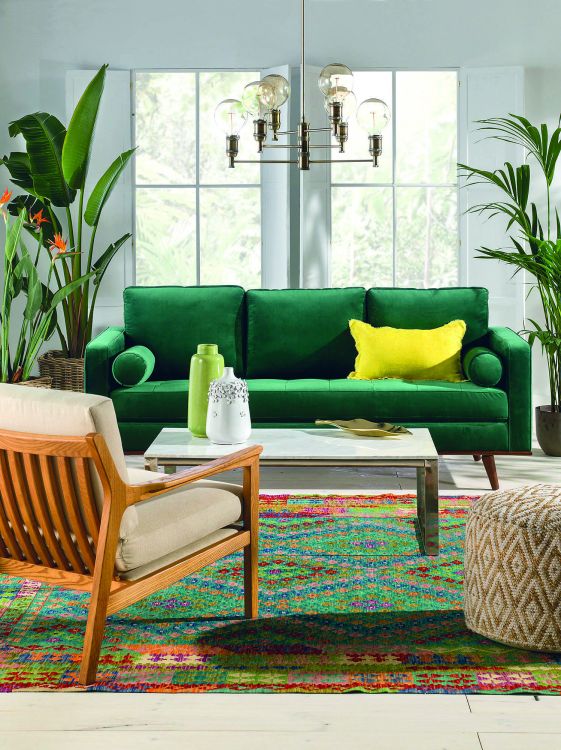 NATURAL BET: Whether in details such as furniture, light woods and vegetable fibers are ideal for recreating a fresh atmosphere, as well as warm and welcoming. These materials combine perfectly with pieces of steel and glass, so you can add them to the decoration of your living room without the risk of making a mistake.
And as a climax, do not forget to distribute pots with green leafy plants in different parts of the room. If they are very tall, reserve them a corner where they do not bother.
Don't miss out on these… More than 30 cool and trendy salons for summer