If you have an empty corner at home, bring it to life with these easy crafts to make bouquets.
Did you know that in Ancient Egypt decorations with flowers were already highly appreciated? Yes, they used flower arrangements to display them in their homes and as a present in major life events, papyrus flowers can still be seen carved in the Nile temples.
The video with recycled glass bottles marks a very simple and colorful step by step to create a floral centerpiece. Create a triangle with six glass bottles, which you will have filled halfway with water. In each container, introduce some aromatic herb or branches with fruits of the forest and two types of flowers, although you have to try to create a visual effect in escalara, when cutting the stems. To finish, join the bottles with cotton rope to enhance the handmade look of this DIY craft with flowers.
The fascination for this floral art is more alive than ever and there are always ideas to enjoy flowers at home throughout the year. Surely it is almost impossible for you to go through a florist and take flowers home or avoid a like when you walk through the #Instagram floral arrangements. Filling with flowers and plants is, without a doubt, the best resource to add a touch of freshness and naturalness to your home. Forget the very elaborate compositions and learn to make simple and cheap flower arrangements.
What is needed to make a flower arrangement?
To make an original floral design, the most important thing is to choose the most appropriate base of vegetation and flowers, depending on the use you are going to give the arrangement, because it is not the same to make a centerpiece to dress the table or a bouquet of flowers to give as a gift. Once you have chosen the type of main flower, cut the stem and remove the leaves, at least those that will be submerged in water or if you intend to insert them in synthetic sponges, which is also called a flower oasis or floral foam.
If you consider yourself a beginner in floral art, start creating your compositions with species that are more resistant to inexperienced hands. Roses and lilies are helpful, but chrysanthemum flowers are very decorative.
How to make flower bouquets
The idea of making a flower arrangement is to give personality to an environment and, above all, to create sensations. The freshness is achieved with the flowers that grow all year round: violets, begonias or the colorful and cheerful geraniums, which brighten up any space.
Start making this easy flower craft from scratch. You don't have to spend a lot of money, even a euro, because you can start in the art of floristry with common flowers picked in the field. A bouquet of daisies, some ears of wheat or some aromatic plant, such as lavender or rosemary, are enough to make a flower arrangement. If you're lost, don't worry, because we have a video tutorial to prepare a centerpiece made with green and red foliage.
1 With preserved flowers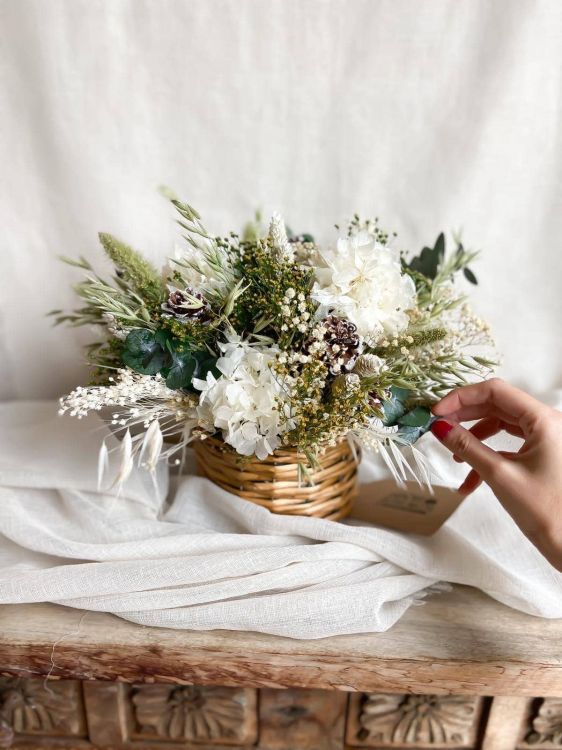 This wicker basket with white flowers and wheat inspires you to create your own country arrangements. It is a center of Qué Alegría Qué Buen Día, which offers gift packs with preserved flowers and other beautiful things such as handmade soaps, craft notebooks, jewels, mugs with messages… Its flower workshops are interesting.
2 With pampas and golden details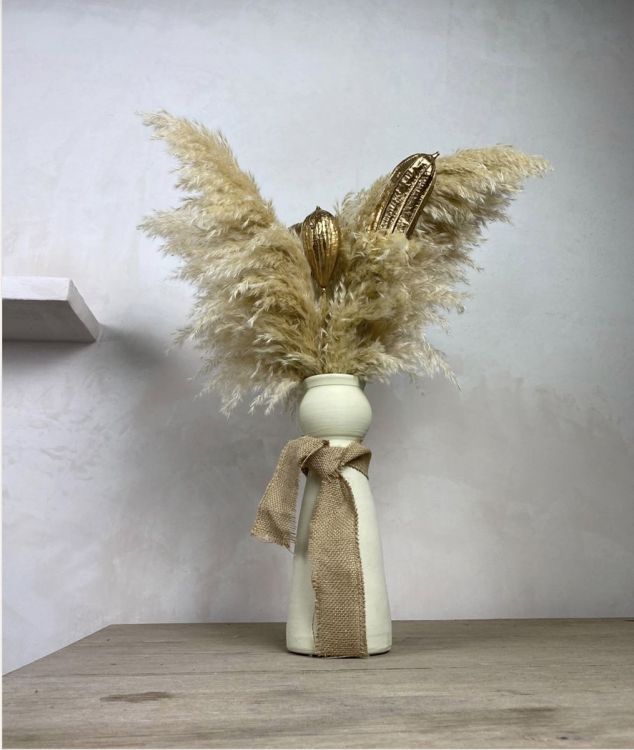 This composition proposed by Flores con Flow is as simple as it is effective. The pampas are very showy and add style to golden accessories. You can use balls, bells, or these ornamental maracas tinted gold. The choice of a handmade vase is very successful.
MORE IDEAS: SHOW OFF YOUR VASES WITH ORIGINAL FLORAL COMPOSITIONS.
3 sprigs of lavender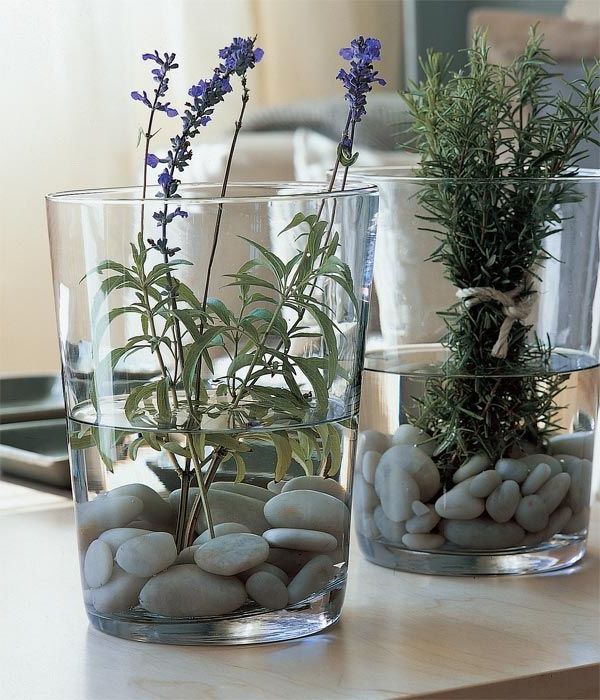 In wide mouth vases you can put small bouquets of lavender tied with string. So that they are well secured, place rounded stones at the bottom. One of the details that you should not overlook is changing the water every two days, approximately; In this way, you will keep your flowers for longer and you will take care of the appearance of the arrangement, since it will be visible to everyone.
4 A vase of roses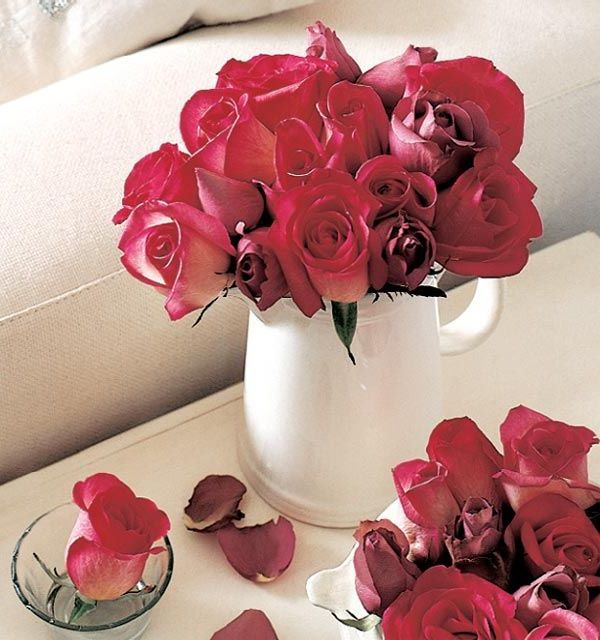 Choose containers that enhance the color of the flowers. Red roses look great on white china pieces; you will turn your arrangements into the center of attention.
5 Vintage arrangement with bougainvillea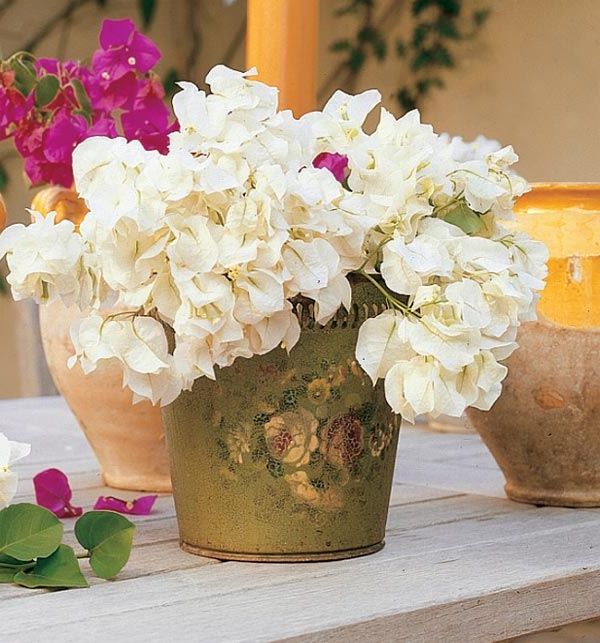 Know the best conditions for your plants. Bougainvillea grows well in large pots and should be placed in a sunny, south-facing spot. The Mediterranean climate is the one that suits him best. You will succeed with this shabby chic and vintage proposal, with the flowers inside an aged bucket.
6 bouquets in glasses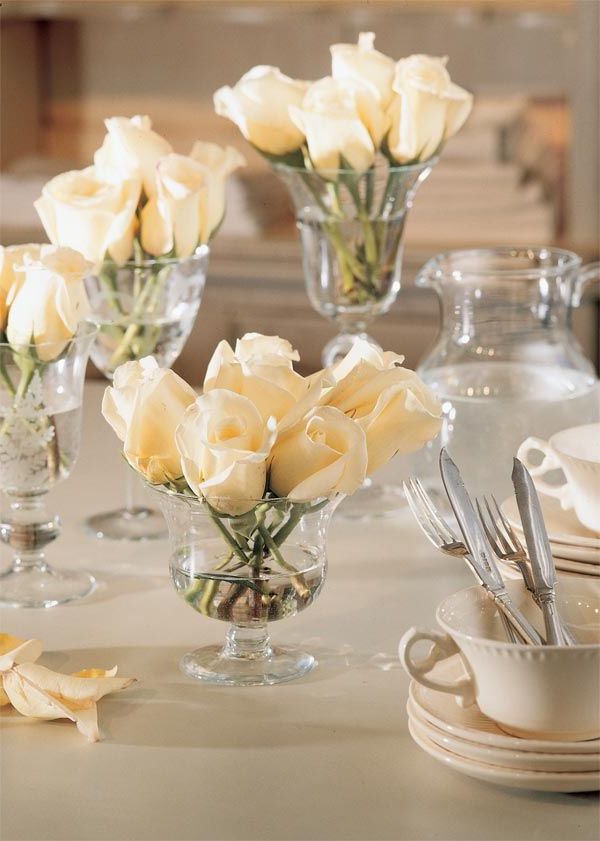 Do not get rid of loose glasses from a glassware, they will be very practical as small vases. Fill them with water and place a bouquet of white roses inside. Before, you will have to cut the stem to adapt them to the height of the container. A highlight to dress your table in a celebration at home.
7 An original flower arrangement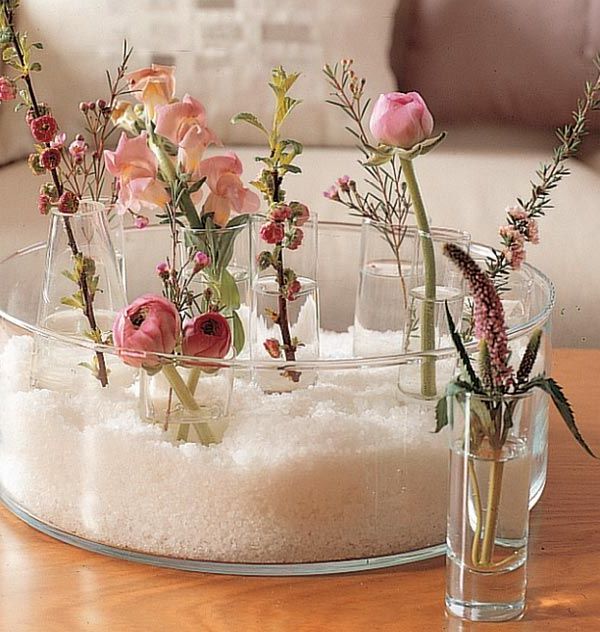 Distribute flowers and small branches of peonies, speedwells and buttercups in small glasses of liquor. Put them in a large glass center not very high and filled with coarse salt, which you can dye in different colors. Other ideas to fill the container is to have twigs, stones or sand.
8 A center of plants and candles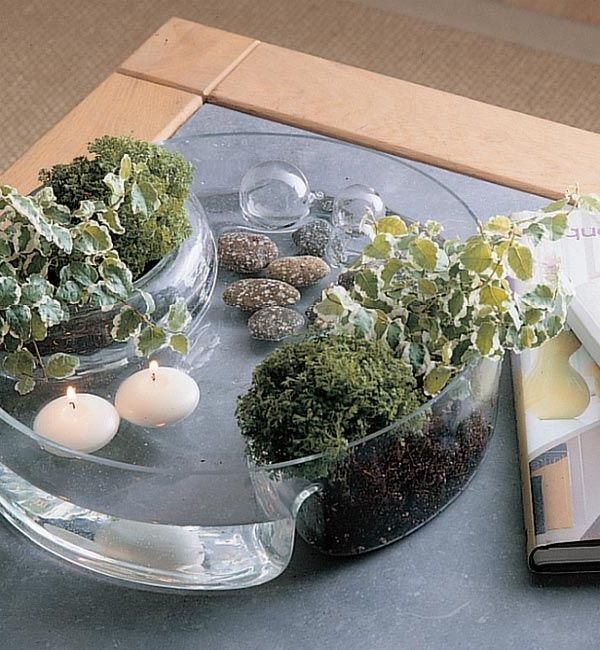 Make an exotic centerpiece out of plants, candles, stones and bubbles. You can use floating species or resort to different varieties, distributed in different smaller crystal centers.
9 Recycle jars into vases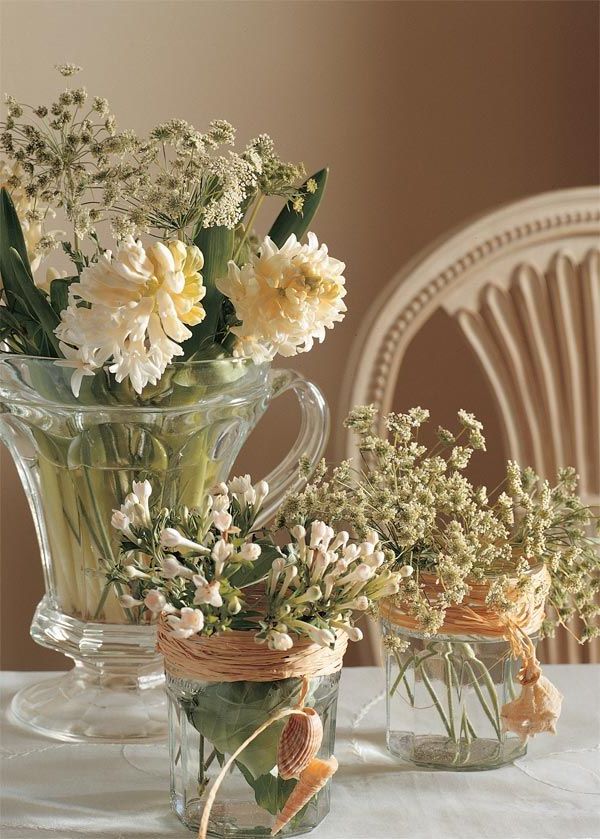 Recover the jam jars and use them as vases. Decorate them with details in the same line as the flowers you choose. Thus, for example, raffia ribbons are perfect with wild varieties, hyacinths and buvandias. To enhance the set, accompany them with a taller container, such as a pitcher of water.
10 ideal vases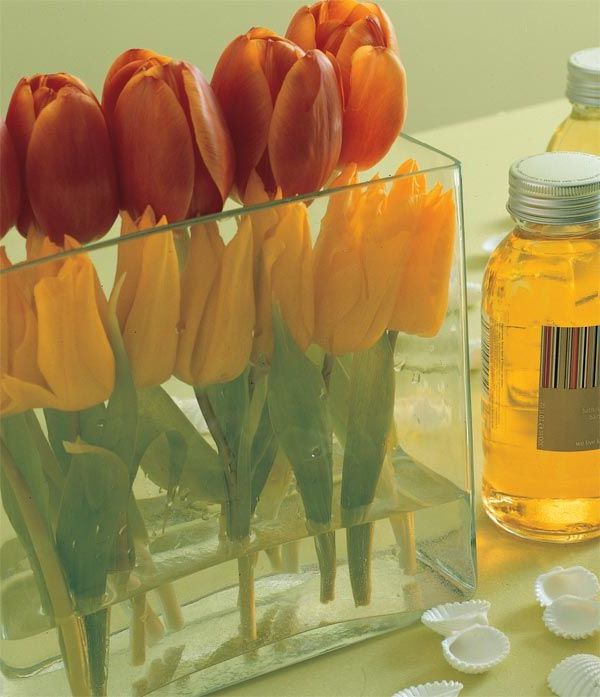 The choice of vase should never be a random decision. Find the most appropriate container for the flowers to shine in all their splendor. Thus, for example, for species with flexible stems and delicate petals, such as tulips and gerberas, tall, rectangular glass vases are ideal. Put them so that the stems are embedded and only the flowers protrude, as Alejandro Heeren did in this case.
11 Floating Daisies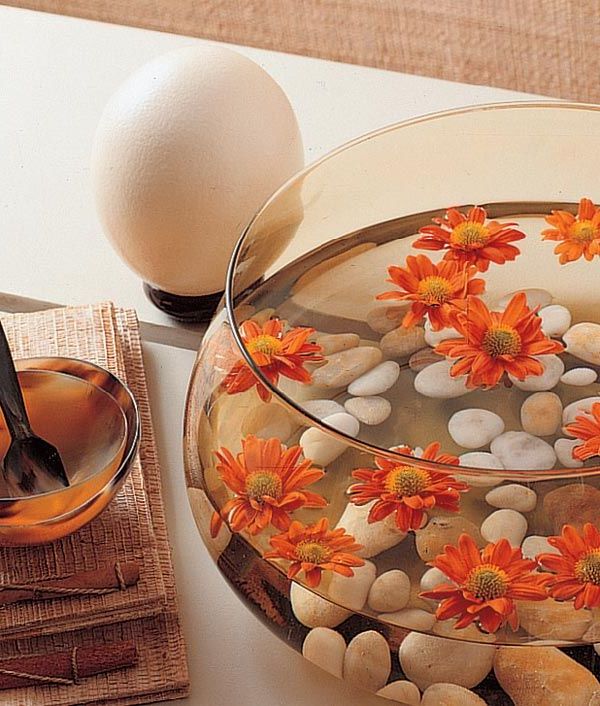 Floating flowers are a showy and colorful alternative. Cut the stem of some daisies and place them floating like water lilies in a vase with water and river stones.
12 Some very original vases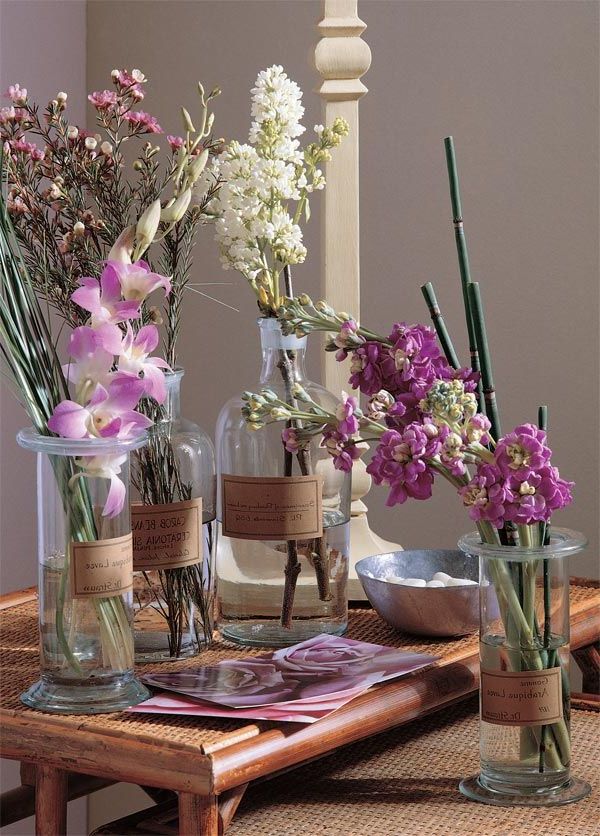 Gather beautiful glass jars, of different shapes and sizes, to place the flowers that you like the most. If each bottle has a different label, remove them with a cotton pad soaked in alcohol and put on identical ones. Thus, you will achieve a harmonious composition. Choose flowers in the same shades, such as orchids and wax flowers, and combine them with white ones, such as wallflowers.
13 Flowers and fruits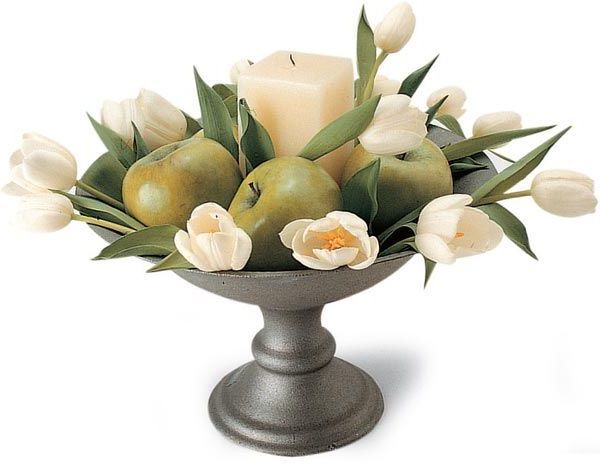 Salad bowls, jugs, glasses… there are many objects that you can use as improvised vases. Keep in mind that the container will greatly influence the style of the arrangement.
14 Delicate centerpieces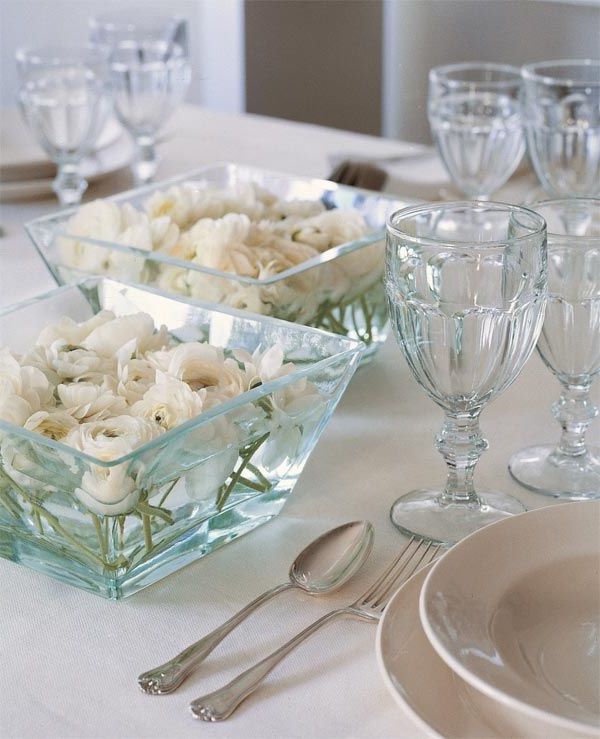 On special occasions, decorate the table with an exquisite centerpiece. Study the composition that best suits the type of celebration and the decorative style of the table: glass vases combined with white flowers are the most classic and romantic proposal. With them you will achieve a delicate and elegant effect. Here, very short-stemmed buttercups form a lush nest in twin pots.
15 Do it yourself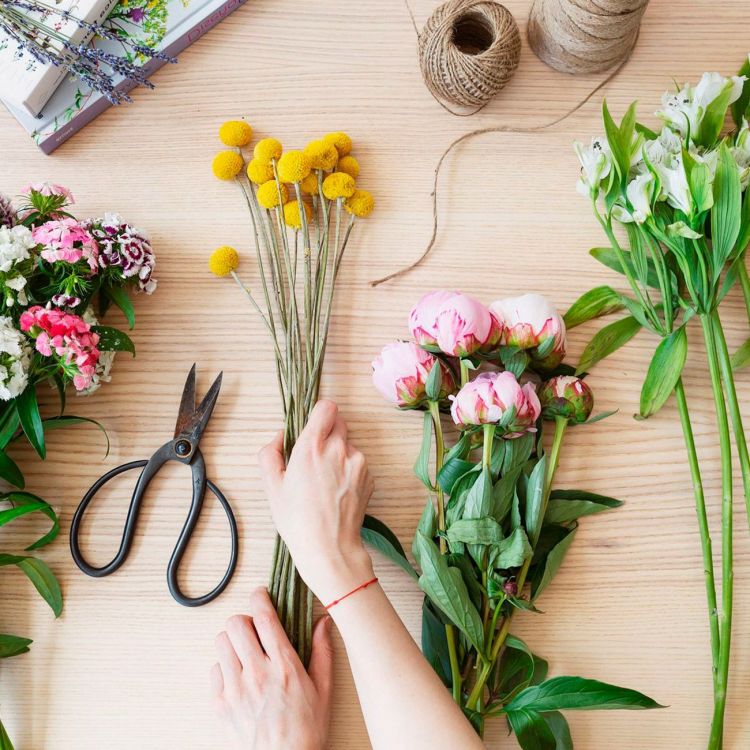 It's a great idea for dummies. If you still haven't mastered the floral art to make a bouquet, start with a complete kit, which includes the main elements to create a flower arrangement to your liking. This set is from Colvin.