Chosen by the Pantone Institute, you will see it in interior design, fashion, beauty, graphic design…
Vital, effervescent, sociable… this is the most trendy tone of 2019. It is Living Coral, by Pantone, which you will see in interior design, fashion, graphic design… We will tell you how to incorporate it into the decoration so that your home is renewed.
Welcome Living Coral!
Pantone chooses the color of the year and each one decides in what dose to apply it, a lot, a little or, perhaps, not at all, depending on the fascination it awakens in each person. There is no obligation but… if you are a little attracted to him or he seems directly irresistible, take a risk with him, even if he was not previously among your favorites or was a complete unknown.
Ideas to integrate it into the decoration: cushions, plaids and rugs are the first options, but not the only ones. Take note to make room for it with ceramics, vases, furniture that are updated with chalk paint in this tone or floral arrangements, with roses, peonies, tulips and gerberas in coral.
1 extra dose of joy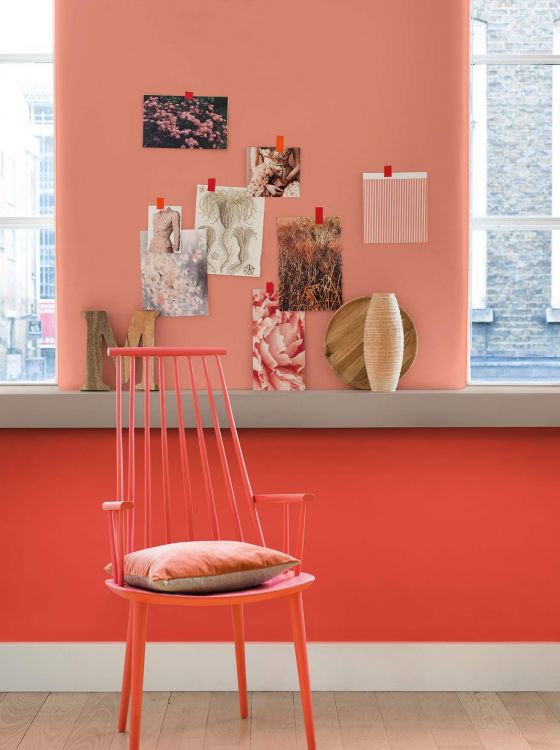 If you were looking for a radical change in decoration, bet on a wall painted in coral. From Pantone they affirm that it is a tone "symbolic of our innate need for optimism and joyful activities" and that "it embodies our desire to express ourselves in a playful way". If the walls of your house fell silent a long time ago, let them express themselves, speak and transmit vitality.
How will it be?
Color is a resource that decorators dominate, but you can also dare. Enter the websites and simulators of paint manufacturers to discover new color ranges and download their applications to find out how the wall you want to paint will look.
Matte plastic paint, by Bruguer (€23/4 l approx.); above, Terracotta tone, and below, Guava Juice.
2 Wonders of nature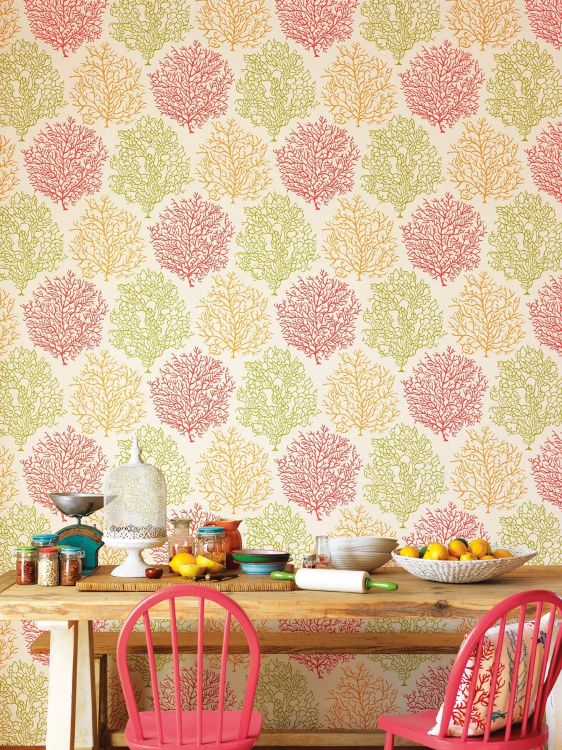 The 16-1546 Living Coral, the trendiest color of the year, pays homage to the spectacular landscape of coral reefs. Moving that aquatic paradise to a wall will transform the space. In the words of the Pantone Institute, the authority on the color that chose it, "is vital and effervescent" and "generates a hypnotic effect on the eyes and the mind".
Coral Reef wallpaper from the Voyage of Discovery collection, by the firm Sanderson, for sale in Gancedo (€108.45/10m roll).
3 positive energy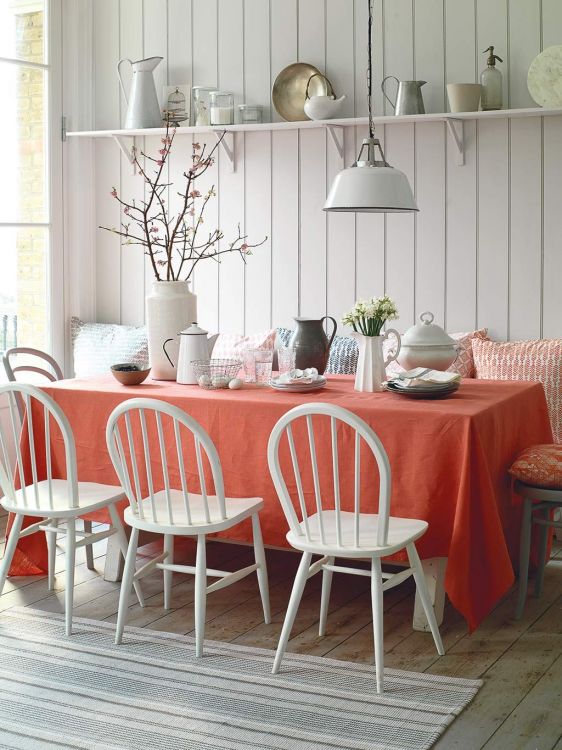 According to Pantone experts on their website: "sociable and full of life, the captivating nature of Living Coral promotes and encourages enjoyable activities". You already know, if you want an atmosphere with good vibes, get a tablecloth with the color of the year —like this one, from Volga Linen— put your mobile aside, start chatting and enjoy the moment.
Pairs well with…
– White, because it is an ideal setting for the coral to look bright.
– Gray tones, neutral, because with their serenity they nuance their energy and vibrant colors.
– Light and dark woods, because they form a warm and welcoming tandem.
4 magnet effect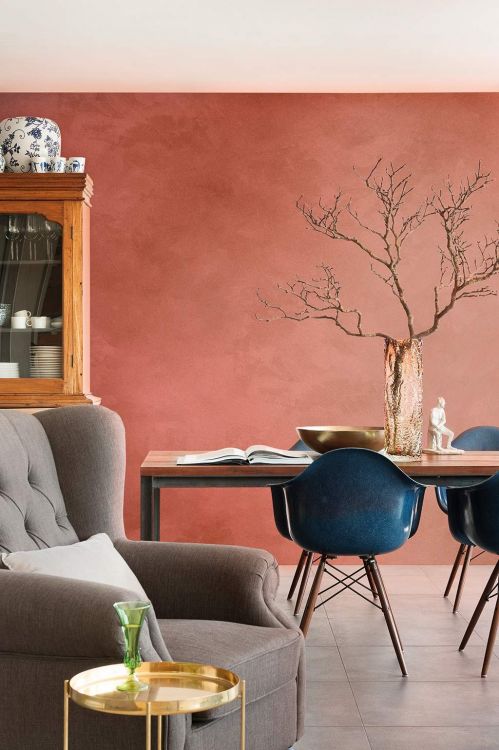 There are many alternatives to the living coral tone. Nuanced here, it also arouses maximum visual interest with its attractive shadows.
If you thought that the color of the year was too intense or sweet for you, seeing this dining room will have changed your mind. With contemporary design, metals, even with a tufted armchair, this tone does not disappoint.
Painting from the Colors of the World Colorado collection, by Bruguer.
5 Festive and cool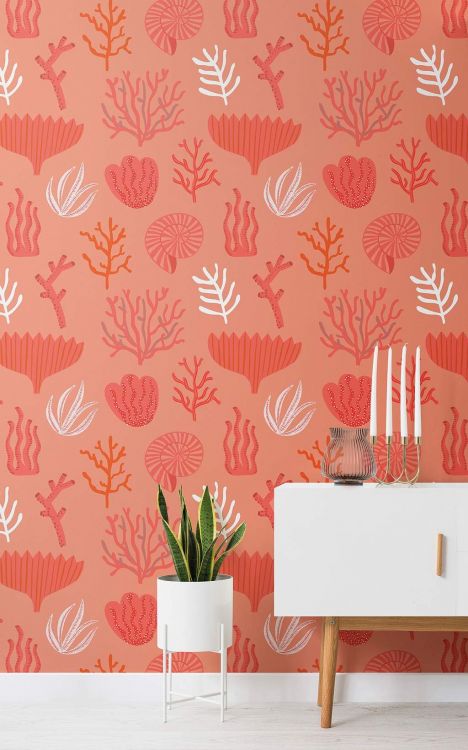 The motifs and contrasting shades of this wallcovering give this wall a vibrant look and a touch of modernity. Let its waste of energy and dynamism take over the space and infect you.
coral reef
Warm, energetic, sociable and cheerful, the Living Coral renews the look of any house; you just have to invite him in. Until now, it was a tone associated with cosmetics — especially in lipsticks — but you will see that Pantone's revelation color will cause a furor in decoration and fashion.
Custom wallpaper, from the firm MuralsWallpaper (from €31/m2).
6 This coral is touched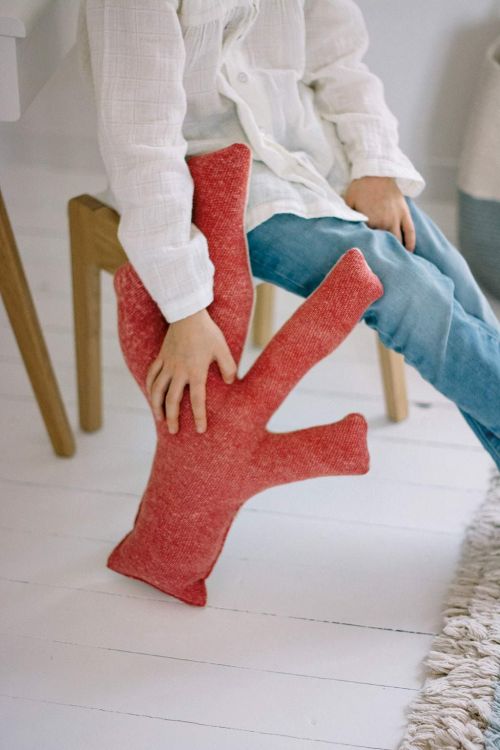 The simplest idea to decorate your house with the color of the year is provided by textile accessories. They add dabs of revealing shade wherever you like. This cushion goes one step further because its organic shapes are added to its coral tone.
Design from The Sea collection, by Lorena Canals, handmade, with natural dyes and washable; measures 35 x 50 cm (€39).