Orange is gaining more and more ground in modern decoration since it is a color that has a lot to offer. It injects a high degree of vitality and luminosity into spaces, making it ideal for bringing a modern style to each of the rooms in the home.
Worked as an accent color, the orange hue is paired with pastel colors, including pale blue and soft lilac, which are perfect complements for their lighter tones. These calming colors, along with cool white walls as a backdrop, help soften the bright orange.
With brown
One of the easiest colors to pair with orange is another warm color like some shade of brown. As seen in this room, orange plays perfectly with a reddish brown such as terracotta, especially in textiles such as rugs or cushions. If you want to brighten up your space, consider mixing orange with other warm, bright tones.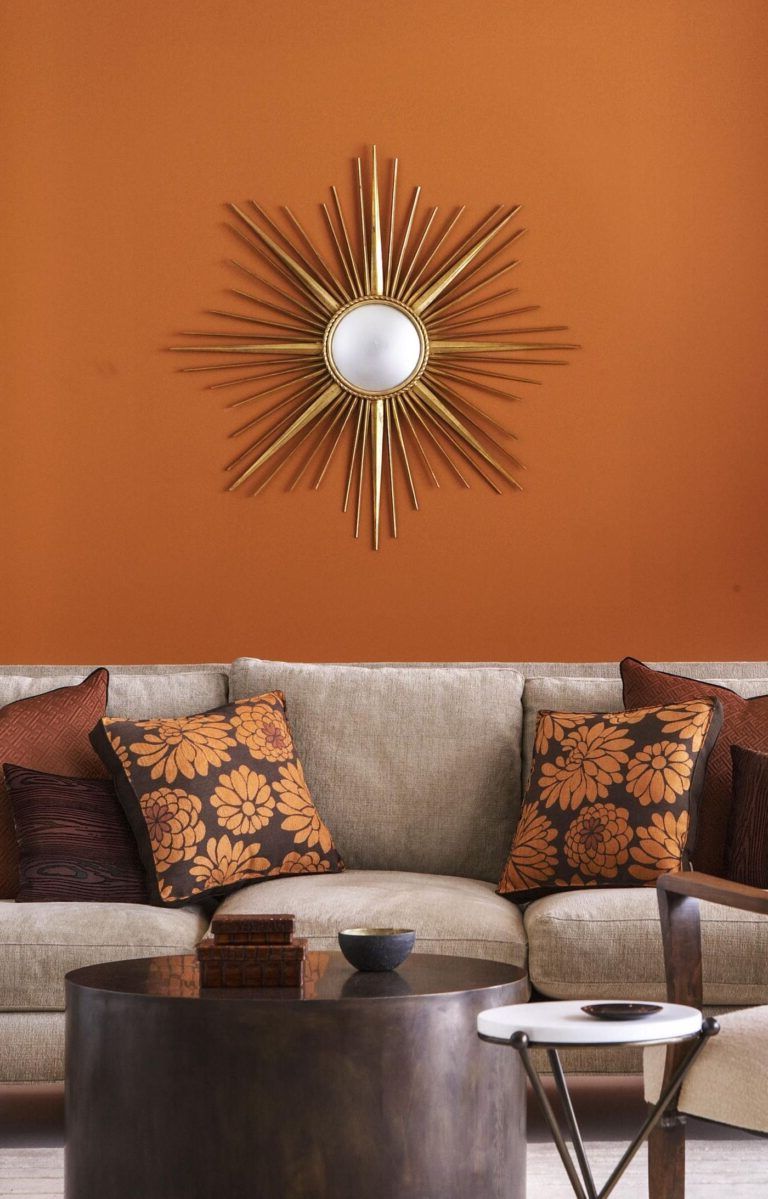 A deeper, richer orange is a great shade to pair with wood or brown tones. Between the wooden coffee table and the earth-colored cushions, this room is full of vintage charm.
With blue
These complementary colors create a funky, almost retro vibe in a modern space.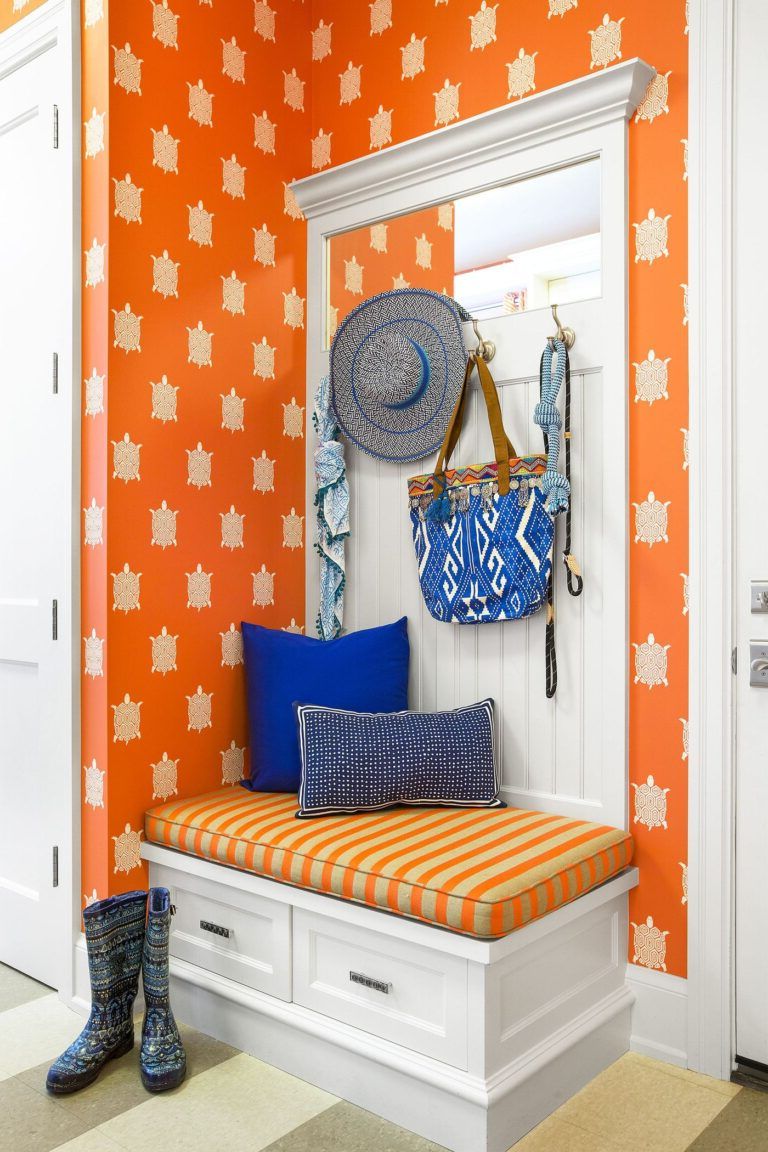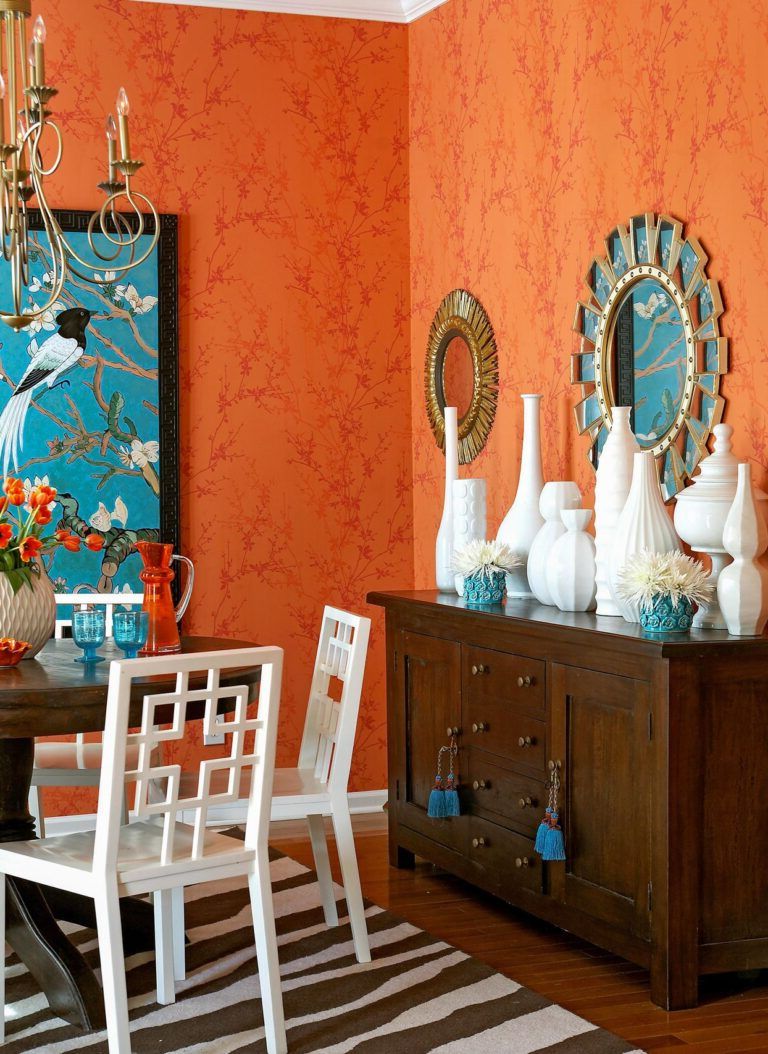 Different shades of orange
You can also use different shades of orange. This room takes a monochrome approach and features various shades of orange. By combining pastels and bright tangerines, this space feels multi-dimensional and very inviting.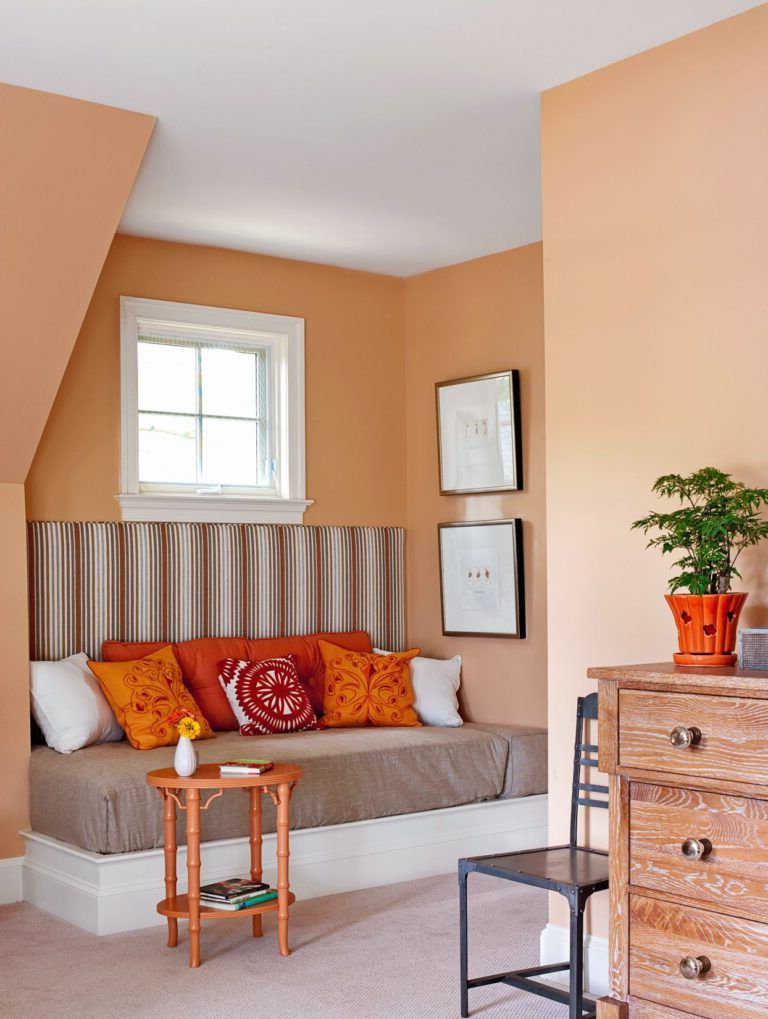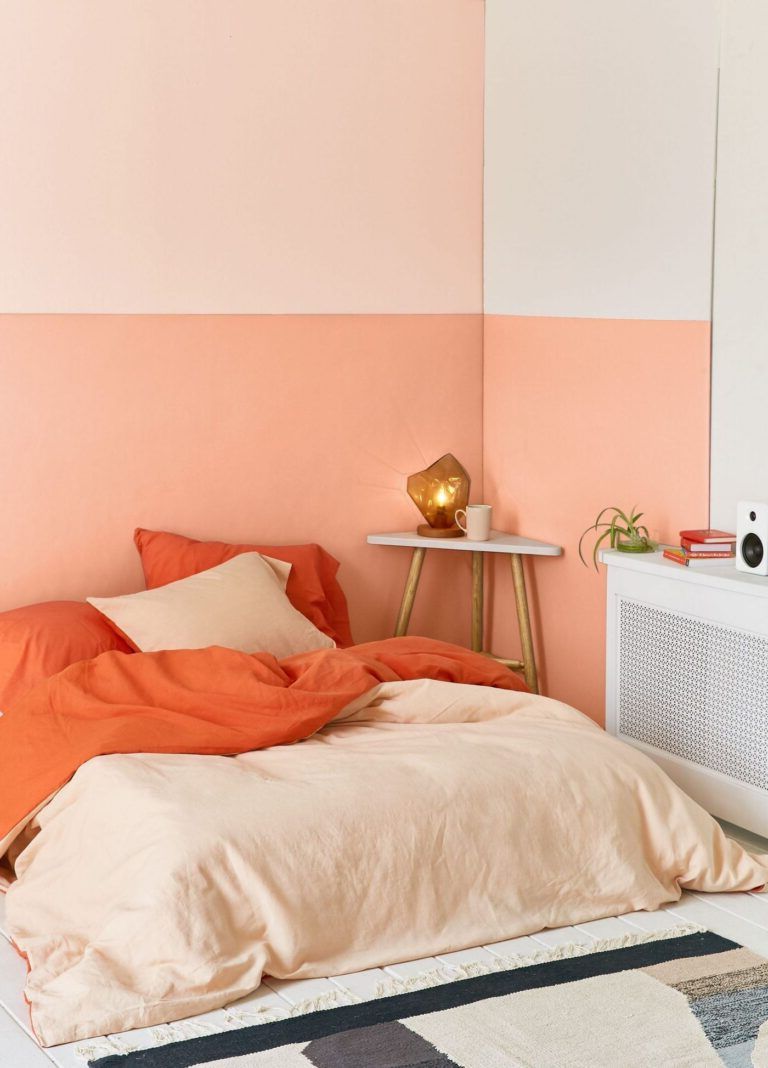 Combined with black
While you may think this color scheme should be reserved for Halloween, black and orange can be a stylish and contemporary combination for any home. This lovely space proves that when done right, black and orange are one of the best color combinations out there.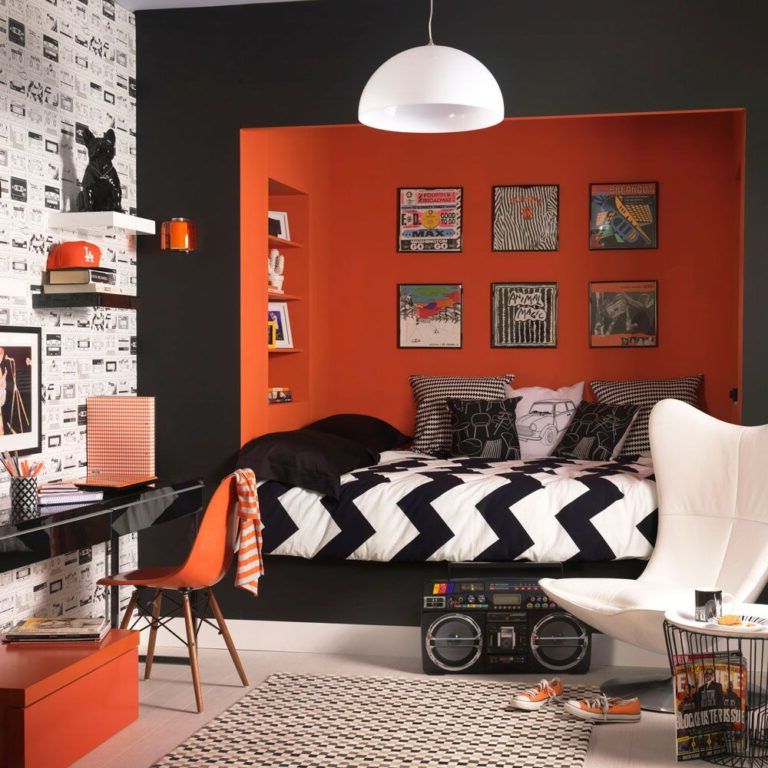 When using this combination, use it sparingly and only in accent colors to keep it from overwhelming the space.
Accompanying the purple
If you are looking for a retro and funky combination, consider orange and purple. This wonderful living room features a bold purple sofa that blends nicely with the white and orange wallpaper behind it. Purple and orange are analogous colors because they are close to each other on the color wheel and work well together.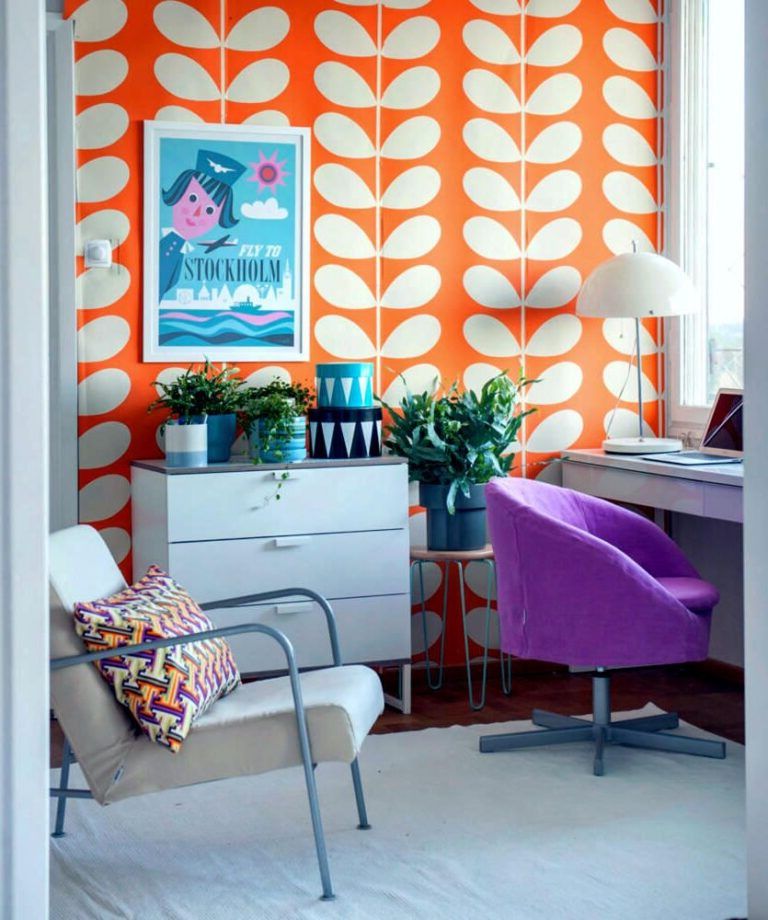 With light blue
One of the cute color combinations that is often overlooked is orange and light blue. This cozy space proves that a light blue quilt is the perfect accent to an orange wall. This color scheme is similar to orange and purple, but when toned down, it's a little less retro and a little more minimalist and modern.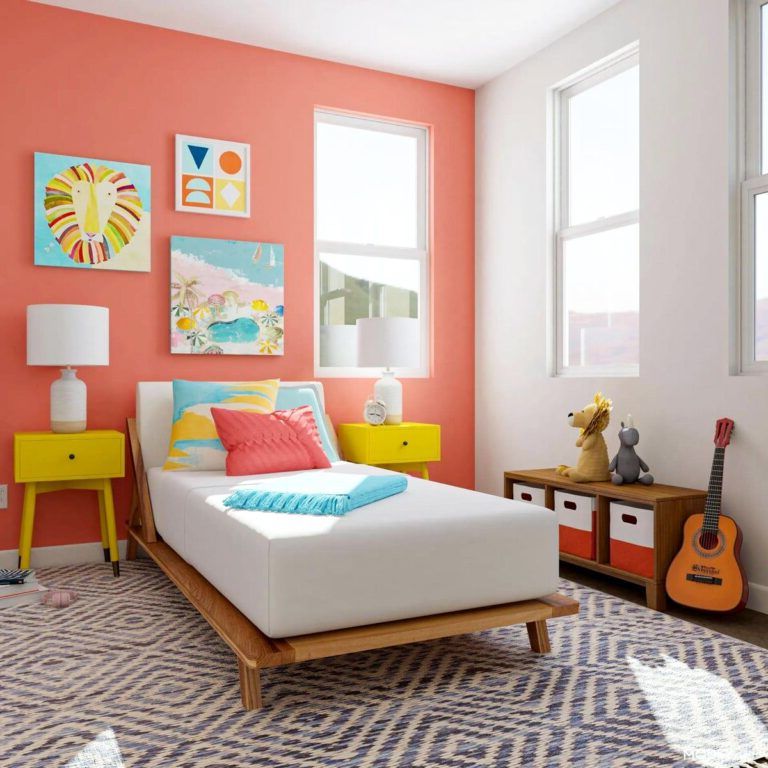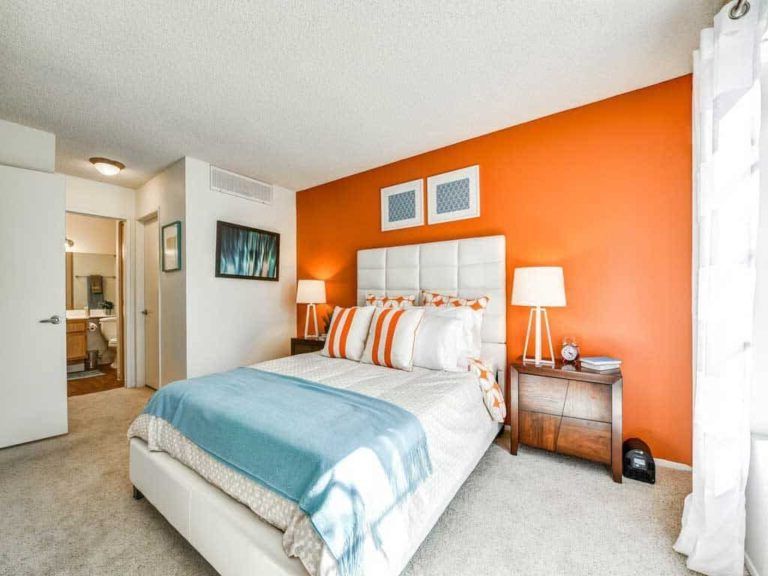 Orange and white
The softness and subtlety of a neutral helps to calm the bright and bold orange. By keeping the floors white, the room feels sophisticated and doesn't get overwhelmed with color.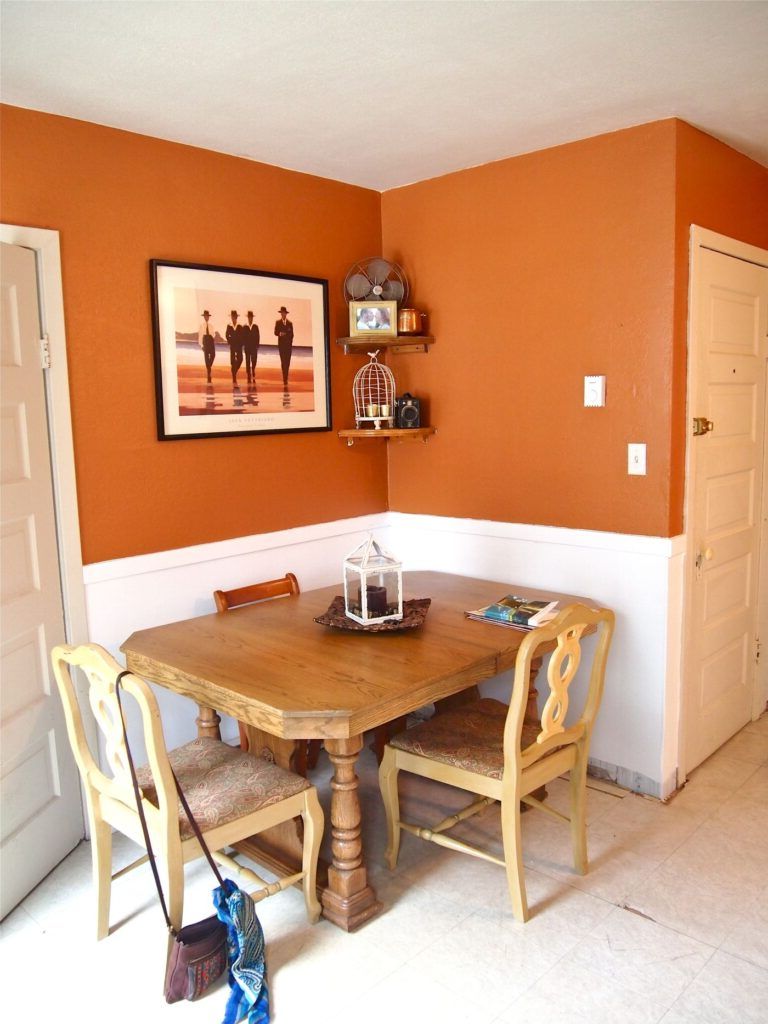 White and orange are also a great color combination for a bedroom or even a dining room.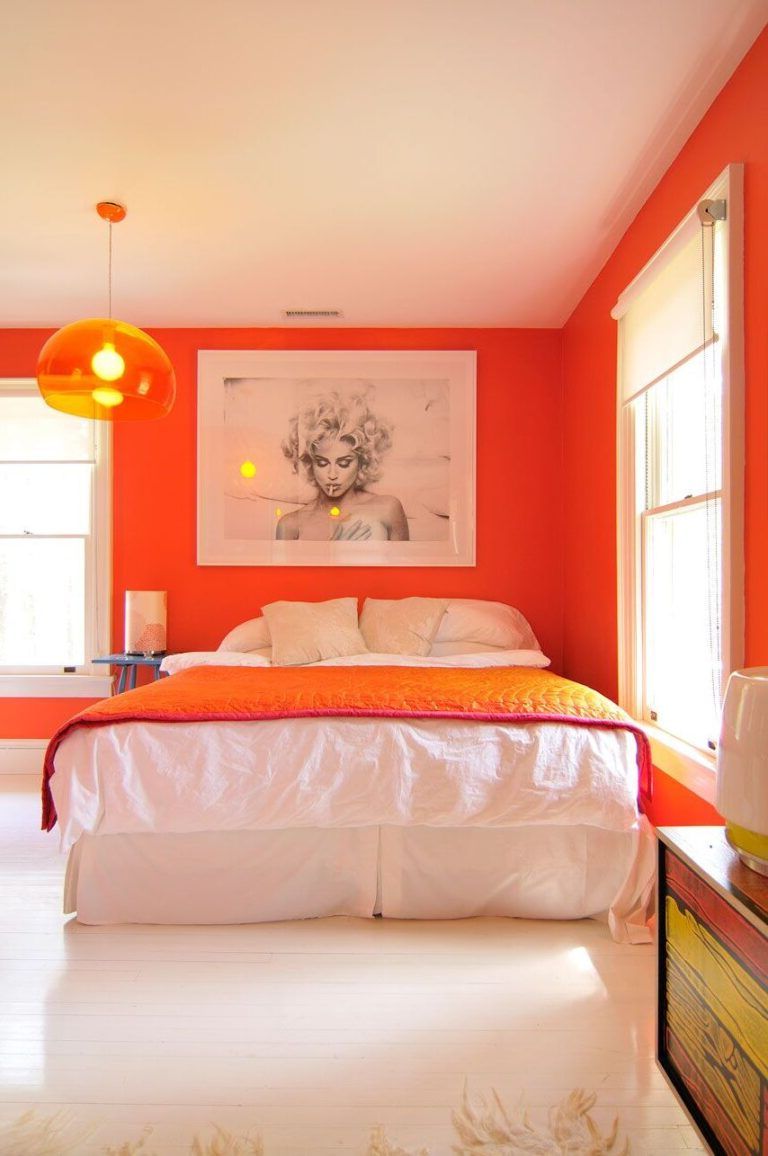 Orange and gray tones
Pairing orange with muted colors is a great way to tone down the tone and create a soft, calm feel.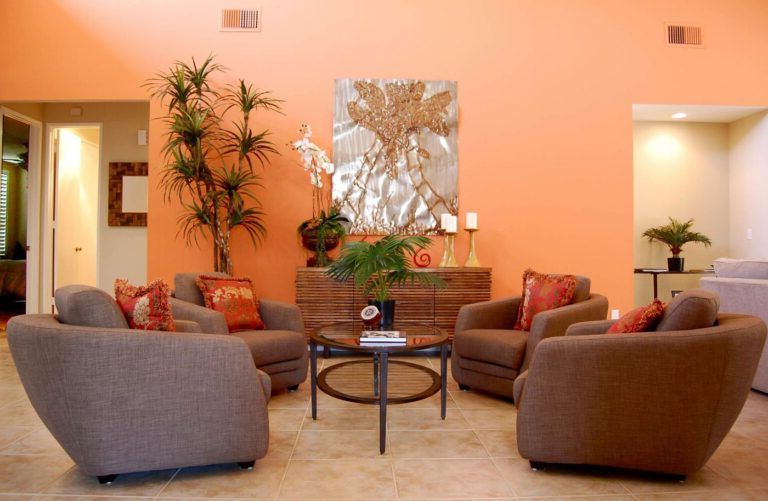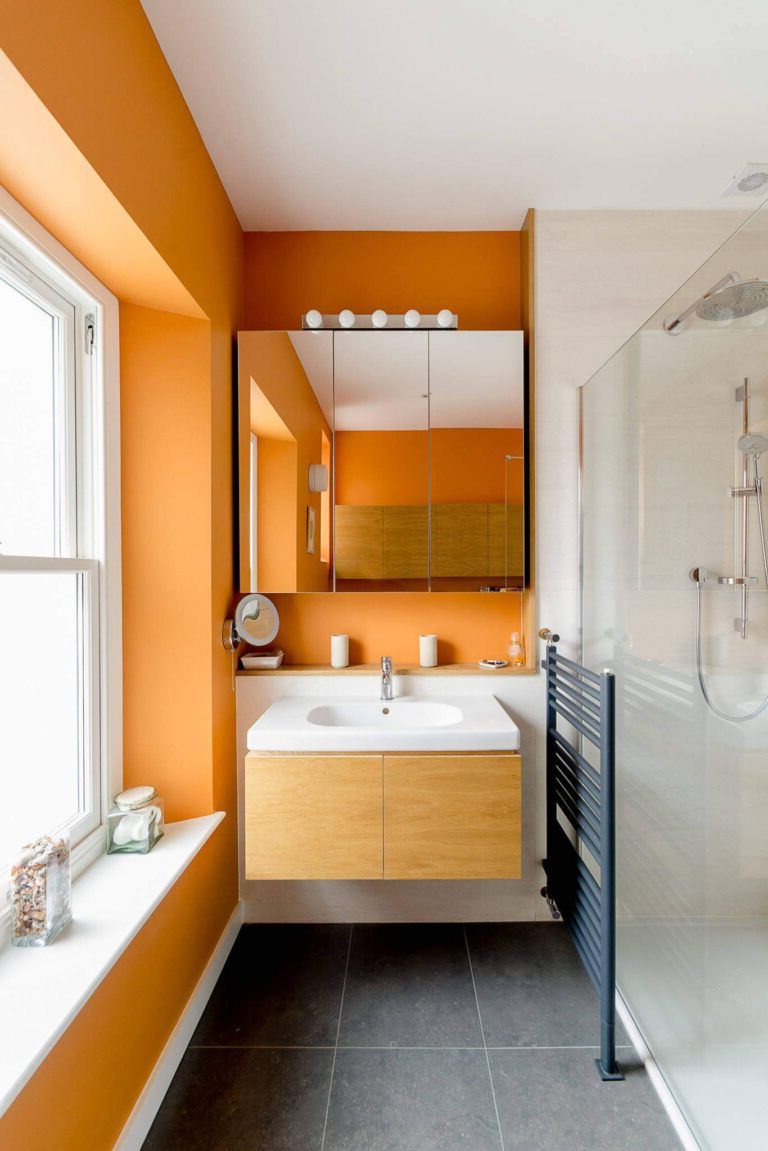 Beige and orange
The very subtle light orange walls in this space are the perfect backdrop for the beige accents in the room. If using orange in your décor is a bit intimidating, consider a lighter, softer orange with beige or tan undertones to add a bit of color without overwhelming the space.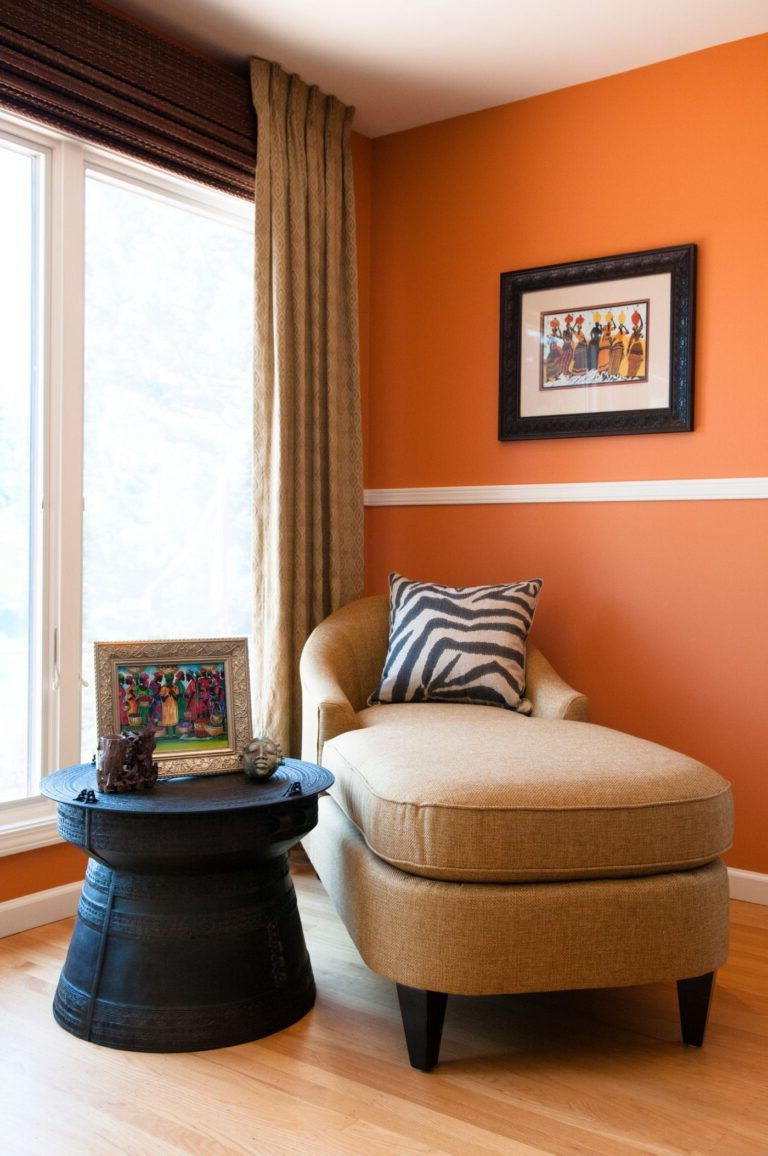 Tans, whites, and beiges are great colors to pair with any shade of orange, but when paired with darker, earthier tones, they become a bit more rustic and minimalist.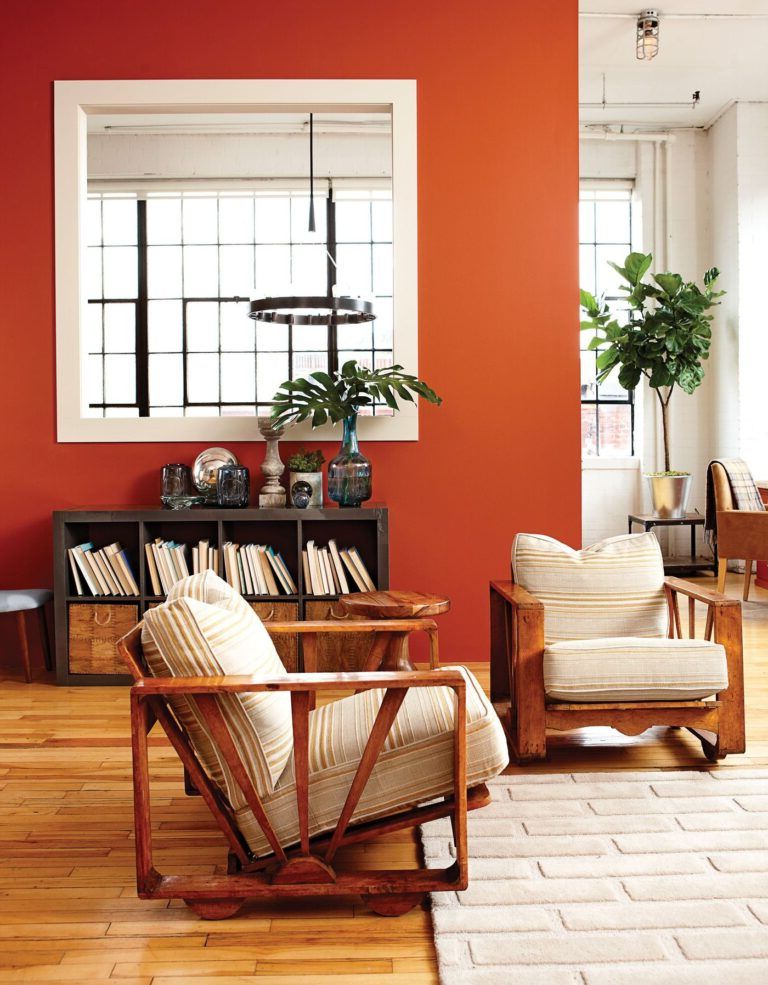 Yellow and orange
Yellow and orange are undoubtedly the happiest shades of all. They remind us of bright sunshine, pretty spring flowers, and refreshing citrus fruits. They are colors that can be reserved for the elements of a space that we want to highlight.
If you lack good lighting, it would be best to use the bolder shades sparingly, as they can easily overwhelm a space, especially a small one. Here are seven examples of how to decorate with orange and yellow color palettes.
Sunny yellow and vibrant orange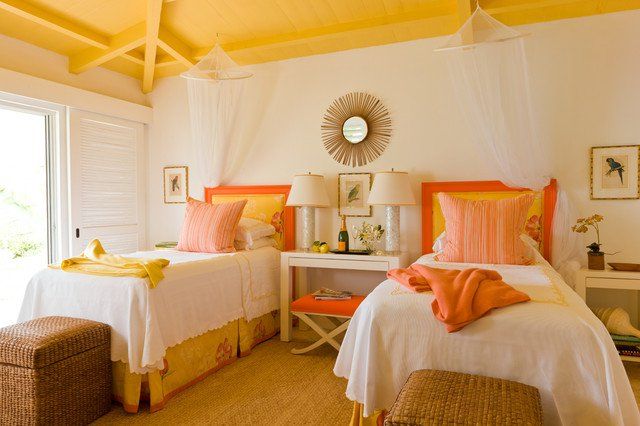 The yellow color on the ceiling creates a sunny glow that warms the entire room, as shown here. If you live in a warm, sunny climate, you'll probably want cooler colors, like blue. But for those who live in a cold or cloudy climate it can give warmth and brightness with warm yellow and orange tones. The orange used here is very vibrant and works best as a small color accent – on the headboard and on the bedding.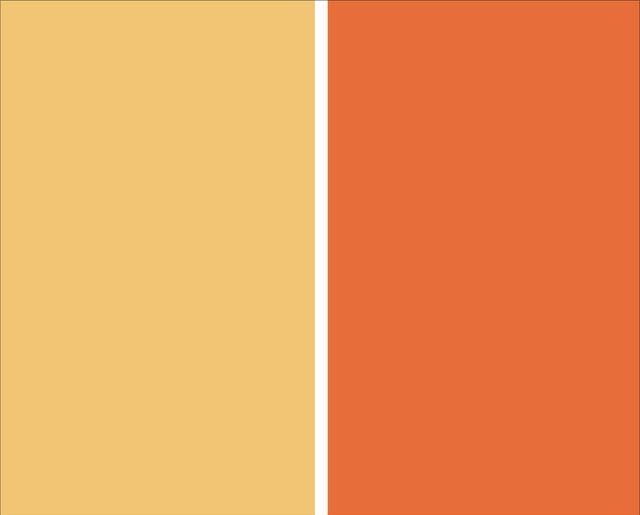 Pale yellow and pale orange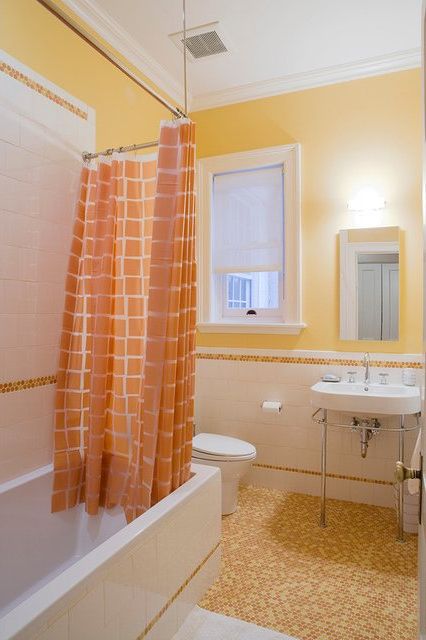 How not to start the day on the right foot when entering this space in the morning? The walls are the perfect shade of yellow – not too bland and not too bright. A nice orange is brought through the tiles and the shower curtain.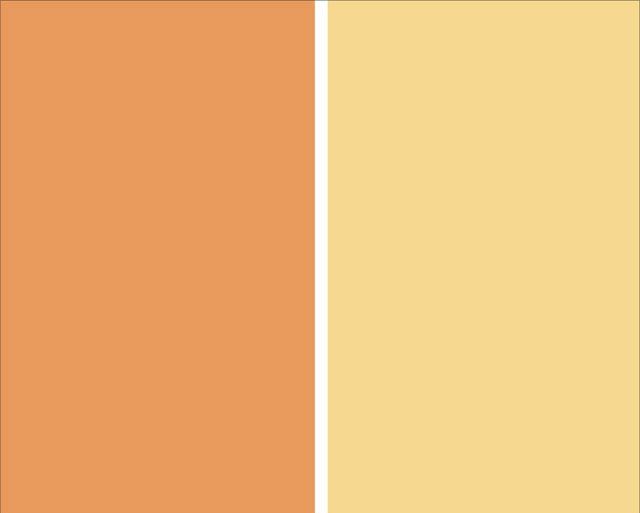 Pale yellow and autumnal orange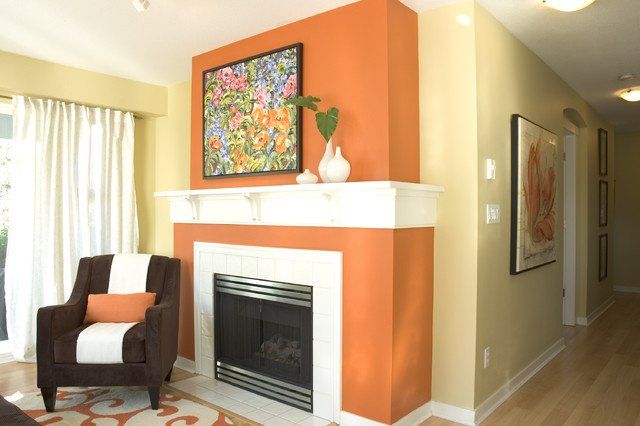 This is also a great example of using color to highlight desirable architectural elements, such as a fireplace.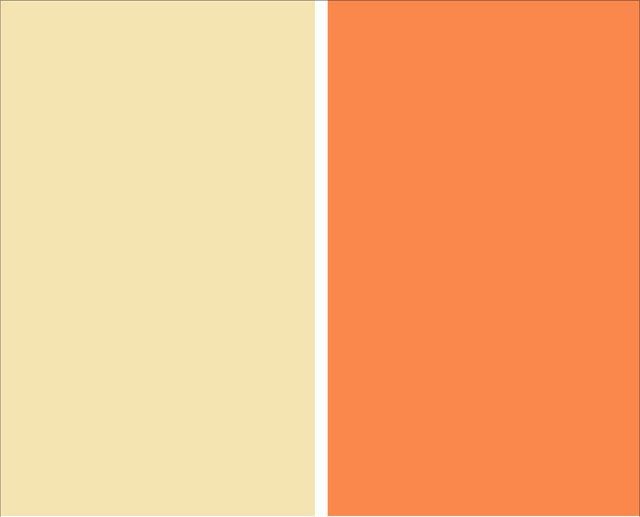 Golden yellow and sunrise orange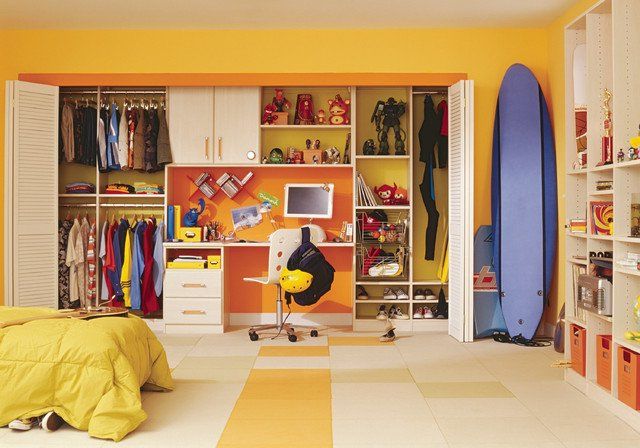 These fun colors work well in a teen or child's room. I like how the color orange was used to highlight the desk wall.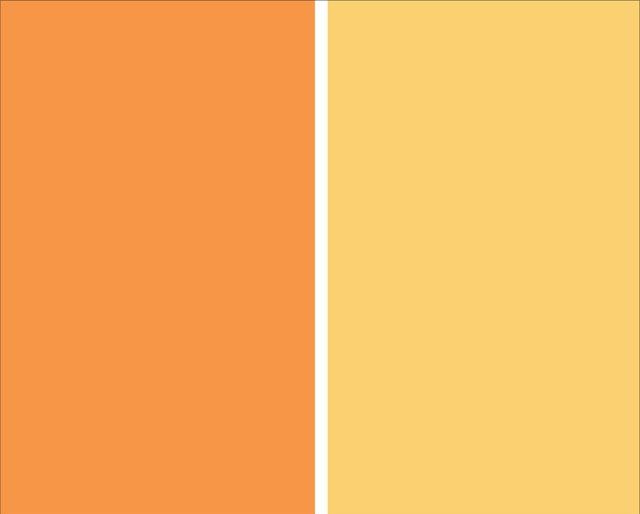 Yellow and ocher orange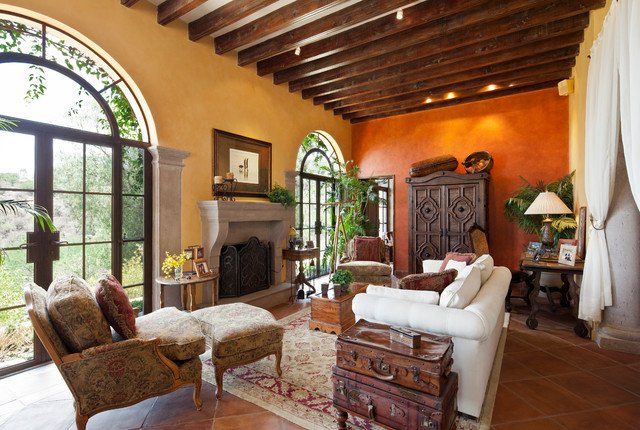 We tend to associate bright colors with modern and contemporary spaces, but you can also inject color into more traditional rooms. The intense reddish-orange wall color here blends well with the lighter yellow-orange color as well as the tones of the wood.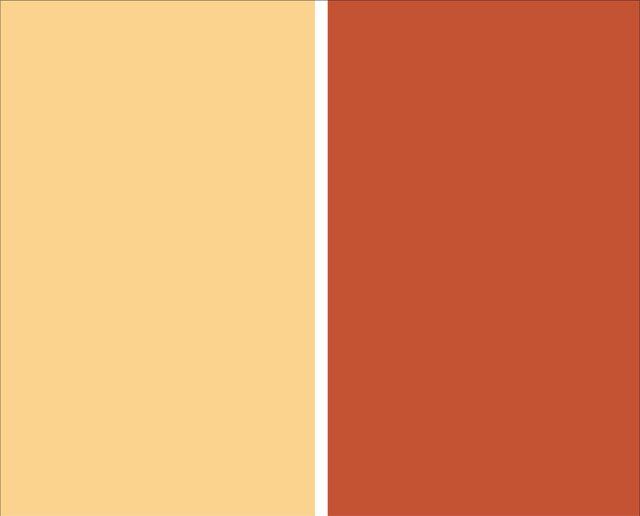 Neon yellow and orange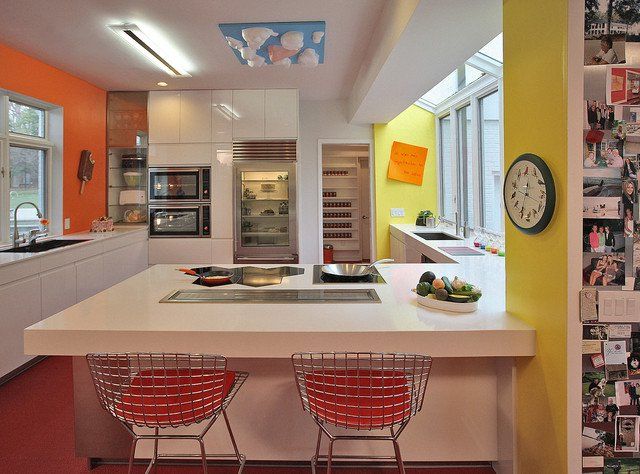 Neon yellow and orange tones should be used sparingly, and next to windows where plenty of natural light can help ease the intensity. I like the little stripes of color to break up the white.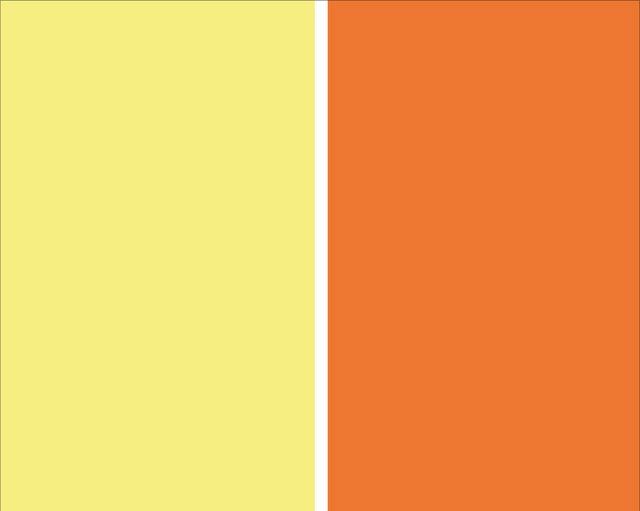 Creamy yellow and saturated orange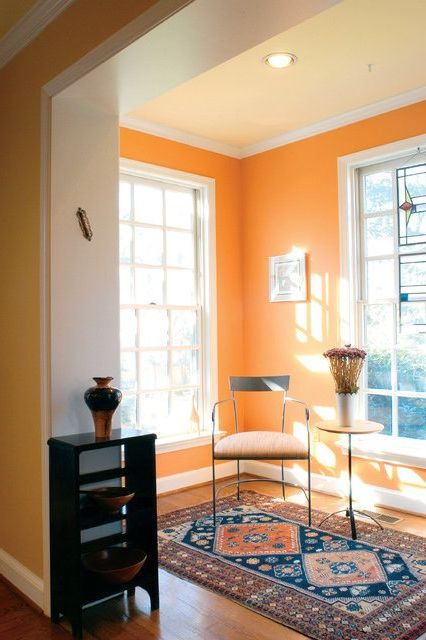 Here is another sun filled space with an orange wall. It's a rather saturated orange, but the beautiful oversized windows cut through the painted area, so it doesn't feel overwhelming. The creamy yellow color on the ceiling offers a soft contrast to the wall color. A white ceiling here might have seemed too cold and jarring with the orange.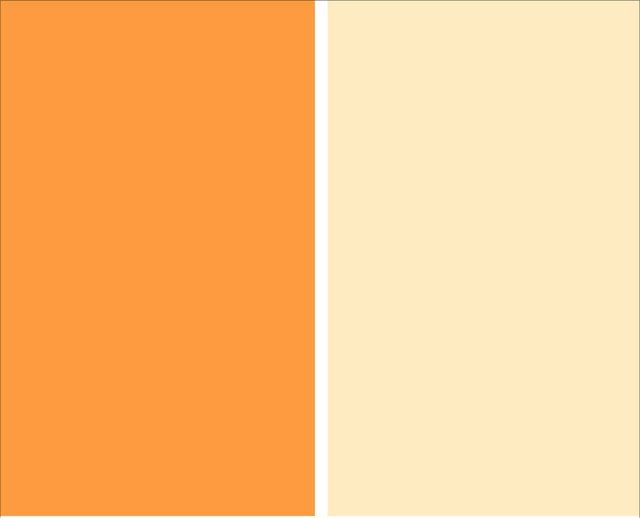 Orange color in living rooms
Because it is a really very striking color, any element in these tones will immediately make the rooms come to life, so it is not necessary to go for a totally orange decoration either. A rug, some cushions, curtains or a work of art in that color can do it on their own if they are placed strategically.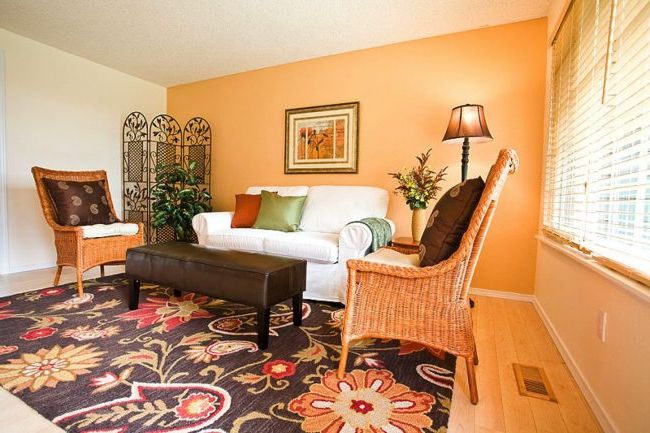 However, those who want a more impressive
orange
decoration can take this color to the walls or floors, which will undoubtedly give a very cheerful and beautiful appearance. It is very compatible with white, black or very dark brown wood details, since it achieves really pleasant visual impacts.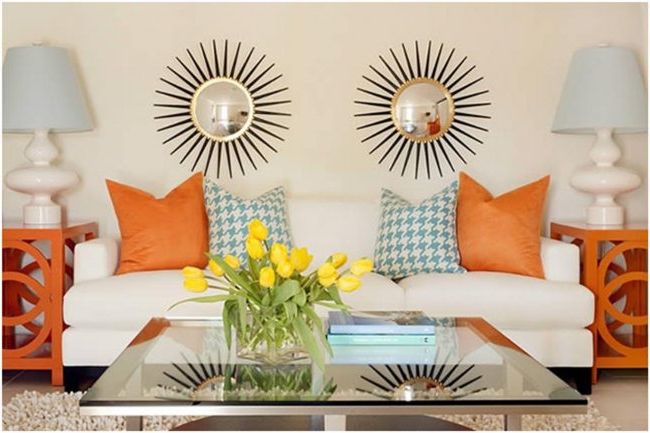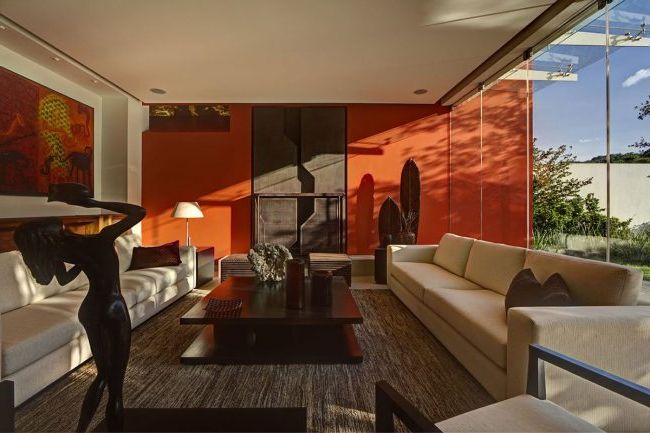 Orange in dining rooms
When choosing colors for the decoration of dining rooms, one manages to lean towards the most classic ones or those that know that other people have given a good result. In this way, many times we leave aside possibilities that can really give a home an image that is difficult to match. An example of this is the decoration in orange.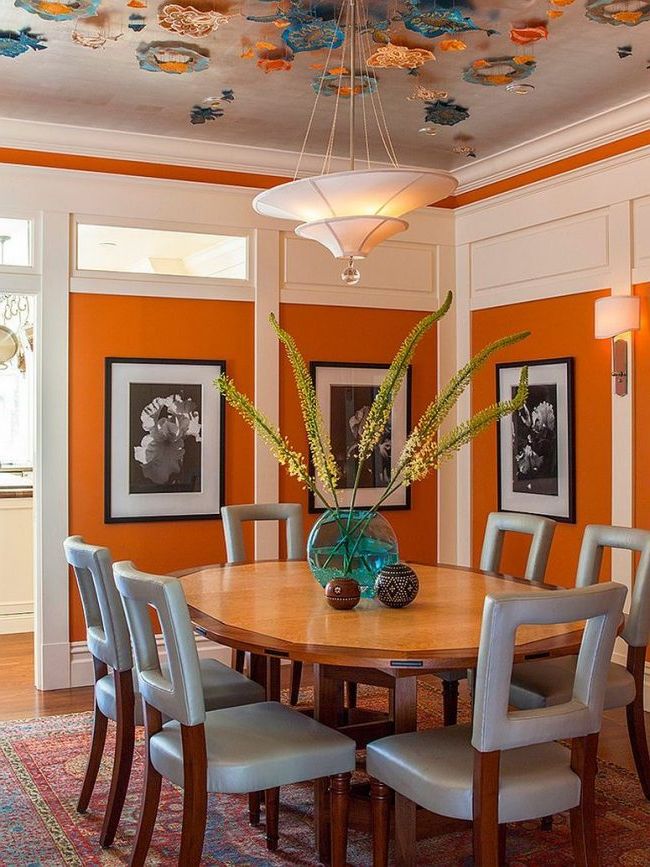 This color is related to the sun and fire, heat and passion. It is stimulating, excites the senses, but at the same time provides a certain tranquility, when used in soft and calm tones. Broadly speaking, it can be said that it transmits joy, enthusiasm, desire and vitality to whoever is in the room. That is why it is an excellent color for dining rooms.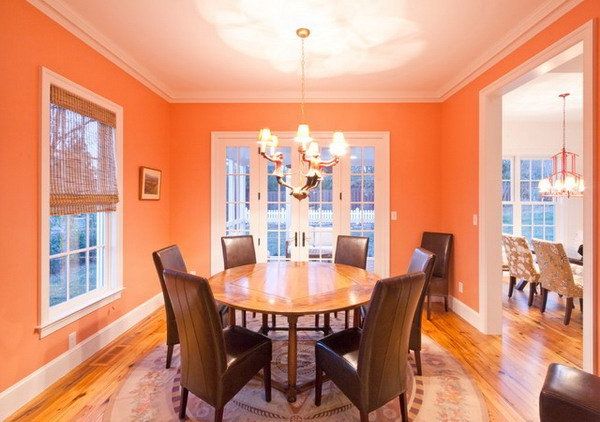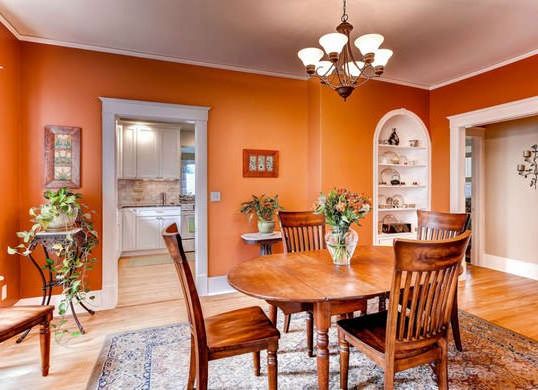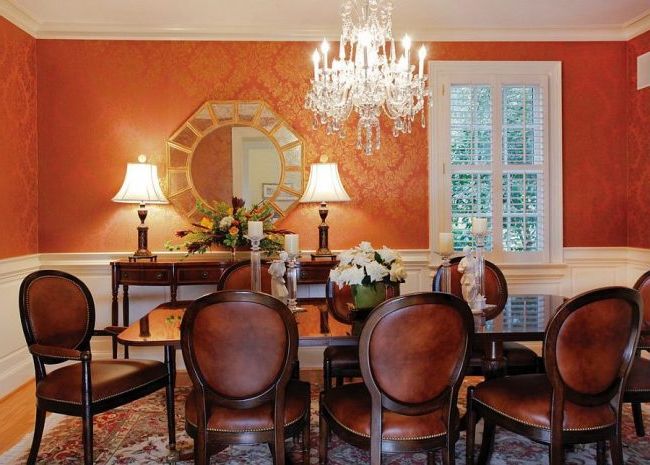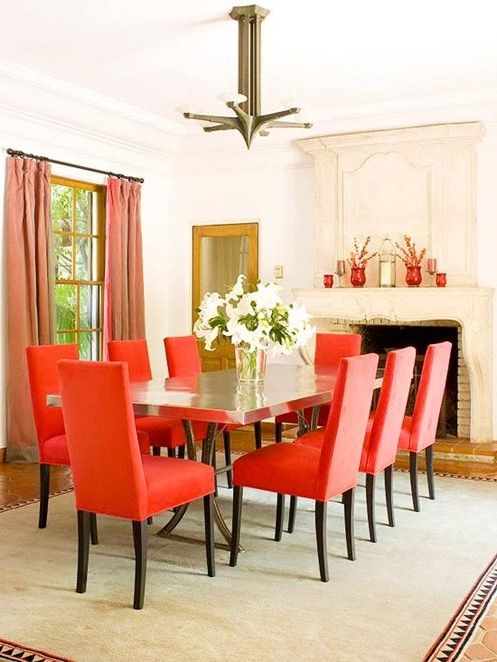 Orange in bedrooms
People who are encouraged to use it in their bedrooms, show a strong, lively personality, who wants to show their energy and charm to others, including infecting them with their magic.
If you feel identified with these characteristics, then you should take a look at the photo gallery that we leave you below, so that you can appreciate different ways of combining it in the room; both on walls and on furniture and other decoration.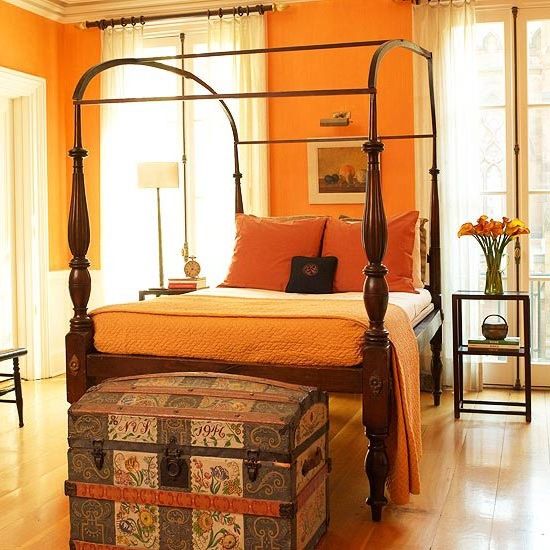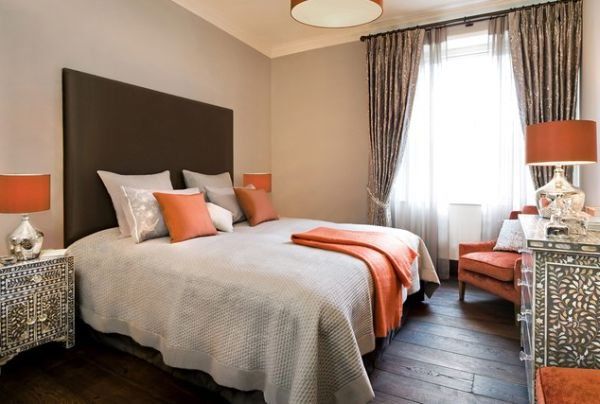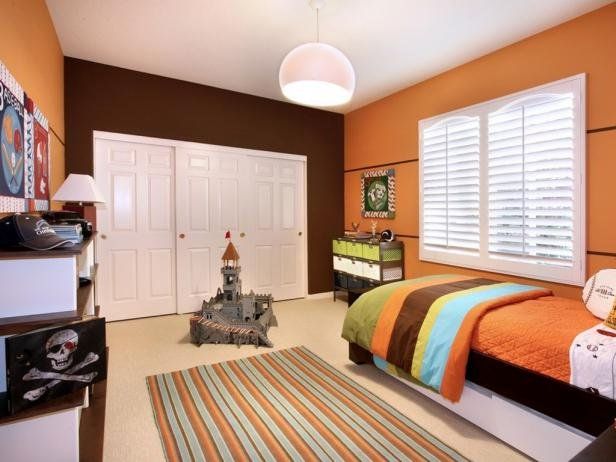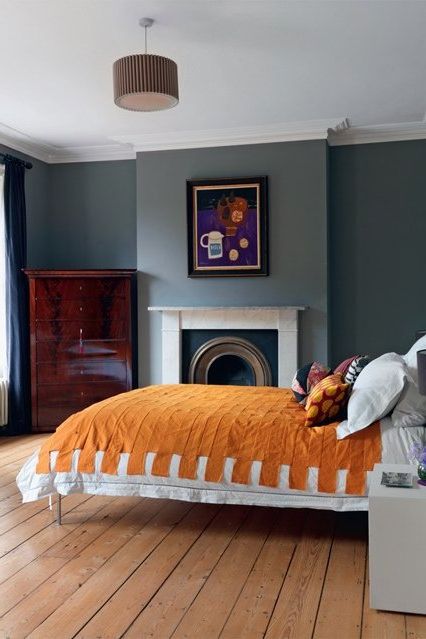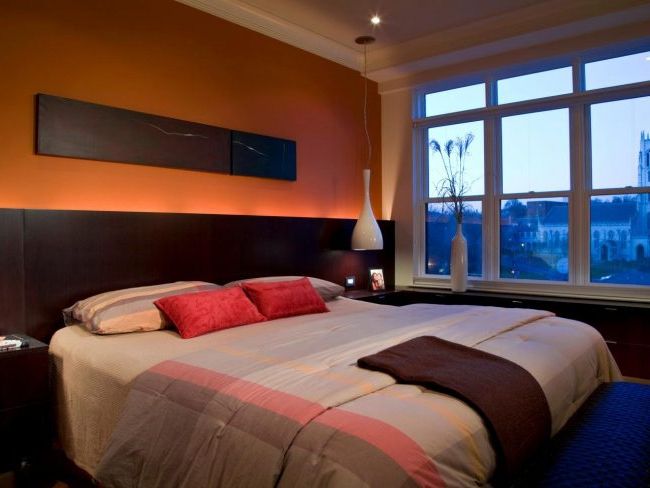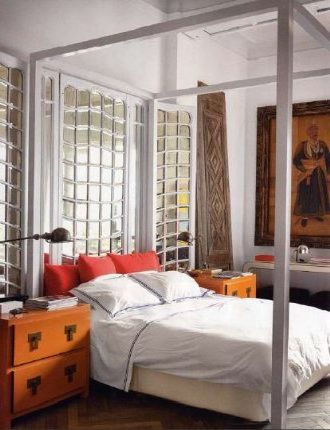 Orange in kitchens