Along with the kitchen, the living room is the room in the house in which we invest the largest budget. Avoiding mistakes when decorating. It is an easy challenge to overcome. Do you accept it?
Two needs converge in the living room: aesthetic —it is the meeting point when we invite our friends over— and functional, since it is the meeting point for the whole family. Its decoration, therefore, must harmonize design and storage space. The first step is to look at each fixture: doors, windows and fireplaces are enhanced by being framed by a bookcase, while a less attractive radiator can be camouflaged by low shelves.
Analyze the points of light and assess if their current location fits the distribution you plan. For example: Is the antenna input where you want to put the TV or on another wall? Does the area where you would like to place a floor lamp or a table model have an outlet nearby? In your future reading corner, are there a couple of extra outlets so you can recharge your mobile and tablet while you read without going to the other end of the house? Perhaps it is more worth doing a remodeling of the electrical installation than giving up the ideal distribution. Although the investment is high, it includes plugs to spare; technology is advancing so fast that soon new products will emerge which, of course, will become essential! Light up your living room in the most beautiful way with any of these beautiful and functional table lamps.
Regarding the furniture, analyze the needs you have and the available space. A sofa bed may be a good option if you frequently invite a relative who lives out of town. If you are overwhelmed by console games with their corresponding controls, perhaps you would be interested in a coffee table that incorporates drawers. Or choose a design with two envelopes, if you like to have issues of Micasa magazine close at hand to flip through. And, if you have an inherited piece, include it: the rooms with stories to tell have an added interest. Don't know what to place on the living room table to make it look like a magazine? Get inspired by these ideas.
Sofa with chaise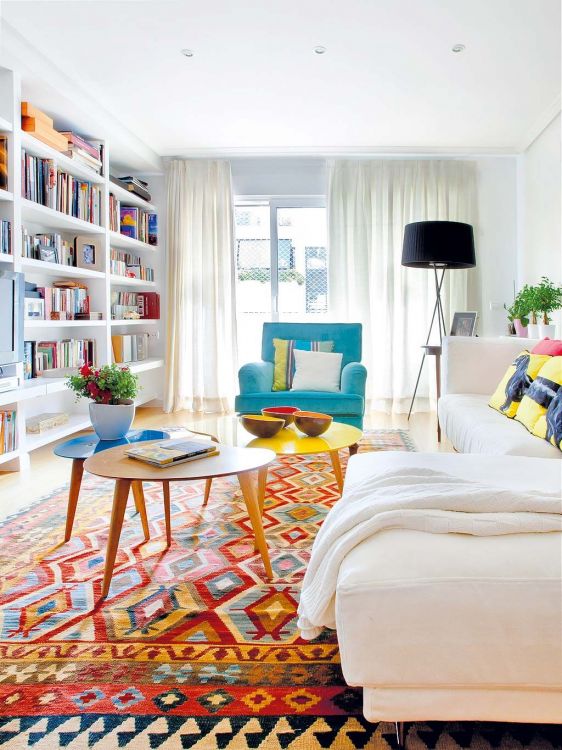 When it comes to an XL size model, as in this case, one option is to replace the coffee table with three of different sizes. Your advantage: by moving them separately, you can create different corners in the living room without getting up from your seat. Sofa and armchair, upholstered by Tapiviesa. Tables, from bd Madrid.
White painted shelves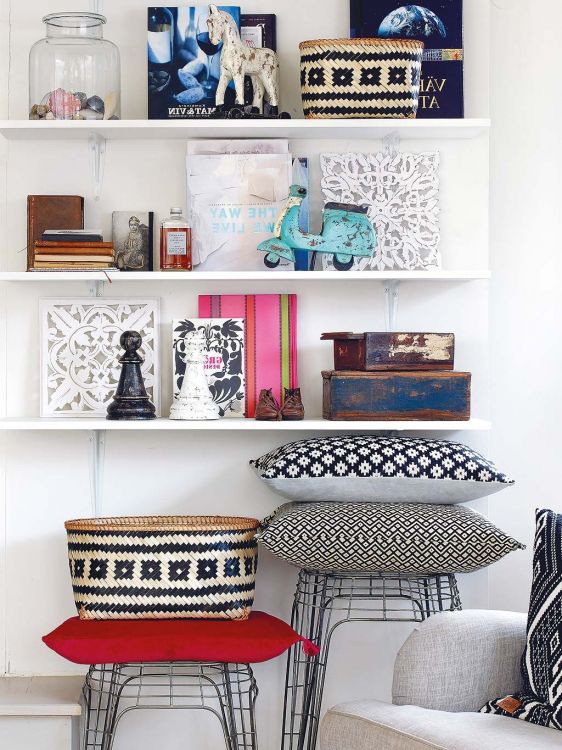 Shelves. If you want them to go unnoticed, paint them in the same color as the wall; but if you prefer that they gain prominence, cover them in a contrasting tone. Keep in mind that, being located in the living room, what you display in them will have a great decorative presence. From Affari: vespa, chess figures; baskets (€65/3) and stools.
Mid-height bookcase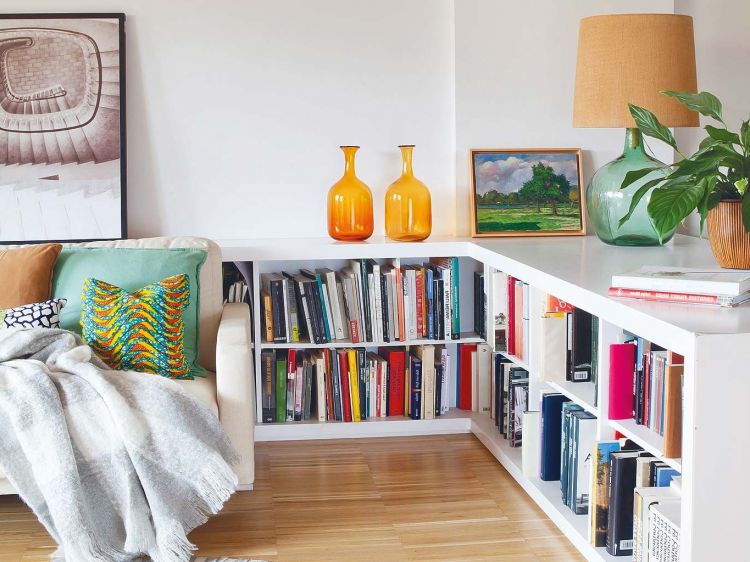 When the living room is in the center of the house, with doors leading to the rest of the rooms, it inevitably becomes a passageway. A mid-height bookcase with shelves facing the living room can visually create a hallway that enhances intimacy in the living room. In this case, 311 Studio designed an L-shaped bookcase that starts from behind the sofa and divides the spaces without stopping the passage of light.
exposed brick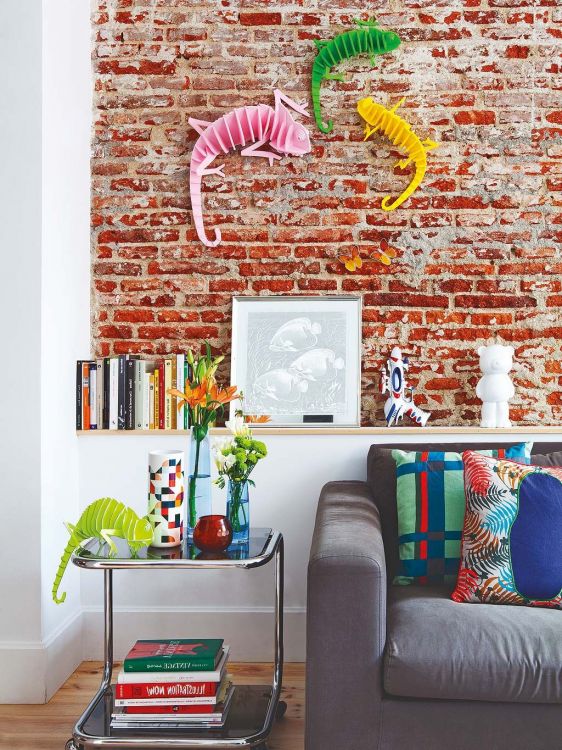 In the houses of old construction, the walls were made of brick. Removing the plaster and leaving the original material visible on only one wall in the living room will add a play of textures. On it you can hang pictures or figures, like these from Fauna Urbana Design.
classic armchair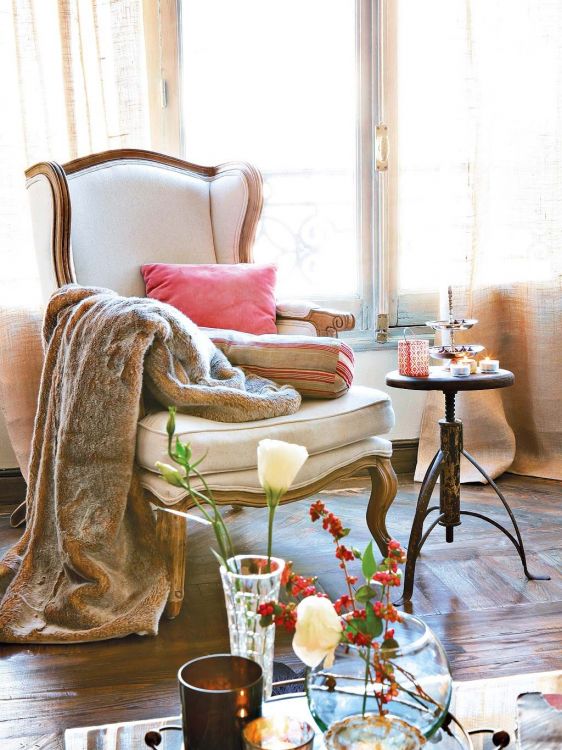 As its name suggests, the reading corner only occupies a small area in the living room. If you want to give it more decorative impact, choose furniture of different styles. This industrial pedestal table surprises in the company of the classic armchair. At PortobelloStreet.es you will find similar designs.
Trio of glass bottles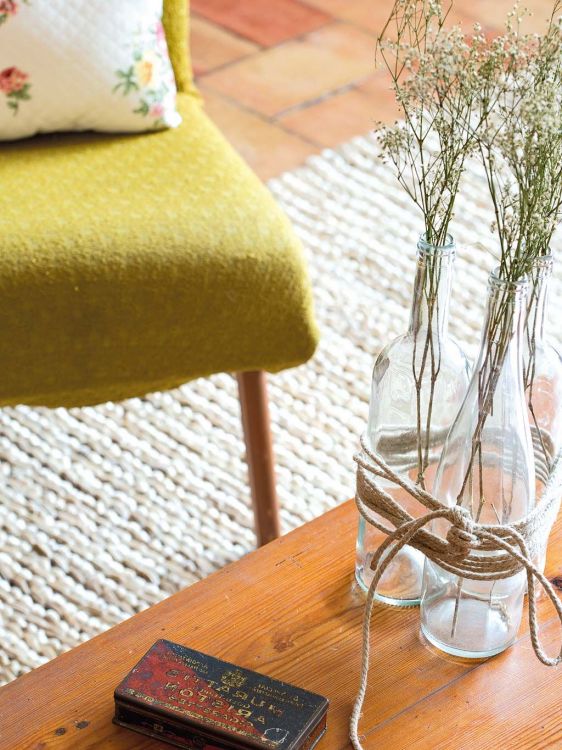 Although its dimensions are large, the table must be clear to prevent the room from looking like a store that offers its items. The decoration can be limited to low-rise elements, but if you include some that are vertical -like this delicate trio of glass bottles linked with a rope- place them in a corner: the play of volumes will be more harmonious.
Sofa made on site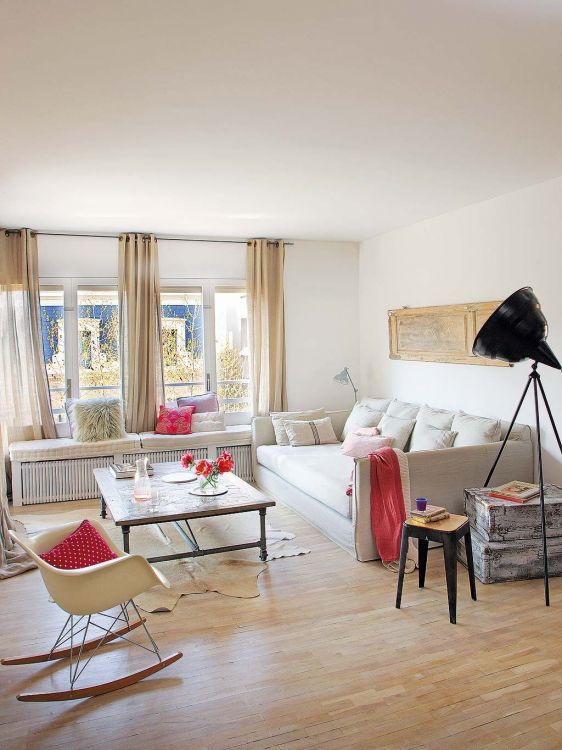 The key to not obstructing circulation is to attach the two sofas to the walls. Here, one of them was built on site, with a structure that integrates the radiators and soft mattresses as a seat. Upholstered sofa, from Habitat. Table, from Little House. The seat that closes the space is from Tierra Extraña.
armchair for two people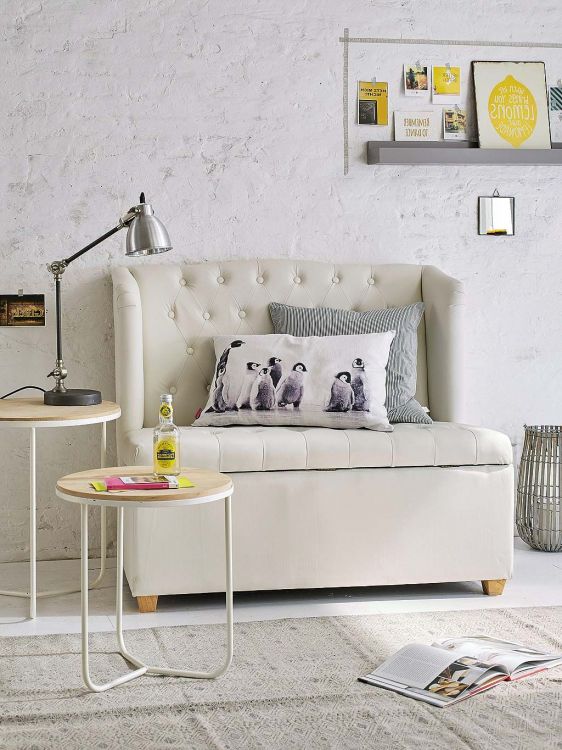 This model is slightly wider than a standard armchair. At 110 cm wide, it accommodates a couple of simultaneous readers without the need to organize a reading corner with more than one seat. If you place two nest-type side tables -the models that are stored one below the other-, each reader will have their own nightstand without taking up twice as much space. Armchair, in 110 x 72 x 96 cm (€239 at Car Möbel).
Lounge with enameled iron seats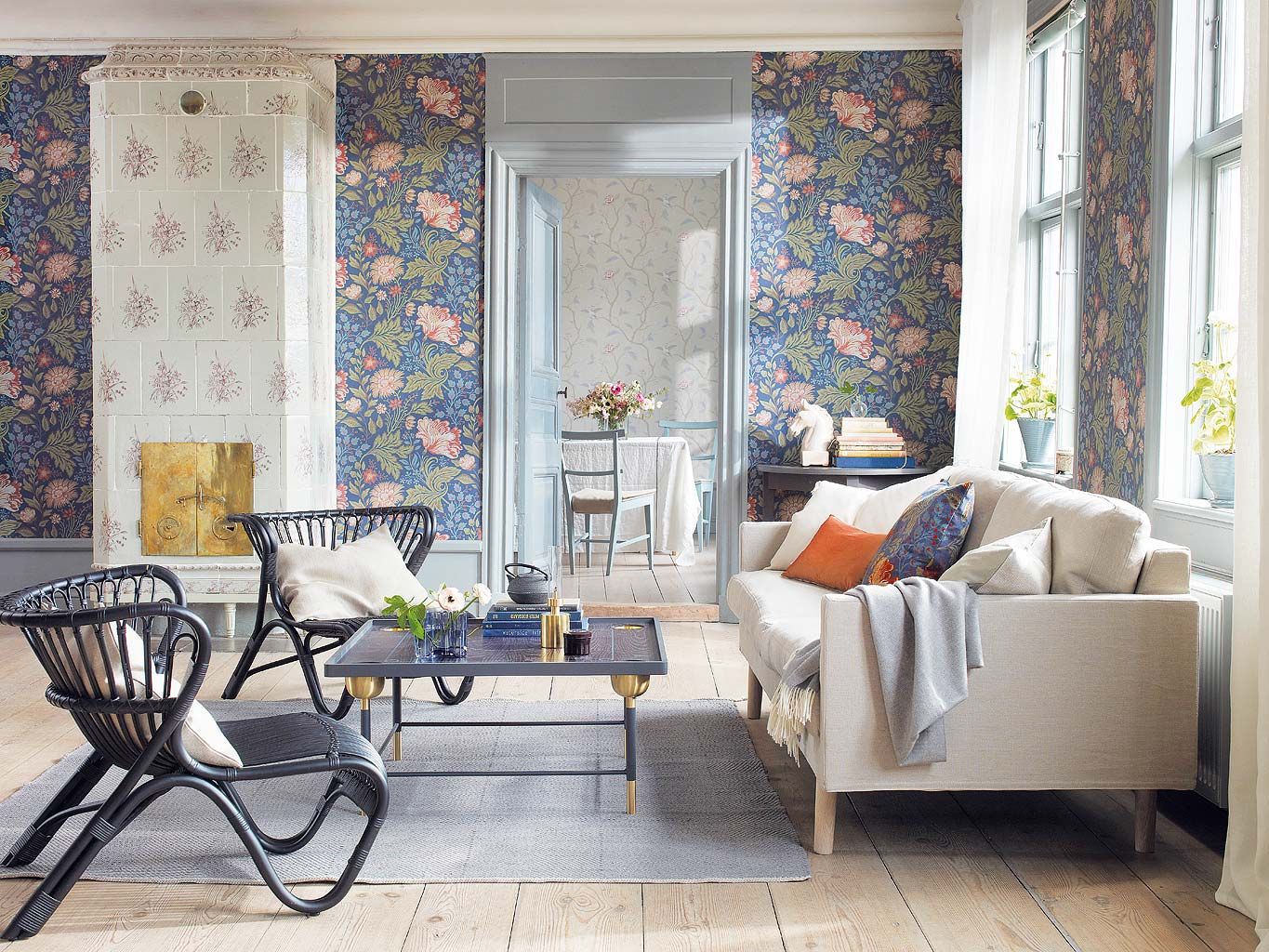 If you want to delimit the living area with an armchair, but without losing a sense of depth, look for a design with a backrest with bars. Inga has an enameled iron structure. It measures 98 x 98 x 98 cm and is from Hamilton Conte Paris.
Shelving made up of modules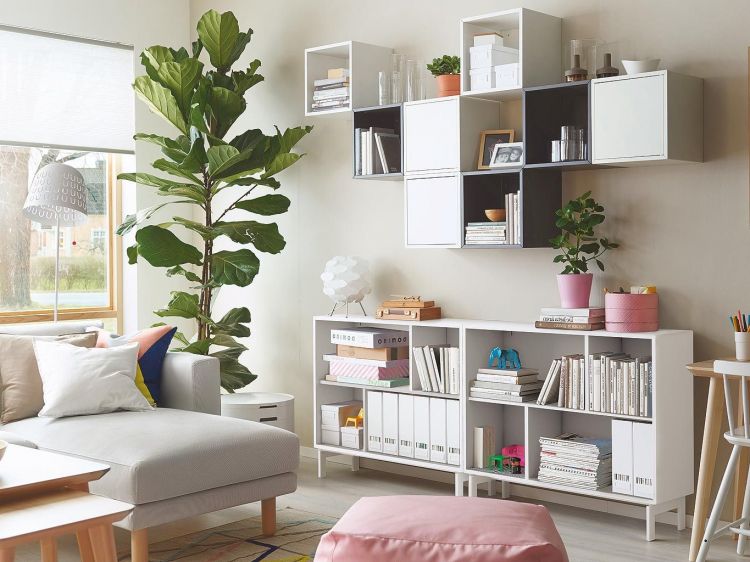 Books, magazines, CDs… The living room needs its own storage space. The modules allow storage, but if you also alternate cabinets with doors and shelves, and stagger them at different heights, you will add dynamism to the wall. In the image, Valje low shelves, in 100 x 30 x 83 cm (€99 each); Valje combination of white and gray cabinets and shelves with 3 doors (€190); and Norsborg sofa with chaise longue (€649). Everything from Ikea.
Decorative pictures on the wall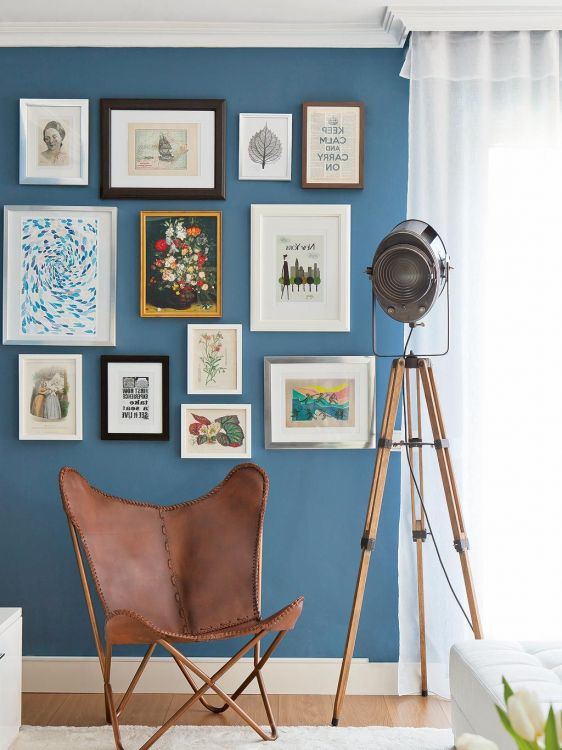 The decorative possibilities they offer are multiple. A single large-format painting will become the absolute protagonist, especially if the wall is painted in a tone that contrasts with the frame. But a composition like the one in the image, with horizontal and vertical squares, will also transform a bare wall into a charming area. It doesn't matter what your frames and themes are.
Auxiliary tables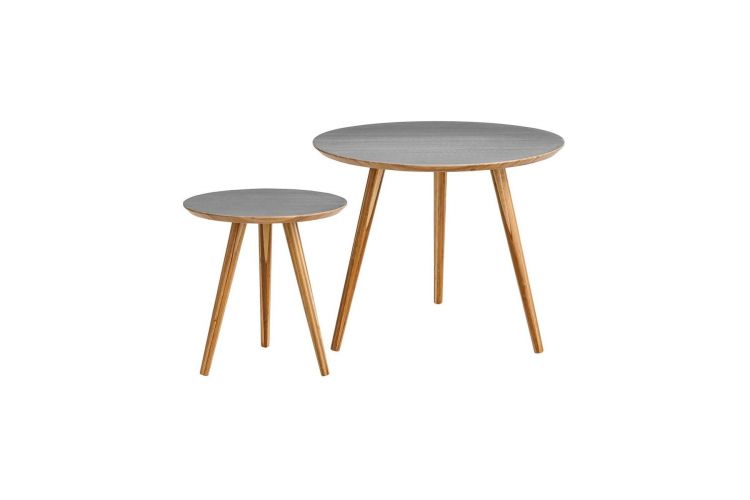 Due to their size, these tables are perfect for small rooms. In addition, its circular envelopes facilitate fluid circulation; in 59 x 46 cm and 39 x 40.5 cm (€249.95/set on Amazon). of Bloomingville.