Modern decoration encompasses combinations of shapes, colors and textures that merge to achieve a comfortable and friendly space, in which we feel relaxed, in good spirits and inspired. Next we will show you some ideas to decorate modern living rooms.
In 2022 there will be an explosion of vibrant and vital color, so one thing is for sure: the decoration of the living rooms will not be boring at all.
Styles
Mid-Century Inspiration
Inspiration in mid-century furniture pieces can be seen in almost all the collections of the most renowned brands. The use of new materials, new technologies and aesthetics are inspired by designs that remain in time. This makes interior design much richer and more fun.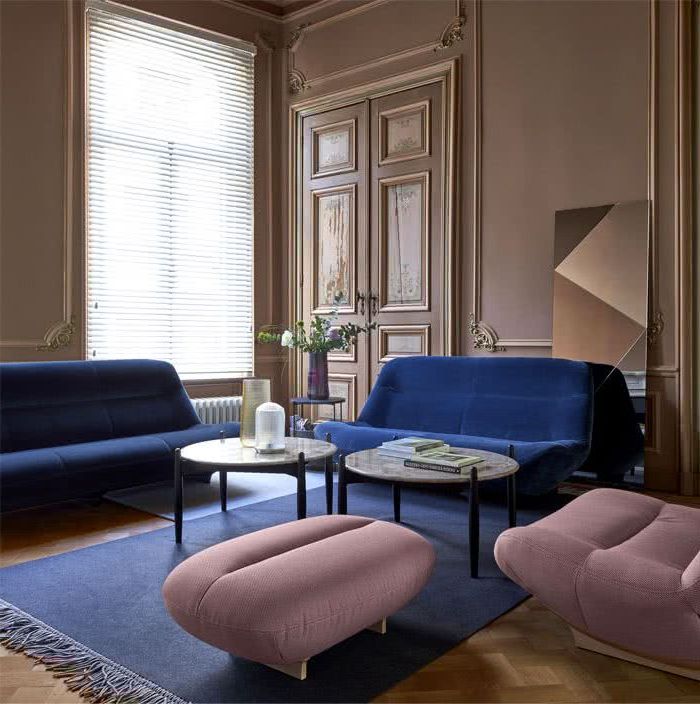 These new designs take different eras as a reference, taking ideas, prints and solutions from the forties, fifties or seventies, bringing great variety and exuberance of forms.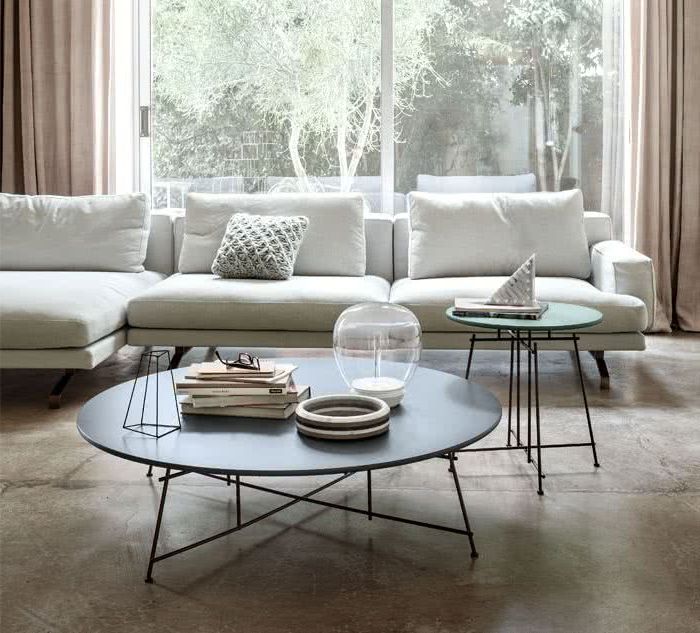 However, this rethinking and reincarnation of furniture design shows its unique contemporary direction: the sofas expand and spread, the seats are big and fluffy.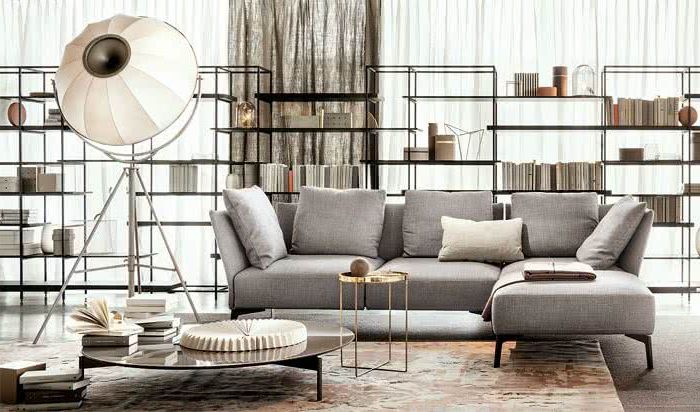 Inviting comfort and leisure, the new trend in armchairs indicates that they are large, puffy and soft. They suit modern life, where people come home after a busy day and want to rest and feel comfortable. The environment should be luxurious and elegant.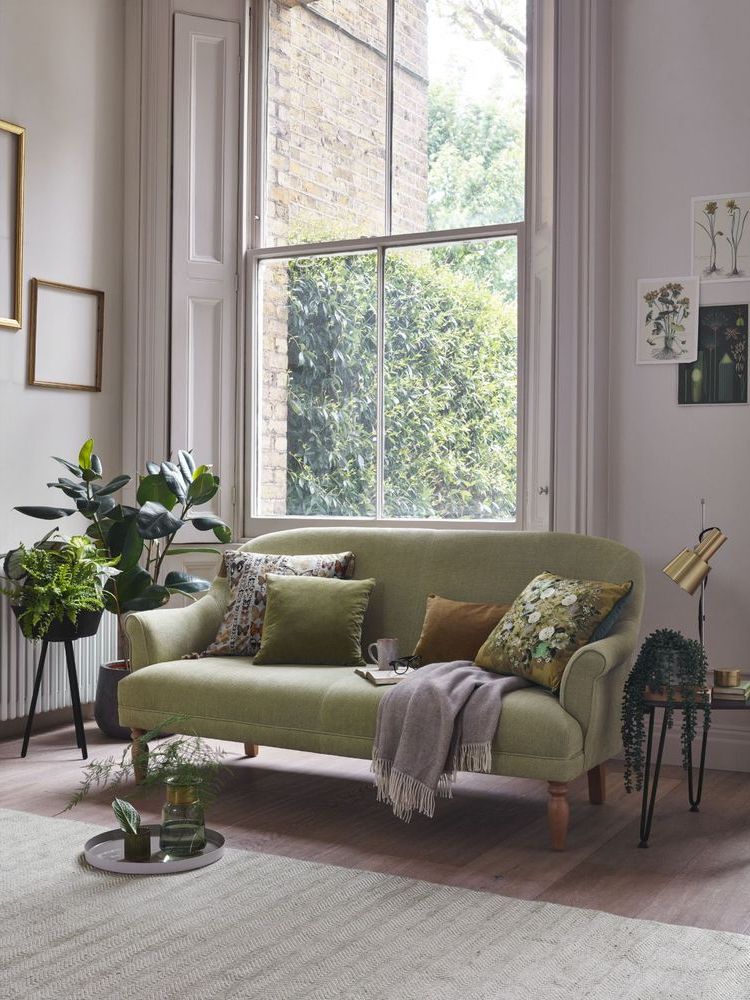 The contrast between old and new can be handled. For example, some rustic or vintage touches can add great aesthetic interest to the room.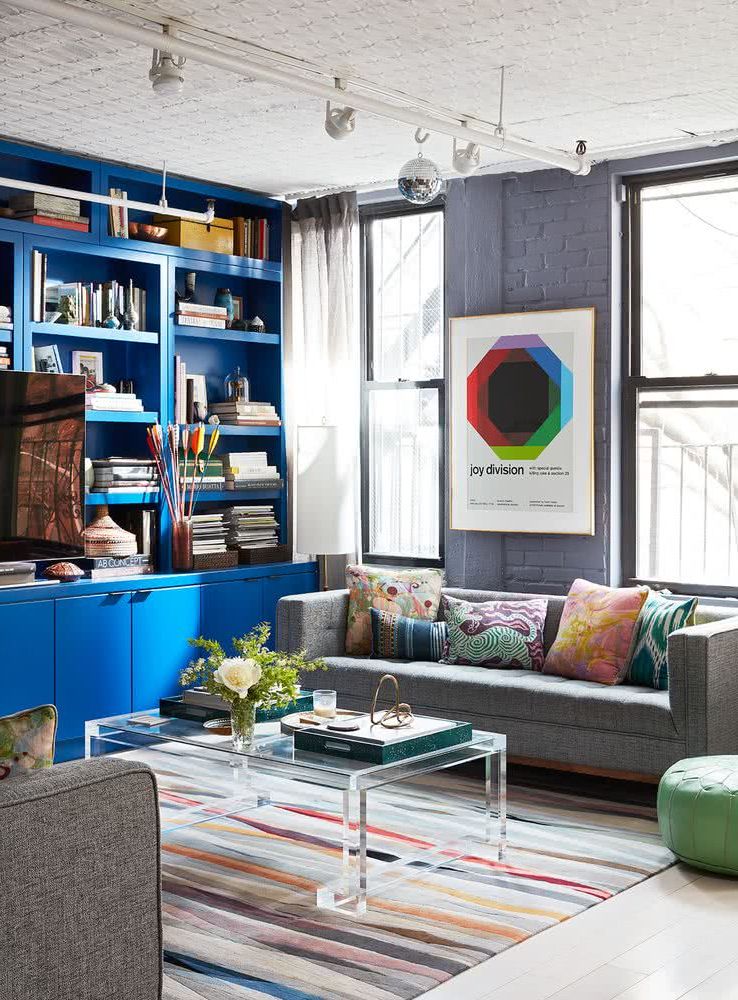 Scandinavian
The combination of modern Scandinavian style and a touch of vintage can give a very nice luxurious feel, especially when done up with a hint of gold.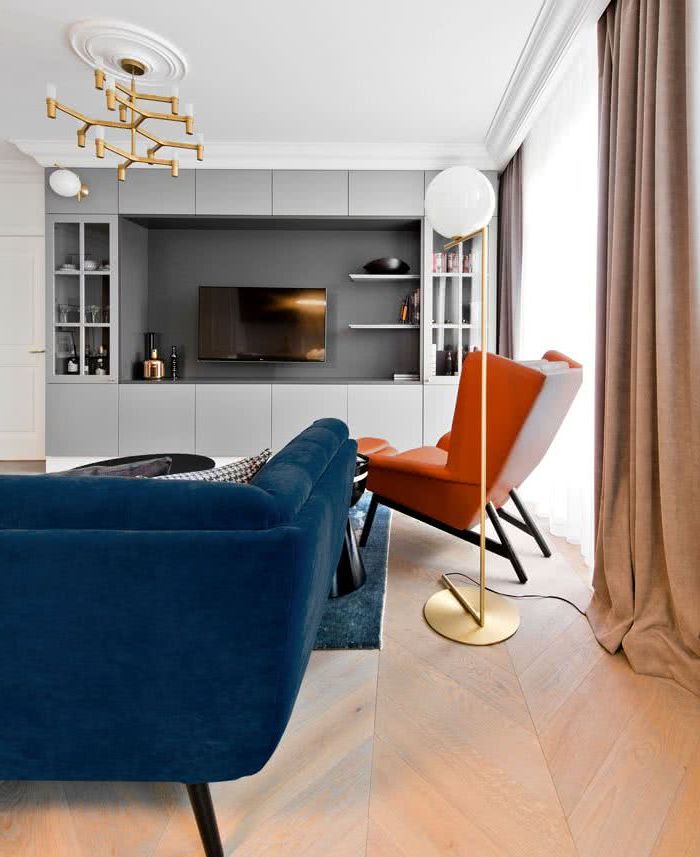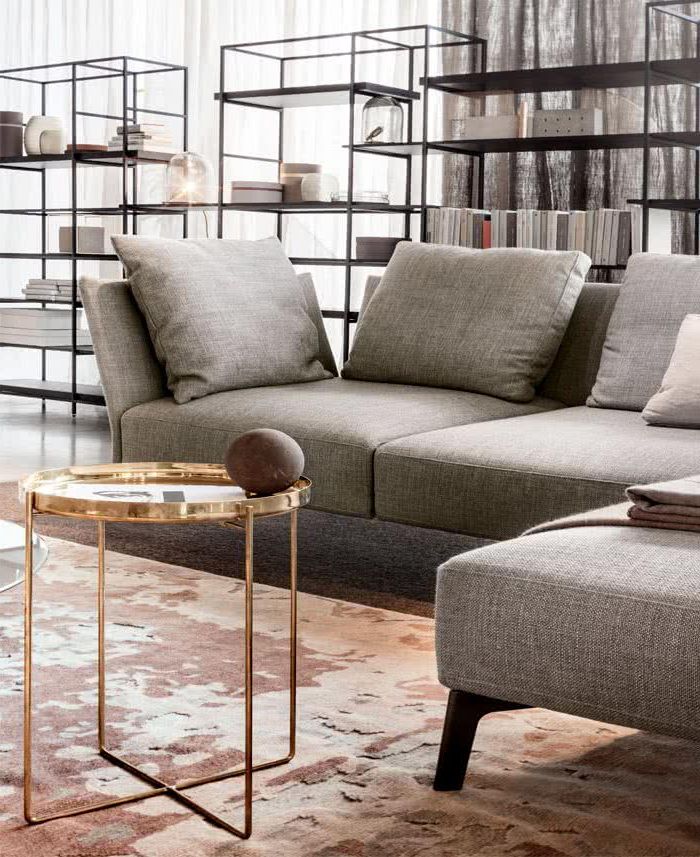 The environments are made up of white as the predominant color, and some neutral touches (such as gray or beige), black details and striking color touches.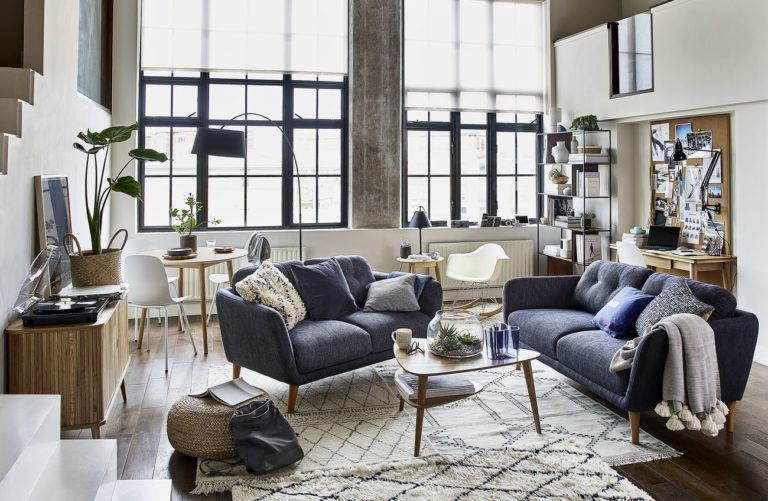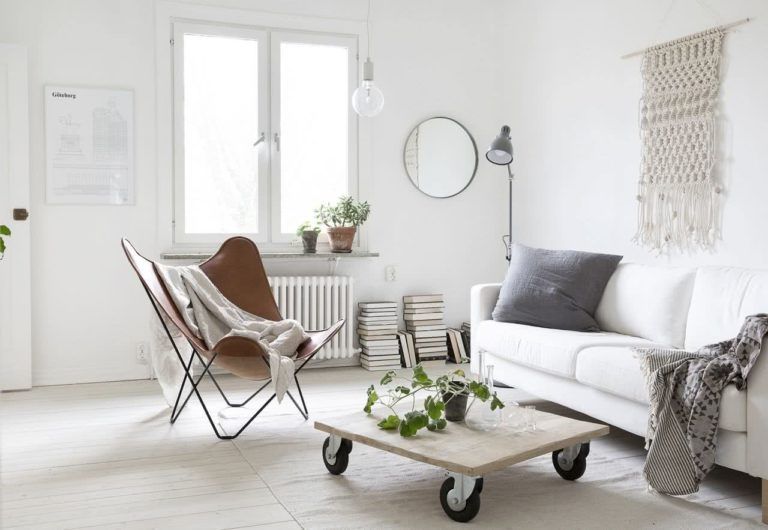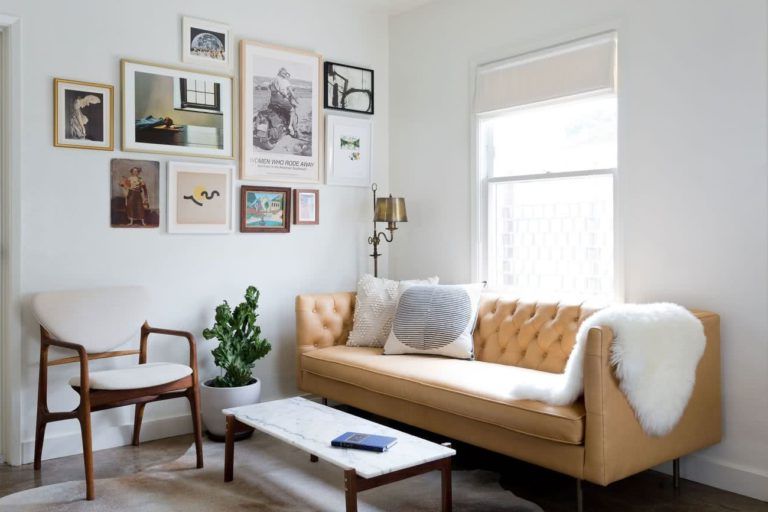 Boho chic
The boho chic style is probably one of the decorative models that has grown the most in recent years, driven by its warmth, good taste and, above all, by the exoticism it conveys, giving a clear image of finesse mixed with a search for trends more natural decorations.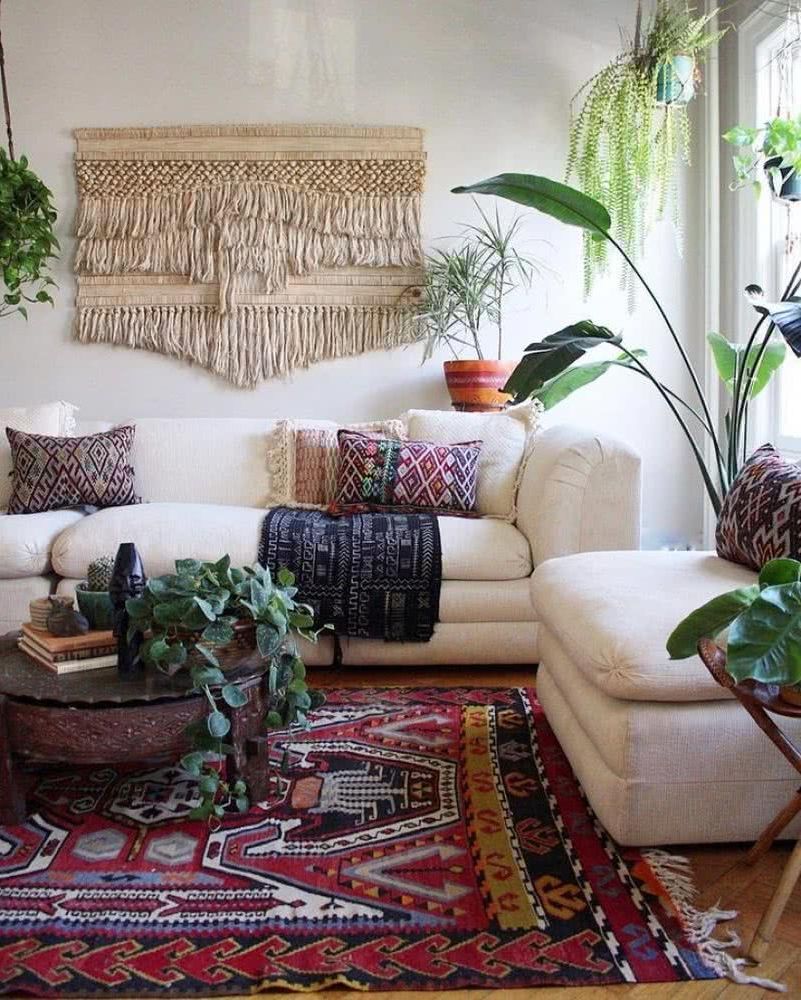 The conjunction of this style with the modern, results in a spectacular space.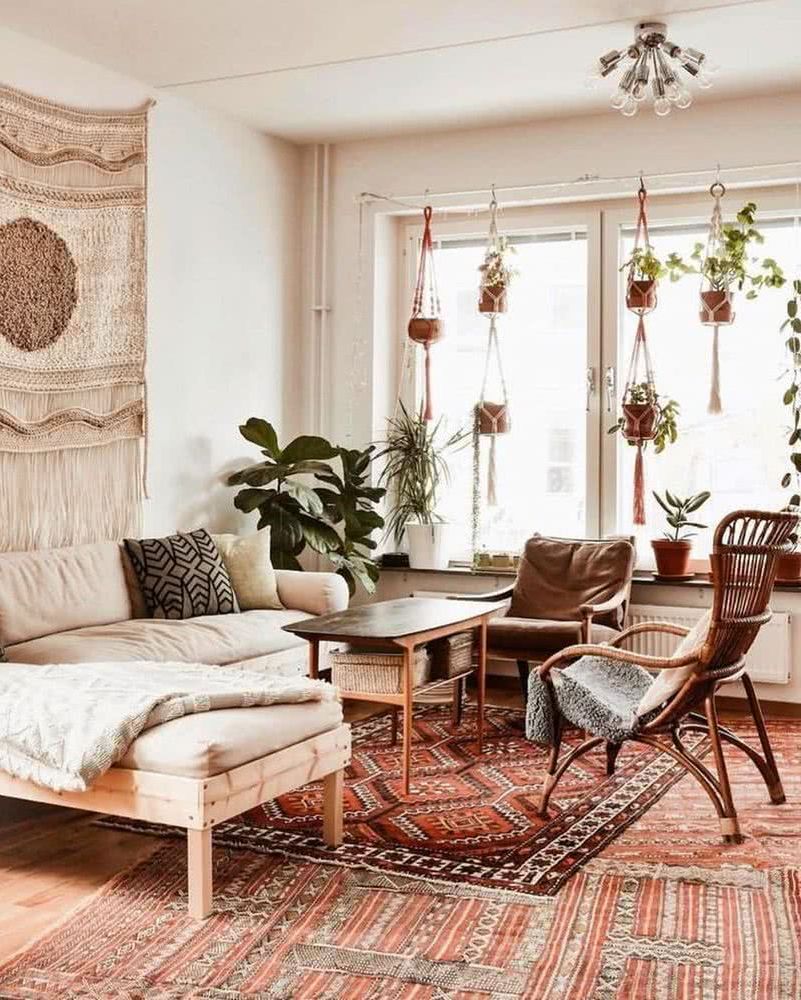 Many people do not dare to make ethnic decorations, because of how expensive they can be. But in this boho style, only a few ethnic or handcrafted pieces can be used, which makes it very economical.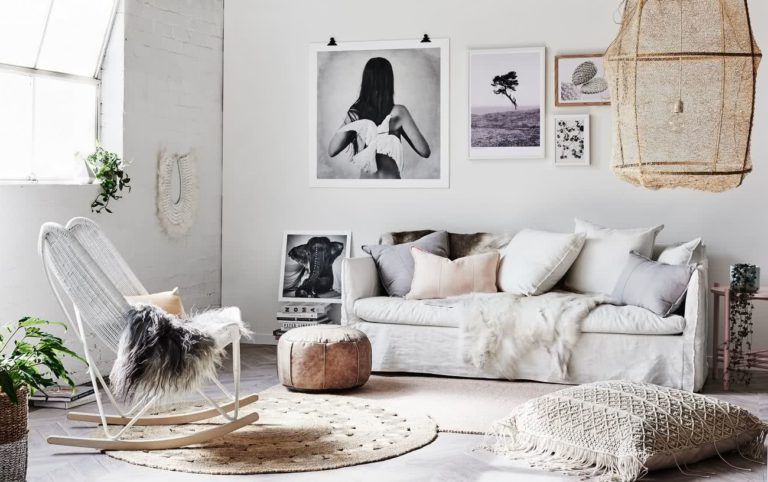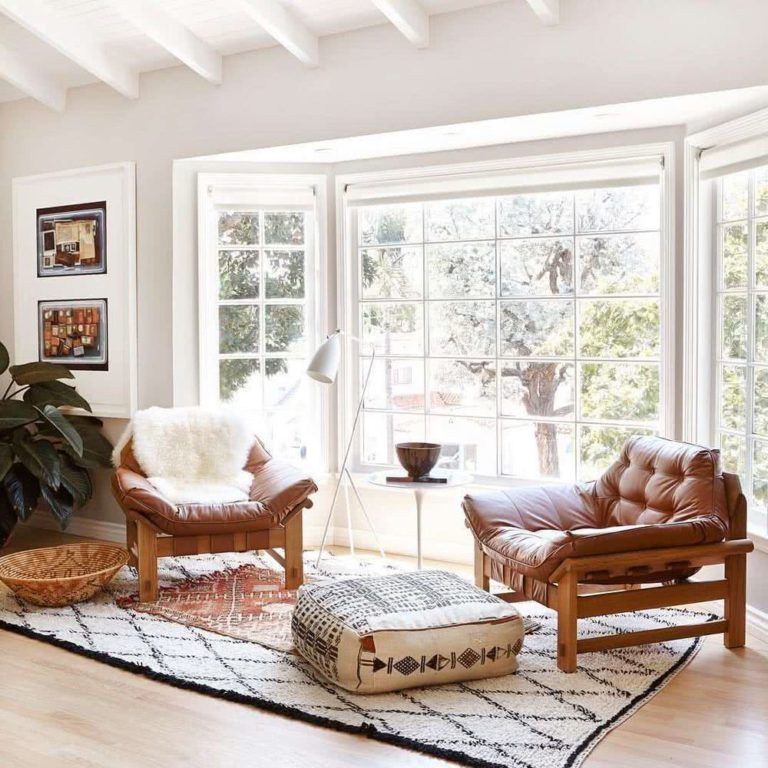 Emphasis can be placed on the typical colors and textures representative of the East, Southeast Asia and Africa, adding just a representative decorative element.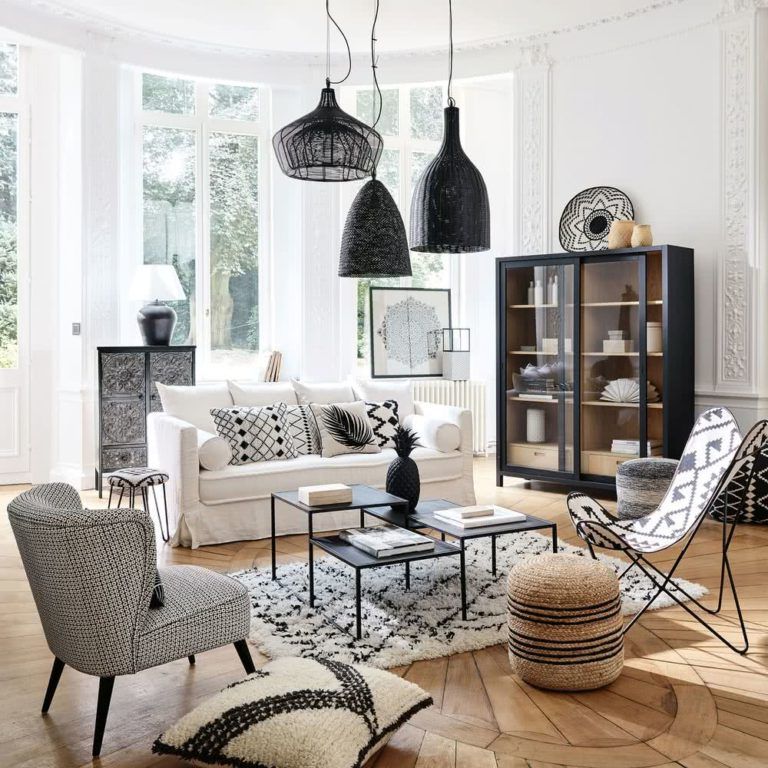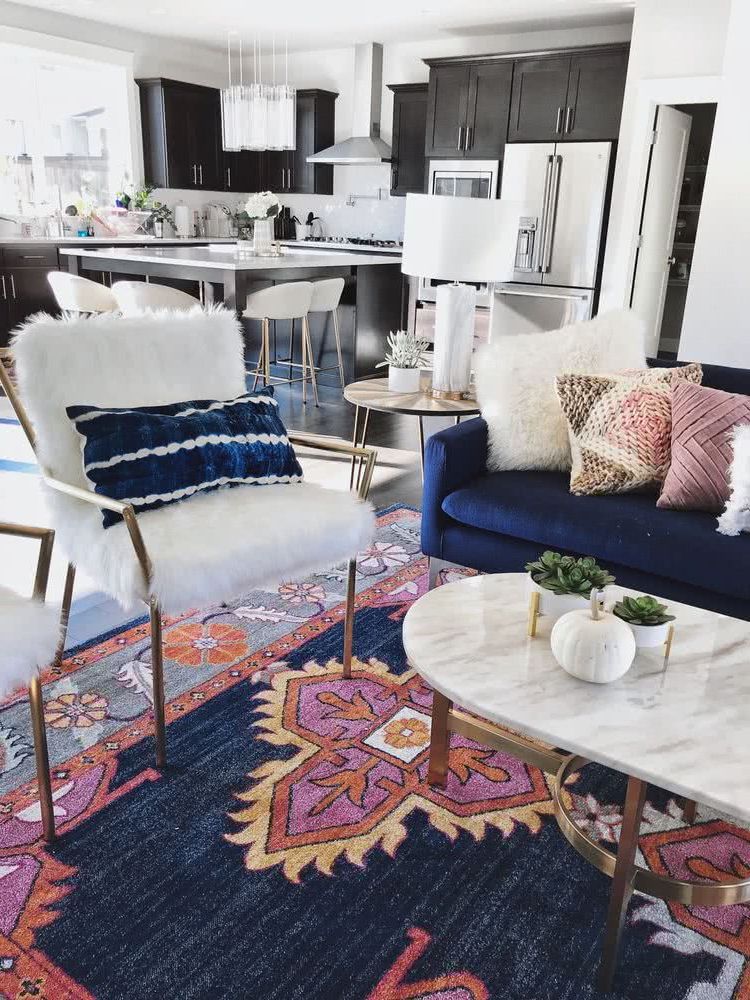 As you can see, the result is fantastic, since the combinations of earth colors for African styles, as well as red with black and gray for oriental models, or the intense colors used by Native Americans, manage to generate truly fantastic spaces dominated by furniture rich in textures, but loaded with a clear modern accent.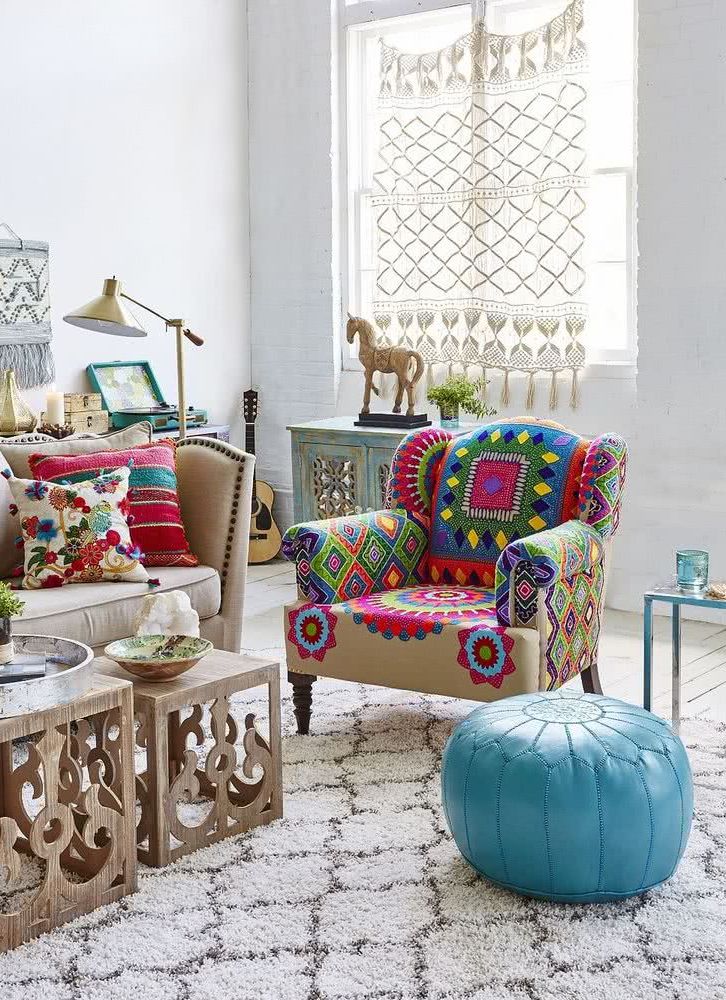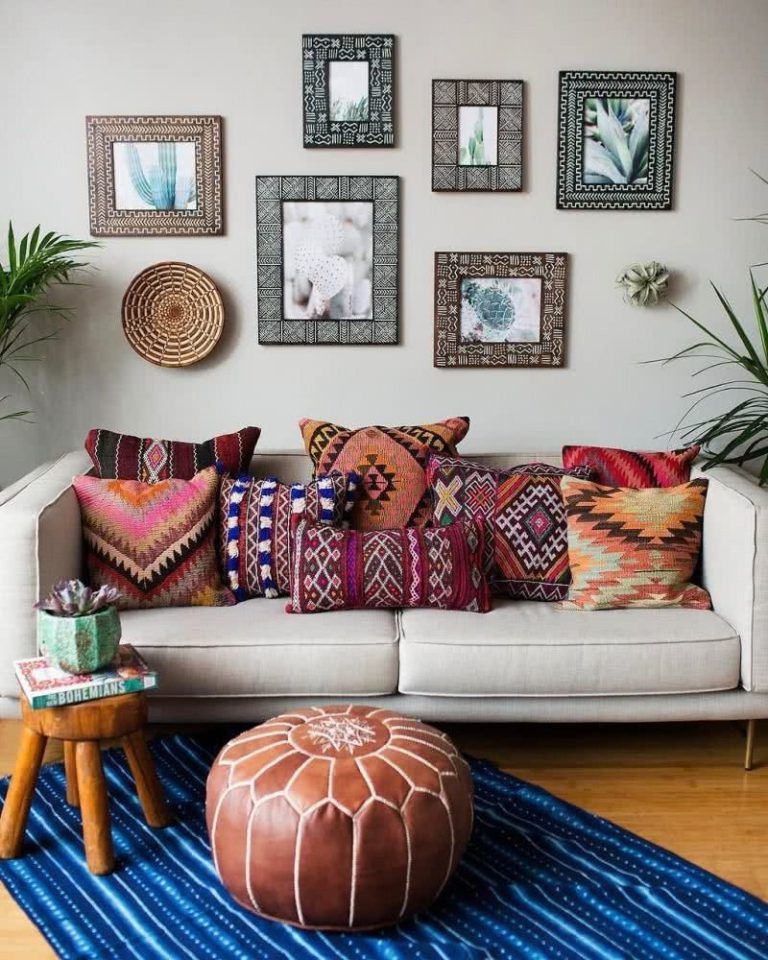 Minimalist
The modern living room is characterized by simplicity and minimalism. The furniture has clean lines and there are no unnecessary details or embellishments.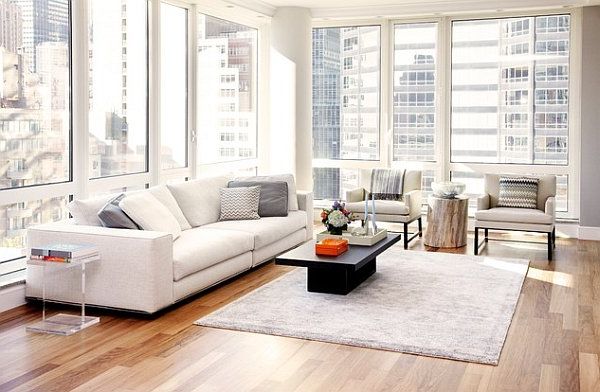 Inspiration is based on practicality, functionality and the ability to save space, creating an airy and spacious decoration.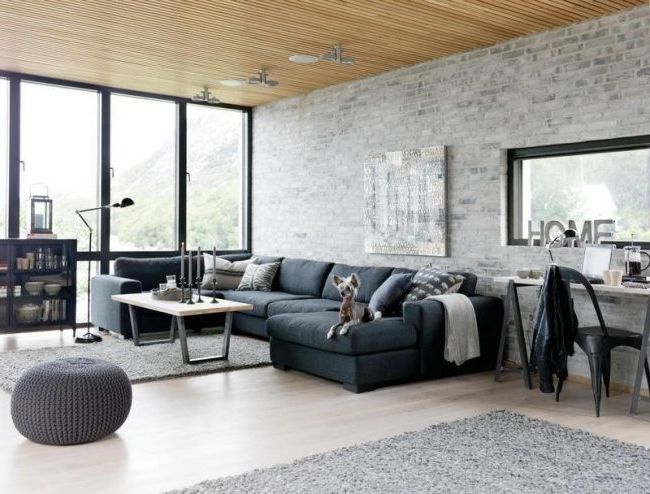 A modern room does not have to have many elements. Only with elegant sofas, a plasma TV and keeping neutral colors will you achieve a very modern space.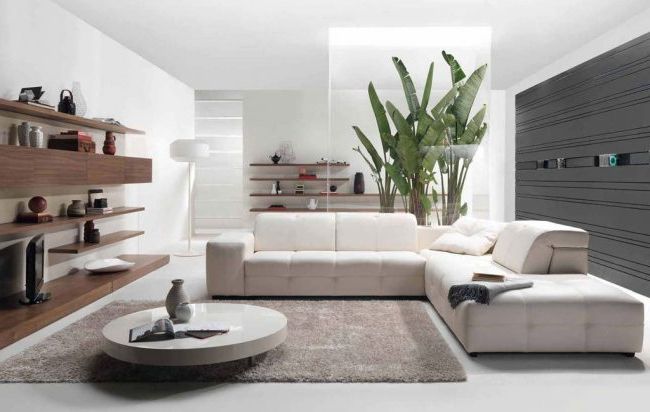 Materials
A baroque influence is seen in the richness of the textures. We must turn our attention to the use of rich materials such as velvet, different shiny metal surfaces and the addition of dark wood. Satin gold or brushed brass can also contribute to this type of decoration.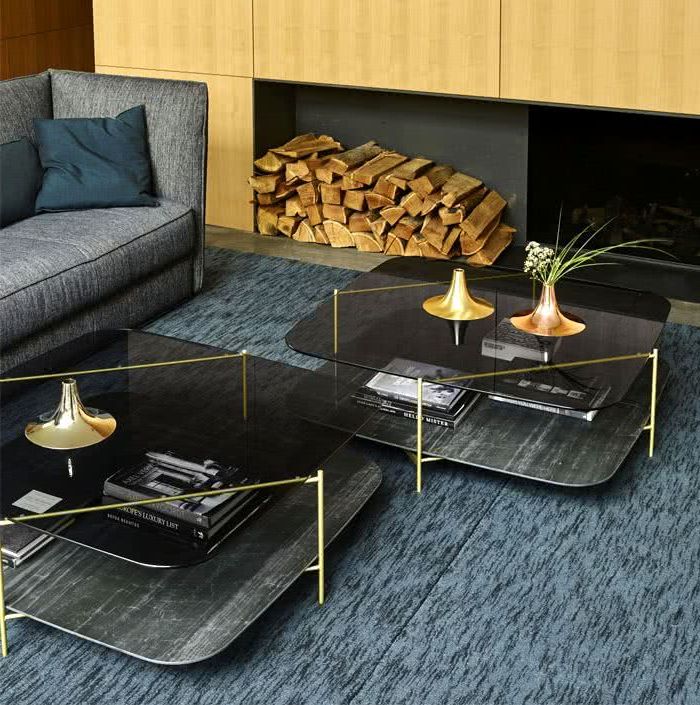 While the use of bronze was prominent in recent years, we are now seeing more shades of gold and brass. That puts a strong emphasis on the splendor of the interior in our house.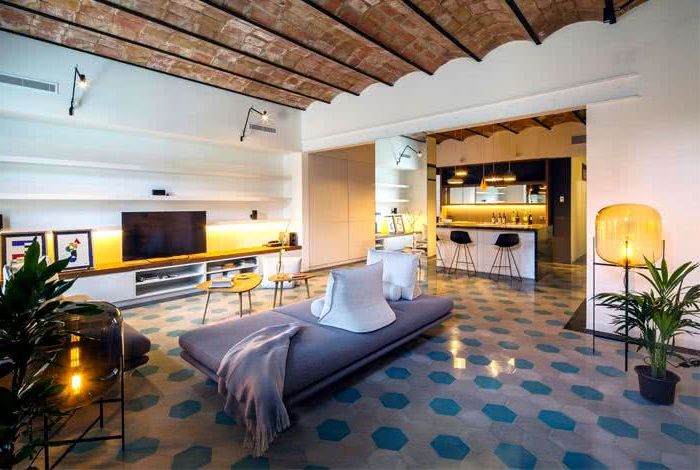 Cement walls are a widely used element today.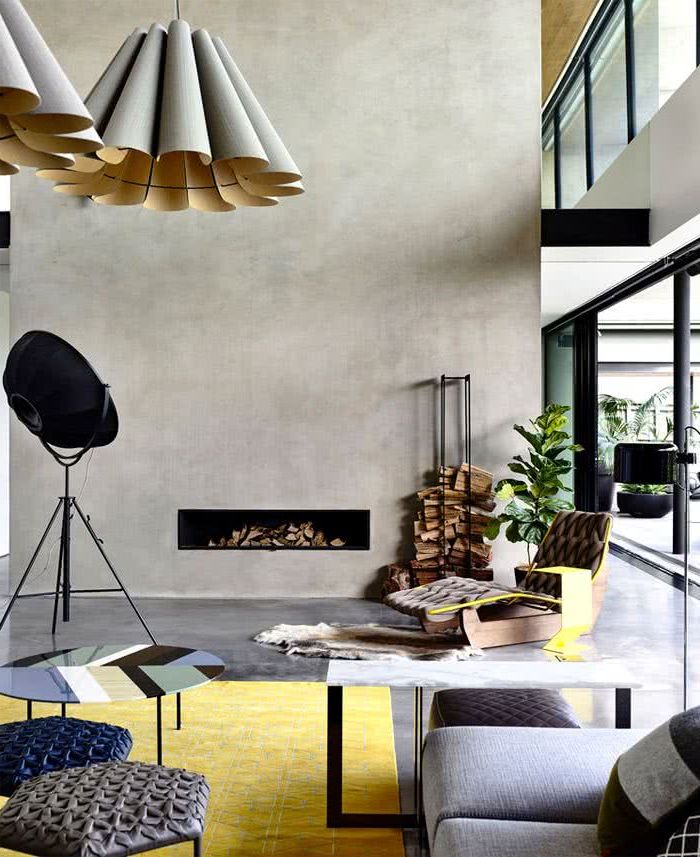 Cement and wood can merge surprisingly, to recreate an elegant space that is not at all cold, as is often thought.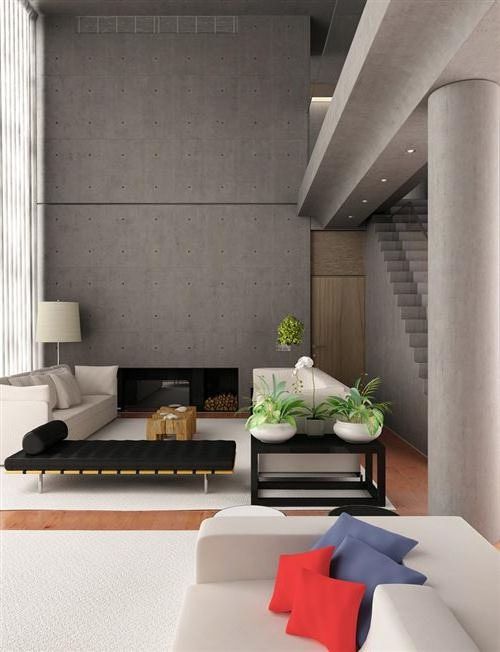 Chocolate leather upholstery and dark gray walls create an elegant, refined and highly sophisticated lounge.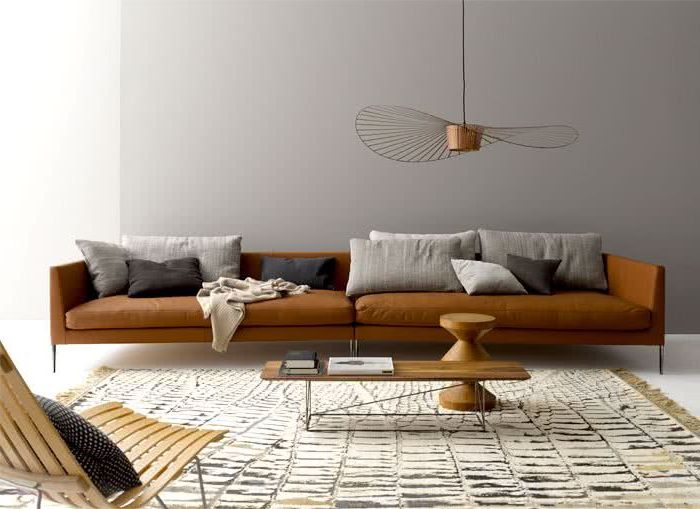 This luxurious living room combines the glamor of the mirror and large windows with modern, simple furniture and a geometric patterned rug.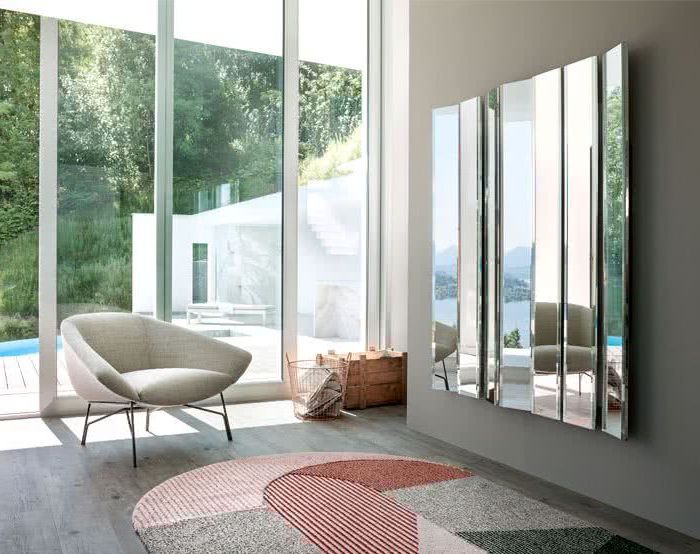 Glass is a widely used material in modern interiors. Its transparency makes it very versatile and can be easily coordinated with minimalist decorations. A glossy finish on the furniture would help the room look classy.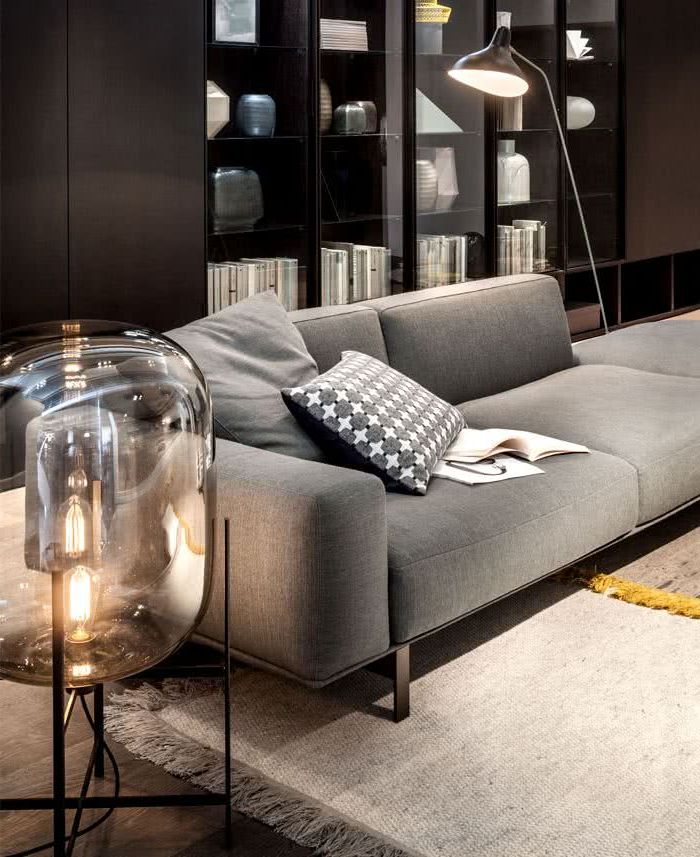 For a pleasant life and a vital interior composition we need contrast and dynamism, and the textiles we use can help achieve this. If the walls are monochrome and colorless, you can add vibrancy by using upholstery, rugs or furniture with accents of yellow, green, pink or blue.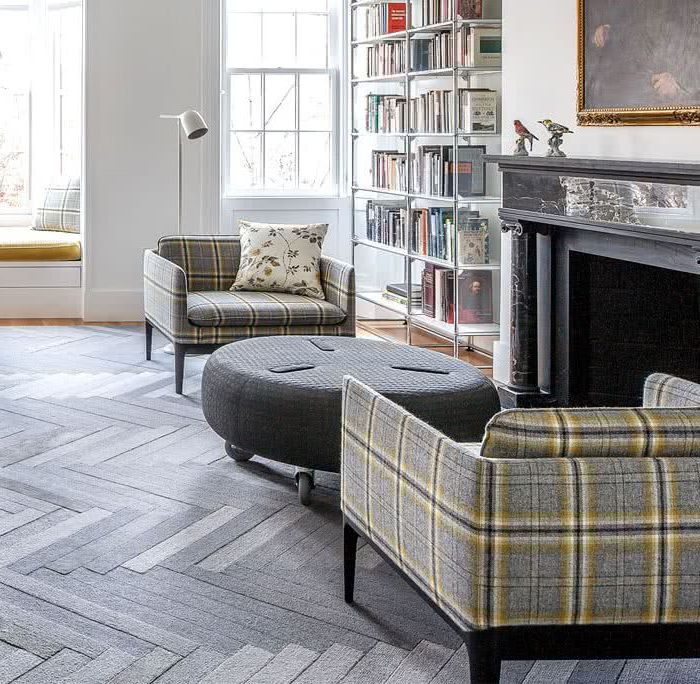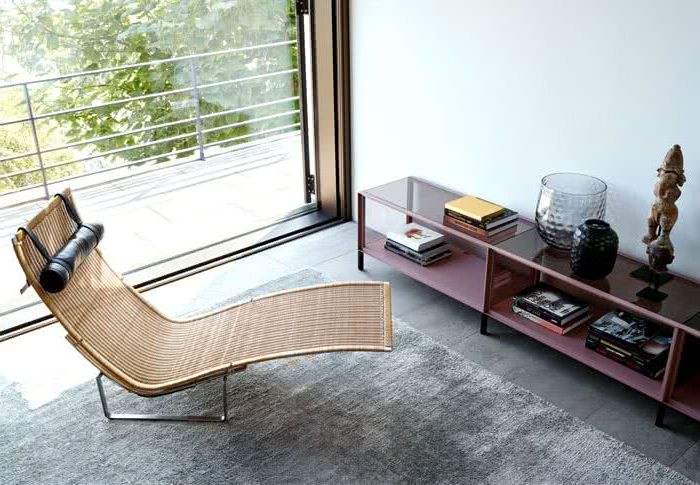 All the small and not so small details in the rest of the living room composition, such as art objects, wallpaper, ceramics or lamps, are made up of fashionable materials: steel, marble or wood, shiny brass or satin gold. How to combine them and create a chic mix? Take a look at some of these examples.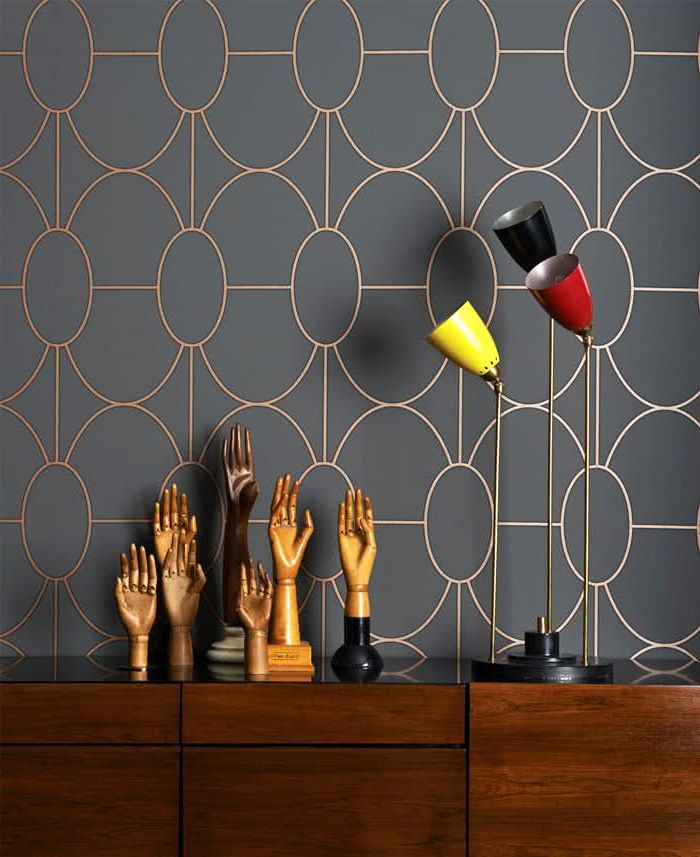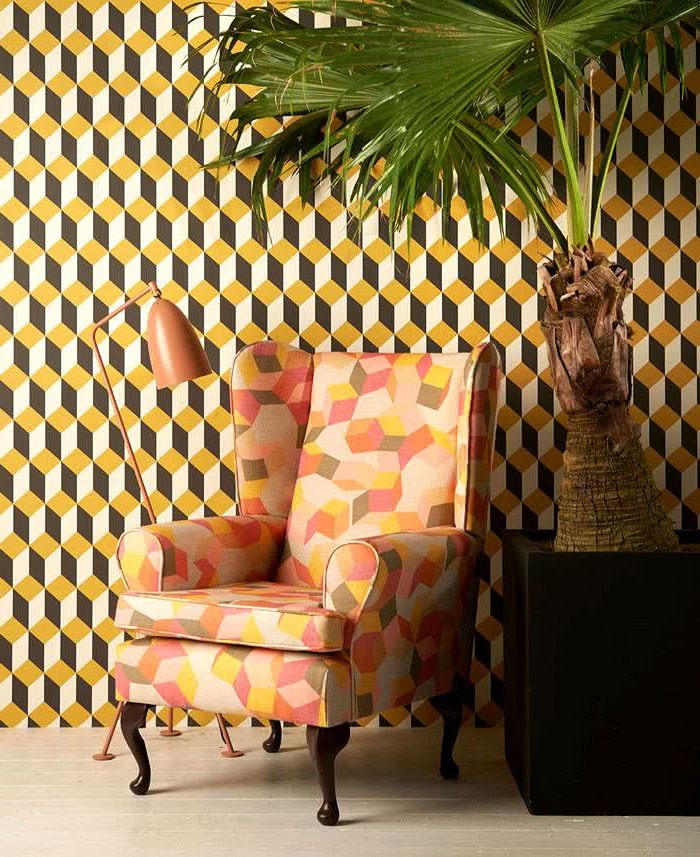 Furniture
Regarding the shelves, when they are located in the living room, they can cover an entire wall without being too overwhelming and offer functionalism and style at the same time. In this case, the shelving installation can also be mobile, airy and elegant, and can also serve as a room divider.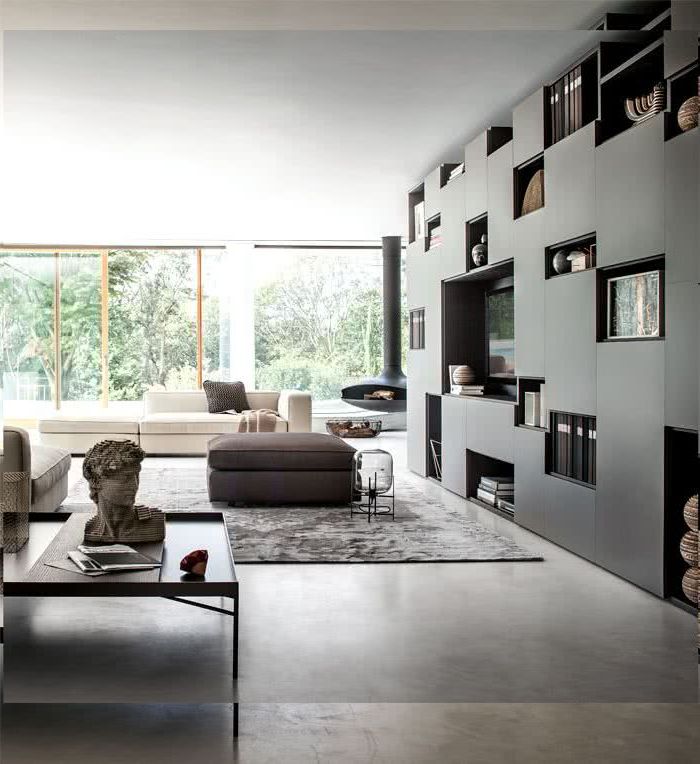 There are very versatile modular systems, which in a minimalist language, can accommodate all the pieces of entertainment.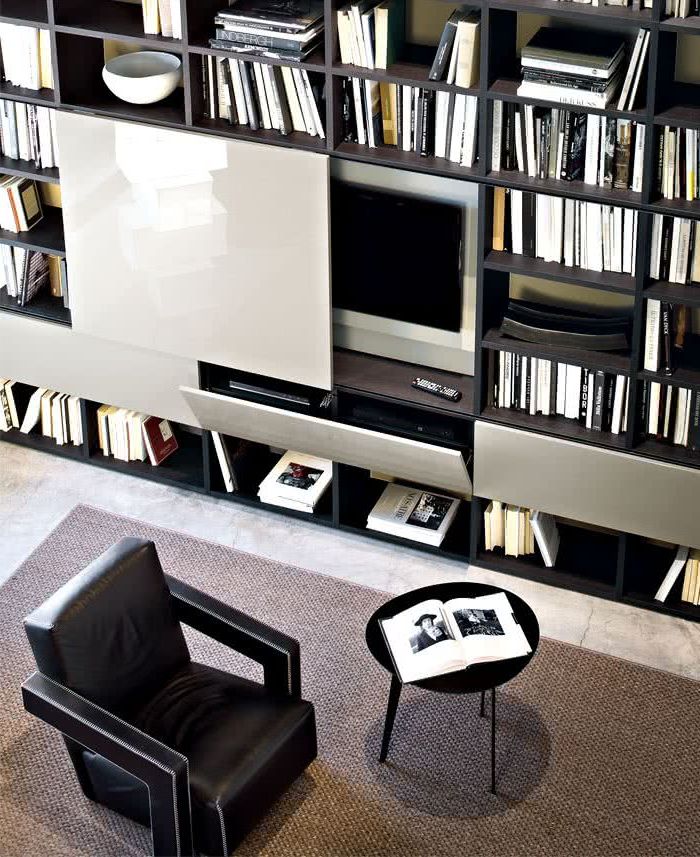 Coffee tables, cabinets and sideboards also offer a world of originality and versatility. Marble, wood and metal, geometric and linear, with unexpected rounded curves, can do their bit to create a spectacular living room like the ones we see in these images.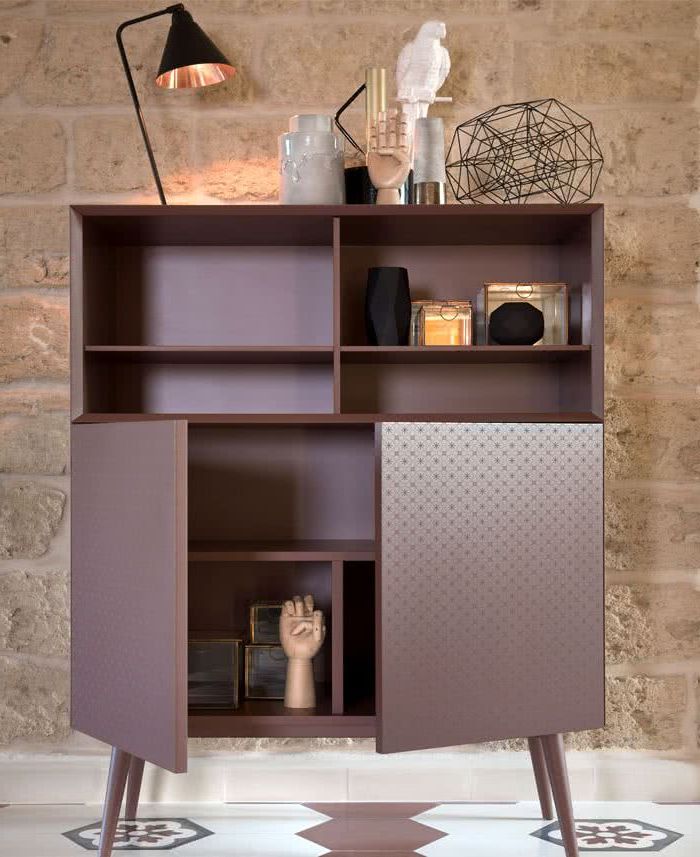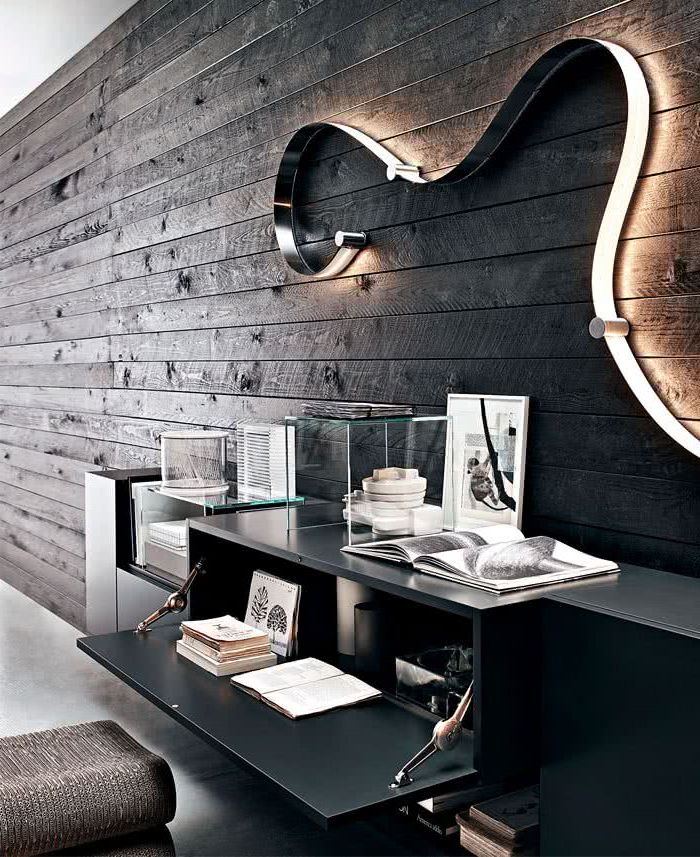 Another very important element in modern living rooms is modular furniture. They allow to have a flexible interior and a configuration according to personal tastes and preferences. They are very practical and versatile, since they allow you to easily rearrange the decoration.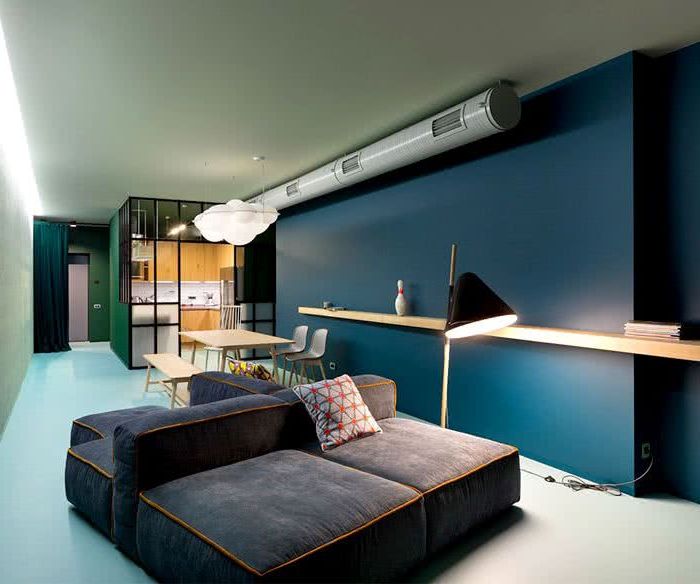 Lightning
A well lit room is a perfect example of modernity. Very large windows, high ceilings and low furniture are a summary of modern design.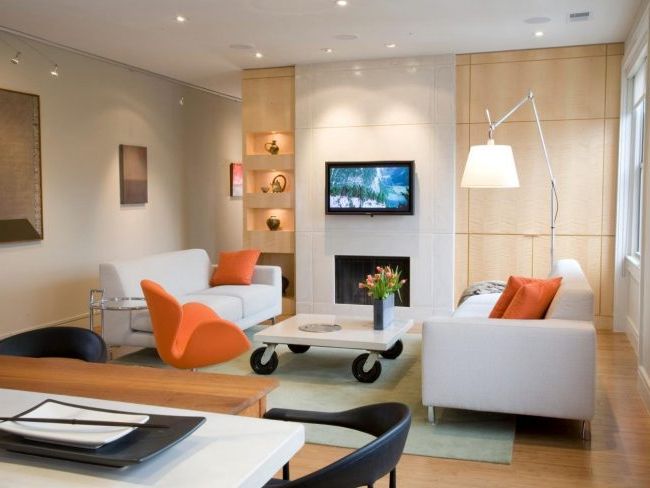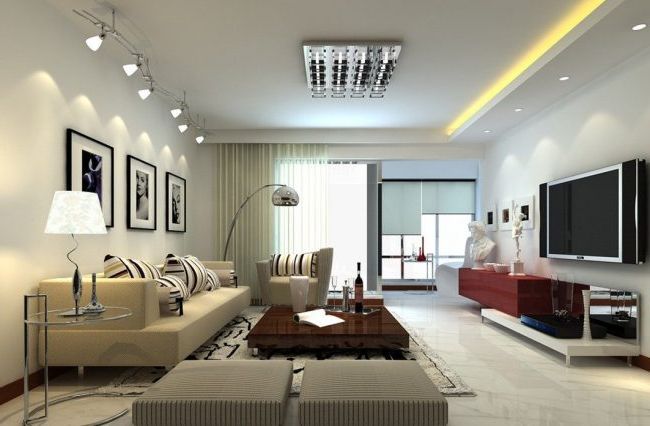 Another element that characterizes this type of modern space is the large windows, which let in a lot of natural light and also allow for beautiful outdoor views.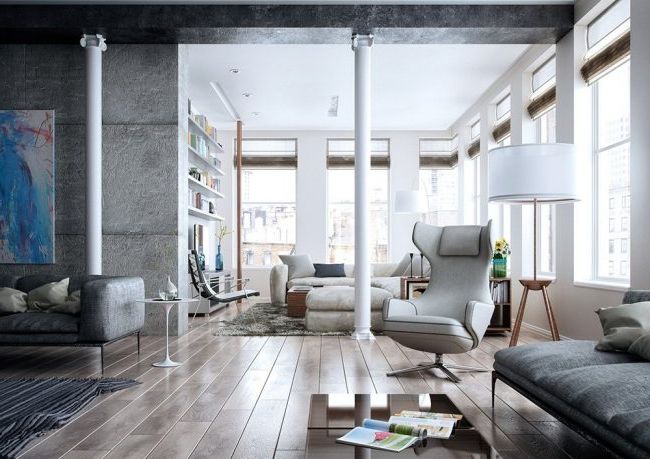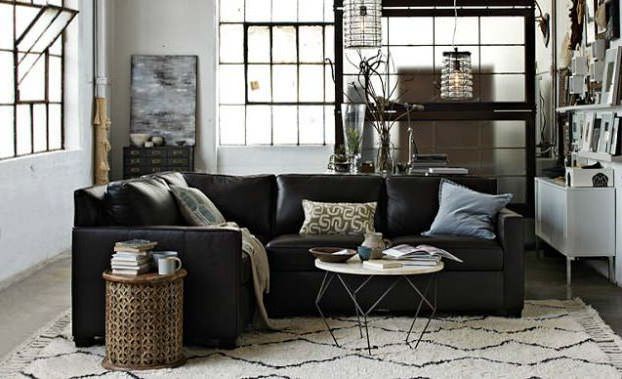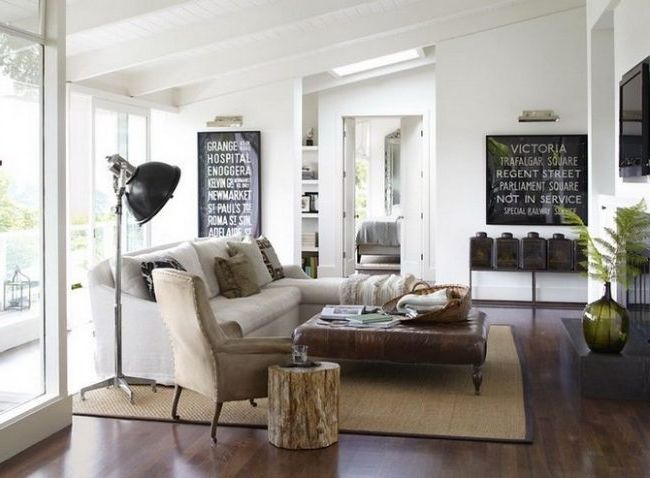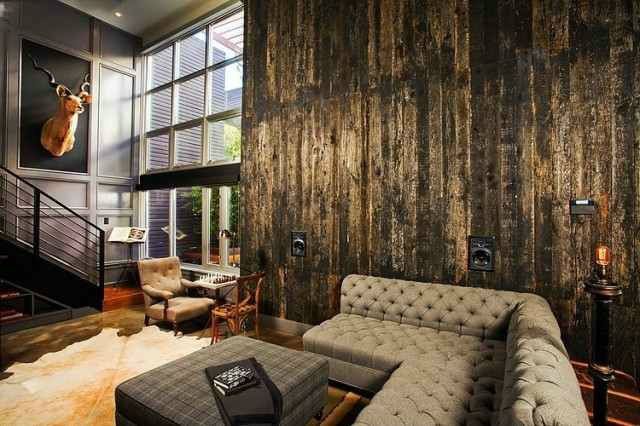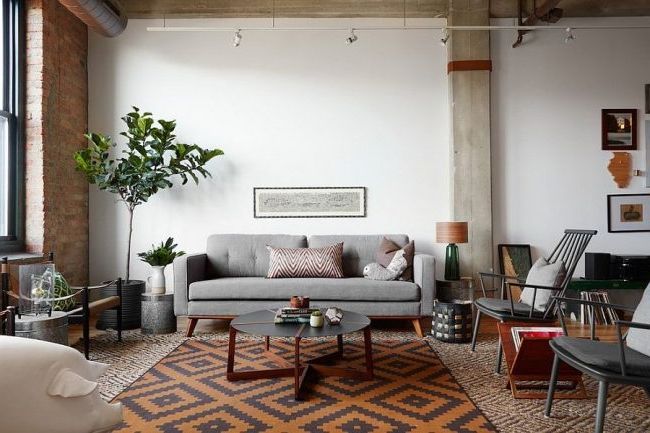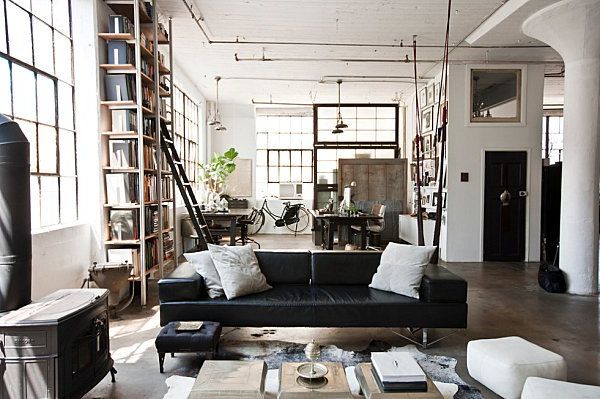 Colors
Pops of bold color
The color will be seen in chairs, armchairs, sofas and accessories, as well as tables and lamps. And the modern classic models, be it Cassina, Ligne Roset or Thonet, are back in the spotlight thanks to the updated colours, which become one of the most distinctive trends this year.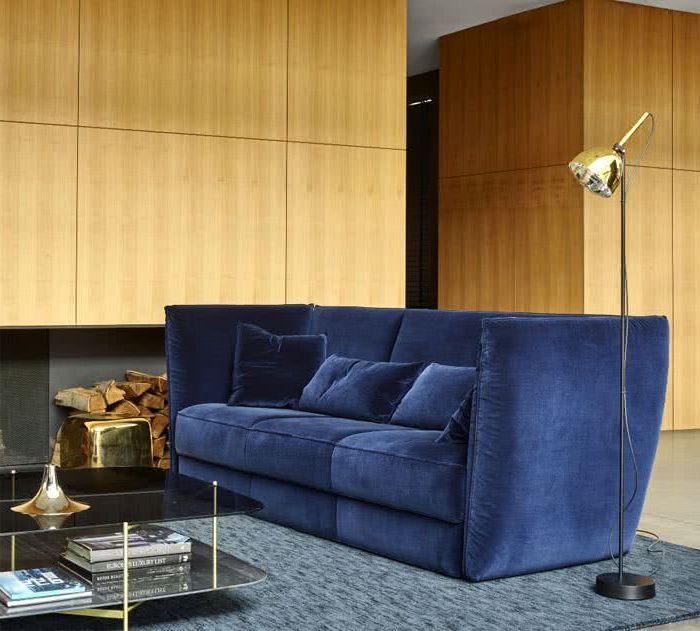 A single piece of furniture in a distinctive color can be enough to revitalize the entire aesthetic of any space. The strong and playful presence of pastel colors is also notable. We can see sunny yellow or lemon yellow, red-orange or green in all its varieties.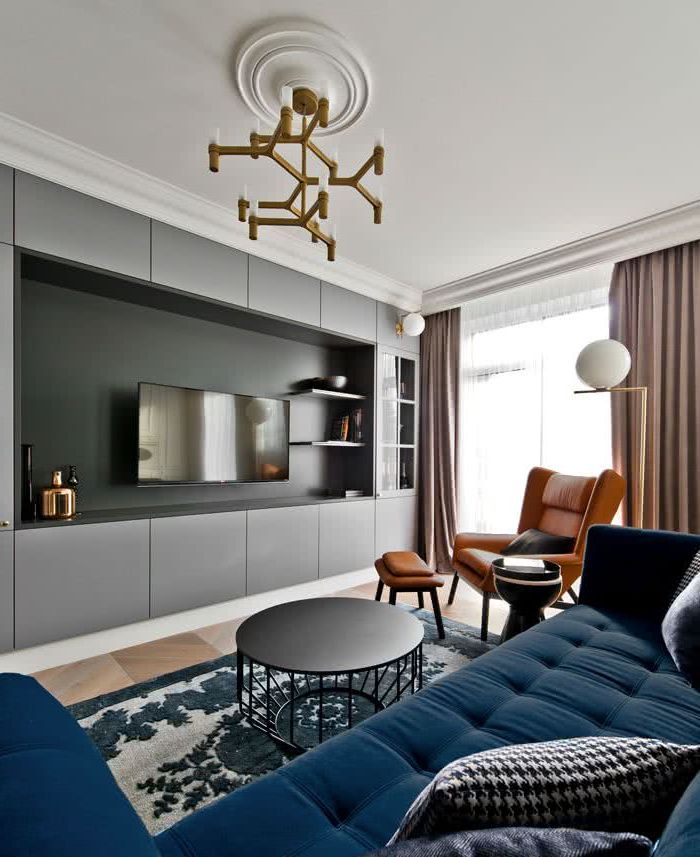 Another intriguing and profound trend is a combination of pine green, mustard, royal blue or burgundy red, which form an interior style inspired by 20th century Vienna salons. A very good way to achieve a contemporary room is to bet on original furniture, accessories in vibrant colors and modern textures such as velvet.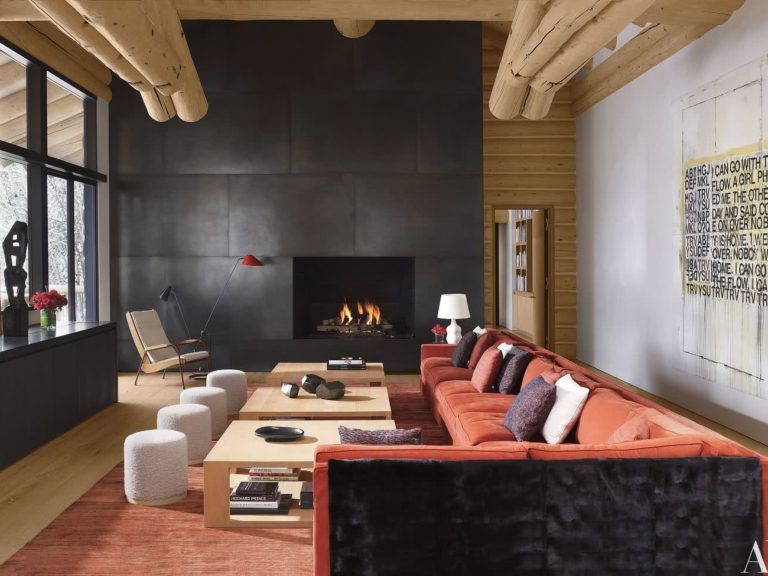 Using bright toned colors only in furnishings is one way to add color to a monochromatic setting and add modernity to a room. Accessories such as contemporary art and leather furniture are perfect for creating a modern atmosphere.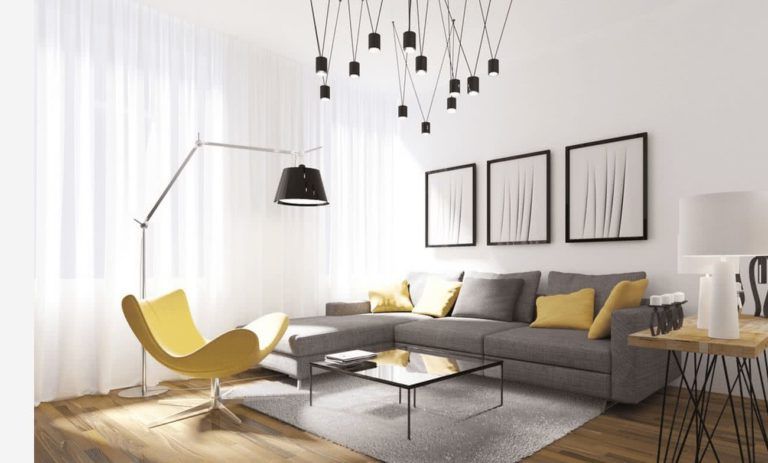 Taking inspiration from nature, using green accessories and organic shapes is always in style. Using original furniture too.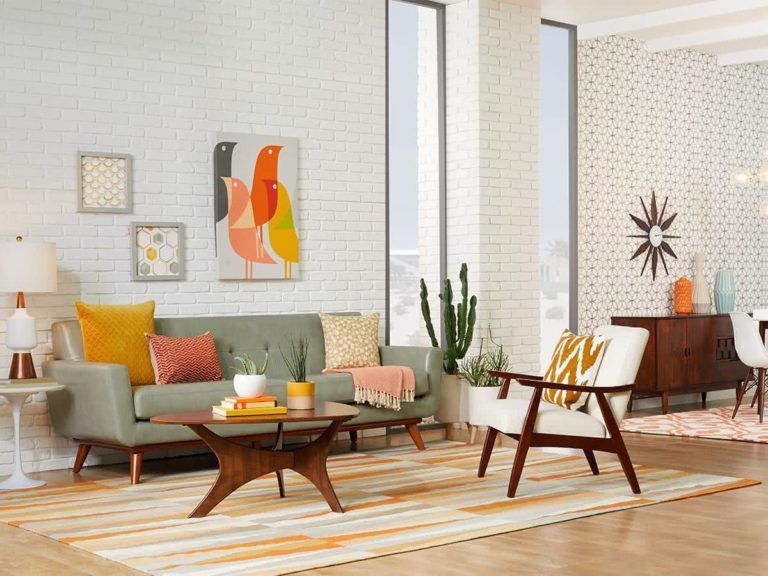 The combination of white, red and black also guarantees a modern atmosphere. To make it sophisticated too, keep the walls white and add artwork that helps with a modern setting.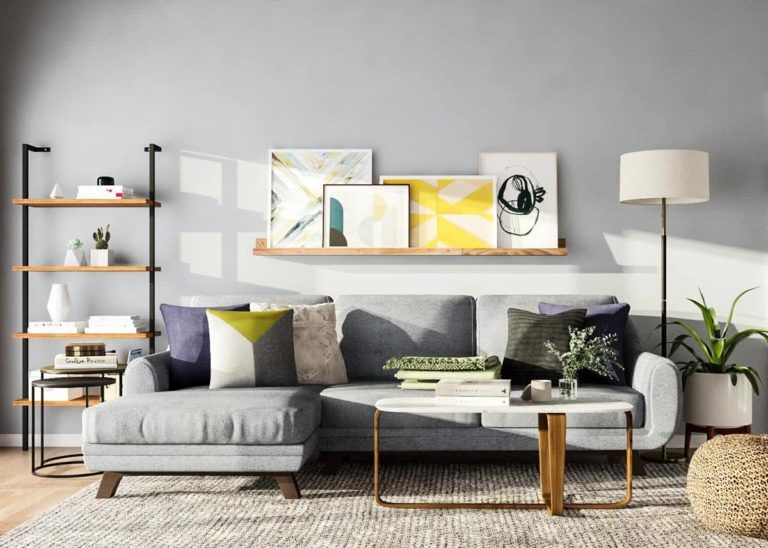 Color is a way to generate a modern environment. Combine bright furniture and a neutral rug so as not to overload the room.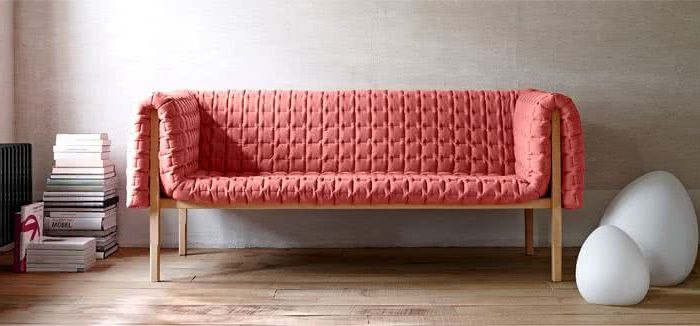 Using black upholstery is synonymous with modernity. Combined with vibrant colors, original patterns and storage shelves, you will achieve a very modern retro space.
White
We will show you some of the many ways to use white as the predominant color in a room. Some designs have color accents, some are quite purist, some use a minimalist modern design style, and some are more eclectic.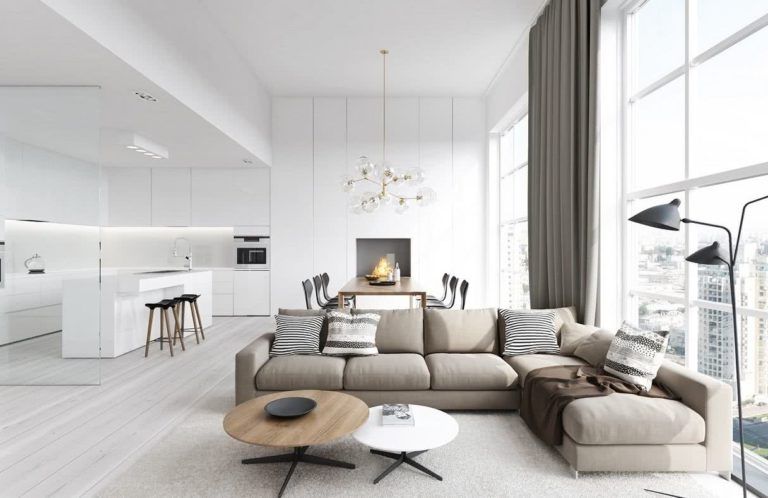 A blank room doesn't necessarily mean you have to remove all colors. You can paint the wooden floor or the walls white and buy a white sofa. It can be complemented with a brightly colored chair or coffee table. It is recommended not to choose a white rug as it is very difficult to maintain. For a rug, it's best to use neutral colors or a colorful rug.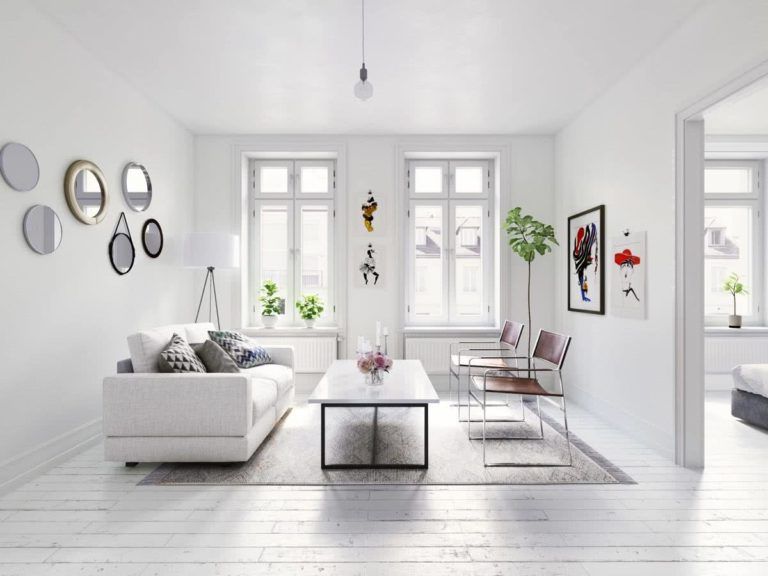 White rooms also look spectacular if we combine them with neutral colors. In this way, we can create an environment where the chiaroscuro form reliefs and interesting dimensions. These colors also help to highlight the textures that make up the room.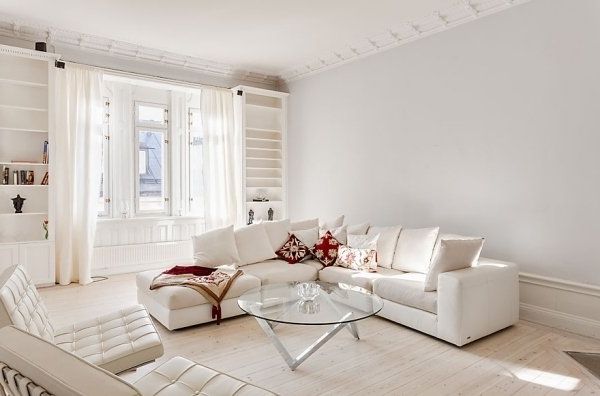 Because interior design should be simple and clean, many designers use contrast to create focal points, for example a modern space with industrial touches, or through color, for example a predominantly white living room with some hints of black color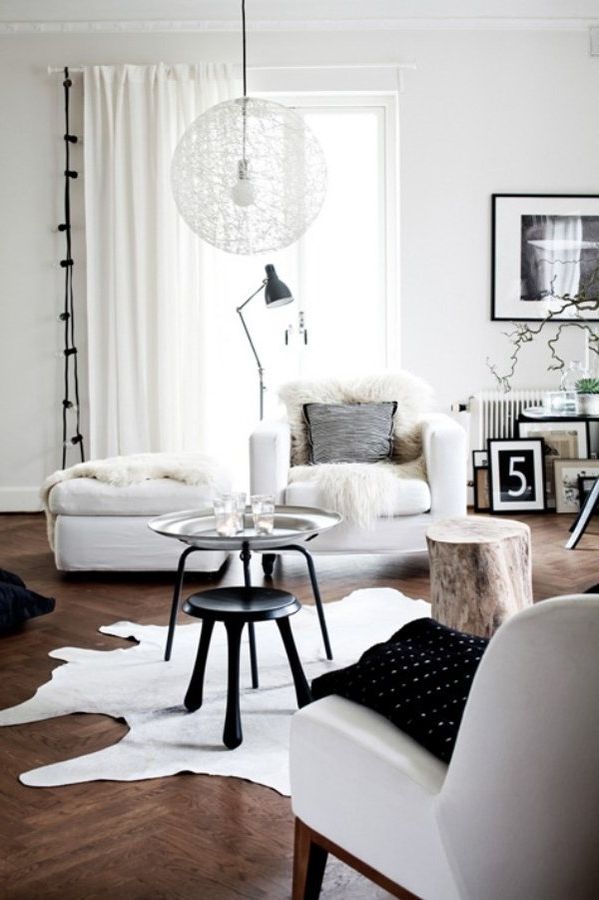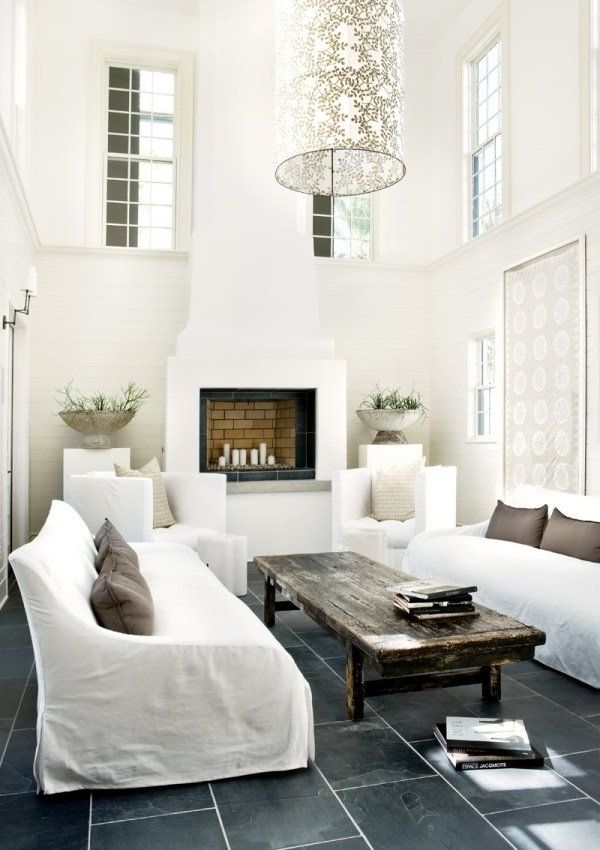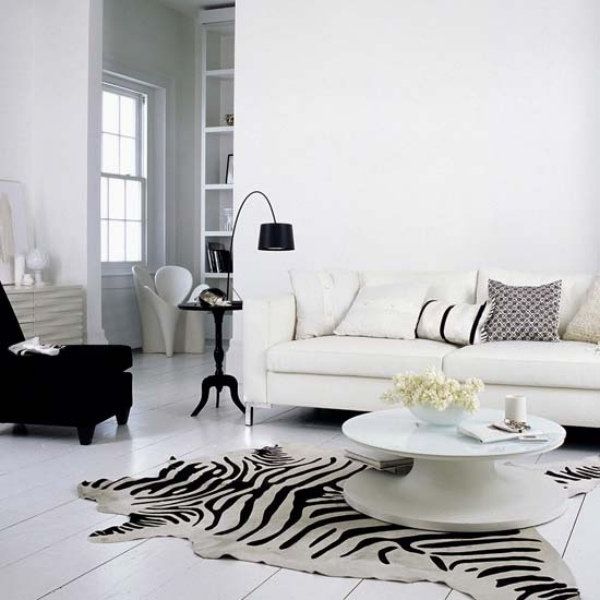 Neutral tones
The color palette is usually based on soft and warm tones such as beige and brown. Color can be introduced by means of some accent pieces. They can take the form of furniture or decorative elements, such as cushions or rugs.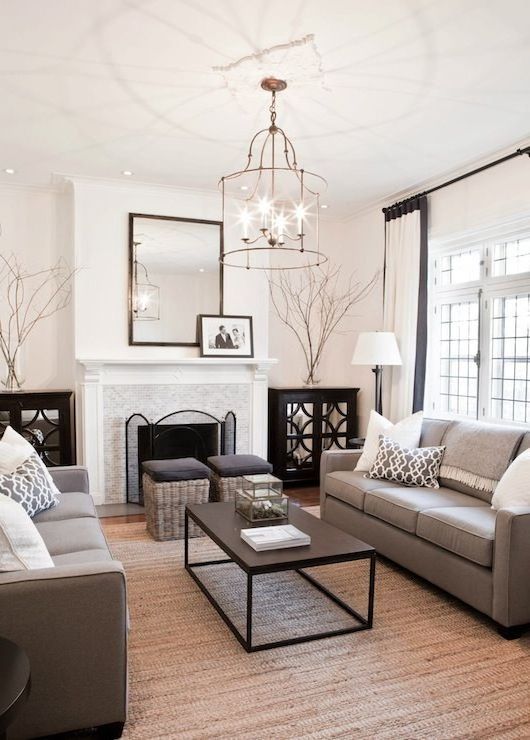 Many who enjoy monochrome decoration can take it to their living rooms to achieve the purest modern style.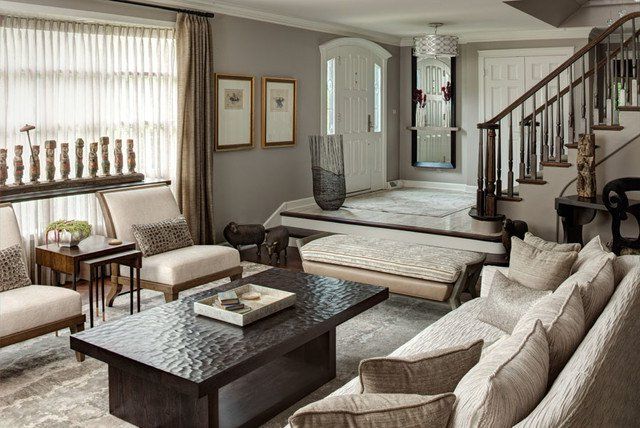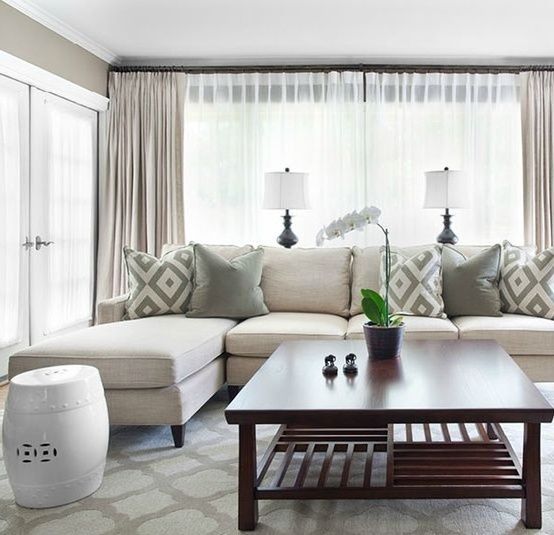 Neutrals with hints of color
It's perfect to keep a room monochromatic and add interest, for example with wall art.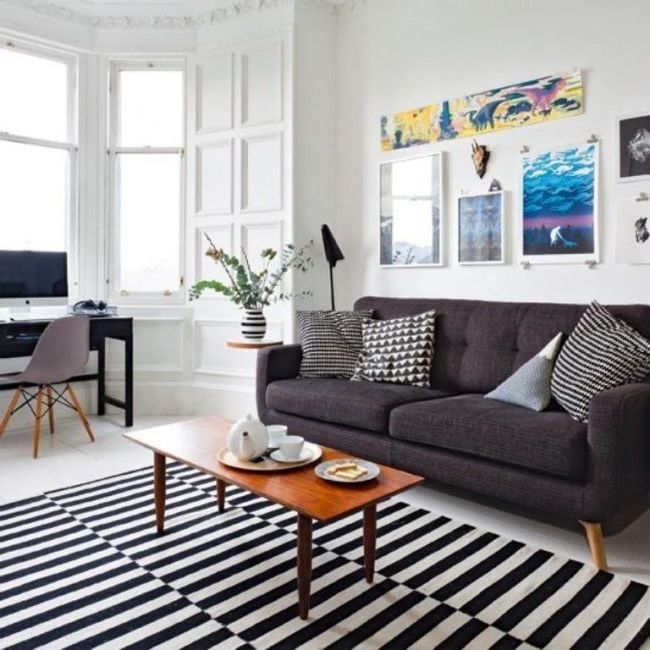 This other proposal is perfect for creating a climate of calm and relaxation, where a strong commitment is made to white and wood, and the blue and green notes of the cushions and the painting are taken advantage of.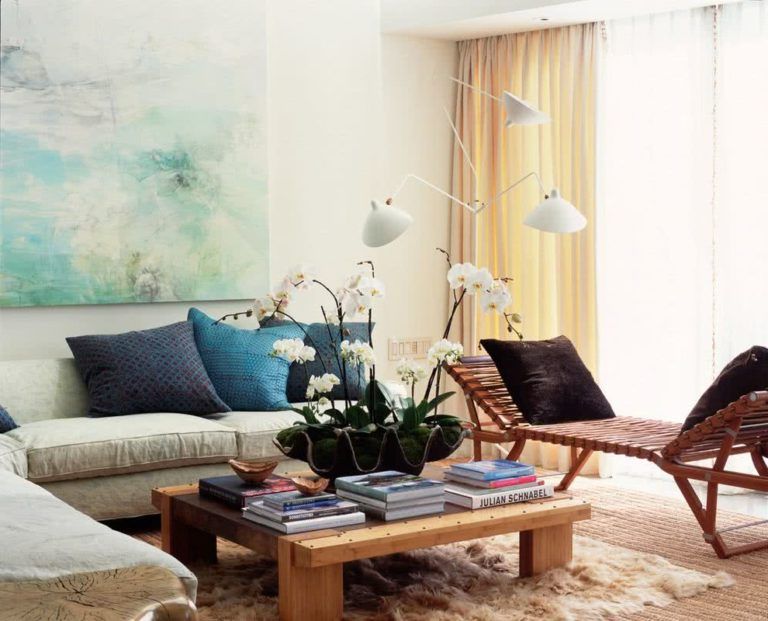 Any living room can be a statement of style, if you have good taste in the furniture and add a lot of white and a pinch of color in decoration elements.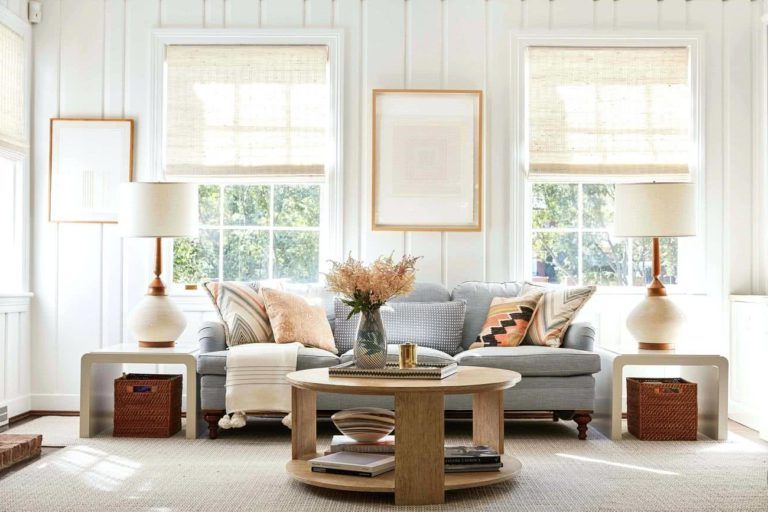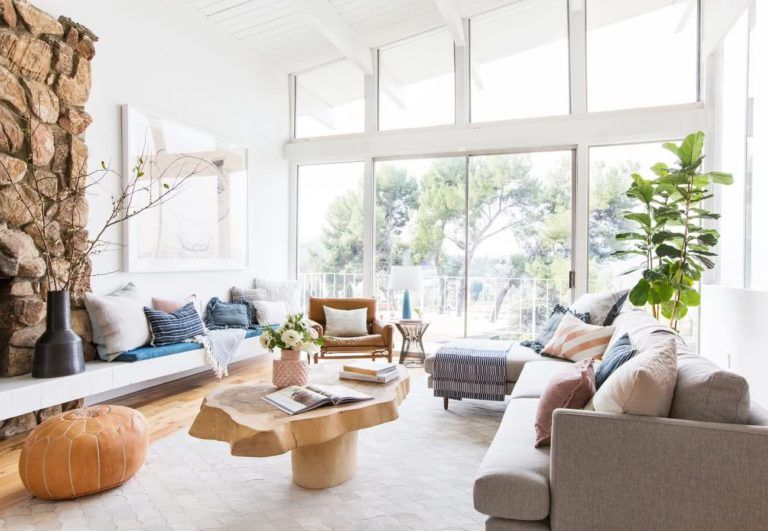 Small modern living rooms
In small rooms, it is advisable to use white or another bright color as the predominant color, to visually expand the space.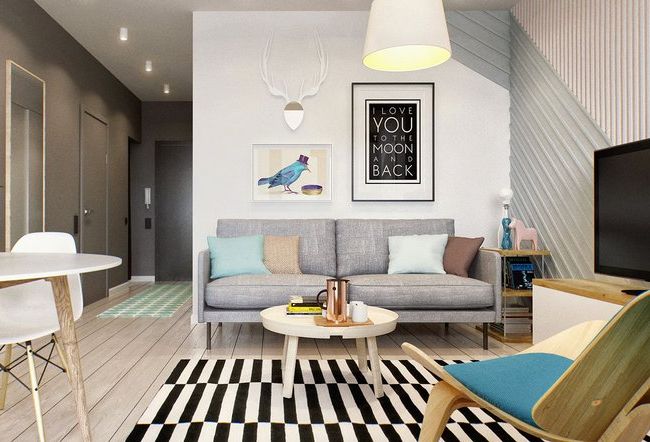 Corner sofas are also an excellent solution.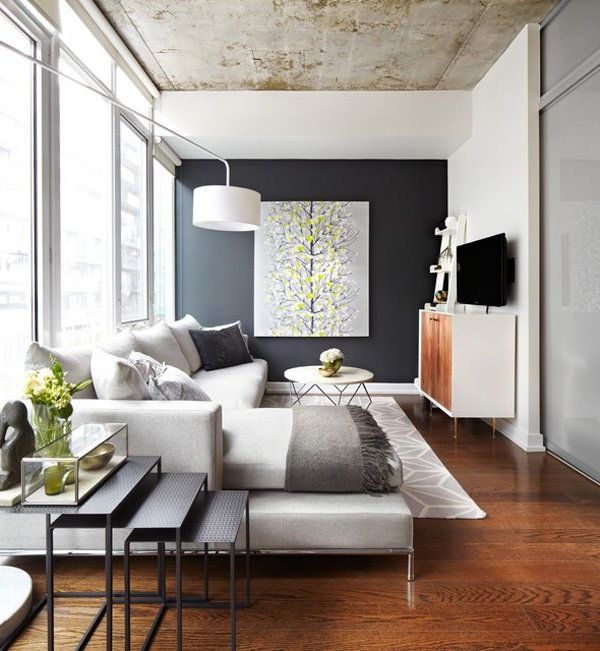 Enlarging a window can also be considered. This will give the feeling of spaciousness.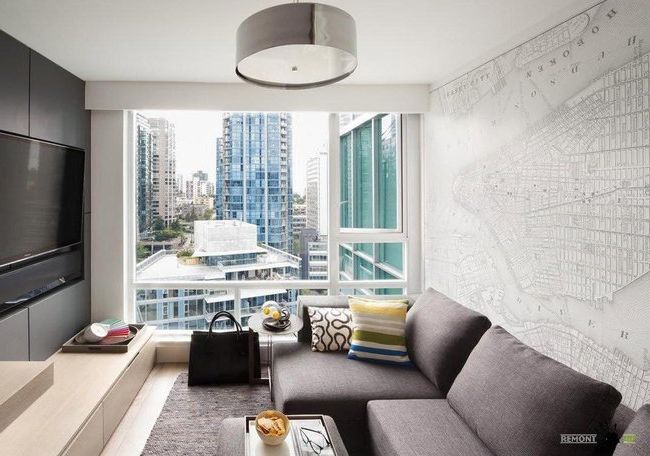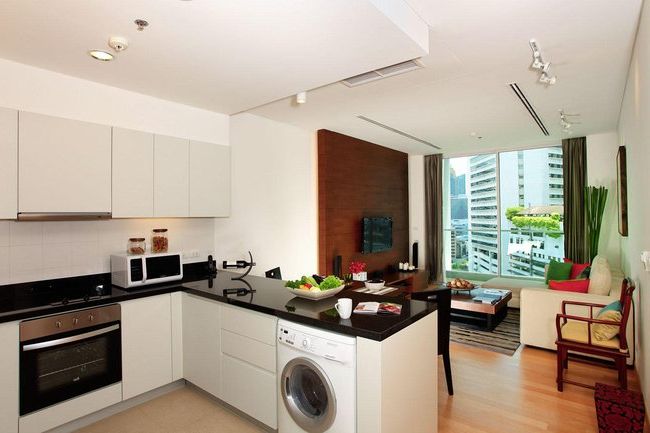 Long modern living rooms
In this type of room, it is convenient to use shallow sofas, and place it against the wall.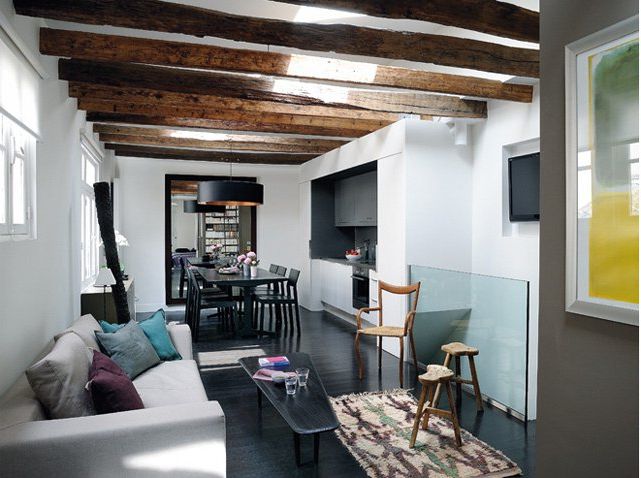 To break the length a bit, it is advisable to place two small armchairs on both sides and a central table, accompanied by decorative objects.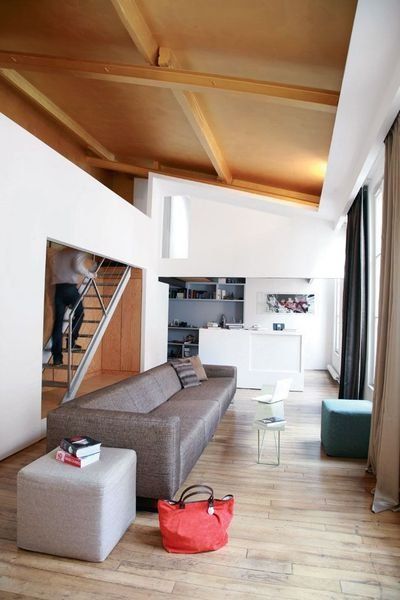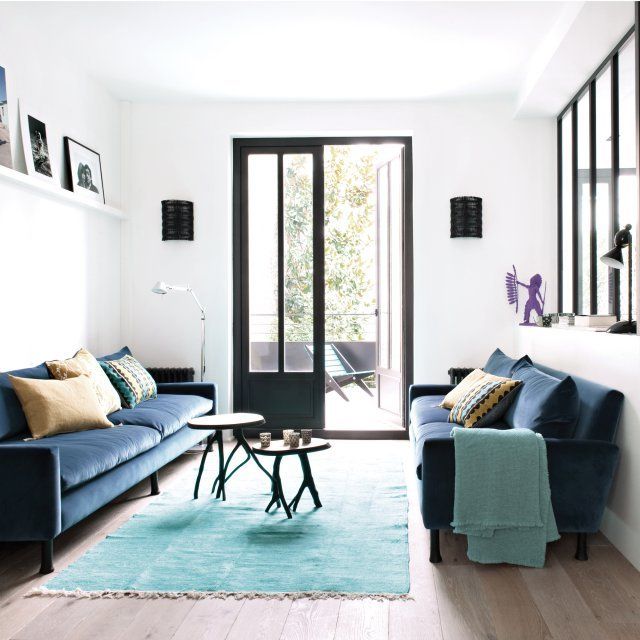 Large modern living rooms
A large space offers us the possibility of setting up a room with very different configurations, since we have no limitations. Let's take a look at these examples.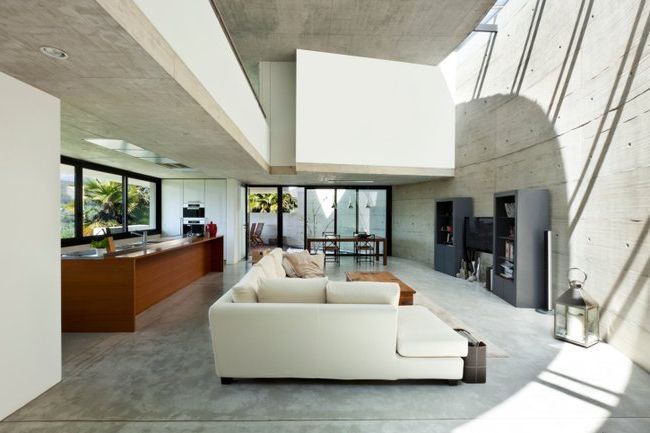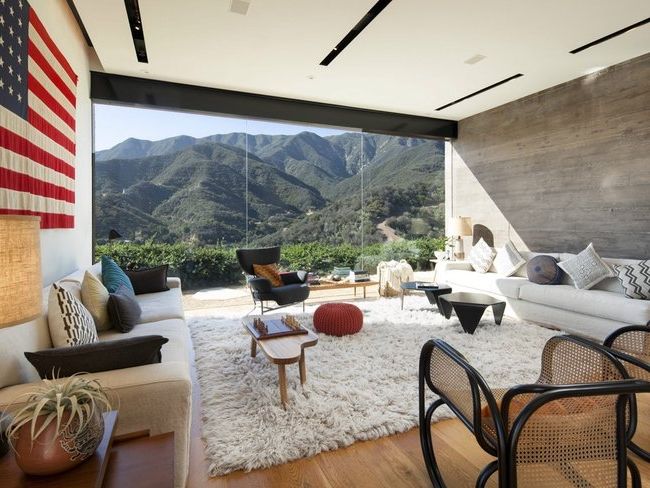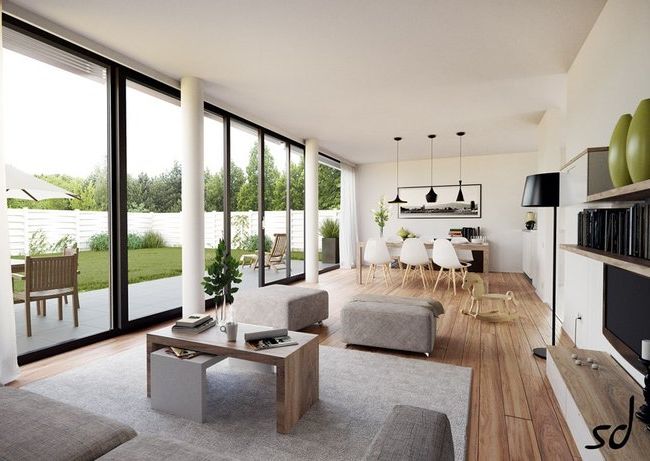 Modern living rooms with fireplace
The living room is a very special space, and it is very important to achieve maximum comfort. A modern fireplace provides warmth and comfort. It is characterized by its simplicity and contemporary appearance, and its glass panel offers a beautiful view of the fire.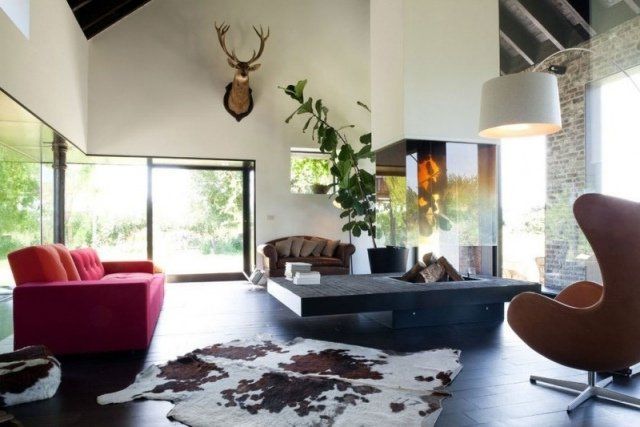 At night, the living room fireplace becomes a central place in the home. They do not take up much space, and allow you to save on heating bills. Even if you have a small living room, you can have a fireplace to enjoy its pleasant warmth.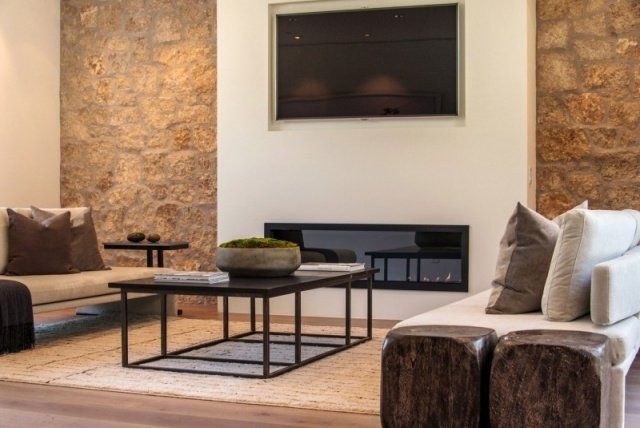 A fireplace creates a special atmosphere and provides a better quality of life. Next to it, you can add the furniture to sit and read your favorite books or just relax quietly.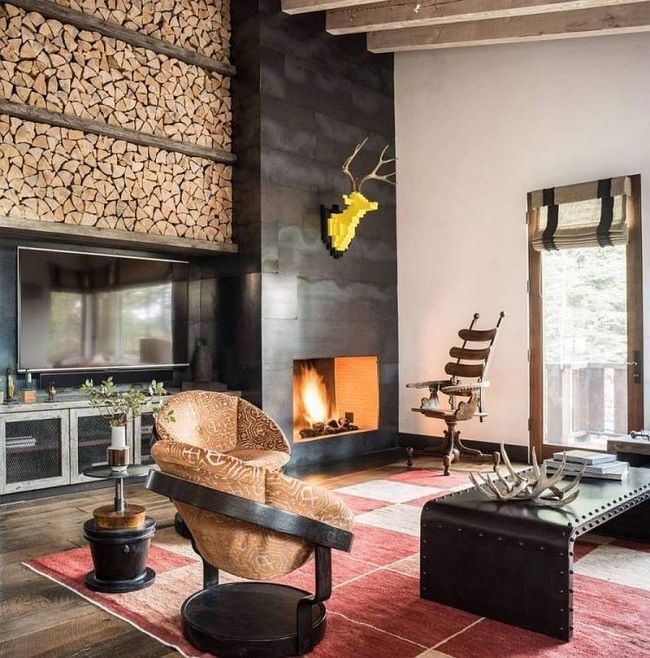 Celebrity salons
We are all curious to know what the homes of celebrities are like, if they have good taste or not, if they are simple or not. Here are the living rooms of some of the most famous personalities of the moment, such as Reese Witherspoon (Legally Blonde), Rachel Bilson (Jumper) and the Brazilian model Gisele Bündchen, among others. In all the examples you can see a normal environment, where most of us would have no problem adapting.
Rachel Bilson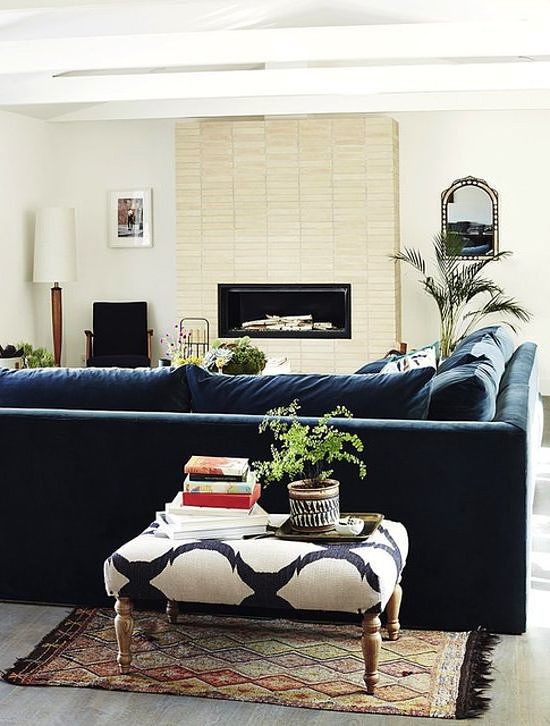 Rachel's house has everything we can hope for. Located in the hills of Los Angeles, the living room combines bohemian chic with understated style.
Reese Witherspoon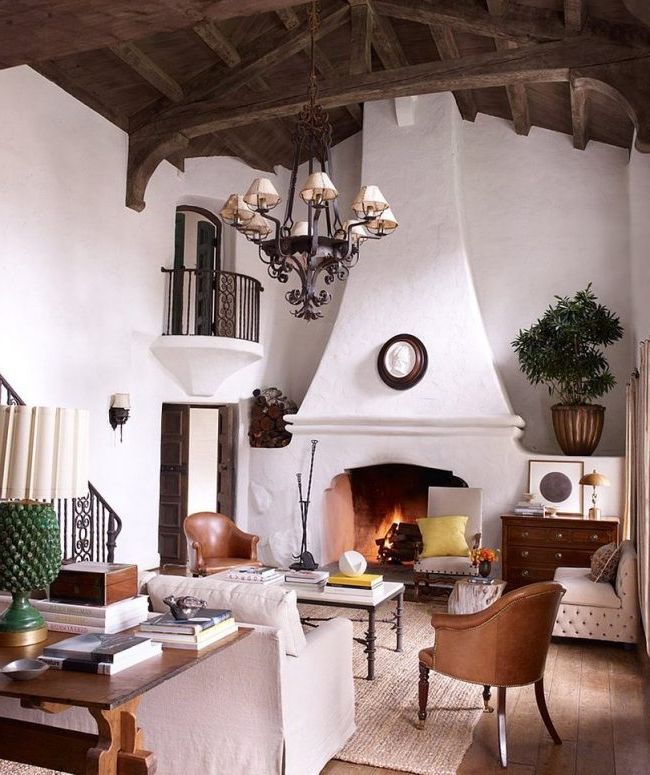 Also in the State of California is the Witherspoon ranch. It features beautiful architecture and stunning surroundings. You can even notice a Spanish Renaissance touch, like plaster walls and vaulted ceilings.
Nate Berkus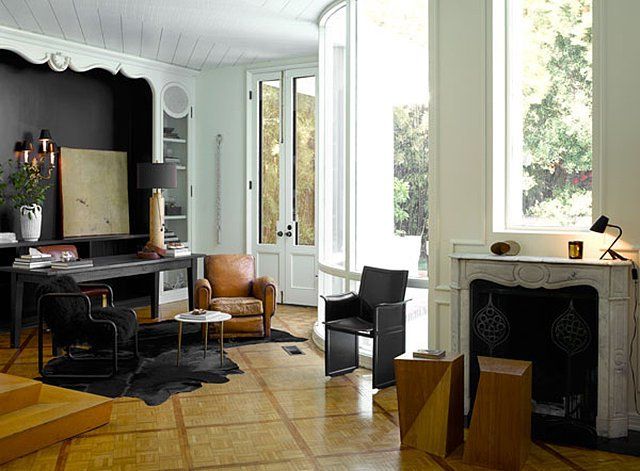 Still in the same area, we see Nate Berkus's living room, with a healthy mix of vintage and new, very modern and fresh.
Vincent Kartheiser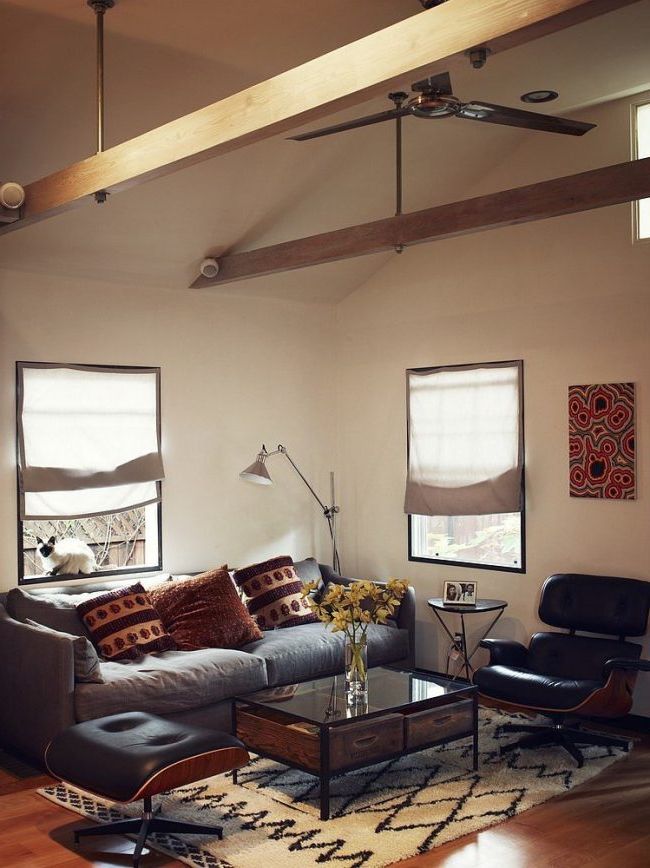 While most Hollywood stars prefer to live large, Vincent Kartheiser is one of the few exceptions. His house is "only" 6,000 square feet; but it is his living room that draws all eyes. Fully decorated to give it an elegant atmosphere of the middle of the last century.
Gisele Bundchen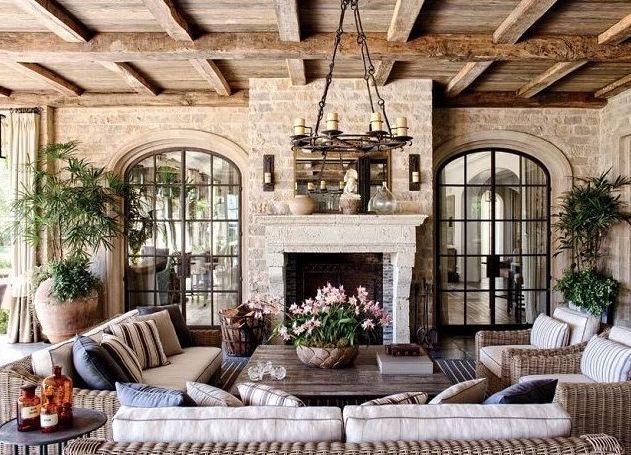 Although Gisele's entire house leaves us speechless, it is the living room that surprises us. Comfortable seats, old fireplace and giant glass doors. Without a doubt it is a space where we can be all day