Facing the decoration of a house with a few meters is an exciting challenge. Distribution, finishes and ingenious solutions form an infallible combination for success.
When you live in a mini house, the goal is to gain meters and, although it seems impossible, what can be achieved is to make it more spacious. The first thing is to consider which distribution suits your needs and assess the possibility of eliminating walls. Would you like to unify the living room and the kitchen? Is there a balcony that can be integrated? As the partition walls that compartmentalize the floor are removed, the suffocating feeling will give way to a clearer environment.
Once the decision is made, it is important to go to a professional to assess whether our idea is viable. Failure to do so risks removing walls or pillars that are part of the home's structure, causing cracks or other dangerous long-term damage. The next point to analyze are the doors. A traditional model prevents placing furniture —or in the case of the bathroom, sanitaryware— along the route that the sash describes while it opens. However, the sliders, like those of the firm Krona, fulfill their function of making environments independent but allow every centimeter of the room to be profitable without wasting areas.
The choice of finishes is another key aspect. As a basic rule, light colors visually distance the walls from each other, so the optical effect will be greater than if they are covered in dark tones. There are always exceptions, though: a mix of contrasting finishes can make a hallway look shorter, a ceiling higher, or a bedroom look deeper. In the Decoration Tips section of www.bruguer.es, you will find interesting ideas.
The furniture also contributes its grain of sand when it comes to making a mini house look spacious. Designs with more than one function – coffee tables that transform into a dining room model, sofa-beds or lamps with several adjustable shades that illuminate different areas at the same time – allow the number of pieces to be reduced. But this limited choice means an effort to maintain order: cluttered shelves and unsteady mountains of paper would dwarf even the largest of palaces.
Loft bedroom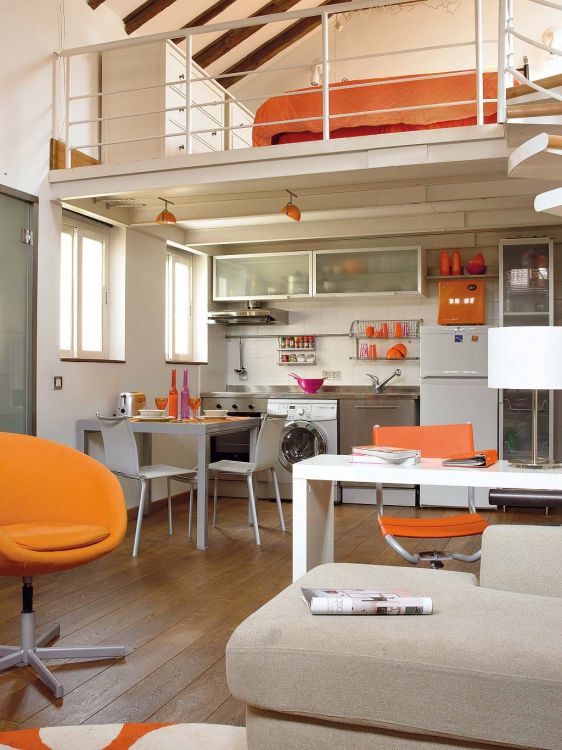 Darkness and a compartmentalized distribution are the great enemies of small houses. In this case, unnecessary walls were dispensed with to give a feeling of spaciousness. Living room, study area, dining room and kitchen share space, while the bedroom was located in a mezzanine.
Glass panels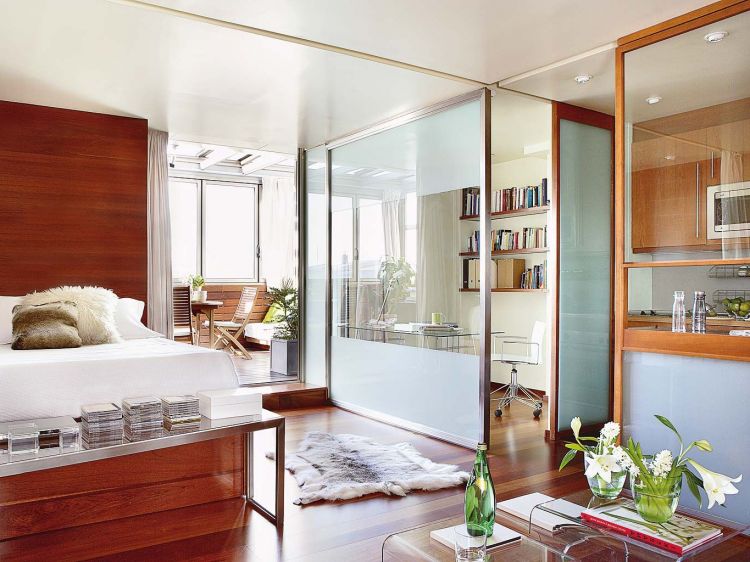 This apartment is only 45 m2, but thanks to the glass panels that delimit each room, the general feeling is one of spaciousness and relief.
Study B76 unified the bedroom and the living room in the same space, and separated the kitchen and the study area into separate glass modules that provide lightness, maintain visual continuity and allow the passage of natural light that comes from the terrace.
Shelving to separate environments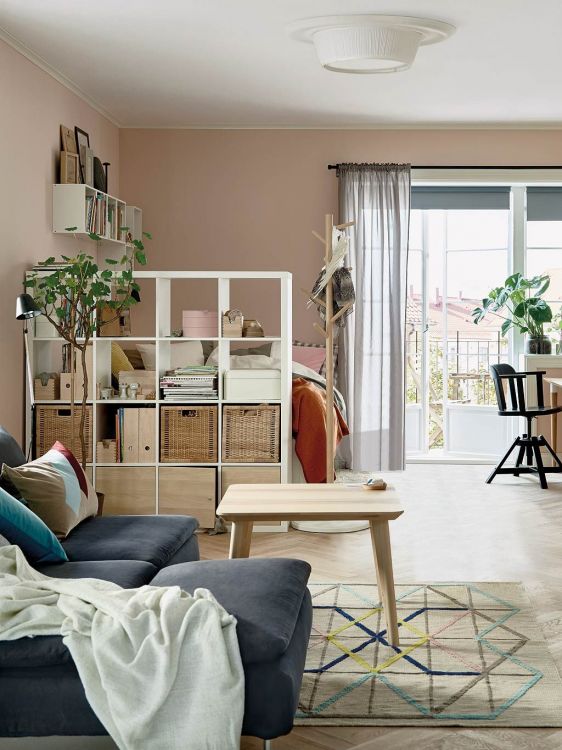 An infallible resource consists of delimiting environments -in this case, the bedroom and the living room- with a shelf. Its advantages? It guarantees privacy and, as there is no back, nothing hinders the fluid circulation of light. Added to this is its storage potential, with access from both sides. From Ikea: Kallax shelf, in 147 x 39 x 147 cm (€99); Soderhamn sofa (€699); Lisabo table (€79) and wool rug (€129).
Gray sofa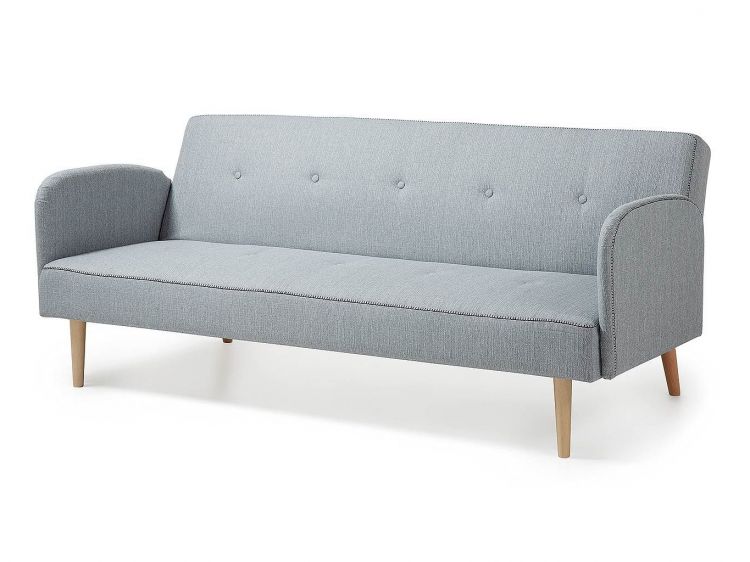 If you need an extra bed, choose a convertible sofa for the living room. In the Lika model, in Kavehome, with an impeccable design, the backrest is aligned with the seat. It measures 188 x 90 x 77 cm (€344).
Convertible sofa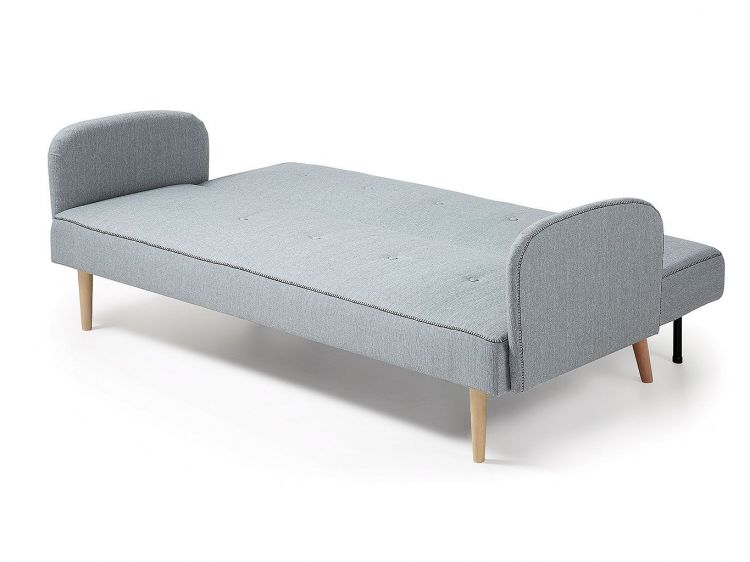 If you need an extra bed, choose a convertible sofa for the living room. In the Lika model, in Kavehome, with an impeccable design, the backrest is aligned with the seat. It measures 188 x 90 x 77 cm (€344).
Storage shelf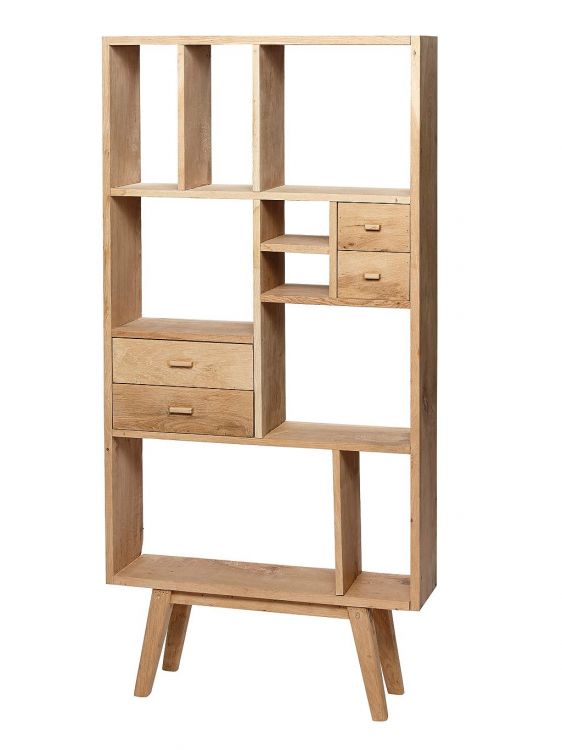 Fundamental in a small space: choose furniture that includes spaces to store. Like this shelf from the firm Maydele, in 80 x 25 x 130 cm; in Dawanda (€620).
Table with shelf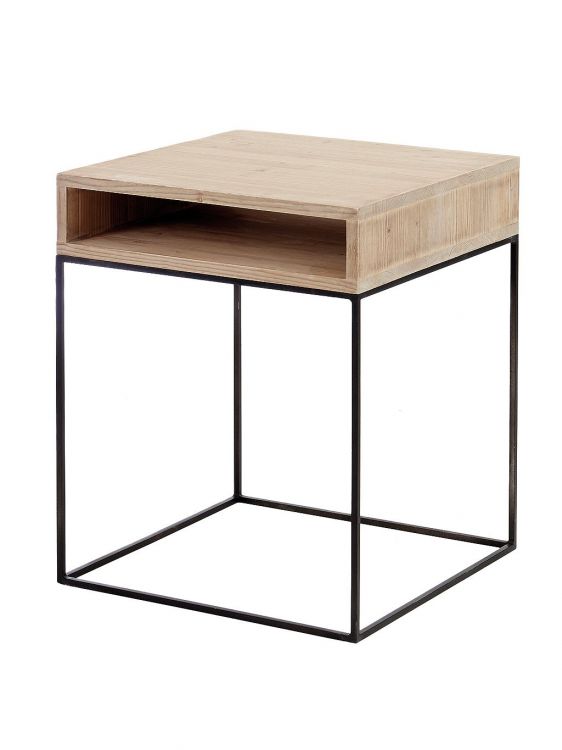 Table with shelf, by Car Möbel, in 50 x 40 x 61 cm (€119).
Cart with trays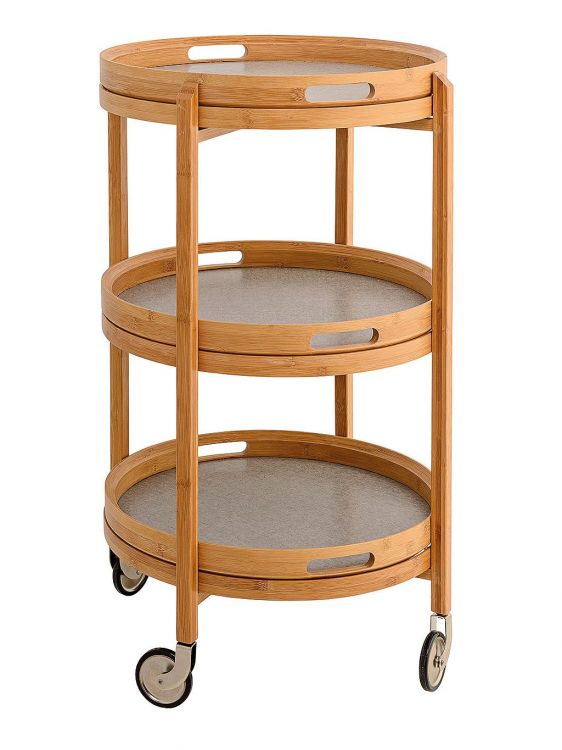 Where do I leave the fruit, the bread and the water? In a mini house, the dining table is usually small. This cart, with trays and wheels, will provide three extra surfaces. From Bloomingville, in 50 x 81 cm (€389).
Mid-height sideboard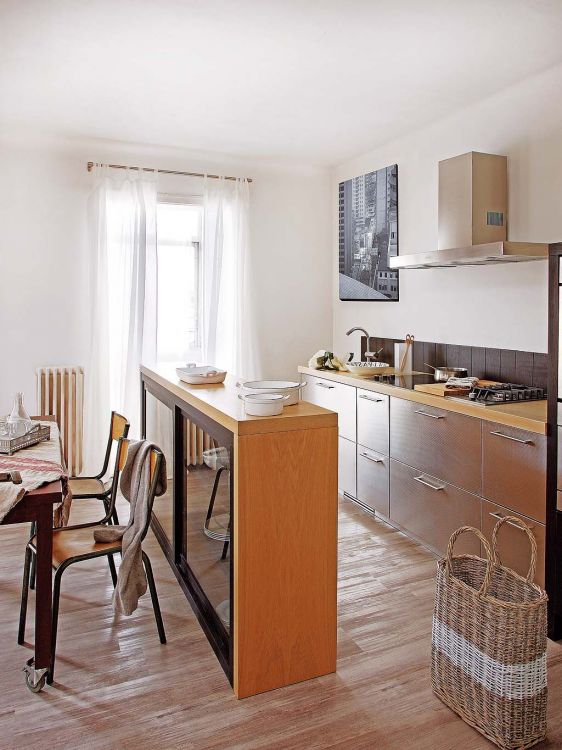 When space is tight, working between boiling pots and the oven at maximum temperature can be suffocating. But if the partitions are knocked down and the kitchen is integrated into the living-dining room, space will be gained. The Lizarriturry Tuneu Arquitectura studio distributed cabinets and electrical appliances on one front, and partially hid them behind a half-height sideboard that also separates both environments.
Round table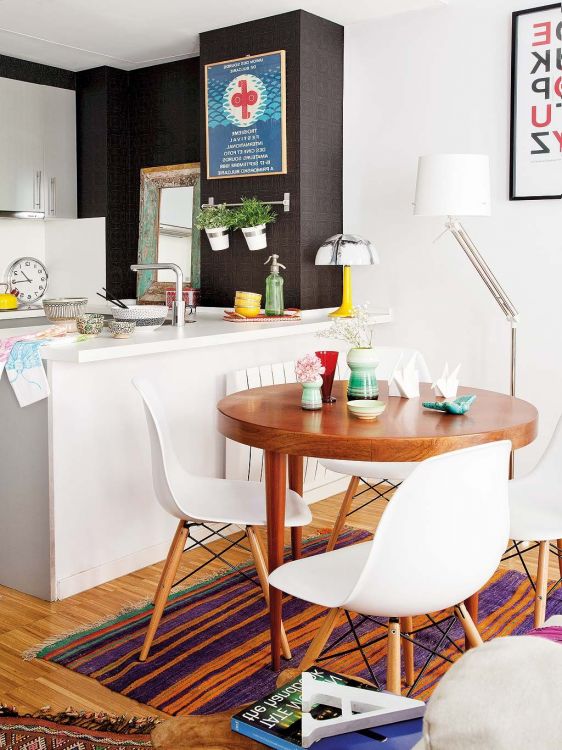 An interesting alternative is to replace the wall that is knocked down with furniture, and thus create a U-shaped kitchen that allows you to work facing the diners. This is what was done in this house, in which the modules that house the sink were oriented towards the dining room. This was decorated with a round table that, as it lacks corners, facilitates circulation, and chairs that hardly take up any space when they fit under the top.
Colorful utensils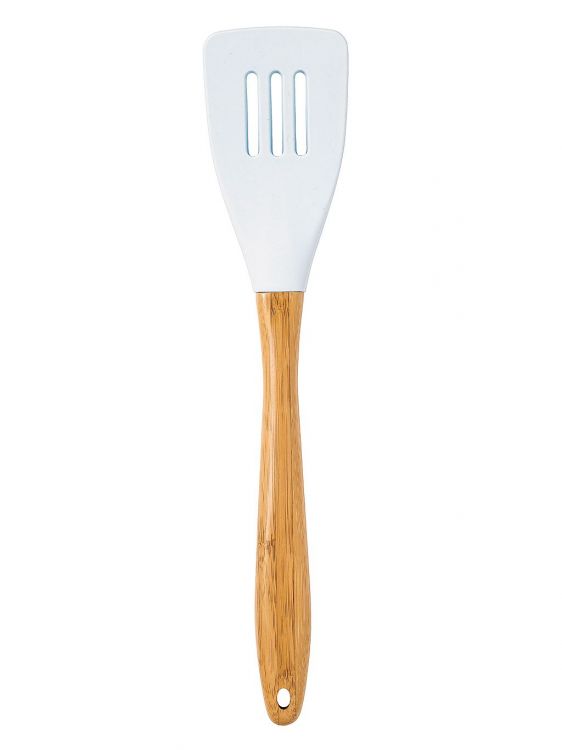 Given the lack of cabinets in the kitchen, sharpen your ingenuity. Get colorful utensils that can be hung on the cooking front. These are from Nordal (€10.26 each).
Ceiling light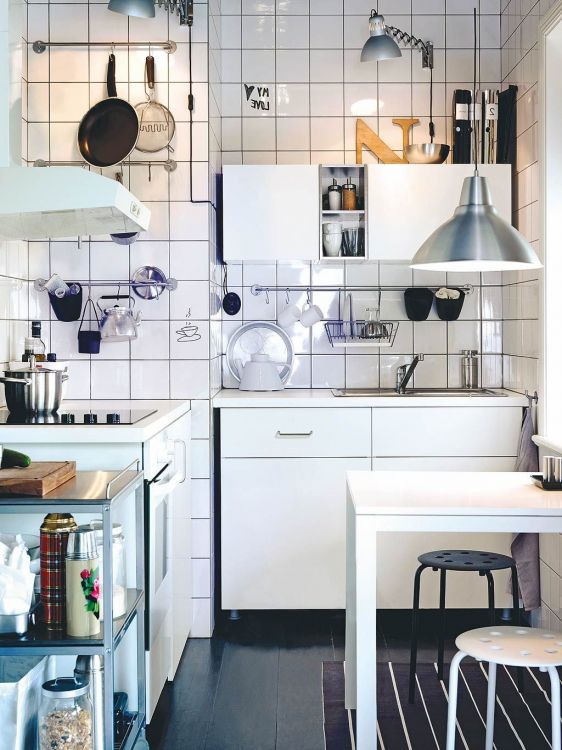 A mini kitchen is less narrow with white furniture and modules that do not reach the ceiling. In addition, the cooking zone, the sink and the office -if there is one- must have their own light: if it is very dark, it will seem even smaller! Foto ceiling light ($12.99), table ($29.99), and Udden cart ($59.99). Everything from Ikea
Origami lamp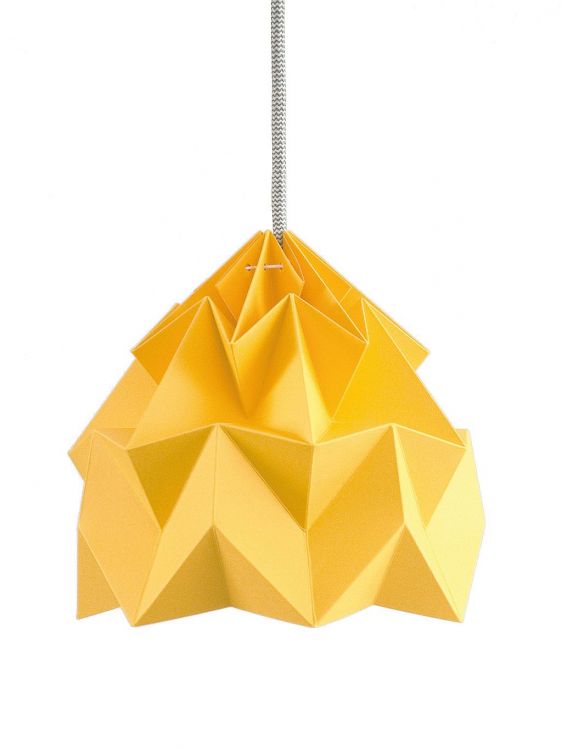 Place a ceiling lamp on the bedside table and you will free up space on its surface. This is from the firm Studio-Snowpupe; in 20x20cm
(€63); for sale in Dawanda.
Removable shelf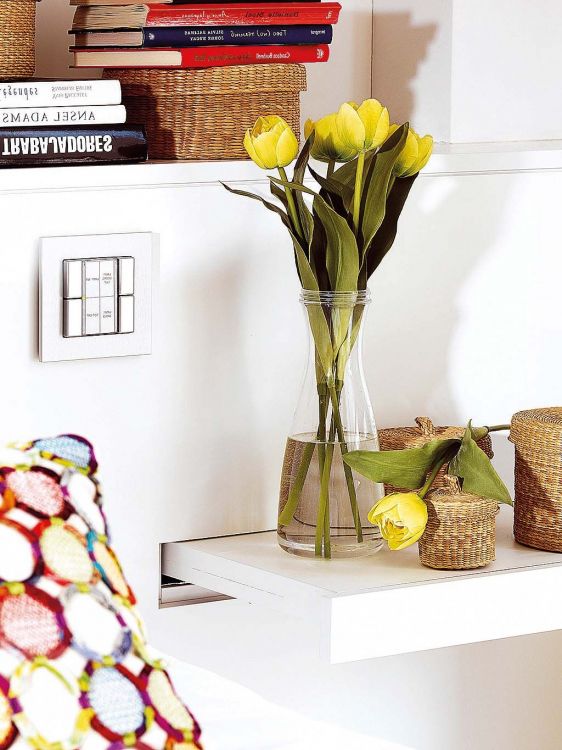 The question of whether there will be room for her is the most common question in a tiny bedroom. One solution is to design a brick chest with little depth as a headboard, but with storage space that is accessed from above. And that integrates, on both sides of the bed, a removable shelf that can be taken out at night as a bedside table, and hidden during the day, so that it does not take up space.
Moldings for shoes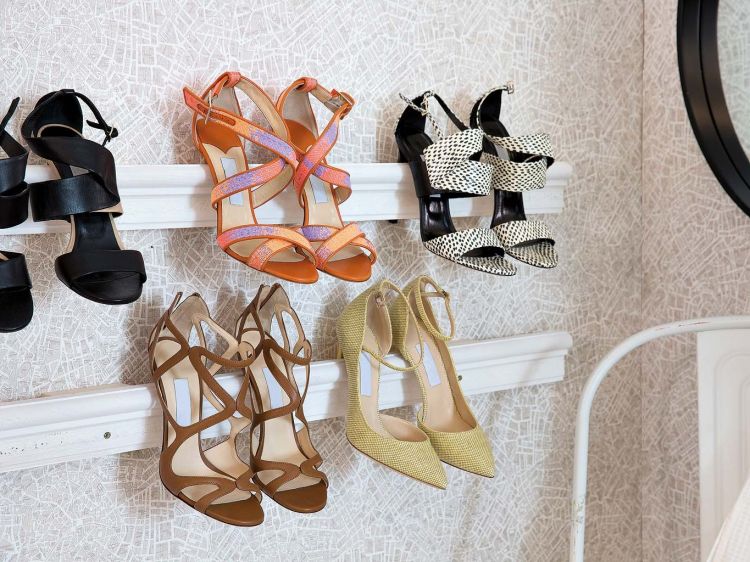 No woman would give up her passion for sandals, boots and other footwear models. But… what to do when the room is small? If the bed has a trundle or drawers, store them in them. And if there is free space under the mattress, store them inside boxes with wheels. Another option is to fix moldings to the wall, and hang the pairs that are most used by the heel. These are by Leroy Merlin (€15 approx. each).
Wall coat racks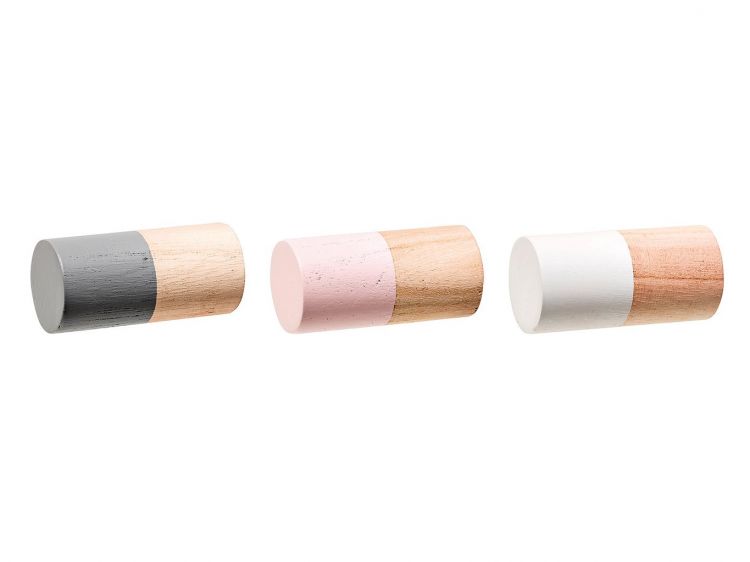 Wall coat racks make up for the lack of cabinets. From Bloomingville, set of 3 (€15).
Boxes to store and decorate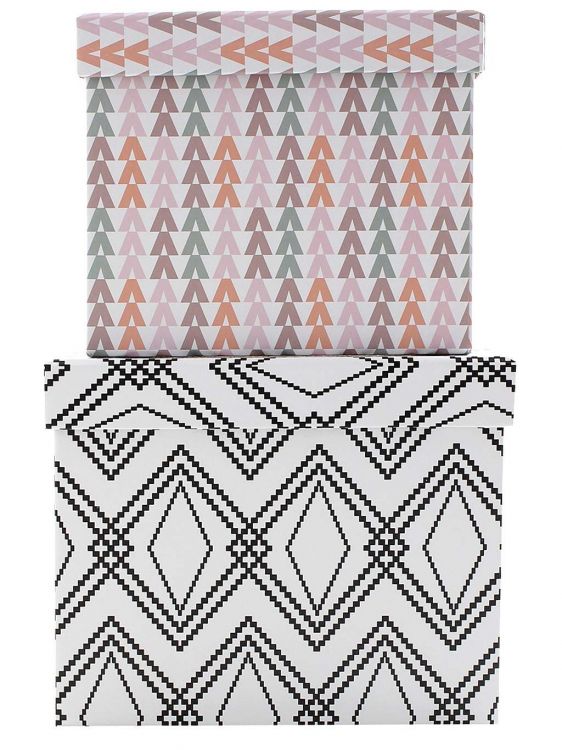 Accessories, garments from another season… On shelves, inside boxes, you will always have them at hand. And by the way, they will decorate the environment. From Søstrene Grene (€7.84 each).
Clothes rail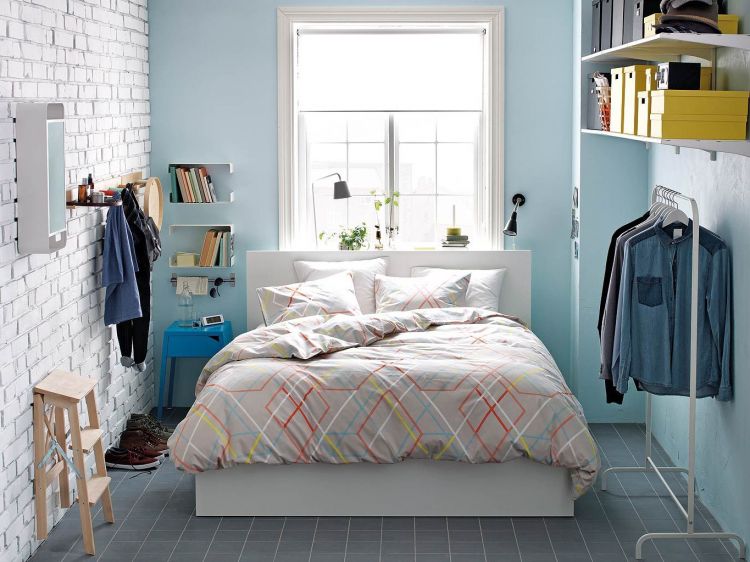 Any standard wardrobe is 60cm deep, but sometimes that's too much for a small bedroom. The Mulig rail is only 46cm deep and 99cm high, so you can hang clothes on hangers and put shelves on top. Rail (6.99) and Malm bed (349), from Ikea
Shower head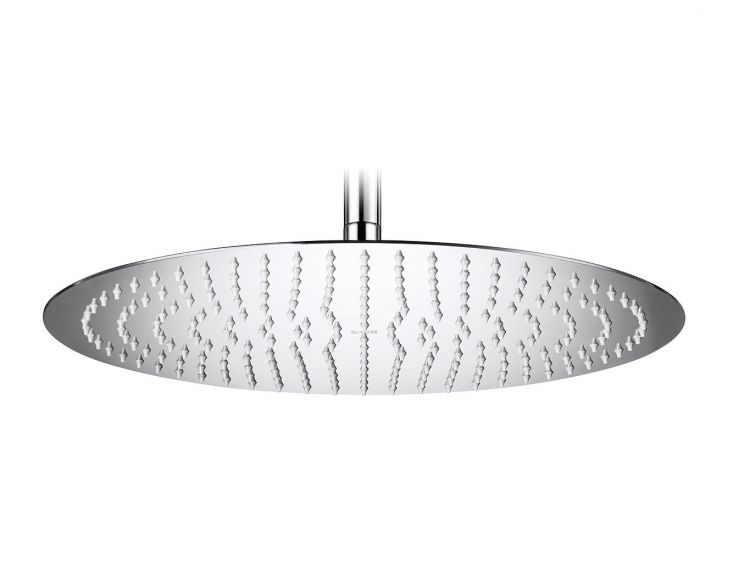 Although the shower tray is small, nothing prevents you from enjoying an experience worthy of a spa. Roca's Raindream shower head is available in 30 and 40 cm diameters (from €367.84).
Pink towels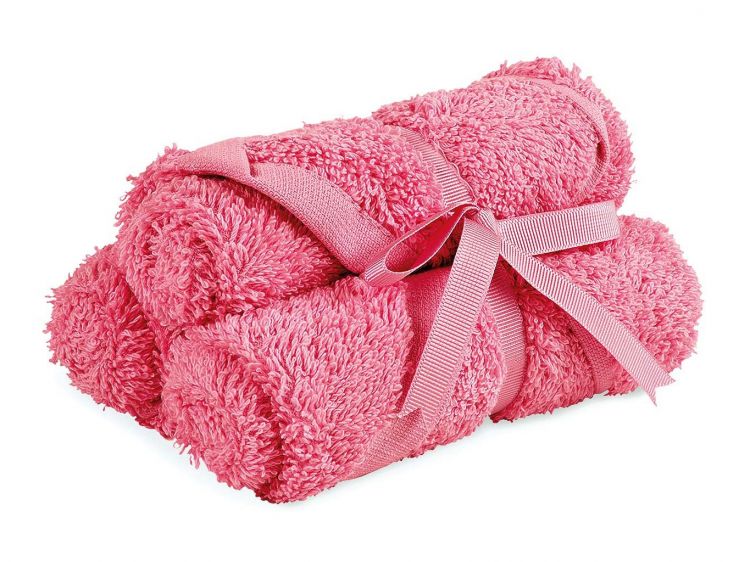 What do we do with the towels? If the bathroom cabinet is small, there will be no space for them. Put them on shelves with little depth and they will add color without hindering the passage. Towels (€5.99/3), at Zara Home.
Curved worktop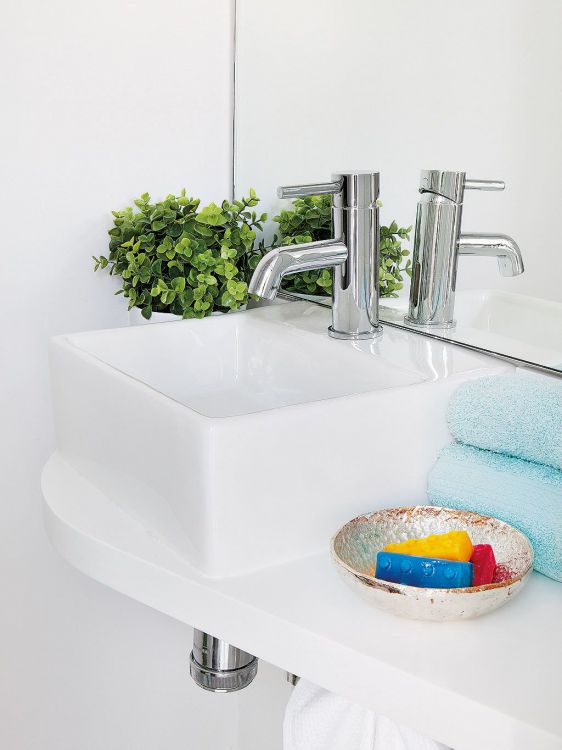 Most of the specialized bathroom firms have toilets with small measures. But when space is minimal, it is interesting to assess a custom model. The price will be higher, but the feeling of relief may be worth it. In this bathroom, the 2Arquitectos studio designed a curved countertop with an integrated mini sink, all made of Hi-Macs, a material adaptable to any shape.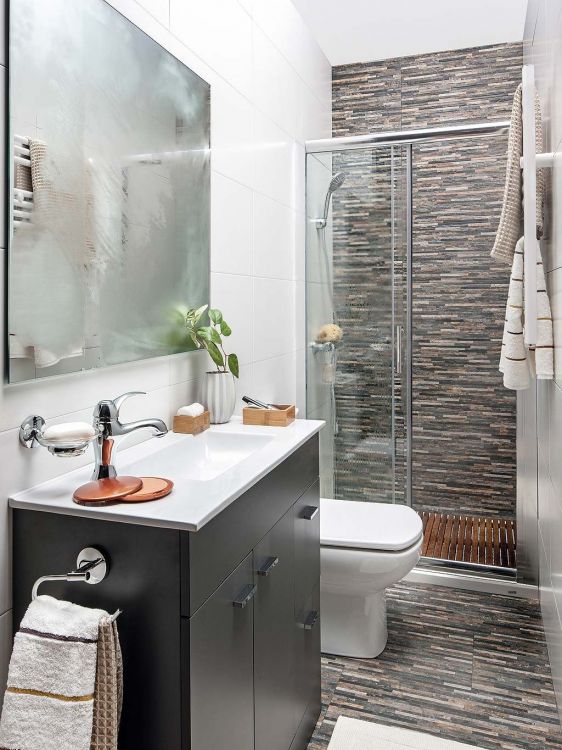 Mini bathrooms are usually characterized by having a narrow and elongated floor plan. In this case, the distribution that makes the most of the space is the one that aligns the toilets. At the bottom will be the shower, which takes up less space than a bathtub. And next to it will be the toilet, semi-hidden by
the sink. By Leroy Merlin: Motril furniture, in 69.1 x 34.6 x 80.8 cm (€140 without sink) and Colcant mirror (€19).
Elevating tray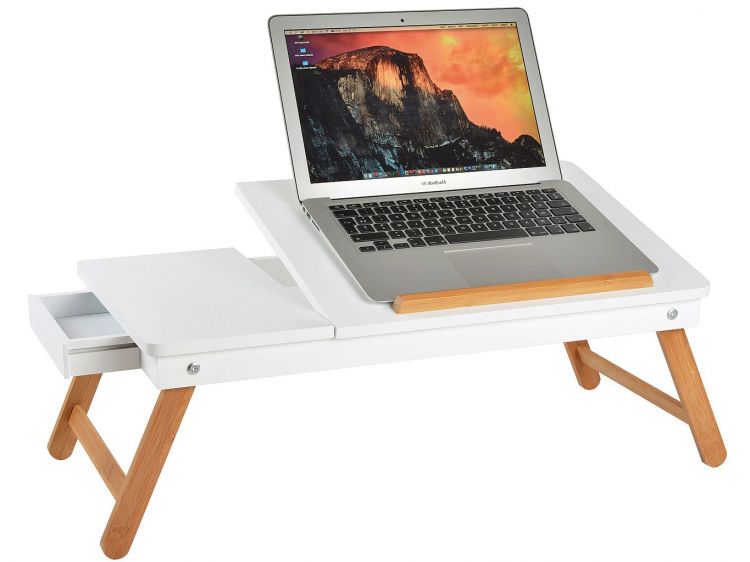 The maximum expression of a work table in a minimum space. It is a tray suitable for the sofa or bed, with a lifting surface (€54.80), by Car Möbel.
Clamp lamp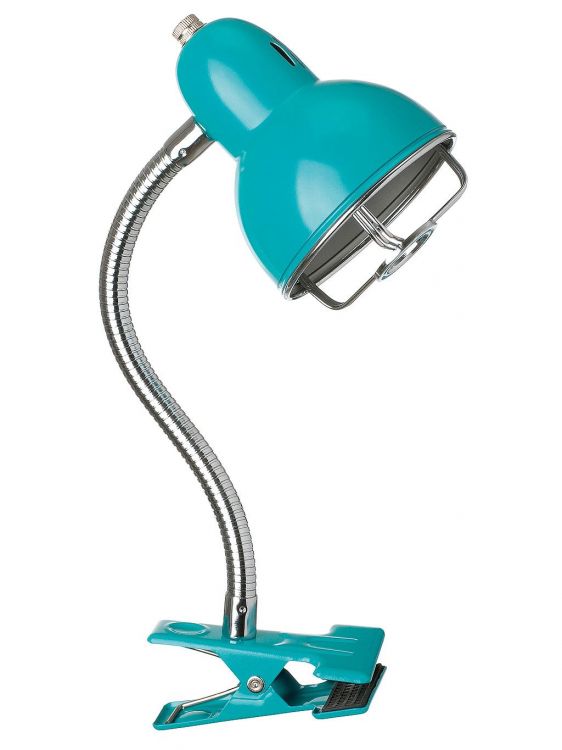 Clip lamp (€27.90), by Car Möbel.
Bookcase that hides a pull-out surface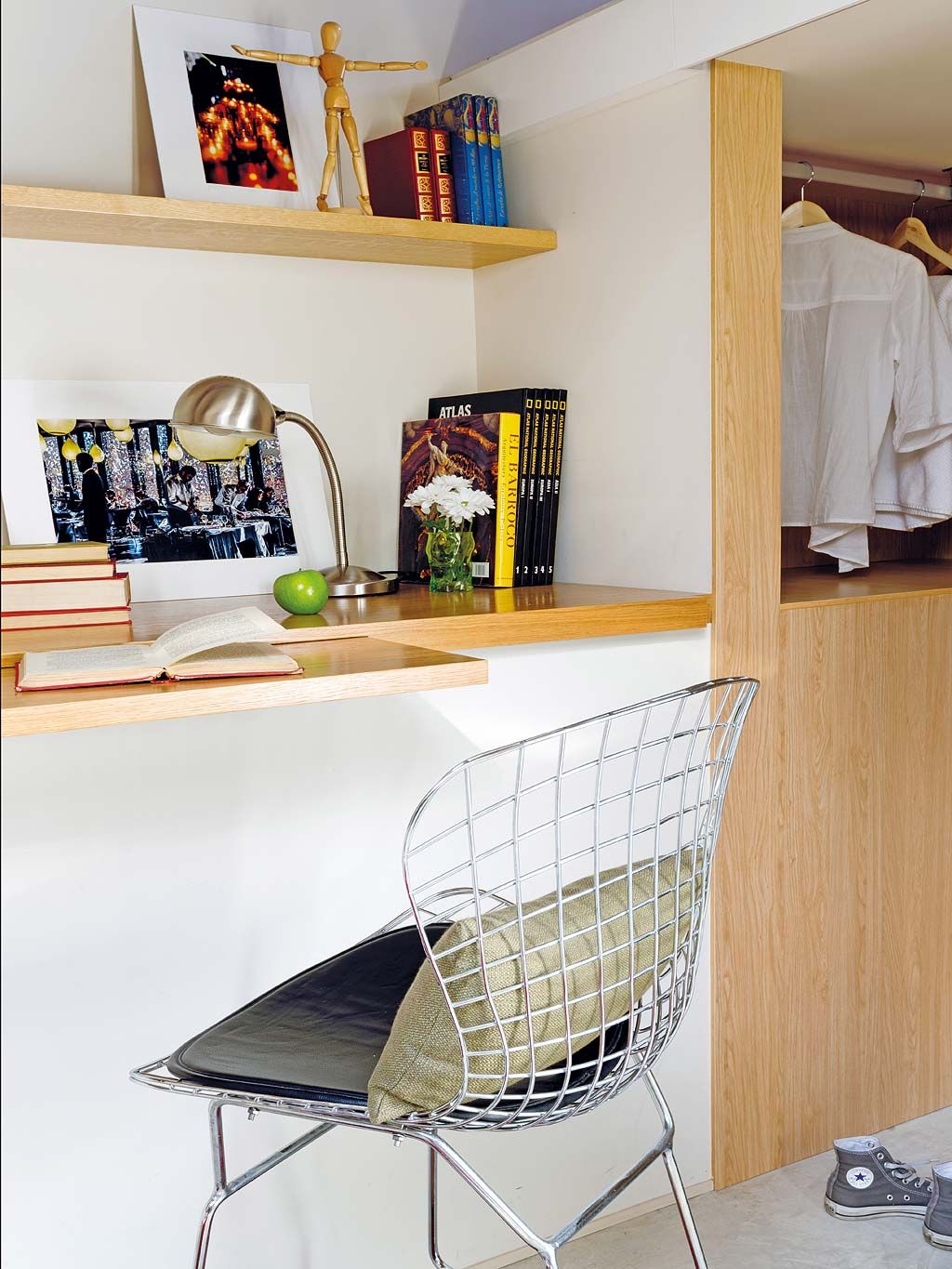 Normally, in a small house, no one uses an entire room as a study area. But the difficulty of creating a small work corner would be significantly reduced if the table had the ability to disappear. Here, the lower shelf of the bookcase hides a pull-out surface that serves as a table. The only precaution is to include a light point to connect a lamp. It is a project by Gabriel Asdrúbal.
Custom bookshelf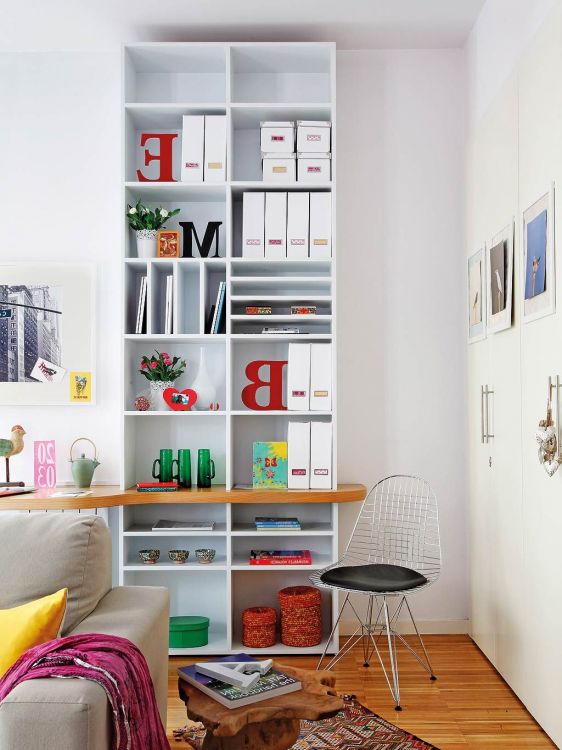 Take a look at this idea. The setback seemed like the perfect place to create a study area, but the last closet on her left would have been doomed. The solution was to custom design a shelf to organize the abundant work material. And in it was integrated, at the appropriate height, a table with little depth, which extends over the radiator to hide it. Its rounded corners facilitate circulation.