Do you have dinner alone, as a couple, or with a small group of friends or family? Put a beautiful Christmas table, decorate with style and, above all, with a lot of love. Let's celebrate!
Christmas is always beautiful. The reason is that it is a unique opportunity to meet with those people we love most, that is why the memories of Christmas lunches and dinners always bring us a smile. This year the magic has to come in the form of illusion to live the little moments and enjoy the opportunity to meet again.
Preparation is one of the most important points to ensure the success of the evening, so look for your style, do not complicate your life and, above all, vibrate with those moments of complicity that are unique on these dates. The key to any party table is to choose beautiful, sophisticated or handmade accessories, according to your style, and prepare a scene to dine alone, in the company or through a screen, in case you decide to meet with the family by Zoom or Skype.
Whether or not it is a virtual celebration, you will need flower arrangements, aromatic candles, an elegant tablecloth and some stylish pieces to create a beautiful setting, worthy of being photographed on your Instagram, and toast to life!
Around the table you are going to meet with your loved ones, so dress it up for a party. The occasion deserves it!
How should you set the table for Christmas?
Uneven tableware. Although white porcelain triumphs on gala tables, it also takes a lot of mixing. If you have beautiful inherited plates, messed up from different crockery, use them in special lunches and dinners: they are precious forming unequal sets, which you can unify through identical underplates, with gold or silver edges, for example.
Glasses and cups. You must put as many as drinks are served. From left to right: the water glass, the red wine glass (larger), and, finally, the white wine glass (smaller). The champagne or cava glasses will go behind and are longer and narrower. If you have children, they will be excited to toast like the grown-ups, so why not buy them some colored plastic cups?
Gala tablecloths. Do you have a white one? Add a particularly colorful table runner running the length of it. Or place several arranged in parallel, matching the diners who are sitting opposite each other. As for the napkins, decorate them with some detail. How about attaching a tag with the diner's name?
What the protocol commands: dishes and cutlery
How many plates? Three: the underplate, the plate for the main meal and the starter. The one with the bread will go in a smaller one placed on the left.
Cutlery: which side? The forks on the left, one next to the meat plate, the farthest one is reserved for fish or starters. The spoon, on the right, at the far end, and next to the meat knife and the fish shovel.
The perfect glassware
Size, design, quality… There are many types of cups on the market. Choosing the right one will make a difference when it comes to tasting and savoring the qualities of the wine.
The best material is glass, not glass, since the former better preserves the temperature and aromas of the wine. It must be smooth, transparent and colorless, without carvings or decorations and as thin as possible, about a millimeter thick.
Parts: The calyx that is formed by the mouth, depending on its diameter, there will be a greater or lesser concentration of aromas, and by the ball, depending on its size, there will be greater or lesser aeration; the stem, which is the part where the cup is held, and the foot.
Types of glasses: The red ones are large and are differentiated by the kind of wine they contain. There are the Burgundy, Bordeaux and Cabernet Sauvignon cups. The white one is smaller and narrower to preserve the temperature. There are Tulipán and Chardonnay types.
While the cold gets worse in the street, in your home a table full of exquisite sweets, sophisticated bright lights and happy faces await. Dress the table with Christmas details. For all tastes, styles and ways of being: the Christmas table is a reflection of the decoration of your home. Classic or casual, with these ideas it will be dazzling!
1 Individual or couple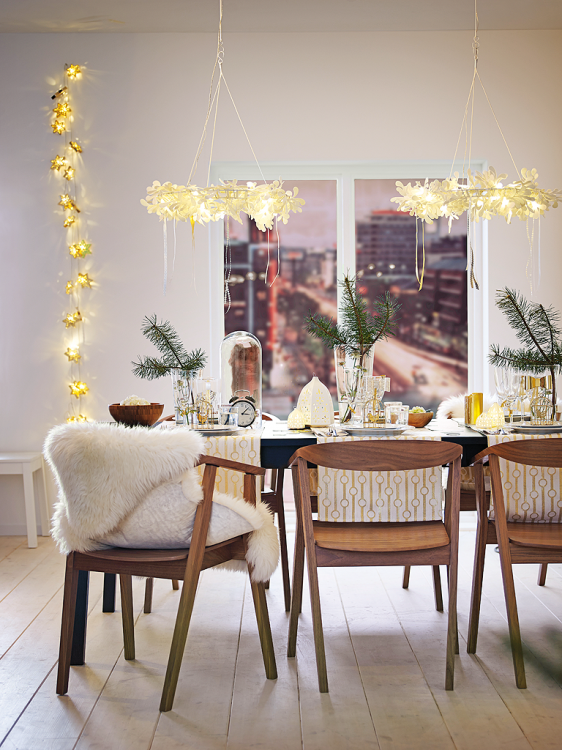 Instead of a tablecloth, dress the table with placemats or paths for two diners facing each other. As a decoration, a simple sprig of spruce will suffice.
Put it in a low glass and try not to disturb when talking.
2 A simple but elegant table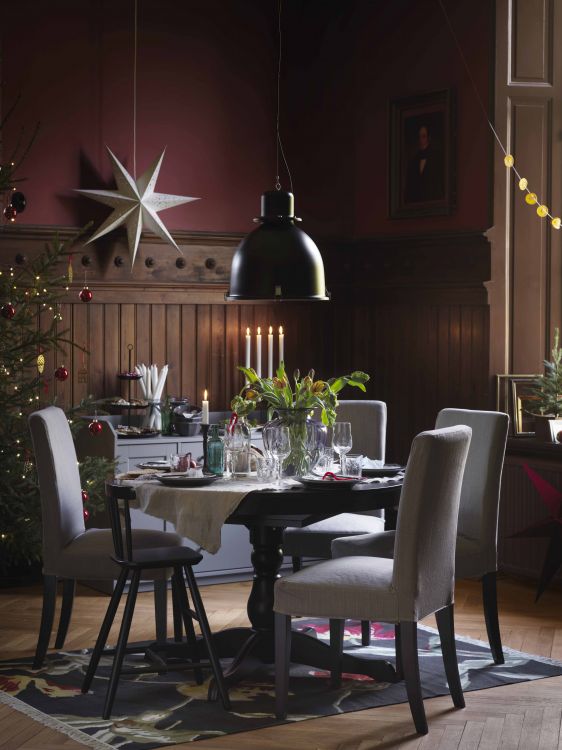 Receiving your family and friends around a table is always a pleasure, much more so at Christmas. A round table allows to admit more diners.
Ingatorp extendable table (€249); Henriksdal chair (€59 each); Stråla lampshade (€5) in the shape of a star and led garland, battery-powered (€8), from Ikea.
3 Basics for the table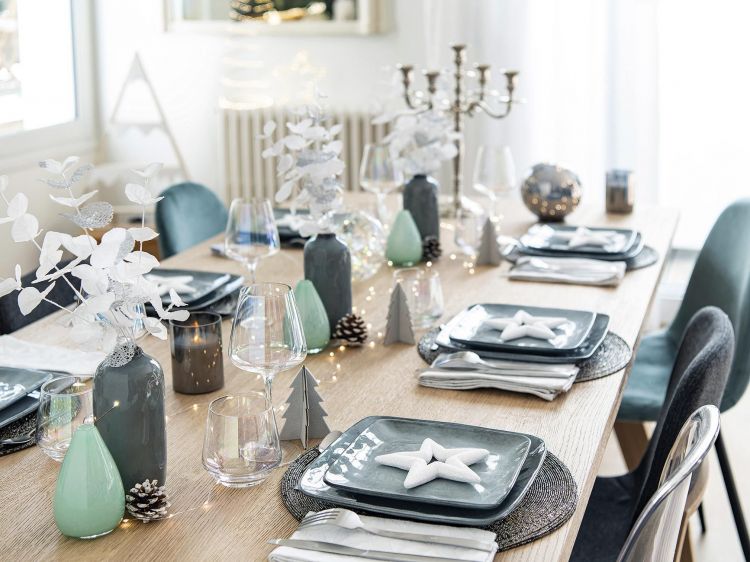 Go ahead and get out that wonderful crockery that you have reserved for special occasions. First of all, you must put the base plate and on it the rest of the dishes that you are going to serve. If you have room, place a bread plate to the left of the main one. If you don't have enough for everyone, dare to combine them with others as long as the colors match. To the right of the plate, place a knife and spoon, to the left, forks, and on top, the dessert ones. Christmas table from Maisons du Monde.
Glassware. At tables with little space, a glass of wine and a glass of water will suffice. And if it's big enough, place a glass of water in front of the plate and, to its right, one red and one white. The champagne one, in front of the water one.
4 Auxiliary furniture near the table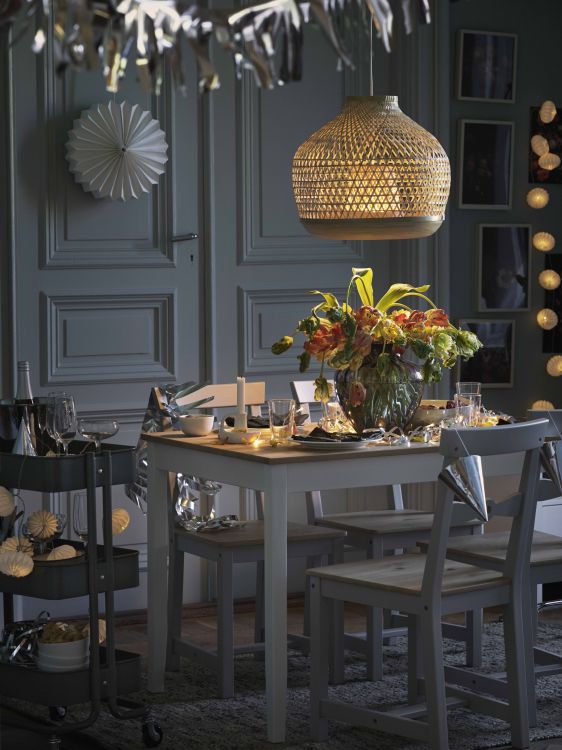 The menus of these parties are always very abundant. Help yourself with an auxiliary piece of furniture to have crockery, cava or dessert at hand. It should have wheels to move it from the kitchen and, once placed in the dining room, decorate it with a luminous garland.
Dress the table with a vase of flowers, which you can remove just before you start serving the food.
5 Personalized details on the table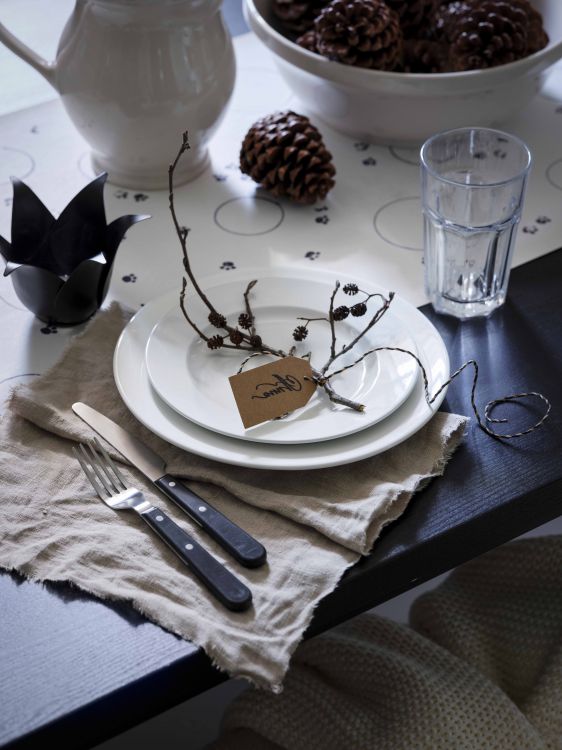 Take advantage of the moment so that each day of these holidays is special. Not only Christmas Eve, Christmas, New Year's Eve… also the daily days deserve your attention. Something as simple as a twig and a tag with the name of whoever sits in the chair will elicit more than a smile. Unfold that table runner drawn by your little one and add a raw brushstroke with linen napkins.
Vardagen plate (€2/ea.); Pokal glass, glass (0.50 æ); Livnära cutlery, with wooden handle (€25 set of 24 pieces) and Dekorera candle holder, in steel (€1.50).
6 Christmas table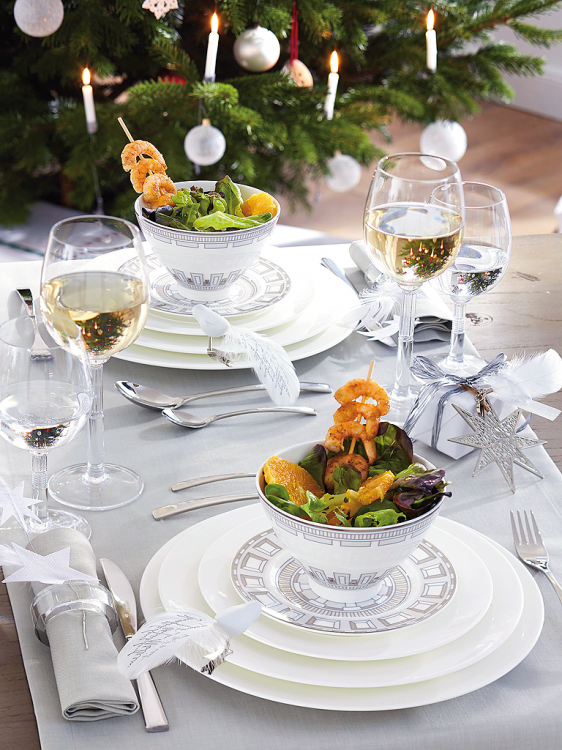 Placing each piece in its place is basic: dessert cutlery and a coffee spoon on top of the plate; on the left, the fork and, on the right, spoon and knife.
Modern Grace, by Villeroy & Boch: fork and spoon (€10.90 each) and knife (€12.90).
7 The elegance of a Country Chic dining room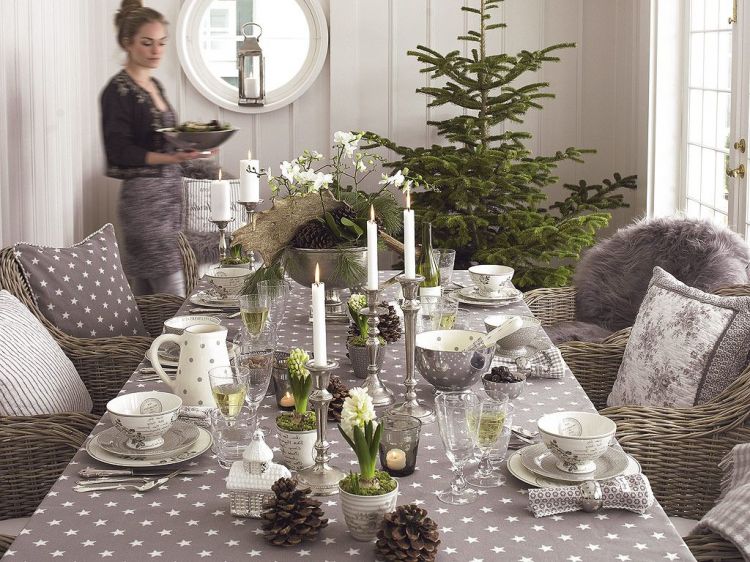 It is your house and they are your guests, there are no commitments, nor a rigorous protocol. Take advantage and present the table as you like! Country-chic style is feminine and homey; perfect for a dinner with friends. From Greengate: kitchenware and glasses (from €10), candlesticks (from €23) and tablecloth (€63).
8 special party tableware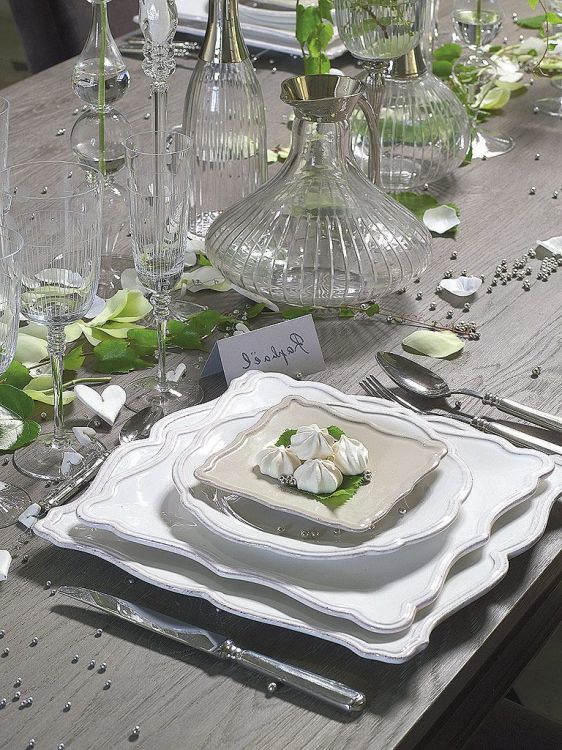 Although you are among friends, forget the daily crockery. By choosing a more special model you are showing your affection. From www.portobellostreet.es (€9/six dessert plates). Surprise them with a delicatessen appetizer on their plate.
9 A current and deluxe table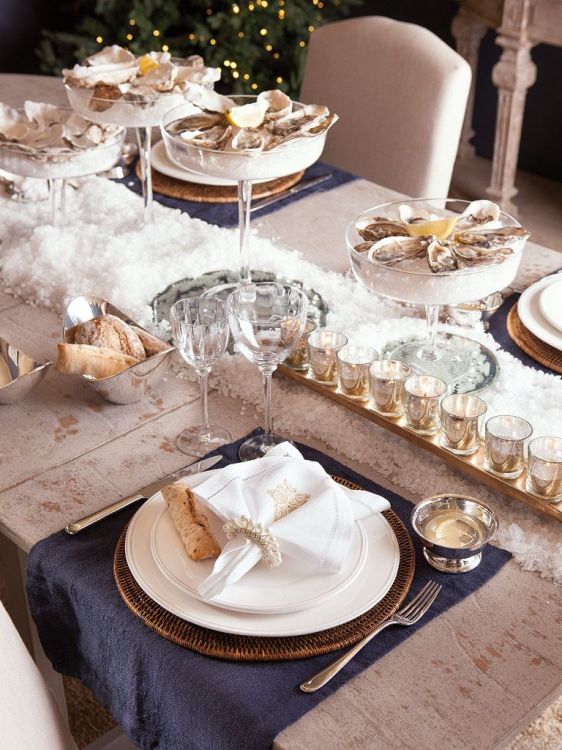 The crystalline and metallic sparkles and the pearls on the napkin holder contrast with the fiber underplate and the denim placemat. Household items and accessories, by Flamant.
10 A renovated classic style dining room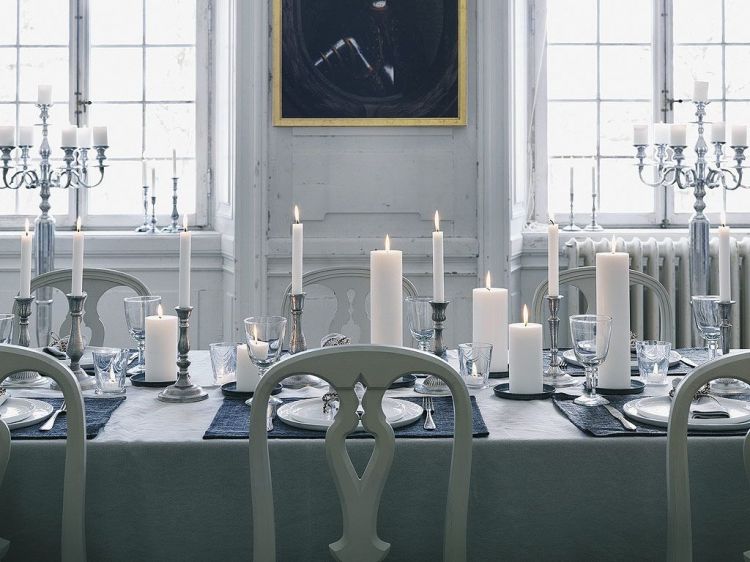 Create a special atmosphere at Christmas with candles, but avoid solemnity because it can make some guests uncomfortable. The idea of alternating candles of different heights and candlesticks subtracts sobriety and energizes the presentation of the table. A success: break the chromatic homogeneity with dark singles. From Affari: candles (from €1.40 each) and candlesticks (from €11 each).
11 Don't forget the placemarks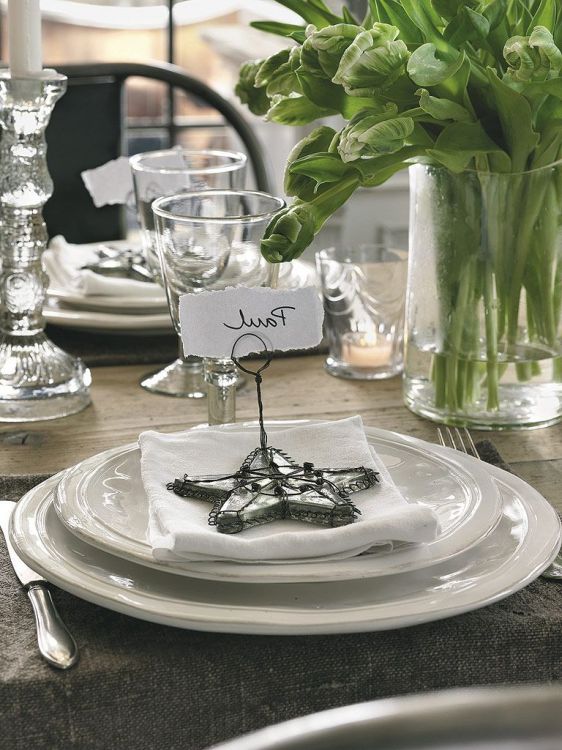 Tell guests where to sit with decorative placemarks; You can also use them as photo frames. Twinkle model, by Affari (€9).
12 A classic table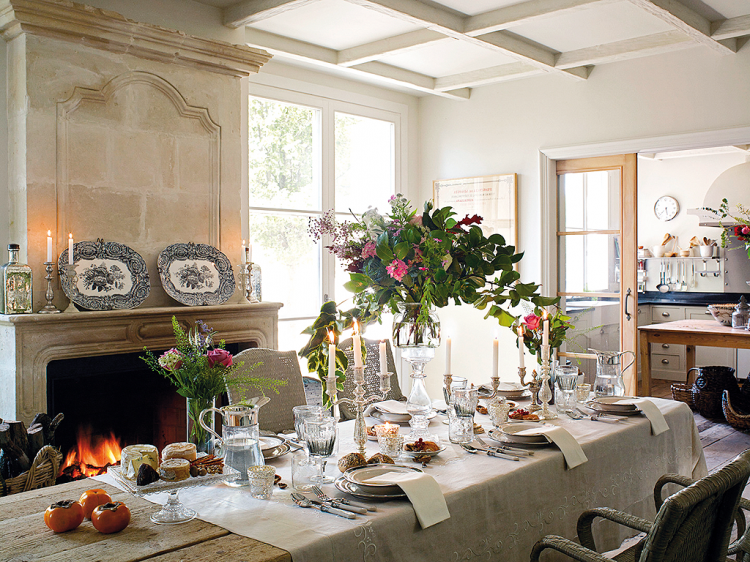 Glass and metal bring elegance to the table. Cups, glasses and semi-metallic jugs serve as containers for water or as luxurious vases that, during the meal, will be moved to one end. Embroidered tablecloth (€99.99), candlesticks (from €15.99) and pitcher (€39.99); everything, from the firm Zara Home.
13 Party tablecloths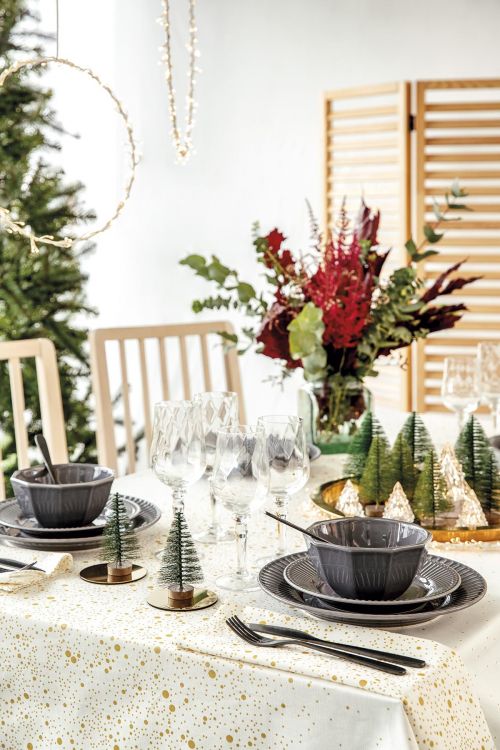 For these celebrations, dress your table with a tablecloth all the way down, but without the risk of being stepped on. Due to its fall, those made of linen or linen and cotton will look good. The assembly can be done with a single piece, as in this Ikea table, with a tablecloth from the Vinterfest collection, or by combining a long, smooth one with a tablecloth in a different color and pattern. If your table is especially pretty, show it off by using only table runners or placemats.
Add warmth and style: With natural elements, such as nuts, pomegranates or bouquets; this one, from Colvin.
Lightning. Place the table under a lamp with direct, warm light. For the desktop, opt for indirect lights that bounce the light off the ceiling or walls. And if you want to give it extra warmth, put candles or to avoid accidents, LED lights like these mini trees.
14 Christmas table with glass bells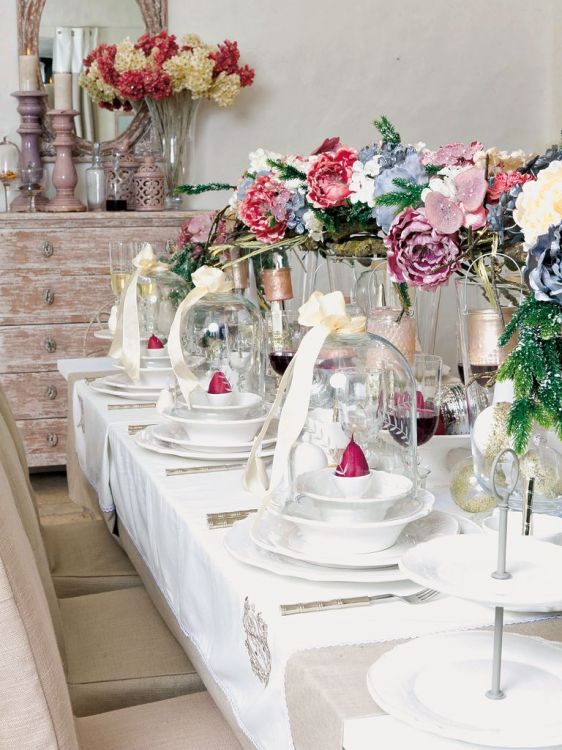 Distribute two or three tall vases along the table and place a few bouquets of flowers in them; yes, try not to mix different aromas. It uses delicate transparent glass bells to keep the consommé warm. These chocolate boxes (€13.50) are from www.portobellostreet.es
15 The Christmas table in red, the most traditional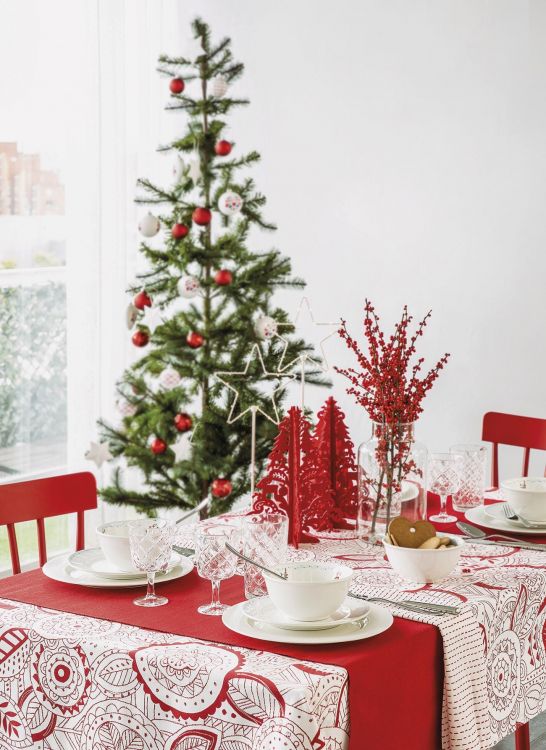 If there is a typical color of Christmas, that is red. Combine your colored tablecloths and decorations with white crockery, as in this table with pieces from Ikea's Vinterfest collection. For this decoration, bet on flower centers in reddish tones such as poinsettia or berries, like this Colvin bouquet. Gold is perfect to give an elegant touch to your tables. In order not to overload it, use it in underplates, cutlery or crockery details.
Find your style. The table has to be beautiful, practical and reflect your personality. If you want a romantic table, place a white tablecloth and crockery and decorations in pink and silver. If you prefer a rustic cut, show off your wooden table and place pieces of natural colors and DIY details on it.
16 The gala tables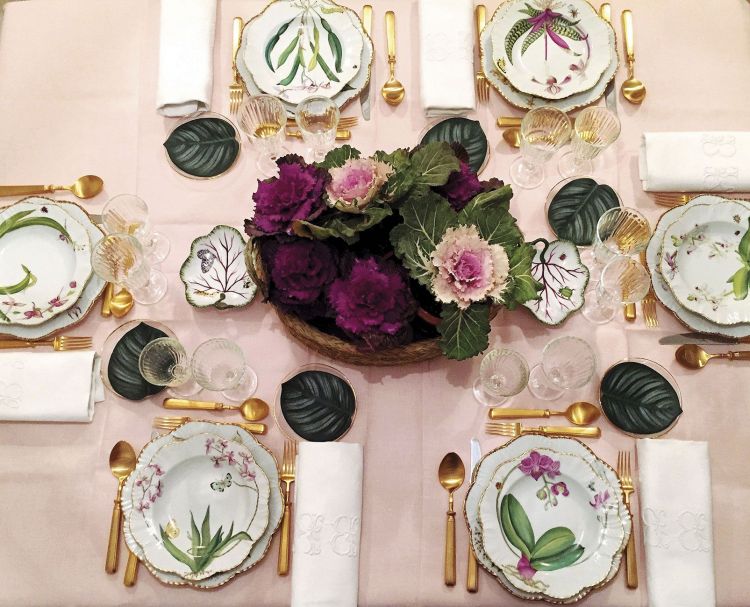 While the cold gets worse in the street, in your home a table full of exquisite sweets, sophisticated bright lights and happy faces await. Dress the table with Christmas details. For all tastes, styles and ways of being: the Christmas table is a reflection of the decoration of your home. Classic or casual, with these ideas it will be dazzling! Environment created by Beatriz Satrústegui.
17 Cold colors and hot sparks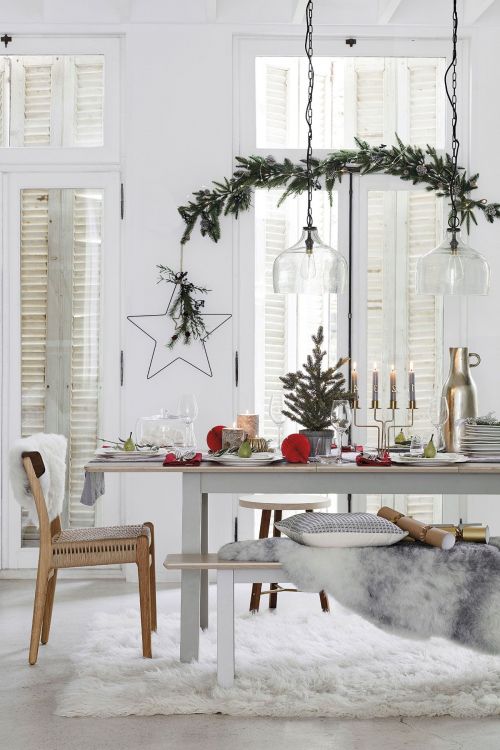 White and silver are the protagonists in a color palette that is enlivened with small details in red and with plant elements. A few scarlet balls, a few twigs of pine, etc., are enough to "warm up" the atmosphere.
An extendable table is perfect for all kinds of celebrations. And it is much more dynamic, if it is accompanied by heterogeneous seats: a wicker chair, a bench and wooden stools… How to make it super warm? With fur blankets and rugs, candles in different designs, and low and arm candlesticks: beware! Don't choose tall models so as not to hinder movement or good visibility.
The plant motif links the two lamps and adds a lot of charm.
18 Nordic Simplicity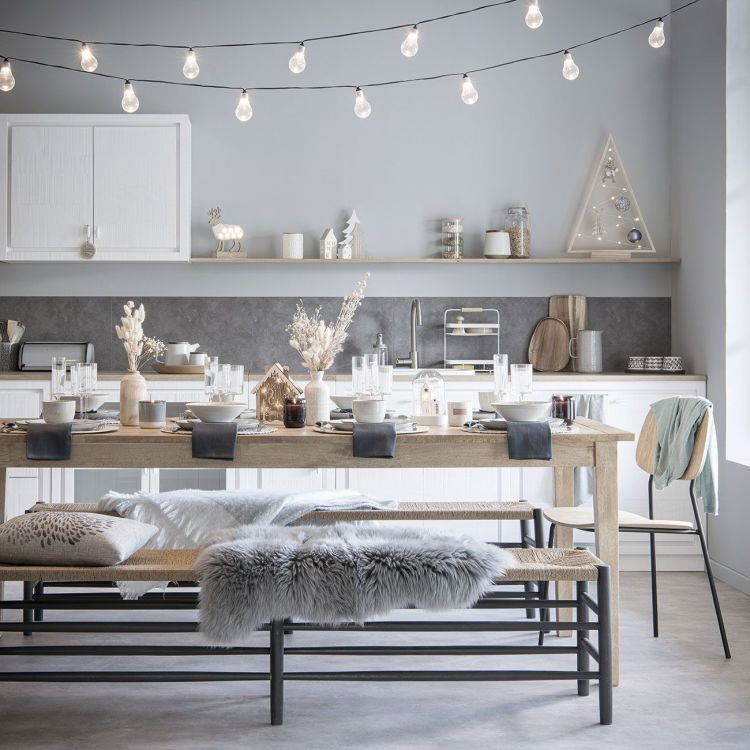 In this dining room, they have opted for little voluminous decorations and in light tones, such as small vases with bouquets of dried flowers. Small glass or ceramic candles have been distributed along the top, every two or three services, to add more intimate lighting.
If there are many of you at the table, take note of this solution from Maisons du Monde: a charming decoration, but without clutter. The benches accommodate more guests than if chairs are placed (remember, the space needed to be comfortable is 70 cm per person). Long-haired cushions or plaids make them much more fluffy. The color range in neutral tones and wood provides a great sense of calm at crowded tables.
The double garland of light bulbs puts on a fun and carefree air. Ideal.
19 Accessories and decorations for the Christmas table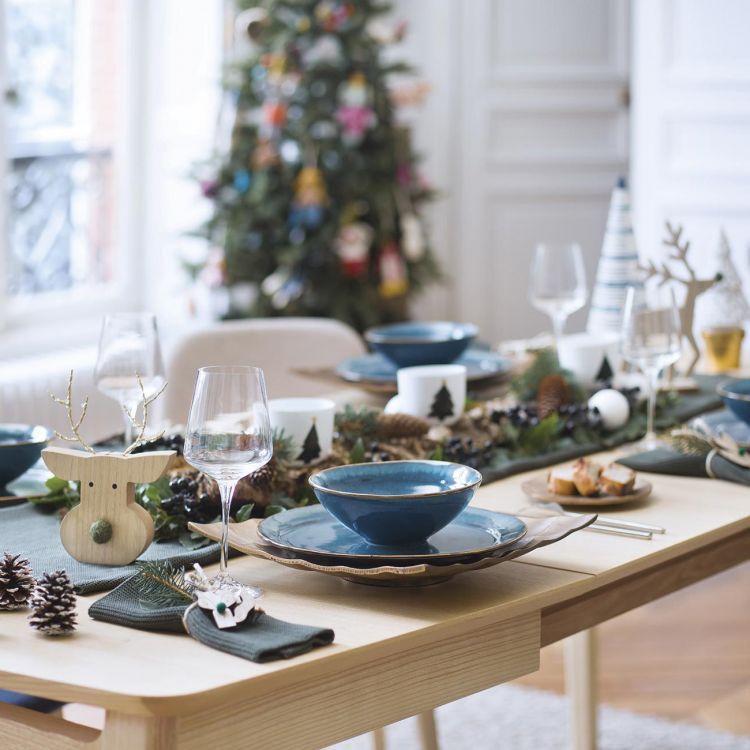 It is the small details that will give the special touch to your table. Try to place elements that do not interrupt the activity of the food or the vision of the guests. Use candles and low flowers without strong aromas, so as not to affect the taste of the dishes. Organize your guests with placeholders so that when they get to their seats, they feel surprised. Add your personal touch with pretty napkin rings. Like this Habitat proposal.
Natural elements. Take advantage of the elements that nature gives us to decorate your table economically. Use small pinecones, leaves or berries to make a centerpiece, logs as placemarks, and twigs to present guests' napkins.
20 A DIY Ornamental Branch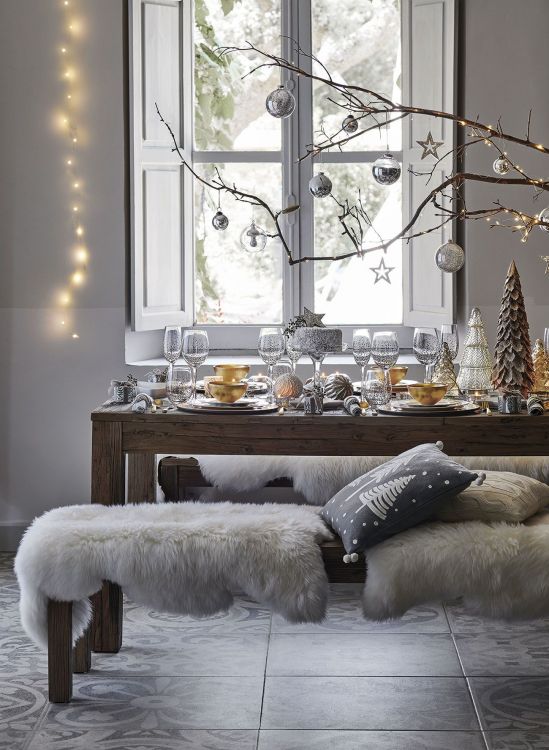 The idea is very simple to do and it is so beautiful. Instead of the traditional fir tree, a bare (and light) branch has been adorned with balls, stars and lights. You can hang it from the ceiling silk thread (fishing) or place it in a large vase.
The decoration of this dining room in silver, gold and crystal could not be more Christmassy and festive. This proposal, from El Corte Inglés, bets on a table that is baroque and super elegant… although unconventional, because the tablecloth has been dispensed with and in its place serving dishes have been placed. Some details, such as the silver balls or the ornamental pines, play to break an excessive order and add a very cool wink. Beautiful set!
Long-haired blankets and accessories are a trend this season. What are not missing!
21 Country Chic Christmas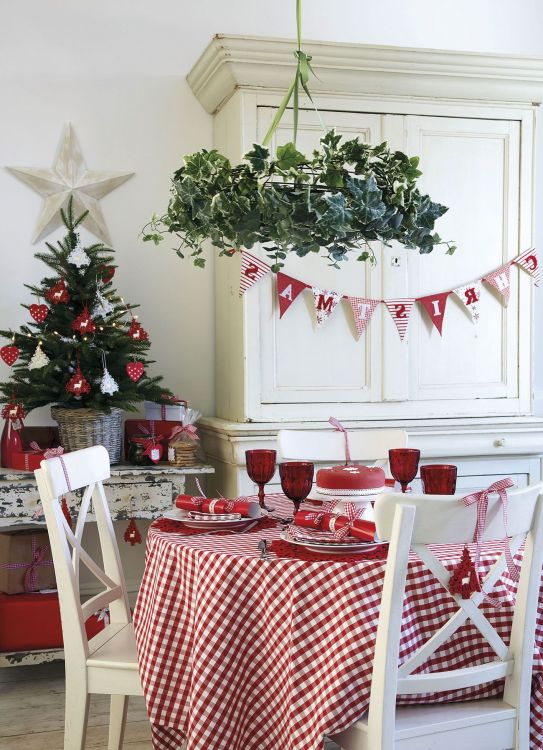 There is no better combination for the holidays than these three colors: red, white and green. An excellent example is this country-style dining room that gives off good vibes. Try a very white background, to balance, and have natural details, to refresh.
Long live red! It's fun, cheerful… and your kids love it. Prepare a Christmas table for them. The informal touch is provided by the tablecloth, but there are also other endearing decoration ideas, such as the bows on the chairs, the crochet dinner plates, the fabric pennant… And to make it more exciting, leave each child a "secret message " on a rolled up piece of cardboard, or hide a treat or toy in a bag under a napkin.
Suspended above the table, a wreath of ivy adds a romantic wink to the setting.
22 The dining room, gala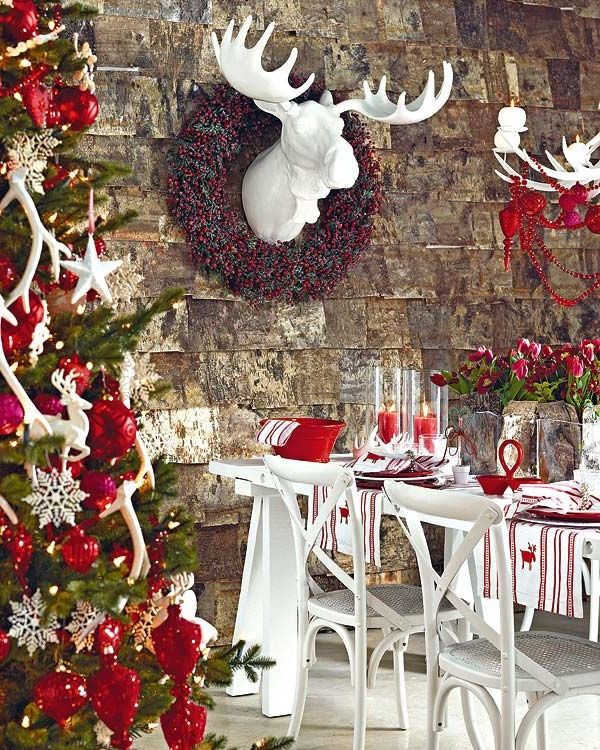 For unconditional Christmas lovers, a spectacular proposal for the dining room: with a well-decorated table, a beautiful tree and even a fake hunting trophy in plaster, a trend on the rise. The key is to limit yourself to two color ranges so as not to overload the set. Suomi table runner (€19), glass vases (from €35), red bowl (€25) and reindeer head (€449). Everything is from the Sia firm.
23 The most chic table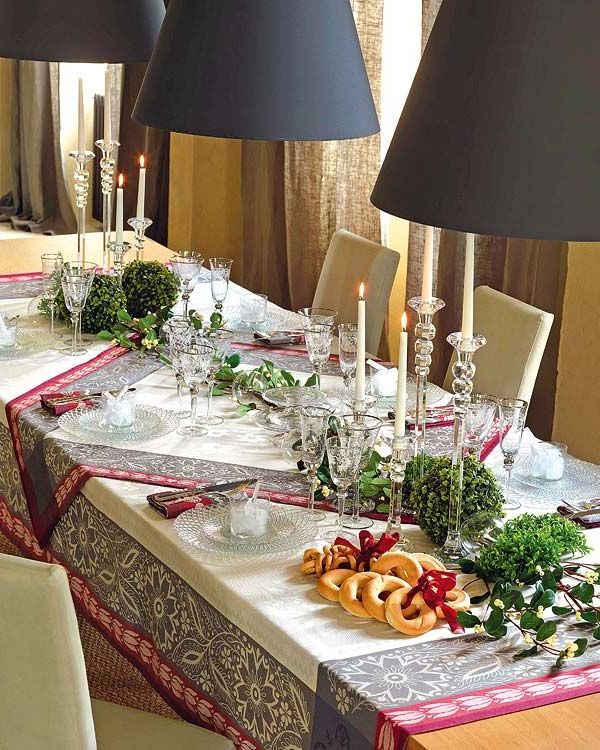 Black in decoration is currently synonymous with elegance and sobriety. Combined with glass and dark red details, the result is exquisite. Vodka color Datcha tablecloths, by Le Jacquard Français. In 1.75 x 1.75 m (€119), in 1.20 x 1.20 m (€55) and napkins (€12 each).
24 Personalize each dish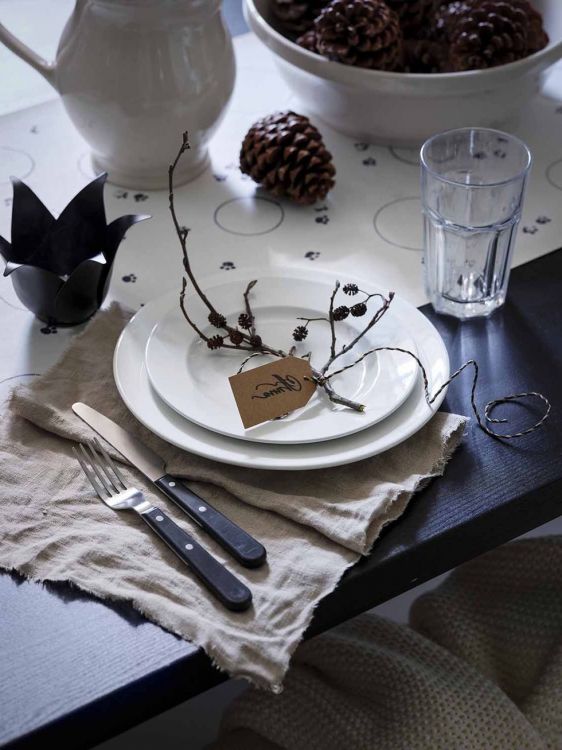 A very original way to give your Christmas table a lot of personality is to put a small sign with the name of each person on their plate. Use a branch, a bouquet of dried flowers or simplify with the help of a string.
It is an economical and very personal way to give a warmer and more distinguished touch to your table.
25 Merry Christmas Tableware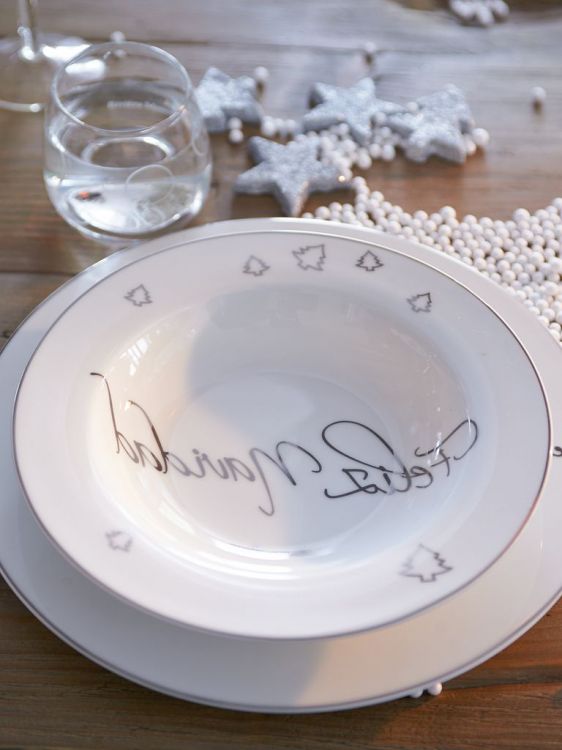 At Christmas, good wishes come to us spontaneously. And to make them clear and in writing, what better than to choose plates, glasses or napkins with a sincere engraved Christmas message. Failing this, we suggest that you personalize the captions in your own handwriting; for example, with original labels that, like coasters, will record your positive feeling. Soup dish, from Rivièra Maison (€10.95).
26 Combine colors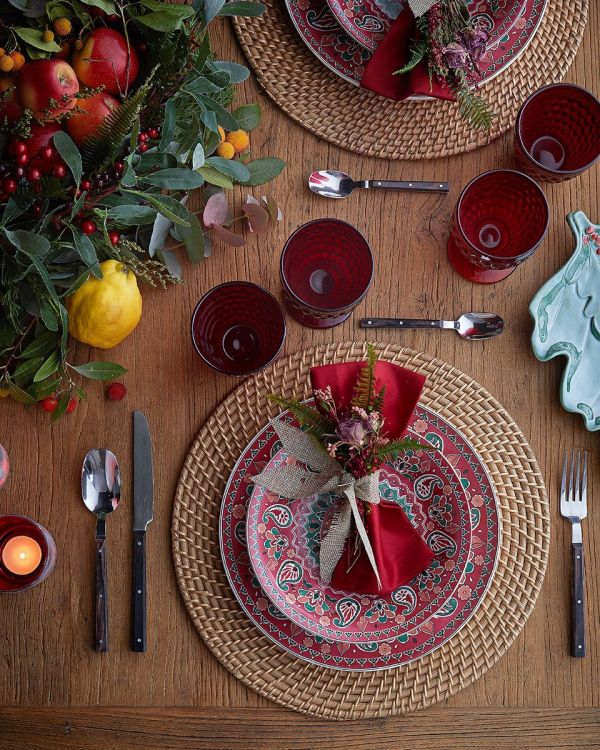 Don't you know what color should predominate on your Christmas table? Go back to the classics. This time is marked by red and its shades combined with green. Bet on these two colors and you will have a sure hit.
It is not necessary to cover the entire table, you can give it a few small touches through the decoration, the napkins or with some original glasses.
27 Set the mood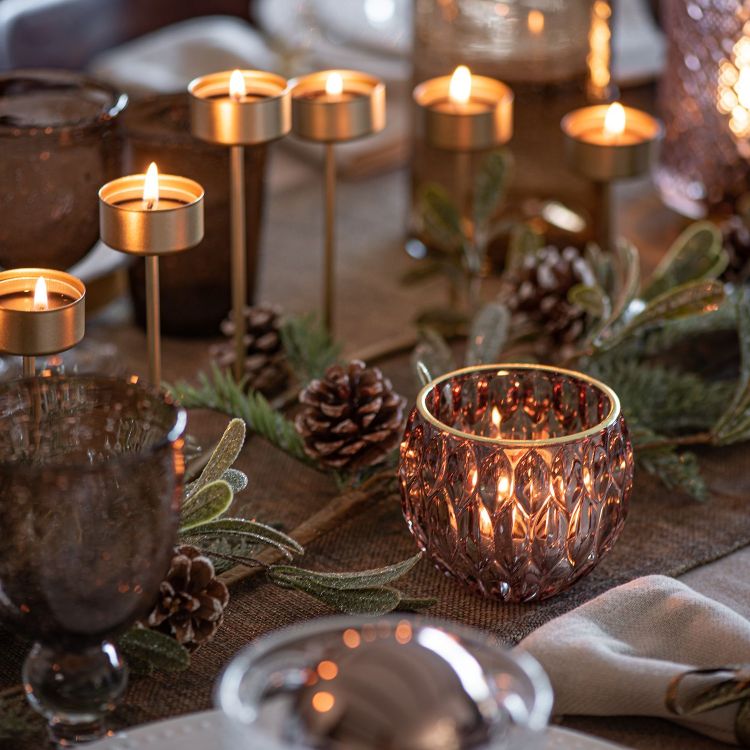 There is nothing that creates a more Christmassy atmosphere than the lighting of candles. That is why they must be fundamental in the decoration of your table this day.
If candlesticks are not your thing, you can try putting candles in glasses to make it warmer and more original.
28 Reuse decoration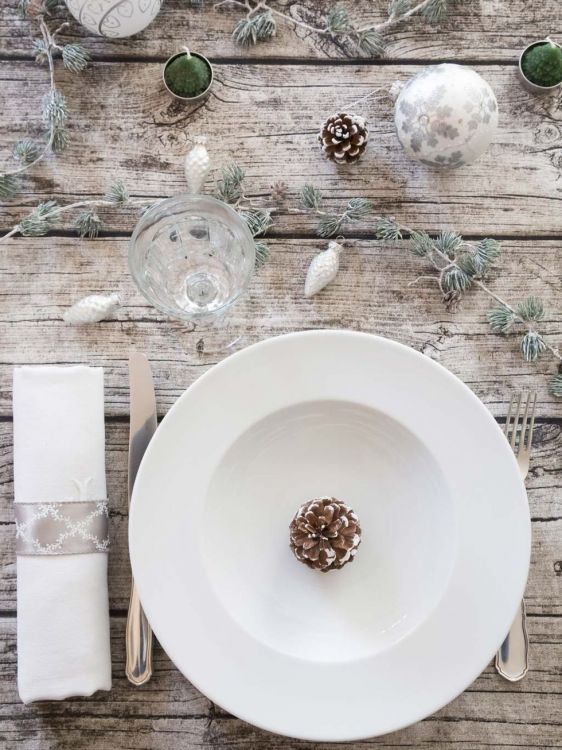 Your Christmas tree is a source of inspiration to decorate your table. Reuse the decorations you have put on the tree to create a more homey atmosphere on your table.
The pineapples, the corsages, and even the balls! They will give your table the touch you were looking for and also in the most economical way possible.
29 A touch of nature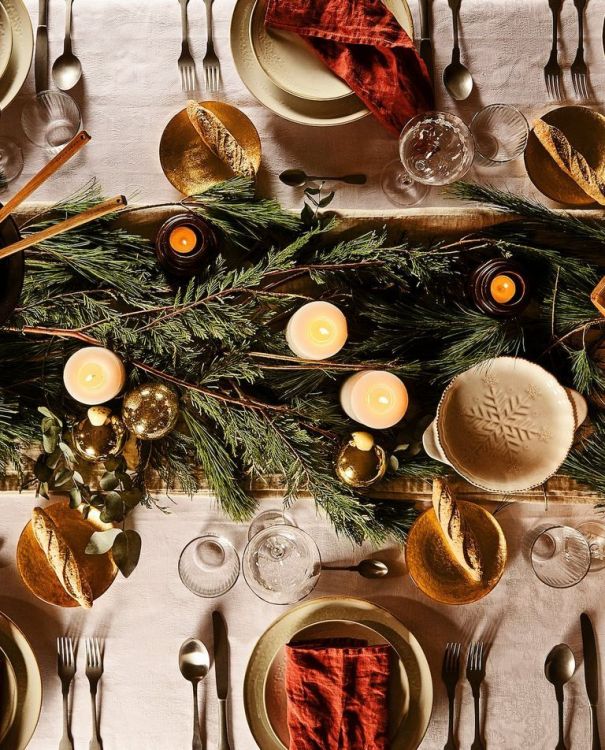 The Christmas nature is something to resort to when we want to decorate our Christmas table. A fir branch, some pine cones… In this way we ensure that our table has that warm touch that Christmas calls for and we also decorate it with great taste and style.
30 A very Christmas table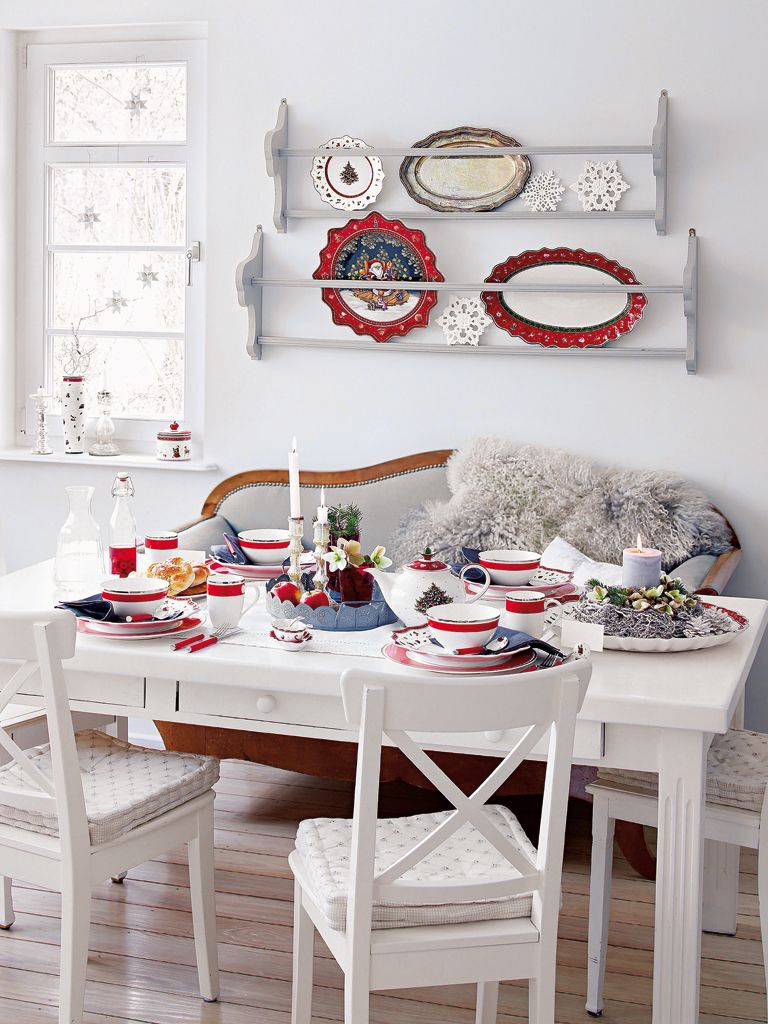 Get yourself a tableware for the occasion that you will wear both on the table and in a preferred place. Choose reds, greens and golds to brighten meals and with a careful menu you will achieve complete success. Tableware from the Anmut My Color, Toy's Delight and Toy's Fantasy collections by Villeroy & Boch.
31 Golden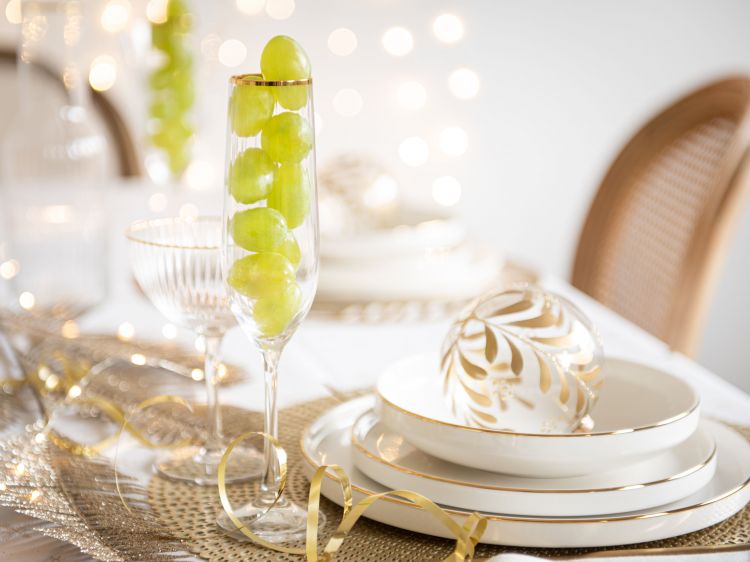 When in doubt, bet on gold. This color, in addition to being very suitable for this time of year, is capable of transforming your table. A few little touches of gold and your table will be more elegant and stylish than ever. It can be through details of the crockery or decoration, you have a lot of options to achieve it.
32 natural beauty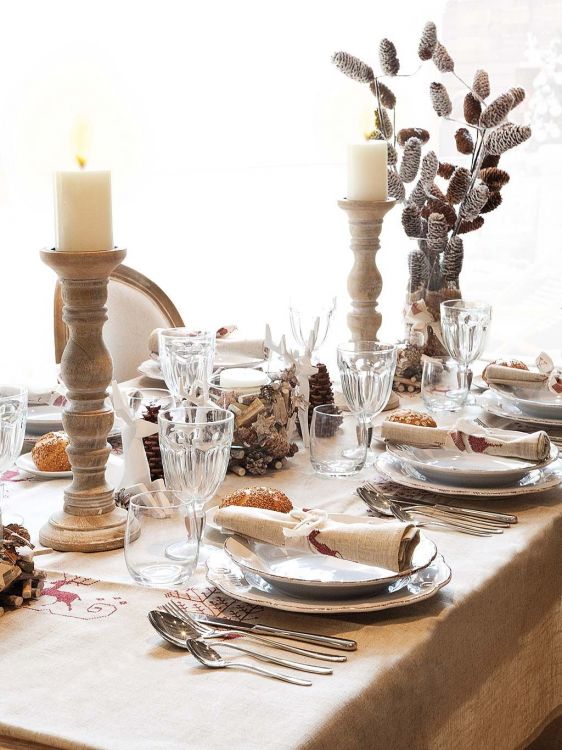 We like the serenity that this proposal conveys. A tablecloth with delicate Nordic-inspired embroidery (€45.95), transparent glassware and ceramic candle holders (€6.50 each). Glass of wine (€5.95). White Carol plates (€3.50 each). Cutlery (€24.95). From House Alive.
33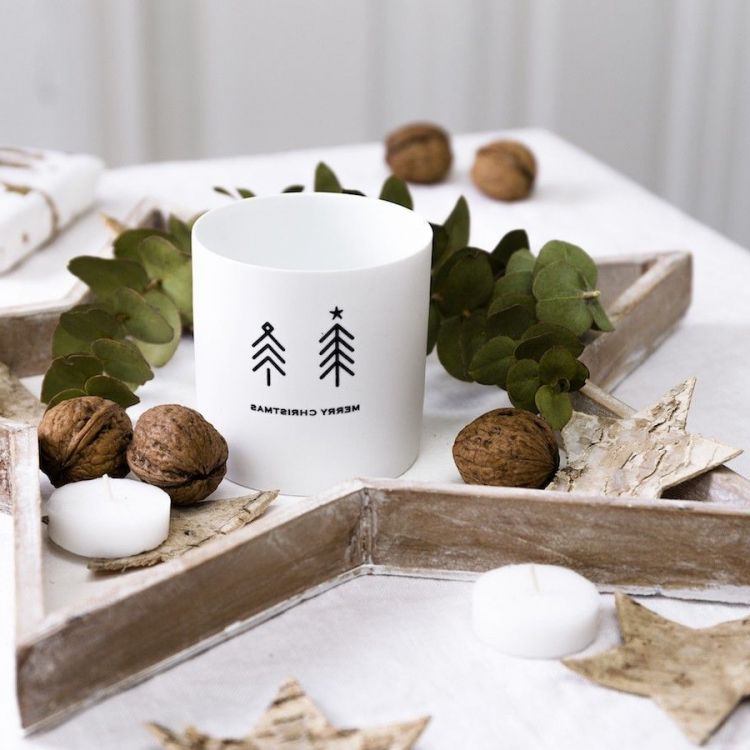 Give the necessary importance to the centerpiece. You can create yours from various scraps that you have left over from the Christmas decorations, a little natural decoration with some pine cones or nuts, some candles… And you will have your centerpiece.
Get inspired by these centerpieces for Christmas.
34 Tables with nature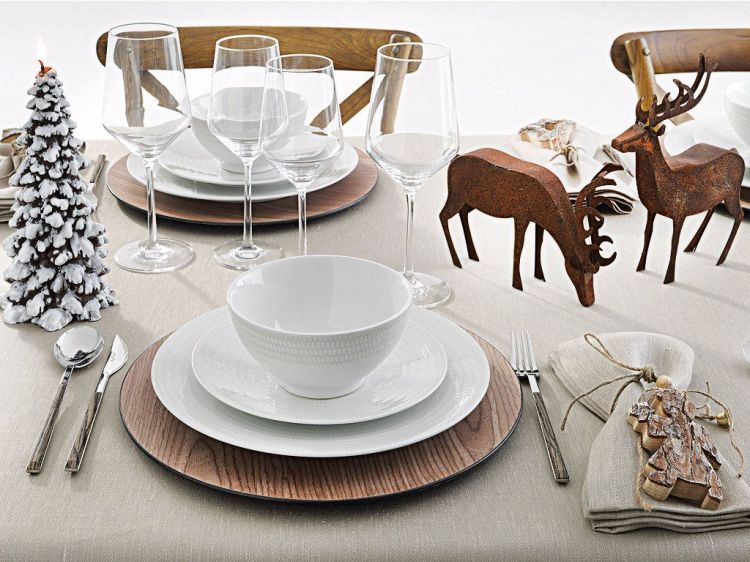 The brown tones and wooden elements are perfect if you want to give a natural touch to the decoration of your table. Introduce a bit of forest in decorative elements, cutlery, underplates…
35 silver tables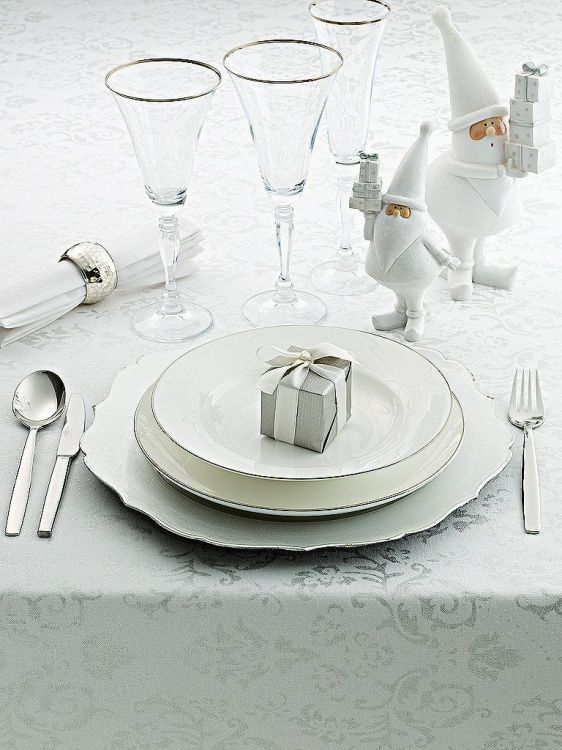 Bright and charming. The silver tones mixed with white make the perfect combination and give your table a very Christmassy touch.
36 Gray is synonymous with elegance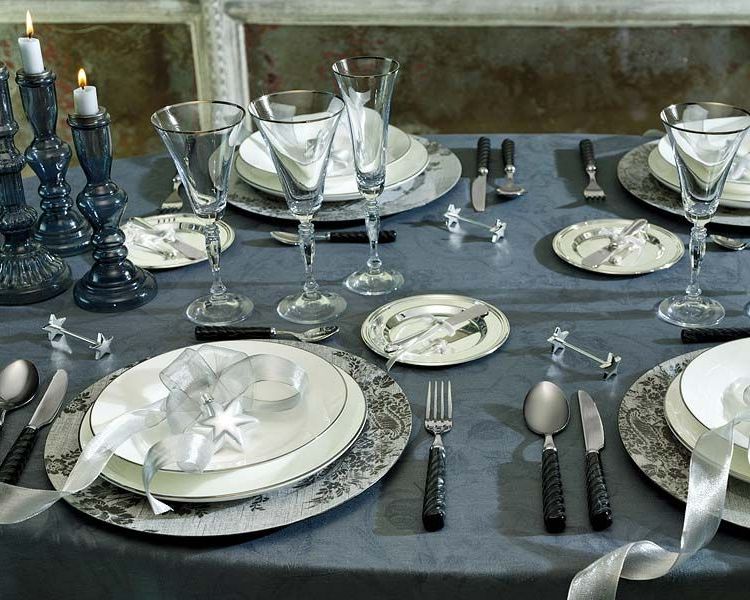 On the damask tablecloth, the printed underplates contrast with the white crockery, finished off with a delicate silver edge. The bread plates, located to the left of the glasses, put the final touch on a current and sophisticated table. Everything, from El Corte Inglés.
37 Golden Dining Rooms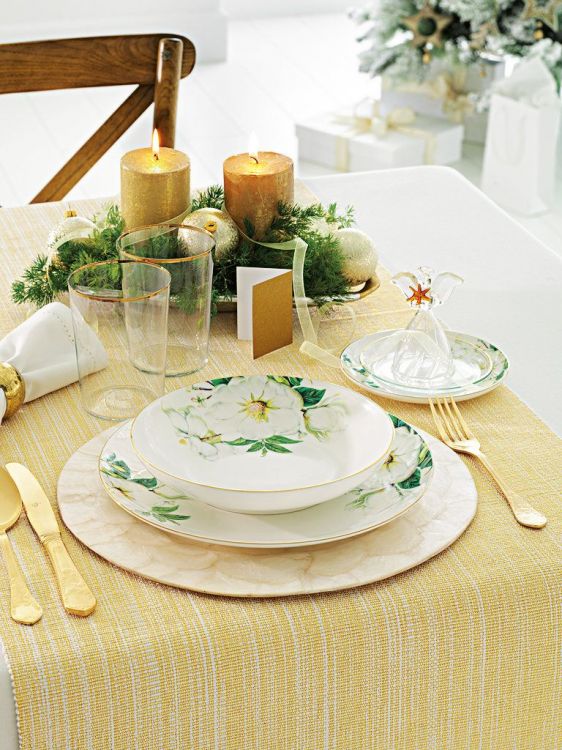 With a chic touch, the gold tables gain in elegance. They go very well with white crockery, and if you introduce a plant motif such as pine needles or a flower center, it will be very fresh and natural.
38 A rustic and artisan touch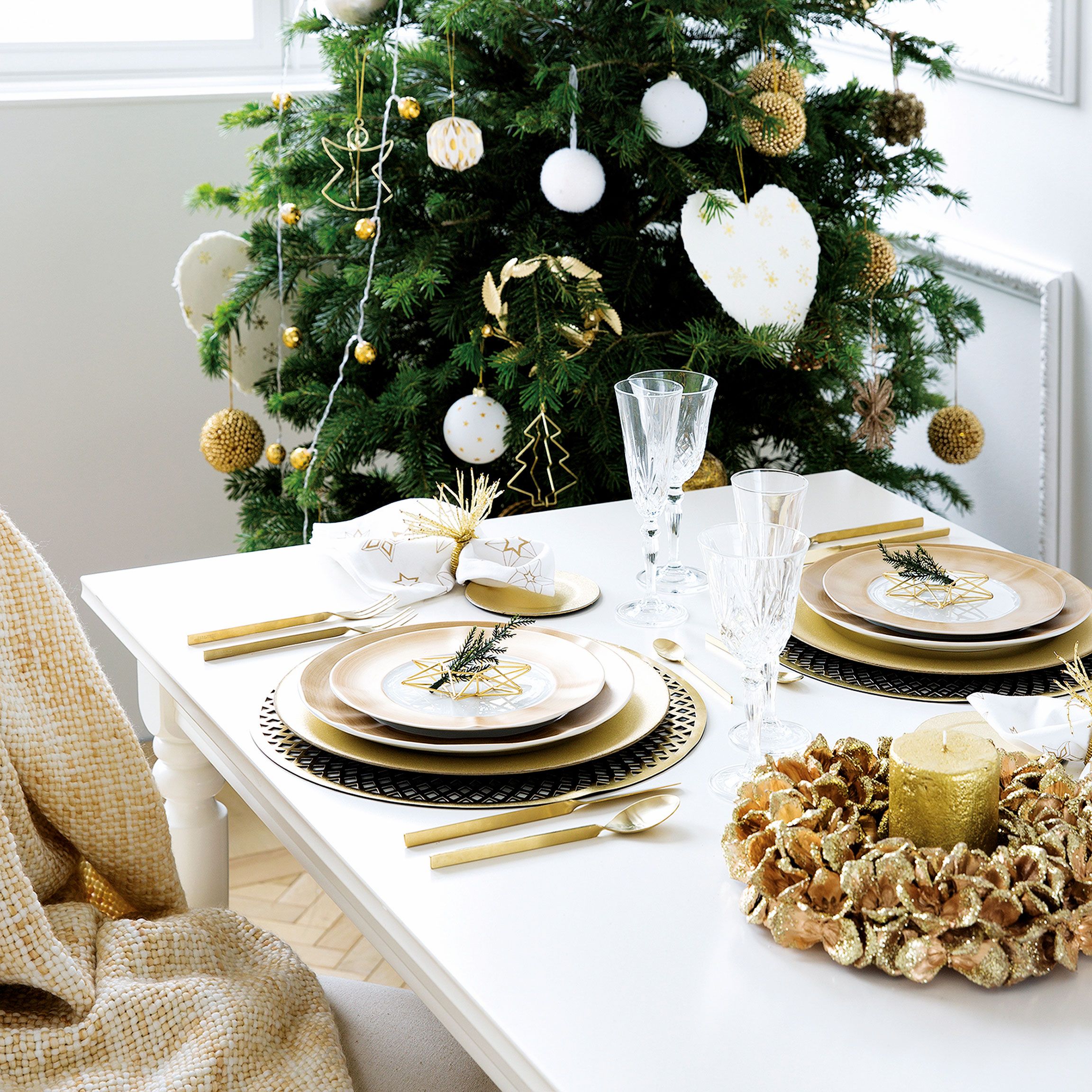 If you like naturalness without additives, this is your Christmas table: handcrafted and rough textures like linen that naturally accommodate crockery with a lot of personality and reliefs of floral essences. Choose glassware that reminds you of the one your grandparents had, with basic shapes, transparent and that lasted several generations. The festive touch, in the cutlery and decorations with touches of gold and silver.
To add that natural touch you can add elements fresh from nature, such as branches, pineapples or berries. And don't forget to put a touch of light that reinforces that warm aspect with gold candlesticks or candles. The result is a warm and welcoming atmosphere characterized by soft colors and discreet metallic sheens. A natural Christmas to enjoy as a family while you share the most endearing and affectionate sensations.
39 Elegance at the table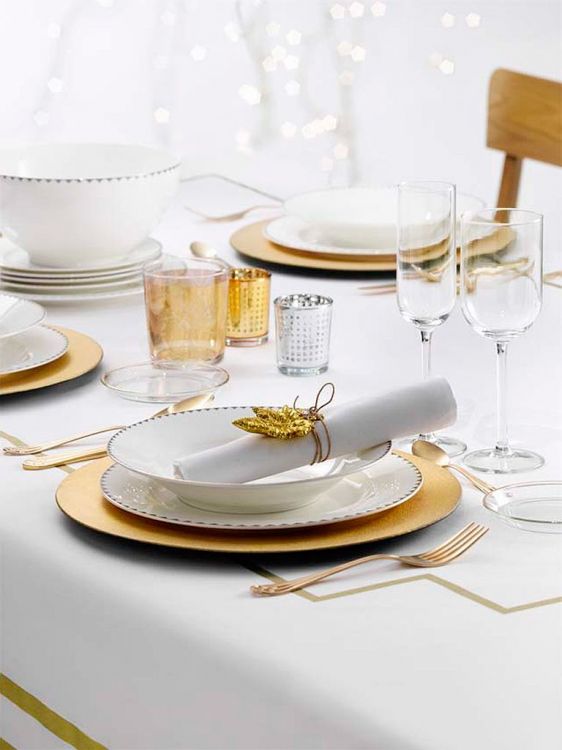 Illuminate your dishes with colors that shine on the table and use a completely white tablecloth as a canvas. Pictured: Marco tablecloth with gold trim (from €39.95), white linen napkins (€9.95/4pack), Goldengrey crockery (from €6.95). Everything from El Corte Inglés.
40 full color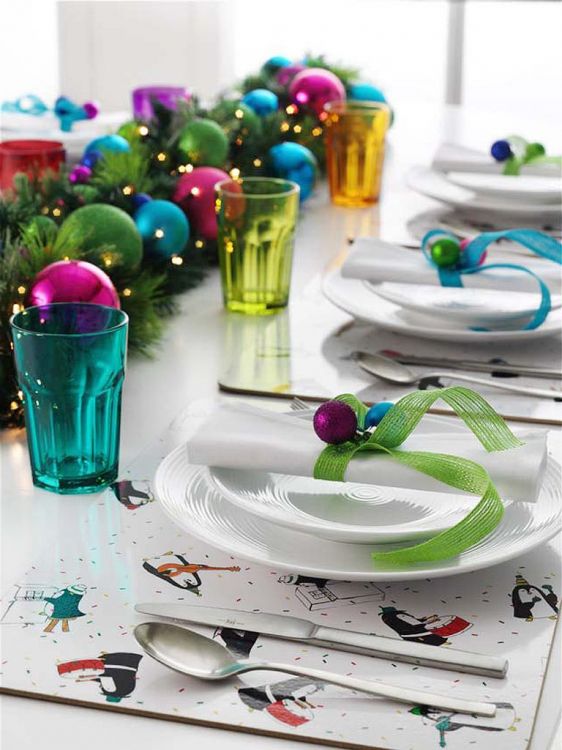 If you are going to spend this Christmas with your nephews, little cousins, grandchildren… make them part of the table decoration and add color, they love it and it can be a very fun table.
In the photo: multicolored penguin placemat (€4.95), white linen napkins (€9.95/pack of 4), blue glass cup (€1.75). Everything from El Corte Inglés.
41 Scottish Style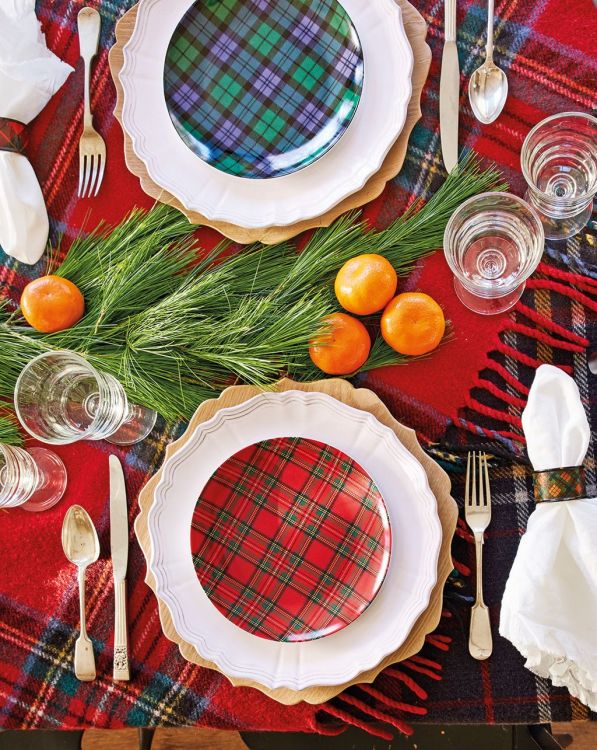 Red and green are the quintessential Christmas colors and betting on them is synonymous with success. On this occasion, the table has been dressed with two superimposed Scottish plaid tablecloths, very much in the tartan style. Wooden underplate and white and deep checkered plates.
42 retro air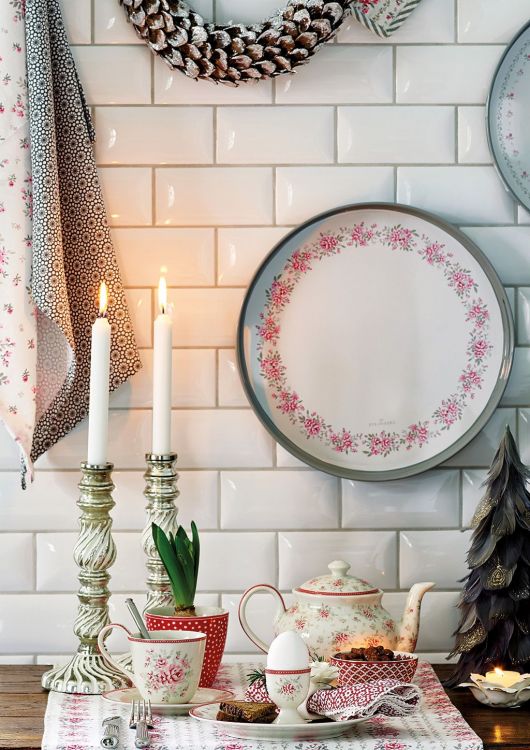 On key dates, such as Christmas Eve or New Year's Eve, you eat late and stay up more, so it is normal that the next day you do not have as much appetite. Preparing a strong breakfast or brunch is a great idea. Take out for the occasion that inherited crockery that will make you remember the Christmases of your childhood, when the whole family got together at grandma's house. It will be even more charming if you celebrate this gastronomic meeting in the office, without moving from the kitchen. From Greengate: teapot (€51); cup with saucer (€21.90) and egg cup (€5.90), from the Floral Vintage collection. Judy medium bowl (€10.90) and Dot plant glass (€13.90).
43 A Christmas for sweet tooth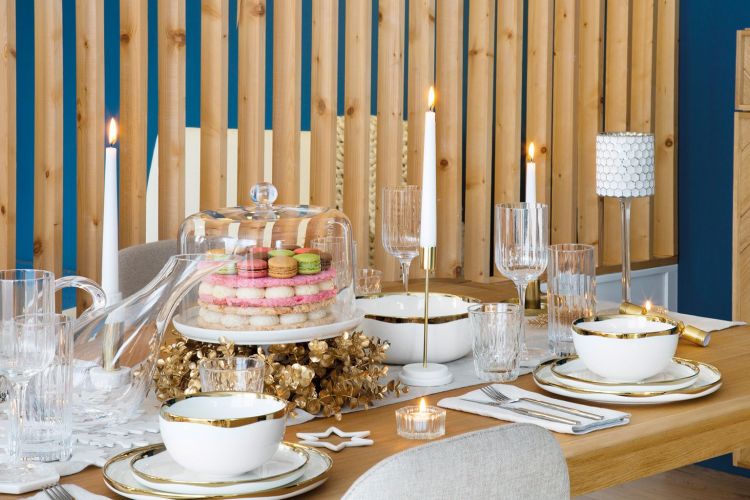 There are dining tables that are worth admiring. If this is your case, dress it with a plain table runner, white crockery and simple glassware so as not to detract from its prominence. Decorate the center of the table with candles and a cake holder decorated at its base and full of colorful macarons. From Habitat: Line table runner (€12.90), Marylin porcelain tableware (from €9.90/piece) and Merlin glasses (from €7.50 each).
44 A table with a star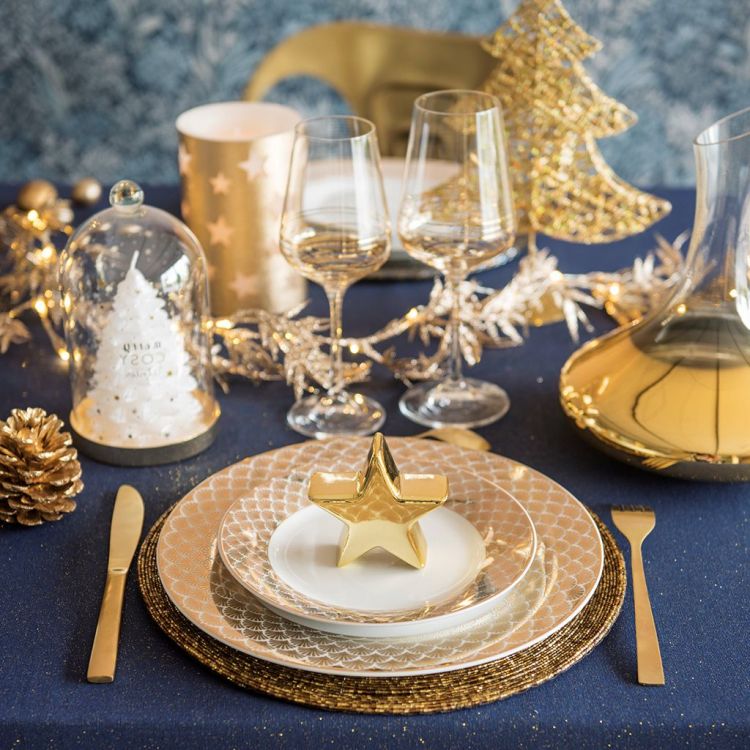 Do you want your table decoration to be simply brilliant? Choose gold and bring it to the table in crockery, glassware and decoration with glittering fir trees, pine cones, stars and luminous garlands. To enhance it even more, present it on an indigo blue tablecloth, as if it were the starry sky itself. A perfect proposal to receive the new year in style. From the Deep blue collection by Maisons du Monde: Notte glitter tablecloth (€49.99/130 x 250 cm); Art Decó porcelain plates (from €13.18/2); tree figure (€5.99); ceramic star (€4.99) and gold matte effect cutlery (€59.99/24 pieces).
45 So chic!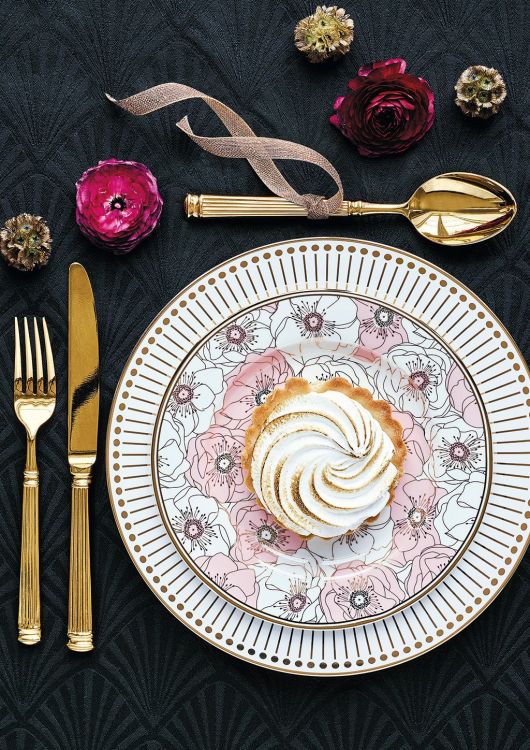 Give your table that sophisticated touch only suitable for special occasions. Try a plain dark tablecloth, matching crockery that breaks the uniformity, and gold cutlery with a shiny finish. From the Greengate firm: Dawn gold motif plate (€23), floral dinner plate (€28.75) and gold cutlery set (€71/4 pieces).
46 Special Preparations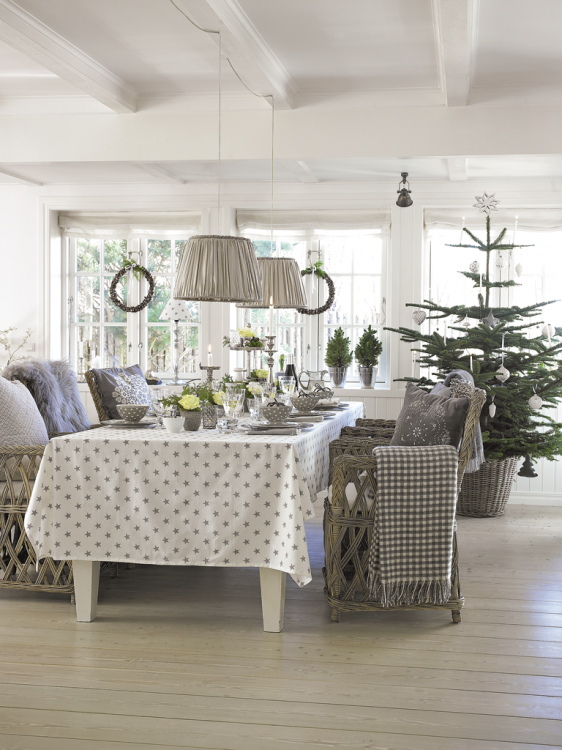 Take out the linen table linen a few days before to check that it is impeccable. Go over the cutlery, prepare the crockery for big occasions and the glassware. Decorate the center of the table with a path of delicate candle holders and small plants.
Star tablecloth (€63), glass cup (€12/1), Star ceramic bowl (€20/1) and candlesticks (€41 and €52, depending on size). All from Greengate.
47 Nordic Christmas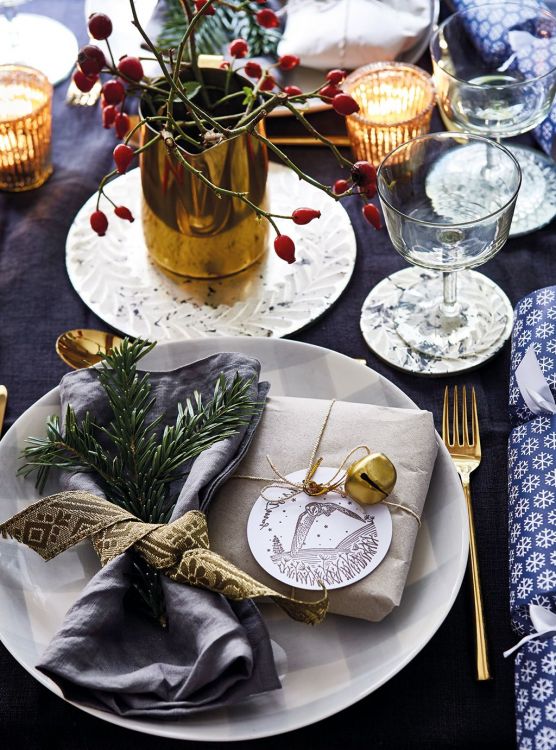 Blue and gray make a good color match also on the table. Keep this in mind because this holiday season the frozen style is here to stay. In this case, to raise the decorative level, it has been decided to reinforce the accessories, such as the cutlery and the candle holders, in gold. The very elegant napkin rings are made with trimmings. For decoration, choose simple centerpieces based on small compositions of holly in low vases or sprigs of fir on the plate.
48 Unique Composition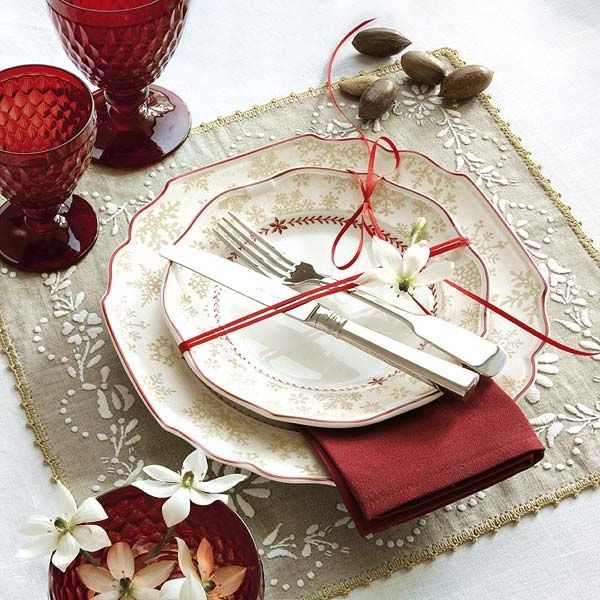 Create a delicate atmosphere with embroidered place mats and fine china. Coordinated with the motifs of the crockery, the napkin, held between the plates, the glassware and a fine cord to tie the cutlery to the deep plate. crockery, glassware and cutlery; all from Villeroy & Bosch.
49 Dinner Buffet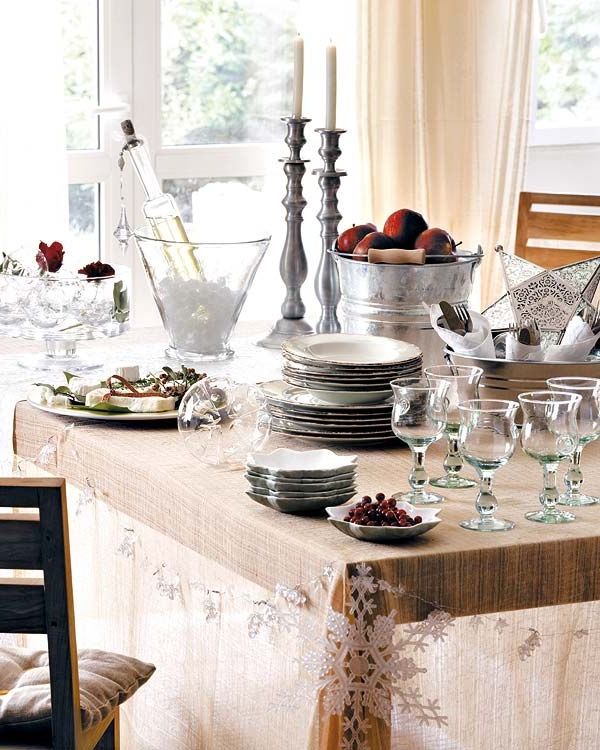 If you want to give a more informal air to the evening, opt for a buffet where everyone helps themselves freely. Cover the table with a light and airy tablecloth and enrich it with garlands sewn into the fabric. Place the kitchenware and some decorations that give it character, such as silver candlesticks. You can introduce some original detail, such as a zinc cube to present the fruit or a large glass vase as a champagne bucket. Zinc cube, from Verdecora. Vase, from Los Peñotes.
50 A welcome gift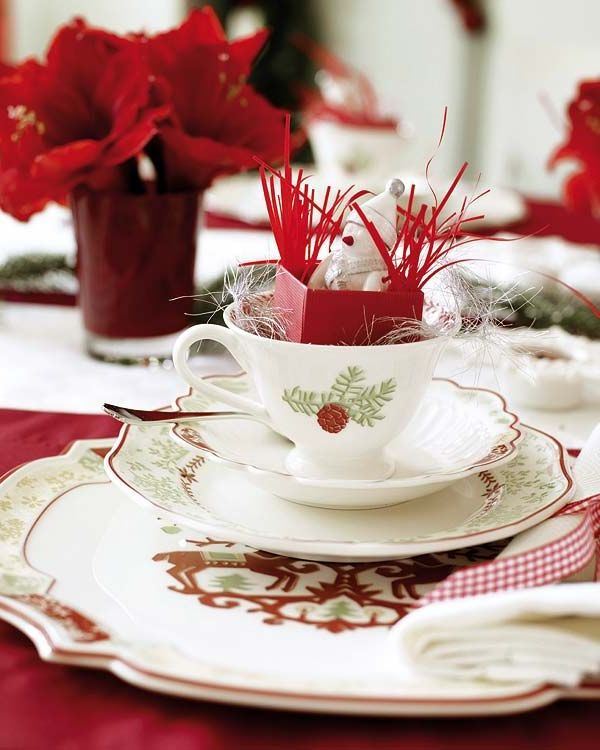 Place a small funny detail in each guest's position, present it in a small box or wrapped in cellophane, in a color that coordinates with the decoration of the table. You will create a festive atmosphere and everyone will be delighted with their little gift; even better if it is designed for each one and refers to their tastes and hobbies. In the photo, the crockery is the My Winter model, from the firm Villeroy & Bosch.
51 An elegant and original Christmas table
An original proposal, which sets the trend and the choice of accessories for a festive dinner. It has been made with Catamaran Marina Dark fabric, by Osborne & Little.
52 A stylist's table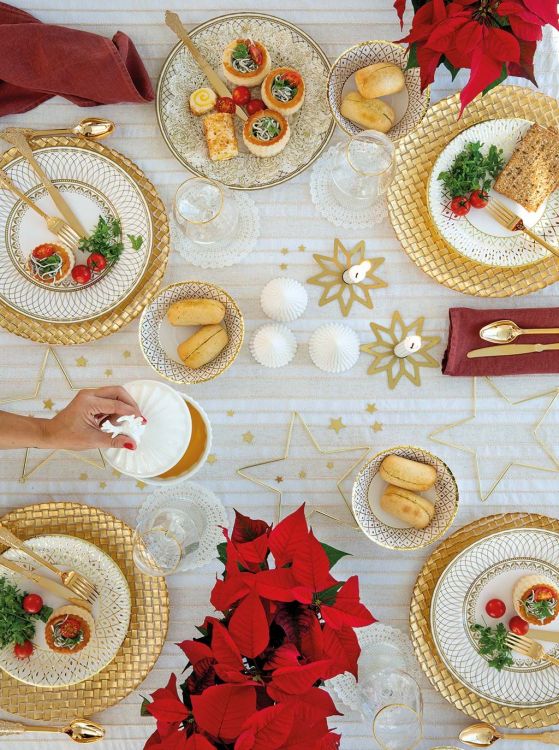 The pieces that have been used in this table are: From Blaubloom: paper plates with gold trim (€5.20/8 pieces); doilies of different sizes (€4.50/24); paper bowls (€4.50/12); single-use cutlery (€8.30/18); ceramic jar with a deer head (€22.80); metal stars (€6.40 each); white trees with light (€10.40 each); confetti in the shape of stars (€4.50) and candle holders (€5.10 each). The white Jubla candles are from Ikea (€5/20). From Zara Home: cotton tablecloth (€25.99); Foil serving plate (€12.99); glass cups (€5.99 each) and red linen napkins (€9.99/2 units). The Easter flowers are from Viveros Shangai (€4 each).

Production and styling: Pilar Perea.
53 A Christmas table decorated in silver and transparencies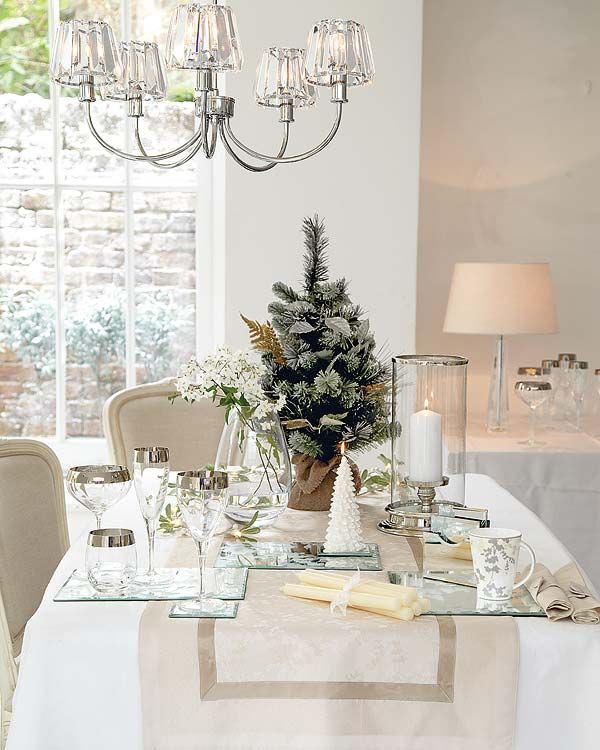 Take a look at these rectangular underplates and the matching coasters. Mirrored and decorated with flowers, they are the perfect base to enhance the patterned mug and silver-rimmed glassware. The glass vase and candle holder add an even more ethereal air to the table. Everything, from the firm Laura Ashley (Tel.: 941 587 676 www.lauraashley.es ).
54 A table naturally decorated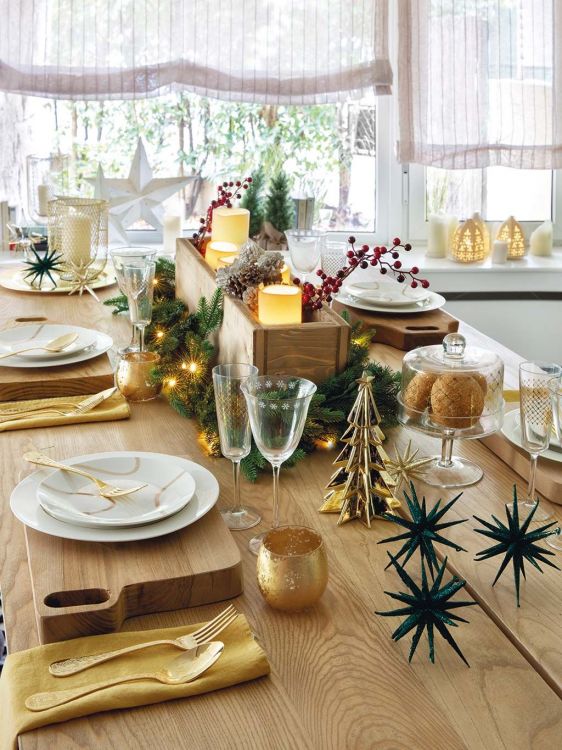 We like this original version of the Christmas table. The boards – yes, they are for the kitchen – have been transformed into underplates, and form an attractive trio with the crockery and cutlery. The wooden center is embellished with candles and garlands inspired by nature. But the golden touches leave no doubt: we are partying!
55 red and white tables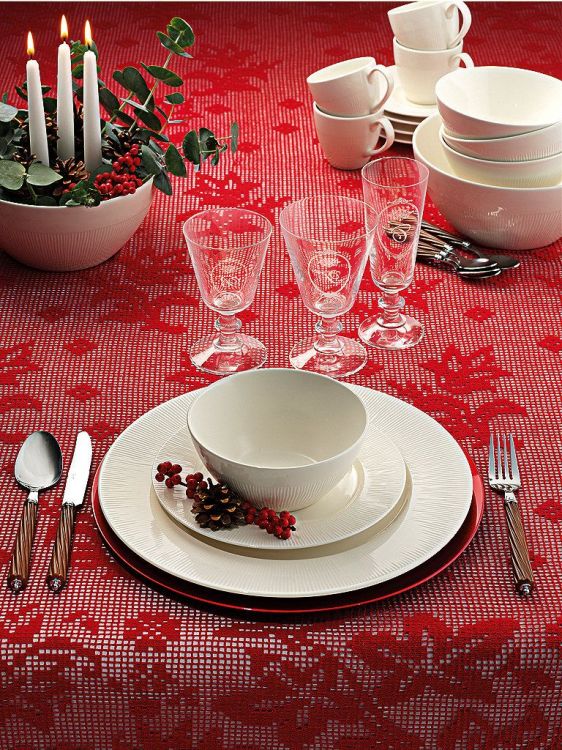 Elegant, classic and stylish. Valentino red is perfect for giving that Christmas atmosphere to your table. Combine it with a small plate, white candles to give a romantic touch and some crystal glasses.
56 Classic Red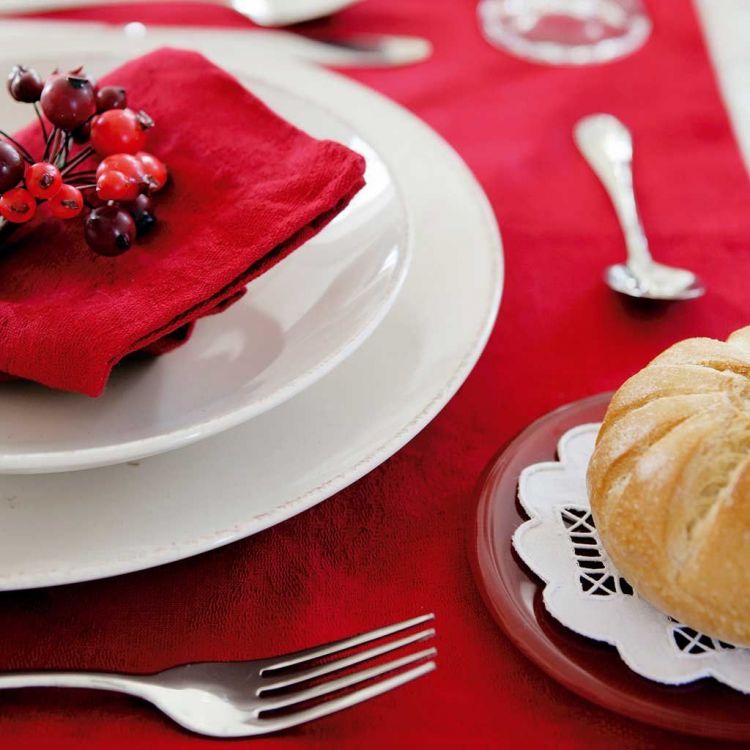 Intense red and serene white form the perfect combination for your party tables. This decoration is perfect to lovingly wrap an endearing night in a traditional atmosphere. The tablecloth, napkins and the most festive decorations are dyed red to contrast with radiant white porcelain tableware, and cutlery and glassware with a more classic touch. You can add light to your table with candles that seem straight from nature. You just have to choose your combination and add your personal touch to this traditional Christmas table.
57 Christmas at your table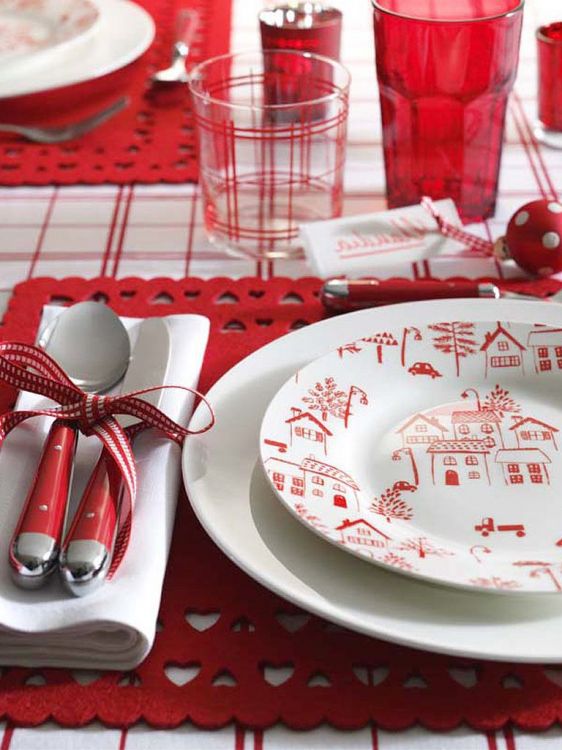 The traditional Christmas colors visit your table accompanied by Nordic touches and soft textures.
On the Country checkered tablecloth (from €29.95), Heart felt placemat (€2.99) and Square water glass (€1.95). Everything from El Corte Inglés.
58 Reds and whites, a basic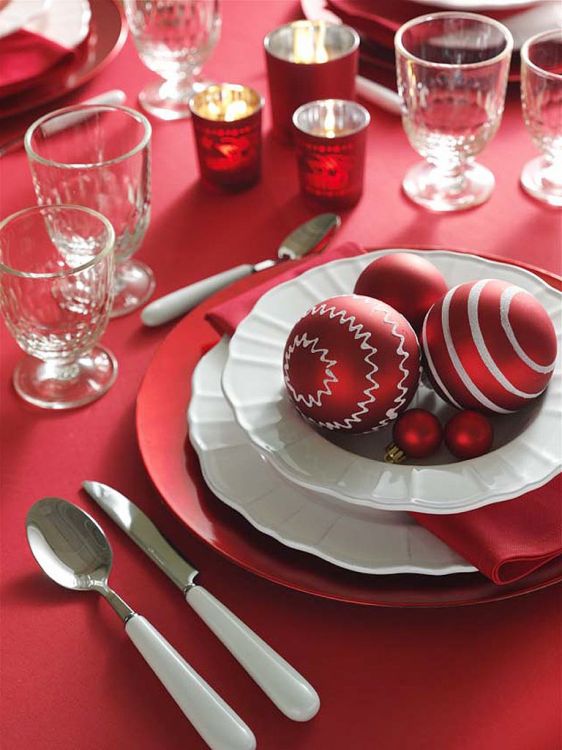 Highlight your crockery, cutlery, glasses and decorations, on a red tablecloth to give that Christmas warmth.
Middle tablecloth (from €19.95), La Rochere Artoise water glass (€5.95), Romantic earthenware (from €2.95) and Kent cutlery with white handles (€1.95 /Unit). Everything from El Corte Inglés.
59 A Breakfast Party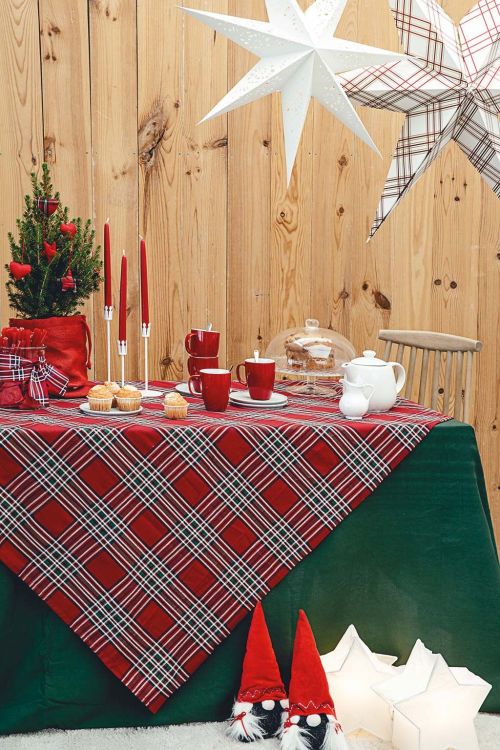 Choose a plain fabric tablecloth in one piece to the floor, but without the risk of being stepped on by diners, and on top, another shorter one that stands out for contrasting color or for a pattern in keeping with the dates, as in this table with textiles and household items from Ikea. If your table is especially pretty, don't cover it with an entire tablecloth, opt for pretty runners or multiple placemats. Ideal!
Chromatic games. Do you want an elegant and distinguished table? Choose a white tablecloth or in neutral tones. For a more traditional Christmas, combine reds and greens, like in this Ikea table. Use the tartan print and you will create a very cozy atmosphere. For New Year's Eve and dinners with friends, dare with less common colors, such as indigo blue or gray. All from Ikea.
60 black and red tables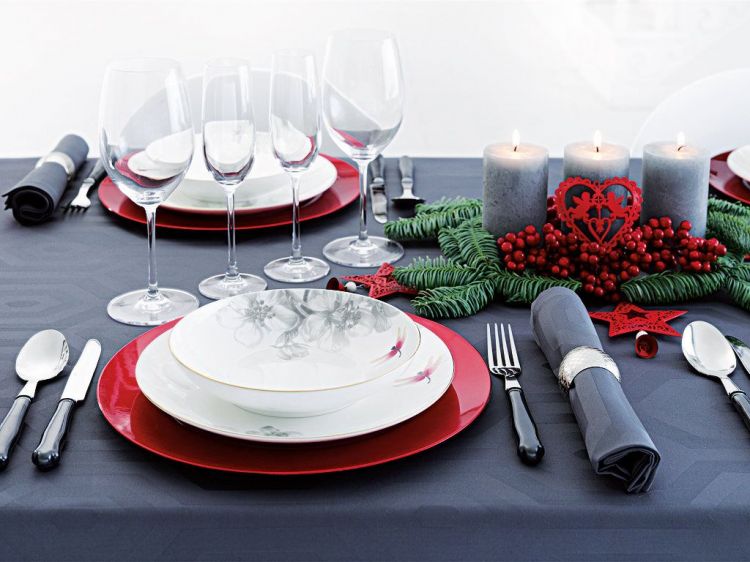 Although it may seem a bit dull and serious, black combined with red creates a different effect. The good thing is that you can put white tableware, silver napkin rings, decorations with natural leaves…
61 New Year's table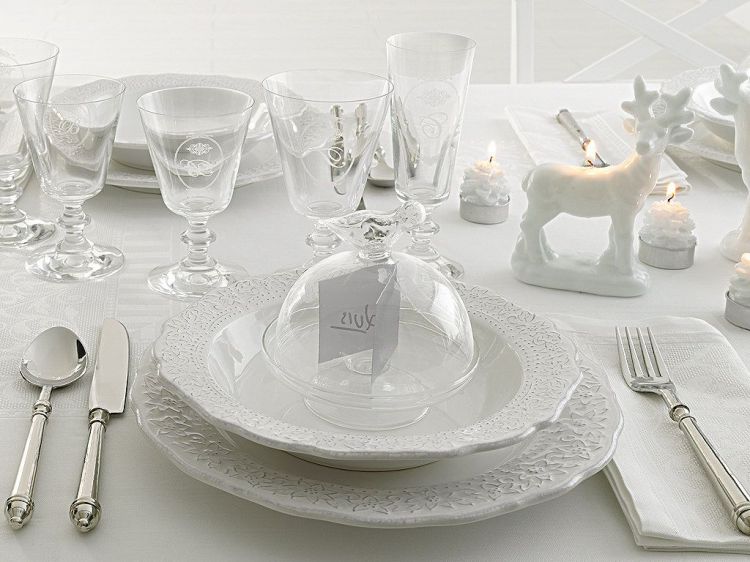 End the year with a dinner with family and friends with a beautiful and special table. Mix gold and silver decorations with white linens and glassware to add a more elegant touch to your tables.
62 A Christmas Meal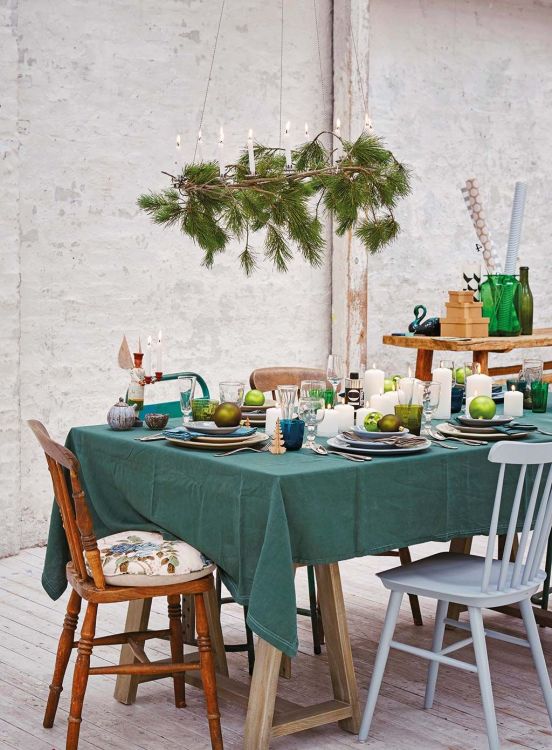 All the elements that are on the table must harmonize with each other and with the rest of the decoration of the room, in addition to not being annoying for the diners. Place objects of low height and volume, so as not to hinder the vision or the conversation between the guests. If you put flowers or candles, choose those that do not give off much smell, since when eating, in addition to the sense of taste, smell is also used and could make it difficult to taste the dishes.
Enlightened. It is important that the table is well lit, to see what is eaten well, distinguish colors and textures. The most appropriate, a direct light through hanging lamps with screens that filter the light, to avoid possible glare. Reconcile this light with candles that provide warmth, shelter and transmit comfort.
63 In red and green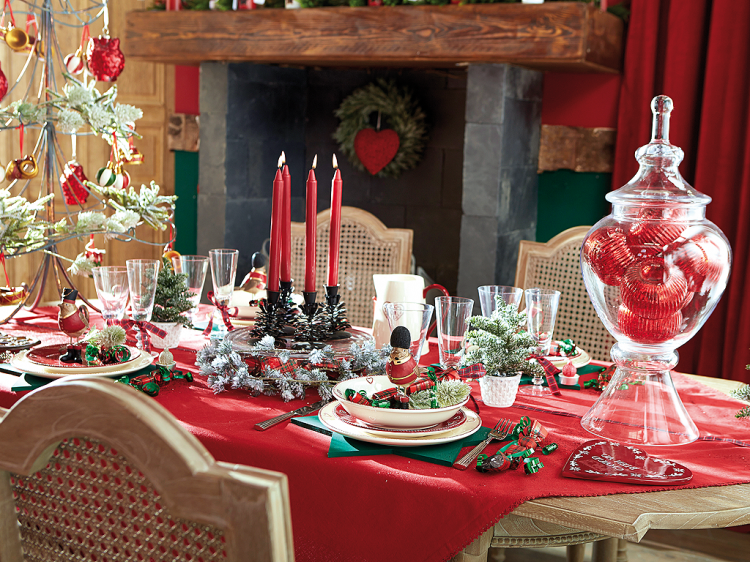 They are the classic colors of Christmas, capable of brightening up any table. Combine them in textiles and accessories accompanied by natural plants, such as mistletoe, holly, mini fir trees and dried pineapples. Red cotton tablecloth (€49.75); glass candy box (€44.50); pineapple-shaped candlesticks (€7.85 each) and wrought iron fir (€118). Everything from www.portobellostreet.es
64 Snacks with a lot of style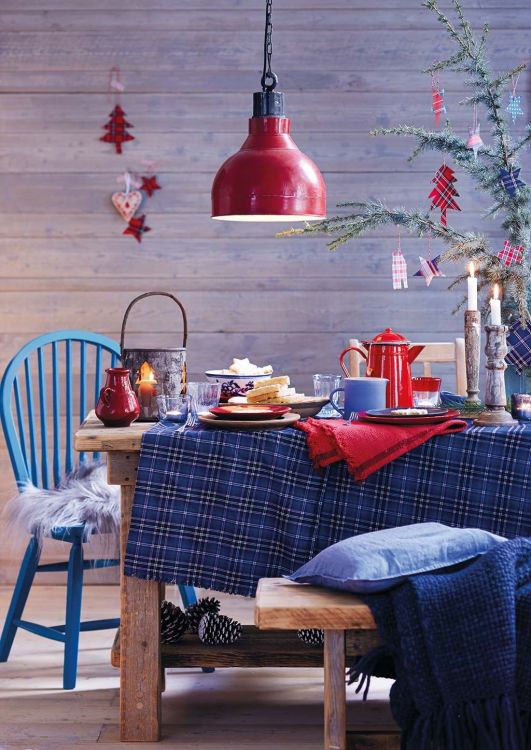 The Christmas table must be beautiful, practical, reflect your personality and be in line with the rest of the decoration in your home. If you like vintage with romantic touches, put white tablecloths with brocades and glassware and crockery with silver touches. For a more rustic look, show off your wooden table and put only paths, use natural colors and DIY decorations.
If the bohemian style reigns in your home, use red, green and white tones and mix different tableware. Any time. Not only at big dinners and lunches, but also at snacks and even breakfasts. On these occasions look for more informal looks, with unique details that give glamor to the table. If there are children, fill the table with color, stain-resistant tablecloths, melamine crockery and trays full of sweets and treats. You will succeed!
65 Christmas dinner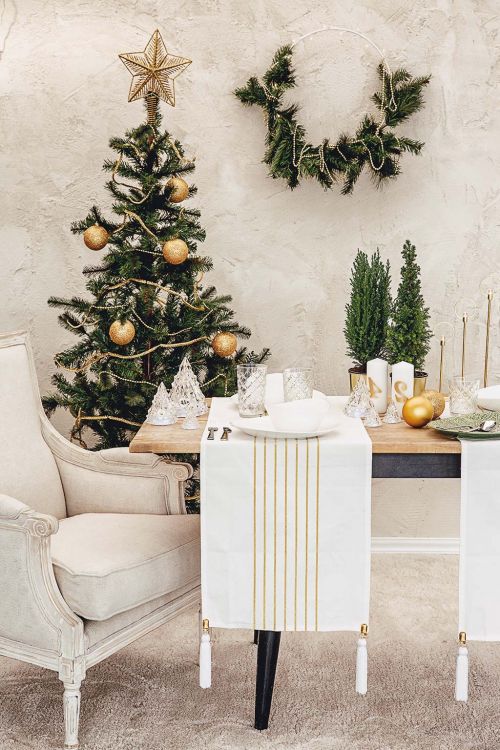 In your gala table you cannot miss crockery, glasses and cutlery adapted to the menu that you are going to serve. Place a glass of water, a glass of red wine and a glass of white wine on top, separated about 2-3 cm from the plates to the right side. The champagne, to the right of the rest of the glasses. The crockery, the flat plate first and, on it, the rest. To his right, spoon and knife; on the left, the forks, and the dessert forks on top of the plate.
Dazzle your guests. Impress your guests with a refined and bright table. Combine the glassware with small pieces of glass decoration, they will bring light and shine, but while remaining discreet. If you also place candles nearby, as in this Ikea table, they will serve to project a dimmer light and a more welcoming atmosphere.
66 A very foodie table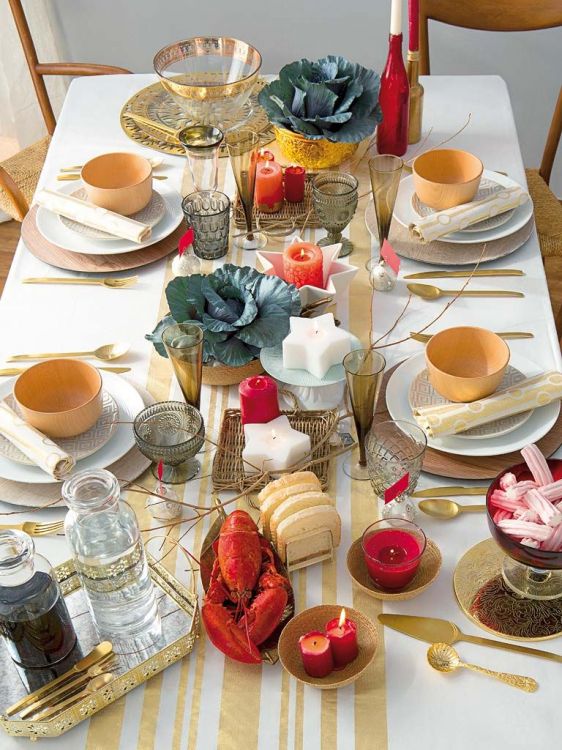 Metallic reflections add elegance. Retrieve the gold and decorate your table at Christmas. Do you want to avoid a busy composition? Combine it with a lot of white. The most trendy: with fibers and wood. Plates, from El Corte Inglés. Bowl in beech, from Habitat. Leaf tray, from Apia.
67 Rustic and natural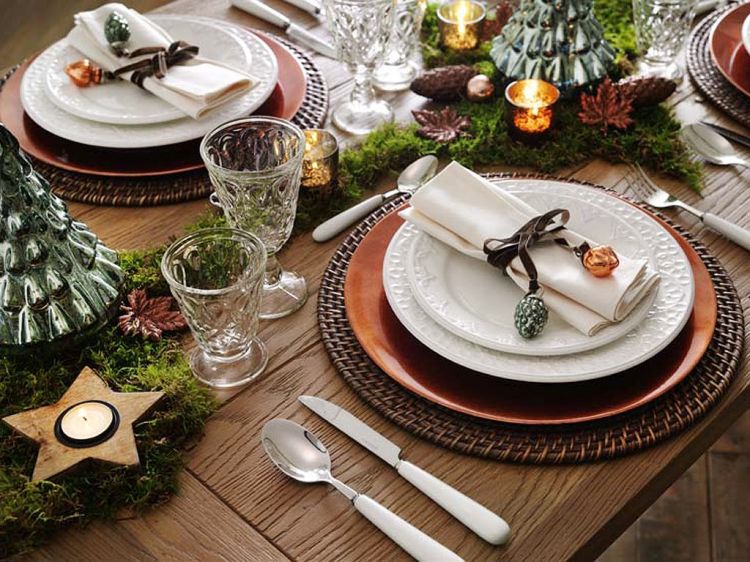 A table of wood and copper, with fruits and animals of the forest. Naturally welcoming, mysteriously magical.
In the photo: individual Sauce (€11.95), Kent cutlery with white handle (€1.95/unit), Lyonnais water glass (€4.95).
Everything from El Corte Inglés.
68 Christmas Buffet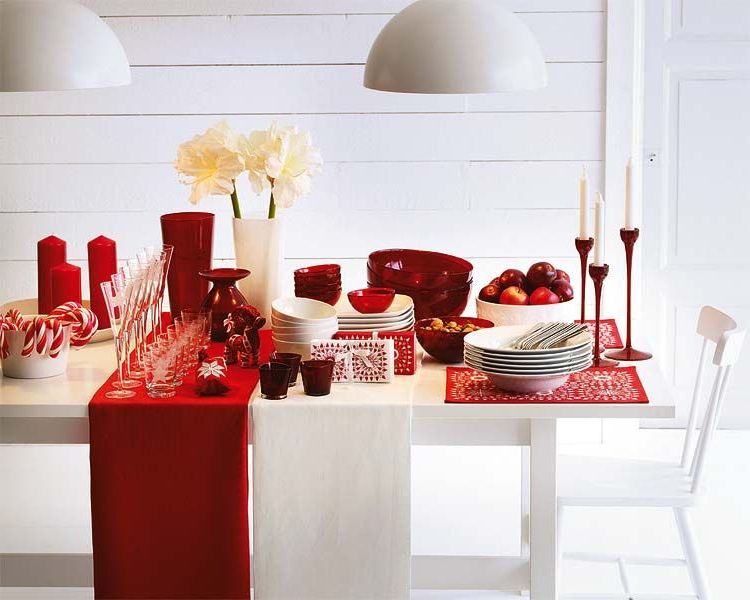 Change the chip and dare these parties for a buffet dinner, especially if you are a large family. A careful presentation of the services can be just as or more decorative than the traditional table. This picture says everything; white and red as protagonists in its most current version. Utbytt table runners (€4); large red bowl (€8.99); vases (from €4.99); Blomster candle holders (€14.95/3 units); individual Snöa Flinga (€0.99) and red Vinterfest candles (€6/3). Everything can be purchased at Ikea.
69 Trees even in the dining room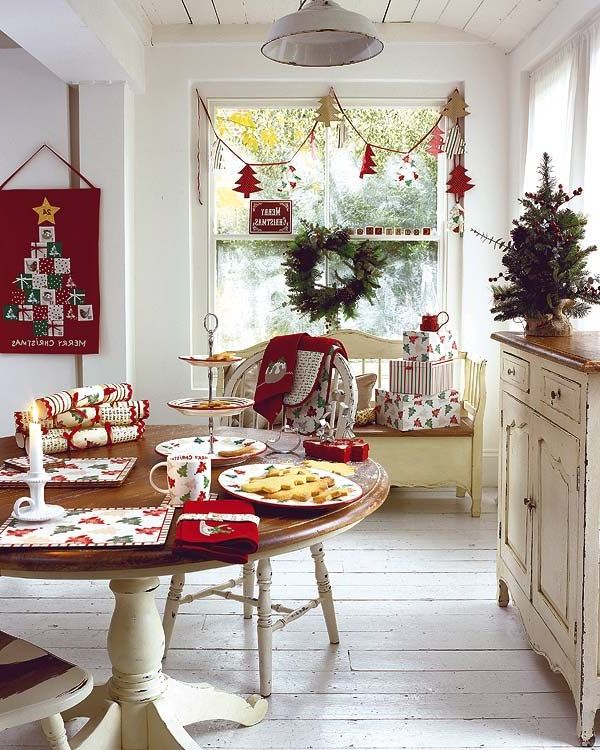 The traditional Christmas fir trees adopt multiple formats this season. You like them? You can choose them as the main theme of a space with very original results. You have them in a miniature version, as an Advent calendar or tableware decoration, tablecloths, boxes, even in the form of garlands. Everything by Laura Ashley.
70 A dinner party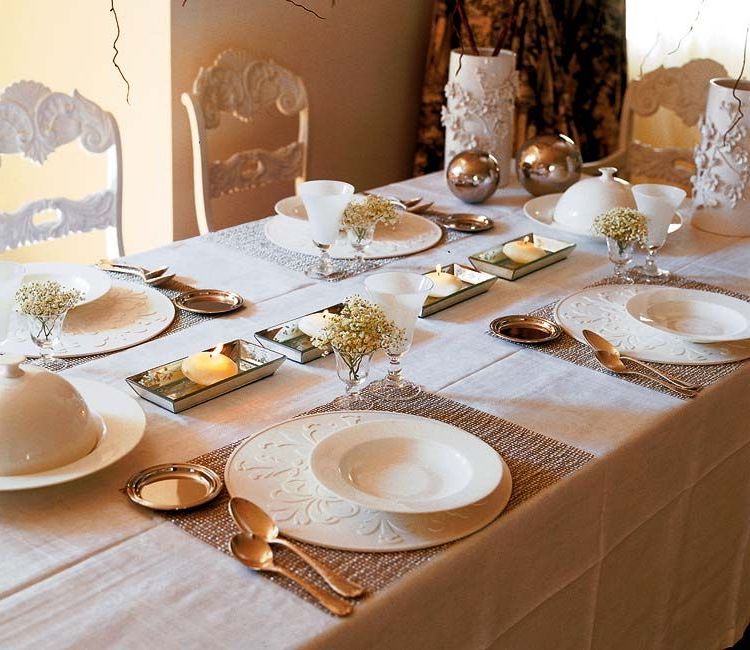 Dress up the table for your guests and take care of those decorations that personalize the occasion. Place tea candles in glasses or trays with water, sprinkle sand and metallic stars on the tablecloth and make flower arrangements in glasses. Your little effort will be rewarded with phrases of affection and admiration.
71 Decorate with a centerpiece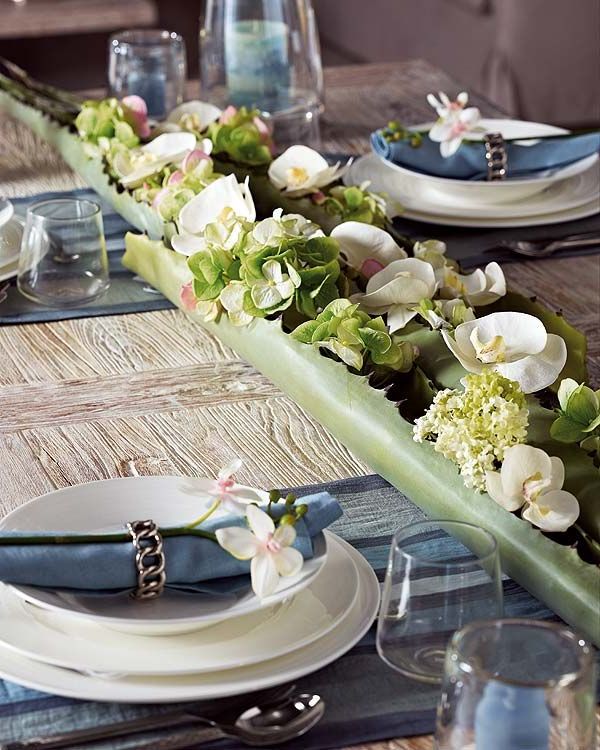 If it is low, it will make it easier for diners to see each other. This is made up of a synthetic aloe leaf (€49 approx.) decorated with bouquets of wild white and green hydrangea (from €3 each flower). Napkin rings (€25 approx./set of 4). Pure crockery (from €7.90). It's all Sia's.
72 Sophisticated and elegant dining room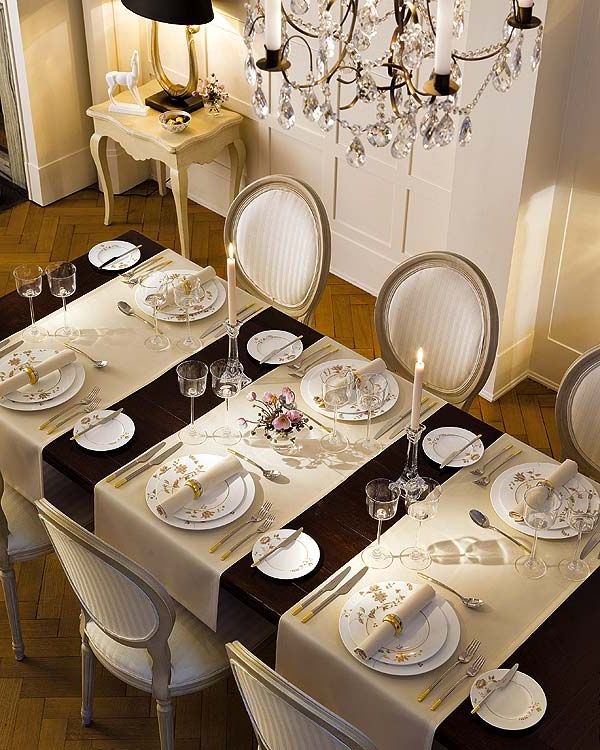 Those who are excited about traditions will enjoy classic tableware in shades of gold. The Golden Garden collection has a presentation plate (€66 each approx.), a flat plate (€36 each approx.) and a bread plate (€28 each approx.). To accompany them, the Ella cutlery (from €11) decorates the handle with a delicate gold finish. Cascara Cups (from €8.9 approx.). Everything from Villeroy & Boch.
73 Combine the crockery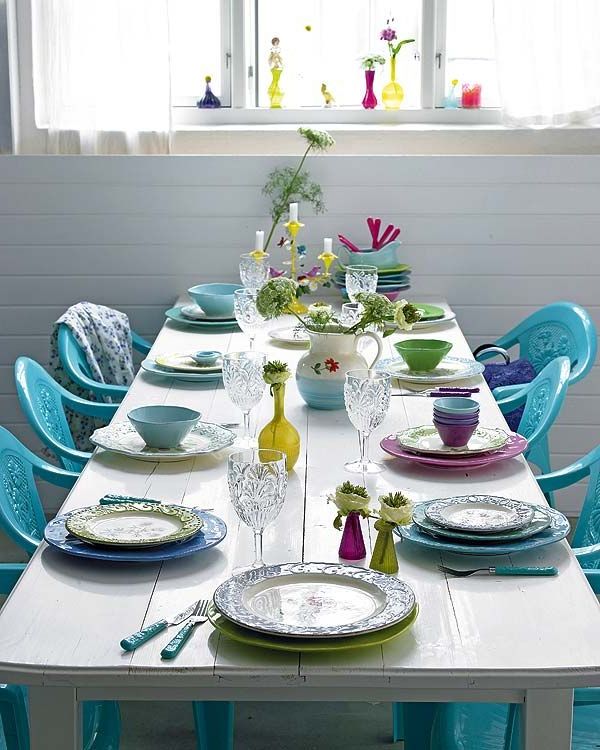 If each person is different, why should the tables be the same? In this proposal from the firm Rice, the plain serving plates (€23.30 each) alternate in green, blue and lilac. Printed flat plates (€24.50 each) and bowls contrast on them. The rustic jug (€60.30) adds a touch of simplicity.
74 Craft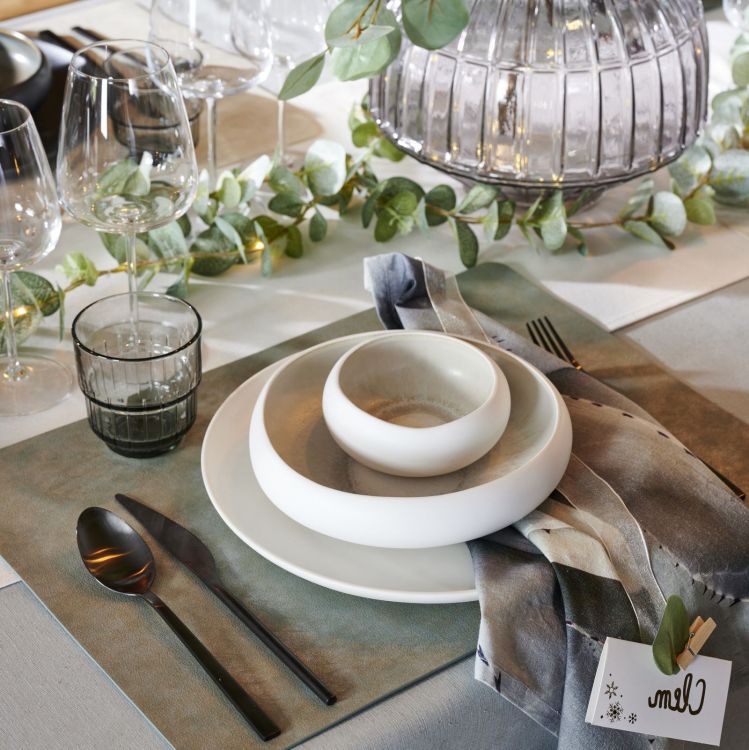 The evocation of handmade presides over this dramatic Christmas table presentation by CasaShop. We love the irregular lines of the plates, in a craft finish, a simple vegetal decoration and the (careless) placement of a pretty patterned napkin. Complete the decoration with signs —with the names of the guests written by hand—, eucalyptus twigs to decorate the room and bay leaves to decorate the napkins.
Link glass, in gray glass (€3.75). Nordic crockery : small bowl (€4.95), large bowl (€8.95) and platter (€29.95). Sparkle placemat (7.95 €/6 u.). Etna Satin cutlery (€34.95/16 pieces). Mini clip Clips (€1.95/36 pieces).
75 self service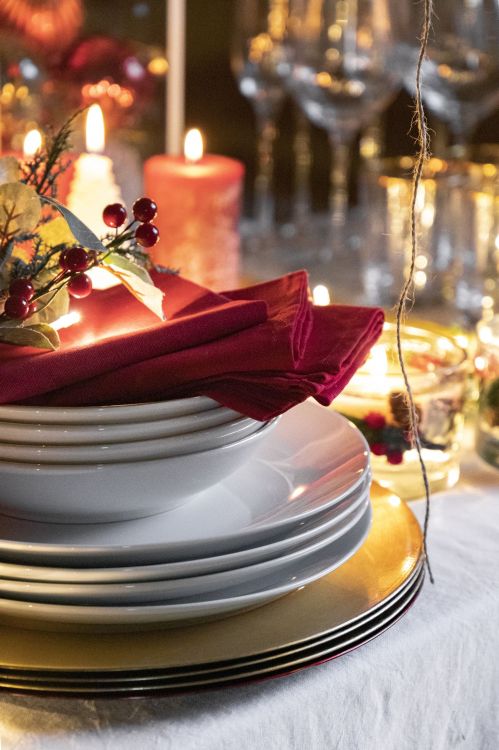 During the Christmas holidays we are going to have to improvise, so it is a great option to prepare a table where everyone serves their own dish, according to the firm Muy Mucho. Use the white tableware of everyday life and organize a very Christmassy staging, in gold and red, in which there is no shortage of candles to create a cozy atmosphere that invites good conversation. With this take away version, the guests will be able to move at their leisure around the room.
Heritage napkins, in cotton (€2.99/2 u.). Christmas cracker gifts (€7.99). Fir and holly poles, in 25 cm (€0.99). Tree balls, in red (from €0.99/ea.)
76 Back to childhood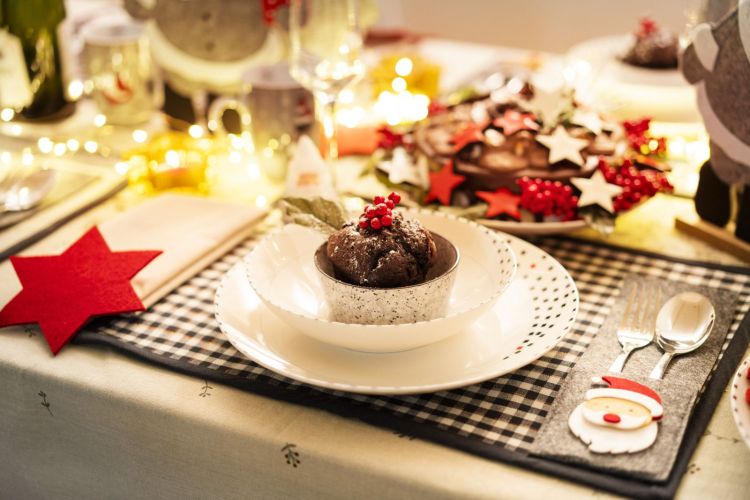 Christmas has to convey joy, like this proposal from La Mallorquina, which takes us back to when we were children. Dinner is very important, but desserts are the main dish for the little ones. On Christmas Eve or for Three Kings dinner, prepare a chocolate cake, star-shaped cookies and an individual muffin. Decorate the recipes with blueberries and voila!
Pines tablecloth, printed on 100% cotton and easy to iron (€19.95). Beige napkin set (€8.95/2 u.).
77 with hygge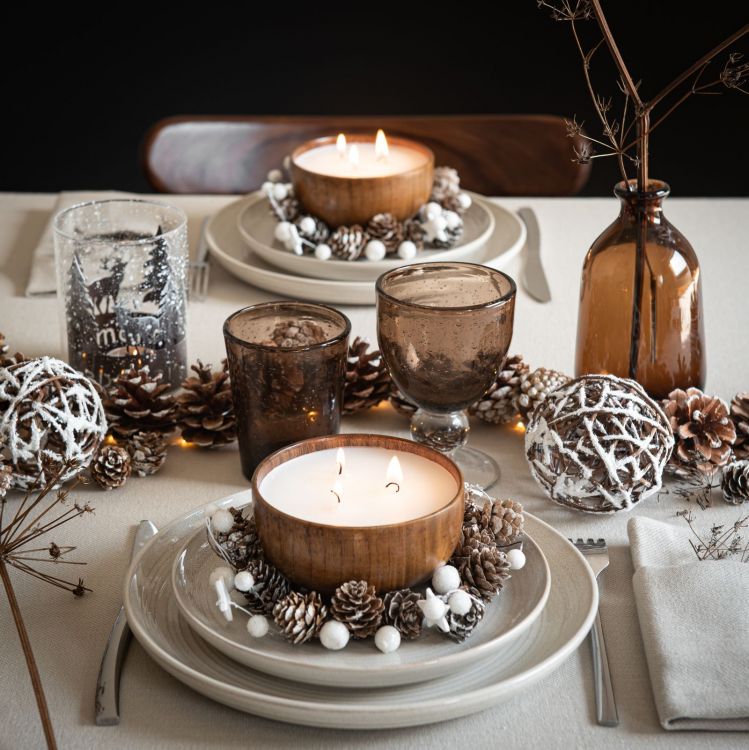 The Nordic decoration evokes the well-being that a walk through nature in winter produces. For this reason, in this staging, by Maisons du Monde, snow, pine cones, twigs and natural fabrics are present, which allow a cozy atmosphere to be created, with a lot of hygge. Candles are the ideal complement to the Scandinavian style, but they are also part of the Christmas tradition; because the white candles augur, on these dates, hope and peace.
Cup, in glass with bubbles (€35.94/6 units). Glass, in brown glass (23.94 €/6 units). Paysage Christmas candle holder (€6.99). Pineapples with snow effect (€8.97/3 units). Balls with branches (€17.94/6 u.)
78 metallic lighting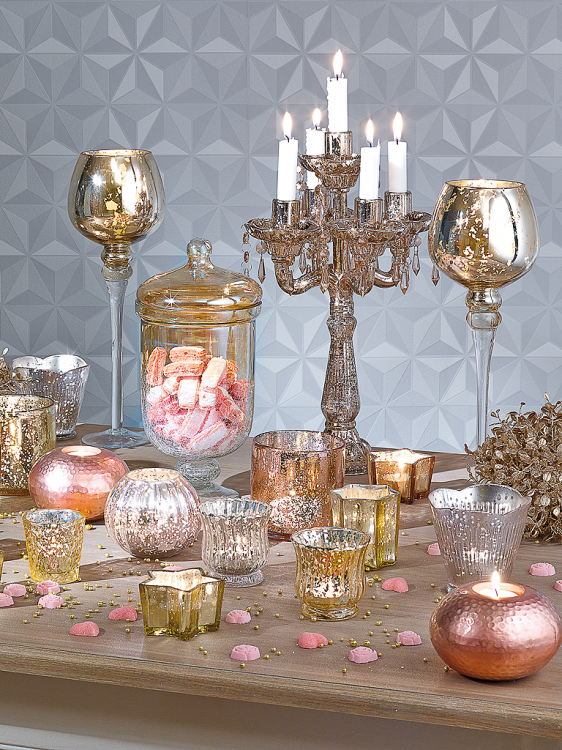 Do you want your table to shine with its own light? Choose candle holders and candle holders in shades of gold, silver or copper. But avoid overloading the set, less is more.
Candy box (€19.99); Fairytale candles (€9.99) and Antic cup holders (€14.99 each). Everything from Maisons du Monde.
79 Practicality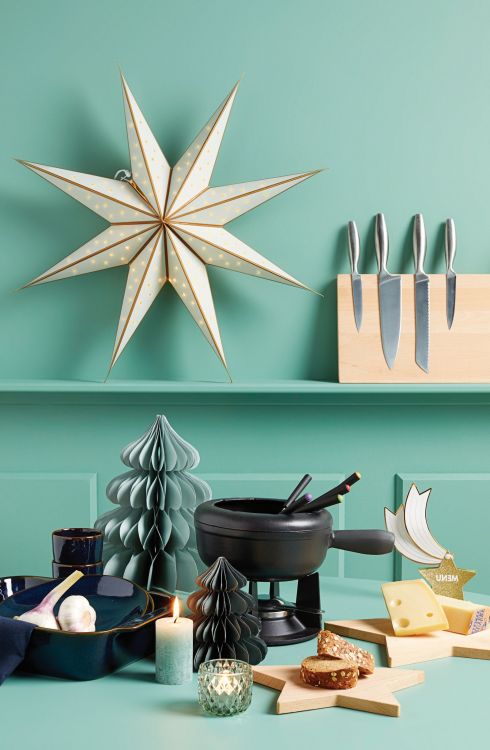 High altitude recipes are superfluous when what is needed is a good company. Plan a different night, but very original, and prepare a cheese fondue for yourself or to share. Choose carefully the Swiss cheese varieties —Gruyère, Emmental and Vacherin Fribourgeouis—, you have to calculate about 200 grams per diner, and select breads with different textures and ingredients. Peasant, baguette, wholemeal or white bread are very good, but it is always better if it has more crust than crumb. Another good idea is to make a chocolate fondue to add a sweet touch to the Christmas meal.
At Hema, you will find fondues, from €7, wooden boards and all kinds of Christmas decorations.
80 appetizers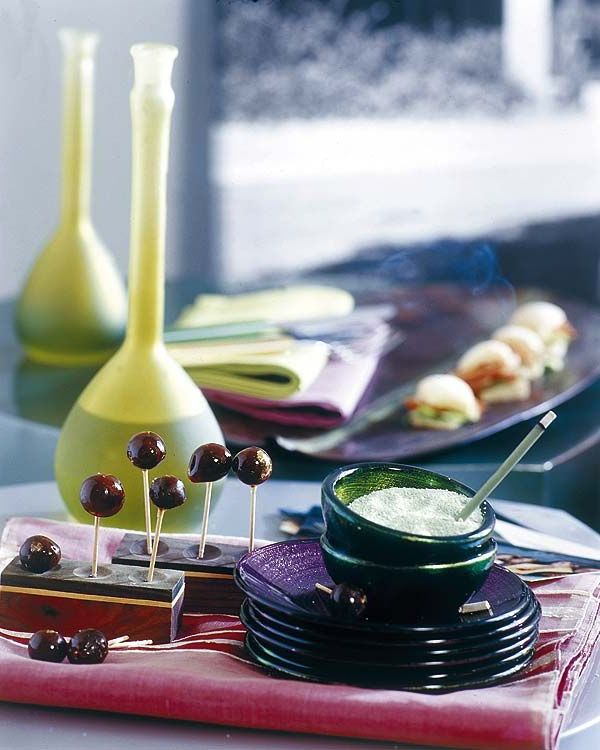 An unusual presentation is a great way to whet your appetite. Especially for those timid people who find it hard to dodge plates and glasses in search of an olive. Make it easy for them with an incense tray. Stick the food on toothpicks and stick them in the holes: the appetizers will be on a higher level, at hand height.
81 A unique setting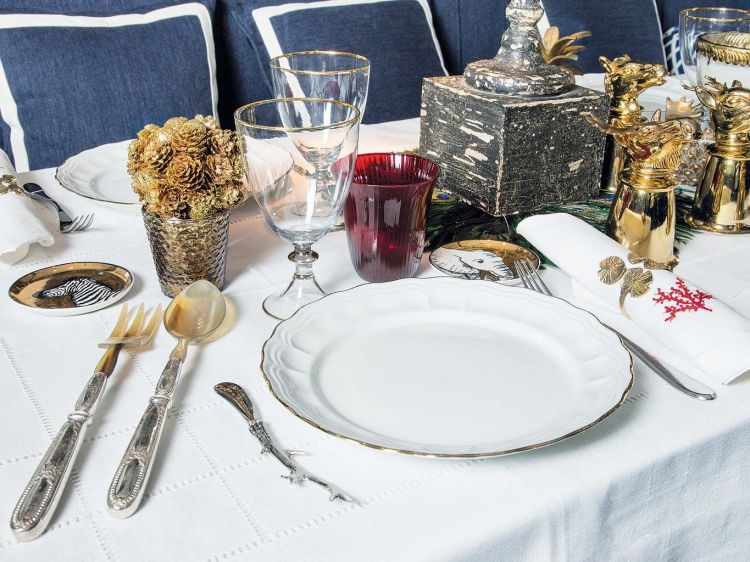 Recovering, recycling, mixing styles…these are the hallmarks of Cousi Interiorismo and all of this can be seen in this party table. In it are present the old crockery, the contrast of Christmas colors, the fresh touch of the branches, the intimacy of the candles or that fun wink of the bust vase, by Floral Art LA The golden accessories are the focal point that combines perfectly with white napkin rings with a red touch. The crockery, by Bidasoa, in white with a gold trim, harmonizes with the original glasses with animal heads, by El Ocho.
82 Christmas table with mistletoe tableware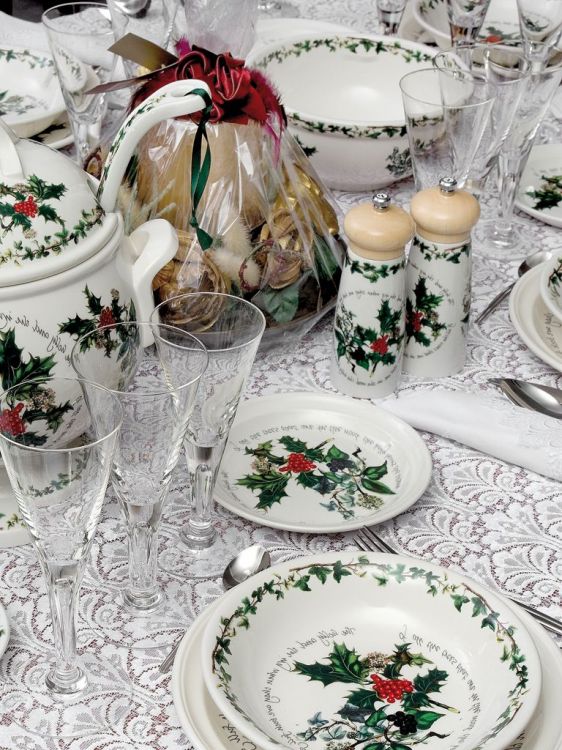 Along with the mistletoe, the holly is a symbol of prosperity and well-being and its colors, a true Christmas tribute. Make it present in your home, under your doorstep, or take it to your table as the main motif for tablecloths or crockery. Accompany them with elegant fine glassware and ensure success. The Holly & The Ivy Patterned Dinnerware by Portmeirion: Dinner Plate (€17.85) and Dessert Plate (€16.10). Sharon water, wine or cava glasses, from Dartington (€25.25/piece).
83 Gingerbread Cookies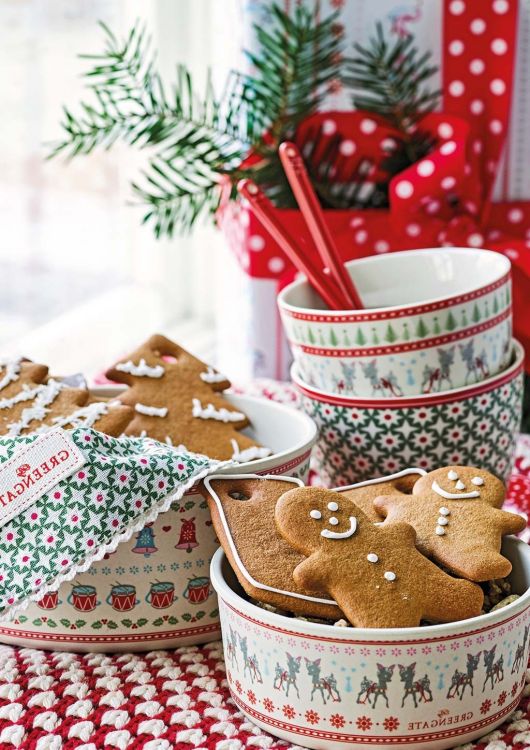 Typical of these parties, the proportion is one teaspoon of powdered ginger per 260 g of flour, 150 g of butter, 1 egg, 100 g of cane sugar and a teaspoon of cinnamon.
Buy here
Biscuit boxes €29.99 (set of 3), from Greengate. Ceramic cups (€13.90 each), spoons and napkin (€7.90).
84 For a casual brunch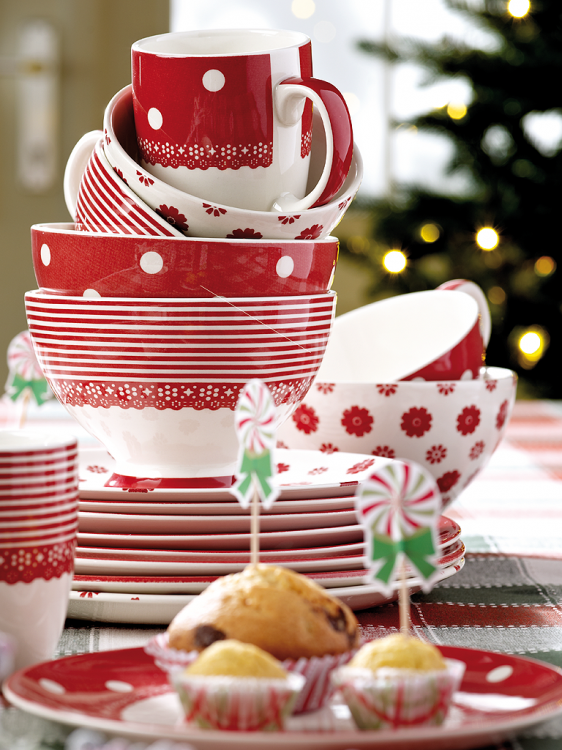 After bingeing, opt for light menus or more complete breakfasts served at informal but equally flirtatious tables. Mug (€3.29), bowl (€4.59) and dinner plate (€4.99) for brunch, in red earthenware, by Casa.
85 A Souvenir Gift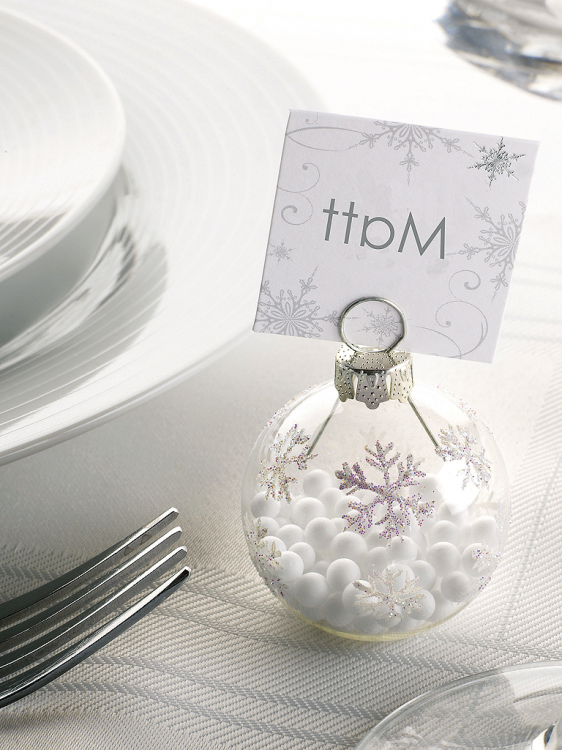 If you prefer to place each diner in a certain position, place some labels with their name; This way you will avoid embarrassing situations.
Surprise them with a detail that they can then take home as a souvenir. Snow globe as a brand name, by Tape Pink (€9.99/six).
86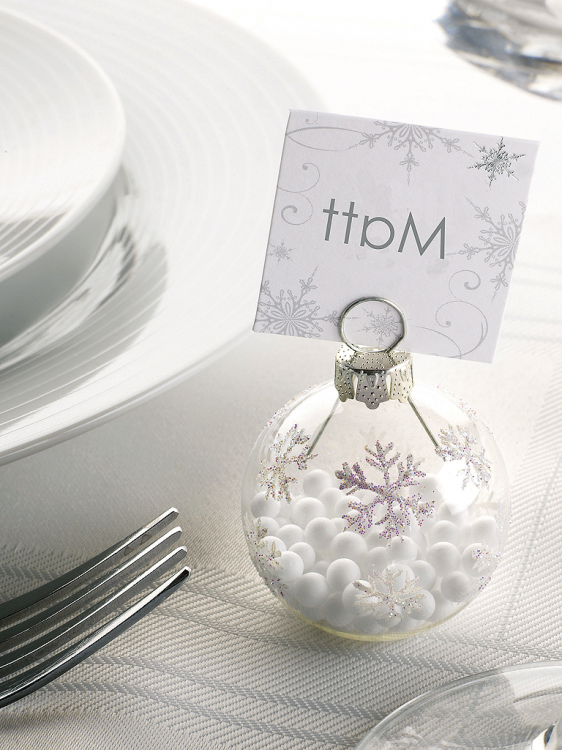 87 A Christmas in greens and reds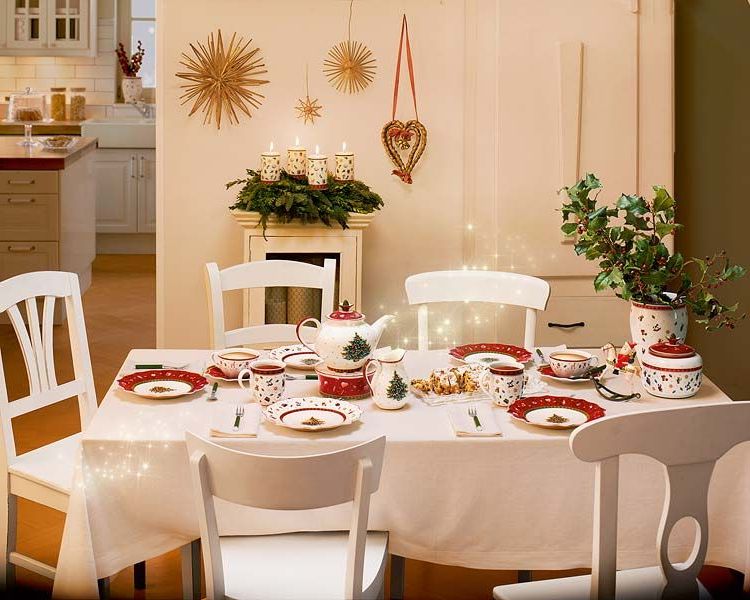 Are you passionate about these dates and are you happy singing Christmas carols? Then opt for tableware printed with Christmas motifs: reindeer, Santa Claus or, as in this case, decorated fir trees and toys. For the kitchenware to be the true protagonist of the table, place a plain tablecloth in a color that matches the dishes. White is a safe bet. Tableware, by Villeroy & Boch (Tel.: 934 961 958 www.villeroy-boch.com ).
88 A different table for those who prefer an original Christmas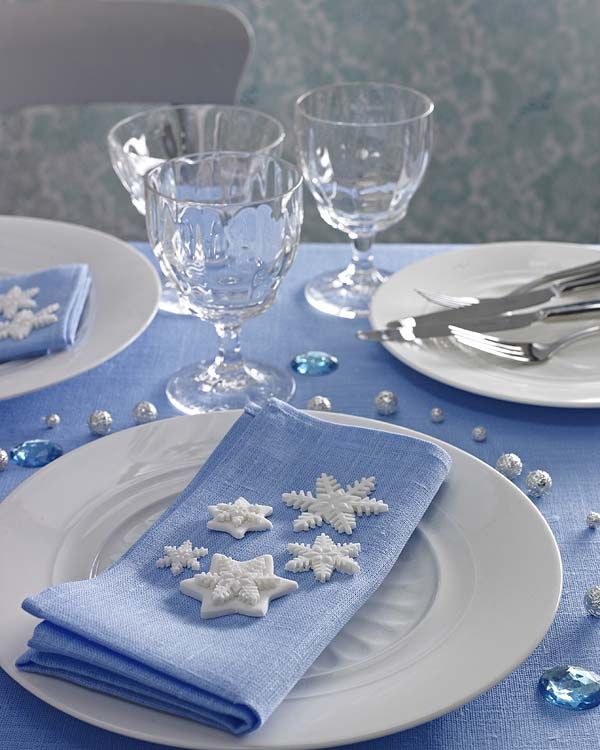 The blue linen tablecloth and white crockery are timeless. However, the silver balls and the crystals placed in a row on the tablecloth indicate that we are in front of a party table. As a final touch, snowflakes to match the plates decorate each napkin. Glassware, cutlery and crockery, from Villeroy & Boch (Tel.: 934 961 958 www.villeroy-boch.com ).
89 Chandeliers in the center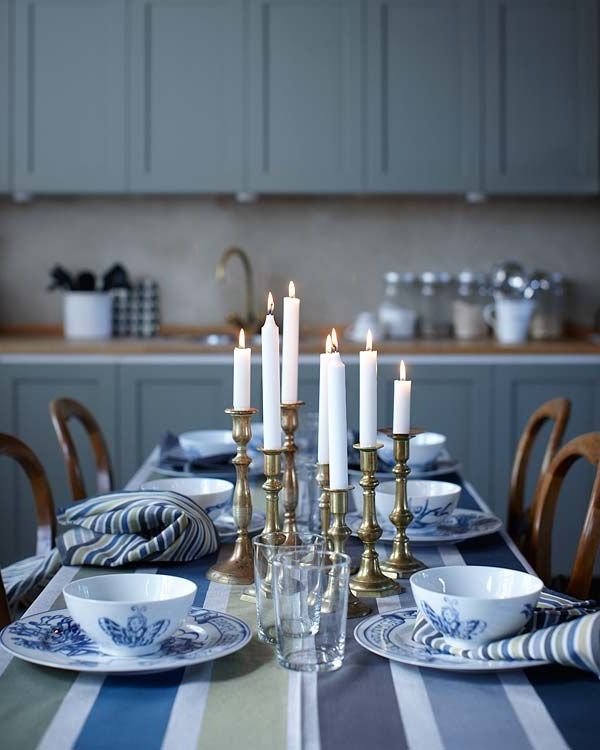 The composition of candlesticks in a bronze finish, of different sizes, attracts all eyes to the center of the table. So much so that… nobody realizes that dinner takes place in the kitchen! The tablecloths, with wide stripes in shades of blue and green, enhance the depth of the table in such a way that we have the feeling of being in a solemn dining room, in true Downton Abbey style. Tablecloth and napkins made from Linum fabrics ( www.linum.se ).
90 A full table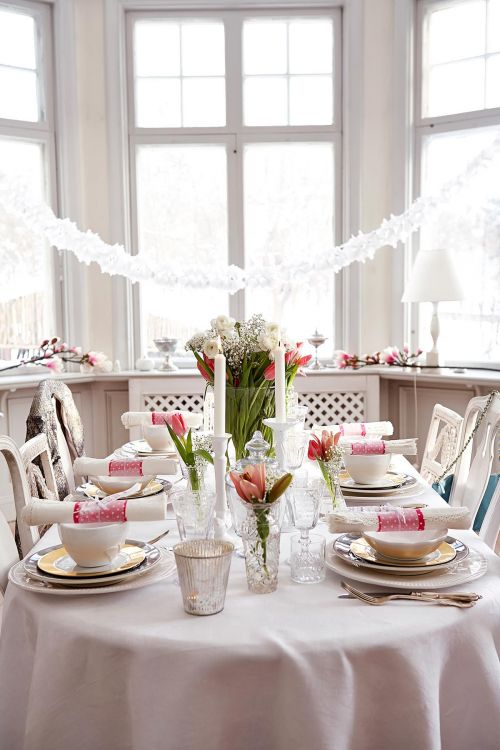 Crockery. The underplates have a decorative function. They must be centered in front of the diner's seat, 60 cm from each other, and 1 or 2 cm from the edge of the table. The placement of the plates will depend on the menu you are going to serve. Put an auxiliary plate for the bread on the left.
91 Recreate Christmas at the table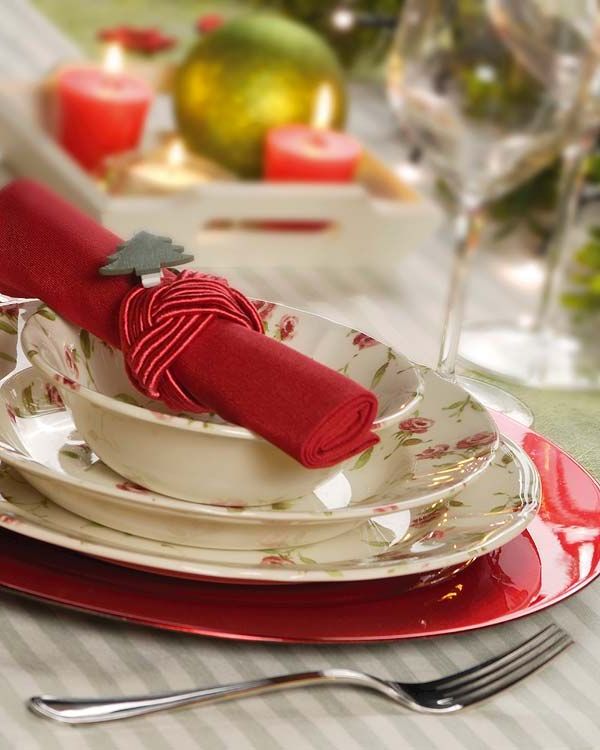 The flowers that decorate this tableware would be suitable for any time of the year. So, what is the key to making the table so Christmassy? Three simple elements: the serving plate in red -a tone traditionally associated with these festivities-, the matching napkin and a napkin holder made with red cord, decorated with a felt fir tree. Do you dare to do it yourself? Tableware, from Home.
92 Christmas was always… golden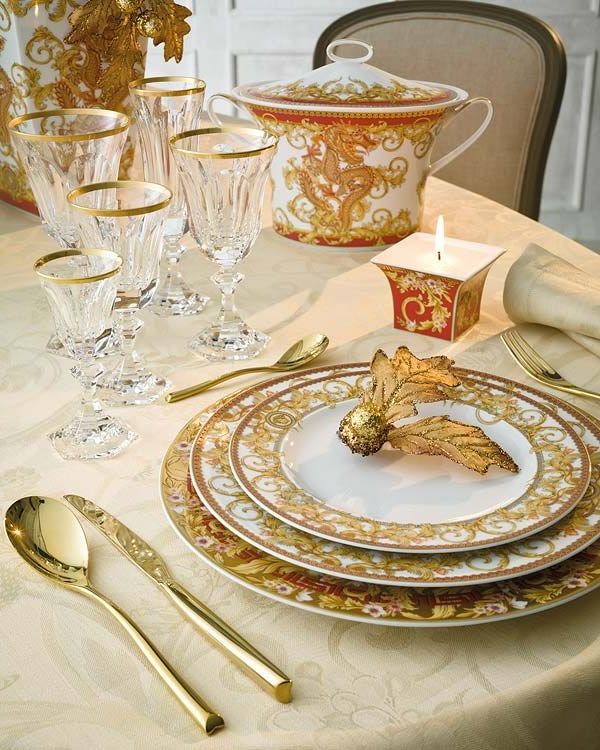 For lovers of tradition in its most classic version, nothing like crockery decorated with gold filigree, cutlery and cut glass glasses with edges in the same tone. From the English Court.
93 Setting the table at Christmas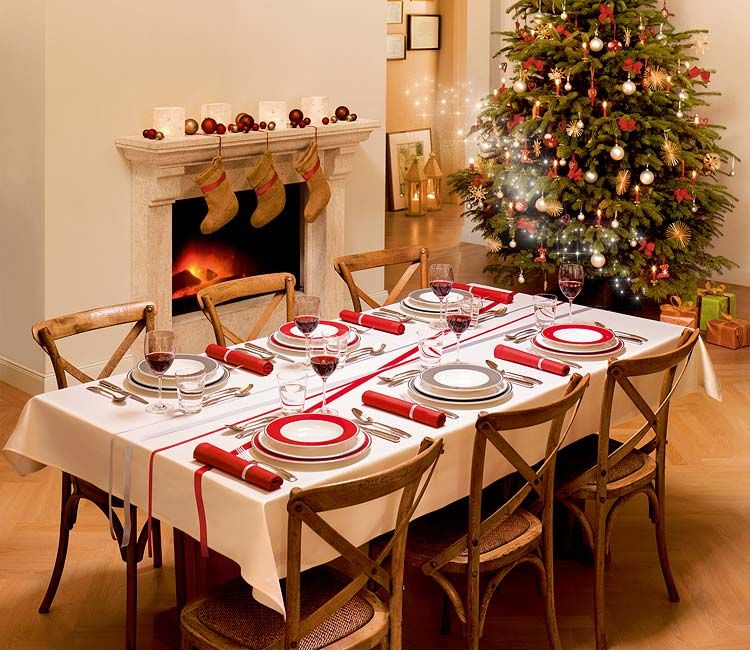 To give more dynamism to the table, alternate plates of two different colors. Here they have been chosen with the border in gray and red. And as a center, an easy idea to do: four ribbons in tune with the tableware cross the tablecloth, those at the ends in parallel and the central ones crossed in the shape of a cross. Tableware, from Villeroy & Boch.
94 Christmas decorations on the table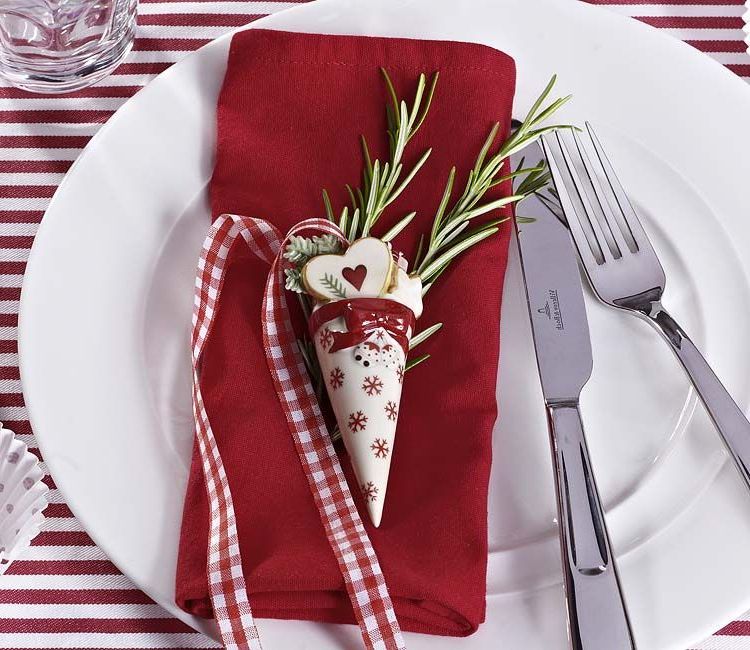 An ingenious idea to give the evening an undeniable Christmas air is to place an ornament on each napkin. When the evening is over, you can give it to each diner: so everyone will have an indelible memory of your magnificent meal. Ornament, plate and cutlery, by Villeroy & Boch.
95 Tables decorated for Christmas parties and dinners
In the video we explain the keys to 7 very different outfits to inspire you and decorate your dining table this Christmas. You will undoubtedly surprise your guests with some of our proposals. Take them to your field!
96 Table with Christmas centerpiece and candles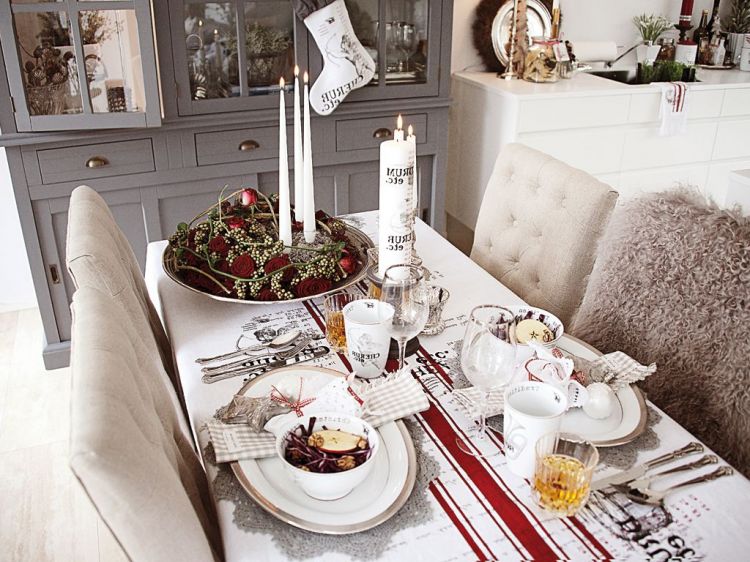 Just as you take care in the choice of crockery and glassware, do the same with the decoration of the table. Quietly decorate a tray with flowers and candles, and place it in the center. If it gets in the way, when you start eating you can remove it to a corner. Fountain (€104) and bowl with Christmas motifs (€19.90). The large candle is a curious Advent calendar with 24 marks (€15). Everything by Lene Bjerre.
97 A detail in each plate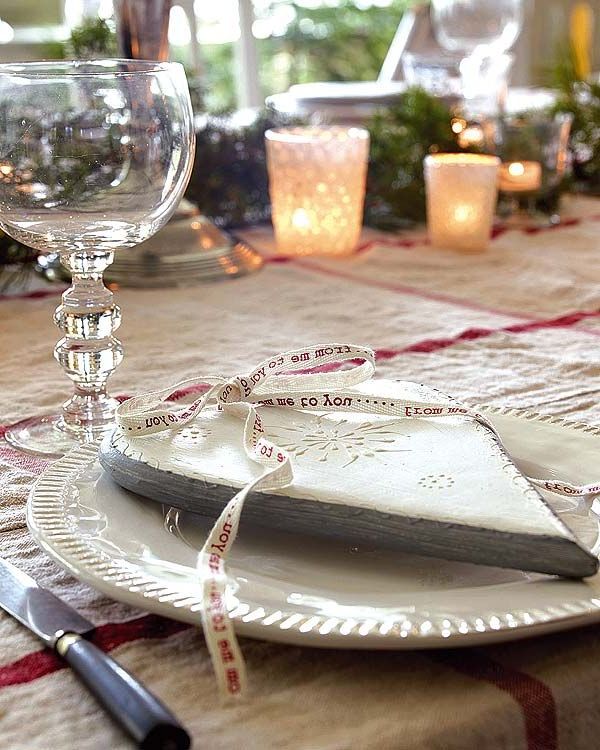 A small detail placed on top of each plate is a signal that tells diners that there is something to celebrate. It can be a chocolate or candy wrapped in cellophane, but it can also be a Christmas decoration, like this wooden heart painted in white and gray. It is from the firm Affari and measures 19 x 25 cm (€19 for sale in the Nordic Style store).
98 Tableware for special occasions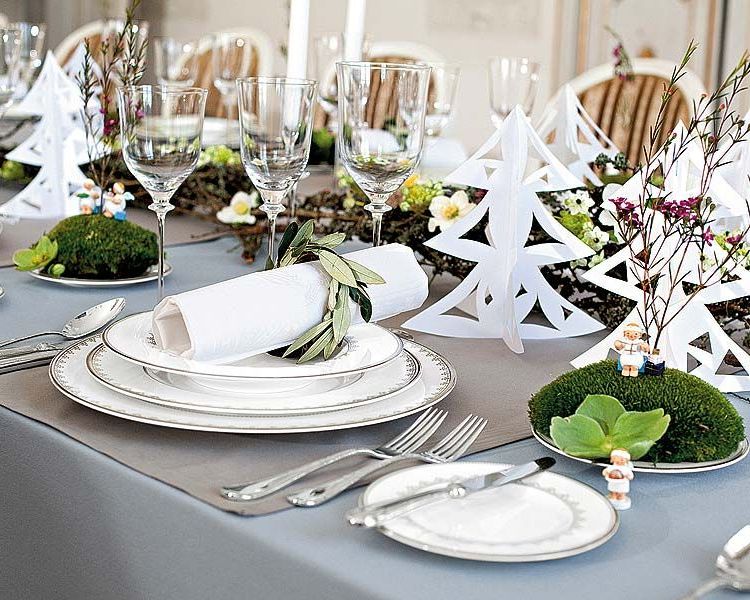 Finally, that great moment for which you had it reserved arrives. Rescue even the last piece of crockery from the sideboard – tureen, bowls of various sizes, gravy boat… – and unfold it for everyone to see. Create logical compositions: first, the underplate (€95), on top of it, the flat plate (€36) and on top, the soup bowl (€36). These belong to the White Pearl collection, by Villeroy & Boch. As for cutlery, the criterion is to place outside those that are going to be used first; the dessert ones are placed between the plates and the glasses.
99 Very chic serving plates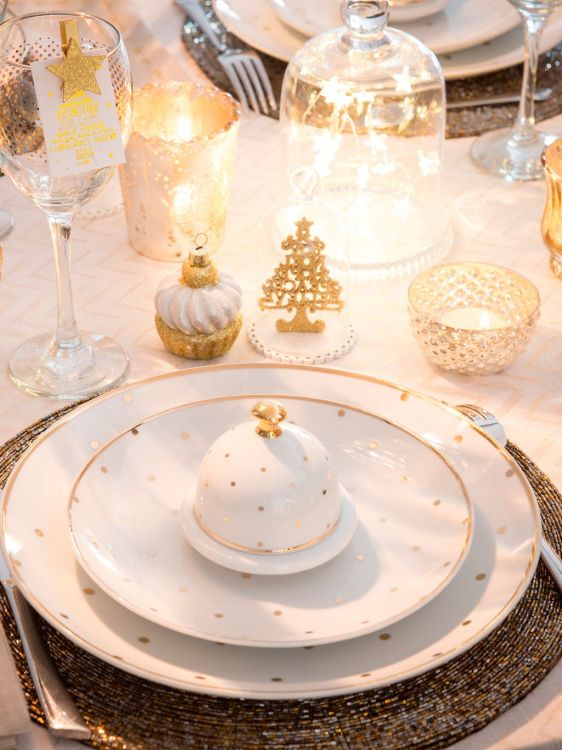 Crown a choice in white and gold with a 'gold glitter' baseplate. Superb.
100 Together with the black&white binomial: gold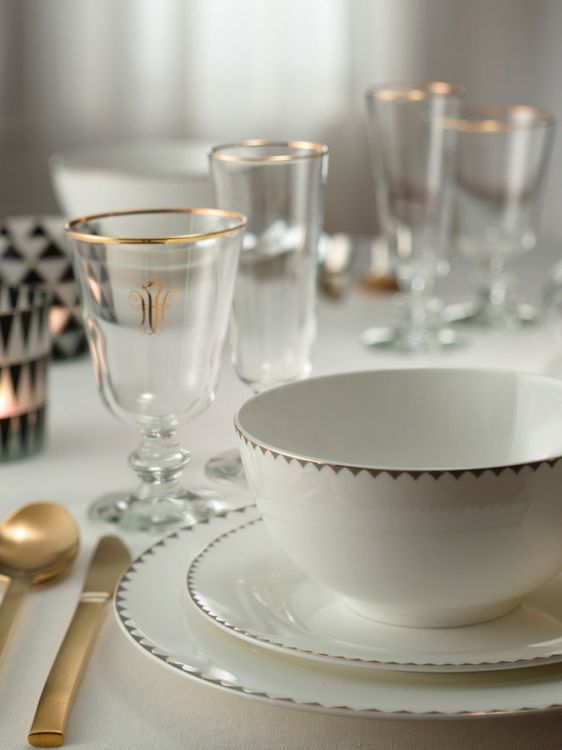 Because they never fail, the quintessential contrast chromatic pair is a wonderful guide for adding gold in small strokes: cutlery or a light touch on glassware. Golden Gray Collection from El Corte Inglés.