Motivate your children to be part of the joy of these holidays. Crafts, cooking, decoration and more ideas to have fun together.
The little ones in the house are the true protagonists of Christmas. They love this time for the holidays, the gifts, family time and also because they can help you. Invite the children to assemble the tree, to choose the decorations, to prepare the perfect party table and you will see how much you enjoy doing it together.
A cookie garland
Christmas cookies are a foreign tradition, but we love them and, best of all, it is a very easy recipe so that children can get started in the kitchen at home. To make homemade cookies, with cute shapes, you just have to follow the step-by-step video tutorial. You will need these ingredients: 225 g of wheat flour, 50 g of butter, 75 g of icing sugar, a teaspoon of ground cinnamon and another of nutmeg, 1 egg, 25 g of syrup, orange zest, 250 g of fondant and markers with edible colors. If you want to delve into the pastry universe, take a look at this tasty recipe for cookies in the shape of reindeer.
How are Christmas cookies made? Mix the flour with the butter, the powdered sugar, the cinnamon orange zest and the nutmeg until a loose paste remains. Add the beaten egg with the syrup and create a homogeneous mass. Let it rest for 15 minutes. Roll it out on a floured surface and roll out the dough with a rolling pin to cut out shapes of your choice. Remember to also make two holes with a wooden skewer in each cookie, before baking. Preheat the oven to 180ºC and line two trays with paper to place the silhouettes and let them brown for about 13 minutes.
It's time to decorate homemade cookies with fun details. Roll out the fondant dough, in different colors, and cut out to stamp each different shape. Put the cutout on the cookie that is still hot, you can brush with water so that the coverage sticks better. Then, make the two holes with the skewer and finish decorating with the edible marker. All that remains is to pass a ribbon or cord through the holes to create this original edible garland.
Children decorate the house
Count on these crazy shorties, because they have unlimited imaginations and they will surprise you with their torrent of ideas. You can entertain them one afternoon with some crafts to decorate the house, prepare surprises or little gifts to decorate the Christmas table, teach them how to wrap gifts from the fir tree, even personalize a detail for each member of the family… The truth is that, whatever Whatever the season, it is convenient to review these 35 ideas so that your house is adapted to the growth of children.
You can also encourage them to draw pictures with Christmas-related motifs: reindeer, snowmen, the Bethlehem portal or elves. Then, set up a small art gallery in the living room, in your bedroom or in a distribution area, such as the corridors. You can also choose the best drawings to congratulate the holidays with these unique artworks, which grandparents will surely be delighted to receive by traditional mail, to remember the times when we wrote our own Christmas Christmases.
Invite children to participate in the most important celebration of the year, they are memories that will remain forever in their memory, so create a beautiful Christmas and they will always thank you.
1 colorful Christmas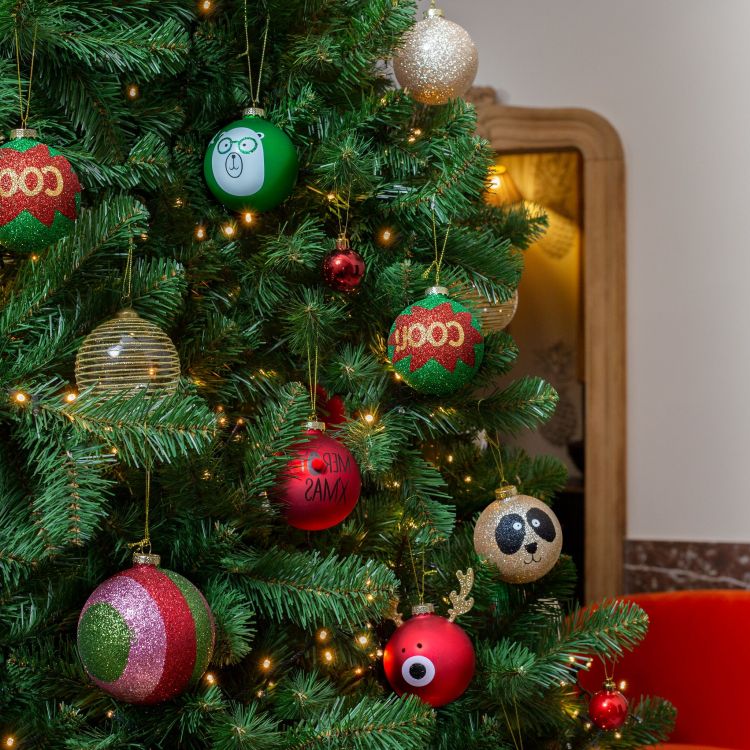 We need brightness and joy in our hearts. The Christmas tree arouses our best wishes, but it will make us smile if it is decorated with these hilarious ornaments, in the shape of a ball and with the faces of very Christmassy characters, as well as lettering similar to that of comics.
2 Let's eat!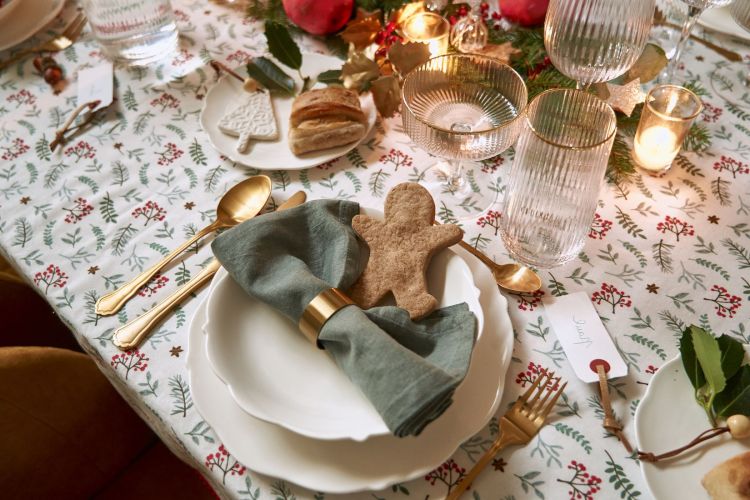 It's not just about dressing the table on Christmas or New Year's Day. Invite your children to make some handmade cookies and have them place them themselves when they help you set the table. The cookies can be in the shape of a fir tree, as seen on the bread plate, or a gingerbread man.
3 A DIY advent calendar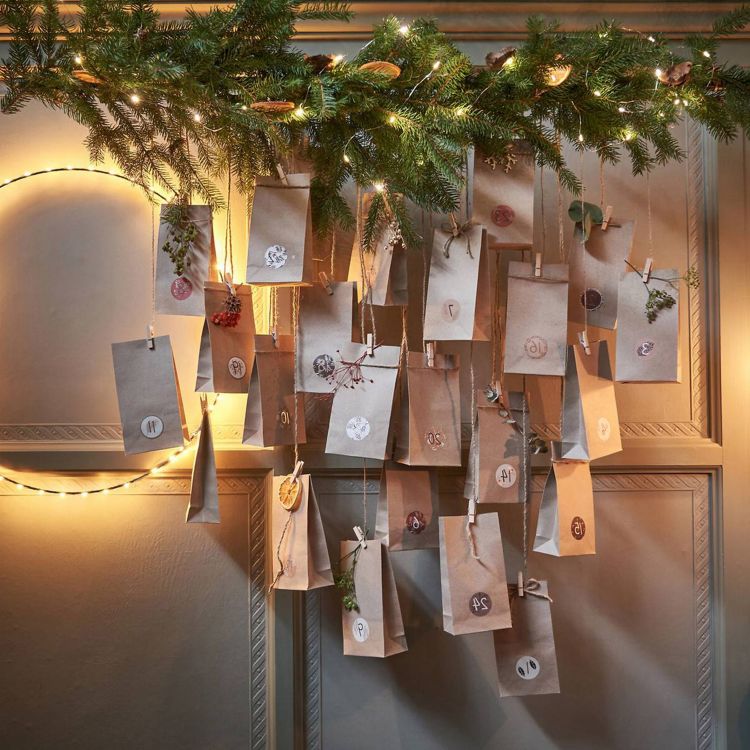 It's never too late to do it and, if Christmas is already very close, you can reuse your Advent calendar to leave little messages to your guests on Christmas Eve or New Year's Eve. Fill these kraft paper envelopes with a well wish written in your best handwriting and add a trinket or chocolate. In a bag, include pieces of paper with numbers, from 1 to 24, and make a small draw to see who gets the best gift.
4 A greener Christmas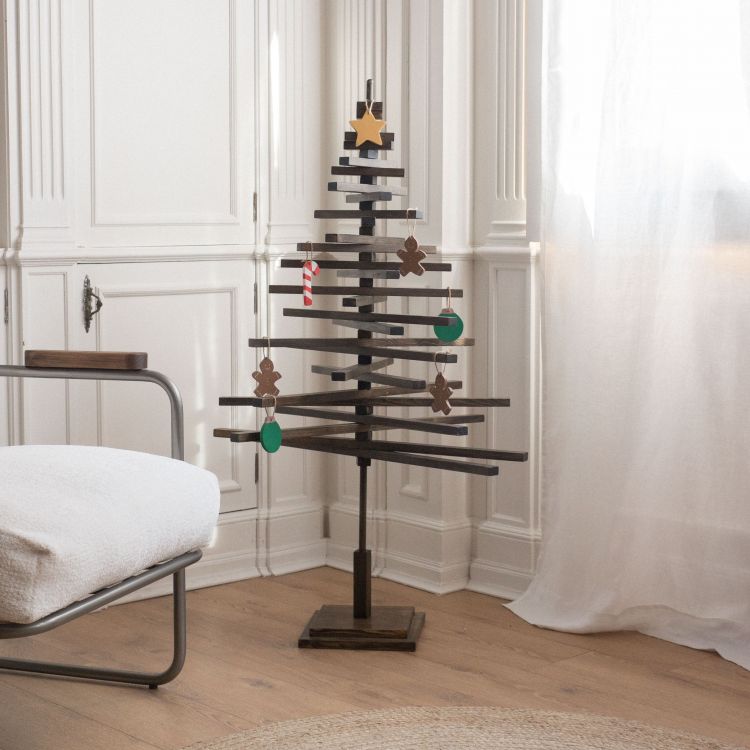 Sustainability and concern for the planet is instilled from a very young age. Children can start with an ecofriendly gesture: do without a natural fir tree and change it for this beautiful Christmas tree, made of wood. The decorations are also made of the same material, everything is from the Hannun firm.
5 I'm in!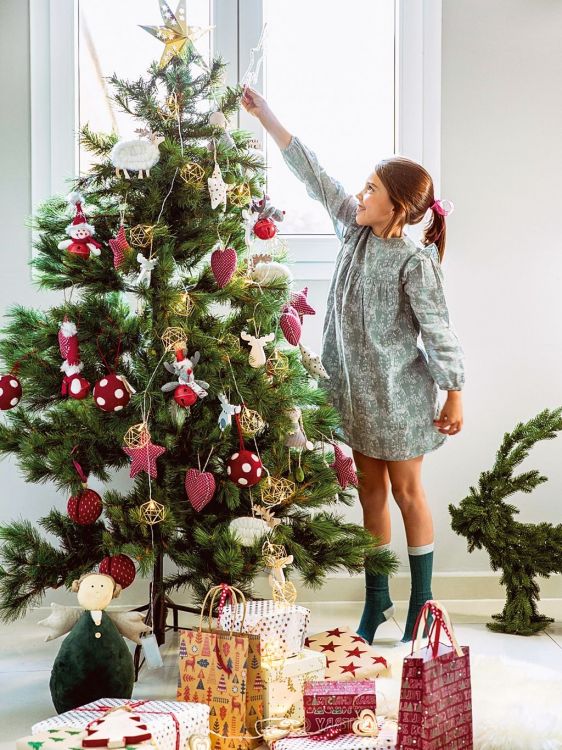 If you want them to be entertained for hours, let them participate in the decoration of the house. They will love putting garlands on the walls or decorating the tree, like Inés, who wears Naïve socks. Figure of reindeer, from Ikea, and angel, from El Corte Inglés. Ribbons for gifts, from Primark. Tree ornaments, from Zara Home, El Corte Inglés, Primark and Maisons du Monde.
6 Gifts with a personal touch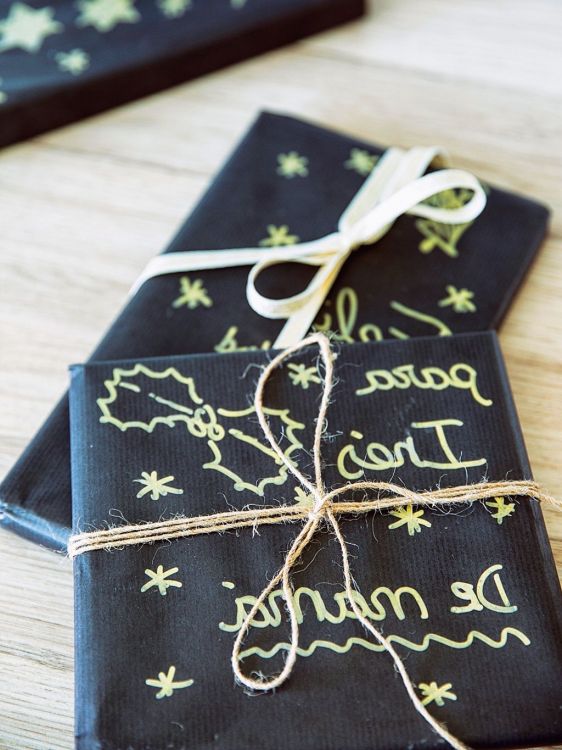 The older ones can help you wrap gifts while the little ones paint on cardboard. Show them how it's done, leave them with the necessary material and entrust the rest of the gifts to their creative power. Gold ribbon, for sale at Primark.
7 What is my gift?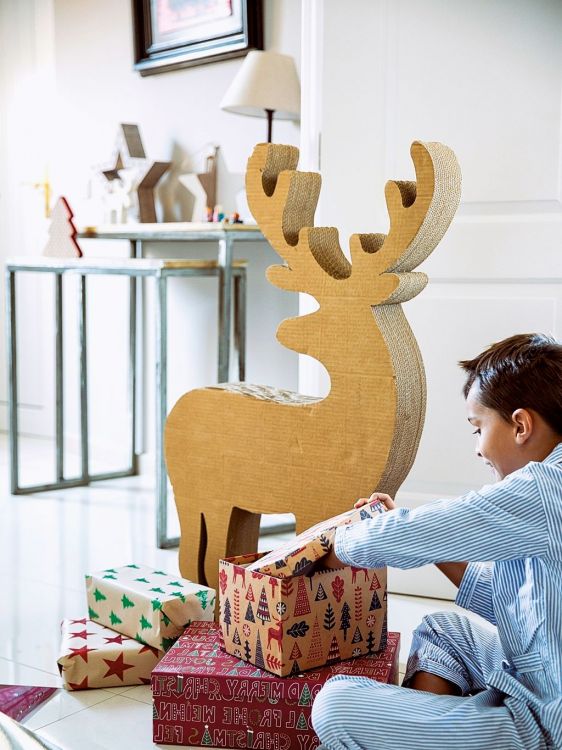 What an illusion to see them open the gifts on Three Kings Day! Leave the packages clearly identified and, if like Íñigo, they love to sit on the floor to open them, reserve a large enough space in the living room for them to be comfortable. Gift papers, from Maisons du Monde. Red boxes and balls, from El Corte Inglés.
8 Children in the kitchen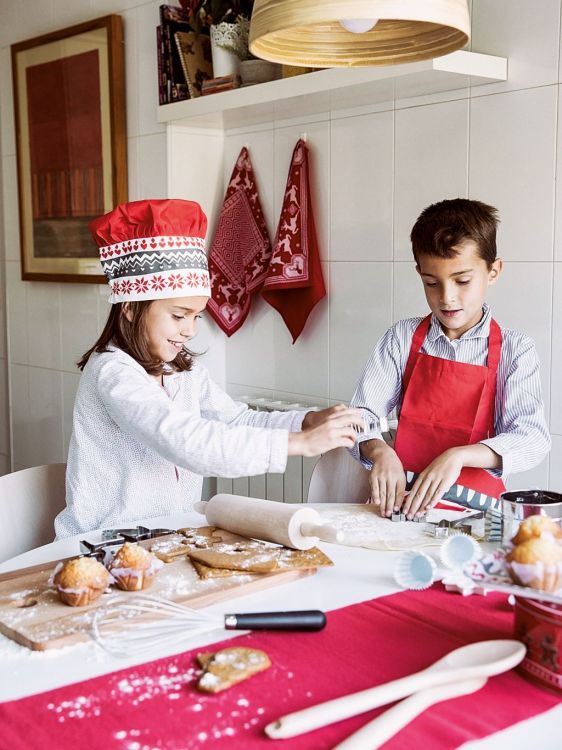 They will have a blast in the kitchen making their first confectionery steps, although the sweets par excellence are the nougat and the Roscón de Reyes. Find them an easy recipe to make and, with your supervision, guide them in their task. Using the pasta cutters will be super fun! Aprons, hats and baking supplies from Ikea. In the background, red cloths with Christmas motifs, from Zara Home.
9 His masterpieces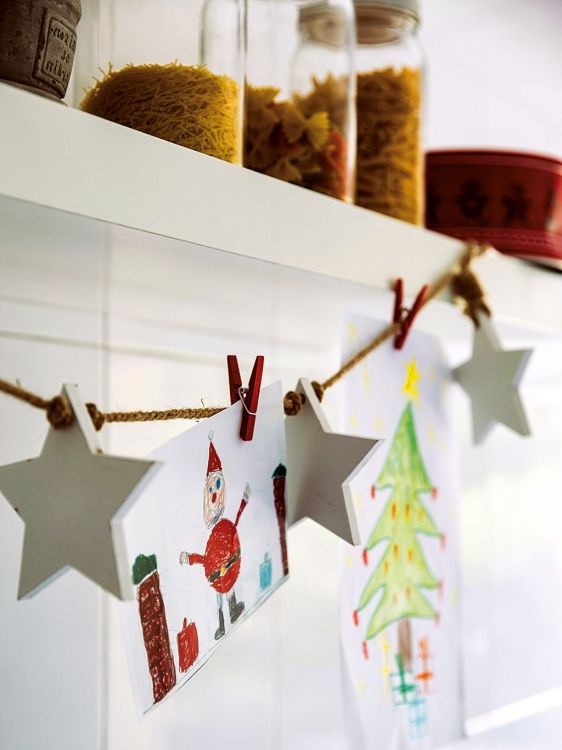 Display the drawings of the little ones in a special place: in the kitchen, in the hallway or as part of the decoration of the house. You can include them in the garlands of your bedroom by fixing them with clothespins. Garland of wooden stars, from Maisons du Monde.
10 Christmas table, tailored to you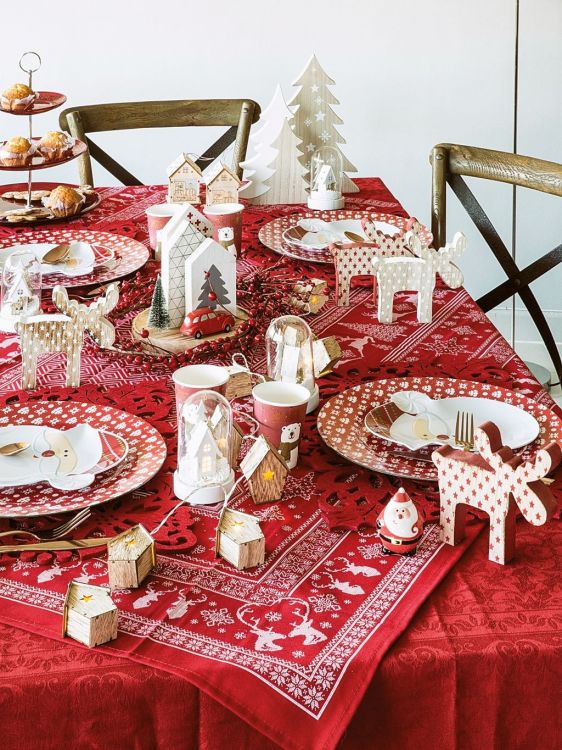 If cousins or friends come for a snack, prepare a fun and child-proof table for them! Choose a crockery that does not break, to avoid accidents, and decorate it with festive details. Tablecloths, melamine kitchenware and garland of light houses, from Zara Home. Reindeer and centerpiece, from El Corte Inglés. Mini lanterns from Primark. Paper cups, from Maisons du Monde.
11 DIY Ornaments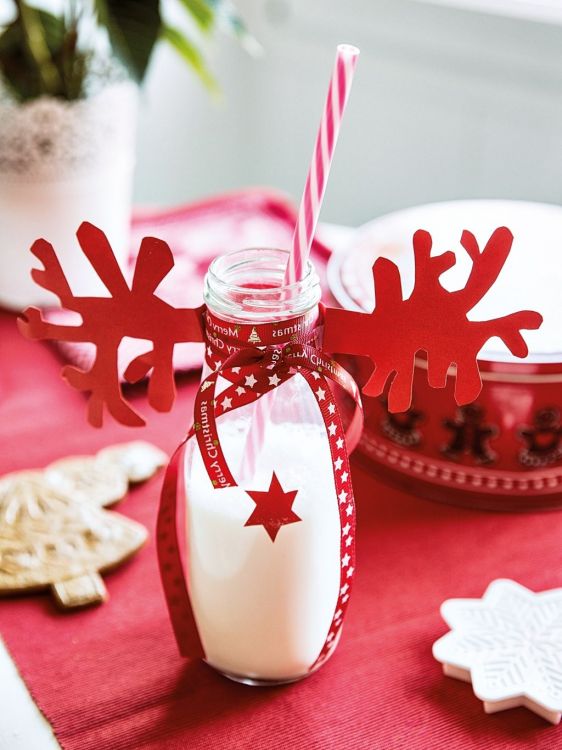 The Three Kings breakfast must be special and unhurried! How about serving them the milk in little bottles decorated with ad hoc motifs? Make the craft the night before and surprise them, or do it together while you prepare breakfast. Ribbons, from Primark. Table runner and straw, from Ikea.
12 An evening of costumes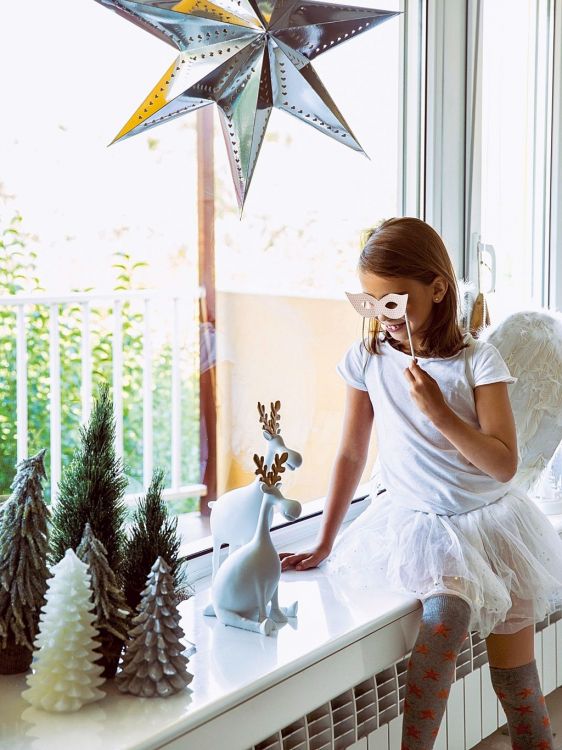 From Santa Claus, shepherd boy or angel, like Inés, children love to dress up. In addition to having fun, it stimulates their creativity and helps them overcome fears. Mask and ceramic reindeer, from Maisons du Monde. Hanging star, from Ikea. Pine-shaped candles, from Zara Home. Artificial pinitos, from El Corte Inglés. Long socks, from NaÏve.
13 HOW MANY DAYS LEFT?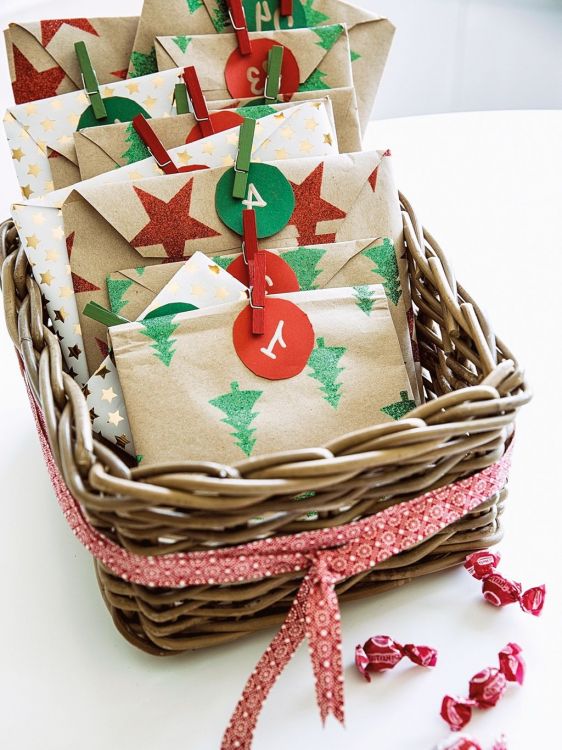 Make an original homemade Advent candlestick together and start your countdown! They come in the form of mobiles, garlands, crackers or, like this one, a box with 24 packages and a surprise inside: a candy, a coin, a doll… Decorative papers, from Maisons du Monde.
14 I created this role!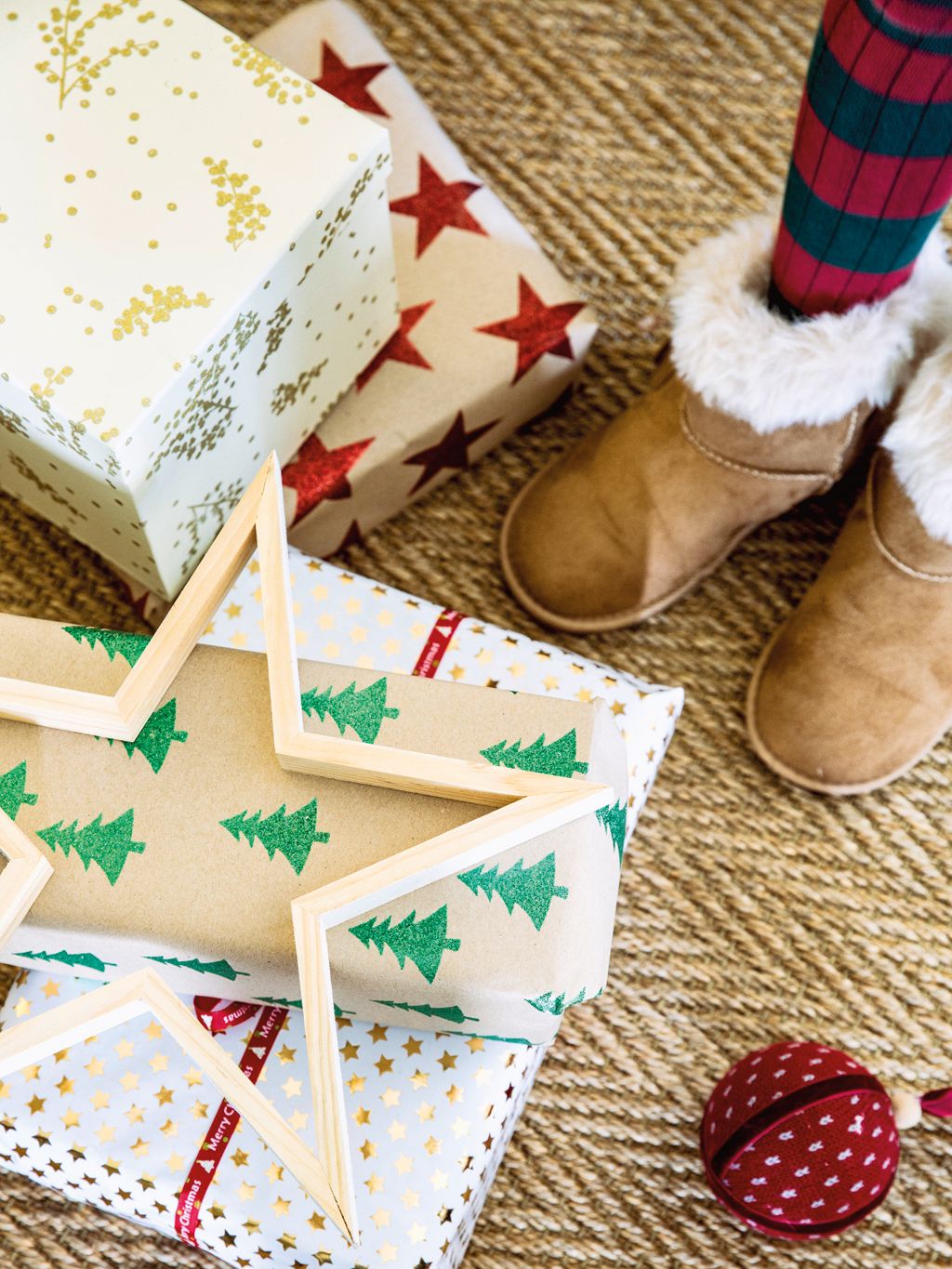 Provide them with some sheets of butcher paper so that they can decorate them to their liking with stamps or paints. An excellent idea to stimulate your artistic vein and differentiate your gifts for the rest of the family. Boots by Primark. Gift papers, from Maisons du Monde. Star, from El Corte Inglés.
15 A Christmas Bedroom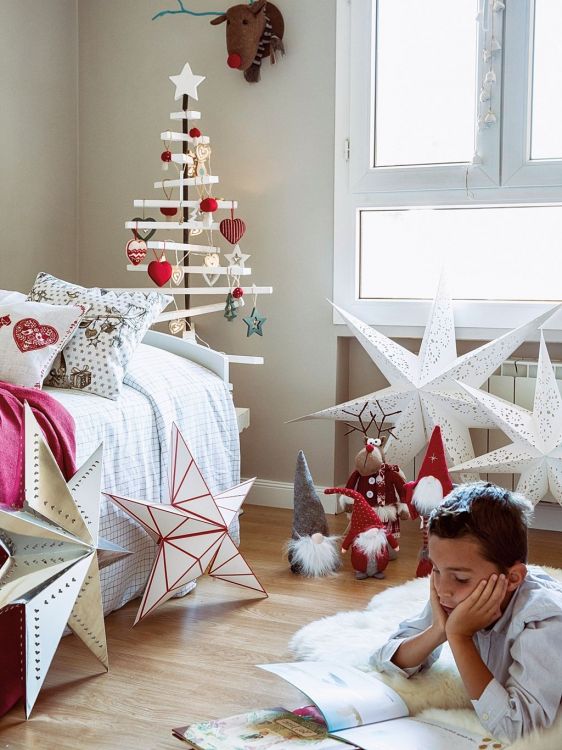 With so many vacation days, they will have time for everything: play, watch TV, visit markets, go to the cinema… After so much activity, they will appreciate spending quiet moments in their room, like Íñigo enjoying reading. White rug with fur and stars, from Ikea. Wood tree, from Amazon. Ornaments, from Primark, El Corte Inglés and Amazon.