Perhaps you have ever realized that in the bathroom we generally waste certain very useful spaces to store various things related to hygiene, such as towels, soaps, creams, shampoo, among others.
That is why today we will show you some decorative proposals to take advantage of the space with bathroom cabinets and many more creative storage ideas.
Bathroom cabinets under the sink
All the proposals are ideal both for those who have a very small bathroom as well as for those who have a large one, since in the first there is generally a lack of space for organization while in the second it is easy for things to take a much more chaotic look.
Doorless cabinets
Probably the most wasted place is the sink. Many times, under them, there are empty spaces, to which open shelves can be added, which in case you have children, you can place things that are not dangerous for them, towels, rags, toilet paper, among others. But avoid putting things that can hurt or irritate their skin or eyes, such as shampoo, after shave or the razor.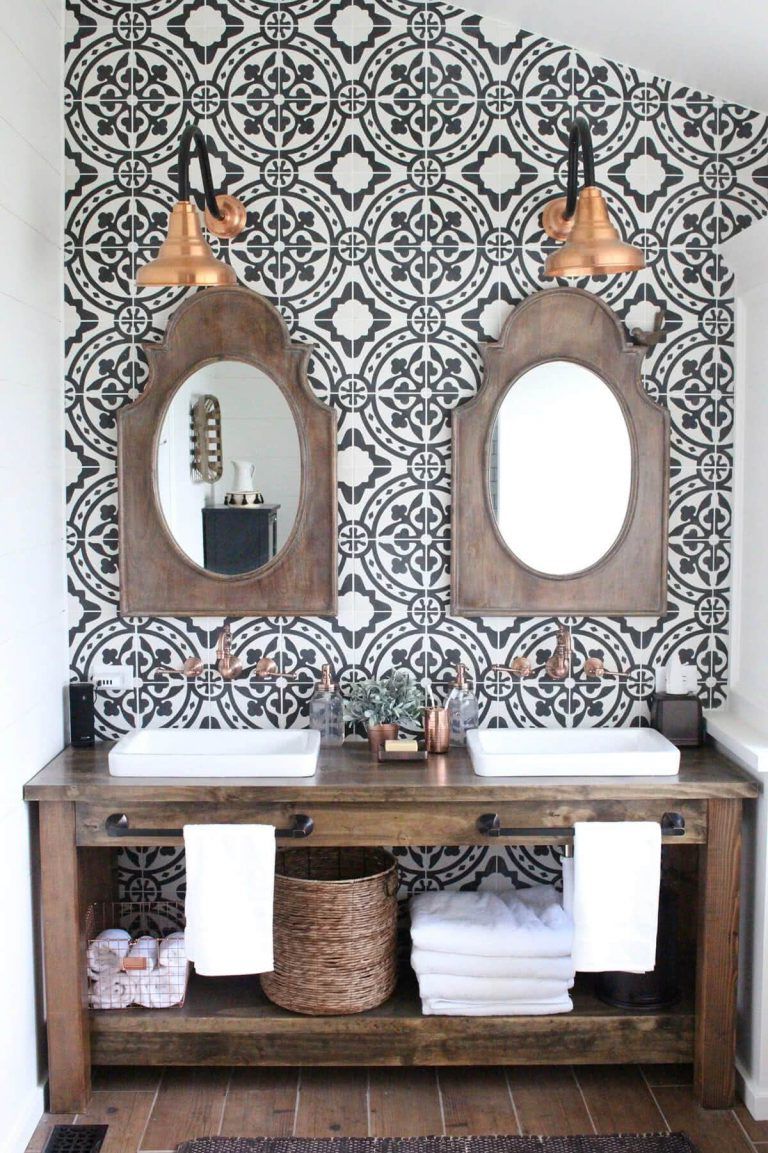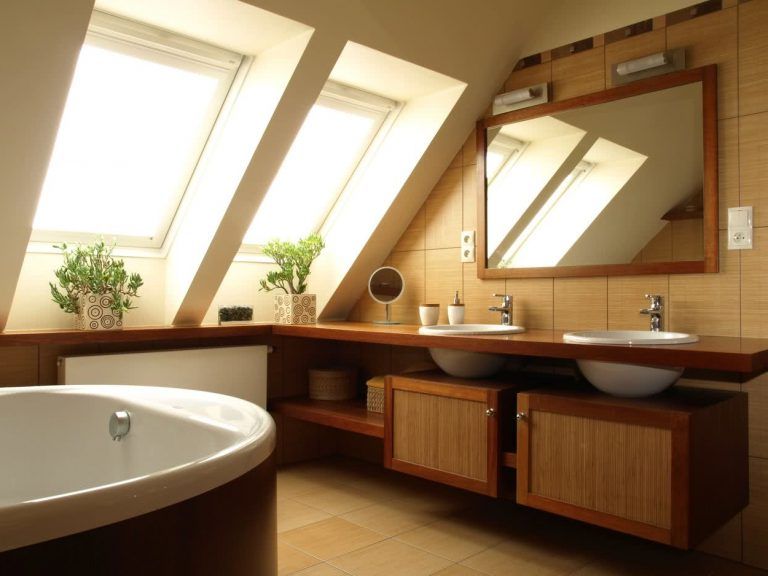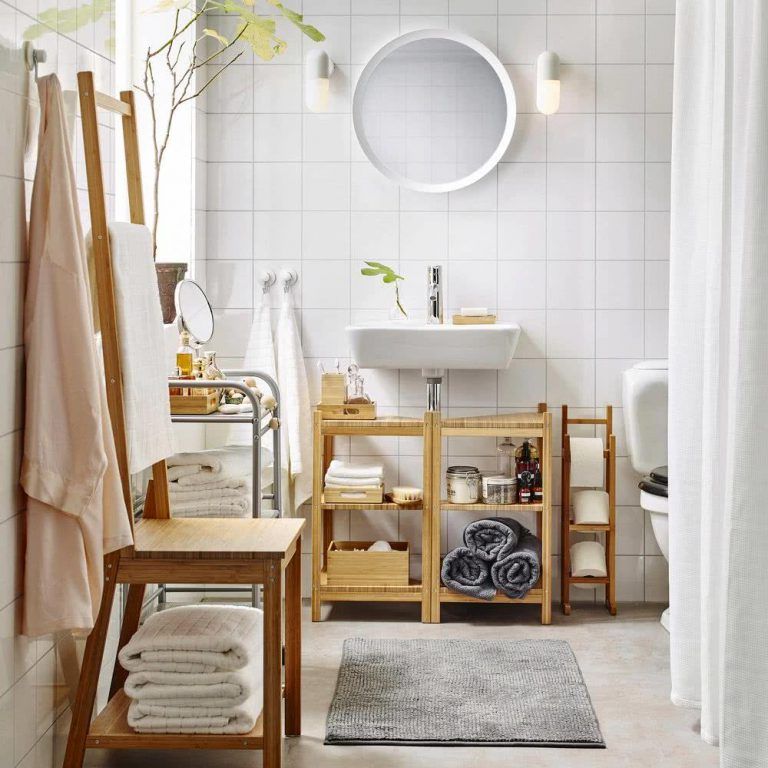 Cabinets with door
Of course you can also find cabinets with doors, to avoid accidents with children, as we see below. In this photo we also see a black wardrobe, one of the current trends.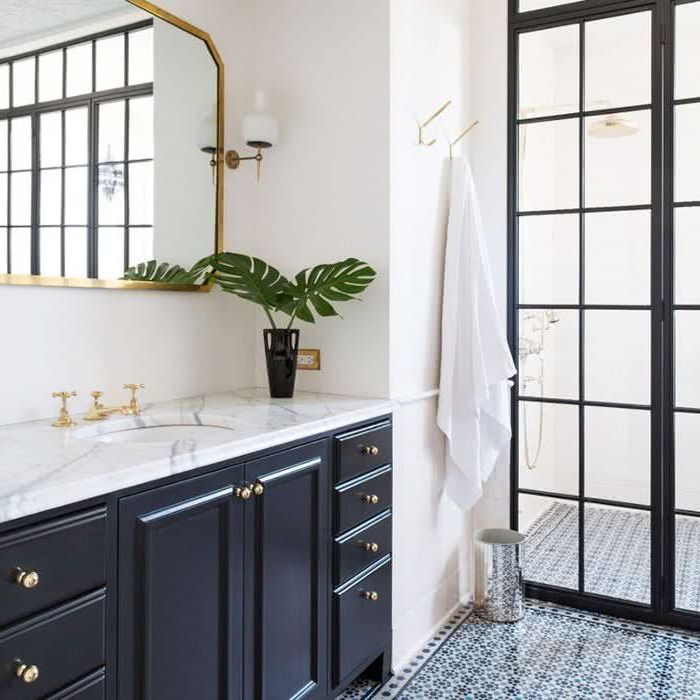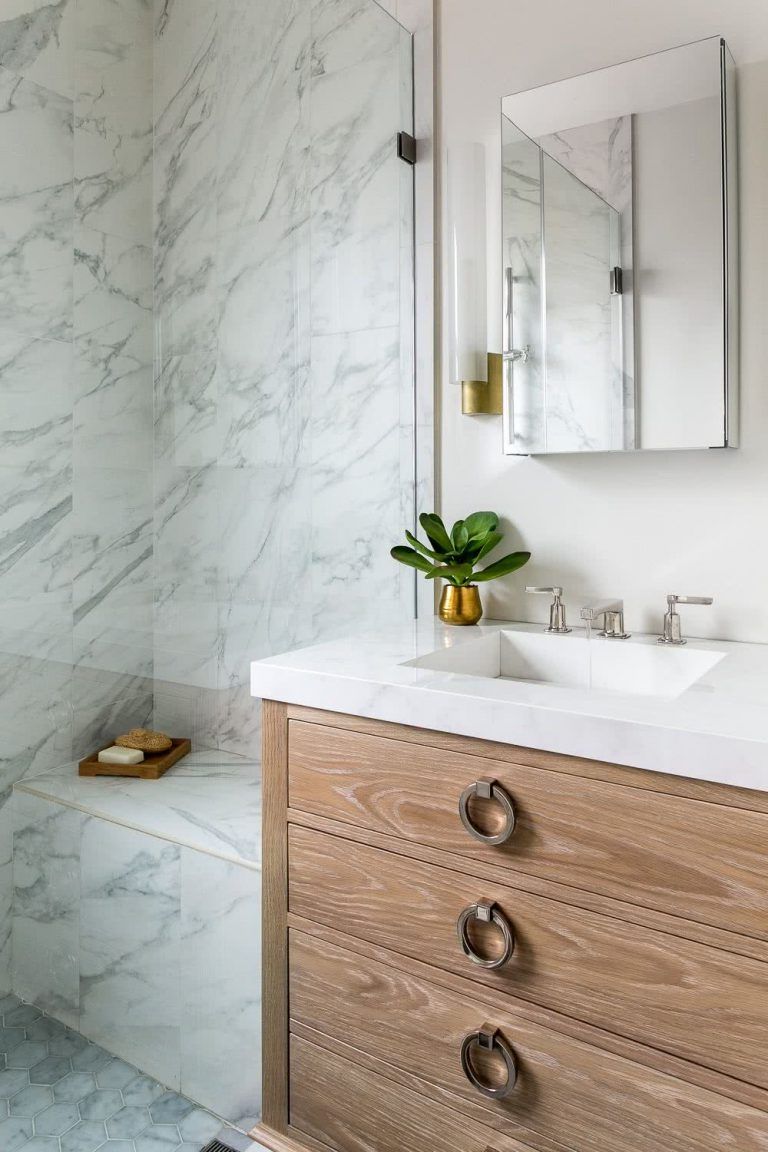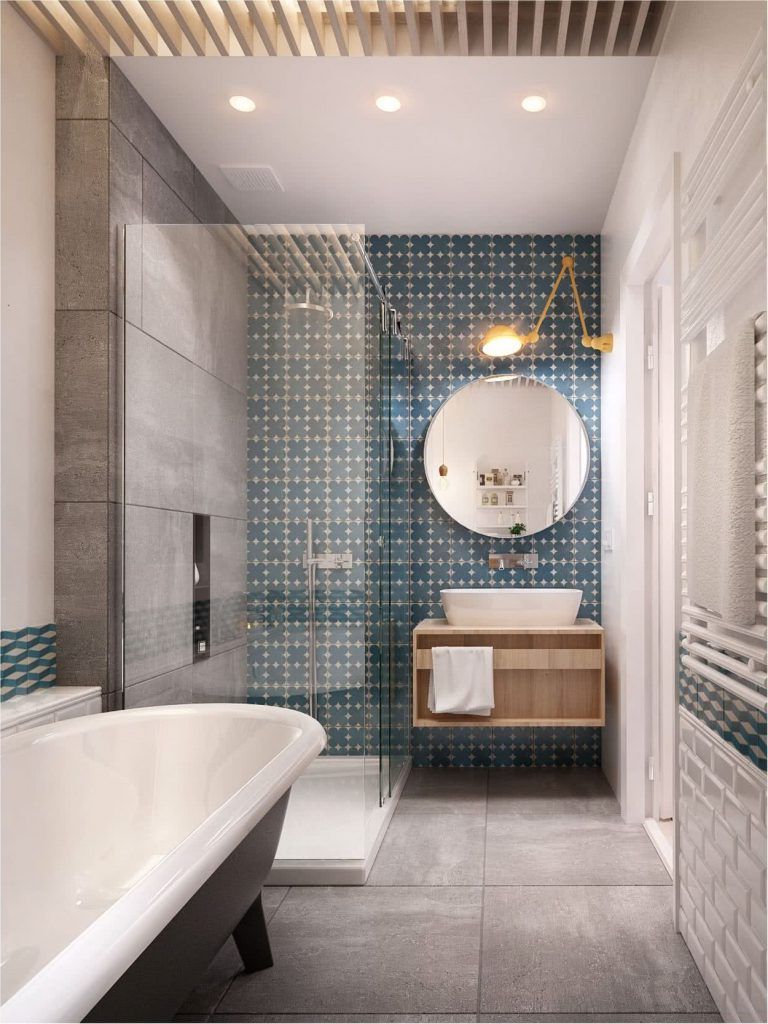 Cabinets with curtains
If you are really interested in these ideas but you do not intend to spend a lot of money on it, the solution can be simple. You can have the boards of a shelf made by a carpenter and then place and assemble them yourself. Then instead of closing the closet with doors, you can get a nice fabric that matches the rest of the bathroom and place it as a curtain, covering the closet. These sites are ideal for storing epilators, hair dryers, and other electrical items.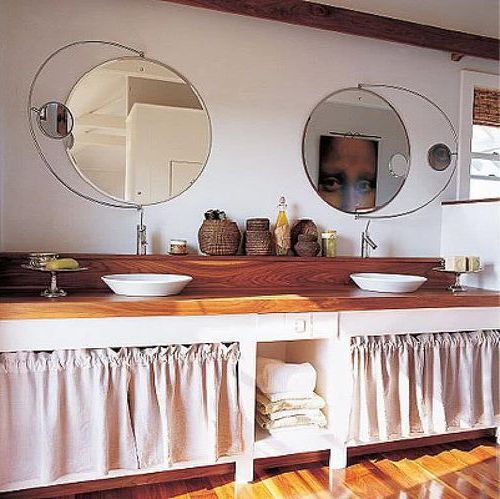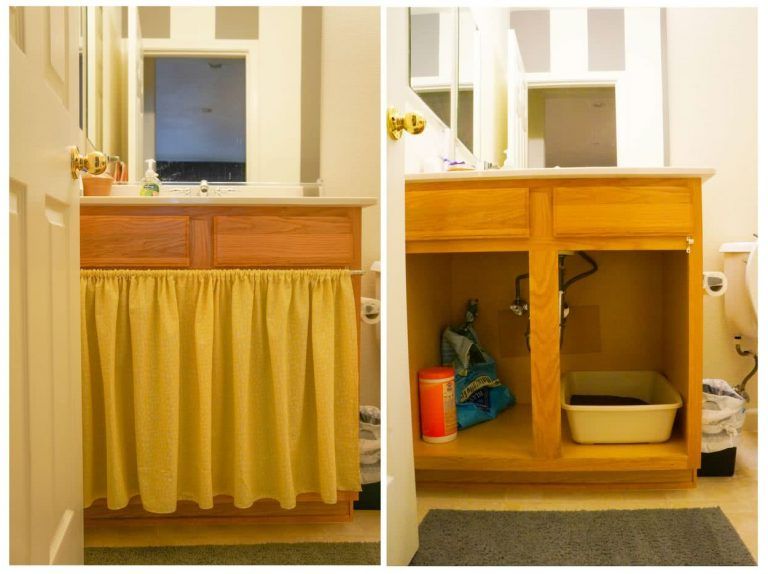 Shelves
The bathroom is usually one of the places in the house that if care is not taken easily tends to disorder, and this is often attributed to the lack of space for organization in them. The lack of space in the bathrooms (especially in the smaller bathrooms) means that we have to take into account which areas of the house we can use to store the towels.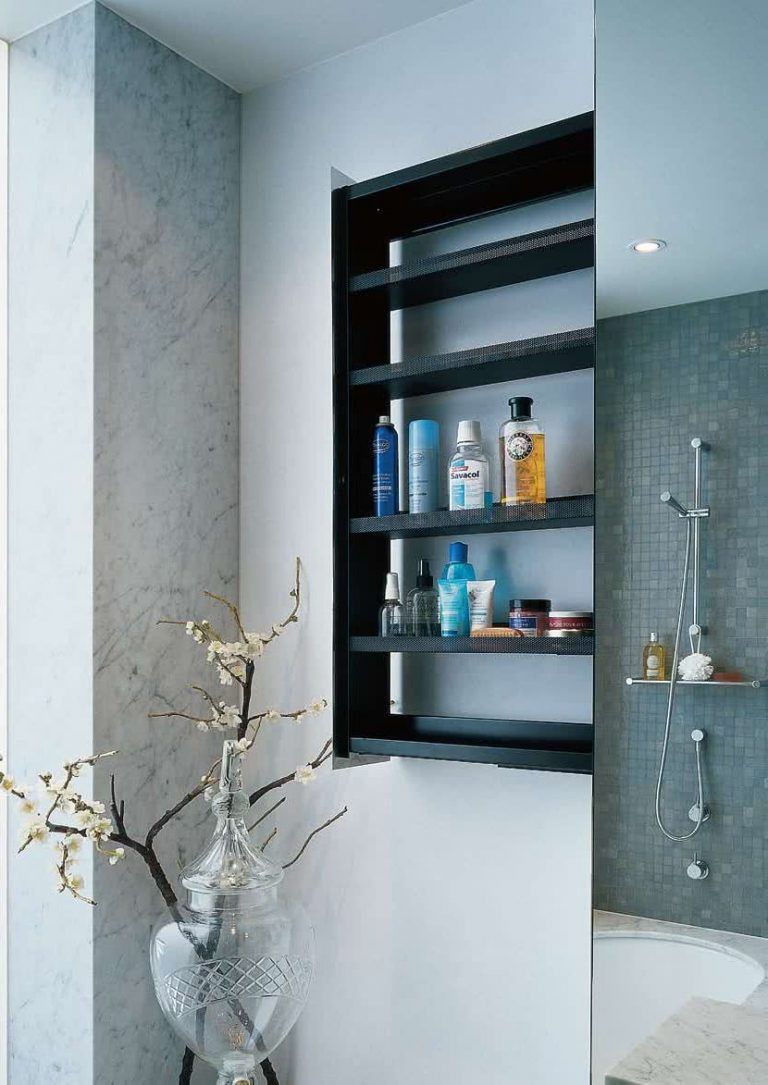 For this purpose, the presence of tall furniture is essential, which allows us to have several shelves at the same time and that does not take away a large circulation space. Another great alternative is the incorporation of internal closets to the wall, since they allow us to make the most of it without removing circulation.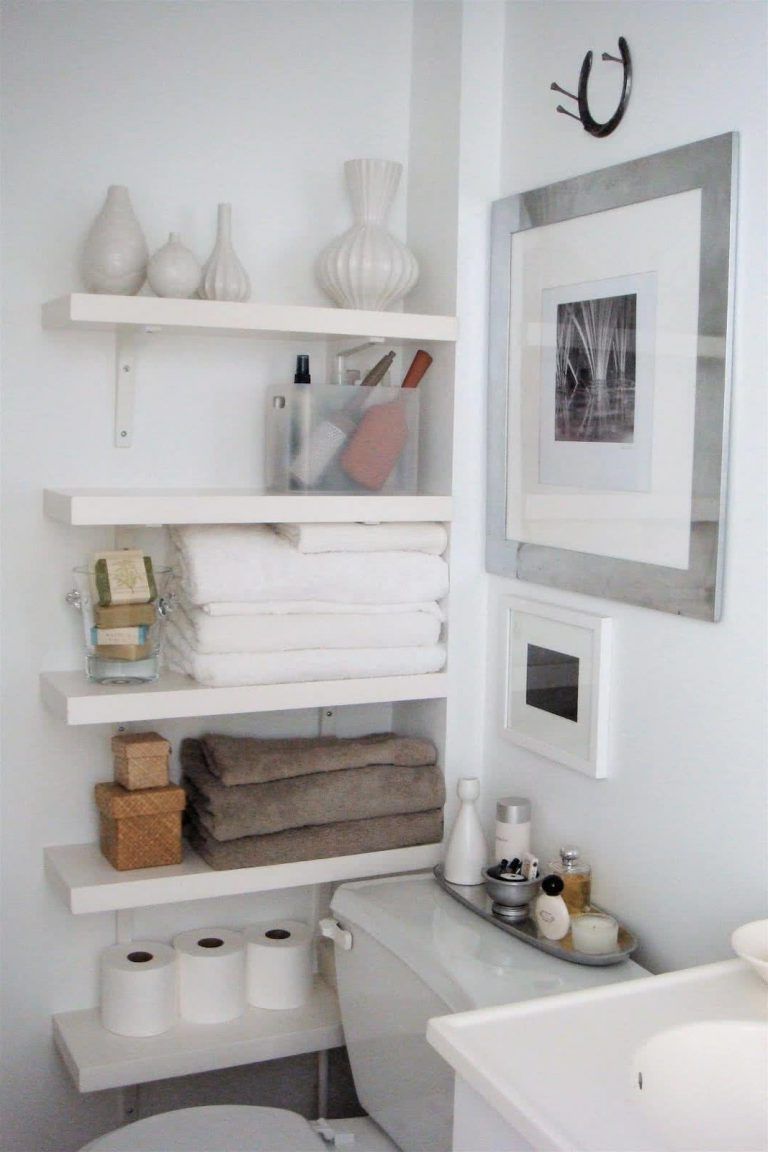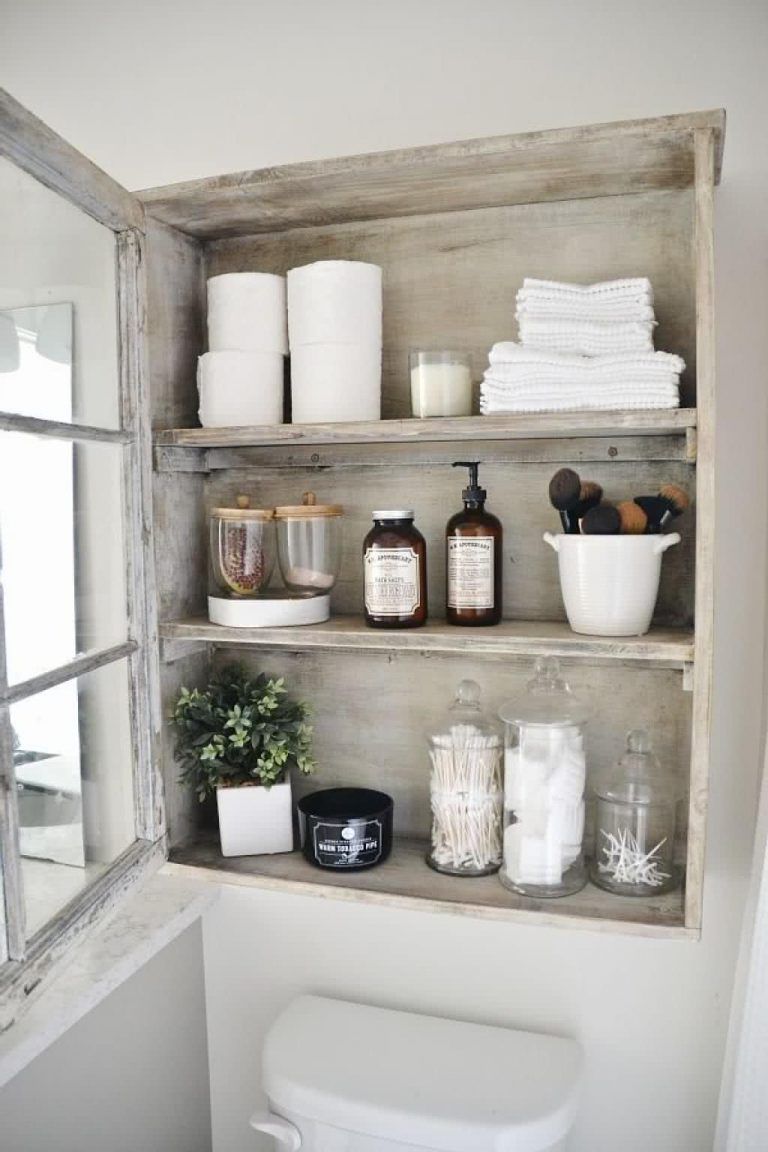 The vanity or the top of the cistern can also become good allies for organizing small items in our bathrooms.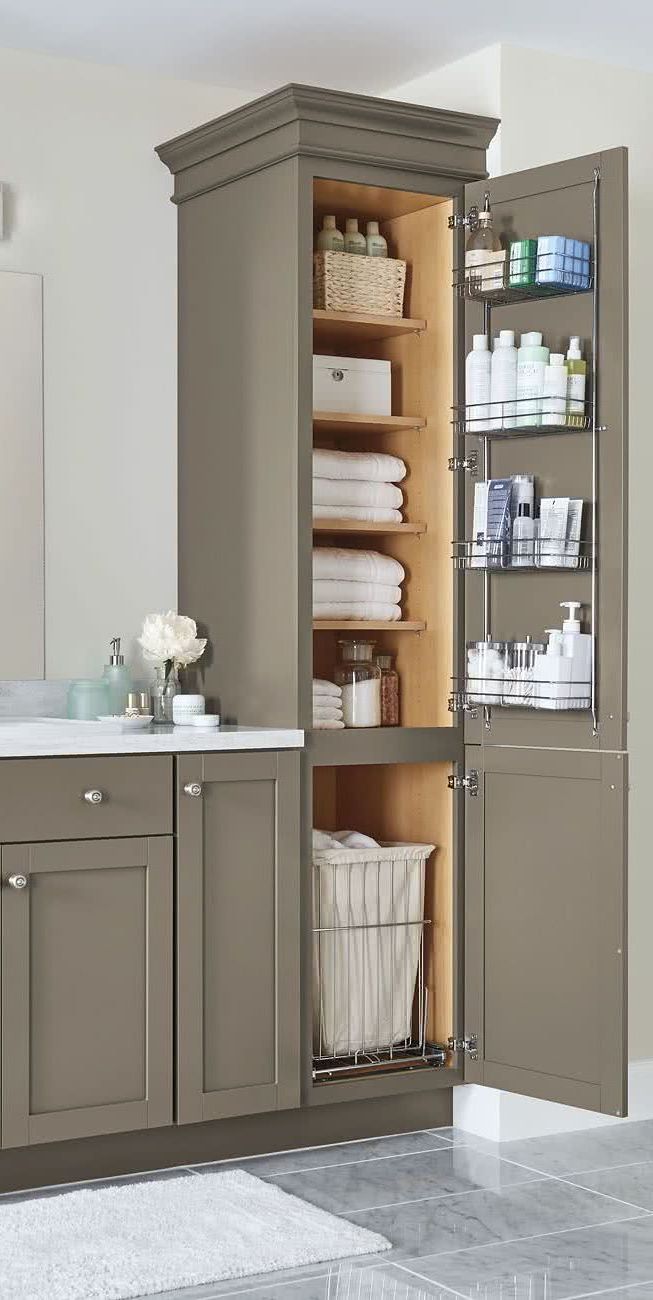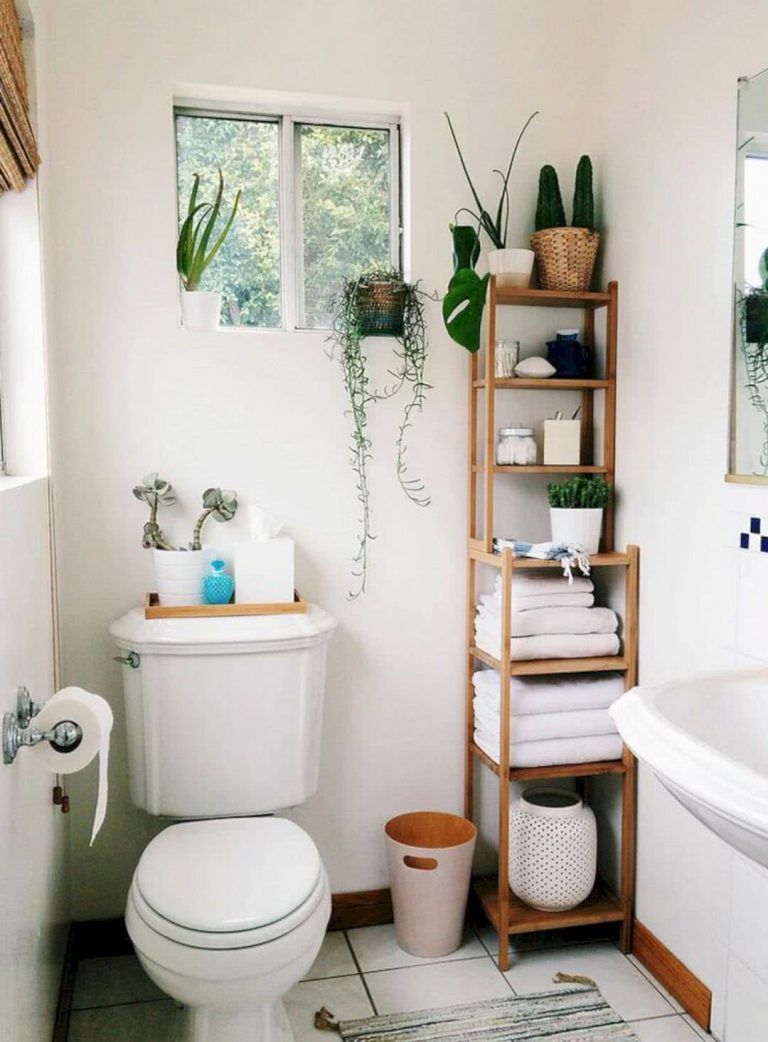 If you have a cabinet that reaches higher, or intends to put it, you will not only be able to store things more orderly, but you will also be able to intersperse shelves for decoration with candles or other elements that give the feeling of being in your own home spa . In many homes, these types of large-capacity cabinets are used to store a few household items, so that you can leave the bathroom dressed and not have to go to the bedroom to see what to wear.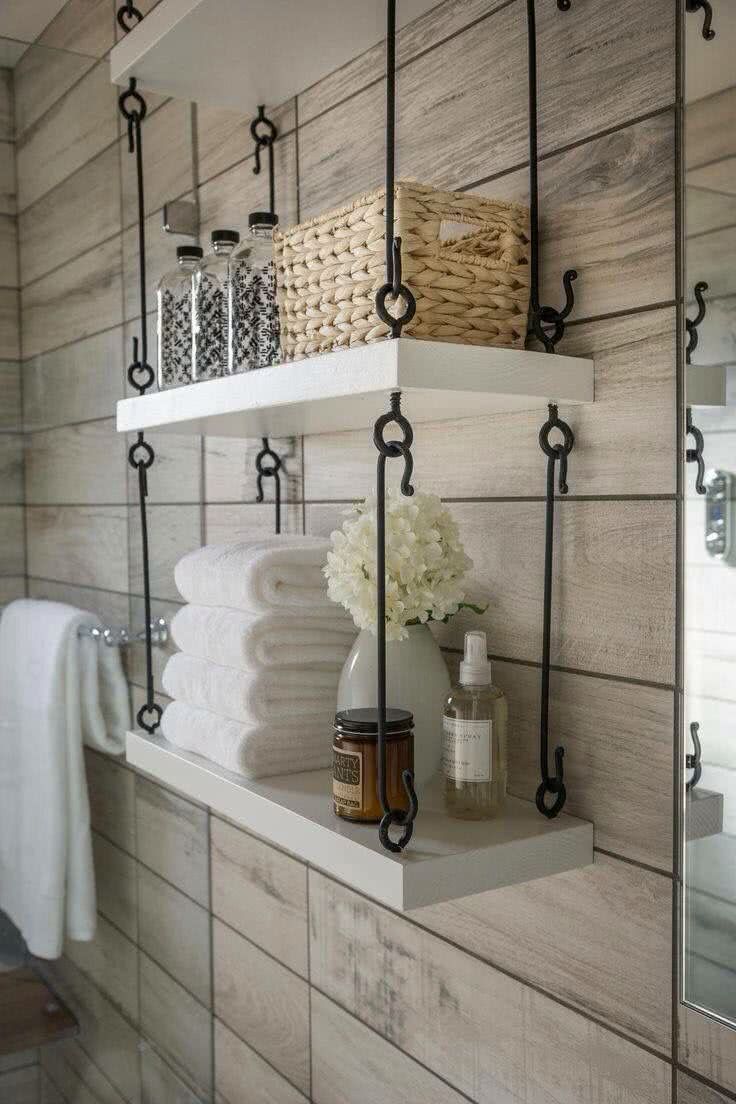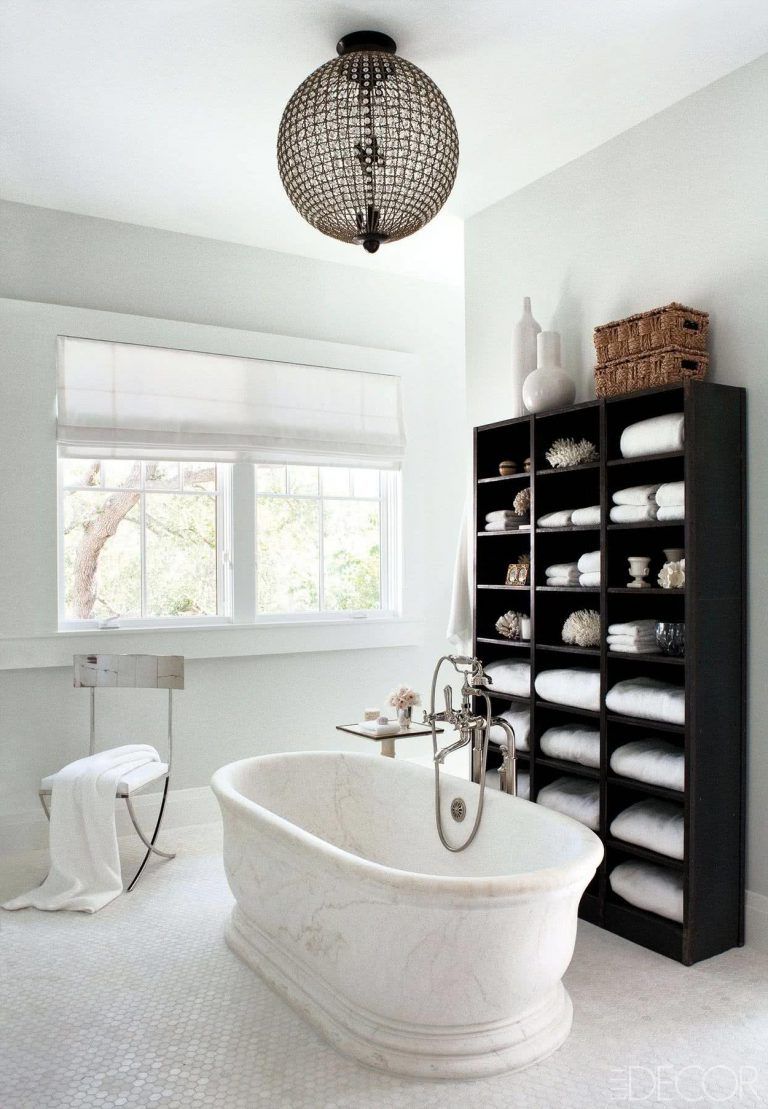 Also consider the possibility of vertical drawers with shelves.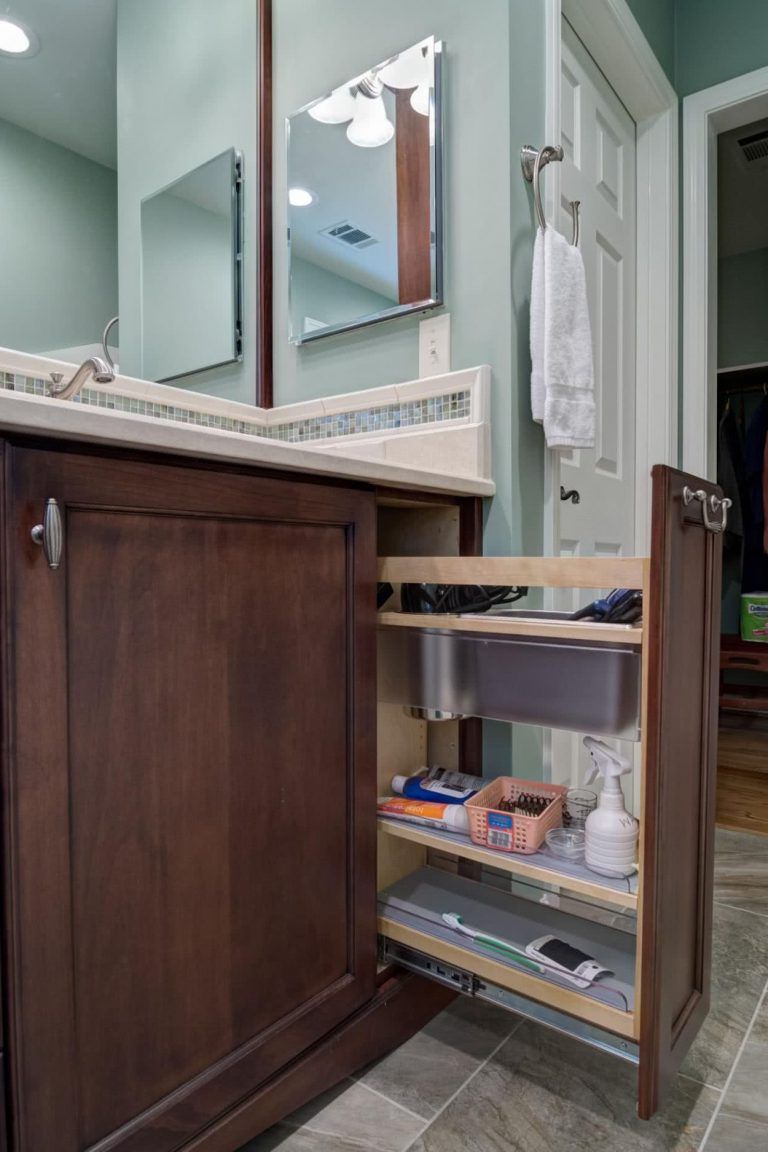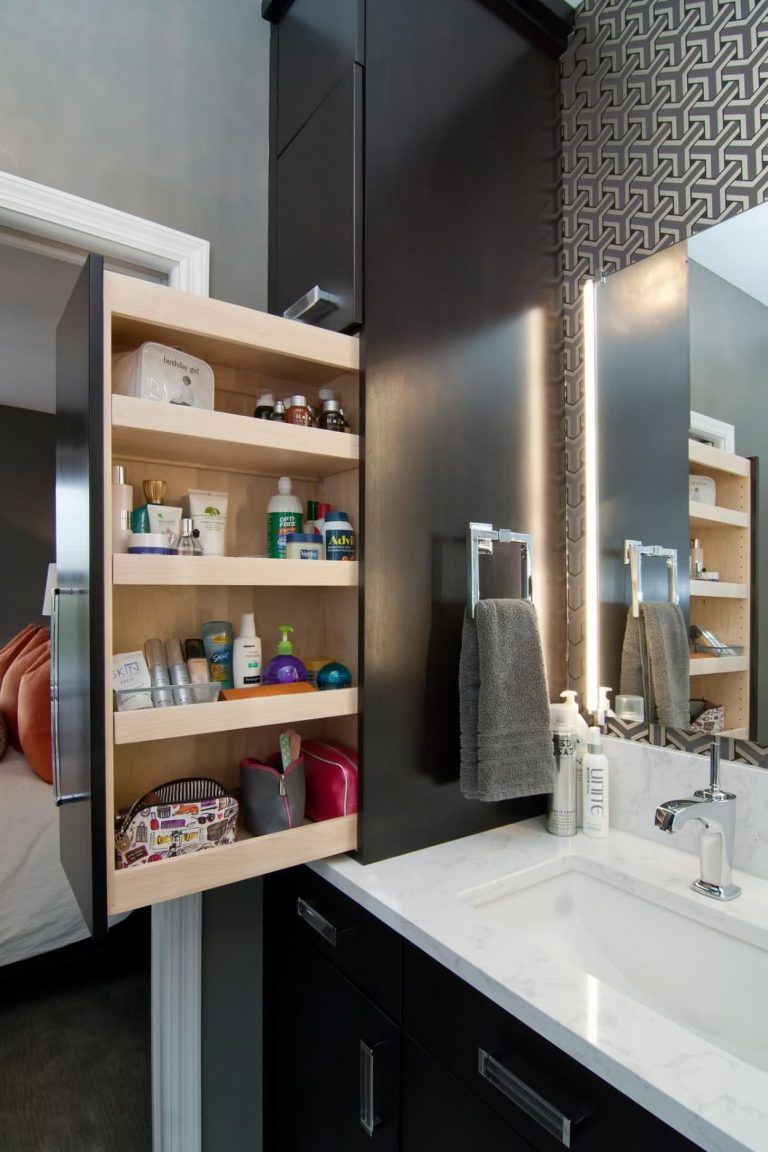 Storage accessories
We want to give you some extra tips to solve some storage problems. Sometimes we cannot place the towels because we lack a space in the bathroom for a new piece of furniture, but have you thought that it does not have to be a new piece of furniture?
Baskets
Wicker baskets can be placed on top of existing furniture giving the possibility of placing towels there in an orderly manner and without the need to buy anything new. Another option is to put them under the sink if there is nothing and occupy that space in something very useful.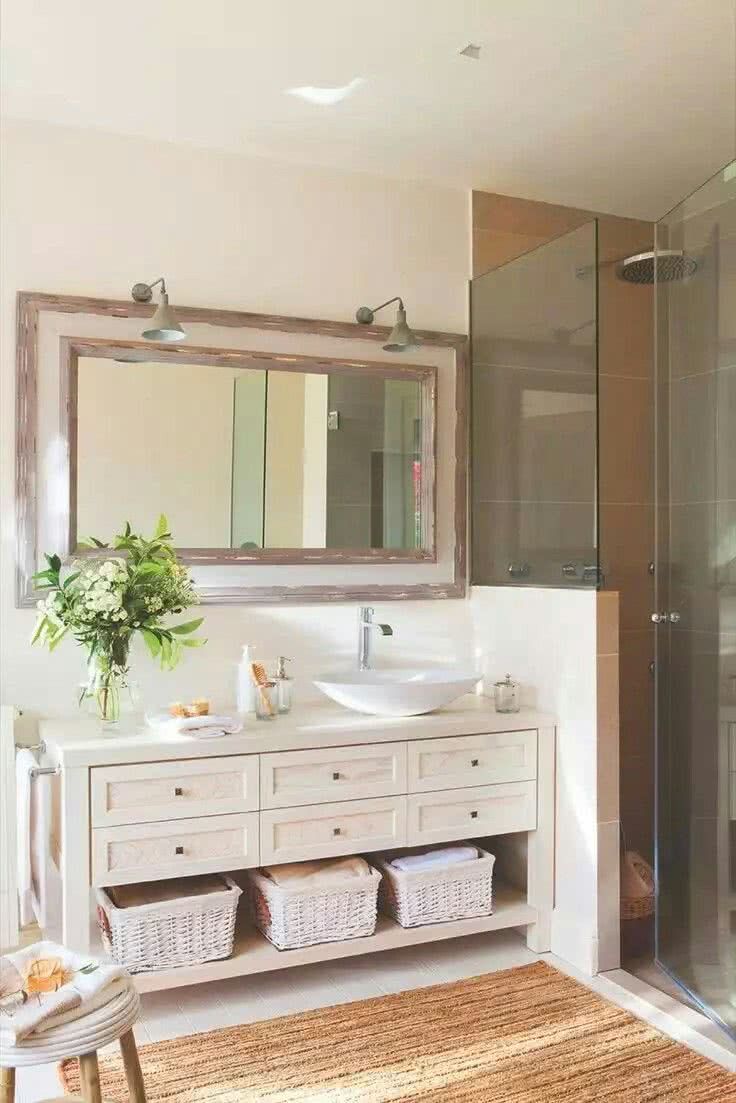 Another option is the use of a magazine rack to place towels. They are small and if you buy a more or less large magazine rack we can place up to 12 well-folded towels.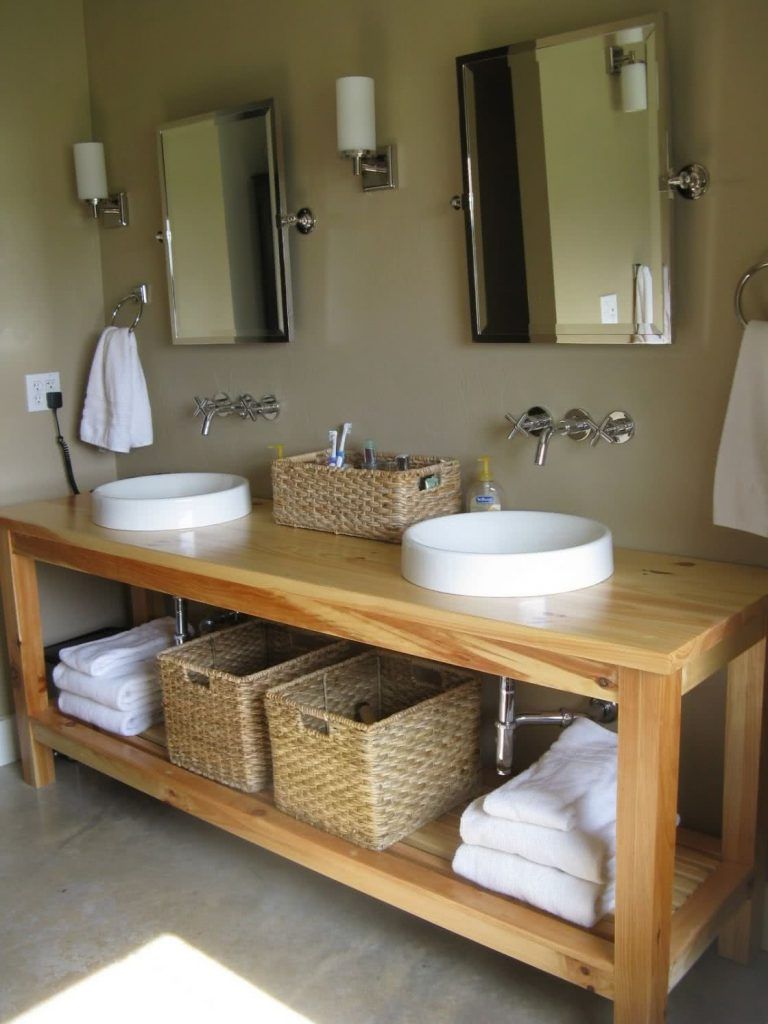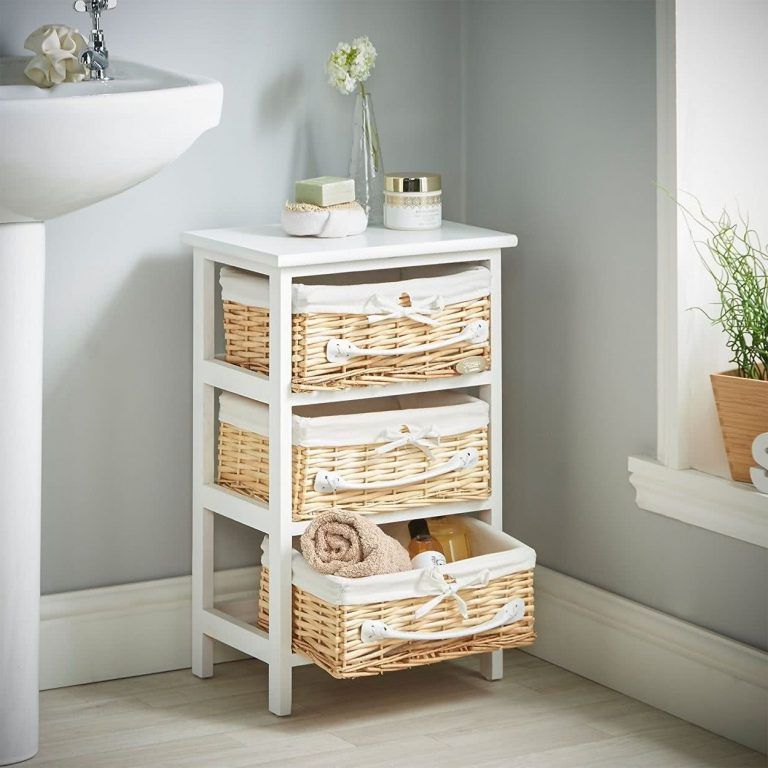 Hooks
Another option for storing bath towels is to put them behind the door on hanger hooks. You can buy hangers of up to 6 coat racks.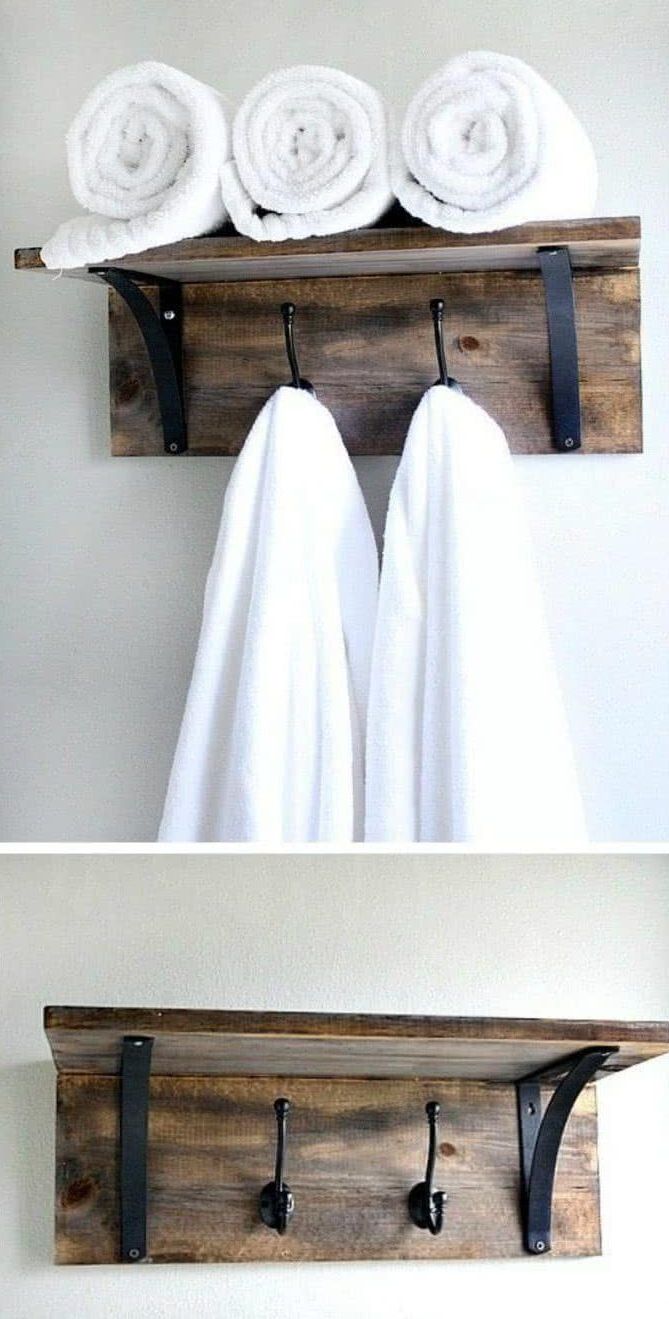 A hanger for towels and robes never hurts, despite not being a shelf, it works as such, and even better, since you can make one for dry items and another for wet items.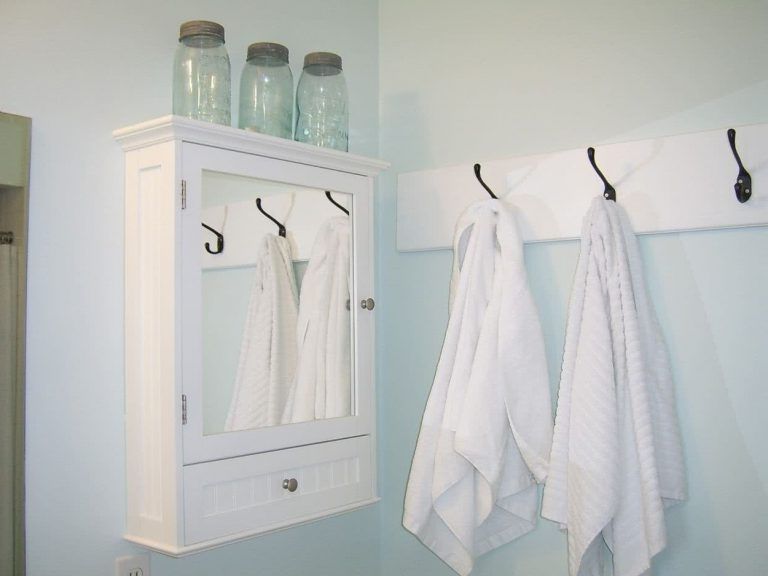 Ladders
Old or modern stairs can also be an original way to take advantage of space and organize towels, for example.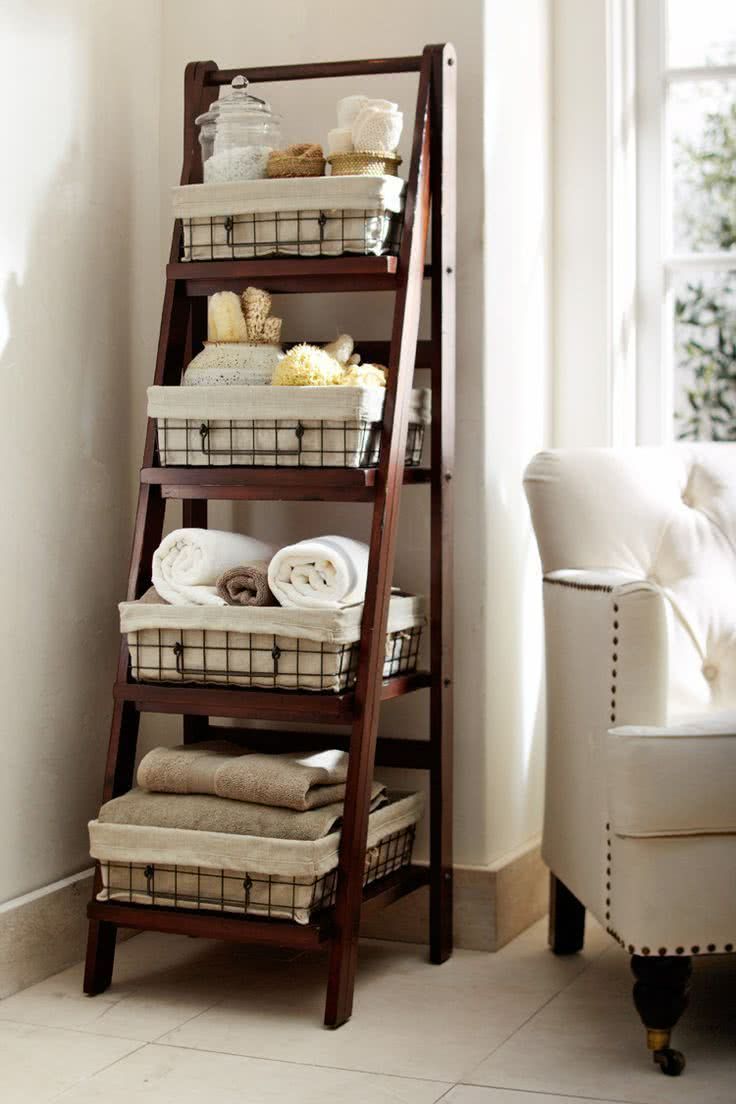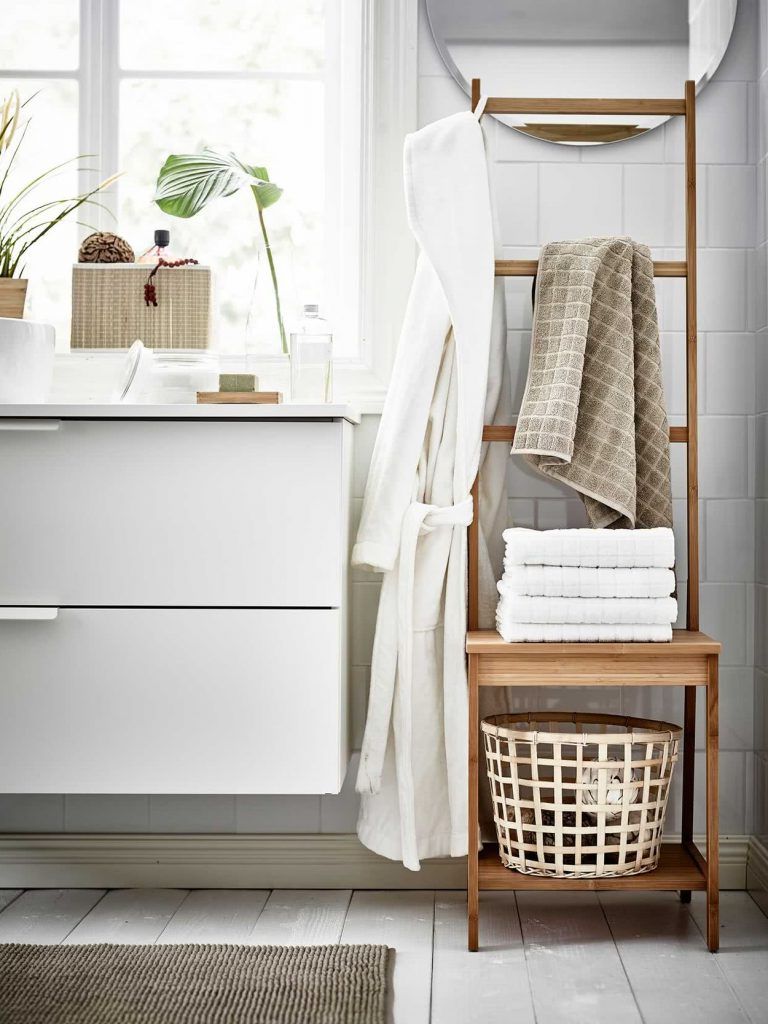 Boxes
These ideas are simple, you know that bathrooms are not always large spaces, and we must make do with little space and try to keep everything we need close at hand. For this we can take advantage of the small corners and the dispensing boxes made of plastic or any other material, so common and attractive, to store towels and others.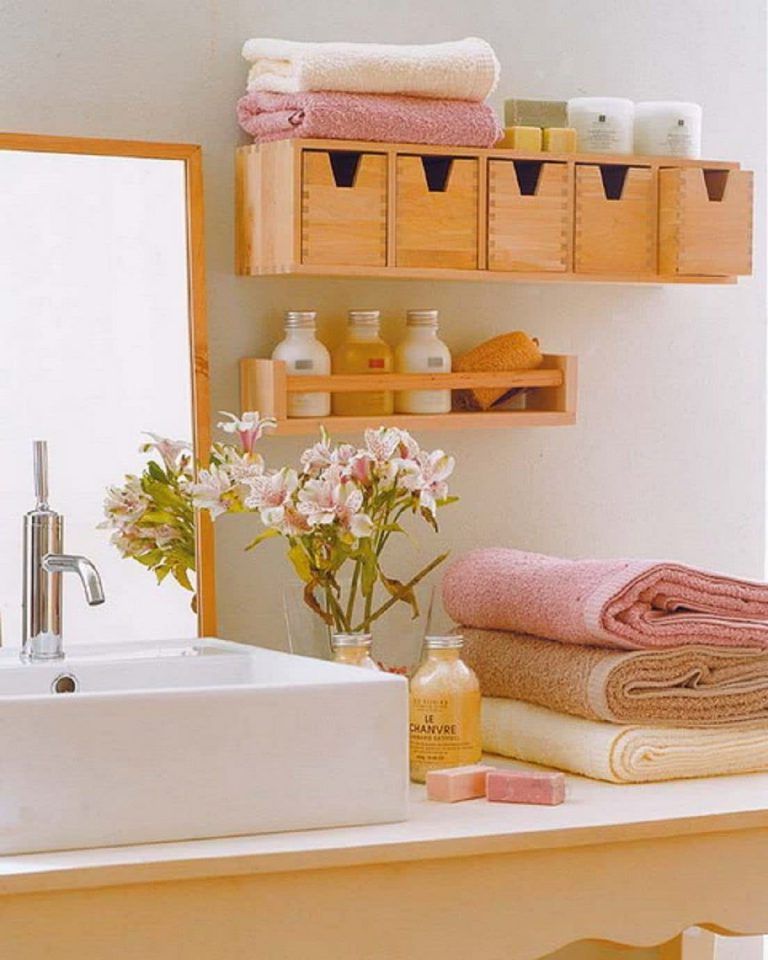 If you do not have much space, you can take advantage of decorating and organizing the bathroom, placing these boxes under the sink or you can take advantage of a corner near the WC to place some shelves that allow you to put towels, toilet paper and even toiletries within reach hygiene such as soap, creams, deodorants and others.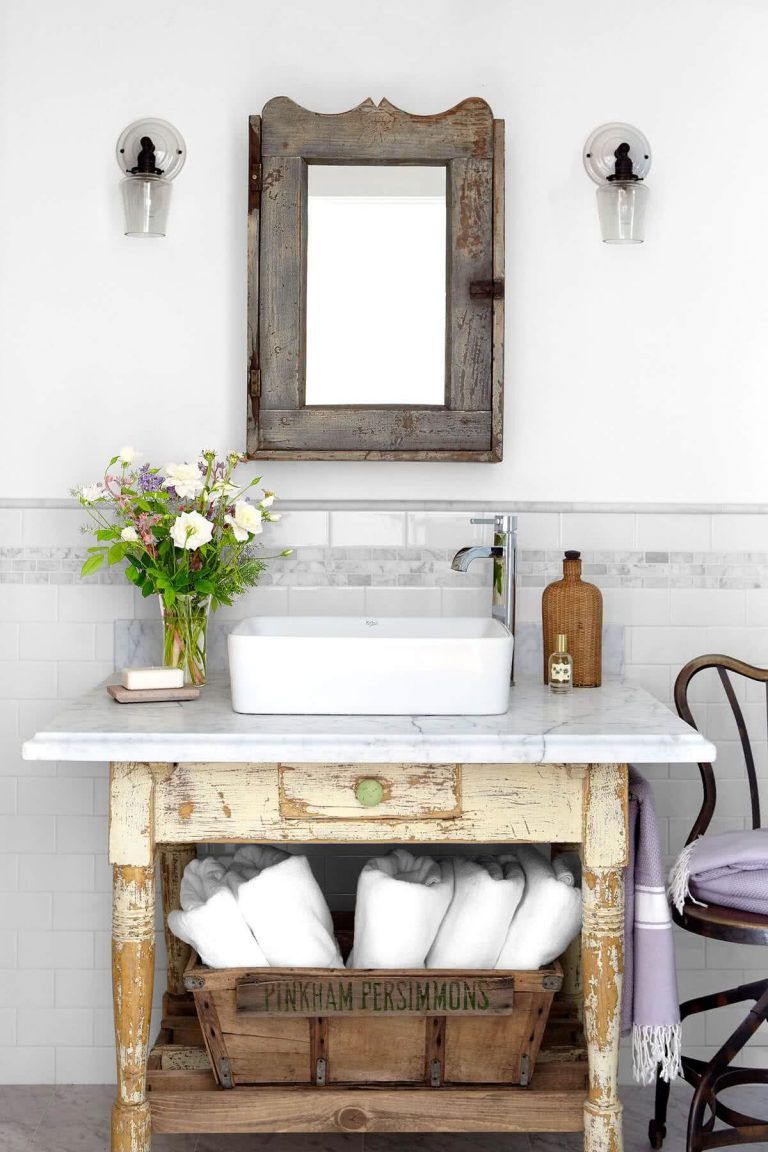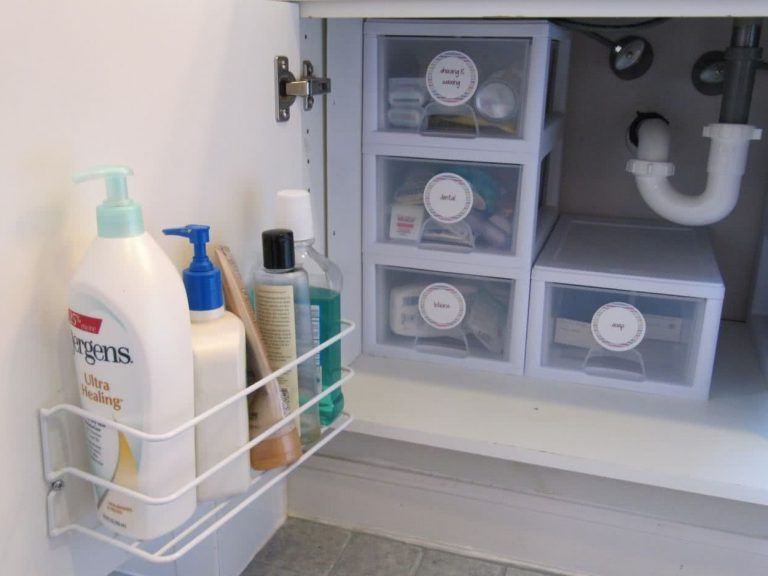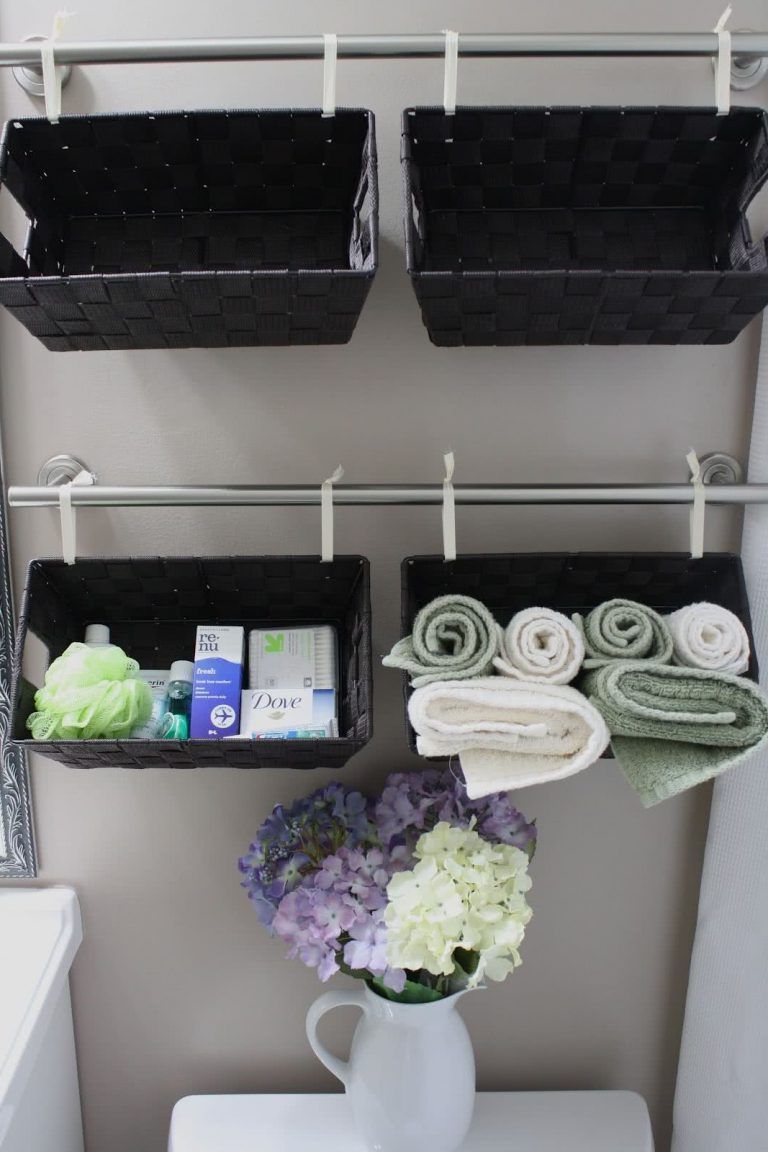 Tables
A small table will do miracles when decorating and organizing the bathroom, you place it in a corner or in a space where it is perfect to have everything within reach and in it you place everything you need. The organization is part of the decoration, the most beautiful environment loses beauty if it is not organized, always remember it.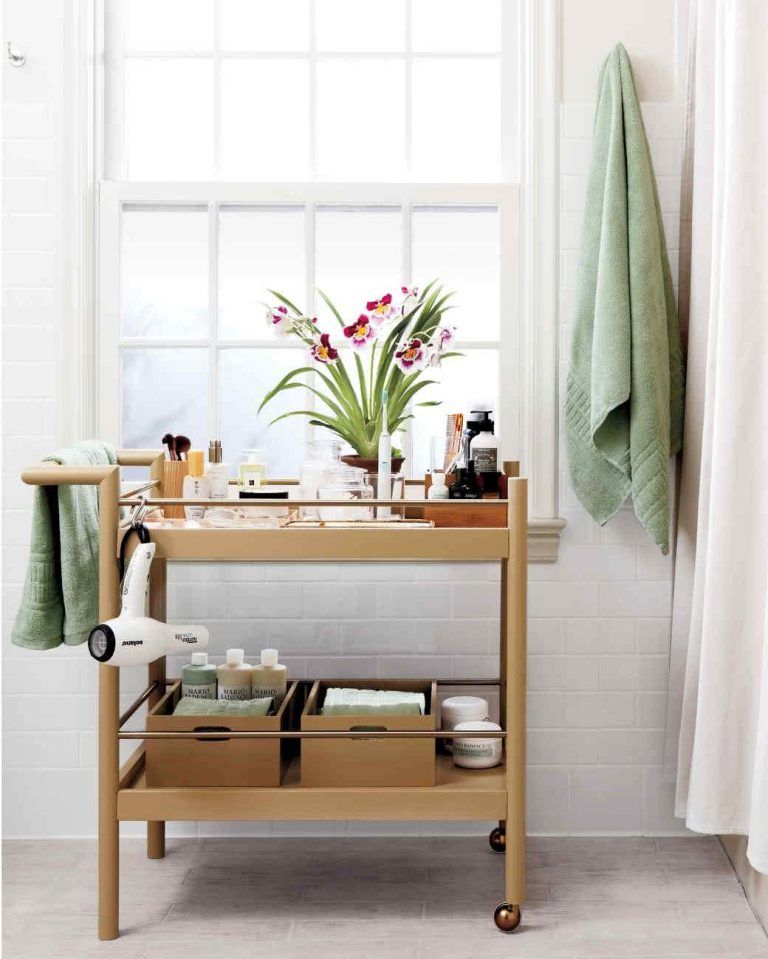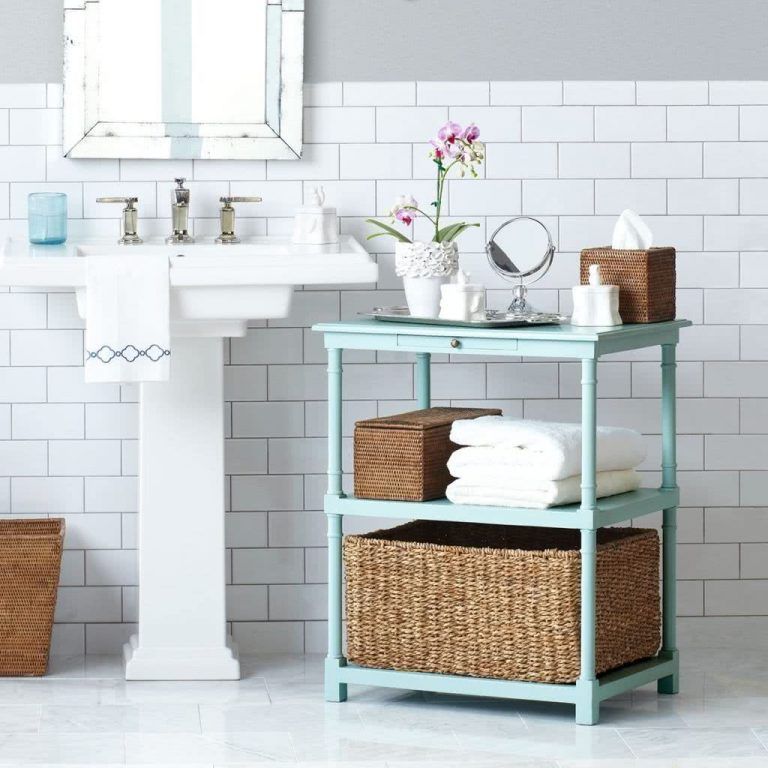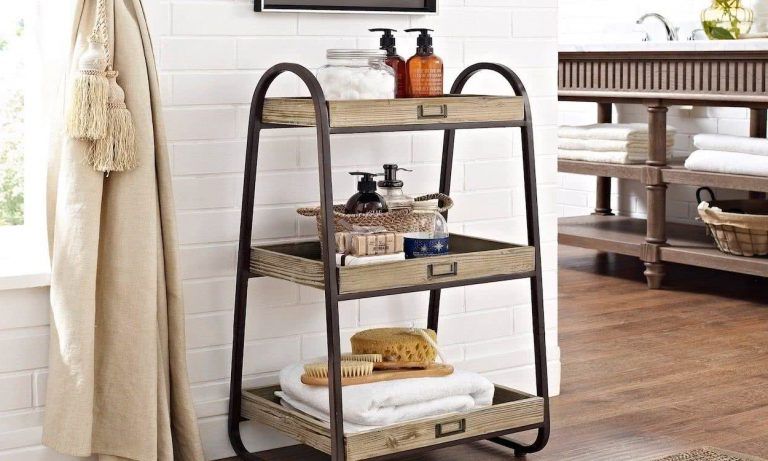 Bottles
Here we see jars where personal hygiene items have been placed.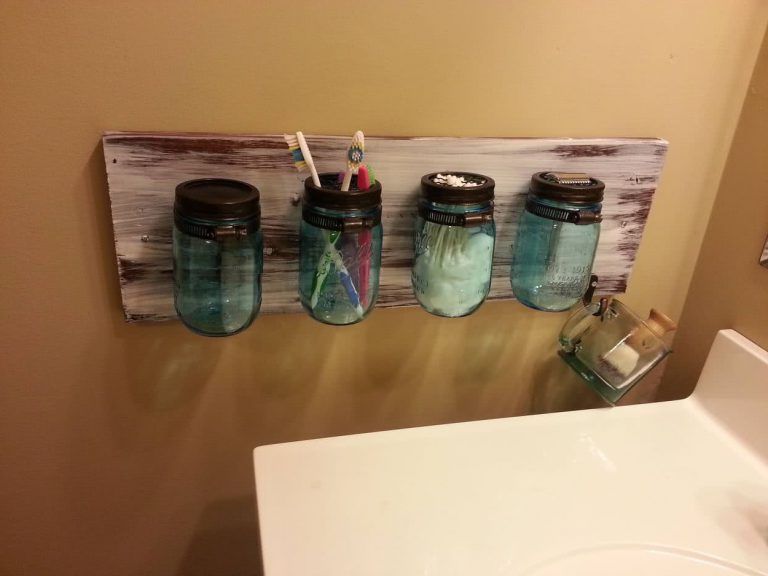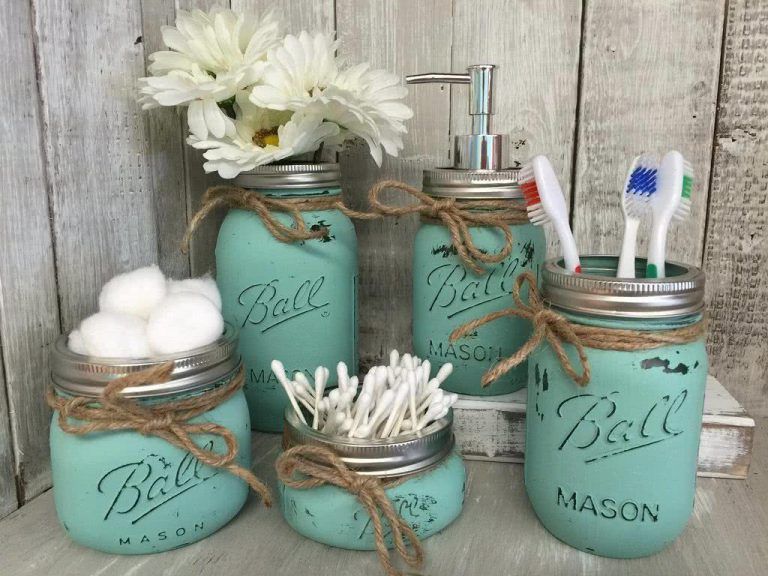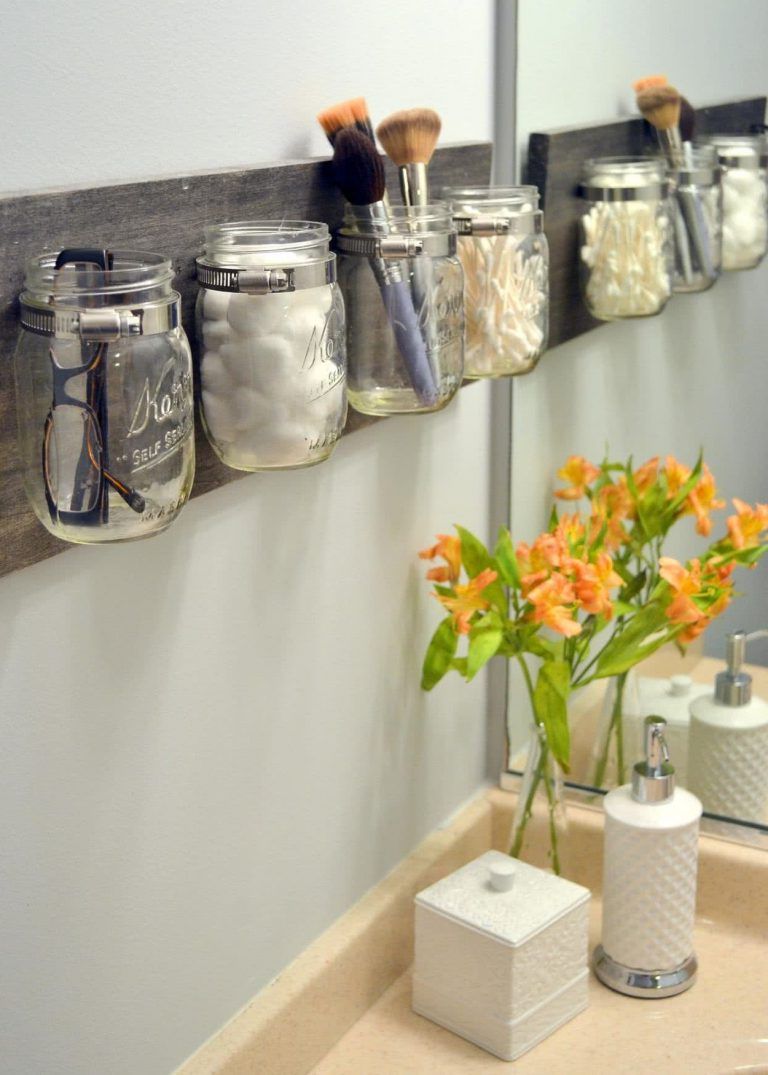 Trays
Or a tray for the same purposes.