One of the most successful ways to create an interesting accent on the exterior of the house is by adding color, and what better than applying it to the front doors. It is one of the simplest ways we have to give vitality to our facades. We will show you how to choose the color of exterior doors, whether they are metal or wood.
The photos that we will see below are a clear example of how to give our houses a personalized, fun and stylish look, without losing elegance, simply by knowing what color to paint.
Front doors in orange or red
They are two colors that transmit warmth and energy, without a doubt, and welcome us and give us a great reception when we arrive at our homes.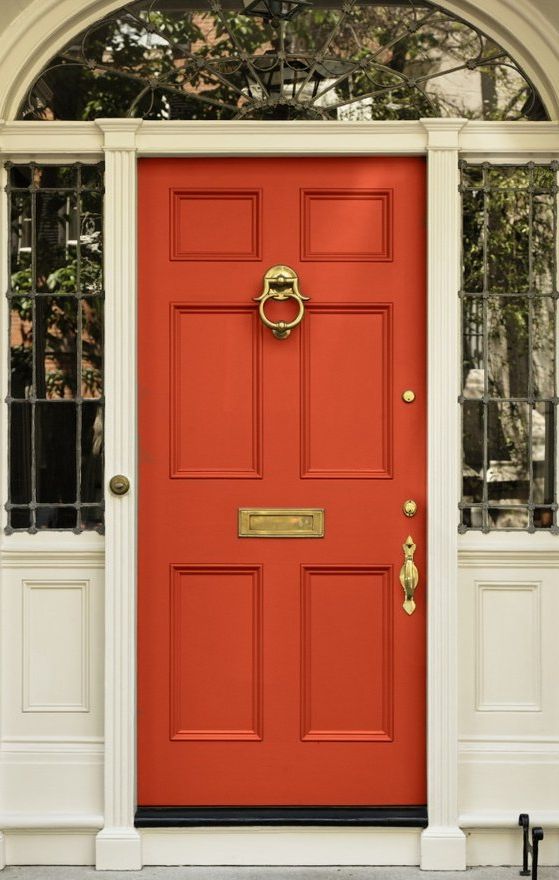 The front door of the house is like the cover letter of your home, therefore it is not a minor detail to choose the right color. For a long time, when thinking about painting the front door, only white, English green or natural wood color were considered. Today the trend is vibrant colors, more cheerful and original for exterior doors.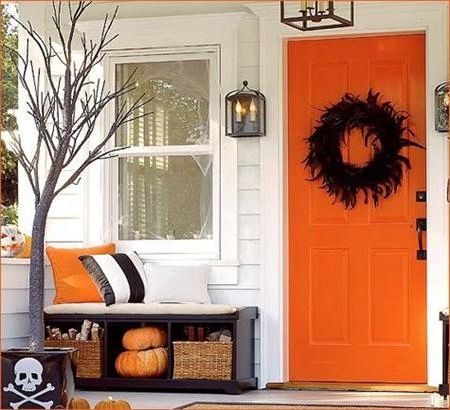 Also keep in mind that it is preferable to use a more playful color for the openings than for the walls, because when you get bored it will always be easier to repaint the door instead of the entire facade.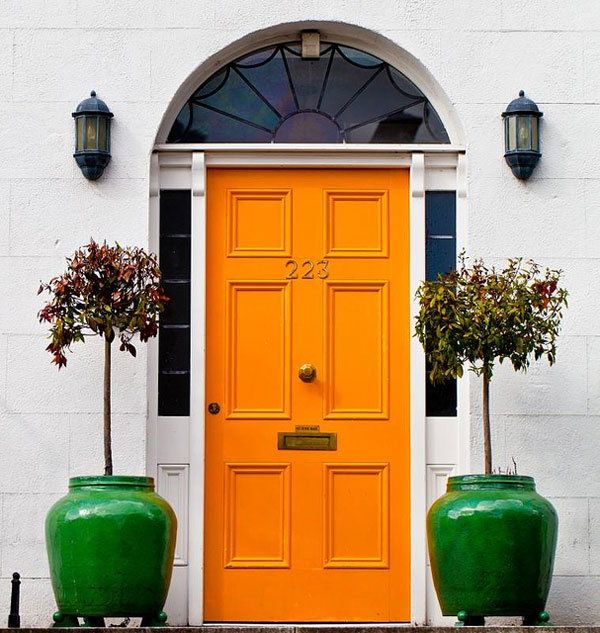 Orange or red colors look great combined with white, gray or cream walls.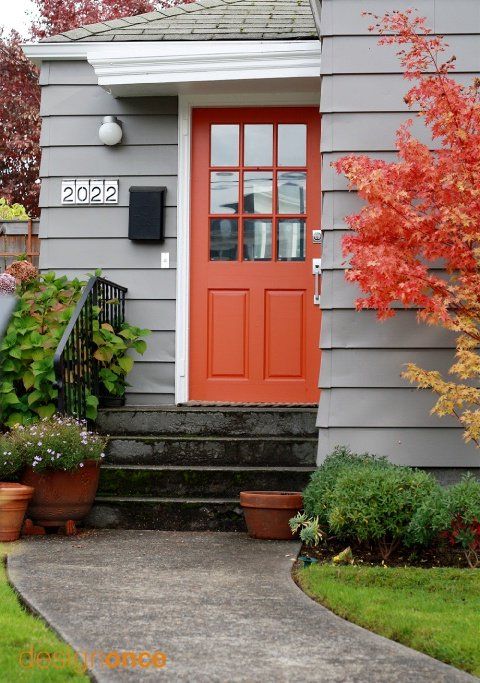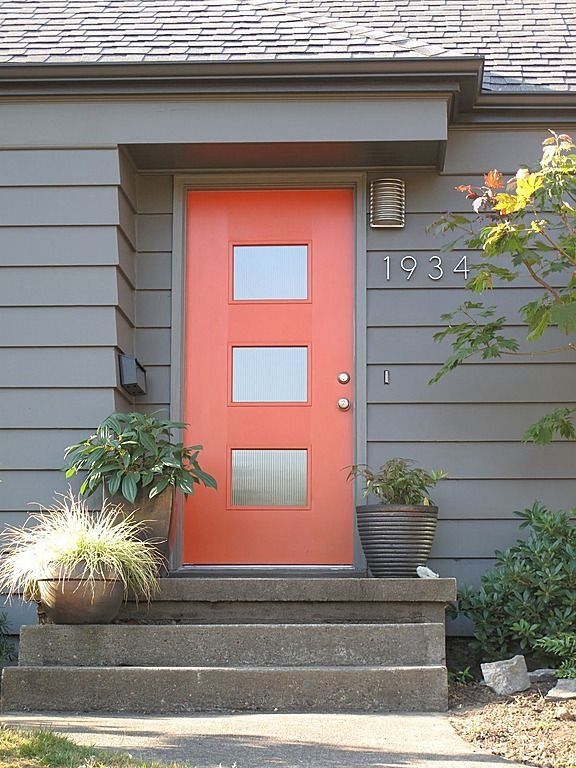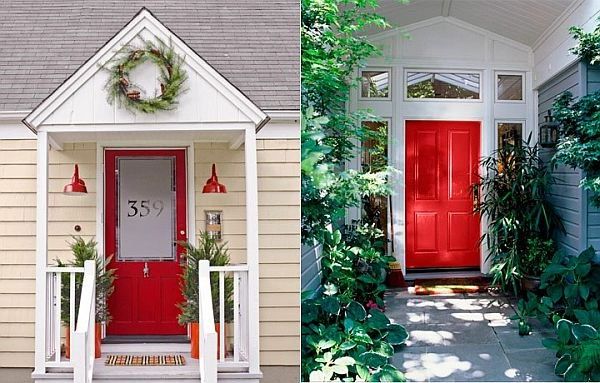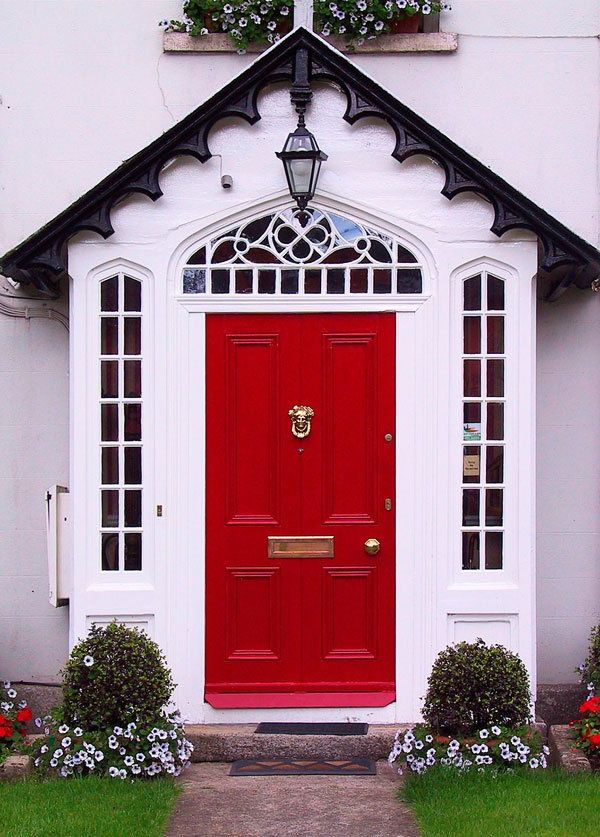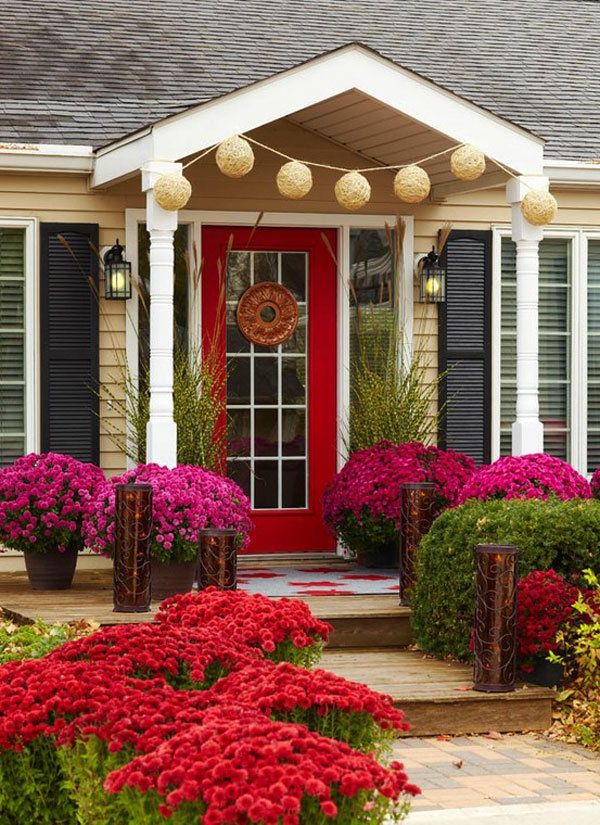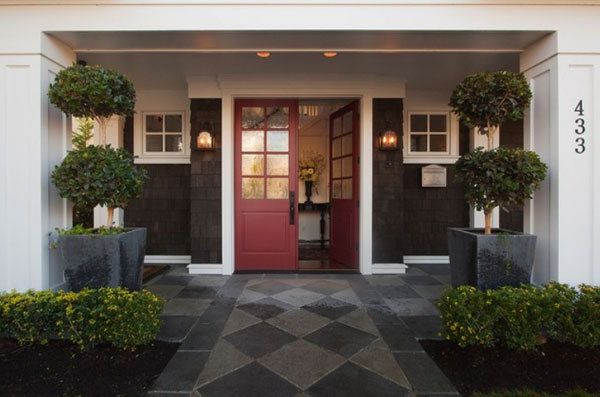 Do not miss: Exterior Colors 30 Perfect Combinations
Light blue or blue doors
Within today's exterior decoration, doors are especially relevant, doors are no longer in their natural color, which were seen at times attractive. What goes are the doors in the colors, bright, striking. The different shades of blue or a pastel blue are also another option to consider. They are colors that transmit freshness and peace.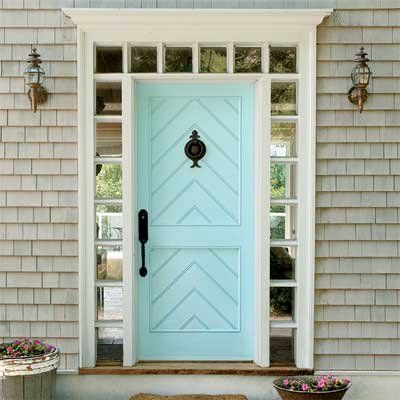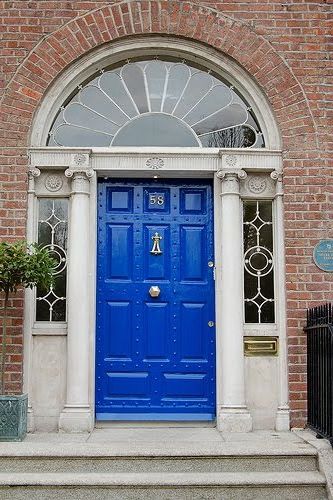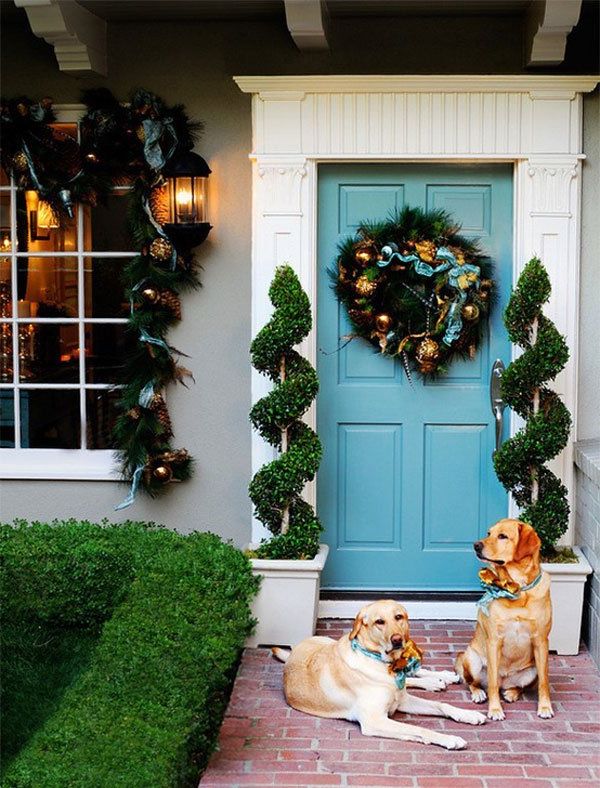 Green front doors
Teal green or lime or apple green have also been in fashion for several years.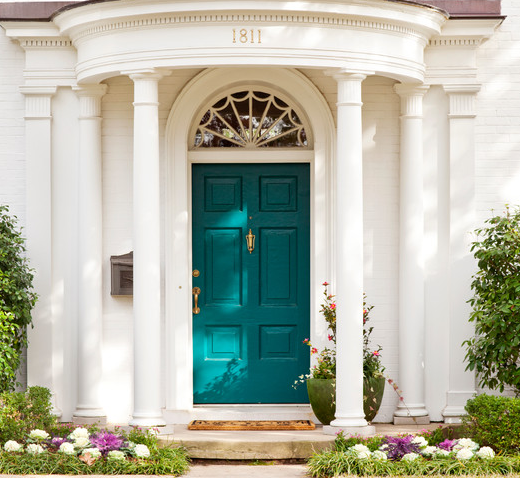 The bluish green is very elegant, while the lime brings a very important touch of vitality and joy.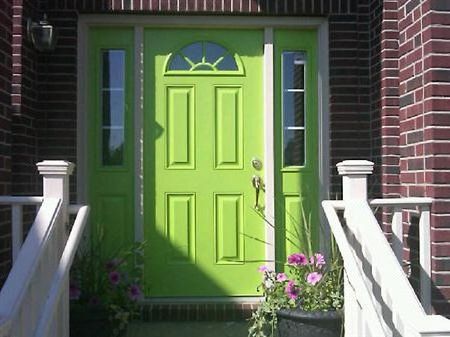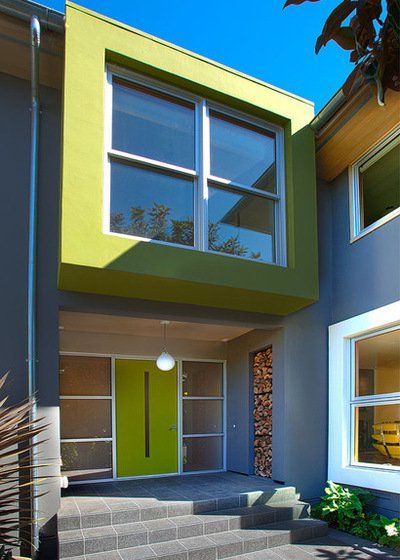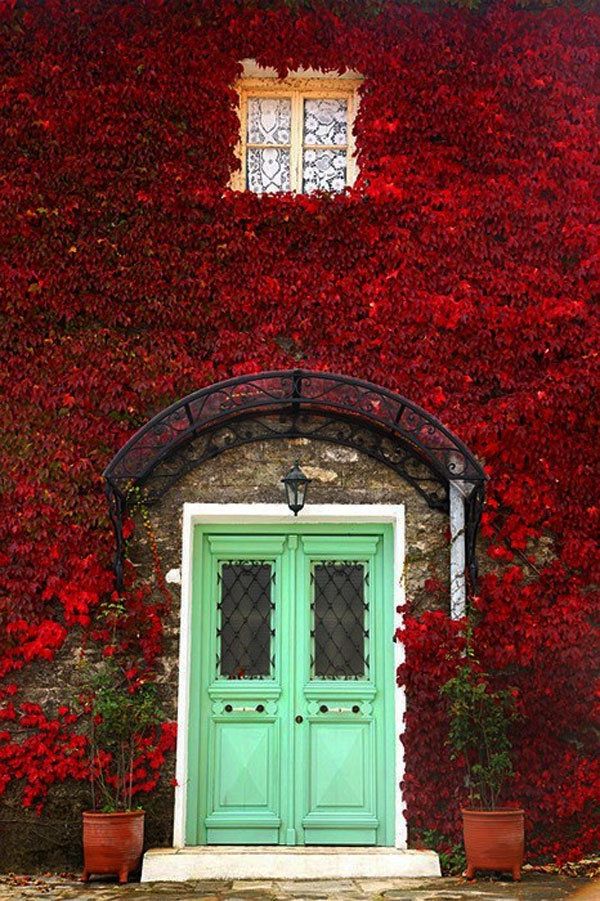 Yellow front doors
The color yellow is very energetic, it calls for activity, it makes us feel enthusiastic and it is the ideal color to combine or contrast with other beautiful colors in the decoration. The important thing is to highlight that you can choose saturated or pastel yellow. It brings a lot of energy, as it is associated with the sun and summer.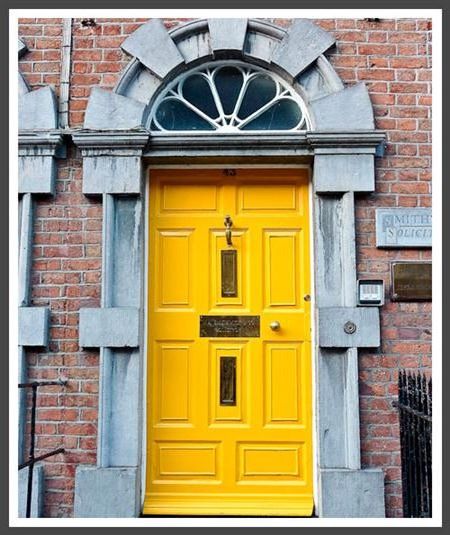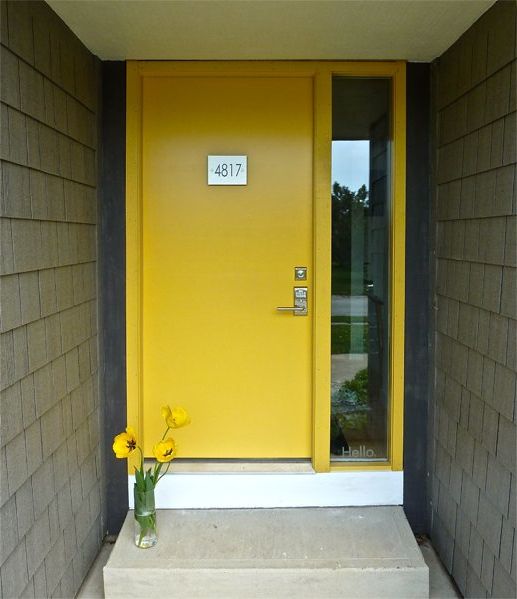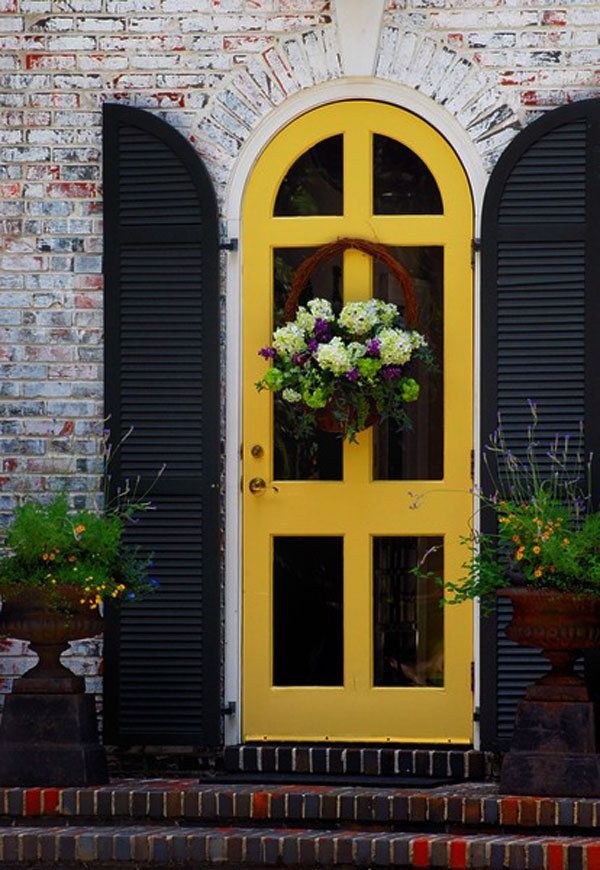 Purple doors
You can take advantage of the versatility that the color violet or purple has to offer, to enhance the exterior of the home by painting the doors in that color. It is a striking color without being garish. In addition to the multiple benefits of this color in decoration, it represents wealth, honor, creativity, and the spiritual. On the other hand, all those who enjoy the Zen philosophy can take into account that according to it, this is the only color that can be placed in any direction.
These colors awaken a feeling of a fantasy world.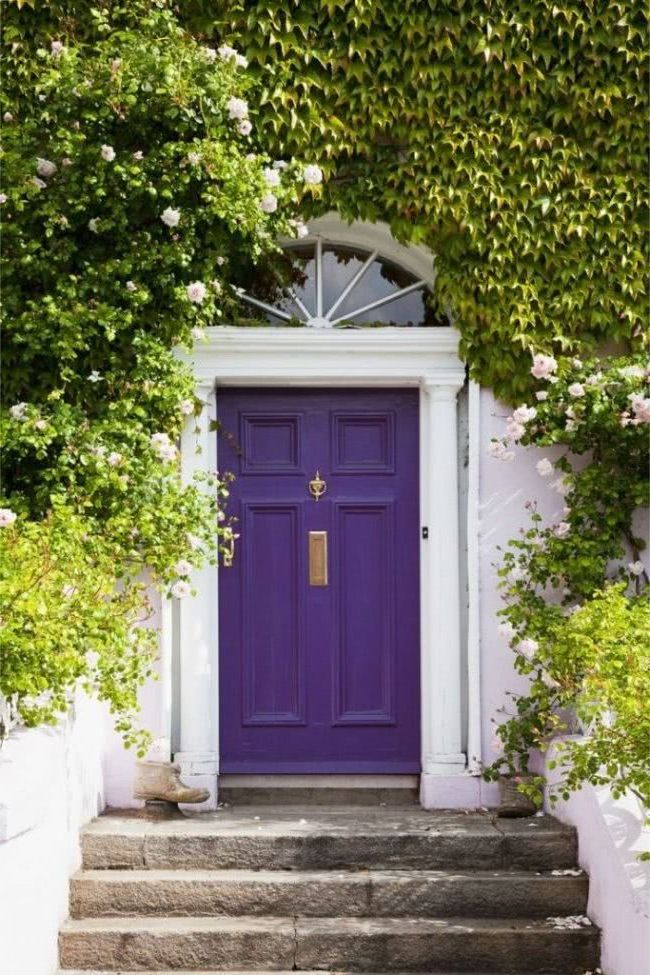 The wide variety of tones that run through the range from pale lilac to dark purple, allows us all to find within this color a tone that we like and serve as the best ally in decoration.
We can also benefit from the low popularity it has in outdoor decoration, to innovate and set style in the neighborhood, since there are probably not too many who go for this color that is just beginning to set a trend.
Combinations
When associated with yellow, which is the complementary color, it creates a very strong statement, it is dignified and majestic. When used in a triadic color scheme with green and orange, it provides a striking yet balanced effect. Violet and red, on the other hand, is an example of an analogous color scheme. This type of system is easy on the eyes, as it uses colors that are next to each other on the color wheel and therefore closely related.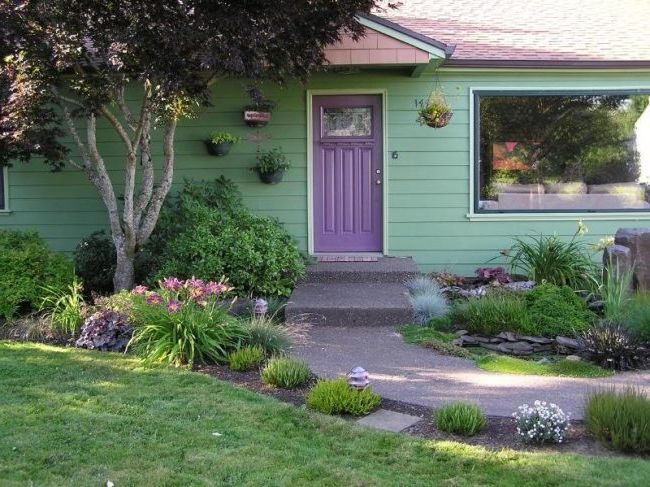 Here we see an example of purple and green.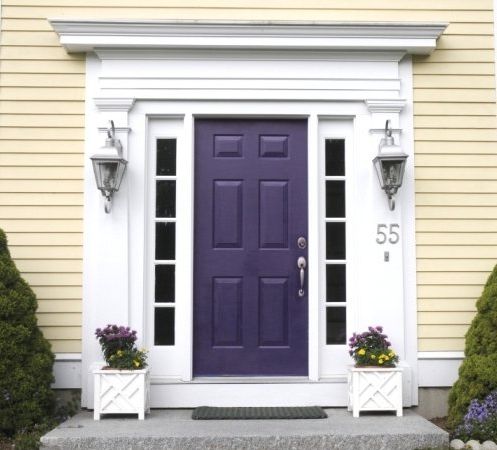 Or purple and yellow.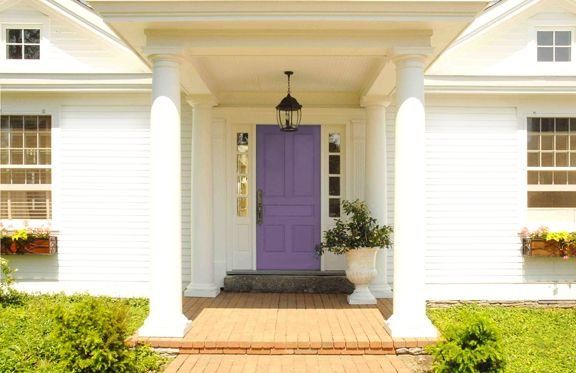 Or purple combined with the orange of the floor of the entrance of this house.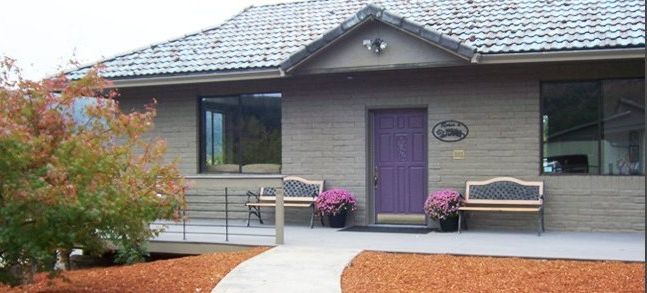 And obviously, it can also be combined with neutral colors such as white or grey.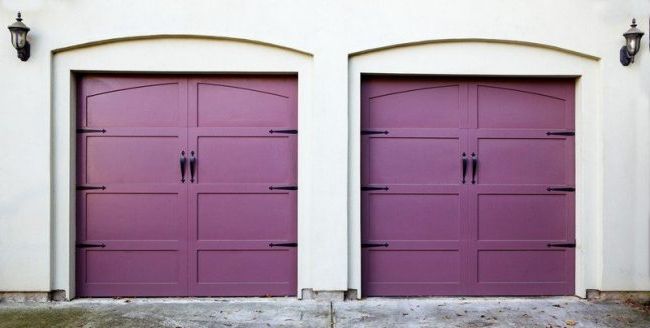 Emotional effect
The effects of this color are, among others, that it manages to give the sensation of a restorative balance, promotes peace and calm, lowers blood pressure, calms glands and organs, is associated with the spiritual, promotes the philosophical and creativity.
Pink doors
For all of you looking to make a style statement on the outside of your home, adding pink to your front doors can be a great way to do just that. It is a simple way to give your main facade a cheerful and very original look, since it is not a color that is commonly incorporated in exteriors. With good taste we can give a twist to the decoration of our house and turn our home into the sensation of the neighborhood.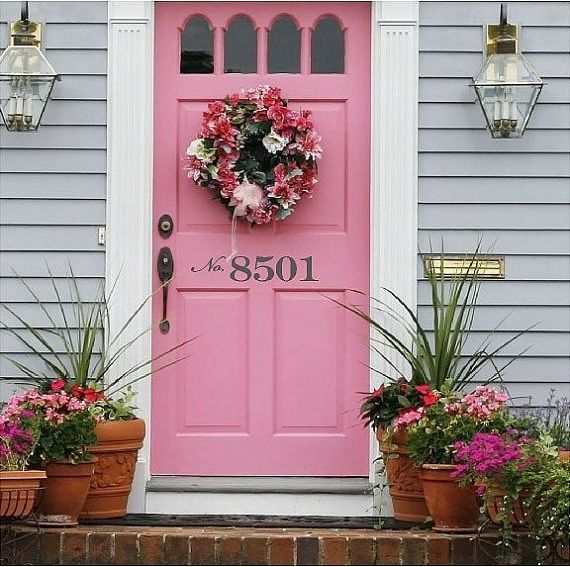 We generally love or hate the color pink. In a soft and subtle tone, that is, in pastel tones, it is delicate, peaceful and gentle, but in a pure and vibrant tone it can be very emotional and stimulating for the senses. It's an often underrated colour, but it's making a big comeback associated with chocolate brown when it comes to interior decoration, although on exterior doors, it's usually paired with grays or whites.
Here we see two examples in pale pink.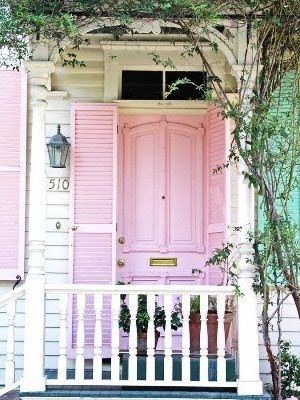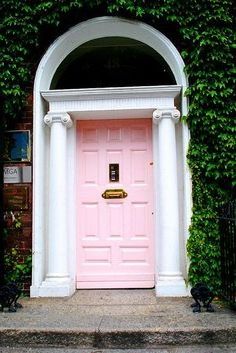 And two other deep pink examples.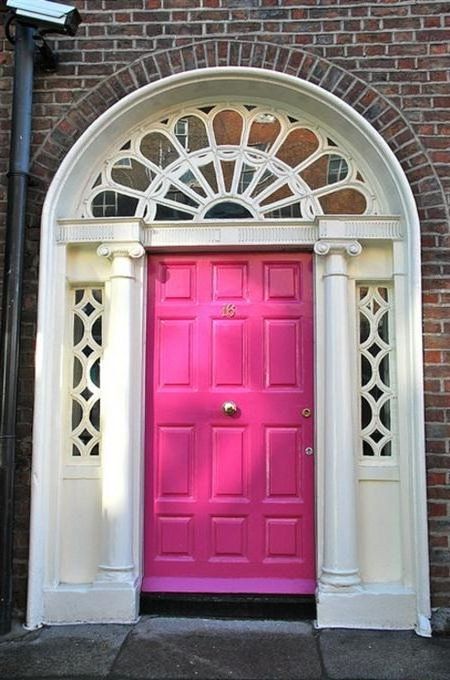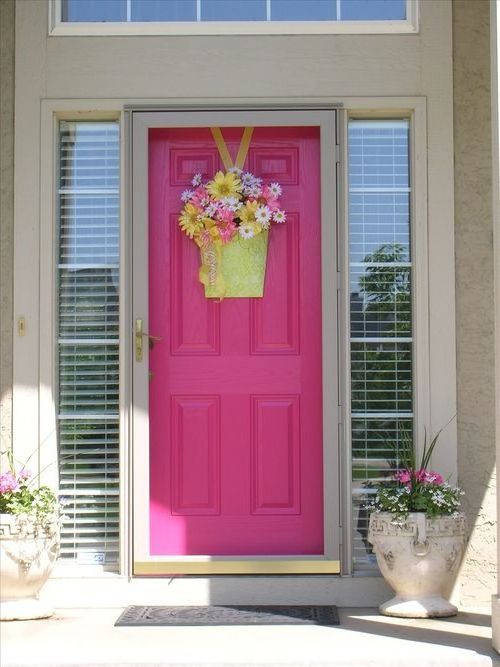 We definitely see that the sensation they cause is completely different. Therefore, we must always take into account what effect we want to cause and according to that, choose the appropriate tone.
Another important issue to keep in mind before deciding on this color is that although both interiors and exteriors can be transformed with the use of pink, men generally have an aversion to living in a space of this color, such Sometimes they feel uncomfortable around emotional colors. However, he is a favorite with girls, perhaps because he is kind and protective, warm and gentle.
Meanings and associations
Warm, peaceful, delicate, soft, refined, luxurious, emotional, protective, kind, accommodating. It has the gift of loosening the muscles and relaxing us.
In addition to all the advantages already mentioned, it is a perfect color to radiate freshness.
Black doors
For all those who want to give their exteriors a sophisticated style, opting for black doors is one of the most suitable options.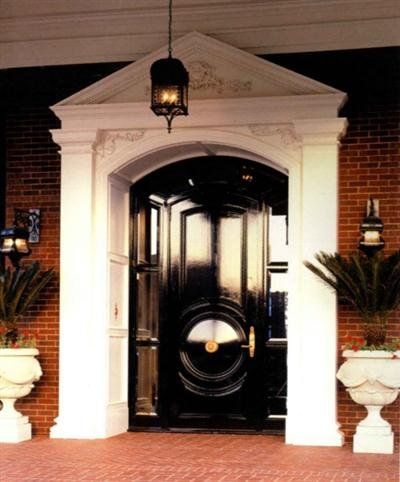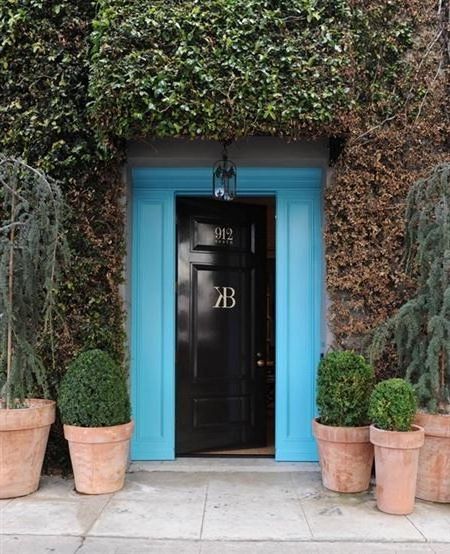 Although many may think that it is a pessimistic and sad color, these characteristics are far from being, since if it is incorporated with good taste it is a great example of timeless elegance. In addition, the combinations that can be given to your exterior can accompany the color of your door with distinction, such as adding some notes of color, either through pretty flowers or other garden or exterior accessories.
The doors can also be in matt black or glossy black, depending on the contrast they wish to cause on their facade. In these photos, you can appreciate the good taste of adopting this sophisticated color on exterior doors.
Gray doors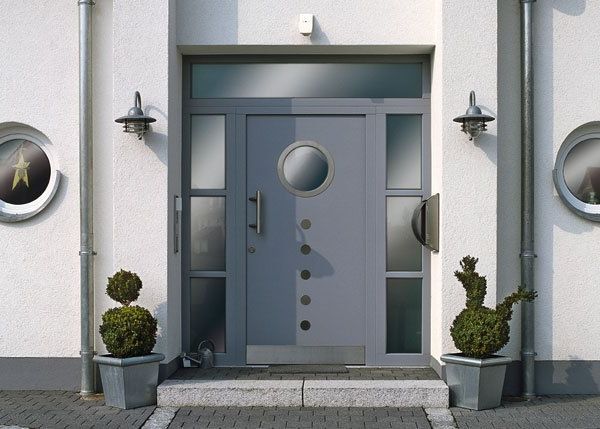 White doors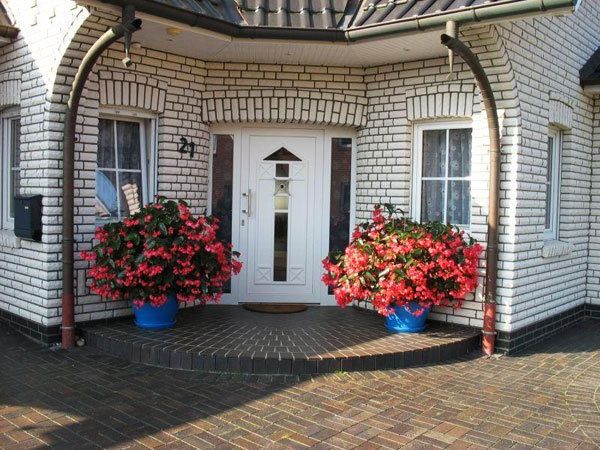 Brown doors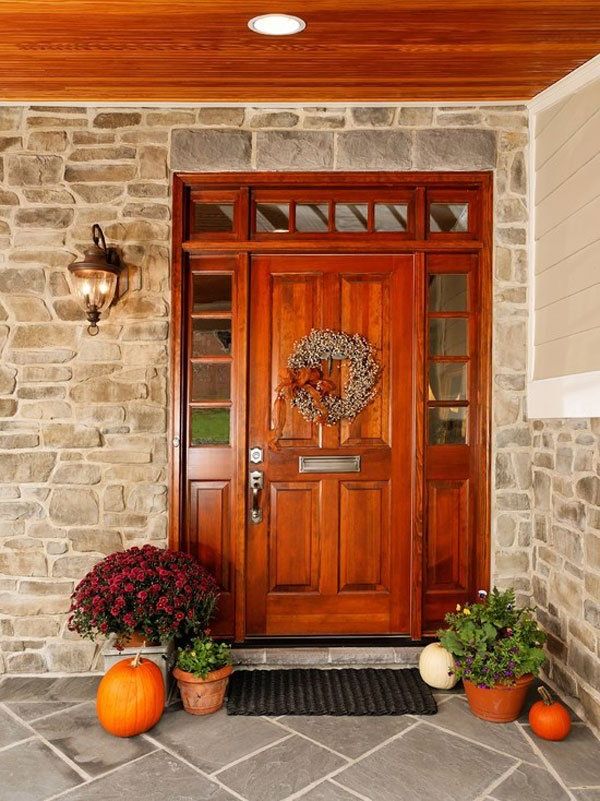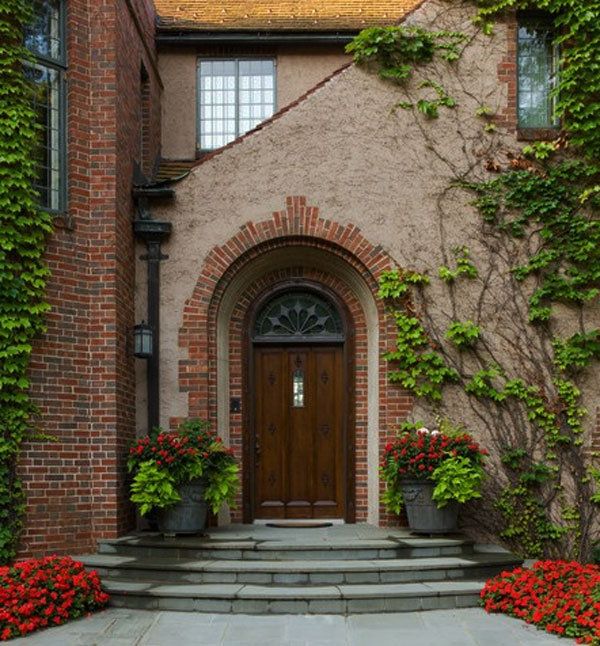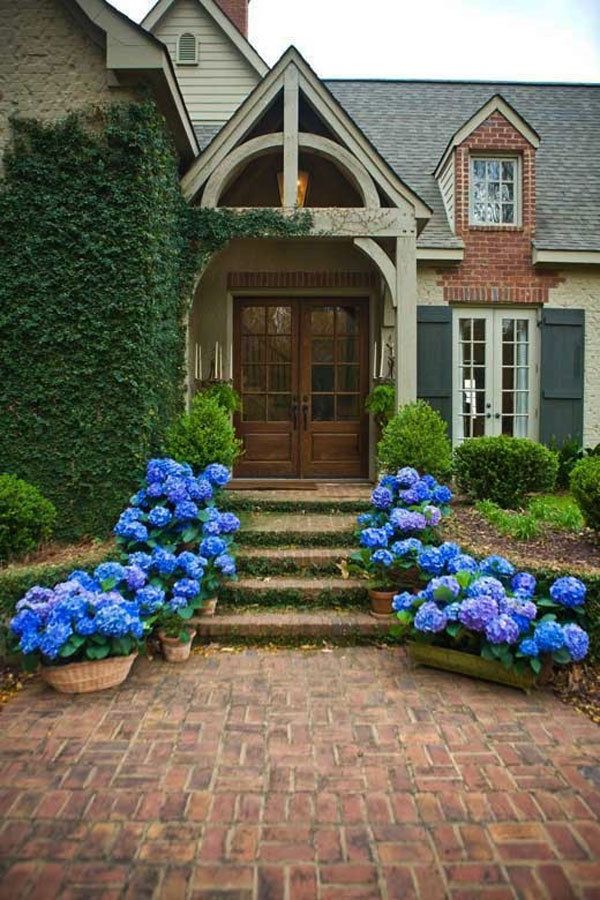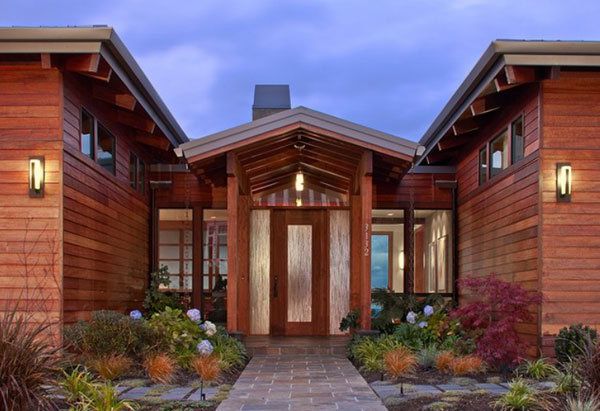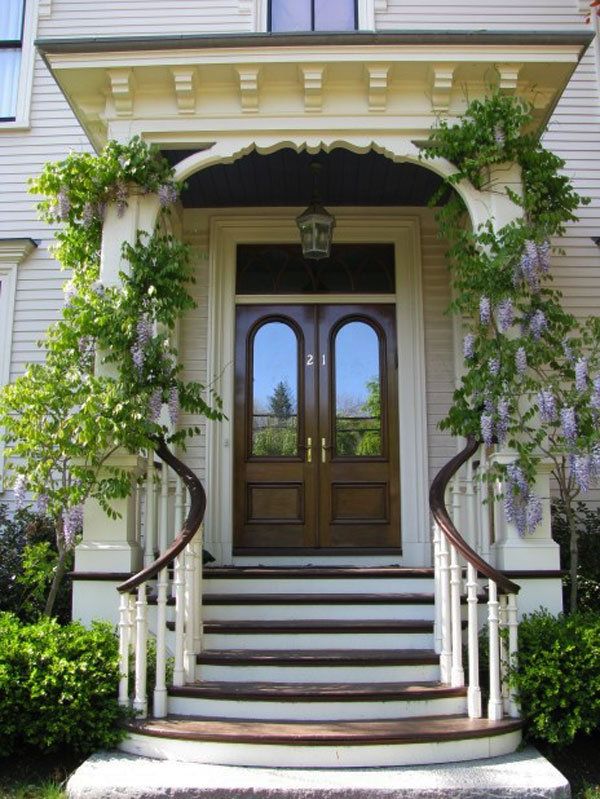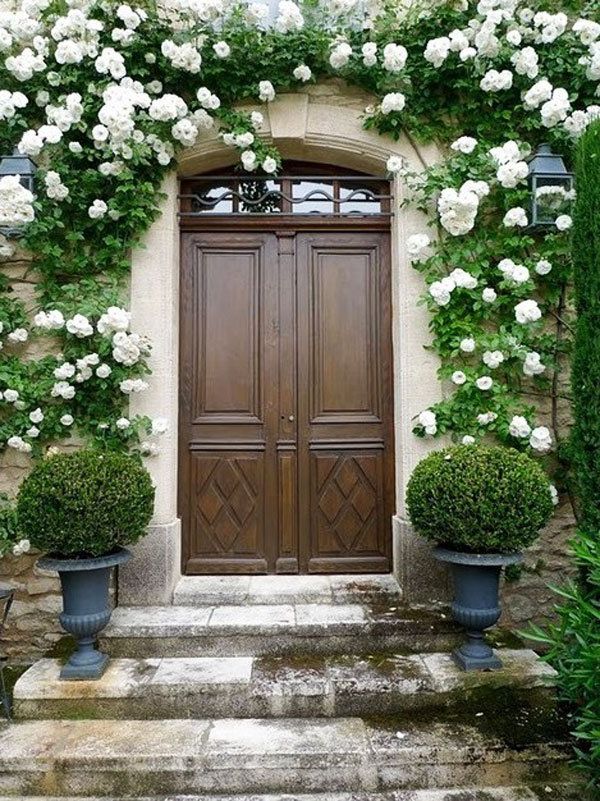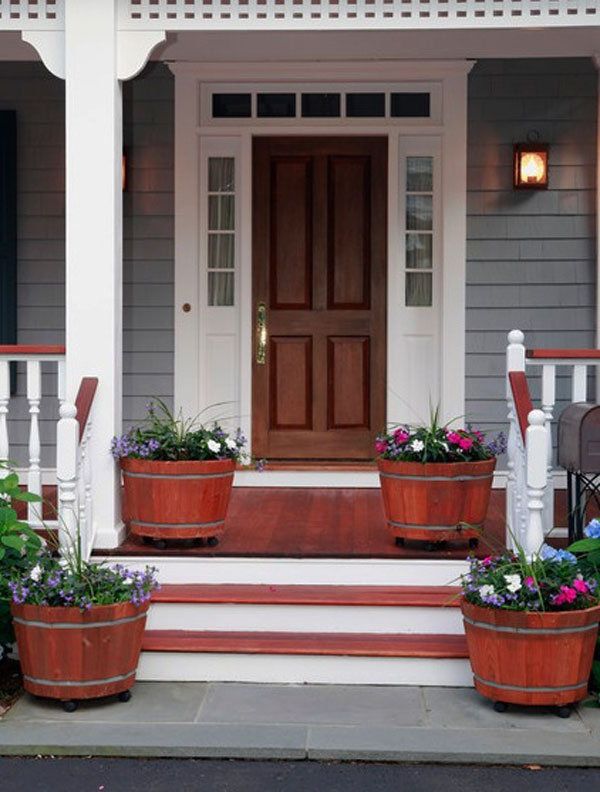 Multicolored doors
Do not be shy with color, you can combine or contrast the rest of the colors. This is another option that is not usually taken into account but can be very good if we want to give life to the entrance of our house.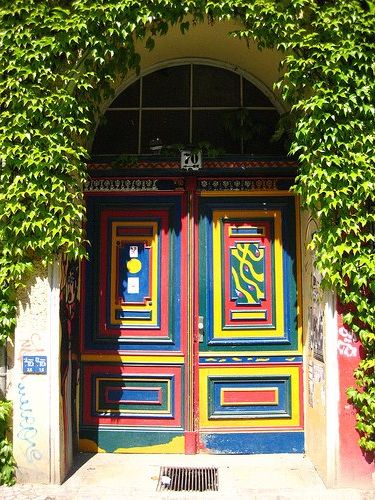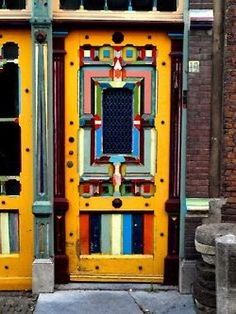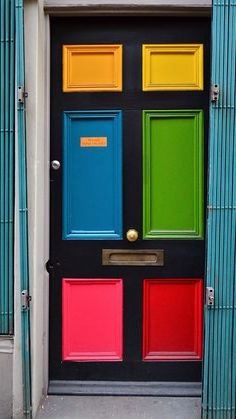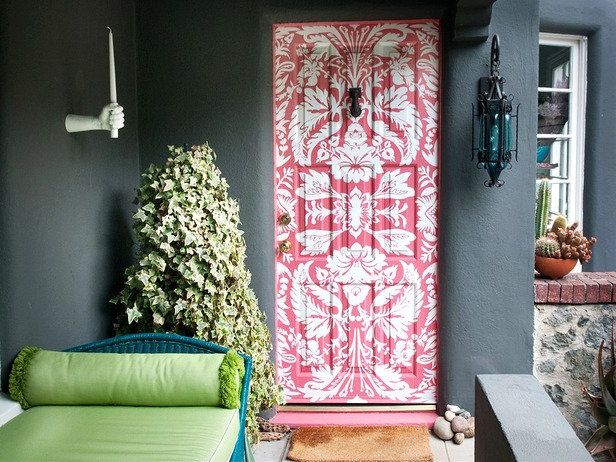 We can take advantage of the new trends in decoration, which increasingly offer us colors such as green, purple, pink, yellow, orange and black for the main doors. The decision on which color to choose will only depend on personal taste and the style that you want to capture in the house; since generally each color transmits a different sensation.
Combination of colors in main doors
Something as simple as the right choice of color combination for our main doors can make our entire facade change completely for the better. That is why we have gathered some of the flattering ideas to combine colors in them.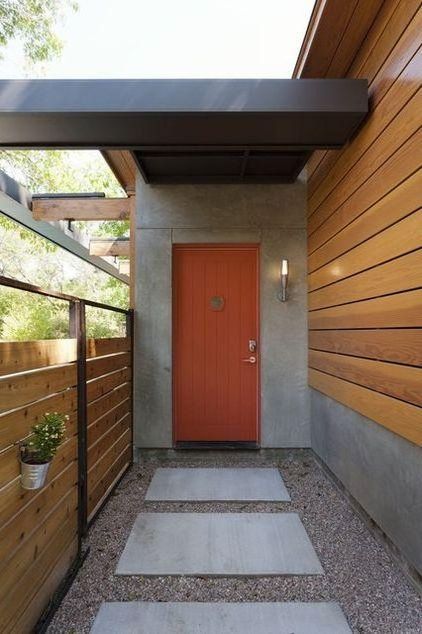 We find that one of the most favorable combinations is to combine green-yellow with some shade of grey, since the versatility of one combined with the luminosity of the other ends up giving us one of the most beautiful visual impacts.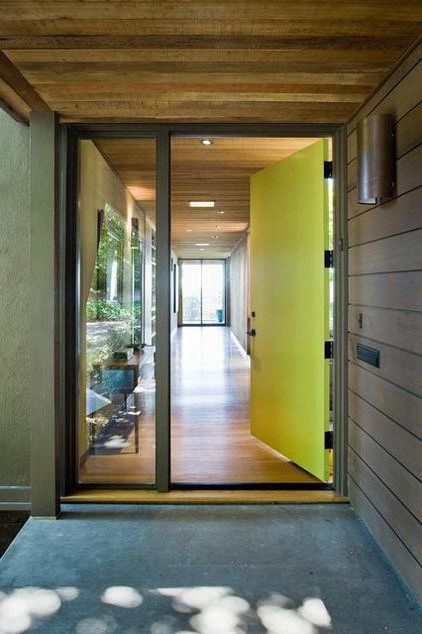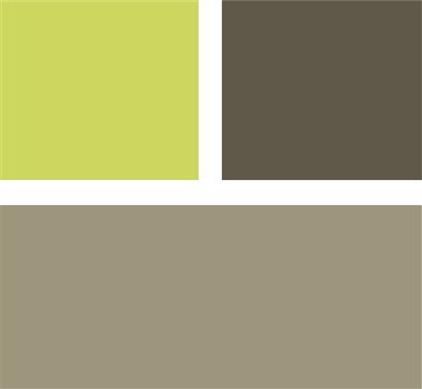 Those who want to add depth to their facades can bet on the combination of white, gray and light blue. Since the clarity of these tones captures all the interest of our eyes, making the facades look much deeper and more pleasant.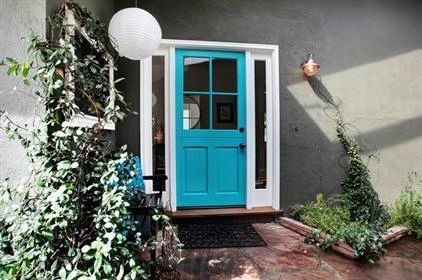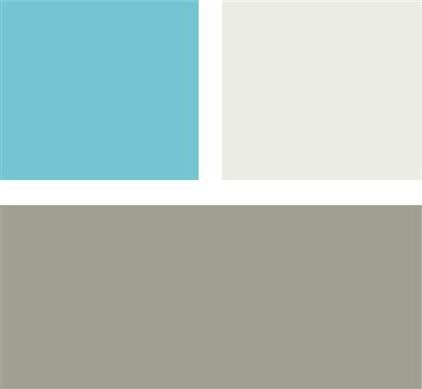 As you will see, gray is one of the colors that repeats the most within the most beautiful combinations, since its enormous versatility allows us great contrasts that are equally irresistible. Such is the case that one of the most beautiful and modern proposals that we have for your doors consists of incorporating gray + orange in them.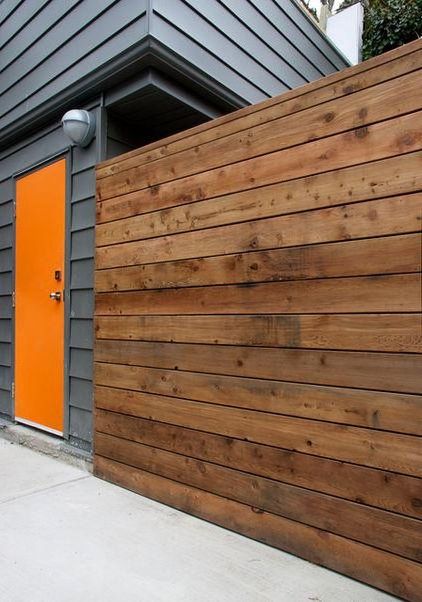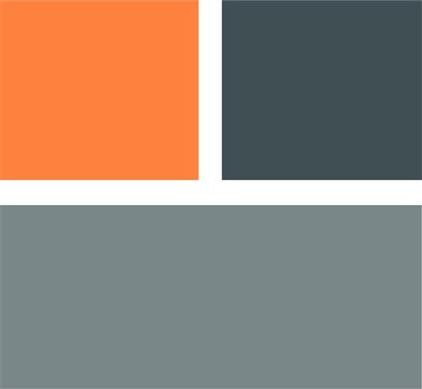 Gray + bright green is another of the combinations that we cannot fail to present to you.