For apartment owners, the terrace is a great place to create peace of nature near the window. On the cozy terrace, you can spend the morning and drink coffee or have time in the evening with a glass of wine. For people who live in a private house, the terrace is a great place to spend more time in nature and breathe fresh air. Anyway, a terrace is a good idea that you should create.
Small patio on the terrace
A little patio, some plants, and your place to rest are ready. If your terrace is tiny, better to select a vertical garden. This type of garden become very popular last year because of a few reasons. First, you can install them in any area, and they will not take up much space. The second reason is the ease of care. Well-chosen plants for a vertical garden need only to be watered.
Modern Rooftop Terrace design
For a big terrace, you can use plants like a wall to create a few zones. It can be a dining zone and rest place or sun lounger. And don't forget about sun protection, especially if your terrace is located on the sunny side and is not covered by the shade from the trees. A stylish canopy or a folding sunshade can help to resolve this problem.
Multi-level terrace with a great view
An interesting solution is a multi-level terrace. This option is great if you have a private house on the slope or hill. In this case, you will have a place to rest with a breathtaking view. This construction is not easy to build, but it's worth it. Different levels of the terrace can be used at different times of the day. For example, the top level will be the best place to watch the sunrise or sunset. And the lower ones will allow you to hide from the sun or rain.
Balcony terrace design
In a small balcony terrace, you can create a cozy place by masking the railing with a wall of shrubs. You also can hide the edges of the balcony with a rack structure. For a greater sense of nature on the sides of the terrace, you can make a green area. It can be realized by placing an island of grass or even a small tree there. And don't forget about flowers, you can add them to any part of the composition.
Wooden terrace with tropical plants
If the terrace area allows, you can create an ever big garden on your rooftop. For making this, it is important to provide competent zoning. An interesting idea is don't use garden furniture and replace it with large wooden rectangles. On one of them, you can spread the lawn or put pots with plants, and the other can be used for sitting. This design allows you to arrange plants at different heights and create the feeling like you are walking in a city garden.
Close private terrace in light colors
Who says that terrace must be open and with a great view and what you can make if other hoses are very closer? Close private terrace with height decorative walls also can look beautiful. To accomplish this, it is enough to decorate the walls with plants and make some of them trellised for air blowing. But this design looks better on a big terrace. In a big private area, you can sunbathe and ever organizing a "wet" zone with a summer shower. For creating the shower, better to use natural stone. This stone can also be used to decorate other elements like walls or floors. 
Terrace in dark colors for a big company
A great idea is making on the terrace two places for sitting. The first one likes a dining zone with sun protection and the second one is like a patio in an open space. Also, it's a great decision if you have many friends and like to have a party on your terrace. And do you see how interesting look green plants with a dark wood combination? I like this mix of colors. The contrast between bright-green and dark composition will help to create a contemporary modern style. If you wan'not use black wood, then select a less dark color, it also will look great.
Big open space terrace near the pool
A chic terrace next to the house can be equipped with a swimming pool and a sleeping area. For decoration, choose natural materials – stone and grass lawns, and wood for the floor. Here you can plant real trees, carefully zoning them with stone sides and decorative pebbles.
Modern terrace with wooden slats
The trend of recent years is the decoration of terraces with wooden slats. With their help, you can zone the space, leaving it airy and free. To protect from the sun patio area, you can use a pergola. Its original purpose is the basis for climbing plants, which should create a cozy shade. But I prefer to decorate modern pergolas with lighting elements. In the evening it looks magical, and the whole terrace is transformed.
Terrace on the lake
Modern terraces in the minimalist style can be created with wooden flooring and stationary wooden furniture. An interesting solution is portal doors to the terrace directly from the bedroom. The recreation area can be left free, but I would choose light aluminum structures with glazing for fencing. And for more comfort, you can add a fireplace. But which one – suspended or stationary – is worth considering?
Luxurious multi-level terrace on a hill
As I already say if your home is based on top of a high hill or mountain you should definitely try to create a multi-level terrace. Zones can be located directly on the hill and separated from each other by green areas or rocks. Depending on the area of the site, you can create several zones with a fireplace, patio, and ever small waterfall or pond. And don't forget about lighting, it can help to make the place more cozy and warm. To make the design more interesting, add more rocks and decorative plants.
Wooden Terrace with TV and fireplace
Have you ever wondered why there is no TV on the terrace? Maybe you can move an entire room outside with a fireplace, comfortable sofa, TV, and music? I would definitely try. The terrace area can be divided into two zones by using different materials. Like green and wooden or stone floors. Also, you can add some trees, decorative bushes, and grass to finish decorating your cozy rest place.
Large easy terrace with 6 zones
A beautiful view from the windows of the house is the reason why you should definitely make a terrace. You won't come inside after this. Wooden floor, pergola above the seating area with thin slats to block out the sun but allow bright light to enter. Also, you can provide an area for cooking. And if you separate it into several zones, everyone will be able to organize the rest that he likes.
Modern terrace with glass and wood
A stylish terrace for relaxing, in my opinion, is minimalism. For creating this style you can select white walls for the house, wooden flooring, stone steps, and bright natural tiles for the pool. This composition can be complemented with light garden furniture and sun loungers. Recreation areas can be separated by tempered glass partitions so that vacationers do not interfere with each other, and the wall does not burden the space.
Classic terrace in a wooden house
It would seem like many other terraces. But pay attention to the low fences, which have another function – a place of rest. It turns out very stylish, in my opinion. And the terrace is made with little drops that make the design more interesting and modern.
Farmhouse terrace with storage below
Have you noticed how the space is transformed if you choose the right divider? Wood, metal, and glass are a great mix. By the way, an excellent solution, in my opinion, is to make a utility room under a high terrace. Here you can store furniture when the warm season ends. Ever, some plants in pots will be able to survive the cold season in such a room.
Big two-story terrace
In my opinion, this idea looks really cool. On the first "floor" of the terrace-based jacuzzi and a relaxation area. Pay attention to the lamps above the sofas, they are needed to heat the space. The upper "floor" is suitable for a cozy breakfast or lunch when you want to admire the view below. Everything you need for grilling meat is here. Glass doors lead to the living room, where you can go if the weather gets bad. Each floor can be used by different companies of friends that will not contact with each other.
Internal terrace surrounded by transparent walls
I really like small but very cozy terraces. Ever in a small area, you can place a recreation area with a cozy sofa and fireplace. Please note that even a small font for swimming was found here. And look how an exit from the house is decorated – huge sliding glass doors allow you to fence off vacationers and not interfere with other inhabitants of the house. Neat landscaping of the walls creates a special coziness.
Dark terrace inside vertical garden
Do you think that black is too dark for a terrace? Not at all. Pay attention to the combination of black stone, dark wooden floor, and greenery around. The fireplace is pushed aside and decorated with light rocks. To protect from rain, the owners provided a small glass canopy on metal beams painted black. And look how magic dark colors are with lighting in the evening. An interesting idea is an exit from the room to the terrace – a huge sliding window.
Modern wooden terrace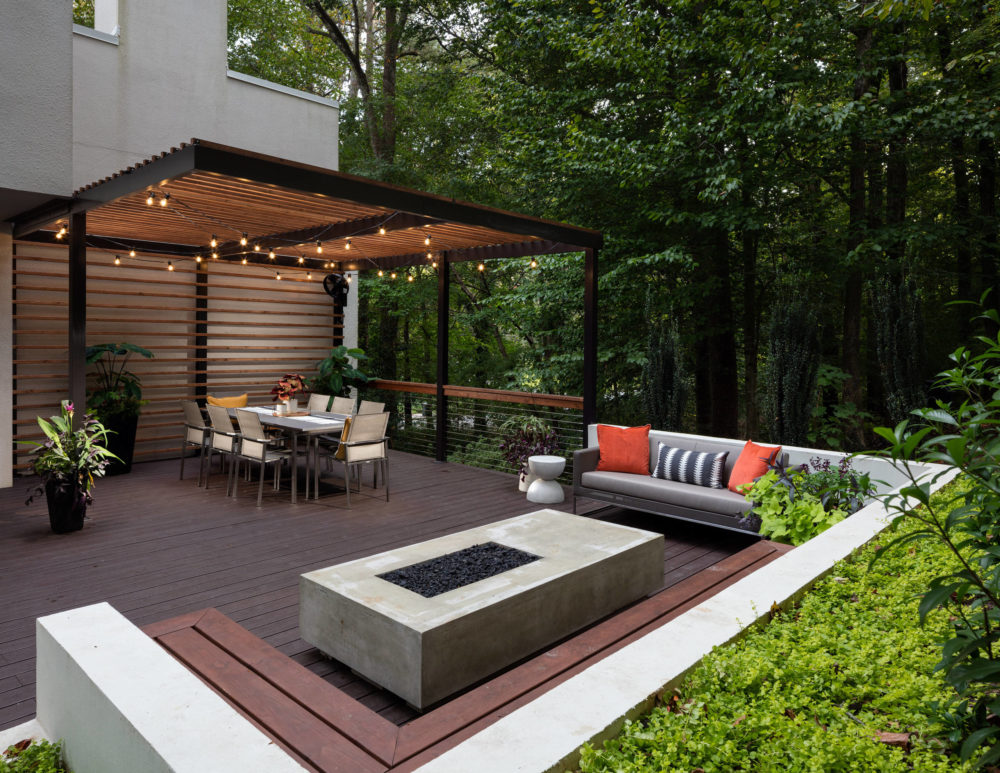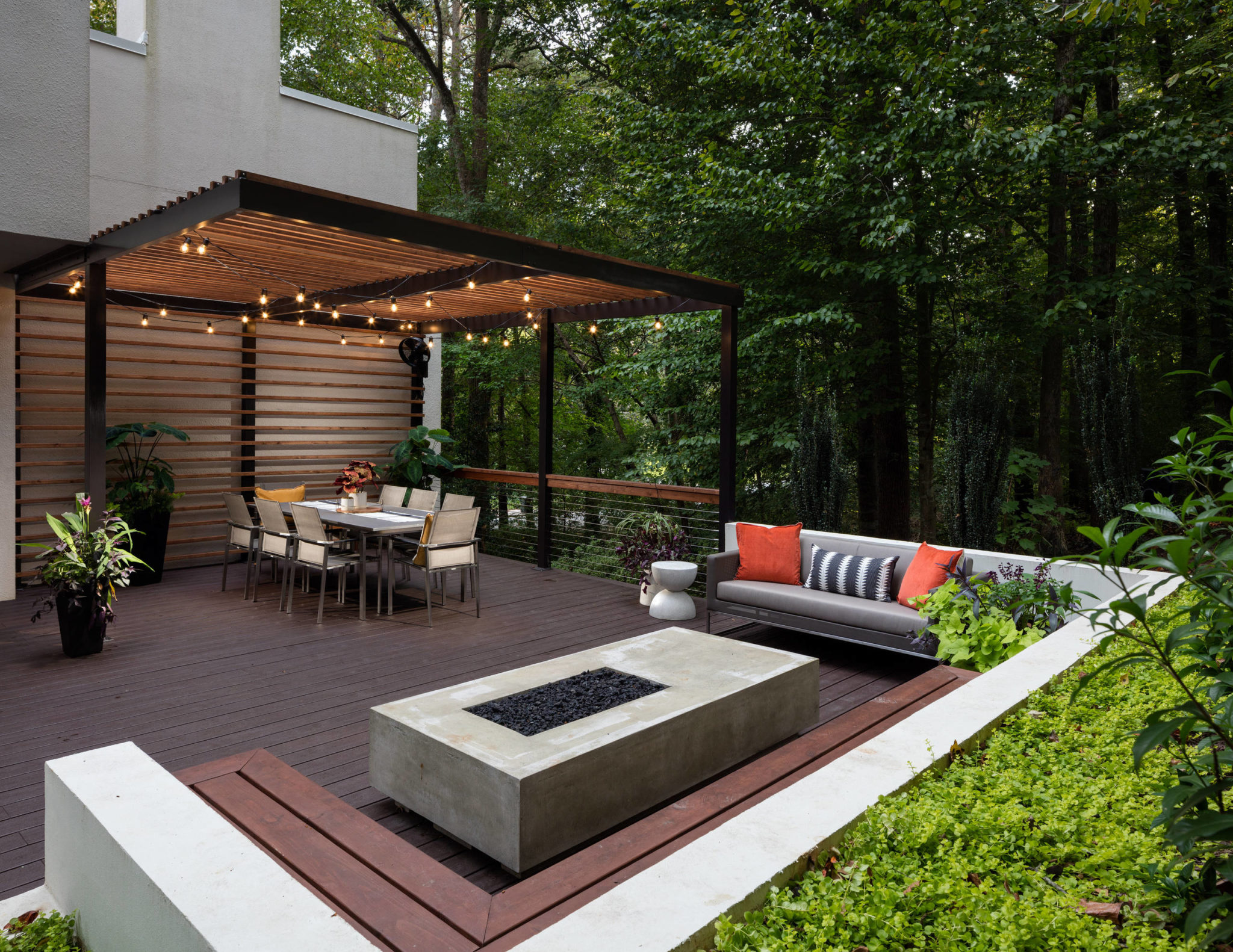 What can become the center of the terrace? Of course, fireplace. The best idea is to base around it patio for relaxation. Also interesting are combinations of different wood colors on the terrace. Thanks to color, you can emphasize or hide some design details. Look how interesting the fence behind the sofa, waterfall, and steps made of light stone draw attention to these elements and set off the dark shades of the terrace. And in addition to greenery and evening lighting, the design looks even more beautiful.
Few terrace on big backyard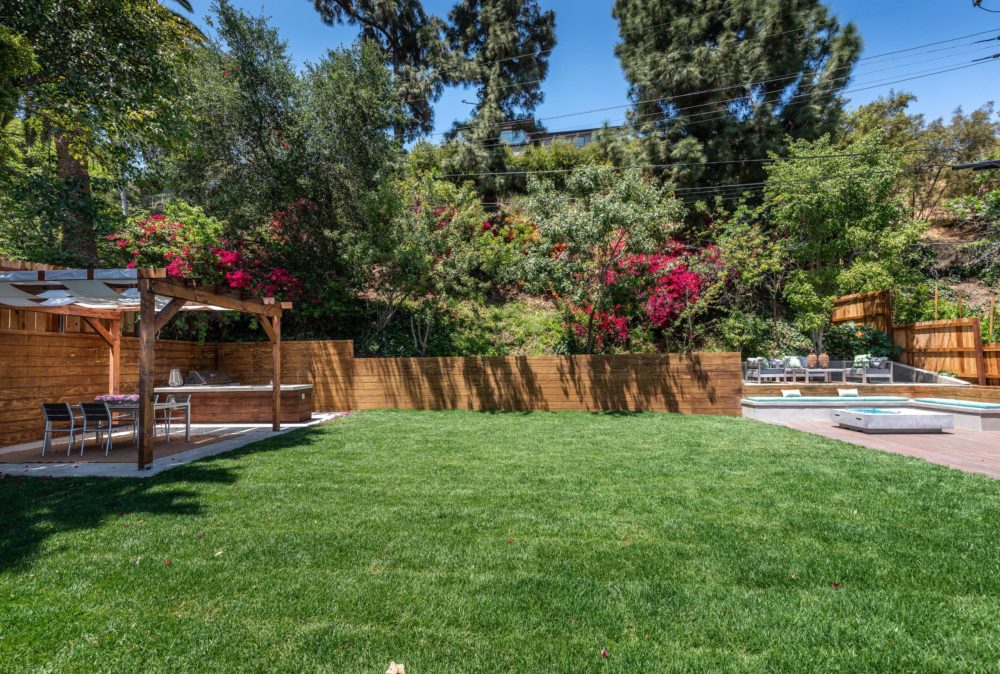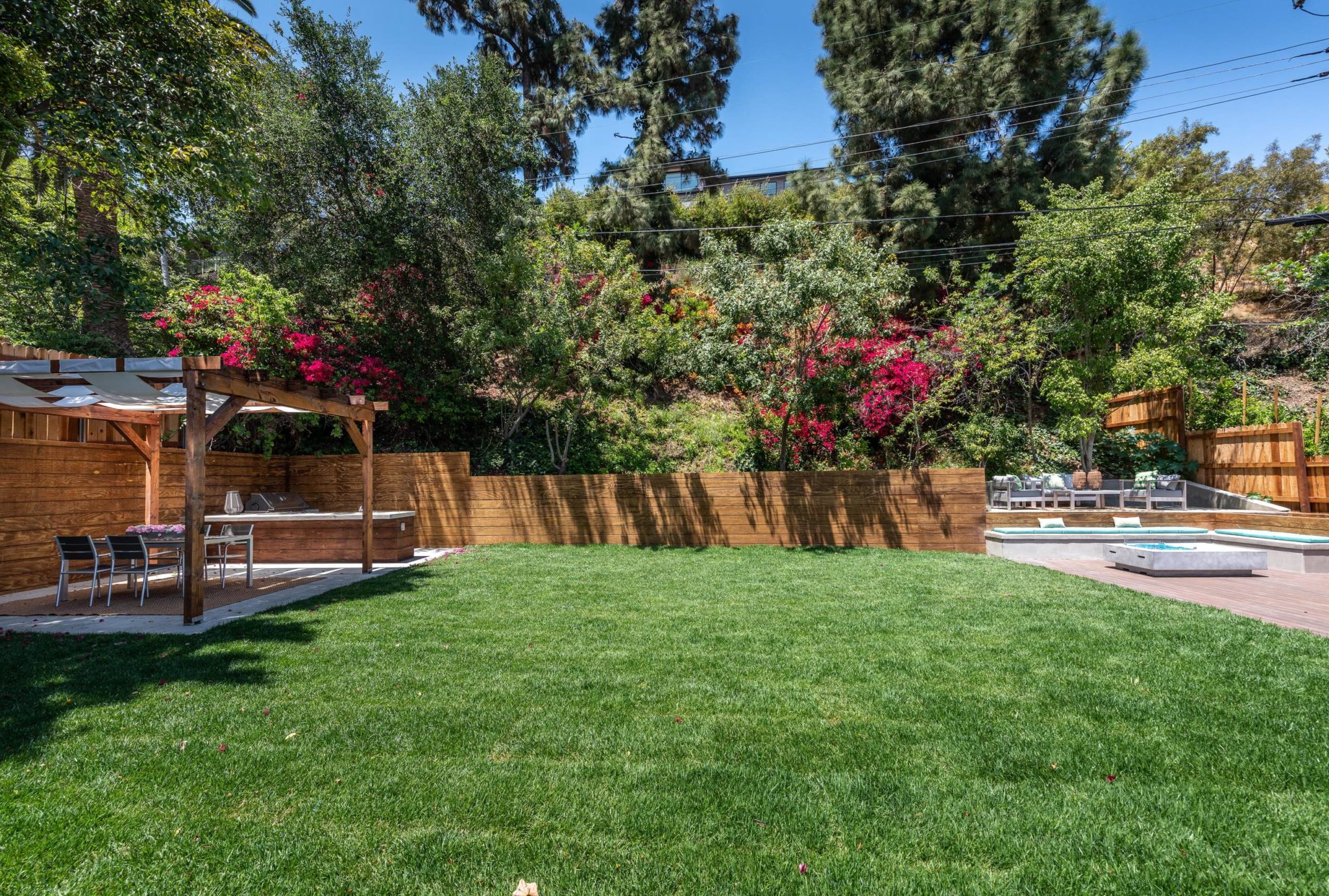 If you have a big backyard near the home may be a good idea to build two terraces. I think yes, One of them you can use as a cooking zone with a summer kitchen and grill, and on other ones create a few rest places with a patio, fireplace, and sofas. If you like shadows, then better choose a place for a patio near the trees that will protect you from the bright sun. But in the big area, you don't need to select, two patios one in sun and the other in the shadow also will be a great decision.
Black and Green terrace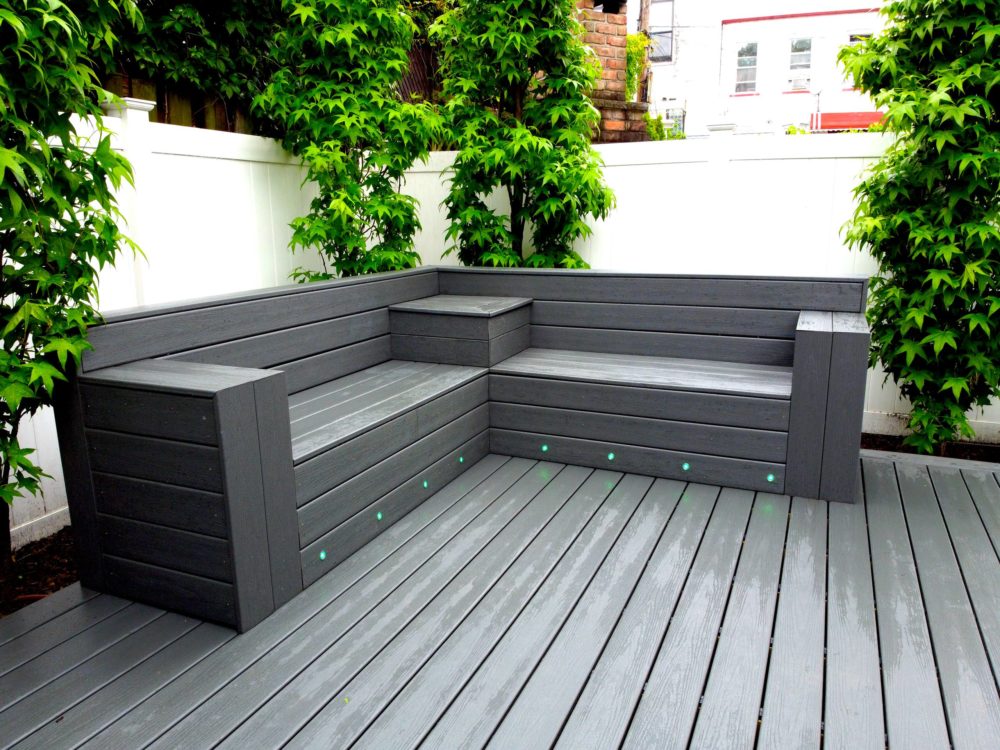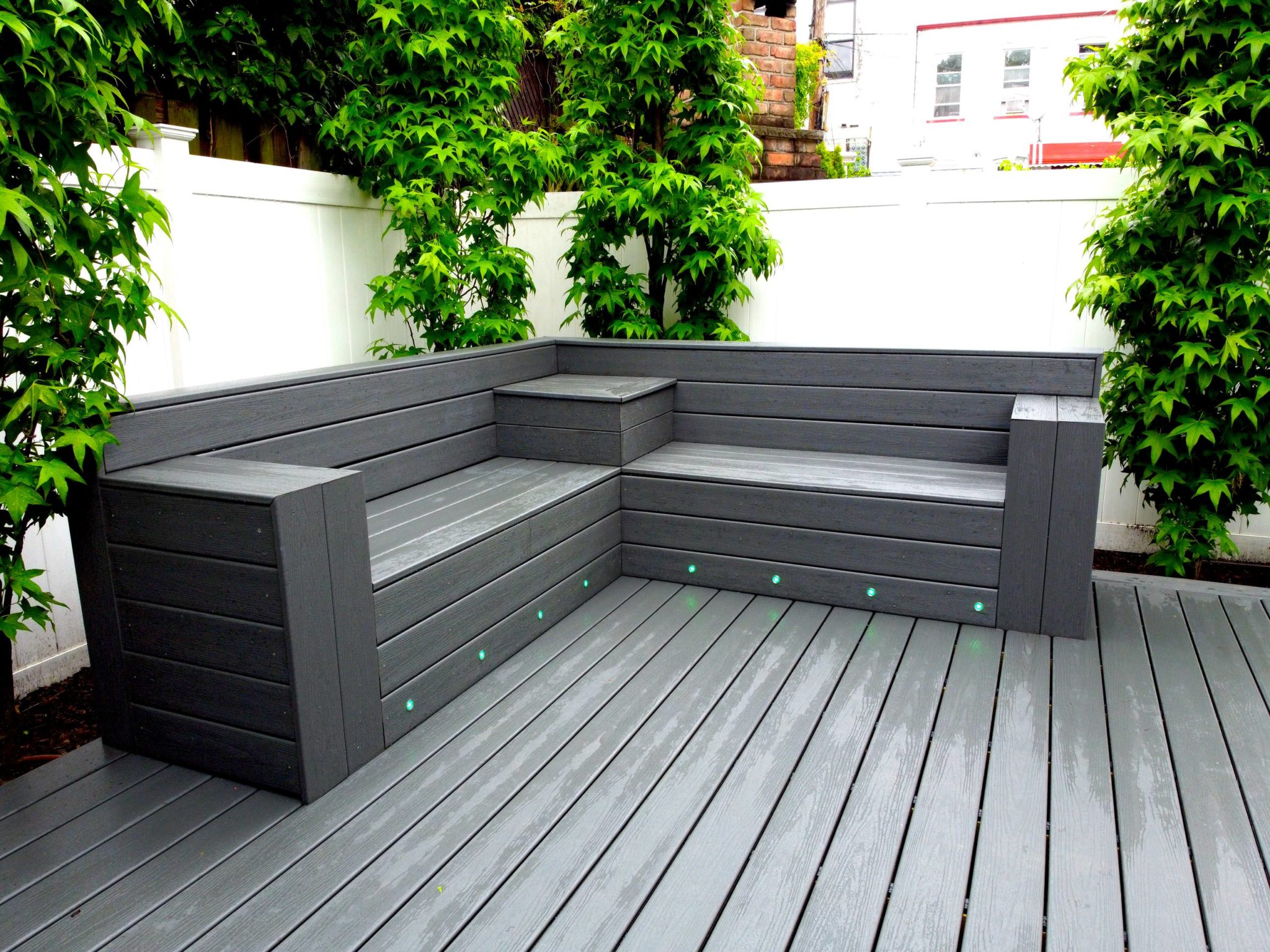 Here is an example of a small and neat recreation area. Pay attention, that it is made in the form of a podium. And, by the way, here also uses colors that we are talking about before: dark wood with light green. This is an unnatural shade of wood, but it mixes perfectly with the surrounding nature. The other interesting element is the Illumination at the bottom of the terrace. It also helps to create a cozy atmosphere.
Magic garden on roof terrace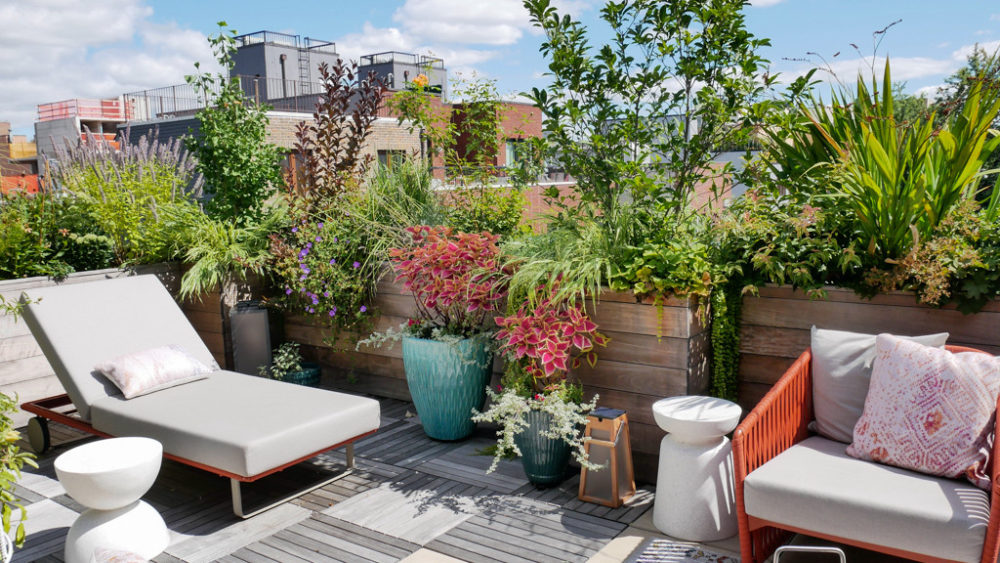 I really like the way how owners organized this corner for relaxation. Sitting on this terrace gives the impression that I'm walking on a piece of wild beach. Pay attention to the flooring. It is unusual and consists of wooden squares that are stacked in the opposite direction. In addition, it turned out to zone such a small area – the dining area is located on a stone floor. And of course, the variety of plants gives a special atmosphere to this terrace. There are small vertical gardens, hanging plants, flowers in pots, climbing plants, and much more. And finally, it is the variety of colors of all plants that create a fabulous landscape.
Wooden slat pergola with patio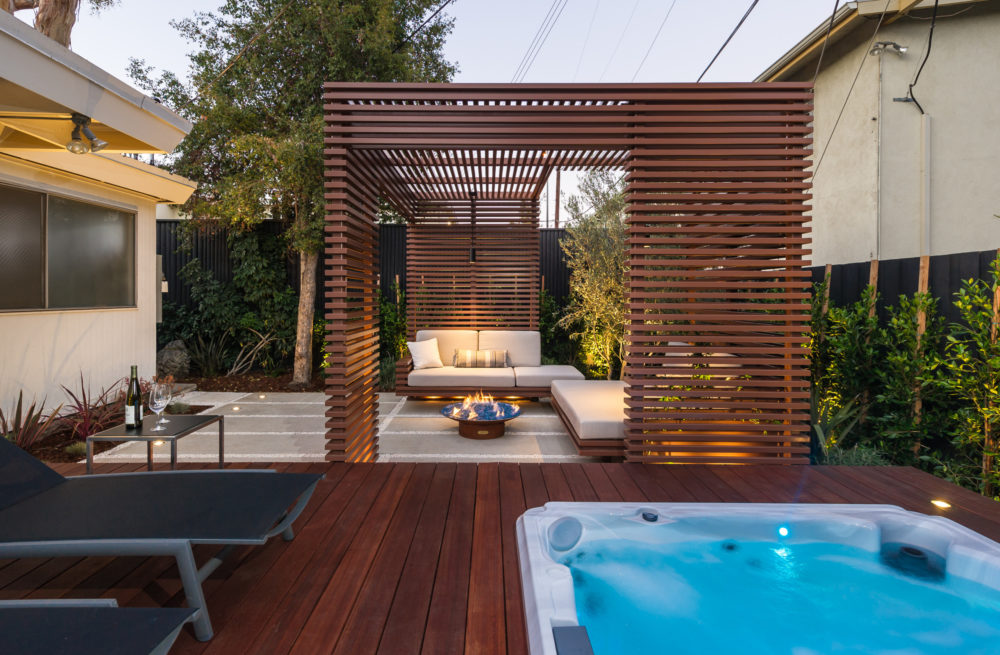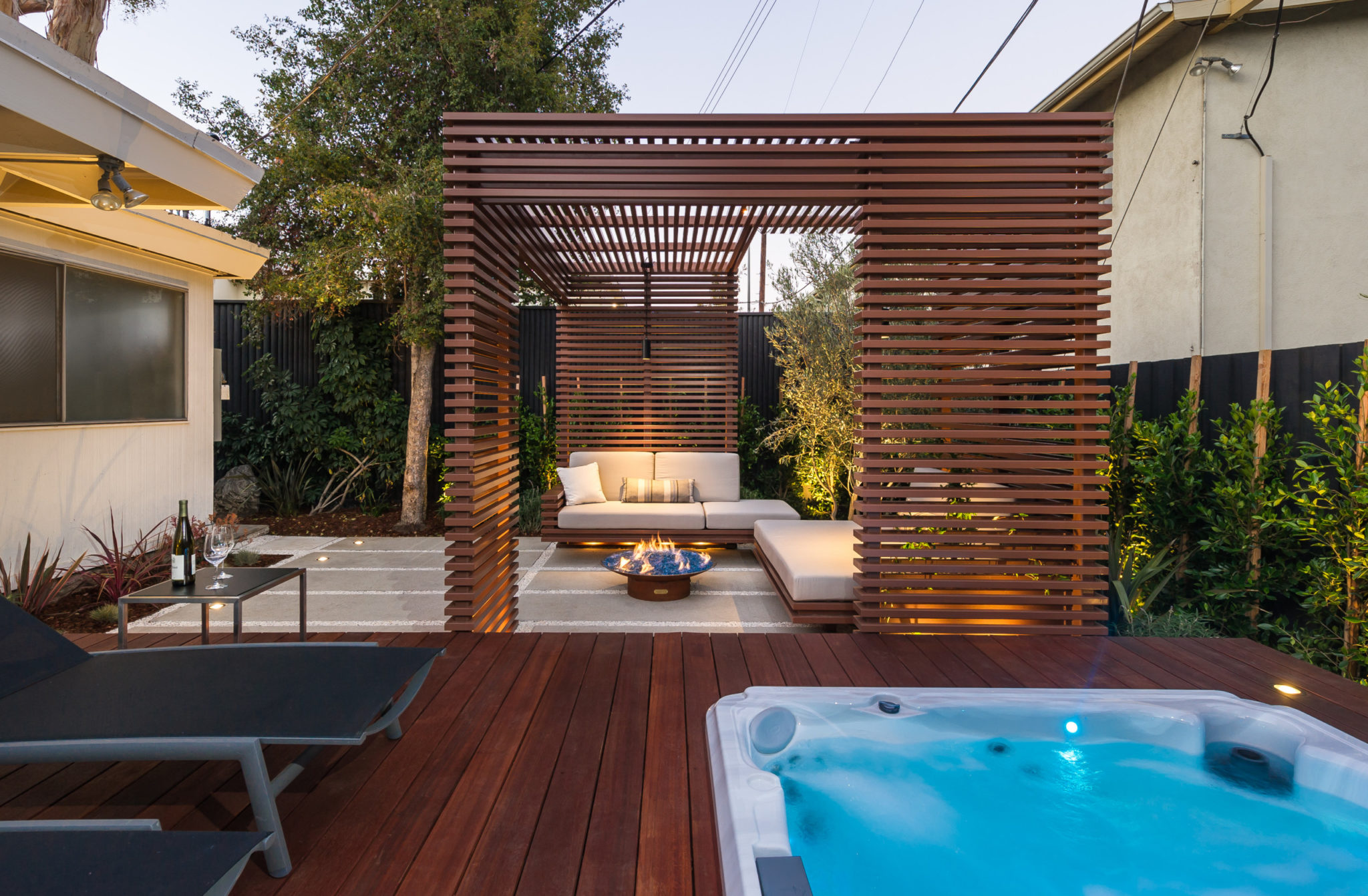 For zoning space, you also can use wooden slate. It can be one wall, pergola, or ever entire room created from slates. In modern interior design, wooden slates often use the inside of apartments. But I think that the terrace is a better palace for this decoration element. Also, pay attention to how the patio zone and jacuzzi are separated. The relaxation zone with a fireplace is designed as a small room in which you can hide from prying eyes. Here you can relax in the evening looking at nature. Another interesting element I think is the hammock. And it goes very well with the modern design of the terrace.  
Terrace with hanging willows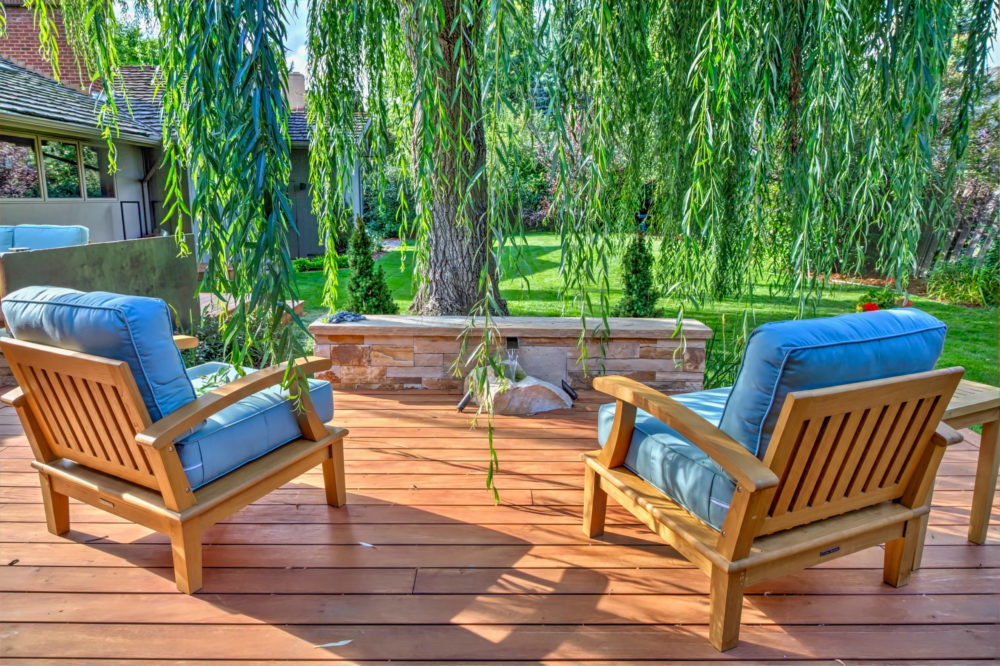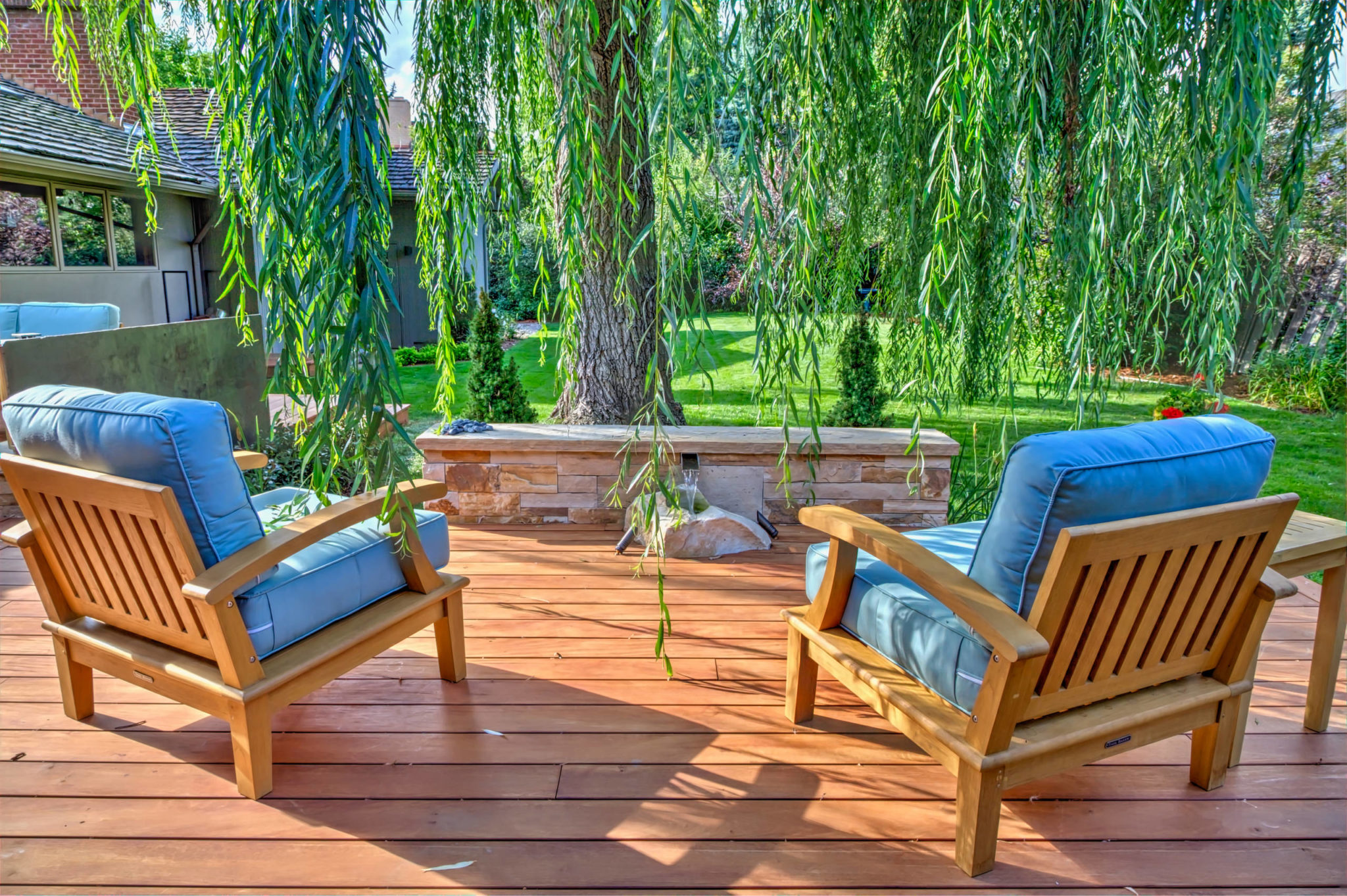 Here you see a great example of how a terrace can be immersed in nature. Stone fences separate the terrace from the lawn and use like little walls. An interesting element is a small illuminated fountain directly from the fence. I think it looks amazing in the evening. 
By the way, the terrace is multi-level, but the difference is almost imperceptible. There are three zones in total and one of them has a jacuzzi with a backlight. And, of course, hanging willow branches add charm to everything. Hanging plants generally look good in any terrace design, the main thing is to arrange them correctly.
Modern terrace with evening lighting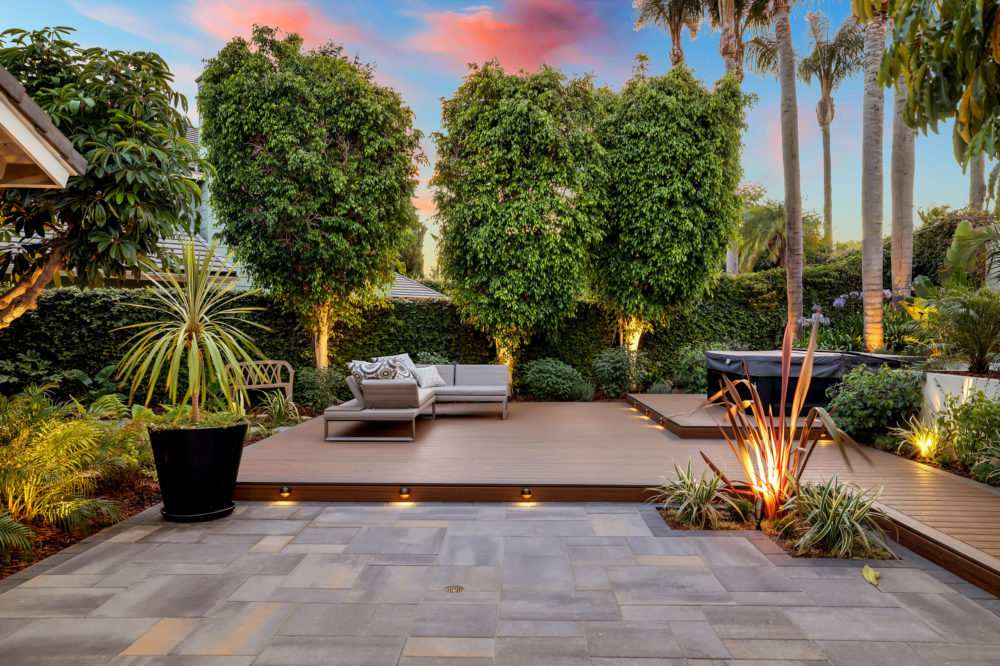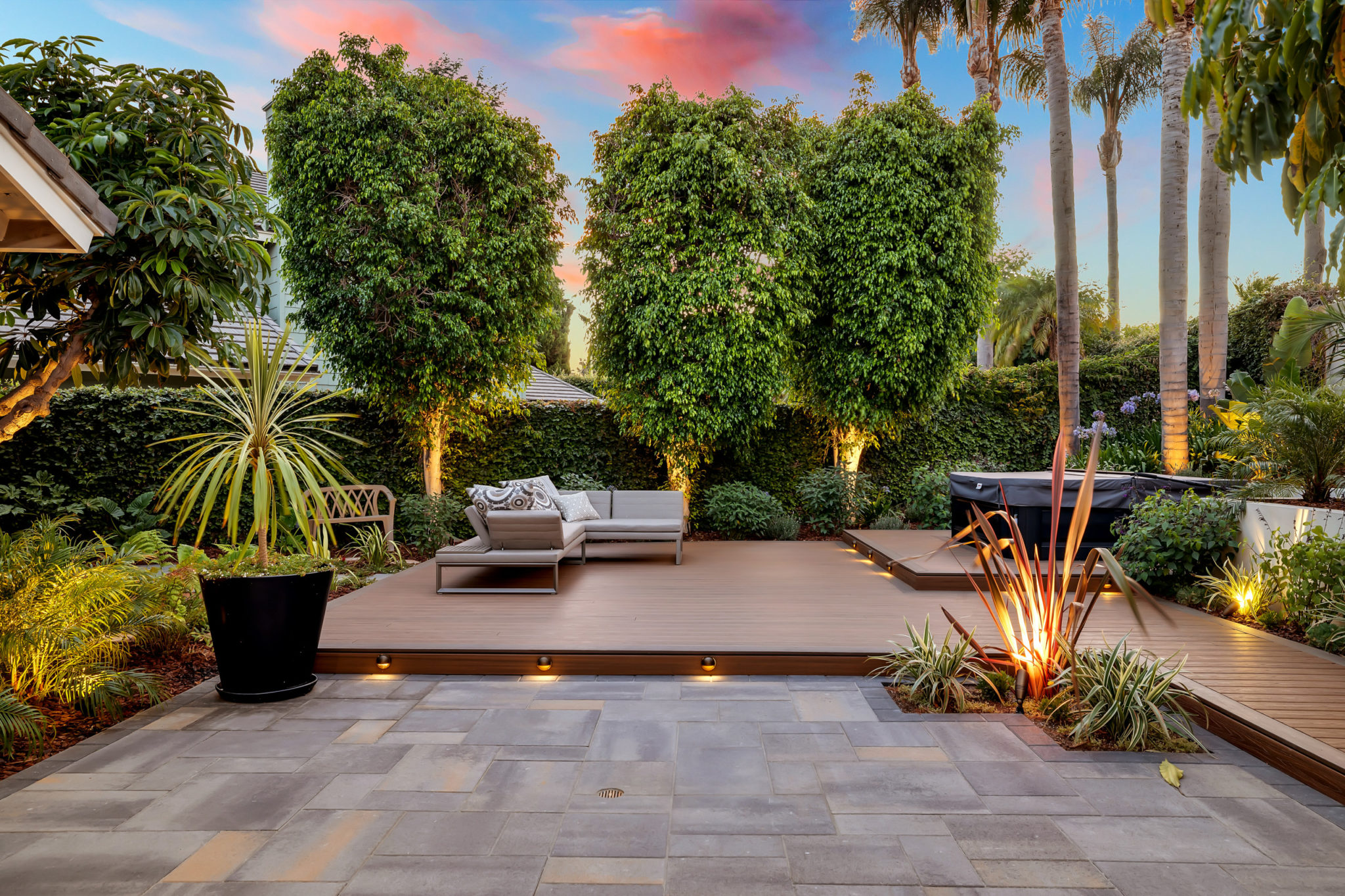 If you have a large backyard and want to create zones, you can make it by using a terrace. But for zoning, you can use not only different levels, it also can be alternating tiles or natural stone. The edges of a large yard can be decorated with a green area of shrubs and trees. The last one can also help to create shadows above the patio. Walls can also be decorated with vertical climbing plants that will help make the sitting area cozier.
Contemporary terrace with big dining table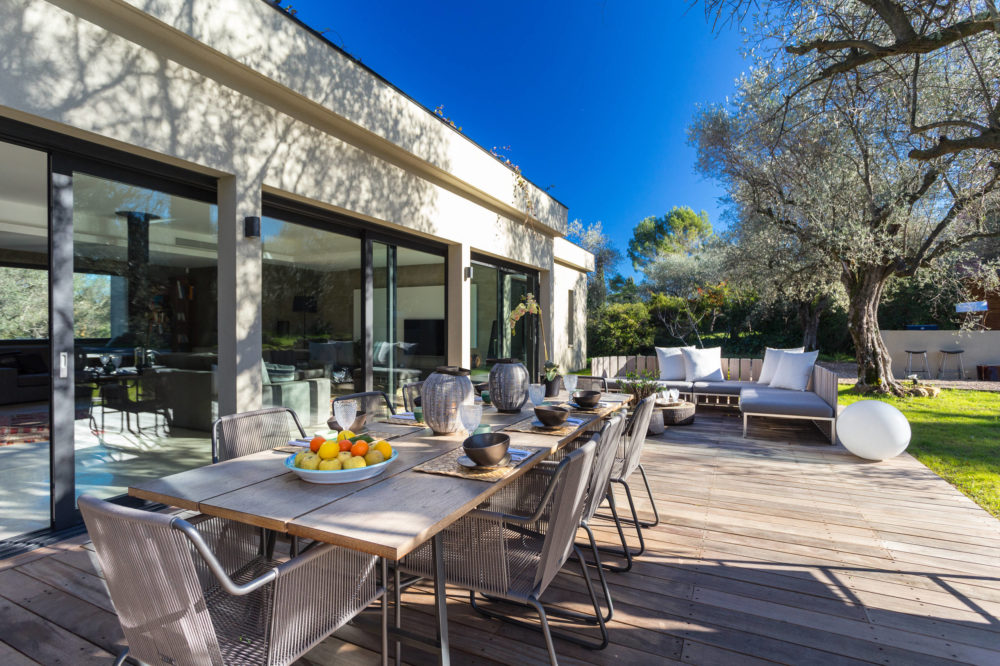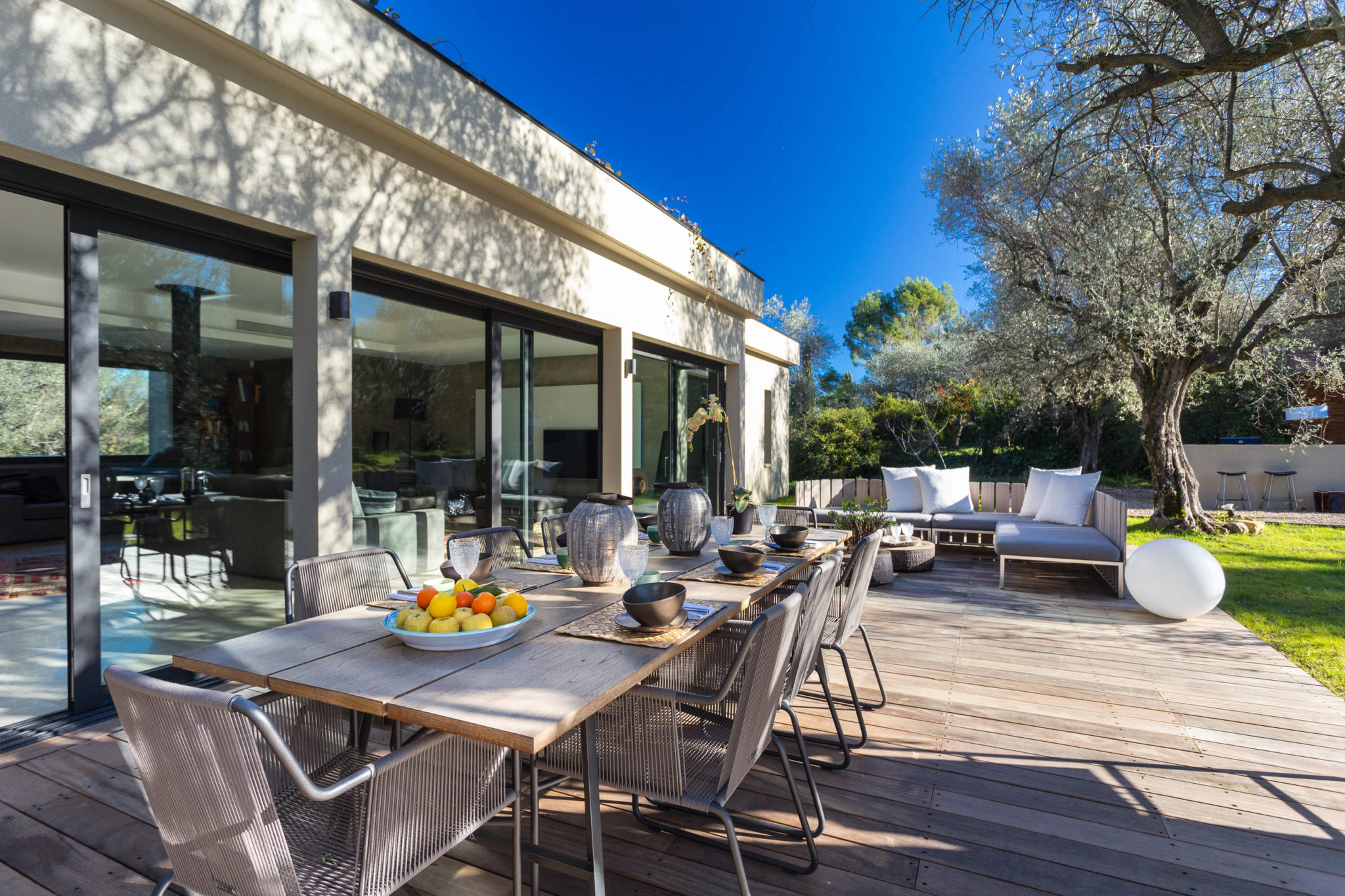 I love large open spaces, just look at it. Huge sliding doors-windows from the living room and kitchen create a bright space inside the house and make a common space between the house and the terrace. There are no enclosing structures here: wooden flooring on the level with the plot, a relaxation area, and a large dining table. All this is like a continuation of the house, but at the same time fits into the surrounding landscape.
Modern Wood Terrace on a hill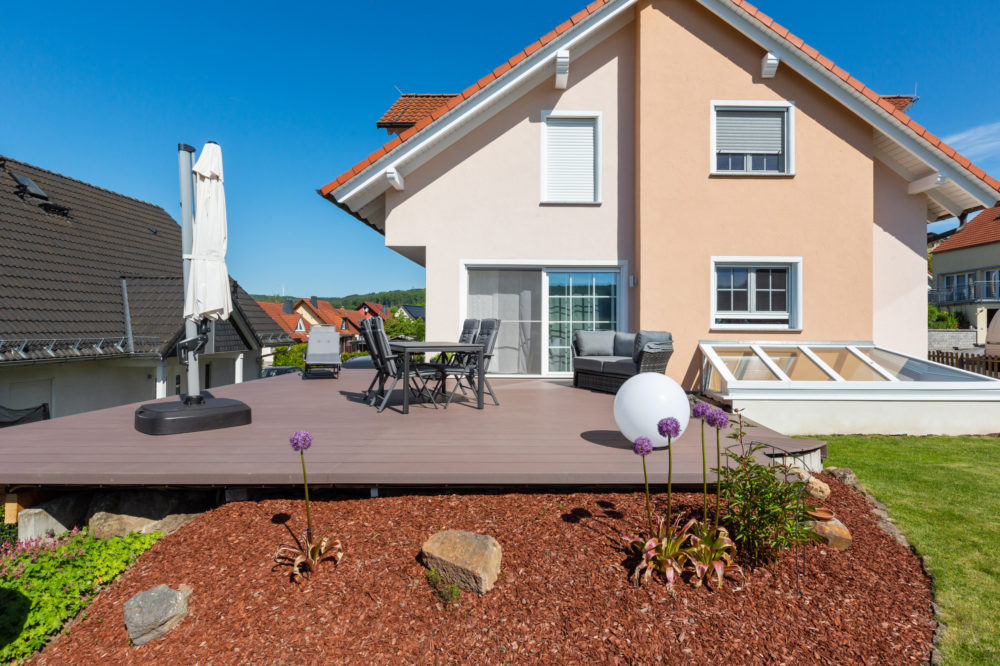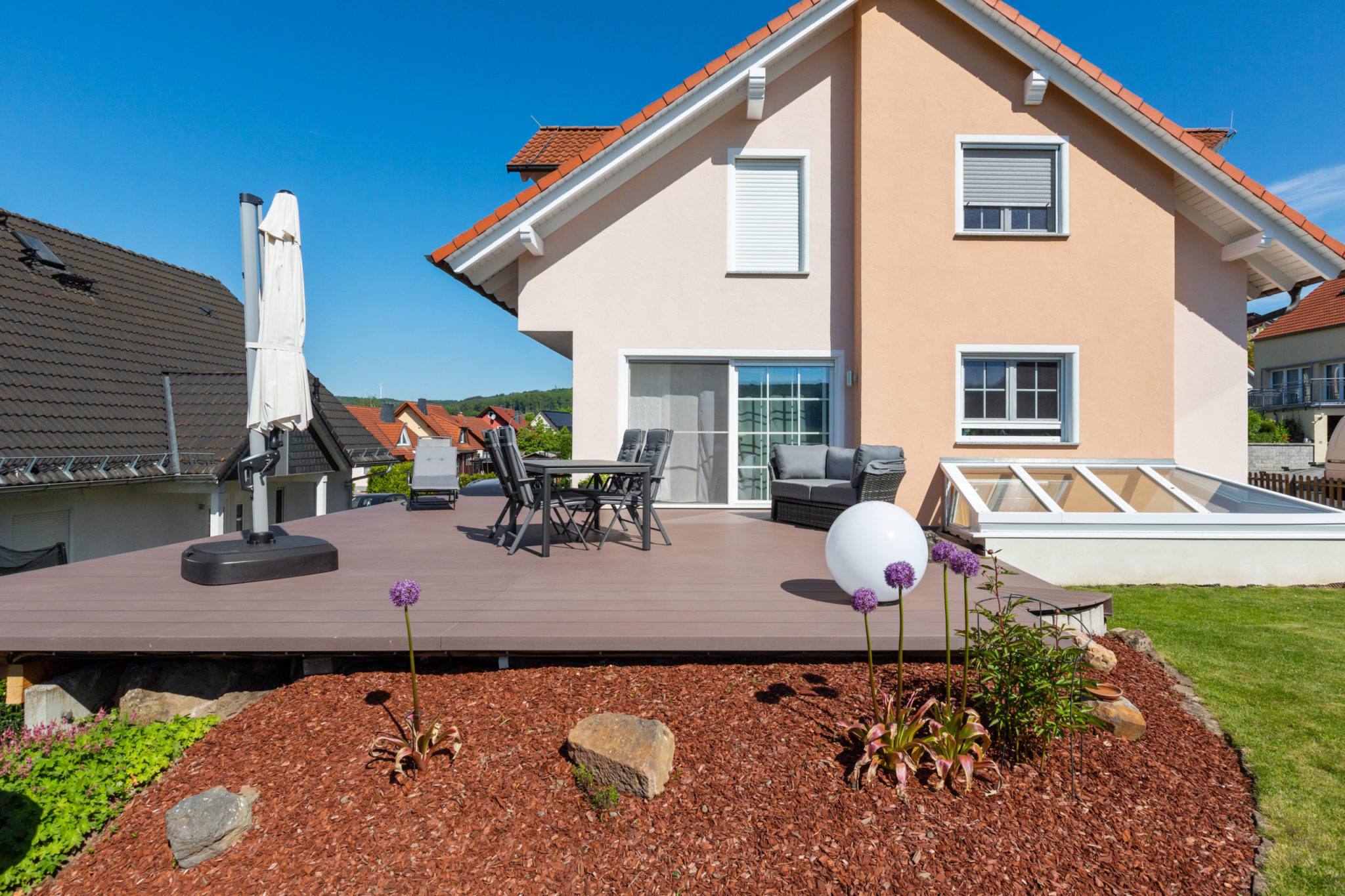 An elegant solution for a relaxing area, are you agree? Directly from the living room of the house, you get to the terrace with a great view. The terrace is made on a small embankment, which is made specifically so that the terrace is located above the entire yard. There is enough space to accommodate a set of garden furniture and a dining table. 
If you want to see more images, then watch our video.