What exactly do these words mean in contemporary design and how you can create it?  Which trends, tips, and colors are better to select? And what elements, materials, and plans you can use to create the place of your dream.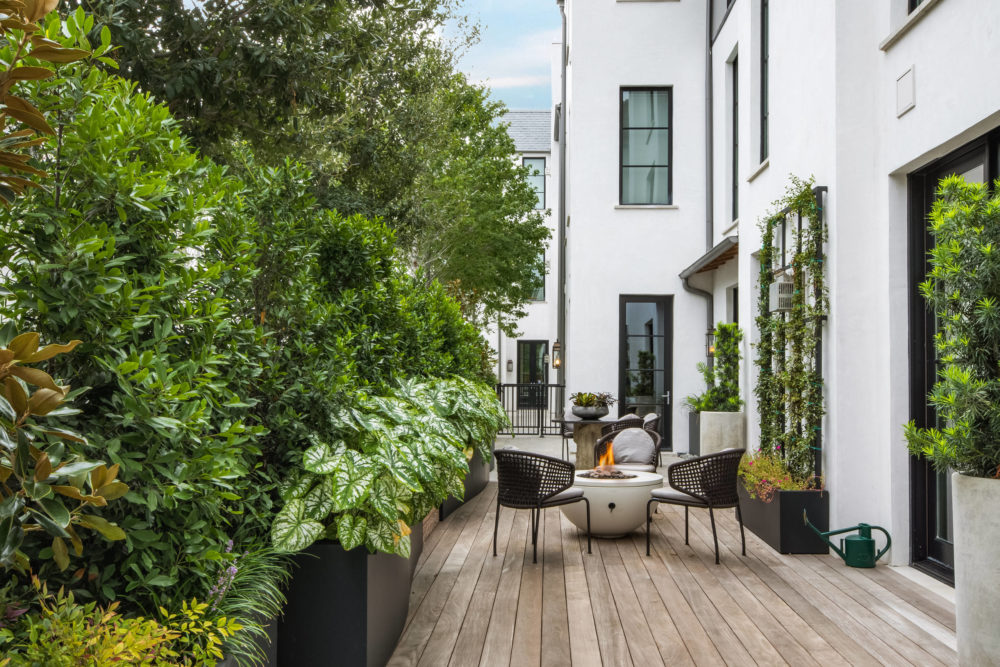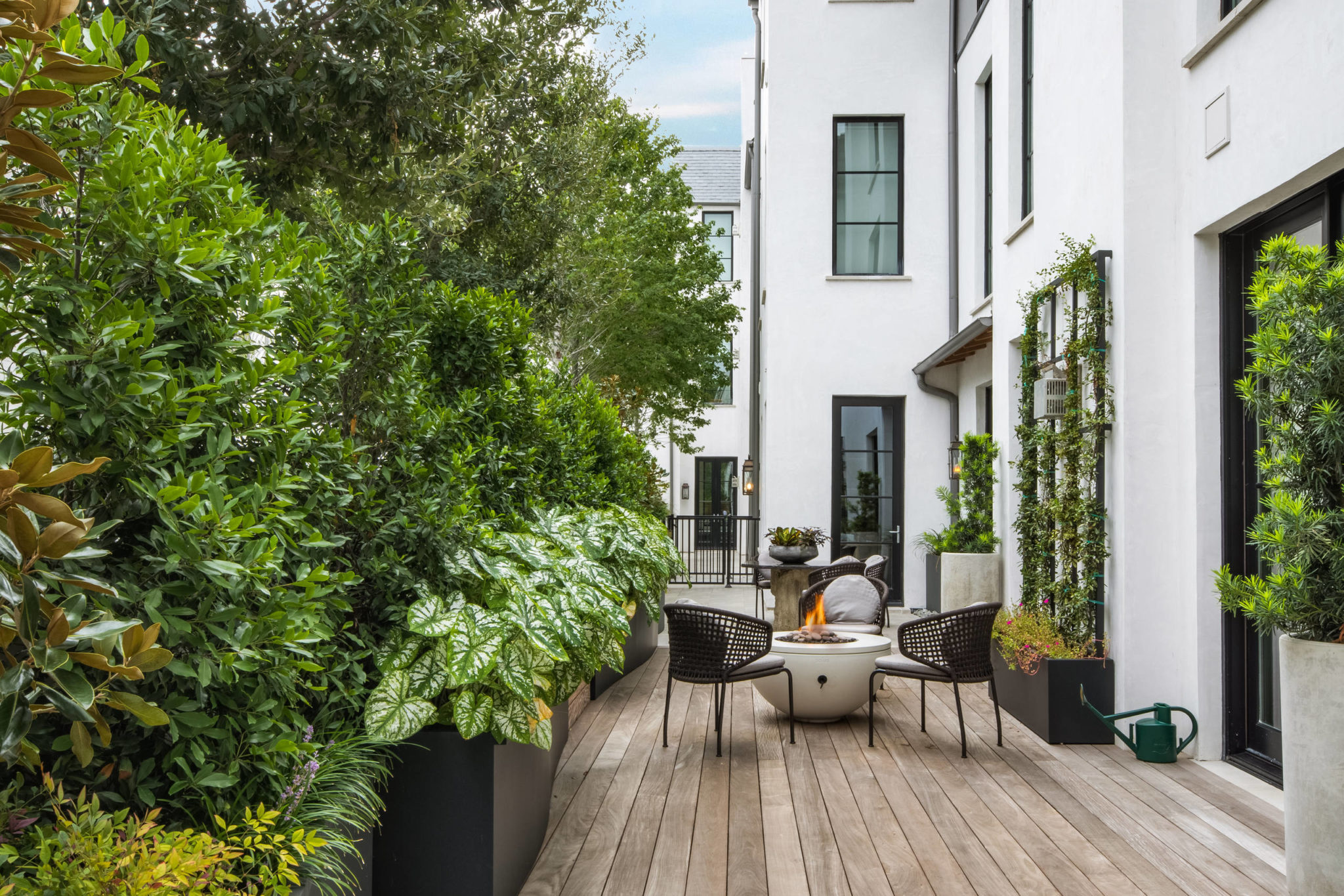 First, let me remind you what is an oasis in nature. This is a small paradise in the middle of the desert with lush greenery, crystal-clear water of waterfalls, or small lakes. Finding such a place in nature is very difficult. It was the meaning of the oasis years earlier. But in modern design, only part of the meaning has been preserved.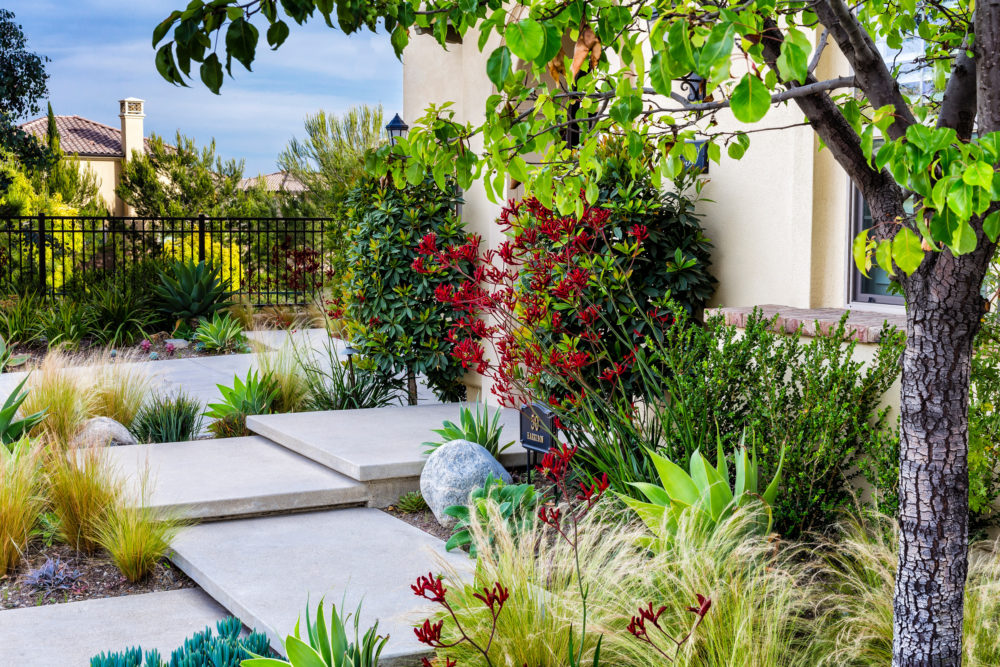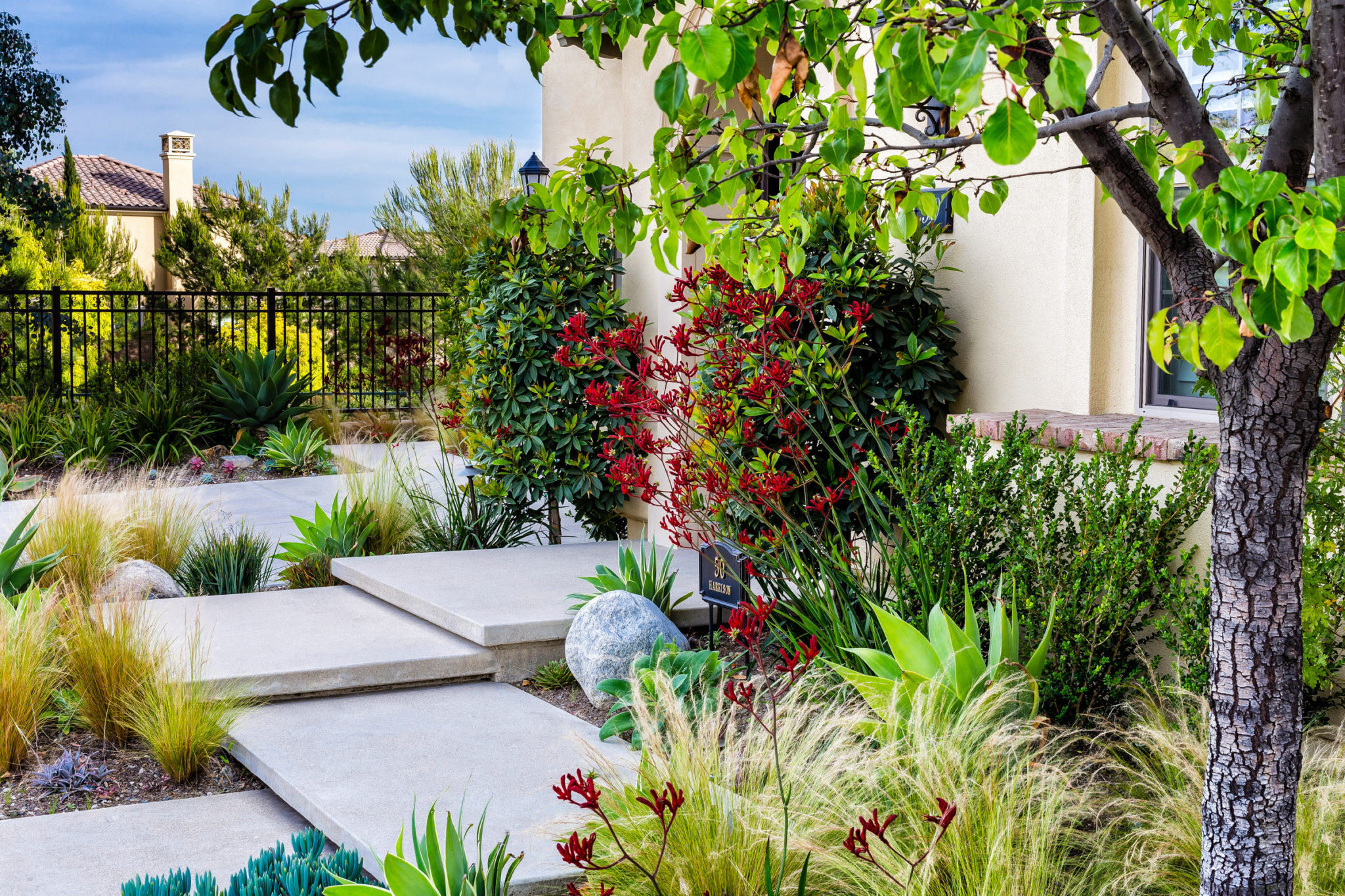 In a modern design paradise, sand and crystal-clear water are not necessary. But, a backyard oasis is still a place where you can keep calm and rest after a long day at work. The good thing is that we can create our own backyard oasis and choose exactly the elements we want. For each people, it will be a different place. The main task of this place is to make you feel rested and relaxed.
What is the best way to start?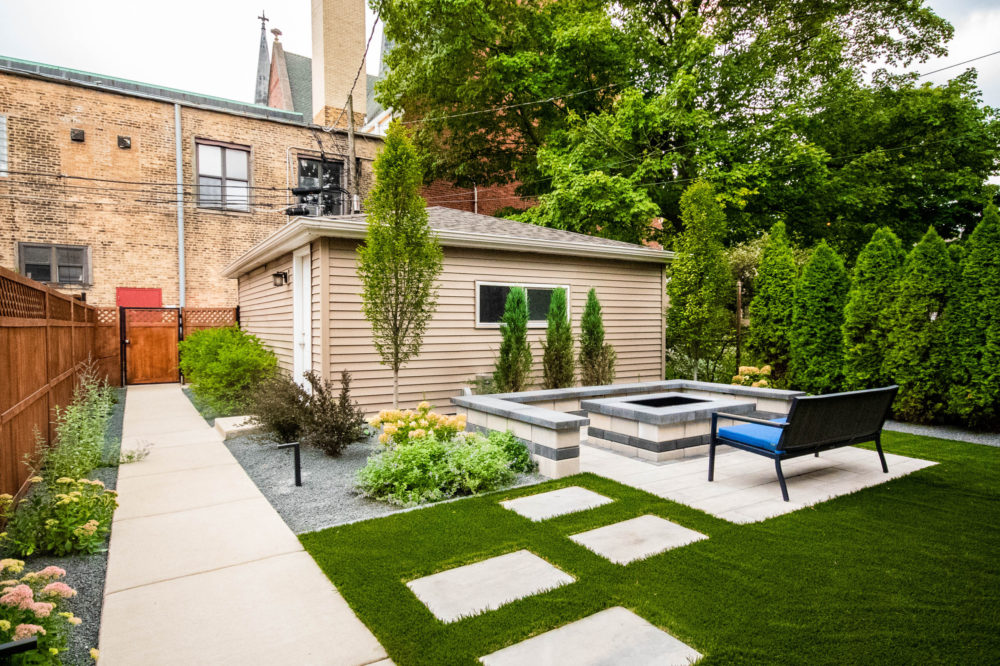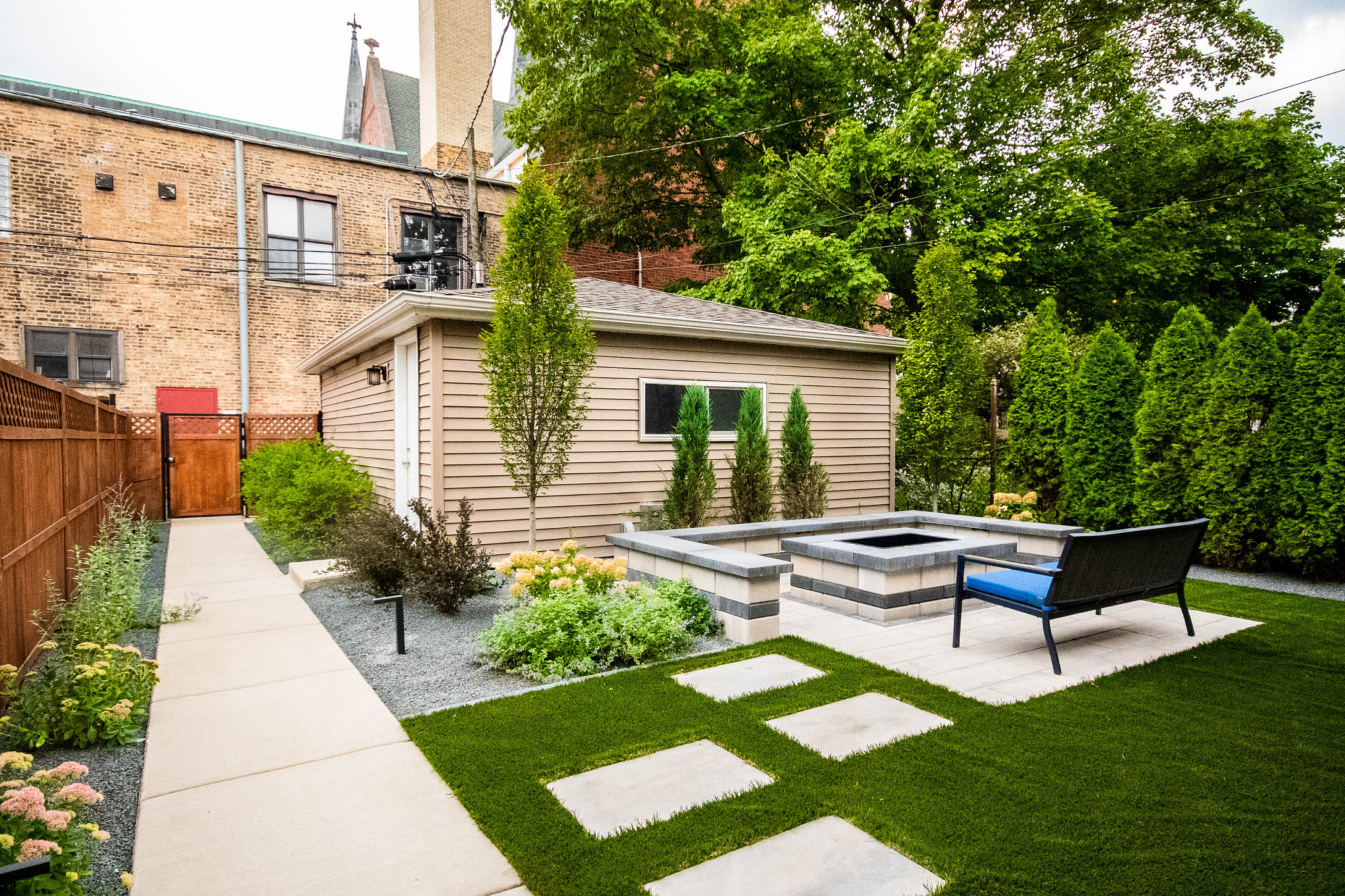 There are a few things to consider when you try to create a home oasis. Think about what exactly you want to see in this place – a simple patio, outdoor dining table, a place of retreat or a big garden. Maybe a waterfall or a pond.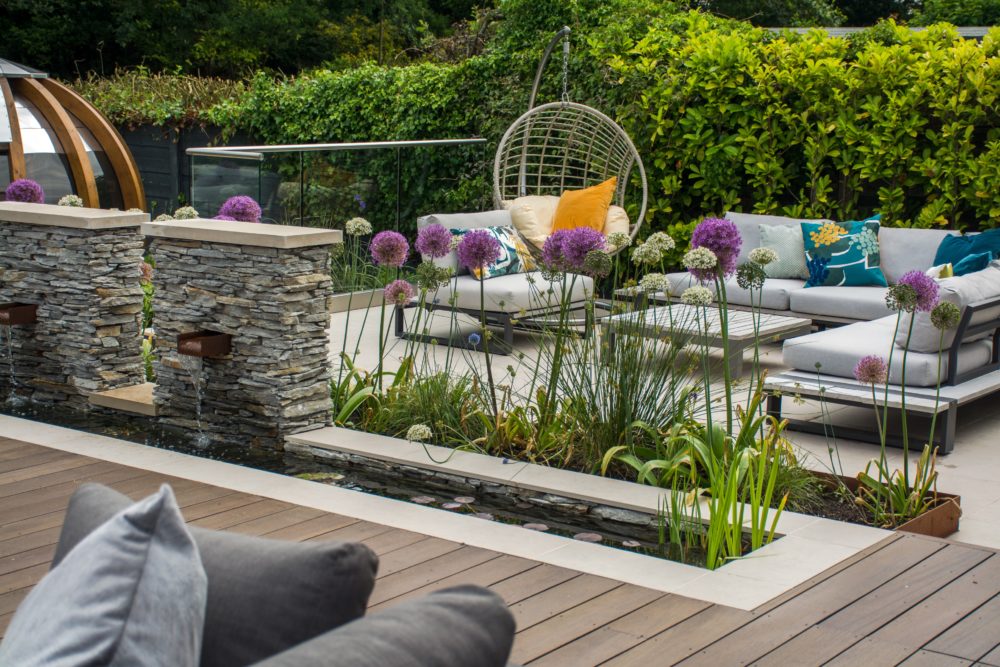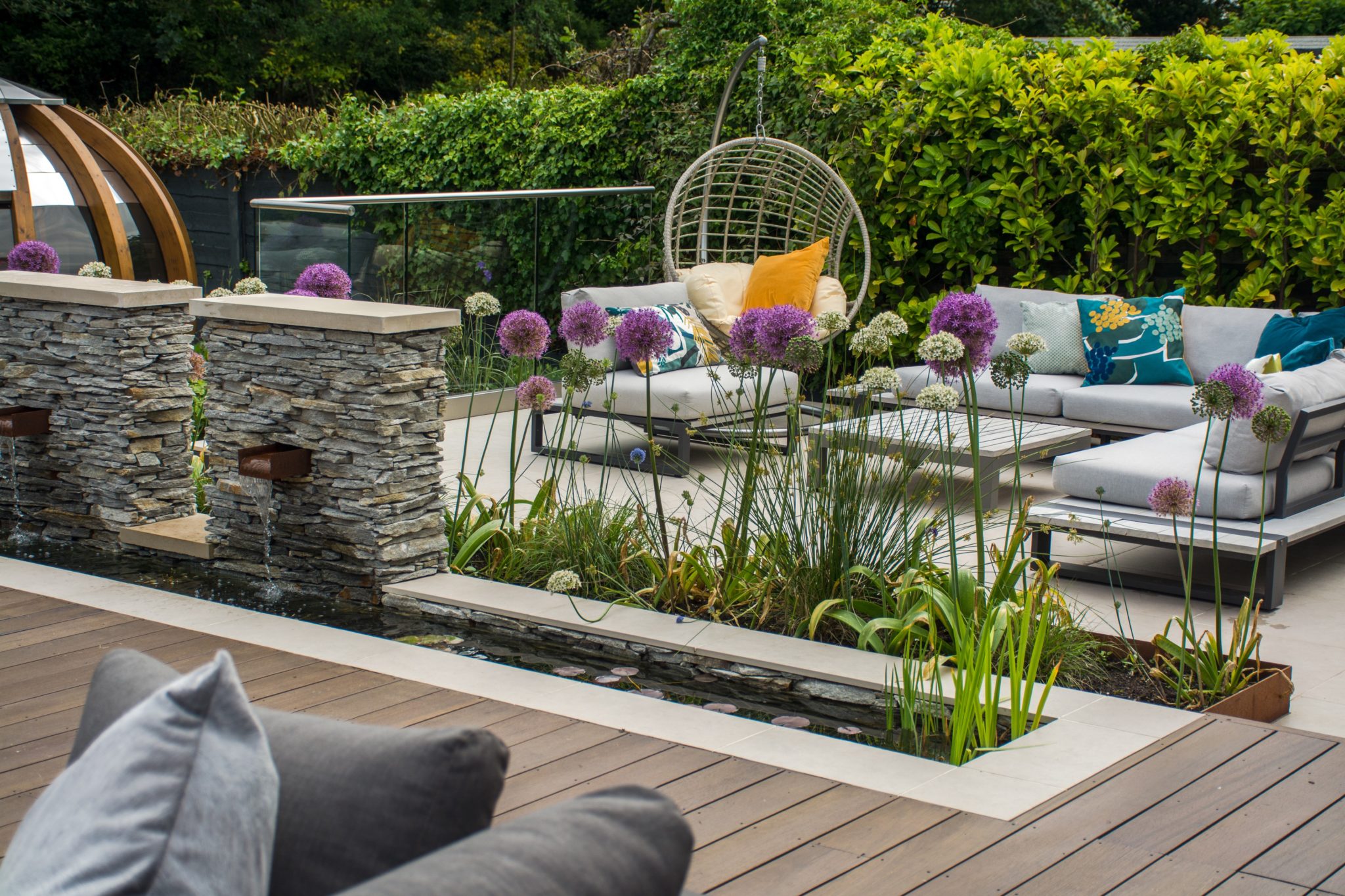 But firstly, ask yourself what makes you feel relaxed. Is it a pool, a fireplace, or just lush greenery that looks like a forest or a wild beach? From here best to start planning your own oasis. Everything that makes you calm and peaceful, you should add to this plan of your backyard.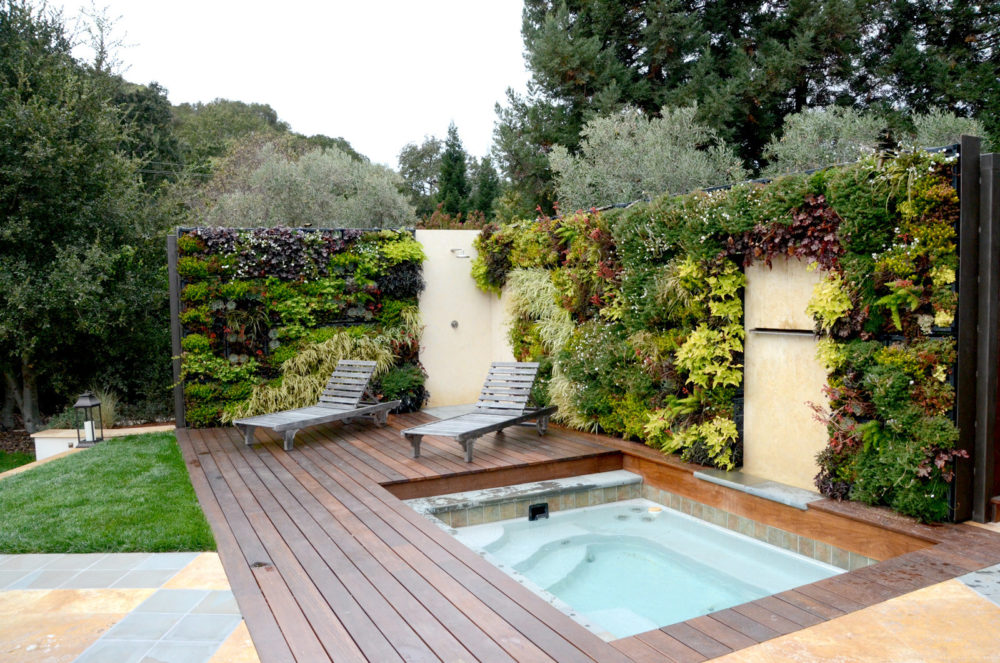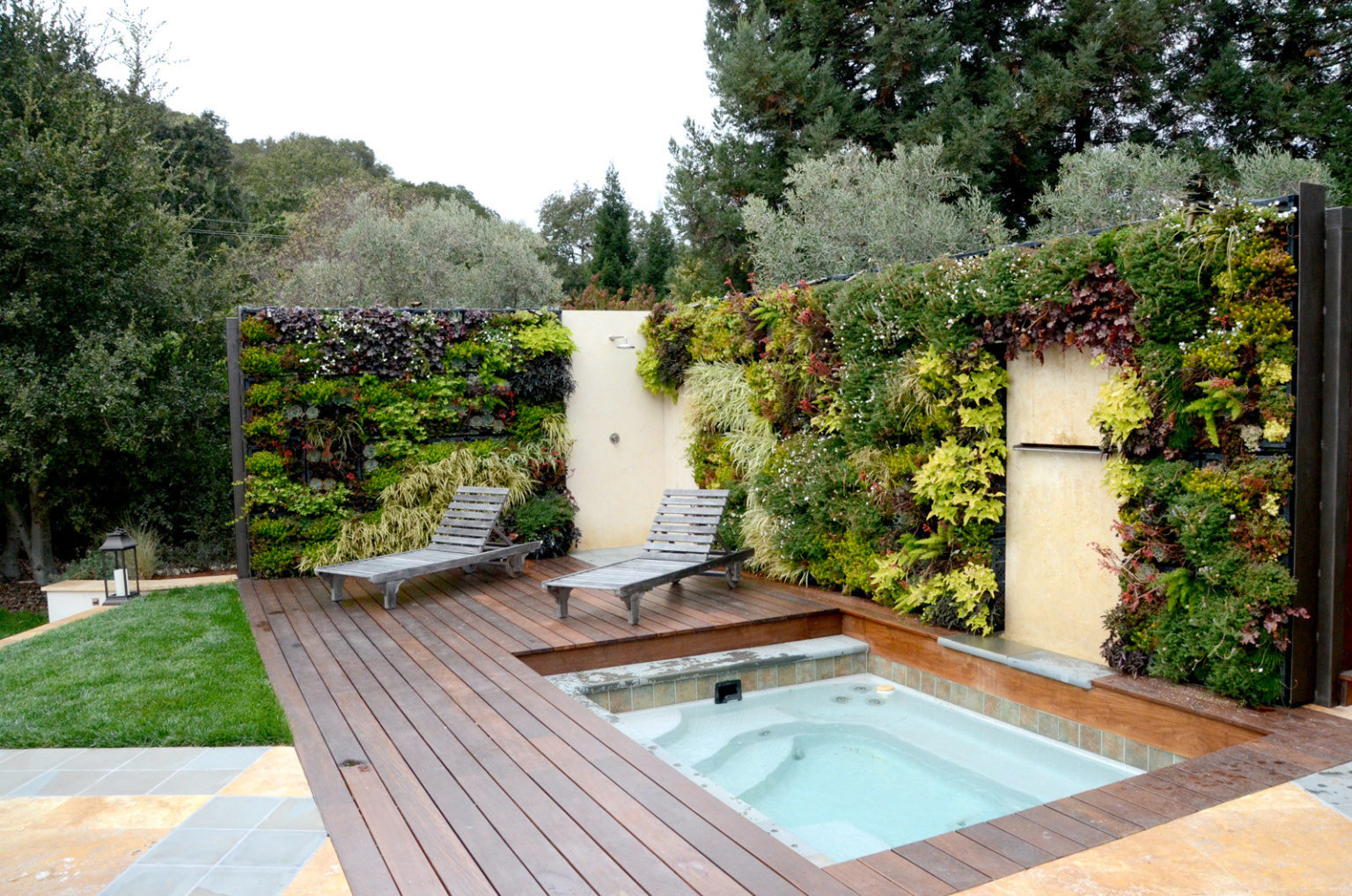 Oasis fence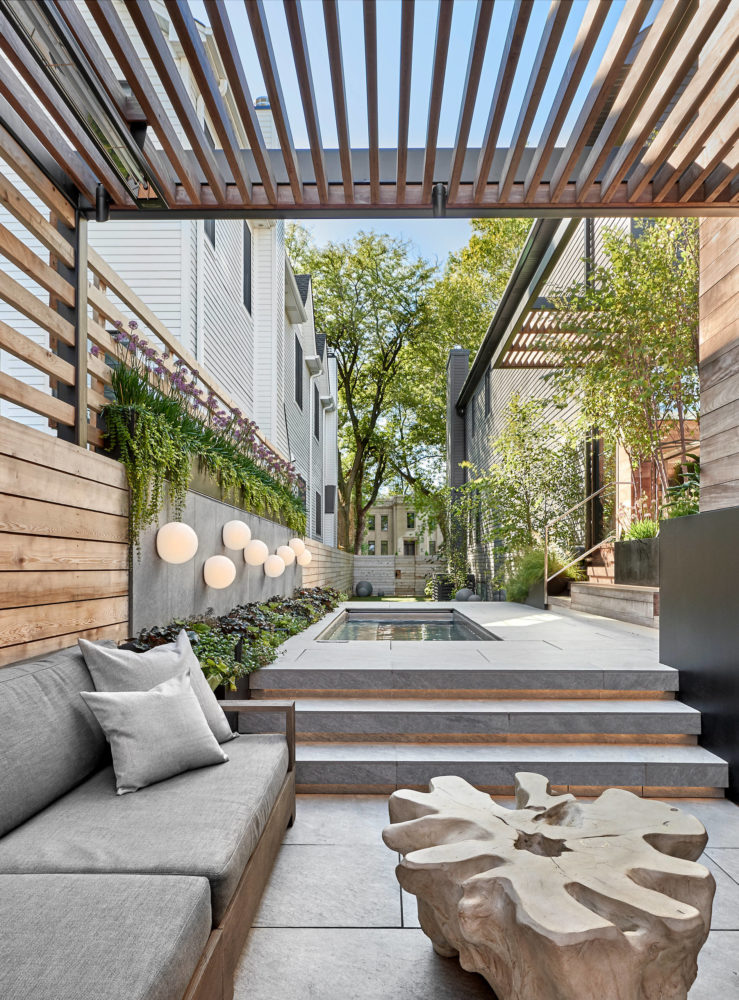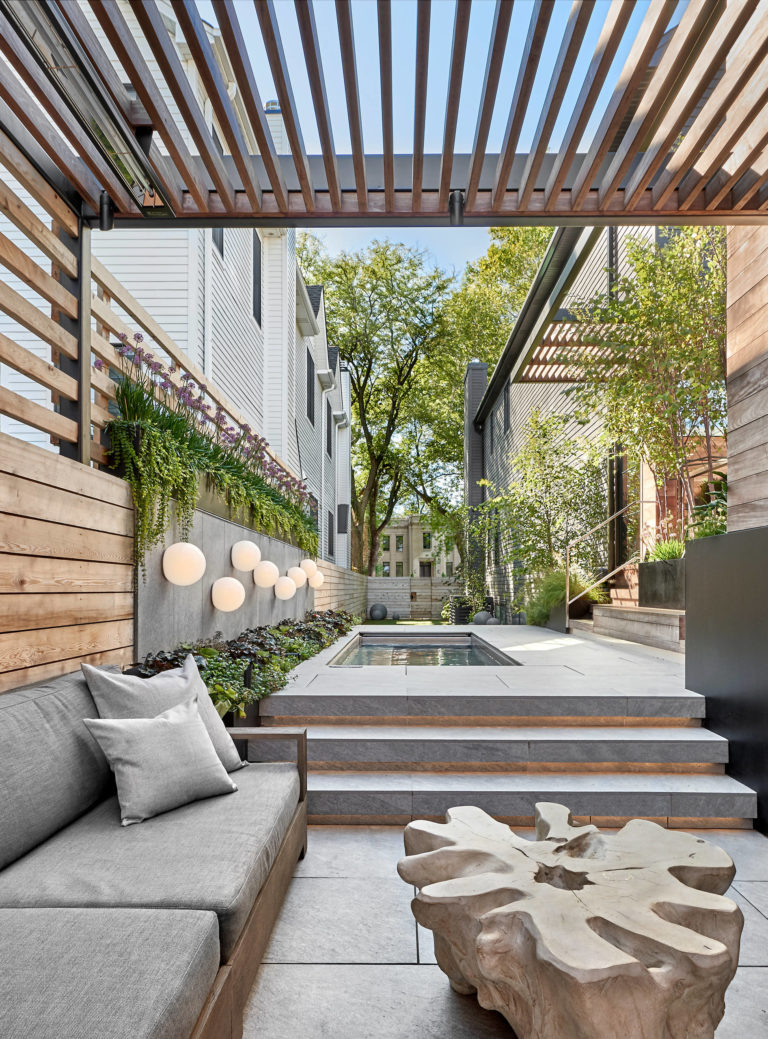 Other one important thing is fencing. Oasis is a secluded place where you should not be disturbed by neighbors or strangers. Therefore, it is important to provide a fence in advance. But the fence should organically fit into the surrounding space, so it is better to choose natural materials – stone or wood. The height of the fence depends on the surrounding nature and the presence of neighbors. If the main task is to hide from prying eyes, the fence should be quite high.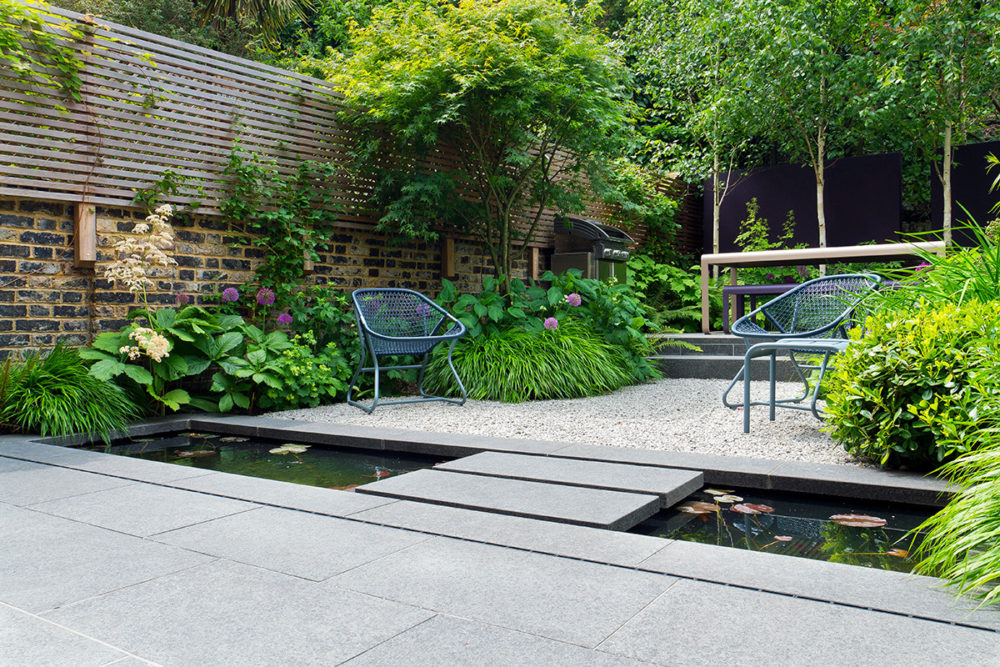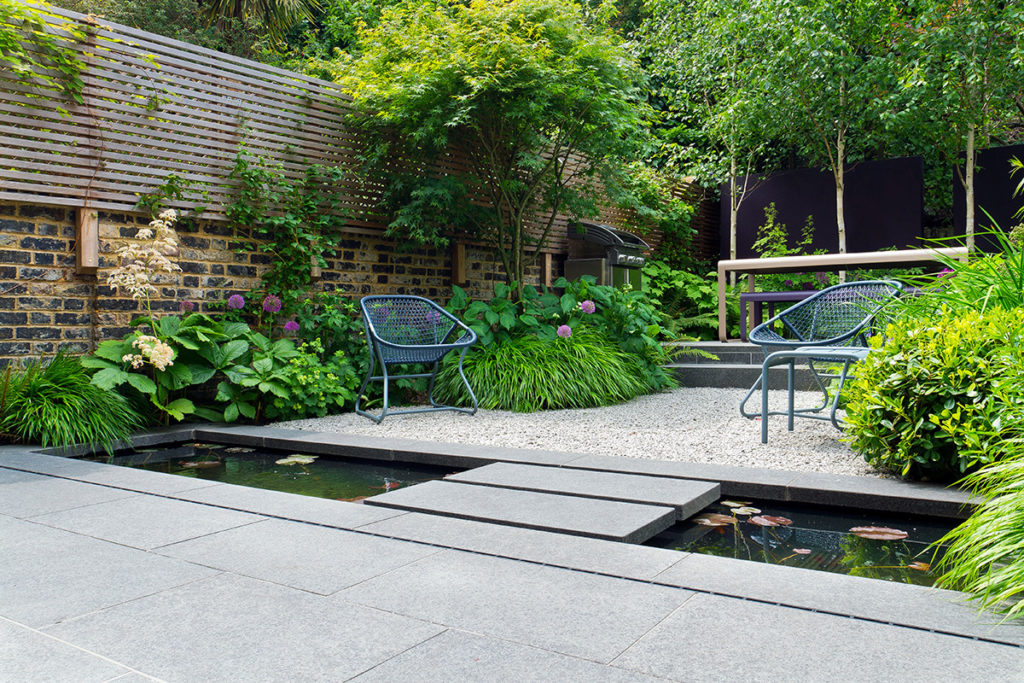 A large fence can be replaced with a hedge, which will fit perfectly into the oasis. However, please keep in mind that you will have to take care of it. Also, pay attention to interesting gardening ideas like vertical gardens. They are simple and ergonomic, and you can make them by yourself without the help of a landscape designer.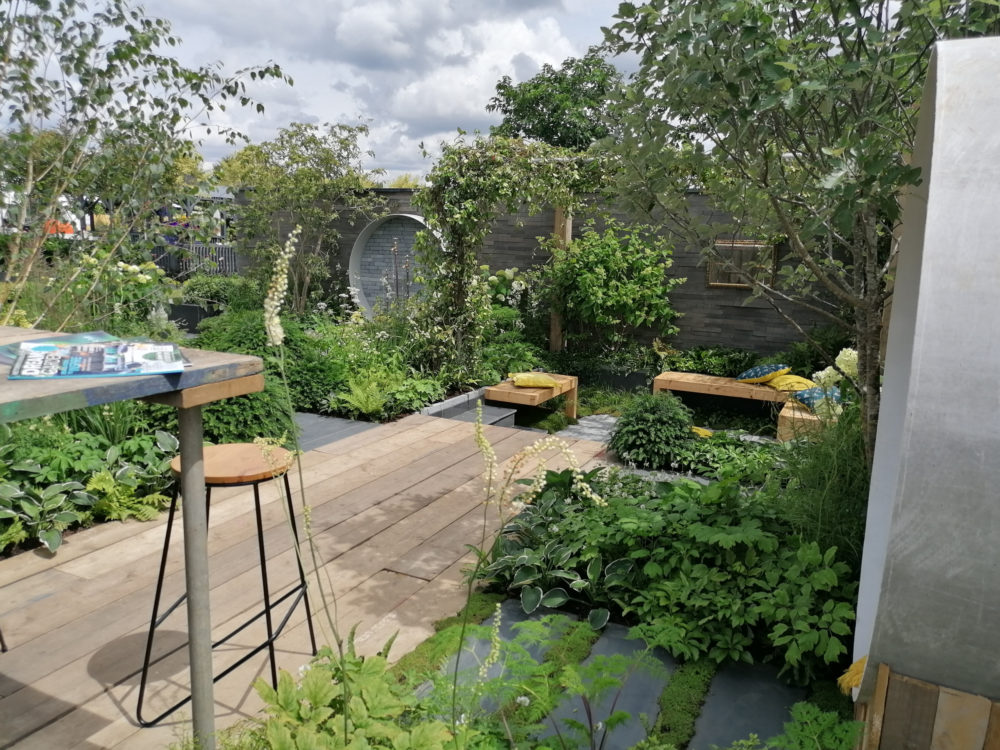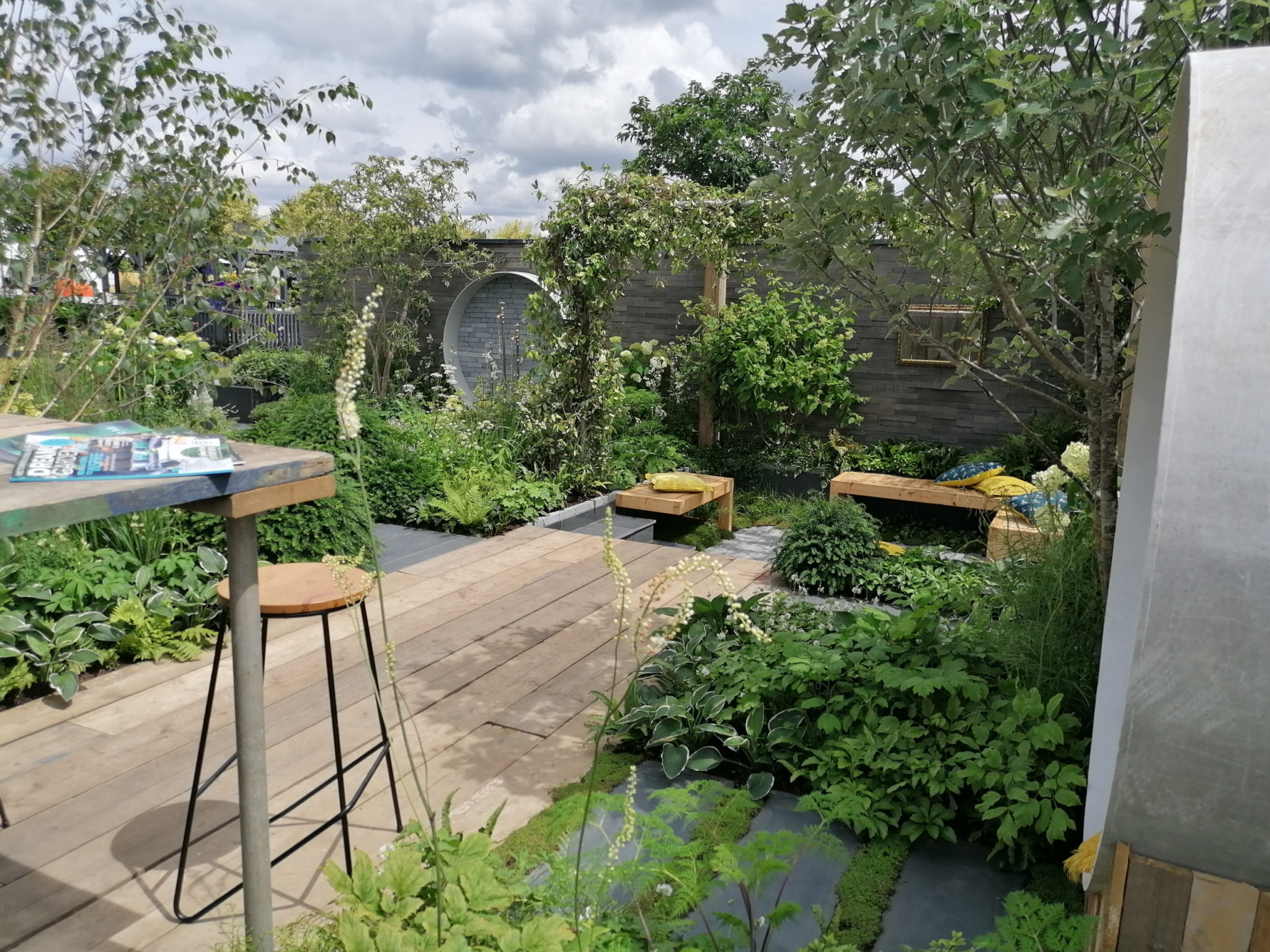 Planting can be done in pots or boxes. If you want to make a solid vertical garden, you can use coconut coir. It is a fiber from the intercarp of the coconut palm. It will be a good breeding ground for vertical gardening. Here you can combine, for example, ferns and climbing plants. As soon as greenery grows, it will fill whole the wall and you will be able to create the effect of a natural oasis with its lush wild vegetation.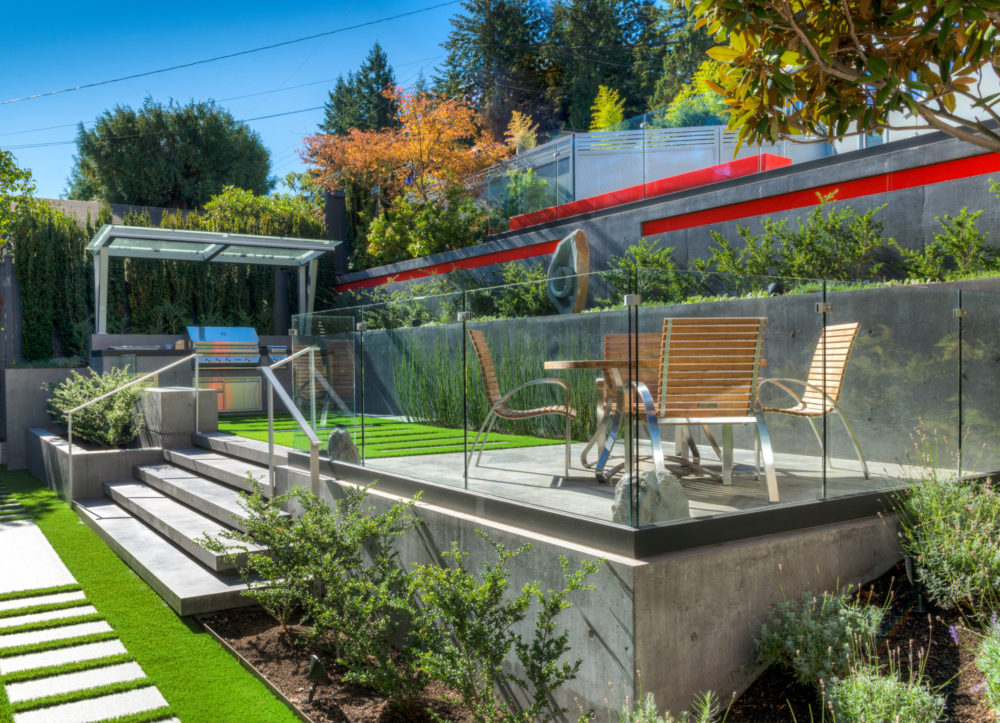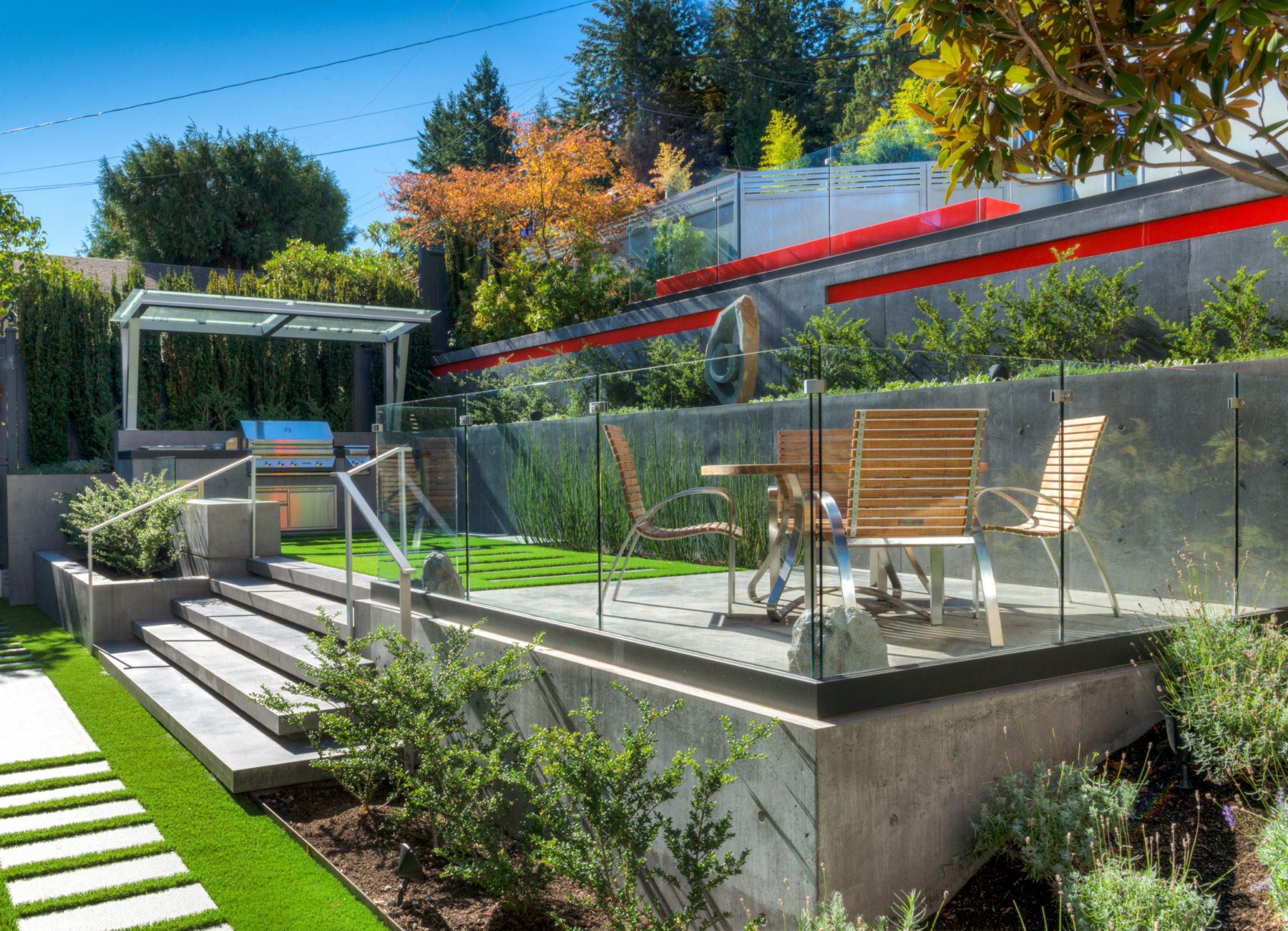 Here are some more interesting backyard oasis fencing ideas:
gabions. A steel mesh structure filled with stones can replace a classic stone fence;
louver fence. An excellent solution for those who dislike solid fences. Modern trends suggest installing staggered boards not vertically, but horizontally instead;
bamboo fence. This type of fencing is especially suitable for a home oasis if exotic plants are used in landscaping;
english classic – low white wood Picket Fence.
And remember the basic design rule: the lower your backyard oasis is, the simpler and lower the fence should be.
Plants for a backyard oasis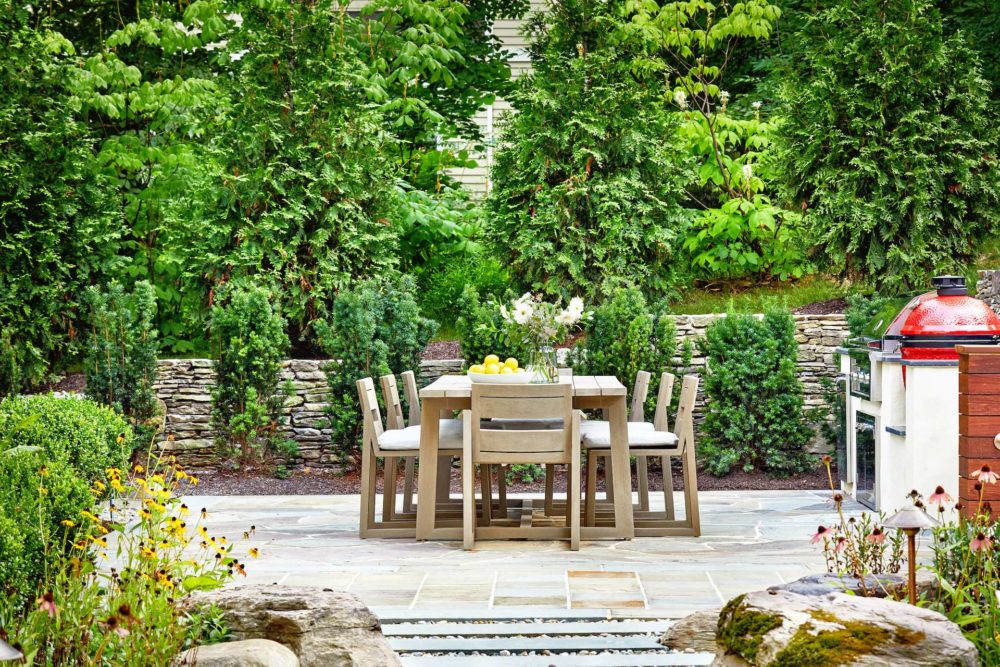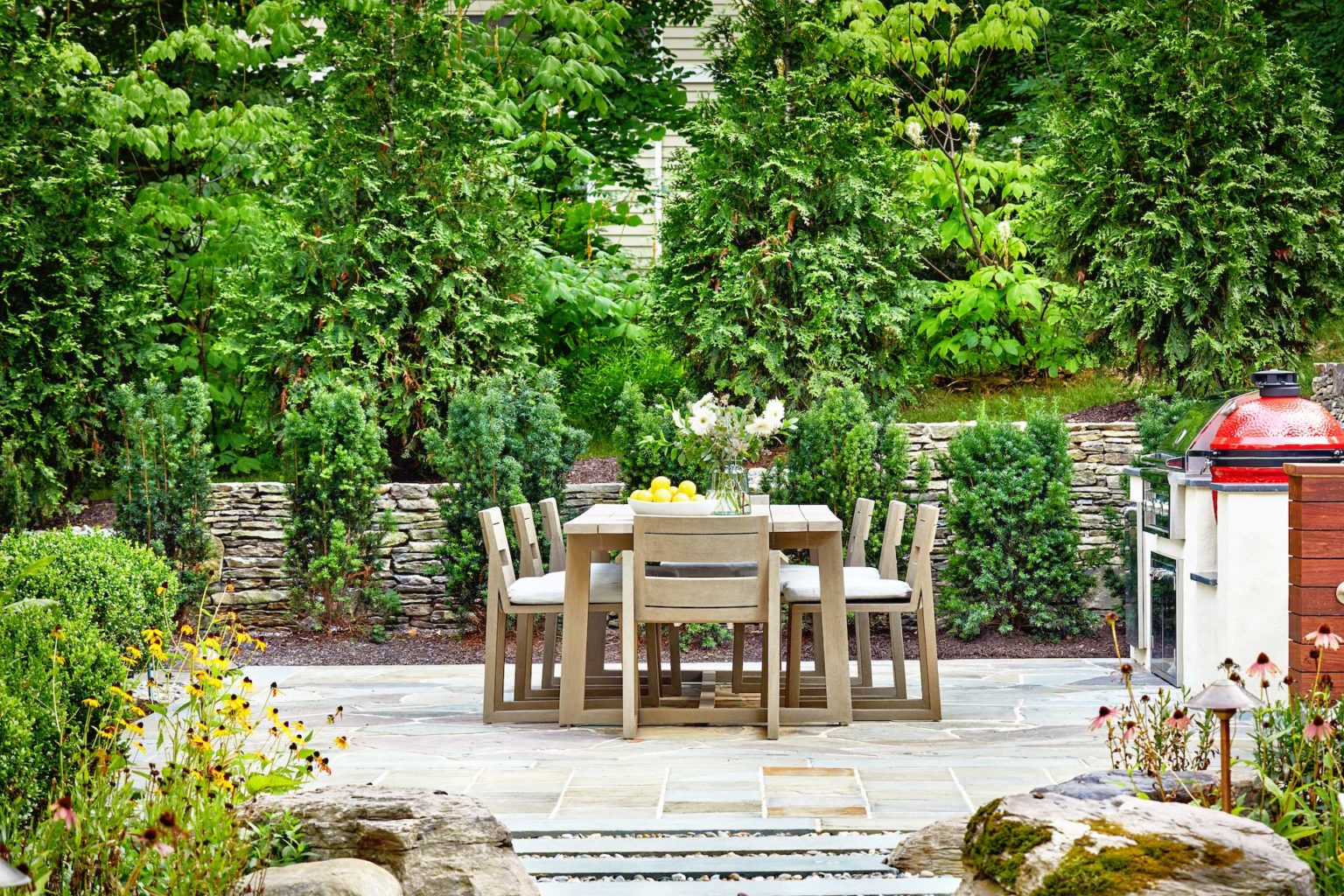 What is the most important thing in a home oasis? Of course, lush greenery. And any yard – large or small – can be turned into an oasis. Of course, the overall design will be tailed to the individual taste and preferences of the owner.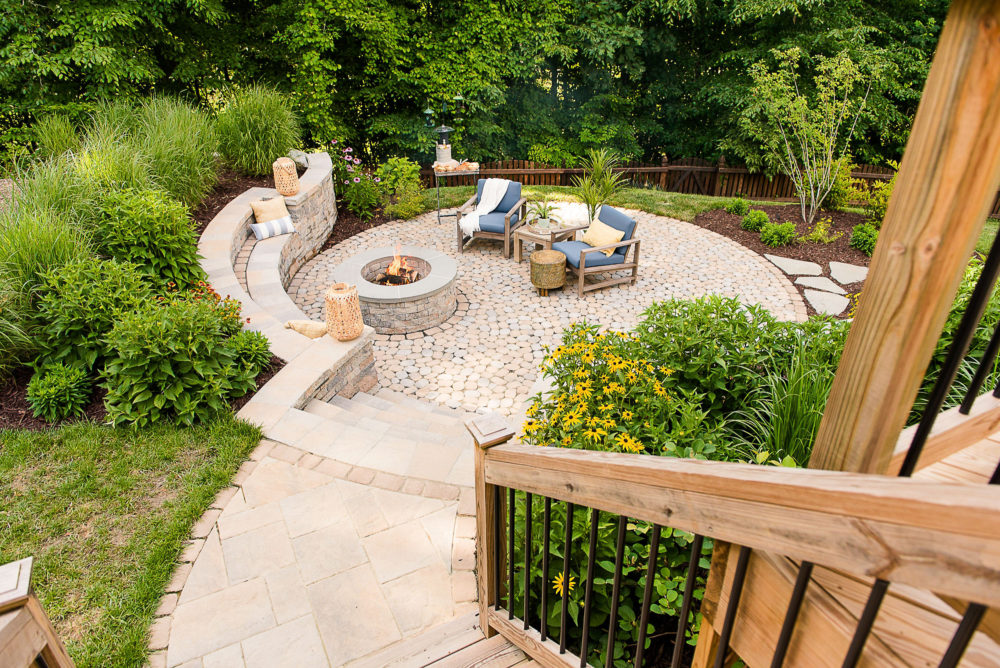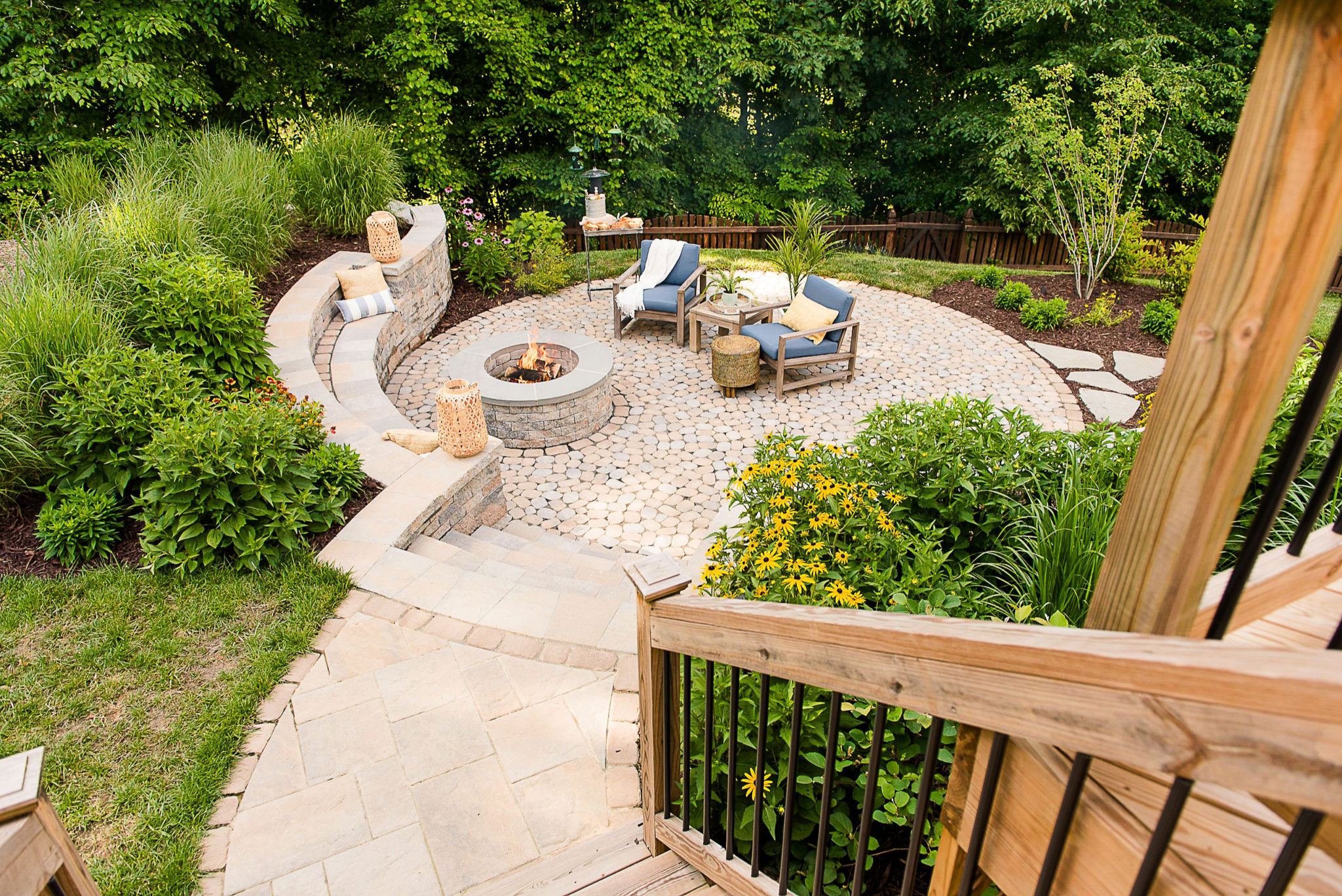 It can be a serene Japanese-style garden, a Mediterranean-style patio, or a modern-style backyard is up to you. But, there are some elements that need to be considered in advance. They will contribute to the visual appeal and create a special atmosphere in your backyard.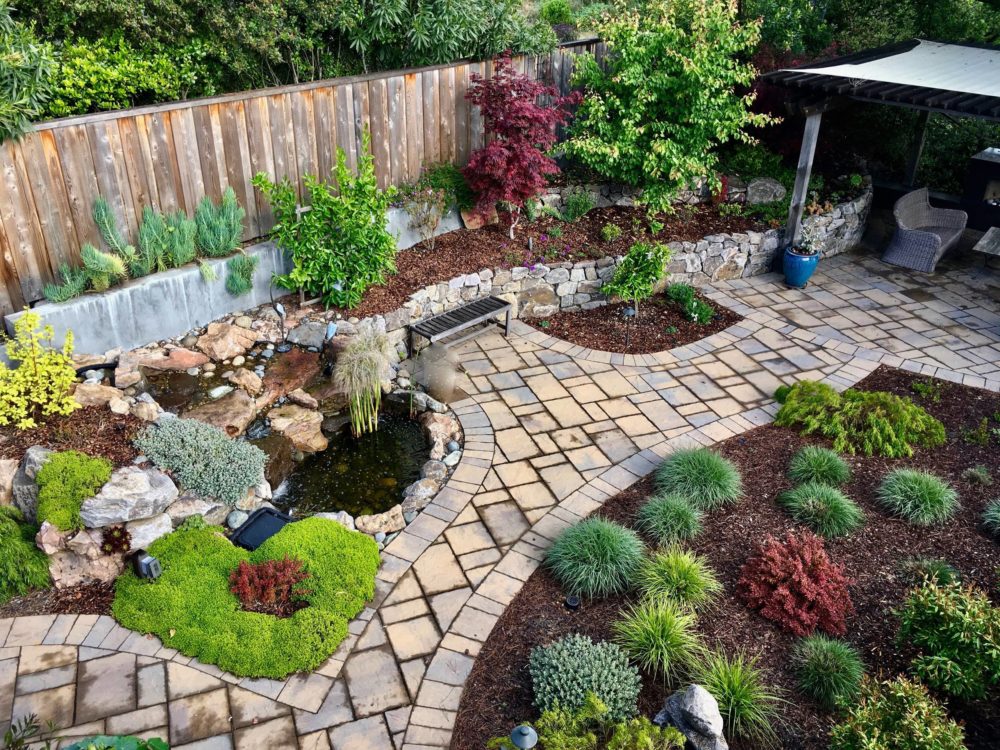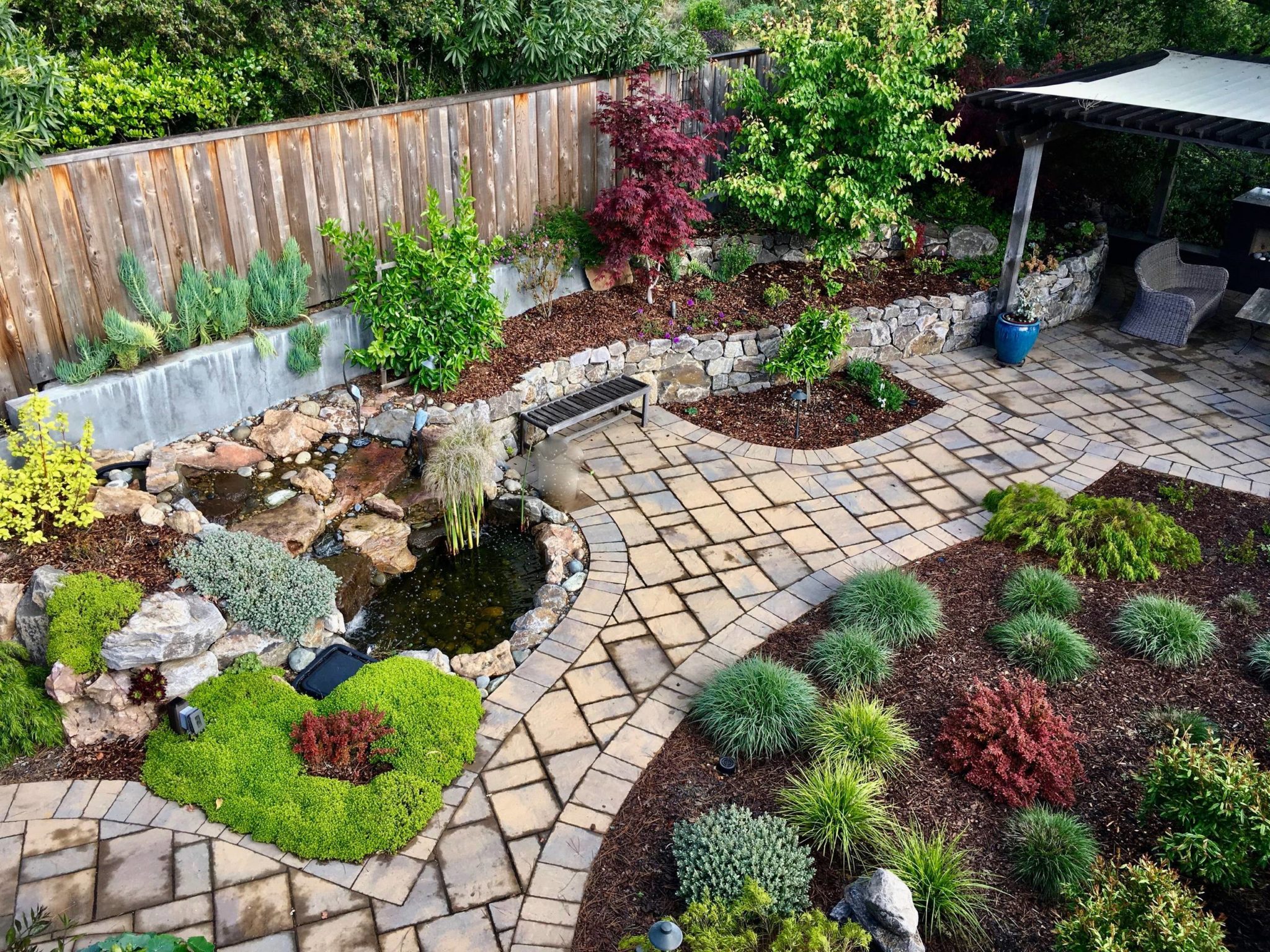 It is better to choose plants that complement each other and the overall design. You can select large evergreens like shrubs, perennials and herbs. Remember that your garden must have color accents, otherwise, it will look dull and monotonous. But accent can also be added by garden furniture or design elements, not only by plants.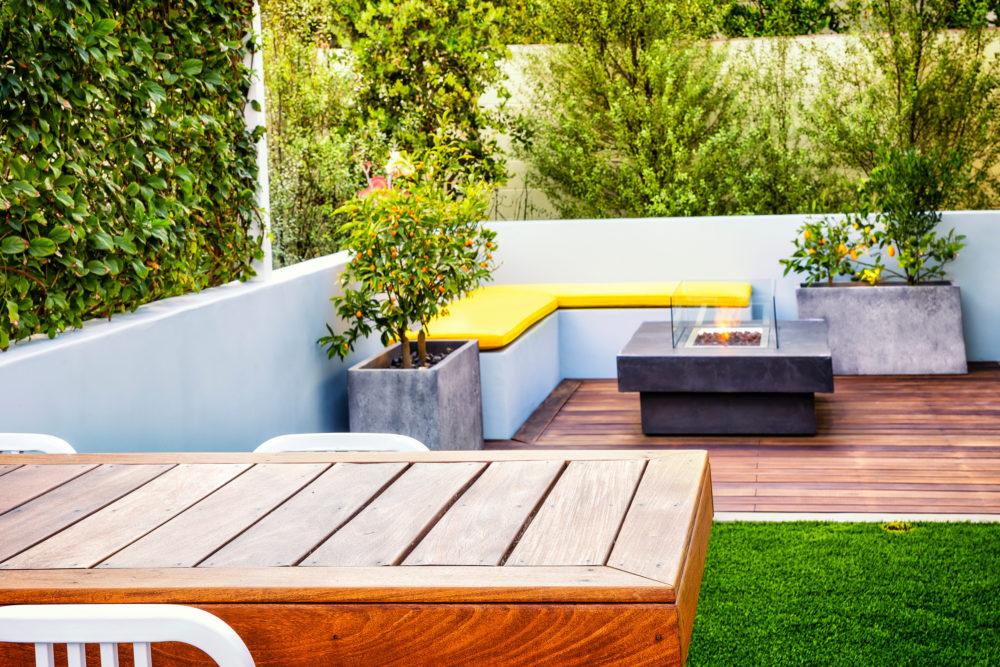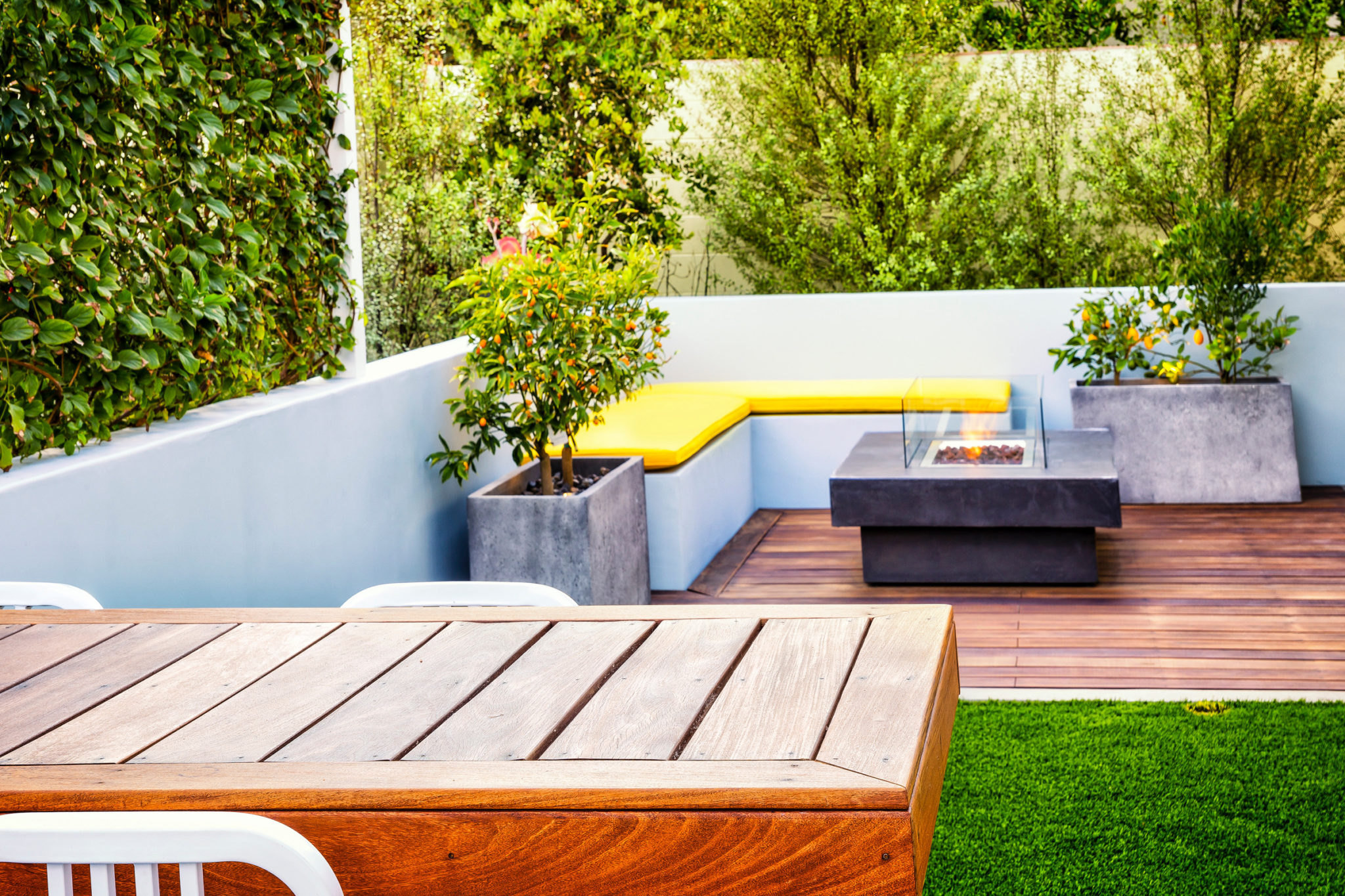 Here we collected backyard oasis design guidelines:
First, consider not only the initial impression and the cost of landscaping, but also the complexity of care in the future. If the plants are planted in the ground, and not in pots, you will need to take care of them the whole year. Many designers recommend choosing evergreen conifers for your backyard oasis. Such as arborvitae, pines, firs, and spruces. They are not only pleasing to the eye, but also give the bewitching aroma of essential oils on a sunny day. In addition, you do not have to remove fallen leaves with the onset of autumn;
Secondly, consider the climate of the region and the microclimate of your backyard. It can be divided into four main categories: full sun, partial sun, shade, or deep shade. The tallest and most spreading trees will need to be planted in the area where it is necessary to create shade for people, and plants that are able to adapt to such conditions should be placed in deep shade;
And last, come up with a theme for your oasis. If you are planning to create a Mediterranean-style garden, choose roses, conifers, citrus fruits, and lavender. You can also add herbs such as thyme, sage, and rosemary. For a Japanese garden, Sakura, decorative plums, magnolias, and rhododendron would be a great idea. Peonies, irises, and chrysanthemums will help to add a bright accent. And from trees, it is better to plant dwarf pines, Japanese maples and bamboo. The theme will help to see a complete picture of the future oasis.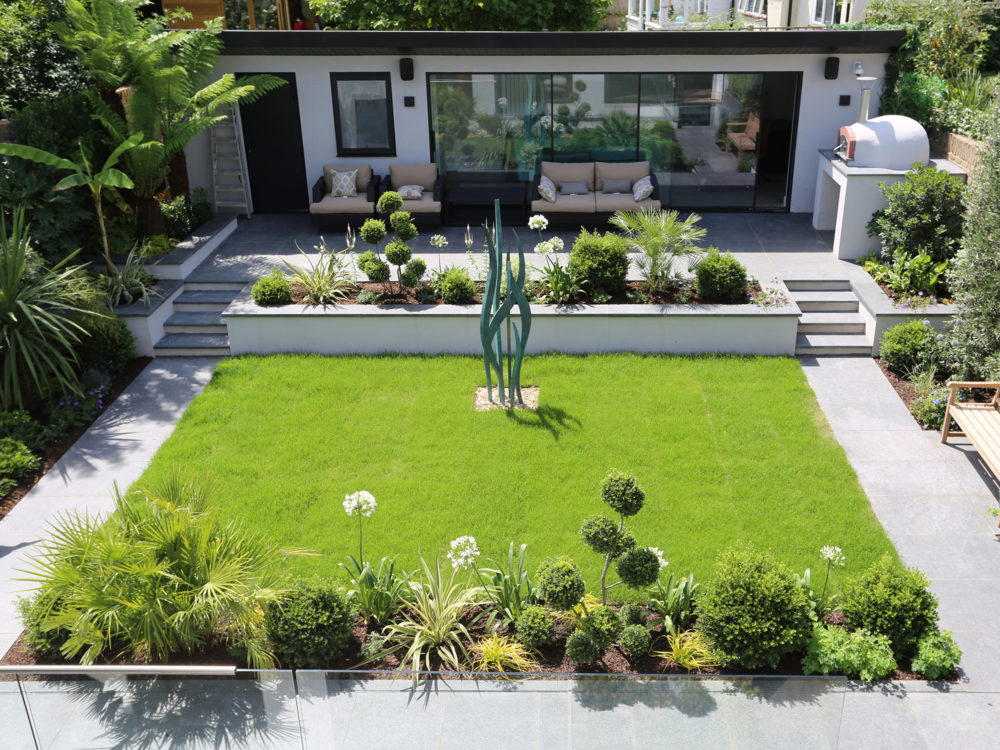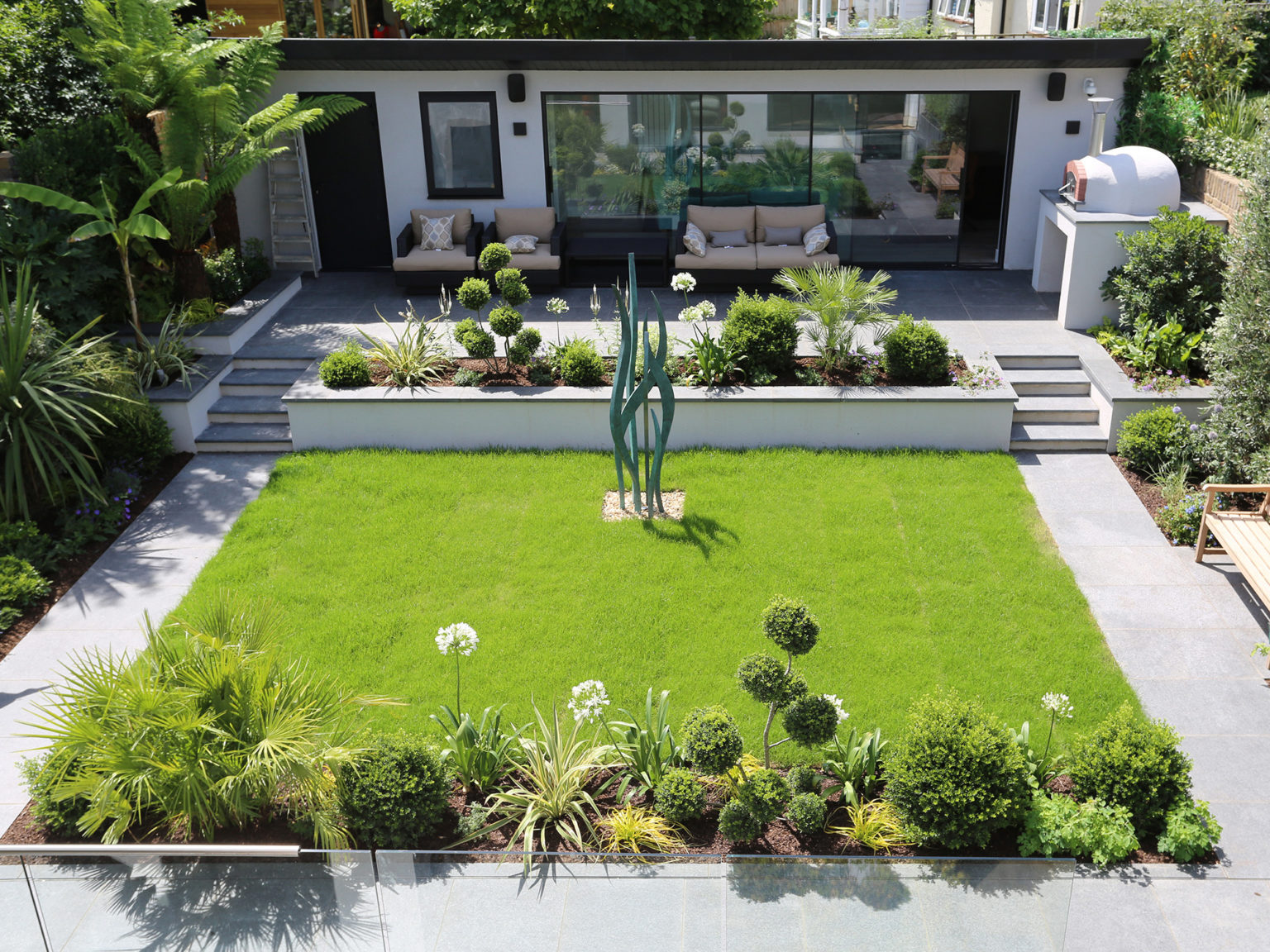 When you're designing a landscape, it's helpful to think of your backyard like it was a house with rooms. Plants will help to zone the territory of the oasis and form a kind of "rooms" in the open air. Use paths and architectural forms to further divide the space. It will look great if they are made from the same material as your fence.
Colors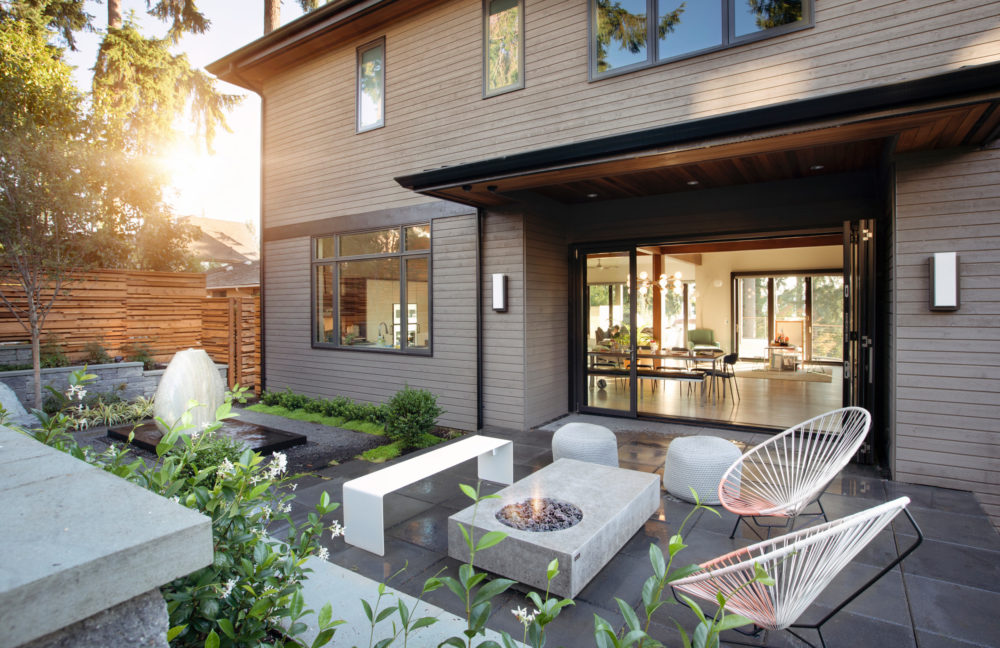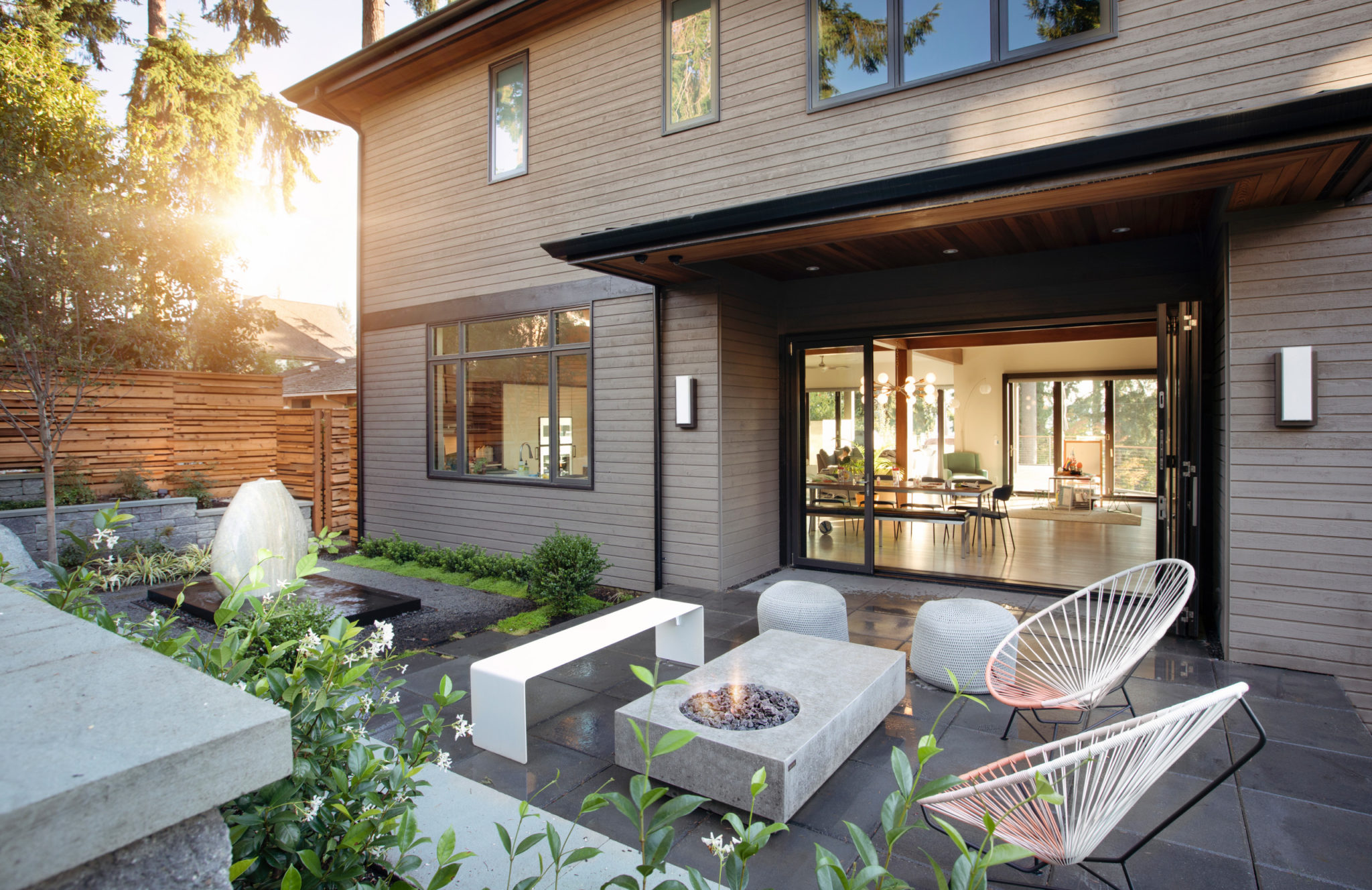 Next, let's talk about the colors for your backyard oasis. There are so many beautiful hues in nature that we often go overboard trying to include them all in our backyard oasis decor. Modern design most of the time means reducing the number of colors. Great ideas are focused on the interior of the house.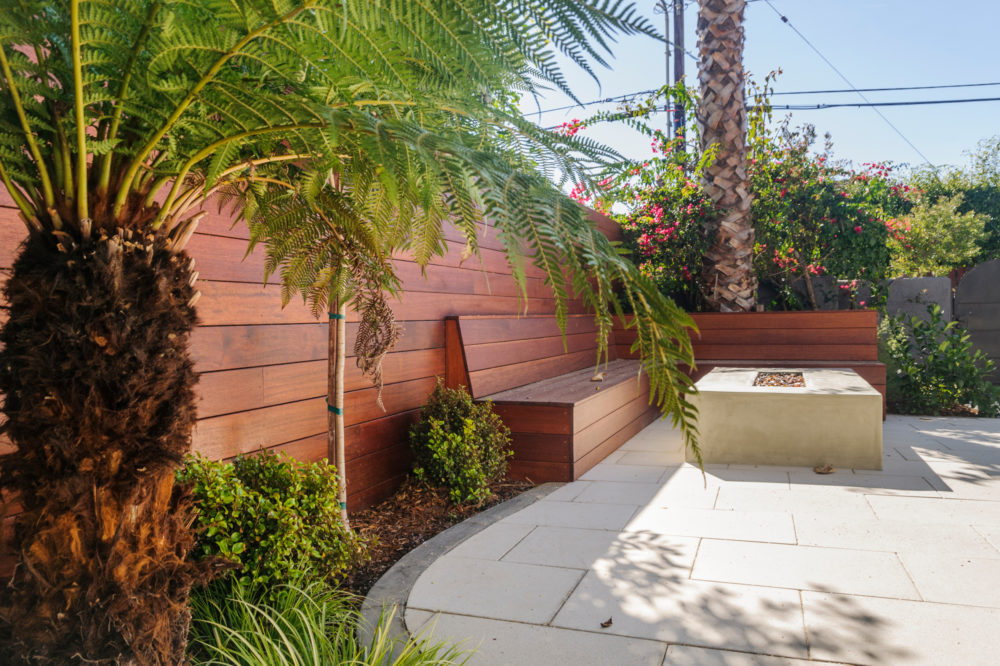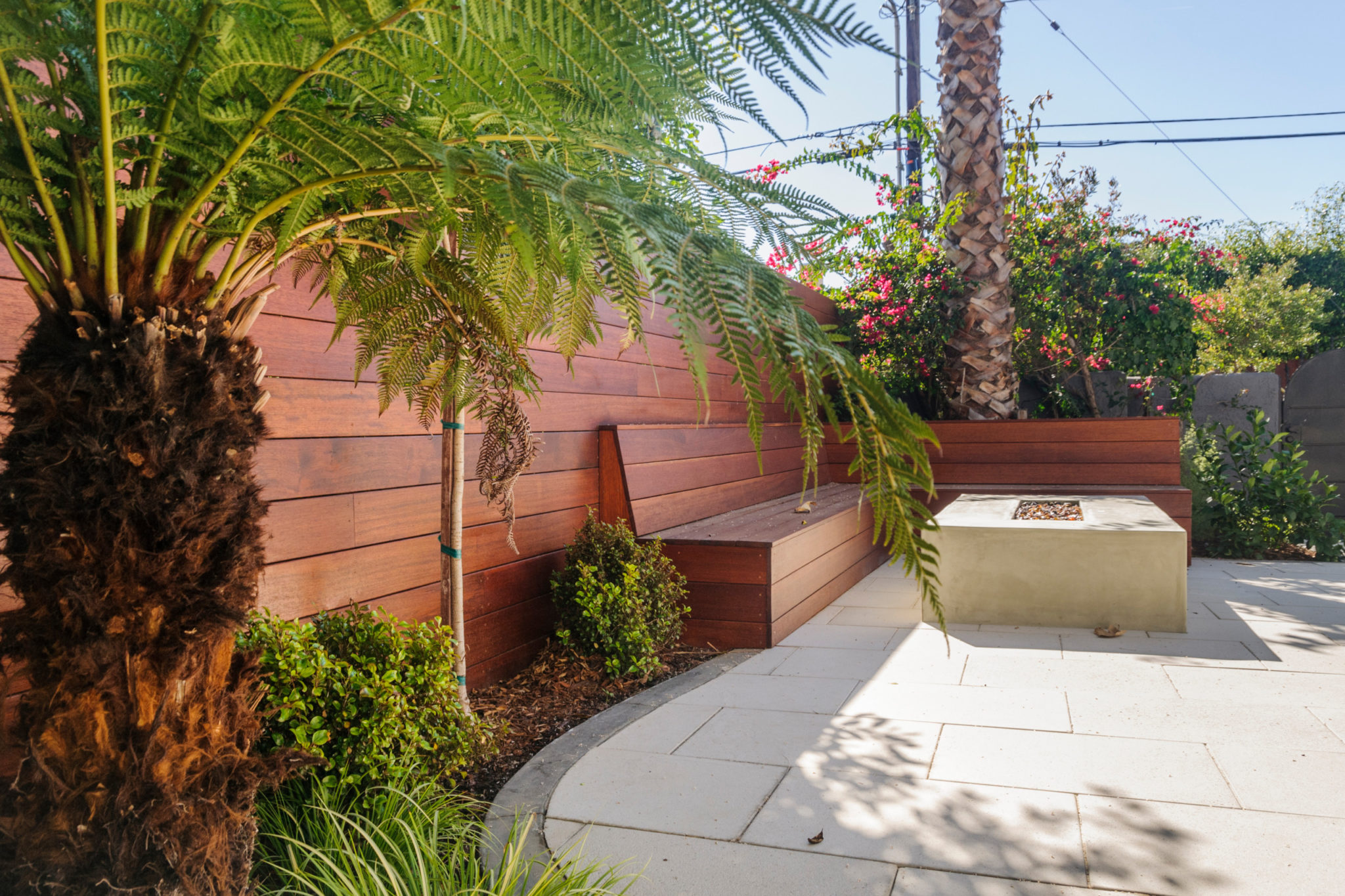 Choose one color that you really like and use its shades in your backyard design. Then determine the most contrasting color. It is necessary for color accents. And one or a few neutral ones to dilute the previous two. As a neutral, designers recommend choosing gray, brown, sand, creamy, lavender, blue, or dark blue. This rule applies to items that will be placed in the garden.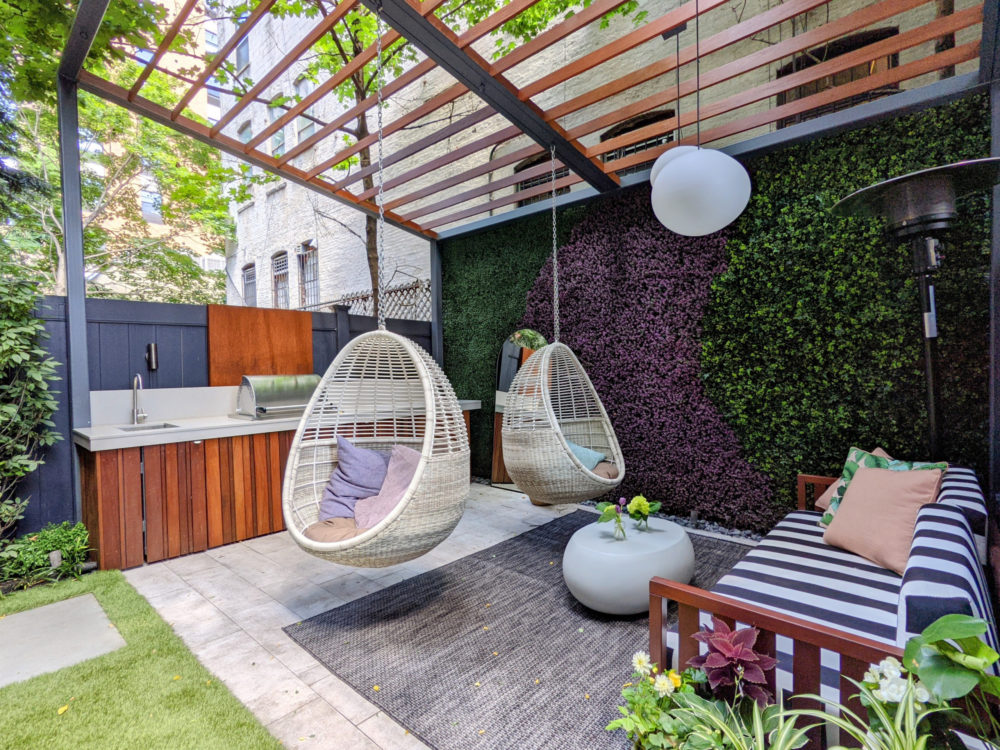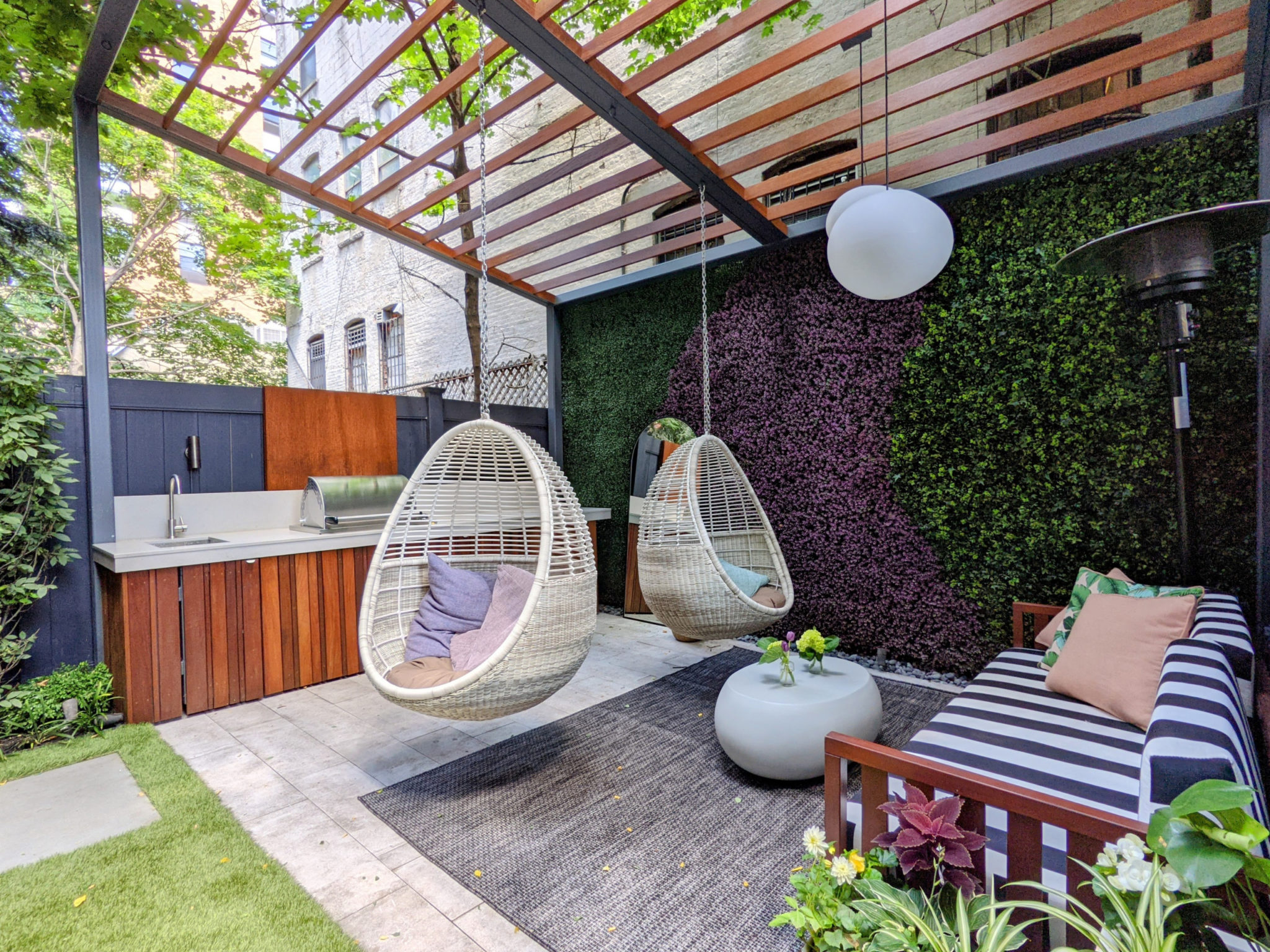 If we are talking about plants, green colors of different shades will prevail here. It will become a natural background on which you can place two contrasting shades and dilute the plant picture with neutral tones.
Rest place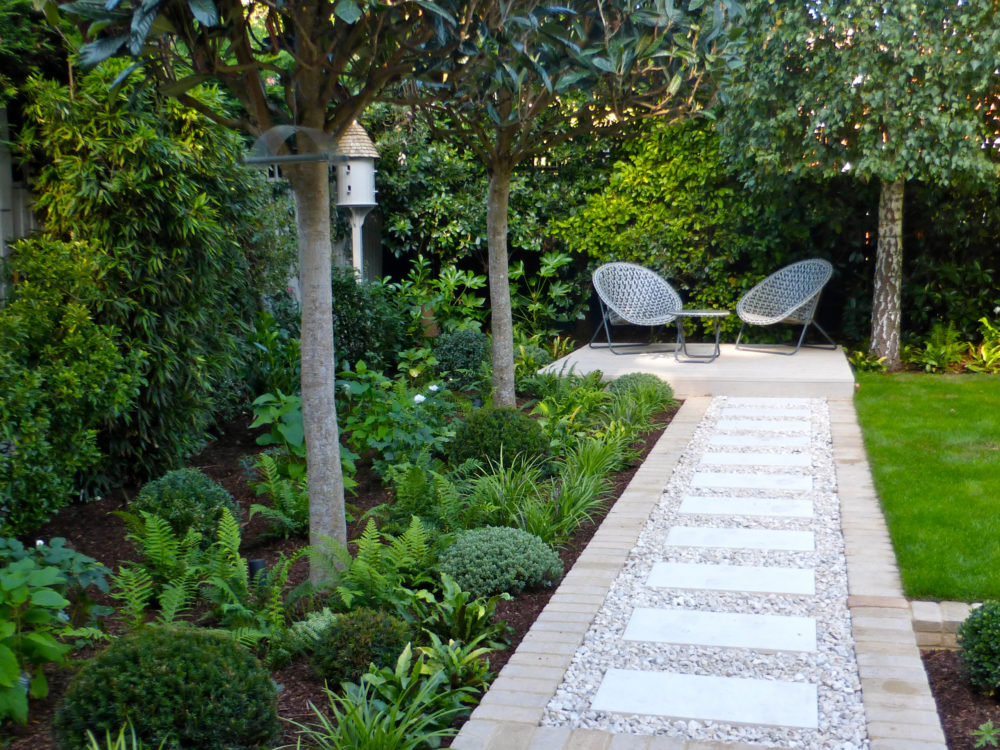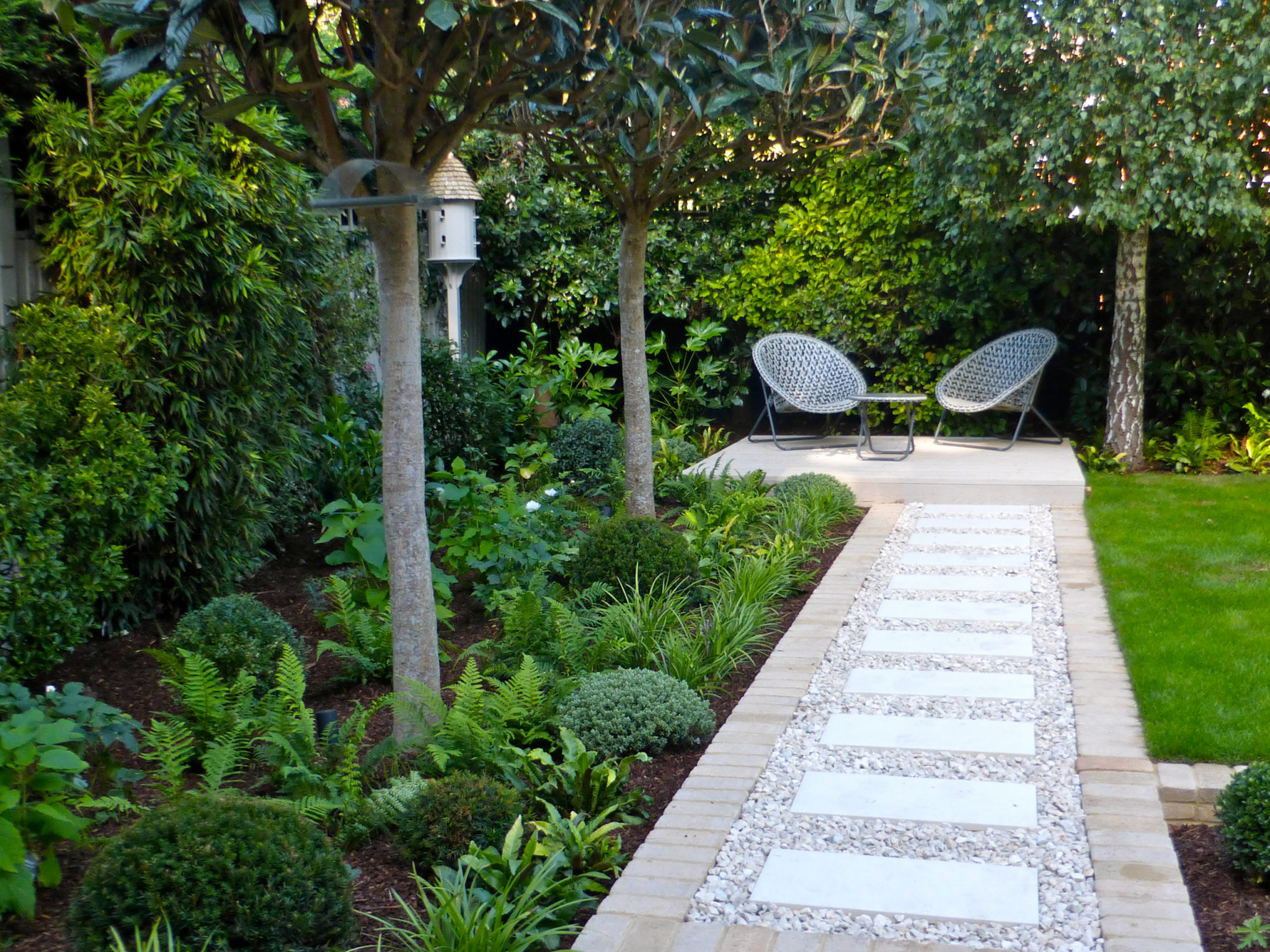 When all background for your resting place will be ready, let's think about a direct place for rest. It can be a terrace, pergola, or patio. The hard floor area is a great place for grilling, gatherings, and outdoor recreation. Adding an outdoor terrace to your home is also one of the smartest investments you can make for your house if you will decide to resale it.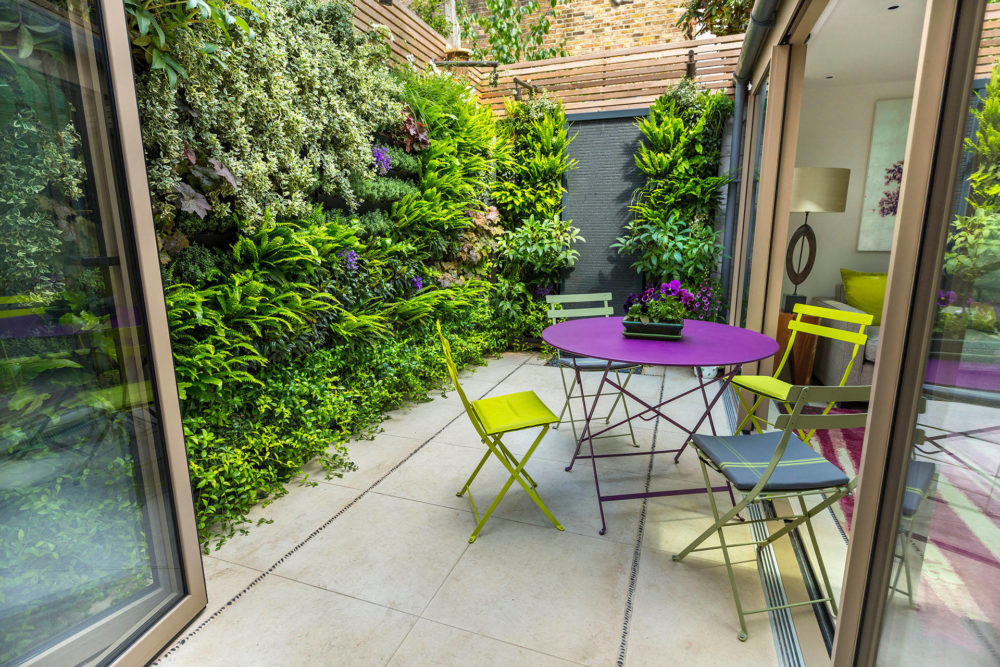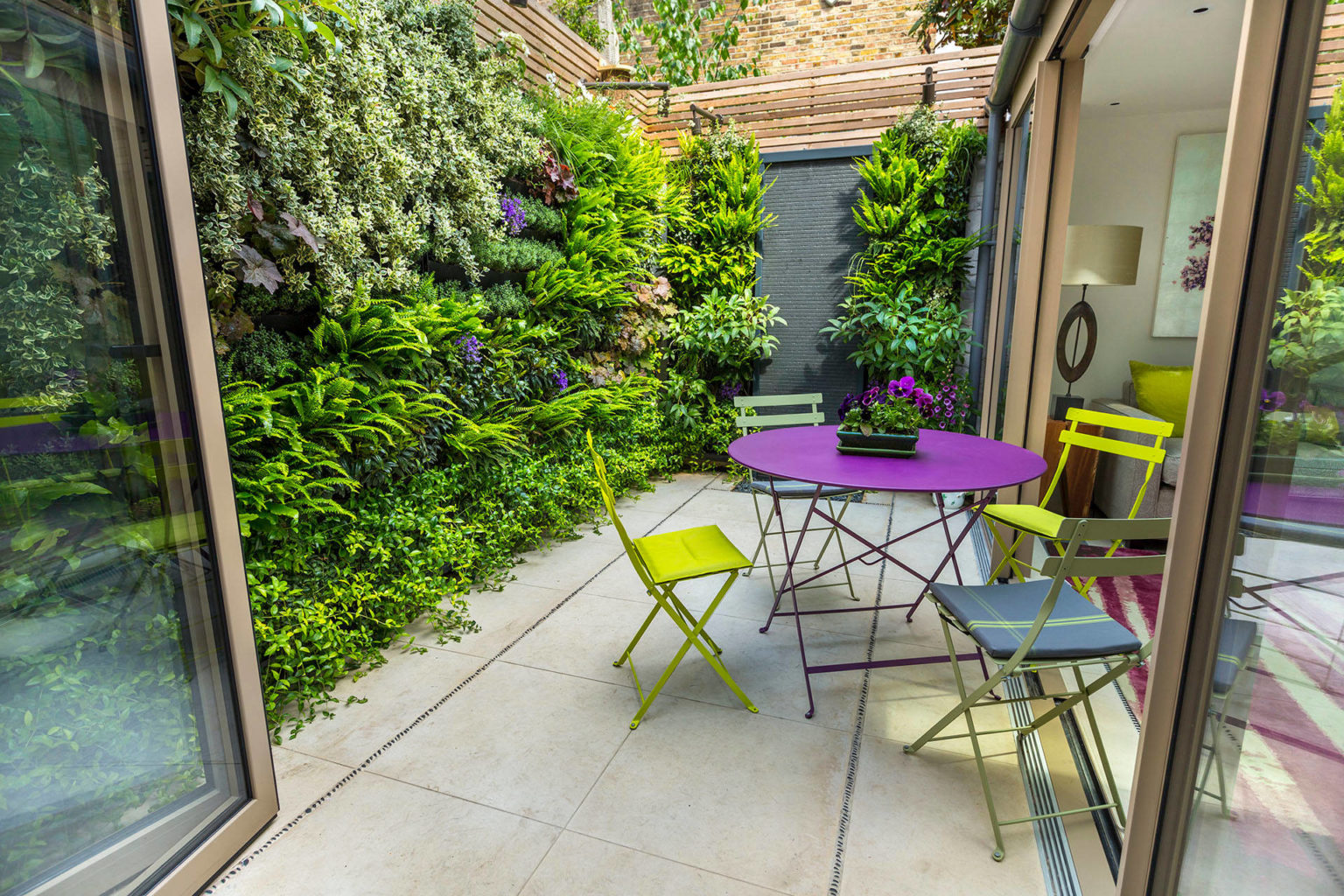 Of course, it is not necessary to build a terrace. Especially, If your backyard has a small space. In this case, maybe better to choose a little patio or sun lounger. For the patio, it's better to place it in an area of partial sun or shade. For relaxation, choose natural material furniture sets with thick, comfortable cushions, just like your home sofa. If you want to make your oasis cozier, add a fireplace. And for more rest feeling also would be great to add a waterfall, in a small space you can choose a vertical one.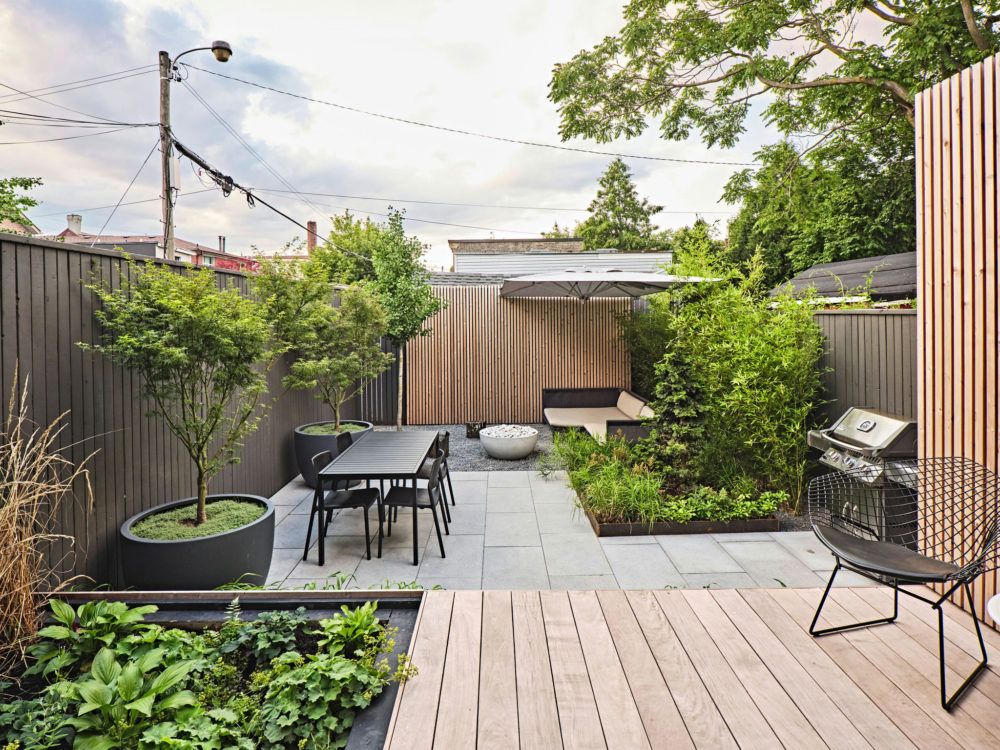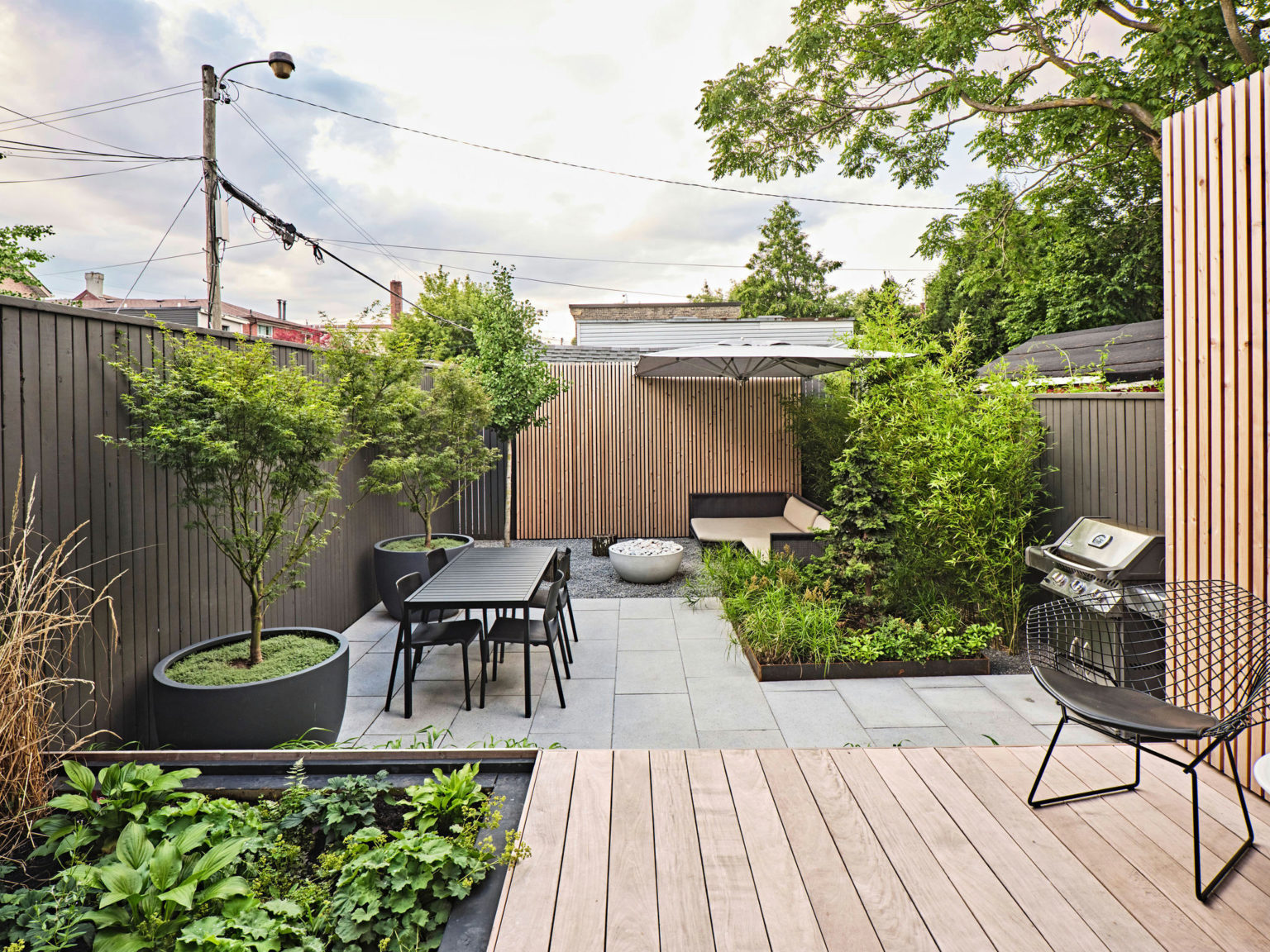 If your backyard is tiny and plants take up most of it, you can use a folding umbrella to create shadows.
Keep in mind that outdoor furniture degrades a lot over time. Rain, snow, ice, wind, heat and other weather factors will definitely affect its condition. To ensure your furniture lasts as long as possible, choose one that is weather resistant. In this case, better to choose the furniture from teak and willow, with a plastic or a metal frame. The same goes for pillows. Look for weather-resistant materials, like a waterproof canvas.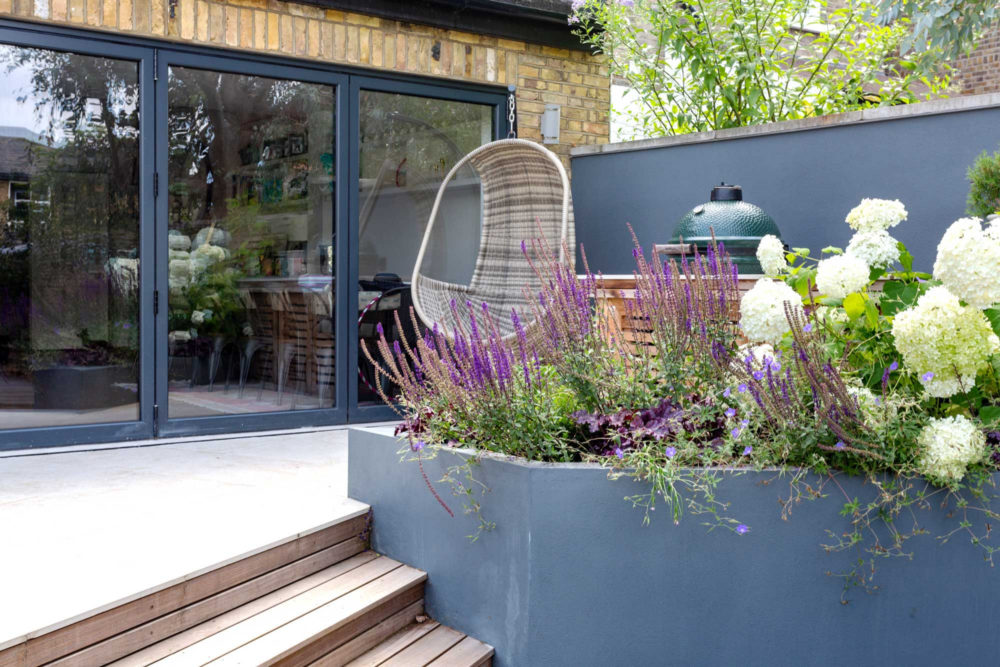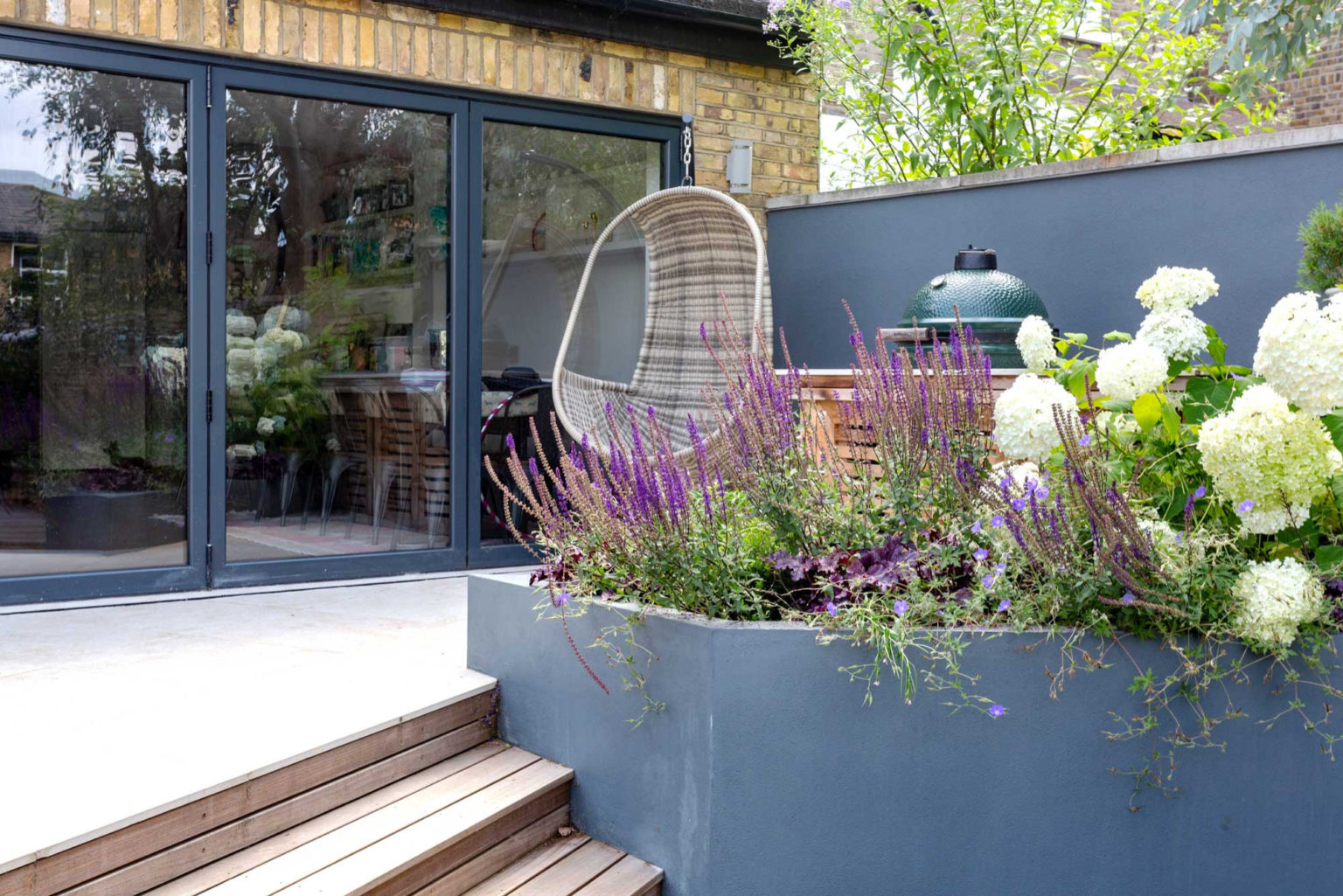 In addition, you can think about a hammock or hanging egg chair for complete relaxation in an oasis. These convenient additions will allow you to forget about all the worries in the bosom of nature.
Lighting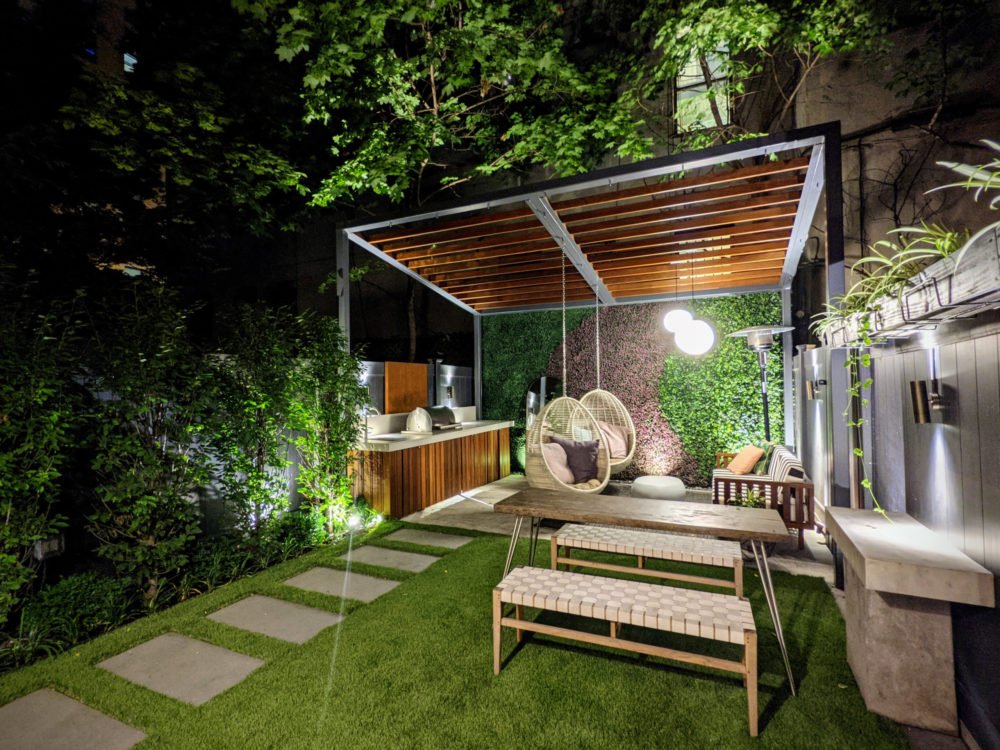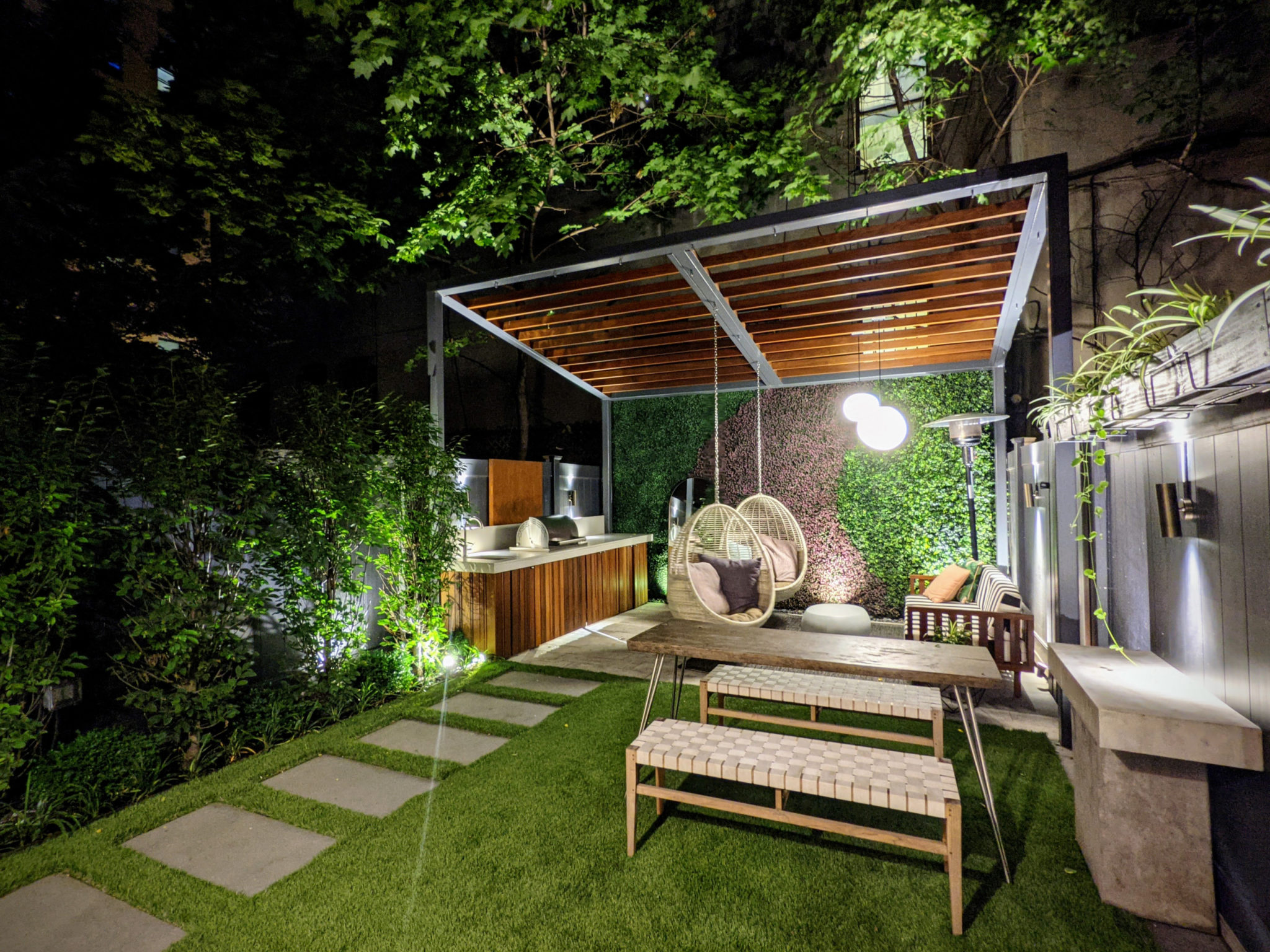 If you like to spend time in the backyard in the evening or even at night, then it will be good to think about outdoor lighting. There can be garlands along the fence, tiki torches around the perimeter, candles on the table, and outdoor sconces attached to the front of the house – all these things will help to create a cozy atmosphere. And also, do not forget about highlighting trees, paths, and landscaped flower beds. For this, better to use solar-powered lamps.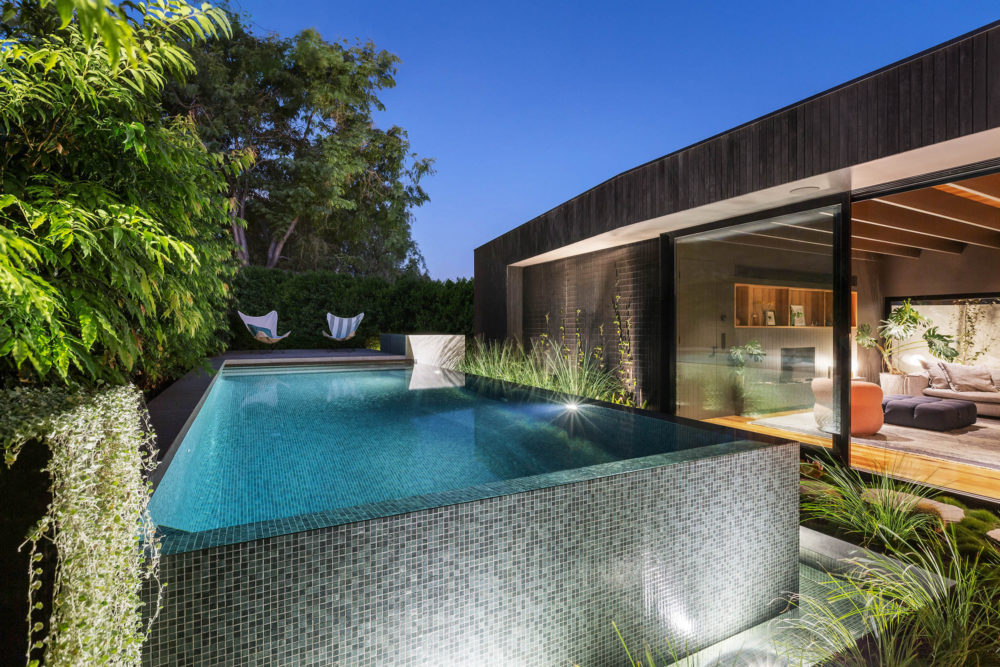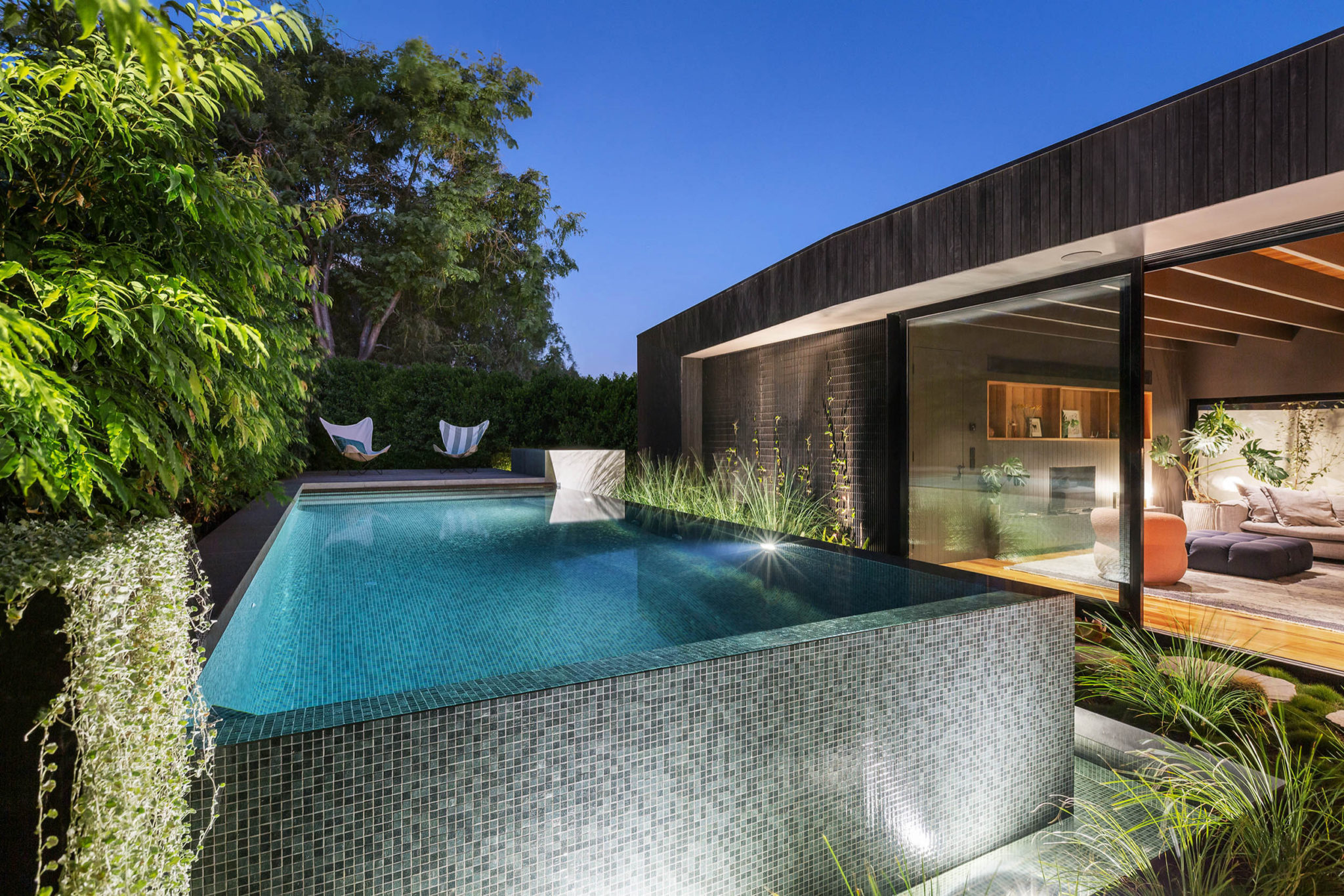 If you have a terrace, steps or your backyard have few levels, then would be great to add lighting on the vertical side of this construction.
 Feeling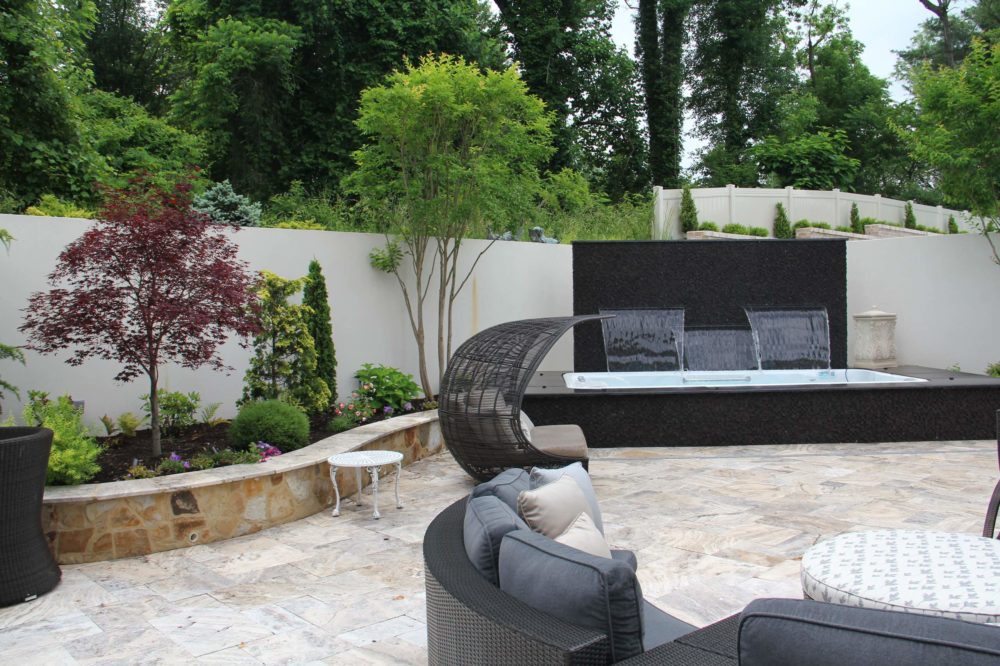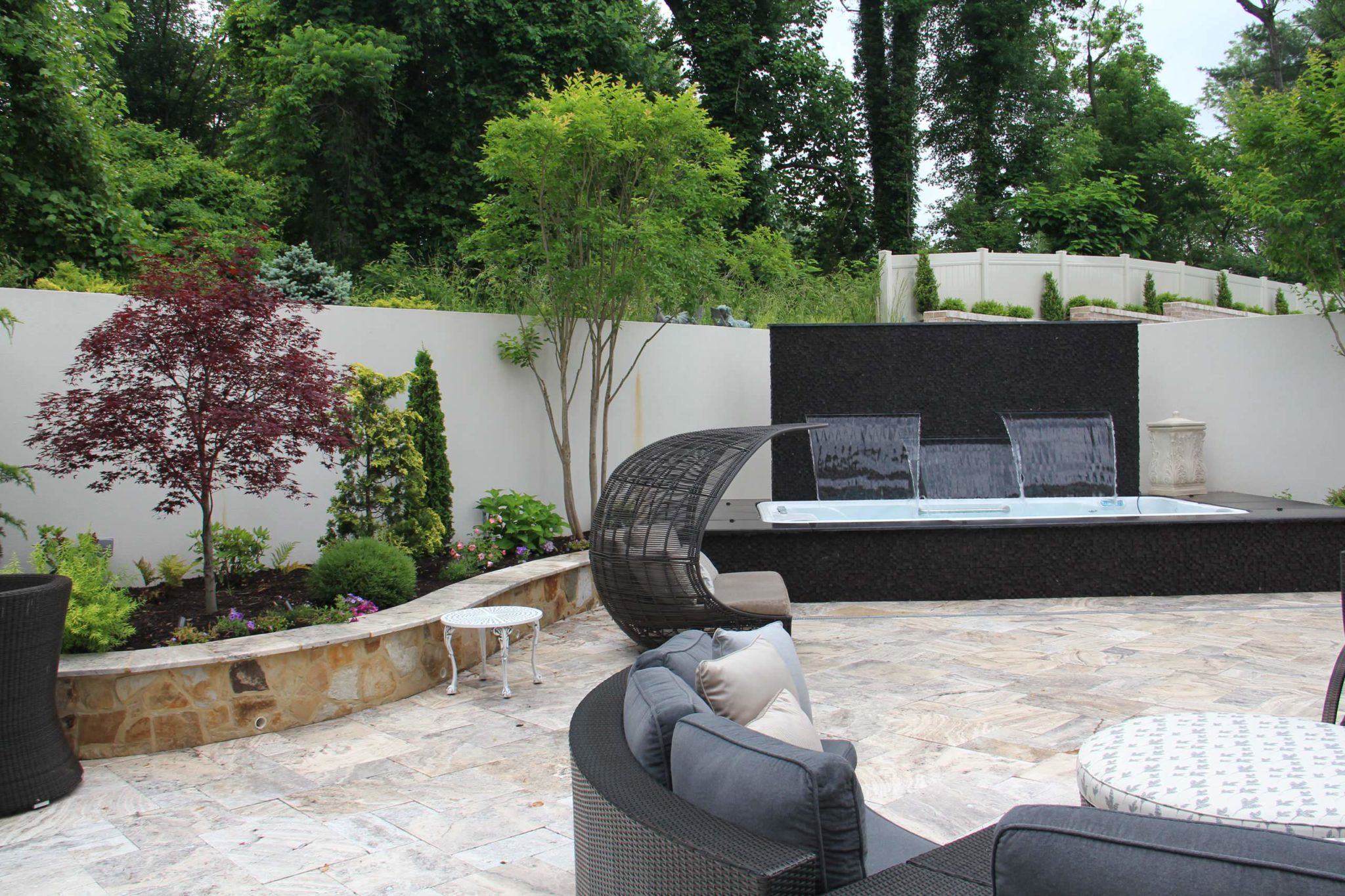 So, we return to the question, what is a backyard oasis? Everyone has their own answer to this question. For some, lush greenery or bright fragrant flowers may not be enough. Water objects will help create a special atmosphere for relaxation. Waterfalls, small channels, ponds, and lakes are more than just a nice aesthetic for your garden landscaping.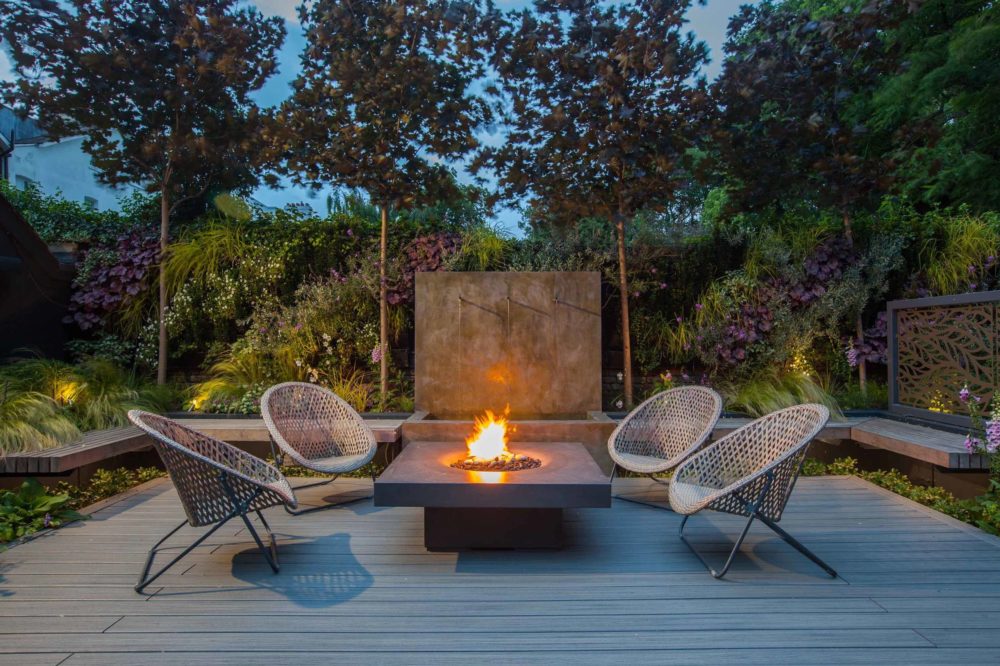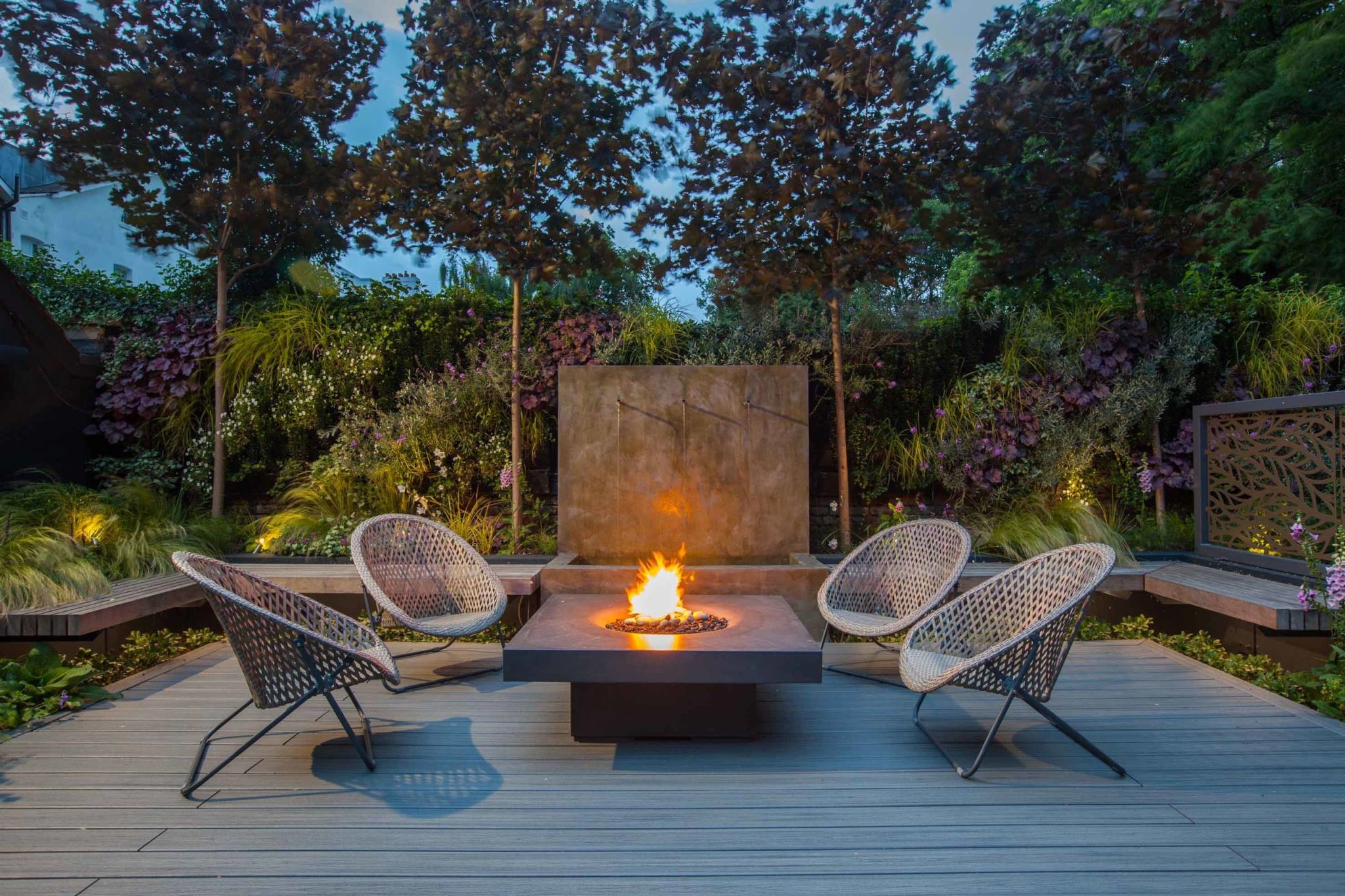 This is a relaxing addition that creates an atmosphere for your oasis. The sound of water soothes, and its movement visually expands the space. By the way, small ponds can be a great idea for zoning oases. And the water wall looks very interesting near the vertical gardening. Another idea is a fire. For an oasis in the backyard, it is suitable as a fireplace, which is most often located on the patio or on the terrace. For small areas, a fire bowl is more suitable. That will help to create coziness and warm in cool evenings.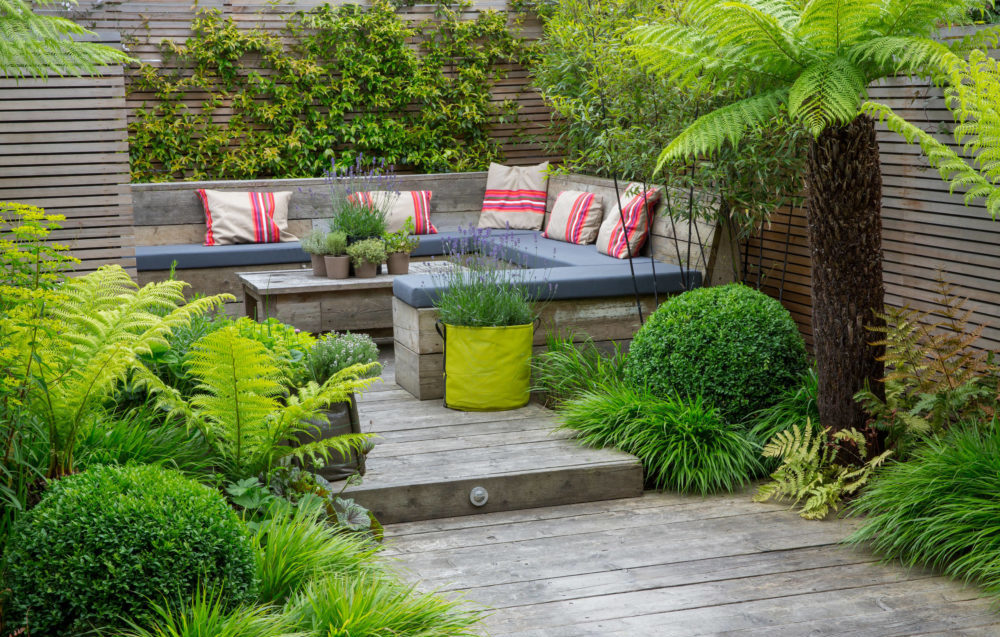 If the backyard space allows, you can combine an oasis with a pool or jacuzzi. It will be a special relaxation zone with full immersion in nature. Water and lush greenery are often all that a city dweller needs to forget about worries and calm down.
Summing up
Summing up, please remember that your oasis should be not only green and lush, but also cozy. Rugs, pillows, decorative details – that's what will make the outdoor courtyard as cozy as the house inside. Don't be afraid to be creative with your outdoor accessories.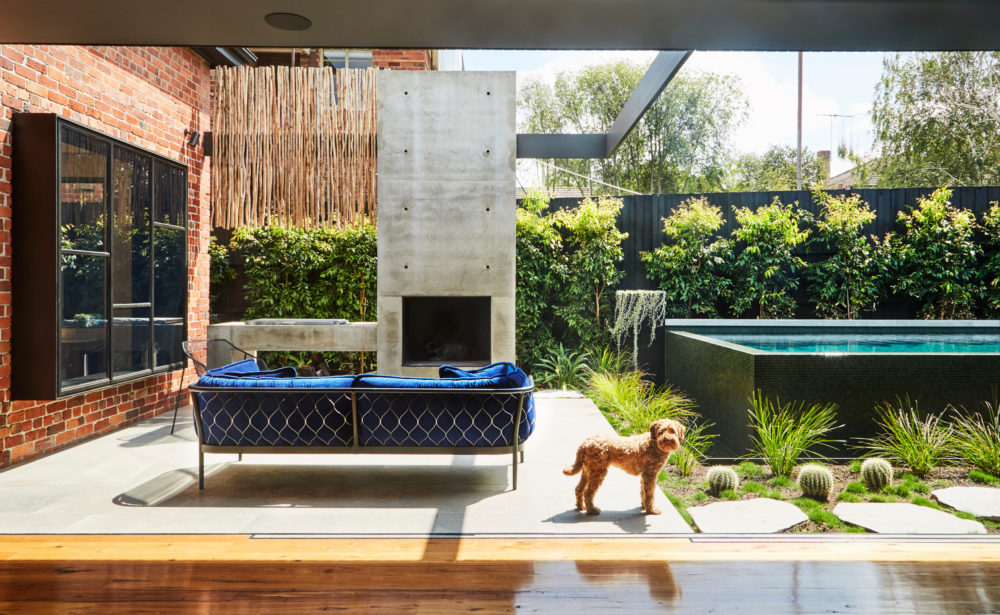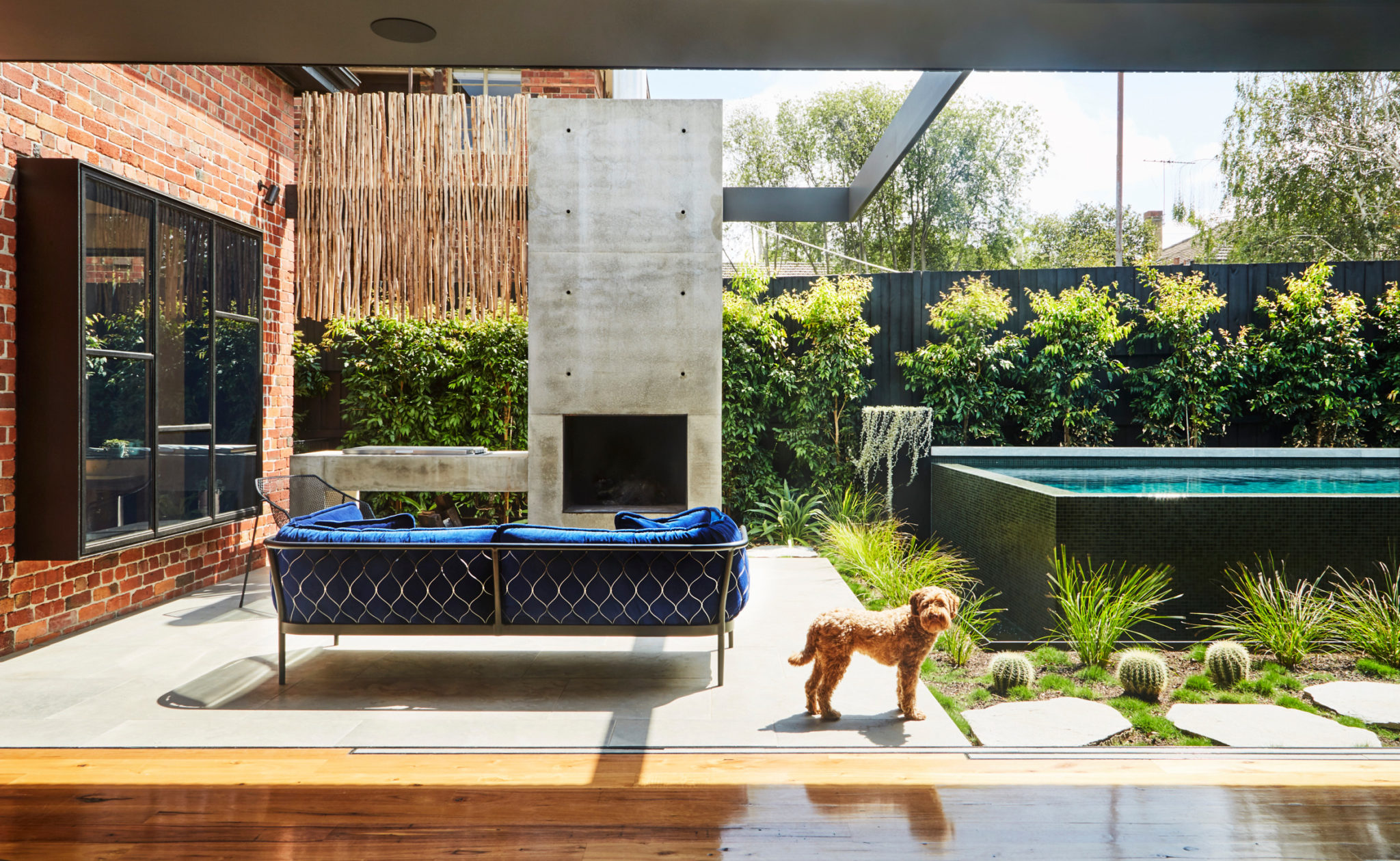 For example, use a bright carpet to highlight a recreation and communication area. Or add extra pillows to tie it all together. Decorate your dining tables with fun tableware and centerpieces to give your space a unique style.
And by the way, do not forget that insects are very active in the warm season. For protection, you can install citronella candles, tiki torches or choose other personal protective equipment. The oasis itself can help you with pest control, for this select mosquito-repellent plants like citrus, marigold, lavender or mint. It is better to place them in open areas near your patio or other places to rest.
For more backyard oasis ideas, we suggest watching the video: