In this article, we will talk about the Courtyard garden. What features does it have from other garden types? Which tips and decor elements you can use to create a modern style in your Courtyard garden? And also will show Ideas and colors that are popular in the current year.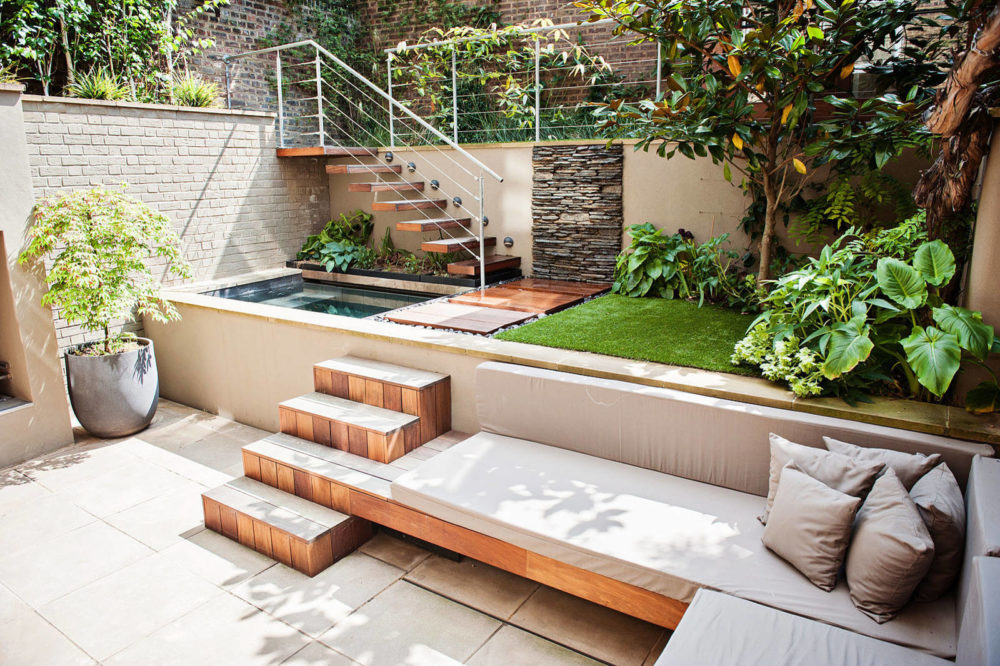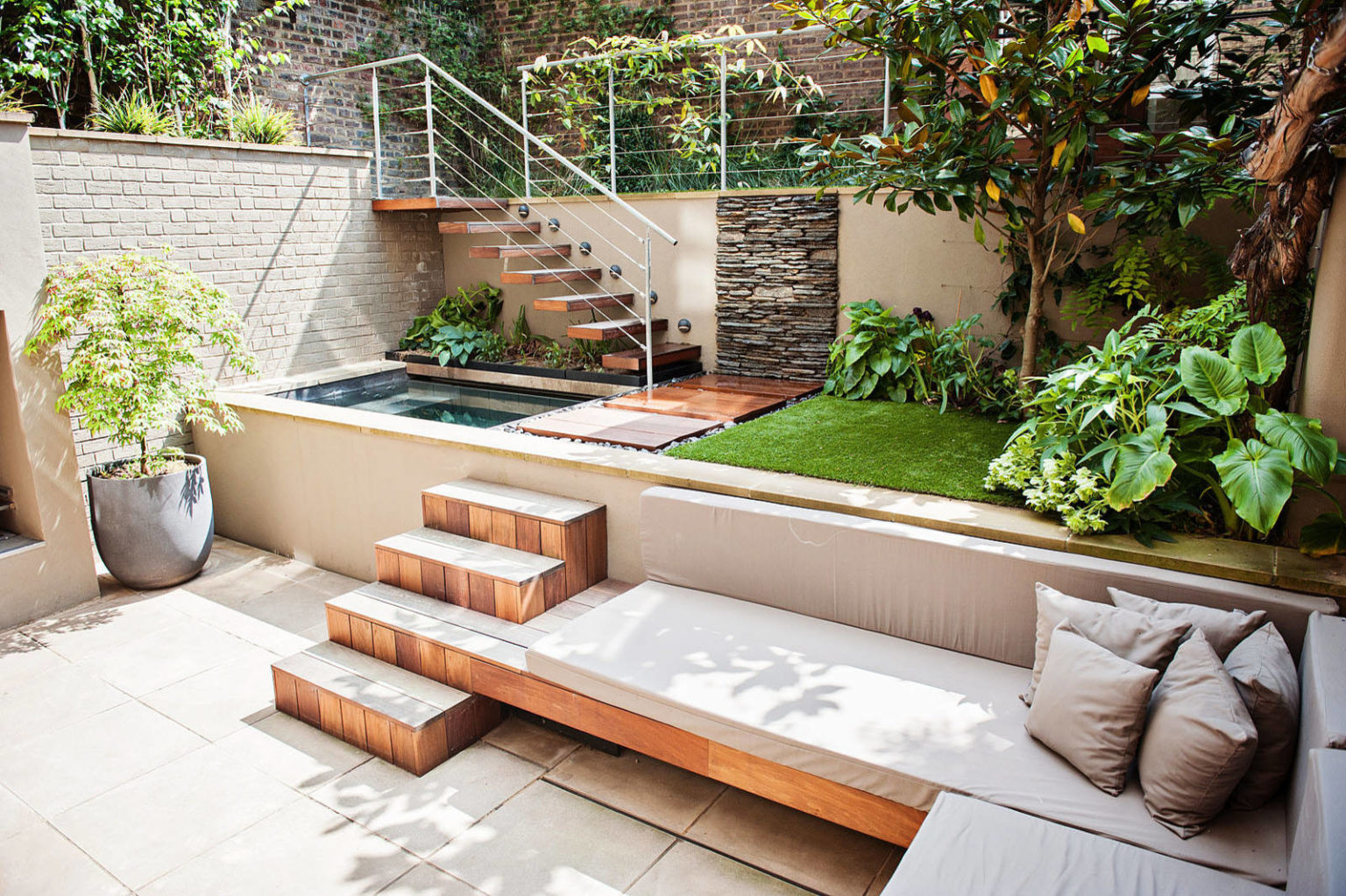 So, what difference has a courtyard garden from every other type of garden? At first, the courtyard garden is just a backyard enclosed by walls. It can be the walls of your house or other buildings that stay near. It also can be enclosed by tree walls and another side can be fenced.
Design Ideas for Small Courtyard garden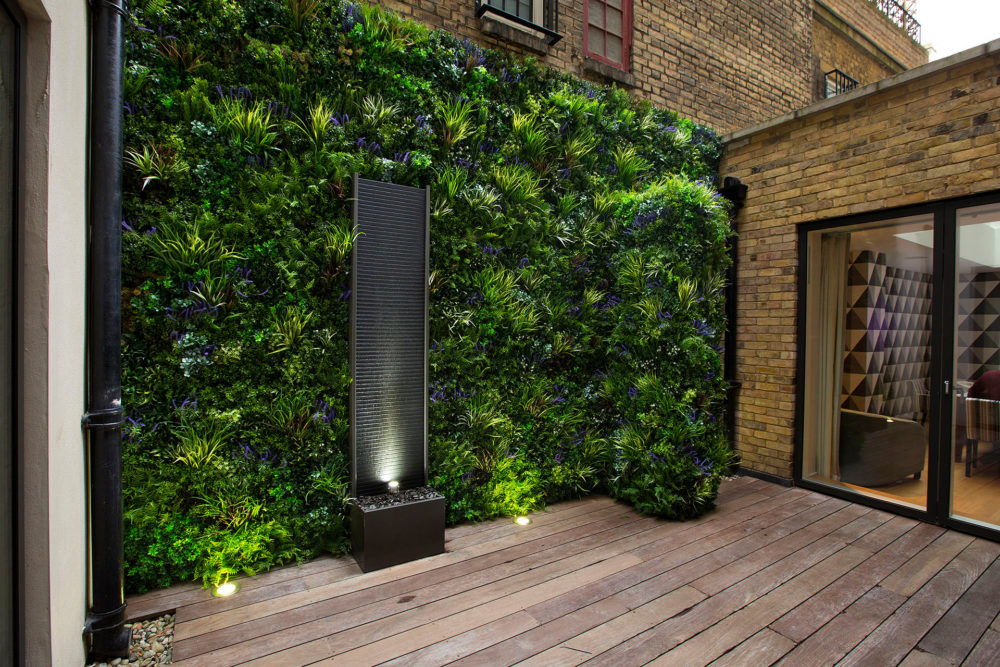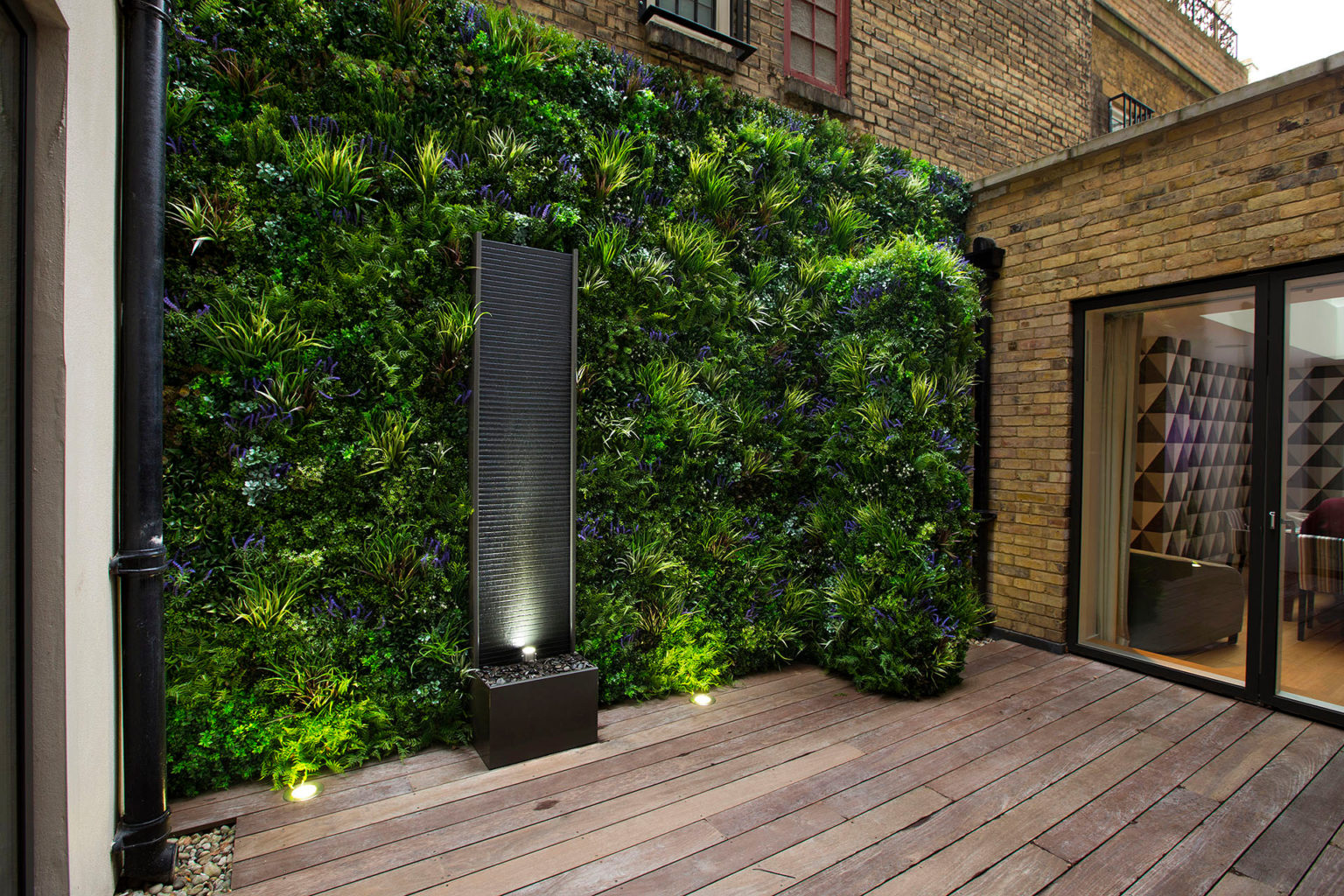 Even if you have a small courtyard, you can make a fun and cozy garden in this space. For the backyard size of a balcony, a great idea is to use a vertical garden. It will help you to save space and make it clear. As a vertical garden, you can use a few things. The exact vertical system with automatic watering, moss, and a lot of grass types installed by a master. This type of vertical garden looks very interesting and luxuriantly, but can cost a lot. Next things how you can make a vertical garden in a small space, just take climbing plants and surrounded the fence and walls with pots with it. This way will cost less but can take some time until plants grow up and fill all free space.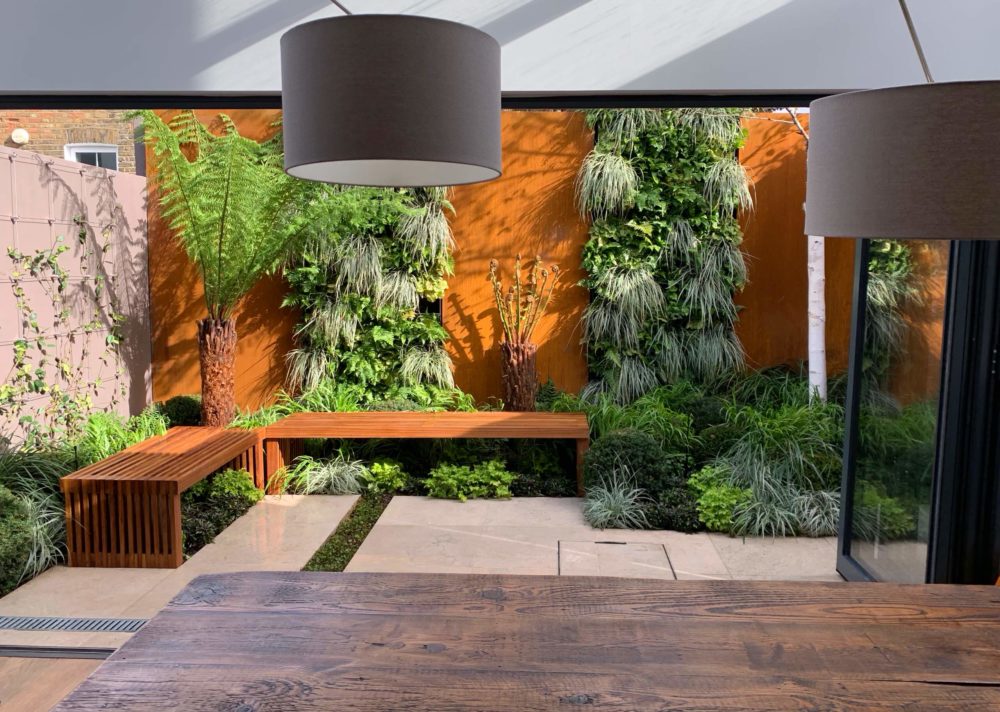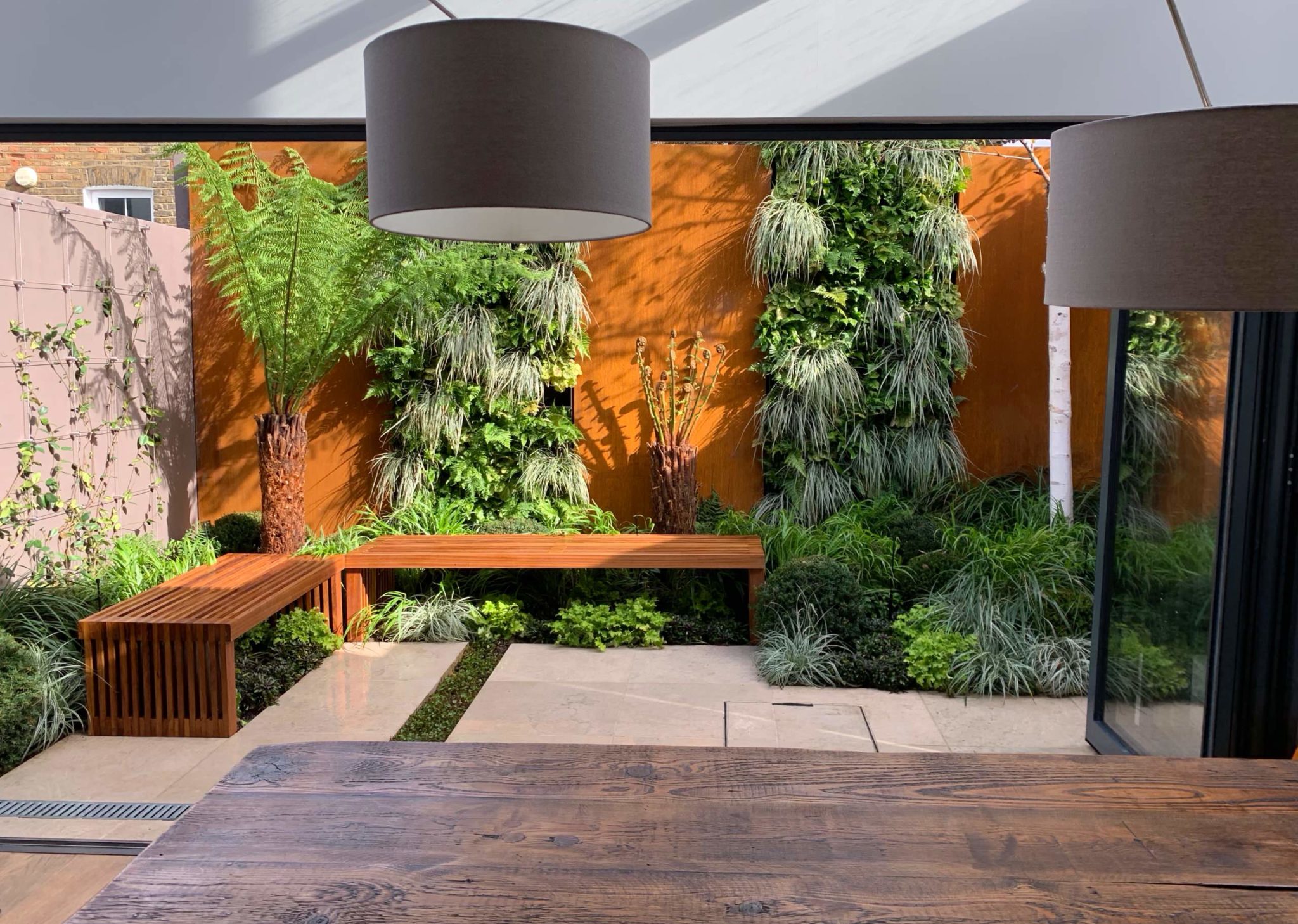 In my opinion, for small spaces, better choose light or white colors. But if you plan to have many plants that will fill all walls, you can select popular graphite or black color. By using a dark color, you can make your garden look deeper and more voluminous.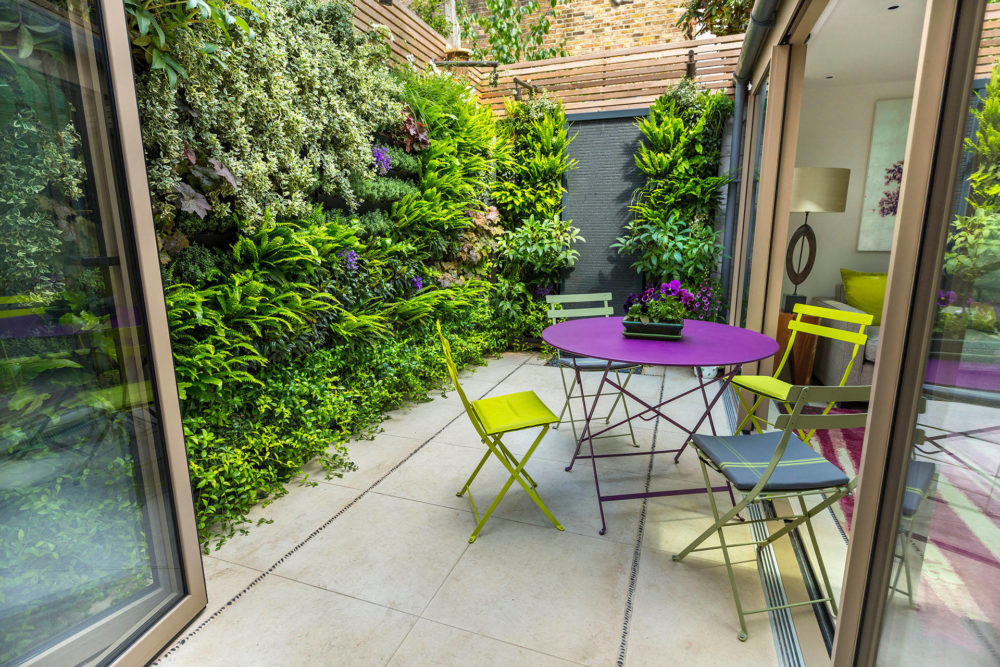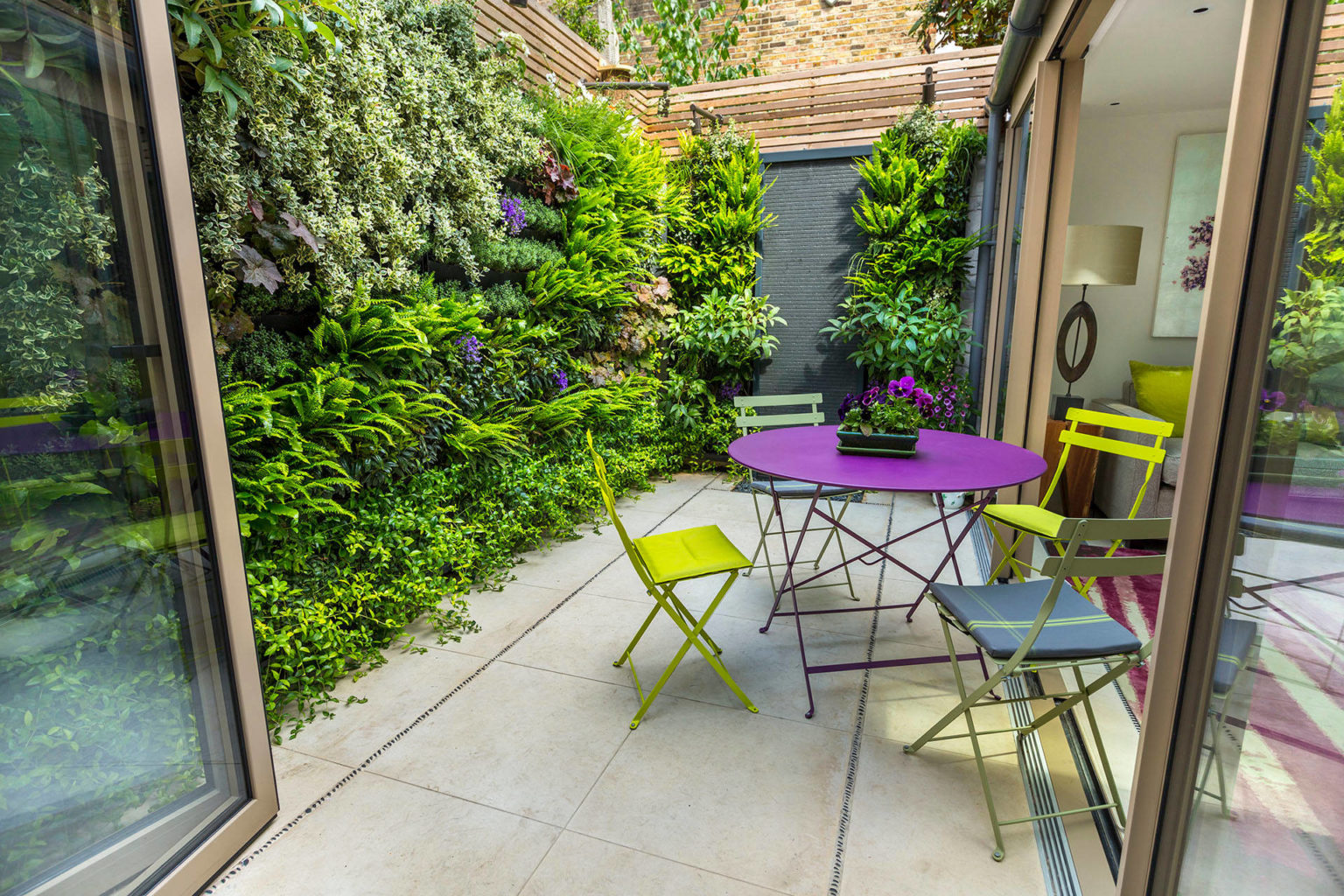 Zoning for a small courtyard, I think, is not the best idea. If you try to add too much furniture and other elements into a compact space, that will make it cluttered and decrease usability. Better to select one idea, like a patio or maybe a sun lounger, and make it perfect.
Fence or Wall cladding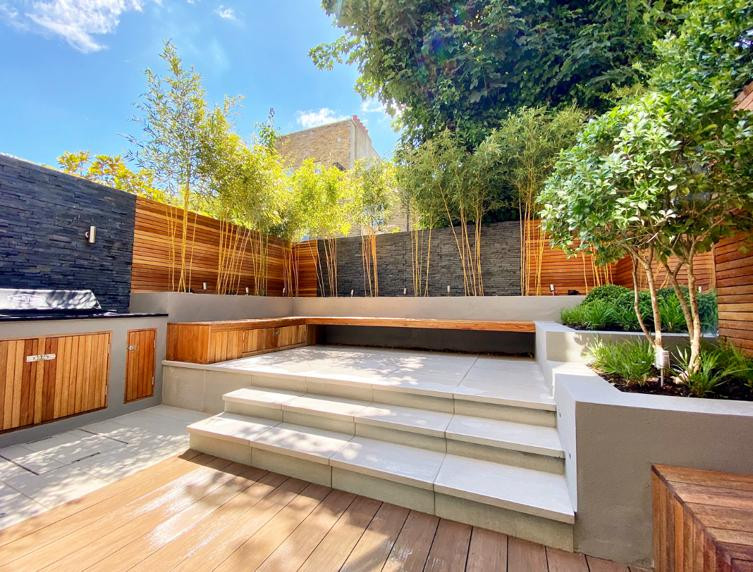 Many courtyard gardens have one problem – old and ugly walls. So, what you can make with them?
The first idea and at the same time easiest is just to make a harmonious garden with already existing walls. You can make it by using lots of variety of plants such as hanging and climbing species, some trees and of course a few types of grass. Also, a great thing is to add some water, like a little bowl or pond, and of course garden furniture. Lightweight wicker rattan garden furniture is going well here. I think great will look a massive table or bench made of natural wood. A wild-style garden and natural wood designs go well together. The main thing is to choose natural shades of wood.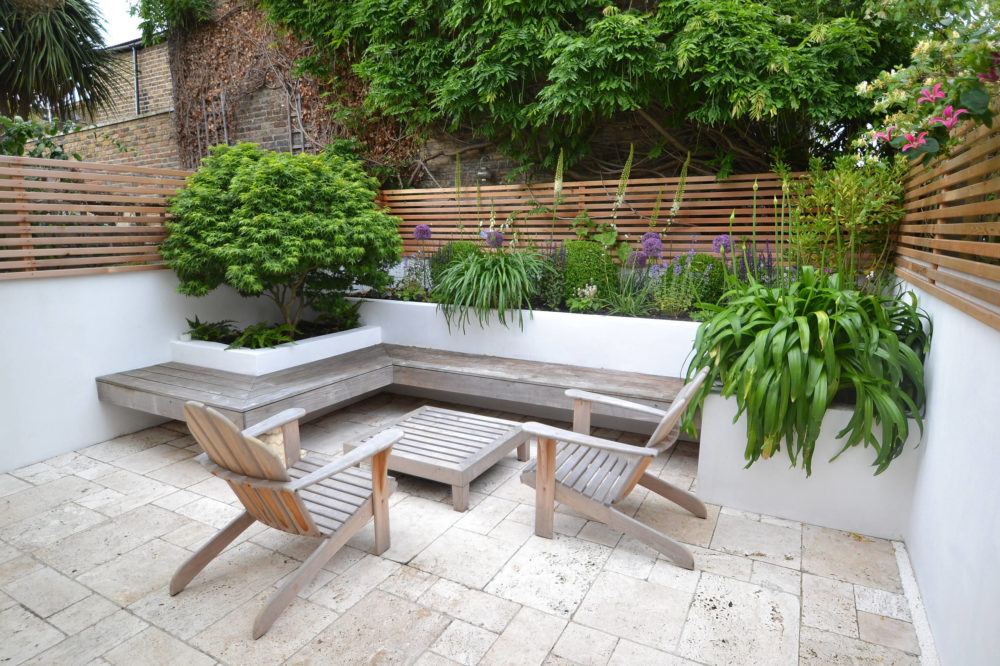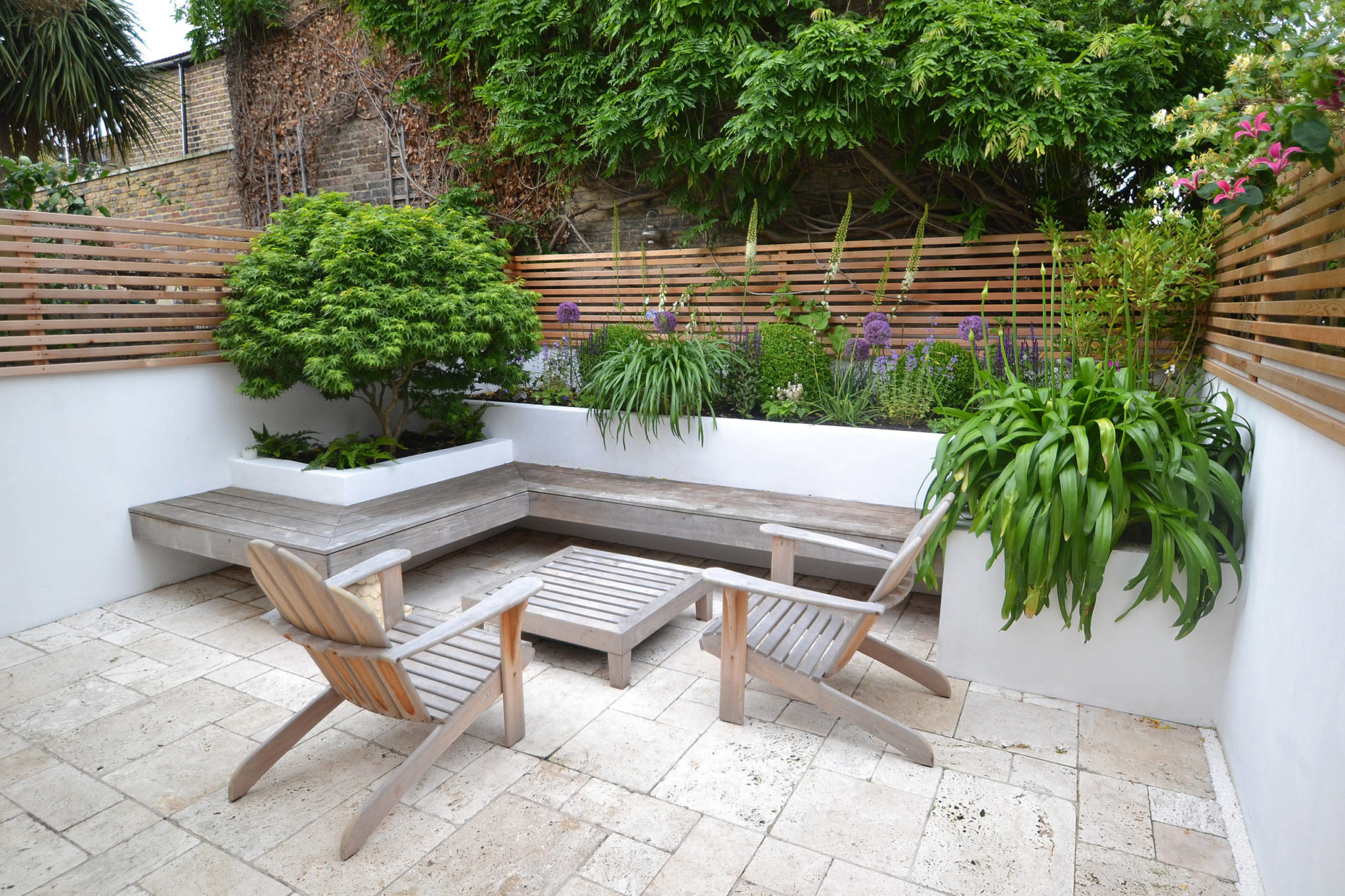 I think you already guessed that realizing this design in a tiny space will not be possible. For creating a wild garden, better take at least an average area.
A variety of herbs, trees, and shrubs will help hide any ugly elements. Water will visually help to expand the space and add emphasis to the greenery. And in the end, old walls in the wild style of the garden will look authentic and complement the composition.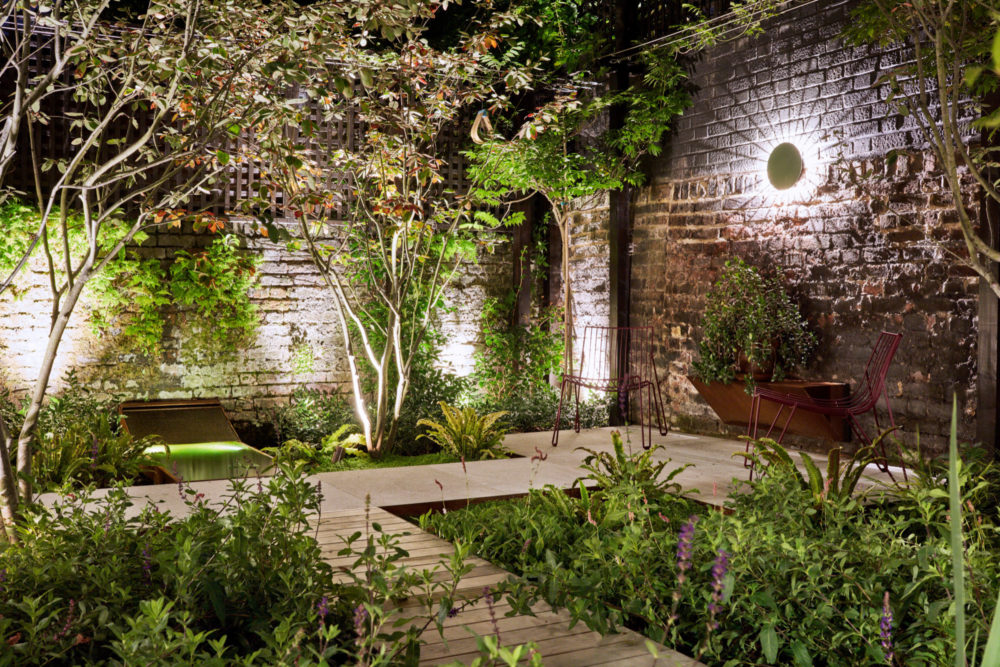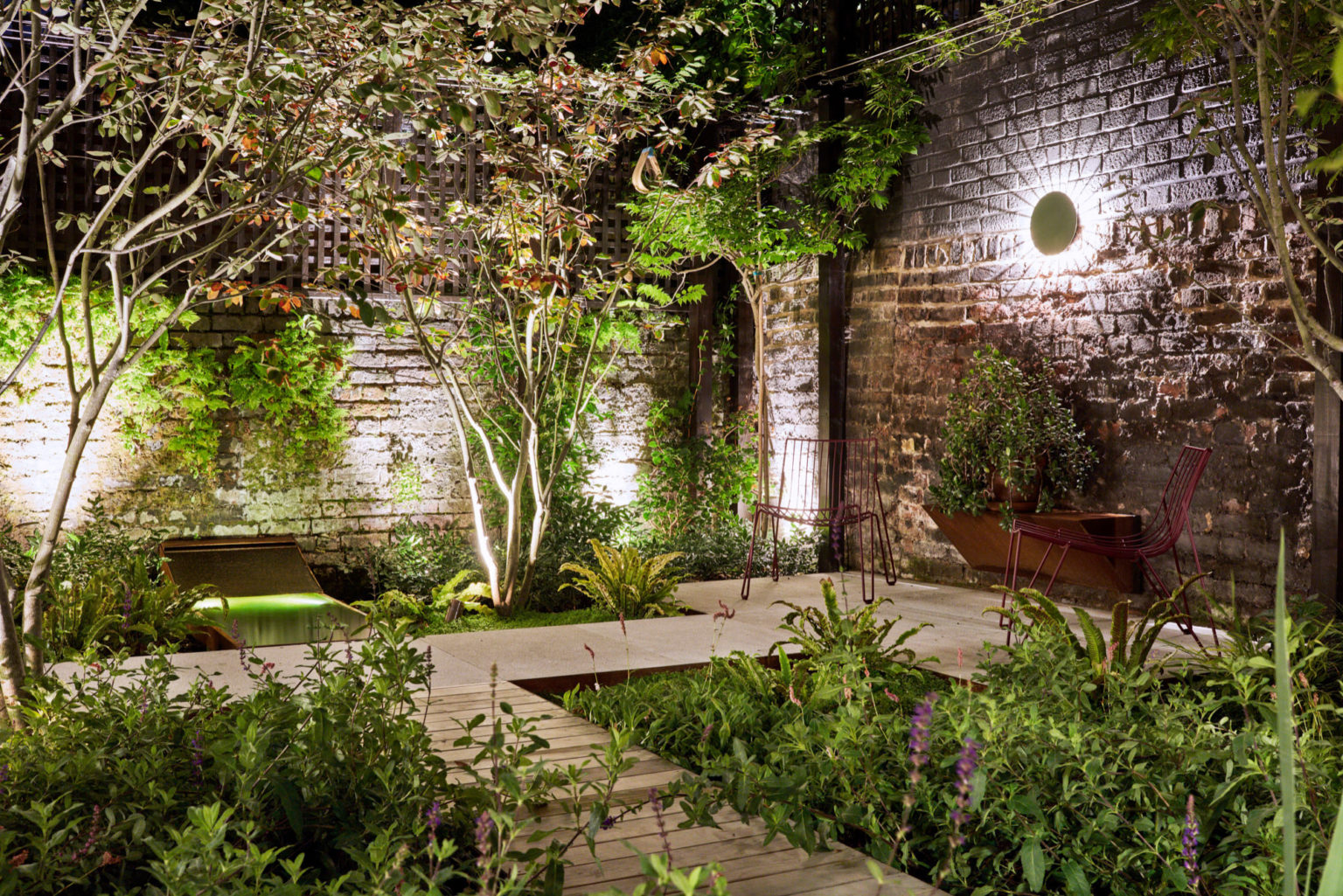 A second idea to hide old walls is using wooden slats. Slats can be wide or narrow. Any type looks modern and beautiful. This option is very popular for creating modern designs. Most designers prefer to choose slats in natural wood colors, but sometimes they are painted in dark. You can also combine wooden slats with old masonry on the walls. This combination looks interesting.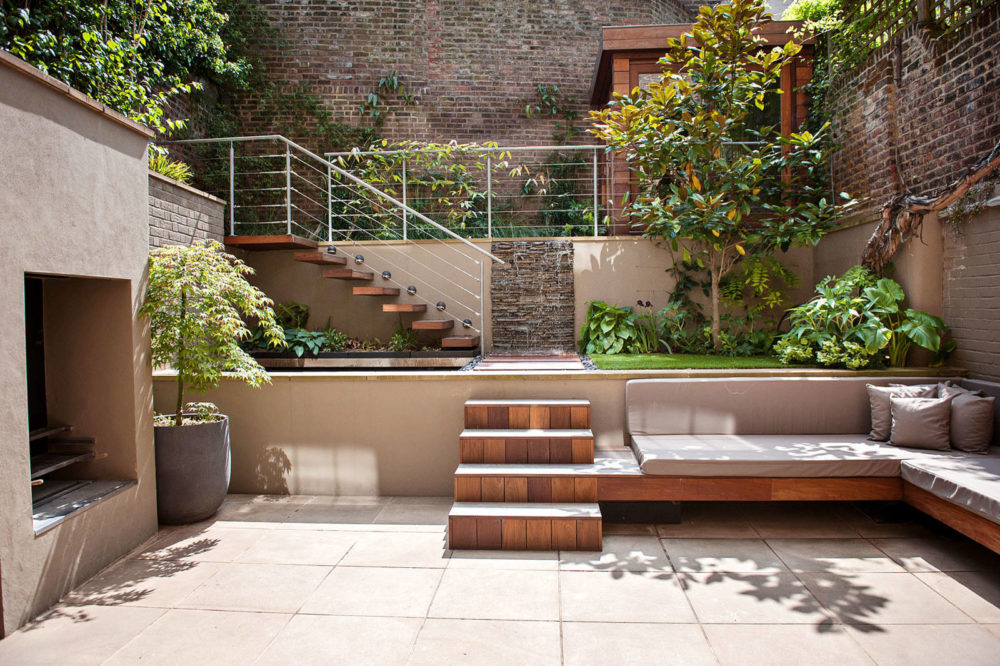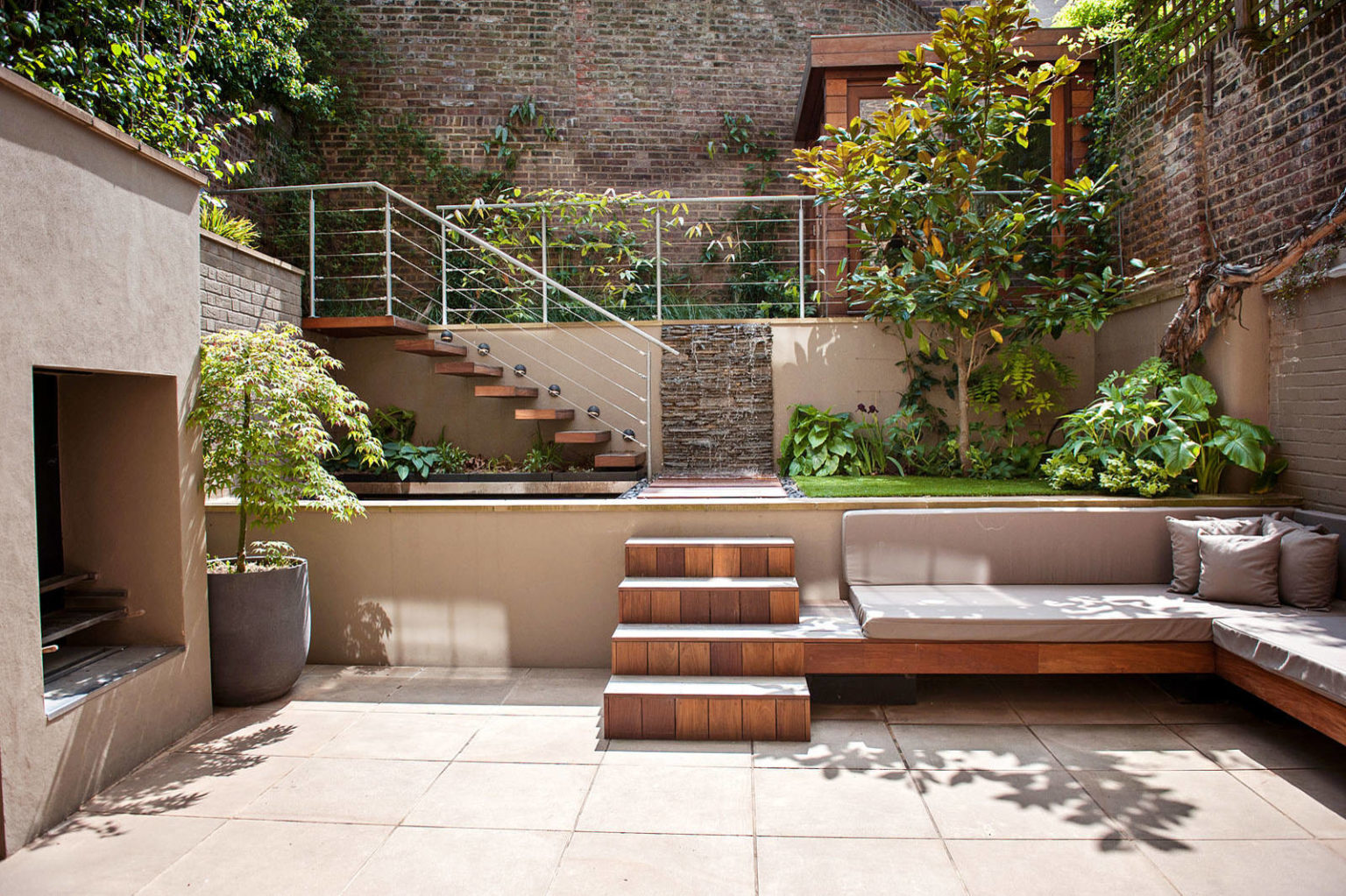 About one of the ideas we are already talking before and it is a vertical garden. It also can be used to hide any element, walls, or building that you do not want to see in your garden.
Color trends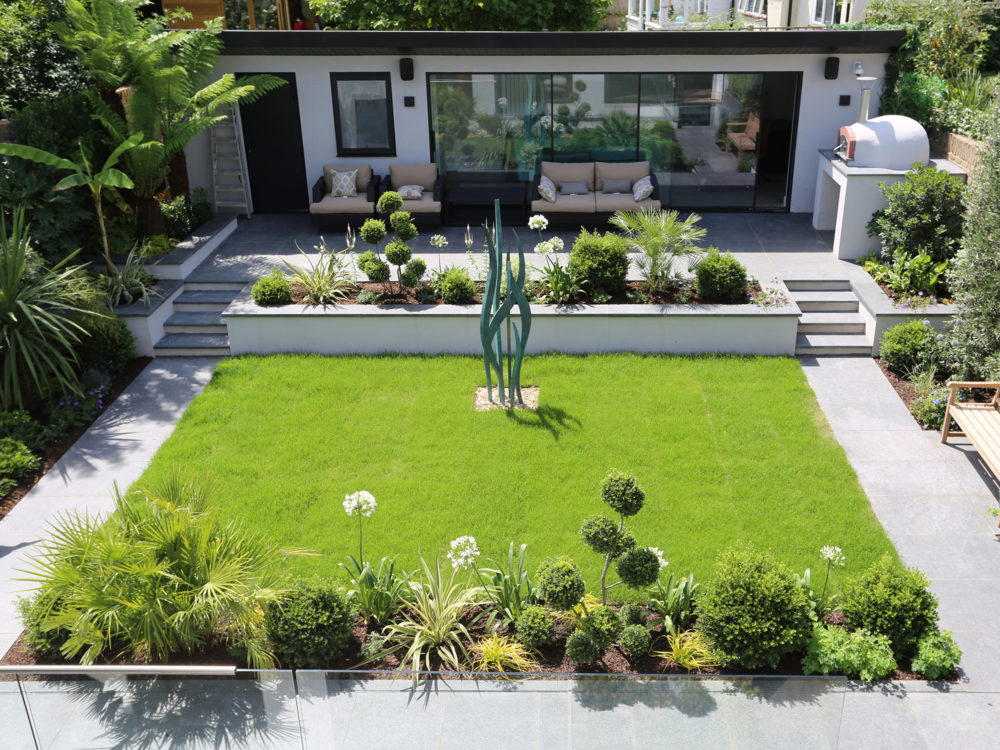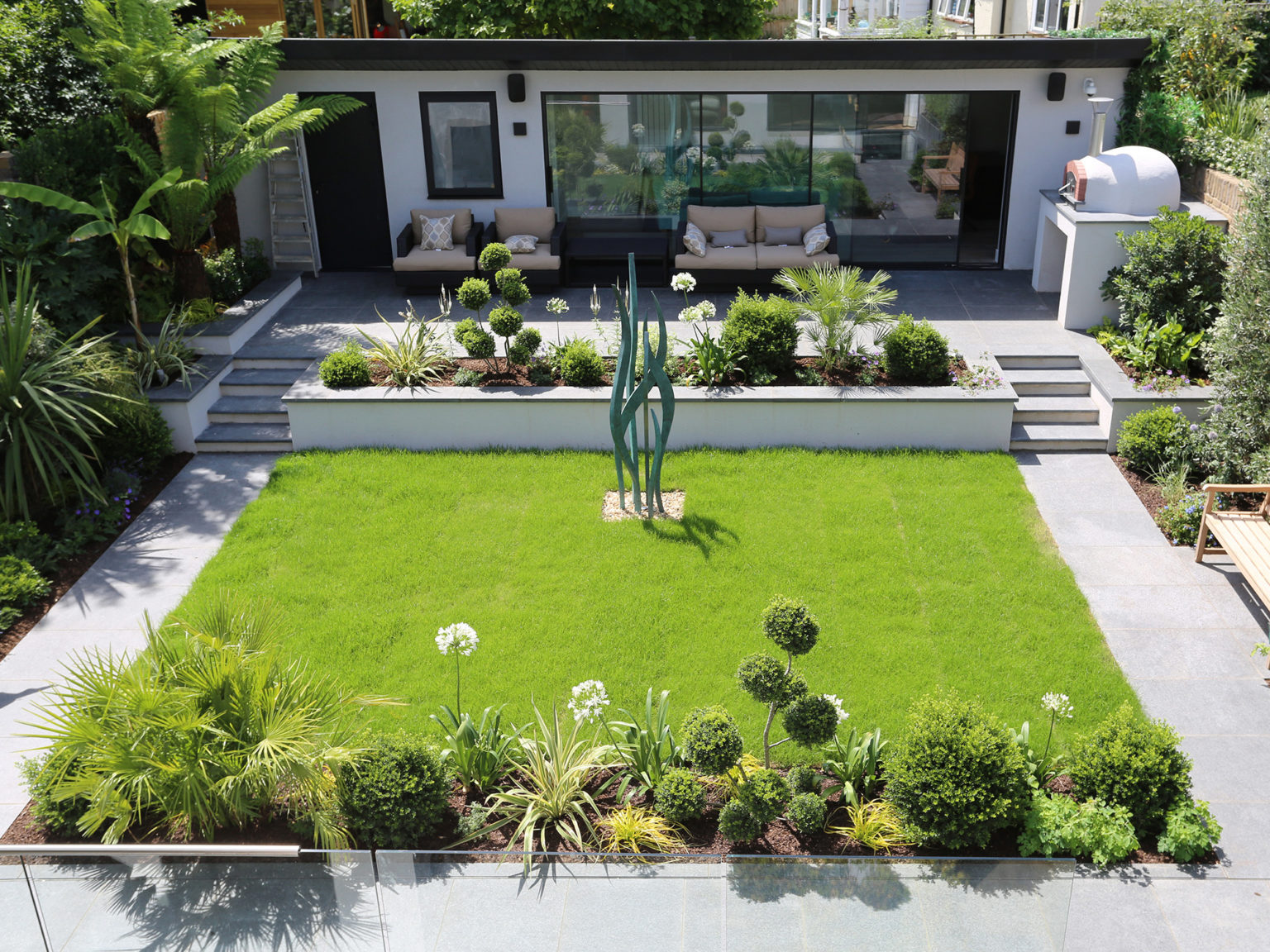 So, return to colors to the courtyard garden. Which of them is most popular this year, and what better to choose? Here, the opinions of designers are divided.
Part of them thinks that for the garden which is in partial shade because of walls and in most of the cases not much big better select light colors. These colors will make the space look bigger and help it feel airier.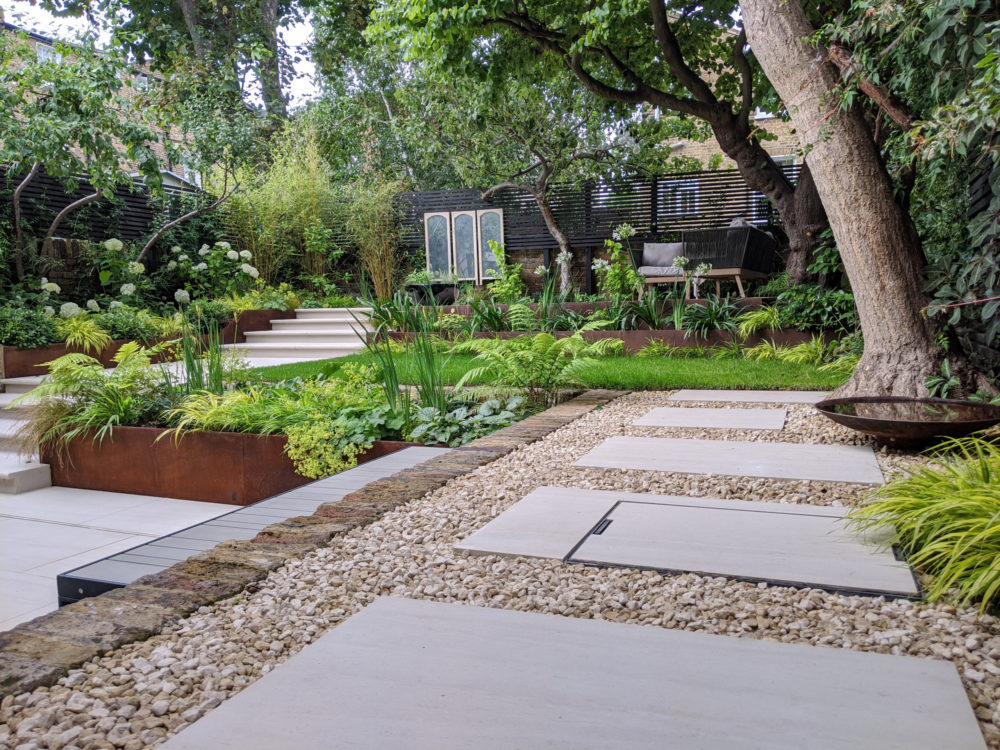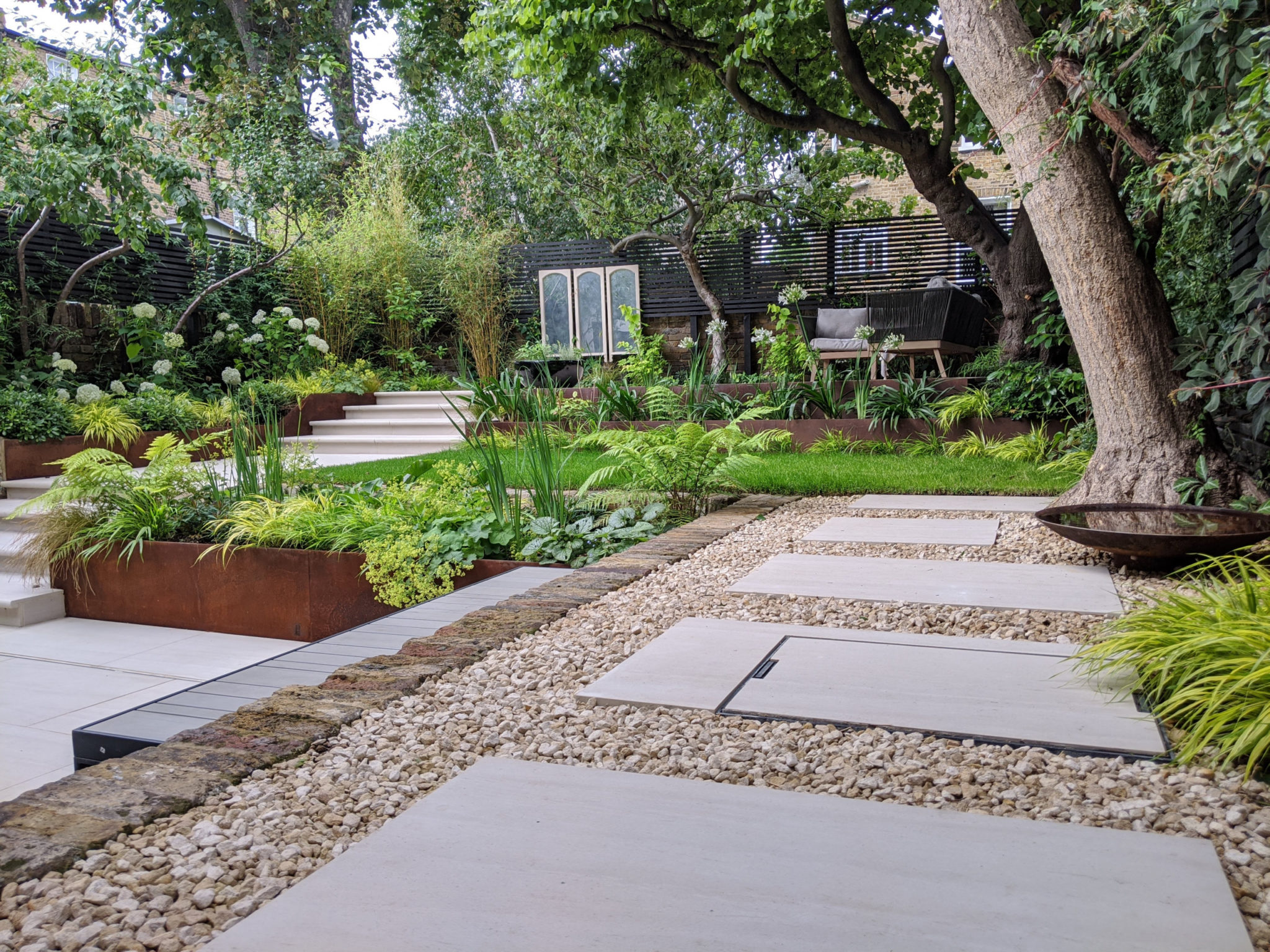 Other parts of designers think that light color is great, but why not add some dark tones? Dark colors can add volume and depth to the garden, as well as be able to emphasize the greenery and make it more vibrant.
If we're talking about dark colors, then the most popular this year and useful for modern style are directly black and graphite tones. If we're talking about light colors, here most popular are white, beige, sand, and marble.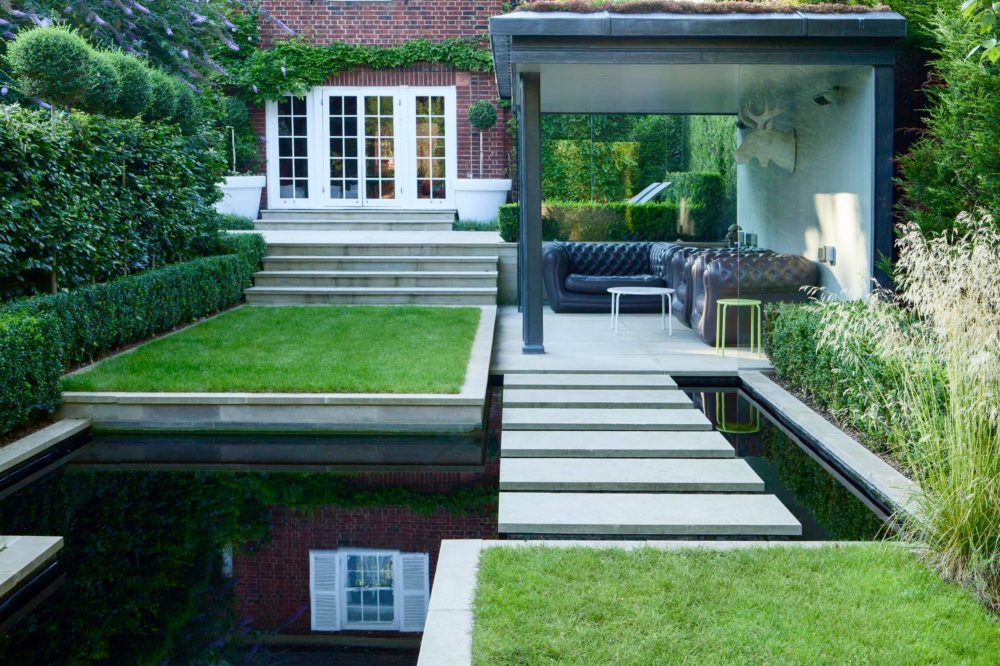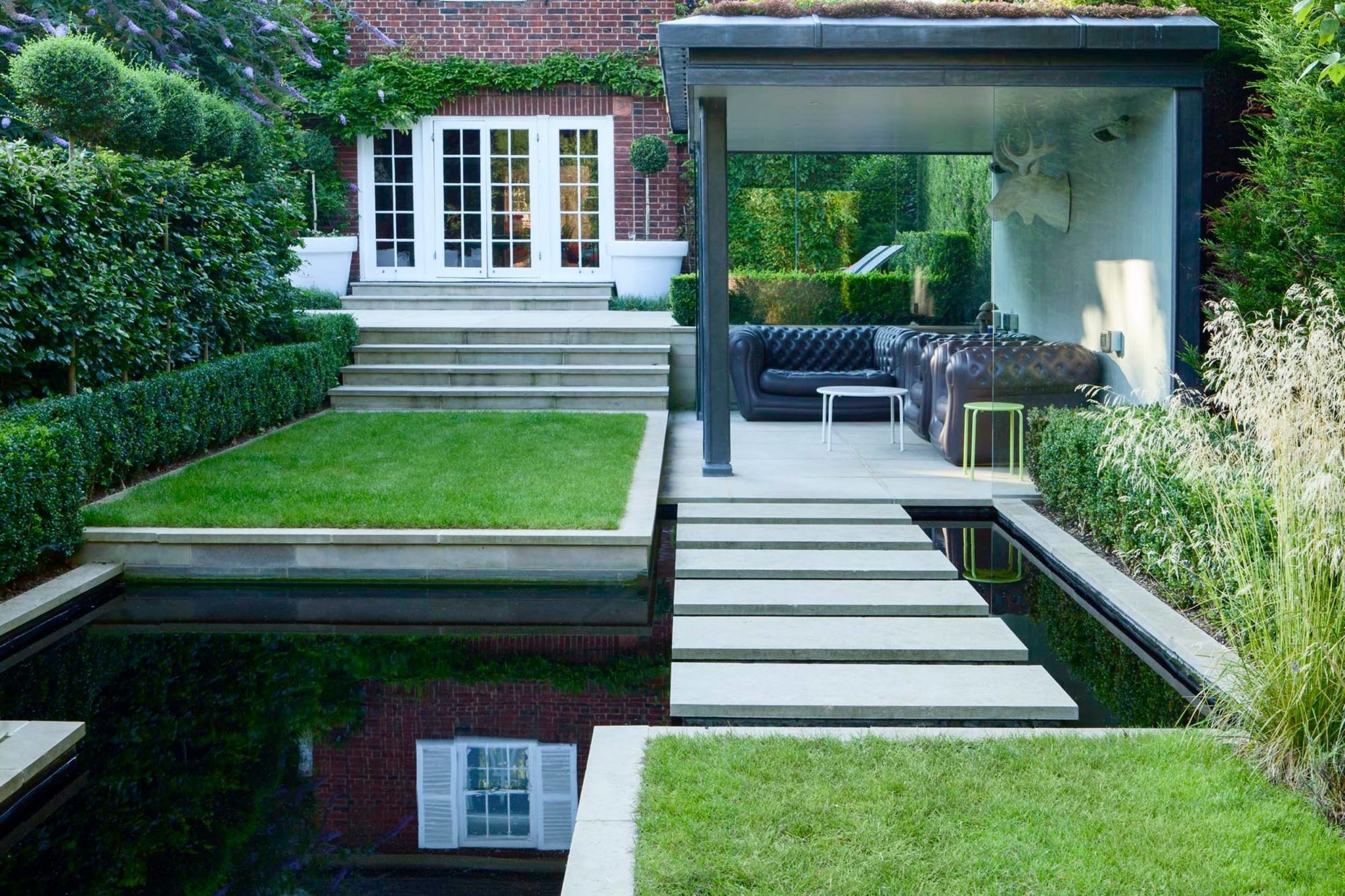 Can we combine these colors in your garden design? Of course. These two trends can make a perfect mix. For example, you can choose to make a garden in light colors and add dark furniture or make a dark accent wall surrounded on the sides by the vertical garden. Also, you can make a dark fireplace or all fences.
More like dark colors? Great, then your garden's main color should be black or graphite. To dilute it, you can choose a light sofa or make light colors part of the floor. Colored and bright garden furniture is going well here too. Selecting dark colors, don't forget about bright flowers and shrubs that can help to make your garden fresher.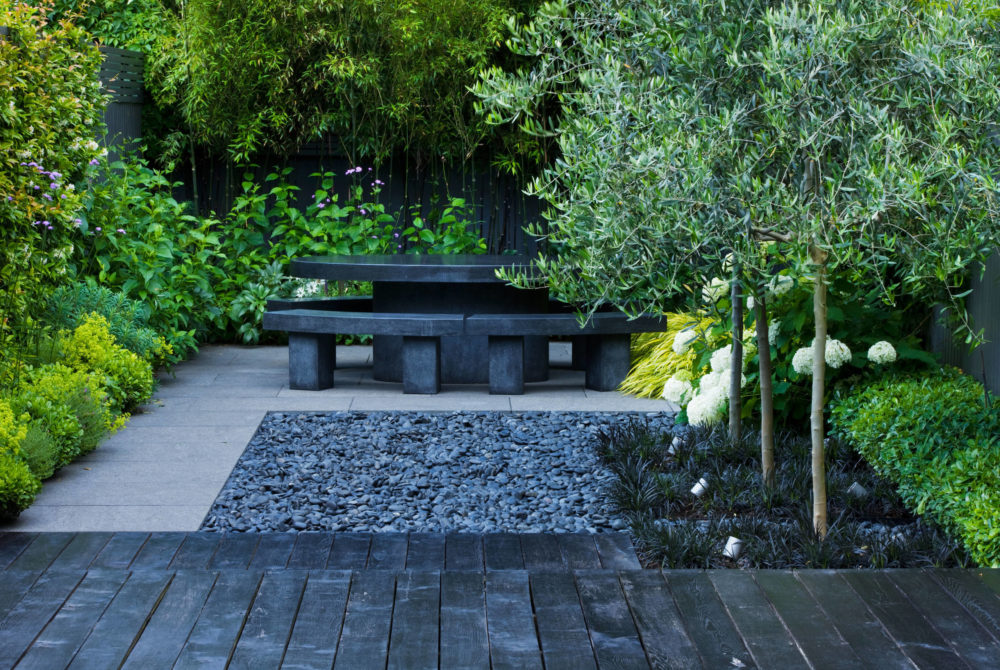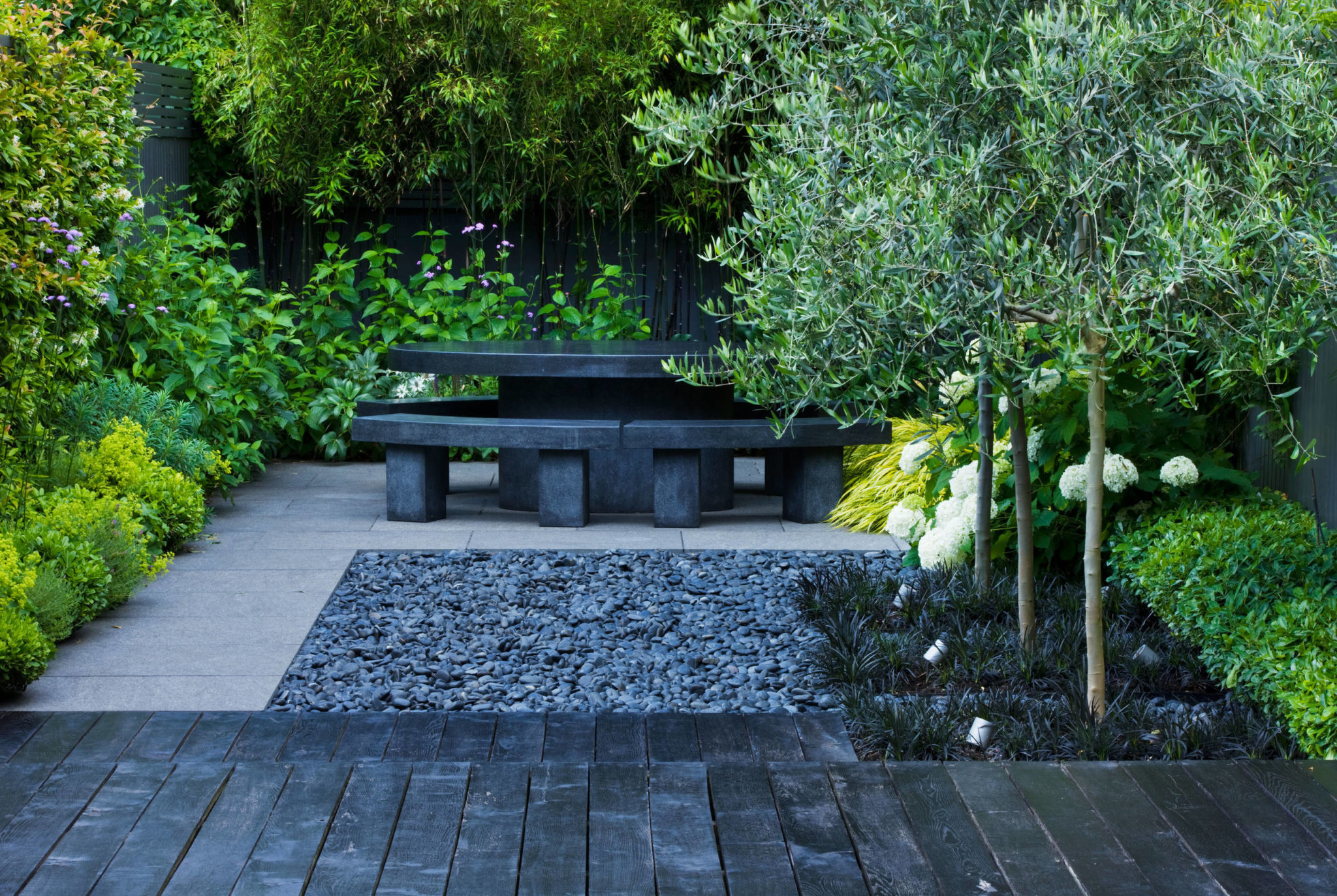 Another color that still popular for many years is natural wood color. It is used by almost all designers, and it's going well with other trendy colors. You can add wooden color to dark or light tones, or ever mix all these colors together. Wooden color also has other benefits. It will not lose color, and you will not need to paint it because the color is natural. It will not go out of trend and become irrelevant in the near future. This is the reason why designers continue to choose a wooden color from year to year.
But what about the colors of plants? There are no clear criteria. Someone thinks that better to choose a limited number of plants so as not to overwhelm the space. But I don't agree, and a lot of modern design ideas that you see here can confirm that I'm right. In modern design, you can select any plants, grasses, or trees. It can have all different tones and look well. Flowers in your garden can also have many bright colors. Besides, you can choose bright purple or orange chairs, and they will also go well with the contemporary style.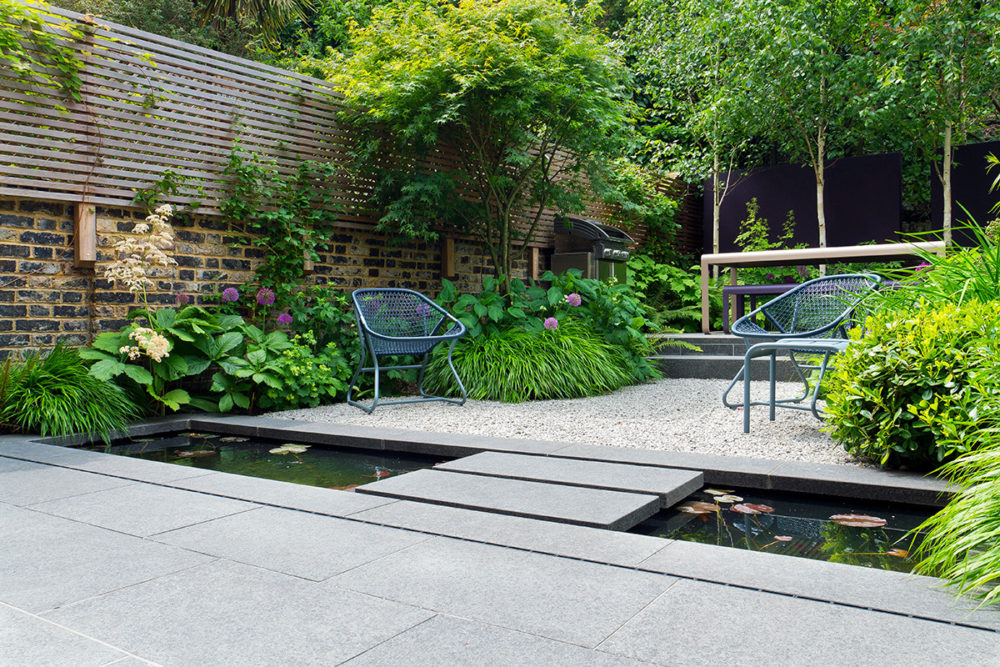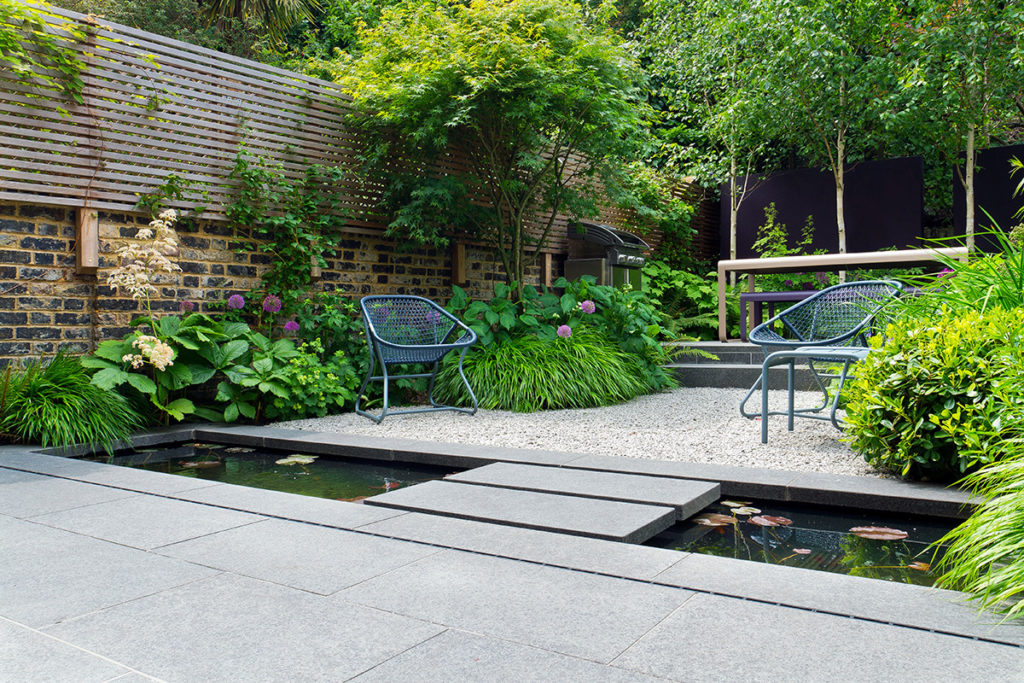 How can it work? Easy. Modern style can be created using furniture, modern decor elements, wooden structures, large panoramic windows, trend colors and etc. I think that plant species are out of style and fashion, at least most of them. You can create a great modern garden by selecting a limited variety of plants, or by selecting any colorful plants and adding them to modern light furniture and porcelain floor. To add more feeling of a contemporary style, you can also buy modern rectangular pots for plants. An important thing about plants that you need to keep in mind, is evergreen plants. That point becomes useful if you live in a place where winter is cold. Without evergreen plants or trees in winter, your garden will look sad.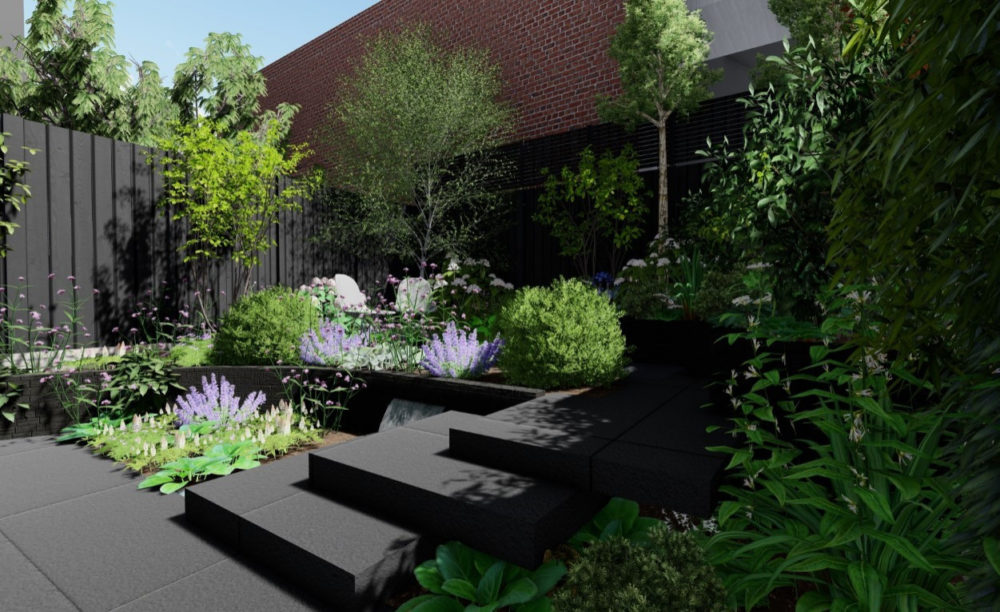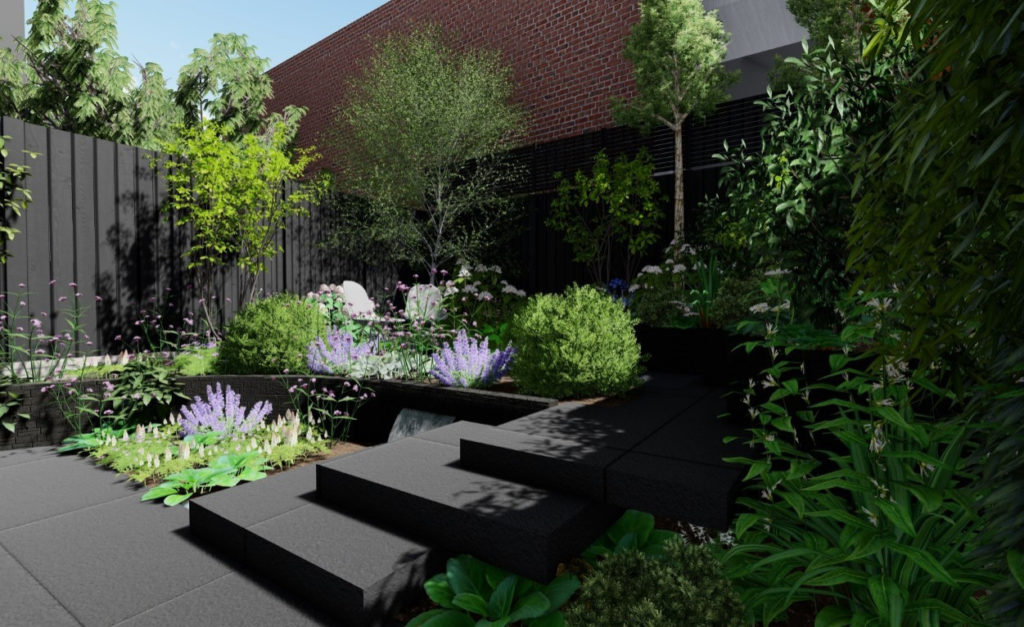 Zoning space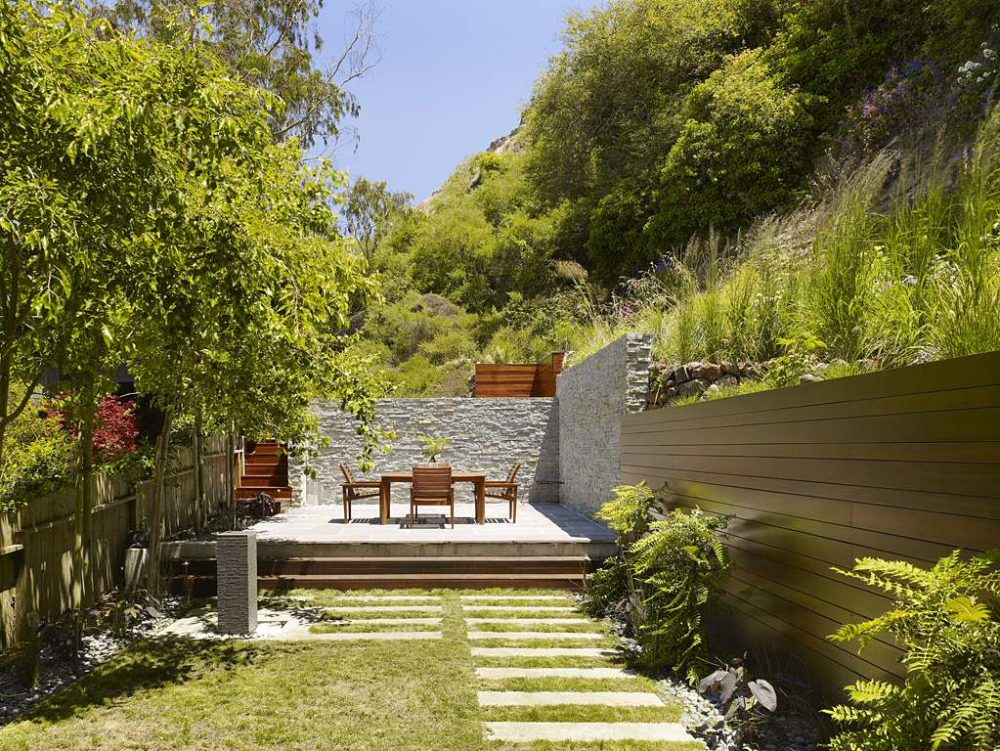 If your garden has enough space, maybe you already think about zoning. How better make it and which ideas are more useful?
The most popular idea for zoning in modern design is creating a few zones by stairs and multilevel. It looks interesting and can give you more free space for other things that you want to show. Multilevel construction can lift some elements, like a small waterfall or pond, fireplace, or patio, to make them more visible. Many plants and objects on one flat plane will look very cluttered. While multiple levels can fit a lot more variety of elements while still retaining the accents and feeling free breathing.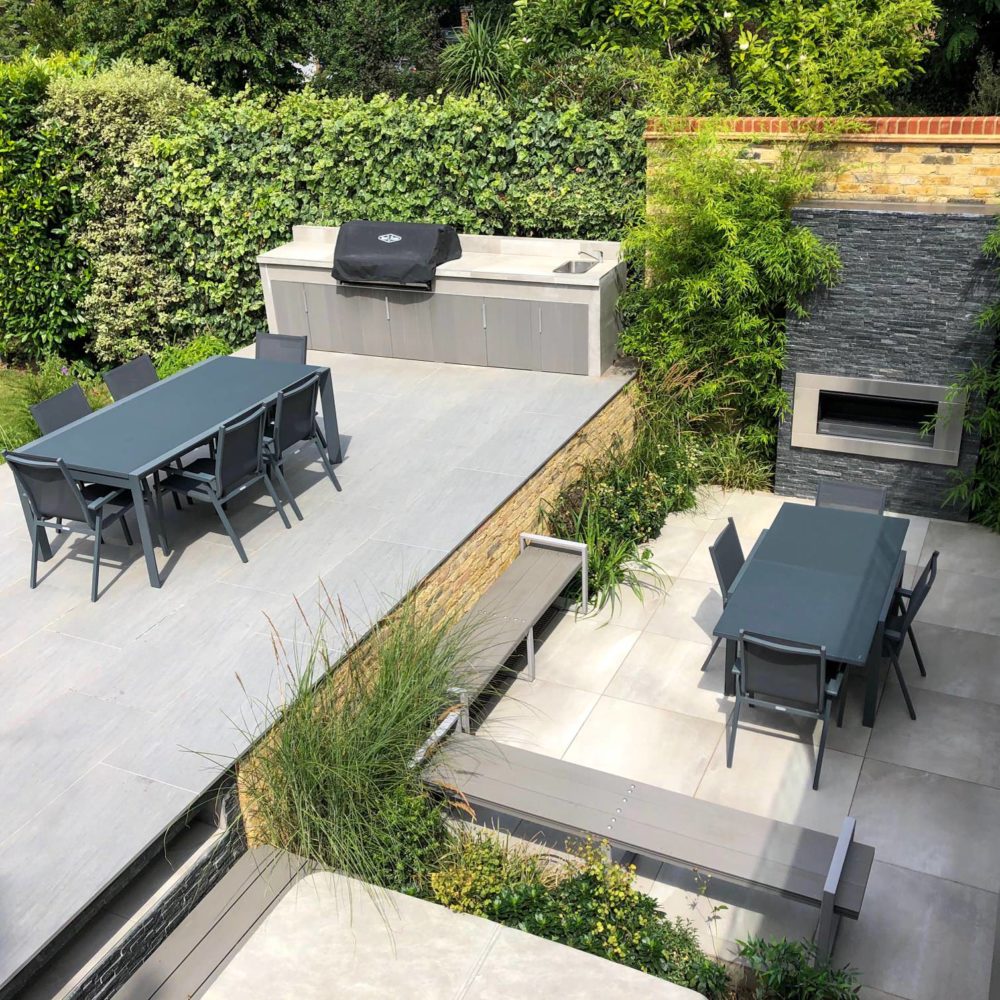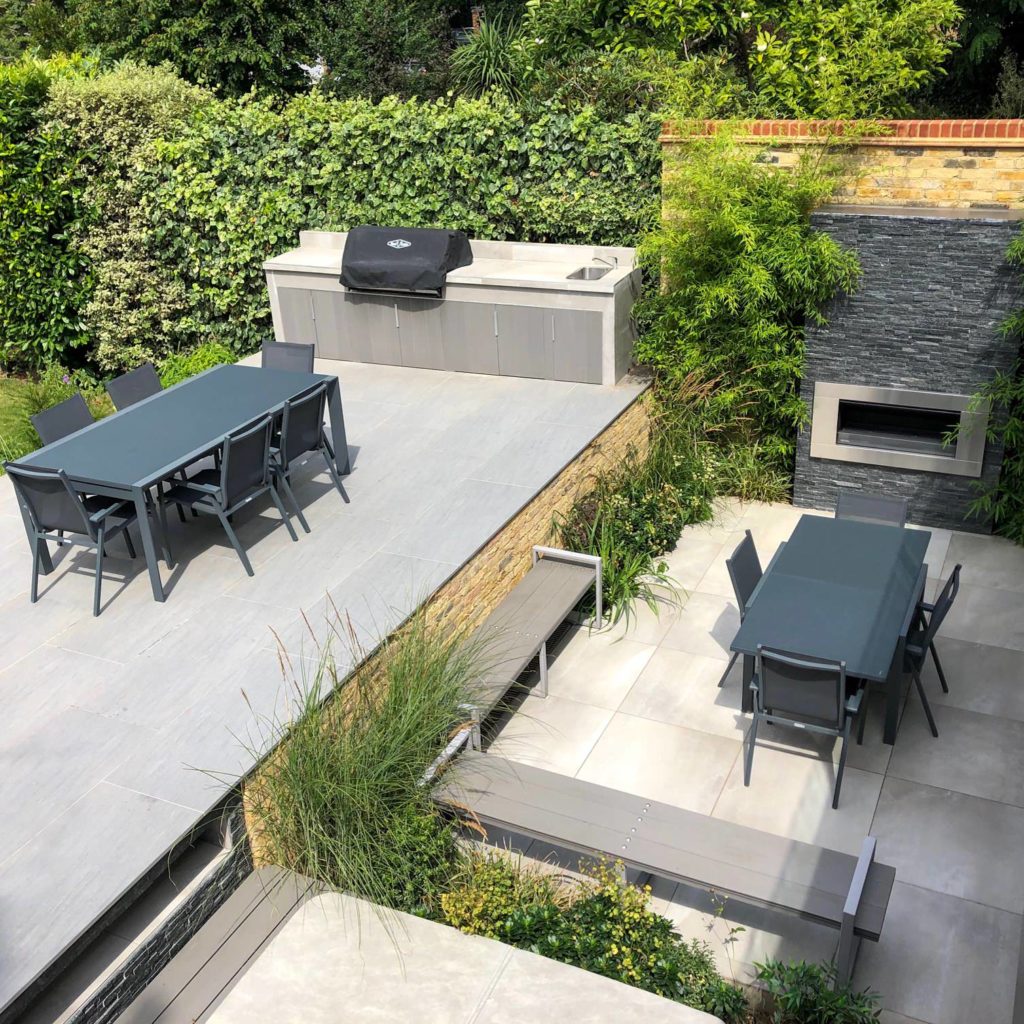 Another great idea for zoning that goes well for the average area is a wooden or porcelain podium. It also can be with or without stairs, depending on the podium height. If the podium or levels that you use are low, you will not get more free space. It will be working well only for zoning and in addition, look interesting. A low podium and level can be a super idea for a patio, especially if the lawn or plants are located at a level below. It is handy when you're watering plants or it's raining.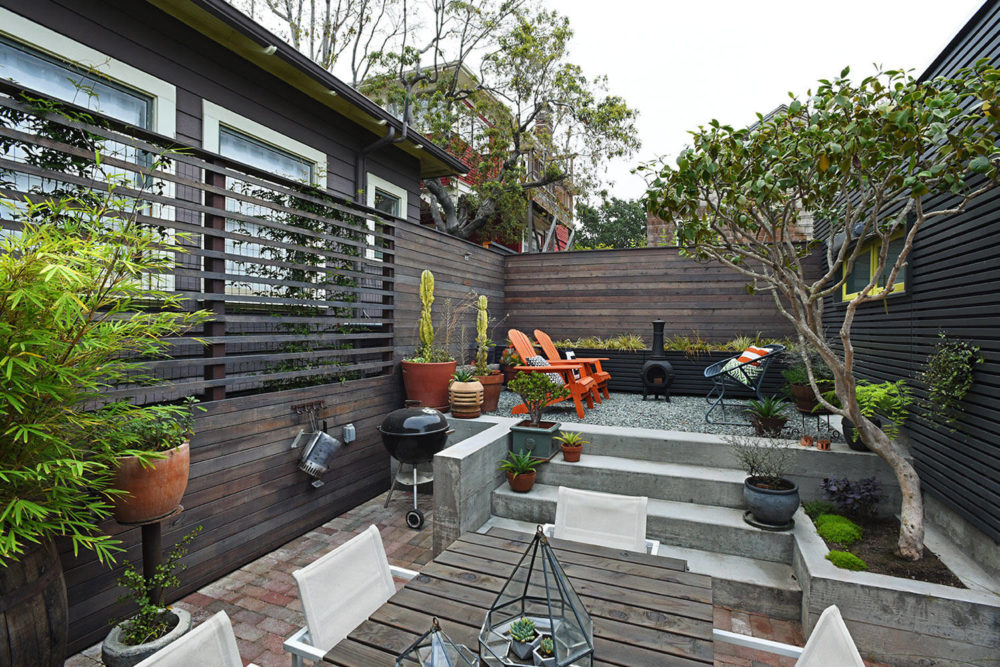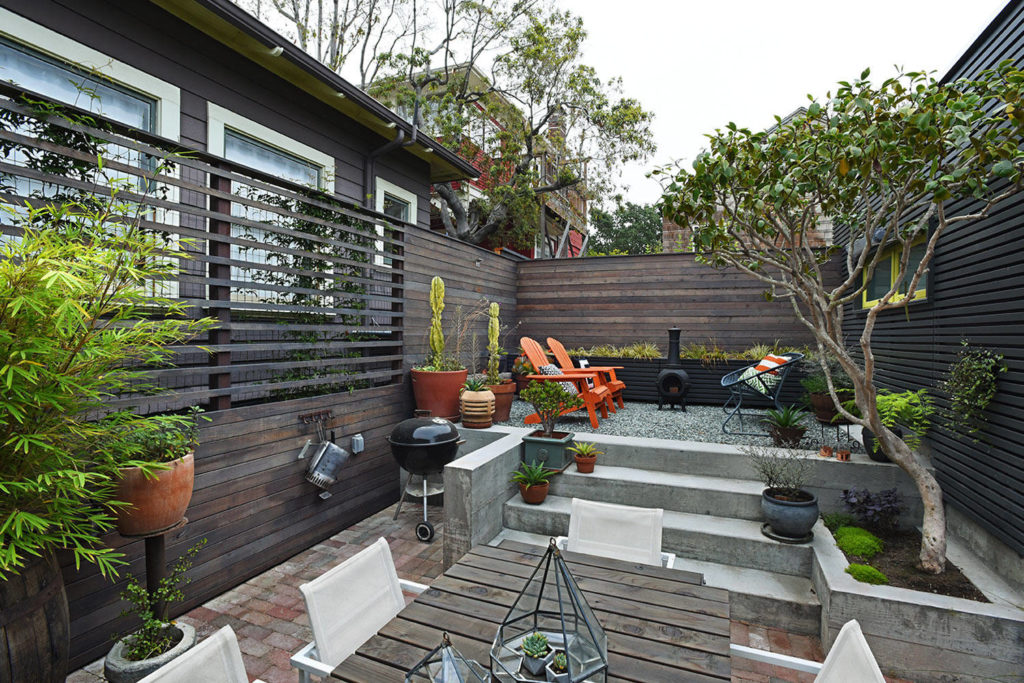 The next idea for zoning is just to use the floor to separate the space. It can look like a patio and fireplace on the wooden floor, a sun lounger stay on the grass, and in another part of the garden used garden rocks and installed waterfall. So, you have 3 zones and all on the same level. It works well with plants surrounded by garden rocks, that can pass water through itself in case of excessive humidity, or with artificial turf that does not need to be watered.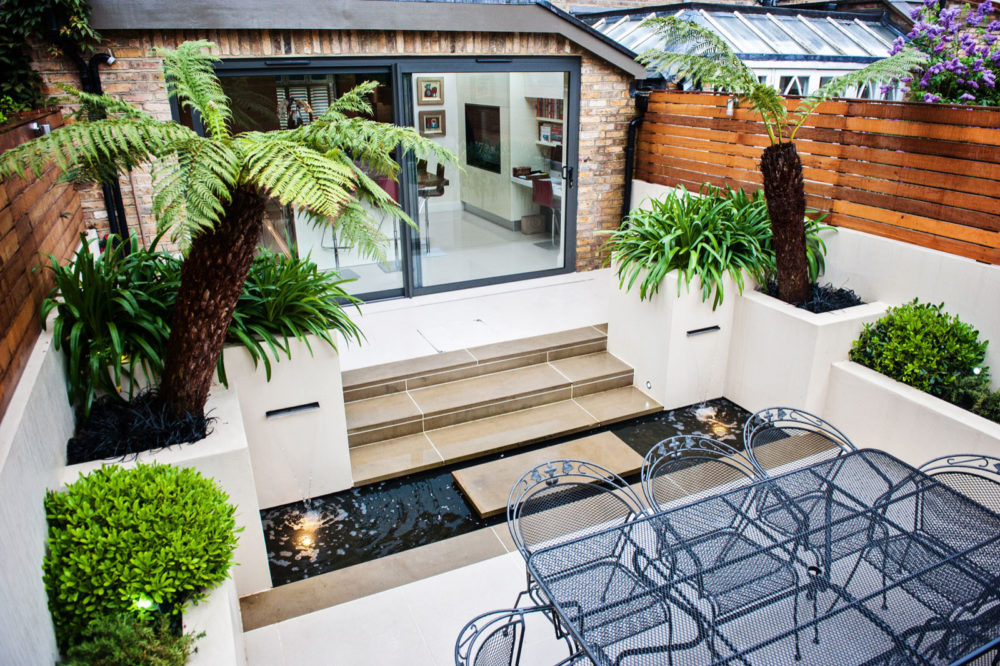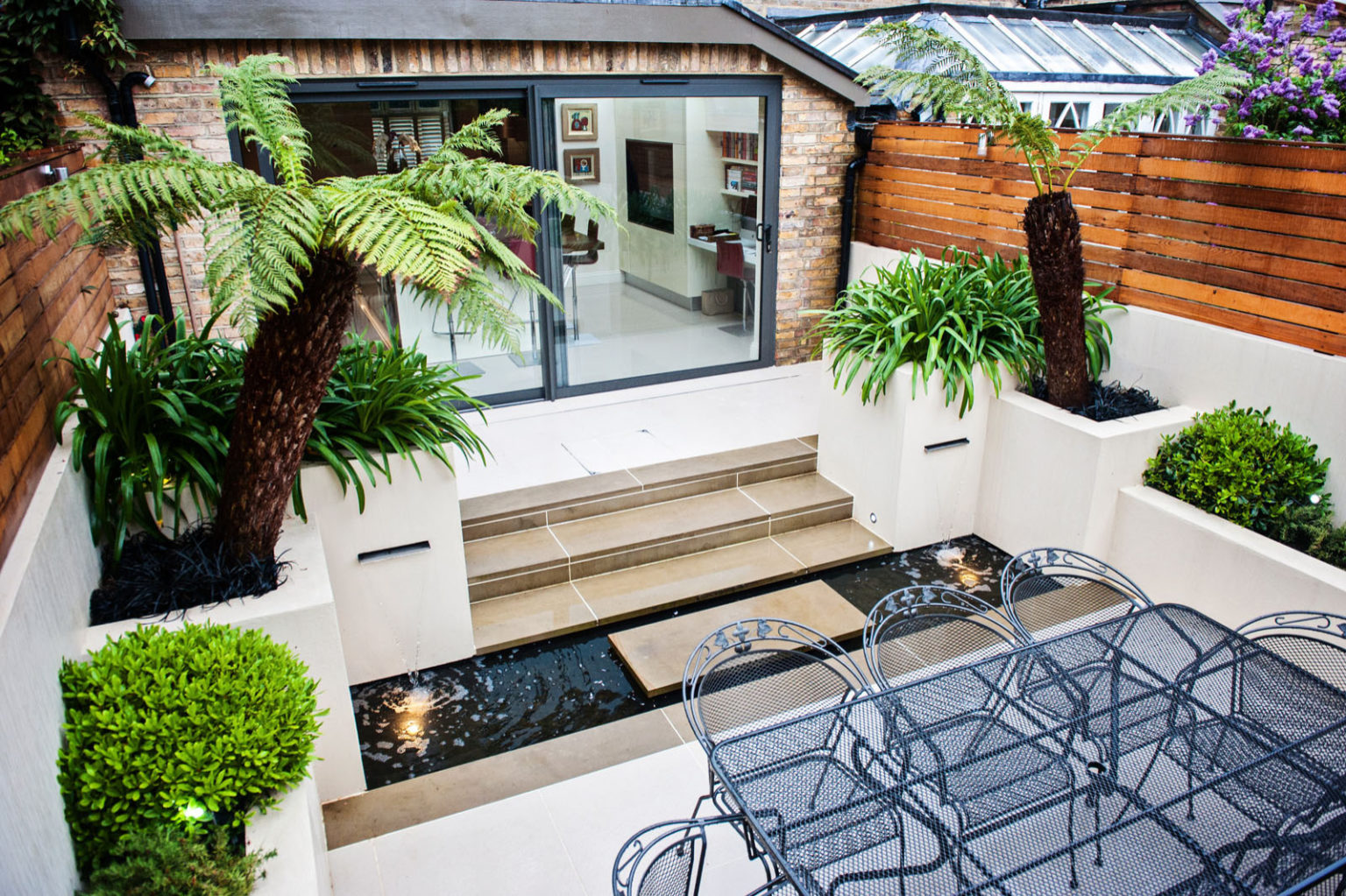 Also, a great idea for separating your garden into two zones is to make between them a small pond. This option is well suited for small or long, narrow yards. Bridges across the pond look no less modern and stylish. I called them bridges, but they are actually several rectangular stone or Porcelain plates. They are installed directly on the water and if someone looking from far, they can get the feeling that you are walking on water. Looks really bewitching.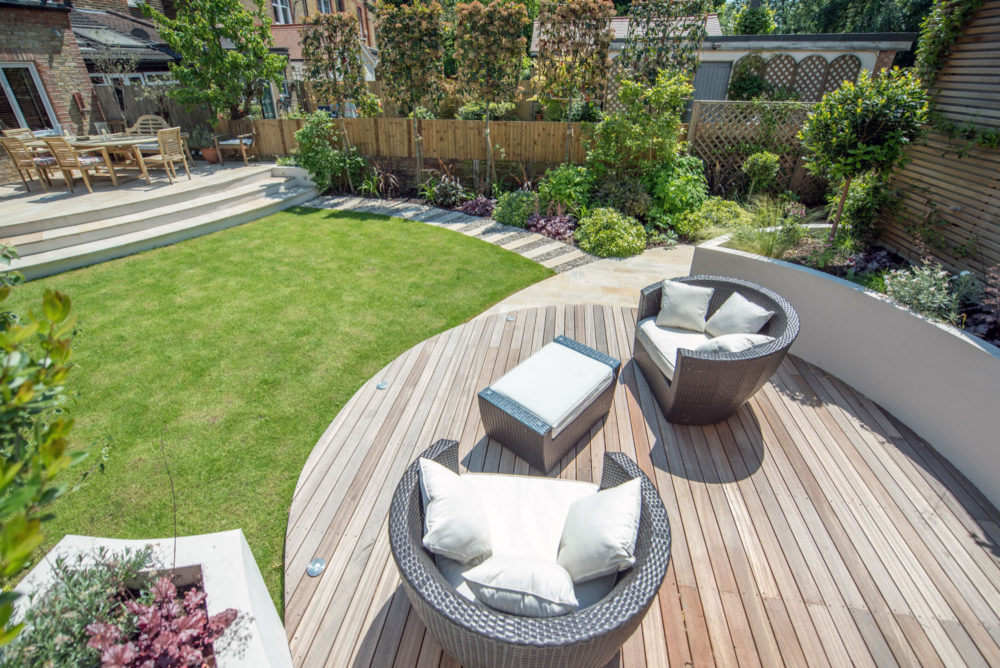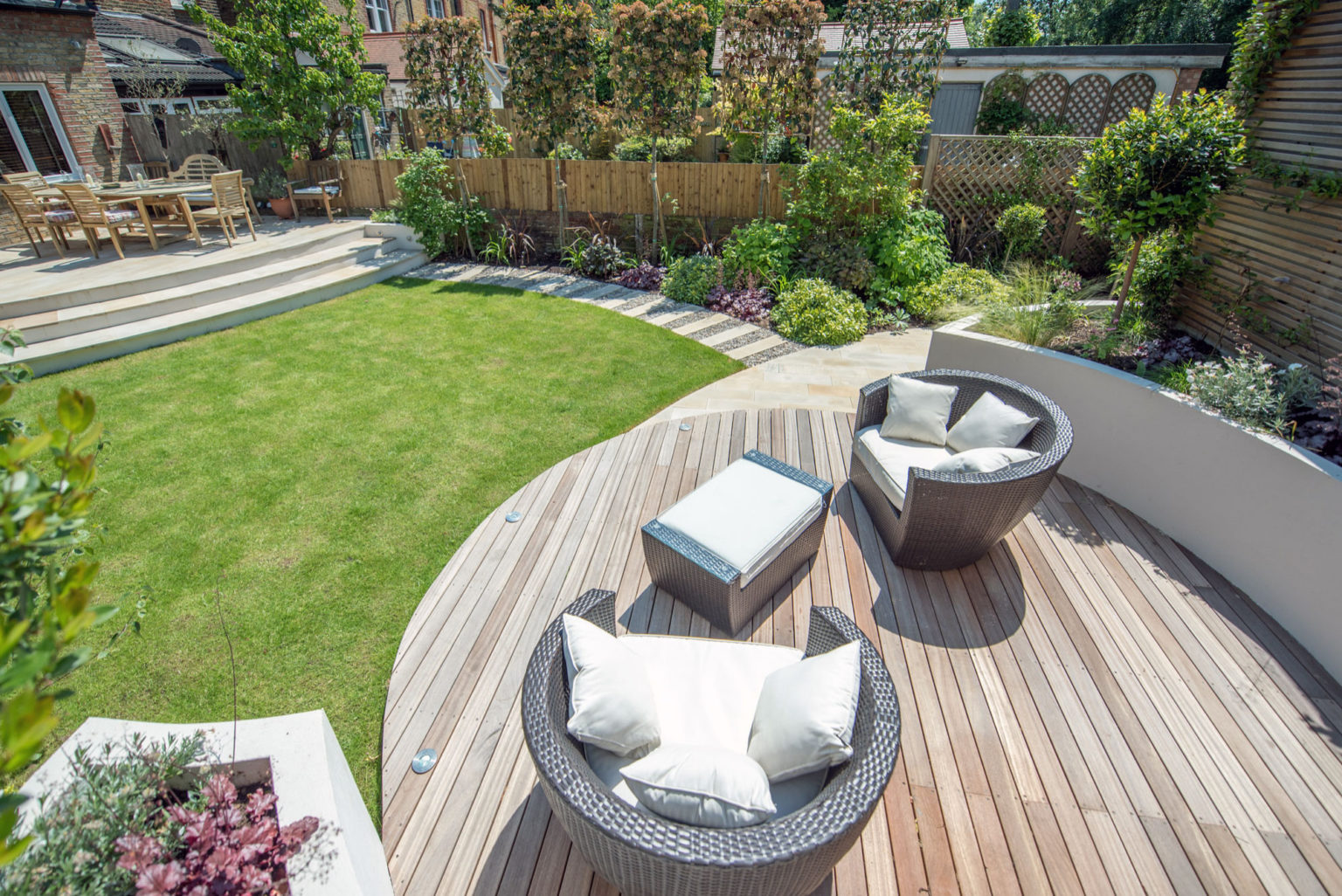 Talking about rectangular plates, this popular trick is used by many designers in modern garden decor and not only for ponds. They are used for paths that are laid out on top of the lawn or laid down on the ground and to the gaps between the plates add small garden stones. An important thing, plates are never placed end to end, they are always located at a distance from each other. Usually, the distance between the plates is the same. The size of the plates can also be different, both wide for paths or small for decoration, you can choose any size at will. The most popular materials for these plates are stone, porcelain, or concrete, less often paving slabs or wood are used.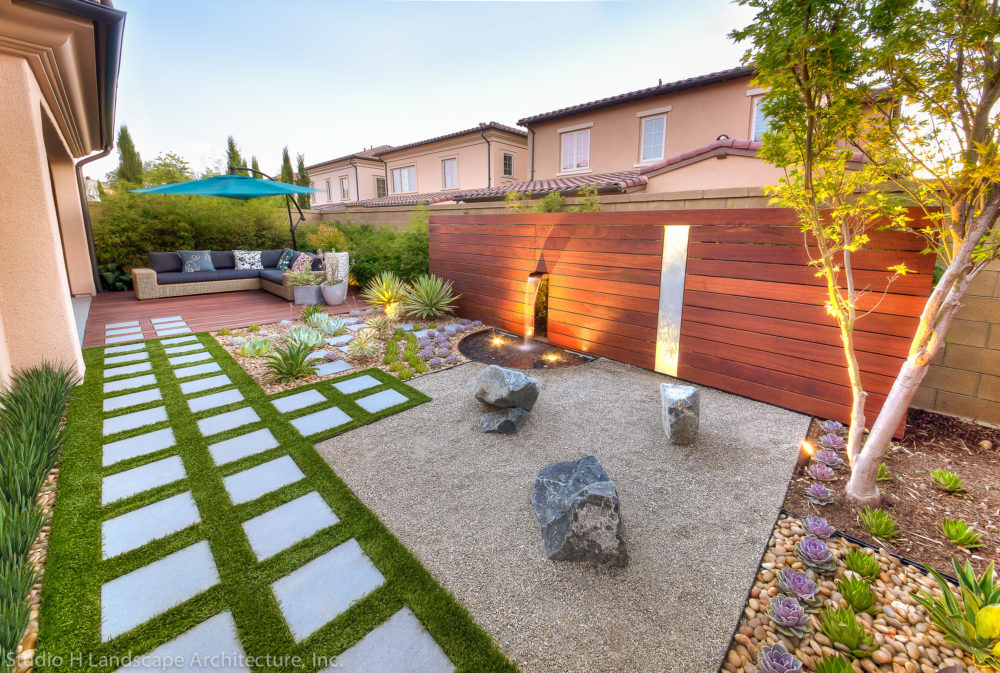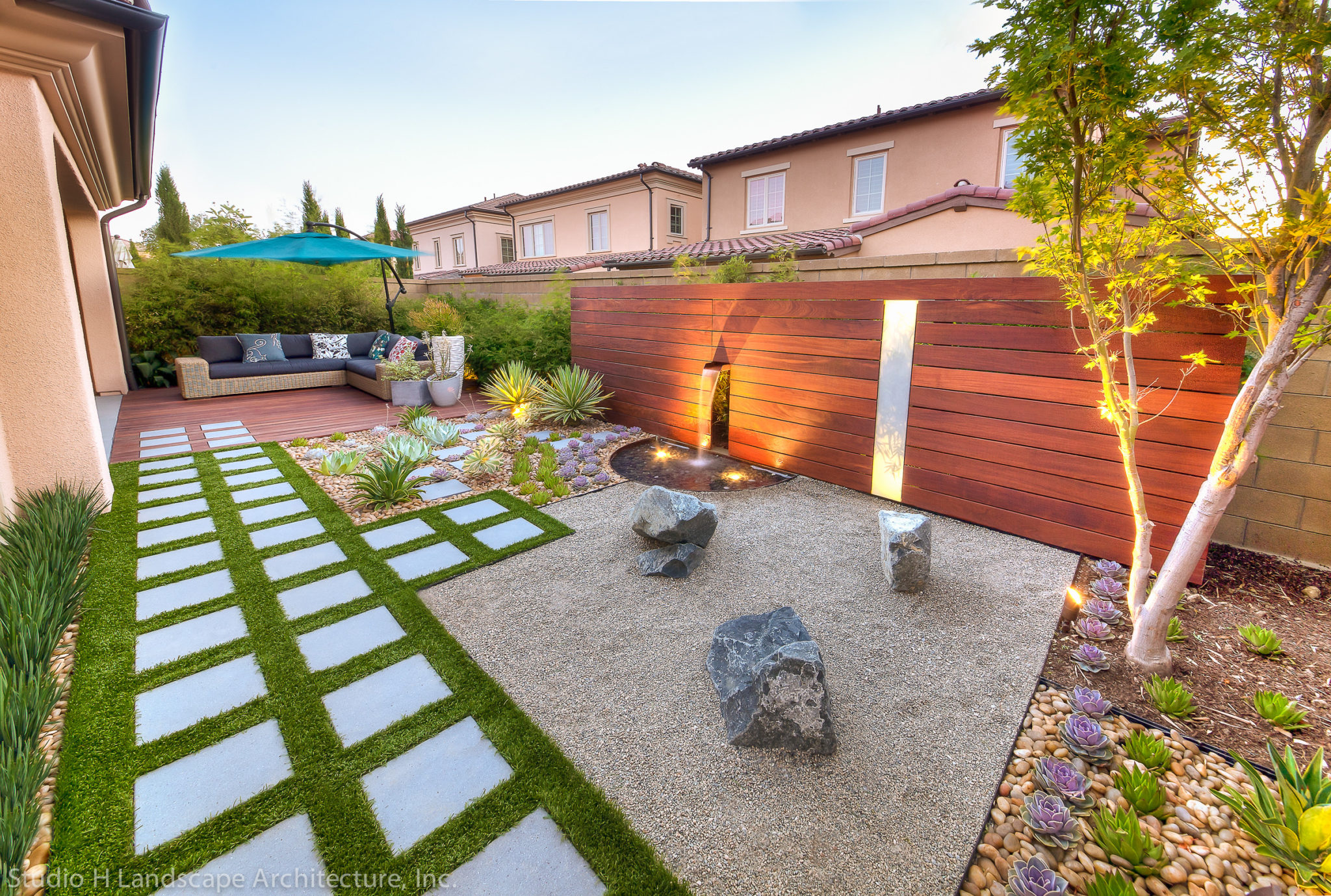 Garden and House
Let's talk about houses and gardens. In modern design, it is popular to create a visual link between inside and out when you plan a small garden. So, how can you make it, and what exactly it means visual link in design? You can make it in design by using the same elements indoors and outdoors. Like the floor of the one material and color in the garden and in the room that is next to it. Or maybe furniture in one style inside and outside. And of course, all these things will not work without panoramic windows and big glass doors.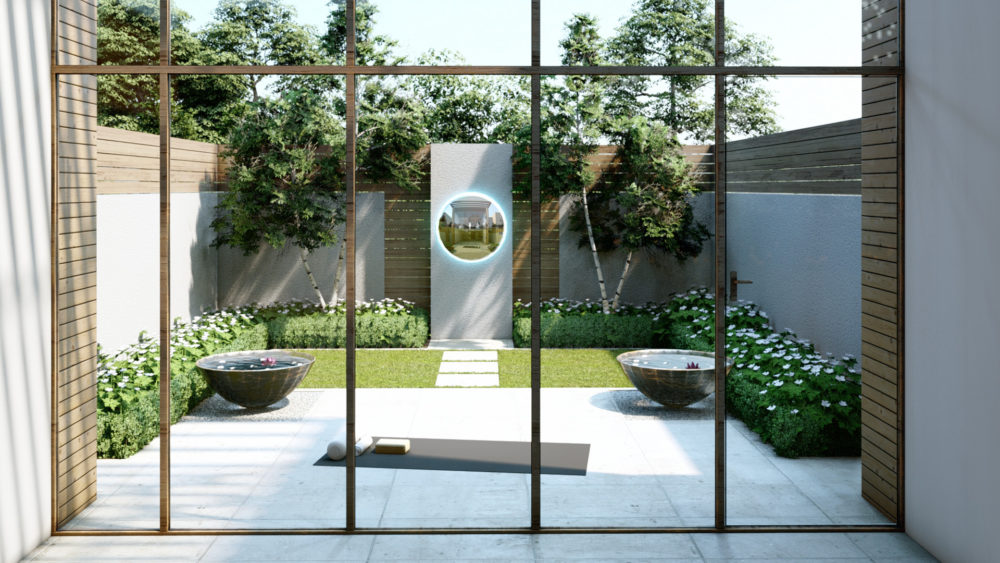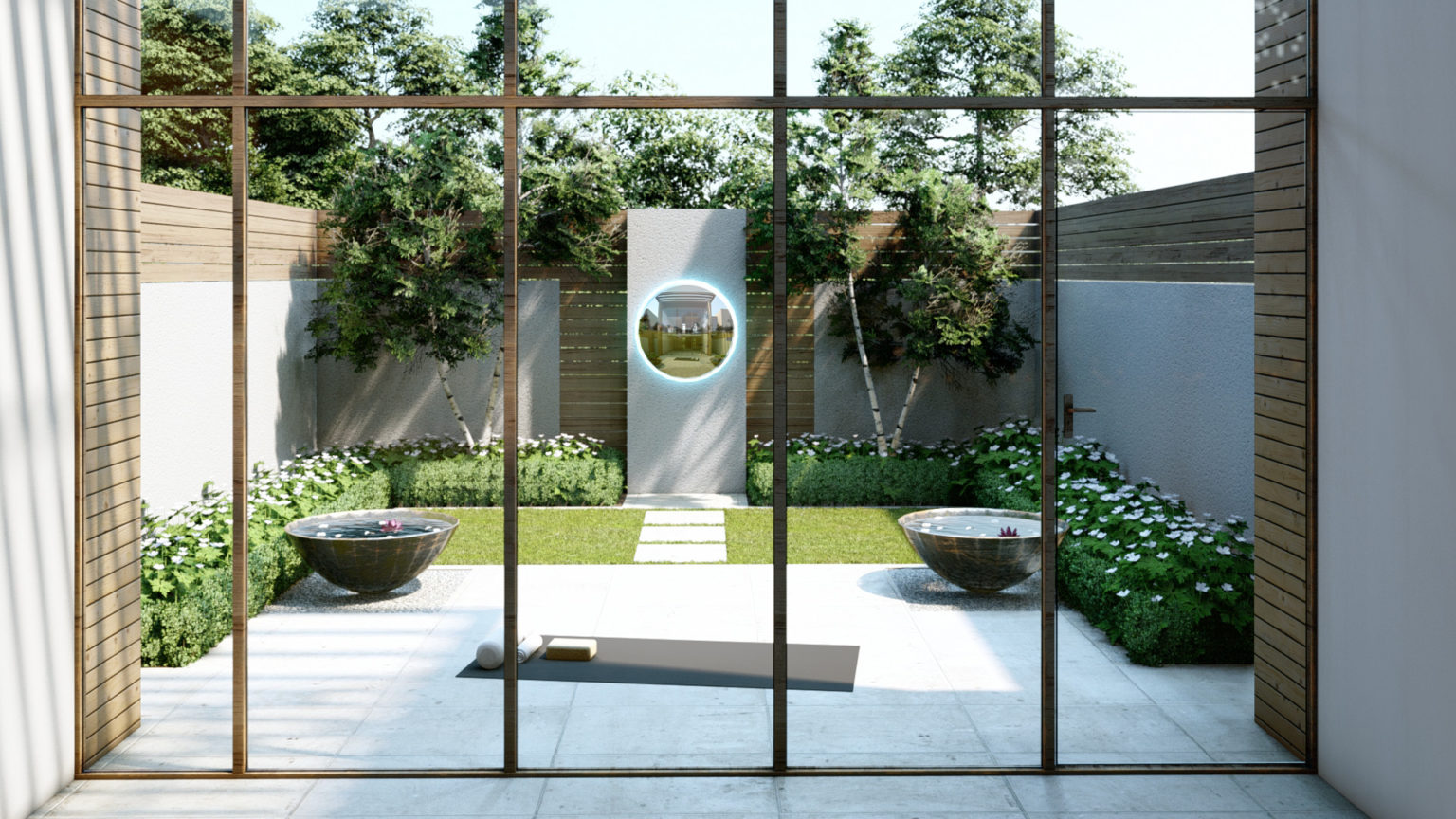 Generally, portal doors and windows are popular in modern style and are used very regularly. Benefits of this window type are a great view, that you will have every day and also the filling of common space by room and backyard. If we're talking about a courtyard garden, it will be viewable from your garden and patio. In this case, the visual link makes sense.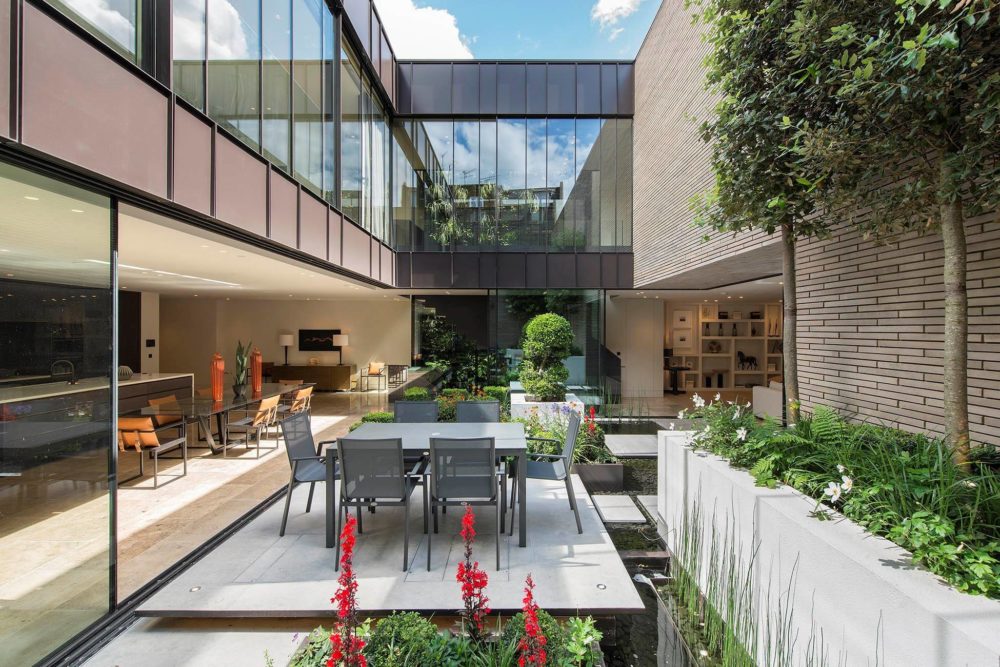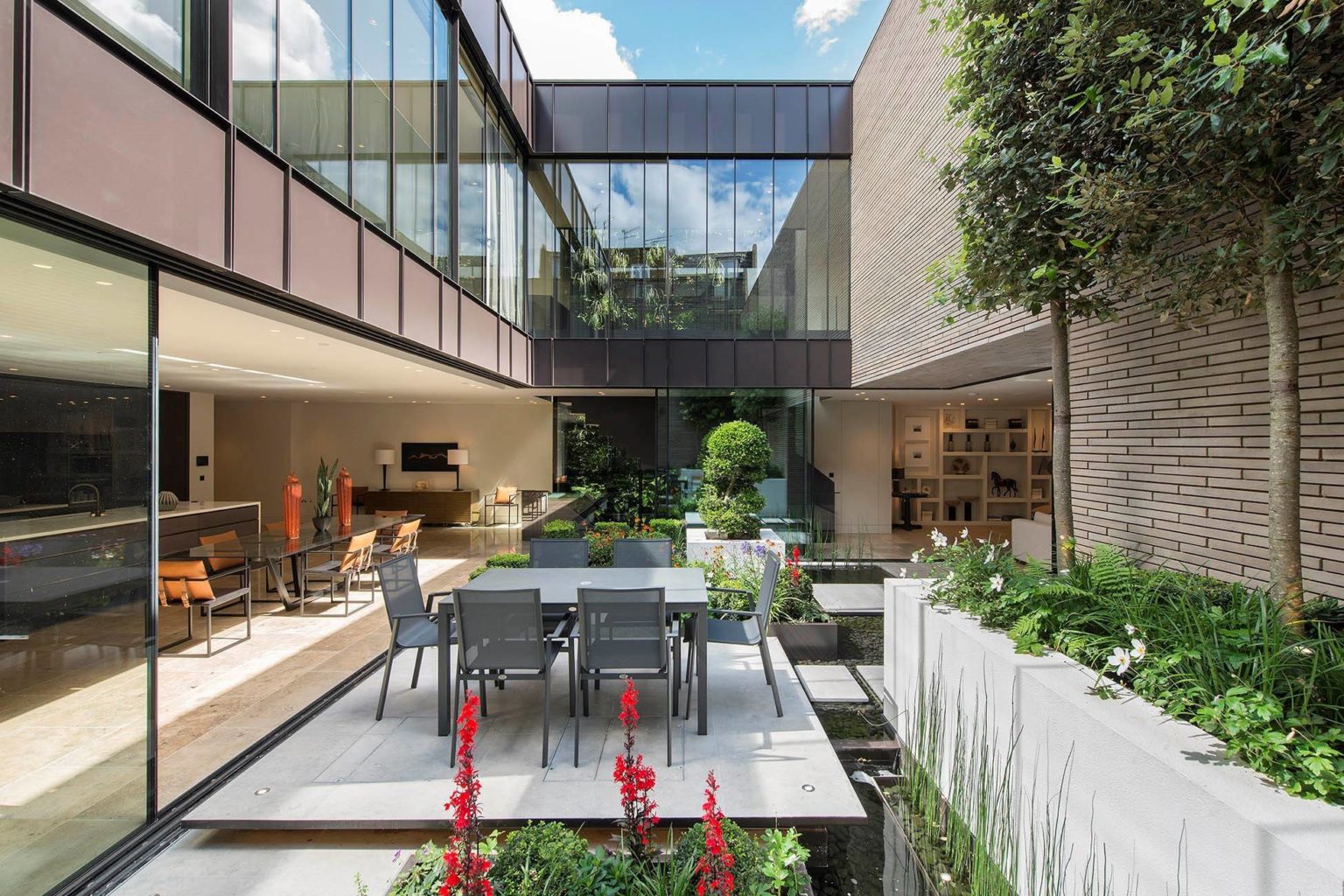 The next interesting decision in modern style is to make a courtyard garden inside the house. Actually, not inside, but surrounded by walls and windows of your own house. This design looks very contemporary, and you can make it ever on the second floor, of course, if your building has more floors than two. All walls around the garden usually are transparent. This way you will have views of nature from each room of your home.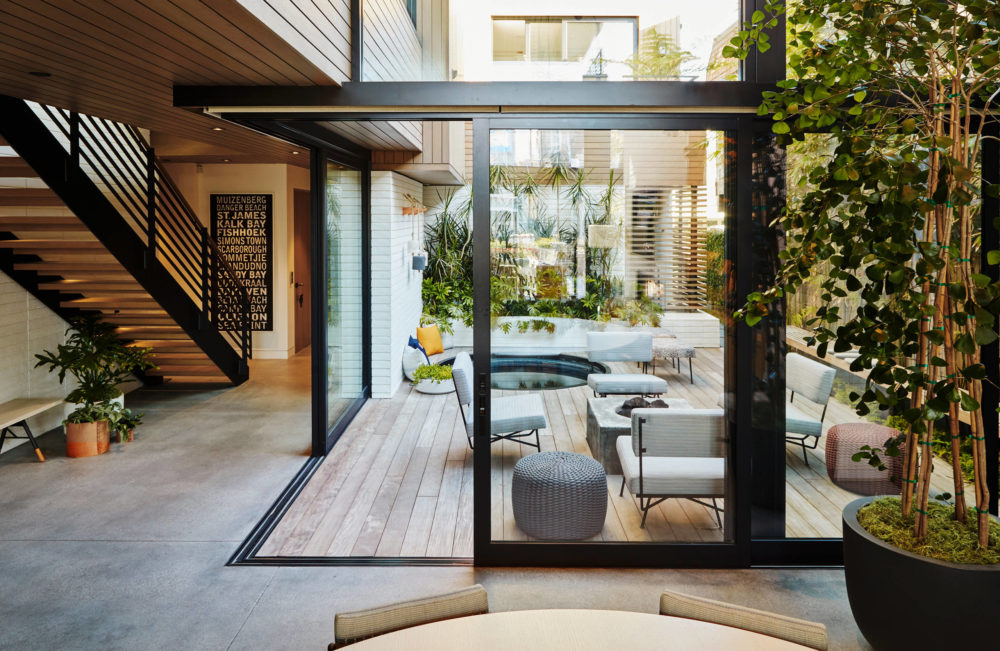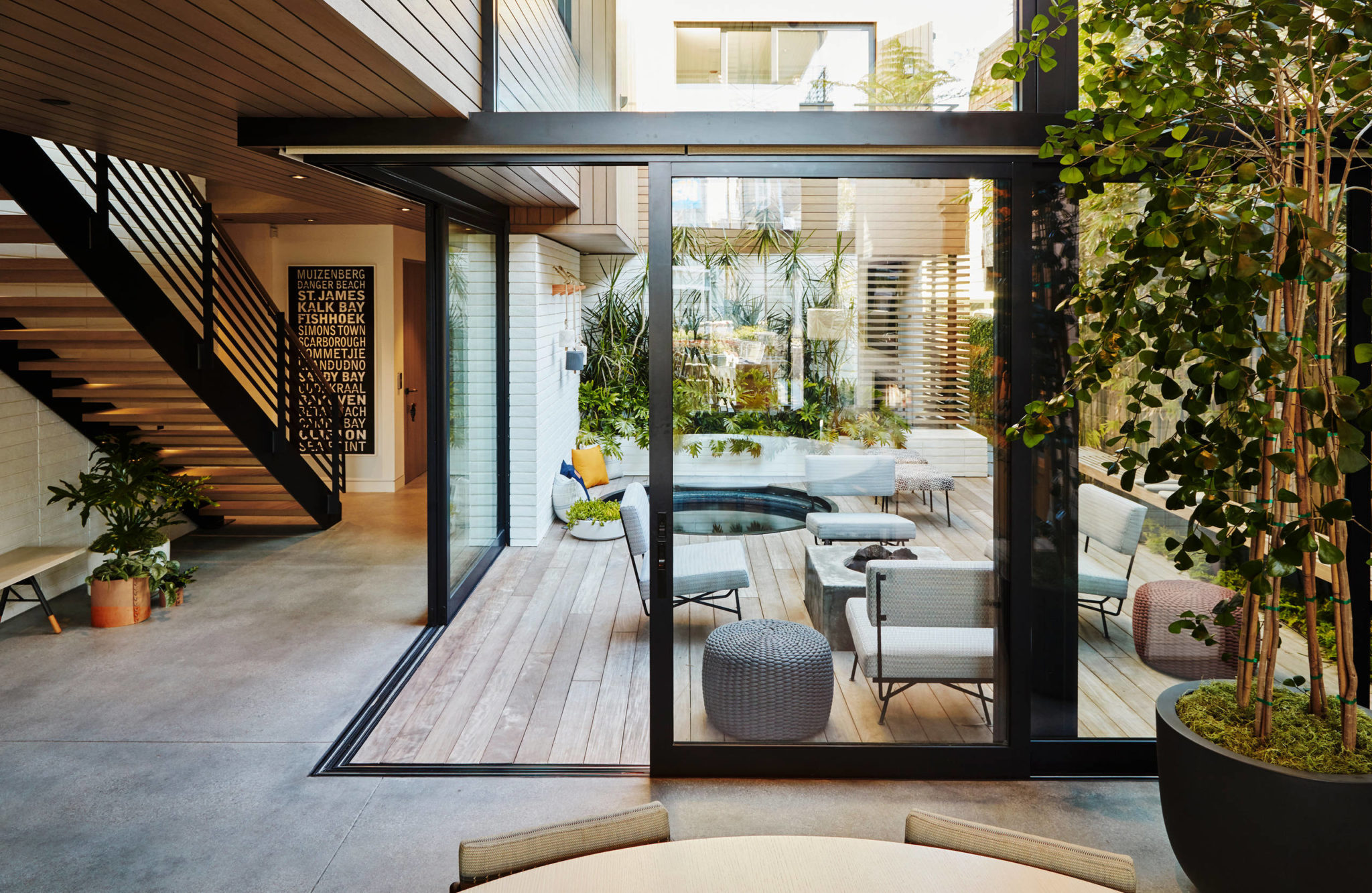 For more photos, watch our video.