There is an infinite variety of exterior color combinations that you can use to decorate the facade of your house. We will give you some ideas and tips that can help you in this difficult task, and we will show you the current trends to paint a house from the outside.
Painting the house is a big investment and there are many colors to choose from. While we can't tell you what color to paint your home, we can give you the tools you need to pick beautiful exterior house paint colors that are trending in 2022. Good luck!
Whether you want your home to stand out a bit from the others in the neighborhood, or you're just looking for a way to make the house as stylish as its interior, we'll show you the latest front color trends below. of houses and color combinations for trendy house exteriors in 2022.
White facades
White walls with black windows and doors
If your home has beautiful windows (or other nice architectural features), this is a great way to draw attention to them. Combined with a white exterior, black accents can look spectacular.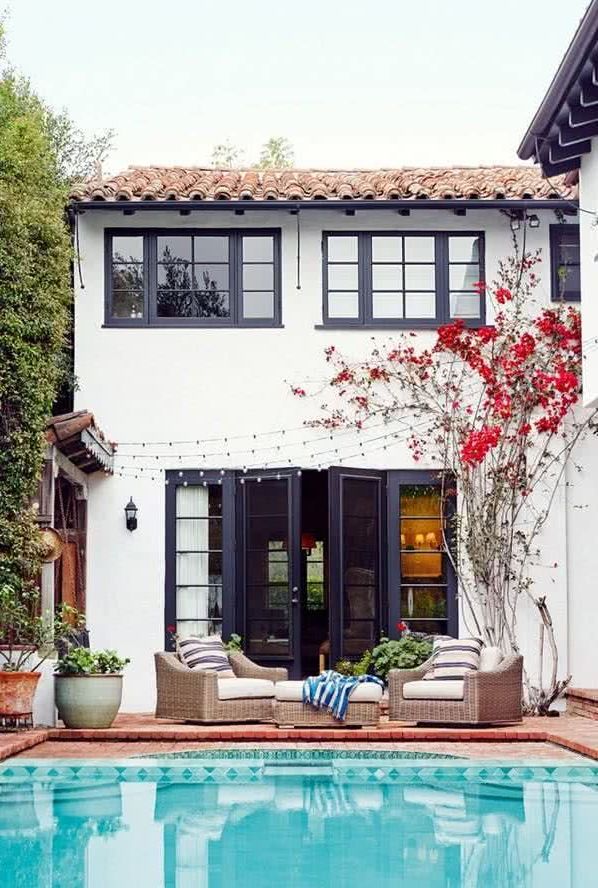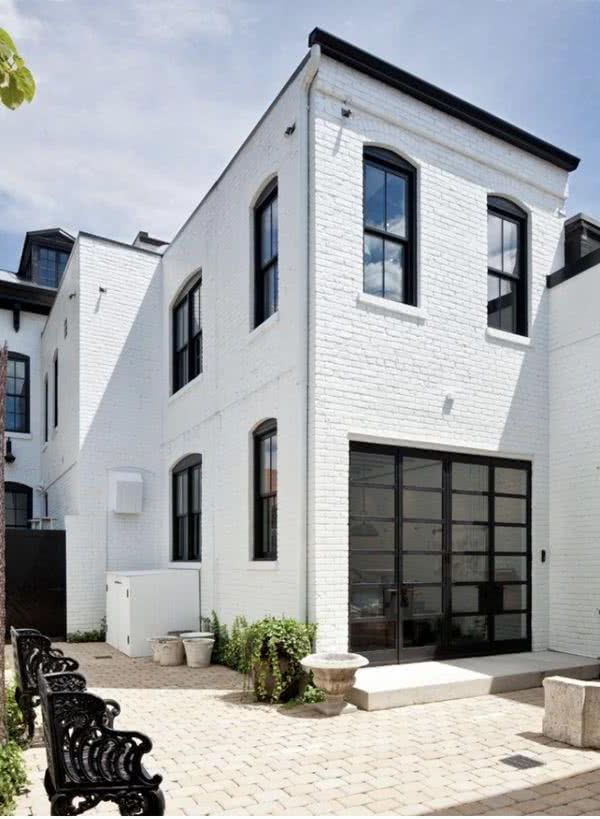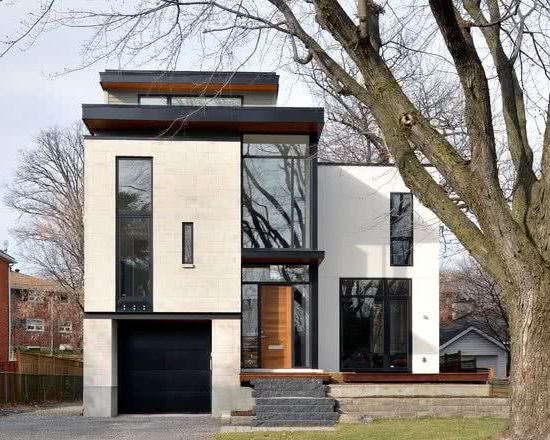 White facades combined with gray
This is one of the classic exterior colors used to paint the facades of houses. They can look very elegant, clean and spacious. The secret is that certain architectural details or bars, window frames, etc., are painted in another color. It is very fashionable to use the color gray as a complement, as we see in the images below.
Here we see it combined with pale gray and the silver of the balcony bars.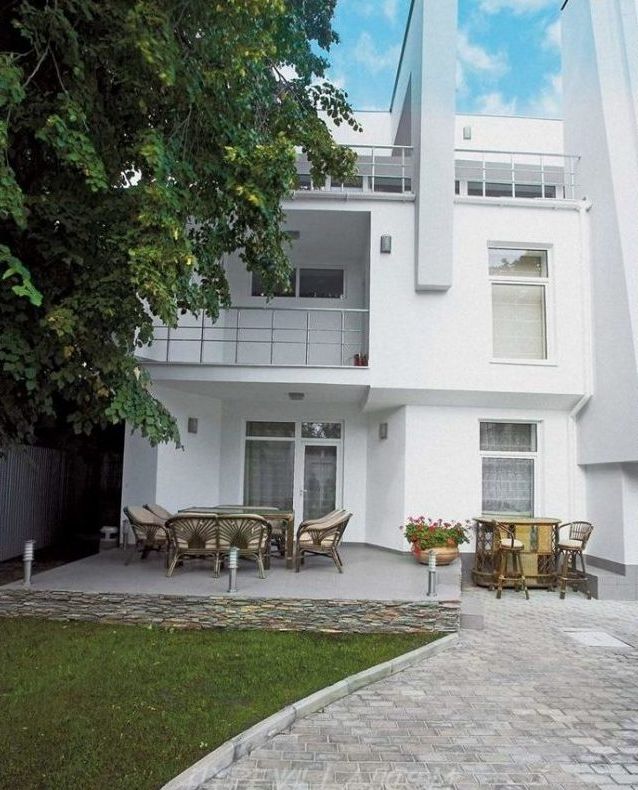 In the lower image it is also combined with the gray tones of the stones that decorate the exterior wall, the window frames and the balcony bars.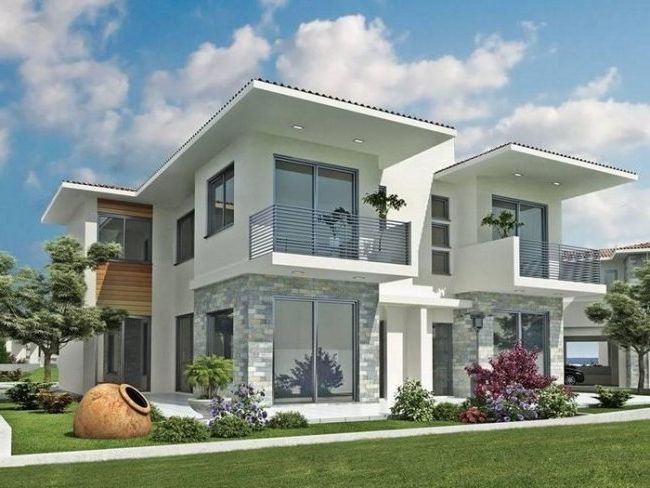 In the lower photo they have used it together with a dark gray roof and front door.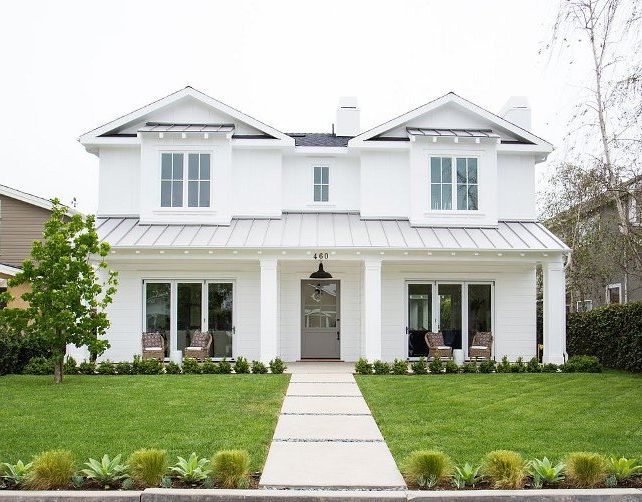 White looks clean and fresh, and around windows it helps reflect more light into the interior.
White with dark grey.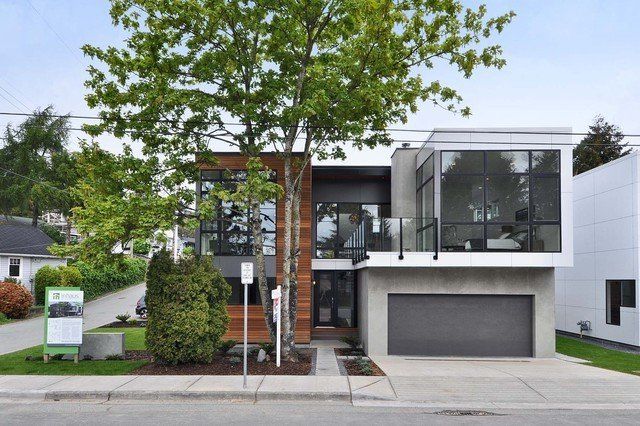 White and brown
Or you can also play with earthy browns.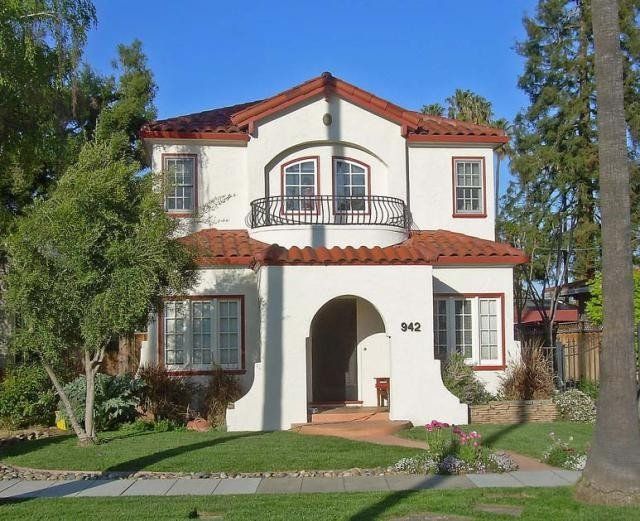 Or brown for wood and gray for cement.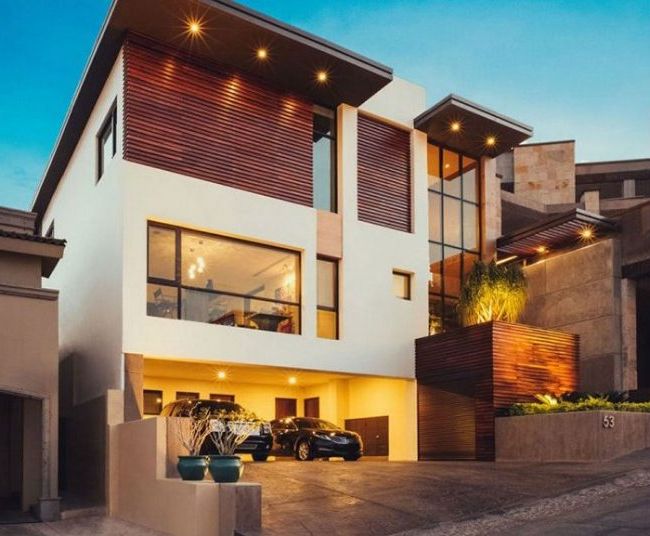 All white
It is one of the classic colors for exteriors, because it looks great. Many buildings during the classical revival were painted white, due to the mistaken belief that the Greeks and Romans always avoided color. It may require a little more maintenance, but it can be very flattering for a facade, especially for a country house.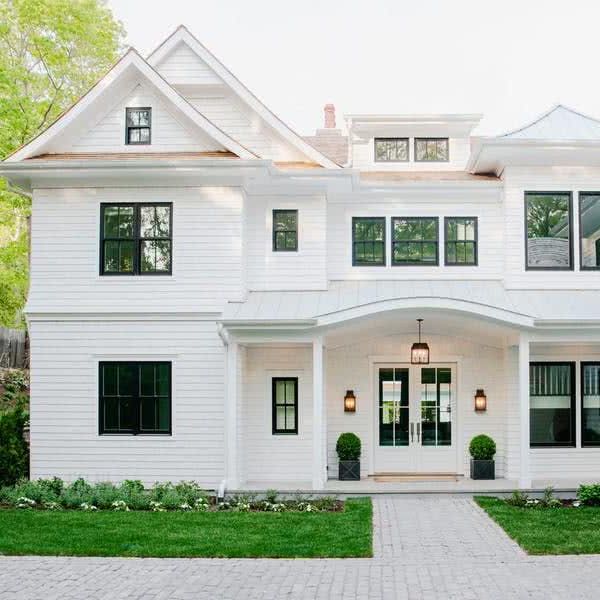 Gray facades
Two shades of gray
If a completely black facade is too much, try grey-on-grey, a much more subdued and traditional formula. This play on two tones will give the exterior a little more interest and dimension.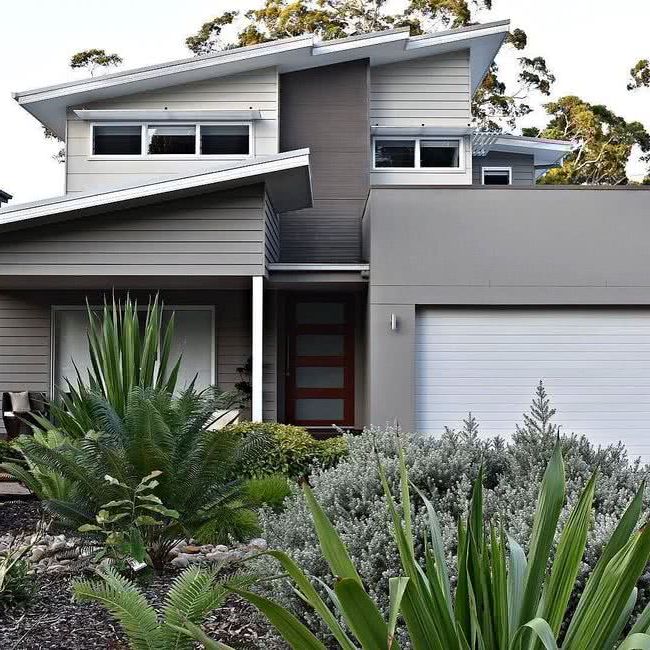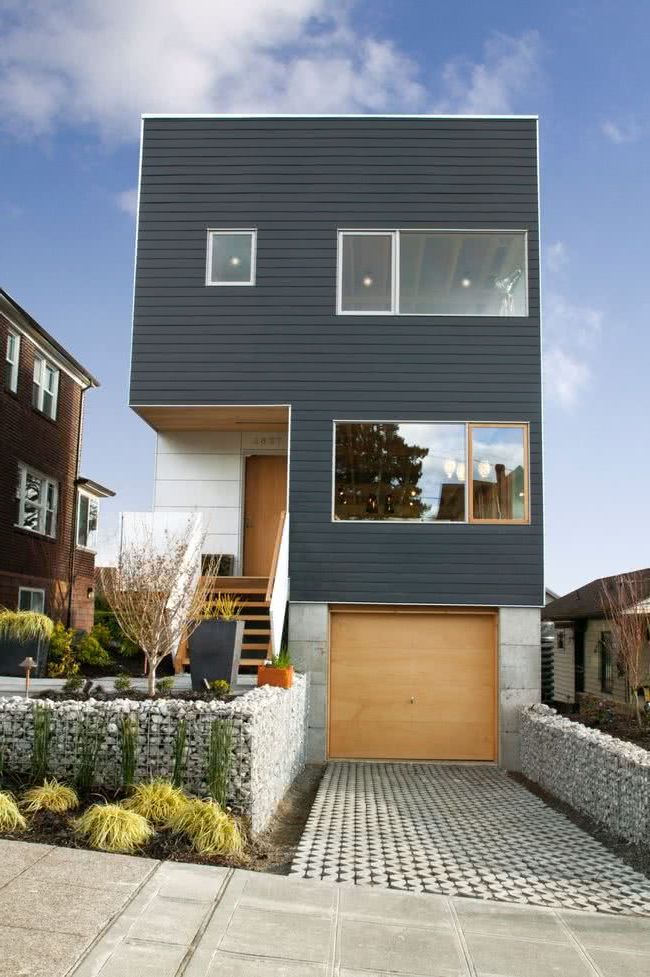 Gray facades with white details
Another of the classics that is very fashionable is to use gray to paint the walls and architectural details, frames and bars, paint them in another color. White color can be used for these details.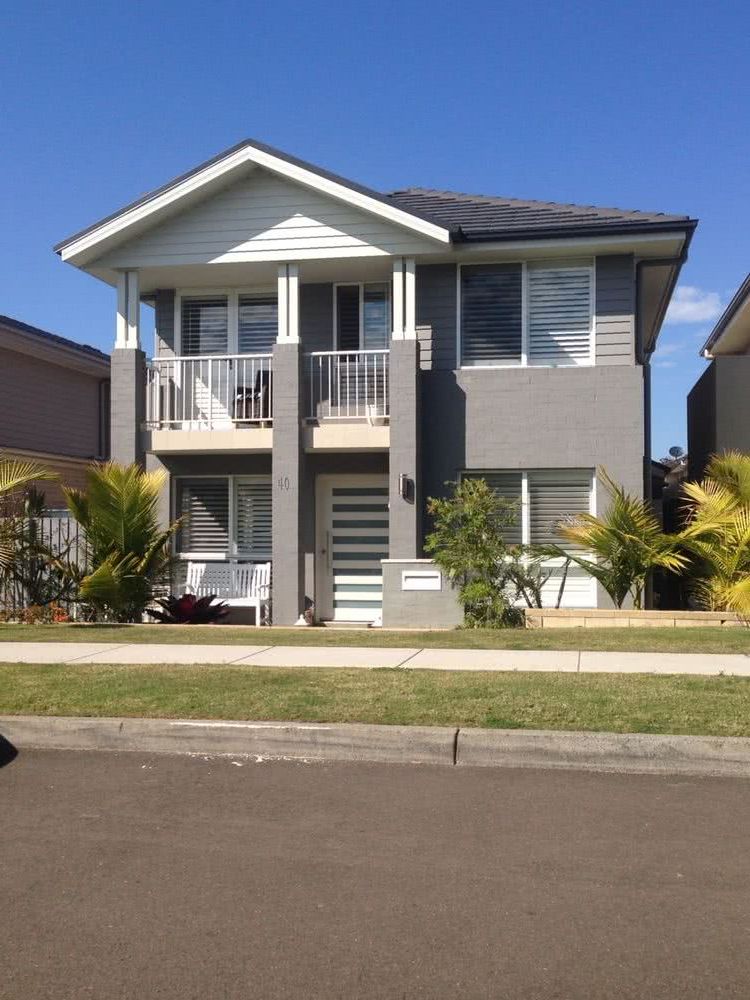 Here is a method that never fails. Choose a light shade of a neutral color for the walls. In this way the home will have a cheerful air. Use white for the window frames and the roof trim.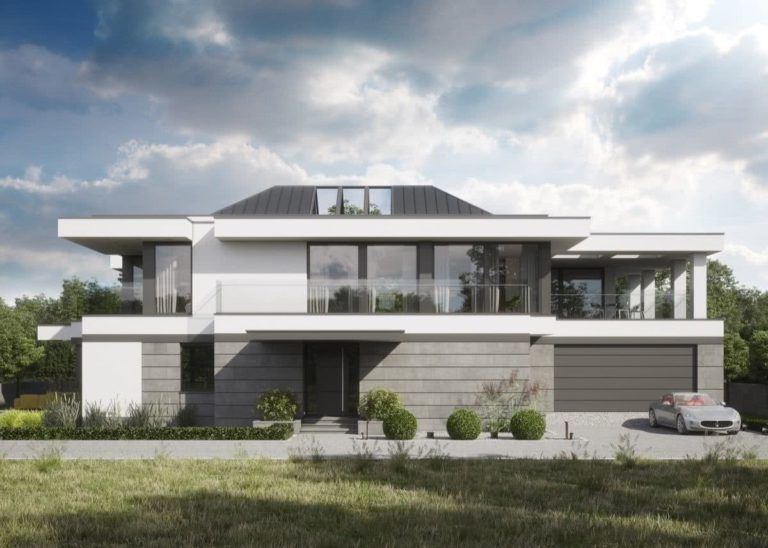 Gray and wood
What is very fashionable and looks very elegant is to combine it with dark wood color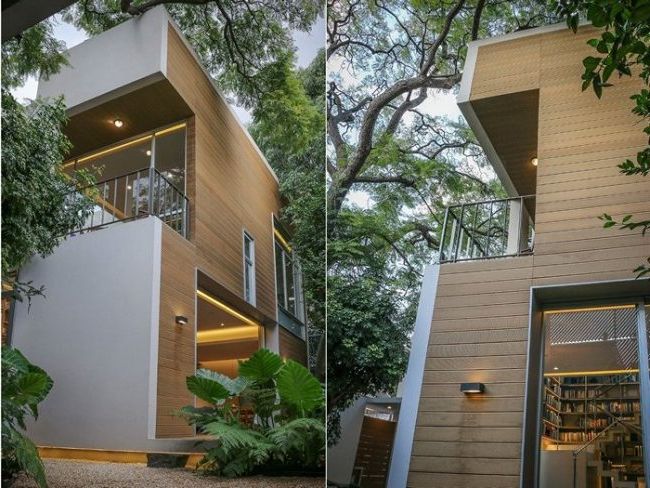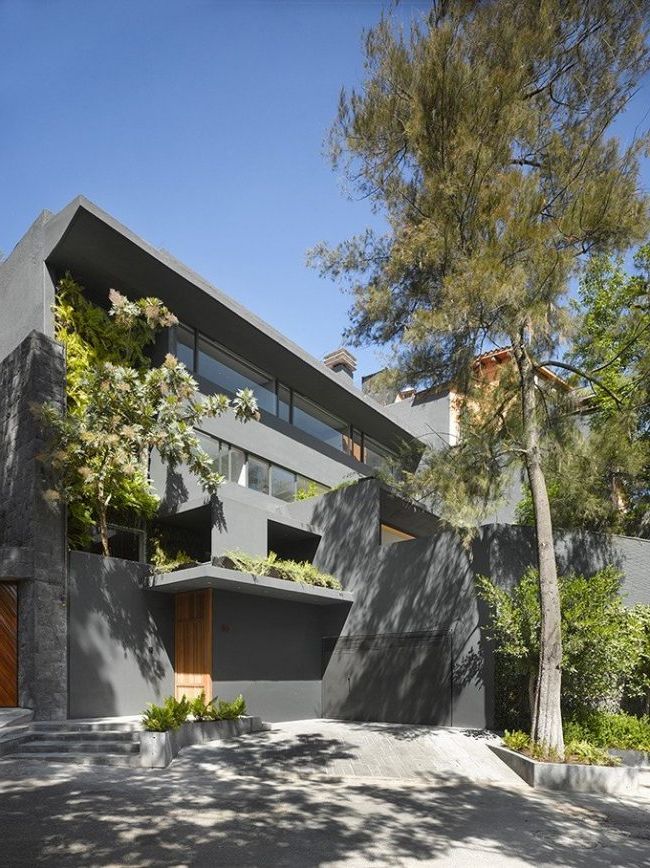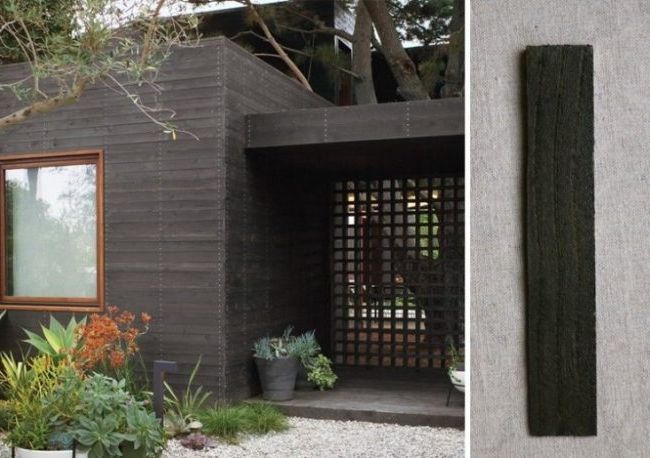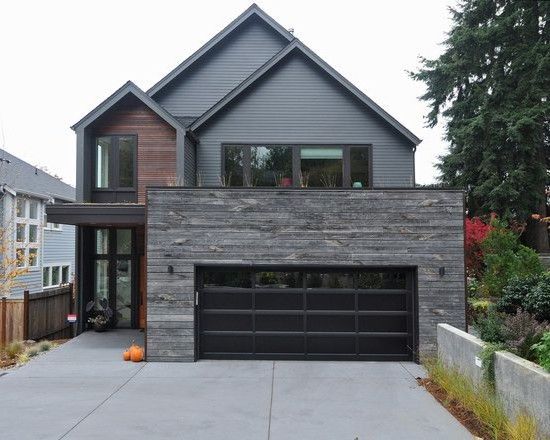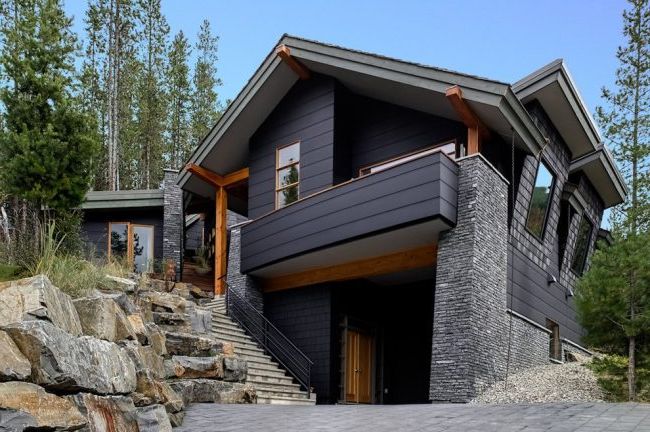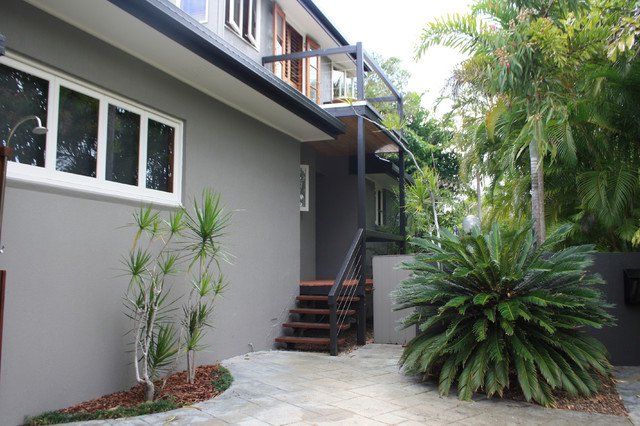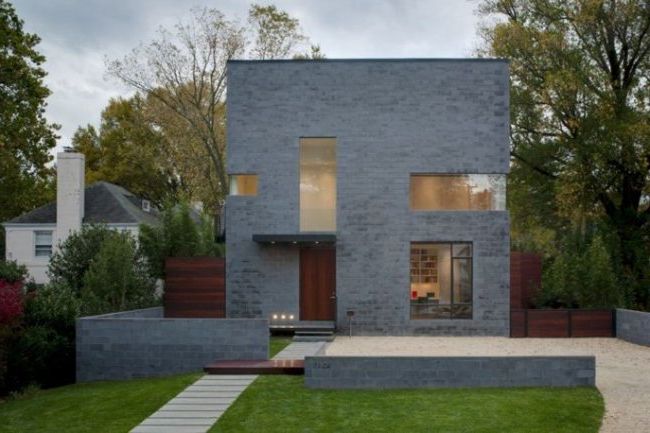 Dark colors (here a dark gray) can also look especially nice with brick. Pay special attention to the underlying tones in the brick or stone to ensure that the color you choose will blend harmoniously.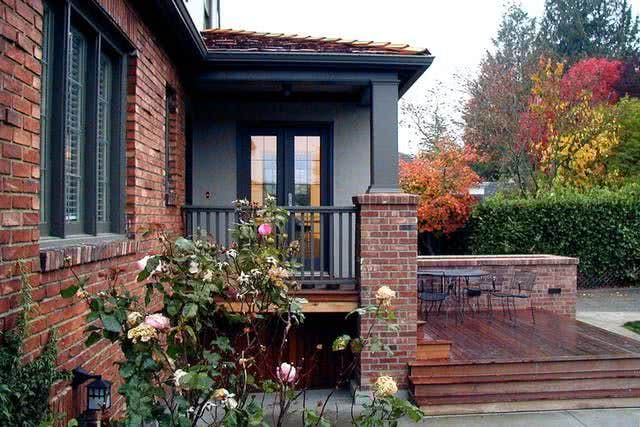 Gray and neon colors
It can also be combined with strong colors such as neon yellow or orange.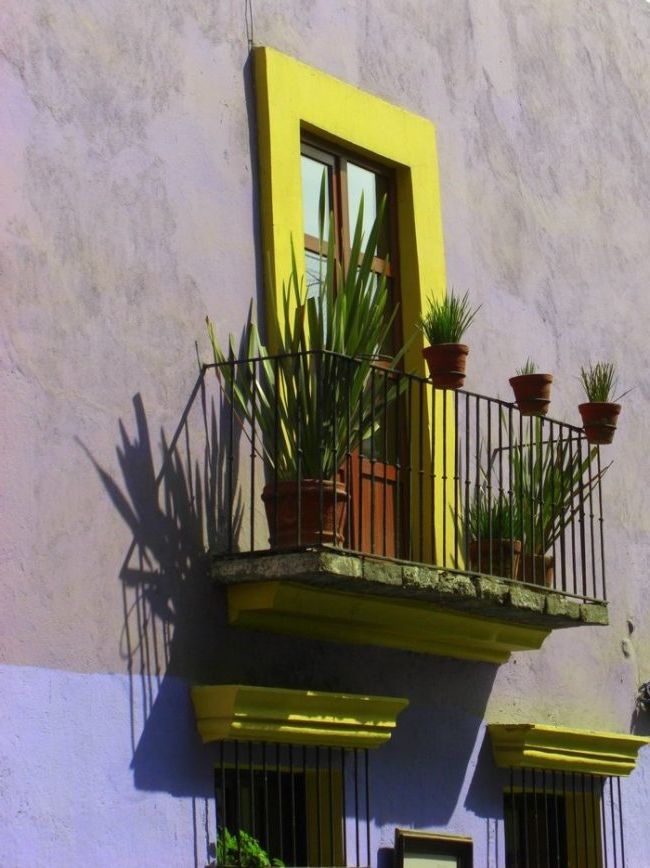 Earthy grays
Grays with a light touch of earth, more simulating the color of cement, are also a trend.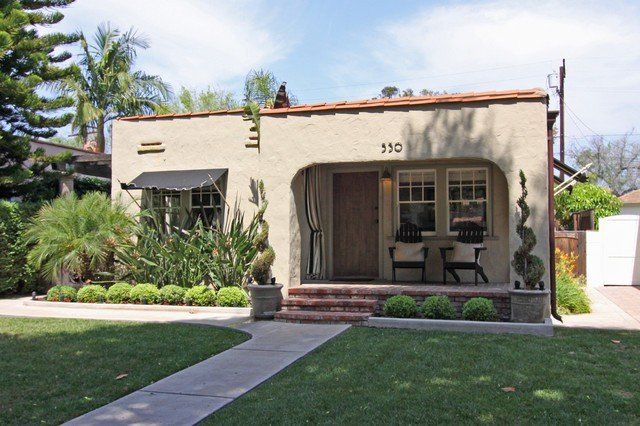 To highlight the door and window frames, a white color was used.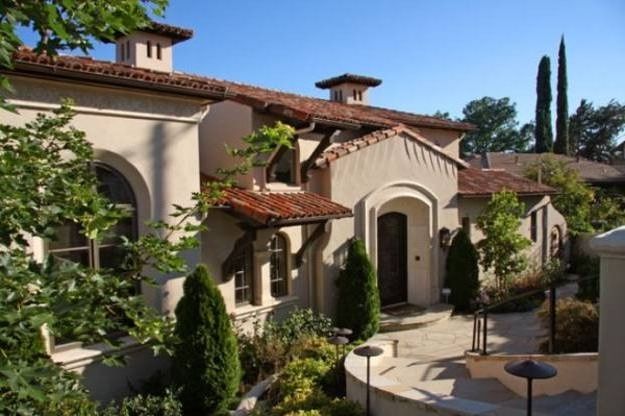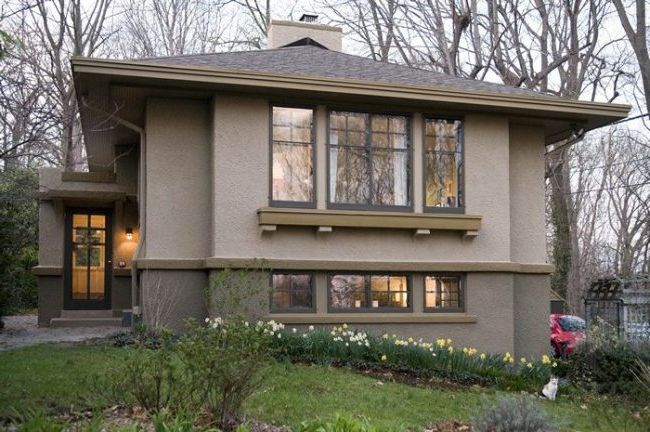 Black facades
Black with white details
Blacks become an important color in the world of exterior paints. Here we see a summer cottage, in an unexpected option for the beach, but it is a strong and impressive statement. The touches of white color stand out against the darkness of black.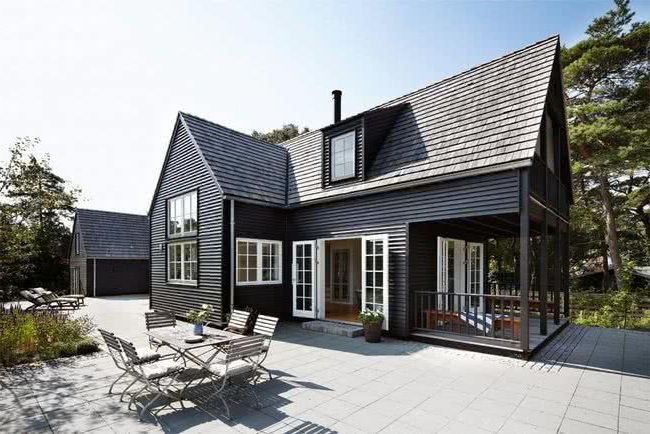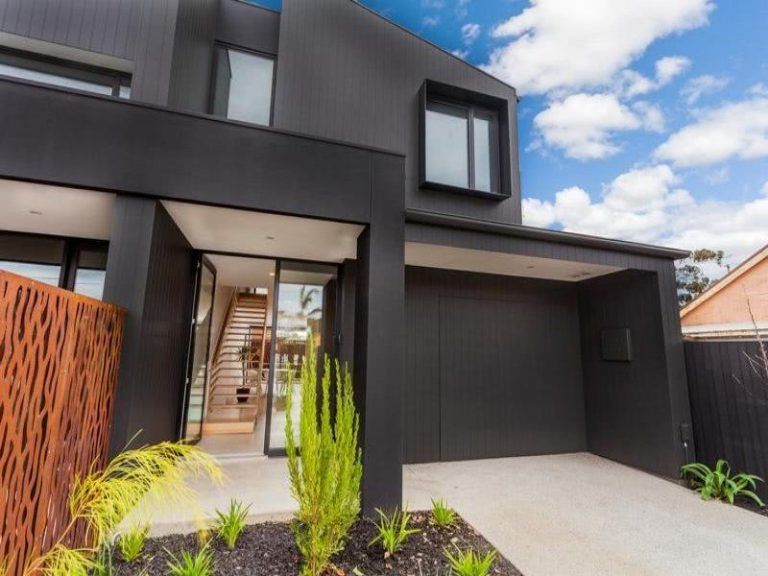 All black
An all-black exterior is one of the riskiest trends. It may seem like a bit of a gloomy choice, however, it highlights all the structural features of the house, drawing attention to its architectural qualities.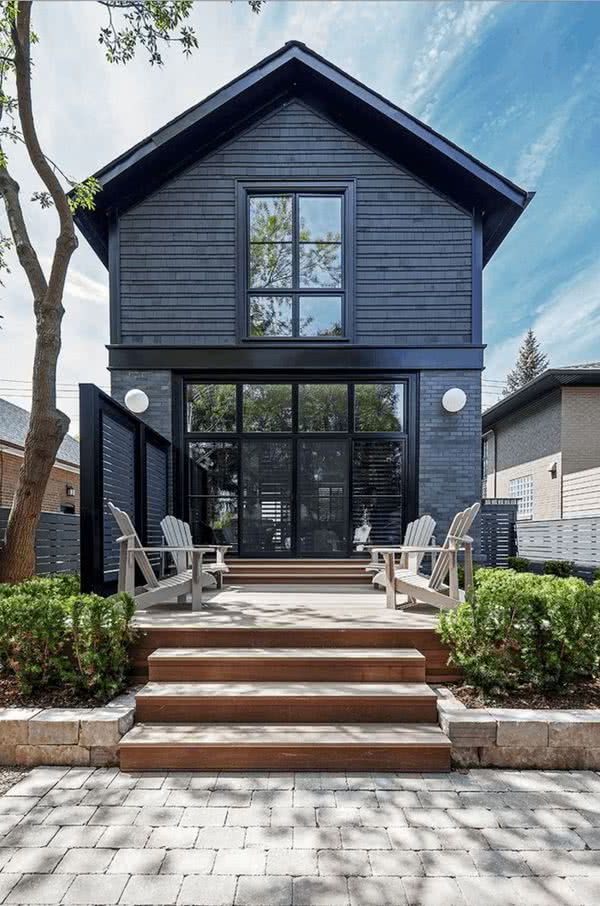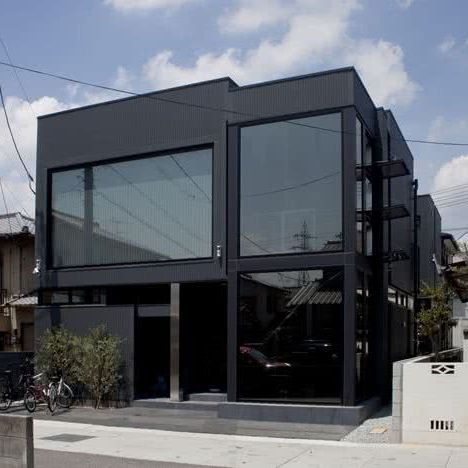 Brown facades
Earth tones
This is another of the beautiful colors to paint a house on the outside. It can look really beautiful.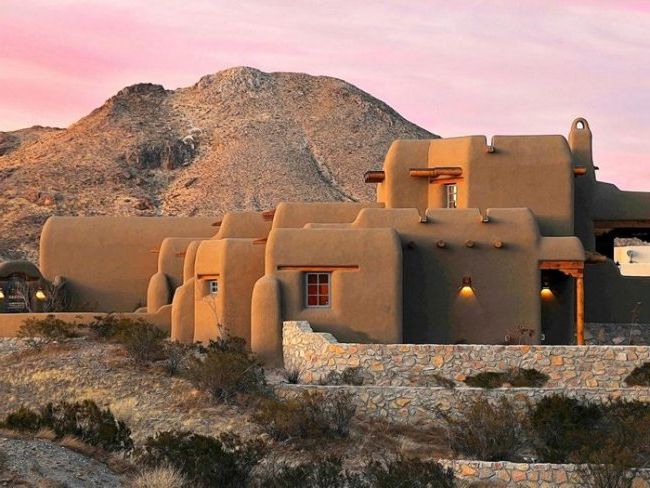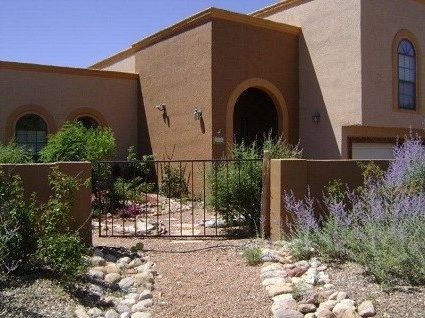 Pastel colors
Cream and french gray
A cream-colored exterior with French gray accents is reminiscent of a villa in the South of France, and is also another trend today. Here, the gray of the doors is carefully matched to the hue of the tiles.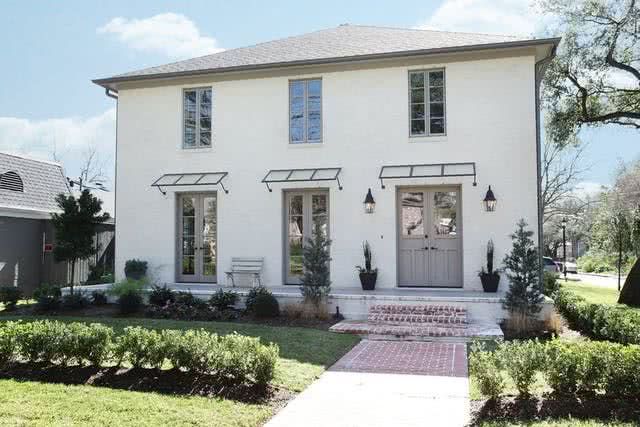 Cake with white details
Soft pastels, on the outside of a house, are really lovely. A contrasting blue roof adds a splash of color to a traditional-style home.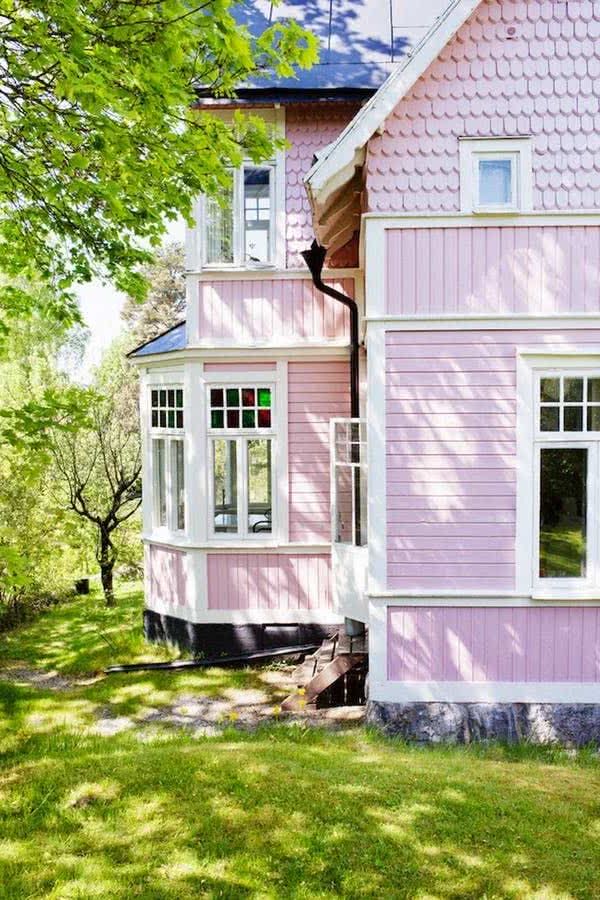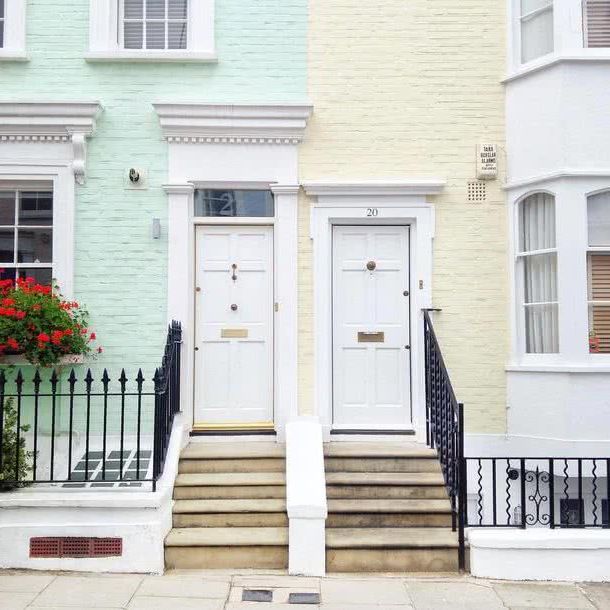 Creams and light yellows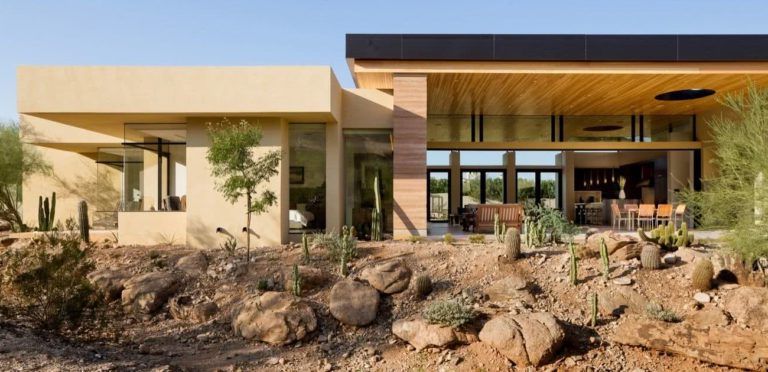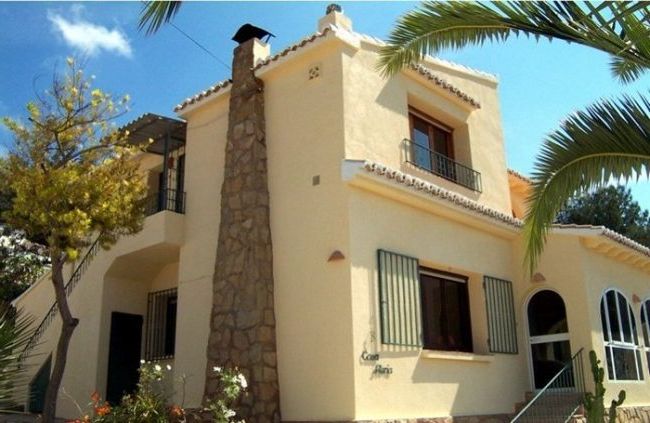 Vivid colors
Front door with strong color
Another way to color in moderation is to paint just the front door.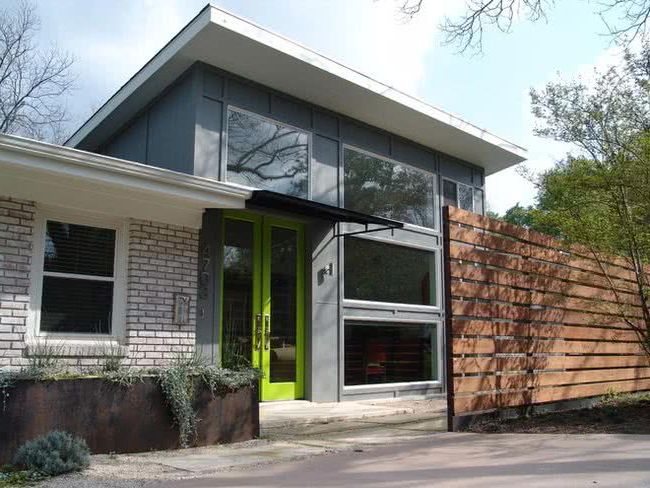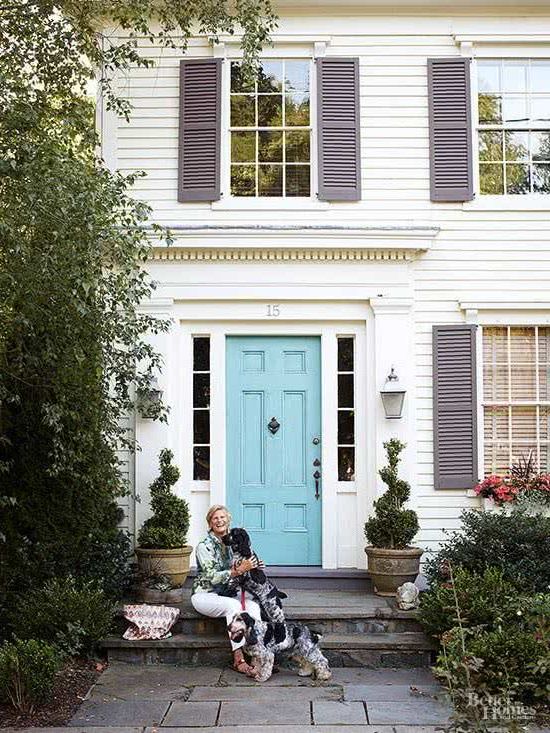 Strong yellows and oranges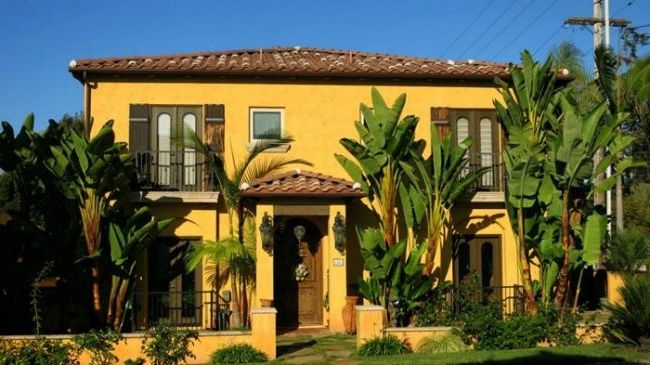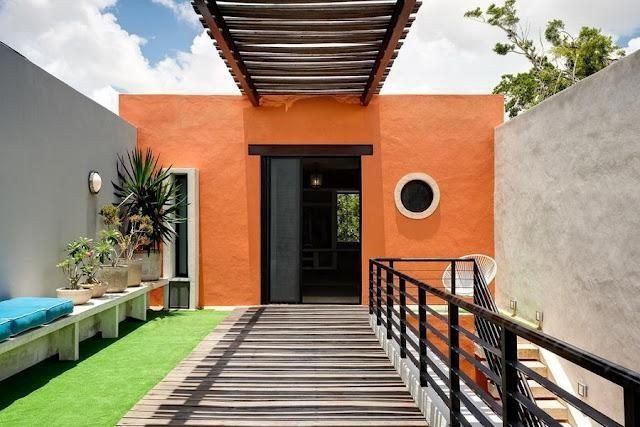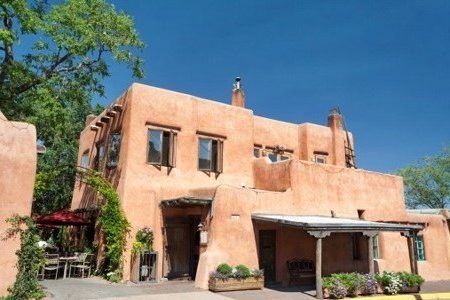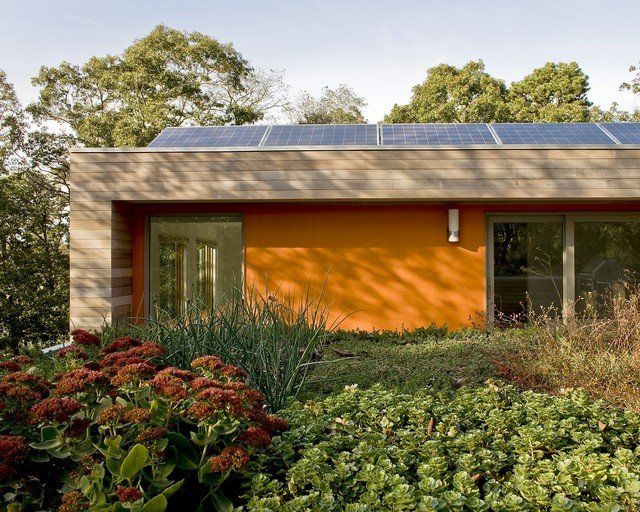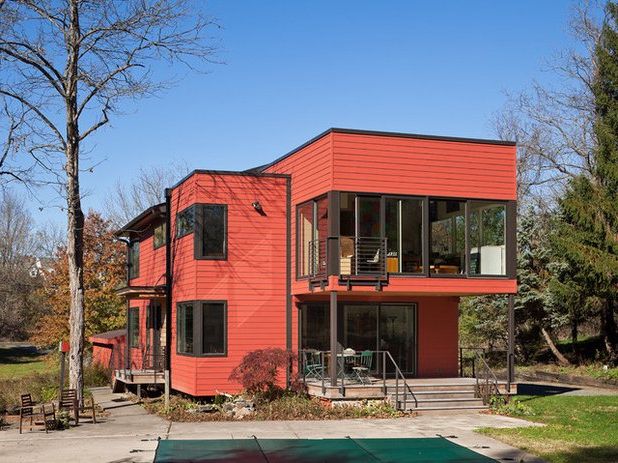 Dark colors + natural woods
A lot of houses have details in brick, stone or wood. You can get a sleek look, and increase the contrast between the siding and the natural wood, with a dark-colored exterior.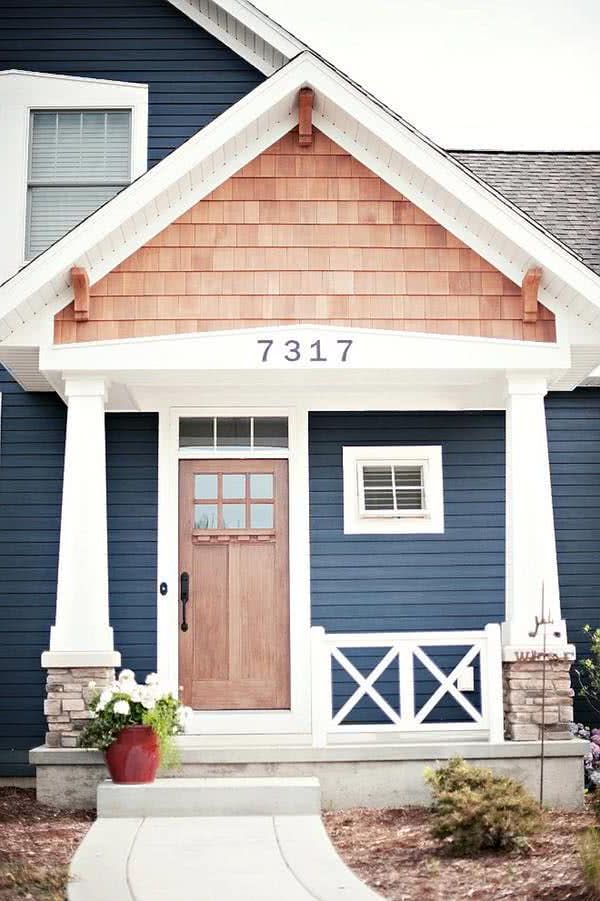 Exterior colors for small houses
We can apply the trends we saw earlier to tiny houses as well. Let's look at some examples.
White
The classic white color for the walls, combined with darker colors to highlight some architectural details, as well as doors and windows, helping to give depth and interest to the lines of the facade.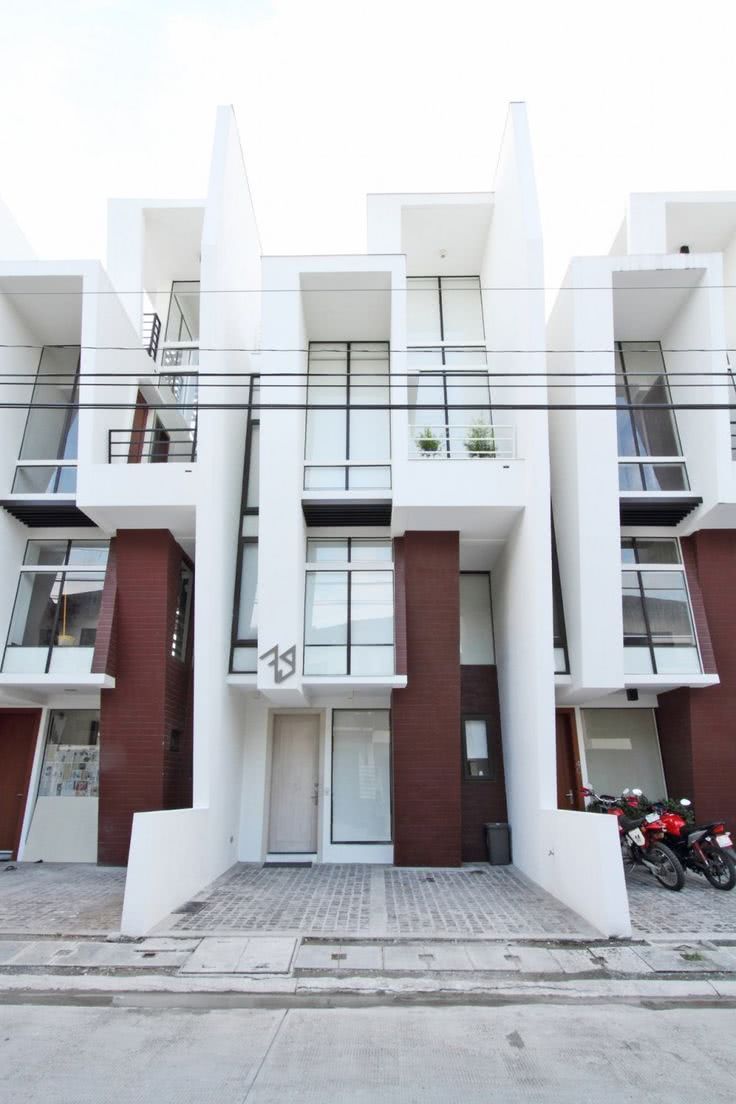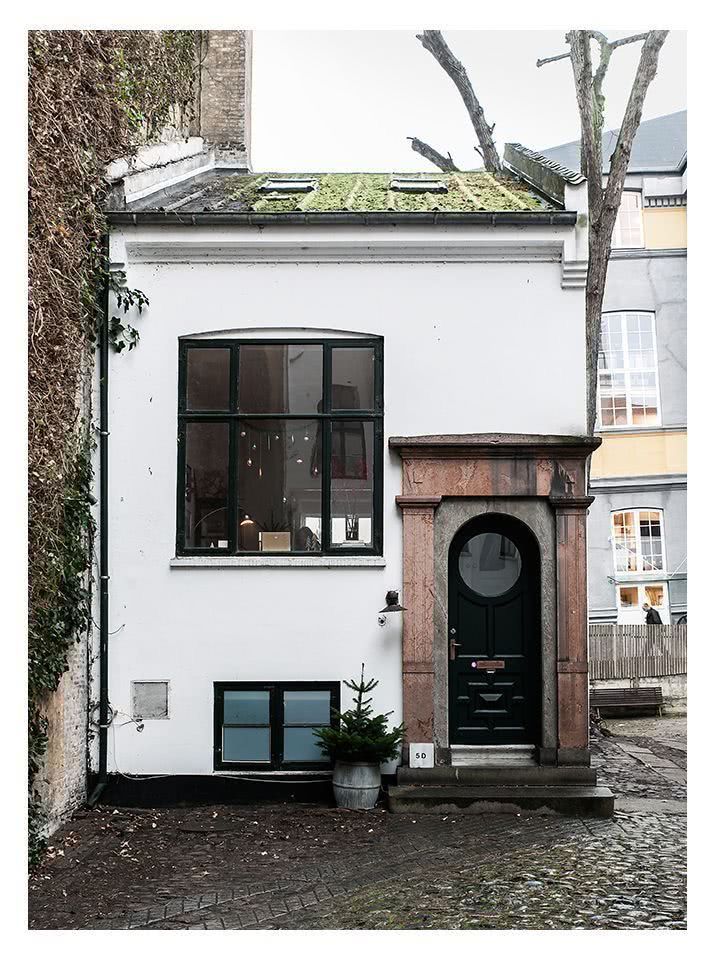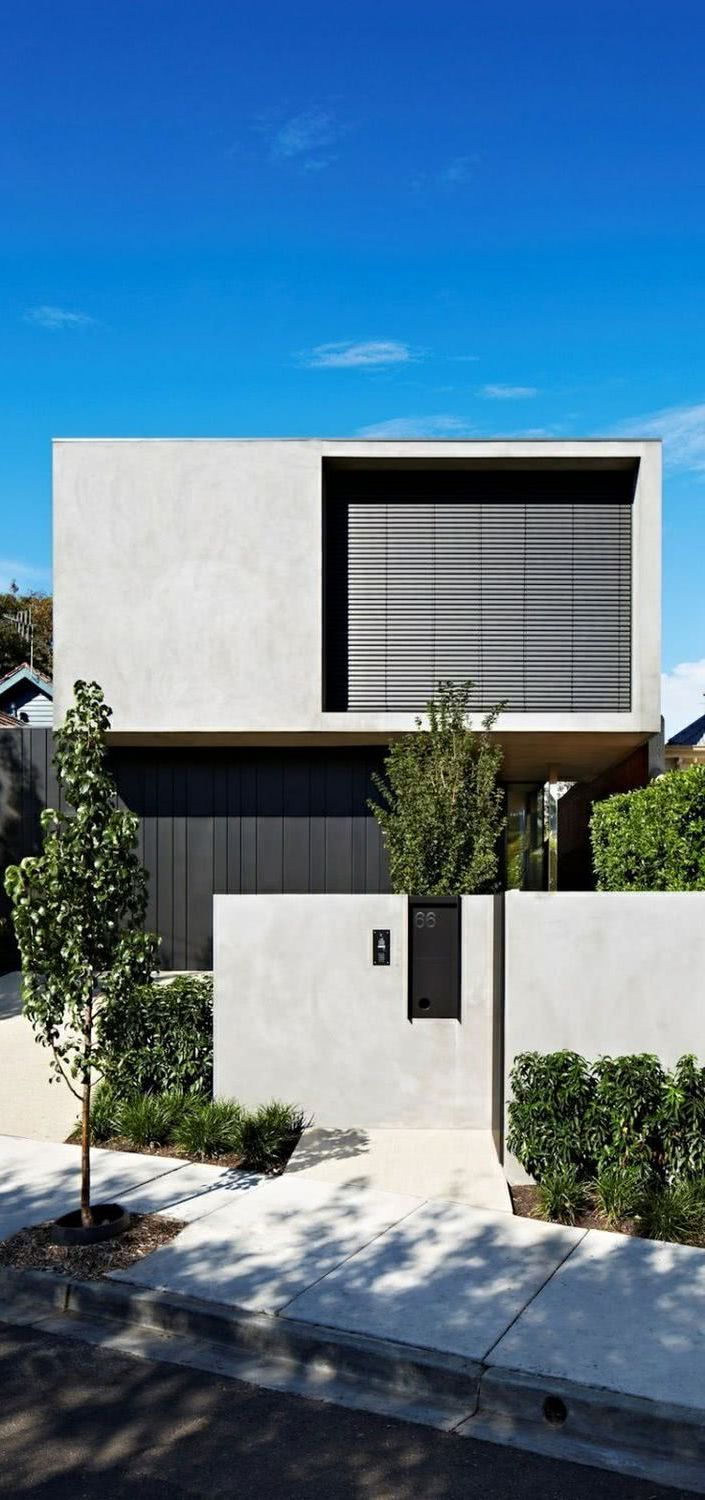 Gray
The gray color, combined with black, wood or exposed brick, can also be an excellent choice for the facades of small houses.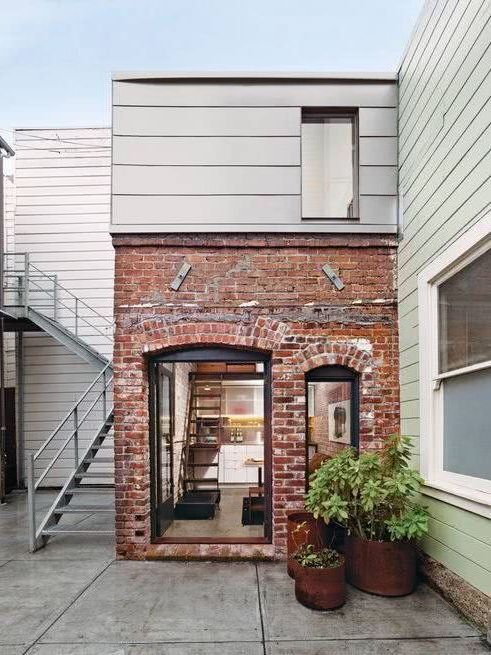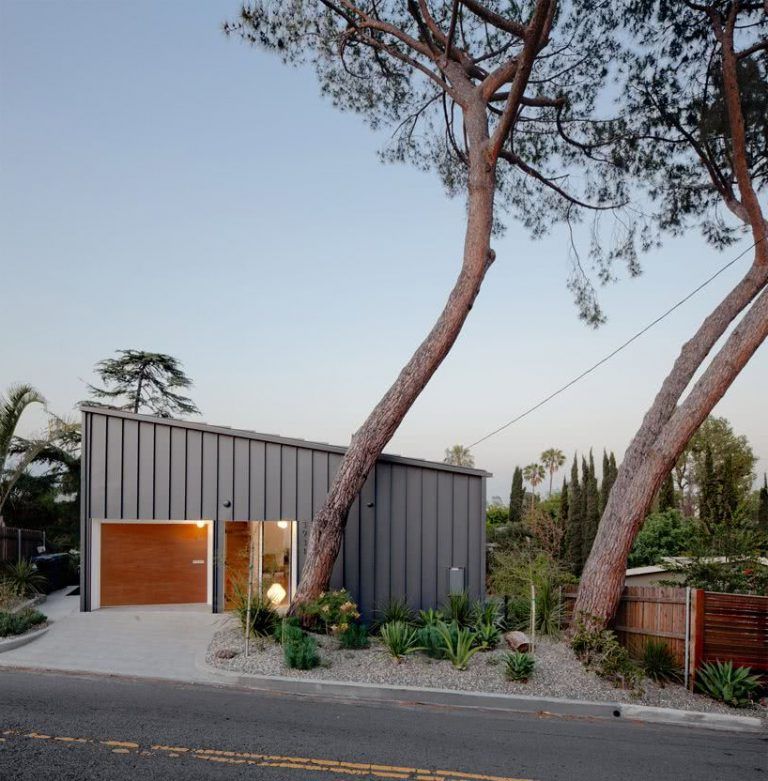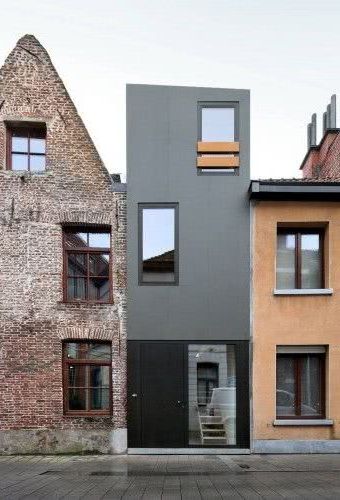 Dark gray
This elegant color can also be applied to houses of reduced sizes. Combined with lighter shades of gray or with wood, the front of the house can look very modern and current.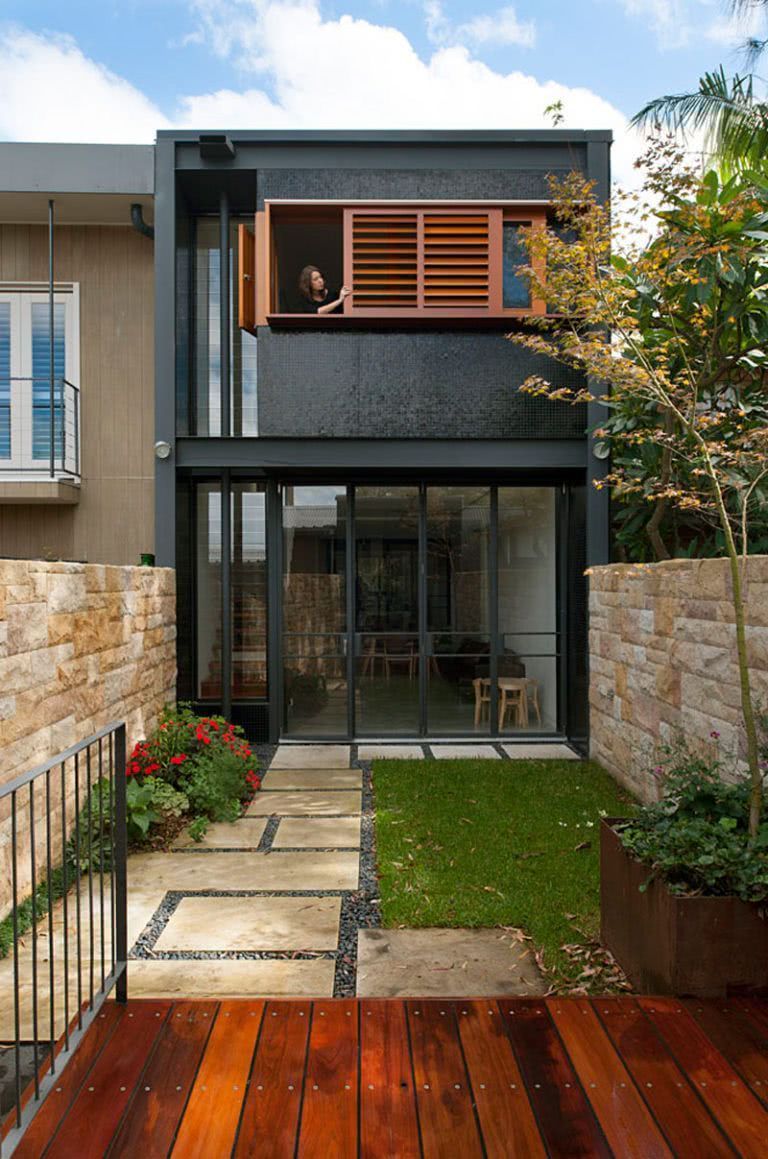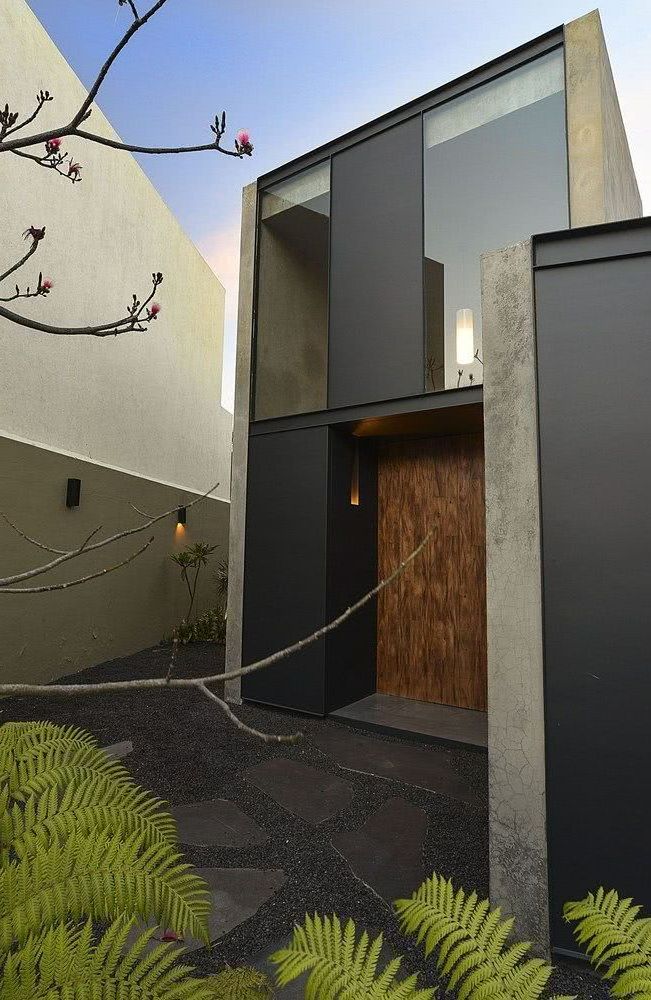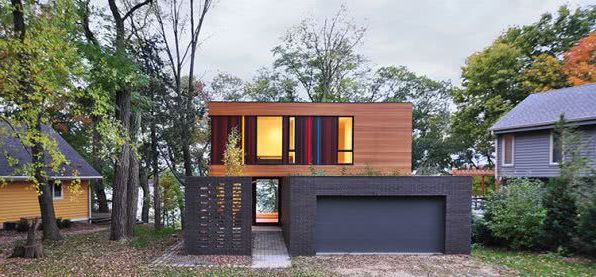 Pastel tones
Here we see pastel shades combined with other shades.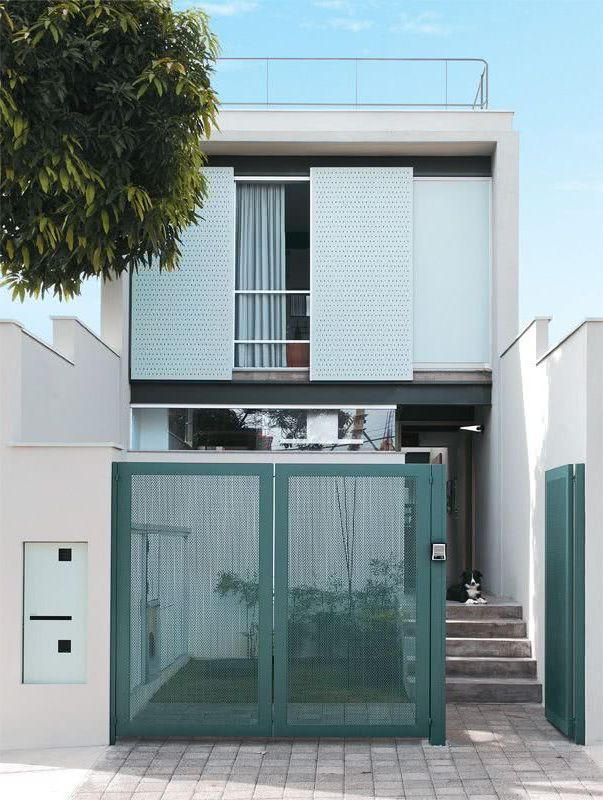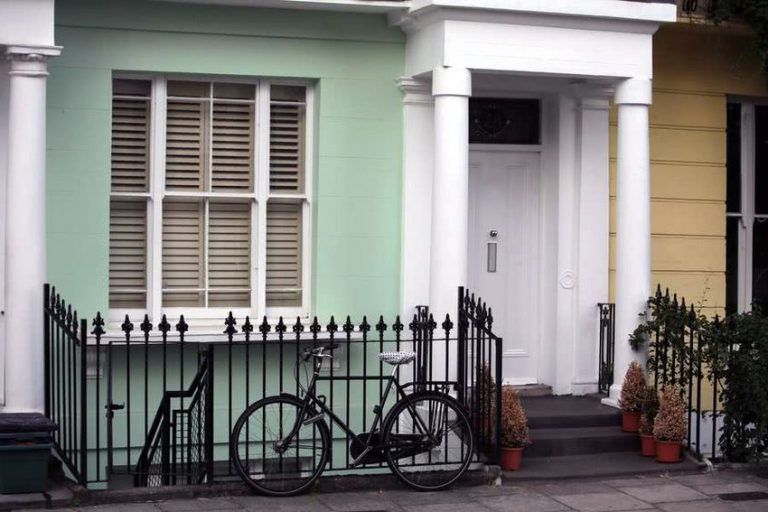 Bright colors
Bold colors, with hints of neon, can be used to highlight part of the exterior walls. This helps to highlight the geometric forms, giving depth and interest to the architecture.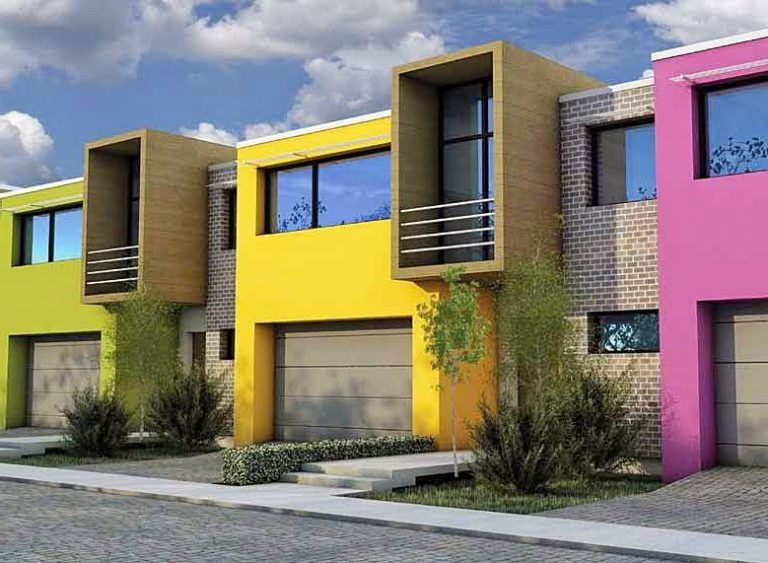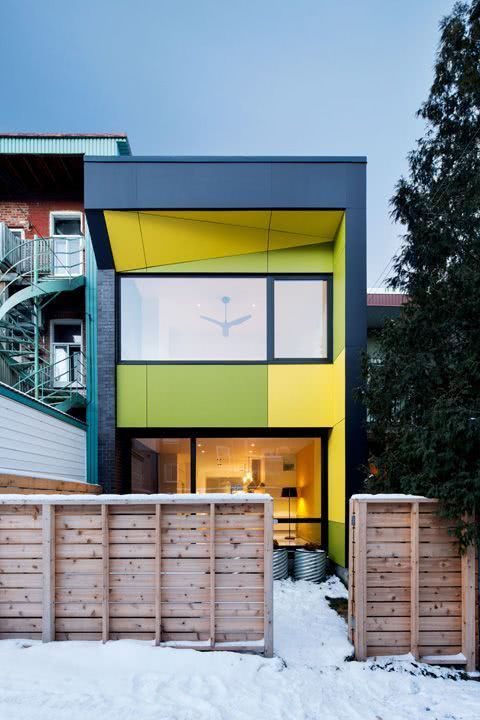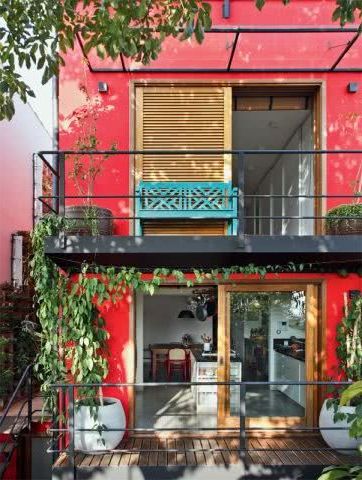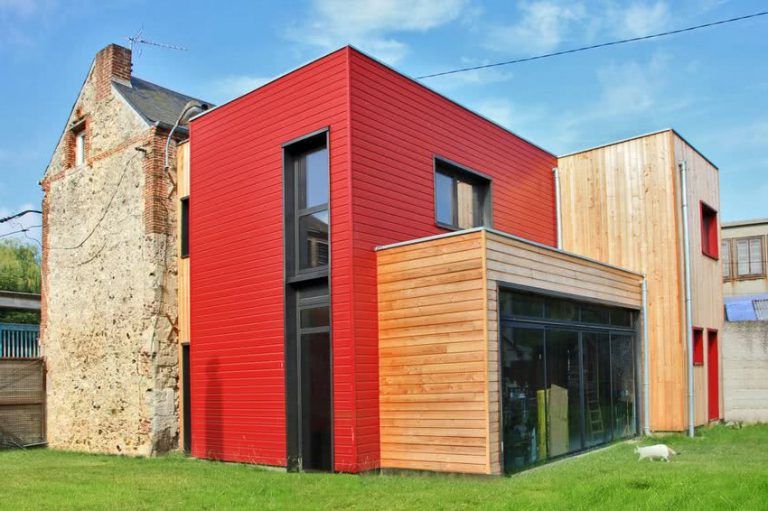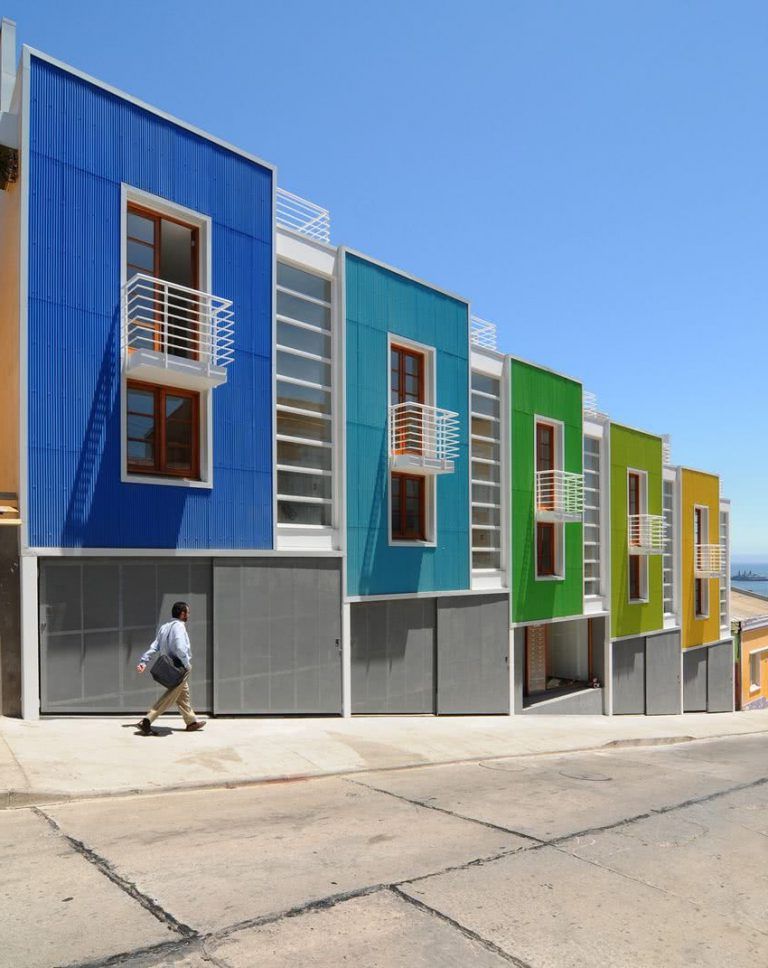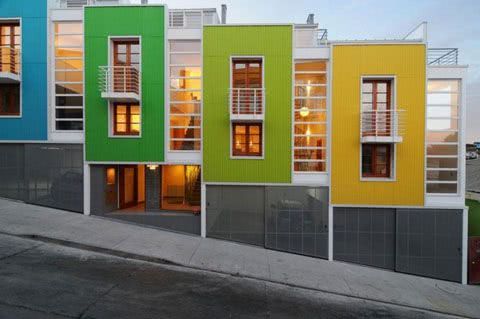 Brown
Another classic that never goes out of style and looks very elegant.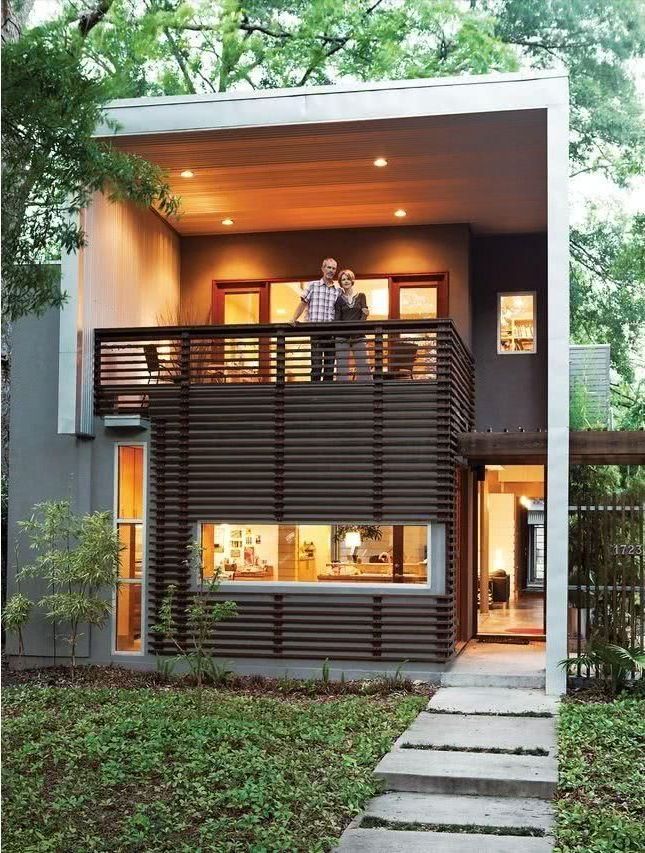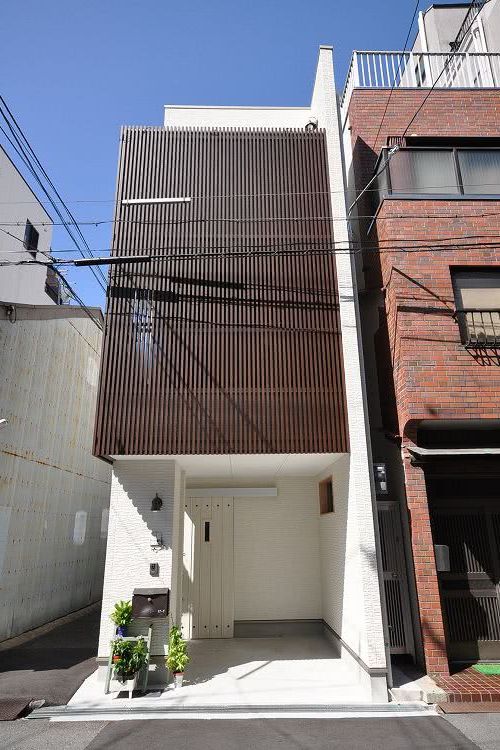 Tips to consider
Colors for bars
We show you below, a series of ideas on colors to paint bars.
Black bars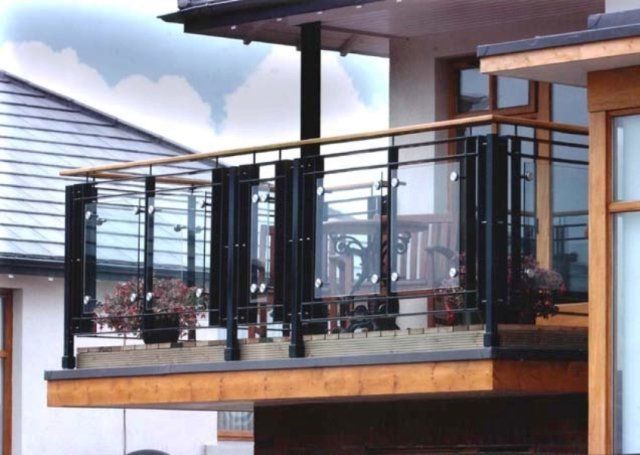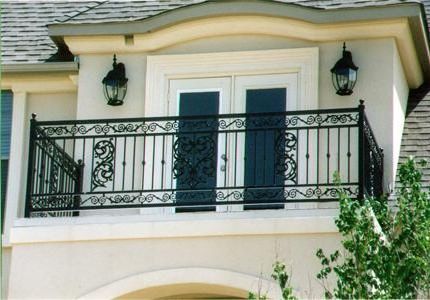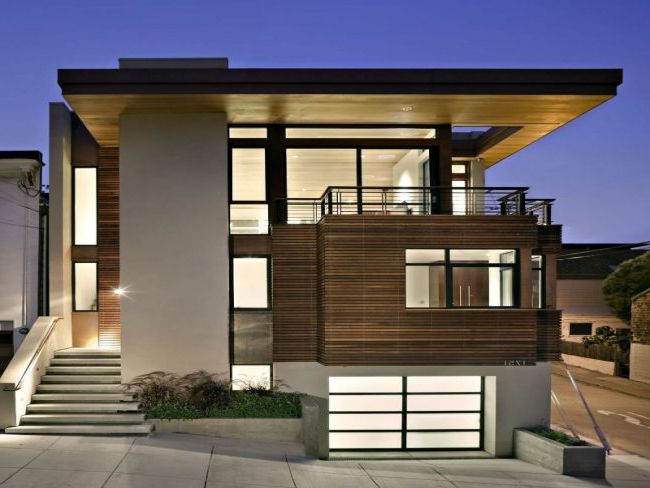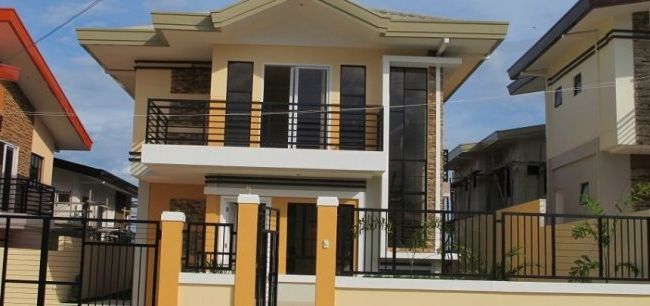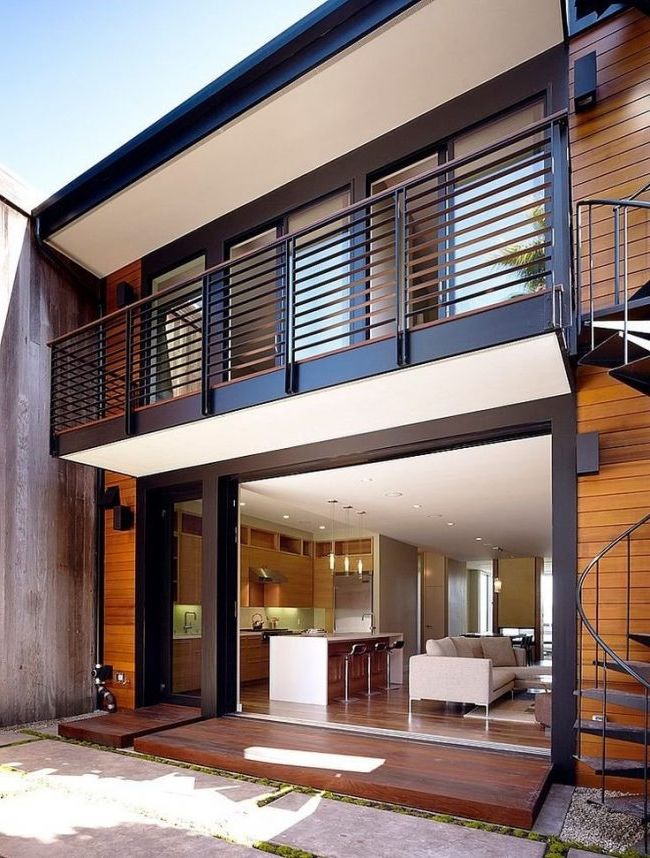 Gray bars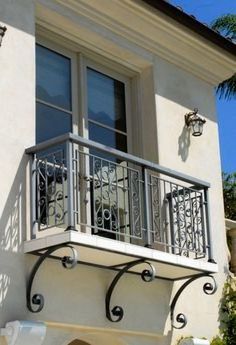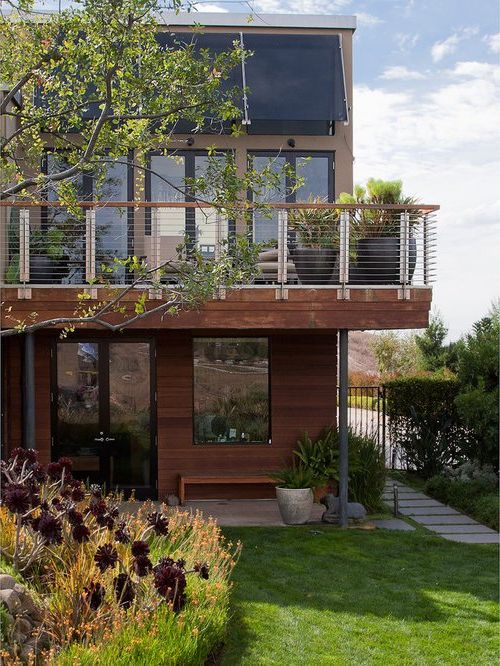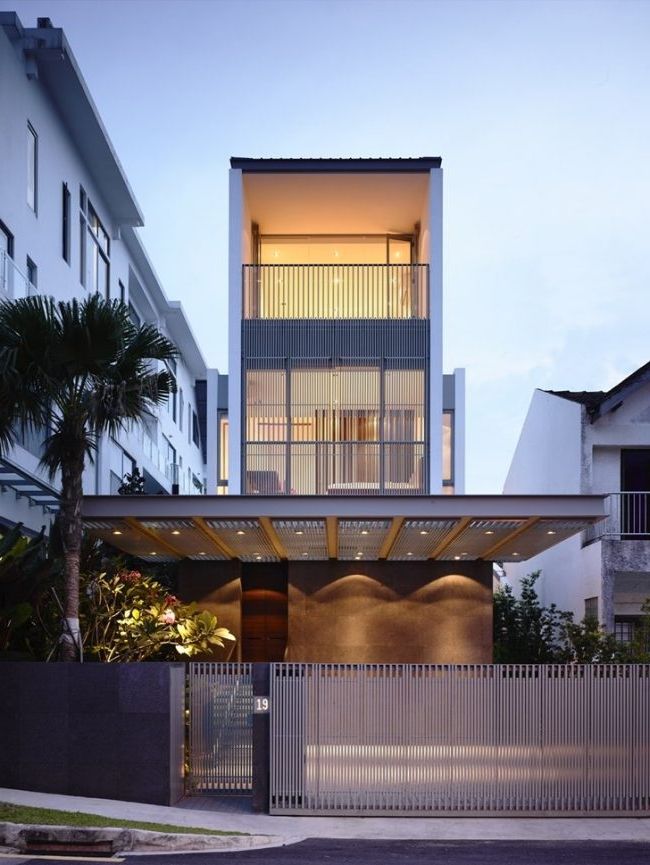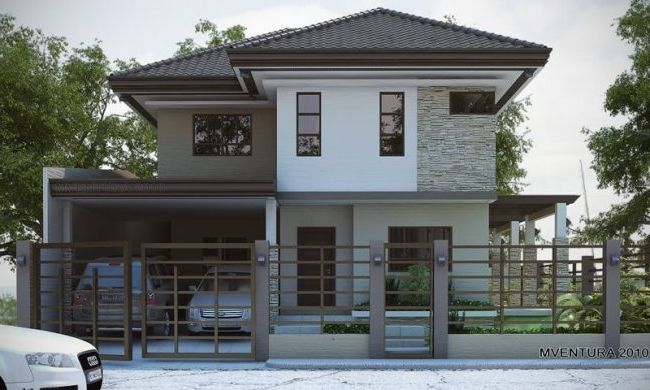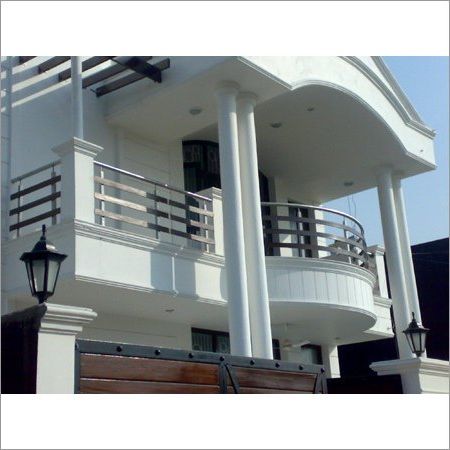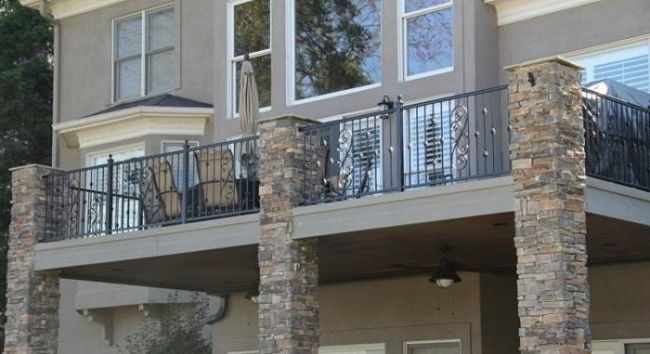 White bars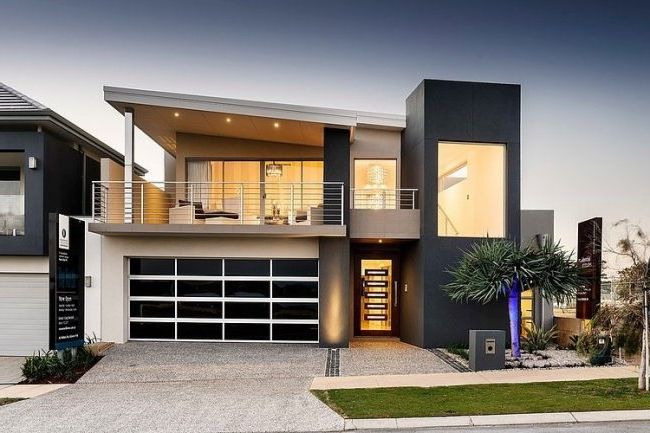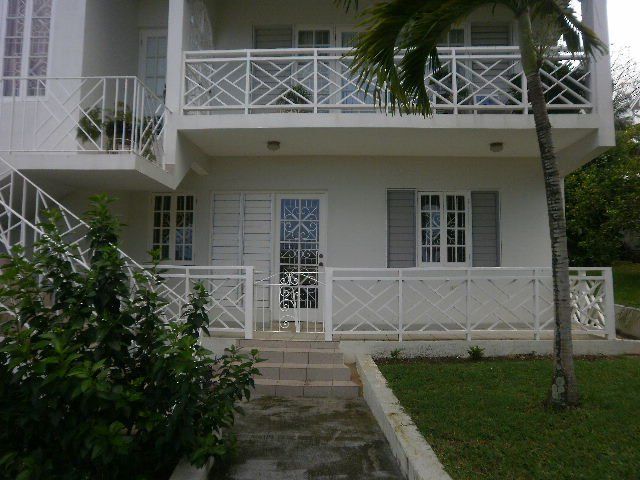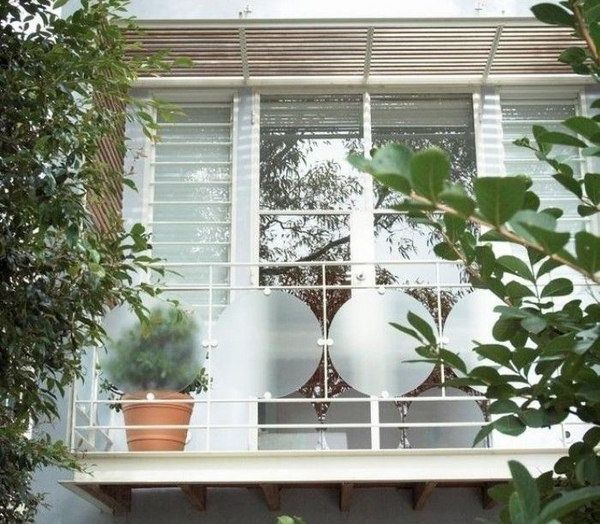 Brown bars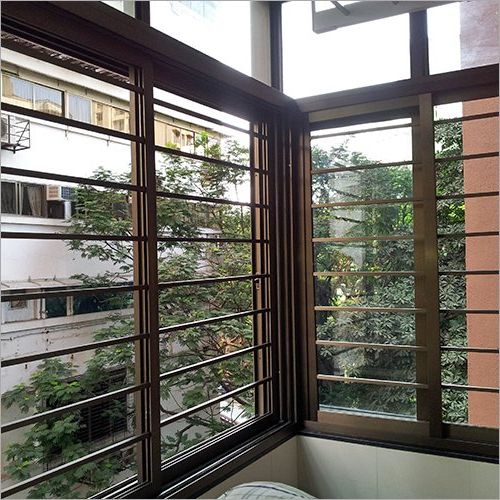 In two colors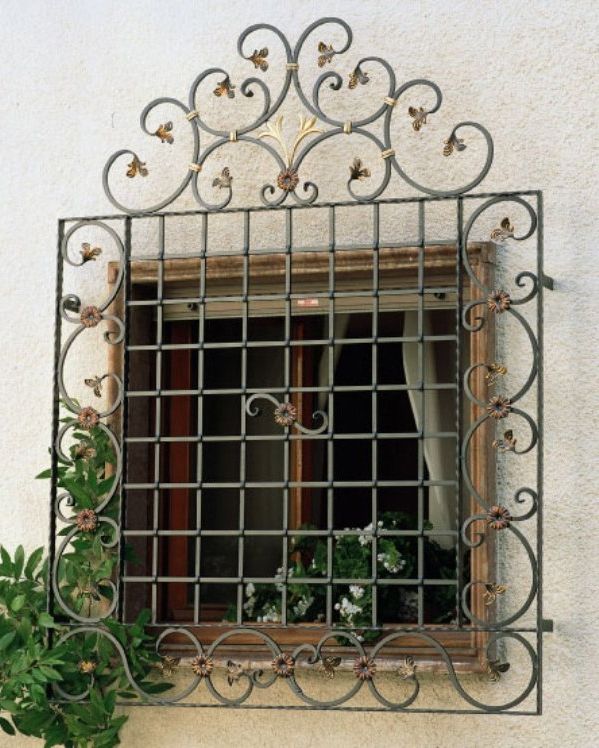 Blue or red bars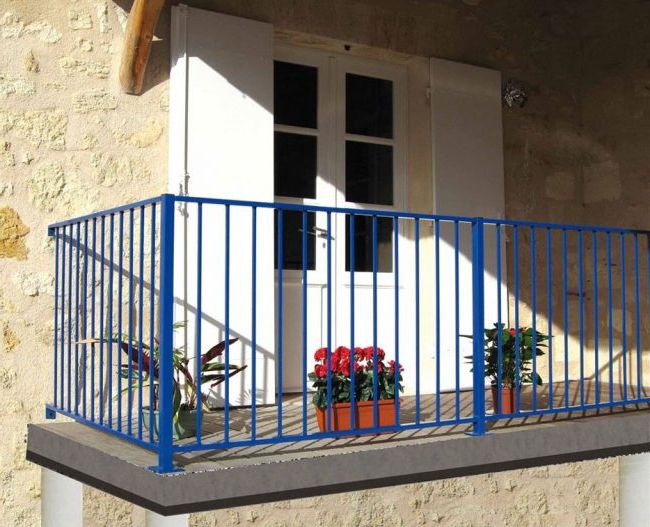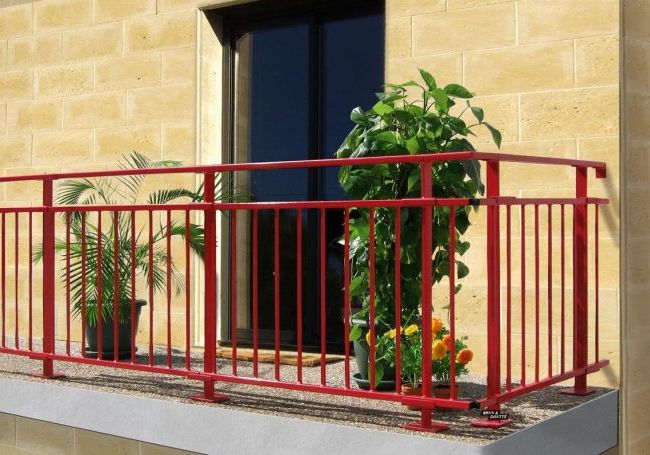 Existing Color
The color of the paint for the exterior of a house should be based on the existing colors of the house, for example, the color of the roof, if it is decorated with stones or ceramics. For this gothic style house, the established color is the gray of the stone and the roof. Too much gray can look depressing, so the color to be applied should be warm, in this case burgundy red.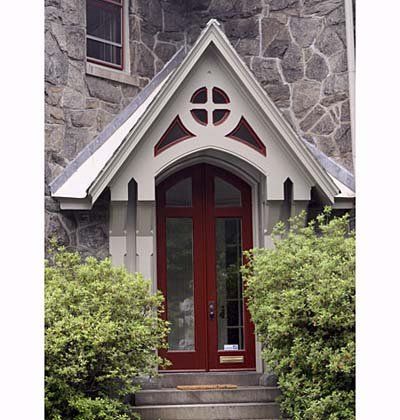 When you want to give a lively touch, a trick that always works is to choose colors that are opposite each other. Green with red is an example of this. However, using both pure colors would result in a look that is too flashy. Adding a touch of gray to both colors would lessen this effect.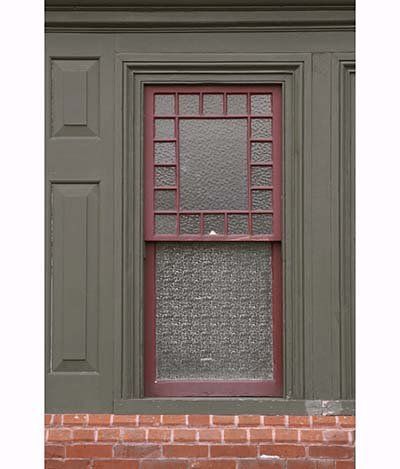 The style of the house
One of the things that must first be taken into account before defining the color combinations that will give life to your facades is the identification of its style, since style and colors must coexist in harmony to achieve success.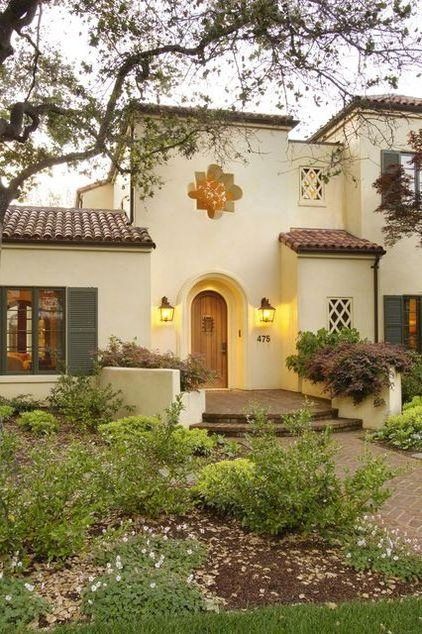 For example, Victorian-style houses will do well if they are painted in a range of warm, bright colours. Being an excellent idea to combine soft shades of yellow with some details of vibrant orange, two ideal colors to reflect light.
Those who, for their part, have a much more modern home, a combination that is gaining popularity thanks to the good taste it offers is the one that bets on black or dark gray for the walls while reserving the note of color to, for example, give life to the main door.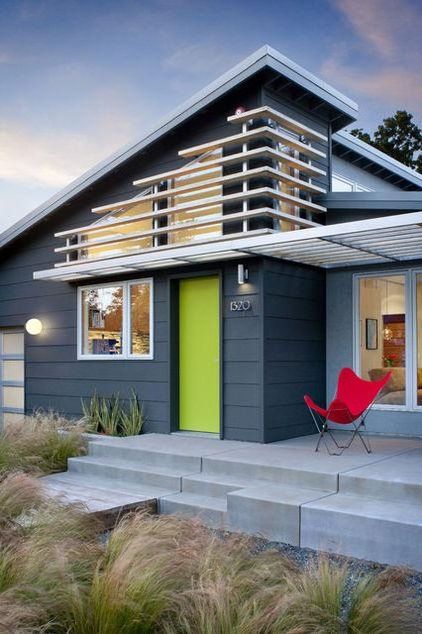 Neighborhood color
Another factor that does not fail if taken into account is to observe the color of the other houses in the neighborhood and make a real statement of style betting on colors that create a contrast with respect to the other houses, since if they all bet on the same shades the result would be totally monotonous.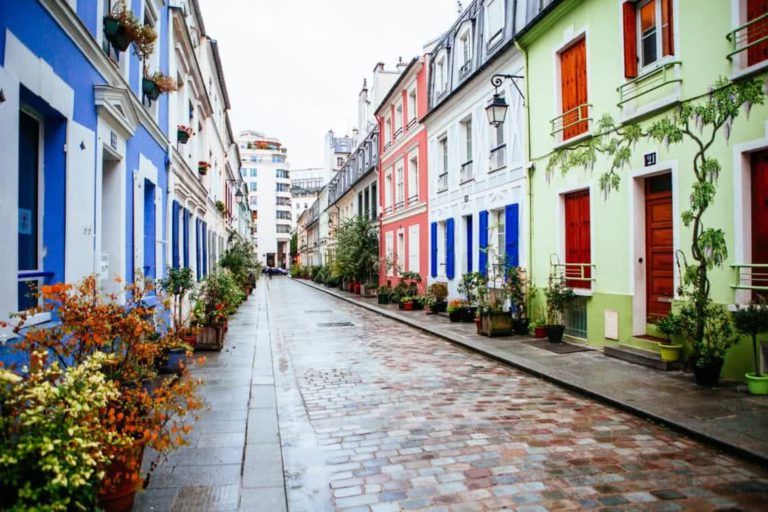 This is where it becomes a good option to go for warm colors such as yellow if all the other houses go for neutral tones, for example, since in this way we will turn our home into the focal point of the neighborhood.