When we move into a house with a patio or garden, the first thing that comes to mind is the desire to enjoy it in the coming days of spring, when the plants and flowers become greener than ever. Many times we need to remodel that space a bit, either because it is abandoned or because we want to adapt it to our needs.
Here we show you some ideas for patios and home gardens, modern, beautiful and simple, not the kind you see in design magazines, that is, easy and cheap ideas that you can do yourself.
Create an area to relax in patios and gardens
The garden should be a space where we can disconnect, relax and have fun. It must be a pleasure to be in our patios and gardens and that is easy to achieve. It can be a more enjoyable place if we create a living area. We will be able to relax outdoors and meet with friends and family while enjoying nature.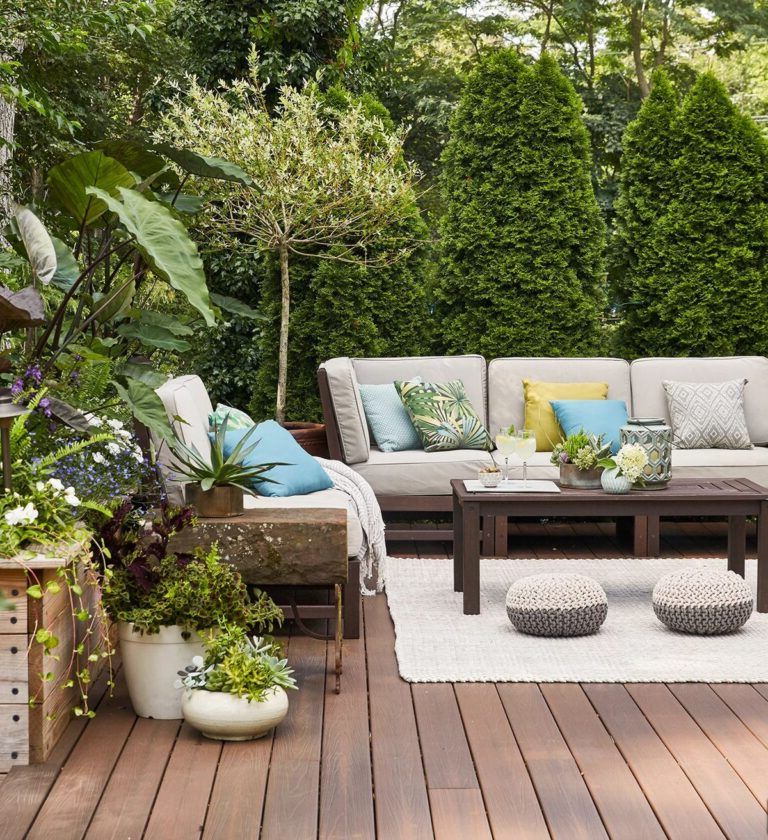 It is advisable to place accessories in strong colors that contrast with the green of the plants, such as red. This will make the garden look much more interesting to human eyes.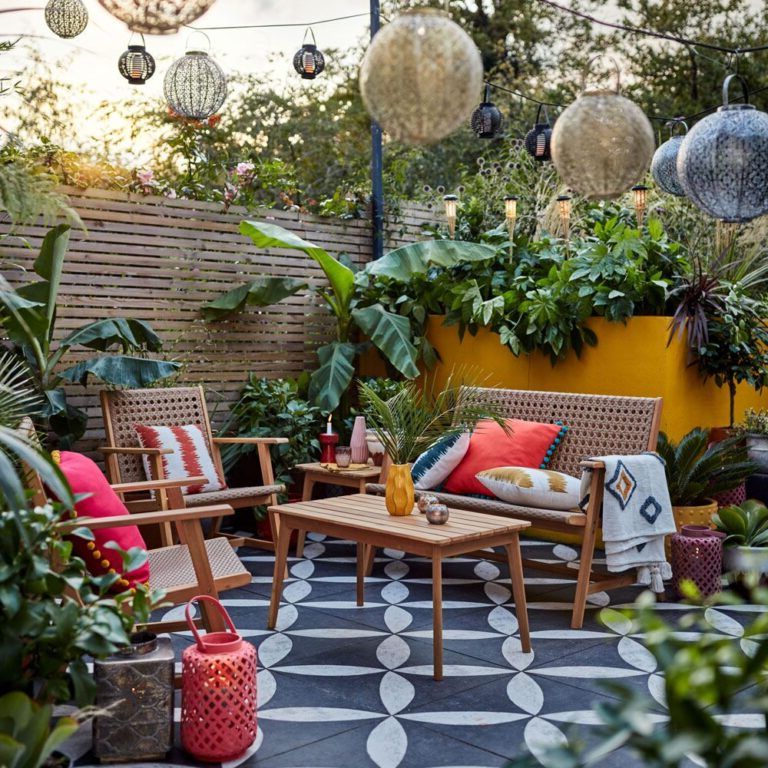 You can create a place to relax and keep it simple, with a bohemian look. Geometric seats, rugs and vibrant colors maintain an informal space, perfect for relaxing outdoors.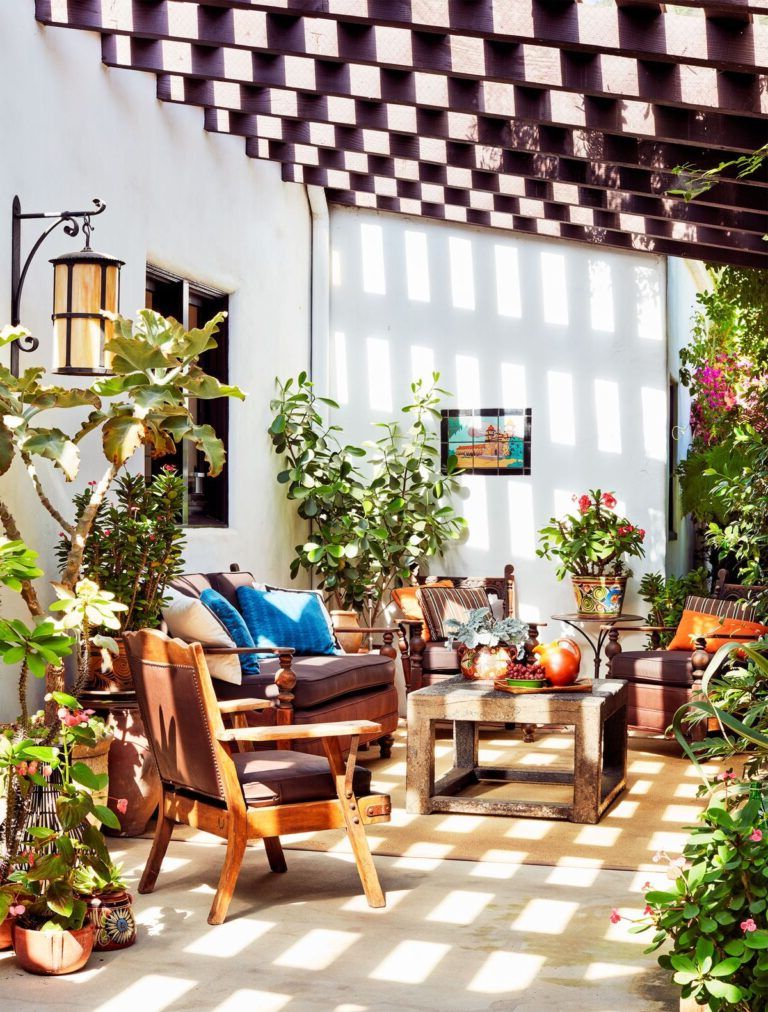 You can create a rest area without much effort, with cushions in vibrant colors to accompany nature. Regarding vegetation, you will have good results if you play with different species and of different sizes.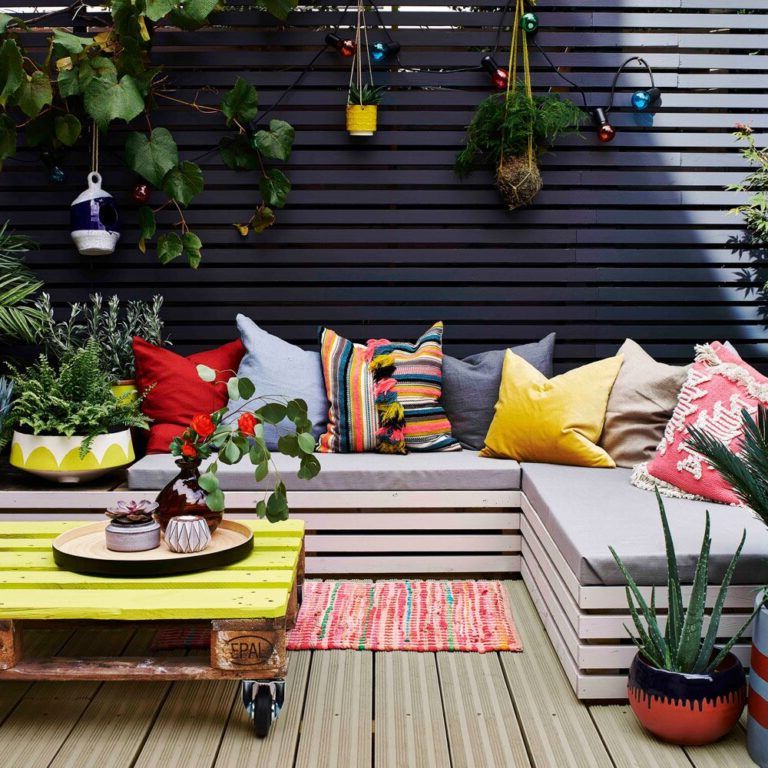 You can create a perfect space to enjoy and have fun on summer nights. Elements such as lamps, cushions and pots are perfect for creating a comfortable area that remains a space to be in contact with nature.
Pergolas
It's nice to have a garden, even if it doesn't have many things other than flowers, it's a nice feeling and a space that we always want to enjoy. But if you have been thinking about how to make it more welcoming and spend time reading or just listening to music, you will like this idea, which uses a pergola and some elements that create a wonderful area.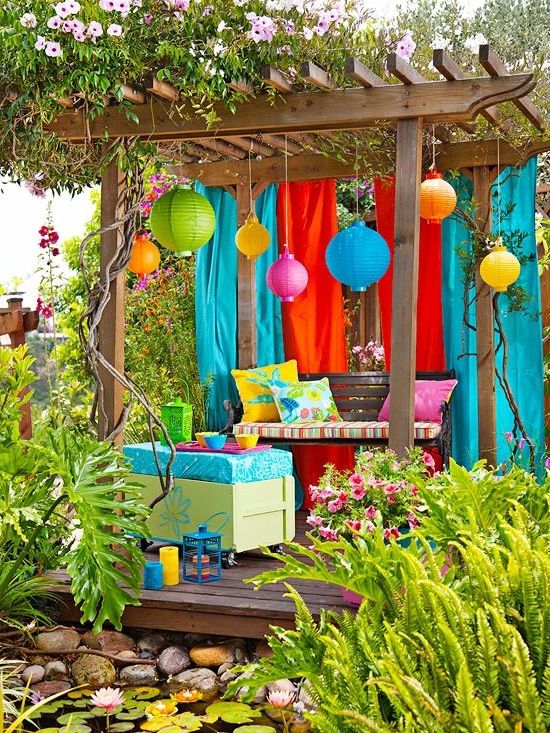 The secret is in the maximum color, it is true that it is a renovation that requires investment. Although if you are good at carpentry tasks you can organize a family project to make a pergola and from there, decorate with vibrant colors, place some garden chairs, a sofa suitable for the environment, decorate with vibrantly colored paper lampshades, and create if you want a small artificial lagoon where you can convey the Zen feeling of this decoration.
Hammocks
This is a proposal that is totally recommended to enjoy pleasant moments outdoors, we are talking about hammocks, of course, since they allow us a comfortable posture while we enjoy contact with the fresh air and the landscape that surrounds us. surrounds.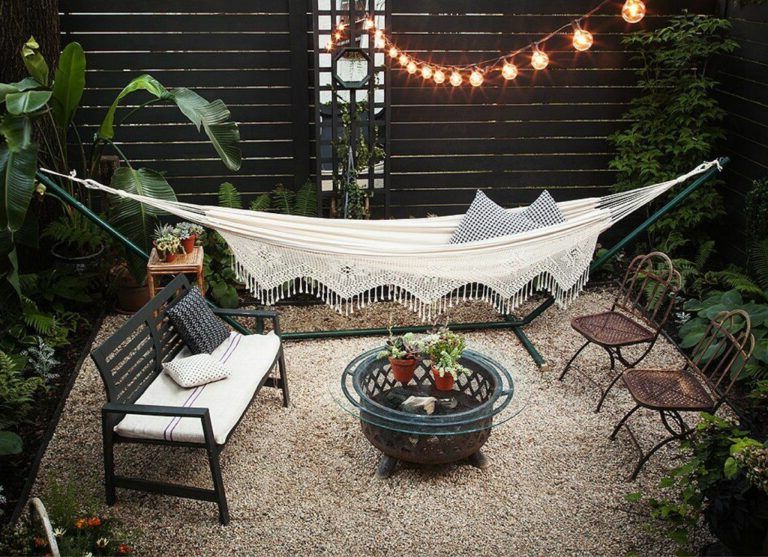 Such is the comfort that they offer us, that we can perfectly choose them for a siesta outdoors, to enjoy a pleasant time reading or even to sunbathe; since everything is valid when we feel comfortable.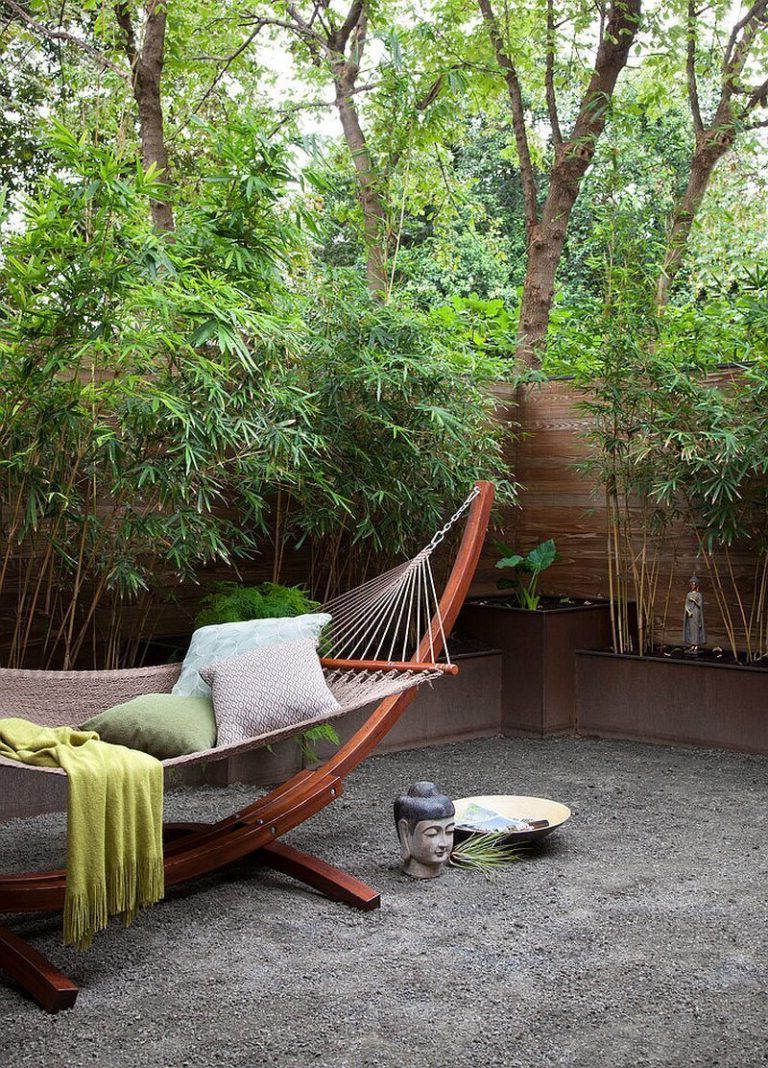 Thanks to the enormous variety of styles and materials in which they are presented to us, we can all find a hammock that suits our taste, style and the decoration of our outdoor spaces. Obviously, they can become one more decoration accessory, if we take advantage of their colors and textures.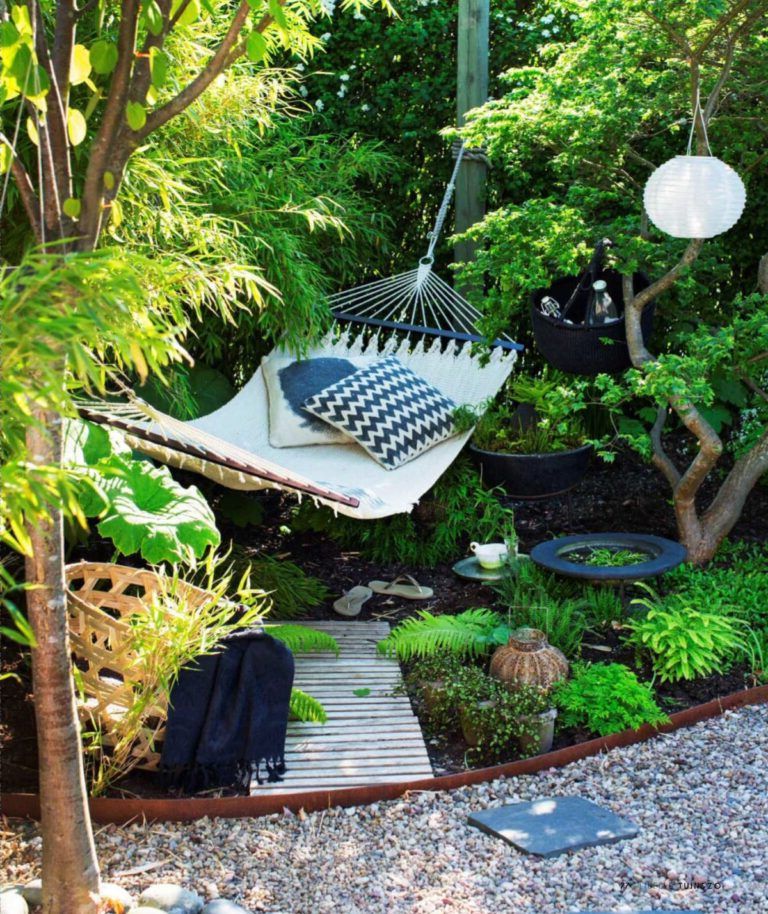 This element inevitably invites us to spend more time in contact with nature, which is why they are ideal above all to enjoy the summer season.
Tables for patios and gardens
Well-decorated patios and gardens can serve us practically all year round, either to work or to sit on it to have a drink. In this, the purchase of a table for the garden plays a very important role, since choosing it is easy when we know what we are going to use it for.
Round garden table
If we are going to use the table to eat with friends, then you must be clear that the one you are going to choose must be circular. Many people think that it is best to have rectangular tables, but these tend to separate the diners making the meal a little less fun. On the other hand, with a circular table, all the diners can see each other and chat perfectly.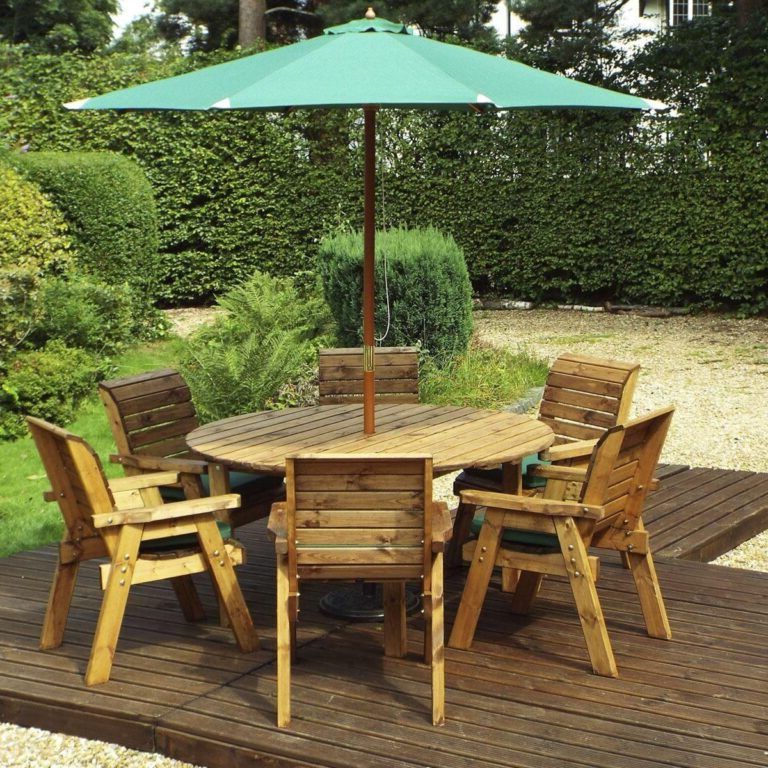 Auxiliary tables
If we want a table to be alone to read a little, then we can buy a corner table or a small round table. With this type of surface, it is more than enough to place a glass, a tea, a book, and some decorative element.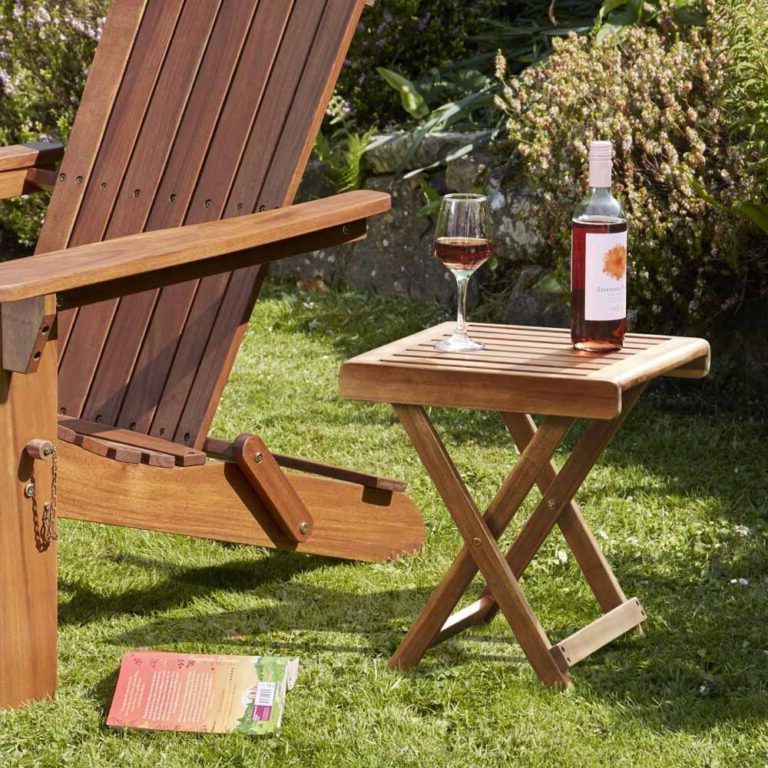 Minimalist tables
If you want to have a futuristic space, then you can put garden tables according to this style. You can find hundreds of minimalist tables, metal, wood or a mixture of both if you search a bit on the internet. Usually the shape of these tables is rectangular.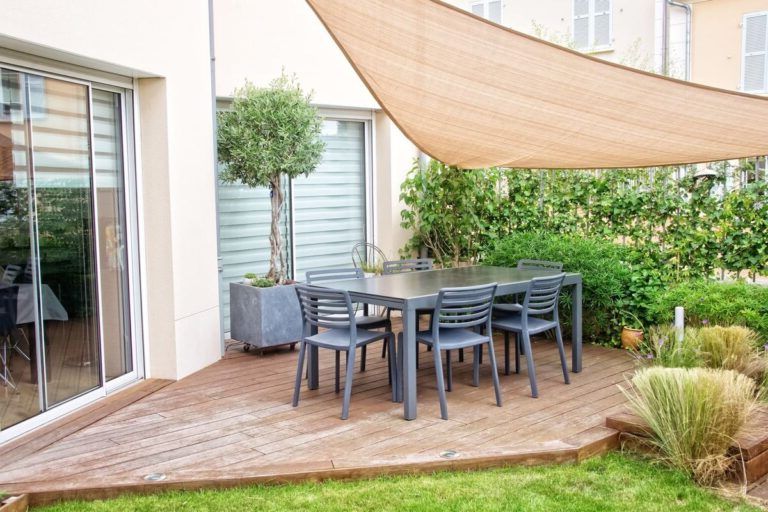 Vintage tables
We suggest you use the vintage style. If you have a table that you are giving little use to, redecorate it and use it again a little more according to your taste. This type of furniture looks fabulous in the garden, and is one of the most economical options that can be chosen.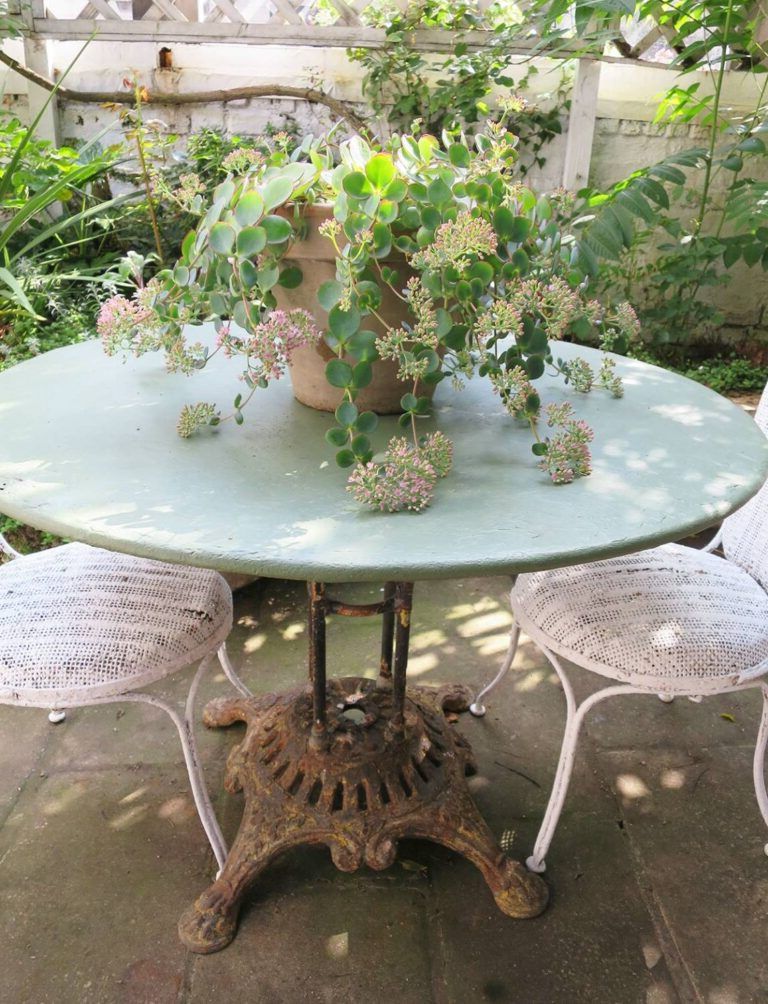 Even tables with traces of rust can look very pretty among the vegetation.
Stone paths and slopes in patios and gardens
Creating a country-style environment in the garden is perfect for accentuating the contrast between the exterior and the interior. Using stone, concrete, or wood to create stairs and pathways is perfect for adding interest to your garden.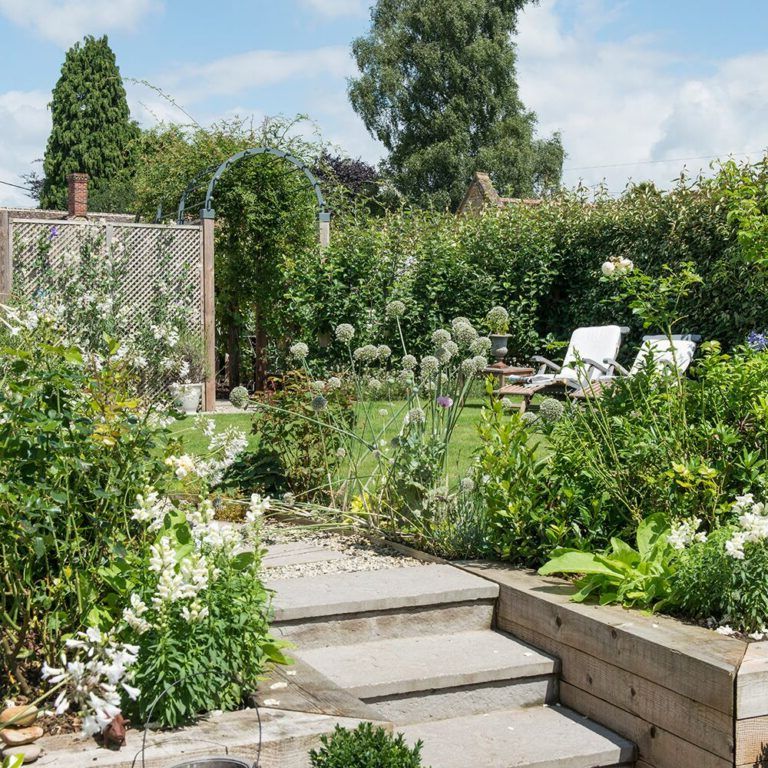 This is a small courtyard, but having a stone path to one side, with nothing in its path, gives the impression of being more spacious. The path leads to a raised stone patio and water feature, making it a place to relax. The fence and the wooden pergola complement each other perfectly with the stones used.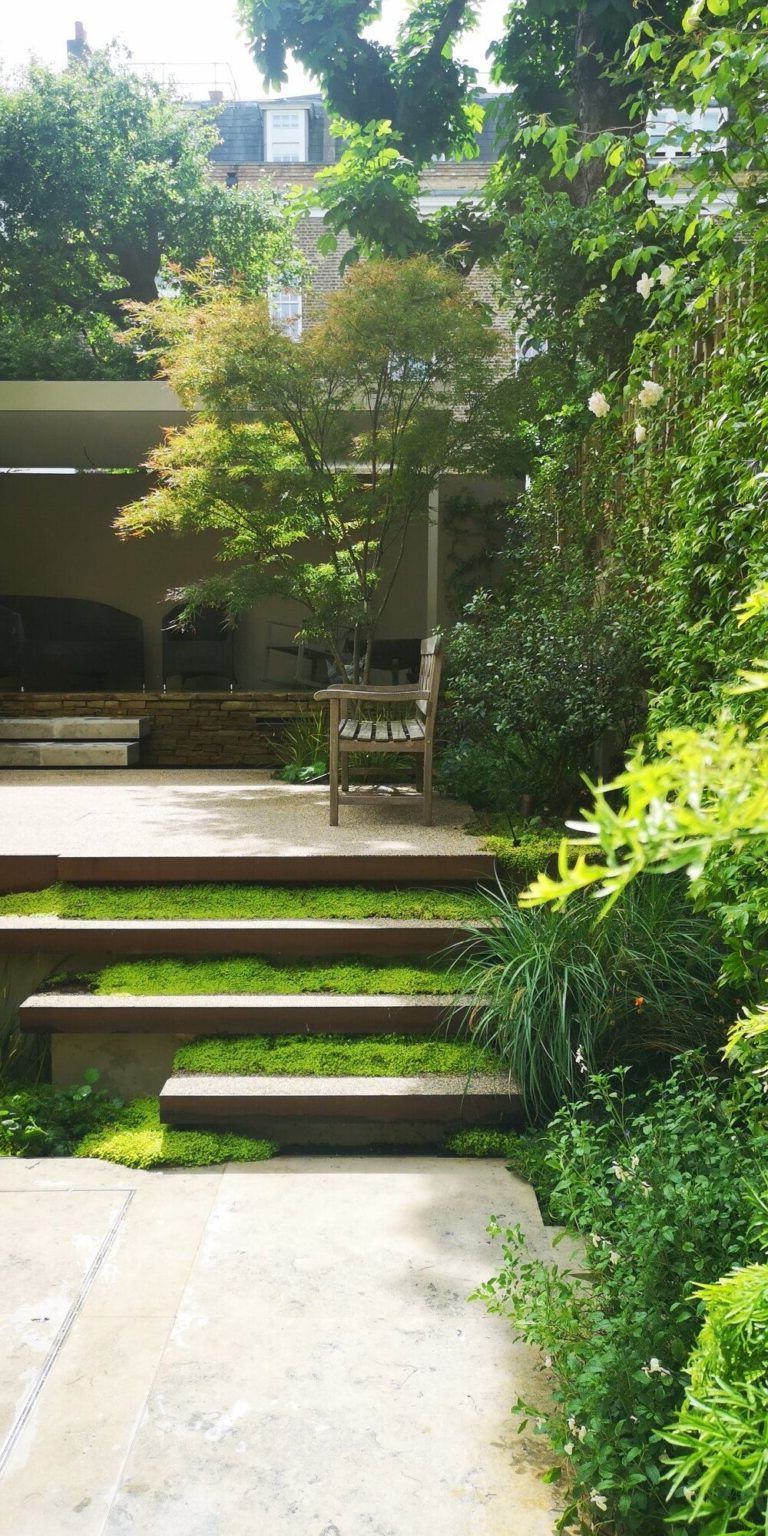 Intersperse beds with soil
Many times there is a lack of space in patios and gardens. There is no need to fill everything with plants. You can maintain a spacious and bright space and maintain vegetation in certain areas.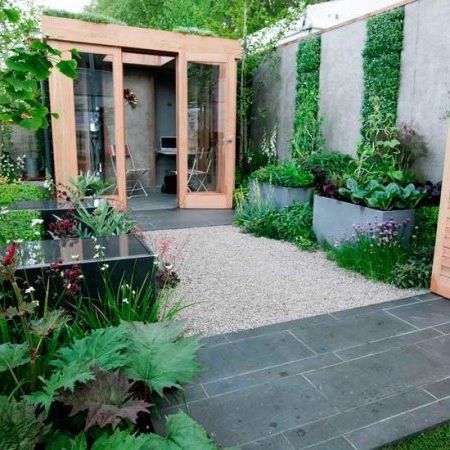 This garden has an English design, doubling the useful space. Gray stone pavers alternate with bricks. This asymmetry creates a feeling of spaciousness, the floor also has an interesting texture achieved with the mix of materials used.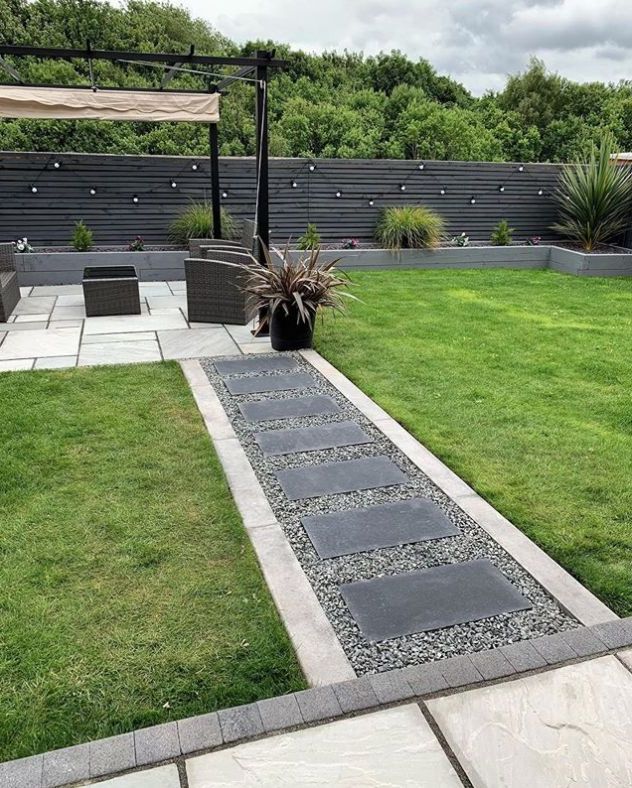 Curves and stones in patios and gardens
To add to the appeal of a garden, try curves, stones, and a decorative pieces. Without a doubt, the forms of the garden do not have to be straight.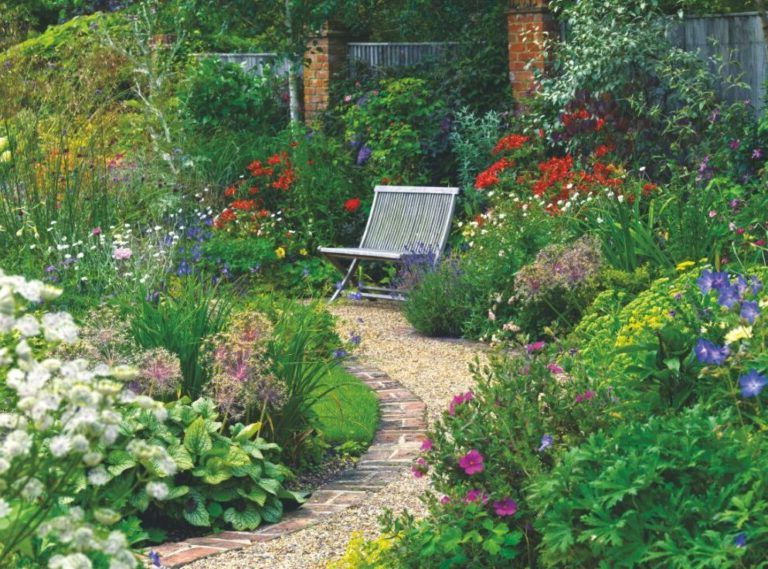 This garden has a great design and a stunning image. Small, practical and beautiful. It has two important areas: where the table is, and where the bench is further back. It is not a very large garden, but nevertheless, having two areas divided by steps, it seems spacious.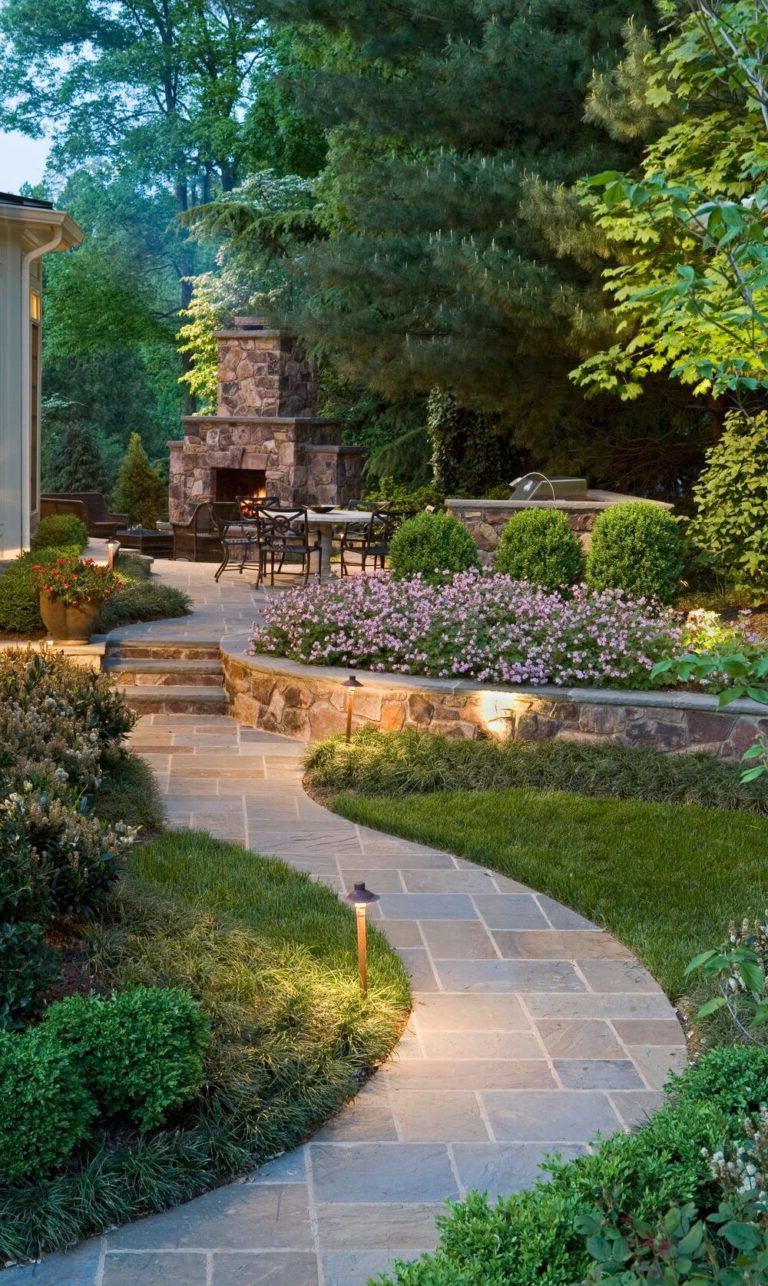 Order in patios and gardens
This is a cheerful garden, to sit and drink tea. It is very well designed, so that there are no bare spaces, but it does not look like a chaotic garden, full of things, since the design is orderly, symmetrical, achieving a sense of peace.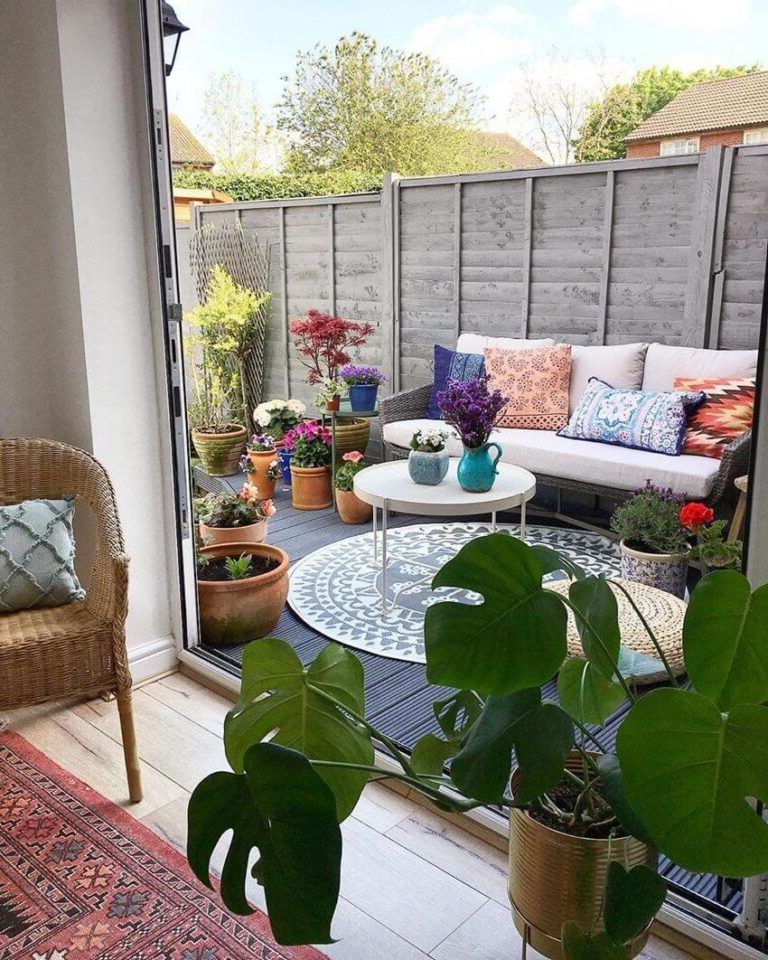 Artificial grass
This space includes artificial grass and has a quite artistic and geometric design. If there can be no grass in your garden due to lack of sun or some other reason, you can always resort to this type of solution, if you accompany it with a nice design, it can look great.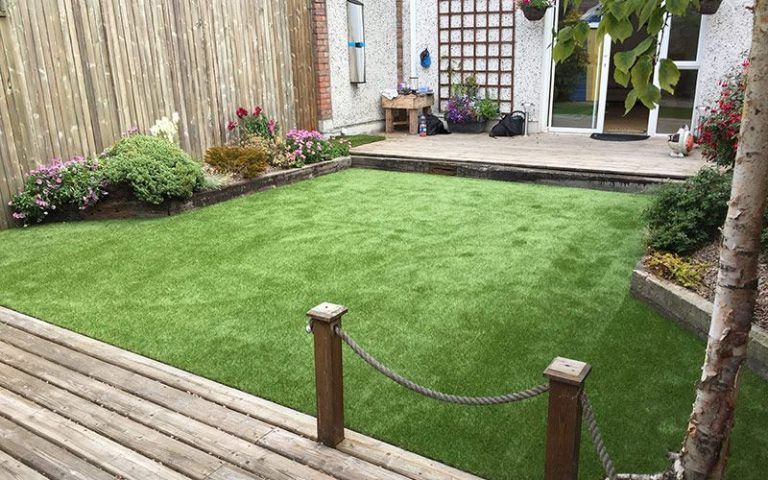 Diagonal tiles
This is a small fenced yard. Despite being small, it has an optical illusion that makes it more spacious, through the diagonal tiles. This is a trick to keep in mind if you have a very small garden or patio.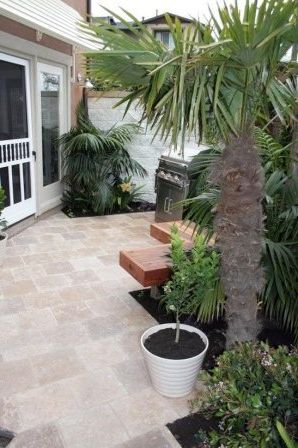 Original accessories for patios and gardens
Fountains are an excellent element for a garden. In this case, we show you a rather peculiar style, it is the futuristic style in gardens. Exuberant colors, original lighting, make the garden a different place in our home. Several unusual elements have been used that make it very interesting.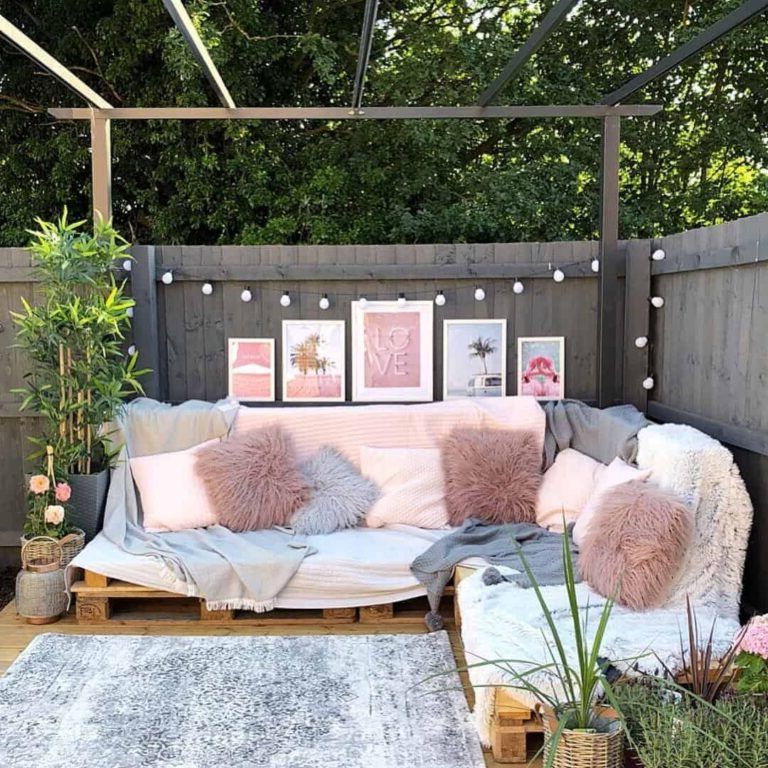 Recycled doors
The use of recycled material in the decoration of patios and gardens is one of the alternatives that we must always take into account. Every fence needs a gate or gate, and if you're on a budget, the best solution might be to recycle something from a junkyard that costs relatively little. Perhaps you can find a door to recycle and add a touch of interest to patios and gardens.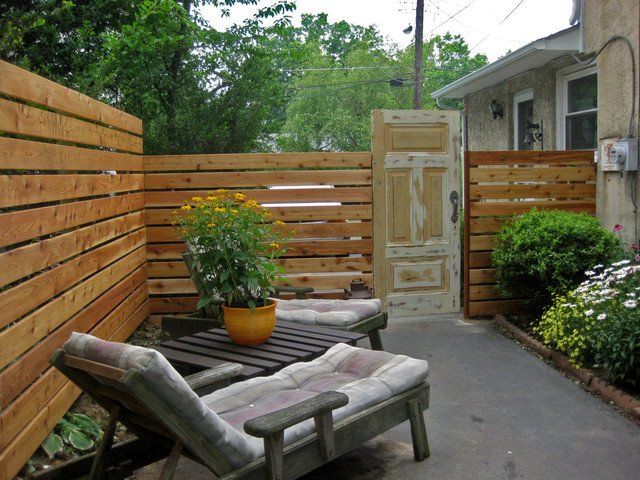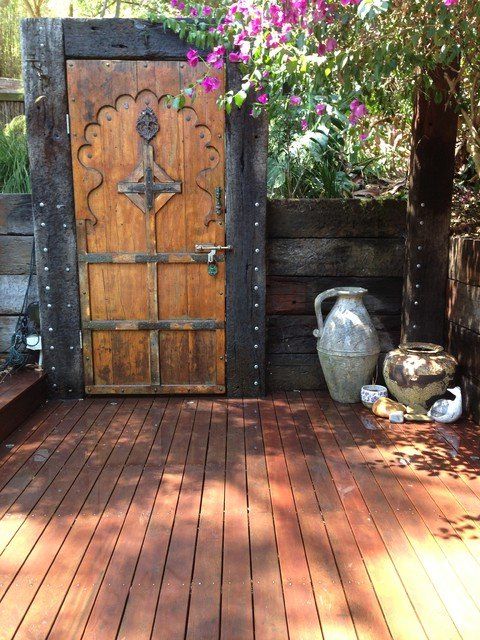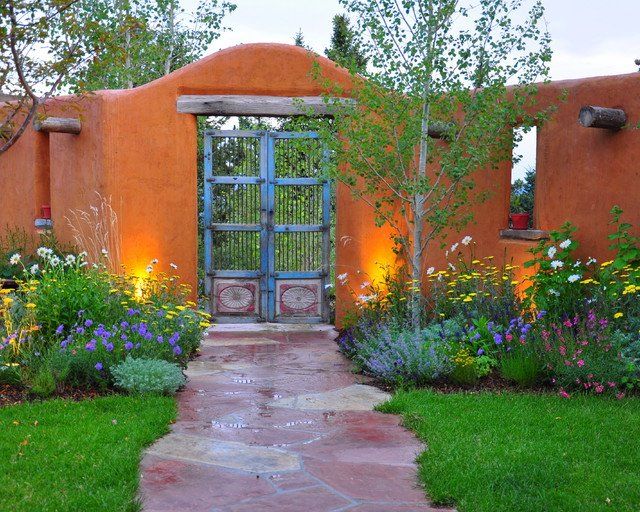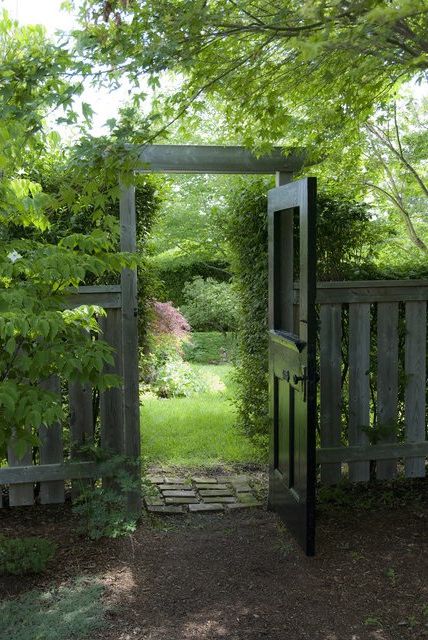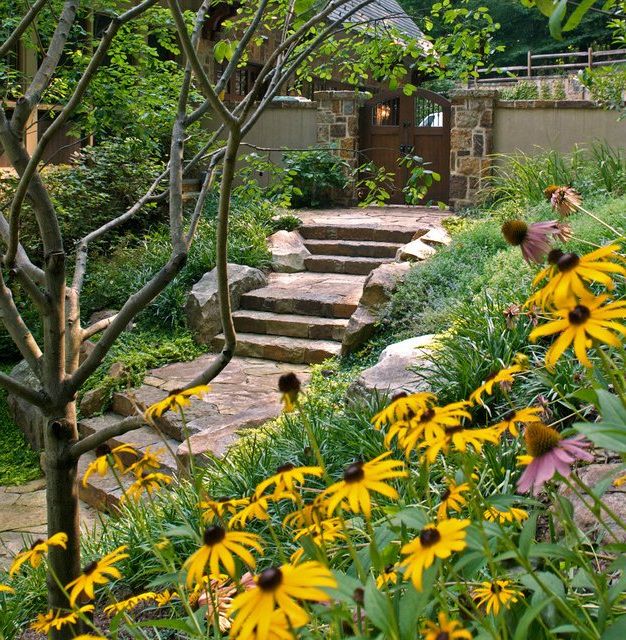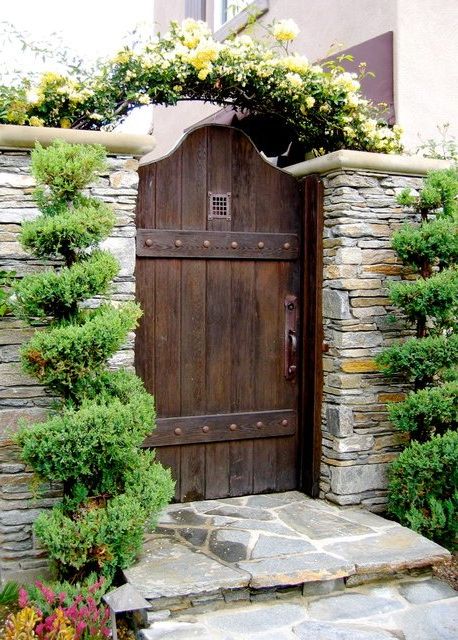 A gate is a focal point that leads from one garden space to another. Gates not only mark transition points, they also create an enclosure and make a room private. Close the door to shut out the sounds of the street and passing traffic, or just to feel like you're secluded in your own little paradise.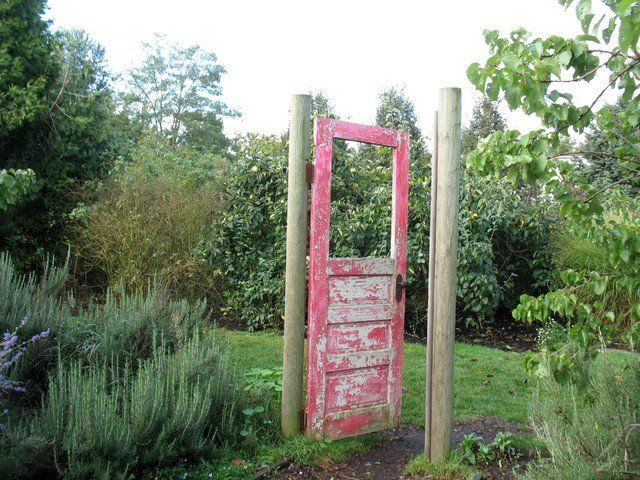 Yard and Garden Indicators
I have been looking for ways to point out what is planted in a piece of garden soil while the plant is still coming out. The truth is that the markers or indicators that I have found in garden stores leave much to be desired, they are sticks with a plastic tab with a white sticker or a white box. Really unoriginal and very ugly, it was a big disappointment.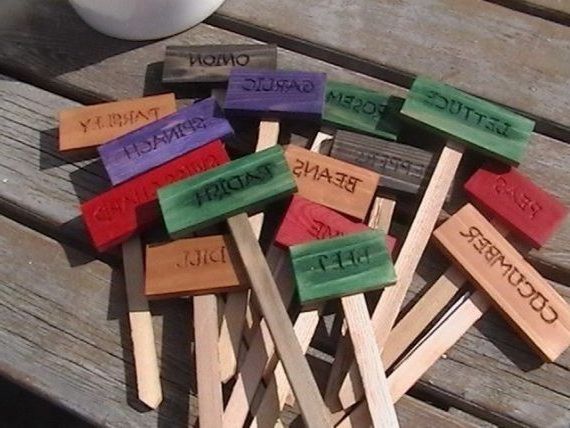 I was expecting to find black or chrome metal gauges with pretty silk-screened leaf or vine shapes. Or I even thought of making them my own way with wood and painting them to my liking, with colors that contrast with the plant once it grows. Here are some very original ideas that meet the expectations I had.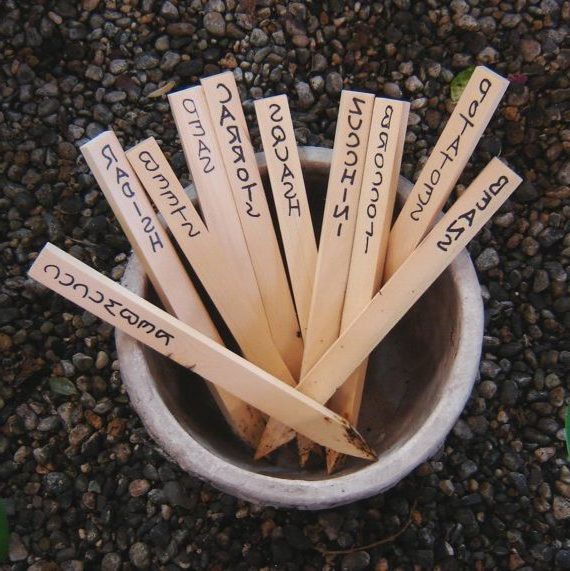 This can be very simple, a stake. But once planted with your harvest and with a beautiful calligraphy, it can surprise, and its customization is very simple.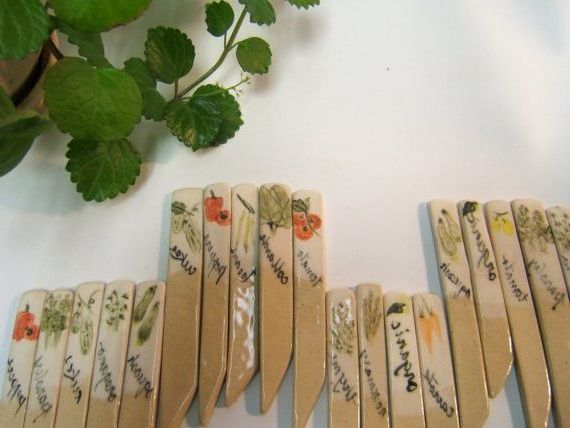 These remind me of old grandmothers' cookbooks, where the drawings are by hand. They look beautiful to me.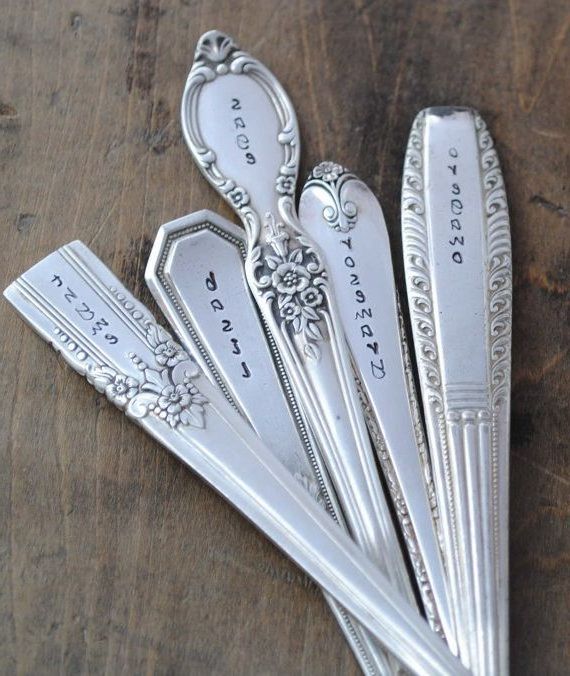 And well this is brilliant. Old spoons that are uneven at home, you don't have to throw them away, use them to decorate your planter and also have a function.