The daughter of the interior designer Sonia Escribano has already grown up, so the cradle has given way to a bed!
Do you remember Martina's nursery decoration project? We are talking about the daughter of the interior designer and blogger Sonia Escribano, director of interior design at Vesta Proyectos. Her room, designed in a Nordic style in white with pink accents and pieces of natural fibers, is a place full of light, very practical and simple, planned from the beginning to adapt to the little girl's needs as the years went by.. For example, instead of using a regular changing table, Sonia opted for a HEMNES chest of drawers that could be part of her room in the future, without the need for a new investment. Now, with Martina turned into a beautiful girl, just by replacing the crib, the textiles and some details, the bedroom looks very different. Do not miss it!
How to change the baby's room
The best trick to change the decoration of a baby's room for that of a girl or a boy is to choose a good bed and mattress. The rest, Sonia Escribano points out that "it is interesting to opt for versatile elements that can be used in different rooms of the house. People evolve, and houses too. The stylist considers that an adequate selection of furniture in the room of a child from 0 to 3 years "allows to renew the environment and include details without the need to make more investment". In the case of Martina's bedroom, "the only thing that I have changed is the crib. I have redistributed the rest of the elements to make better use of the space." And, in the future, maybe I'll change "the storage bench to include a desk and have a comfortable work area."
Sonia Escribano is director of interior design at Vesta Proyectos. From his professional and personal experience, he recommends the key points that a bedroom for children from 0 to 3 years old should have:
For the interior designer, "it is interesting that they have their own space, that they feel their own, where they can develop creativity and responsibility". Her daughter enjoys every corner every day, so "as soon as she picks up a book and sits in the chair, she plays on the rug with construction pieces".
Goodbye to the crib… Welcome to Martina's bed!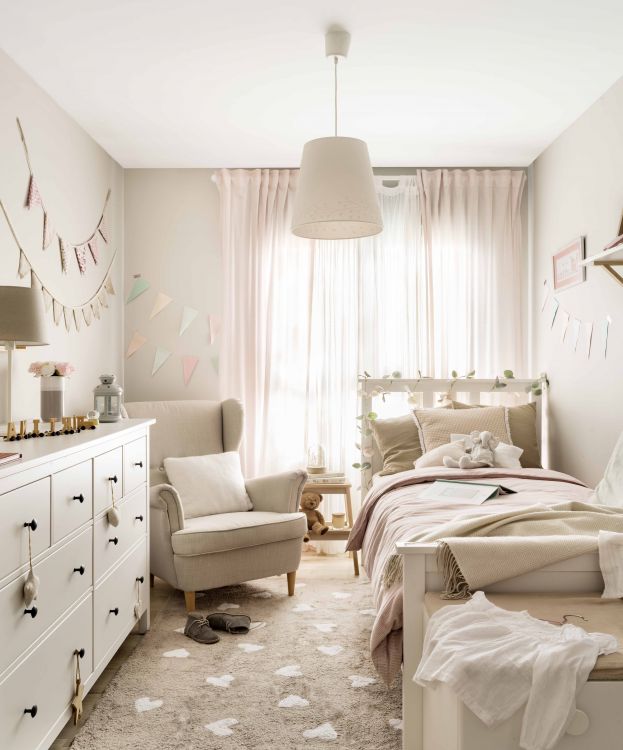 The crib has given way to an IKEA HEMNES model bed. Next to it, the STRANDMON wing chair in gray remains, perfect for Martina to have her own reading corner. And where before there were two white fur rugs, now we find a large, super-warm gray rug, with drawings of white hearts that add a lot of sweetness without giving up neutral tones.
New uses for the dresser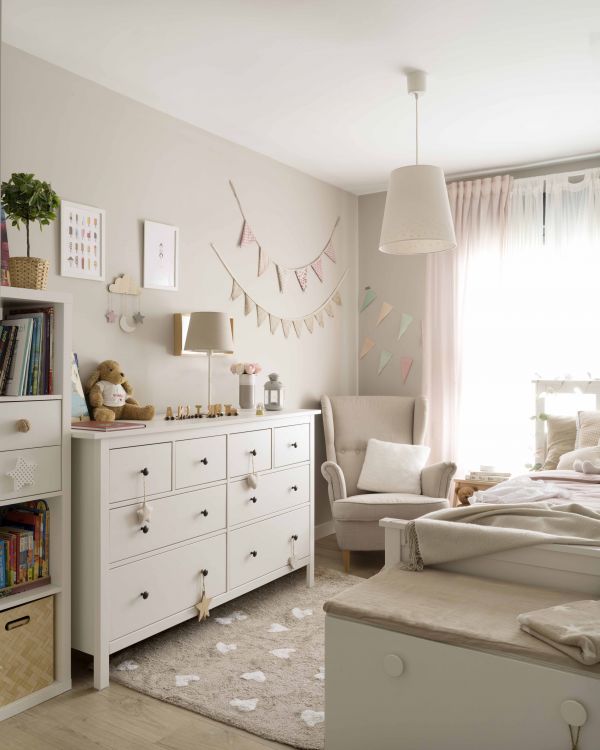 The HEMNES chest of drawers no longer has to act as a changing table, so the top shelf now features decorative objects and toys, all in the same shades of gray to create harmony. To round it off, Sonia has hung several stars and hearts on the drawer handles. We love!
From Ikea: Hemnes bed (€149); Aina cushion cover (€7); Bekväm step stool as a side table (€14); Strandmon wing chair (€99); Hemnes chest of drawers (€199); on the right, Skottorp table lamp with shade (€6) and Kallax shelf (€49). The rug is by Lorena Canals.
A natural touch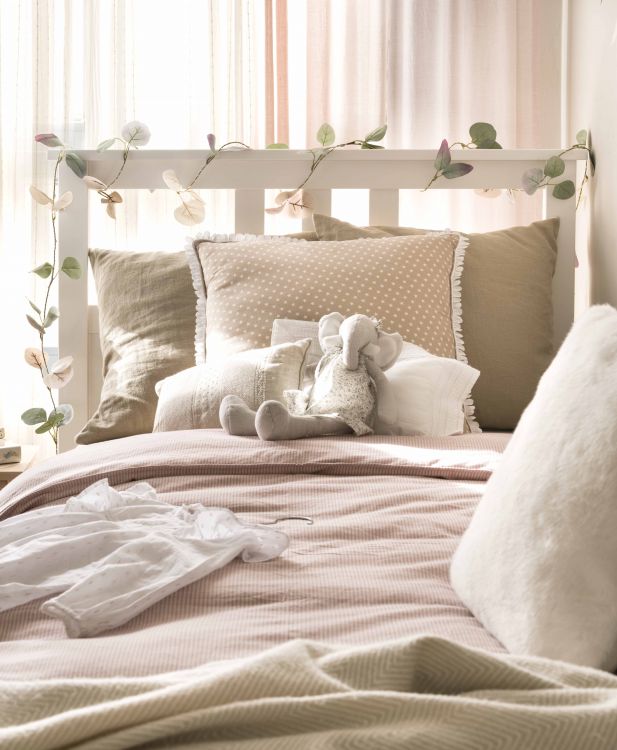 To add a very natural touch, as if it were a fantasy forest, the headboard of the bed was decorated with a garland of leaves from the HÖSTPROMENAD series. The BERGPALM duvet cover with fine pink stripes was combined with different cushions, one with white teddy-type fur, and the other with polka dot print.
Bedside table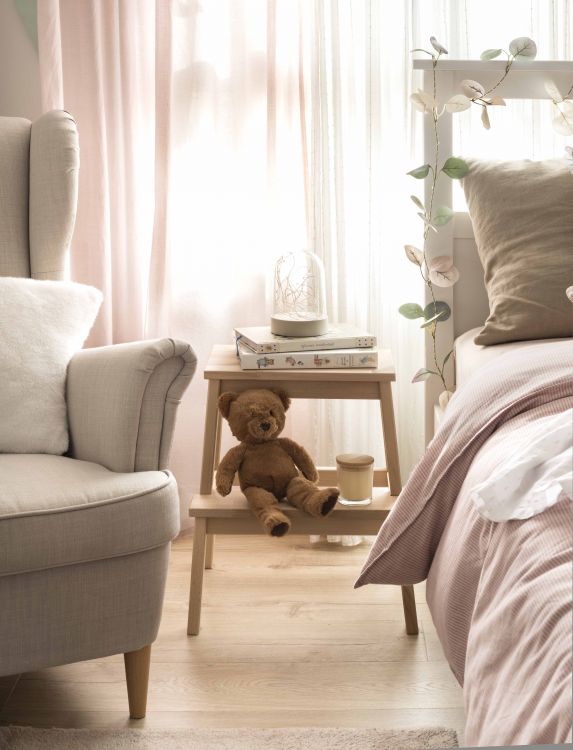 The famous BEKVÄM stool was transformed into Martina's bedside table. On the top shelf, a hood with LED lighting creates a corner brimming with magic. On the step, one of the girl's stuffed animals rests in the company of a decorative candle. Little style.
Your reading corner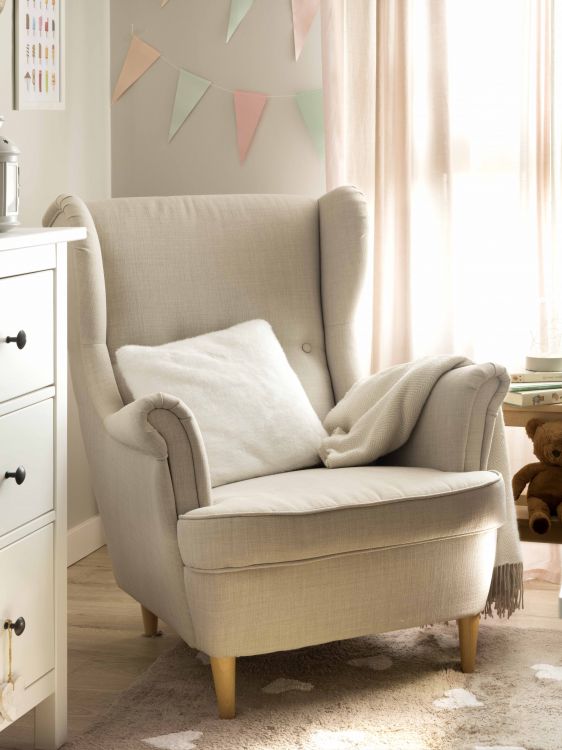 As we told you, the STRANDMON armchair was already in the bedroom since Martina was a baby. Its gray upholstery is perfect to fit into the decoration with a Nordic air.
The chair is basic for night shots and, when he grows up, to read him a bedtime story. When she is older, it is possible that Martina uses it "as a reading area. And, if not, it will go to the living room, but I am not going to get rid of it, because I love it."
Toys and much more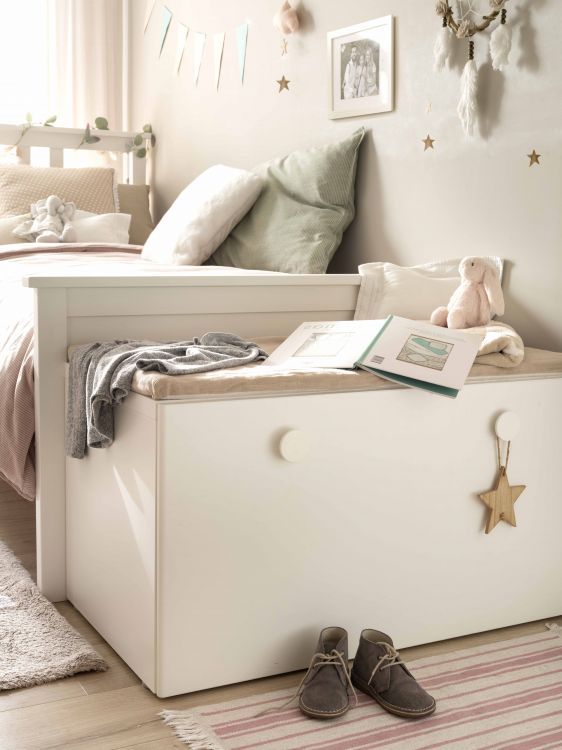 At the foot of the bed was Martina's toy bench. In addition to placing a thin mattress to make the seat more comfortable, Sonia personalized it with a linen fabric and added two round handles. One of them, decorated with the same type of little star that we found in the dresser drawers.
The bench is an extra space for toys. Also, a seat. And if the drawer is removed, "it serves as a desk for the little ones to draw."
Details that make the difference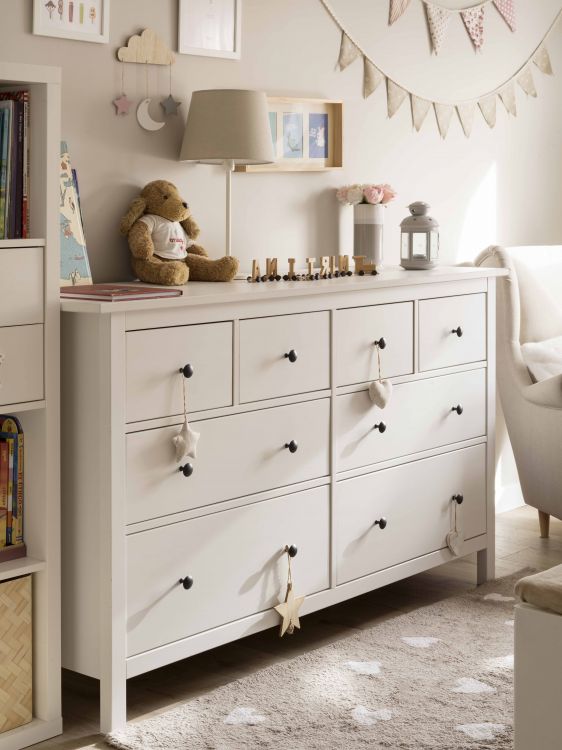 The chest of drawers is a storage plus on which a portable changing table can be placed. "When the little one grows up and is not needed, we can continue to have a piece that will accompany us for a long time." As the years go by, children have more things to store, not just clothes, but costumes and toys. Having storage space at hand "allows them to be self-sufficient when it comes to taking things out and putting things in and makes it easy to pick up."
On the chest of drawers, Sonia included a toy train whose wagons bear Martina's initials. What a nice detail!
Mini library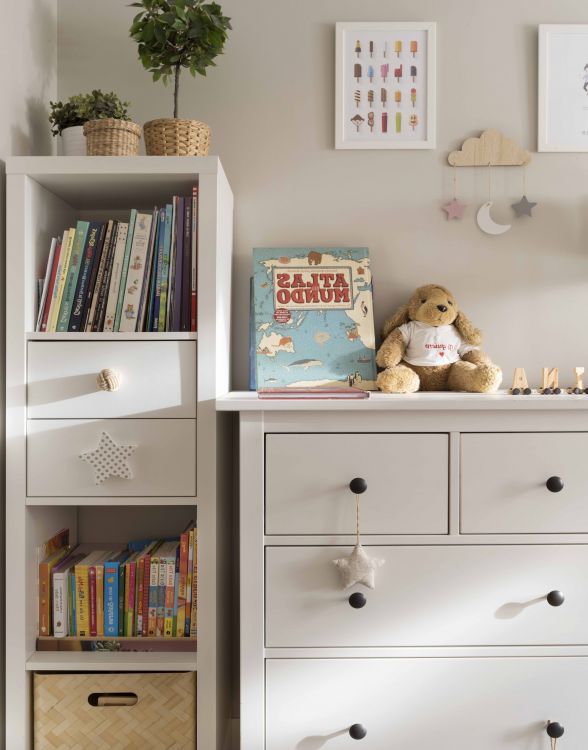 The KALLAX shelf was customized with new handles and organized as a bookcase. Plants and fiber pots put the finishing touch to a very natural look.
Involve your child in the decoration of his bedroom. Martina selected the shelf handles, which are by Leroy Merlin, from which stars and hearts hang, from Ikea and Muy Mucho. He has enjoyed it so much that "he says he is going to redecorate and moves things around the house to see how they look."
Martina and Sonya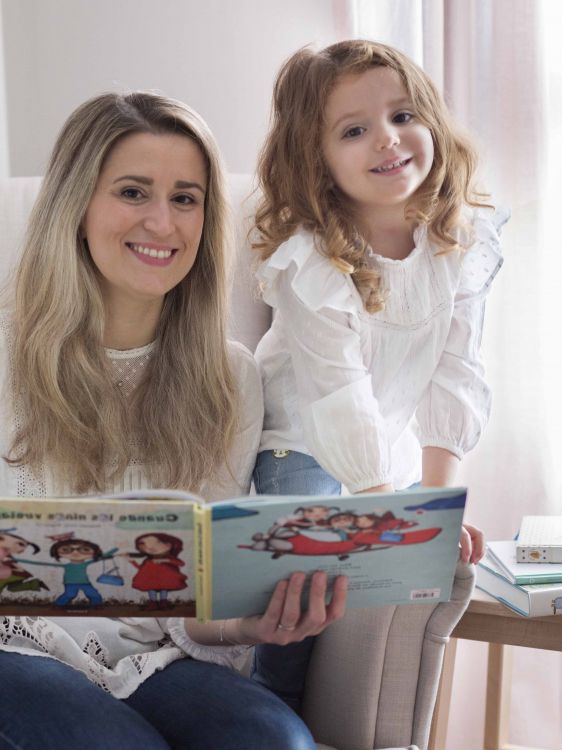 Here we have them, mommy and daughter sharing a reading time.