Do you lack meters to have your own office? These ideas integrate a work area in the living room to have a cute and well-cared home office.
One of the virtues of the living room is that it offers a lot of space. Not only do we use it as a place of rest and leisure, but it can also be used as an office to work. For your design, it is a matter of having good taste, good planning and having clear priorities.
If you are going to spend a season at home teleworking, then take a look at the ideas that we propose below. We have the keys to setting up a home office that barely takes up space.
Why place a work desk in the living room?
Remote work was installed in our lives from one day to the next, but there are many companies that sign up for flexibility and offer the opportunity to work with a hybrid model that basically includes spending some working days at home. In reality, the change is such that the possibility of designing a home office arises.
To work comfortably, it is necessary to set up an area where a desk can be placed. This is going to be the dynamic center where the computer, files, documents, etc. can be placed. At the same time, it is necessary to point out that comfort must reign above all else; therefore, it is not necessary to combine the uses, that is, that it does not also become a dining room. When creating a work area at home, it is important that it be used exclusively for this purpose.
Workspace planning at home
Plan the work space slowly and when you are relaxed, so you will attend to your true needs. In the background, you can also apply personality and make a nice design for the telecommuting area in the living room. To do this, select a part that is spacious and with natural lighting; therefore, look for the space next to a window, the balcony or the terrace.
Remember that if you are right-handed, sunlight has to enter from the left; while, if you are left-handed, it will be just the opposite and thus you will avoid the shadow of your own body on the keyboard, the agenda or the documentation.
The work table must contain the minimum measurements to install the computer or laptop. It is usually 80 x 120 cm, to place the auxiliary lamp and a pencil holder. In addition, it is convenient that the desk has a shelf, better adjustable in height and to store office supplies and keep your work area tidy.
Other aspects to consider
It is recommended to complete the lighting of the teleworking area with a wall light or an extendable arm table lamp. In the same way, a warm light lamp can also be useful to better illuminate your work table.
As for the chair, it has to be adjustable and ergonomic to take care of the postural hygiene of the back. If you think it is necessary, install a footrest so that your knees make a 90º angle when you are sitting. The backs of the office chairs have to be soft, better in breathable textiles and collect the kidney area. In this way, a good work space is created at home for your physical and mental health.
If you already have the desk decorated, change the look and practice detachment. Get rid of some objects that have accompanied you in recent times. Incorporate some fetish object to attract harmony and good vibration in your small office: a bouquet of fresh flowers, a plant that someone very dear to you has given you, a photo of your favorite people or an aromatic candle with a scent reminiscent of your best regards.
1 Integrated work area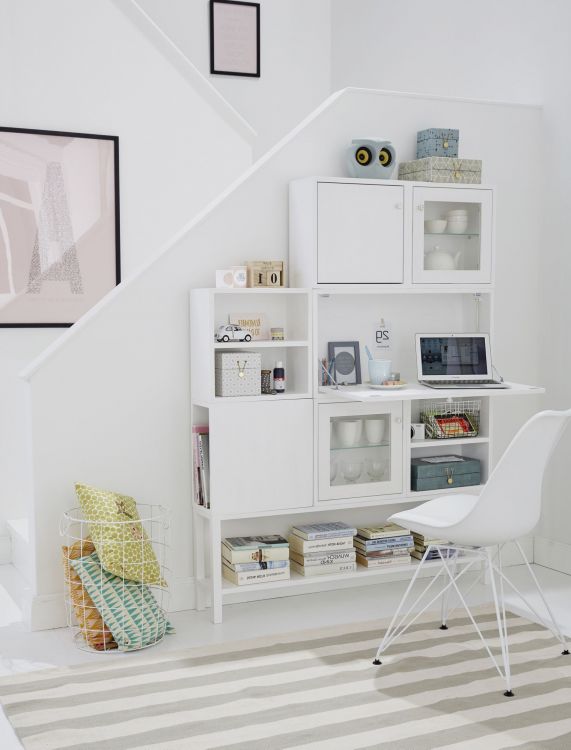 The Car Moëbel firm offers us this great solution to make the most of spaces. It has integrated a white lacquered modular piece of furniture, with shelves and storage areas, with a folding table, which you can hide when you finish your workday.
2 Female office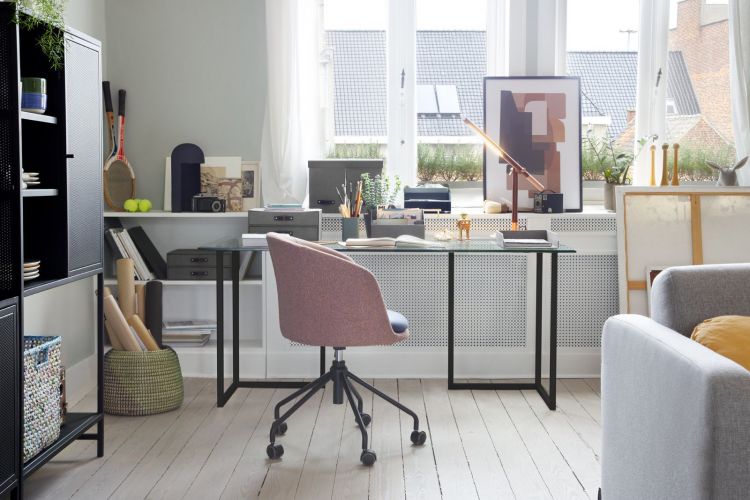 With just two tonal brushstrokes you can see the taste for the harmony of this Bauhaus environment. The pink backrest chair with swivel casters is ergonomic for easy mobility. Point out the idea of installing a glass table to lighten the atmosphere of the room.
3 A vintage work corner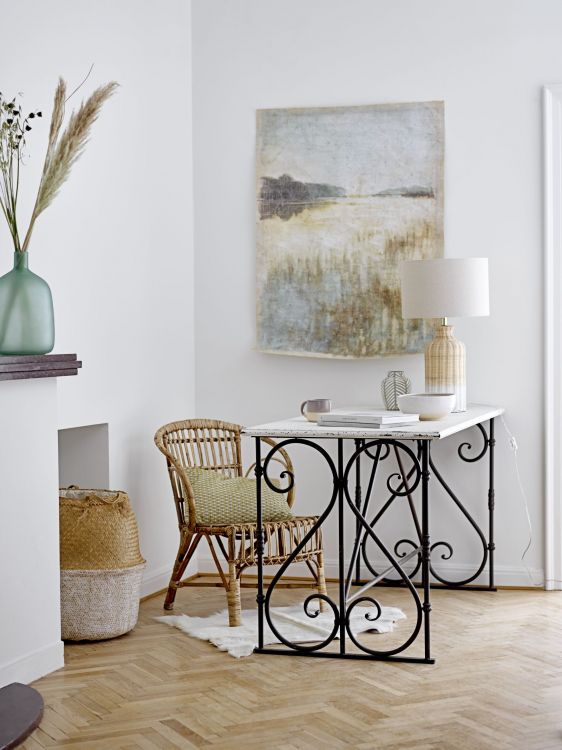 The table is a unique piece, from Bloomingville, that you can copy if you want to recover both the tray and the legs of an old or inherited piece of furniture. The set is very simple, because it is completed with a ceramic floor lamp and a chair made of natural materials.
4 Comfortable work space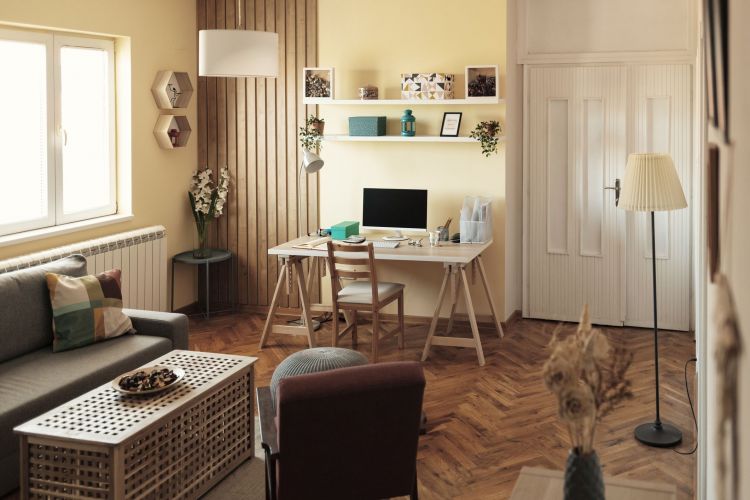 This white lacquered console is a minimalist and very versatile piece of furniture in living rooms of any decorative style. This concept is brilliant for optimizing to the maximum the lower space of the cantilevered wooden stairs.
5 Desk to take advantage of blind spaces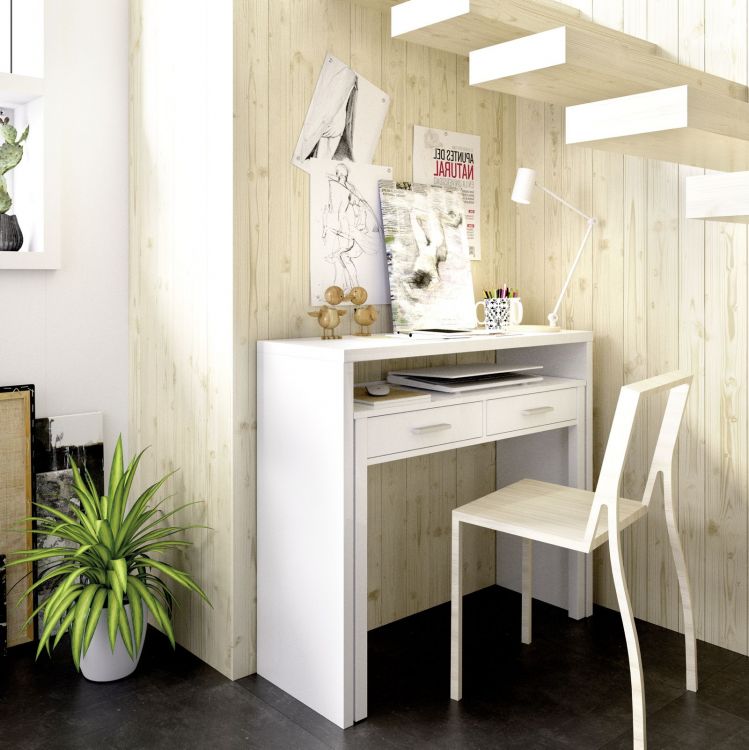 The shelves located under the window make it easy for you to access the documentation and reports you need every day to work. The desk, in natural wood, has the perfect dimensions to place a laptop, a computer screen or a tablet. This Habitat environment adds a touch of color with the two-tone ergonomic chair and an original wall mirror.
6 L-shaped wooden office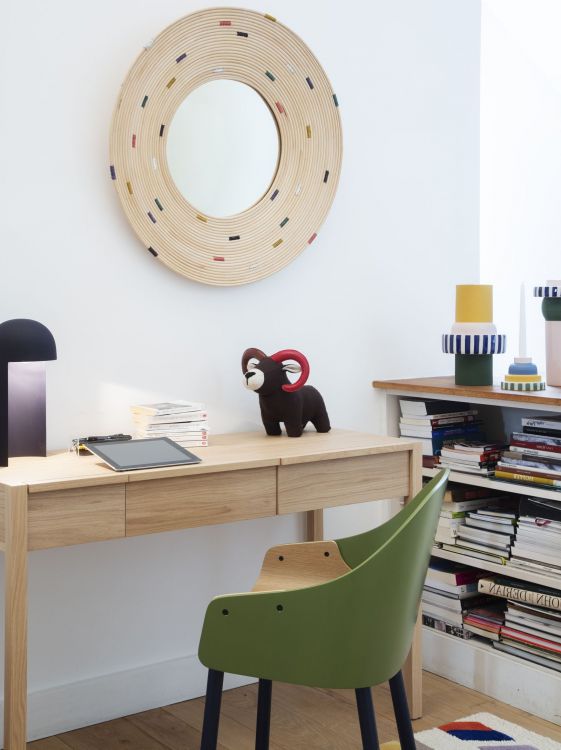 The living room of this house has a fantastic window, but the luminosity is multiplied by a successful choice of flooring, in white slats. The lacquered wood desk and chair set contribute to this feeling of spaciousness. The atmosphere is from the Nordic firm Car Moëbel.
7 Classic desk to work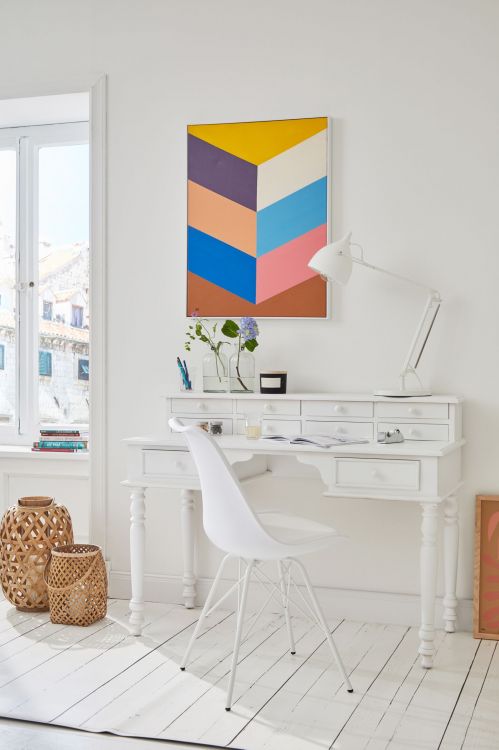 La Redoute Interieurs works with natural materials, with a very natural look to reinforce its commitment to sustainability. The office fits like a glove in this room with a Nordic air with a very versatile wall unit.
8 A living room mural in craft style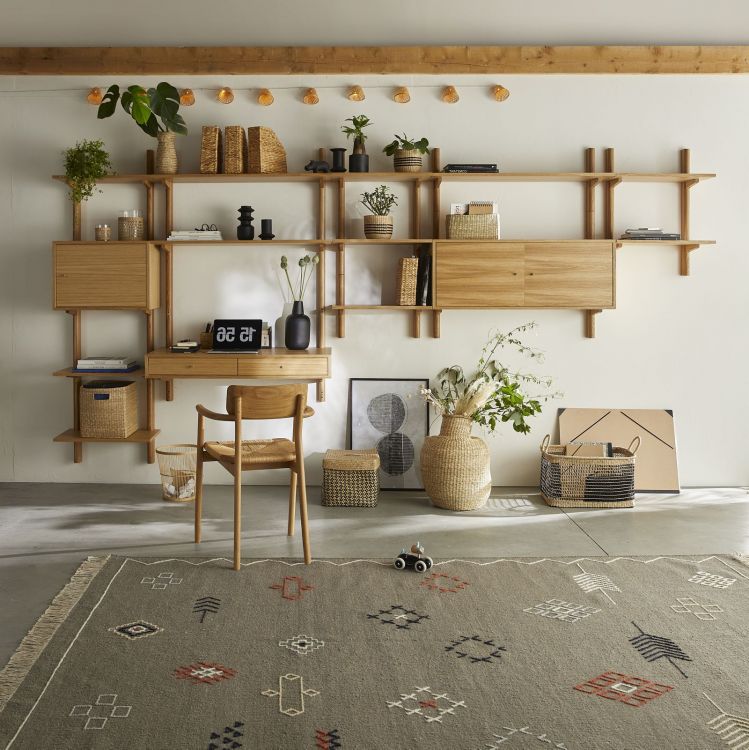 This atmosphere of La Redoute Interieurs oozes style, so is this office that takes advantage of natural light from outside. The structure of the console is fantastic, with a practical drawer and tapered legs, in the purest Scandinavian style; like the rounded lines of the chair.
9 Work corner of curved lines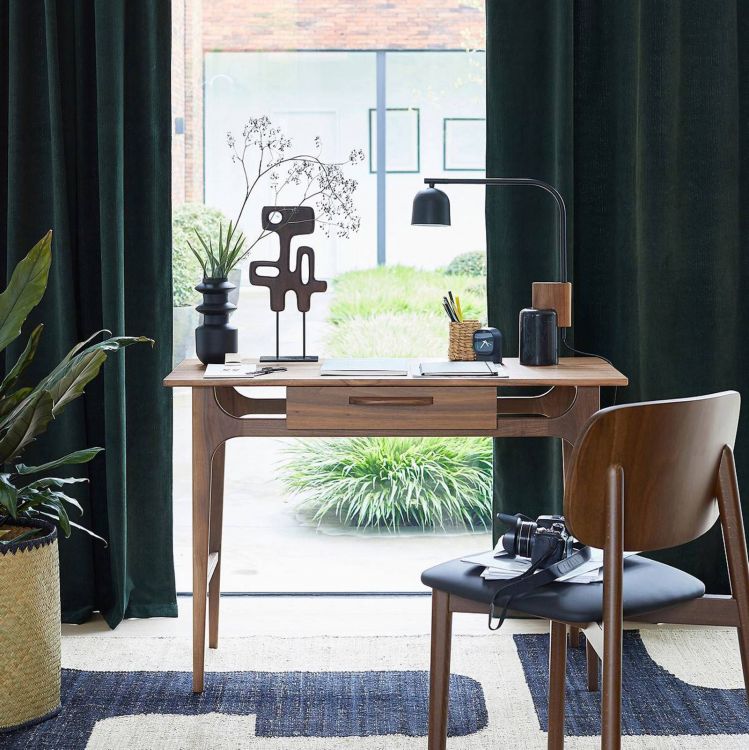 Simple, but very effective, this is how this proposal by Leroy Merlin is. The wall shelf is used to distribute the work filing cabinets and is part of the desk, delimited by a flexo, in earth tones. The cork on the wall is a good tip to have your day to day schedule.
10 A work area tailored to you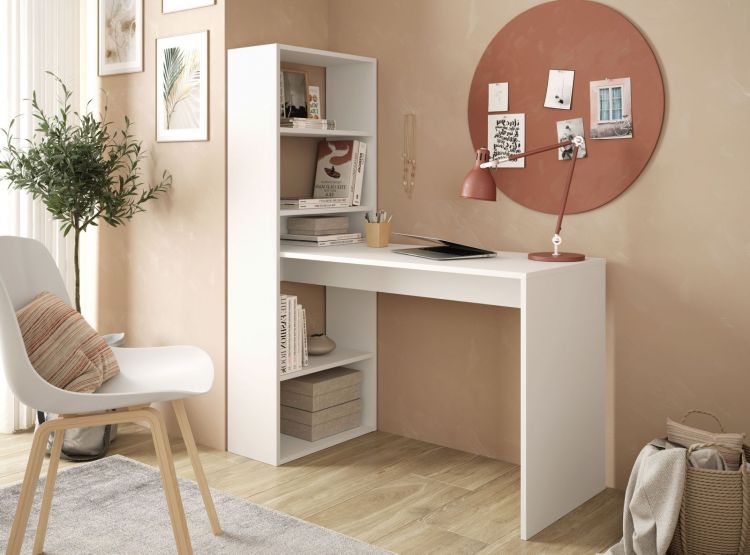 Who does not work happy with this perspective? The vinyl of flowers covers the wall and dynamizes this corner of the room to give joy to your work days. Complete your desk with a powerful lamp and a calendar.
11 The gayest office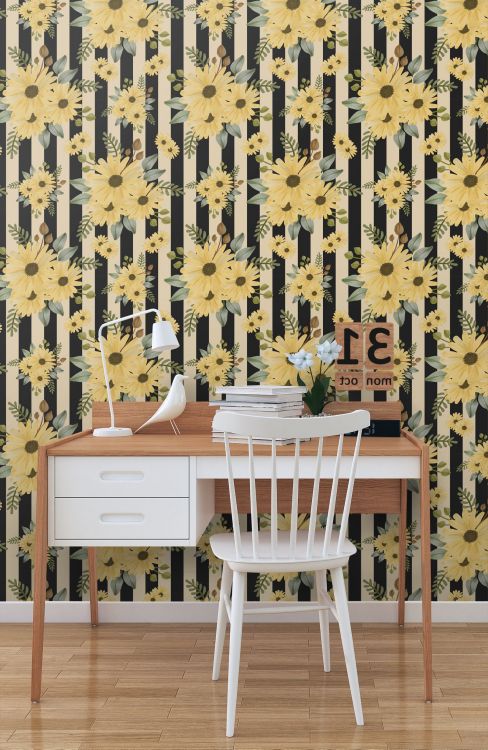 The column of this room left a perfect space to create a reading area or install an ideal place to telework. The window is covered with a thin blind that only screens the sunlight, but allows the work table to be illuminated. The rug is comfortable if you are one of those who like to walk around the house barefoot.
12 Telecommuting with views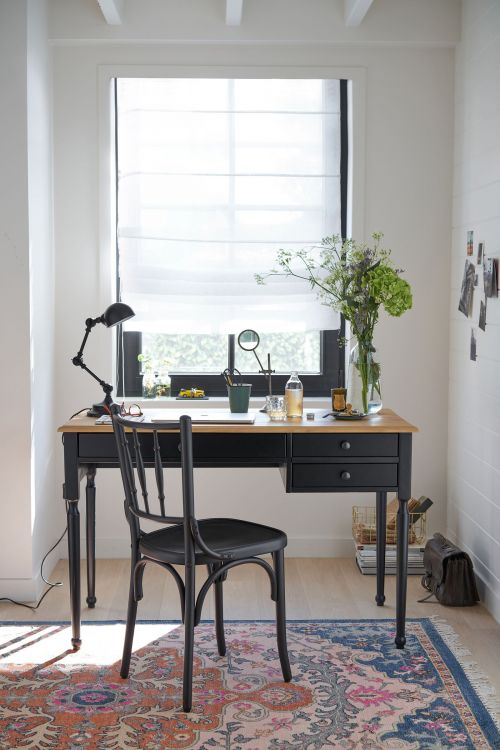 In this idea they have included a small desk at the back, next to the bookcase area, thus creating a small workspace in the brightest part of the room. A good idea: visually divide the space into zones: dining room, relax (sofa and television) and library or reading area. The latter is ideal to locate it. Delikatissen atmosphere
13 Work table with shelves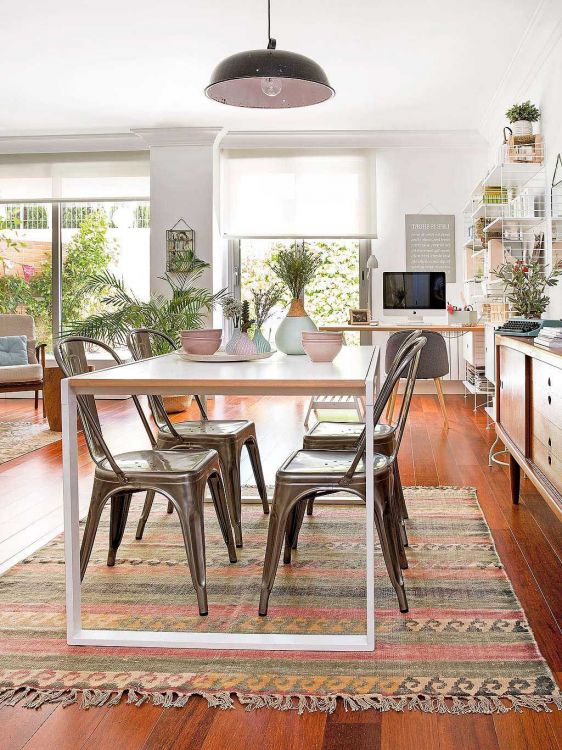 Sometimes you worry that this small work area takes up space in the room. To help prevent this from happening visually, opt for glass tops or light tones.
14 Better with a glass board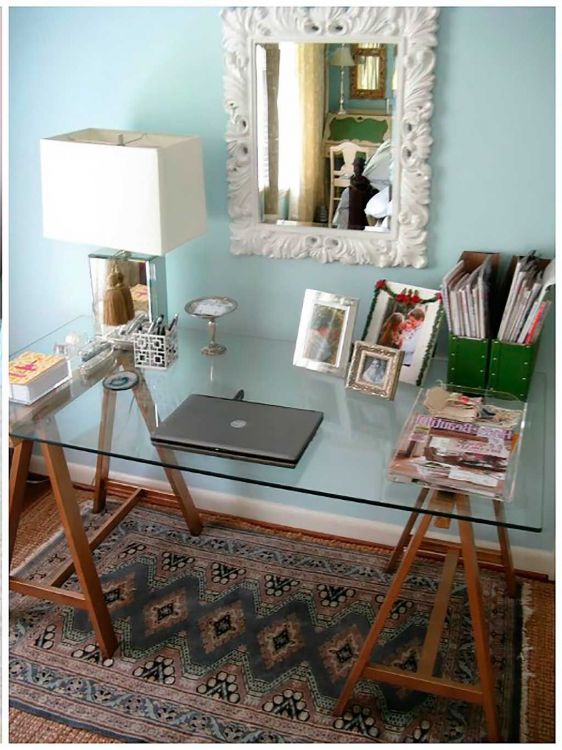 With this idea we show you how charming and beautiful a small work area in the living room can be. Here they have integrated it into the decoration and one of the wall storage shelves acts as a desk and support for the computer. With a chair, you have it ready. Ministry of Deco vibe
15 Corner work area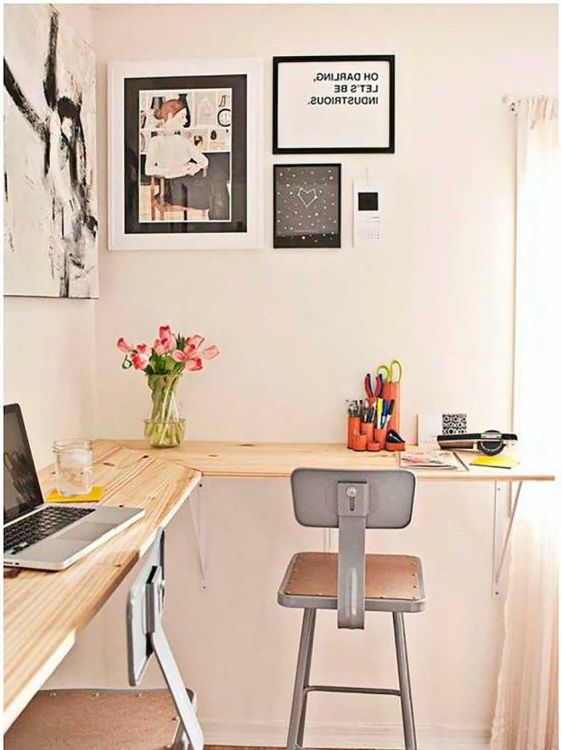 Made to measure, so you can make your shared office in the living room. Choose custom-width boards in one of the corners, preferably next to a natural light source. You will subtract very little space in the room and it will be incorporated in the most discreet way.
16 Simple work area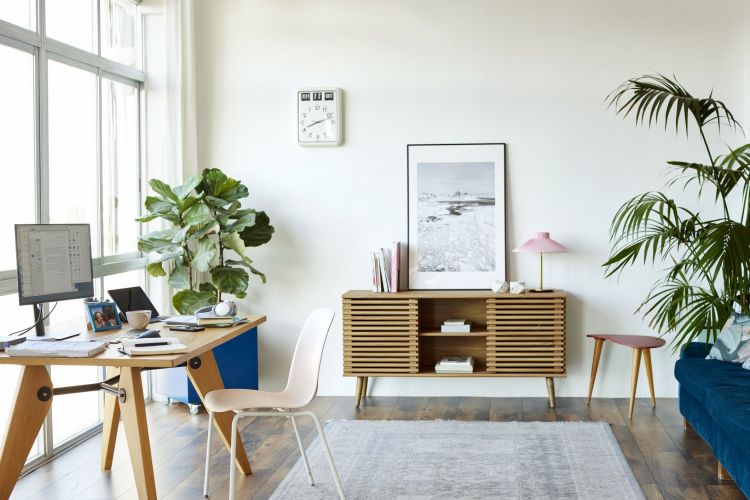 A comfortable and simple space next to a large window to receive natural light. Of course, the plants contribute positively to ambience and refresh the work room.
17 Elegant work area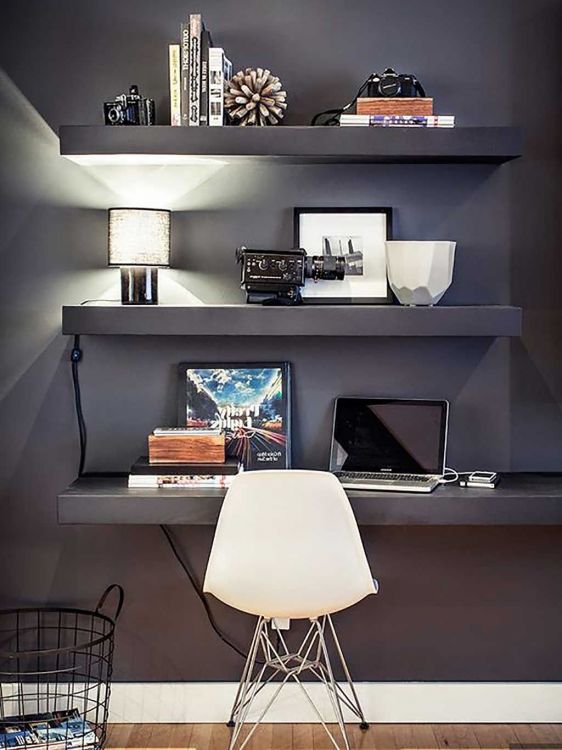 In case you needed one more idea to create your office on a wall shelf. This time, in dark tones with the contrast of white accessories.
18 A mini desk for teleworking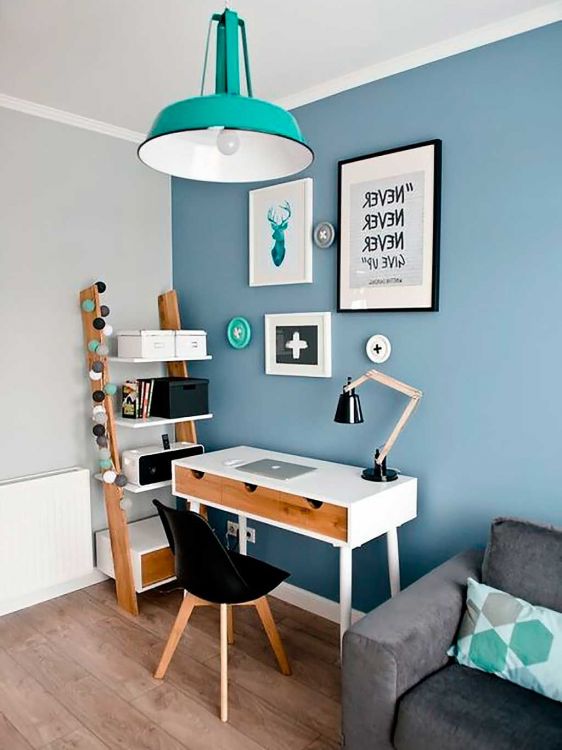 Small desks are the order of the day. The firms know of the need for this furniture due to the scarce square meters that many apartments have and the rise of freelance workers. In addition, accessories and organizers can be included to organize your work area. For example, in retro Nordic style, like in this idea seen in Sweet Harmonie.
19 How to do it?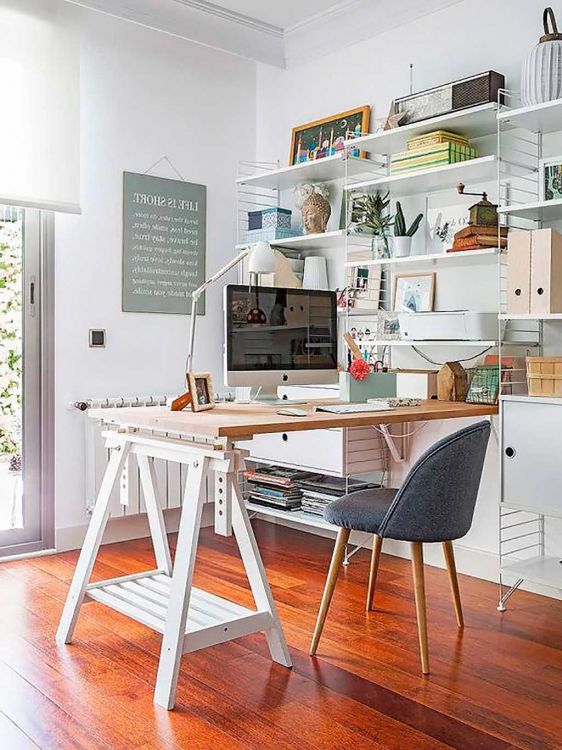 Look at how they have done it in this idea seen in Delikatissen. The bookcases act as one of the supports of the board and at the same time act as a storage space for work in a corner of the room, without disturbing anyone. Bright, quiet and very practical.
20 Minimalist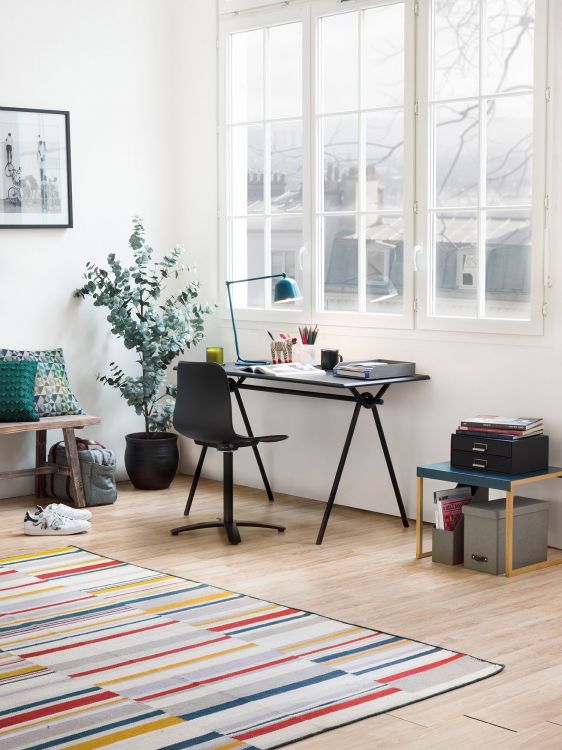 If the minimalist style suits you, this totally refined and black lacquered desk is what you need. From Habitat.