If your room is small and you want it to have everything you need in it, such as a bed, a desk, one or more shelves and a wardrobe and it is impossible for you because it is small, here we are going to give you a series of ideas that can help you and inspire you to decorate small youth bedrooms.
A teenager's own space is more than important, because they need to be able to say that this place is theirs, with its rules, its things and its way of decorating.
That is why if you can provide your child with his own bedroom, no matter how small, with good help from him, an excellent decoration will come out. And if the bedroom is small, it is likely that you will be interested in some ideas that we will give you below.
Colors for small youth bedrooms
If the bedroom is small, you may think that white is your only option. However, if you like color, there are ways to incorporate it without making the space seem overwhelming.
Used correctly, deep colors in a small room can camouflage the size of the space. You can use colors that calm or make you feel like you're in a cozy space. Even red color can work very well. Choose furniture, curtains and accessories that match or complement the color of the wall.
Light and bright colors
White is an expansive and practical option for a small bedroom. Keep the space from looking too cramped. Using white or light colors combats the absence of large spaces or windows to brighten up the space.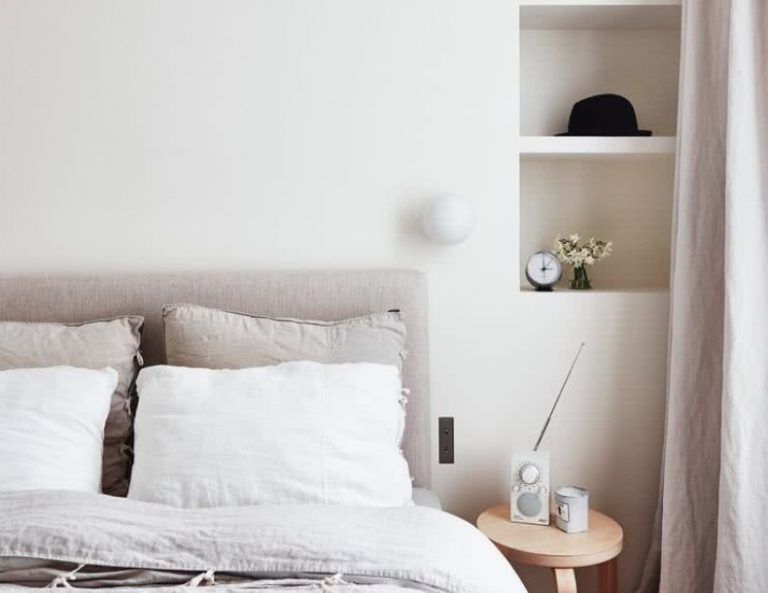 To keep your small bedroom from feeling cold or lacking in character, layer white with different textures and different shades. As we see in the photo, the simple addition of a patterned design and chrome bedside lamps transforms the room from sterile to elegant.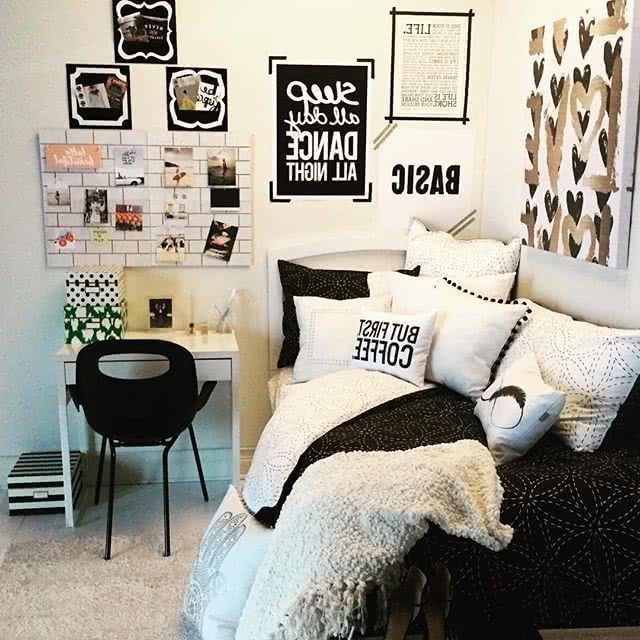 White can work well in a small bedroom, but beware of stark white as it can make any room feel cold. Soft shades like cream, butter, or ivory are good choices, as are whites with a hint of gray, green, blue, or even pink. Decorate with accessories in your favorite color. White is generally the best choice for a small room ceiling. However, a very pale blue is also a good option to make a ceiling appear higher.
Blue, green or red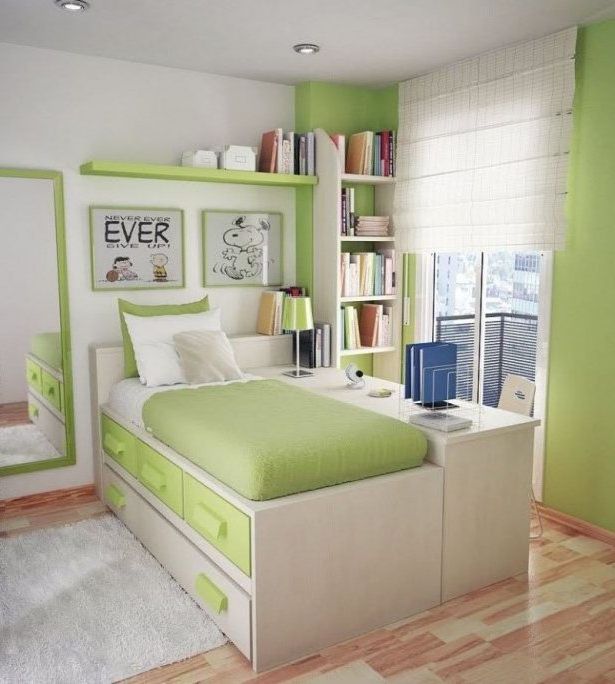 If you prefer blues or greens, you can combine them with deep neutral tones, you can use different shades of the same color in the moldings, floors, carpets and curtains. This will help give the bedroom a more unified feel. Some very deep colors, like charcoal and taupe, will make angles disappear from view, visually expanding the space. You can also choose high gloss colors to reflect light into the space. You can also paint one of the walls a darker shade, this will set it back visually, making the space appear larger. Another widely used decorating trick is to paint a striped or stenciled pattern on one of the walls to create a focal point and draw attention to the size of the bedroom.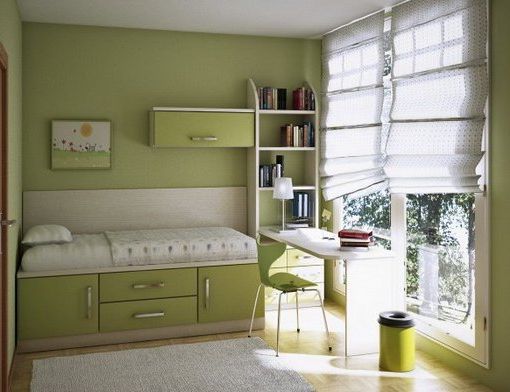 A trick that you can keep in mind is that horizontal stripes on a wall give the feeling of enlarging the space.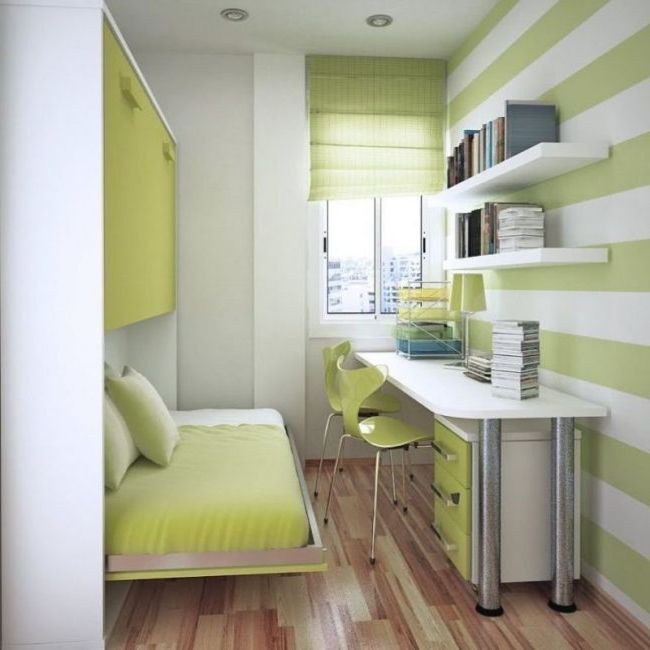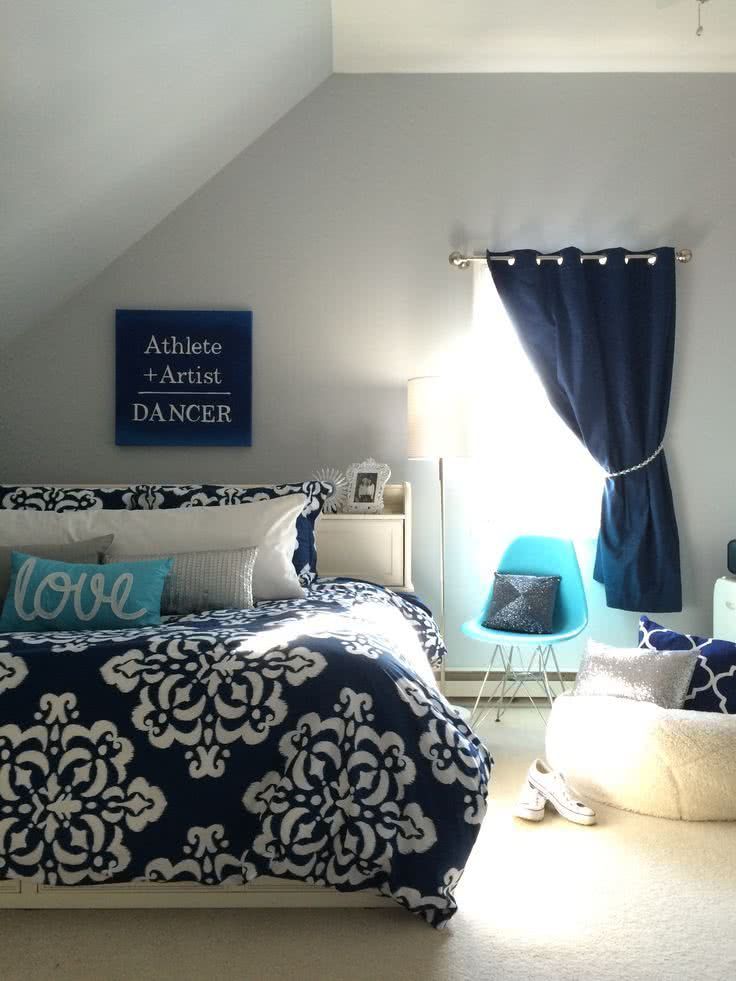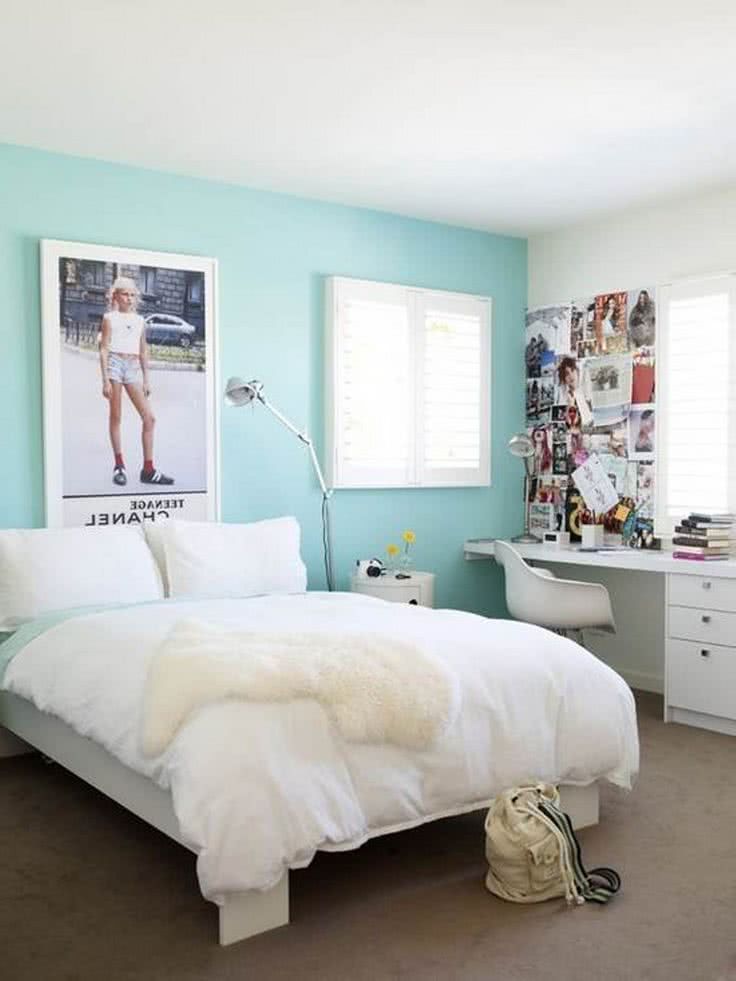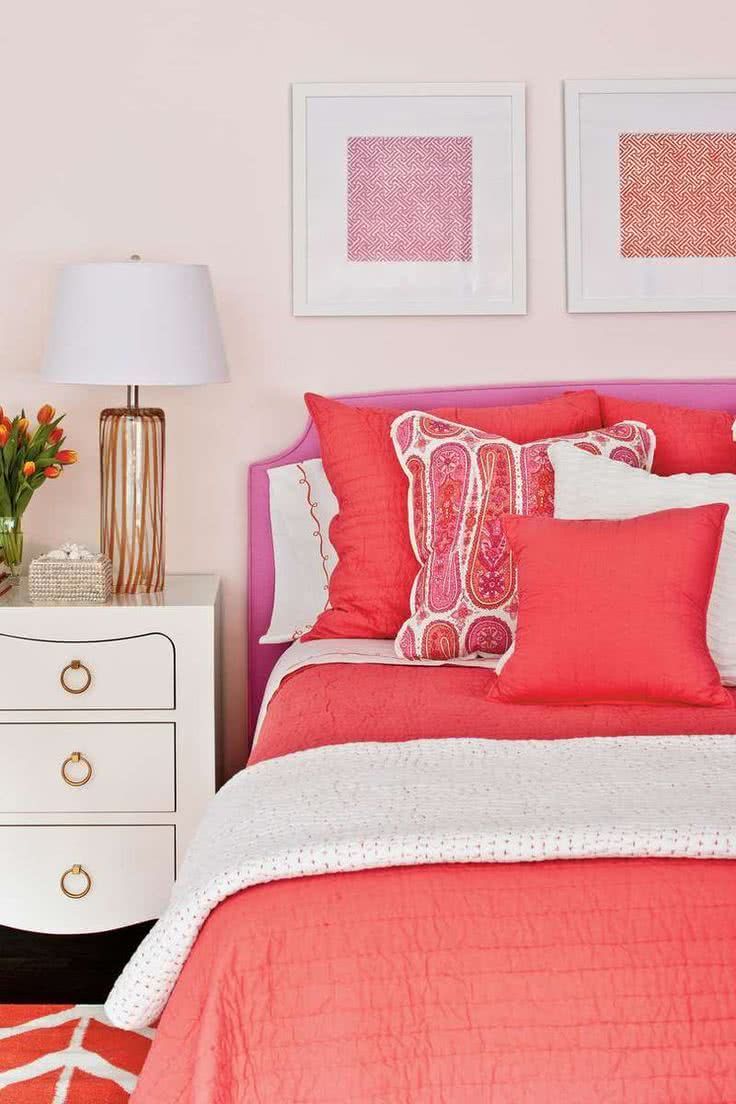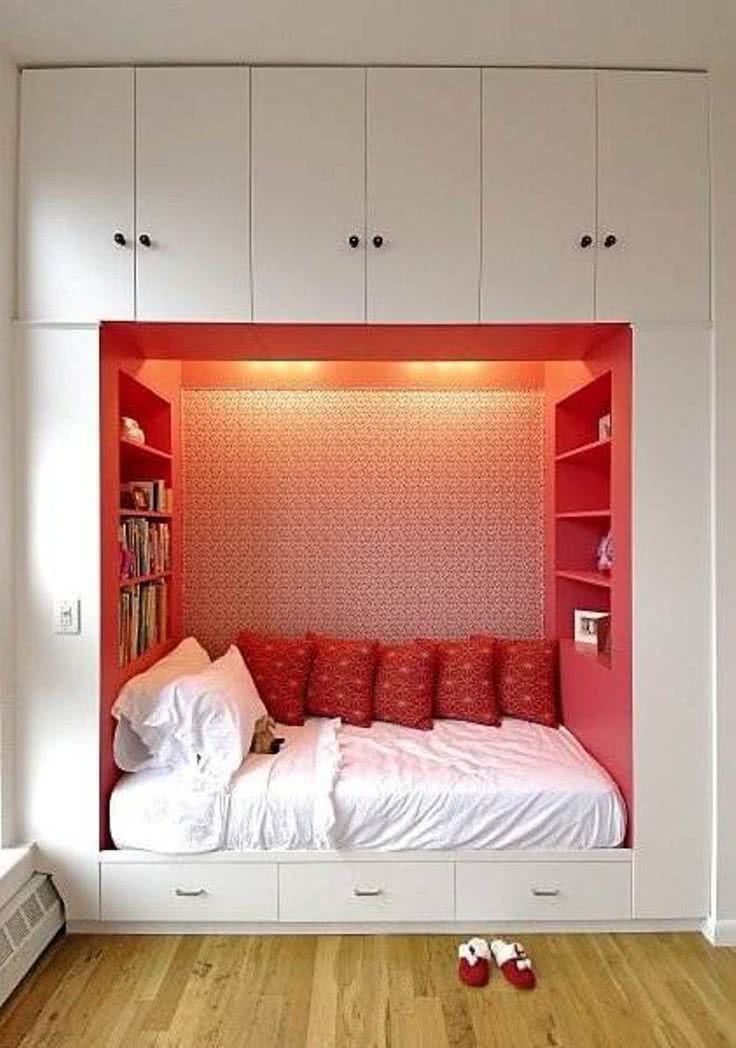 Earth tones
Earth tones and neutrals are a common choice for small rooms. Neutral tones can visually recede the wall into the background, making the room appear larger and bring more attention to the accessories in the room.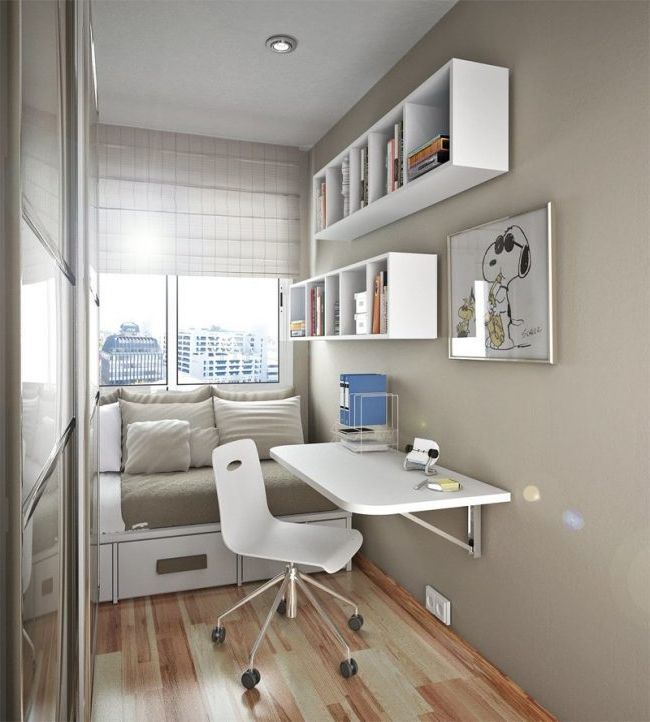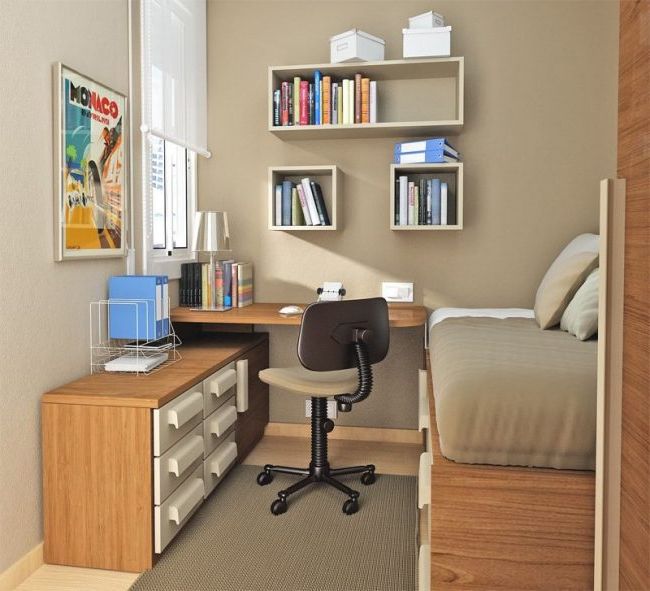 Colorful accessories
You can use a bright color for the walls and bed, and use bright colors to give a sense of depth to the small room.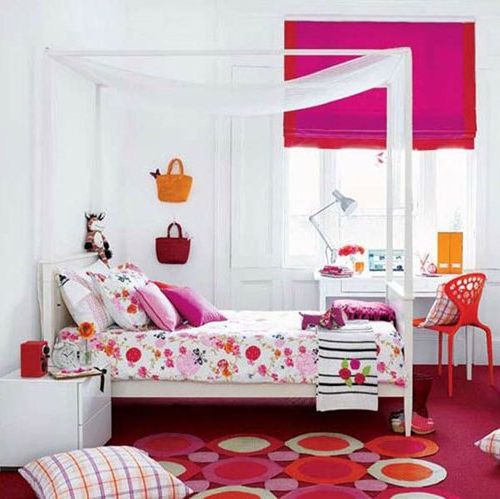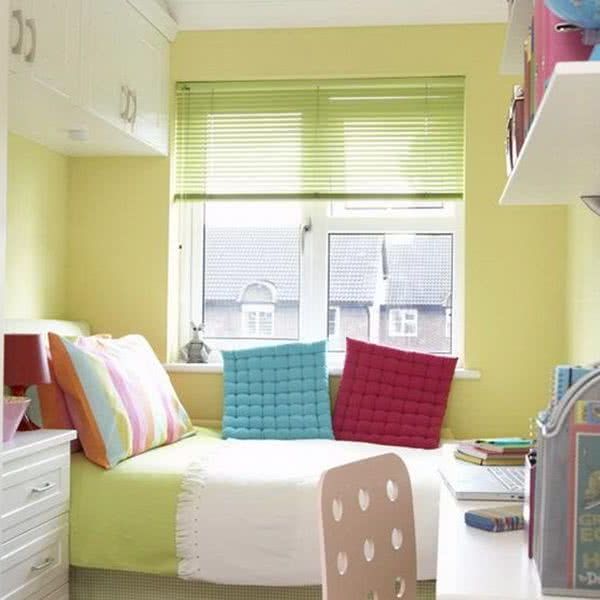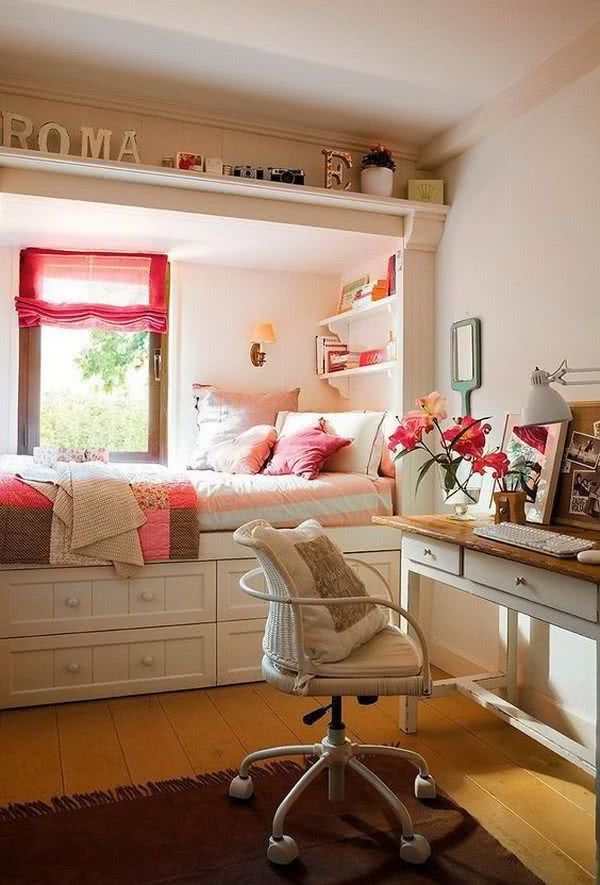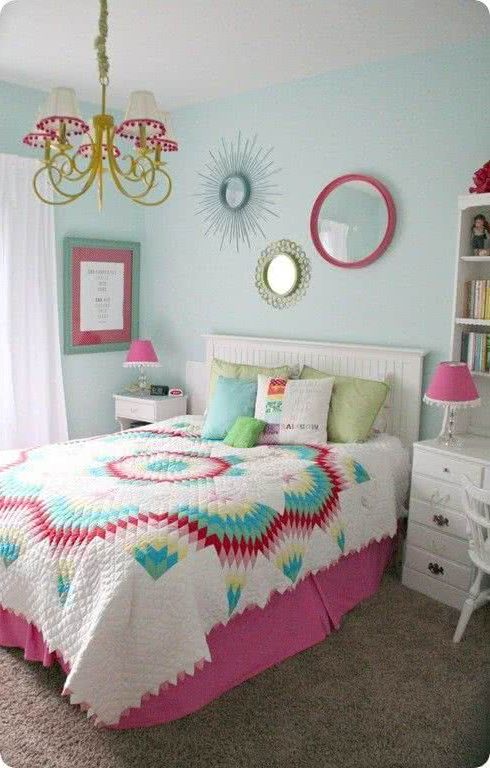 Furniture for small youth bedrooms
Tiered Furniture
You can try folding beds or sofas or multi-level furniture as it takes advantage of twice the space. For example, in the upper part of it, which is accessed through a staircase, we have a desk, a bookcase, two cabinets and a bed. Thus, the space that remains to the floor, we take advantage of to place two other cabinets, a total of six drawers and another bed.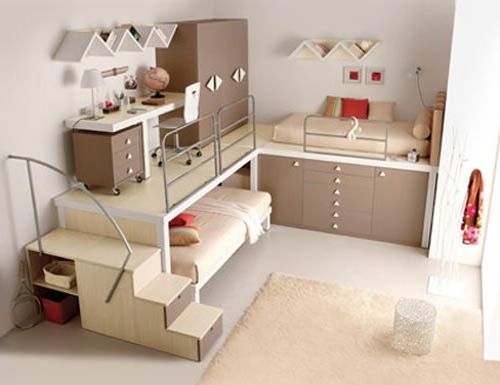 The desk is placed just under the bed. In this way, the bed and the desk occupy the same space in the bedroom.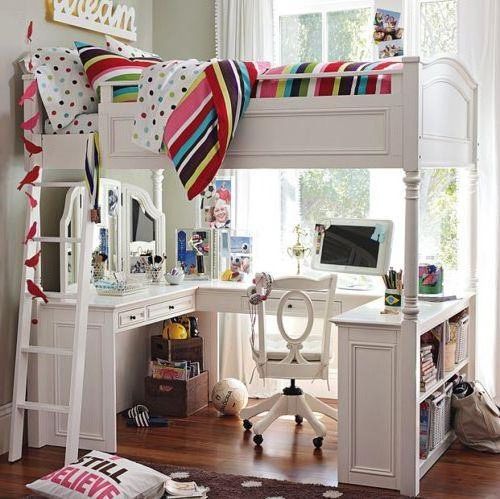 This is another magnificent option to decorate small youth rooms: place one bed on top of the other, and use the space that remains from it to the floor to place shelves and drawers.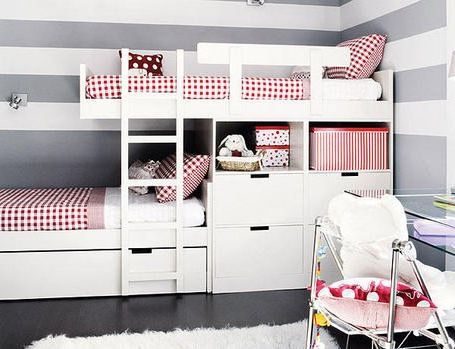 Other proposals offer bed, desk and cabinets on a single wall.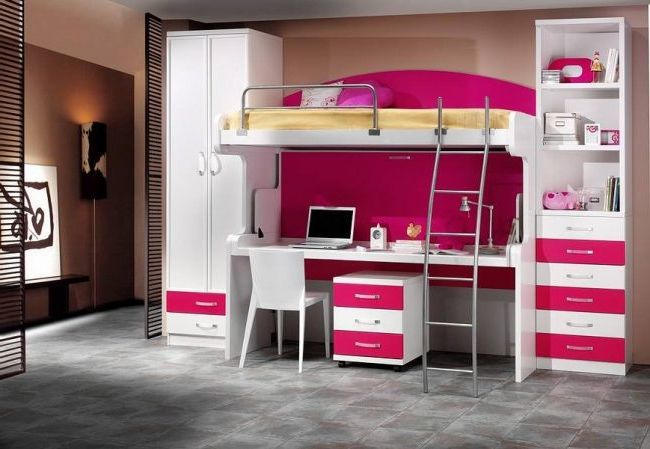 Folding beds
Or a folding bed like the one we see below, which can be lifted and forms part of the drawers and the shelf, saving a lot of space and at the same time being very decorative.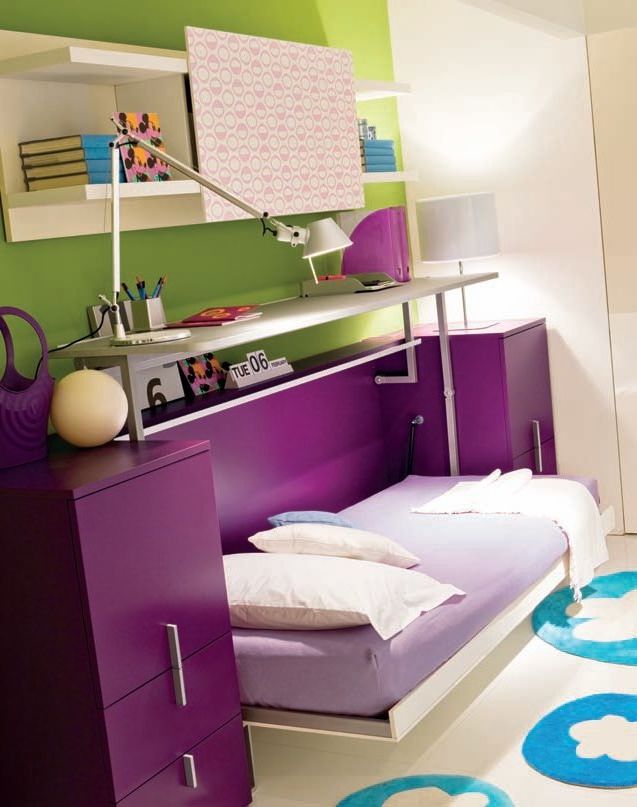 Multifunction furniture
As a first point you must take the measurements of your bedroom, door, windows; in this way you will save yourself from buying furniture that is not ideal for the dimensions of the room. Immediately afterwards, every time you choose a bed, or a wardrobe or a desk or whatever, you should think of the multifunction, as a mechanism for taking advantage of space. Bunk bed, hollow mini armchairs inside for extra storage, shelves up to the ceiling, among others.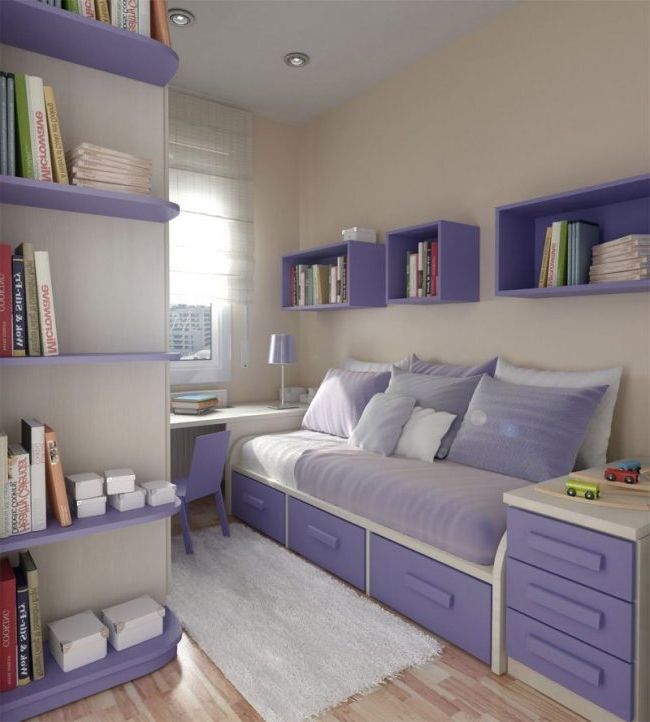 Just because it is a bedroom, does not mean that it should be exclusively for sleeping. You should put in your diagram a place for a desk where he can study quietly. Choose the position with the best natural light, the studio needs a preferential space.
Another thing to keep in mind is that all the furniture is against the wall, this will help the space look larger. Forget, for example, placing the bed in the center of the room. It must be against the wall. There are pieces of furniture, as we see below, that offer beds, drawers, cabinets and shelves on one wall.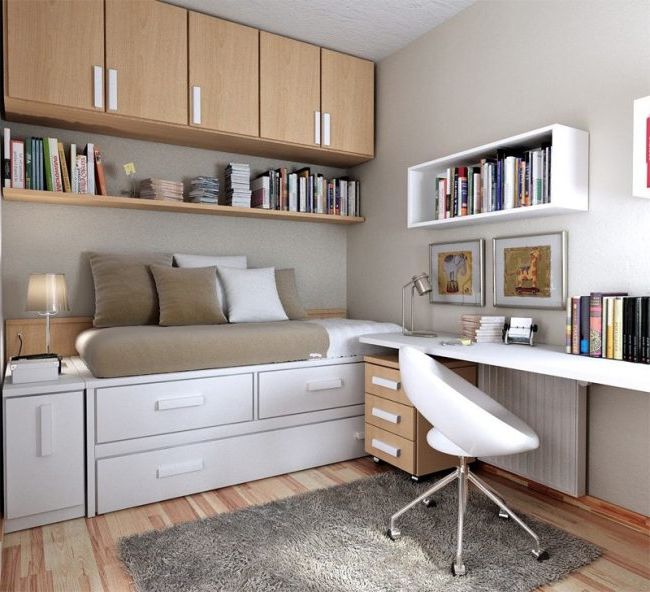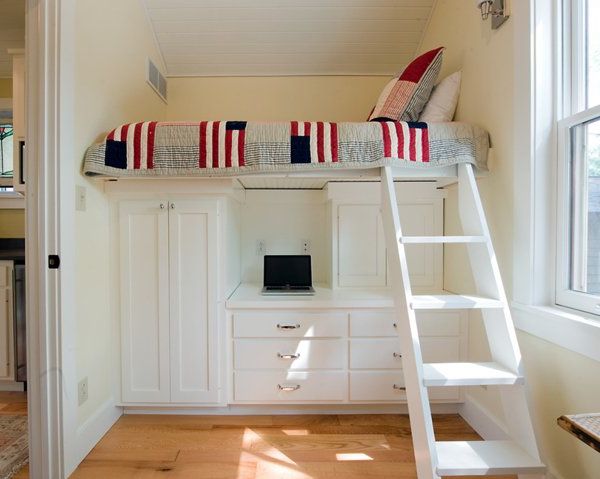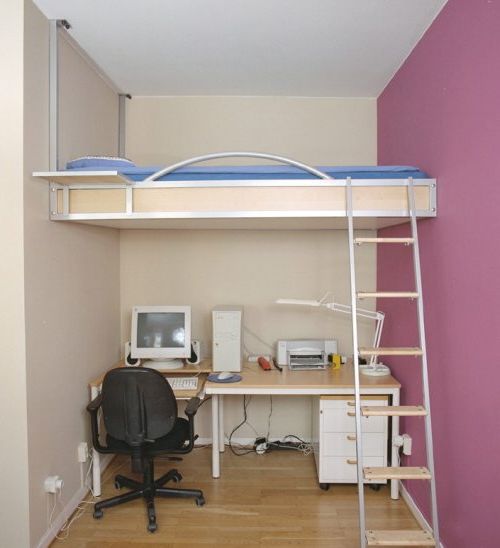 Small beds
A few inches of extra space can be vital in a small room. A bulky bed can take up space.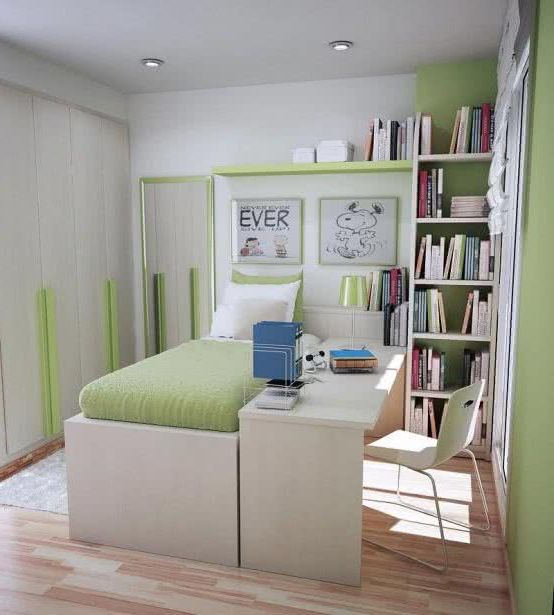 Under bed storage
If you are looking for a new bed, consider purchasing a bed with drawers underneath for additional storage.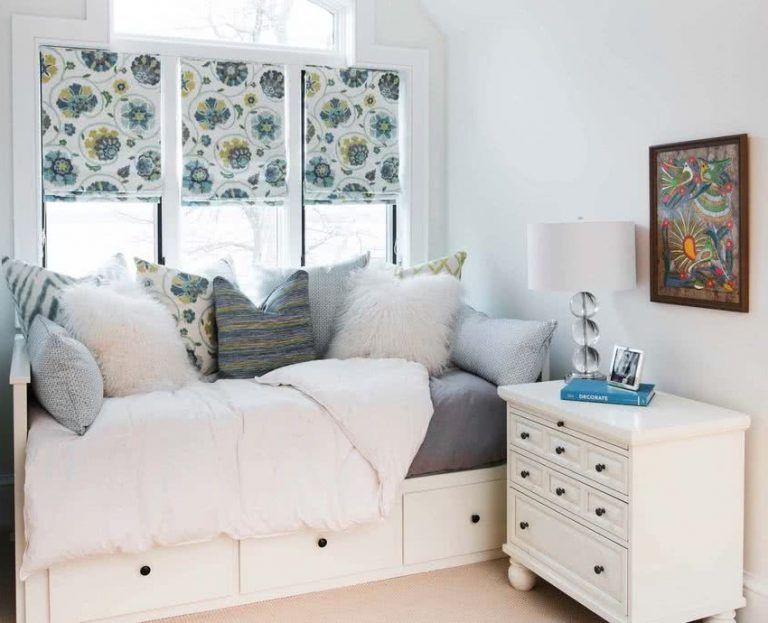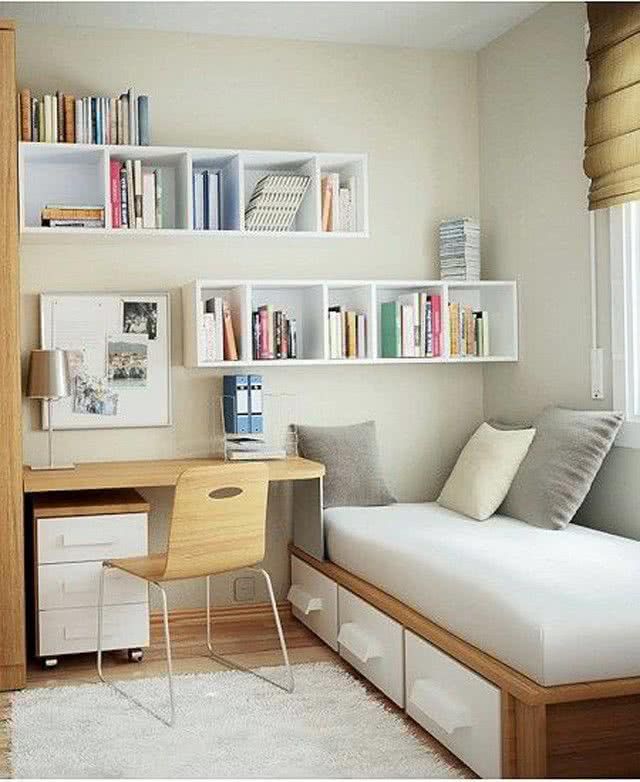 Floating shelves
The versatile floating shelf can work in many useful ways in a small bedroom. Here are some small floating bedroom ideas:
A nightstand replacement
An entrance table next to the door
A shelf
A place to store a collection of modern colorful boxes that house clothes and accessories
A portable desk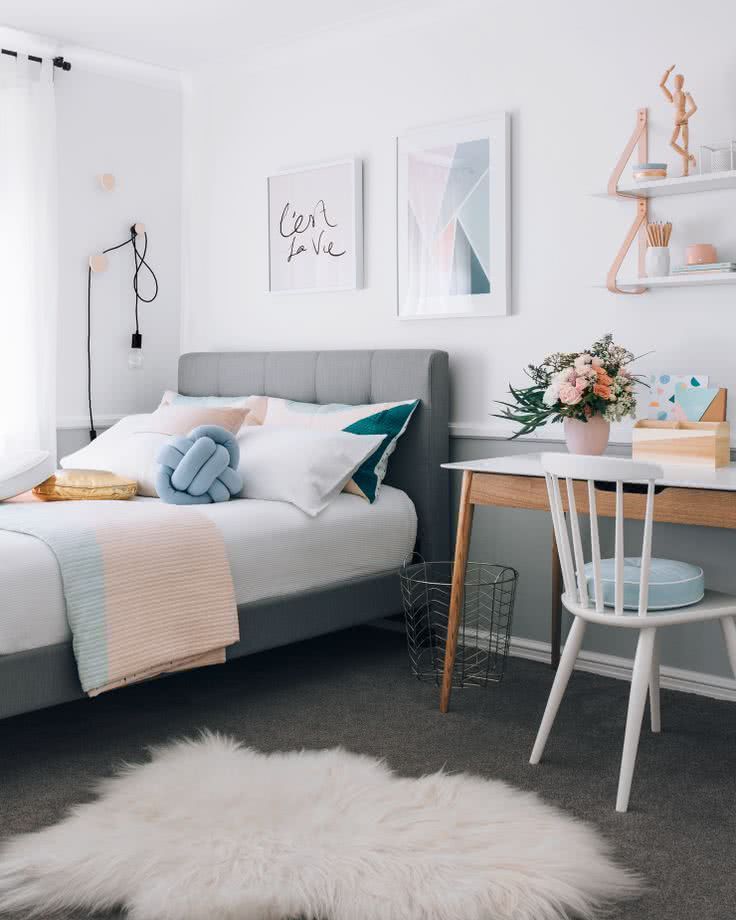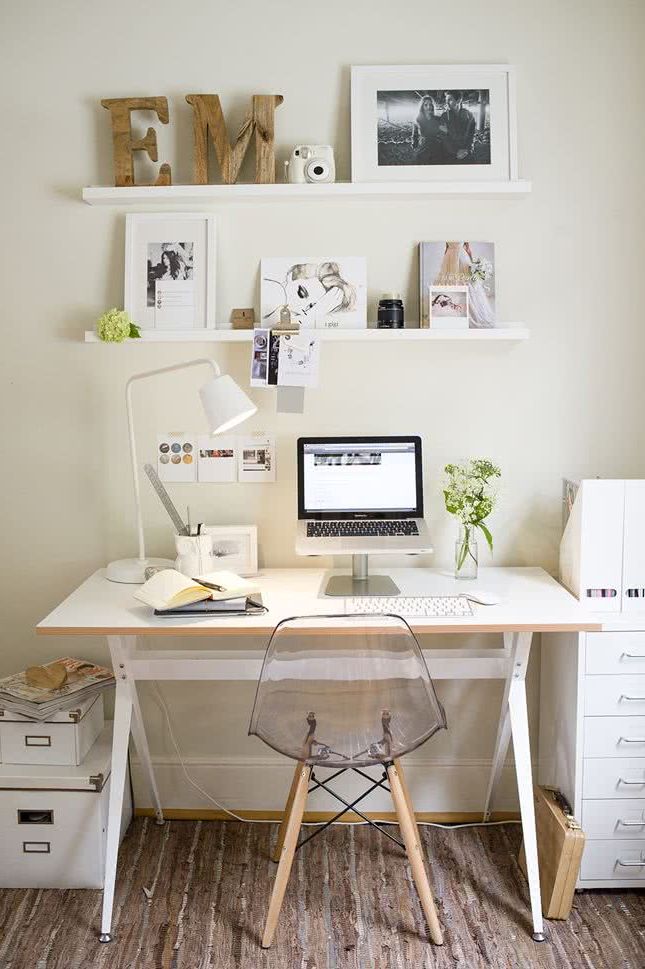 Install a wall cabinet
It's not the cheapest option, but installing shallow cabinets along an entire wall can help eliminate feelings of clautrophobia.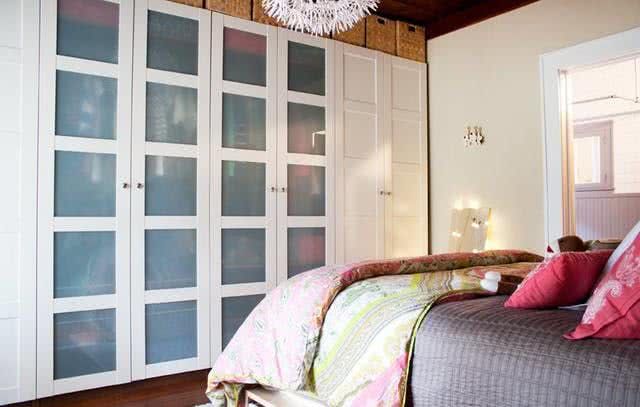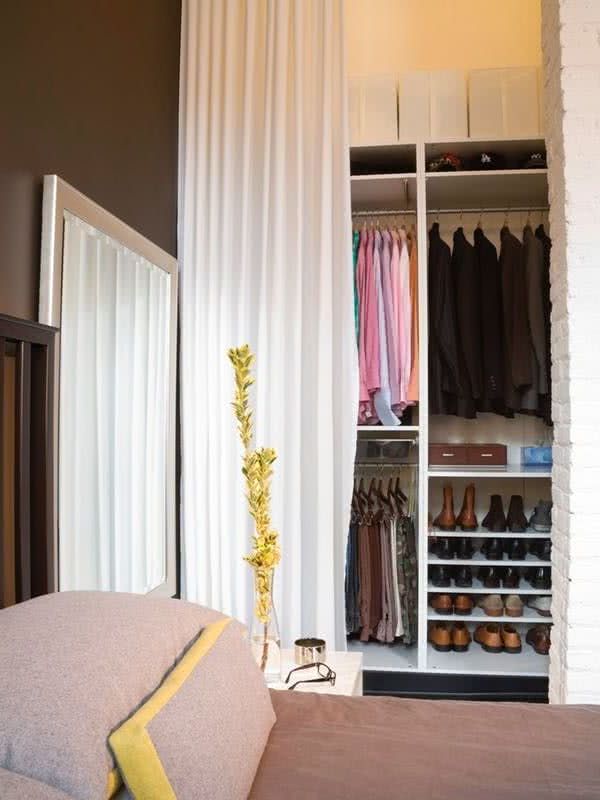 Other ideas for small youth bedrooms
To turn your bedroom into a comfortable and dreamy haven, we show you more practical ideas and techniques for decorating and smart storage.
Create a Focal Point
Every room needs a focal point, an eye-catching place that establishes a hierarchy so that the whole is not seen with the naked eye. Many times the focal point is the head of the bed, which can be enhanced with nice pillows. In a small space, the eye can also be attracted to the window. Instead of letting these two strong elements compete for attention, position the bed in front of the window for a cohesive blend. Or, dress one element – the bed or the window – in a neutral way, so that one stands out and the other can take center stage.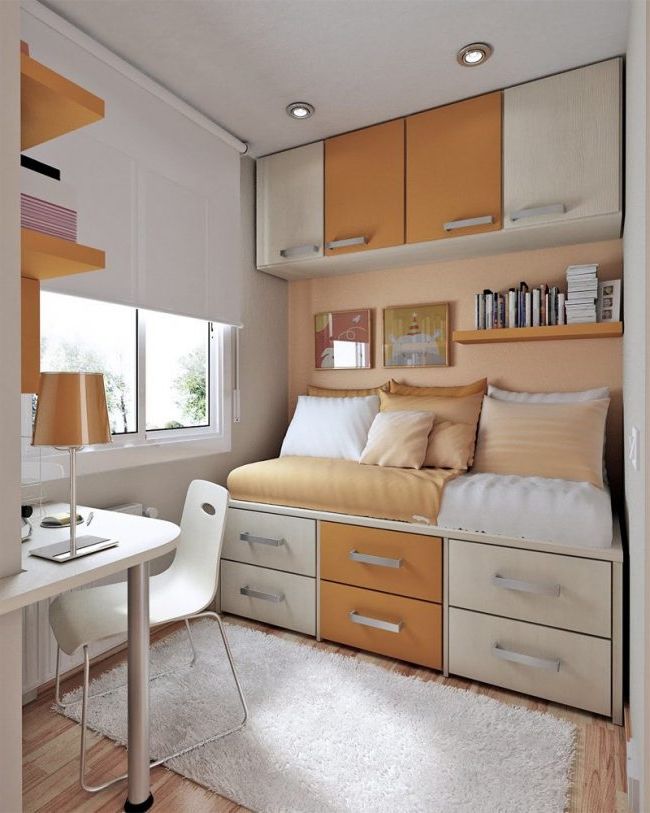 Keep the space open
It can be tempting to buy the biggest bed possible. But doing this in a small space tends to make the space feel even tighter. It's best to opt for a low-height bed that doesn't clutter the room, such as a platform bed with storage underneath.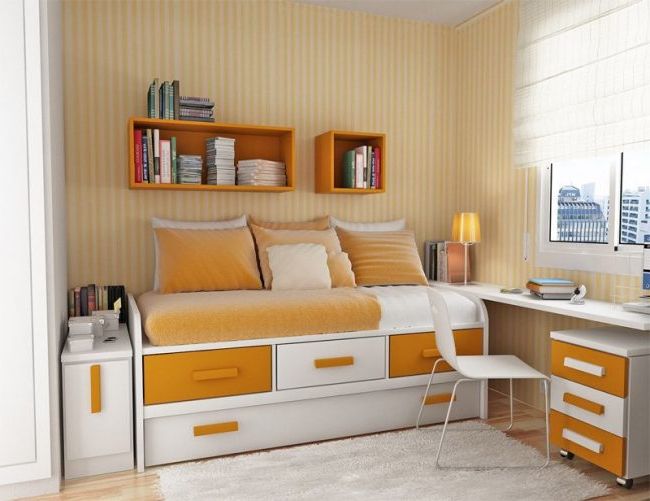 Use smart storage
In tight spaces, every square inch is potential storage. Sure, you can hide boxes of sweaters under the bed, but remember to use a long quilt to hide the boxes under the bed. Place an ottoman chair with storage under the window to store extra clothes or shoes. Use a nightstand to save drawer space. Make the most of your closet by being very organized. And find a space on the wall where you can hang a shelf.
Place the bed against a corner
Most bedrooms center the bed relative to the wall. To maximize space, place the bed against a wall or corner. A cozier sleeping area will be created and you will enjoy more free space.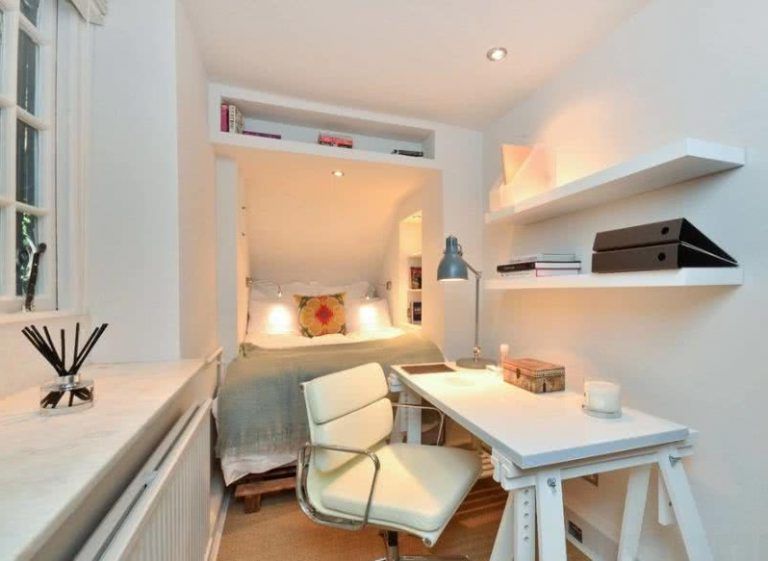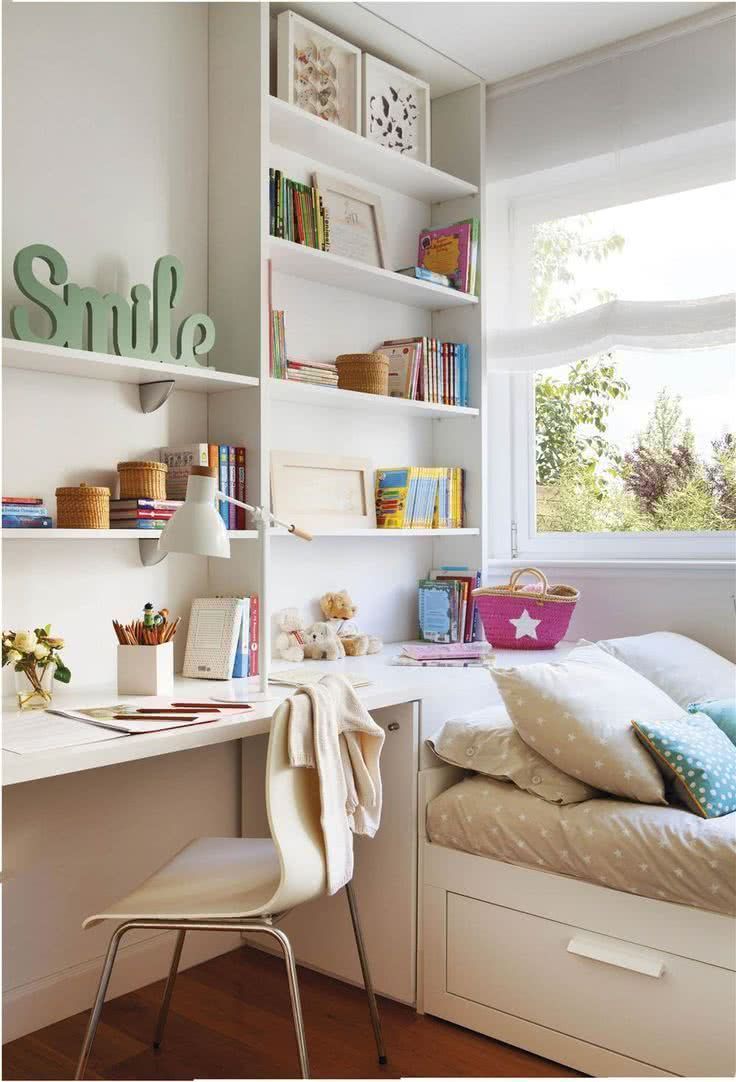 Minimalism
You can add space to the bedroom by using only your favorite essentials. The focus of this space is undeniably the bed, so you can keep all other furniture and accessories to a minimum.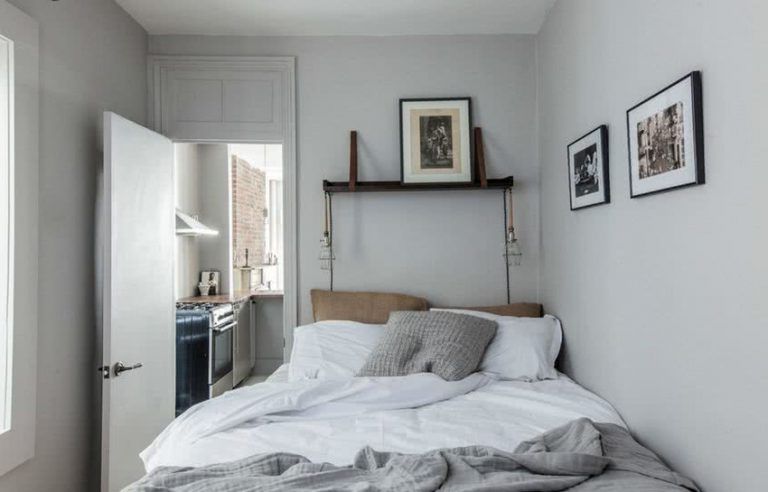 Built-in cabinets maximize storage while looking like they're not even there. Always remember when buying new accessories for the room, that in a small space, less is more. And always maintain order, a small tidy space will always look larger.
Use mirrors
Mirrors expand a small space creating the illusion of a larger room. Positioning a mirror to reflect light from a window is also a great way to turn up the natural light in your space.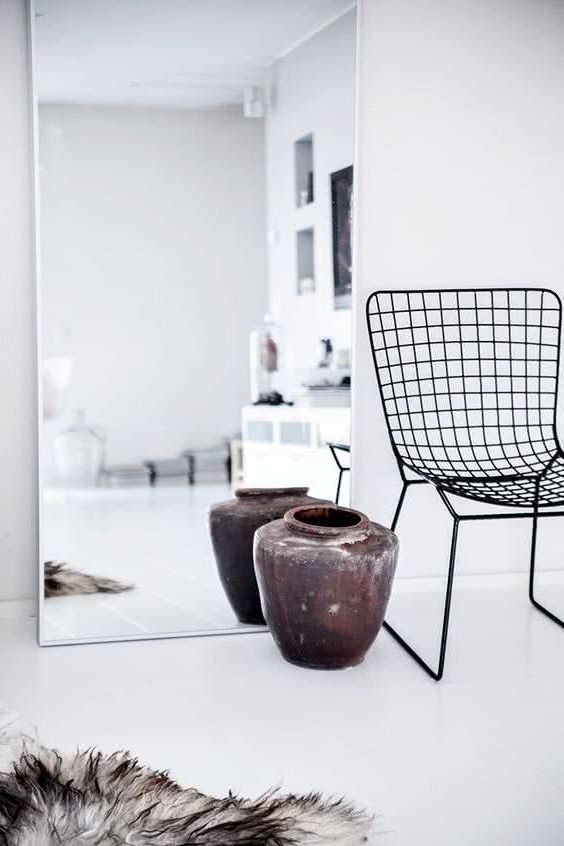 The easiest way to incorporate a large mirror? Find a body-length mirror and lean it against the wall. No holes needed.
Expand vertically
If floor dimensions are limited but you have high ceilings, consider adding a deck as a sleeping area and space for storage or seating below.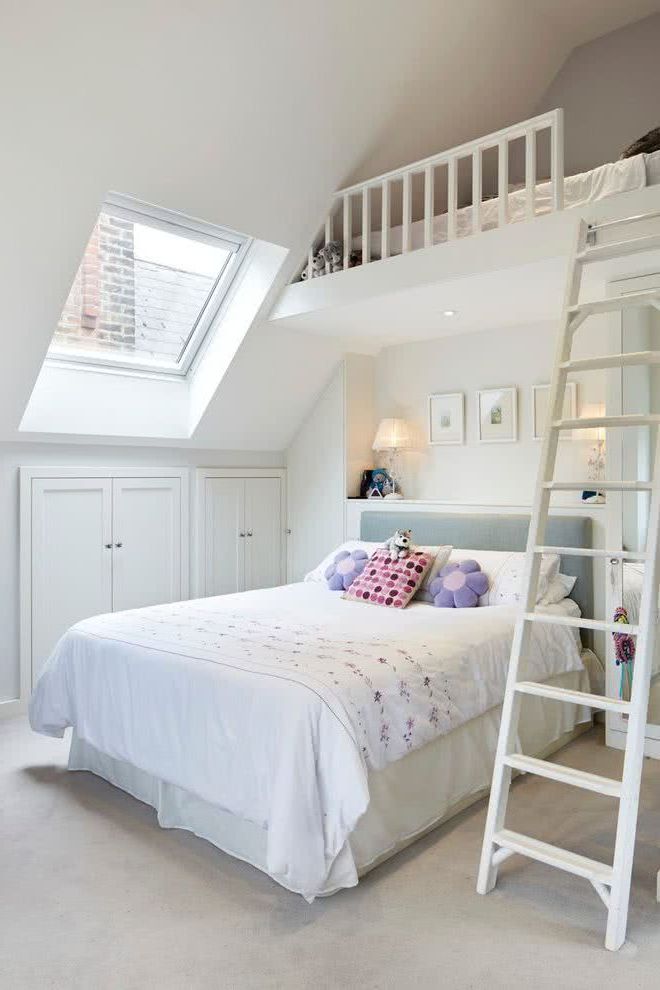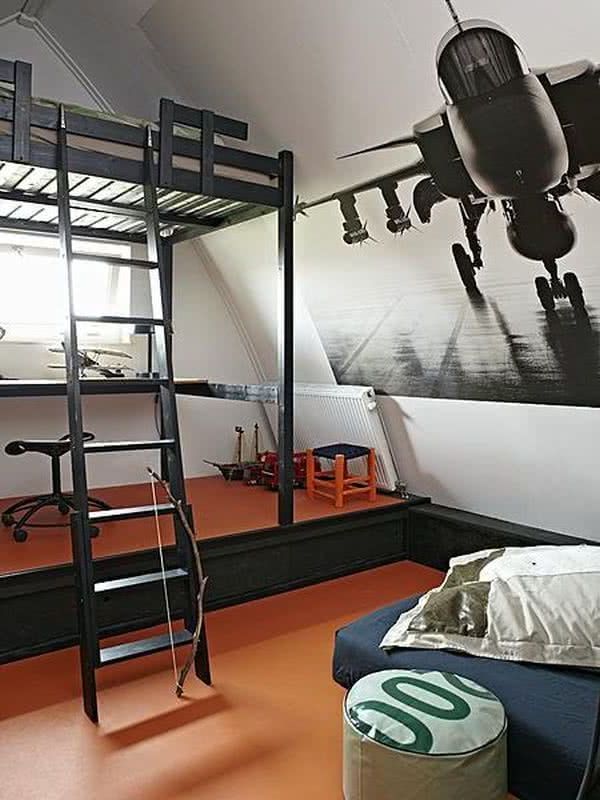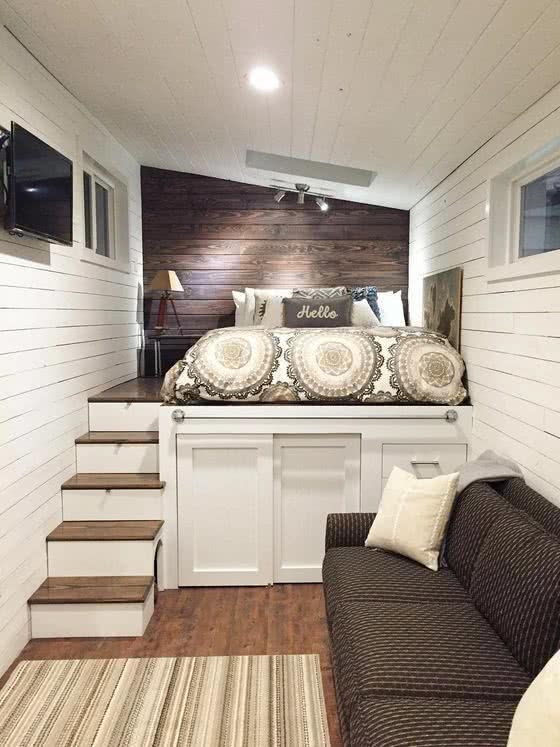 Decorated wall
Just because the room is small doesn't mean it has to be boring. Add a focal wall, like the headboard wall.
Wallpaper tends to get a bad rap for making rooms look small and cluttered, but using the right style and technique does just the opposite.
When selecting your wallpaper design, choose a large-scale pattern rather than a small one. Don't forget to create a cohesive look by coordinating your bedding with your beautiful new wallpaper.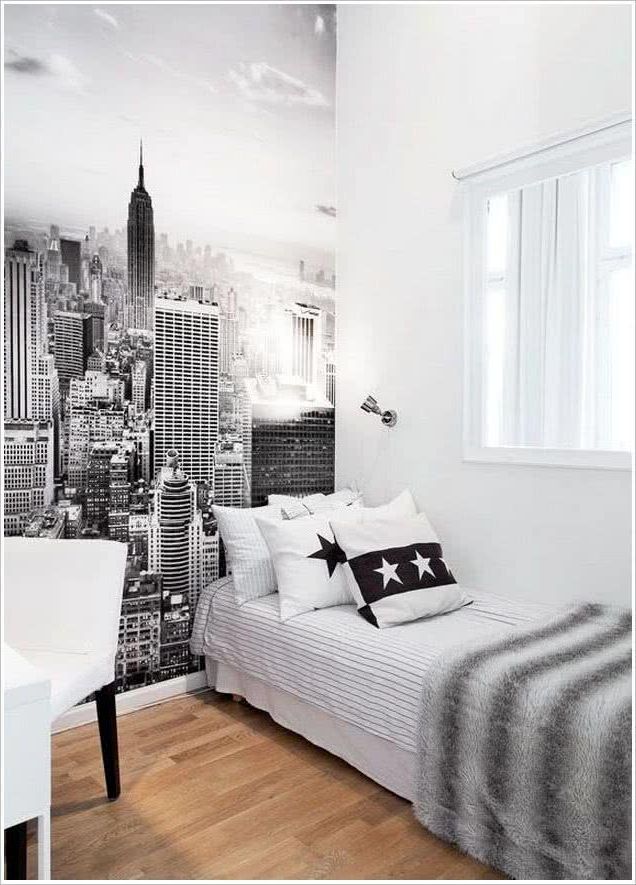 Small female youth bedrooms
Here we see some examples, very feminine, with pink, light blue or lilac colors.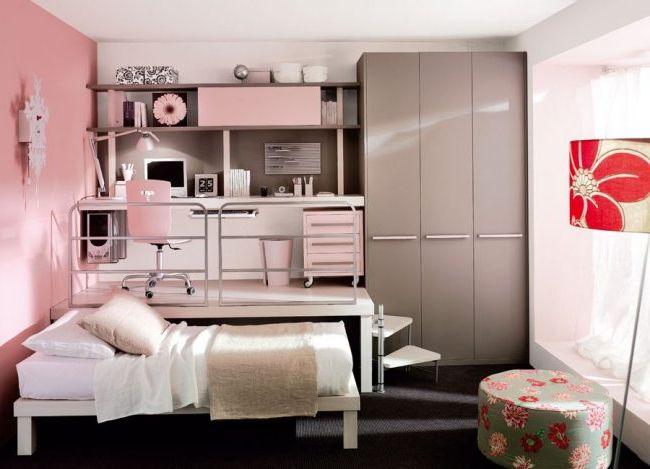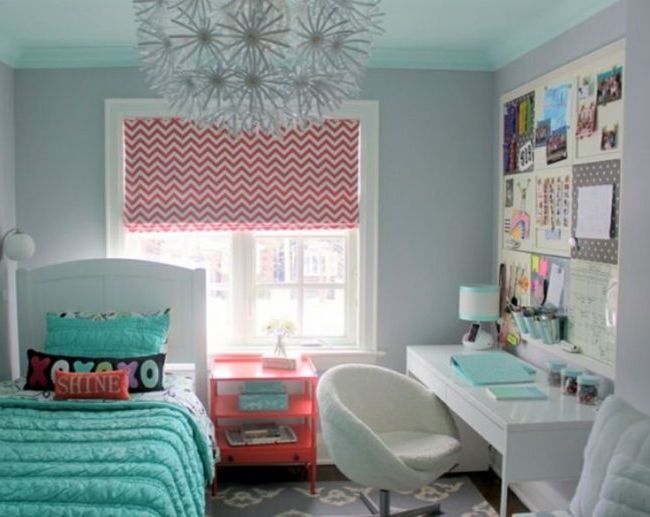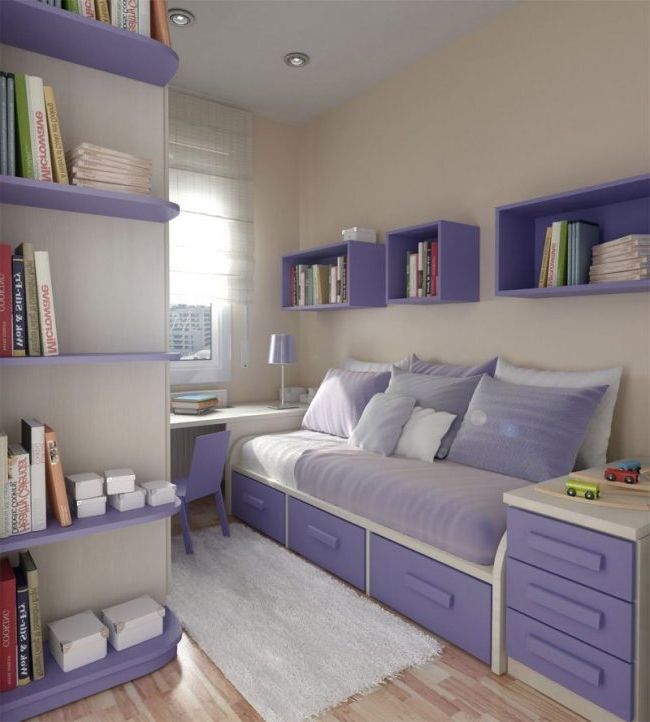 When one has the basic furniture, one must move on to the second stage: painting and decorating. It is recommended to have a theme around which the bedroom revolves, it can be a music group, a sport or whatever you like. To paint the walls, keep in mind that dark colors give the feeling of a smaller room, while light colors enlarge the space. The rest of the things such as furniture, lamps, paintings or posters, will be chosen according to the design for which you have been inclined.