Take note of these tips to decorate your living room in white and that the result has its own style, that is not bland or boring.
Whoever says that a space decorated all in white lacks personality is completely wrong. Dare to do this already shows that you are capable of taking risks and, with our help, fully succeed in your decoration. Whatever style of decoration you like, there is sure to be a living room decorated in white that inspires you to decorate yours.
Although it is a color typical of minimalist styles, there are many ways to adapt them to create warmer spaces and even with rustic airs. If you are one of the people who are looking to give a different touch to the decoration of their rooms, this is how your living room should be.
Why decorate your living room in white
If you need reasons to convince yourself of this, here we leave them:
Because they are very bright rooms : white is always going to be your greatest ally when you are looking to light up a room. Imagine if everything is decorated in that color!
You can adapt it to any style: Nordic, romantic, industrial… You can adapt total white to your favorite decoration style without any problem.
They are spaces that create a greater visual amplitude : it is ideal for smaller rooms.
You can combine them with any element: whenever you feel like adding some color, you can do so without any problem keeping the base white.
The white color is always a trend, a timeless color that will never go out of style and lends itself to being the protagonist of any style of decoration, from the most classic to the most modern and minimalist. Opting for it as the main color in the decoration of the queen room of the house, the living room – starting with the walls and ceiling, even the floor, and the main pieces of furniture – will undoubtedly bring light and freshness to the living area, favoring a feeling of spaciousness and generating a warm and serene white living room environment.
White is not a flat color
White, yes, but… what white? You'd be surprised how many shades of white there are. Do a simple test: take several pieces of white clothing that you have. A t-shirt, a shirt, a sock and even a sheet. And put them together, one on top of the other. Why don't any of them have the same whiteness, the same point of luminosity? And not only because of the use that the garments have, but because there are many whites. And the same happens in decoration. Many paint firms, for example, in addition to the classic color chart, have specific white charts. A broken white base with touches of another color, which achieves whites that match the sand ones (with a touch of yellow), or the stone ones (with gray nuances), a white and blue game… or whatever. And they also depend on the light they receive, depending on the intensity, the time of day, whether it is artificial or natural, etc. and each target will behave in a way showing variations.
Combine it with the right
That is the main advantage of white: it looks good with everything. And everything is everything. With any material, such as wood, with which it triumphs in that Nordic white+wood pairing; with natural fibers, so Mediterranean; with the metallic ones –the vintage effect with golden touches is great–… And, of course, with all the colours. Whether in strong contrast, such as with black, a classic black & white duo, exemplary and timeless; or with block tones, very much in the Mondrian style; with pastels, earthy ones, blue ones in a sailor look… With everything! Put light in your living room and launch yourself to conquer white.
1 White and wood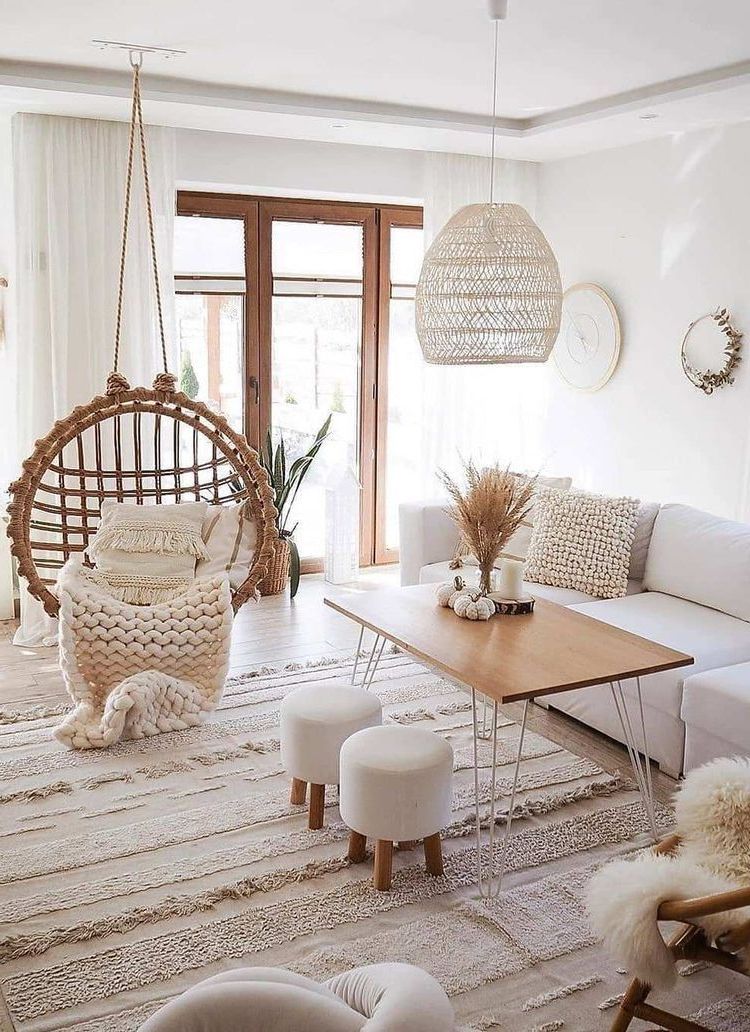 A good example that white admits all styles, in this case also rustic. And far from seeming like a cold room, a warm and welcoming space is created.
2 small contrasts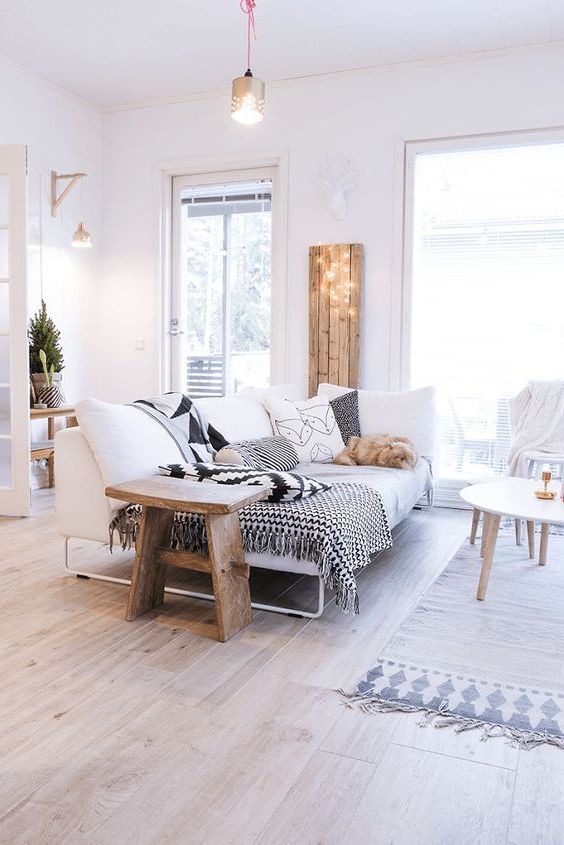 A clear example of a white base with small elements in different shades and materials to highlight. The key? Choose patterns that also contain white to maintain unity.
3 Total white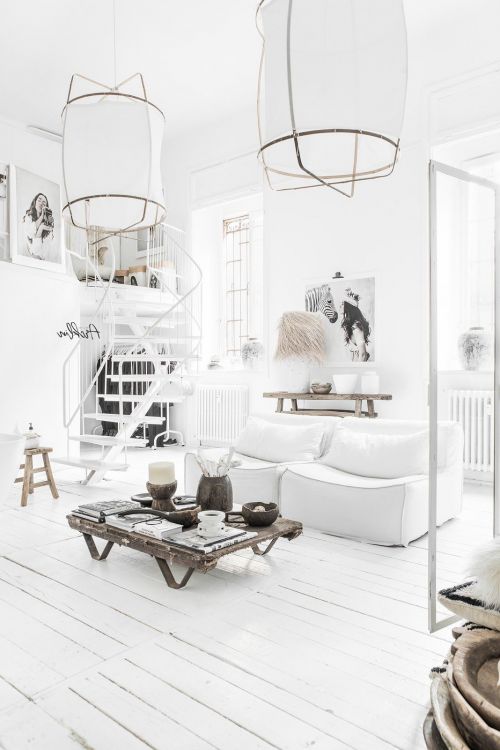 An industrial-style room that exudes personality with tribal touches. A low coffee table is in charge of presenting the contrast between the floor, the wall, the ceiling and the sofa.
4 Protagonist wall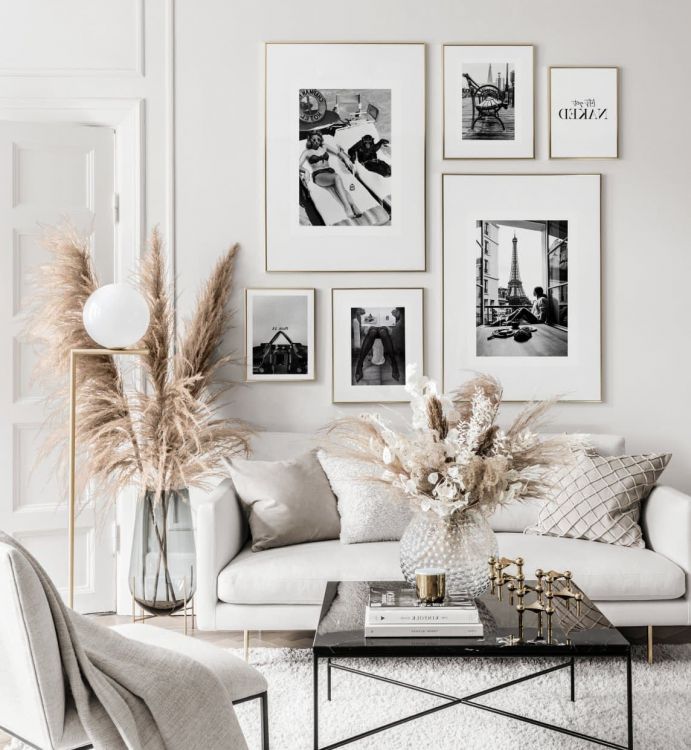 A white base, created by the wall, the sofa and the carpet, is added to a wall with black and white paintings that, without a doubt, create the personal effect that we are looking for.
5 The key is in the complements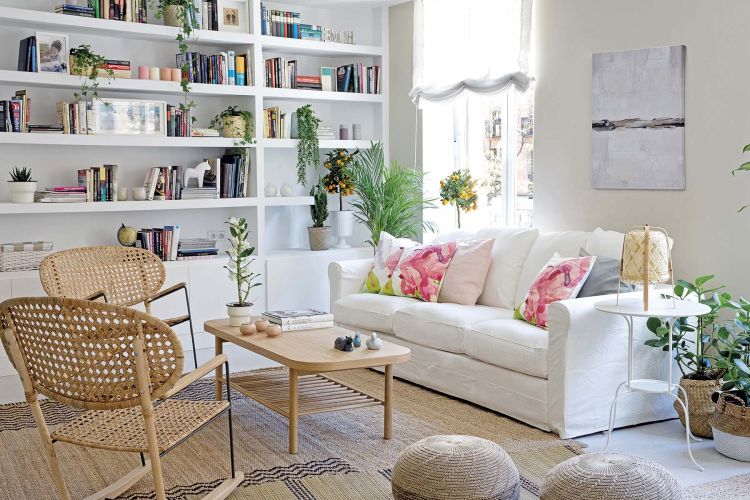 In this completely white room (don't miss the BEFORE), the plants, cushions and auxiliary furniture in wood and fiber create the perfect contrast to give dynamism to a decoration that started from absolute white.
6 Neutrals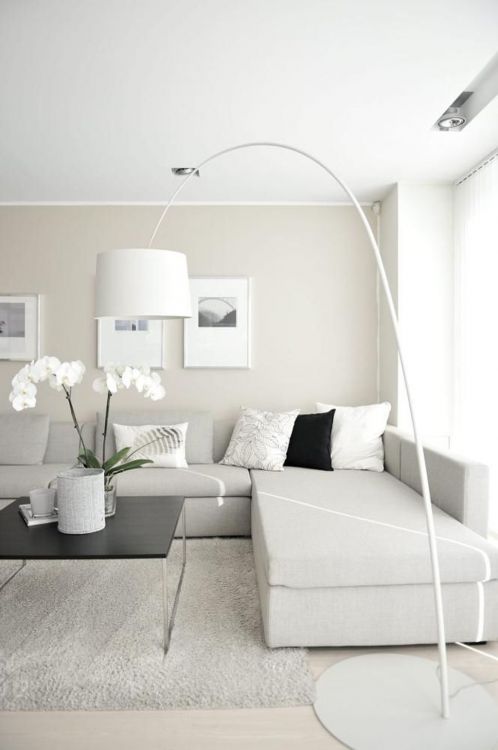 The game of white, beige and gray creates an effect of enormous visual amplitude. Here black is played with to create contrast and depth to the room.
7 White and navy blue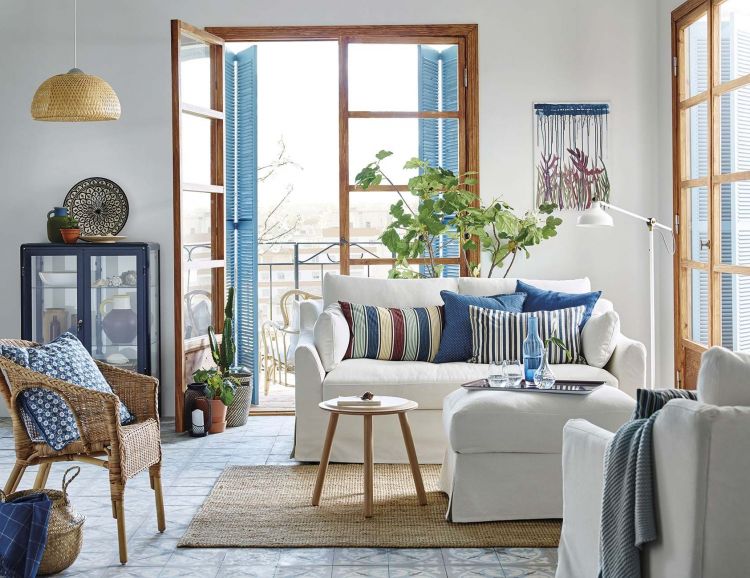 Decorating with a marine style is easy, the white and blue duo is essential. So make a small change in the textiles (cushions, sofa cover, fresh summer rugs…) in your living room and as if by magic you will feel like sailing through the Mediterranean. With a couple of marine decorations you will have already created the ideal setting.
Sofa, model Färlöw, € 649 ; rattan chair, model Agen, € 40, and glass and blue steel showcase, model Fabrikör, € 149. All from Ikea.
8 Combine white with intense colors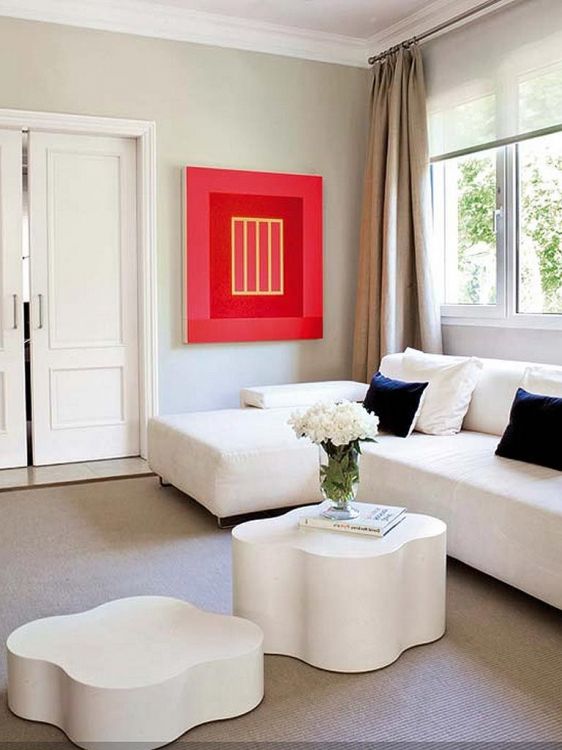 To counteract the feeling of coldness and impersonality that total white can sometimes generate, introduce a single colored decorative piece, such as a painting in strong tones, that contrast with the predominance of white. A sophisticated proposal with personality. Alacre Interiorismo room with auxiliary tables, Nuvola model, designed by Piero Lissoni for the firm Porro; Minotti sofa and painting by artist Peter Halley.
9 light source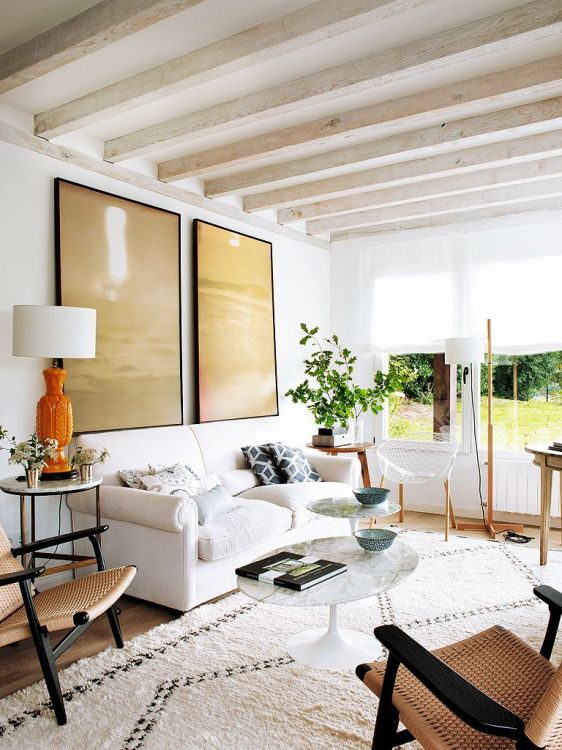 With the windows to a garden that this house has, green sneaks into the interiors, dressed in light tones marked by the white sofa and the Berber-style rug. The wicker and black-stained wood armchairs provide just the right point of contrast.
10 A touch of surprise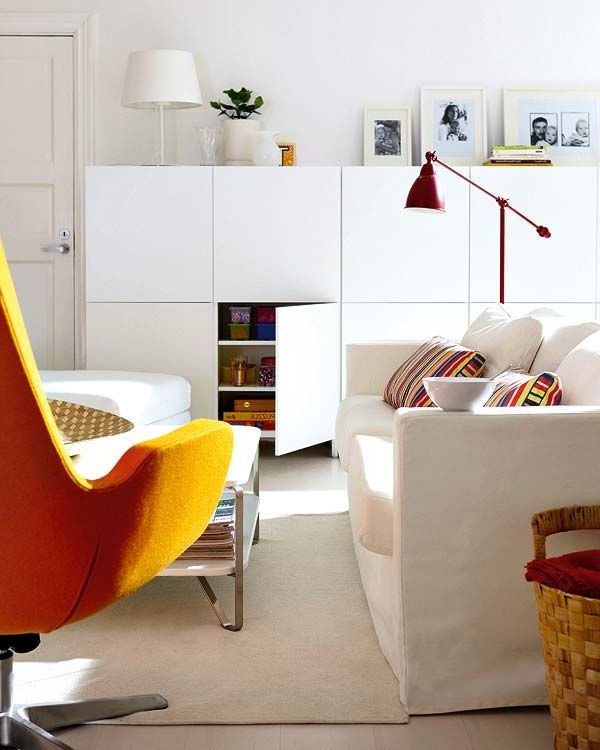 In this case, the orange armchair, in tune with the cushions that enliven the sofa with a white canvas cover. And, everything else, with pristine clarity as a flag: the rug, the coffee table, the sideboard. It's an Ikea vibe.
11 So natural and fresh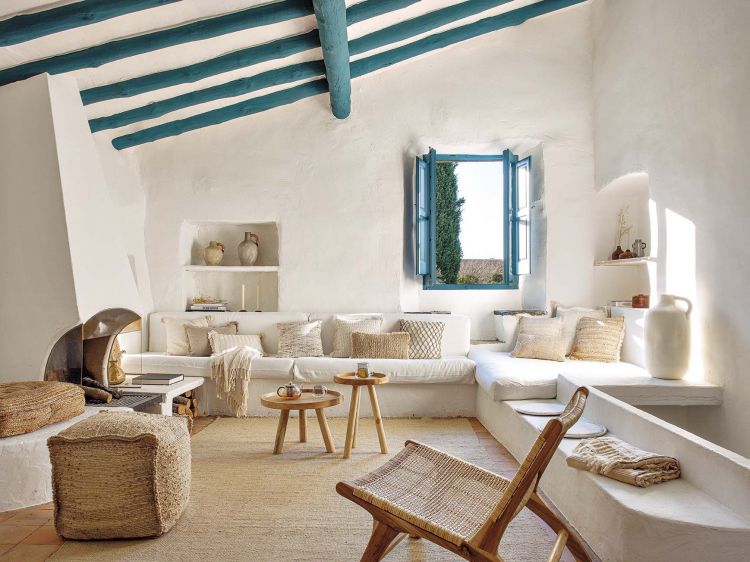 This environment, by Kave Home, pays homage to the Mediterranean style. Everything breathes naturalness and charm, with the very typical work furniture in the Ibizan look, combined with the mats and cushions in white natural fabric that make up the sofas. The rest, light wood and natural fibers. Perfect!
12 A blank piece as the perfect neutral base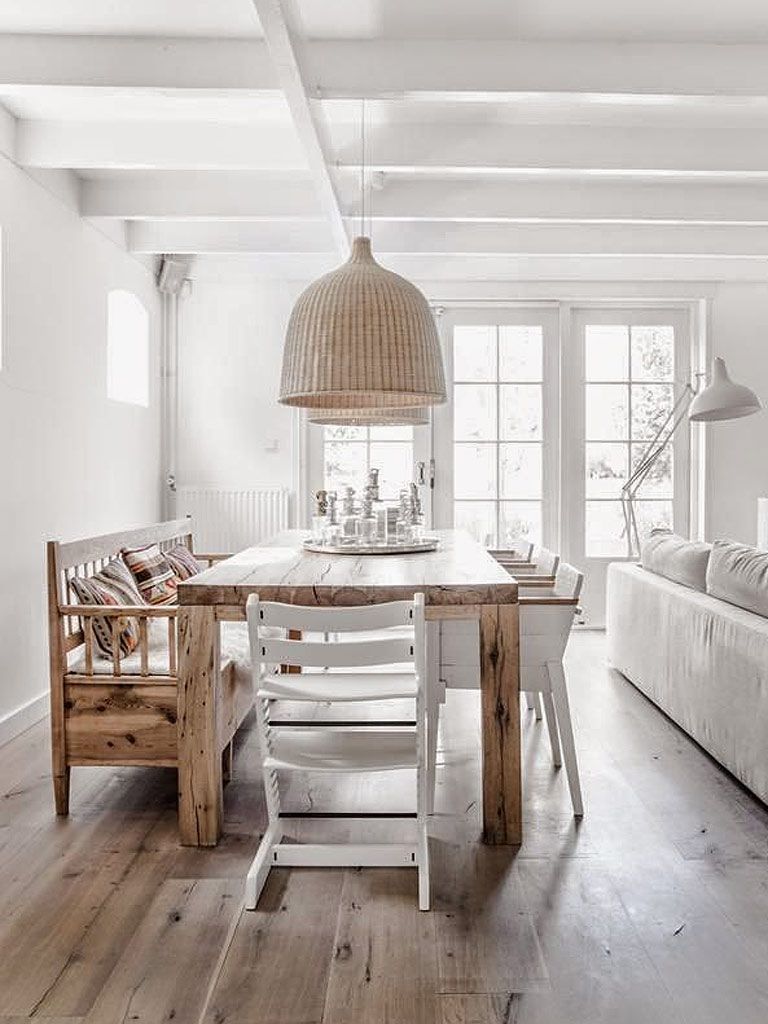 White fits perfectly with any trend, material and texture. A white sofa as a central and neutral element in the living room is ideal and if we opt for wood for the rest of the furniture, the result will be very warm. Nordic-style living room, by Três Studio.
13 Color on the walls of a white room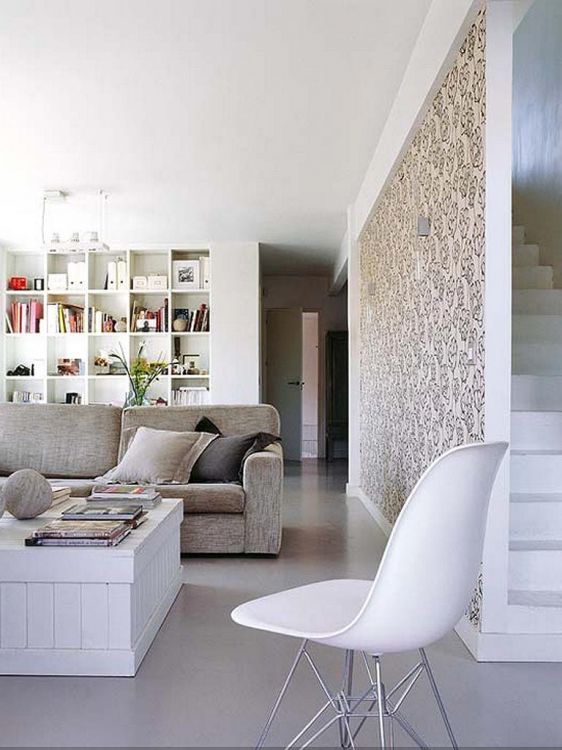 White is a color that can be used in any style of decoration: classic, modern, minimalist, etc. Combine pieces of different styles and use shades of another color for the coverings. In this case, the wall that separates the living area from the staircase was covered with a patterned paper, from the firm Romo. Plastic Side Chair, by Vitra.
14 Brightness in the living room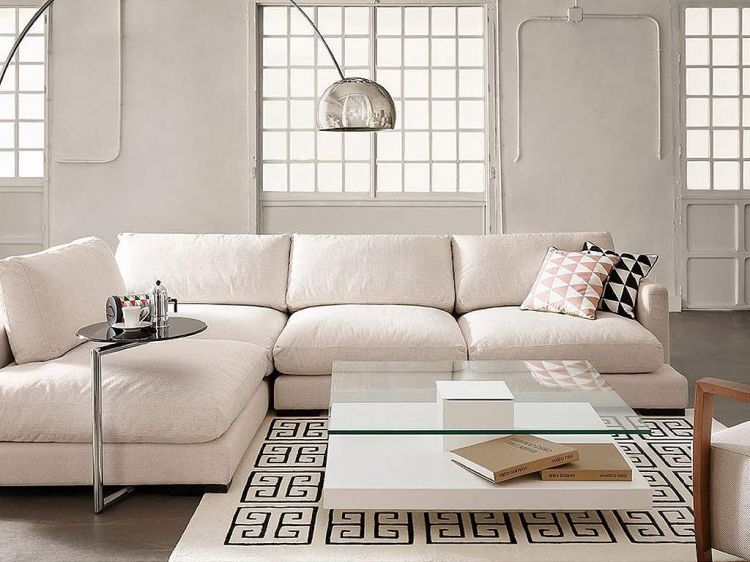 White will allow you to make the most of the space and will guarantee soft environments full of freshness, simplicity and elegance. Everything is from La Oca.
15 White conveys spaciousness and cleanliness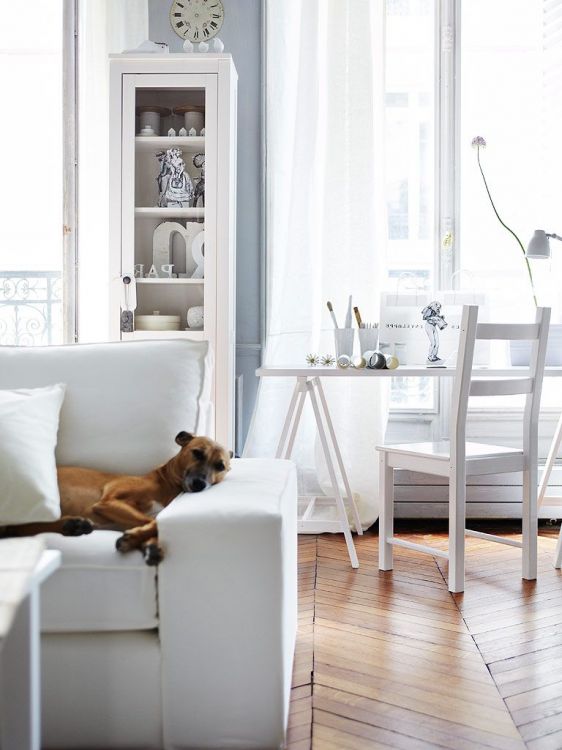 If your living room is small, opt for white for all the furniture: it provides a greater feeling of spaciousness and light. The pieces are from Ikea.
16 Different ranges of white for the living room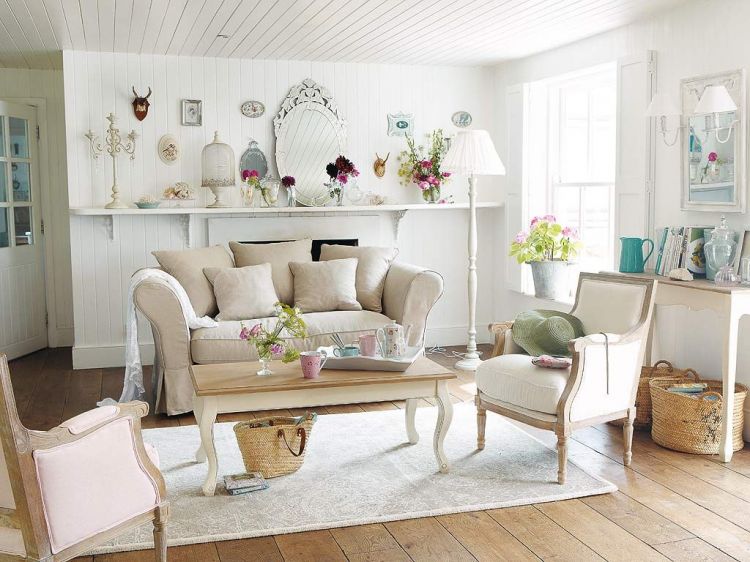 There are different shades of white: broken white, bone white, cream, etc. Opt for one of these tones in some pieces of the living room; broken white, for example, conveys more warmth and is easier to combine with other colours, furniture or objects. Entire hall of Maisons du Monde.
17 White is ideal for open spaces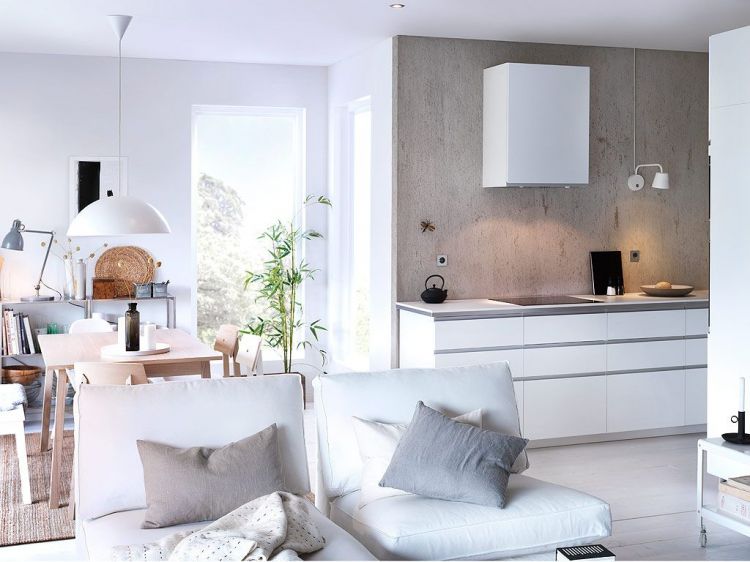 White is a good option to separate open spaces that integrate several environments, as in the case of this living room, dining room and kitchen. For sale at Ikea.
18 White furniture that brings light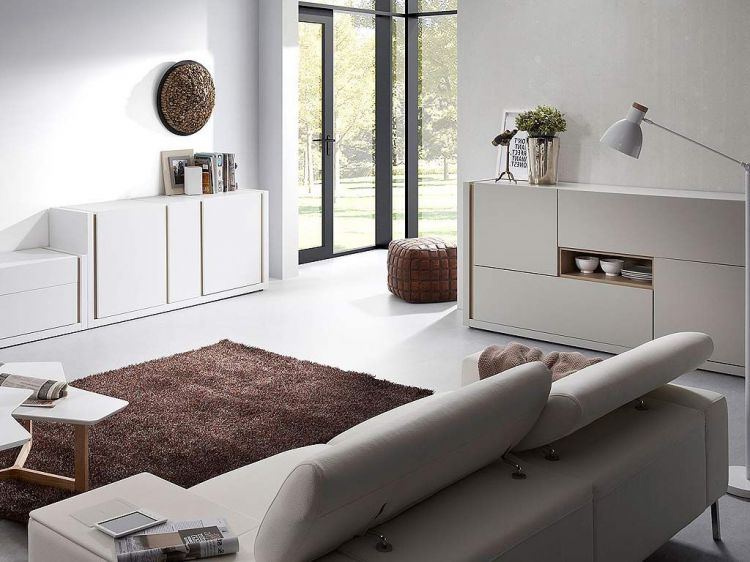 The white modular furniture adds a touch of modernity to the living room thanks to the matt lacquer finish elegantly combined with oak veneer details. QU Collection, for sale on Portobello Street.
19 An atmosphere of serenity thanks to white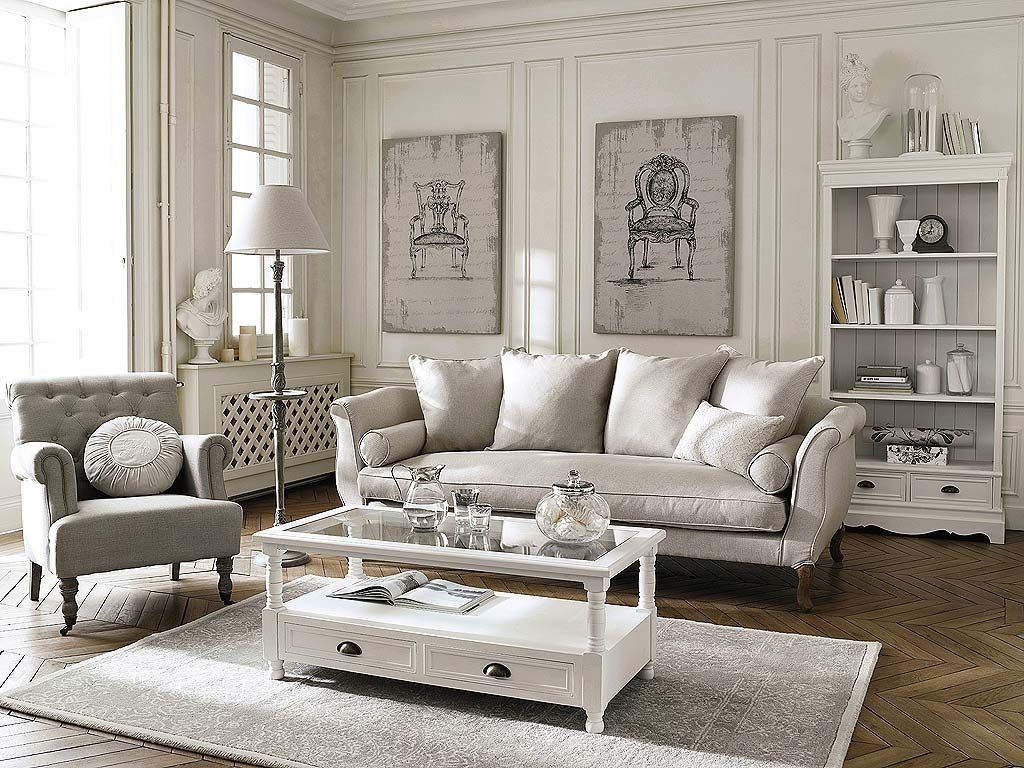 Being a relaxing color that transmits calm, decorating the living room in white is a highly recommended option for restless people who seek a sense of order and balance around them. Hall of Maisons du Monde.
20 The versatility of white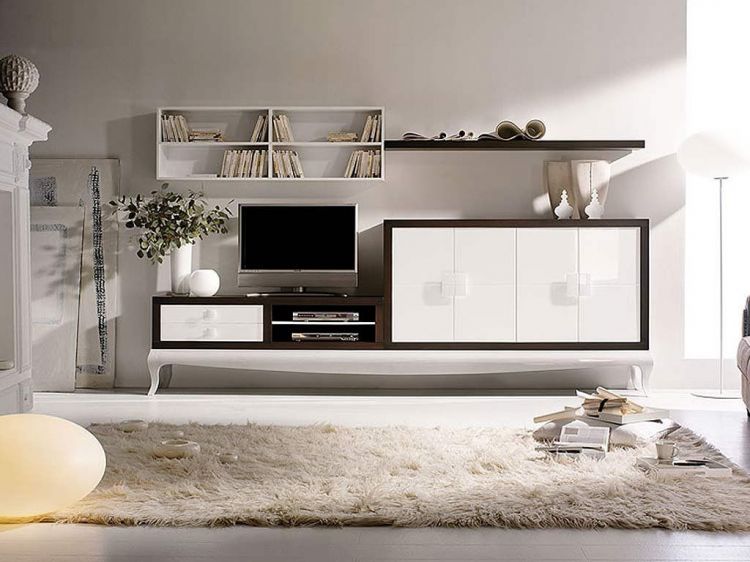 The Bauhaus collection, with a refined aesthetic, allows a perfect combination of modern design and the most avant-garde trend, with the touch of distinction and originality that characterized the aesthetics of the artistic movement of the same name at the time. Parts for sale at PortobelloStreet.es