Summer settles in our houses, which accumulate temperature (and more with the heat wave). With these solutions you will achieve an attractive atmosphere that also exudes freshness.
We attend to different aspects so that the house is also your anti-heat wave shelter (first precaution: close all windows and shutters first thing in the morning). Fresh fabrics, natural materials, cold colors. 15 proposals thought with a cool head.
Light curtain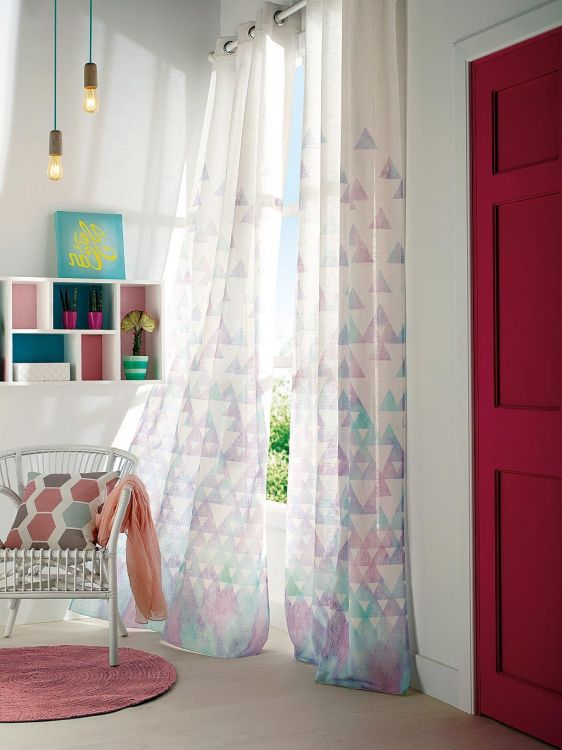 It is the main way for heat to enter a house, but it is also the opening that allows current to be created when the sun does not shine directly on it. During the summer, it is advisable to dress it with light fabrics, which soften the sun's rays and allow themselves to be rocked by the breeze. Curtain, in 140 x 270 cm (€29.95). It's from Leroy Merlin.
Fabric blinds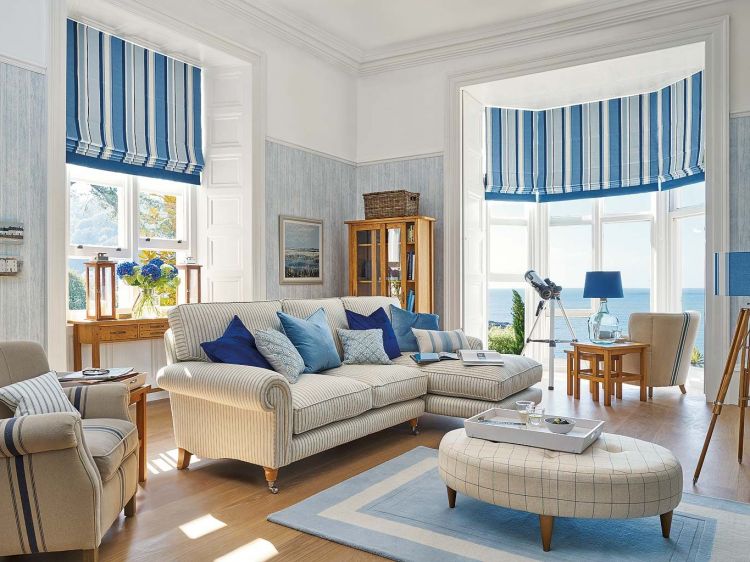 Striped, plain or checkered, it is the quintessential summer combination. Blue is a cold color that is also associated with nautical environments. As a cushion, to dress the window or as a rug, it will give a fresh air to any environment. By Laura Ashley: Kingston sofa (€4,590), Eaton Stripe fabric blinds (€54/m) and Lewes rug (€325).
Jute blinds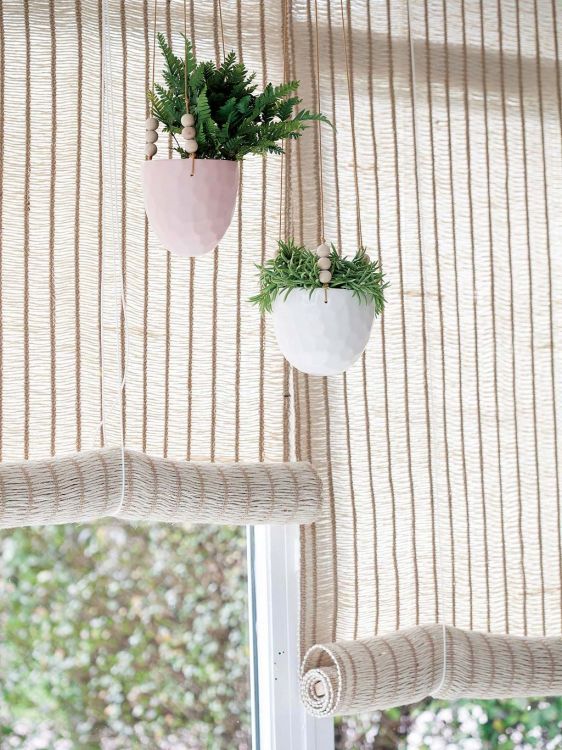 They are a lighter version of the traditional esparto grass shutters that cover windows, patios and porches in the hottest areas of Andalusia and Extremadura. Like esparto grass, jute is a natural material that insulates the house from the outside heat, with the peculiarity that, as it has less weight, its installation is as simple as that of any
cloth blind With greater decorative potential than esparto grass, the elasticity of jute supports multiple designs. These, from Deco&Living, measure 60 x 160 cm, but can be made in any size for the price of the standard ones. Blinds (70 €).
Corner sofa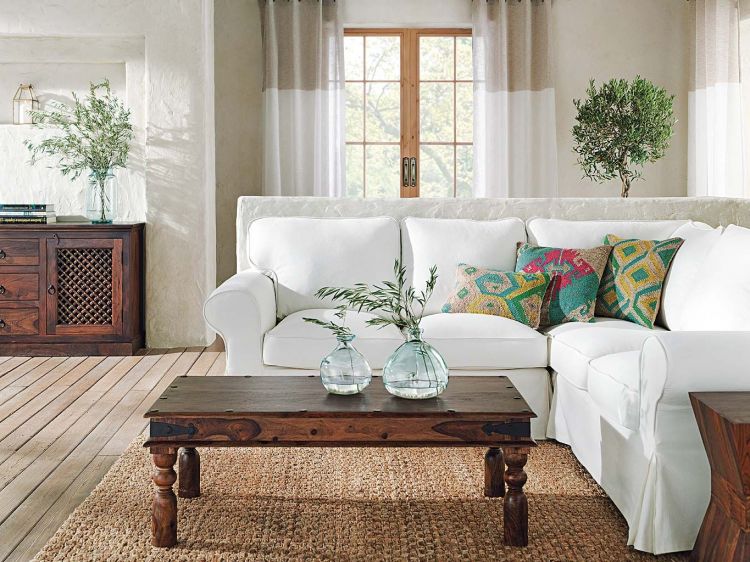 In summer, sun creams and naps on the sofa can damage your upholstery. One solution is to cover it with a cover. If it is white, you will also be able to lower the temperature in the living area. Baltimore corner sofa, with cover; in 229 x 229 cm (€1,865). Mandalay table, in 115 x 60 x 40 cm (€265). Cushions (from €25.95). Net curtains (€39.95 each). Everything, in El Corte Ingés.
Solar shower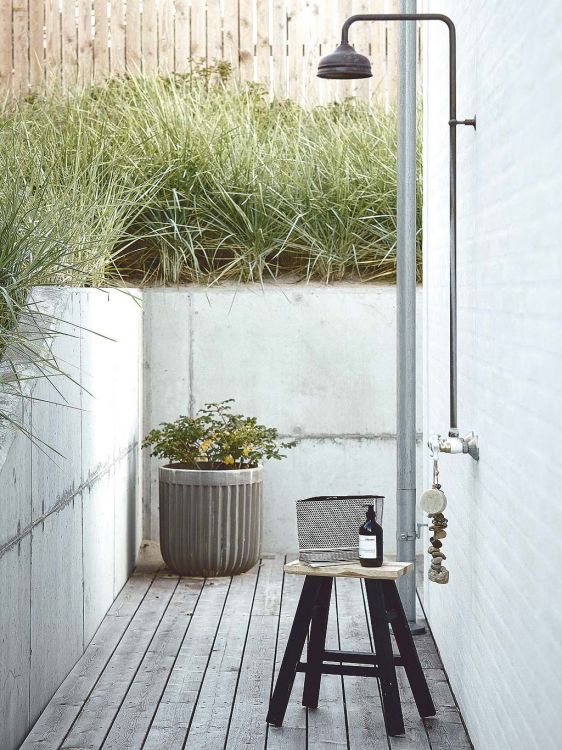 In the garden, terrace or patio, it provides a fresh note on the skin. And on the pavement, whose temperature drops when it receives water, cooling the area where it is located. Solar showers do not need plumbing installation. Its capacity is around 20 liters of water, which are heated by the sun's rays. In Leroy Merlin they have models with temperature regulator. From the House Doctor firm: stool (€76) and pot (€162/two).
Purfs and table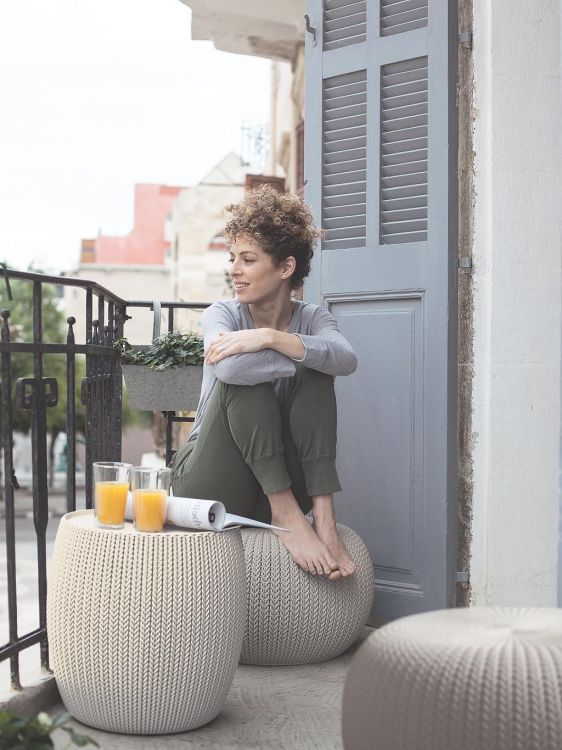 Opening the terrace or balcony when it is in the shade is an obvious method of cooling the house. Due to its measurements, the Knit set, from the firm Curver, is perfect for spaces of all sizes, including small ones. Composed of a table with storage capacity and two poufs, it is made of 100% recyclable polypropylene -easy to clean in areas with smoke, such as urban ones- with a knitted effect. Table, in 40.6 x 41.4 cm and poufs, in 56.5 x 31.6 cm each (120 /set).
Silent fan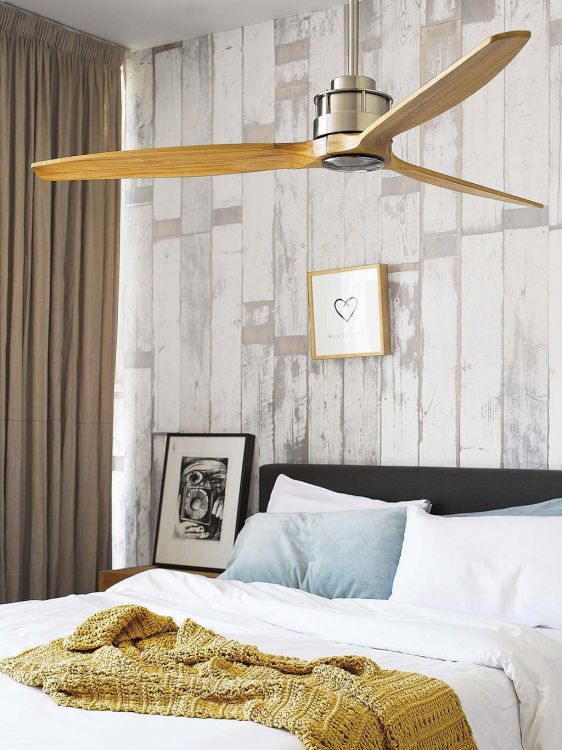 A fan circulates the air and, being silent, it can be kept on all night. The choice of model will depend on the size of the room where it will be installed. As a general rule, for a room of 20 m2, a diameter of 90 cm is calculated. As for the height, it should be placed at least 2.4 meters from the ground. The Akmani fan, by Casa Bruno, measures 152 cm, has a silent and powerful motor with low consumption -40% less than standard models- six speeds and remote control (€599).
Linens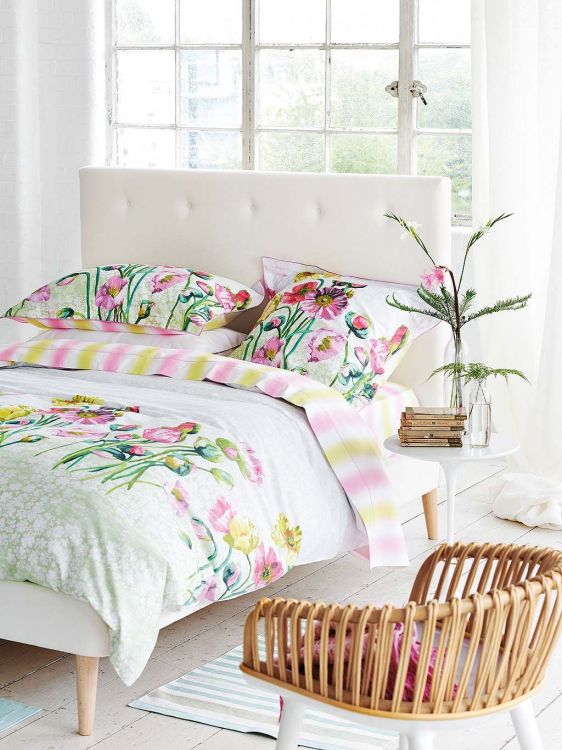 The blankets are removed, and their place is taken by cotton fabrics, which facilitate perspiration and guarantee a restful night. The colors? White is a must. Its mere vision transmits a sensation of freshness. Plain or as a background of prints in cheerful tones, it turns the bed into the focal point of the bedroom. The one pictured is dressed in Pavot Cerise cotton satin by Designers Guild. Duvet cover (€179) and pillowcase (€46); both, in Usera Usera.
Demijohns and rug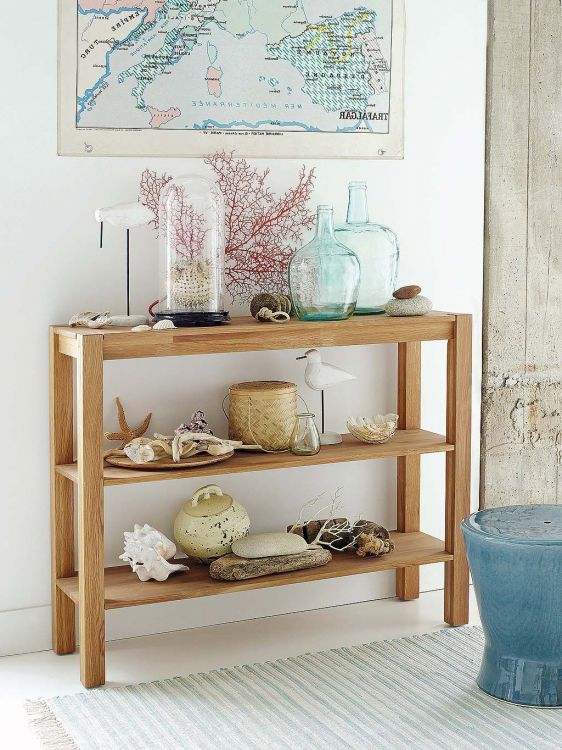 If you have treasures collected along the coast, display them so that they are visible. Is there anything more refreshing than rekindling your memories? To make them flawless, cover them with toothpaste and, after five hours, remove it with a toothbrush. From La Redoute: console, in 105 x 28.5 x 85 cm (€249); demijohns and rug (€139.99).
Summer tableware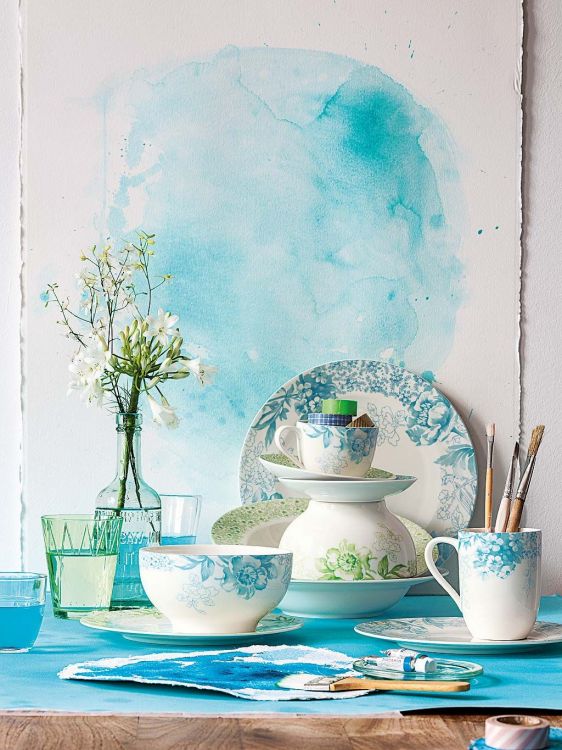 In the same way that there are winter and summer recipes, the kitchenware is also adapted to the hottest season. Dishes in cold colours, such as the range of blues and greens, or cheerful ones in fluorescent tones, are the best showcase for serving a refreshing menu. The tureens and deep plates give way to salad bowls, bowls and bowls where you can taste fresh vegetables, gazpachos and salmorejos. From the Floreana collection, in Blue and Green finishes, by Villeroy & Boch: plates (from €14.90), bowl (€14.90) and cup with saucer (€18.90).
Jars with straw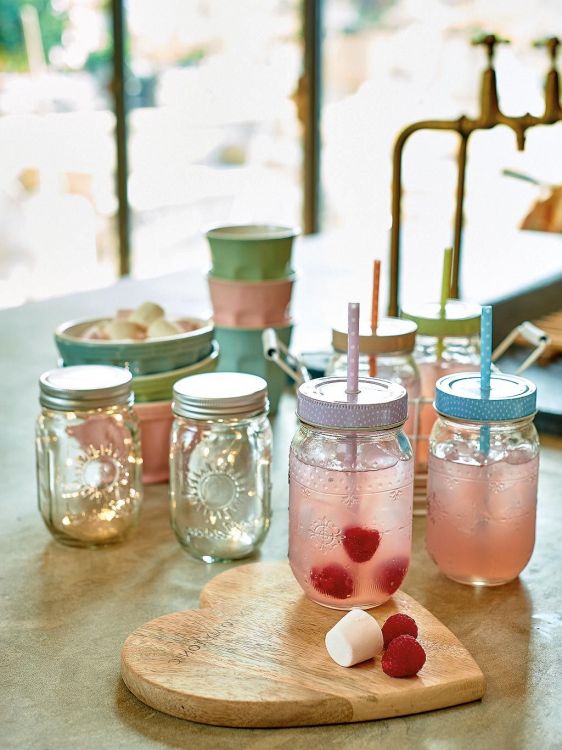 When thermometers skyrocket, our body loses fluids. To restore body balance, it is advisable to hydrate regularly. Juices and lemonades are a healthy way to achieve this. Freshly squeezed, and with crushed ice, they will bring extra freshness to all the senses. From Parlane: jars with straws (from €14.9) and G& tonic table, in 22 x 22 cm (€18.9).
Cushion with flamingos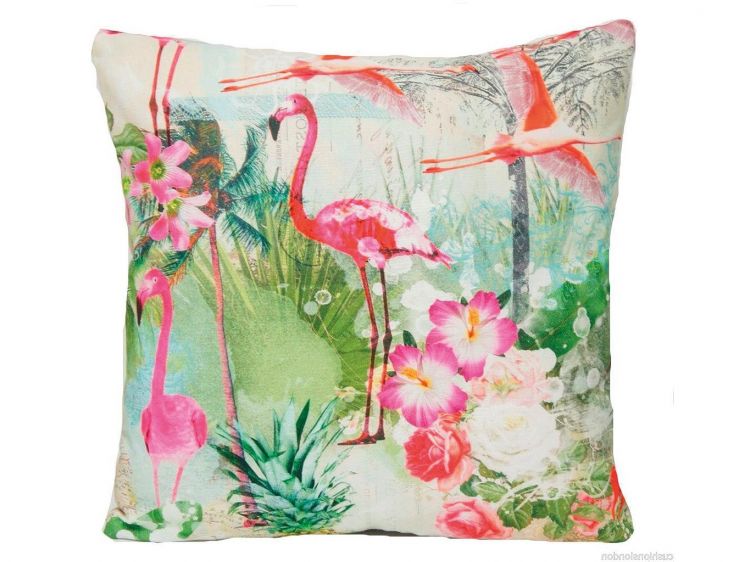 With flamingos and tropical flowers, Flamingo cushion, on eBay (€19).
Hexagonal shelves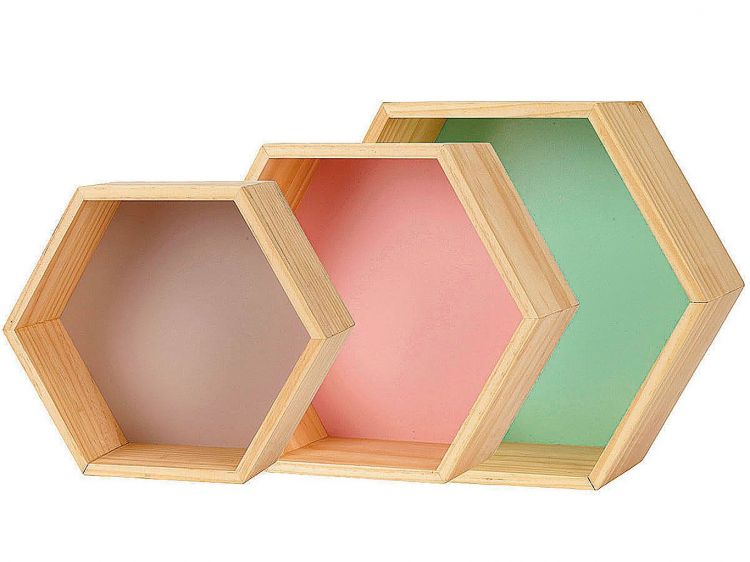 Set of three shelves, on eBay (€39).
Vintage barbecue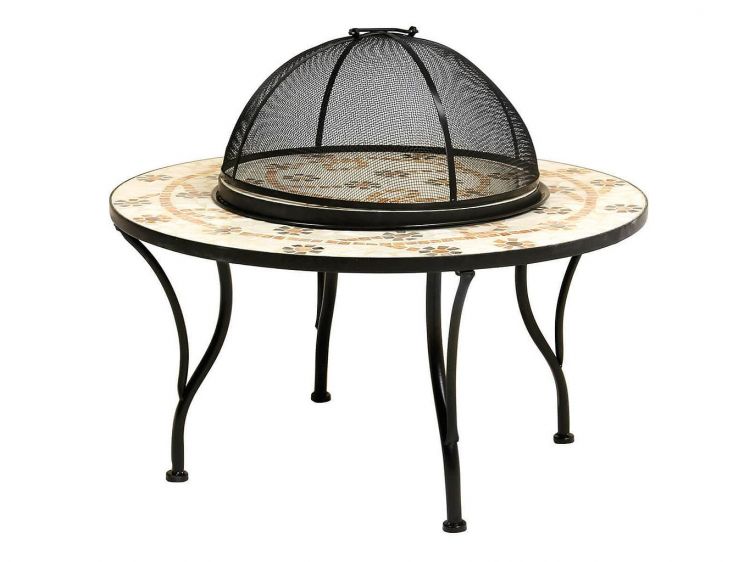 Mosaic table, with removable firebrand, by the firm Charles Bentley (€131). On eBay.
An outside room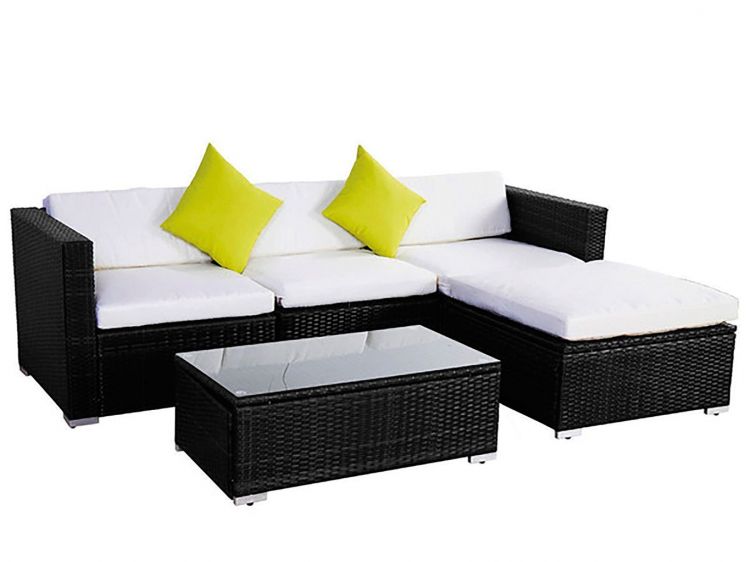 To enjoy the outdoors, sofa set with chaise-longue and table, in rattan. Sold on eBay (€393).