From the African continent, so diverse in cultures, ethnic groups and landscapes, come exotic pieces with a powerful aesthetic force. Explore their wild and contemporary side here and you will discover why they are a success in decoration.
Heat the sun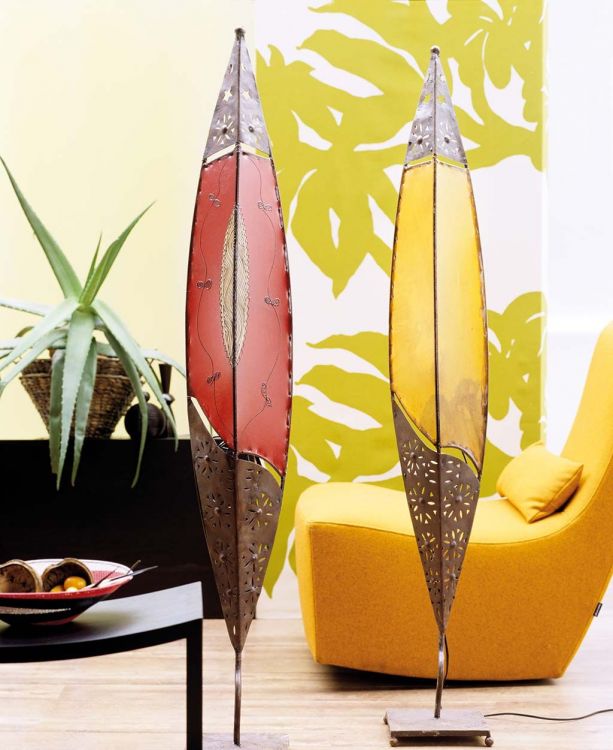 Colors such as red, orange, yellow and gold transfer all the heat and fire of African lands to the decoration. This palette is allied with artisanal design and the current more refined to create a vibrant staging. The ethnic lamps in the foreground, with such a stylized support and their natural pigments, are inspired by the aesthetics of tribal shields.
Up the color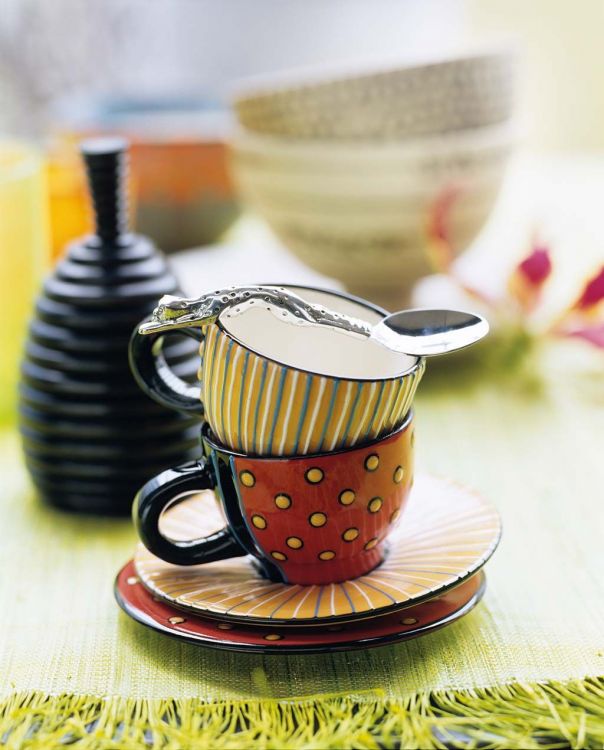 African pottery goes beyond clay pots and pitchers… There are ceramics that bet on current motifs and bright colors. Turn them into your kitchenware and they will brighten your day. African pottery is a fundamental part of the artistic heritage of the continent, but also with designs like the one in the photo,
a bridge between Africa and the rest of the world. Similar pottery at Taste-africa.com, Kapula.com and Africa-shop24.com
+Options
In addition to ceramics, there are African wooden tableware to give the table a tribal air. Some ideas: ladles and cutlery for serving, with handles decorated with bone or carved, fruit bowls and platters, not forgetting the African calabash —dry, hollowed-out gourds— that shape bowls of various sizes.
Focal point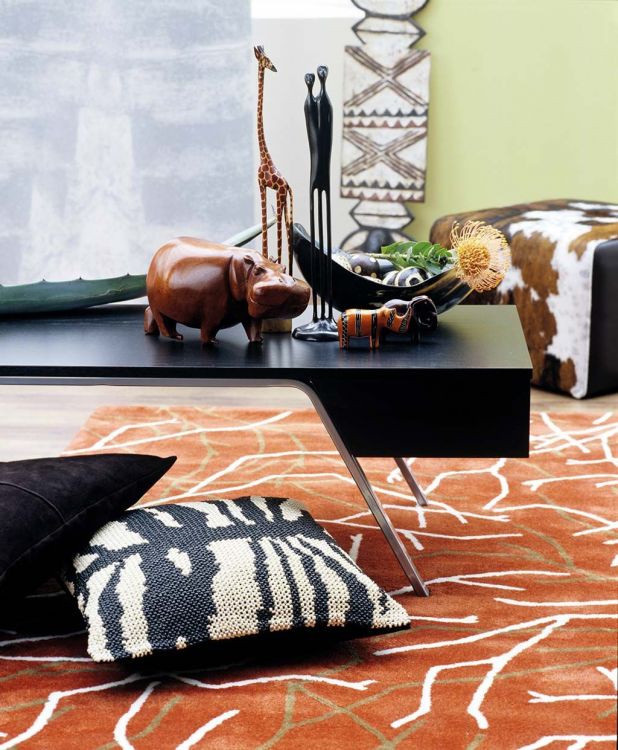 The crafts of the continent, which portray wild nature, and the refined figures in ebony wood, make up decorative still lifes of singular beauty. Decorating a contemporary living room with pieces like this enriches it with a mestizaje that exudes style. Plus deco: resort to black in the right dose and give prominence to textiles with animal print. Giraffe, similar, at Artesaniadeafrica.com and hippopotamus, in teak wood, at Africancraftsmarket.com and Zulushoponline.com
Details
Carvings, masks, statuettes… African tribal art is labeled as exotic although in reality it manifests a whole way of
life and beliefs. The African Touch, a firm that imports and distributes high-end decoration from Africa, highlights its great visual strength and decorative value to "put a unique stamp on deco."
It's in fashion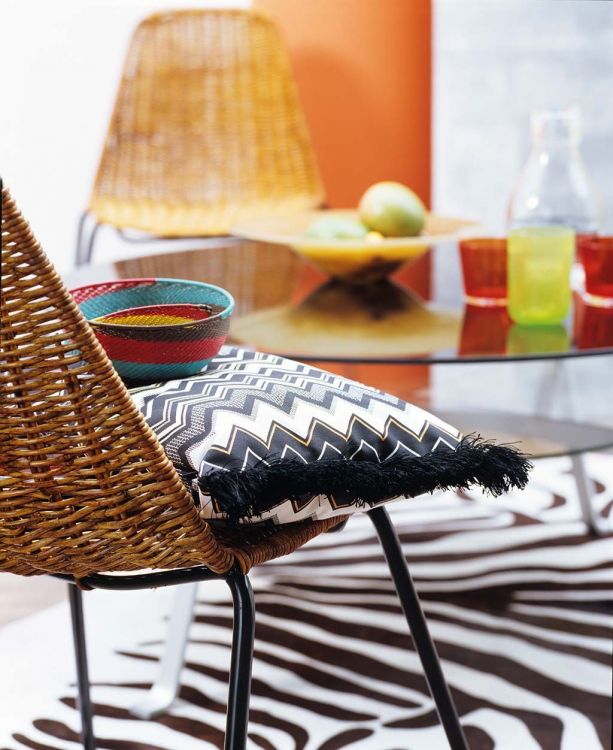 The diversity of tribal motifs is a source of inspiration for Western creations. African graphics have made the leap to international textile design. Here, the cushion with a hypnotic zigzag print, contrasting black and white, and the elegant fringe of black feathers, give the atmosphere an ethno-chic air. You can find upholstery with African-inspired motifs in the Africalia collections, by Gastón and Daniela, and in the Ethnic collection, by Gancedo. Similar rattan chair, from the firm HK Living.
From movie
The colonial air, or safari,—in the purest Out of Africa style—is maintained, but living in a lodge and decorating it as such is not within everyone's reach. Bet on two or three authentic details to give the decoration of your house that African flavor. look for ideas
in Mambila and The African Touch.
With its own rhythm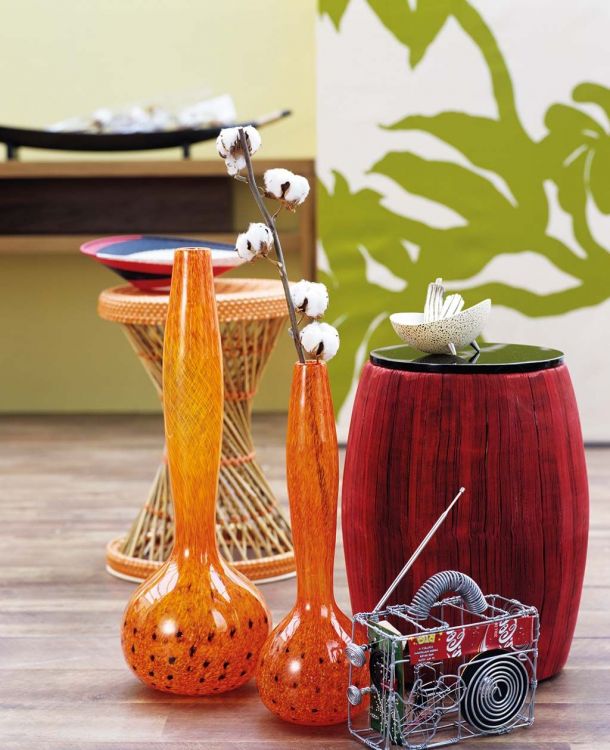 The drum is the quintessential African instrument. Look for an original, handcrafted one, or get an auxiliary piece of furniture in its shape, which symbolizes your passion, and that of an entire continent, for music. You won't be short of options because there are djembe and bougarabou drums —at Djembe.com.es and Thomann.de/es— with an almost sculptural design that captivates. Also, allow an orange piece to evoke the tone of the skies in the evenings, wonderful sunsets that dye them with bright and radiant colors. Drum-shaped table, design by Paola Navone for Gervasoni. Glass vases, by Leonardo. Objects and toys made with recycled material, such as the radio, in Angata.