In spring, the decoration of living rooms becomes more cheerful, adding colorful textiles, floral prints, fresh and natural fabrics… Take note of our ideas to decorate the living room this spring!
The birds sing, the clouds lift… and spring is here! Ok, the song is not like that, but we are so excited about the entrance of the new station, that we can not contain ourselves. In fact, we have already turned the decoration of our houses upside down, adding colorful textiles, floral prints, fresh and natural fabrics…
Come on, a real revolution that we hope to spread to you. Do you want to start with the living room? Well, take note of these ideas, and enjoy the most beautiful time of the year!
Natural fibers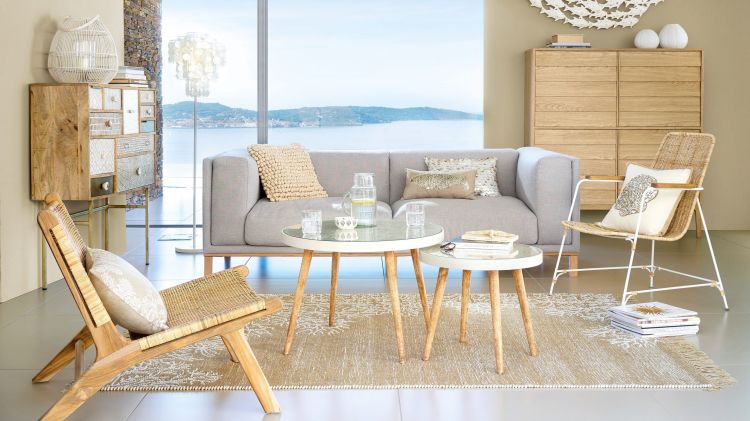 Rattan has been crowned one of the most successful and appreciated materials in the decoration of any environment, and it is capable of providing that freshness that would otherwise be impossible.
Take advantage of the arrival of spring to add a braided rattan armchair like this one to your living room, and thus you will kill two birds with one stone, because it will also be a hit during the summer!
The blood changes…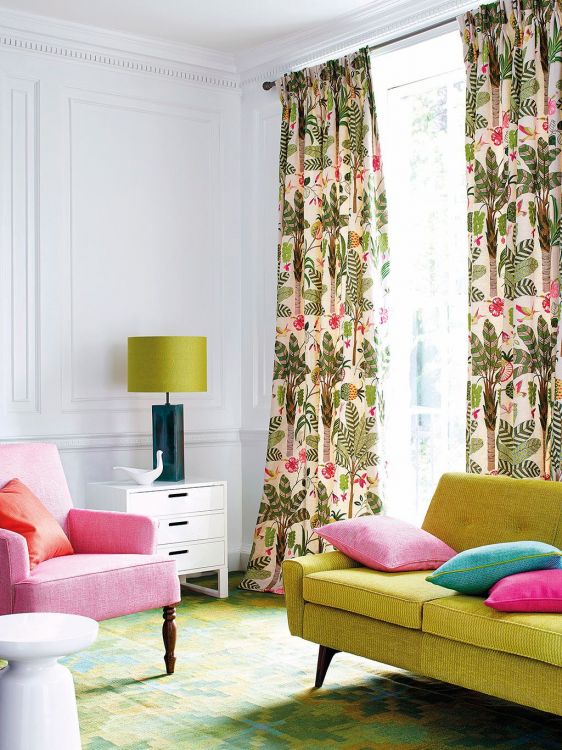 We are in spring and in your house it should also be noticed. Take out the colors, throw flowers on it and shed its skin to bring the spring air to its interior.
Dusty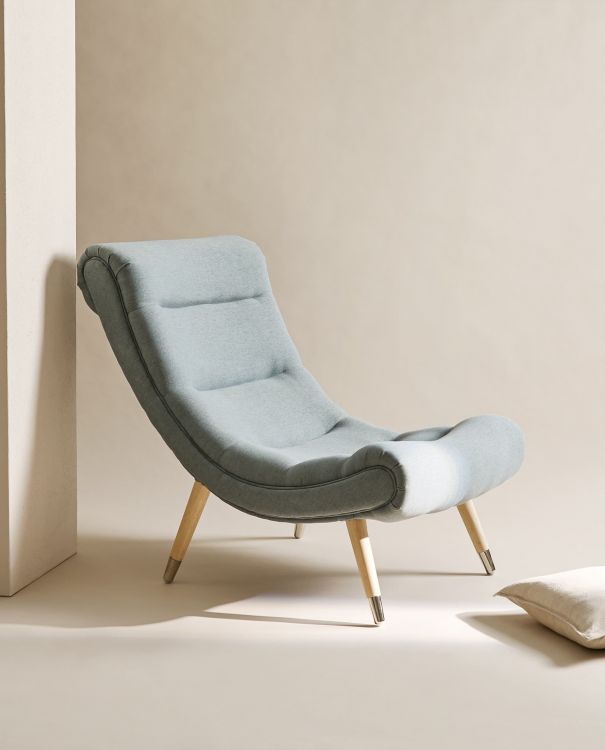 Dusty tones are still a trend in 2019. Also, having such a sweet and fresh appearance, they are ideal for spring.
Choose an armchair like this one in powder blue, and combine it with cushions printed with flowers, you'll see what a beautiful contrast! And what comfort…
€299 at Zara Home (online exclusive)
Sun salutation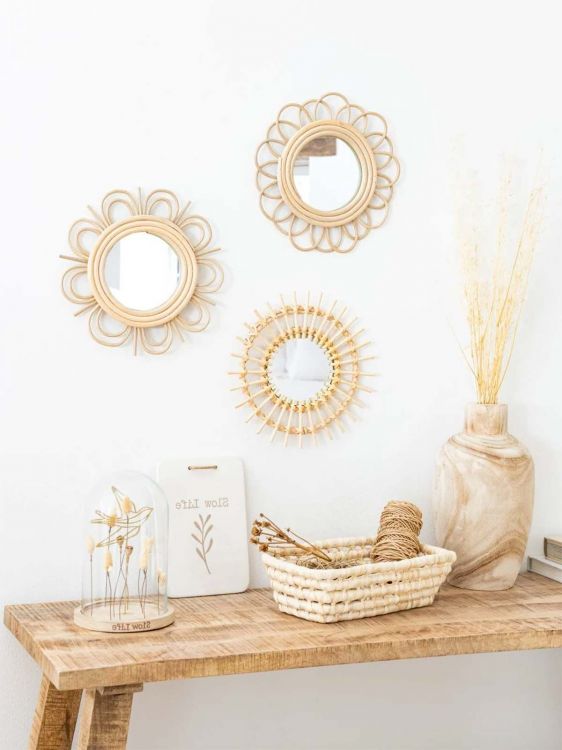 Sun-shaped mirrors conquer us every year with their style and simplicity. In fact, it is a great way to create a warm corner that gives off the same energy and good vibes as the king of stars.

Take out the colors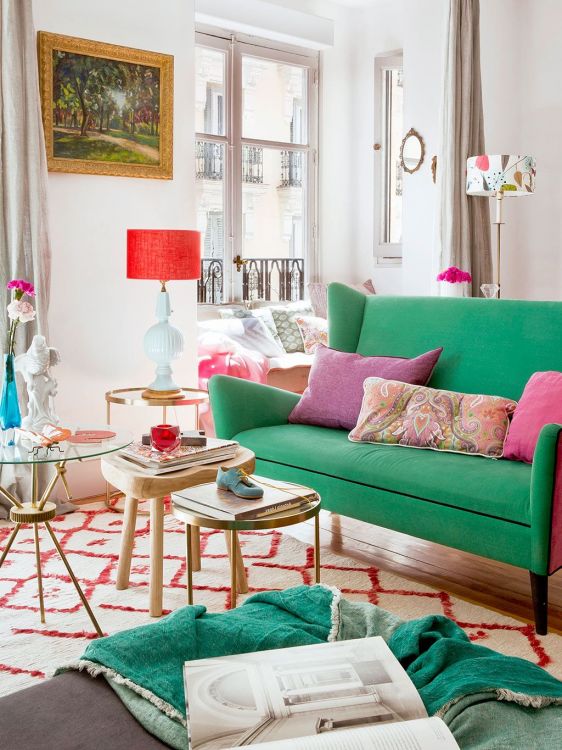 Oranges, pinks, greens, blues, purples… Don't be afraid to mix colors (all in vibrant tones). You can change the shade of a lamp to upholster the sofa.
Throw flowers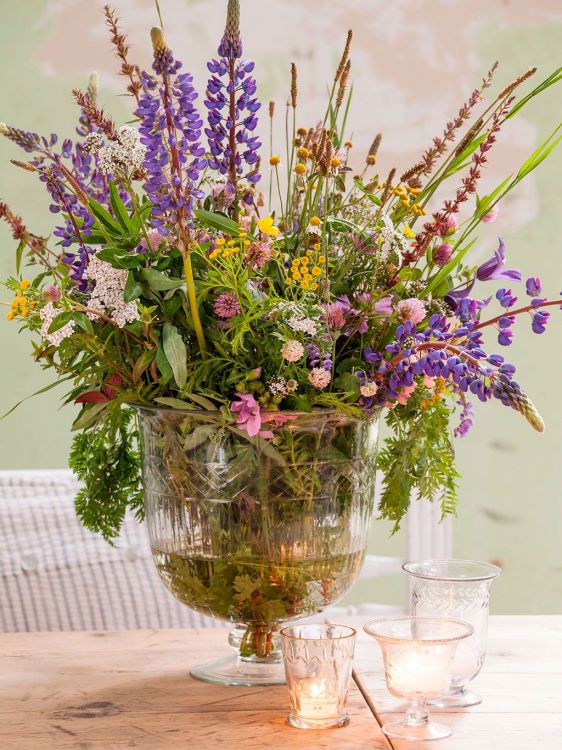 The most obvious may be what works best: put a bouquet of seasonal flowers in a corner of your living room and let the scent of Spring invade everything.
More subtle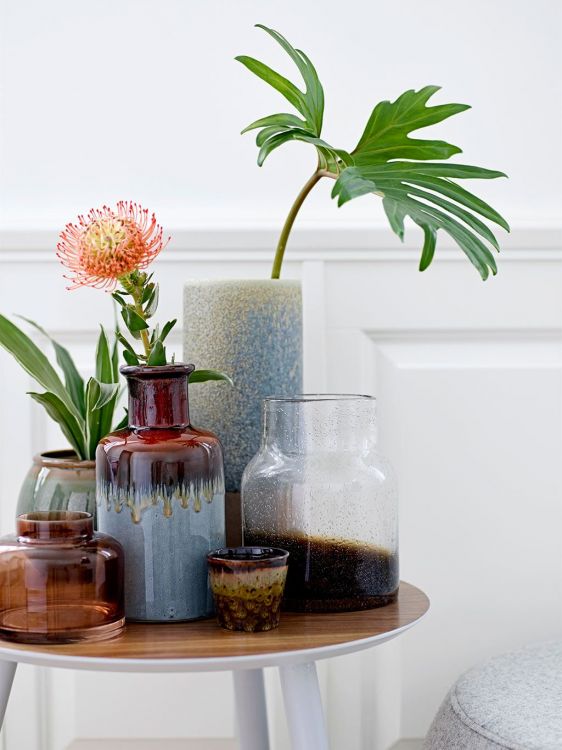 If you can't afford to buy fresh flowers every week, placing just one flower and one Adam's rib leaf can also achieve a perfect result.
Mini greenhouses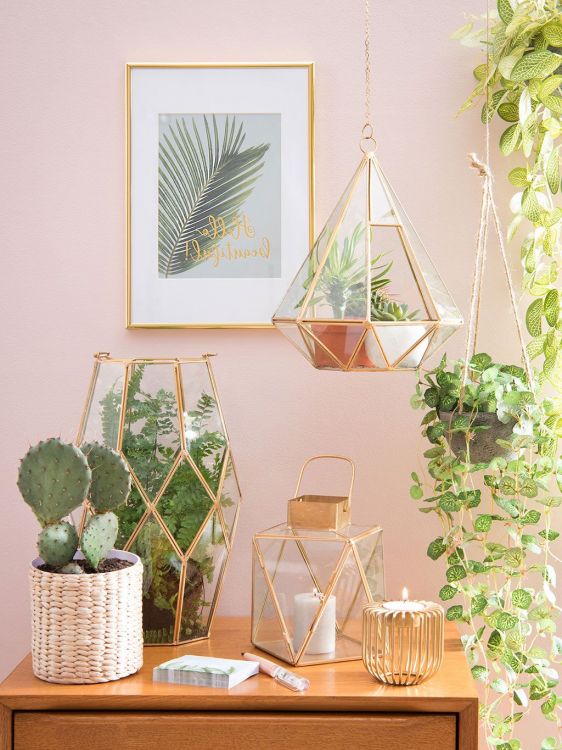 If the cut flower does not convince you, try placing some succulents or cacti inside glass boxes, as a terrarium.
Change of skin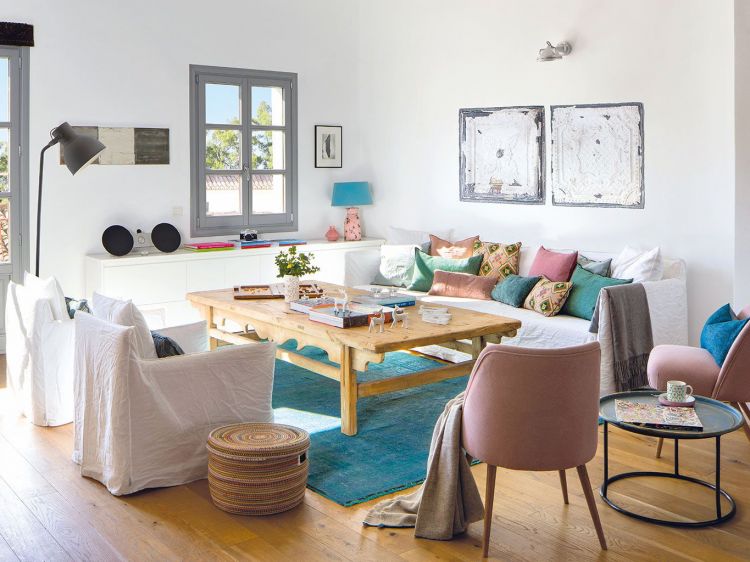 Refresh your sofas and armchairs with a light white linen cover.
Between cottons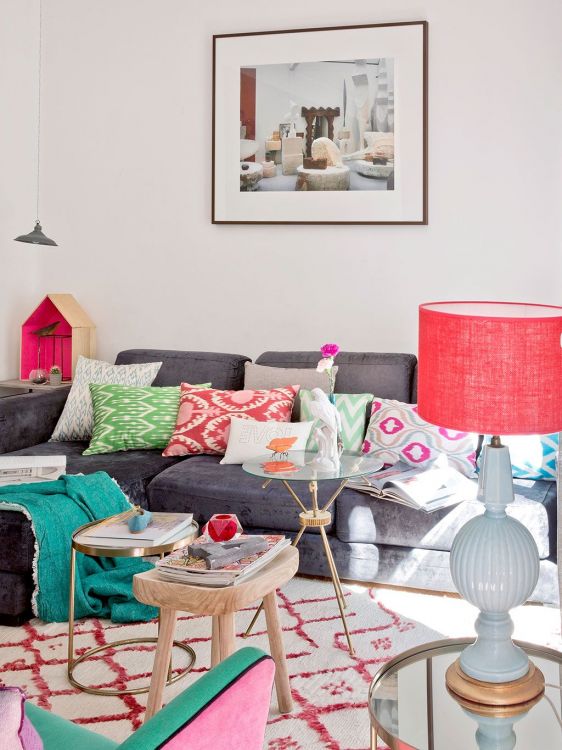 Do you have a dark sofa? It can be the perfect base to combine cushions of different colors. A change of season at a reasonable price.
Good support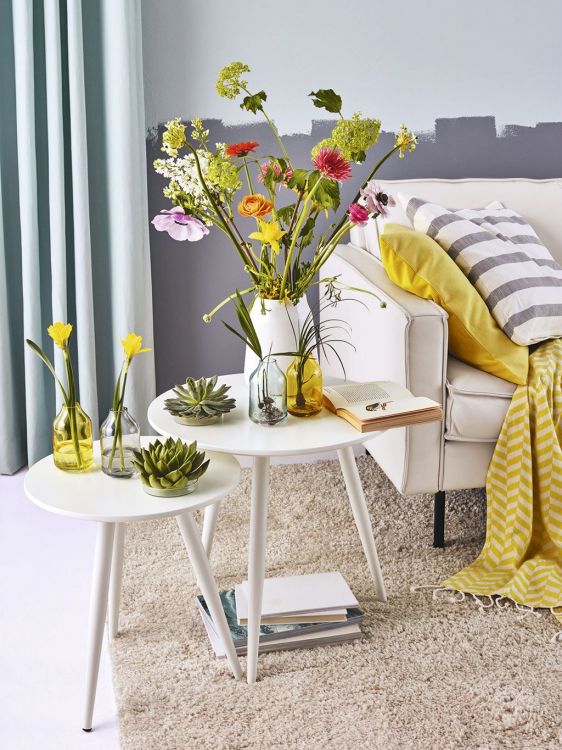 Another easy way to change the seasons in your living room is to create scenes on occasional furniture. A few bouquets of flowers on a few tables or on a sideboard are the perfect touch.
Very natural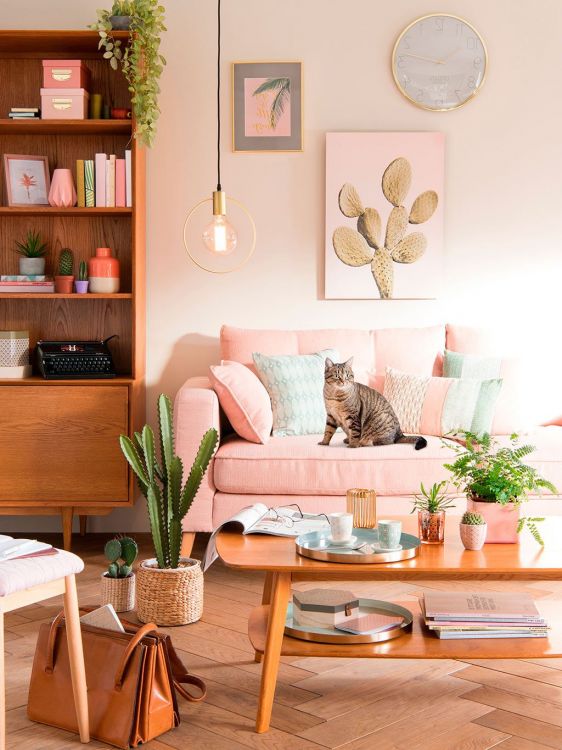 In addition to introducing plants (both in pots and in sheets and photographs), you can choose pieces made with natural fibers (such as the baskets in the image) and wood.
Starring role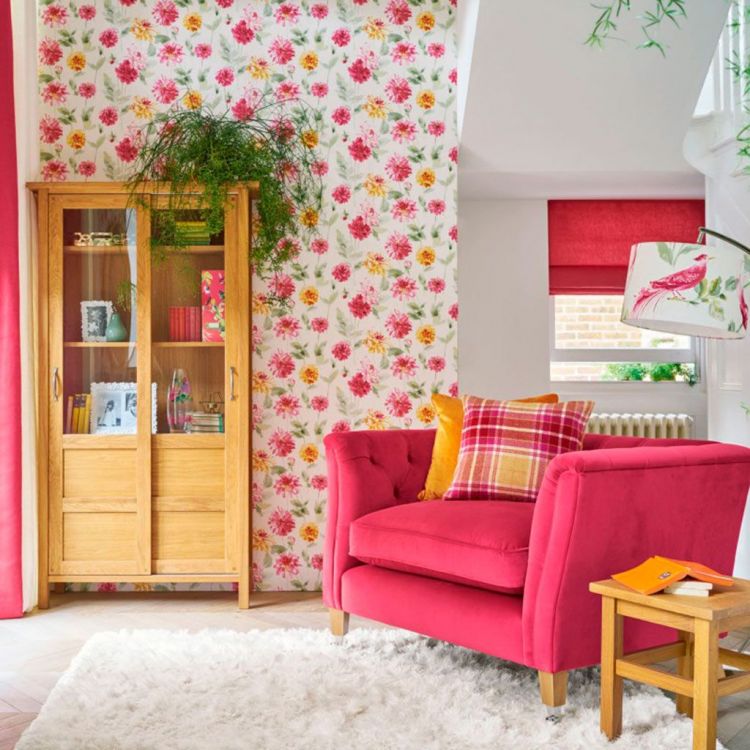 Wallpapering a wall with a flower pattern will make your living room brim with spring spirit.
Field of flowers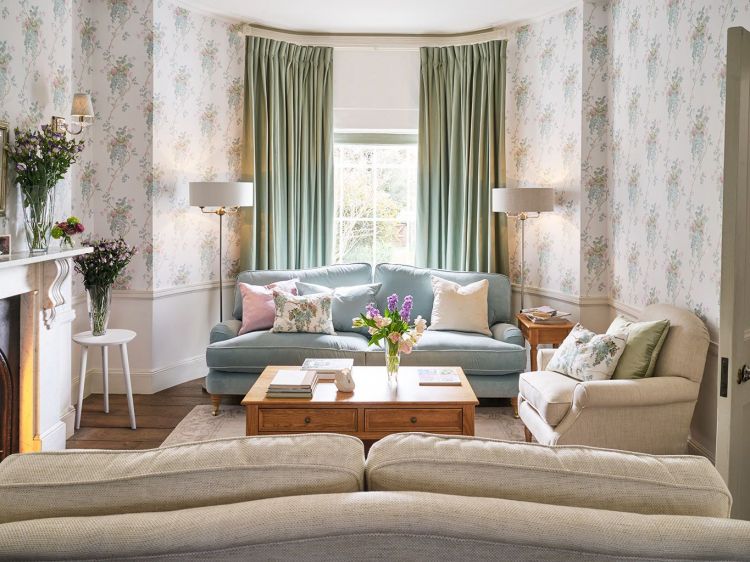 If you choose to wallpaper the entire room, choose more discreet bouquets and combine their colors with those of the textiles.
In the jungle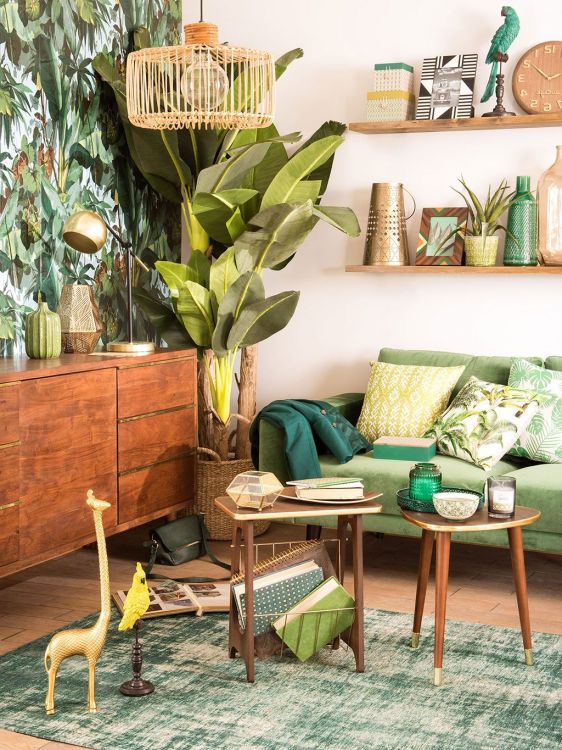 Spring is not only made with flowers. A vegetal print will provide the natural touch that this season demands.
In and out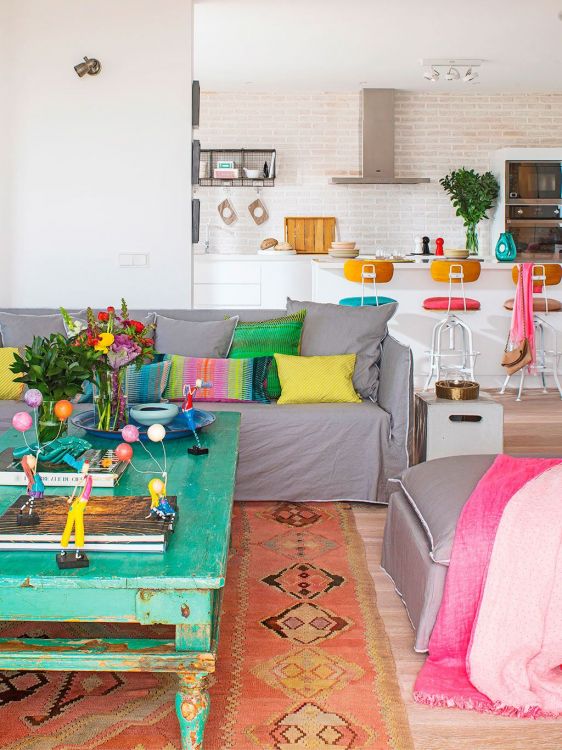 Put pieces in your living room that have been (or seem to be) outdoors. Rusty metal chairs, stripped tables, garden benches…
Modern tapestry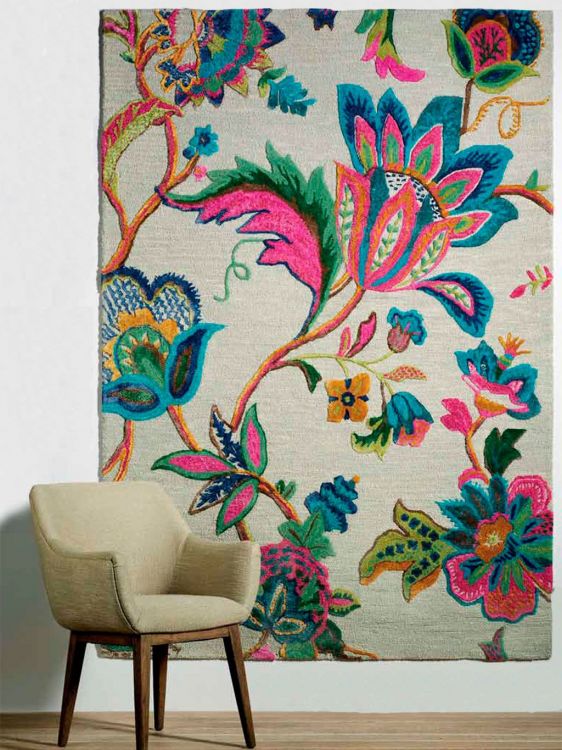 We have loved this proposal from El Corte Inglés to make your spring living room: place a floral rug on a wall as a tapestry.