With these expert tips you will get beautiful bouquets with which you will give an elegant touch to any space.
Floral details can give the home many styles, what will be yours? Here are some tips, ideas and tricks on how to decorate with flowers. Jessica Marshall, owner of Miss Daisy Floral Design Studio in Las Vegas and New York reveals the floral secrets to make your home decor look more flowery and beautiful.
1 Cut the stems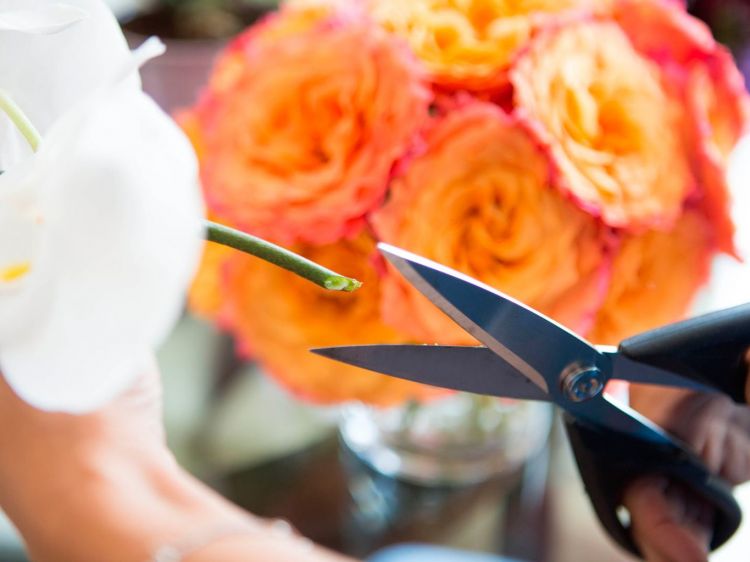 At an angle of 45º to 2 centimeters from the bottom. This act increases the possibility of water intake by the plants, which will be much more hydrated.
2 Use a cup as a vase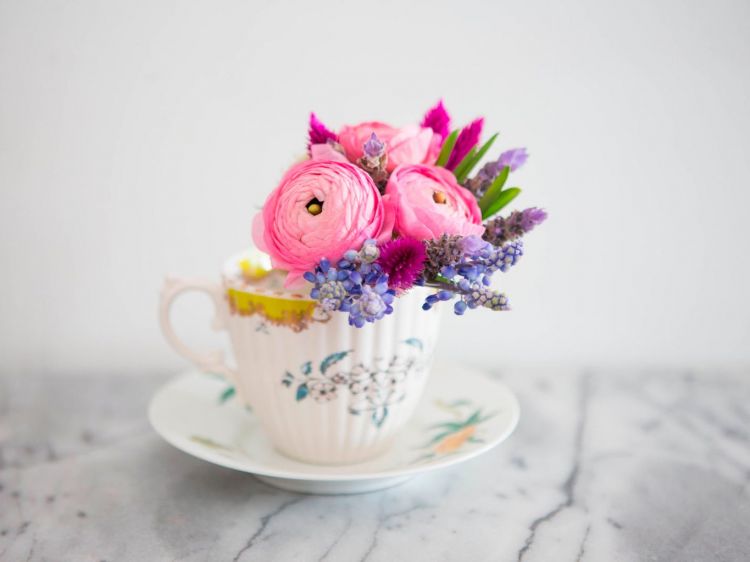 Do not throw away flowers with very short stems. Instead, display them in a teacup. Keep the stems all together using a hair tie, which will also make it easier to change the water. In the picture: Pink ranunculus, lavender, wild flowers and muscari.
3 How to open the cocoons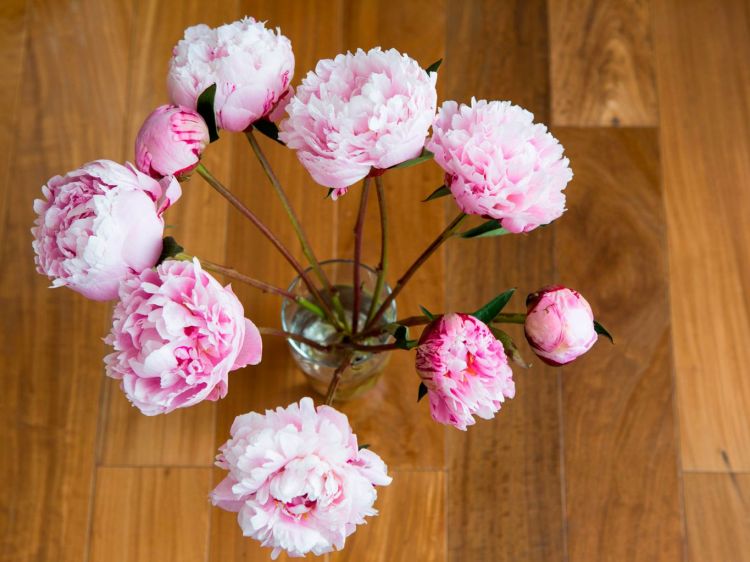 After cutting the flower stems, put them in a glass filled with hot water. After 1 minute, move the flowers to a vase filled with cold water and leave for 20 minutes. The flowers will open to the maximum. In the photo: pink peonies.
4 Keep your flowers fresh with this concoction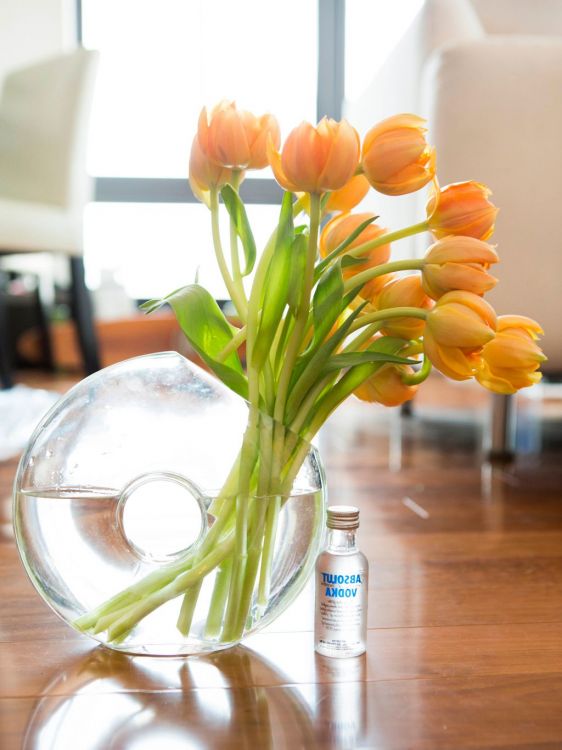 Before putting your flowers in a vase, add a few drops of vodka and a teaspoon of white sugar, as this mixture will slow down their wilting. When your flowers eventually begin to die, add another drop of vodka and the stems will stand straight again for a day or two. In the photo: orange tulips.
5 Succulent Plants in Dessert Bowls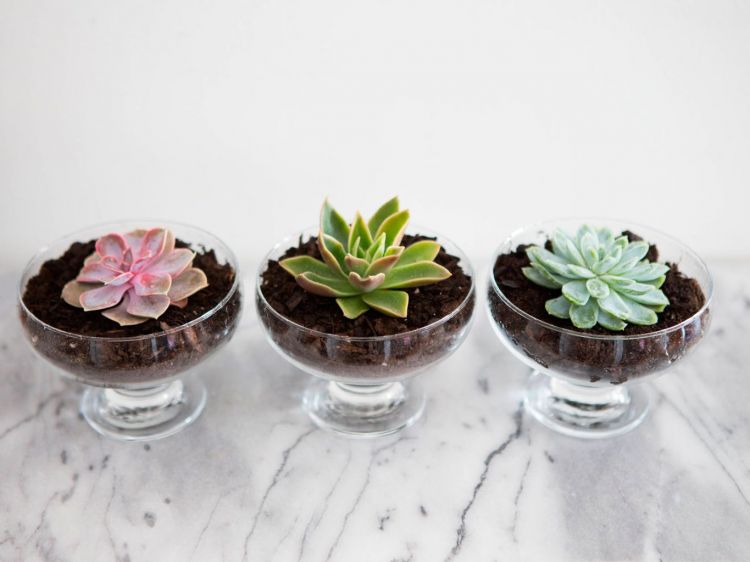 Dessert bowls are elegant vases for succulents. Simply fill them to the brim with soil, moisten the soil with tap water, and place the plants on top. Over time, roots will begin to grow. All you have to do is, once a week, spray them with the sprayer until the soil is moist.
6 Water the orchid with an ice cube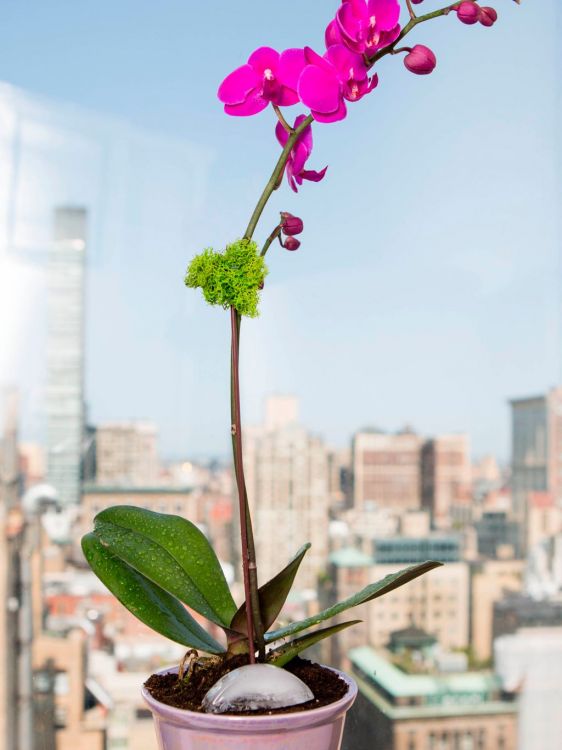 Since it is the perfect amount for the plant to be hydrated. First, repot your orchid in a vase using potting soil, then water it with an ice cube a week. For larger orchids, use two ice cubes a week. The ice cube melts slowly and gives the orchid a slow trickle of hydration so the plant won't drown!
7 Keep the flowers in their place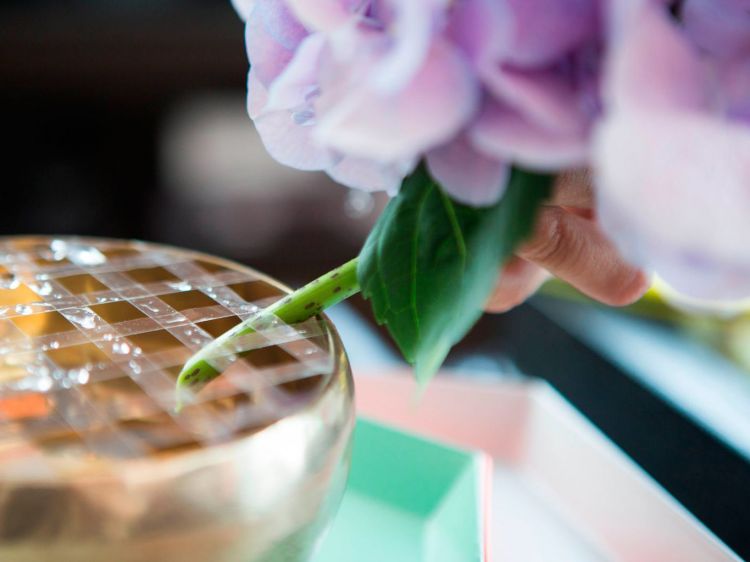 When using a shallow vase it is convenient to make a grid with clear tape to keep the flowers straight. Once the grid is made, insert the medium-sized flowers in the inner area and the smaller ones in the outer area. Pictured: blue hydrangea, purple lisianthus, scabiosa pods, lavender, andcelosia.
8 Stack a vase inside a vase with fruit slices inside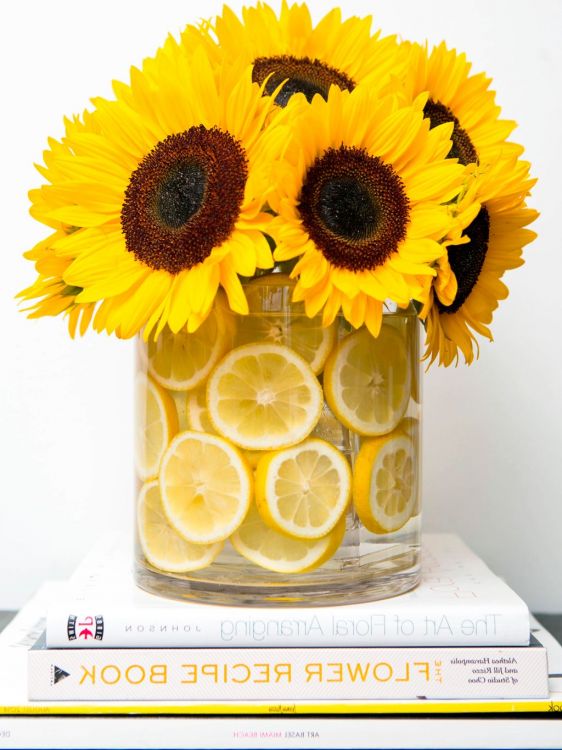 Get a vase that fits inside another, leaving about 4 centimeters between them. Fill the gap between the vases with water and then with lemon slices ( 9 lemons used in the picture). In the image, a dozen sunflowers.
9 Dry the flowers by hanging them upside down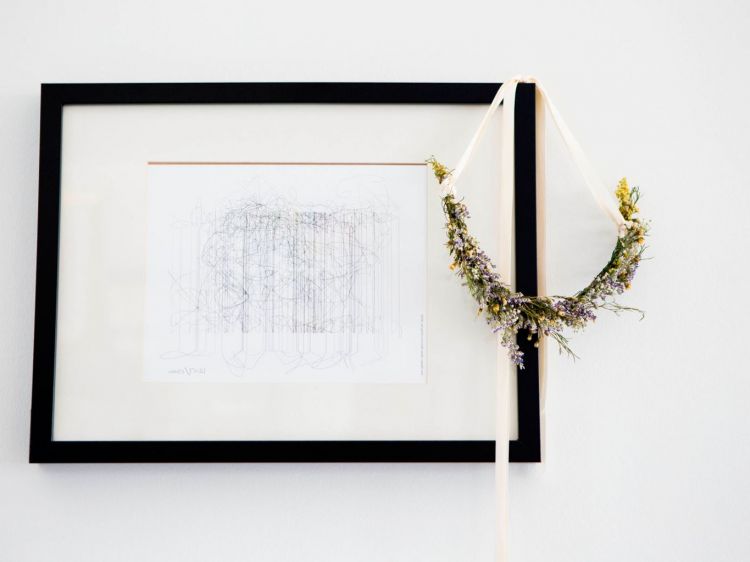 Whether it's a wreath or a bouquet you want to keep, the best way to dry flowers is to tie the ends of the stems with ribbon and hang them from a nail in the corner of a frame. They will also serve as decoration. Pictured: a flower crown from Crowns by Christy.
10 Put a coin in the vase to keep the flowers fresher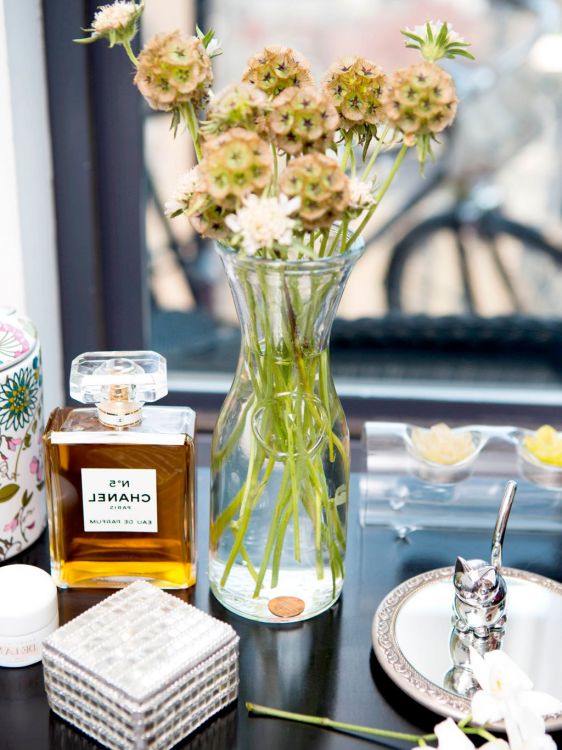 The copper in coins works as an acid regulator that helps prevent fungus or bacteria from growing. Note: look for coins minted before 1982, as they contain more copper and will keep your flowers in perfect condition for more days. In the photo: Scabiosa scabiosa pods and flowers.
11 Darker Flowers for Neutral Spaces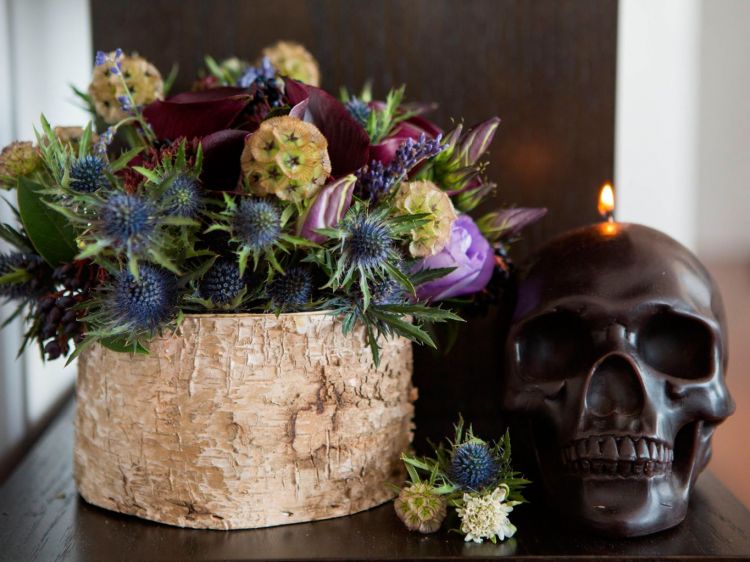 If you want to create a unisex flower arrangement, use darker flowers, such as black callas, pods, scabiosa, viburnum berries, or thistle that we see in this photo. They will be beautiful in a beautiful vase to look beautiful in a beautiful birch wood vase.
12 How to easily pluck rose petals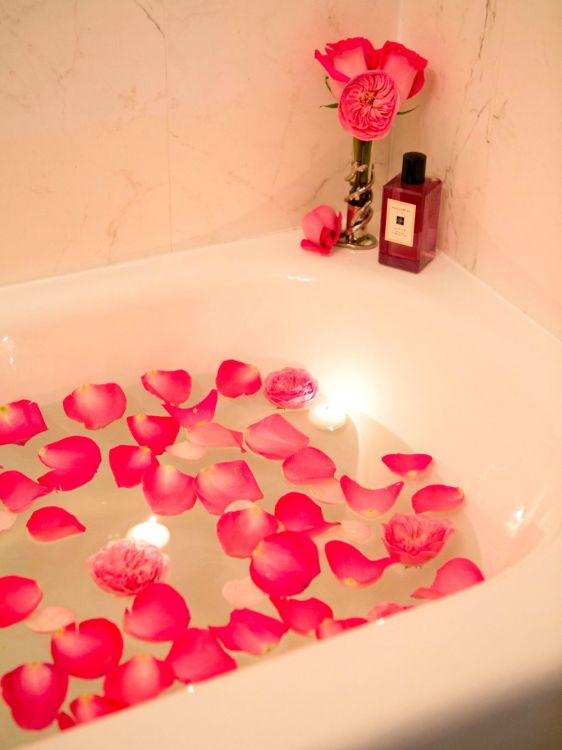 The best way to separate a rose petal without damaging it is to gently twist it. For a fabulous bath, place the petals in a bathtub filled with warm water and add moisturizing oil to your skin. The magnificent flowers will improve your mood in an instant!
13 A Rainbow Bouquet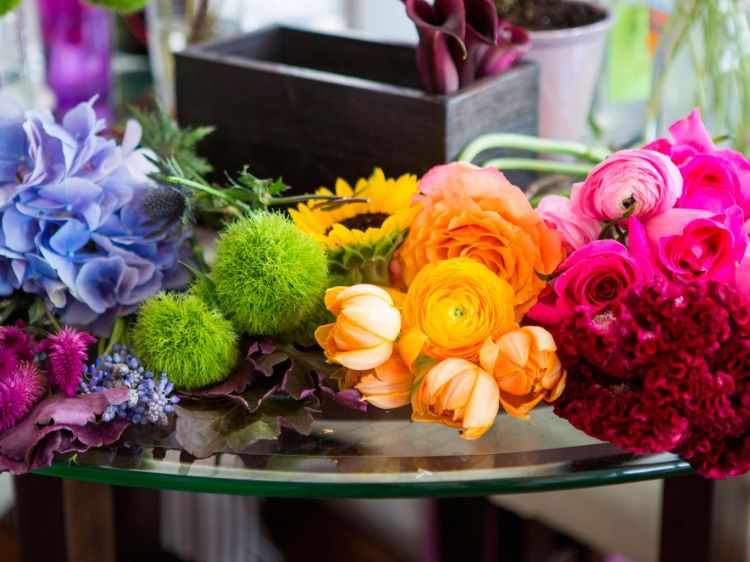 The trick to designing a rainbow bouquet is to first organize the flowers by color; cut the stems at an angle, then place each stem in the vase. Make sure you put the largest flowers in first, followed by the medium ones, and then the smallest flowers. Pictured: black callas, purple lisianthus, blue thistle, blue hydrangea, green trick carnation, scabiosa pods, sunflower, yellow ranunculus, orange roses, orange tulips, redcelosia, roses, pink ranunculus, and light pink peony.
14 A twisted bouquet of roses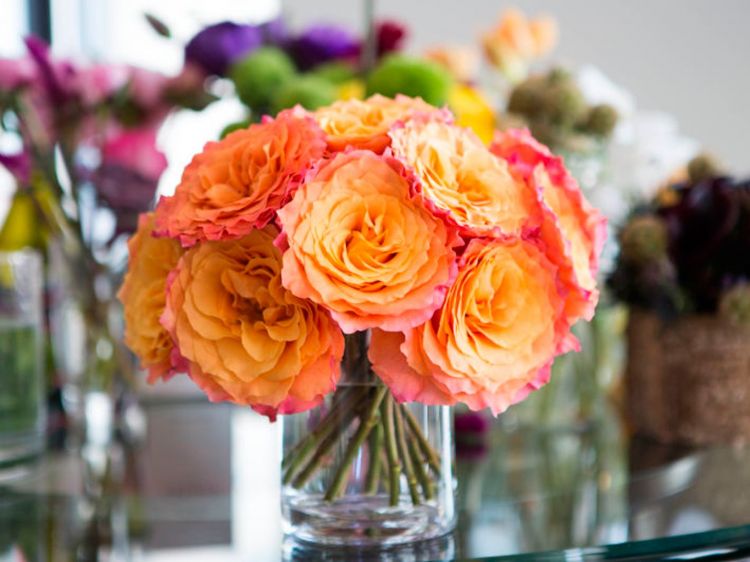 To create a bouquet of roses with intersecting stems, you have to place the first stem in the vase and then place the next crossed one on top of the previous one and so on until the vase is full.
15 Style a glass vase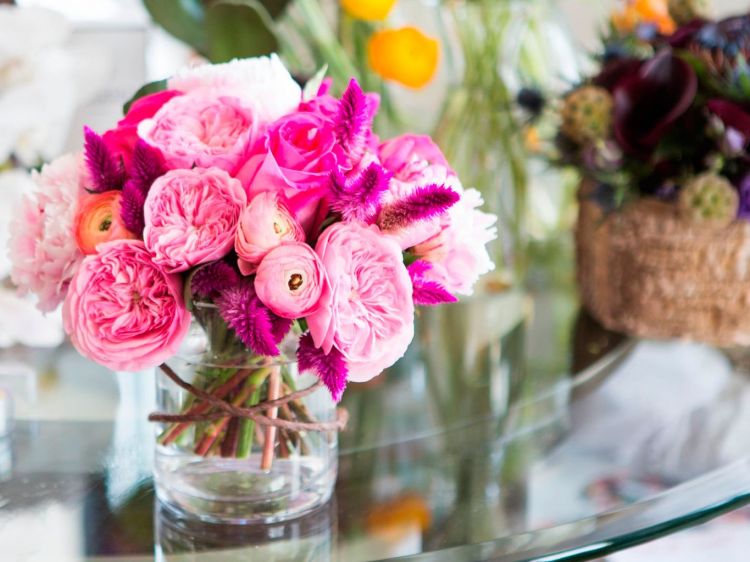 It's as easy as wrapping a string, ribbon, or branch around it. An example? The rope in the photo placed in the shape of an "X".