Wall decoration is an art, and since art has its many advantages, since new ideas are always emerging, when you want to give a change to the bedroom or dining room, you can always start with the walls.
Recreating a stylish wall can easily be achieved by playing with your favorite textures and colors. So today we show you a great collection of cool ideas.
Decorating the walls in an ingenious way can be the best way to make a style statement in the rooms and rooms, since you can create accents in them, by incorporating a painting, abstract art or simply through the incorporation of an eye-catching wallpaper.
Wall decoration with wood
Wood is a material that cannot be missing in decoration. It can be combined with warm or cool colors and is suitable for all styles of decoration. Therefore, it is a good ally. You just have to choose the right wood for the style that suits you best.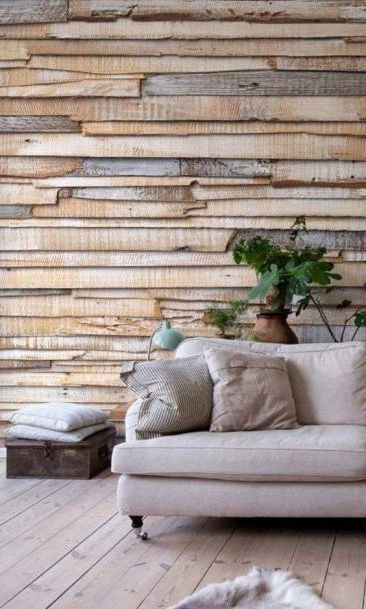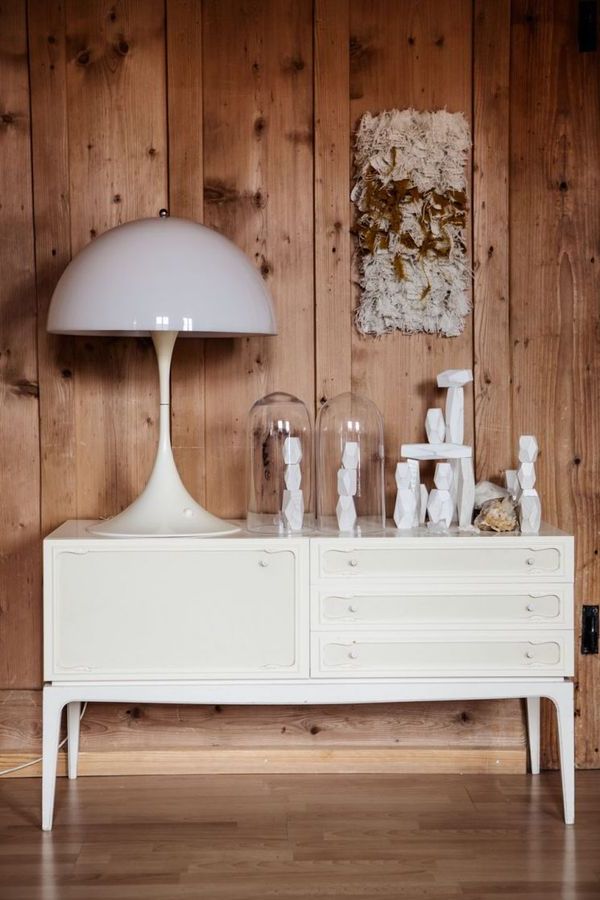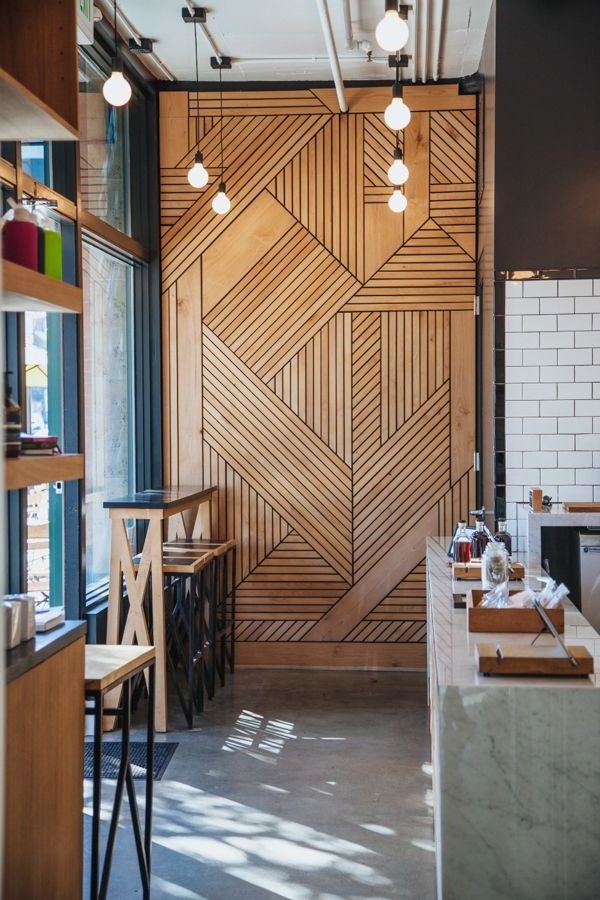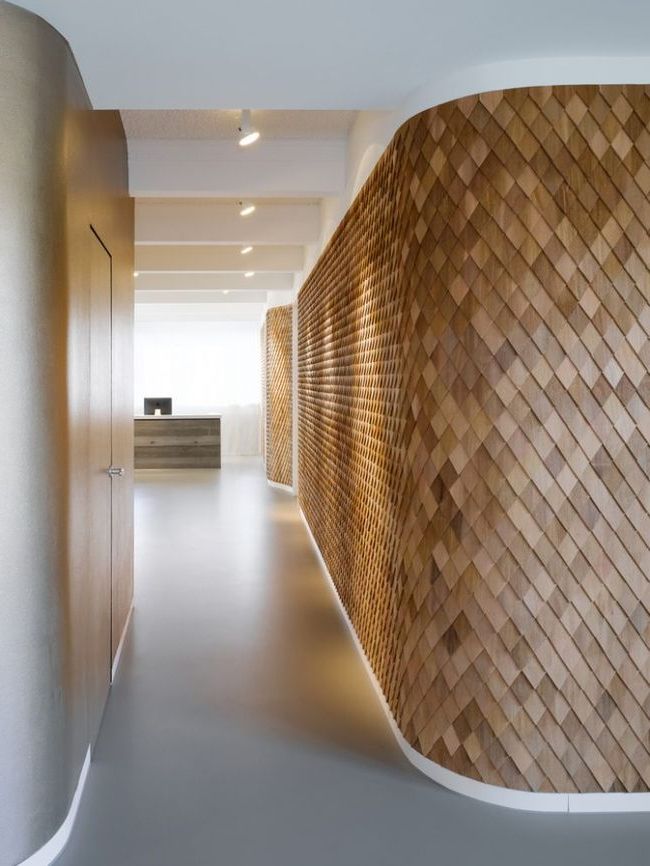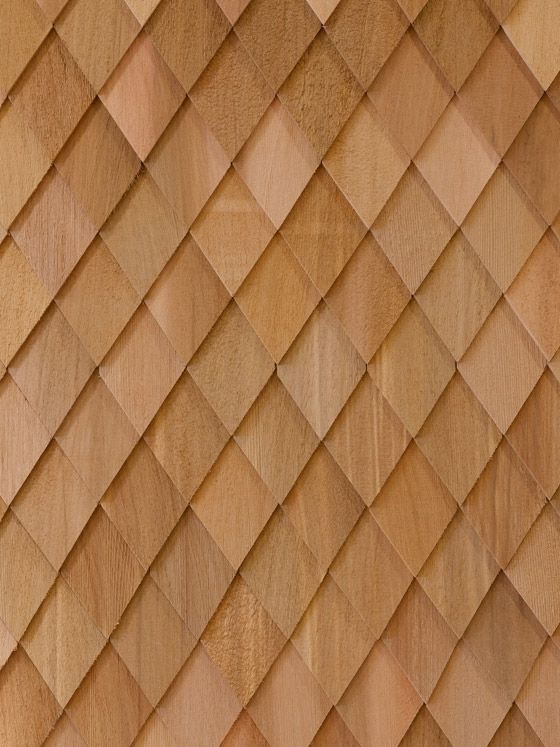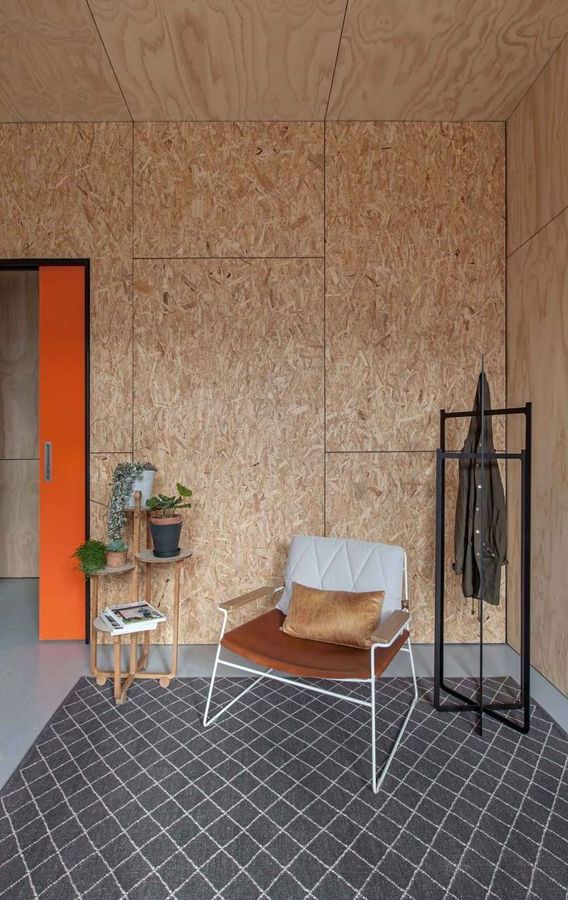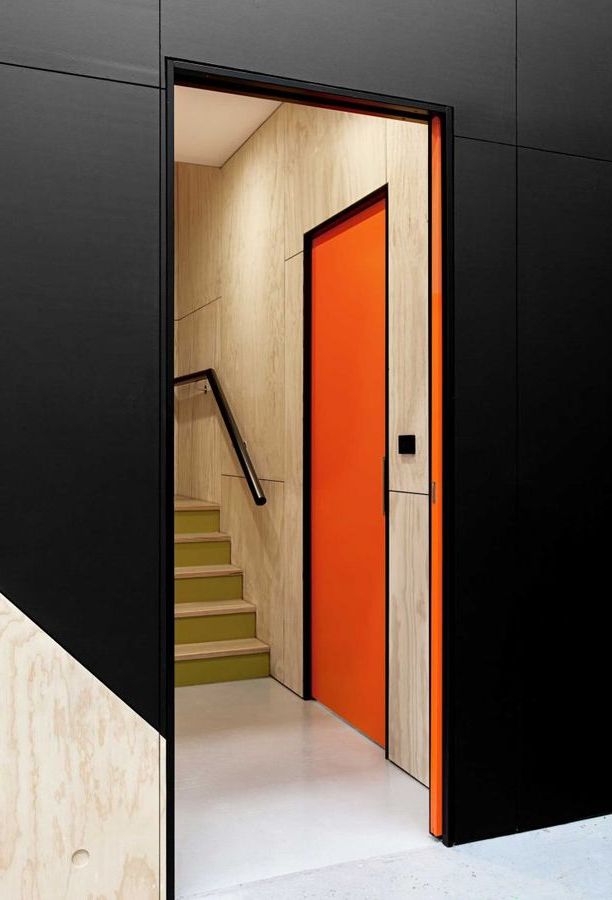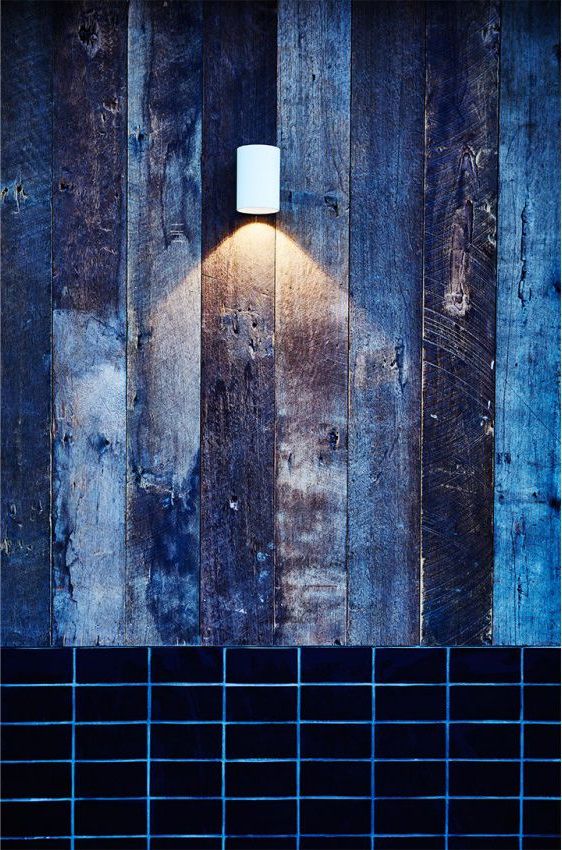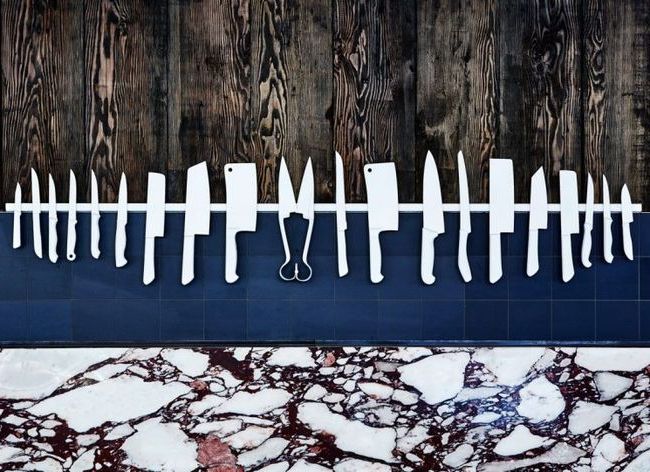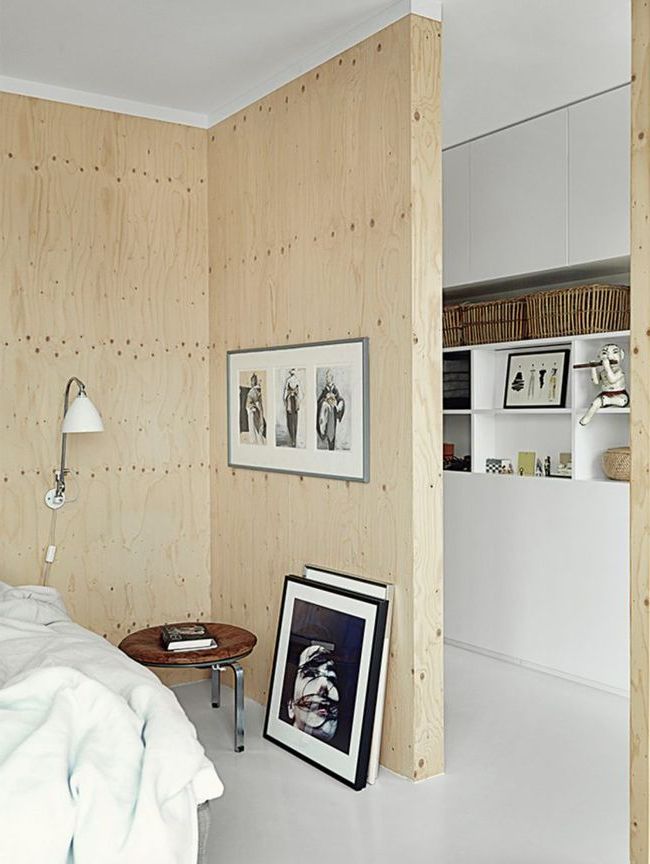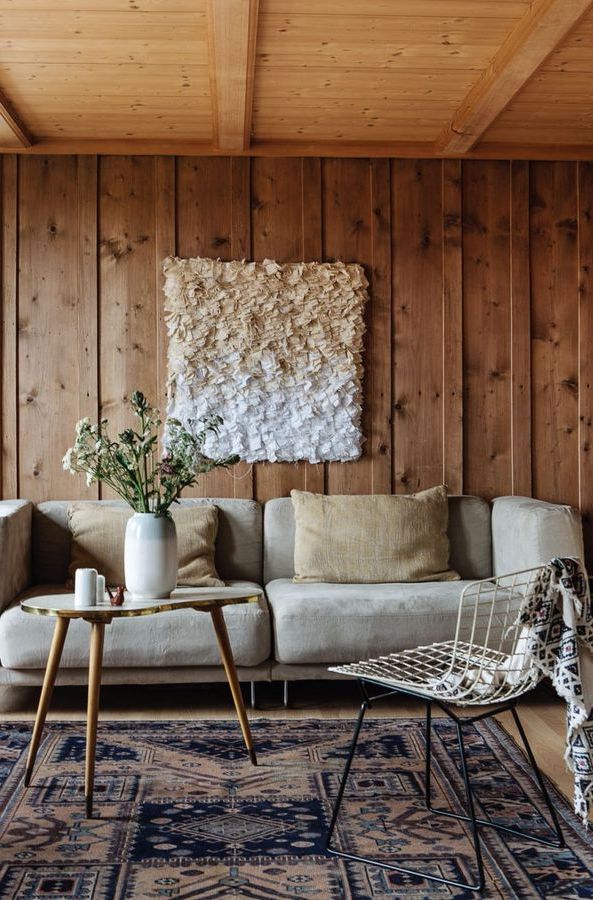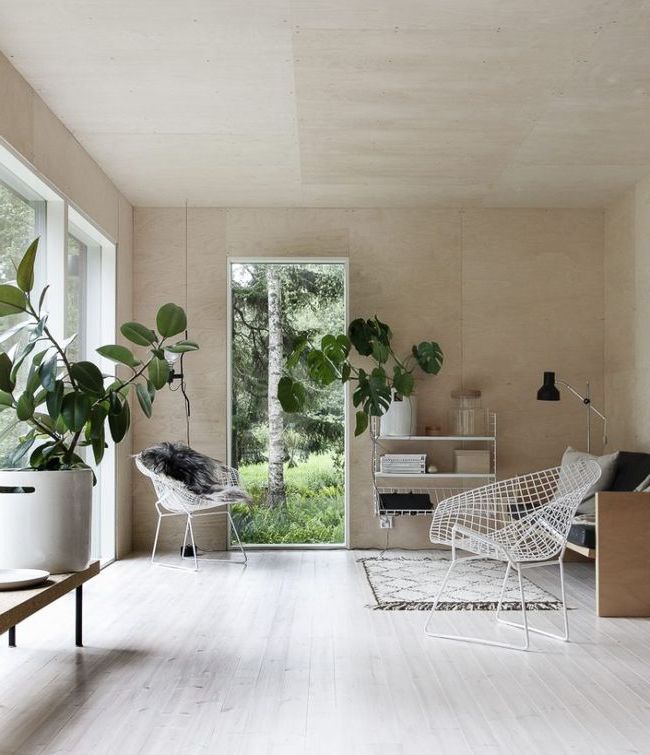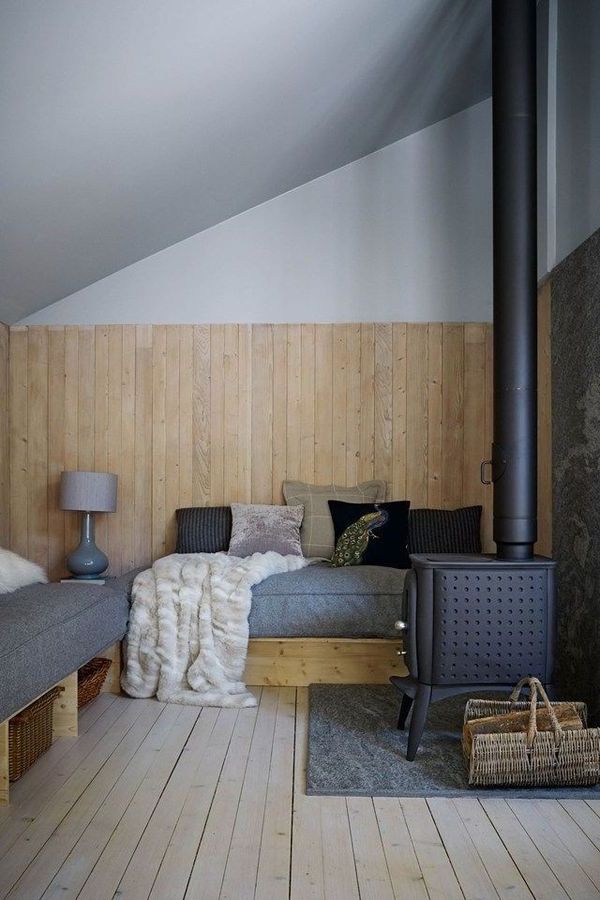 If you have an interior without personality and not contemporary, a wood veneer wall can be a solution to give it character and warmth. However, if you already have hardwood floors, wood paneling, furniture or beams in this material, there may be no need to add more.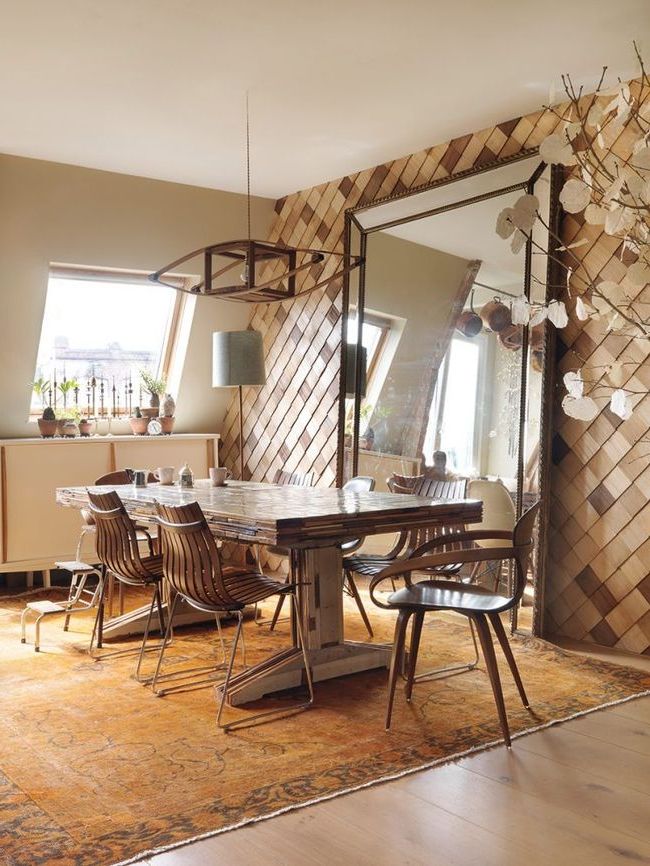 One of the possibilities is to use raw or recycled wood. An assembly of woods of different thicknesses, different sizes, different species can be applied, like a puzzle. The effect is really impressive.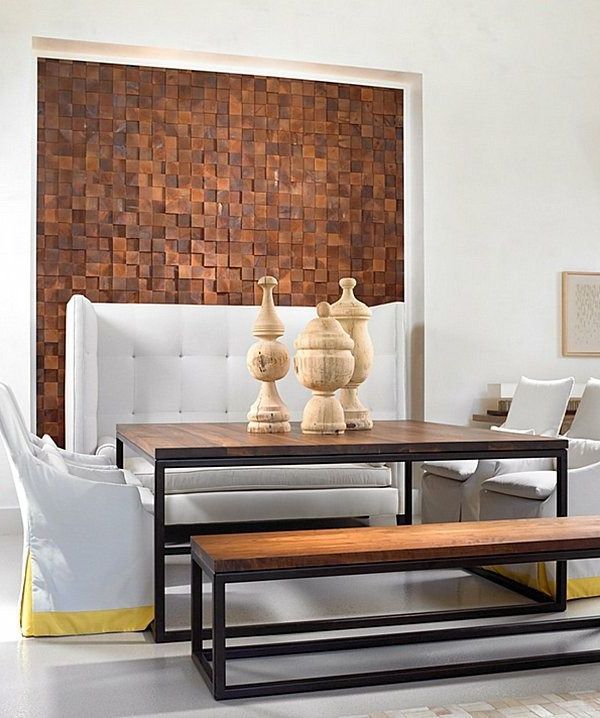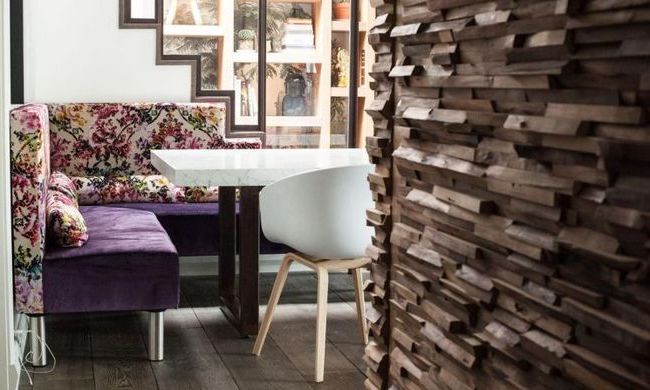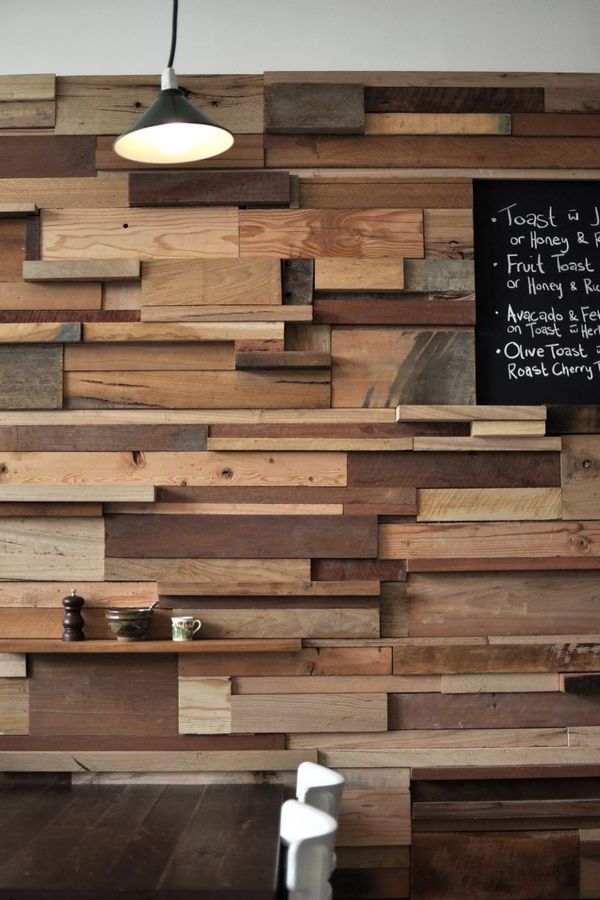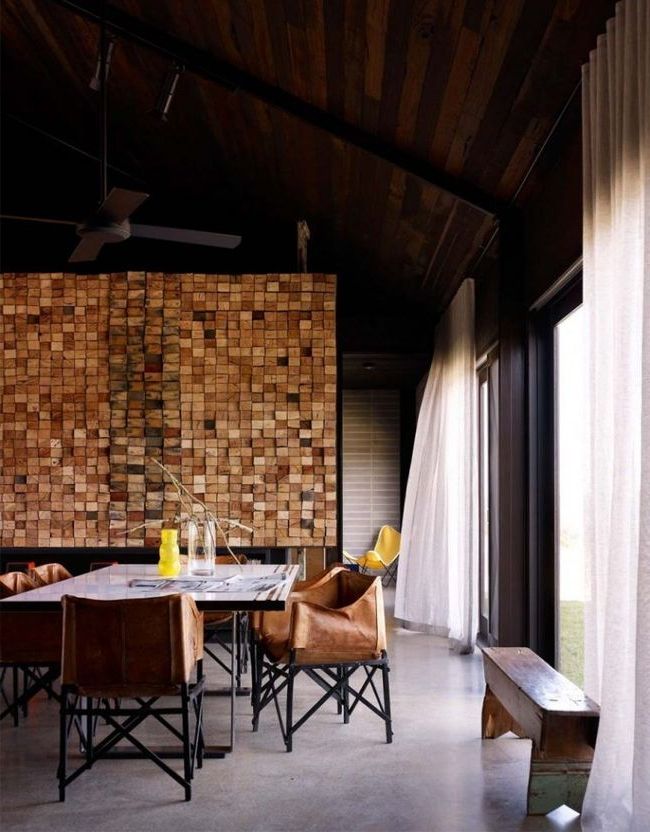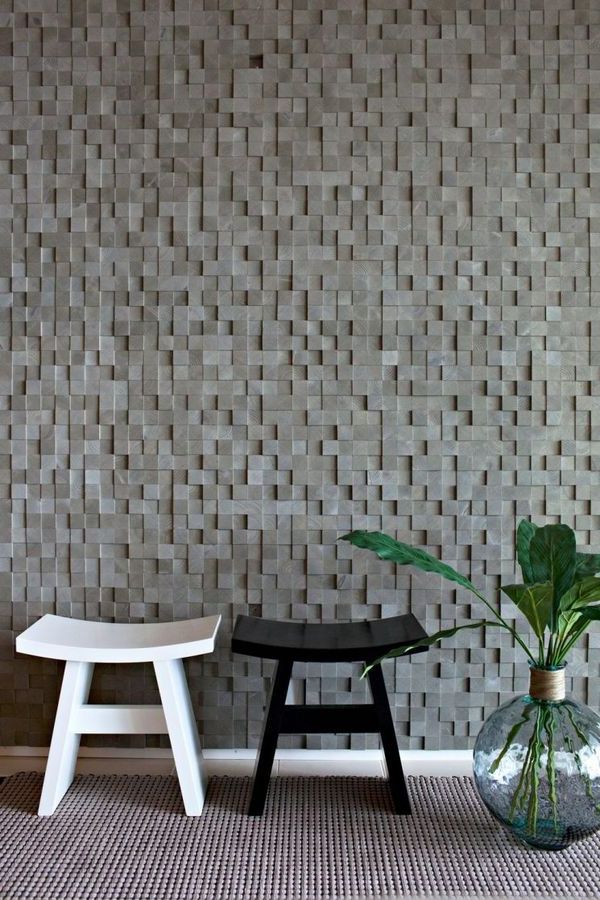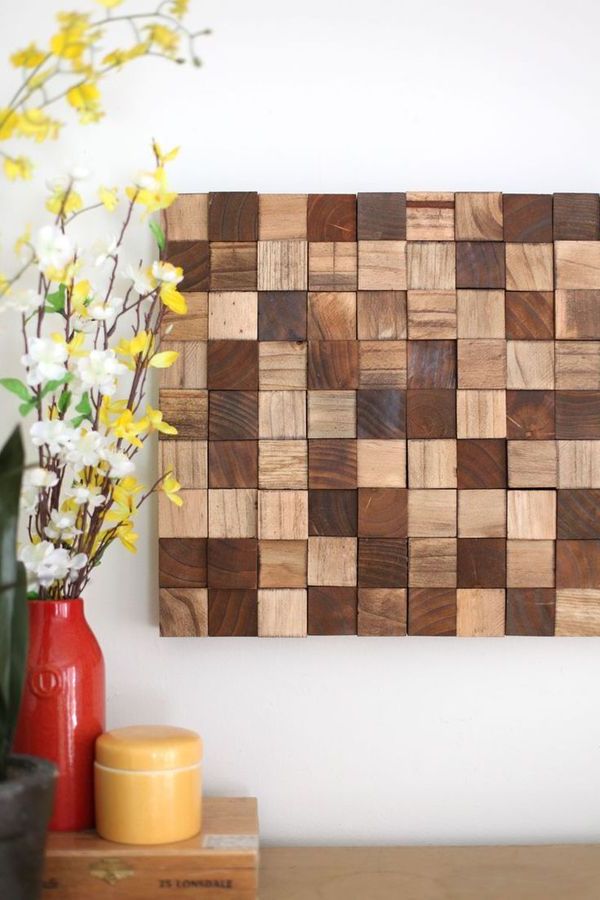 A wall can also be covered in the form of parquet, or with small squares or rectangles of different depths.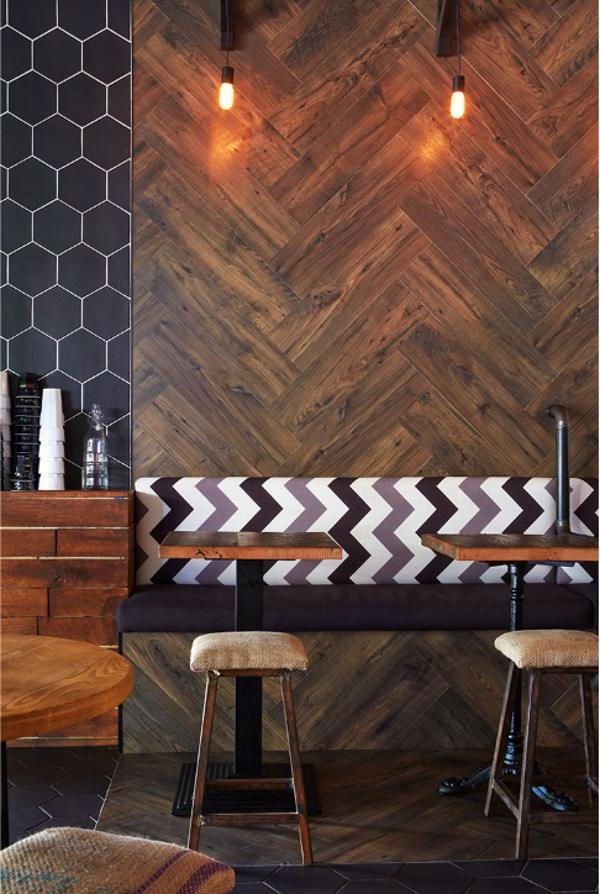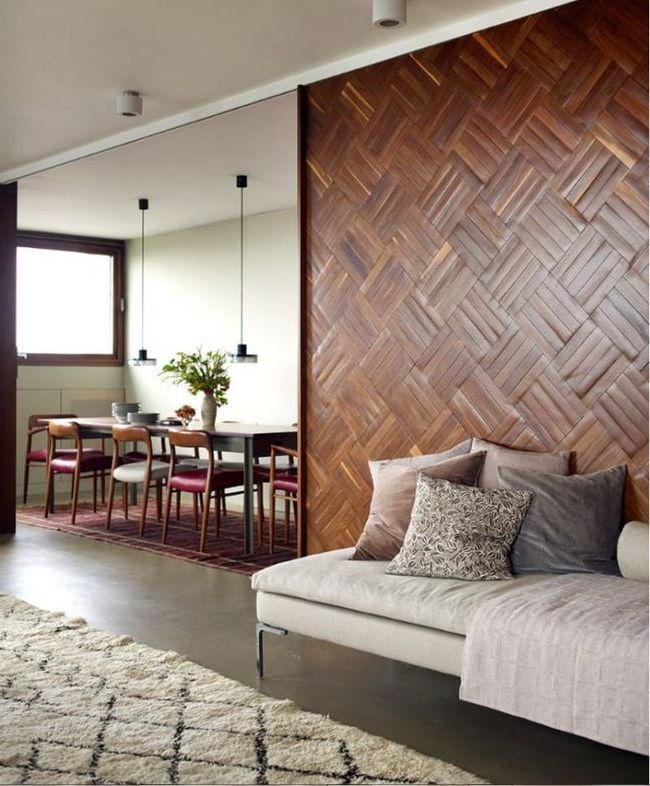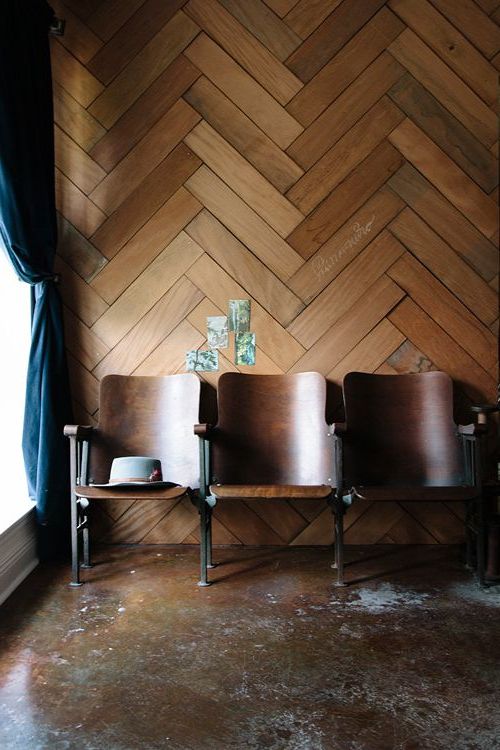 Wood cladding was widely used in other decades, such as the 80s and 90s, and without a doubt, it is a trend that has resurfaced again.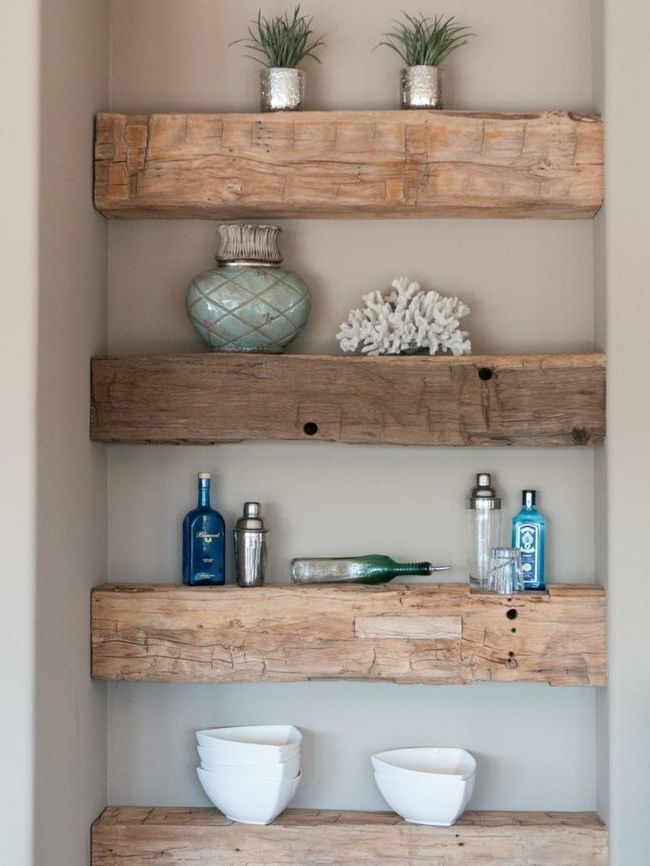 And of course, there are a lot of other possibilities with wood, as we will see in the images below.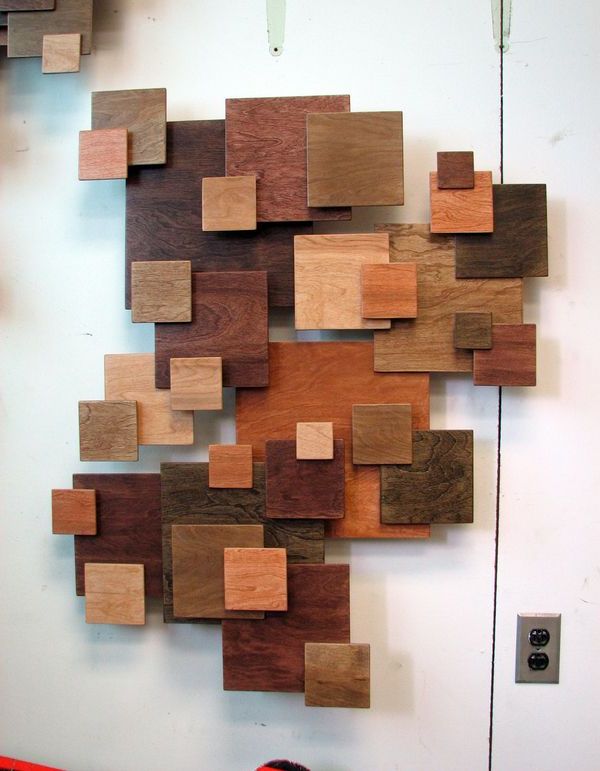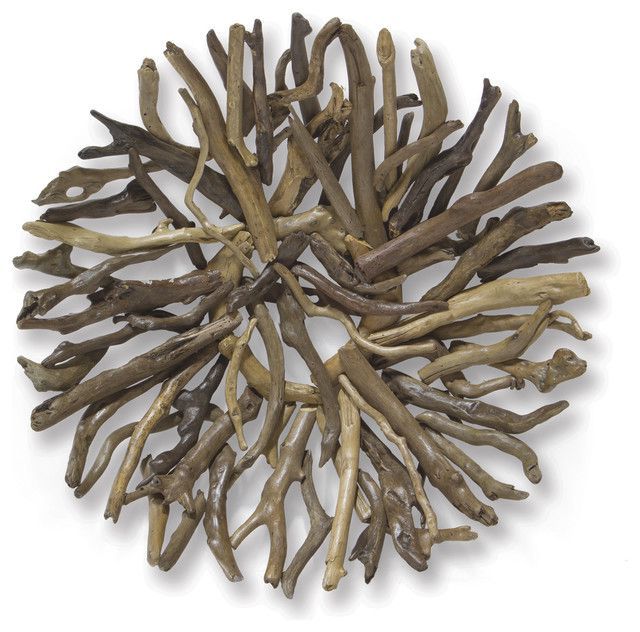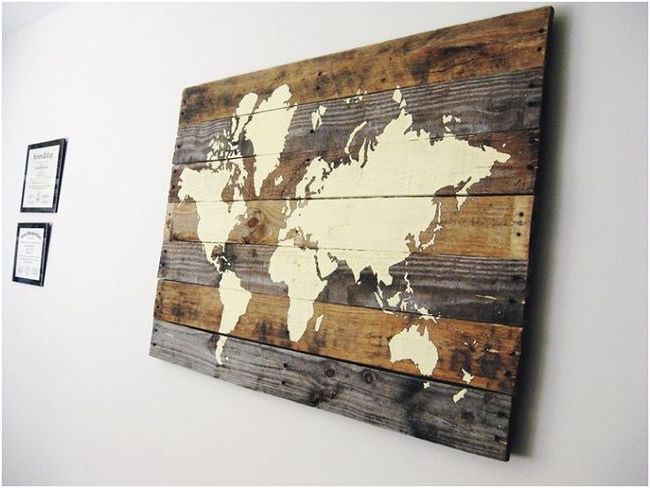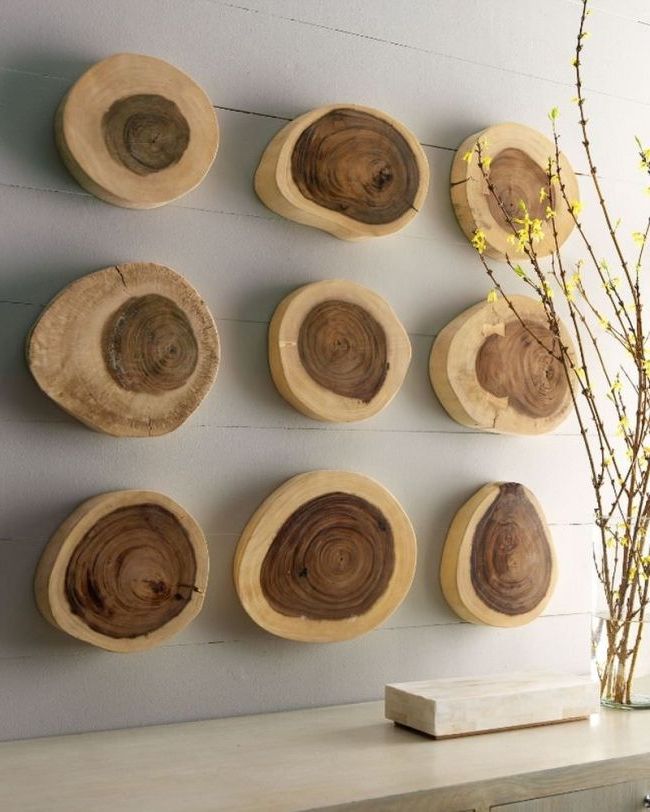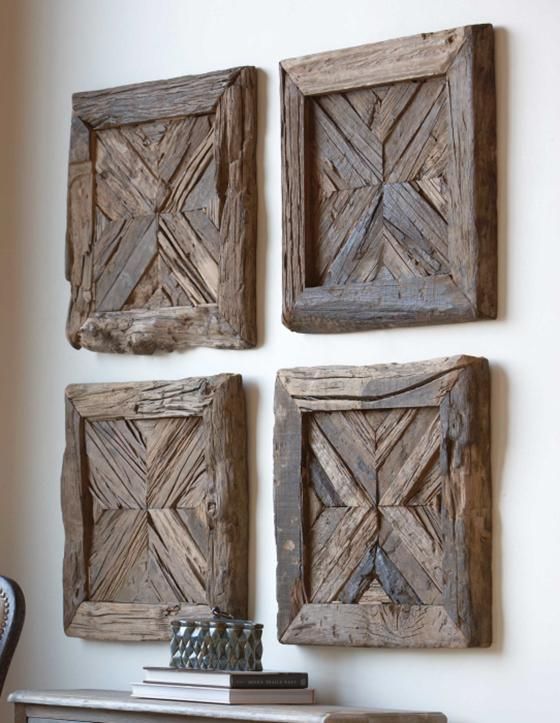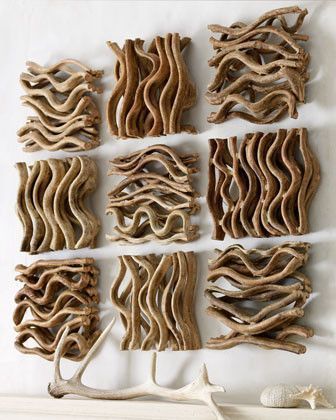 Wall decoration with pallets
You can also recycle pallet wood and make either a coating, or one of the ideas that we show you here.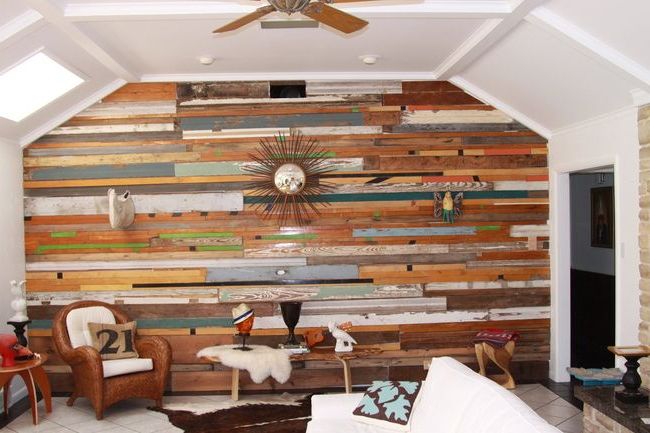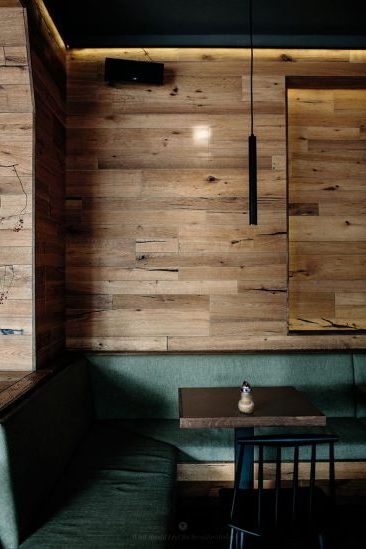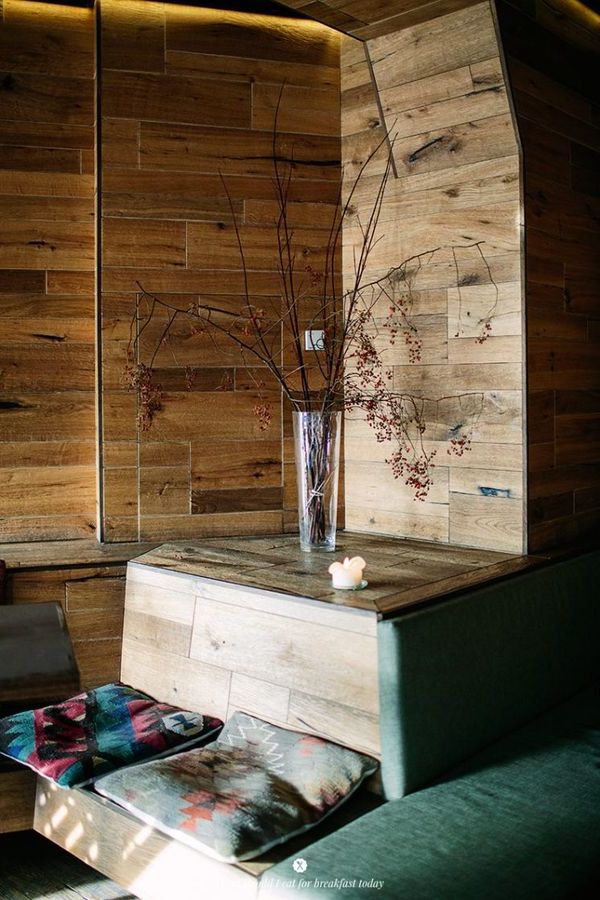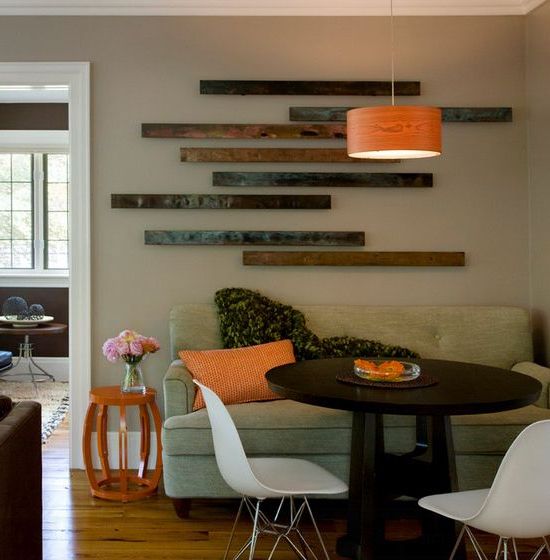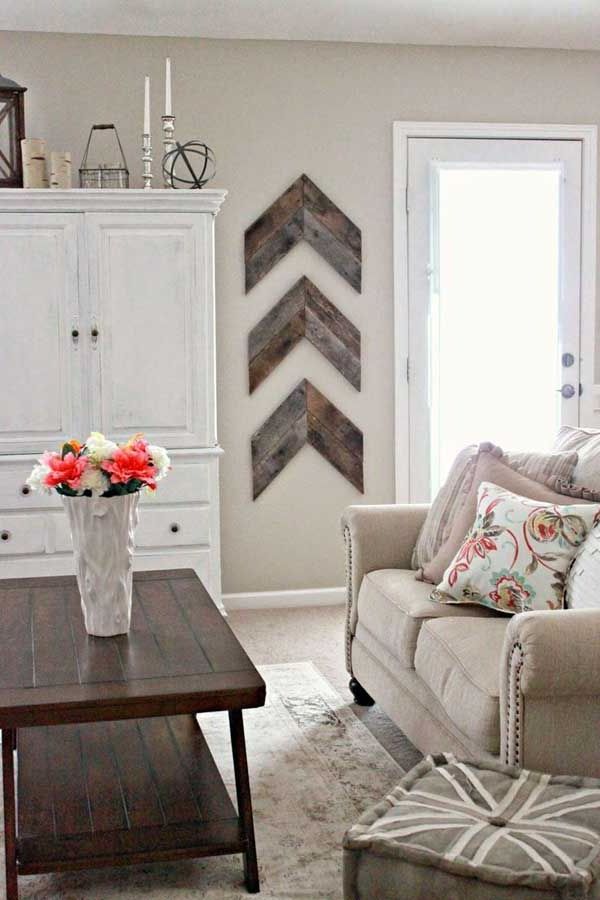 Walls decorated with wicker baskets
Thinking of original and natural-looking wall decoration, nothing better than resorting to wicker. Especially if you have already put together a decoration that includes rustic furniture, decorating a wall with wicker baskets will be fabulous for you.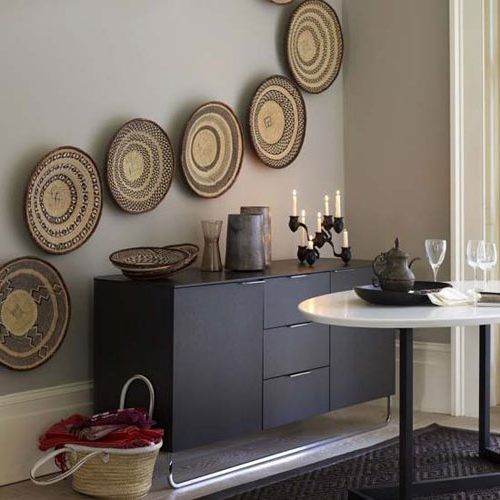 Wicker is a vegetable fiber that is obtained from a bush of the willow family, and after being collected and cleaned, it is used to weave, in such a way that furniture, baskets and other useful objects can be created. It is not an easy task, but wicker weaving has been the occupation of millions of people.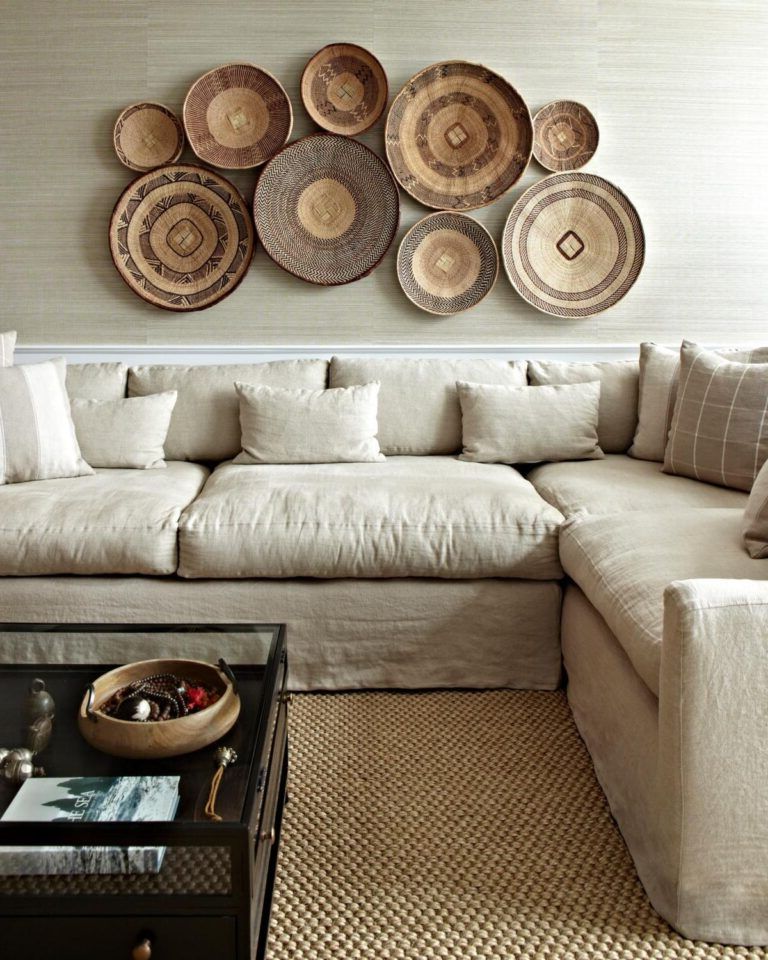 Although today the use of wicker is no longer so common, due to the wear and tear of those places where it was exploited for a long time and diversification, it is true that Europe is where this material has always had a great reception and where it has once again become relevant in interior decoration. Basket weaving is one of the main activities related to wicker, followed by furniture for recreational houses in the countryside and on the beach.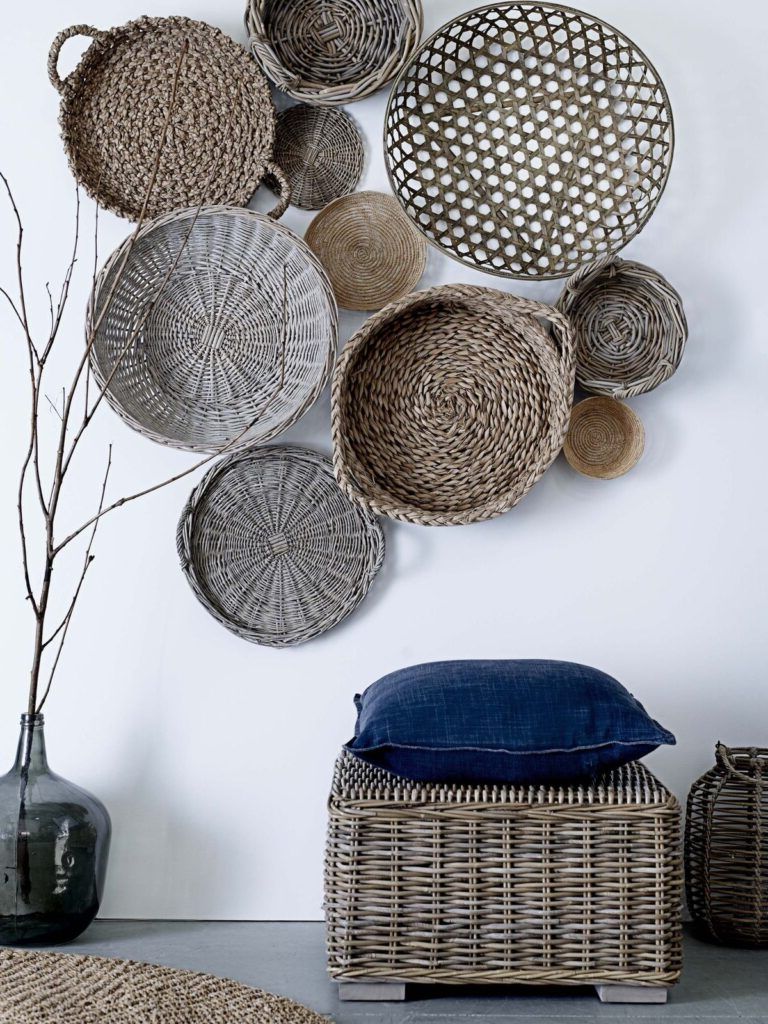 The wicker is resistant and has wonderful natural tones, which lend themselves wonderfully to decoration, it is placed in patio and garden settings. In this wall decoration with baskets, beautiful tones, sizes and designs are used that will give the room a different touch, since you will have noticed the wicker is not used as much as it should.
Ideas for decorating walls with circles
When you decide to decorate the house, you can start with the decoration of the walls. If chosen well, it becomes a charming way to add joy and originality to any environment.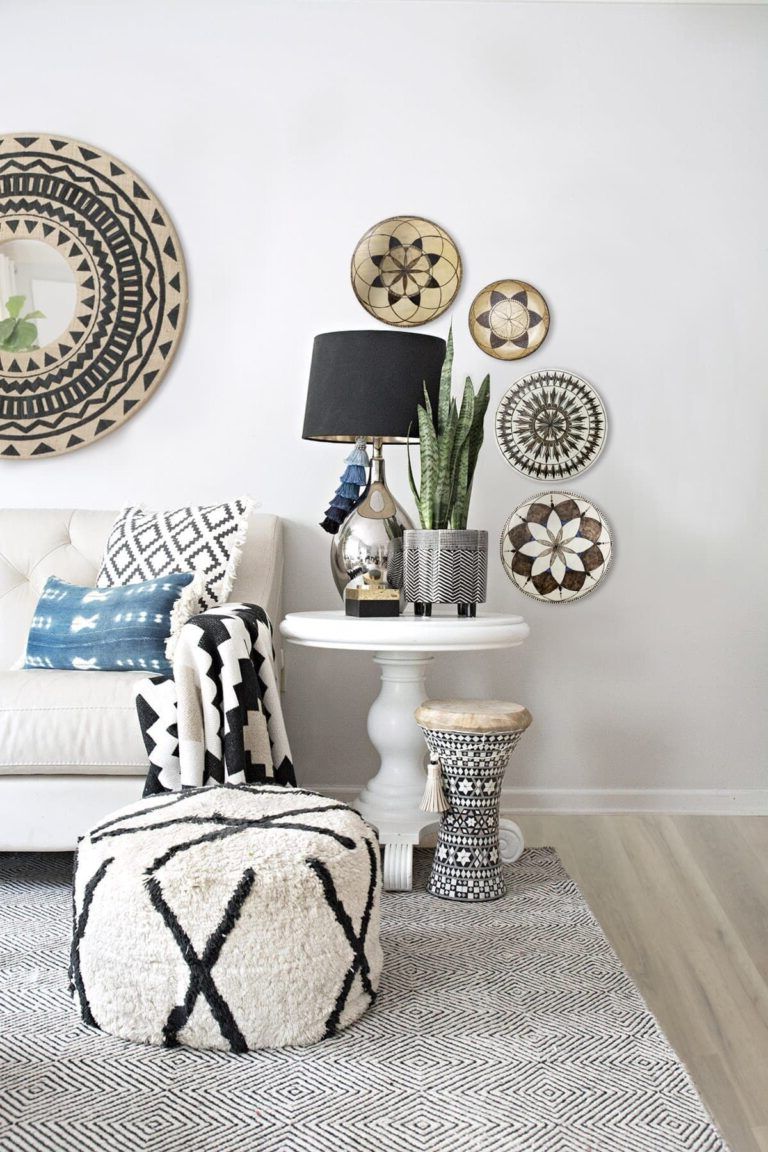 We show you some great ideas to decorate walls with circles, a very easy way to give vitality to the environment of the living room, bedroom, dining room, or any room in the house.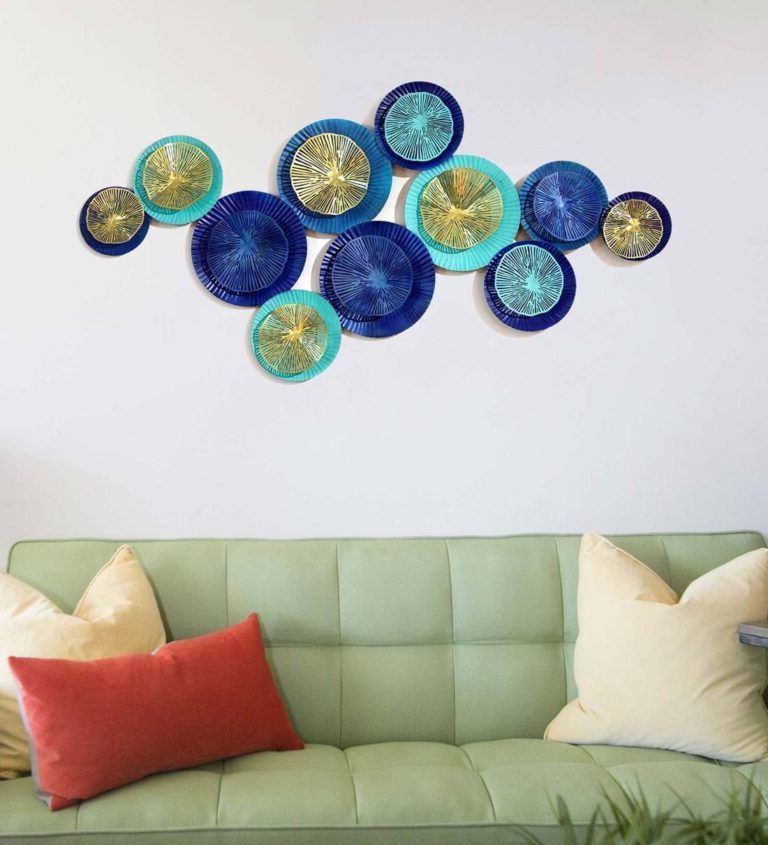 It is a very easy and versatile wall decoration, which you do not have to limit to the wall, you can also use it on the ceiling, as can be seen in these images. A variety of matching or contrasting colors can be chosen.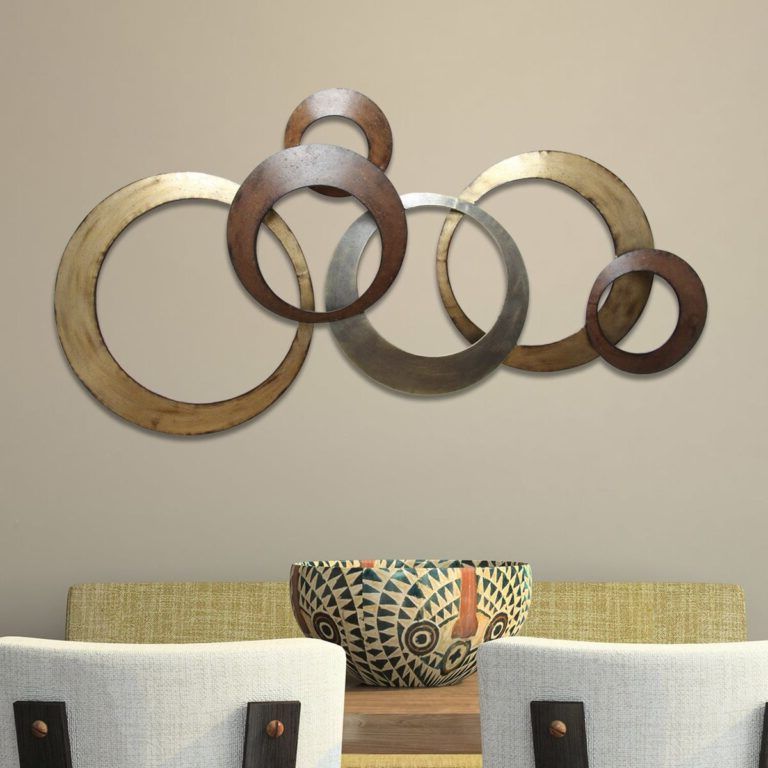 You can go for a strip of the wall or the entire wall, and you can be as creative as you like. It is true that there is wallpaper in a variety of circle designs, but the best way to achieve something personalized in this type of decoration is to resort to painting the wall with these motifs.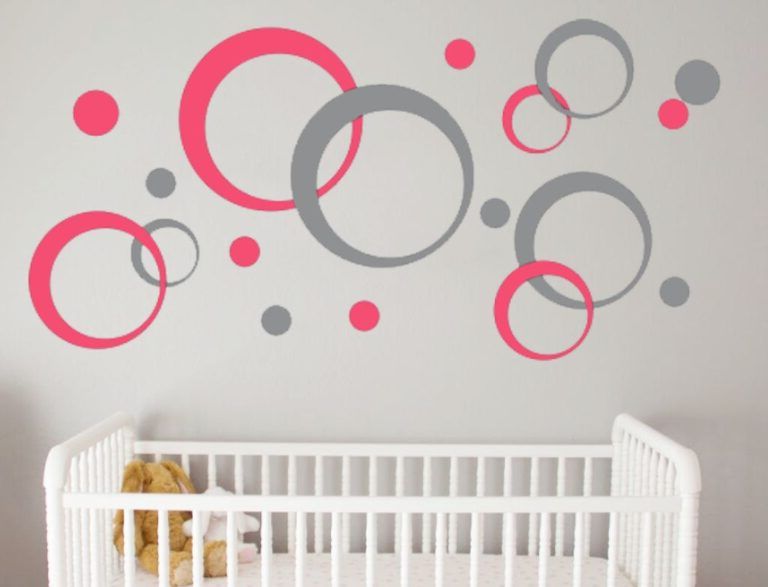 On the other hand, another proposal that is going strong in modern decoration is the implementation of concentric circles of different colors arranged on the wall, in order to create a design to your liking.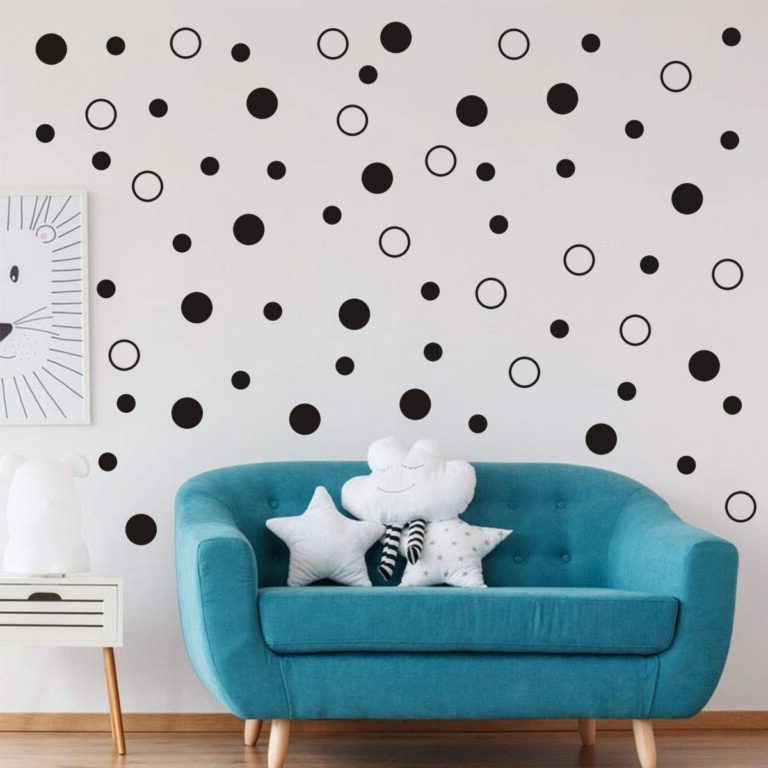 Small circles and large circles mixed to give a touch of joy to the children's bedroom, you can try, as you can see in these suggestions, on a white background or make the most of the color.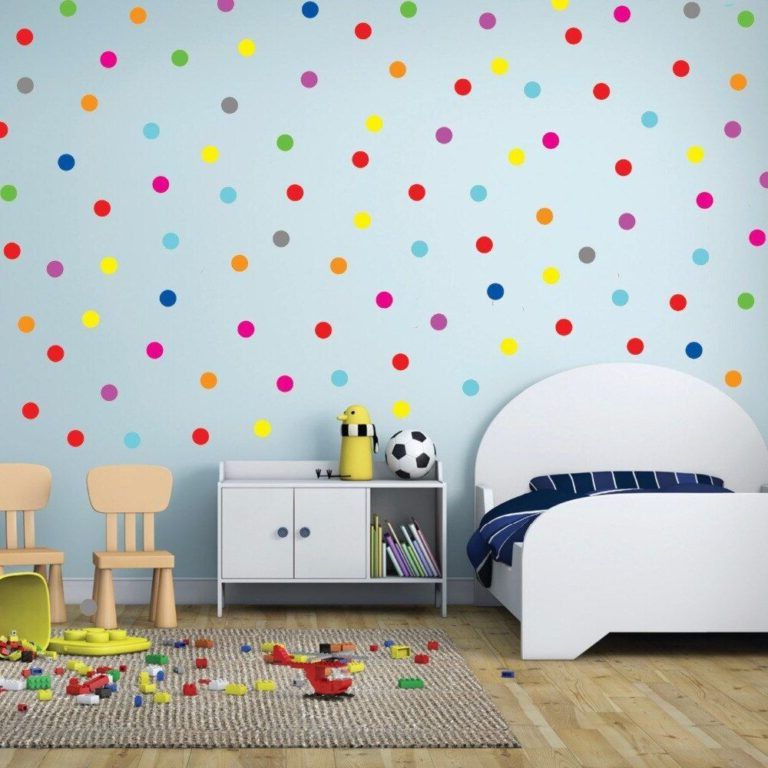 And the best thing is that in addition to looking good, it does not involve a great cost because it is easy and does not require huge amounts of paint. And you can with just this idea, renew the entire decoration of the house, with only the walls.
Wall decoration with photos
We all love photographs, especially when we have accumulated many that transport us to happy times, to special occasions that we always like to remember.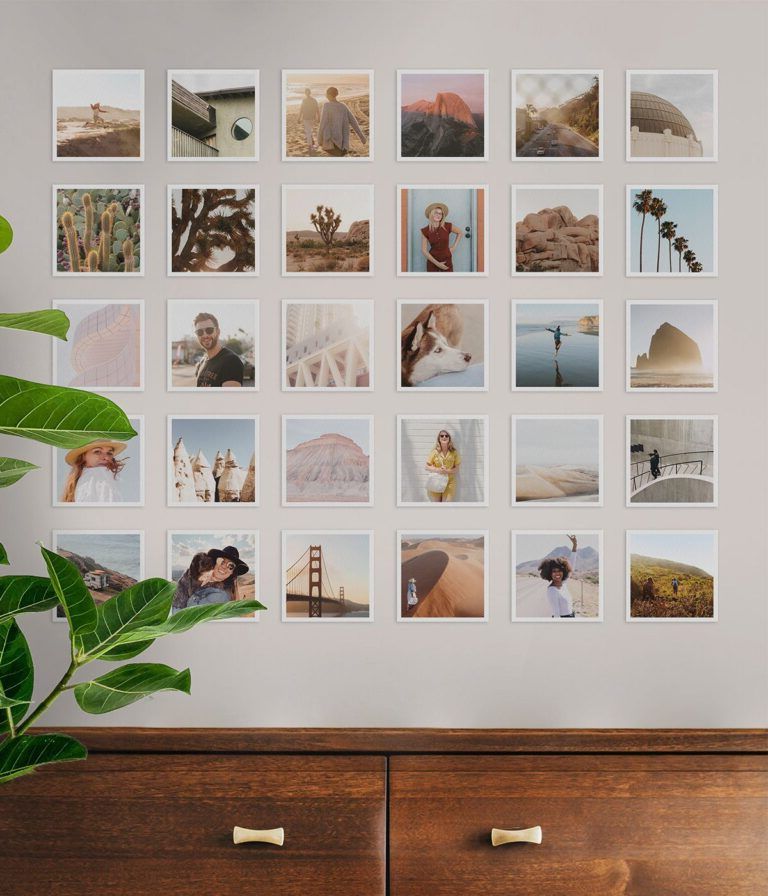 When we want to see how children have grown, how we have changed over time and how we have lived intensely, we do not have to relegate it to enjoying it occasionally, because those beloved images can be added to the wall decoration of the living room.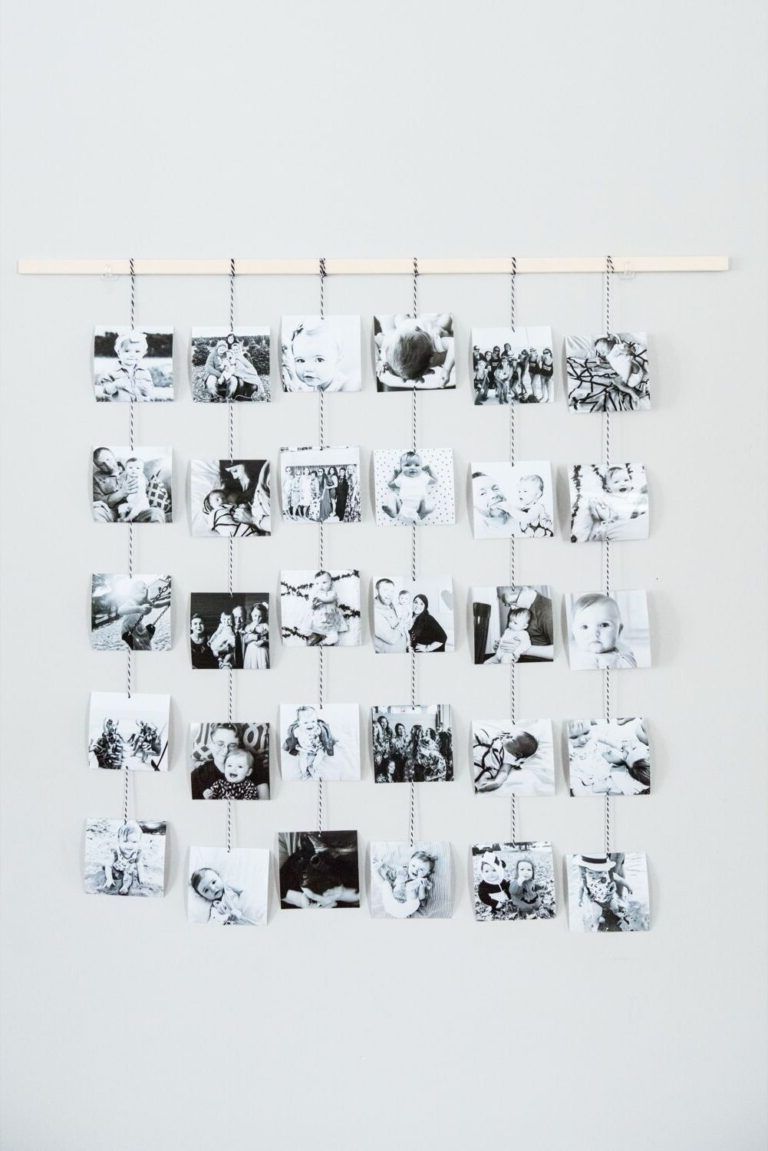 Many beautiful snapshots of family, friends, places we like, of so many things, we can turn into a beautiful photographic collage that serves to decorate the wall with originality and style.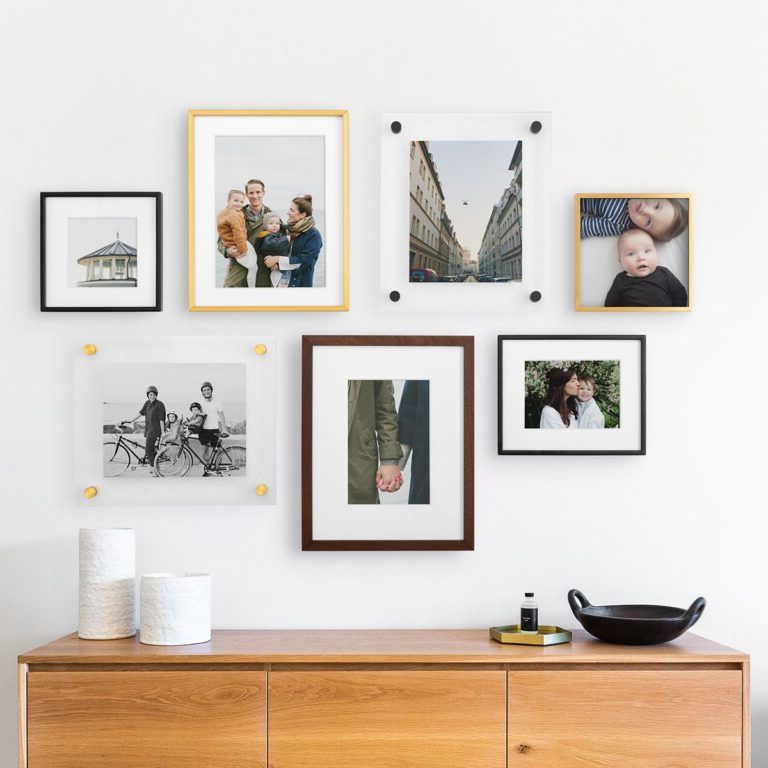 We will only need to choose the photographs that we like the most and in that sense whether we decide to enlarge them or use them in their different sizes and place them on a wooden base.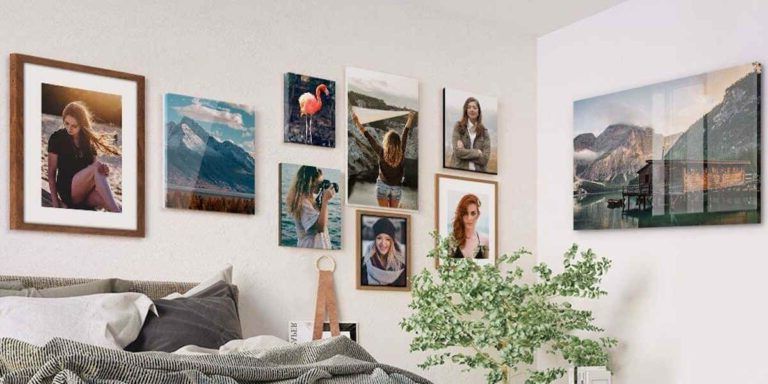 We can cover the base with a glass or we can cure the photographs with a layer of craft waterproofing or lacquer. In specialized craft stores, they will guide you through the product you need to preserve your beautiful photographs and decorate the wall with a photographic collage like the one in the spectacular image!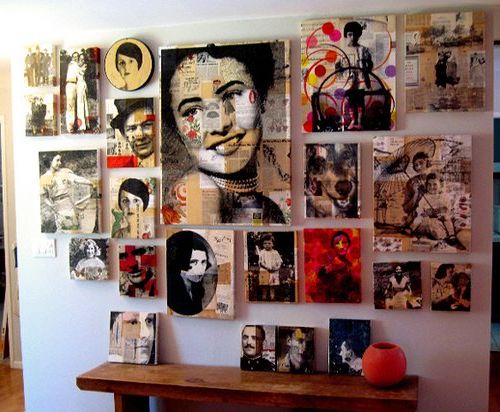 Decoration with decorative wall panels
Thinking of decorating the living room or any other room in the house, you do not have to settle for paintings that are already too everyday, but you can take advantage of the fashion of decorative panels.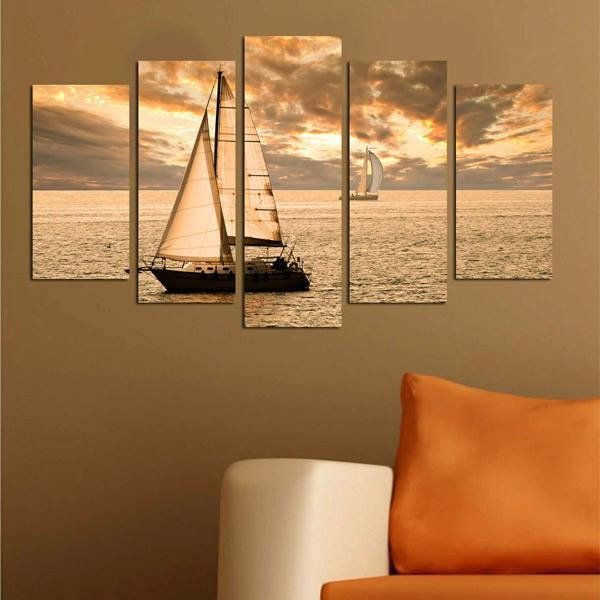 There are many varieties of panels. For example, below we see a charming option that reproduces images of nature such as spectacular sunsets, brightly colored plants, all kinds of endearing images, which by themselves beautify any wall where they are placed.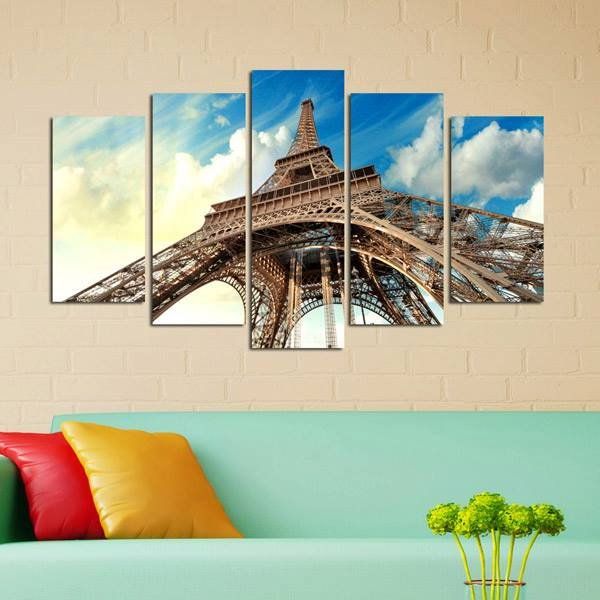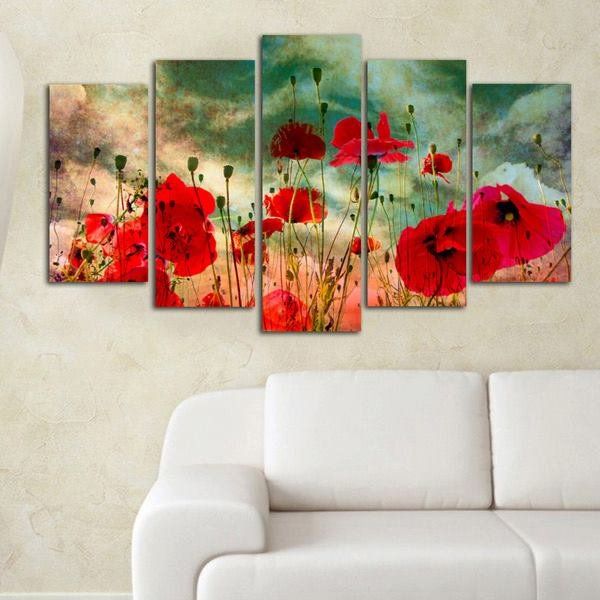 The best thing is that by using decorative panels you save yourself from making large expenses in decoration and just by renovating the wall and giving it the original and colorful touch of a spectacular image like the one you see in these panels that we show you, you will have a very attractive living room.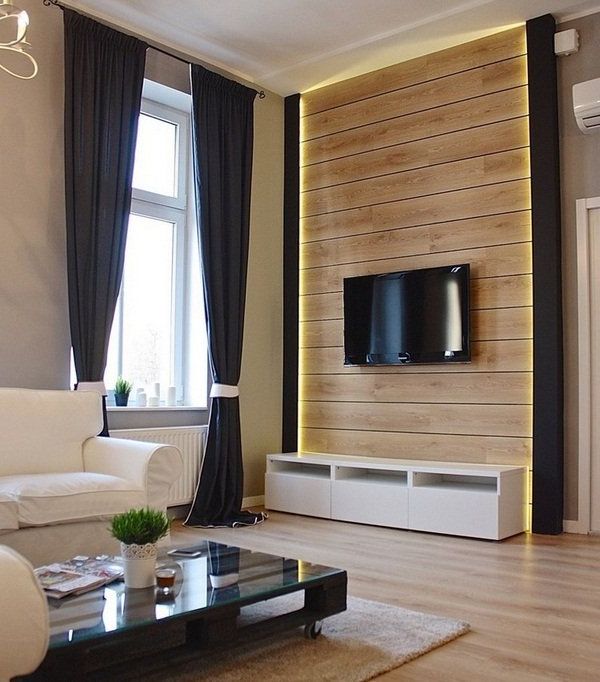 The panels are easy to install, are varied for many different tastes, and are affordable in cost. Below we show you another type of panels, which give a lot of texture thanks to their 3D designs.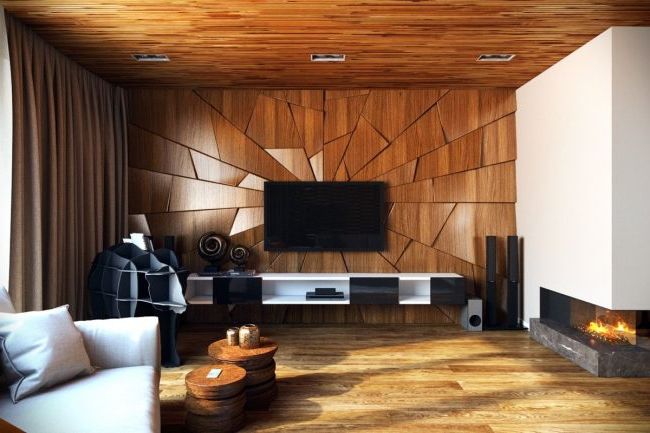 Wall decoration with maps
The wallpaper boom began several years ago, promoting the appearance of different designs, targeting new markets, new ideas, tastes and the desire of people who wanted to innovate and feel different. Well, if you want the same thing, but at the same time manage to convey something positive to those who see it, you may want to see some map wall ideas, as a form of decoration.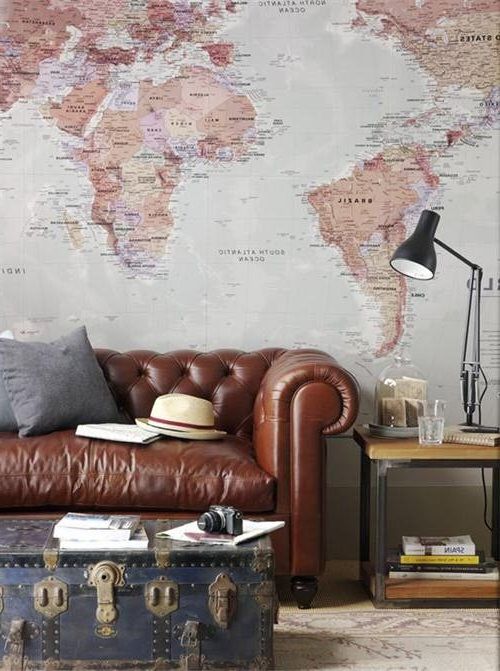 It is proven that those children who have been in contact with this type of wallpaper have achieved such a connection with them, by seeing them every day at home, that they have learned cities, countries, rivers, mountains and dozens of things, which help to develop the intellect and general knowledge.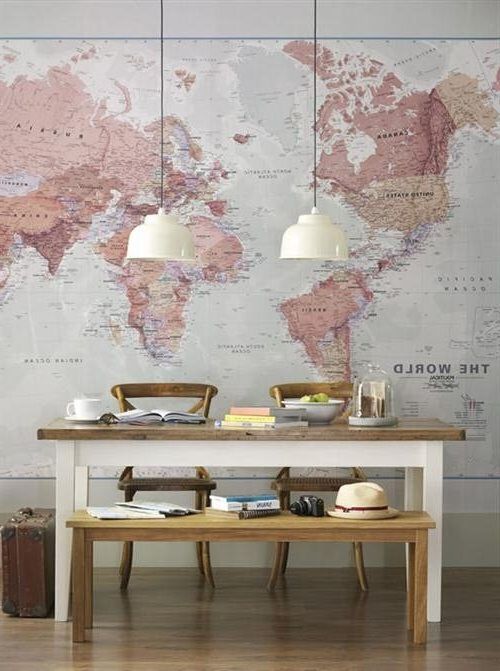 It can be placed on the breakfast table, it can be in the bedroom, the bathroom, the kitchen, or even in the living room, since there are countless maps, some more decorative than others, as may be the case with navigation maps and ancient treasure maps.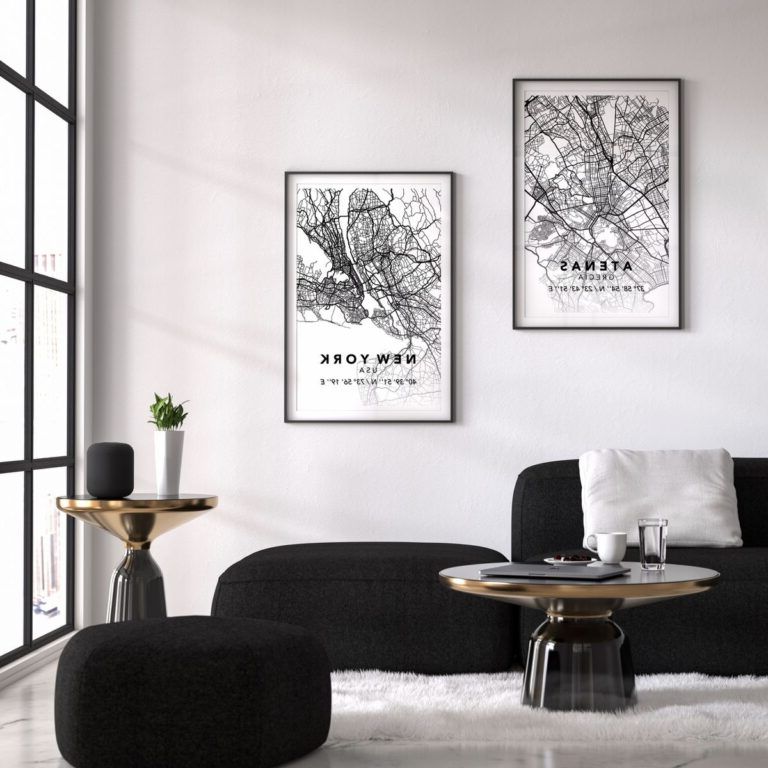 You can also resort to a perfect wall decoration for a children's bedroom, such as using the world map in its most beautiful colors to create an original wall. It looks good, it's colorful, it's easy to achieve and the girl or boy will learn geography with more joy. Isn't that a great way to add something educational to the wall?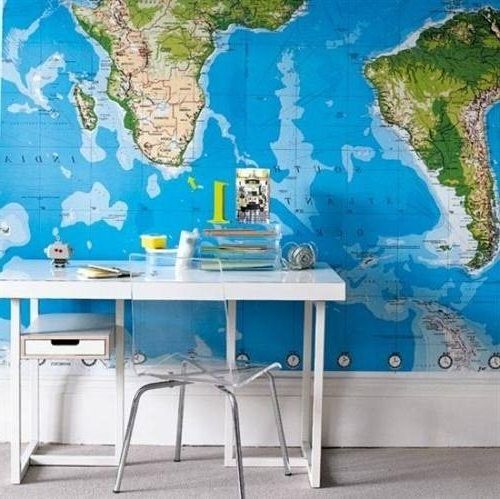 In addition, this type of wallpaper is perfectly complemented by nautical themes and all the decorations associated with it, such as miniature boats, wooden chests, oars, nets, paintings with sailboat knots, natural objects from the sea, etc. infinity of other things, that complete the typical atmosphere, of the lovers to travel.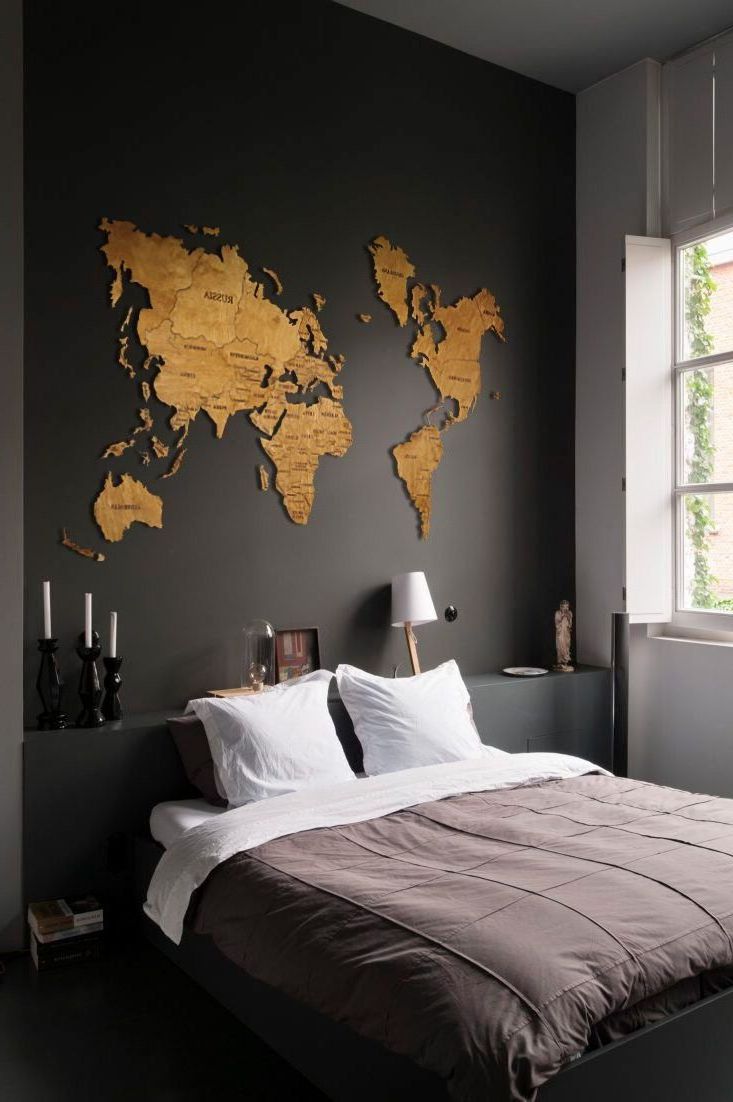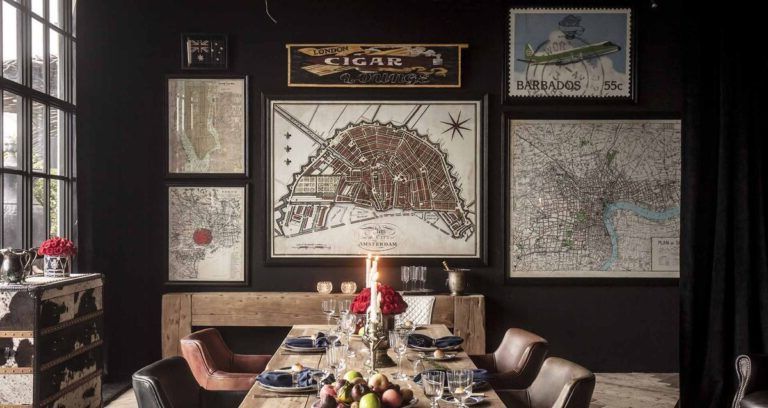 Decorate the walls with disassembled pieces
For those who are constantly evolving in the decoration of their home, and who enjoy having a different style compared to that of classic homes; an original proposal and capable of filling your walls with style if you have good taste and creativity. The proposal consists of decorating the walls with the art of dismantling pieces.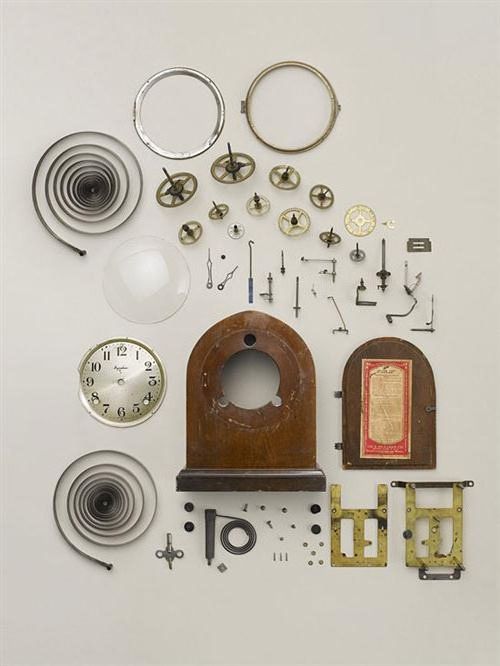 This proposal is ideal with old pieces, since this idea allows us, in addition to recycling, to benefit from the interesting design that generally characterizes the pieces and machines of yesteryear.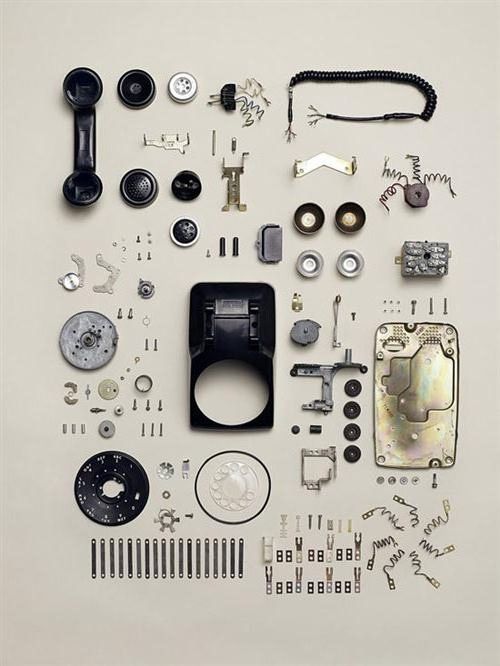 Although it is worth mentioning that it is not a task for the lazy, since it requires a lot of dedication and patience if you want to achieve a decoration like the one shown in the photos. But the truth is that the result is well worth the work, since they will achieve a wall full of personality and style.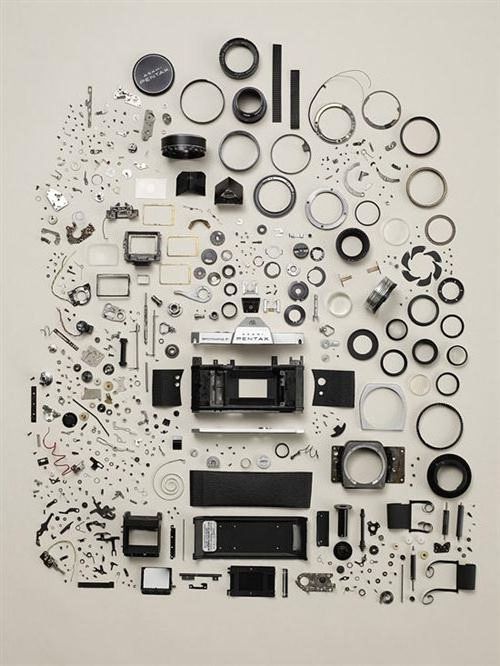 To proceed with the disassembly, you can choose old parts and machines such as clocks, telephones, typewriters, radios and even tools that are not very heavy (since we must not forget that everything must resist being hung on the wall).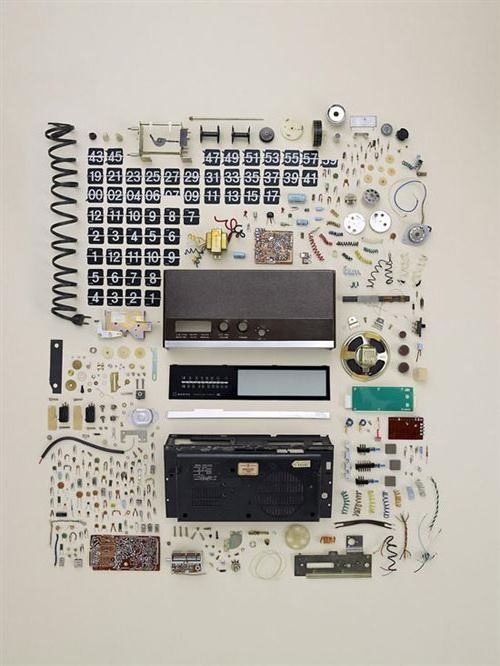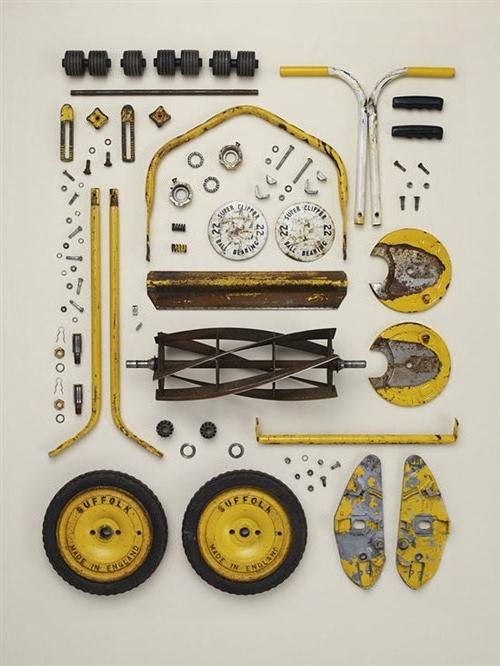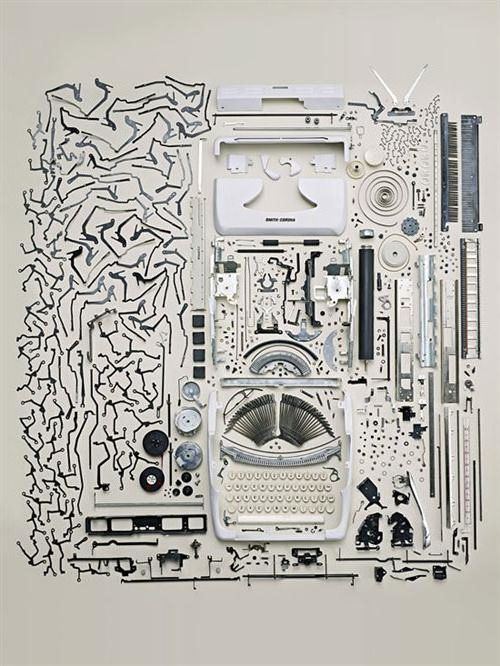 Mosaic wall decoration
Many times when we start from scratch in home decoration, we look for a creative way to bring life to our walls, already tired of the classic portraits or works of art that adorn the walls of most of us.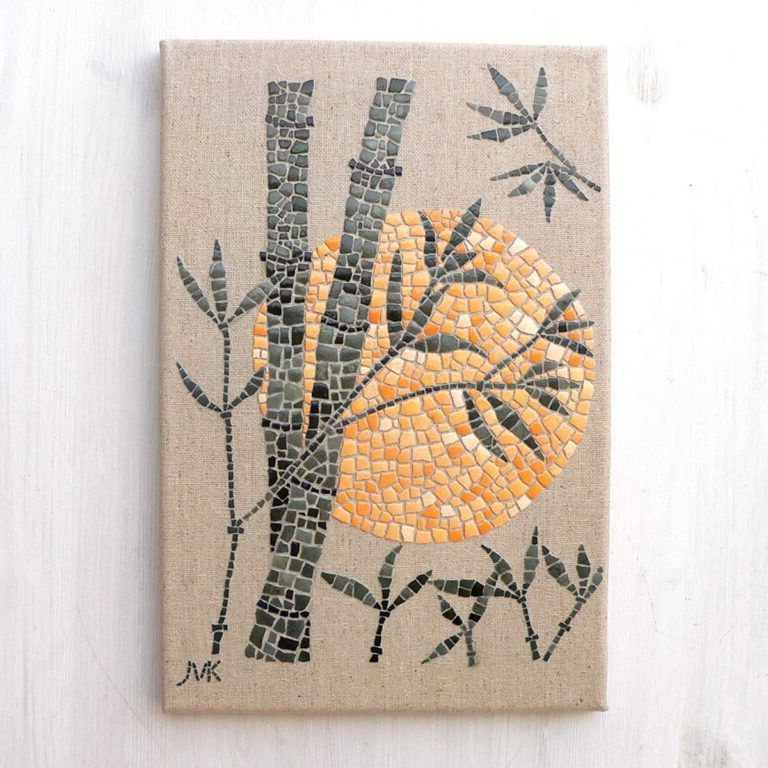 But an alternative that we like does not always come to mind; That is why today we wanted to present you, through some photos, a wall decoration proposal, which becomes an accent for the walls, and which bets on mosaics of different colors.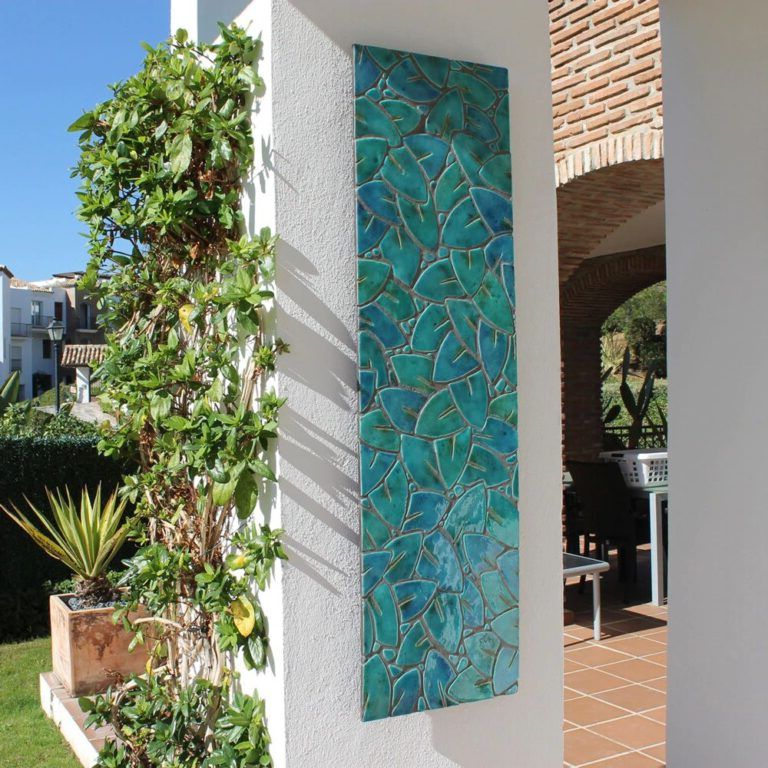 As you will see, the proposal consists of making portraits or any figure in an abstract way with small colored mosaics. It is ideal for bringing a wall to life in a creative way and without the need to hang various accessories on it to give it prominence. If a large design is made, nothing else will be necessary on said wall.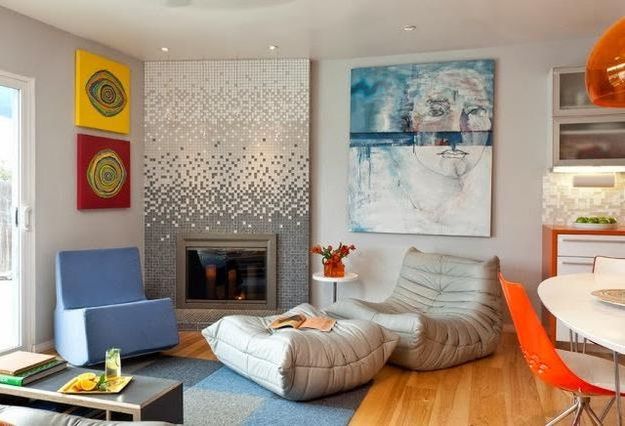 The only drawback of the proposal is that it often requires money not only to buy mosaics but also to hire an artist to do it for us, since it is not such an easy technique to carry out, as you will see. Although those who want to skip this inconvenience can perfectly opt for an irregular design, to your liking so that it is easier for you to carry it out yourself.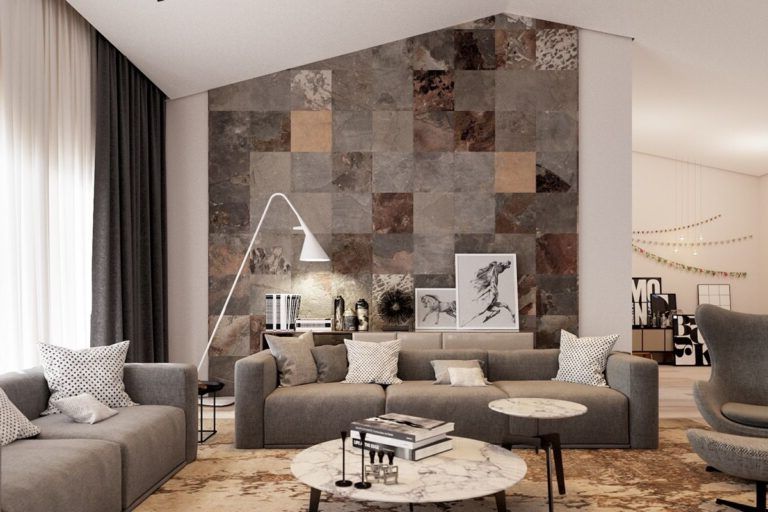 Walls decorated with ceramics
A clear example that will give an important accent to your walls is the incorporation of ceramic ornaments, strategically arranged on the wall, which can be modern or antique according to the style of your home.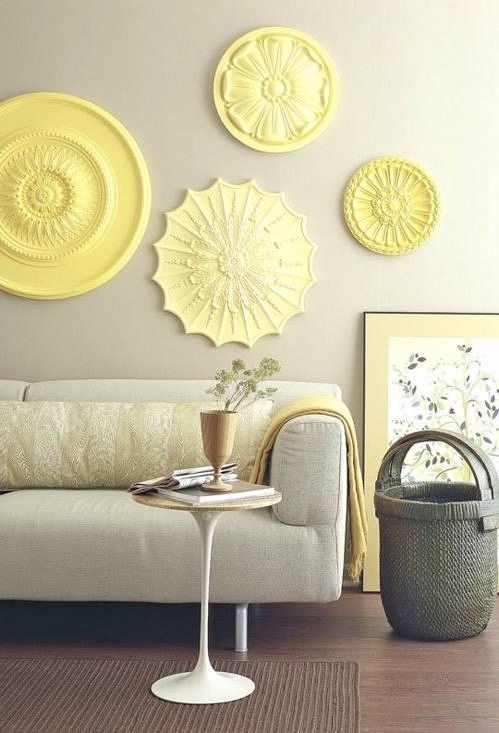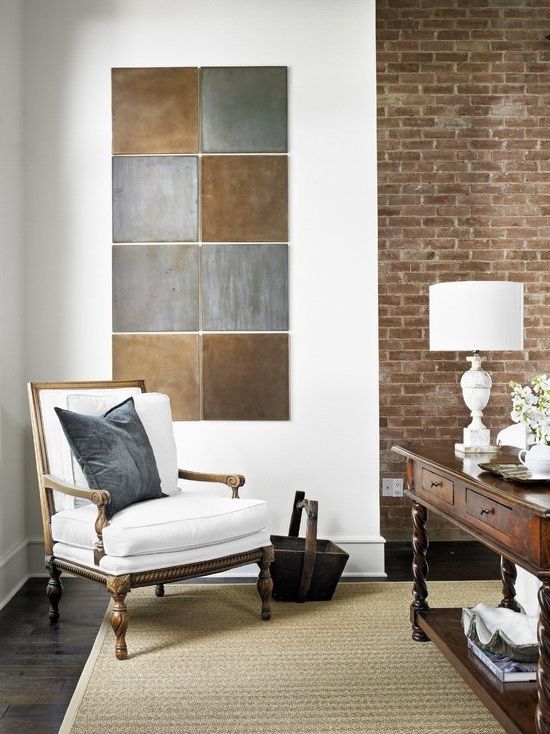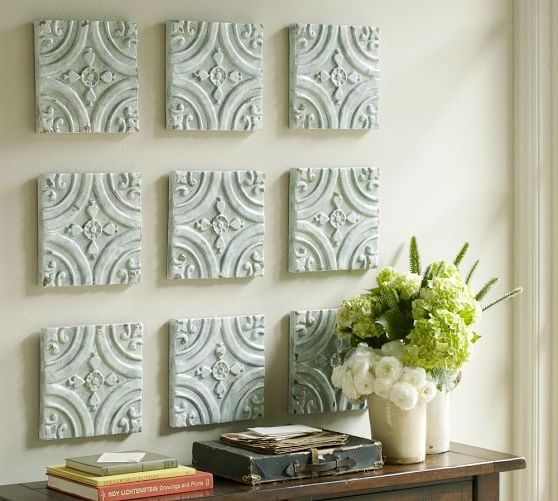 Walls decorated with images of nature
And for those who want a more understated look, simply incorporating it with a pretty landscape or nature design can be the easiest way to recreate a space with style, giving your walls the accent you've been looking for.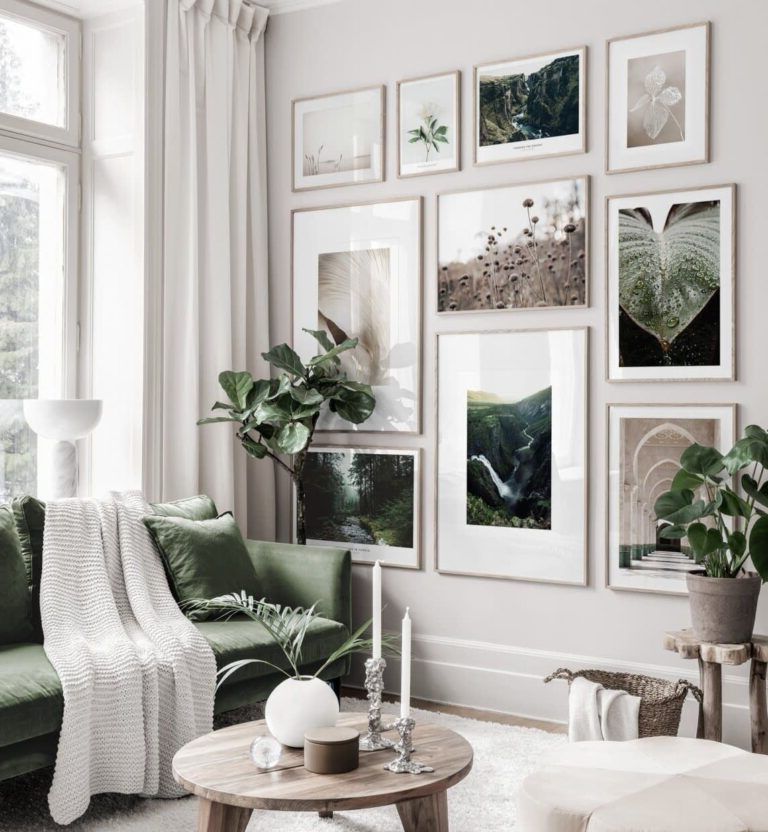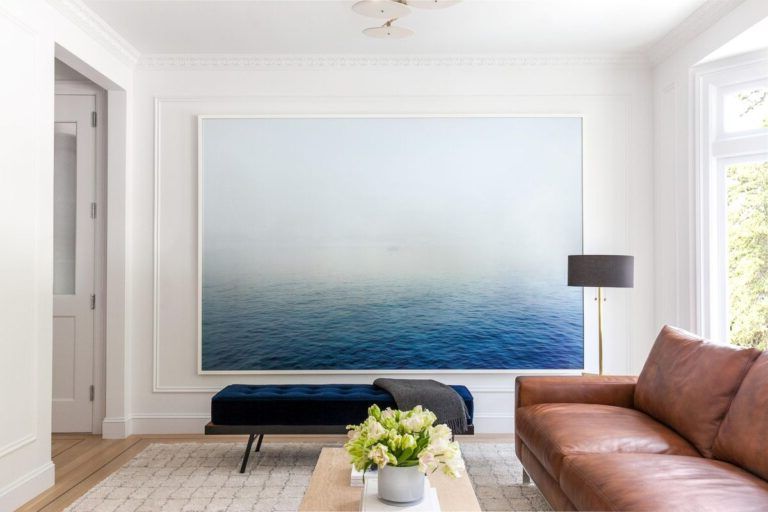 Wall decoration with pop art
If you are looking for a way to add color to a modern and minimalist decoration, the best option is to use pop style to decorate walls. You must be a lover of this trend and of the 70's era, otherwise it can become somewhat annoying in your home, since it is an art that stands out and attracts a lot of attention.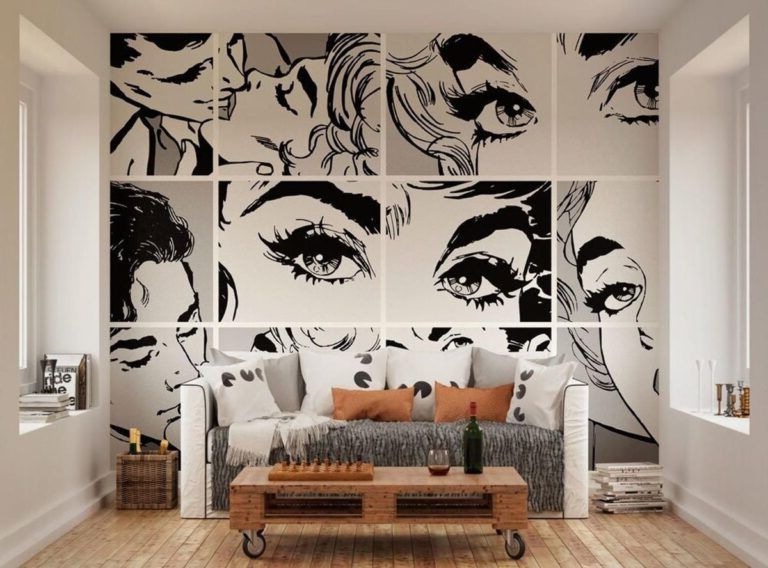 The idea of the pop style is to use popular images in isolation and separate them from their context, such as commercials, comics or the best example of all: Marilyn Monroe. The use of bright and strong colors stands out.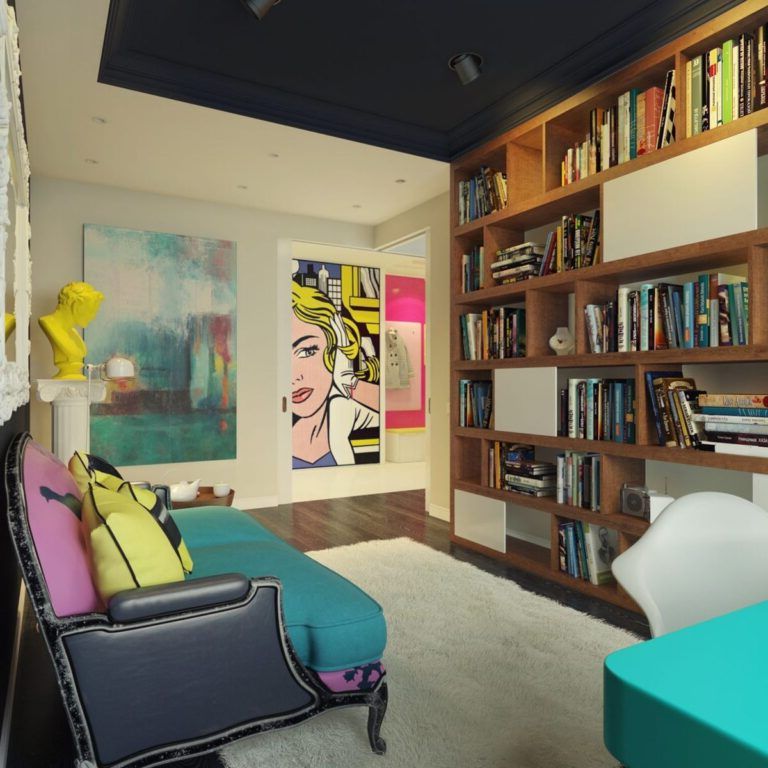 Without a doubt, using posters and collages is the easiest way to bring pop art to the walls of your home, they alone add glamor to the room. You can also achieve an elegant and original decoration without much effort. To give you ideas, here we show you pop style decoration.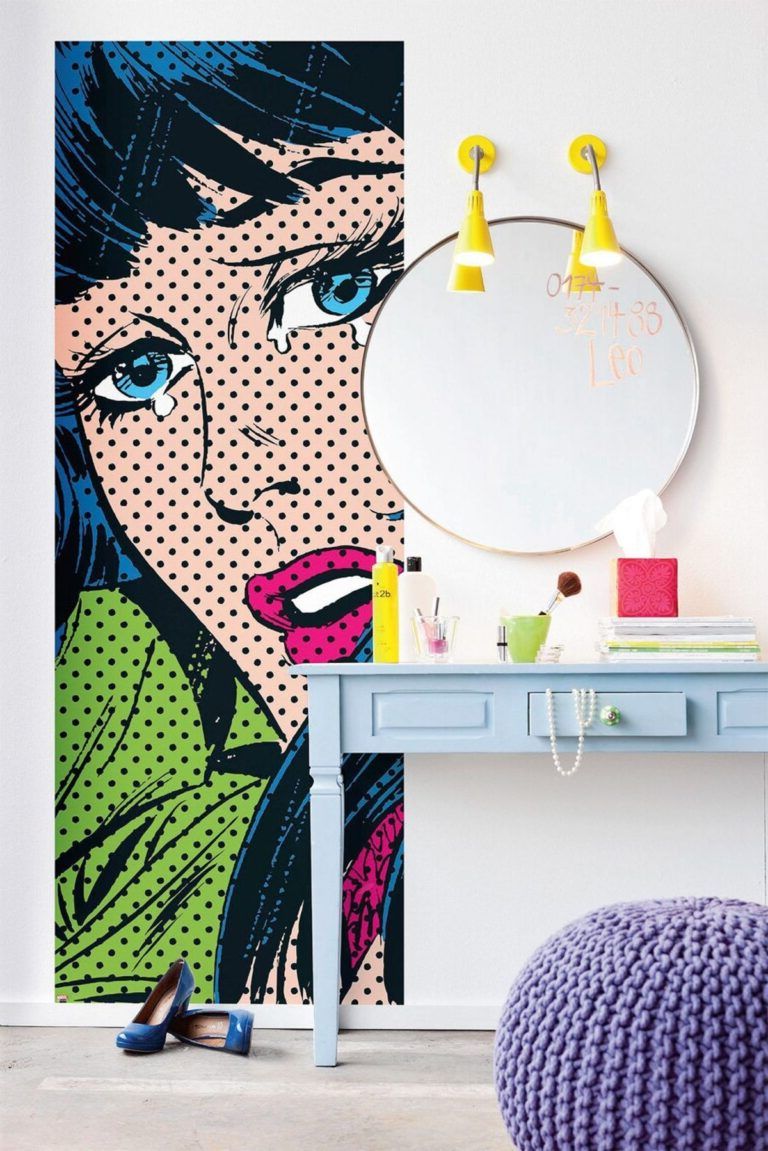 Decorate the walls with butterflies
Butterflies are becoming more and more popular in decoration. They adapt to most styles of decoration, from modern to vintage style. In addition, they are perfect for adding joy and romance, which makes them perfect for decorating bedrooms.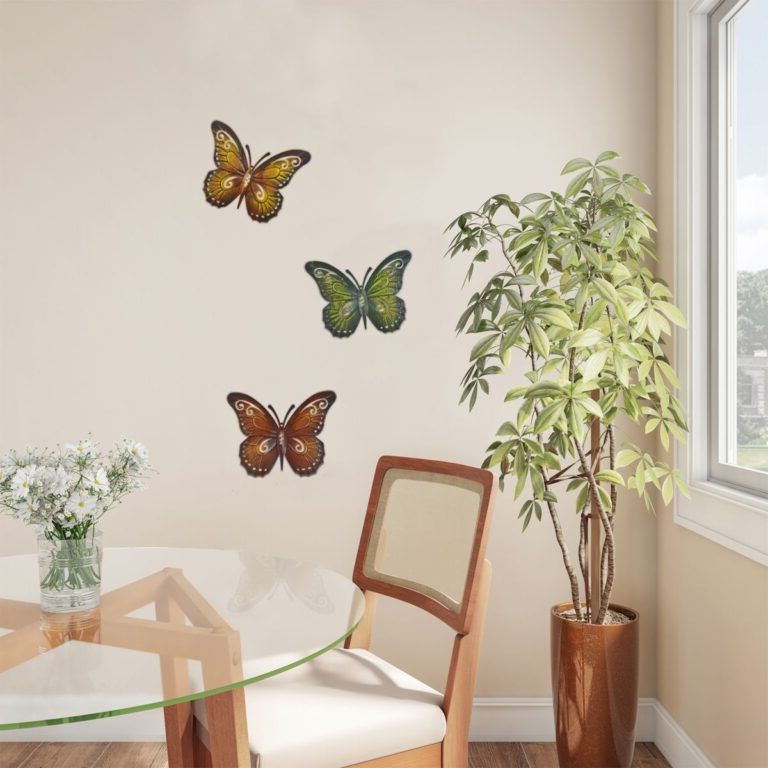 Butterflies in decoration can be found in all kinds of accessories, be it curtains, sheets and light screens. However, the walls are usually the most visible area of the rooms, being the best option when we are looking to add a touch of personality.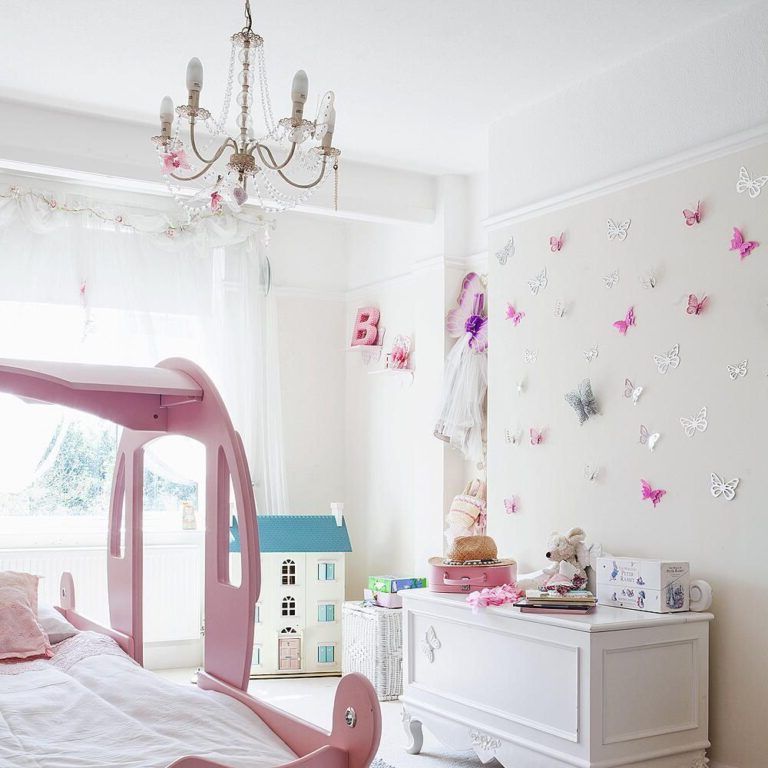 Decorating with butterflies can make a very noticeable change in a room and you can do it using a single large butterfly or several small ones of different sizes. The same goes for colors, you can combine different colors and butterfly designs, you just have to let your imagination run wild.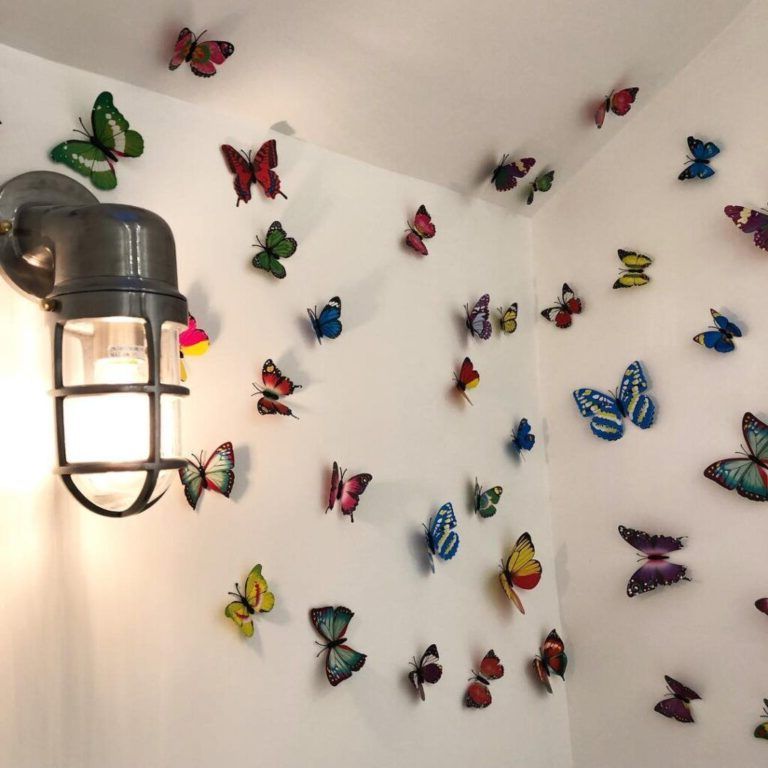 Striped walls
A striped wall completely changes the decoration style and mood in a room. It is a wall painting technique that is gaining popularity day by day.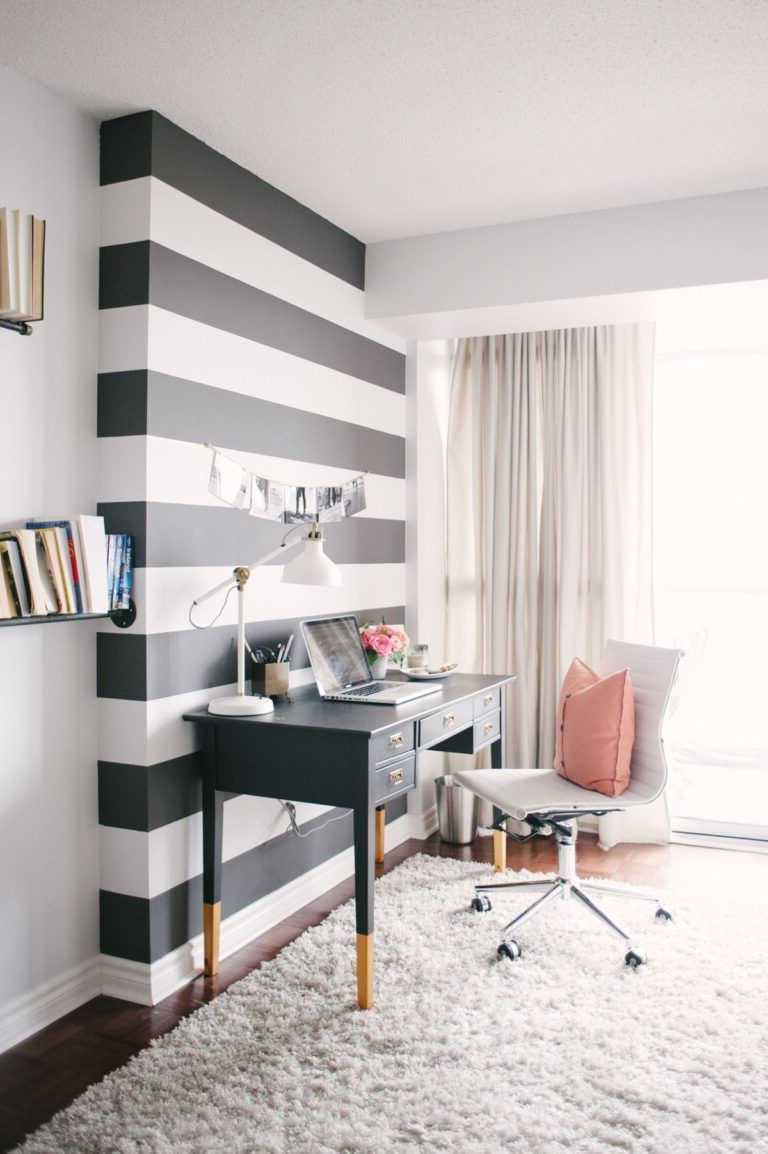 Not only does it add style to a room, but it can completely change the shape of the room, helping to create the illusion of more space or, on the contrary, reduce it. We must carefully analyze which stripes to use, in which direction and the colors they will take.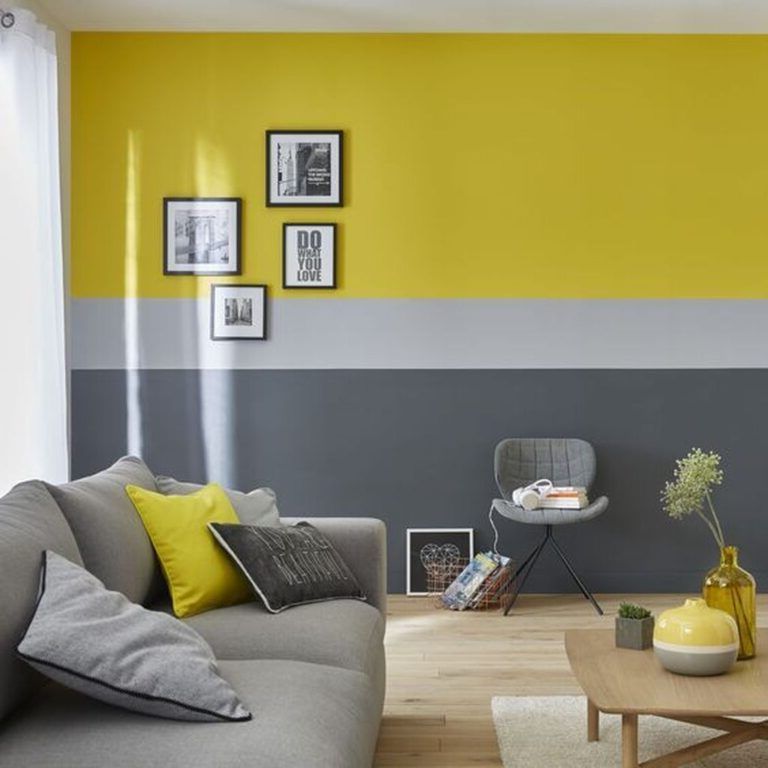 The colors you can choose from are many. Try to create a combination that maintains the harmony you are looking for in the room. A very sure way to achieve a good striped decoration is to choose a color and paint the stripes in different shades.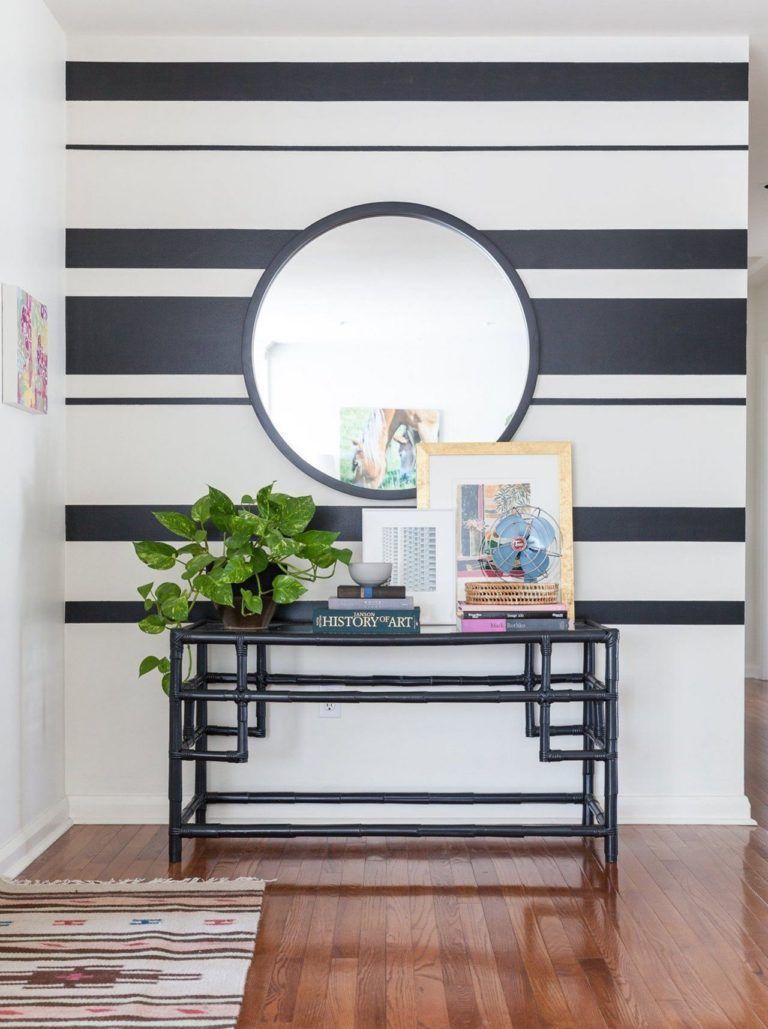 If, on the other hand, you are looking for a contrast of colors, you must be careful not to exaggerate. Dark colors make the room smaller while bright colors make it bigger.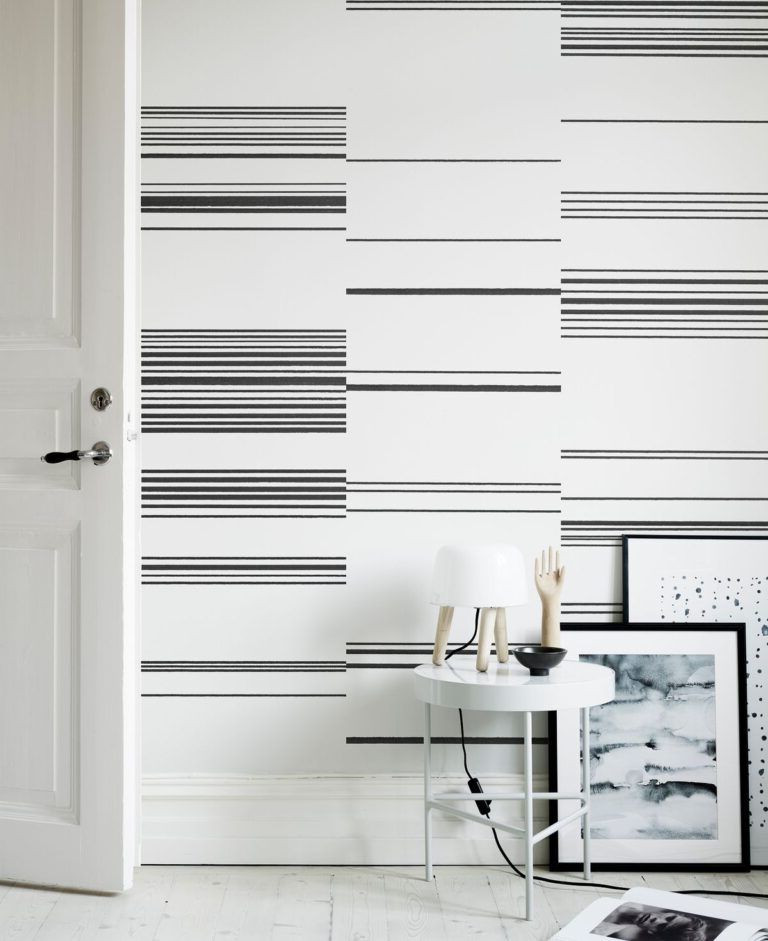 Vertical stripes are the safest and if used correctly can make the ceiling appear higher. Horizontal stripes often make the room appear larger.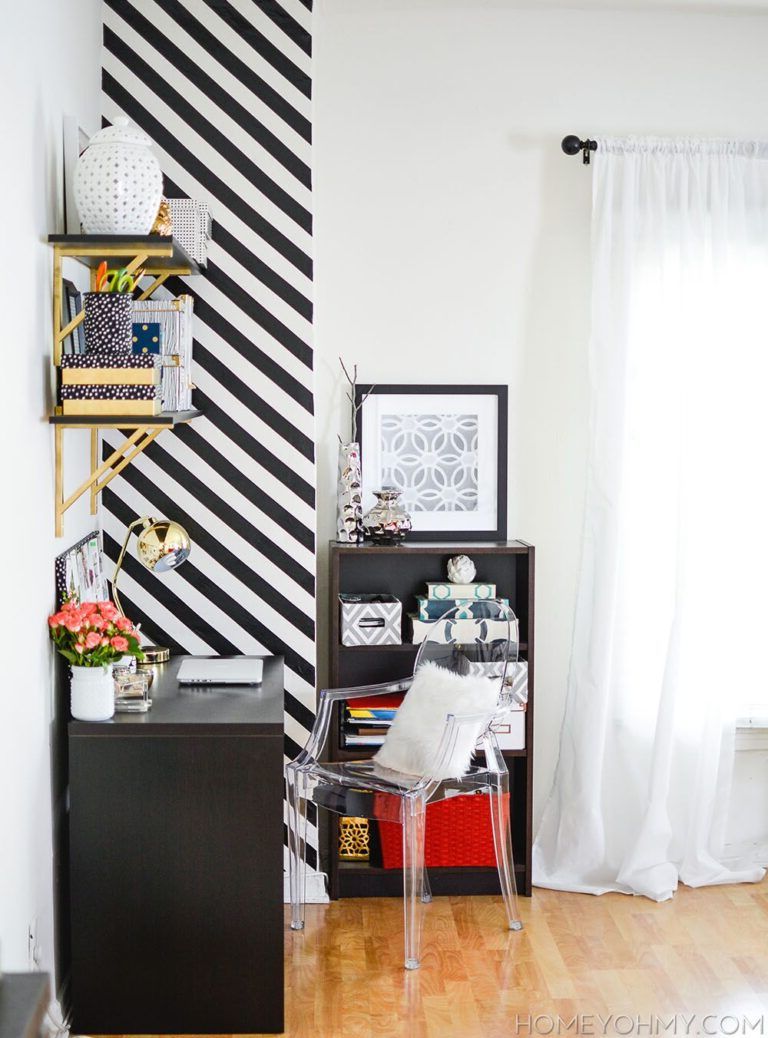 Diagonal stripes are good to use as a strategy and draw attention to a certain area of the room.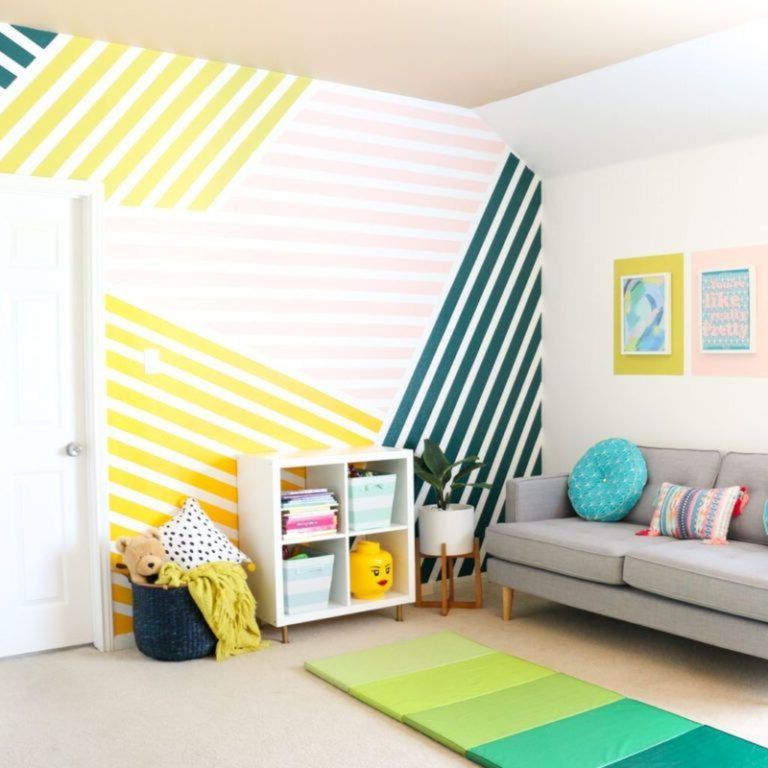 How to make stripes with contact paper
Decorating the wall with contact paper is one of the clearest trends today in terms of decoration, as it is one of the simplest and most practical techniques. We show you a beautiful proposal with a very simple and beautiful style, for what you are looking for a classic and elegant house.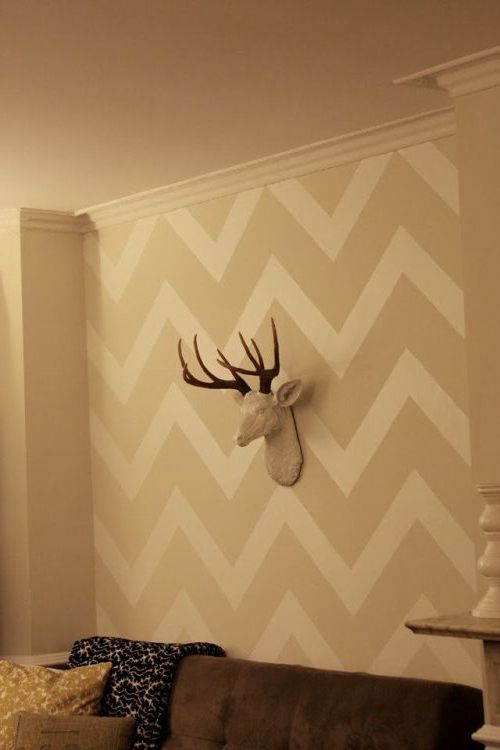 Materials
1 roll of contact paper
Rule
Measuring tape
Pair of scissors
Pencil
painter's tape
Squad
Steps to follow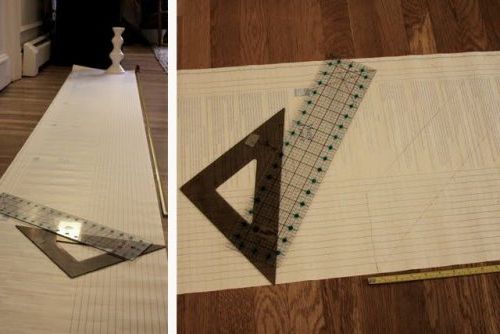 With the help of a square, draw a zigzag strip, as we see in the image below.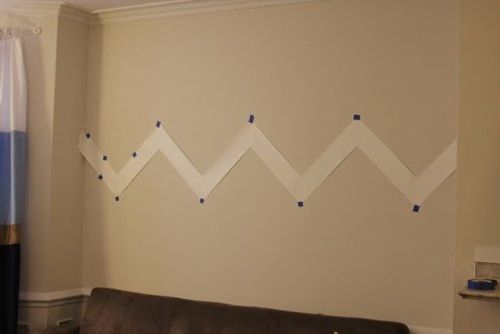 2. To apply to the wall, one triangle must be applied at a time. This is the part where you will need to have a little patience, as it can get a bit tedious.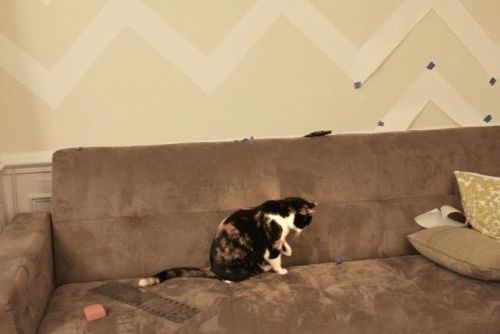 Walls decorated with silhouettes
This is a decorating trend that was very popular in the first half of the 19th century in the United States and returned in the 21st century. It is a beautiful and mysterious trend. Here we show you examples of real walls decorated with silhouettes.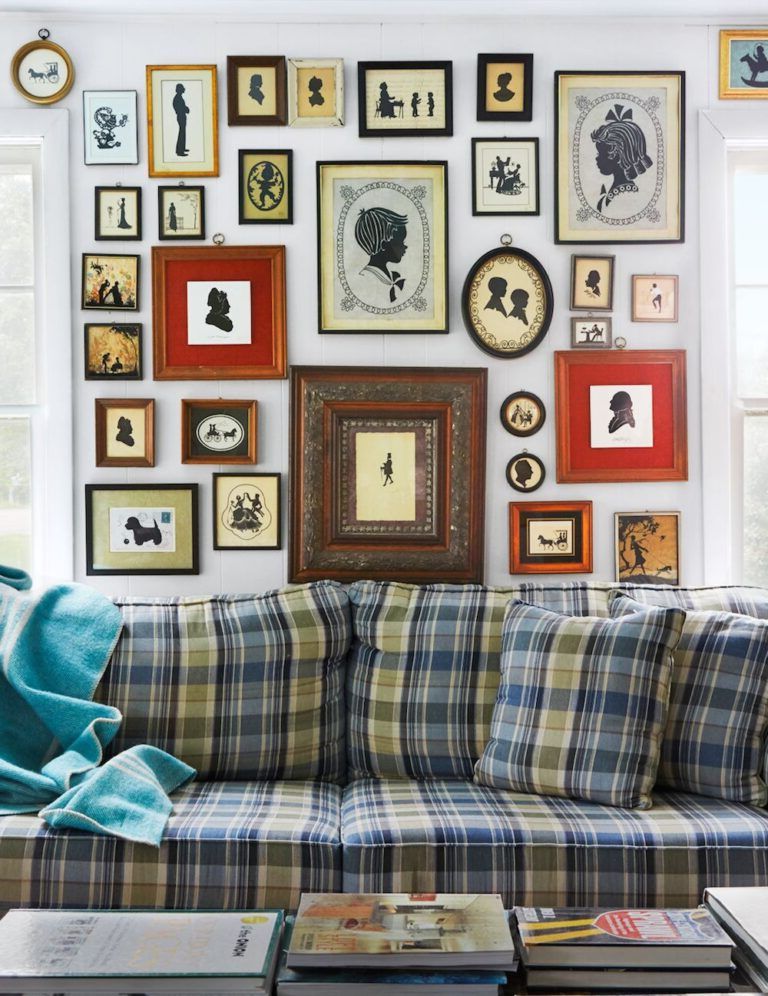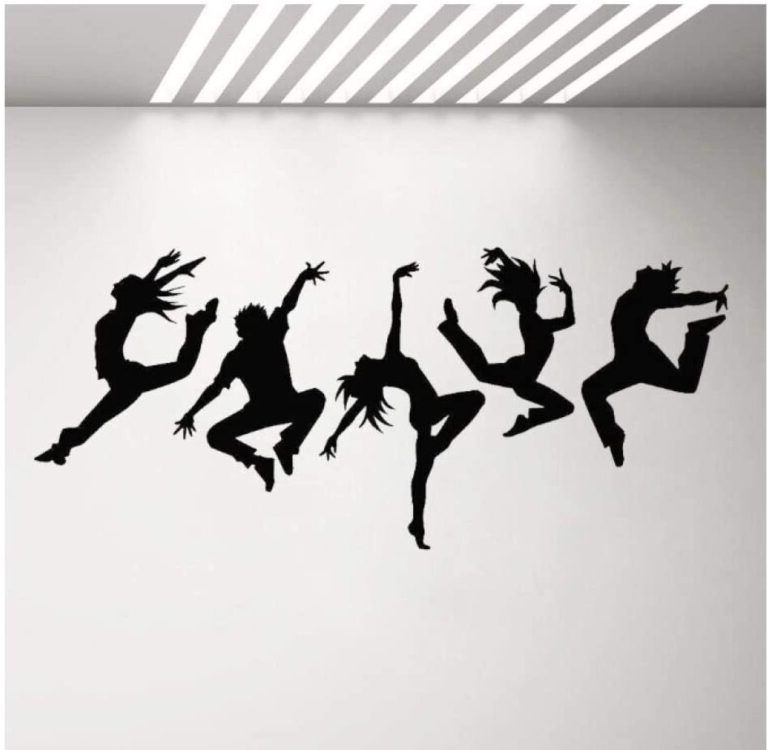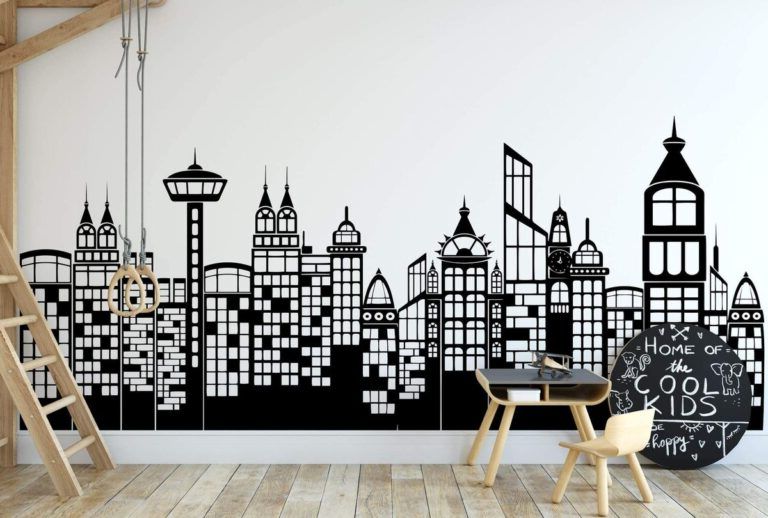 Ideas for decorating walls with mirrors
Decorative mirrors are one of the classics to decorate walls.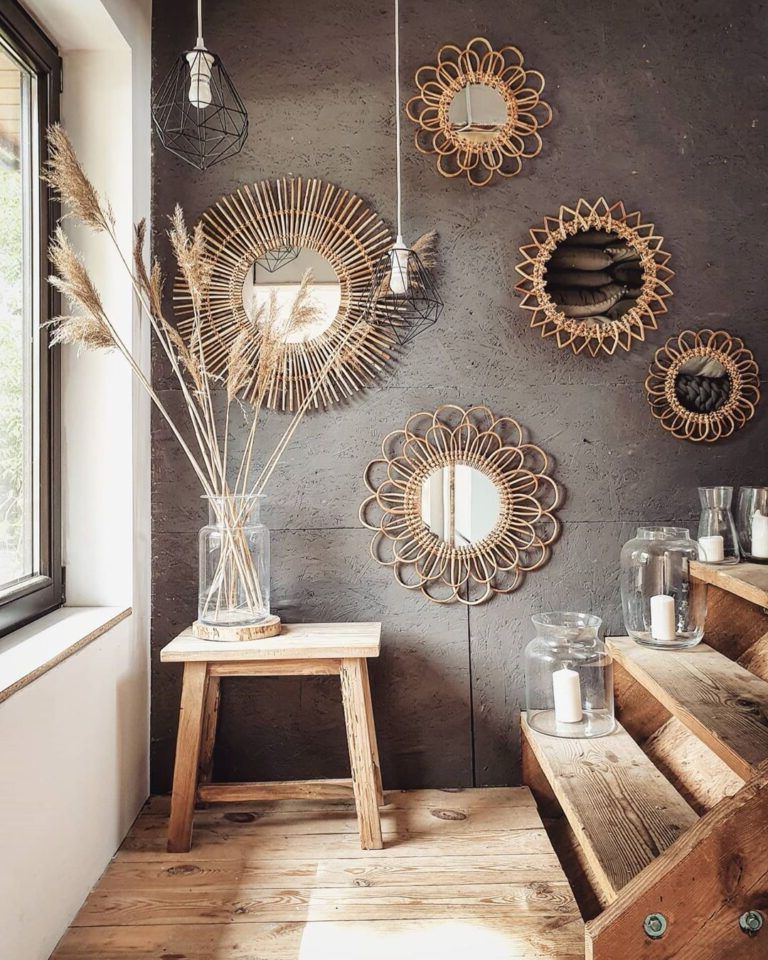 Decorate with pictures
And when we have said the usual ideas, well here you have one, hanging pictures is always something, but now you are going to take advantage of a very original layout.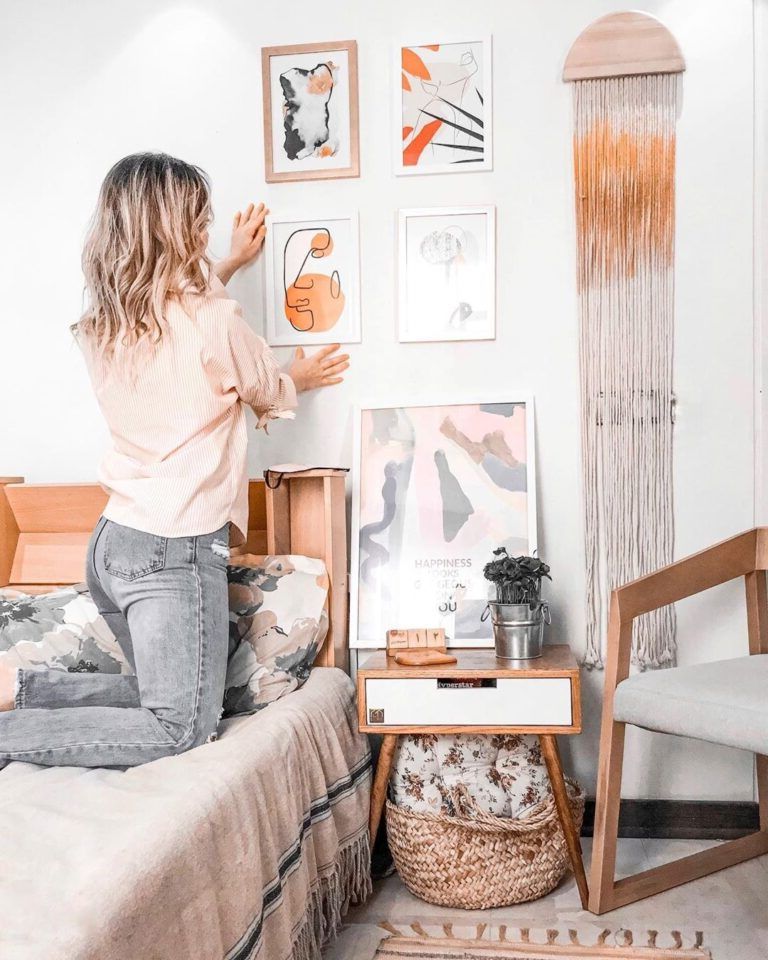 Another very decorative way that has gained a lot of ground in wall decoration is the incorporation of several paintings with different abstract art in black and white, combined in a way that recreates an original and very striking aesthetic.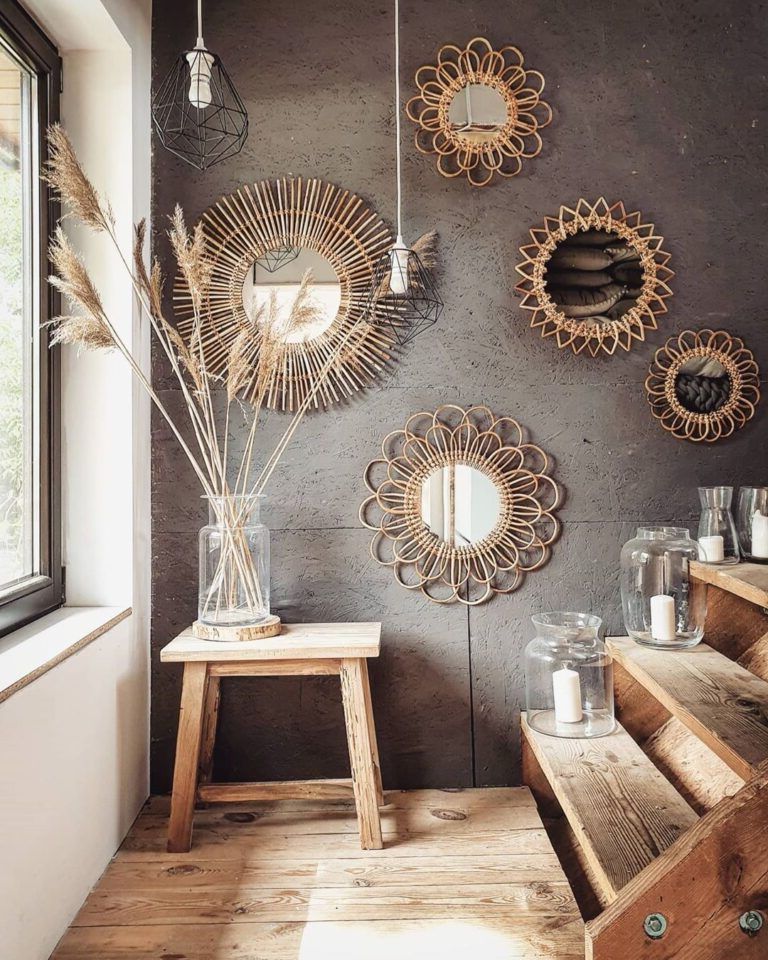 They are even more ideal if the background of your wall is a bright and vivid color, as they will be able to benefit from the contrast achieved.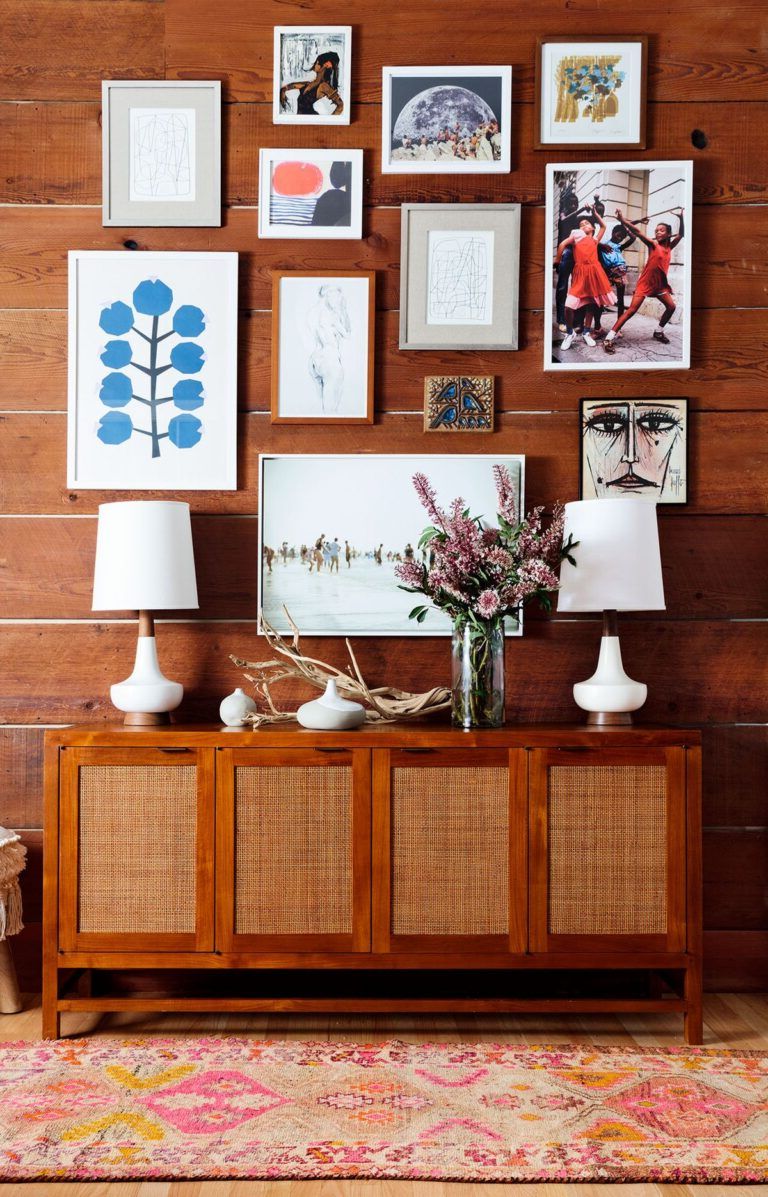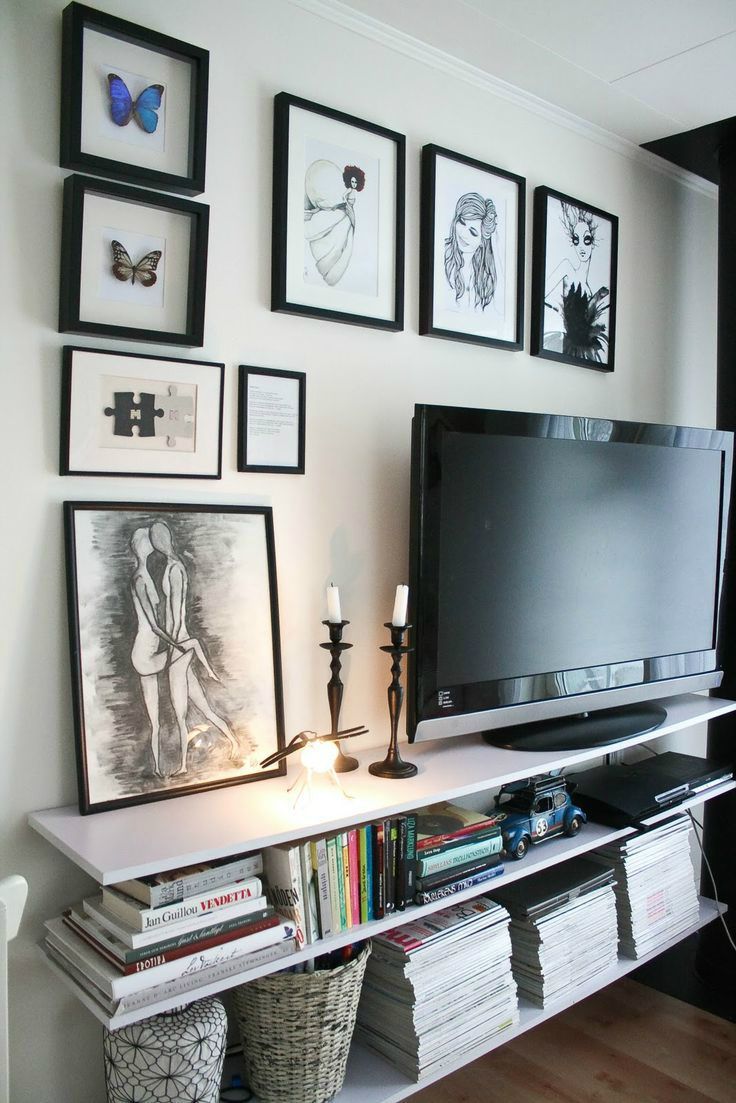 With painted fabrics or tapestries
If you are especially creative and weave or create beautiful images on painted fabric, let everyone admire your art and place one of your canvases as a wall decoration. If you are not one of those who have that quality, then take advantage of a little printed fabric, you will find beautiful options. The room will look wonderful.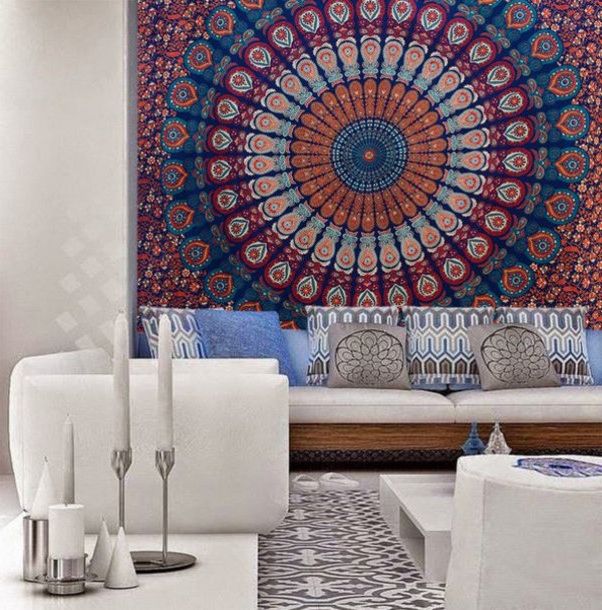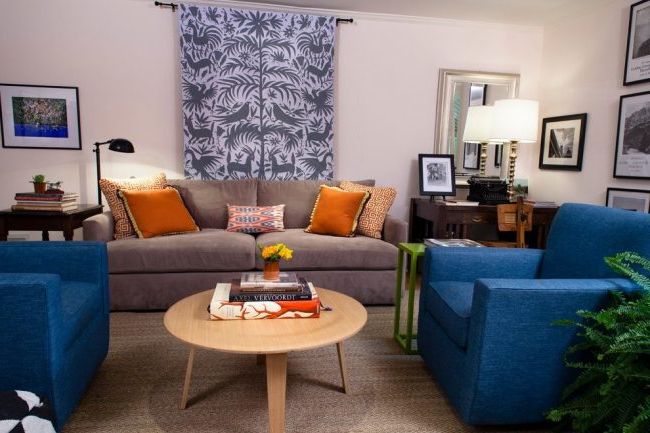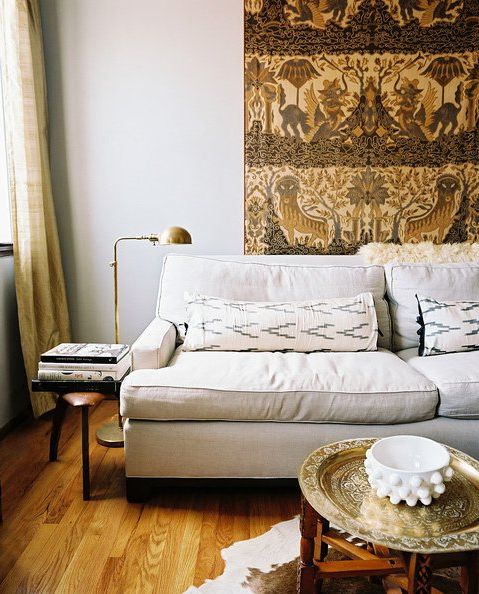 Decorate walls with letters
For many years, many lovers of decoration have had a weakness for the use of letters in the home, as a form of decoration. Well, today we will dedicate a moment to them, to show them different ideas and options, to introduce our initials or signs, in the setting of the house.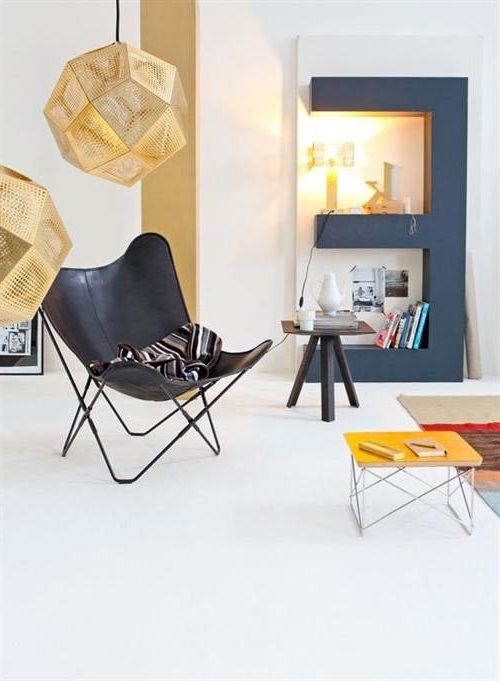 The first thing is to know what letters are the ones we are interested in getting, since some are more easily found than others and therefore, in some cases they can be made, instead of looking for them in decoration or second-hand stores.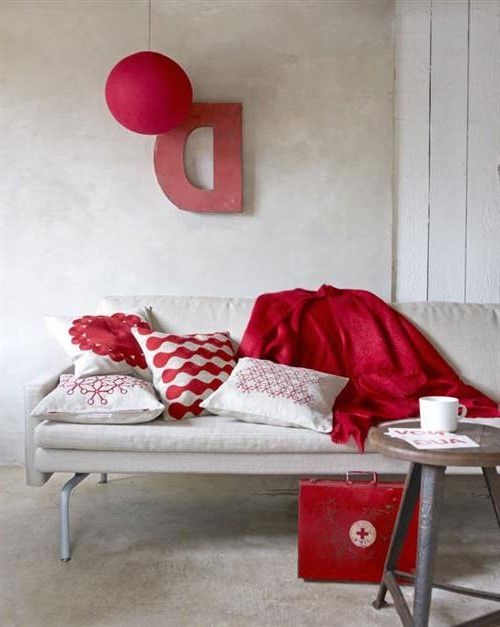 In addition, the letter will directly define the uses that we can give it, since an "E", which can be used as a shelf, is not the same as an "O", which may serve as a mirror, a picture frame, or it's just better to leave it hanging.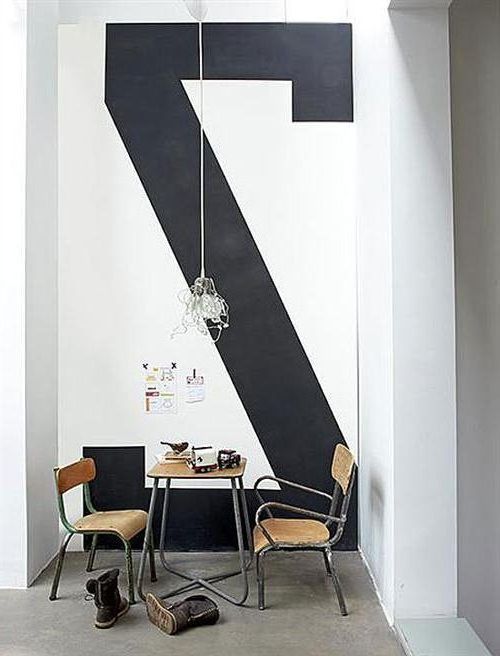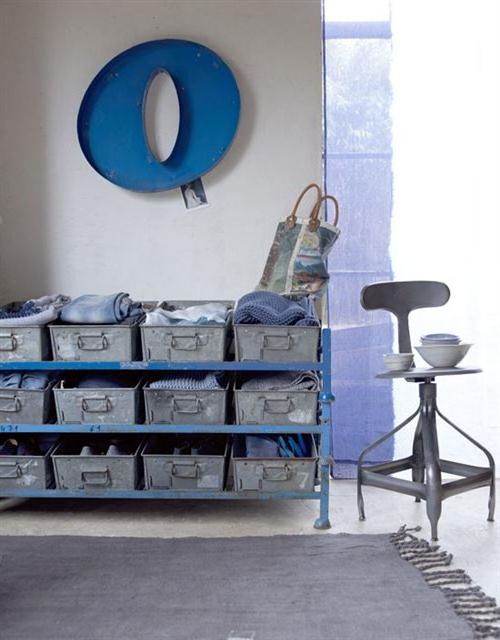 Many hang them without any meaning or relationship to their names. Others strictly choose each letter, for a special reason. Even if you were lucky, you could acquire some interesting neon sign, like the ones used in bars, which are so popular.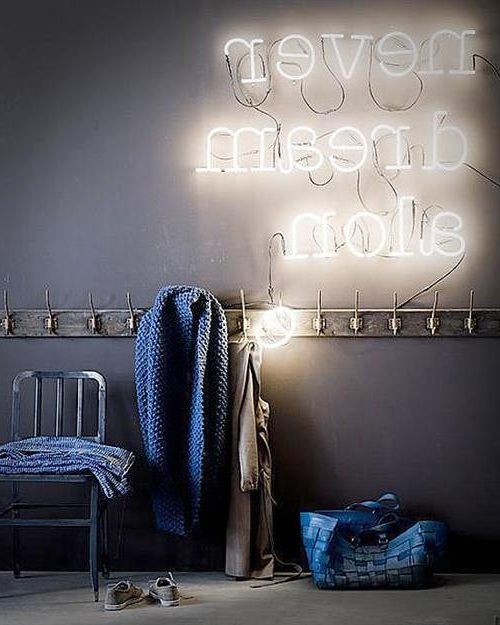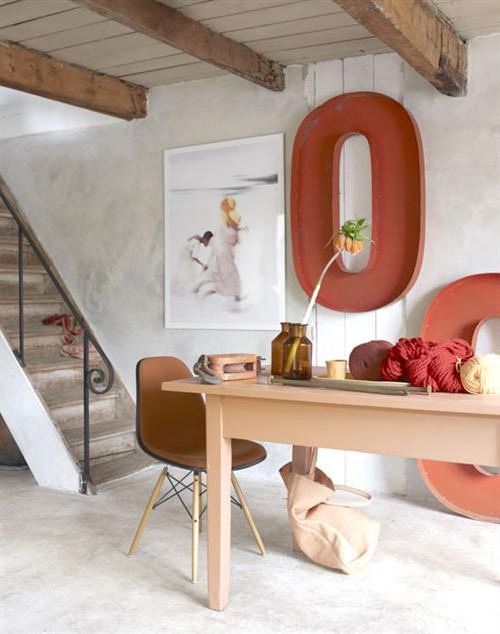 Of course, the color that the letter has will be the basis for defining the colors that it will use in the space where it is placed.