The sofa takes on a great role in the living room. It offers comfort, rest and fulfills a determining function at a decorative level.
The corner sofa is a very interesting resource for the living room. Thanks to its design, it articulates the arrangement of the furniture around it, in such a way that it adapts to the room and offers a decorative image as a whole. In addition, not only can it be appropriate for large spaces, there are also smaller formats aimed at small rooms. Would you like to see some examples of the most beautiful and elegant corner sofas ? Keep reading and discover all the ideas that we propose so that you can choose the model that interests you the most.
A corner sofa for the living room
The living room is one of the rooms that we use the most on a daily basis. In it we usually rest, receive guests or spend time with the family. Therefore, don't you think it's worth equipping it with the best furniture? For this, we can resort to a good corner sofa that is of quality, durable and decorative.
In the market we can find sofa beds for the living room, armchairs, armchairs, standard models, etc. However, we also have the opportunity to choose a comfortable and soft corner sofa so that we can enjoy our home to the fullest. In fact, it will participate in the decoration and its format offers enough space to seat several people.
It is characterized by having a wider side that then opens at a right angle to give way to another part where we can stretch our legs. In this way, a coherent arrangement is achieved that can be adapted to the wall or even placed in the center of the room to separate the spaces, something that is interesting in apartments and lofts.
How to place a corner sofa in the living room?
The design of a corner sofa is proposed, as already mentioned, in the form of a right angle. This makes its arrangement uncomplicated; however, it is convenient to assess that its placement must be done with common sense and knowing very well what role it will play in the room together with the chairs, tables and wingback or basic armchairs.
Generally, it can be molded to a corner, but we also have the option of positioning it in a central point and, from there, it acquires greater relevance with respect to the rest of the decoration. Of course, it's going to be oriented towards the TV or the fireplace; In addition, there is also the possibility of placing a nice and cheap sofa next to the window to receive direct natural light.
Choosing the sofa for the living room
The chaise longue sofa is what we also know as a corner sofa. Normally, we opt for this type of product when we want to obtain amplitude at rest. It is worth choosing a good sofa to ensure a relaxing time. Every day you will want to come home and enjoy its comfort.
The choice of sofa should also be based on material and color. Linen, leather, polyester and cotton are the most recommended textures for durability, comfort and softness. In addition, there is a wide variety of shades that enable color contrast and combine the color of the sofa with the cushions.
In short, so that you have a broader perception of the aesthetic possibilities offered by quality corner sofas, we show you this selection.
1 Beige sofa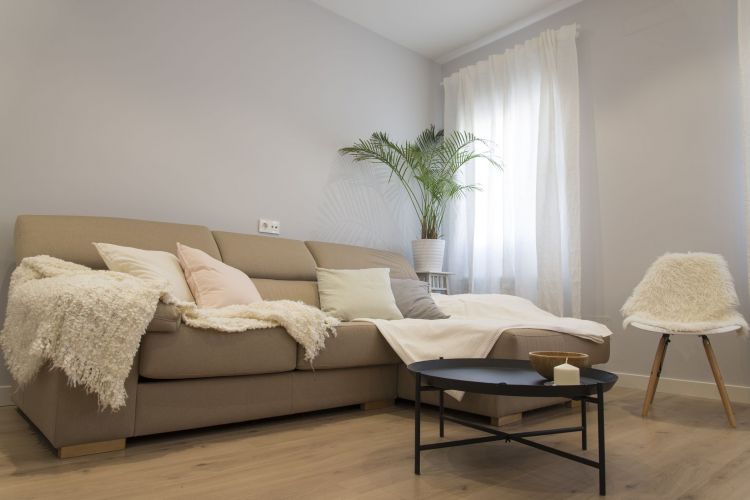 This model offers convenience, well-being and comfort. It is practical and optimal to contrast with the blue of the walls and the pastel shades of the cushions.
2 Sofa in gray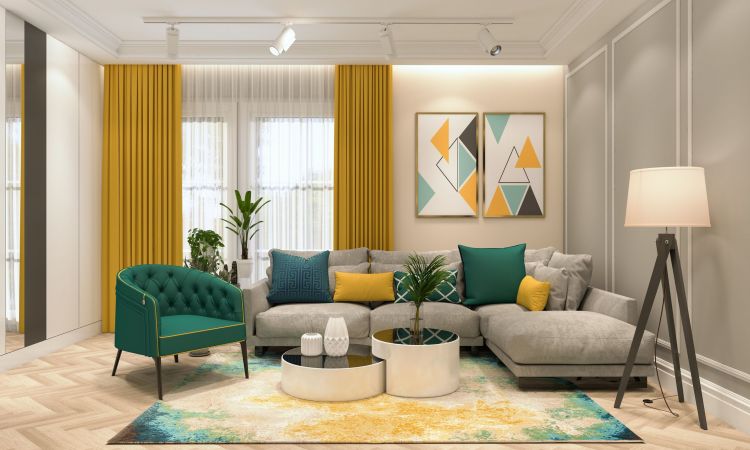 Nothing better than a gray corner sofa to create neutrality and favor the color contrast with the cushions, the curtains, the paintings and the rug. A good solution to create aesthetic harmony.
3 Separation of spaces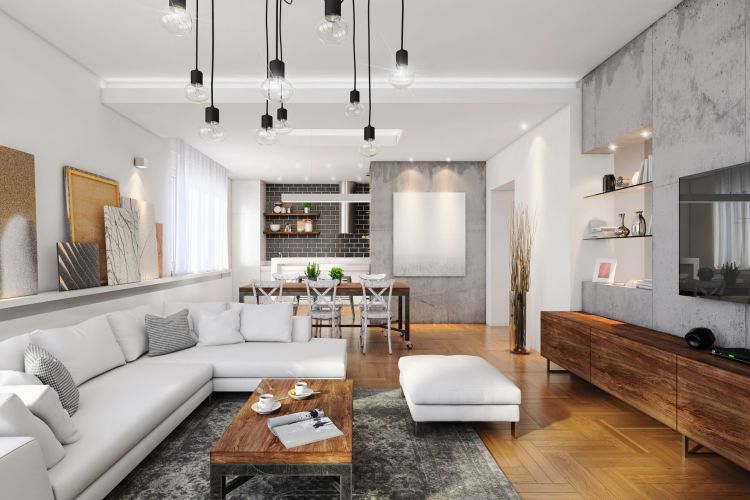 A corner sofa in white that basically helps to separate the spaces. A clear difference between the sleeping area, the dining room and the kitchen is demonstrated here. A style typical of a modern home.
4 Adaptation to space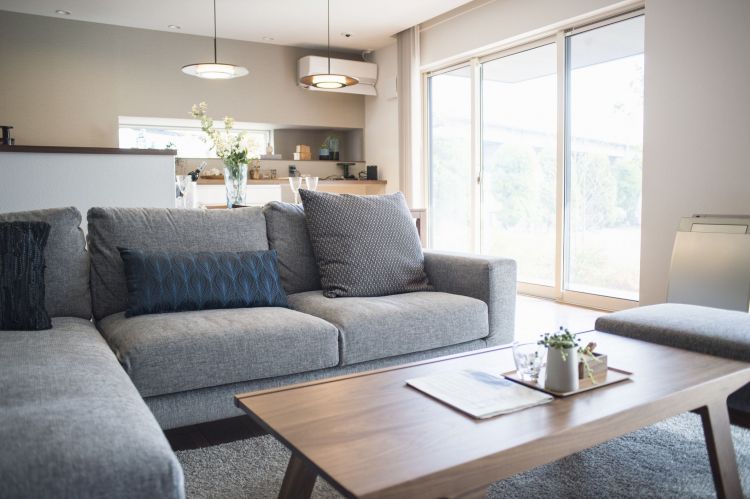 A corner sofa doesn't have to be big. There are also smaller ones that adapt perfectly to the space found in the living room in neutral tones. A different way to achieve a comfortable space.
5 Sofa for a loft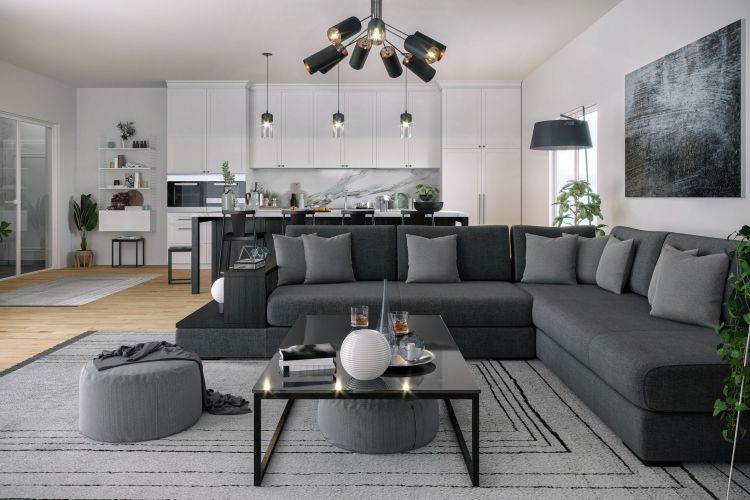 A spacious loft offers the possibility of placing a corner sofa. In this case, the seriousness and forcefulness of the black color has been chosen, ideal to give the environment a roundness.
6 Sofa in beige leather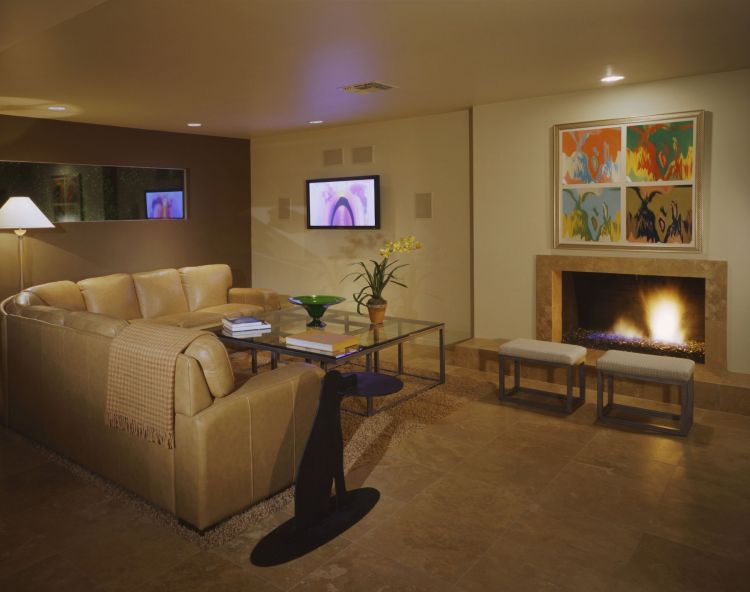 A very interesting model to create a comfortable design. The leather sofa is a good solution to create greater sophistication and elegance, as can be seen in this model.
7 Dark Leather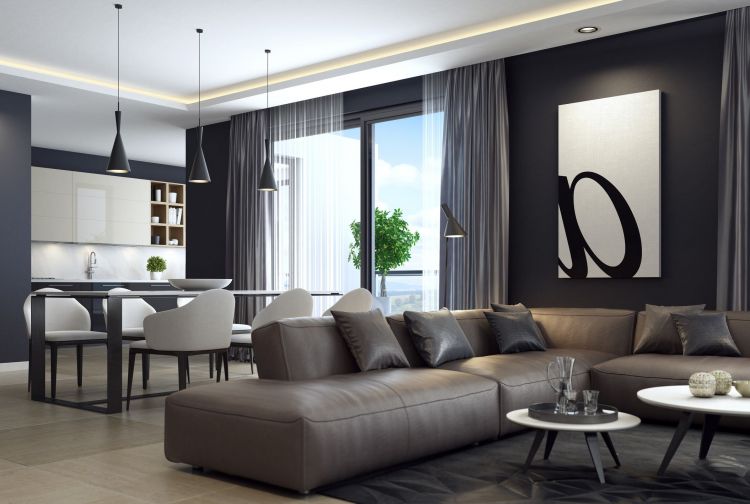 In this case, we change the type of leather and go towards a darker trend. Of course, comfort is still present. A soft and subtle sofa that, without a doubt, fits perfectly in urban and modern environments.
8 Fit For Space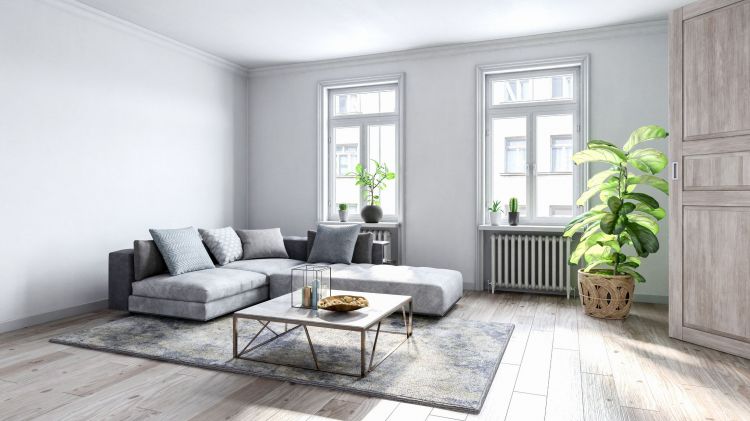 In this example, the sofa fits very well into the space and harmonizes with the light and pale blue tone of the wall. In addition, it helps create more light and creates a calm and pleasant environment.
9 Neutral tone sofa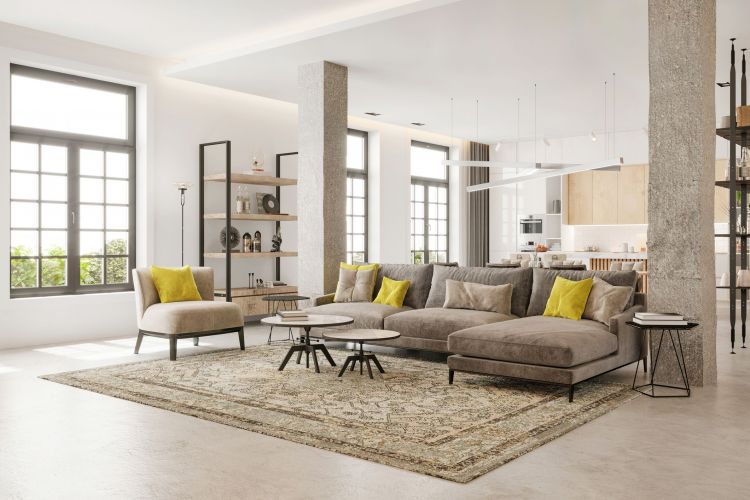 In order not to take risks with colors, a simple decorative procedure would be to place a corner sofa in a neutral tone and arrange contrasting cushions. This copy is made of cotton and looks great in the apartment.
10 Corner sofa in gray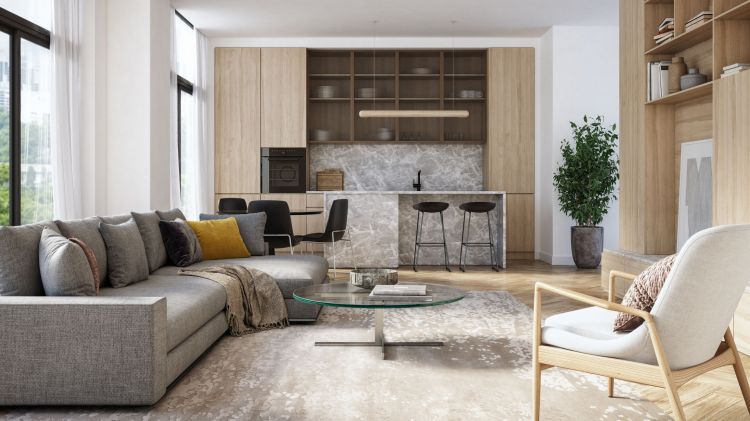 The spaces are differentiated but not separated; that is to say, a communication between the parts is achieved and a diaphanous and open environment is achieved, all thanks to this gray sofa.
11 Sofa made with pallets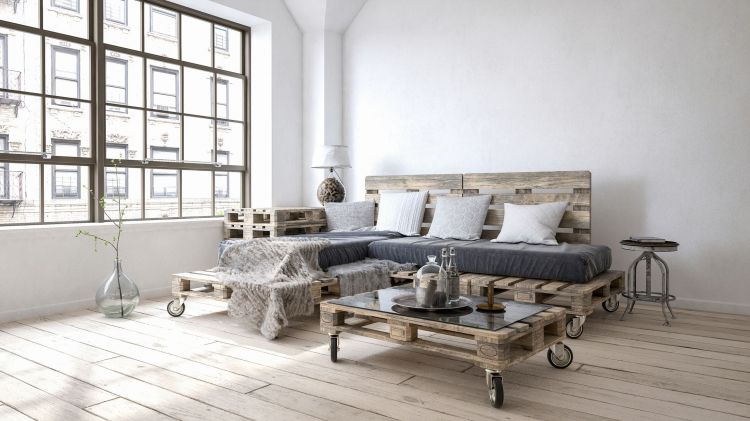 Looking for originality? Here a corner sofa has been created from some pallets. An alternative and curious design for an open and diaphanous living room. It is found within the group of DIY furniture to decorate the house.
12 Modern interior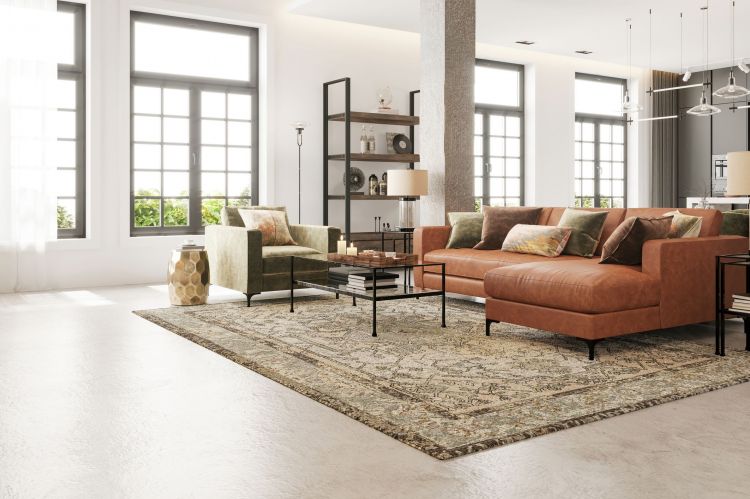 A modern leatherette sofa in tile color to offer warmth, temperance and a very interesting look to brighten the environment. In addition, it contrasts very well with the green armchair.
13 Soft and comfortable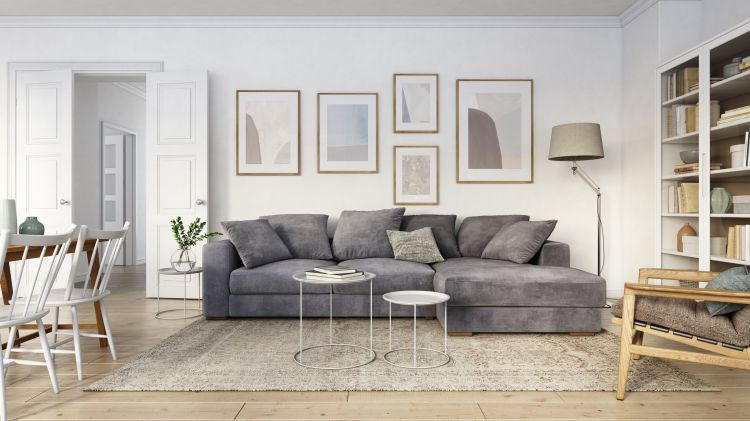 Cotton textured sofas are truly comfortable. In this case, we find a simple and basic model in dark blue that, after all, receives great prominence in the living room.
14 Take advantage of natural light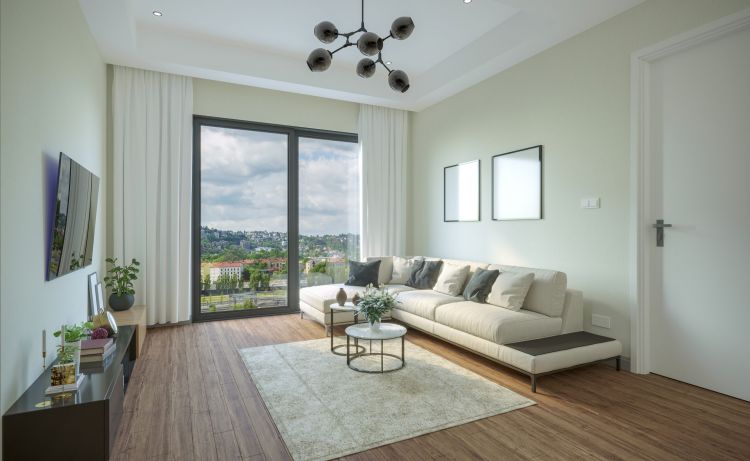 A white sofa located next to the window to take advantage of more natural light. It does not take up any space and fits very well in the living room to create a comfortable and simple approach.
15 Sofa for Scandinavian style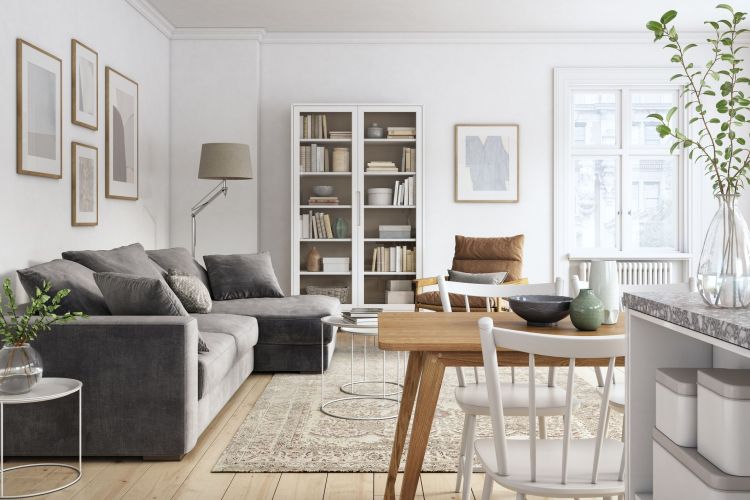 A dark gray corner sofa looks great in this Scandinavian-style living room. It does not stand out in tonality and collaborates in the creation of a cordial and pleasant internal harmony.