Walls don't just live on paintings… we show you charming ideas and trends in wall art to update your image. Important: always put your little personal touch.
Paintings, photos and prints are excellent options to decorate the walls. Nobody questions it. But there is life beyond
of them and other options that allow us to turn them into the key element of a space. They will win style if you bet on deco pieces with good design, which form an ideal composition, or on mural art, of which you can see numerous examples on websites such as AllModern, Wall Accents section, or Kirklands, Wall Decorations section. What are you waiting for brand new walls?
Murals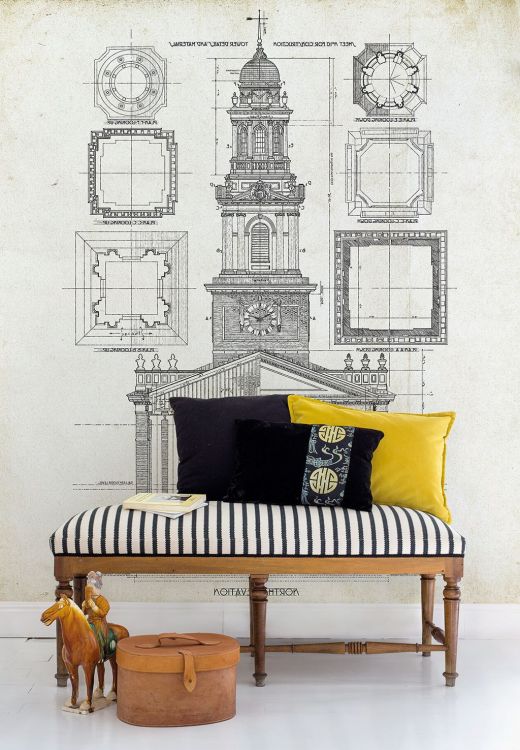 They are unique to transform the walls into spectacular maxi canvases. Those inspired by classical architecture, with their symmetry, balance and vintage patina, convey sensations of order and serenity. Mural Architecture from the Random Papers II collection, by Coordonné; It is made to measure (from 49.50 /m2).
Arty design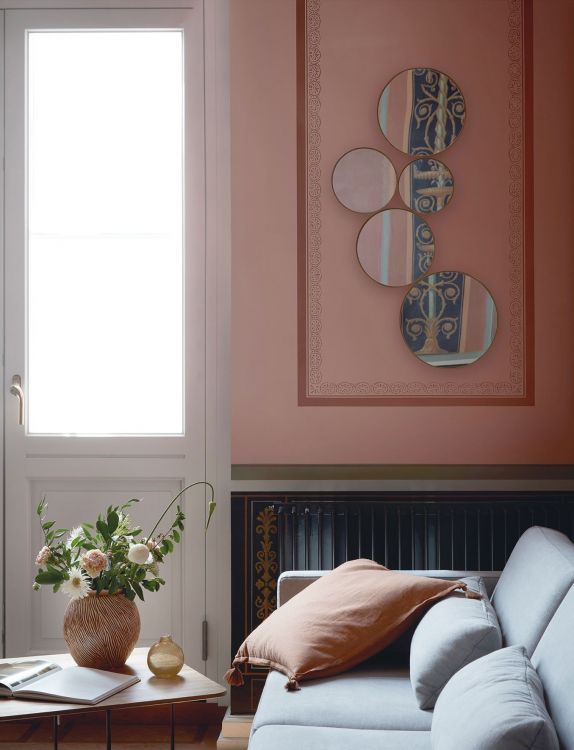 Another alternative to paintings, prints, and photographs is this type of artistic and original design, made up of several joined elements —mirrors in this case; vegetal, coastal, abstract motifs… in others— to form a single piece. Kunst mirror, by Broste Copenhagen, in 45 x 2 x 93 cm, which can be placed vertically or horizontally (133.90).
With paper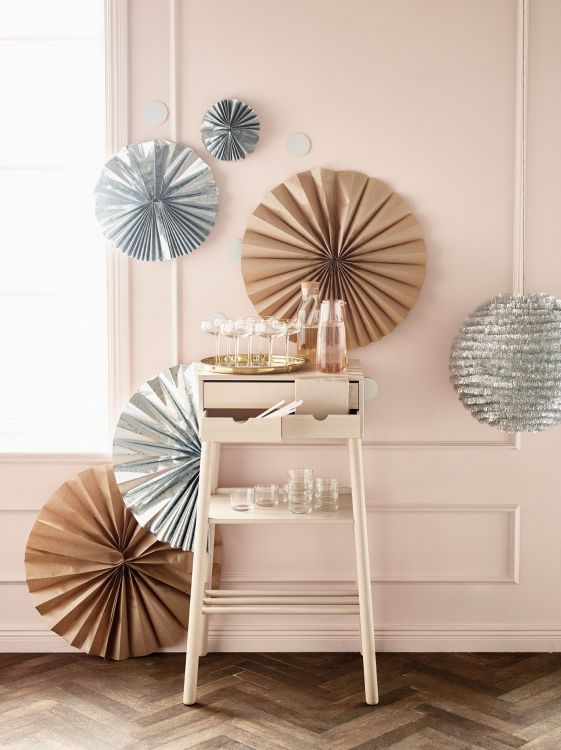 Create your wall decorations. Rosettes or medallions are so easy to make that they are within everyone's reach. Make several and create a festive composition around the furniture you want to enhance. In this crafty proposal from Ikea, ideal for redecorating the wall in all kinds of celebrations, the Knotten desk (€149), converted into a bar cabinet, acquires a deluxe air with the handmade motifs.
IN RELIEF, SCULPTURAL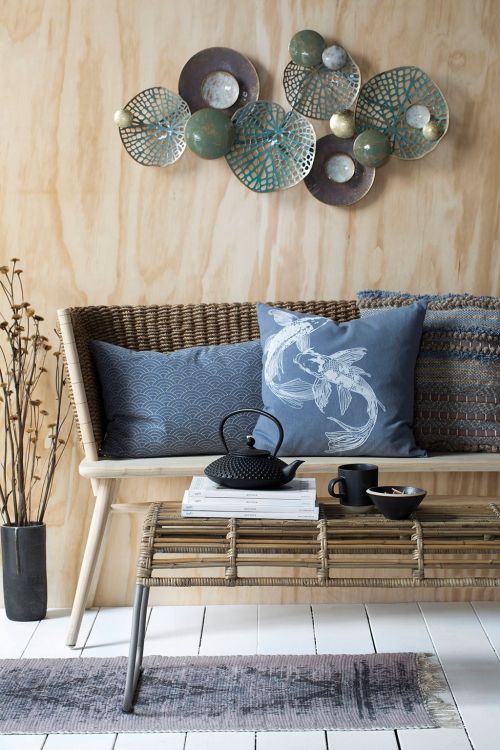 Along these lines, the infallible resource to give an arty touch to the decoration, giving the wall a greater role. Above the sofa, a mural with a juxtaposition of pieces that, due to its play of volumes and contrasts, arouses maximum interest. Kioko mural, in metal (€121.90), Dealia sofa, Lara bench and cushions, by Lene Bjerre.
Mirrors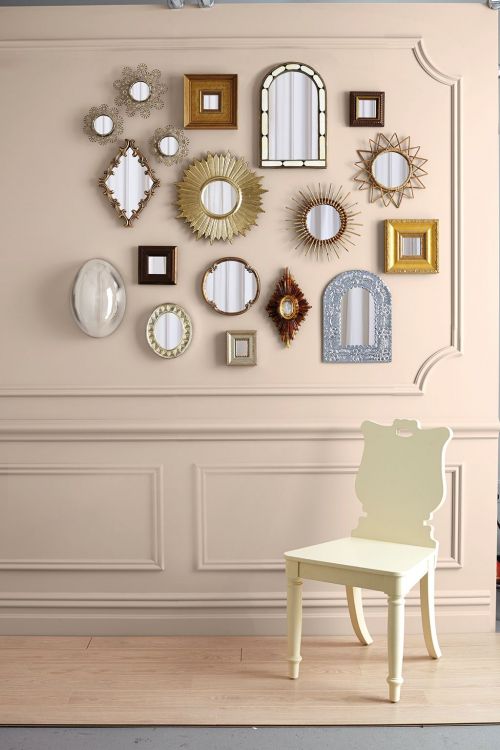 The diversity of shapes, materials and styles makes them pieces with great decorative potential. Group them on a wall, but with a certain visual order. The diagonal lines that some form here are key to achieving a balanced composition. Rattan sun mirrors, at Urban Outfitters, and the square ones, from Mirrors of Possibility.
First steps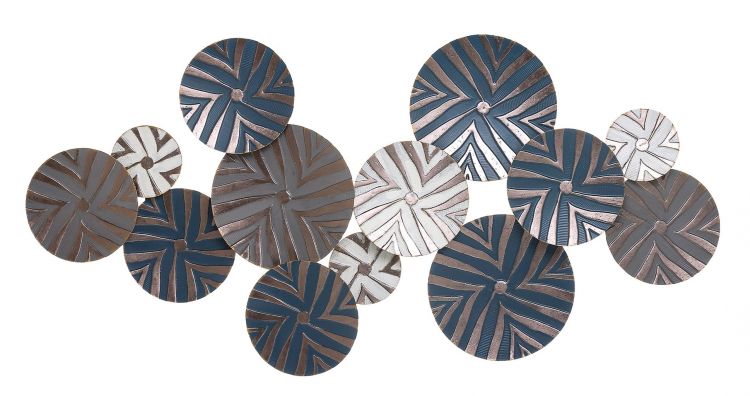 Decide which wall you want to decorate, what surface your composition can occupy, what visual effect it will have in the space and if the background color is appropriate or you should change it.
Creativity yes, chaos no. It will be easier to hit the composition
if the pieces have something in common because even if they are different, they are all mirrors, plates or hats… Dare with a collage of many pieces if the whole is not overwhelming and conveys a certain visual harmony. It will help you to make a sketch and draw central or diagonal axes to arrange the pieces or imaginary lines above and/or below to serve as a guide.
Yes to wall art, ready to hang. They are mural art designs, like this one by Lola Home, designed for the headboard wall; measures 1.30 x 0.64 m (€99.90).
HANGING TAPES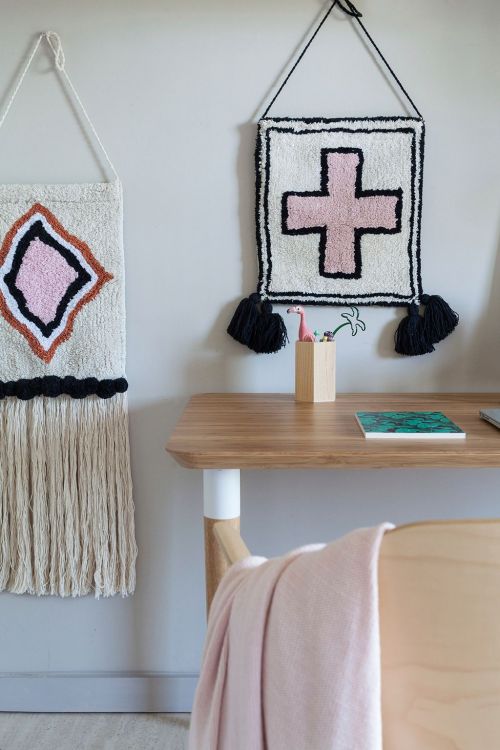 We call tapestry, and also panel, this type of textile element, a trend in interior decoration, to which they provide color, warmth and texture. Cross and Morocco models, by Lorena Canals, handmade, in washable cotton (€45 each).
Wood panel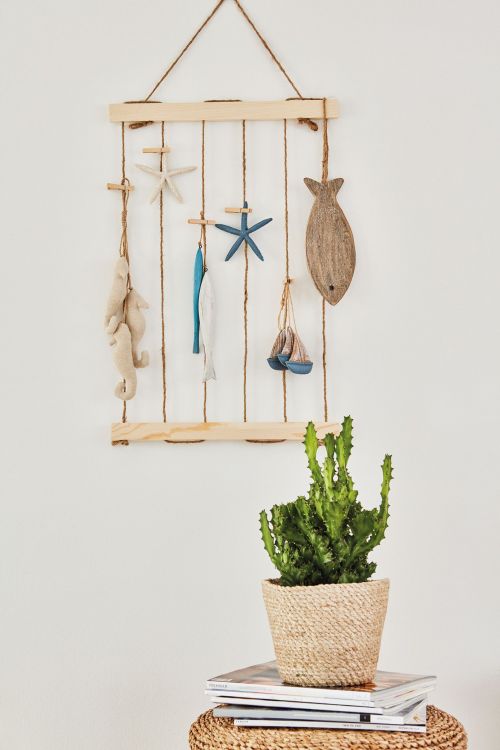 If you want a dynamic decoration, that varies and adapts to your life and to the four seasons of the year, this proposal is perfect! You just have to change the motifs placed on the strings, which are fixed with clips or with transparent nylon thread, depending on your rhythm and the schedule. Wood panel (€3.99) with navy details (from €3 at Muy Mucho).