Sky blue, aqua, pastel, electric indigo, navy blue, klein, indigo… Rediscover its nuances and charm when combined with white. A trendy duo!
TOO MUCH BLUE OR LITTLE?
– If you choose to decorate in moderation, it will be the textiles that provide blue in small doses: cushions, net curtains and rugs, for example. If you want something handmade, in Balakata they have cushions made with ikat fabrics in blue and white, to give an exotic touch to the decoration; and at Baraka Textil, white cushion covers with blue stripes in a contemporary country style.
– But if you want to give maximum prominence to blue, the furniture with more presence, such as armchairs or sofas, will be upholstered in that color. The walls will also show off their charm with wallpaper, vinyl and murals: stripes and flowers are a classic but geometric motifs are also a hit.
Blue in gradient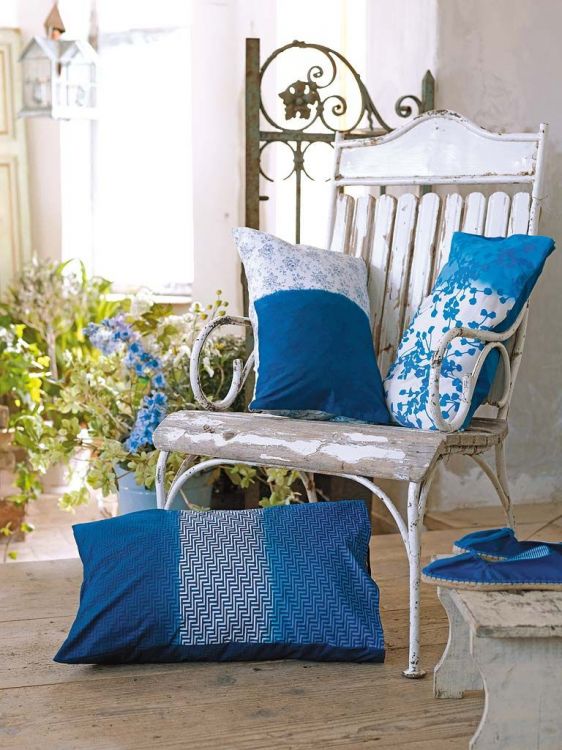 The gradient effect in blue enhances its freshness, and in contrast to milky white, it gains luminosity. With indigo and cobalt tones greater visual impact is achieved. Two options to choose from: subtle and smooth, without noticing the transition between shades, or a very marked dye. In painting walls and furniture, the gradient effect, also called ombré, is a trend! Firms such as Tintes Iberia, Dylon and Tulip offer textile dyes in various shades.
A design in blue and wood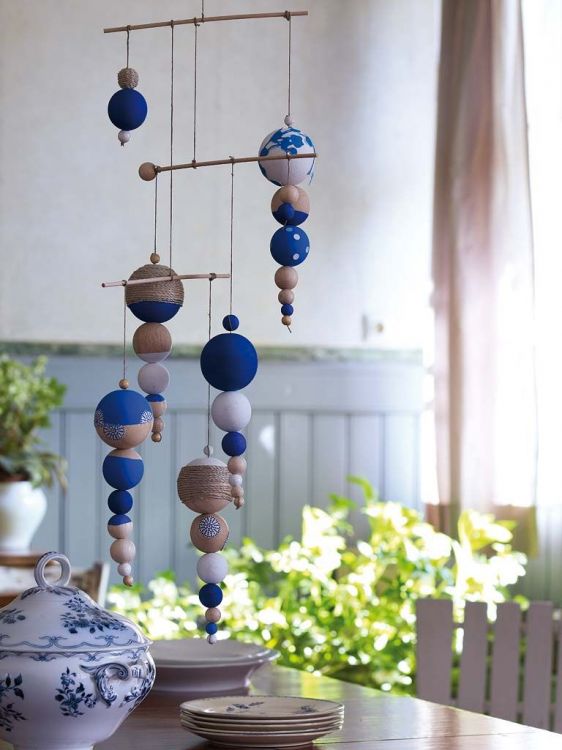 Take advantage of the intensity of the darkest blues to create details with impact in the decoration. This handmade mobile with wooden balls arouses maximum visual interest due to the double balance between the pieces: suspended in the air and chromatic. For the latter, different blue designs are alternated with paint and rope and exposed wood. You will find perforated wooden balls at Opitec.
Materials to decorate the wooden balls: Rope, wool, raffia, motifs cut out of cardboard or paint… To achieve an effect similar to the one in the photo, use Posca brand permanent markers; a water-based acrylic enamel, by Bruguer, with a fine brush, or the Mtn 94 water-based spray, by Montana Colors.
Retro in Chalk Blue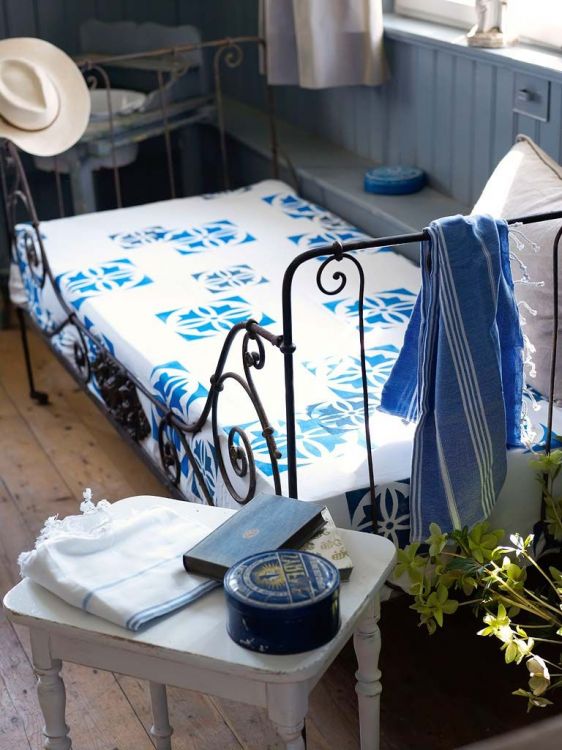 Geometric motifs in powder blue and stenciled on white cotton transform an old wrought iron bench into a charming daybed. Fabric paint and a pattern inspired by hydraulics will transform the basics of your trousseau.
A tip: draw a sketch of the composition before painting. It will always be easier if the reasons are in apparent disorder. White sheets, at Zara Home and Carrefour Home. Blue bedspread, similar, in Baraka Textil.
Nuances in blue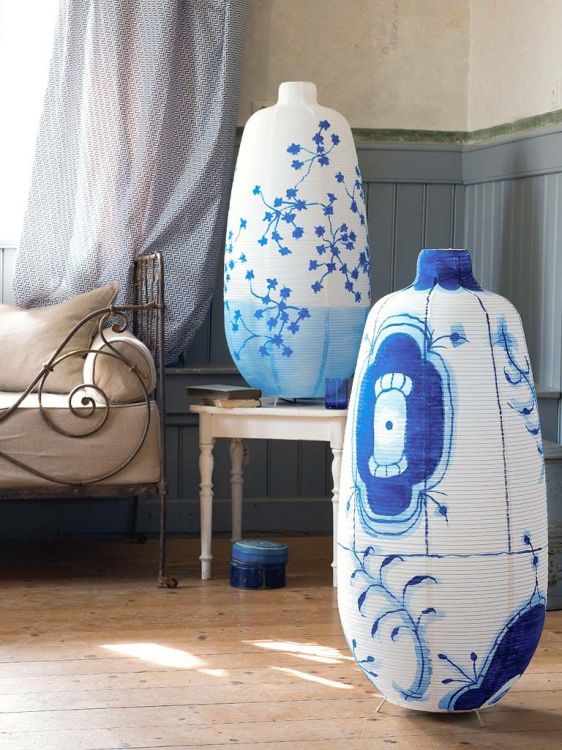 The game of blues and their shades give a nostalgic air to this environment, where white paper lanterns add an oriental touch. This mix of blues also exudes a halo of mystery, a touch of decadence. On this background, any white detail shines and gains volume. Paper lanterns, undecorated, for sale in bazaars. Firms like Farrow & Ball and Laura Ashley have blue paints with very special tones for walls, wood furniture and carpentry.
How to pimp them: These oriental lanterns can be decorative or turned into lamps. In that case, its ambient lighting creates a relaxing atmosphere, if the rest of the lights in the room are turned off. Would you like to decorate them? Look for ideas at papelisimo.es/ and tutorials on the Internet with surprise designs.
Decorative collage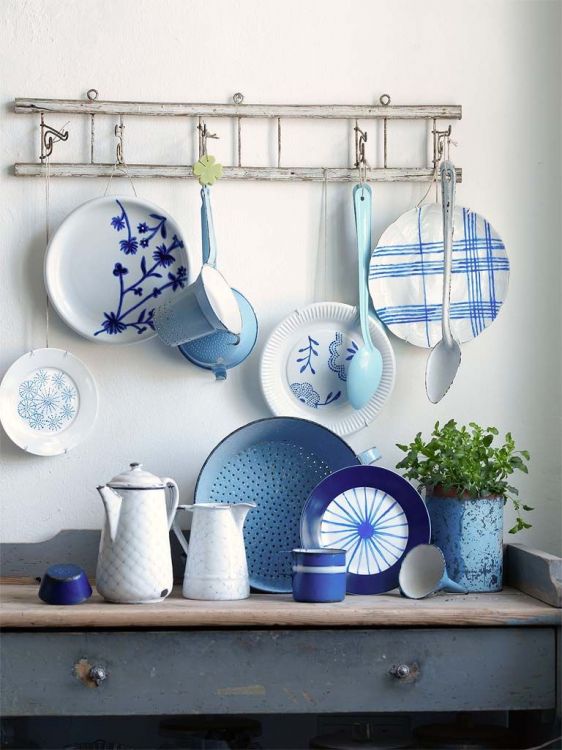 Various dishes with a disparate design and pieces of kitchenware with a vintage air form a composition in blue and white, harmonic and homey. A plus of warmth in the retro- country inspired kitchen or office. If you want a simple style, look in artisan ceramic workshops; if the current style suits you more, author designs, such as those of Favorito Studio.
Tricks to decorate: Placing the plates with style is an art that can be "learned", if you investigate online how bloggers from anywhere on the planet do it. Look for his compositions on Pinterest and Instagram, with real photographs; in them you will find ideas to harmonize disparate tableware pieces. Word!
A chic duo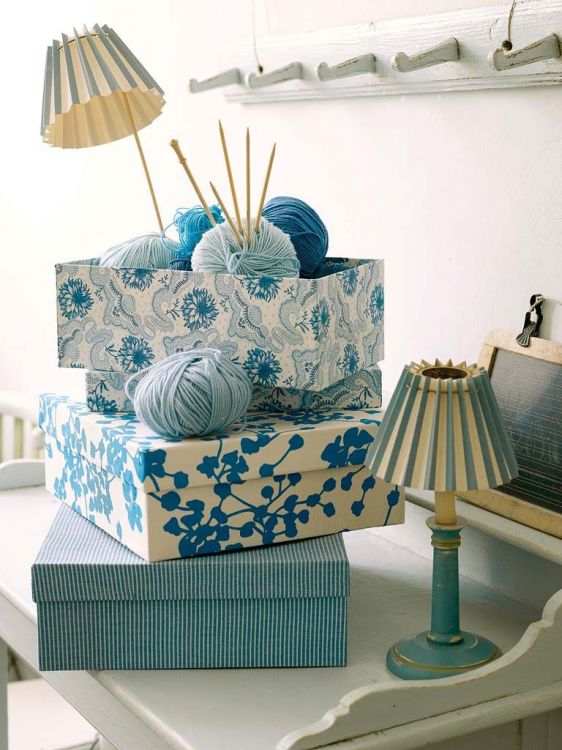 Any deco accessory gains elegance with a bluish palette. These brushstrokes will make the environment a more serene space. Did you know that blue has a sedative effect? If you want an environment that transmits a sense of calm, this tone, mixed with whites and creams, is a success. Similar lined boxes, from Laura Ashley and House Doctor.