You already know the marine style, because it is a classic in decoration, but this season brings new airs that take you to the coast in a subtle, slow and chic way.
DECORATE WITH NAVY STYLE
Deco tips to achieve that beach atmosphere in any environment:
– To decorate the tables, coral details or create a center with blue and white candles on a base of twigs
– To highlight the wall, a weathered wooden oar, a driftwood piece of driftwood, a series of prints of marine flora and fauna or a beach-inspired wall mural.
– To dress the floor, a fresh carpet: if it is made of woven vinyl, it will be suitable for outdoors.
Remember: the most current navy style can resort to nautical motifs but without reaching saturation; it is more subtle and merges with other decorative trends: eco, recycled, Nordic, shabby-chic, raw, slow, hygge, boho…
Decorative details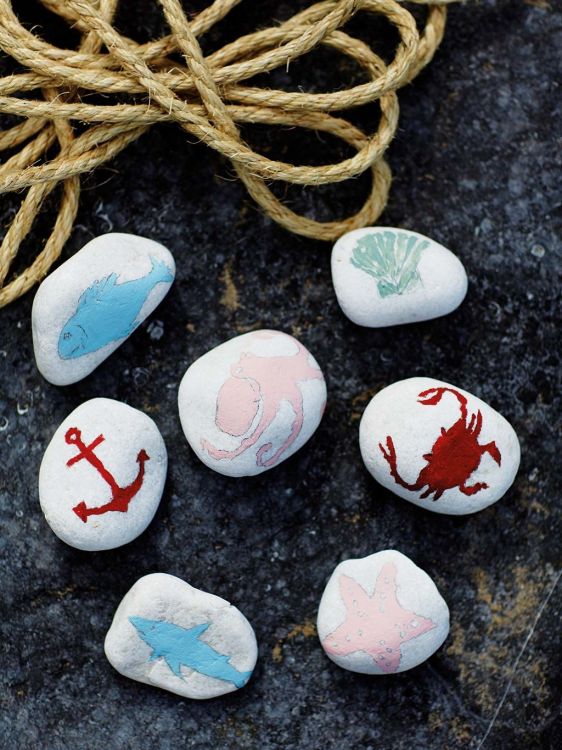 Less is more. In the new marine style, the decorative details triumph with an eco-friendly look. Come back from your next excursion with some white stones and paint them with coastal-themed motifs. Bring out the artist in you and you will see how this creative hobby also relaxes you. You can use acrylic paint, tempera, permanent or oil-based markers, which are special for painting stone or glass.
Magnet colors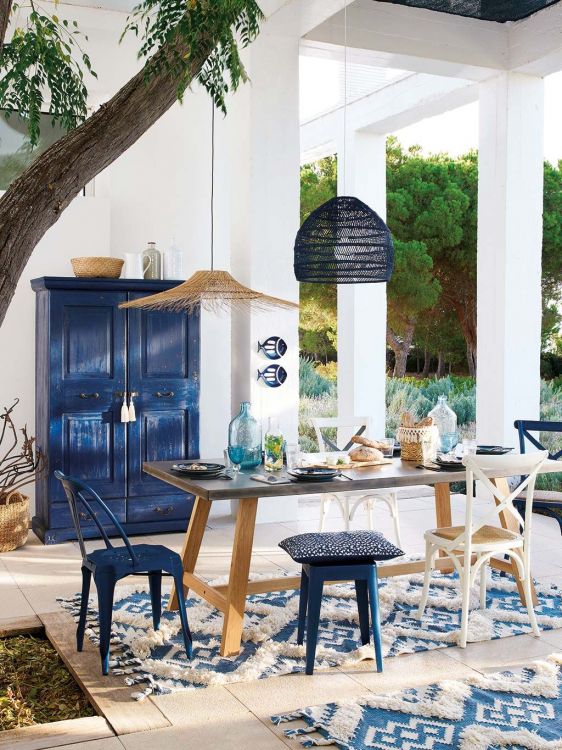 Peacock blue, indigo, cobalt and klein are. Dare with its vibrant colors in the furniture to give an ocean air, more personal, to your porch or terrace.
In addition to choosing a striking blue to highlight furniture and accessories, you can give the decoration a glamorous coastal air with two infallible accessories: sculptural fiber lamps and rugs with a trend pattern, like the one in this photo, with geometries and reliefs.
In harmony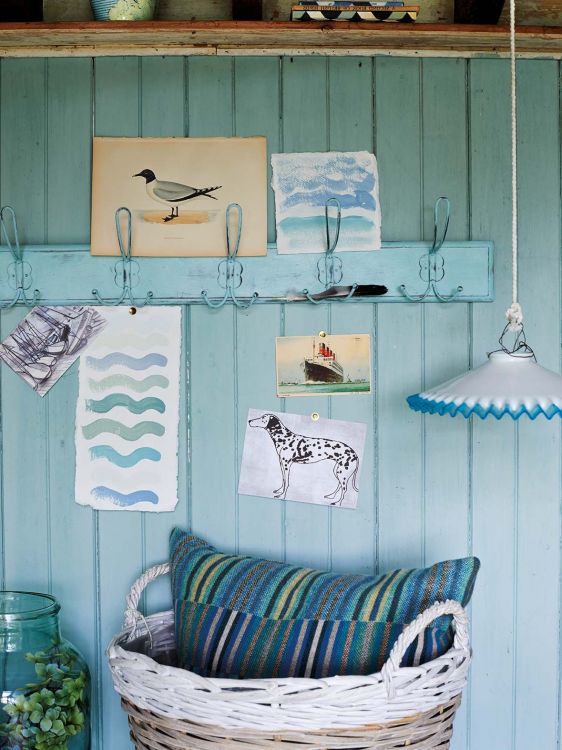 Highlight a light blue front and you will feel how the sea breeze cools your house. You can paint it in a dusty tone or go further and cover the wall with wooden slats, like in this photo. Complete the decoration with brushstrokes of different blues: the retro lamp and coat rack, together with the multi-striped cushion, expand the color range of this balanced scheme, which maintains blue as the base.
Walls
The slats and wallpapers with sailor stripes are, and will be, a classic of the navy style; but there are other blue prints that, without being nautical, can evoke the sea. Take note: chevron stripes,
in the form of zigzag, exotic fabrics -ikat, batik or shibori-, motifs of ethnic and tribal inspiration, scandi geometries…
Sea bottom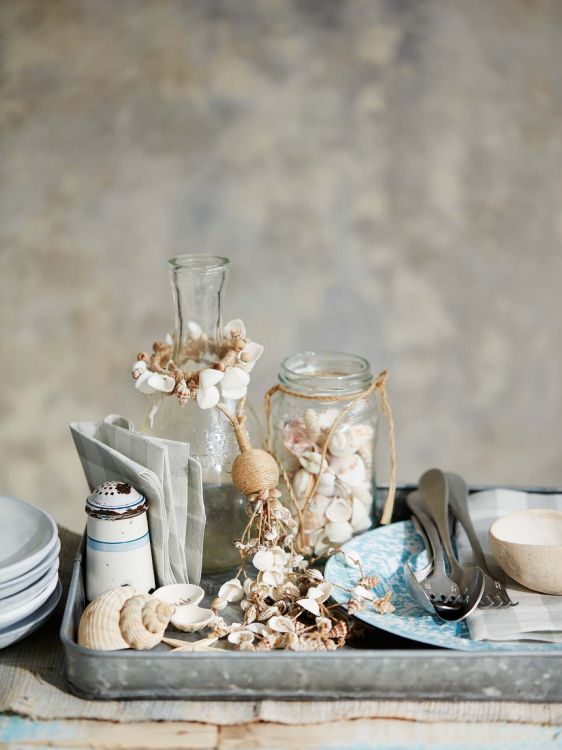 The handmade garlands with seashells and shells are very versatile details. Here they add charm, and visual interest, to vintage tableware. They're easy to make: string the pieces together with string and tie the knot underneath so they don't move. They can also stand out as napkin rings, inside a transparent vase on a sand base, hanging from the frame of a mirror…
Coastal tables
Get its fresh look with marine-inspired crockery, with mini motifs, like the one in the image, or with other large-scale ones, like the Mare and Coquillage models, from El Corte Inglés, which are made of melamine and do not break. Complete the presentation with blue acrylic cups.
Seafood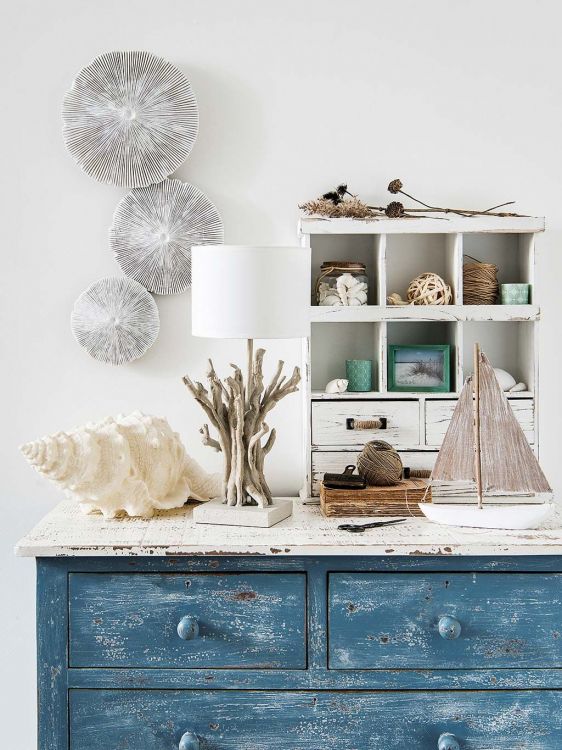 Create a composition of objects and decorative details with a taste of the sea and a rough texture. You will be right if their shapes and volumes are different. Here, grouped on a blue and white stripped piece of furniture, they make up a charming picture. Saint Jouan lamp (€39.99), Maori mini shelf (€44.99), Nao conch shell (€59.90) and Avignon chest of drawers (€490), from Maisons du Monde.