The use of metals in decoration is a consolidated trend, but now it is designers and firms that have rediscovered the beauty of copper to create new pieces. It's your time!
DESIGNS IN COPPER
– Internet shows us that the copper trend in decoration ( copper, in English) has penetrated deep. Our favorites are: Tom Dixon's super-famous Copper Shade lamp; the Breeze Copper tables, by Monica Förster; the Bolina mirrors, from House Doctor; the Grid vases by Jaime Hayon for Gaia & Gino, and the fine copper tube chandeliers by H&M Home.
– The deco-blogs also join the copper fever, with a handmade vision, and publish tutorials to transform any piece with Pinty Plus copper paint, by Novasol, or turn some pipes, by Leroy Merlin, into practical decoration objects, such as chandeliers, coat racks or lamps. You will be surprised by the ideas of http://oroymenta.blogspot.com.es ; www.vintagerevivals.com and www.homeyohmy.com
Fusion of styles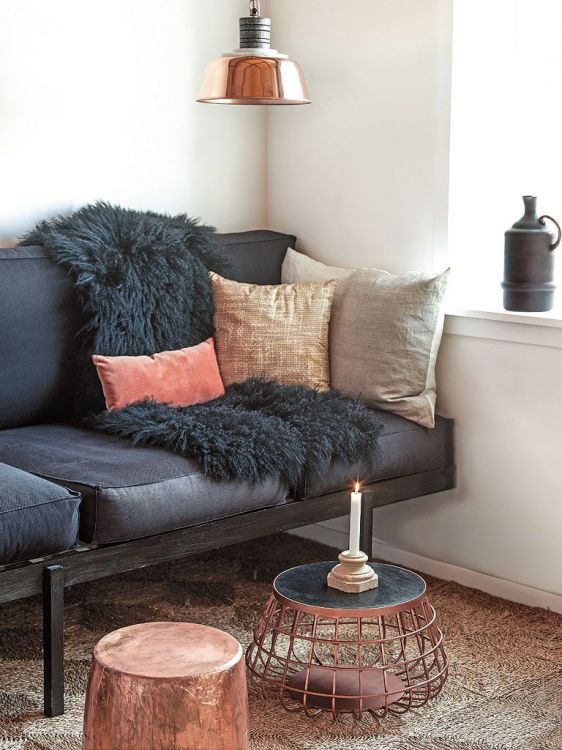 Due to its malleability, there is no screen that can resist copper. Industrial and loft designs triumph; but if you want to discover a real best seller, go to www.tomdixon.net/eu/ and look for Tom Dixon's Copper Shade spherical lamp Spectacular! In a polished or vintage finish, copper with its reddish reflections goes well in modern environments, because it unites tradition and avant-garde. In addition, its color, unlike other metals such as stainless steel, is warm.
Lamp (€141.89), stool (€77.70) and cushions, by Madam Stoltz.
The applications of copper in decoration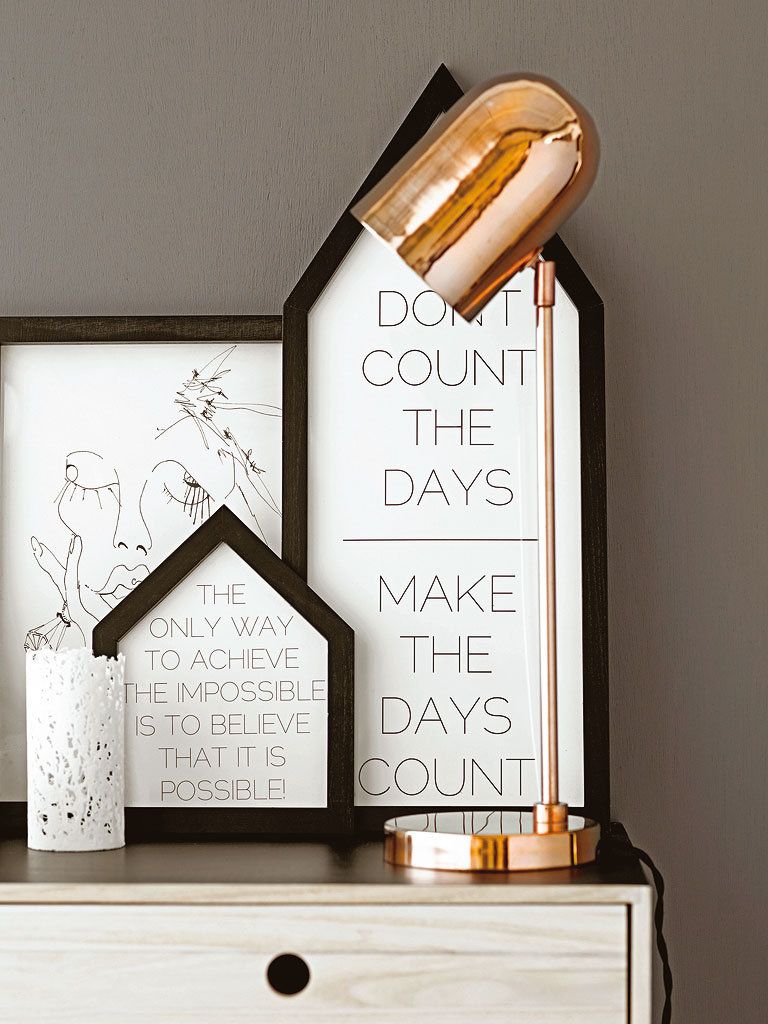 Telecommunications, electronics, transportation, appliances, plumbing, and even solar panels; There are so many properties of copper that it has multiple applications. In its favor in interior design: it is malleable, recyclable, resistant to corrosion and easy to maintain.
Little by little, in small doses. Perfect in any corner that requires a renewed look ,
more current. Sparkles of polished copper add extra light to this black and white setting. Lamp (€269), accessories and furniture, by Bloomingville.
Combine copper with white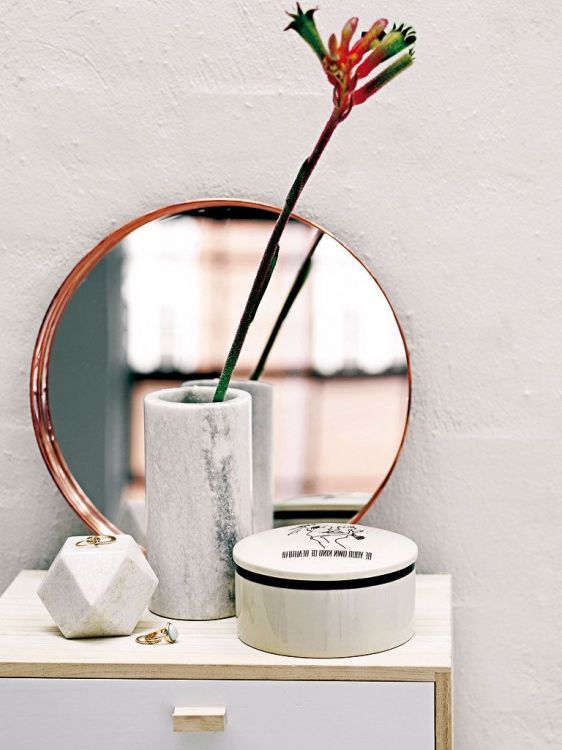 Copper is the absolute star among metals this season. And, as you will see, it is a hit with accessories! You will find ideal partners with Nordic design furniture and objects, white and wood.
Mirror, 30 or 46 cm in diameter (€109 and €139); box (€36); vase (€84) and faceted candle holder (€26). Everything from Bloomingville.
A label deco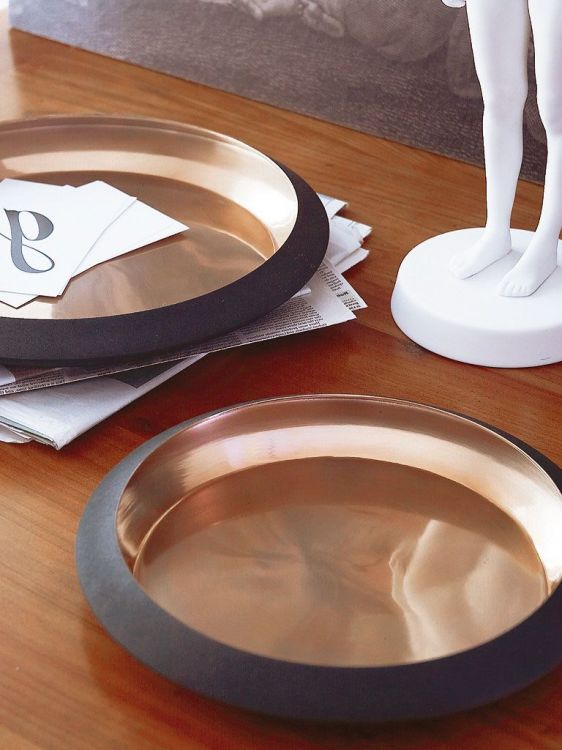 Copper prints elegance to the space. It's warm
and, at the same time, it exhibits an air of luxe like other metals, although its presence is more subtle. Even in its ultra-polished finish, it's not ostentatious, least of all when decorated with a smoked patina or its on-trend rose gold hue.
Trays, by An Angel at My Table, with 28 and 33 cm diameters (€44 and €56).
Fancier jars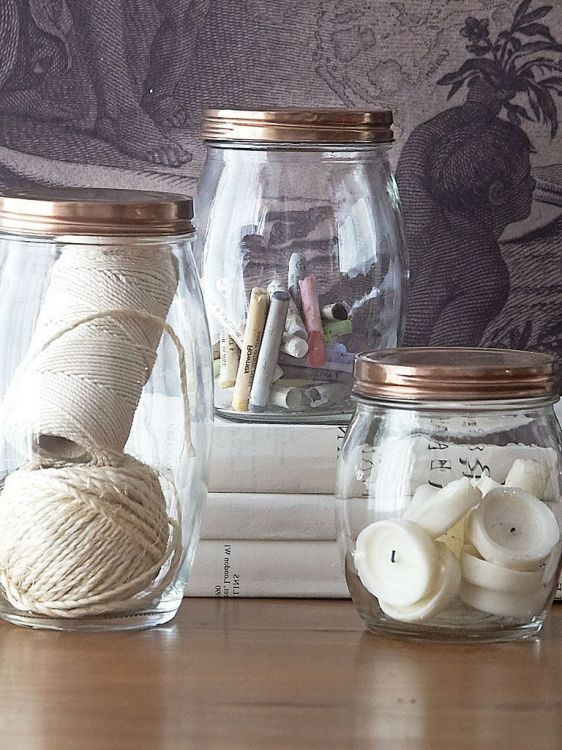 Copper reaches any corner, also to everyday objects. Crafts and DIY enthusiasts have a new color and material for their creations. These glass jars take on a new vintage & trendy air with their copper lids. Ready with the spray? Bottles, by An Angel at My Table (from €8.19 approx.).
Decorative compositions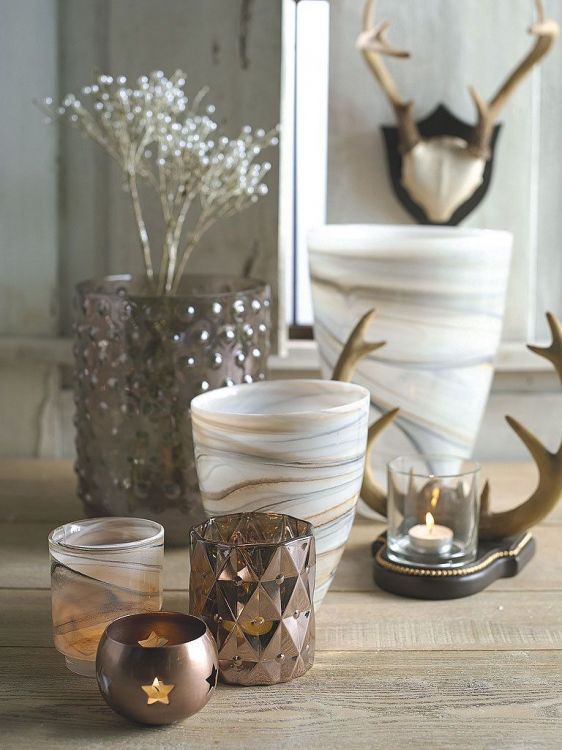 A composition made with copper objects is decorative, a polished copper vase is elegant, a chair with copper legs or a coffee table will be stylish… Discover all its decorative potential, but avoid excess and saturation. The color of copper sets the novel and original note alone, but also in a group, combined with other pieces. Look in stores for these deco-jewels, which harmonize so well with various materials. You will be convinced when you see it next to objects and furniture made of lacquer, wood, glass, resin… Part of its success lies there. Candle holders (from €6.50 approx.) and other accessories, from the firm Parlane.