If you still have doubts about how to organize the books in the living room, we show you the best shelves so that you have a well-organized personal library.
The living room is one of the spaces in the house where we spend the most time. In it, order should prevail over everything, as well as a nice decoration and a good distribution of the furniture. For this reason, we care so much about choosing furniture that suits our needs.
In this article, we want to give you the keys to organizing your own library through the 25 best shelves to place books in the living room. Are you going to miss it? Choose the one you like!
Decorative shelves for the living room
An important step when furnishing the living room is the placement of a beautiful and functional shelf. We try to find one that offers maximum efficiency and that combines well with the style of the room. If you are going to decorate with shelves, it is good that they are complete and without empty spaces.
The mere fact of thinking that we are going to have the books well located is something that excites us. In addition, an armchair, rocking chair, sofa, armchair or chaise-longue can be interesting resources to create your reading corner next to the bookcase in the living room, without forgetting that the lamp illuminates dark afternoons and nights in front of the book. On the other hand, we invite you to incorporate other details and auxiliary pieces so that, finally, you achieve greater comfort and a pleasant space.
A shelf to organize books
In order not to fall into absolute chaos, it is necessary to have furniture that, after all, helps us to order the house. We can even transform the shelf and give it a new use as a showcase or as a surface to put decorative objects. It is useless for us to leave everything stored in rooms; In fact, if we set up our own library, then we will give the space a special touch.
The size and format of the room matters. In any case, there are shelves of multiple designs that can be adapted to any space: corners, corners, walls, etc. There are tall, short, narrow, elongated… The interesting thing is that they are arranged correctly in places where they do not bother and that they contribute to the decoration.
The shelves are made up of different shelves where you can place the books in an orderly manner. Our goal is not to fill gaps, but to organize sensibly and rationally. In addition, we want the shelves themselves to fulfill an aesthetic and organizational function. This is the best way for us to decorate the bookcases in the living room and thus transmit a lot of personality.
How to put the shelves in the living room?
The placement must be studied. It is not the same to put a bookcase in a dark corner where the books cannot be seen correctly than, on the contrary, to put it next to a window that allows natural light to enter. There is also the possibility of placing it under an opening or in a place close to a reading lamp or lamp, ideal for decorating the living room.
Another case can be the bookcase of work, which is built properly in the structure of the room. In the same way, we can talk about another possibility that is those that are located in a work area and a functional, relaxed and complementary appearance is achieved. Basically, the shelves are essential resources for collaborating in the organization of interiors.
In short, so that you have a broader perception of the types of shelves that can be placed in the living room, we show you some interesting examples. You will love it!
1 Library or work area?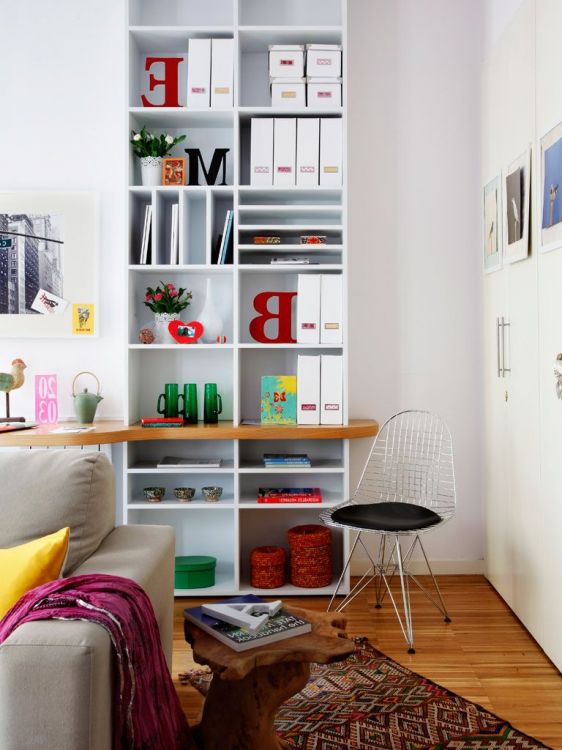 Double bet! In this project, a vertical library was created, which is integrated into the work area of the living room with a very refined style. The worktop is installed on the wall, above the radiator and extends to the bookcase. The blank and wood game always works.
2 Half-height bookcase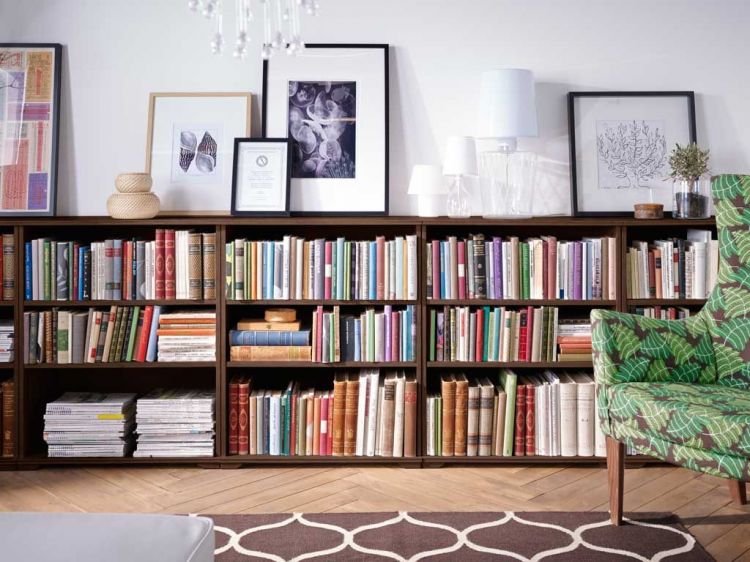 Depending on the hobby you have for reading, this will be the bookstore you need. We suggest one at half height in which you place the copies vertically on the shelves and take advantage of the upper shelf to decorate it with paintings, photographs or framed prints and some deco detail: candles, a small lamp, several grouped vases…
3 A window frame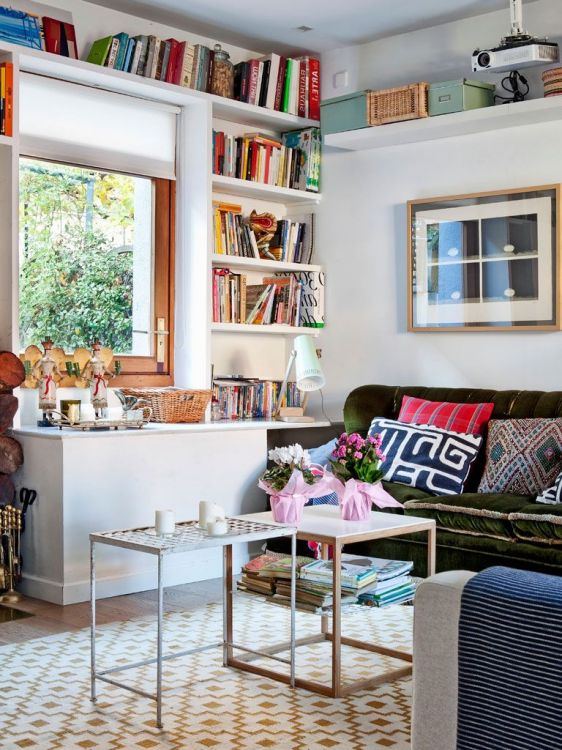 Despite the fact that electronic books already rest on our bedside tables, paper books are irreplaceable. By wearing them, the room breathes culture and knowledge.
We like this idea: framing a window with shelves full of books. Also notice how in this project one of the shelves on the adjoining wall has been extended, but in the upper part of the front. It is very useful for bringing the floor and ceiling closer together in homes with high ceilings.
4 To exposure mode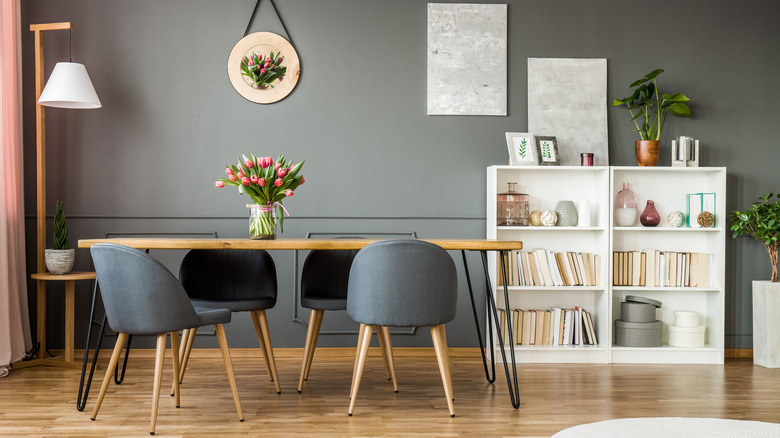 There is a type of shelves or shelves that are visually very light, shallow (16-17 cm), U-shaped, in which the books lean against the wall and fit into the shelf.
They are very useful when it is necessary to create a light reading corner in which to display jewel or reference books, the kind in which the covers become works of art: books on architecture, art, music, dedicated to idols, musicians, etc. actors… Also highly recommended for children's books.
5 behind the doors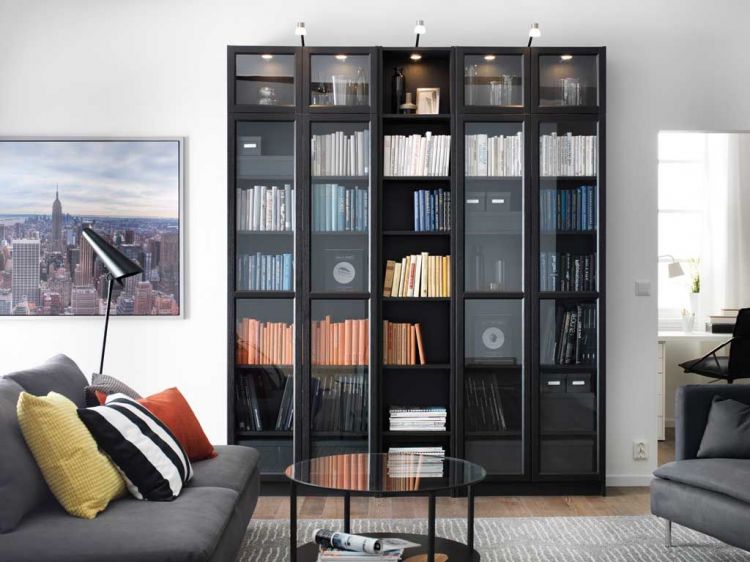 In this reading corner , where there is no lack of a good seat to relax with a book in your hands and a floor lamp, several spotlights have been incorporated in the upper part of the shelf. With this resource you will get a pleasant ambient light and you will give prominence to your library.
6 A new library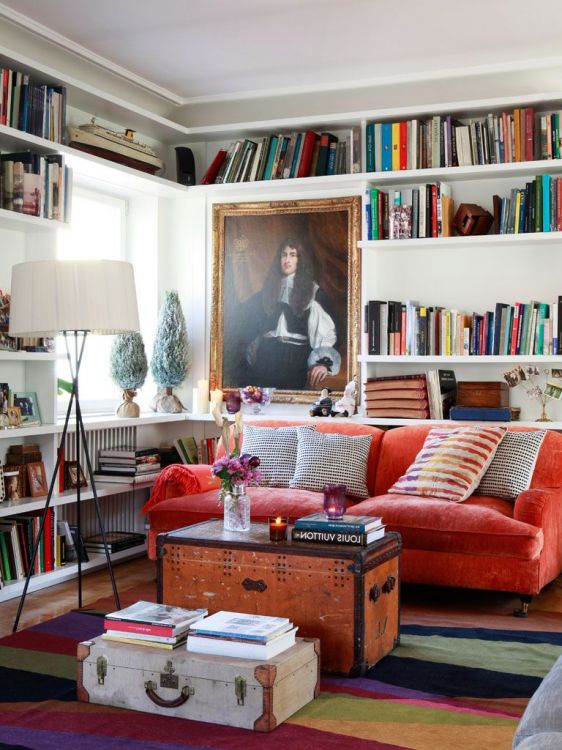 Buried by the books? It's time to put a little order, clean up and keep only the copies you want. The rest are not thrown away: give them a second chance, donate them to a library or cultural center or offer them to your friends.
The process? Get all the books off the shelves or wherever you keep them. clean them. Take the opportunity to set up the shelf. Empty it, clean it too and rearrange the titles back on the shelves. Custom or built-in options adapt to the space.
7 The importance of light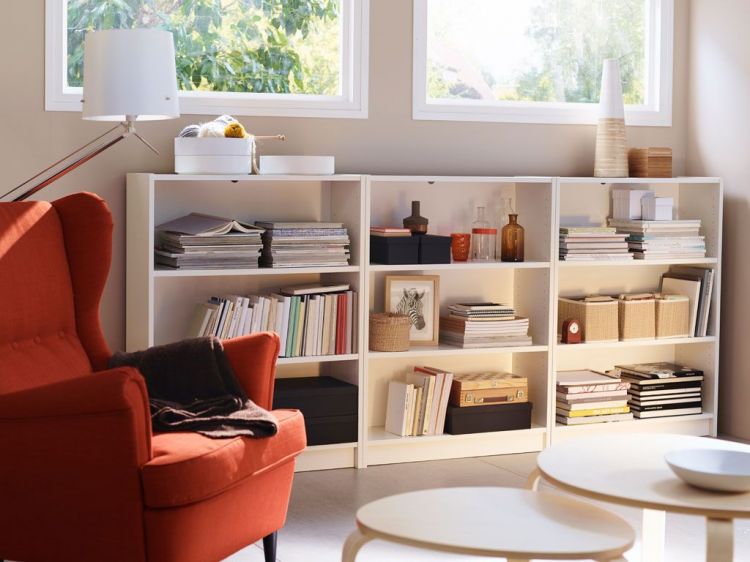 It is important that you locate your favorite sofa to sink into during the novel near a source of natural light, whenever possible. Reading is more comfortable and your eyes will thank you.
When it gets dark, a direct and punctual light on the book, which avoids shadows and glare. If you sit down to read, then look for a tall floor lamp. If you prefer to lean back a bit, table lamp will be perfect. You will be right if you choose an adjustable and adjustable lamp.
8 Shallow, but with a lot of capacity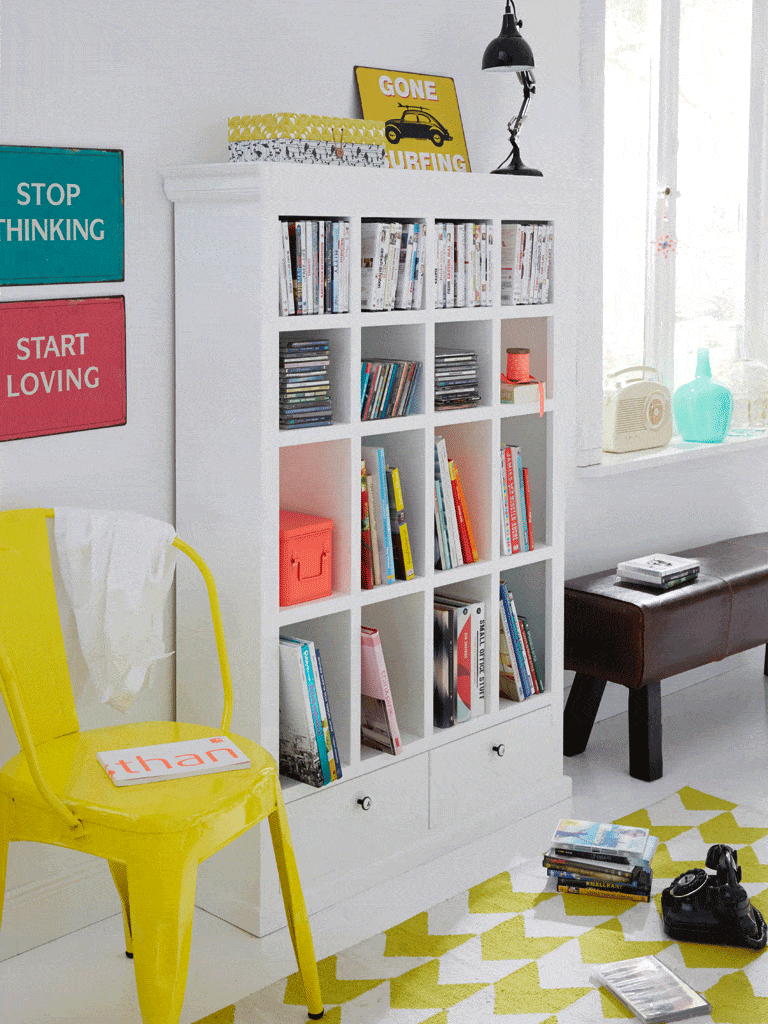 And if you practically have no space, opt for a shallow bookcase in which to organize your books. For safety, always fix the furniture to the wall so that it does not collapse. Although it has a few centimeters deep, you will be surprised by the number of copies you can save.
9 Construction shelving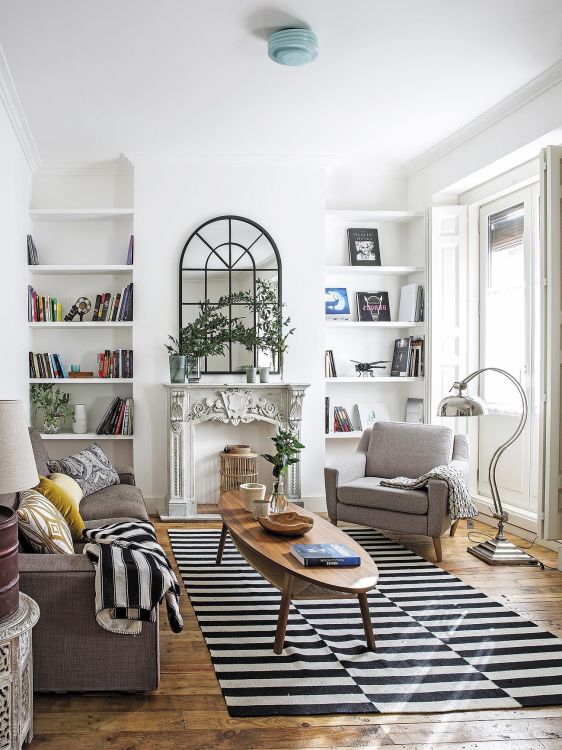 The built-in shelves are very good for the living room. They will always be at hand and compel the corners. In this image, we can see on both sides of the fireplace the shelf where we are going to put some of our books, leaving the cover of some in sight, but only those that we consider most important.
10 Combine books and more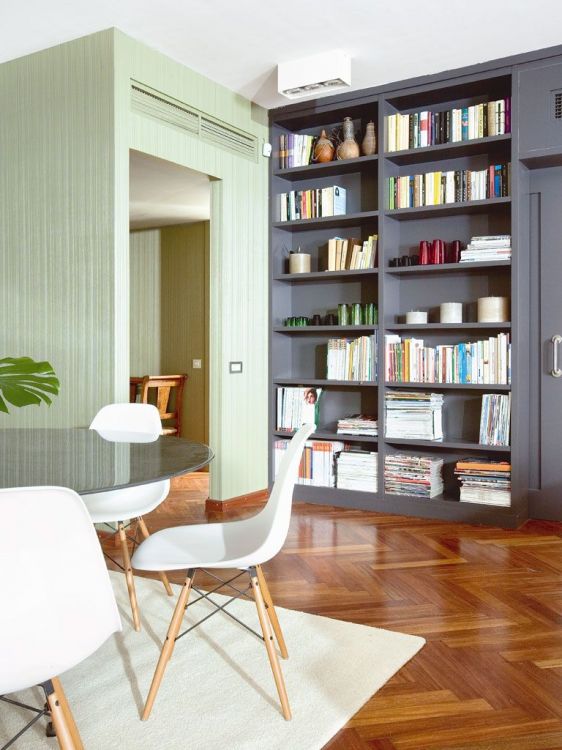 In maxi compositions, lighten the effect by combining books with other objects. To introduce some movement, arrange the books both vertically and stacked horizontally. Have you thought about giving color to your bookcase? Here you can see the effect. It is a way of highlighting its presence and creating, through color, a visually delimited corner.
11 Systems to place the books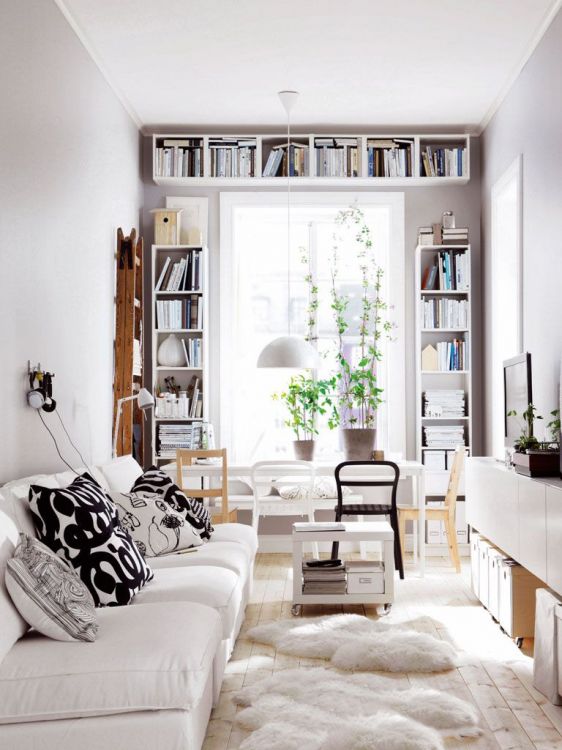 It also takes advantage of a window ledge (when the width of the walls creates pedestals) to place several books, either vertically or several copies stacked horizontally.
In this image three bookcases have been placed around the window, two vertically on each side and one horizontally above the window. No space in the living area? This library decorates the dining room and is perfect.
12 Make up your bookshelf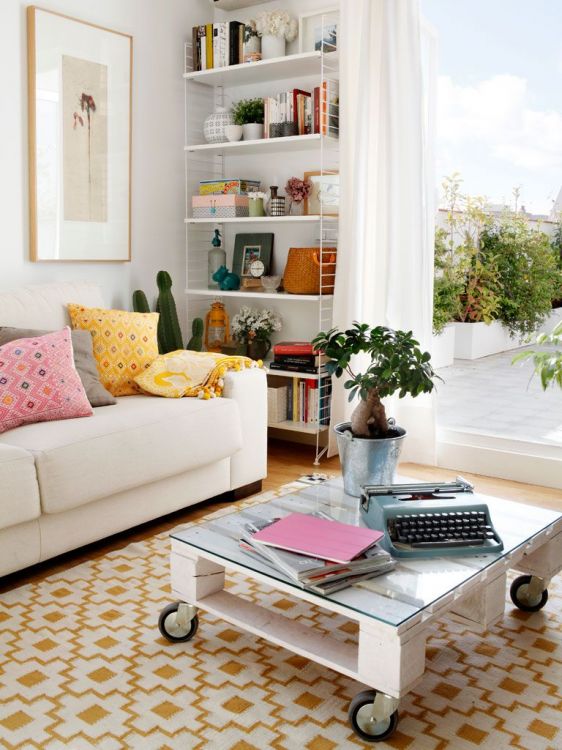 Light, in the same color as the wall and without back. It almost goes unnoticed and offers you so much storage space… Do you know the String system? A design classic that never goes out of style. Decide on the systems that you compose yourself depending on the needs.
13 Next to the TV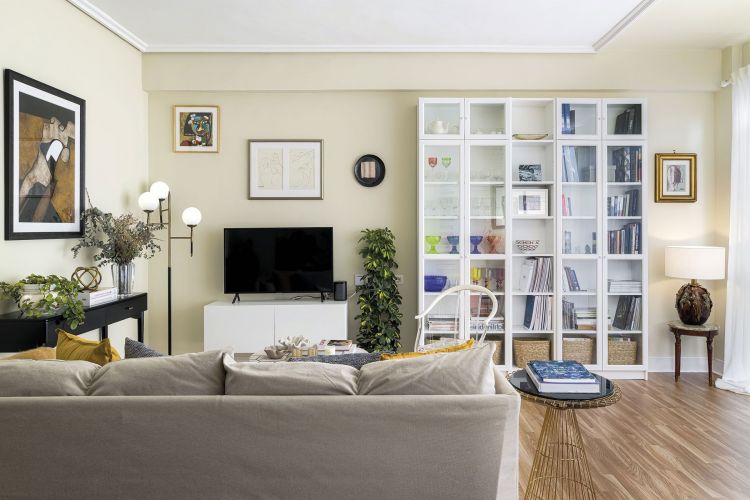 Nothing better than placing the shelf next to the TV cabinet and completing that space that is generally unattractive. In this way, we will always have our books and other decorative objects that help decorate the room in sight.
14 reading space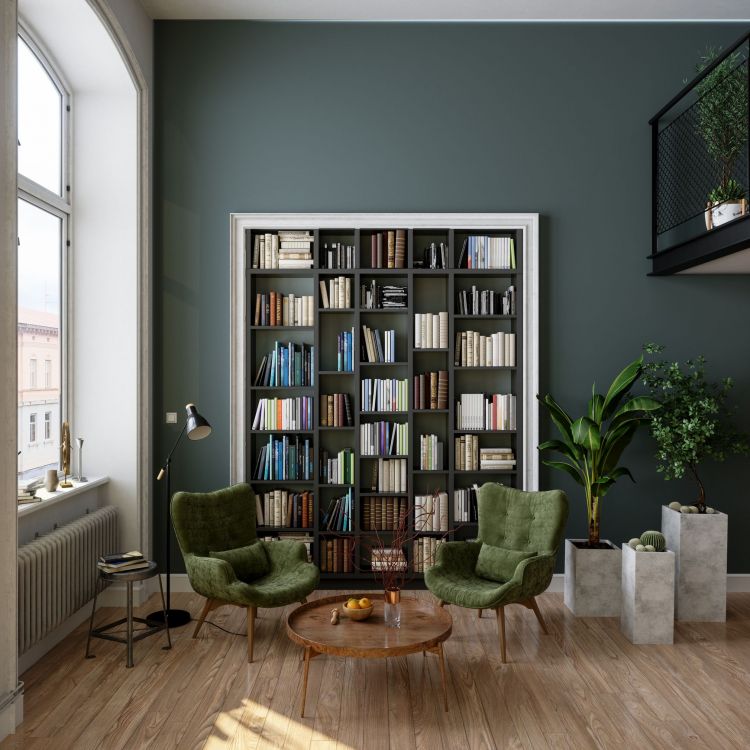 To create a reading area in the living room, nothing better than having the bookshelf next to it with the well-organized books. It is made up of different shelves and adapts to the wall to be perfectly framed.
15 Corner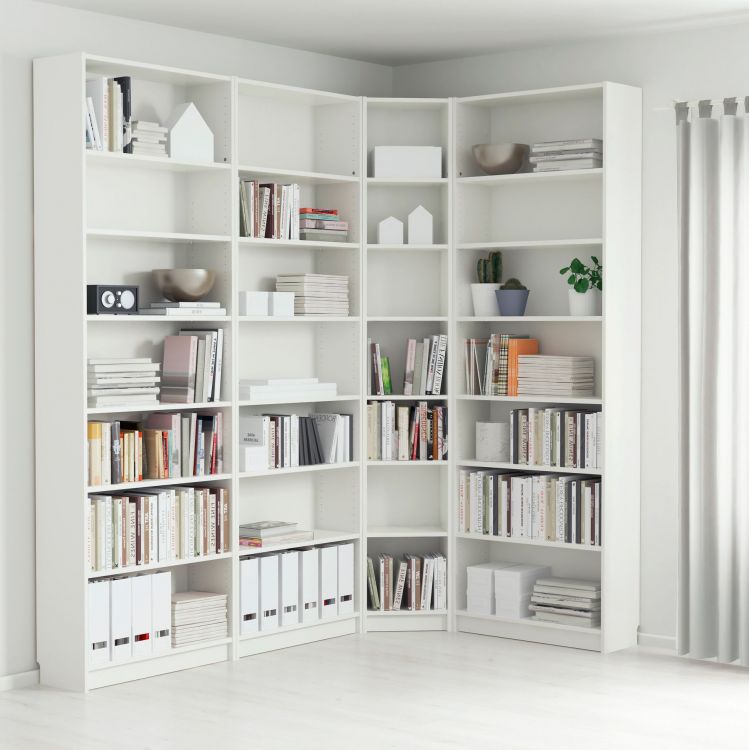 What do you think of this corner shelf? It covers a considerable surface and adapts very well to the space. It helps us to organize books and files, in such a way that it is used from a functional point of view and is characterized by being simple; that is, it does not stand out for any aesthetic particularity.
16 We frame the television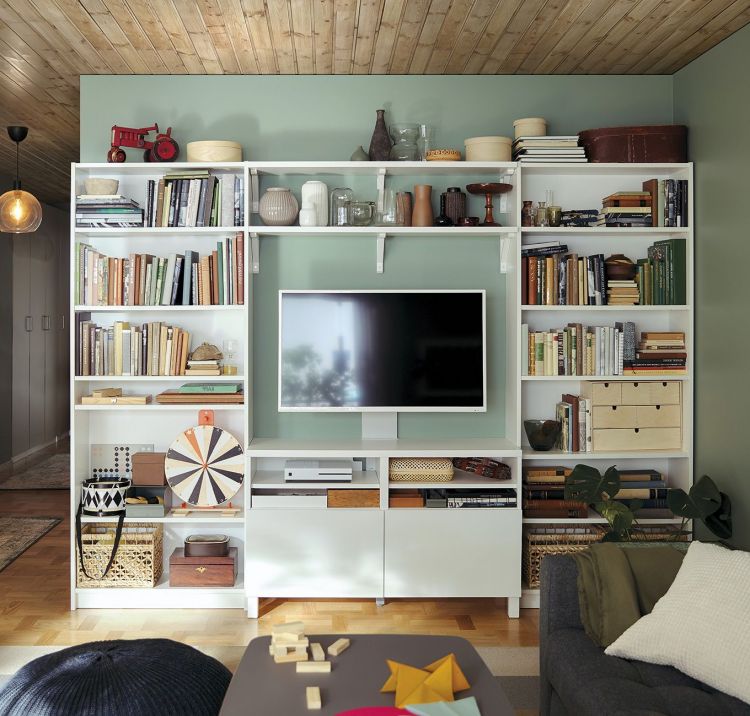 A shelf with which we frame the television and take advantage of the entire wall even more. Instead of leaving surfaces uncovered, in this case we have a complete and wide shelf that frames the television and helps us organize all the reading books, as well as other resources.
17 Library room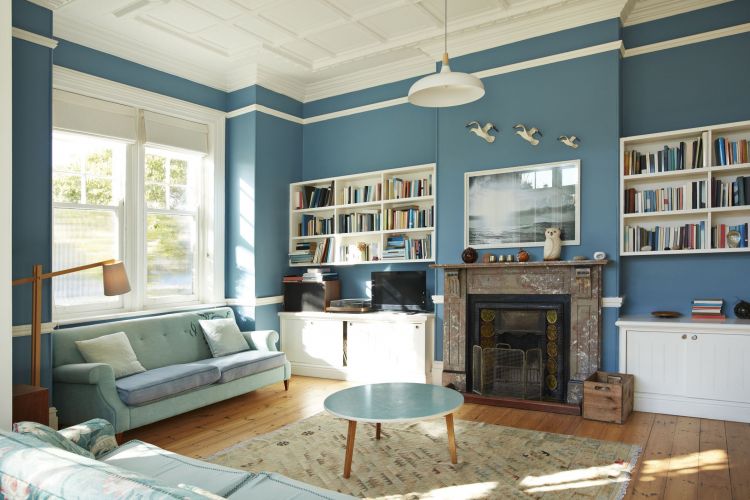 These shelves are perfectly adapted to the wall. They do not bother at all and help to complete the image of the room. In addition, they have enough internal space to place the books. They are functional, simple and very practical.
18 Scandinavian style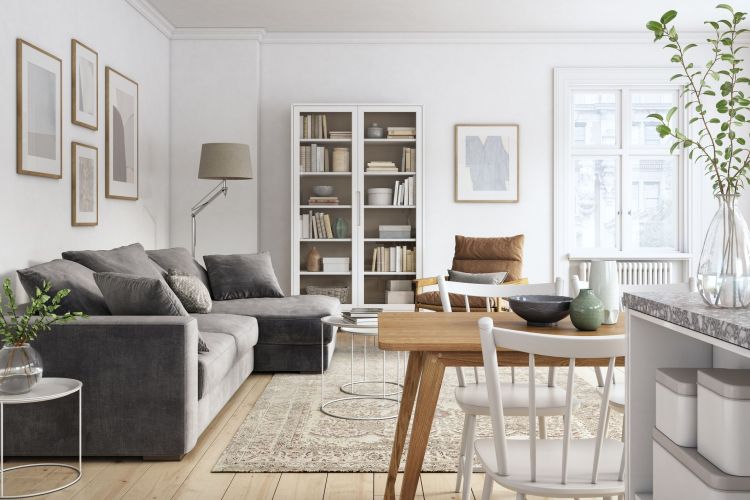 To decorate the living room it is not necessary to use grandiose shelves that occupy the entire walls. In this case, we have put a simple vertical shelf, with doors and windows. In this way, it becomes an important piece of furniture and everything inside is well protected.
19 Large Library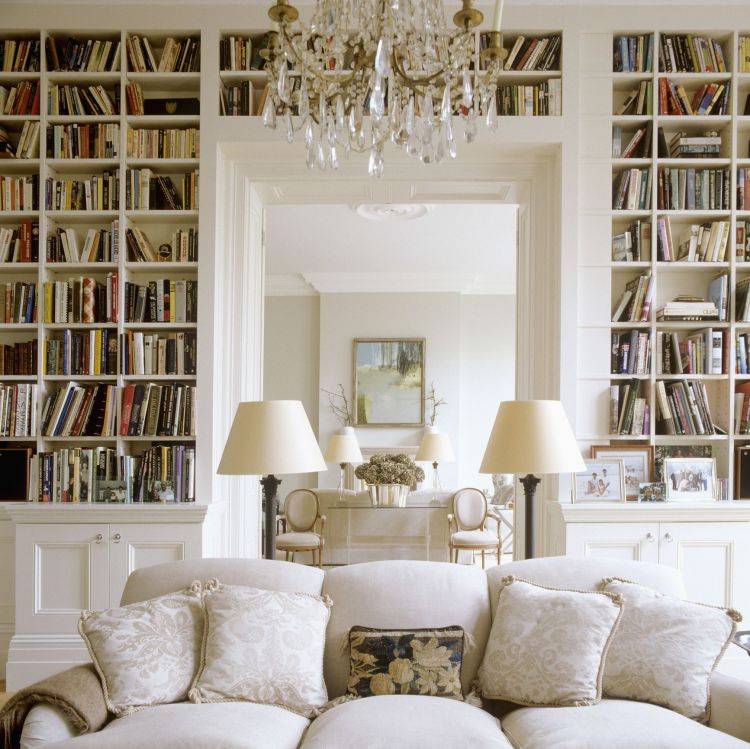 For lovers of reading, this type of bookshelf covers a large space in the living room, to the point that it exceeds the door frame. In this image, the entire wall has been used, in such a way that the bookcase plays an absolute role in this Mid-Century-style room.
20 By the window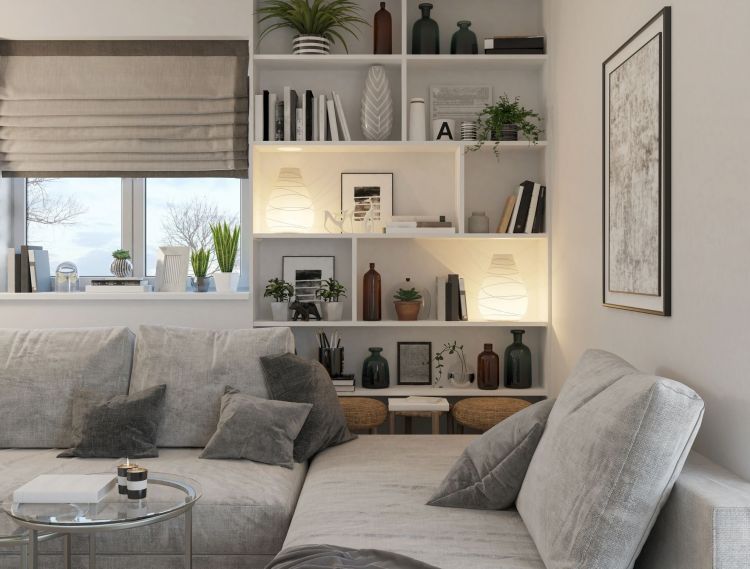 This shelf is located in a very interesting space in the living room. It is organized in differentiated and asymmetrically separated spaces, giving dynamism and a more subtle image to the room; In addition, it is located next to the window to gain natural light.
21 Living room library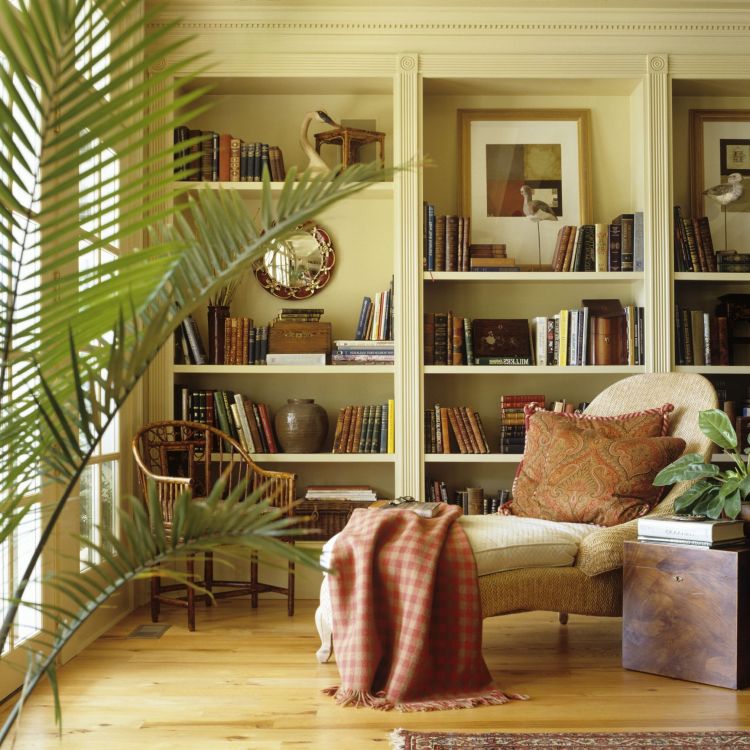 A conservative and elegant style for a shelf that occupies a large part of the room. The books are distributed in an orderly manner and that organization is achieved that helps us feel good, leaving everything at hand and with other decorative elements that help create a relaxed atmosphere.
22 Industrial style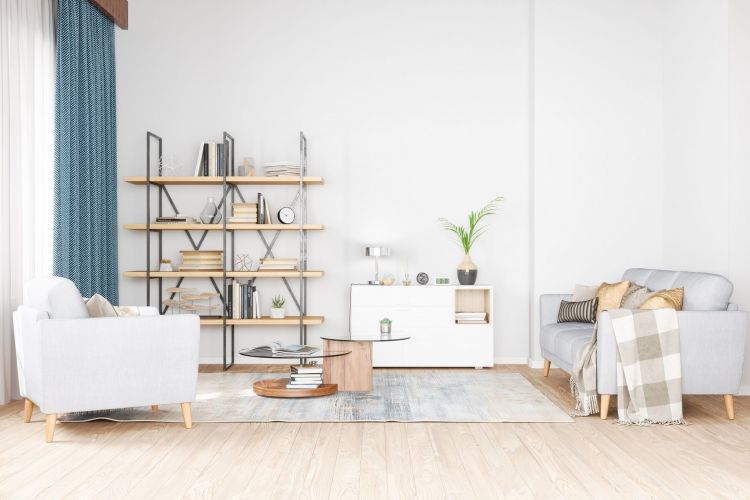 A simple, basic and functional shelf, in an industrial style and with an elegant design so that it does not stand out aesthetically, but participates slightly in the decoration and helps maintain order.
23 Work shelving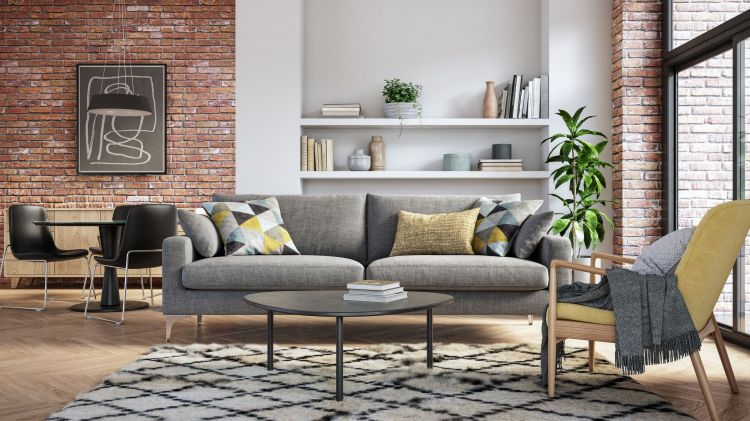 Shelves like this one look great in the living room. They are made so that we forget to buy furniture. They offer functionality and are also effective for placing books and decorations.
24 Separation of spaces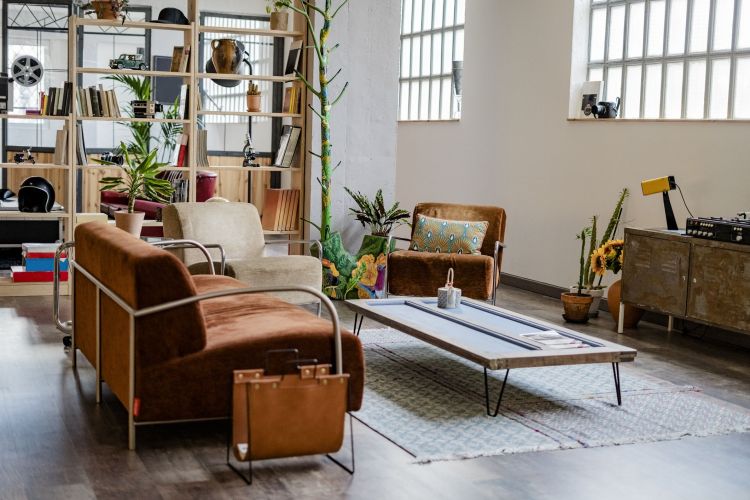 One good thing that shelves provide is that they help to separate spaces. If we have a large living room, a shelf allows the parts to communicate but, in turn, they are separated. In addition, they help maintain order and decorate.
25 Innovation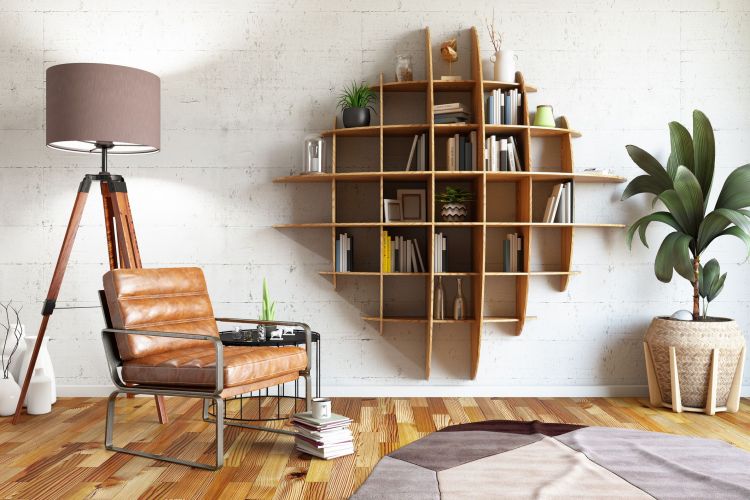 An original bookstore that breaks traditional stereotypes and offers a completely innovative and different format. A design has been achieved that contributes to the decoration and dynamizes the image of the room.