Cool and chic, vital and vibrant; this is the Caribbean style that decorates, evokes all the beauty of the turquoise sea and invites you to go on vacation. Discover what the Caribbean soulal son of reggae or bachata is like, as you prefer.
KEYS TO DECORATE WITH CARIBBEAN STYLE
– To recreate a Caribbean look , textiles, especially cushions, are key. Prints of flowers, leaves, exotic fruits and palm trees are a classic, but there are also other patterns that work if the color palette is right: corals, shells, boats, stripes, naïve and geometric motifs, are some examples.
– Natural materials are of the utmost importance: wood, bamboo and rattan, decorative pineapples and starfish, logs, maxi conch shells, braided baskets, carved figures, tribal art, handmade-looking rugs, fans with wooden blades, nets, oars, wooden plaques/signs with a beach air, handmade shell pendants…
– Colors. There is not one, but several Caribbean color palettes. The one with the greatest visual impact mixes vivid blues and greens, with yellows and oranges, a mix that can saturate. Another more moderate palette is committed to emphasizing a single wall with a bright color and choosing accessories, especially textiles, to introduce other tones.
– Floors. They are unique to give the jungle touch to the Caribbean deco. Recreating this exuberant vegetation is possible by combining varieties: the tallest, such as palm trees, dracenas, ficuses and fornios, look spectacular next to the sofa and in the corners. In low furniture and coffee tables, ferns, bamboos, jasmines and bromeliads, among others.
– Walls: The Bruguer firm has matte plastic paints called Caribe Turquesa Natural and Caribe Verde Lime. There are also wall murals with views of beaches and jungles, such as those from AllPosters.es and Art.com. Search their websites for tropical sunsets, streets of Havana, vintage American cars…
Caribbean roots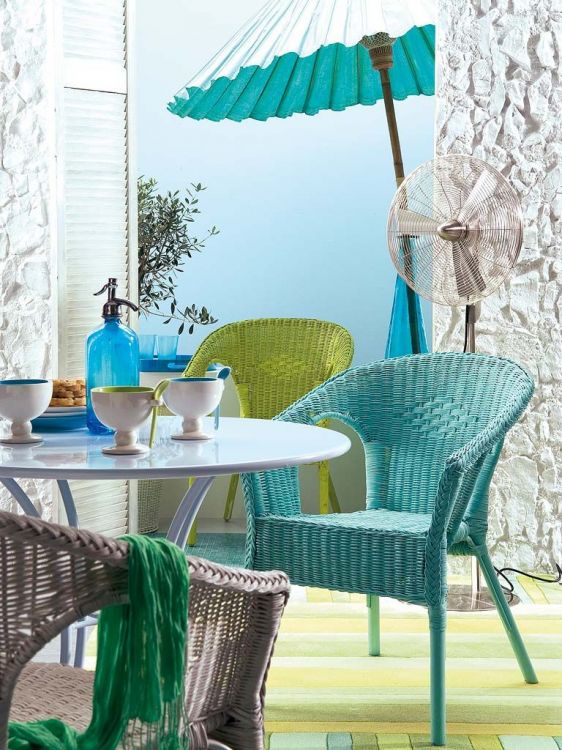 The rattan, wicker and bamboo furniture in its full-colour version recreate the cheerful and carefree atmosphere of the Caribbean. They are classic in & out, which are easily associated with the sunny and natural environments of those lands. For a colorful look, dare with spray paints, applied at close range, after thorough cleaning; You will find them, from the Luxens brand, in Leroy Merlin, weather resistant. The armchairs, the Agen model, from Ikea, made of rattan and bamboo, are sold only in natural (€24.99). Emu signature table, in aluminium.
To the beat of the waves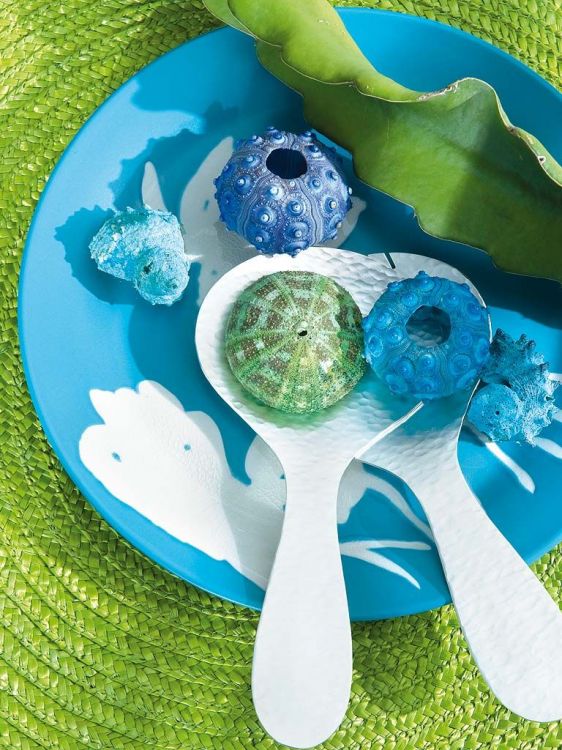 The crystalline waters of the Caribbean Sea and its treasures inspire this composition of intense colors, which reveals the dominant palette in the Caribbean style. Very peculiar blues and greens, marked contrasts and a dazzling white. Perfect, the idea of painting the shells and the cracked plate to achieve a harmonic collage ; Chalk effect paints, such as Fleur Paint, could be used. Similar braided serving dishes, in
The Crockery Warehouse and Zara Home.
In soft tones…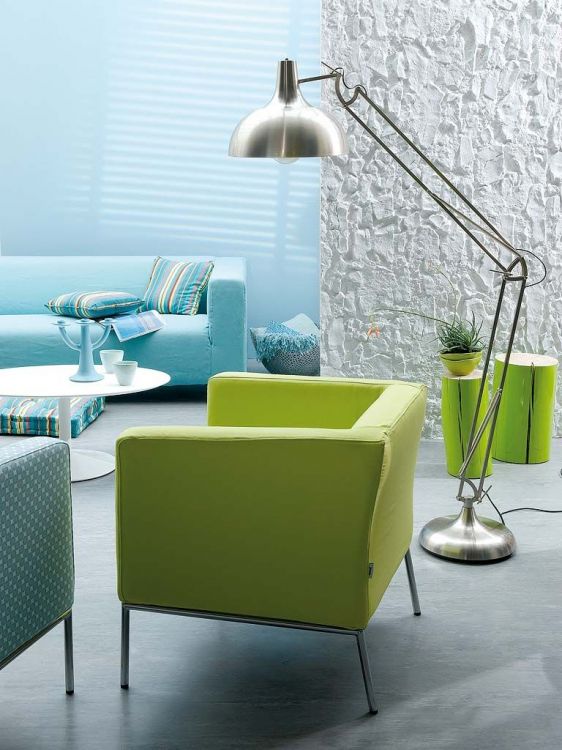 The current design also adheres to the Caribbean color palette but with soft brushstrokes. In urban environments, its freshness can be recreated with smooth green & blue upholstery, seasoned with beach-inspired cushions.
A plus: evoke nature in the heart of the city with eco- friendly pieces, such as recycled trunks, which are a trend. Klippan sofa from Ikea. Similar lamp, at Maisons du Monde.
fresh and cool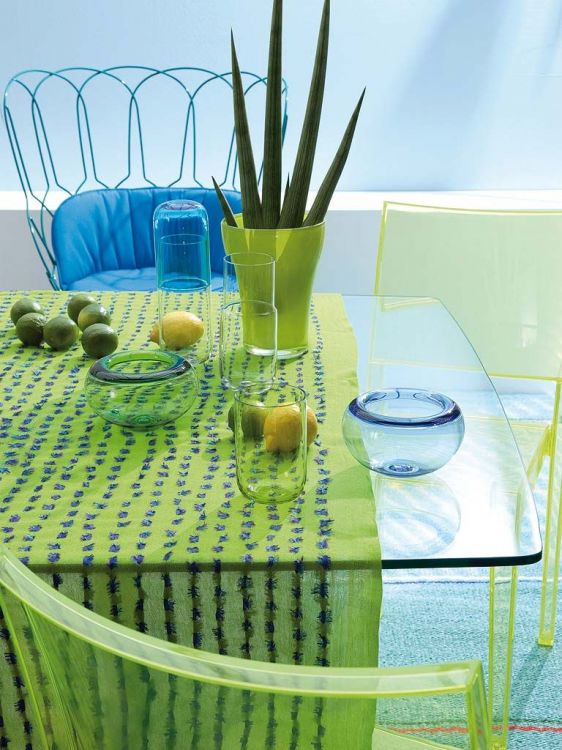 Look for inspiration in the chromatic mix of tropical cocktails to give a more festive air to the decoration. Daiquiri, mojito and piña colada, as well as juices with fruits such as mango, papaya, banana or passion fruit… That exotic rainbow transmits positive sensations and a lot of freshness. Here, the blue and lime duo of the tablecloth harmonizes with the glass and the chairs: the transparent one is the La Marie model, by Kartell, and the blue one, the Re-Trouvé design by Patricia Urquiola for Emu.
Sunny days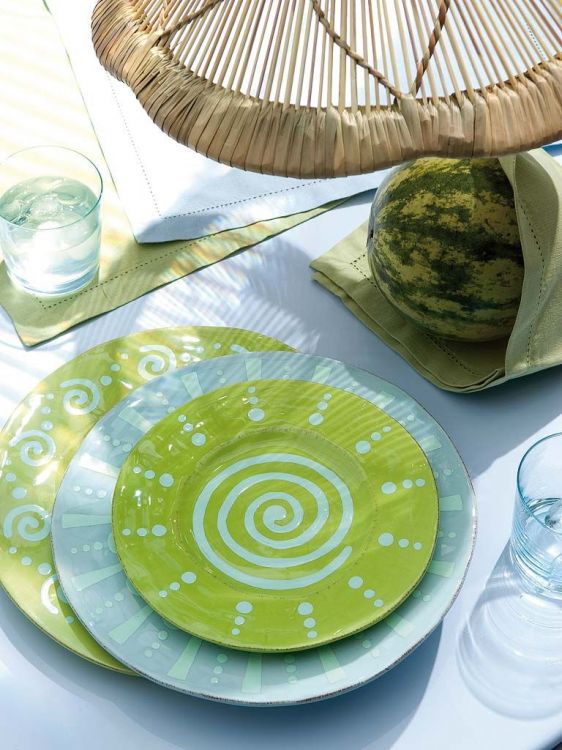 The most dazzling yellow is a must to evoke the sun and the golden beaches of the Caribbean. Handcrafted objects, such as ceramic pieces, put the finishing touch to any corner of Caribbean aesthetics. These earthenware plates release a naïve image that radiates energy. To decorate ceramic pieces you can use, for example, the Marabu Porcelain Painter markers, available in various colours.
A change of scenery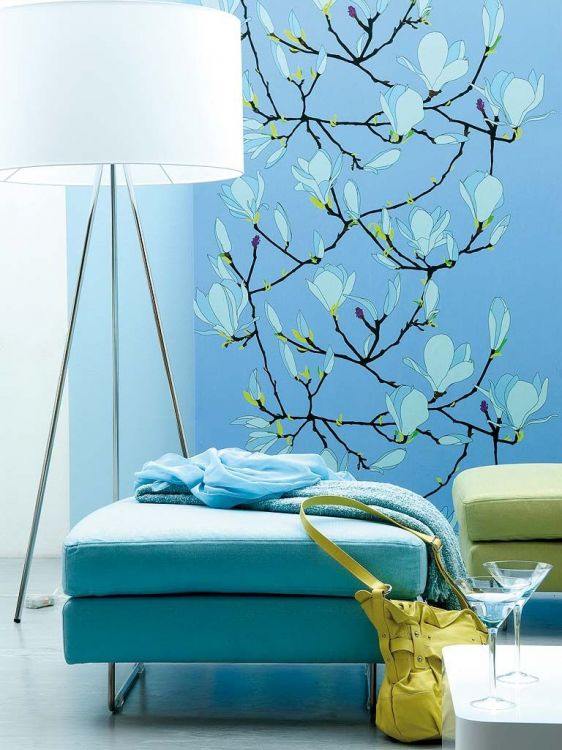 If a tropical oasis at home seems excessive, introducing bright colors in small doses in an almost monochromatic decoration also works. It can start with touches on well-selected details. On the wall, Keisarinna cotton, by Marimekko. The pouf is upholstered in a Designers Guild fabric, in Usera Usera. Similar lamps at BoConcept and Maisons du Monde. Cups, in El Corte Inglés.