The arrival of a new member to the family always raises doubts about the decoration of their bedroom: the right furniture to serve you during the first years, the best coverings… To help you, we have prepared these beautiful environments full of ideas for the baby.
1 Take advantage of the space with custom designs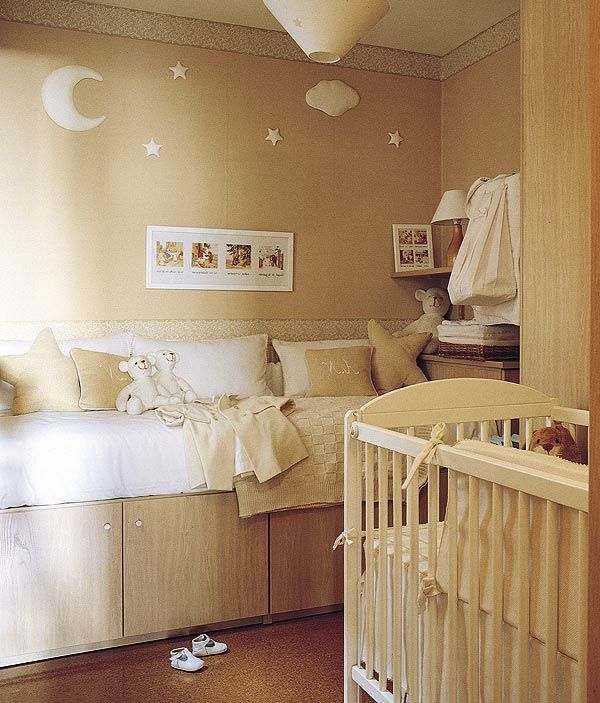 Here, the bed rests on a piece of furniture made to measure, which multiplies the storage space. The design, devised by Judith Noguera, owner of KA International in Mataró, has lower drawers and a side chest that serves as a headboard. The screen was hung upside down to give the room a more playful feel. Paper, quilt, lamp and cushions, from KA International.
2 Bet on furniture that is functional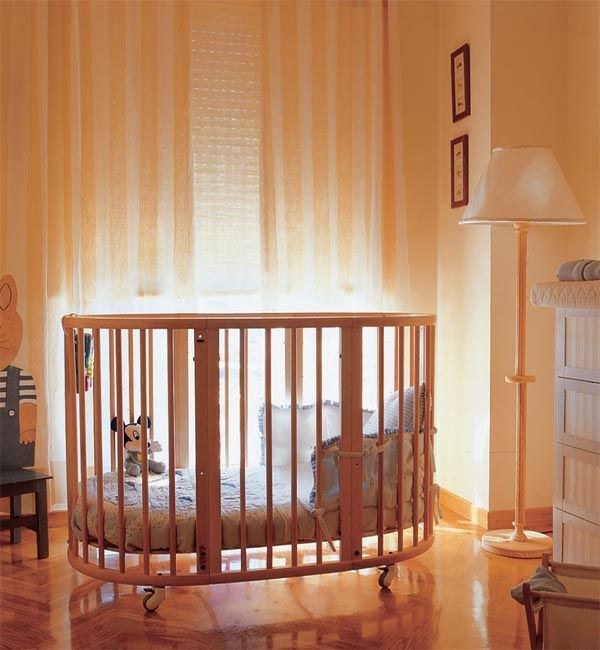 You can adapt them to the needs of the child and they will continue to be useful. For example, this crib allows the bed base to be placed in four positions, and in the lowest, it serves as a playpen. In addition, when the child goes to his bed, the crib transforms into two chairs. The changing table was purchased from Toys 'R' Us, and the drawer fronts were papered over. Beech Cradle, Sleepi by Stokke; in 1.27 x 0.74 x 0.78m. Quilt made by Mª Jesús Álvarez. Blind, from La Nave de Pórtico.
3 Includes a good wardrobe that will serve you longer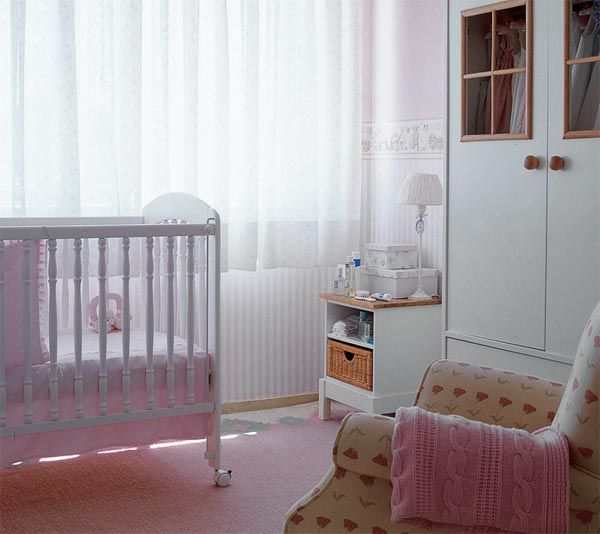 Look for a model whose layout can be easily modified. Keep in mind that as your child grows, the type of clothing they wear also changes. Before you know it, bulky pants and jumpers will require bigger holes than their frogs. Place diapers and toiletries on a table that you can use as a side table. Wardrobe and crib; both from Pili Carrera. table and armchair; of the Portal Ship.
4 Make the dresser profitable by using it as a changing table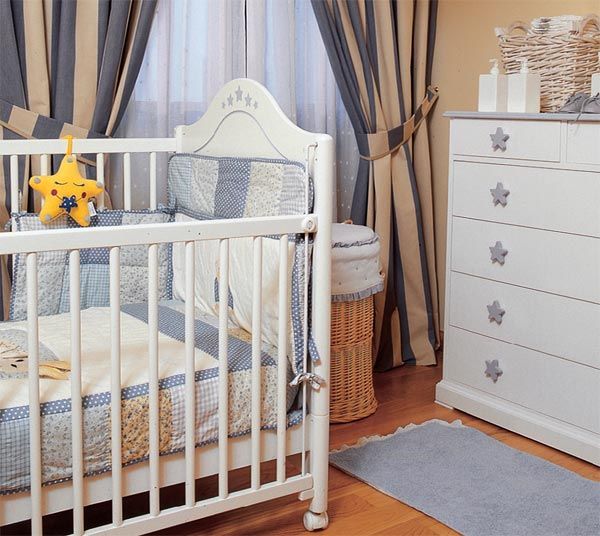 Install a mat or a tabletop changing table on its surface. It is advisable that the diaper changes and the massages that you give your baby after the bath are carried out on a high surface, which does not force you to bend your back. The chest of drawers, as well as being practical for storing clothes, has the right height, and you can always update its design by changing the handles. Dresser and crib in Luna Lunera. Quilt made by Mª Jesús Álvarez. Curtains made with Maison Decor fabric.
5 Try to create a playground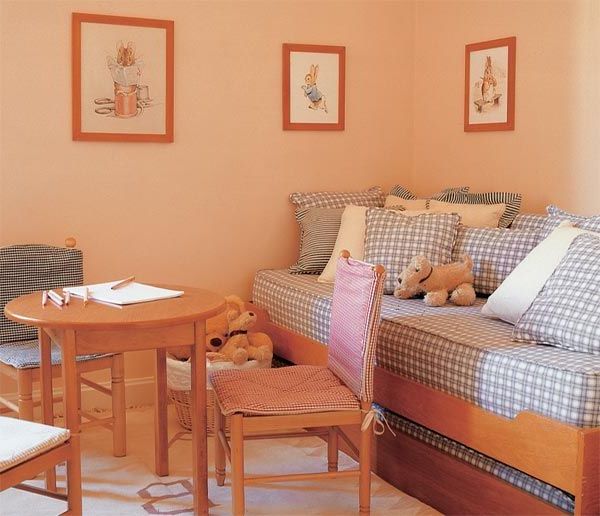 If the room is shared, use a trundle bed. Through the game your child will stimulate psychomotricity and favor its development. So that you have more space, a good solution is to place a trundle bed; during the day, the lower bed is hidden under the upper one, which allows a large part of the room to be used to place a table and a couple of small chairs. If you complete the bed with some cushions, it will serve as a sofa.
6 Do you like the classics?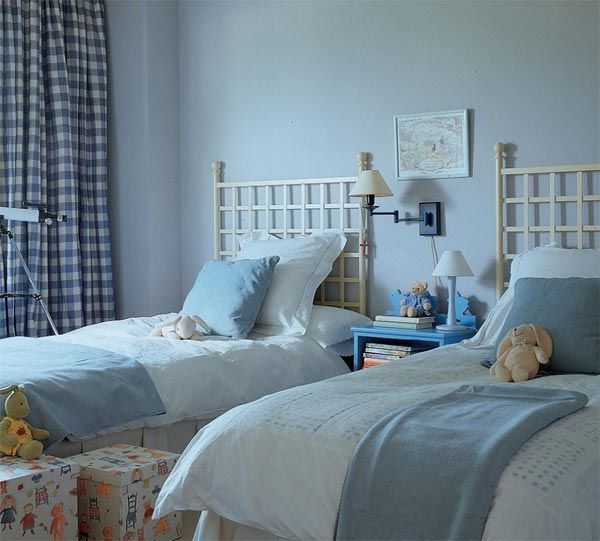 Combine blue and white But give it a more modern look with modern design details. In this bedroom, Isabel López-Quesada decorated the walls in pastel blue, but chose original white patinated iron headboards with a reticular design. As the room was not very large, a single table with shelves was placed, so that each child had their own space to store their things. So that they could read in bed, the lighting was resolved with a small table lamp and a wall light.
7 Protect the lower part of the wall with a baseboard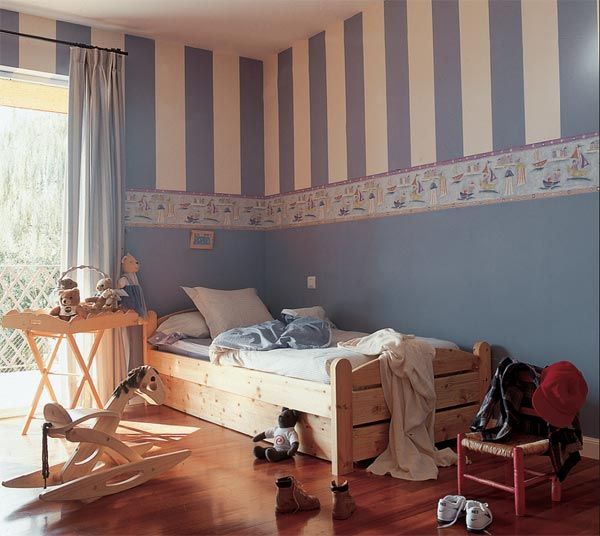 Plastic paint is a good option, as it can be cleaned with a cloth slightly dampened with soapy water. Dare to create your own compositions and achieve visual effects with them. Here a plinth was made in a distressed shade of blue, which is easily cleaned, while the top of the wall was painted in blue and white stripes to make the room appear taller. A fun paper border with motifs in the same tones delimits both areas. The bedding is Texture.